Saemaeul (Buena Park, CA)
Saemaeul Sikdang Restaurant: The Original Korean BBQ
5471 Beach Blvd, Buena Park, CA 90621
714.562.0900
www.newmaul.com / www.theborn.co.kr
Mon 01/14/2019, 07:45p-09:20p

The Buena Park
gogi-gui
scene got a boost last May with the debut of Saemaeul, the brainchild of Korean celebrity chef Baek Jong-won. Baek is the head of The Born, a restaurant franchising company he founded in 1993 that currently boasts over 1300 locations across South Korea, other parts of Asia, and right here in the United States. Among The Born's over two dozen brands, we've already had iterations of Korean-Chinese eateries Hong Kong Banjum and Paik's Noodle in the Los Angeles area for years. Saemaeul, however, is arguably The Born's flagship brand, initially launched in October 2005 and now boasting 145 outposts. It's named after the South Korean
Saemaul Undong
initiative of the 1970s, a "New Village Movement" created by President Park Chung-hee that was designed to modernize the country's rural economy.

Saemaeul takes over the address previously held by M Pizza and Grill (i.e. Mr. Pizza
sans
franchise license), Mr. Pizza (opened September 2015), and the longstanding (ca. 1995) King's Garden Chinese Restaurant. From what I understand, the decor is ostensibly inspired by
gogijib
of the 1970s.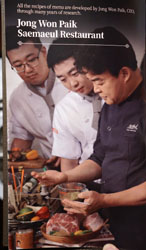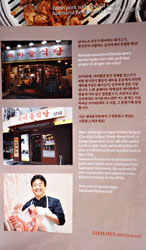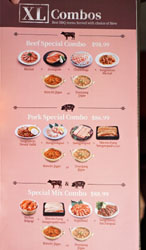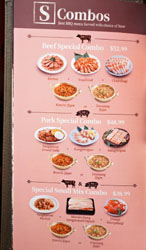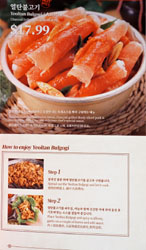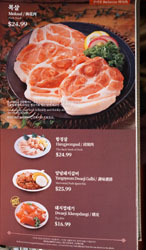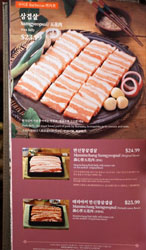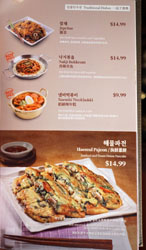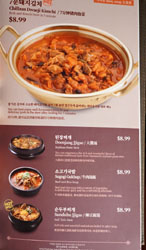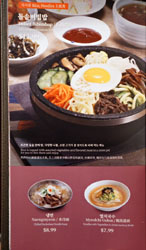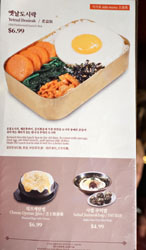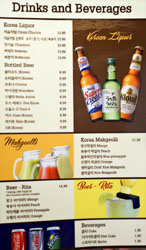 Saemaeul's menu, not surprisingly, is centered on its selection of meats, which includes a couple more uncommon varieties. Various combos are offered, as are a number of other Korean staple dishes. Drink-wise, you get your typical beers and sojus and such, as well as flavored
makgeolli
. Corkage is not available. Click for larger versions.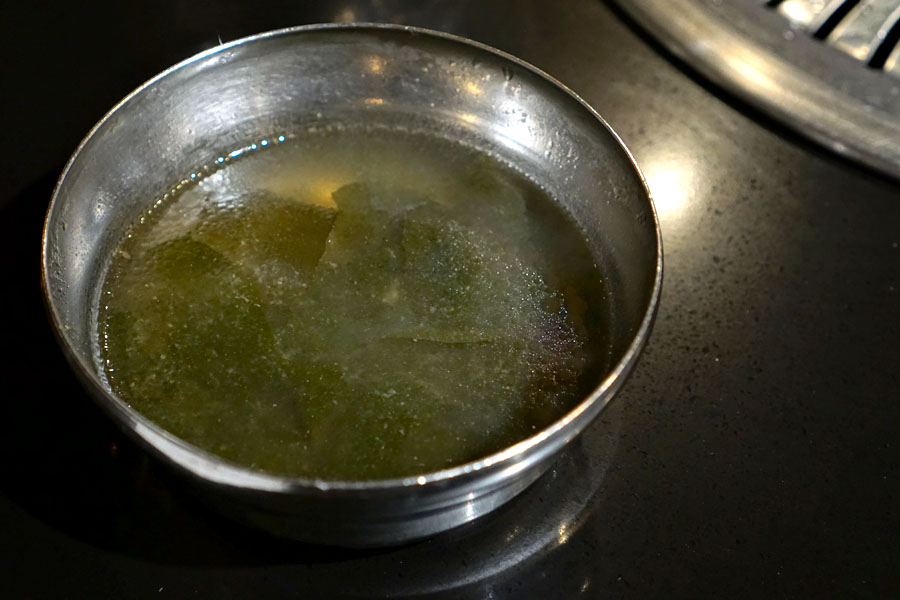 Miyeok-guk
(seaweed soup) showed off cozy, umami-laden flavors, and just seemed apropos for the chilly weather we were having.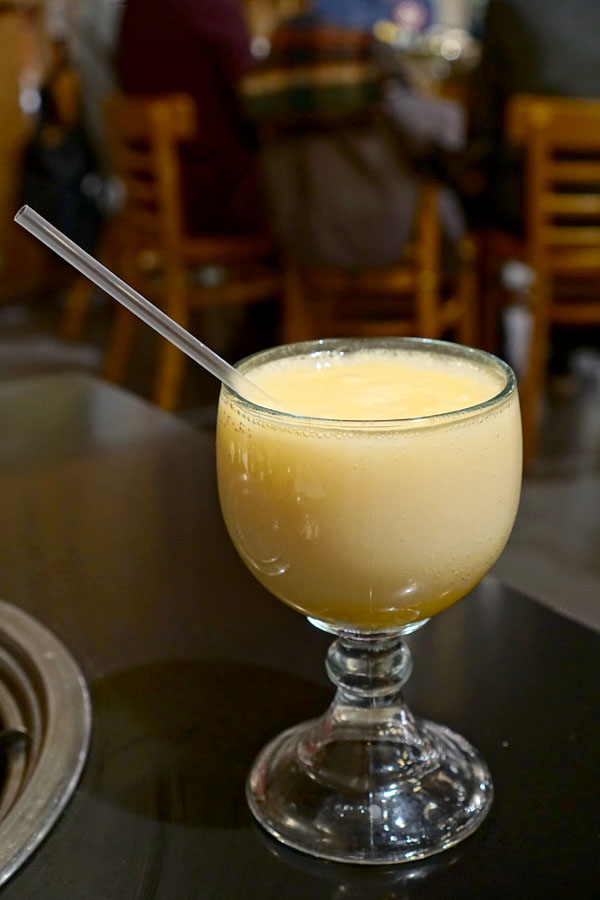 A hefty goblet of
Peach Makgeolli [$11.99]
wasn't overly sweet thankfully, though the booze was still well hidden.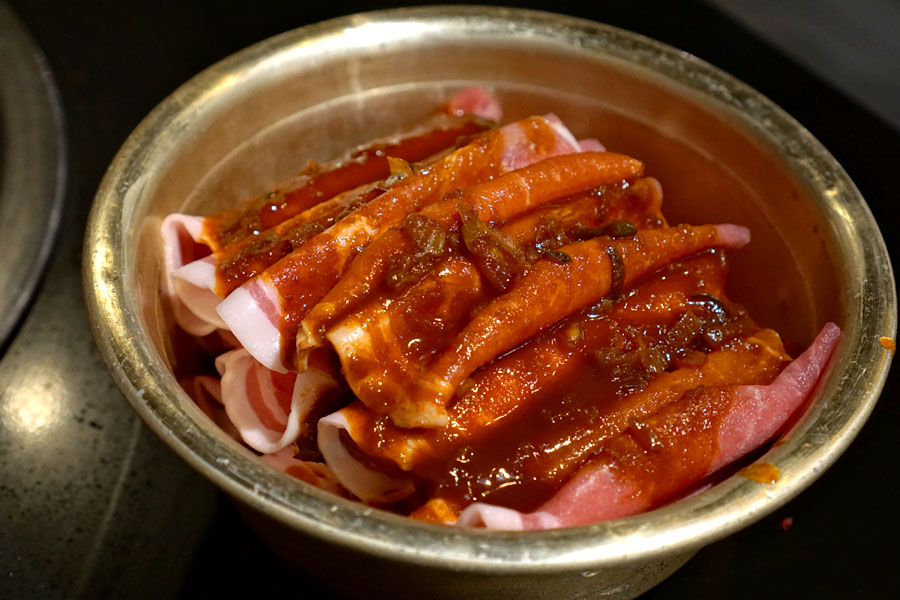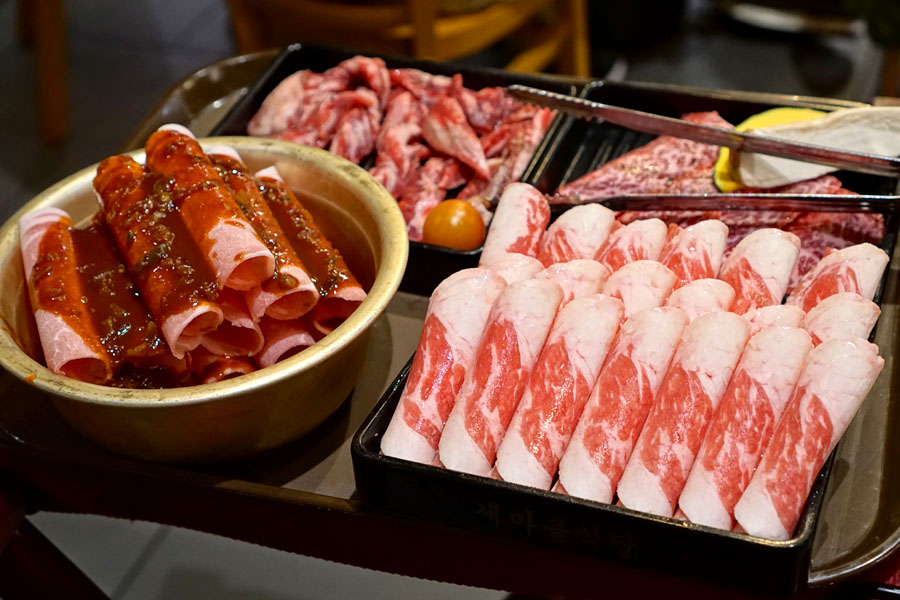 Yeoltan Bulgogi [$17.99]
| Charcoal Grilled Thinly Sliced Pork
Beef Special Combo [$52.99]
| Kkotsal + Sogalbisal + Chadolbagi + Kimchi Jjigae
We ended up ordering a beef combo, with Saemaeul's signature pork tacked on.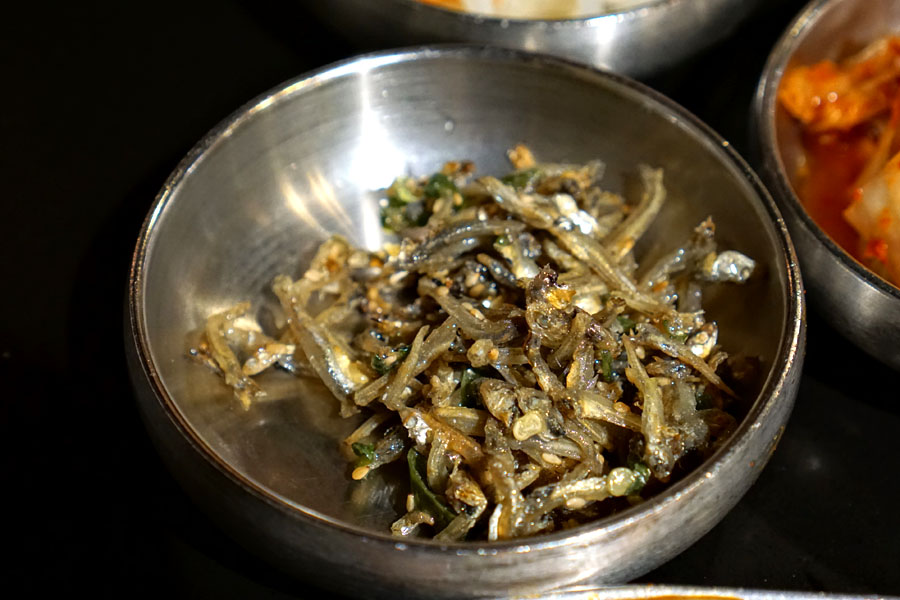 The
myeolchi bokkeum
(anchovy) was as briny as expected, but also displayed a pervasive sweetness.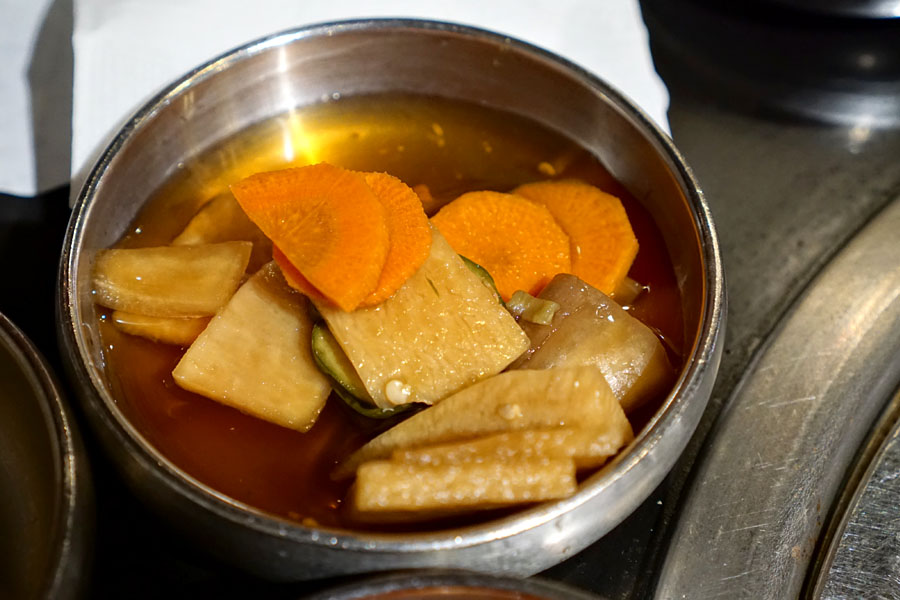 Jangajji
pickles ate crunchy and just acidic enough.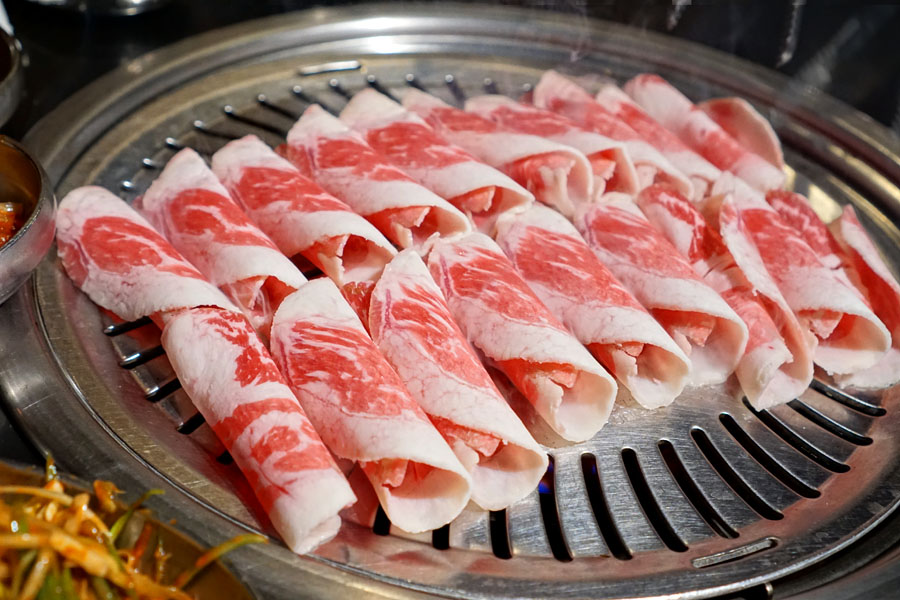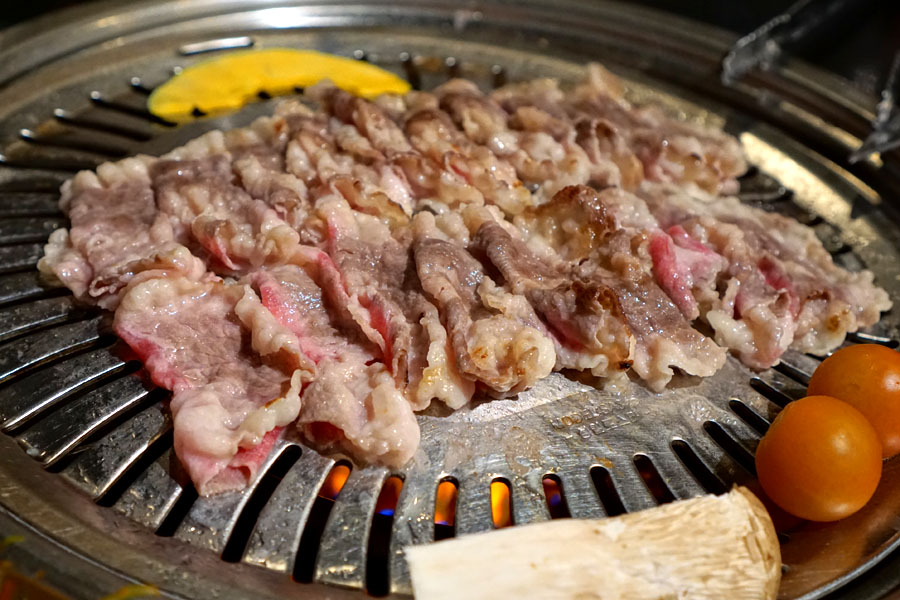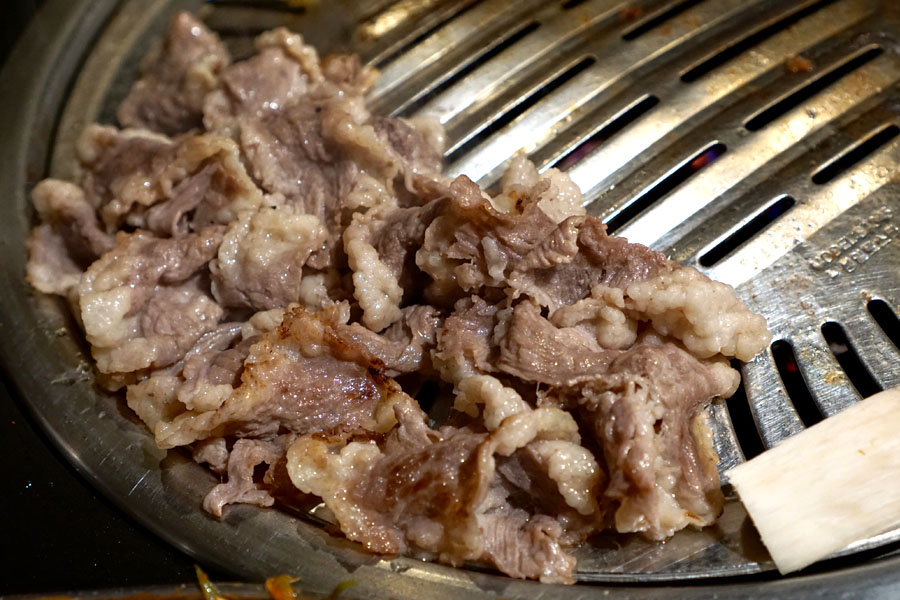 The usual starter of
chadol
(brisket) was both fattier and more flavorful than usual, as well as somewhat chewier.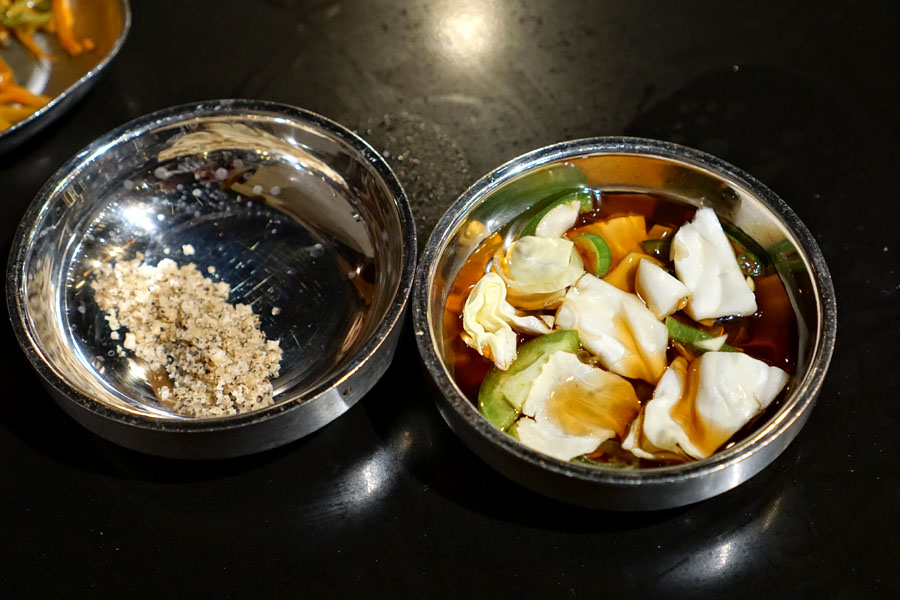 Salt-and-pepper was primed for the application of sesame oil, while the
chadol
sauce contained cabbage, which I don't think I've seen before.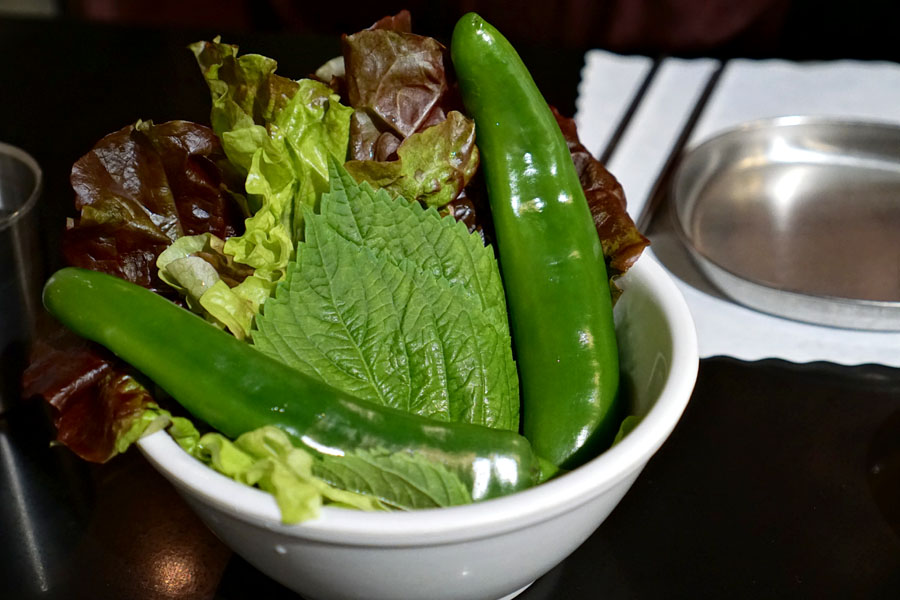 Ssam
wrappers of
sangchu
(lettuce) and
kkaenip
(perilla), along with a couple of delightfully crunchy, not-too-spicy
gochu
. Try the peppers simply with a dip in the
ssamjang
.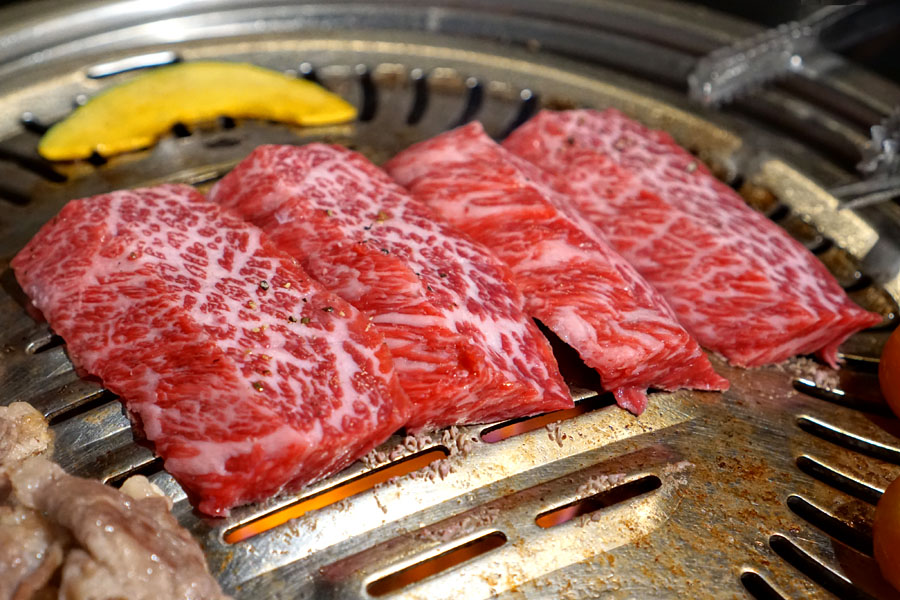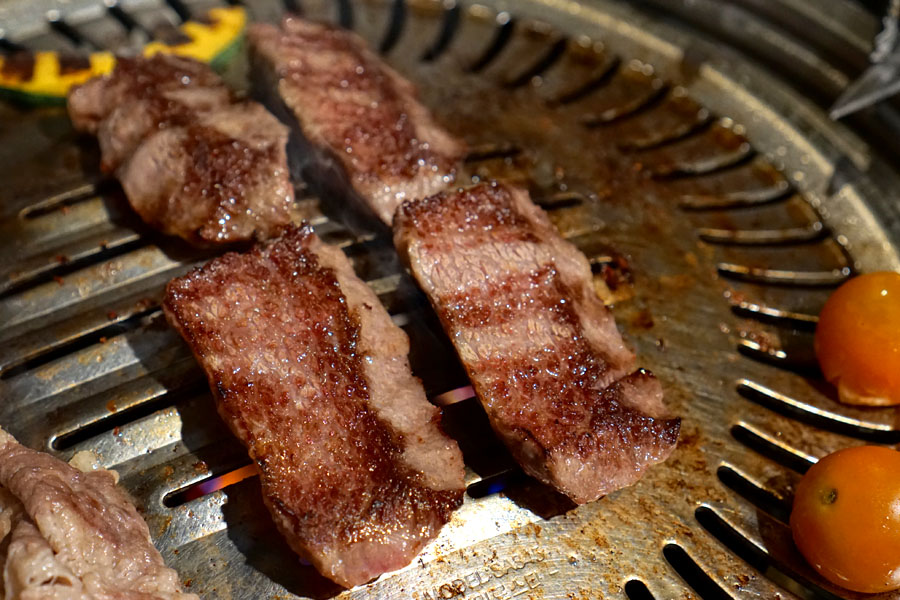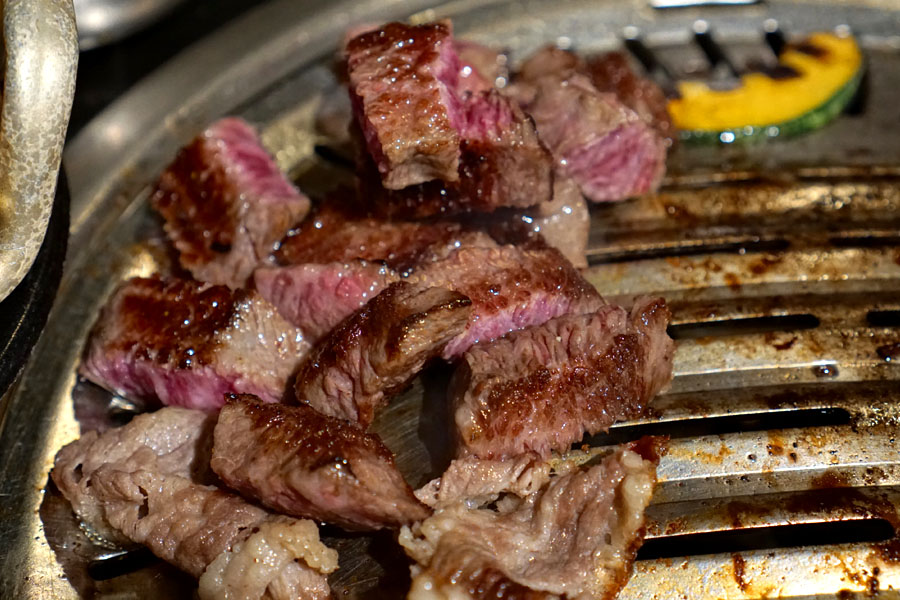 The
kkotsal
(boneless short ribs) I found juicy and tender, as well as super clean tasting, with a hint of smoke.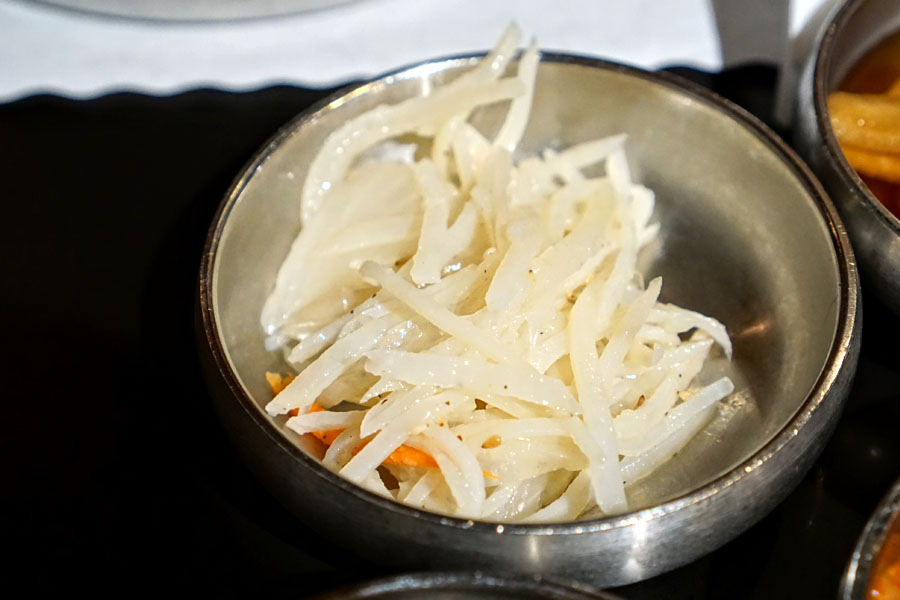 The
gamjachae bokkeum
was my favorite of the
banchan
, as I loved the crunchiness of the potatoes here.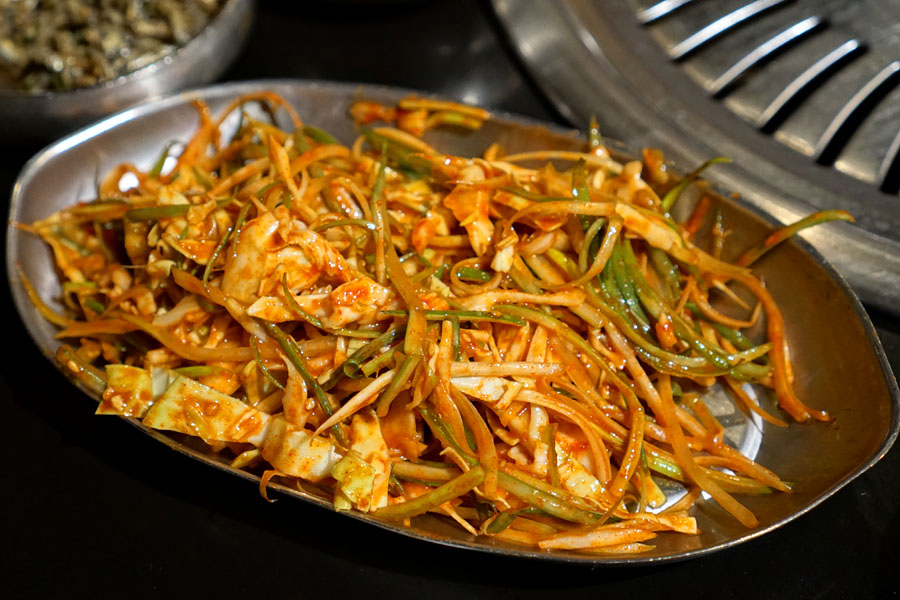 Pajeori
also hit the mark with its sweet 'n' spicy notes layered over the astringency of green onion.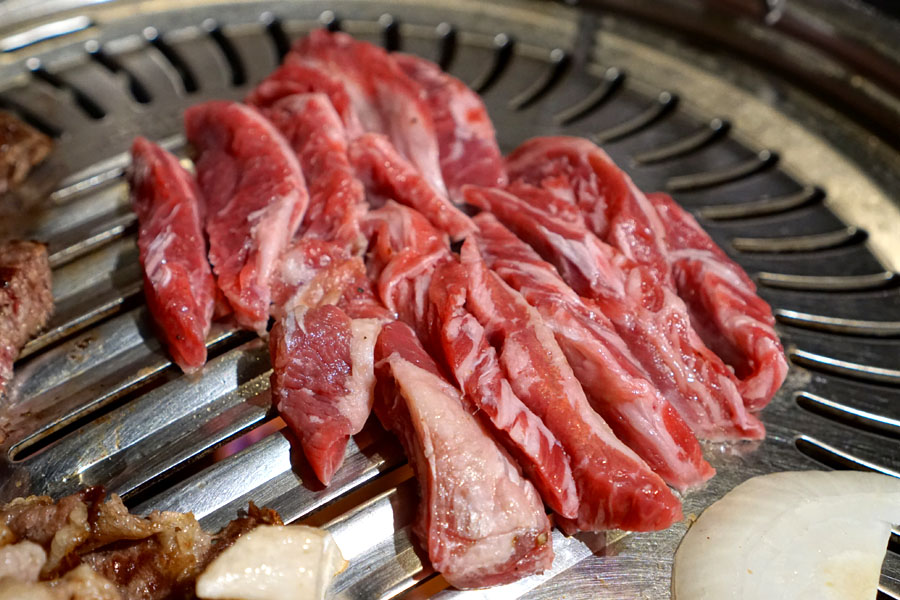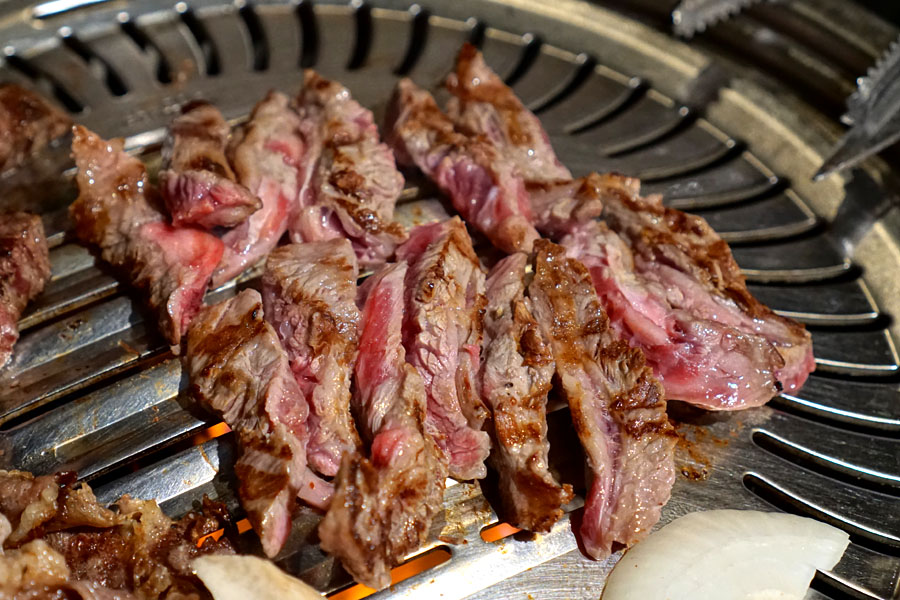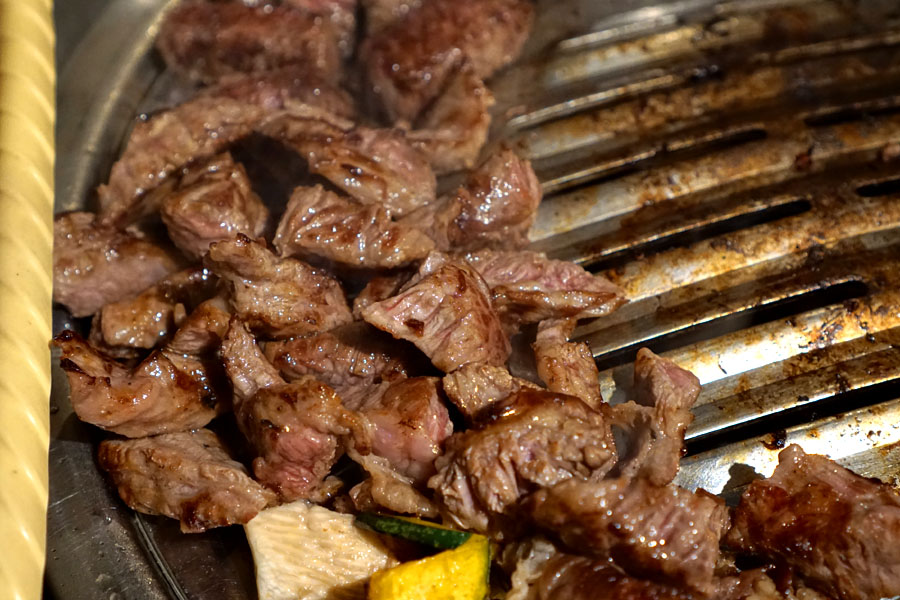 The
sogalbisal
(beef finger rib) was the most austere meat of the night due to its tougher consistency and relatively restrained flavor profile.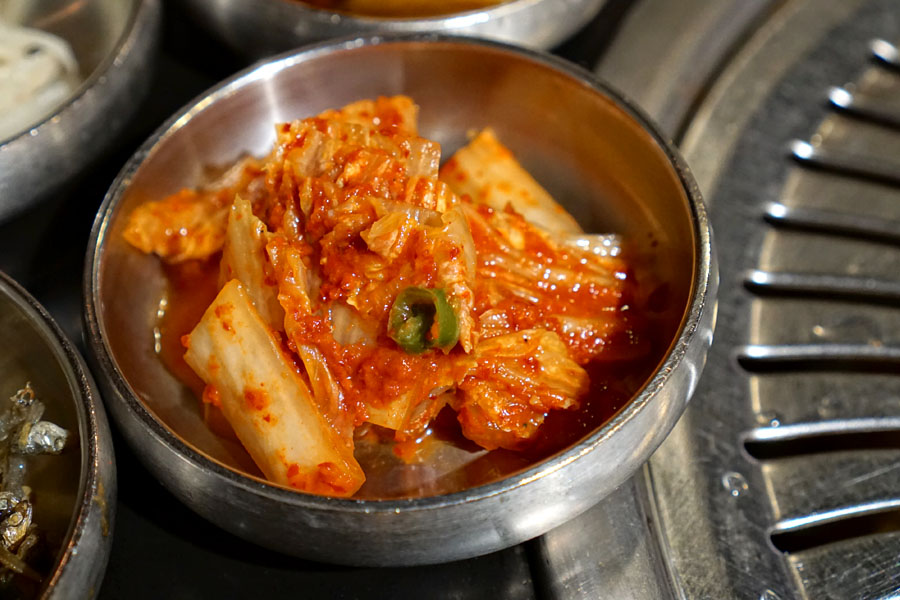 A pretty classic rendition of
baechu kimchi
.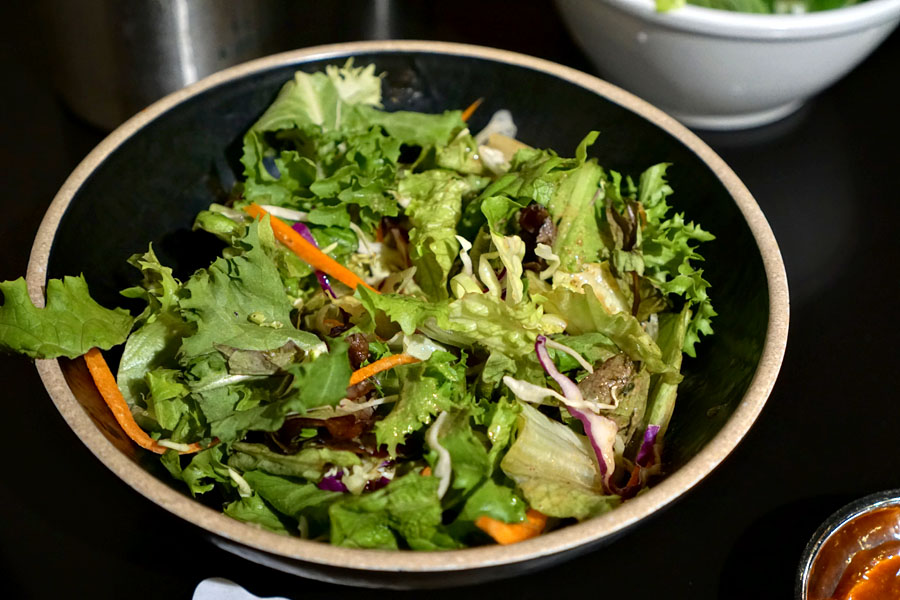 The requisite salad was on the underdressed side, and rather bitter.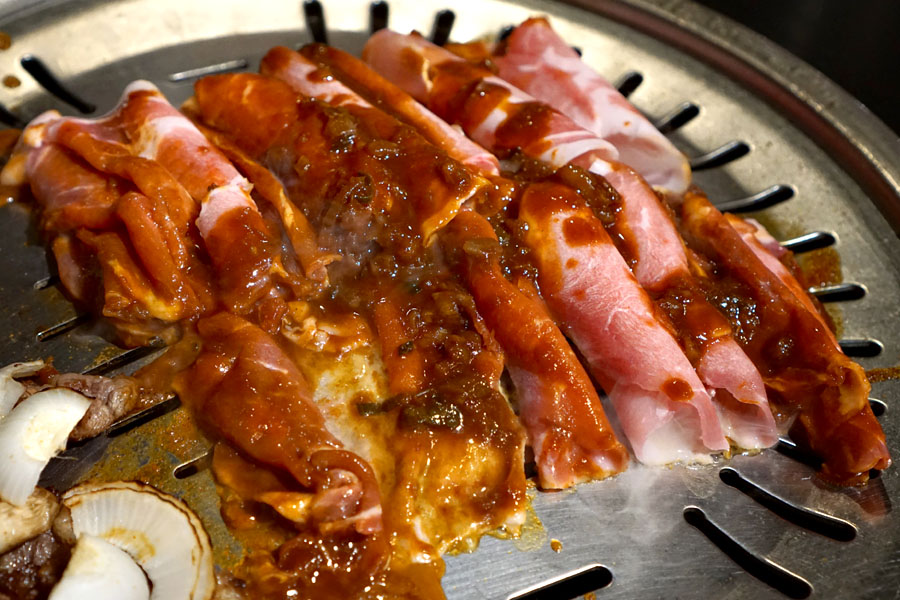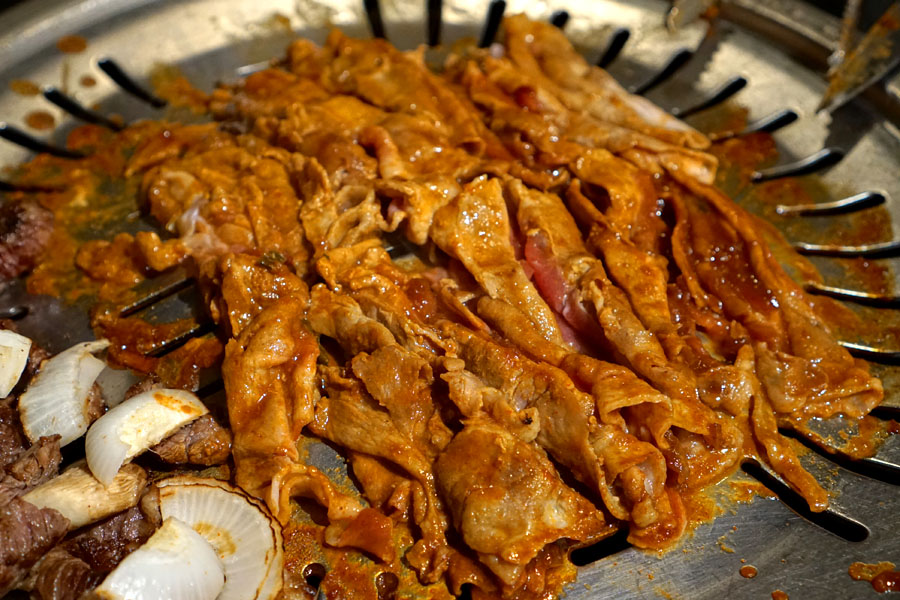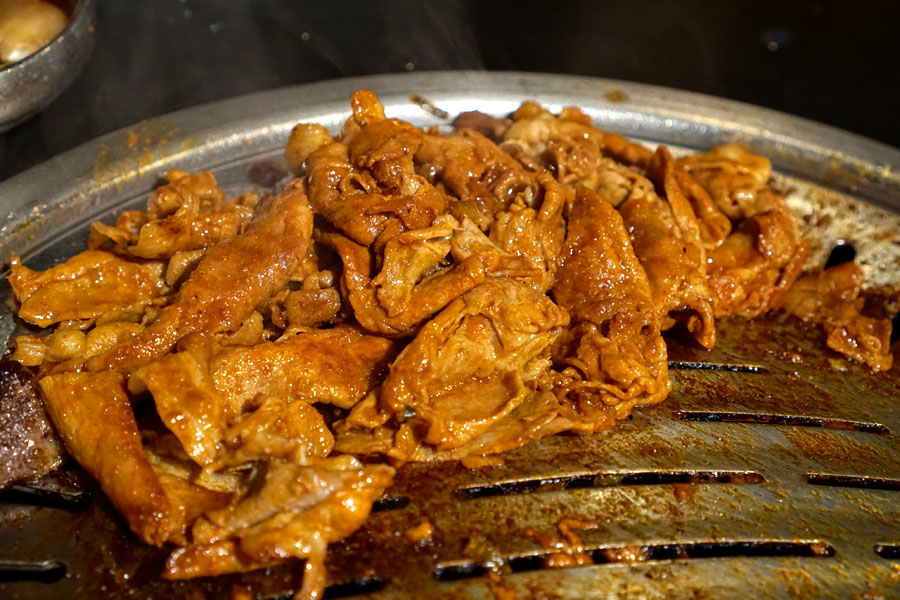 We ended with Saemaeul's signature
yeoltan bulgogi
, which came slathered in a
gochujang
-based sauce. It was quite spicy (I was glistening), but the meat did display this undercurrent of sweetness to it as well. Texturally, the pork had a meaty, satisfying chew that was different than what you find in your typical bulgogi.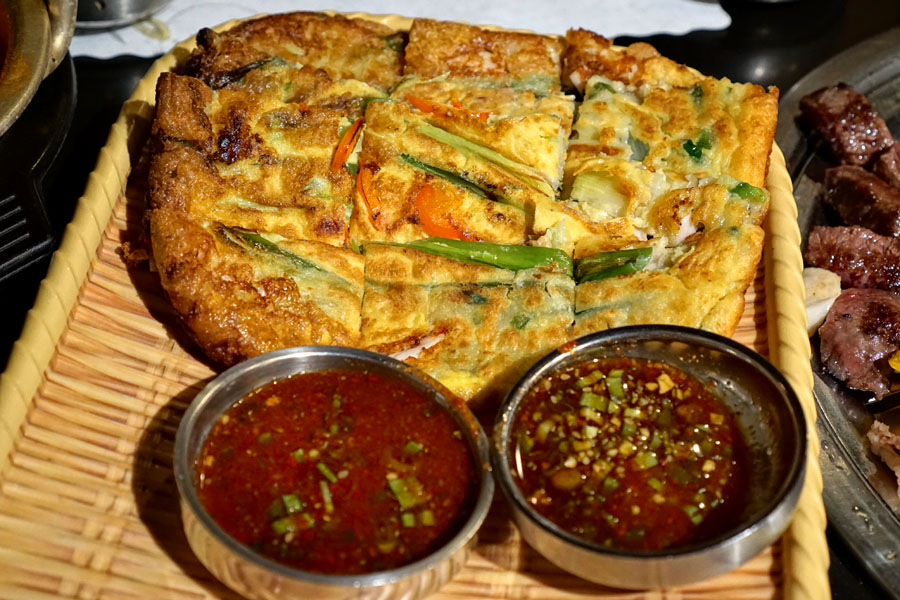 Haemul Pajeon [$14.99]
| Seafood and Green Onion Pancake
Saemaeul's
haemul pajeon
was one of the better ones I've eaten in recent times. I especially appreciated the pancake's almost "fluffy" consistency, not to mention how well the seafood was incorporated.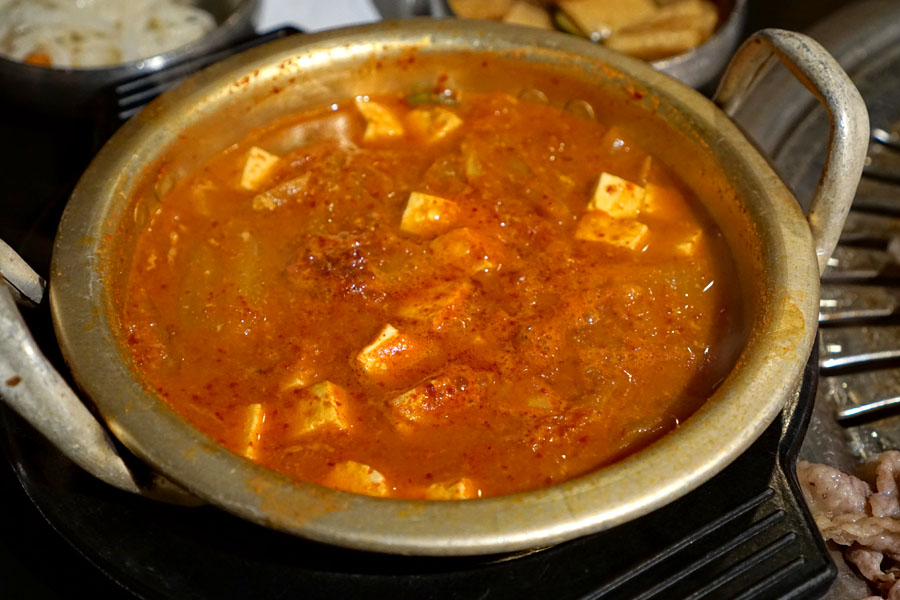 Last up was the restaurant's signature
chilbun dwaeji kimchi jjigae
, a preparation of the stew in which it's apparently boiled for only seven minutes (a relatively short time from what I hear). In any case, it was a solid rendition of the dish for sure. I definitely found it meatier than usual, with a stronger sour component from the kimchi.
Saemaeul is another worthwhile addition to Buena Park's Korean cuisine landscape. The barbeque was solid, while the non-BBQ dishes delivered too, and overall the menu here just seems ever so subtly different than those of competing KBBQ places. I'll be curious to see if they expand to more locations throughout SoCal.