Fuss & Feathers at Hatchet Hall (Los Angeles, CA)
Fuss and Feathers at Hatchet Hall
12517 Washington Blvd, Los Angeles, CA 90066
310.391.4222
www.hatchethallla.com/fuss-feathers
Thu 01/24/2019, 08:05p-12:30a

Since opening in 2015, Brian Dunsmoor and Jonathan Strader's Culver City-adjacent restaurant
Hatchet Hall
has firmly established itself as a go-to spot for American Southern cooking in LA. Now we all have a fair idea of what "Southern" cooking is, but what exactly is "American" cooking? The answer isn't as clear, so that's what Dunsmoor and company began exploring. The result of their research has culminated in Fuss & Feathers, a seasonal dinner series named after Winfield Scott, the longest-serving Army general in US history as well as a noted gourmand. The supper club of sorts began on July 19th last year, then returned on October 11th. This third iteration, meanwhile, kicked off on January 24th, and ran until February 28th, Thursdays only, inside Hatchet Hall's cozy Family Room.

Above we see Fuss & Feathers' menu, inspired by the cuisine of early America and ostensibly created solely on a wood-burning hearth without the assistance of any modern kitchen technology (exception: boiling water). The price is $150 a head, or $225 with booze, and there's room for up to a dozen diners at a time for a single 8:00 seating. Click for larger versions.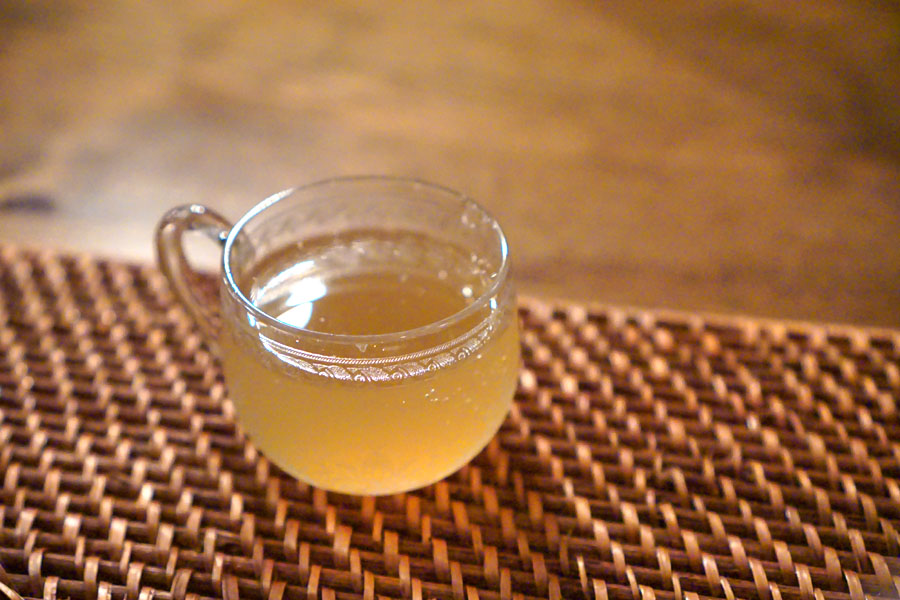 The evening's welcome cocktail was a version of the Schuylkill Fishing Company's venerable Fish House Punch, comprised of cognac, Jamaican rum, peach brandy, oleo saccharum, and black tea. I found it an appropriate apéritif, with its flavors of sweet tea, spice, citrus, and counterbalancing bitterness doing an admirable job in perking up the palate.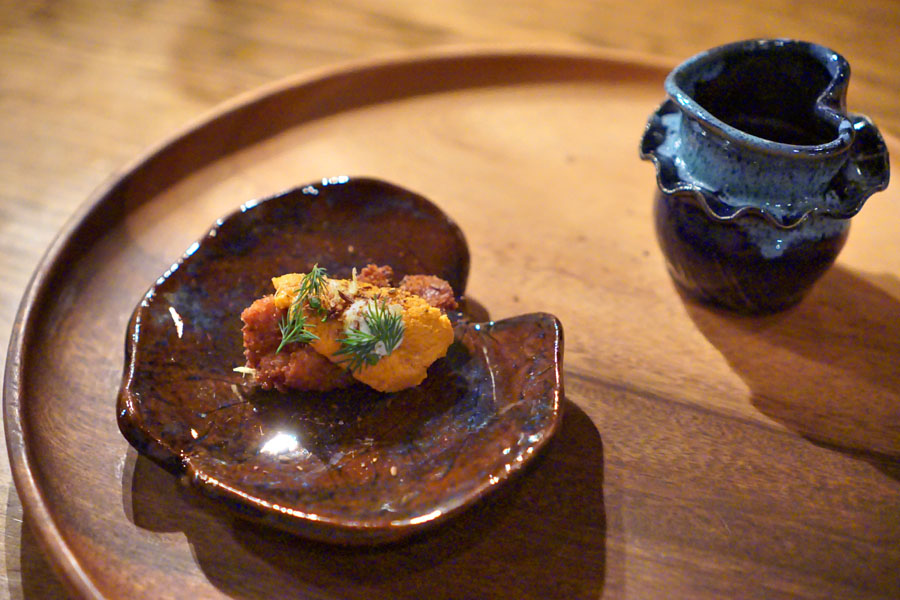 1: RABBIT SCHNITZLE
| Santa Barbara sea urchin
marc hebrart, champagne premier cru, 'cuvee de reserve' NV
Serving as a sort of amuse bouche, our first course brought out rabbit schnitzel, fried in beef fat and topped with Santa Barbara uni, chive, lemon zest, caraway, dill, and a little bit of crème fraîche. It was meant as an ode to the many Jewish flavors found in American cookery, and was quite tasty to boot, the crunchy, savory fritter meshing well with its lush, creamy, citrusy accompaniments. Note also the handmade pottery, sourced from Idyllwild and Pioneertown out in the California desert. In the heart-shaped vessel we had our wine pairing, a robust, full-bodied Champagne with healthy amounts of toast and yellow fruit along with some heat and a bit of oxidation on the nose.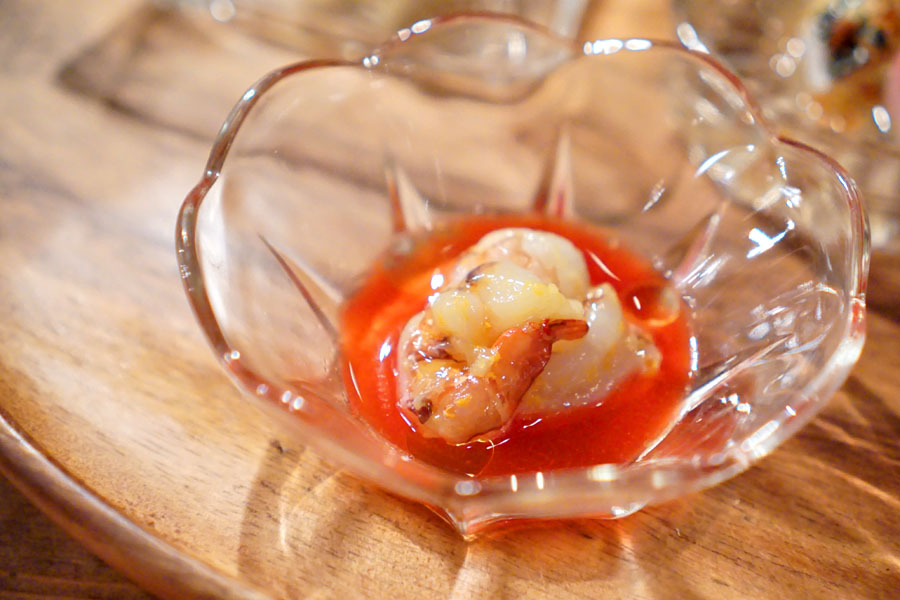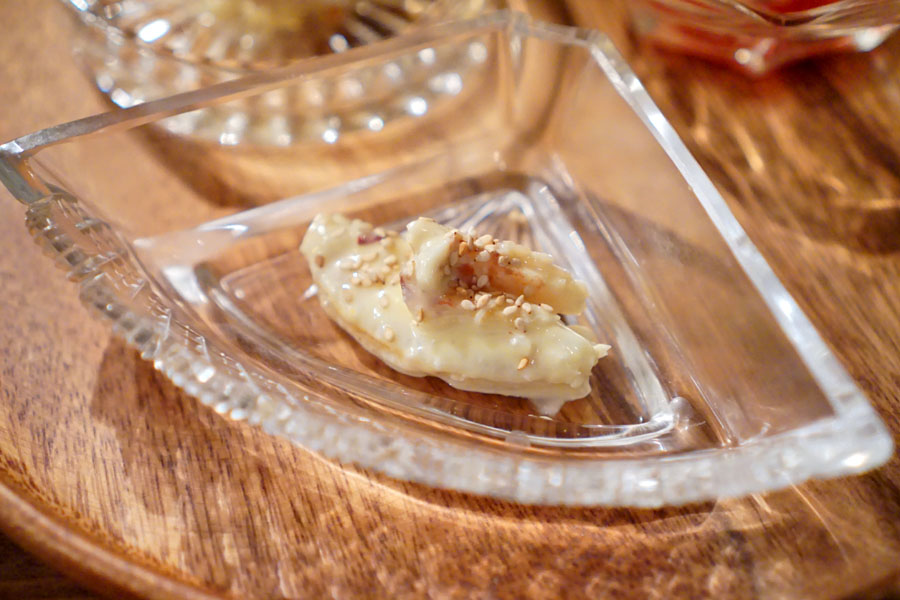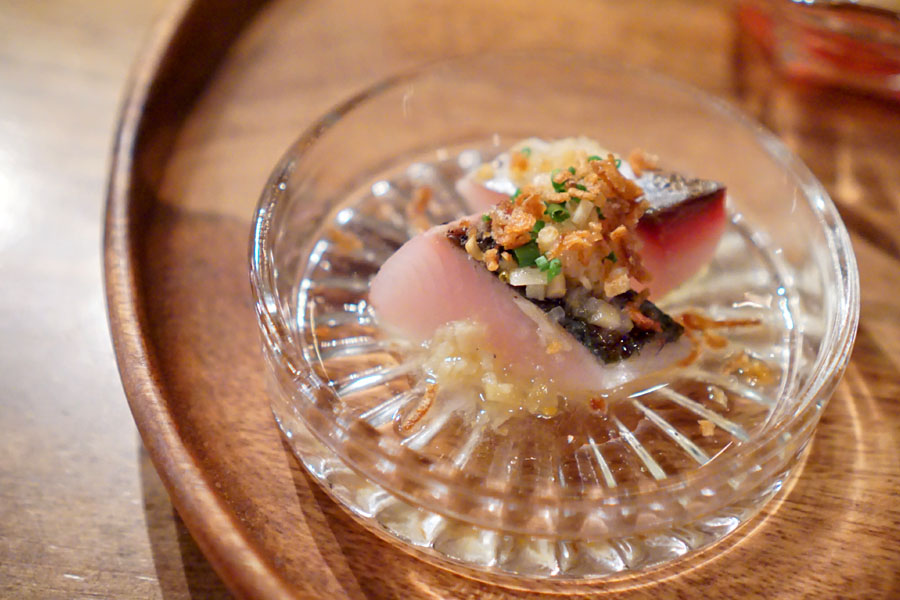 2: WINTER IN THE RAW
patrice colin, chenin blanc, 'pierre a feu', coteaux de vendomois 2017
Next came a selection of three raw seafood preparations. We were instructed to consume in the following order:
Ridgeback Prawns - From Santa Barbara, done up with serrano oil and blood orange. I found the shrimp super creamy and clean, and well accompanied by that citrusy sauce with its growing, lingering heat.
Dungeness Crab - Dressed with crab back butter and benne seeds. Excellent sweet, luscious brine here, perfectly accented by the nuttiness of sesame.
Spanish Mackerel - Line caught off the coast of North Carolina, garnished with a young ginger vinaigrette and chives. My favorite of the threesome, the fish was soft, delicate, and worked great with the zestiness of ginger. I loved those crispy, savory bits on top (fried garlic?), too.
To pair with the course, we had a fresh-tasting Loire Valley Chenin Blanc, one with some saline, astringent, vegetal flavors evened out by a bouquet of rich fruit notes.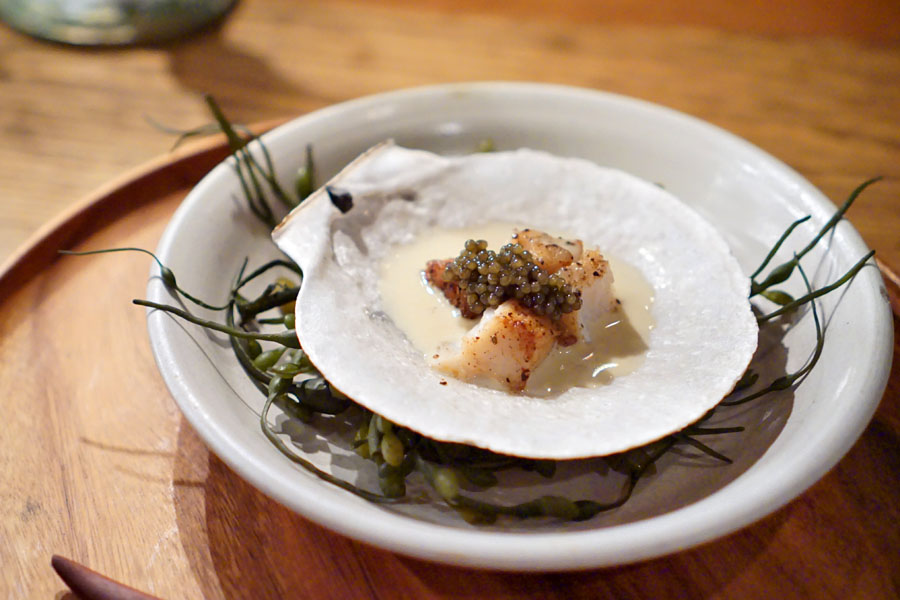 3: LIVE SCALLOP
| new england clam chowder, caviar
domaine danjou-banessy, macabeo, 'coste', cotes catalanes 2017
This course was inspired by the bountiful amounts of seafood available in North America prior to commercial overfishing. We had freshly-shucked scallop, set in a boiled down chowder and crowned with Passmore Ranch sturgeon caviar. The scallop itself was wonderfully caramelized, and had a permeating sweetness that linked up with the umami notes from the chowder. Accenting it all, meanwhile, were the salty pops of that caviar. To drink, we had a Macabeu (typically used to make cava). I found it stone-y, saline, and mineral-driven on the nose, while the palate was surprisingly full-bodied, with bright, fresh grassy flavors joined by caramel and just a smidge of oxidation.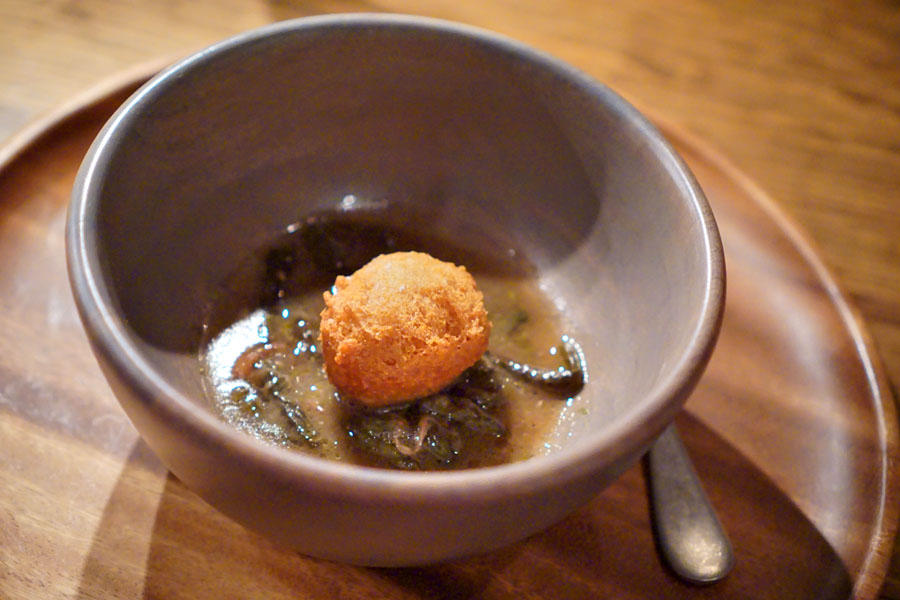 4: CORNMEAL DUMPLING
| leather britches, pot likker
valentin morel, trousseau, cotes de jura 2016
Here we had a dish inspired by corn preparation techniques that early European settlers gleaned from Native Americans: a dumpling made from Anson Mills cornmeal, served with a pinch of sea salt and Appalachian-style preserved green beans stewed down with ham hocks. It smelled great, and conveyed a plethora of heady, hammy, bitter, vegetal flavors that married seamlessly with that gritty-yet-delicate fritter--super cozy. As for the wine, it was sort of a polarizing one. The nose went in a decidedly meaty, savory direction, and some of my dining companions likened the aroma to that of dried blood. The taste, though, was something altogether different, and I got a good amount of bright red fruit, some flowers, and a marked peppery component.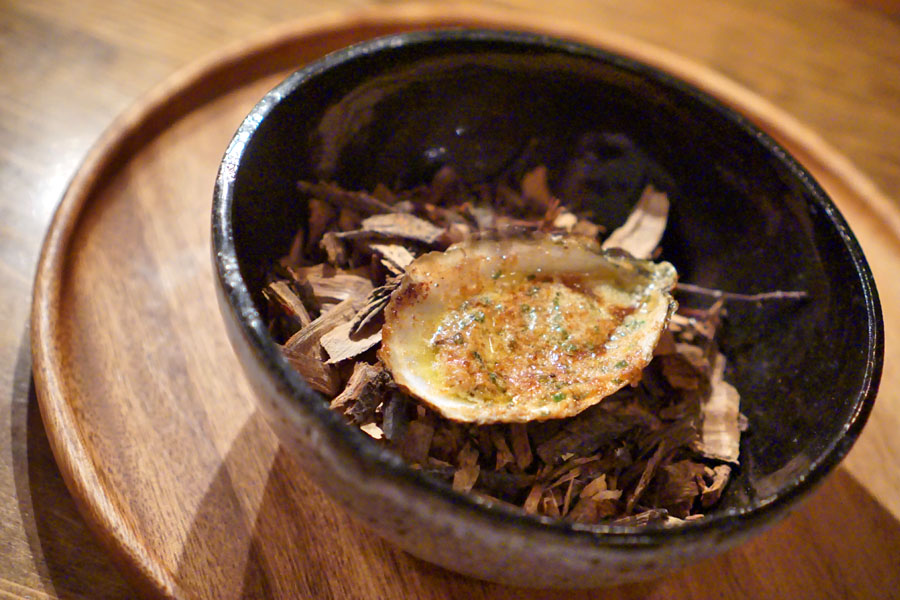 5: OYSTER ROASTED IN TINDER
| cured mullet roe
weszeli, gruner veltliner, 'langenlois', kamptal 2017
A lone Wellfleet was topped with a cured mullet roe butter (sourced from Cortez Bottarga out of Florida's Gulf Coast), which was subsequently melted by burning plum wood chips. The end result was a super rich, super buttery presentation of oyster, but one also smartly balanced out by the astringency and smoke from the tinder. As for the paired Grüner Veltliner, it was fresh and fruit-forward on the nose, with a trace of crisp minerality. The palate, meanwhile, showed off a bracing acidity and a somewhat effervescent character, along with succulent fruit, grass, and stone.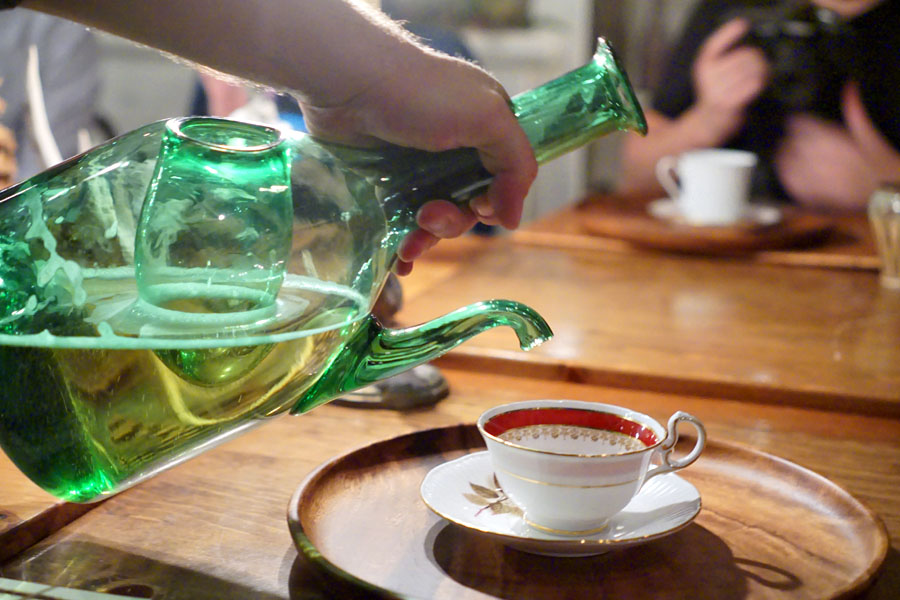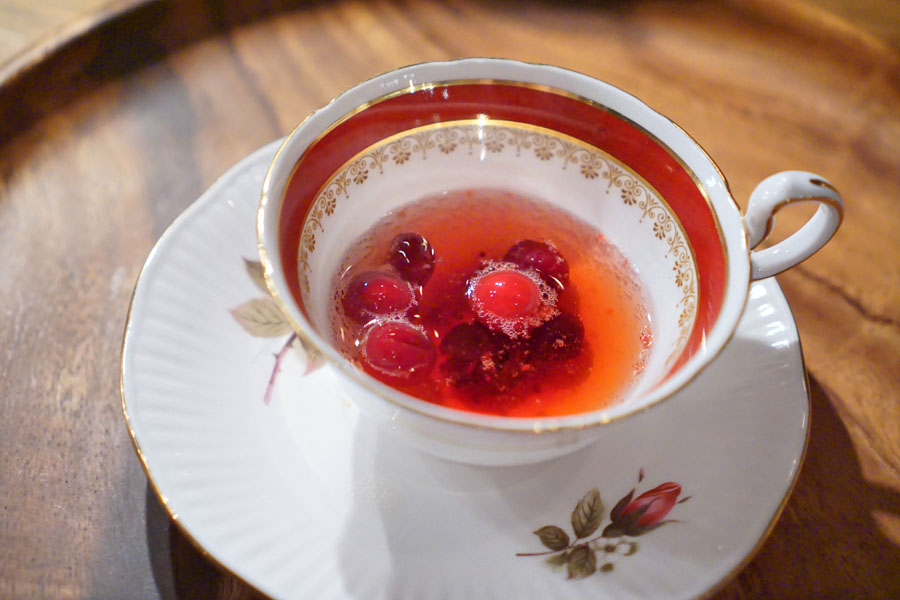 6: MAPLE PRESERVED CRANBERRIES
| shrub, cider
A palate cleanser course was inspired by Native American techniques for preserving fresh cranberries in maple. It was a superb respite from the heavier flavors we were having thanks to its robust sweet-tart berry flavors, augmented by the sugariness of a maple shrub while the Shacksbury cider offered up an effervescent contrast.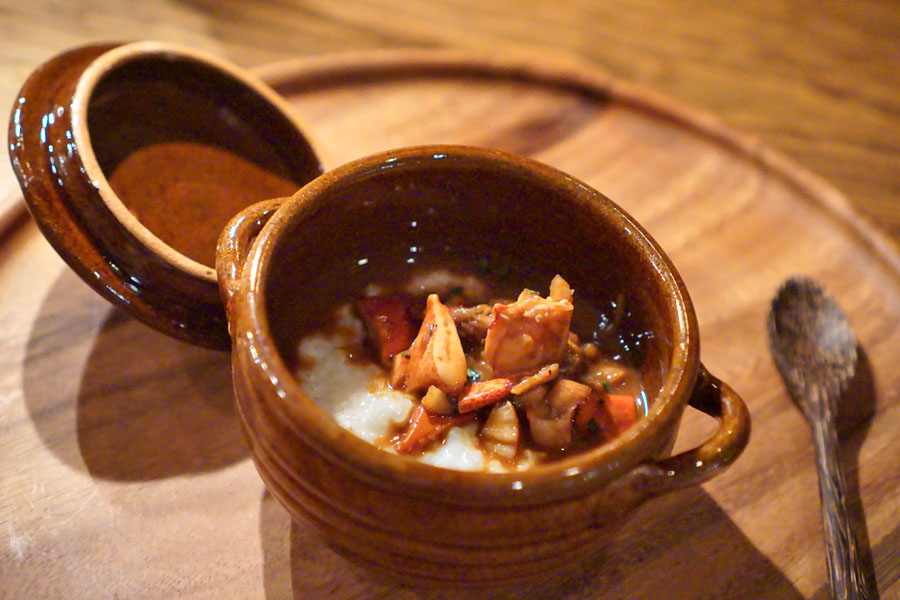 7: MAINE LOBSTER
| carolina gold rice middlins
brezza, nebbiolo rosato, langhe 2017
Hearty chunks of Maine lobster were cooked in a brandy stock with veal and copious amounts of boiled down shell. This just might've been the most robustly-flavored preparation of lobster I've ever encountered, with the crustacean coming out almost unimaginably earthy and briny and buttery. Thus, the middlins (broken rice created as byproduct of grit production) were absolutely crucial for contrast, and actually had a light, "fluffy" consistency that I enjoyed. The accompany rosé wine was a fun one, giving up floral, fruity, almost candied notes layered over a boozy astringency.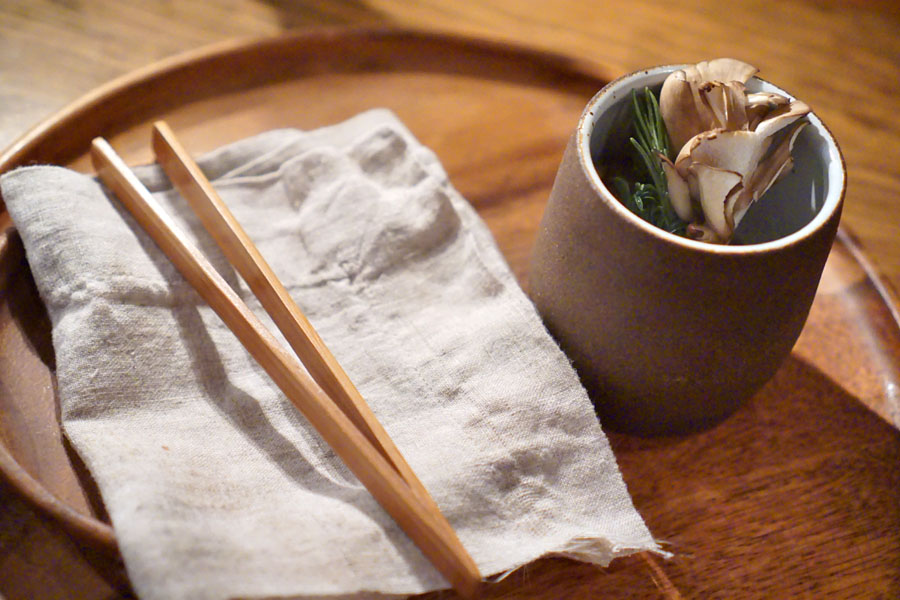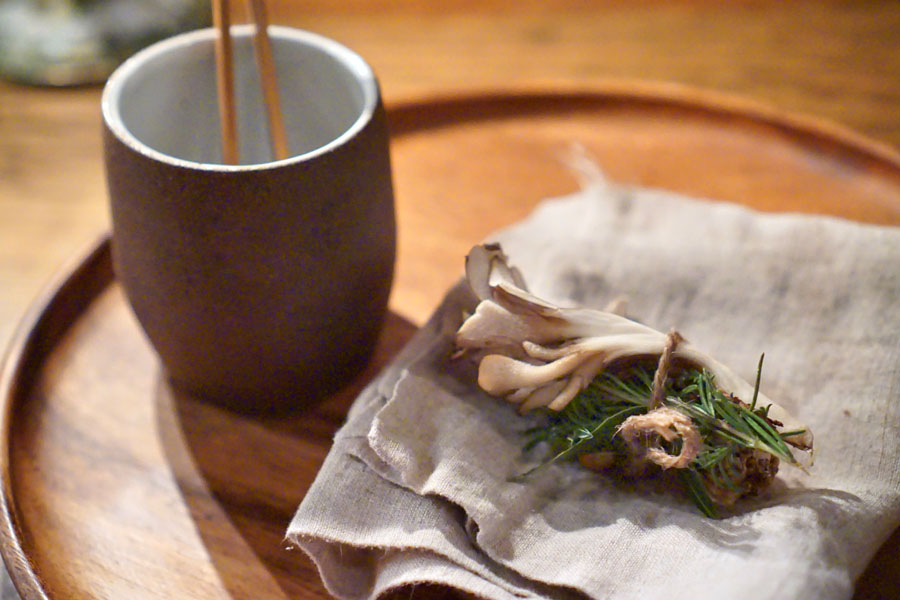 8: BEEF TEA
| winter bouquet
Apparently, beef tea functioned as a sort of 18th century cure-all. We were instructed to let the tea steep for a minute, to really draw out the flavors of
hon-shimeji
and the
bouquet garni
. It was an invigorating drinking experience to be sure, with an in-your-face beefiness and depth accented by strong thyme notes and an undercurrent of woodsy 'shrooms.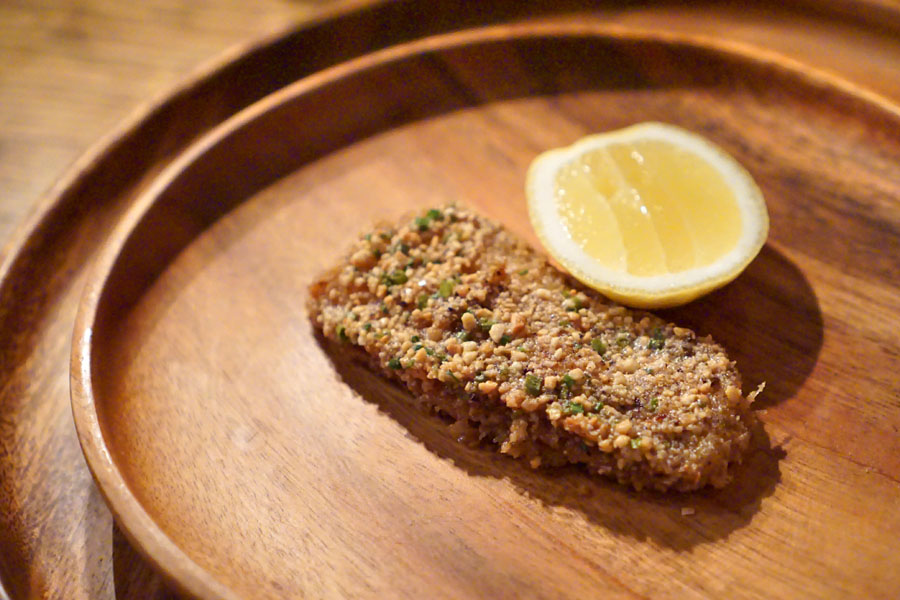 9: THREADFIN SOLE MEUNIER AMANDINE
| roasted on the bone, to be eaten by hand
kabaj, ribolla gialla, goriska brda 2014
A
meunière amandine
preparation of sole was meant to reference early America's reverence for French cuisine. Served bone-in, the fish featured soft, meaty, buttery flesh enrobed in a nutty, gritty, slightly bitter crust incorporating roasted and ground almonds. This was even better with a squirt of the included lemon. As for the paired wine, it was arguably the most interesting of the night, showing off an almost cider-like quality with lots of funky, earthy notes alongside tannic and acidic elements.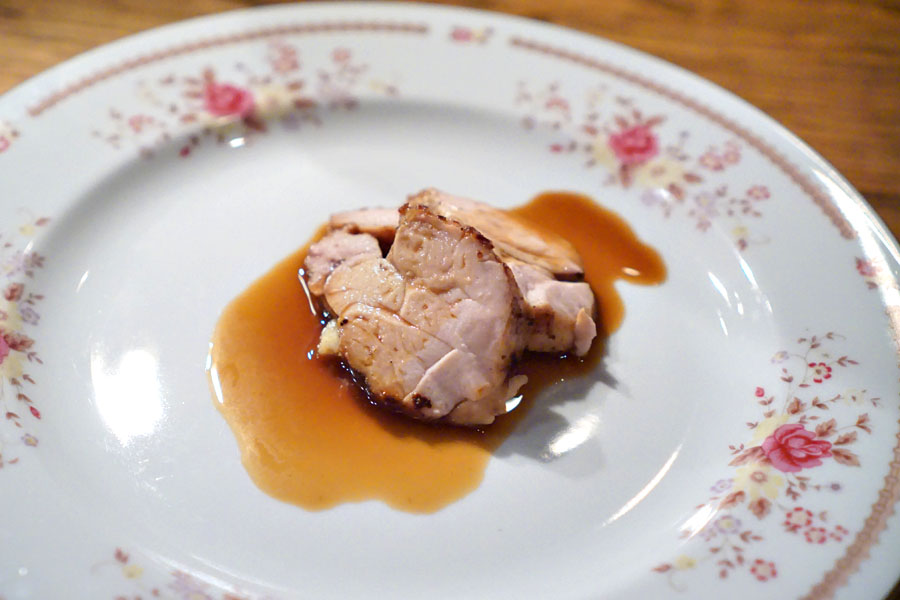 10: VEAL OLIVE
| sweetbread, dungeness crab, madeira
bodegas barbadillo, oloroso sherry, 'cuco' NV
Here was a variation on a recipe ostensibly cribbed from Martha Washington's cookbook, one describing thin-pounded veal stuffed with crab or oysters, formed into an olive then roasted. F&F's version comprised roasted veal sweetbreads finished on the grill, layered on top of a crab salad lightly dressed with citrus. The sweetbreads were among the most delicate and nuanced I've ever tasted, and I appreciated the brightness imparted by the crab, all while the slightly sweet Madeira sauce helped bind everything together. And the accompanying sherry? Think funky, musty, salty, nutty, with a touch of caramel and dark fruit.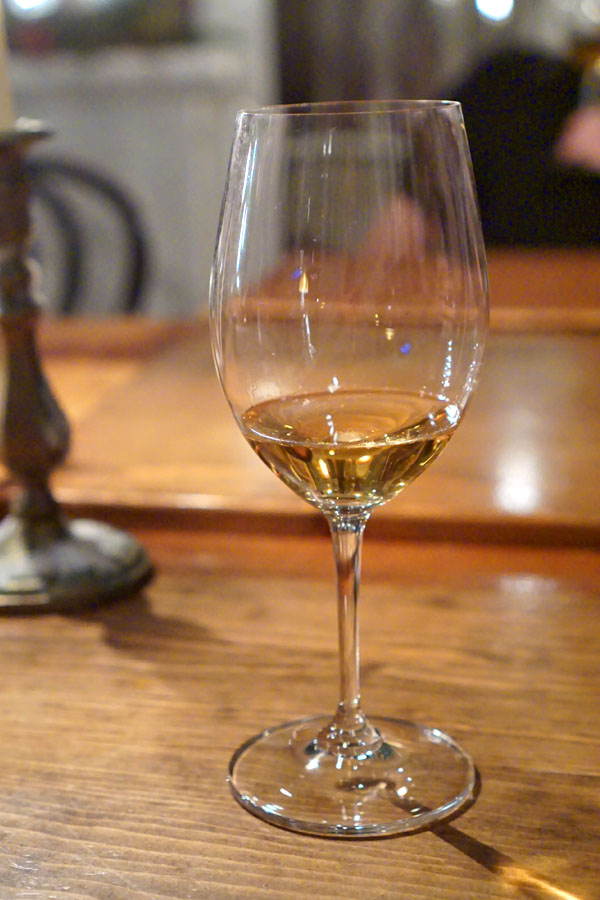 11: LIBATION
Here was an intermezzo of sorts, designed to brighten up the palate prior to the main course. A combination of white port, tonic, and grapefruit oil, the drink has a super intense aroma of citrus, one that I smelled immediately when the glasses were brought into the dining room. Its palate, meanwhile, was refreshing and effervescent, displaying a welcomed port complexity accented by lively pricks of grapefruit.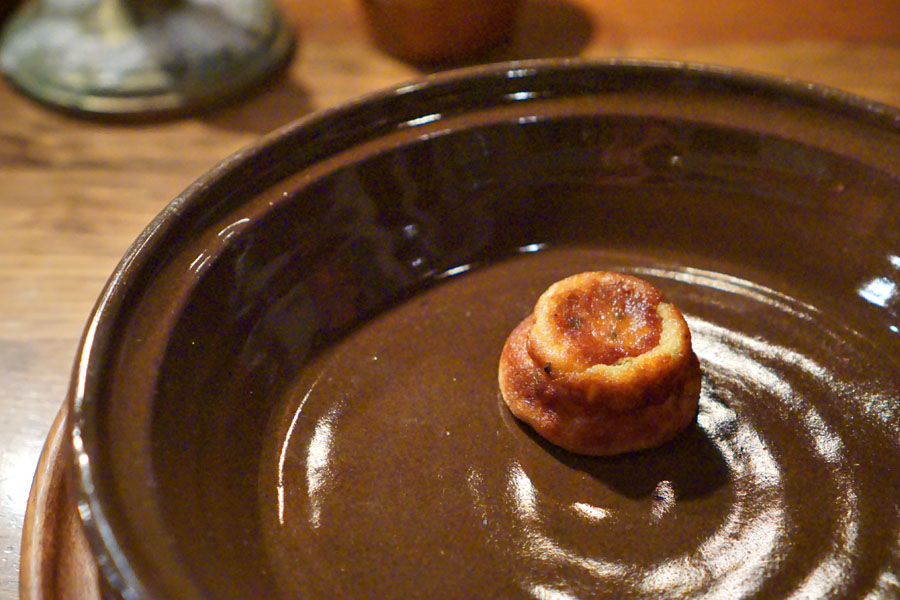 To go along with our main course, we were each provided spoonbread, a sort of cornmeal soufflé that I found light and airy, though substantially salty.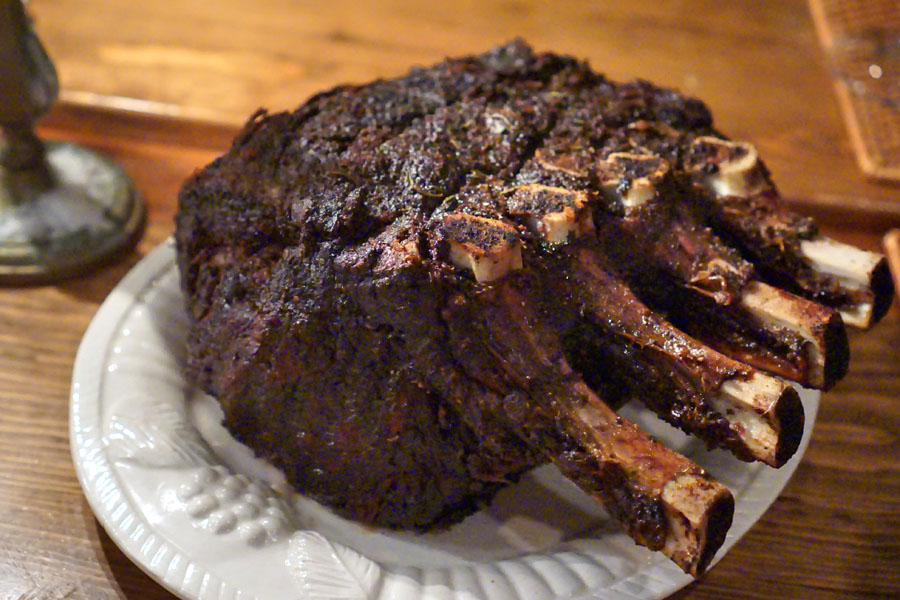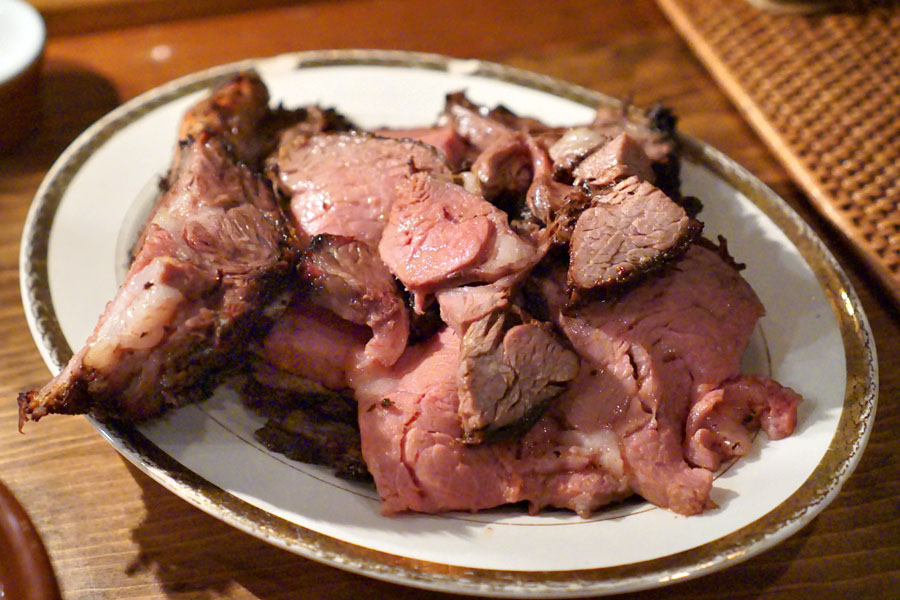 12: ROAST BEEF
| root cellar vegetables
eladio piñeiro, tempranillo, 'la coartada', alentejo 2007
The evening's
pièce de résistance
was the English staple of roasted beef. It was an impressive looking specimen, and ate soft and succulent, with a lovely char character to boot. We definitely didn't leave hungry after this. Along with the meat came a glass of Tempranillo. I got a distinct vegetal aroma on the nose, along with some savory and anise-y elements. The palate, meanwhile, gave up a berry-fueled sweetness with more fennel-like and herbaceous notes.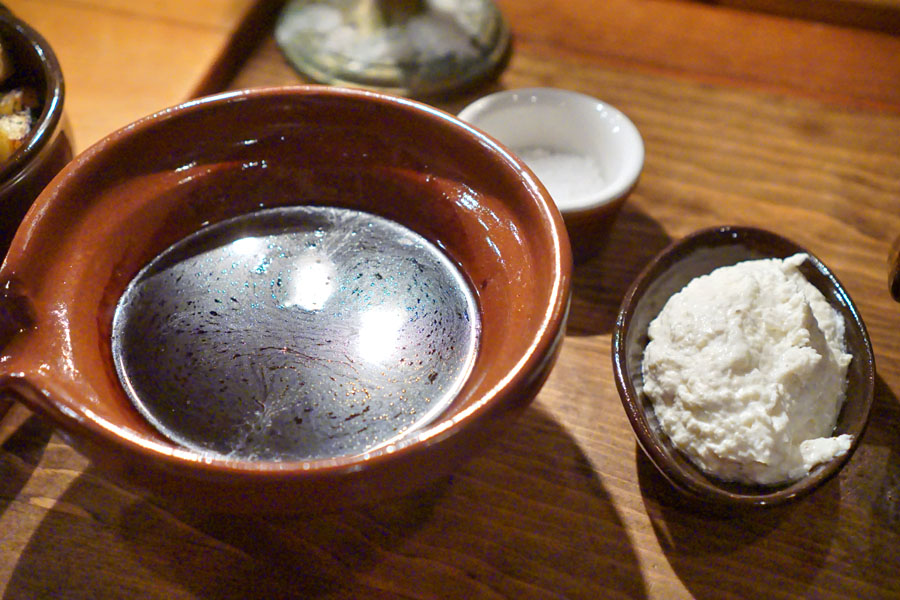 Accompaniments to the beef included a rich beef jus, Maldon salt flakes, and a fantastic housemade prepared horseradish.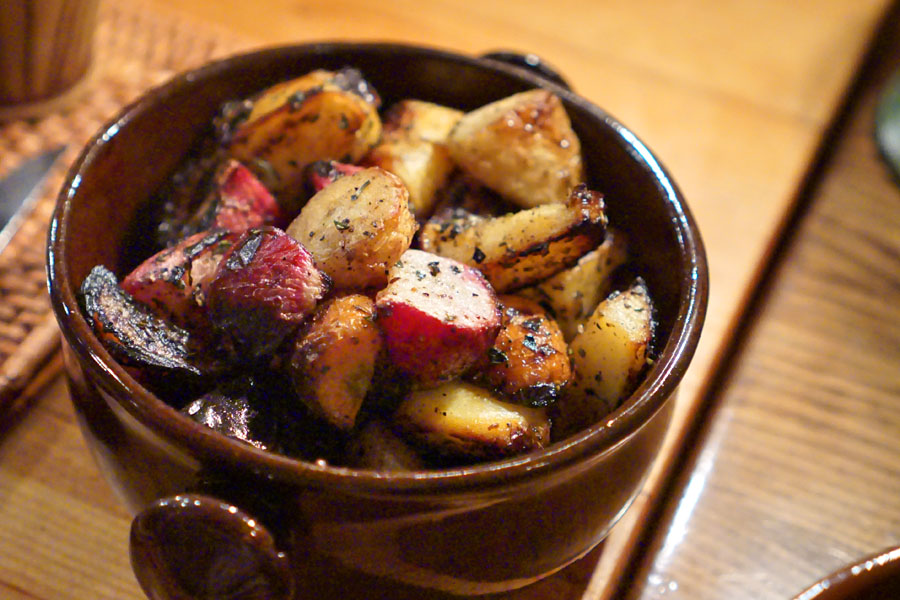 Above we see root vegetables that had been stored underground for a month, naturally curing. I found 'em hearty and substantial, with lots of what I believe was thyme.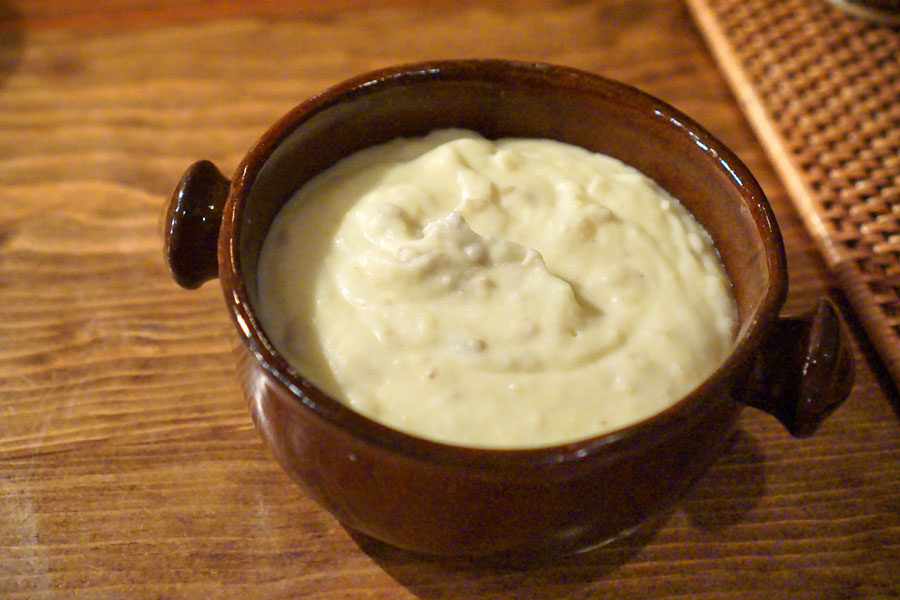 The creamed mashed potatoes were some of the best I've had in a long while.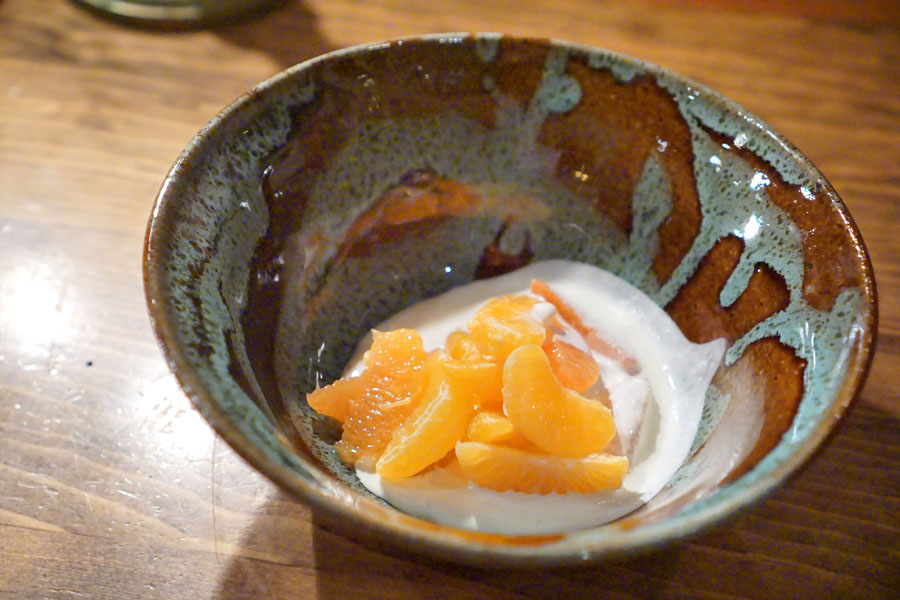 13: ORANGE CITRUS
| sweet cream
domaine bordenave, gros manseng, 'le copains de'abord', jurançon 2013
Dessert paired bright, juicy citrus with a base of sweet cream, and the resulting combination was almost Creamsicle-like. It matched up swimmingly with the paired Gros Manseng, which featured sweet, honeyed tropical fruit notes balanced by a persistent acidity--a fun one.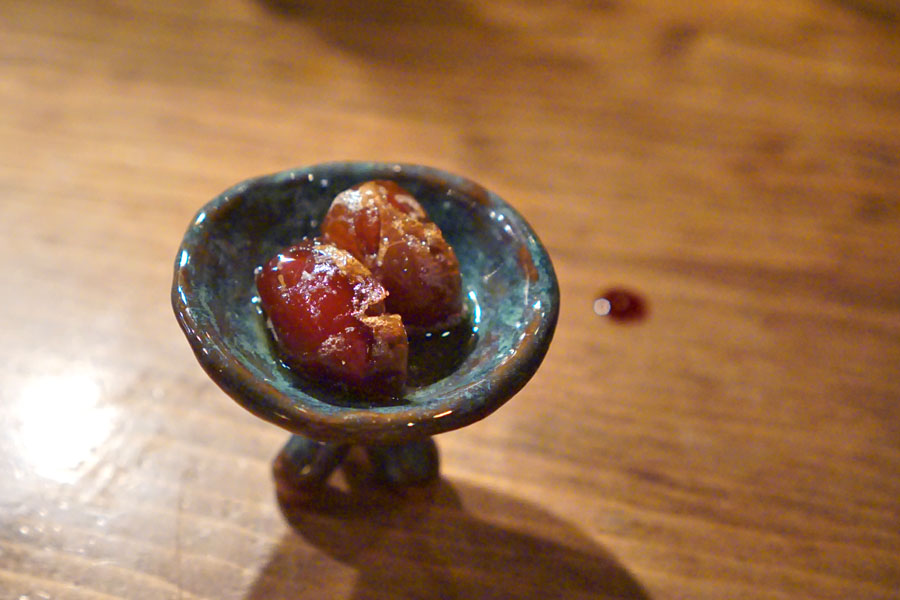 14: CONFECTION
Rich, sugary dates with brown butter served as our
mignardise
course.

With dinner done with, we headed over to the Old Man Bar for a nightcap.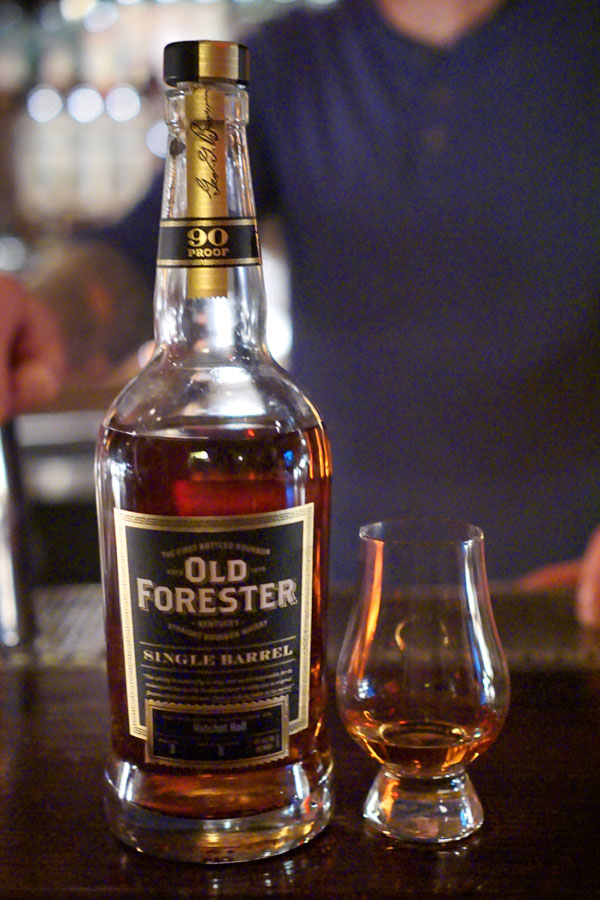 We were provided with a complimentary pour of
Old Forester Single Barrel
bourbon, which came from a barrel exclusively selected for Hatchet Hall. I got a sweet nose of caramelized stone fruit joined by a hint of vanilla. The palate was pretty viscous, and showed off more candied fruit on top of barrel notes and heat, while the finish conveyed a bit of oaky astringency.
Fuss & Feathers managed to be one of the more intriguing, more cerebral dining experiences I've had in recent times. Prior to this, I hadn't really thought deeply about the origins of "American" food--where it came from, and why it's the way it is--so it was great to have a bit of a history lesson with each course. I have to say that I wasn't feeling all that well during dinner, and so I think I would've enjoyed the meal even more had I been at 100%. I suppose that gives me an excuse to return. And speaking of returning, apparently Dunsmoor and company want to transform the Fuss & Feathers dinner series into a standalone restaurant, one that will feature a tasting bar wrapped around an exhibition hearth. I'll be looking forward to that if it ever comes to fruition.