Gangnam House (Buena Park, CA)
Gangnam House at The Source
6950 Beach Blvd, Buena Park, CA 90621
714.523.1010
www.gangnam-house.com
Mon 02/04/2019, 08:05p-10:25p

Driving along Beach Blvd north of the 91 freeway, I'd passed by
The Source
numerous times, but only made it a point to check it out recently. Launched at the start of 2017, the half-a-million square foot dining-slash-entertainment destination features a variety of retailers and restaurants, as well as an eight-screen 4DX CGV Cinemas, office space, and a seven-story Hilton hotel (coming soon). After exploring the complex for a bit, we made our way up to the third floor to dine at Gangnam House, a Korean BBQ spot that opened in September 2017.

Inside, things are clean, contemporary, and quite gray.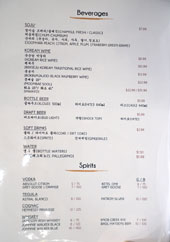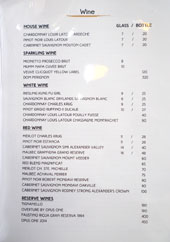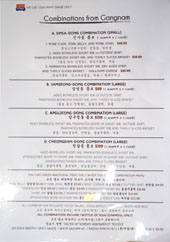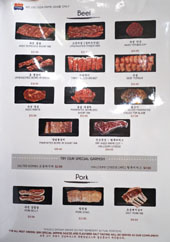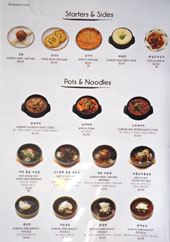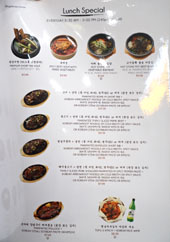 As for the menu, Gangnam House tends toward higher-end KBBQ cuts, while a limited selection of non-BBQ staples is also available. We ended up going with a combo, and one thing I really appreciated was the ability to add on smaller portions of meat to supplement (which I'm not sure if I've ever seen before). Drink-wise, there are your typical Korean beverages, as well as spirits and wine. Corkage is offered at $35. Click for larger versions.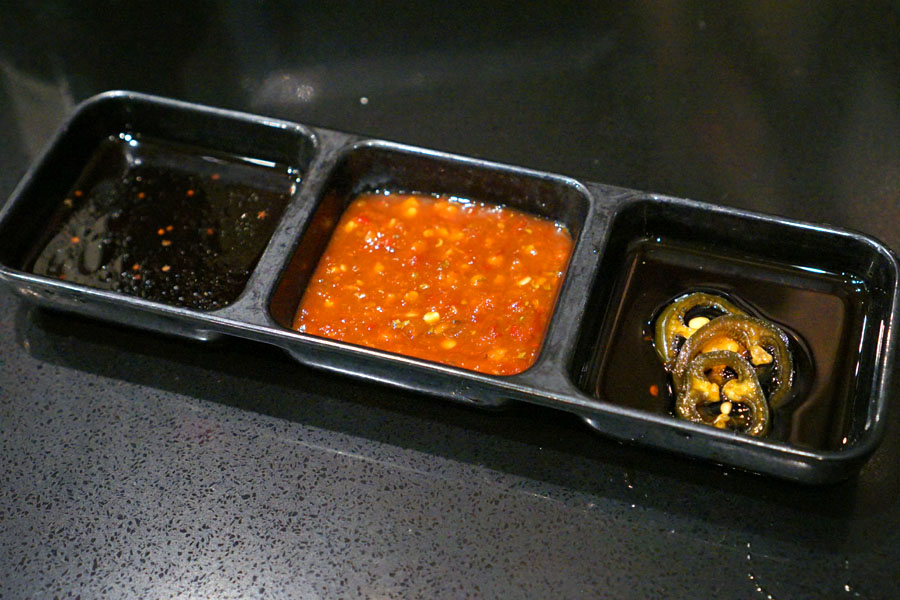 Three dipping sauces...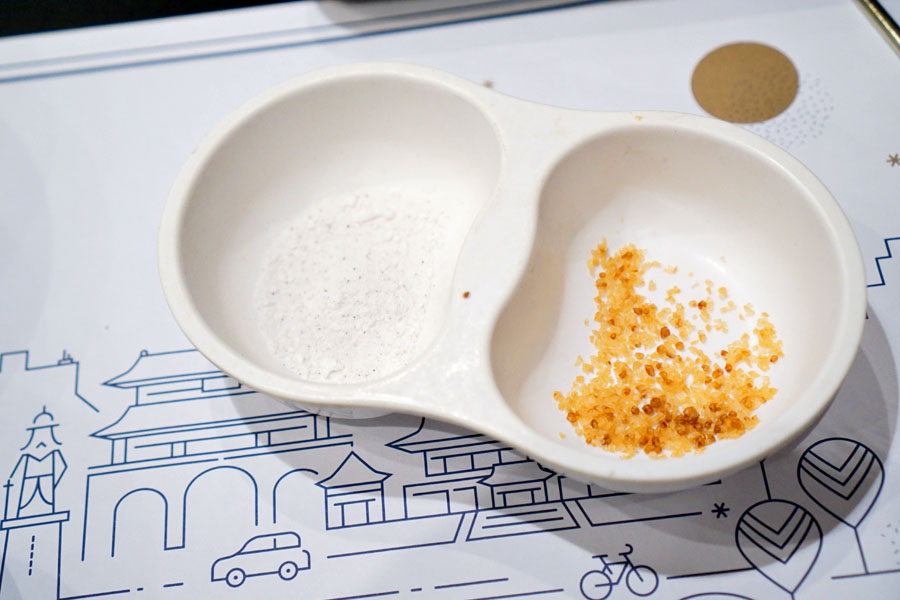 ...Are joined by two types of salt. The darker one was infused with jalapeño I believe.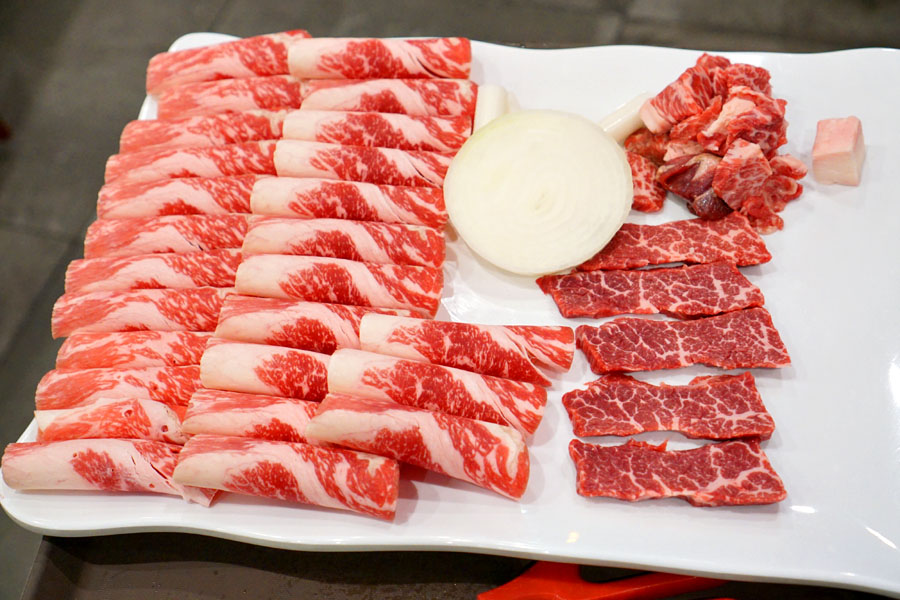 Sinsa-Dong Combination (Small) [$59.99]
| Aged Boneless Short Rib, Marinated Boneless Short Rib, and Thinly Sliced Brisket
We began with one of the combos, all of which are named after neighborhoods in Seoul's tony Gangnam District.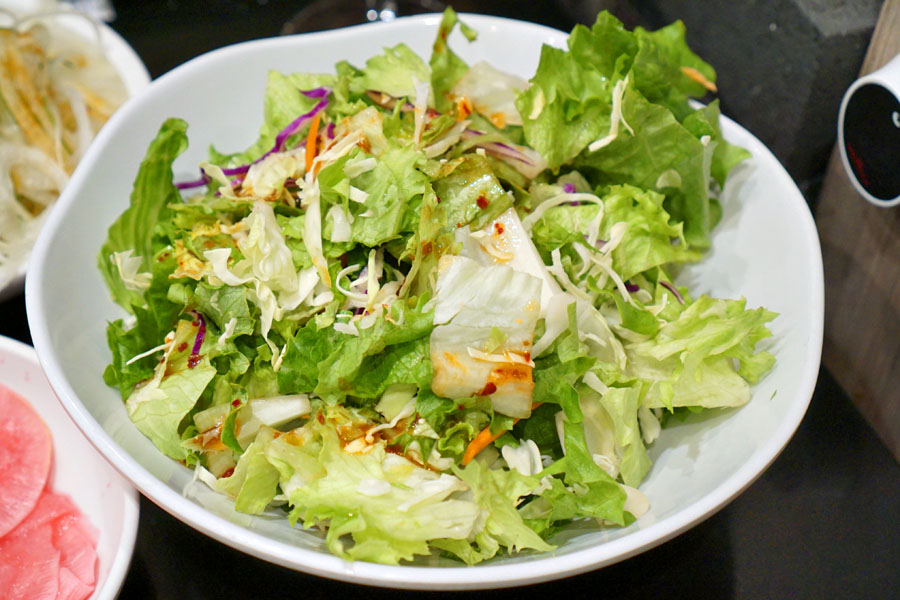 The salad was par for the course.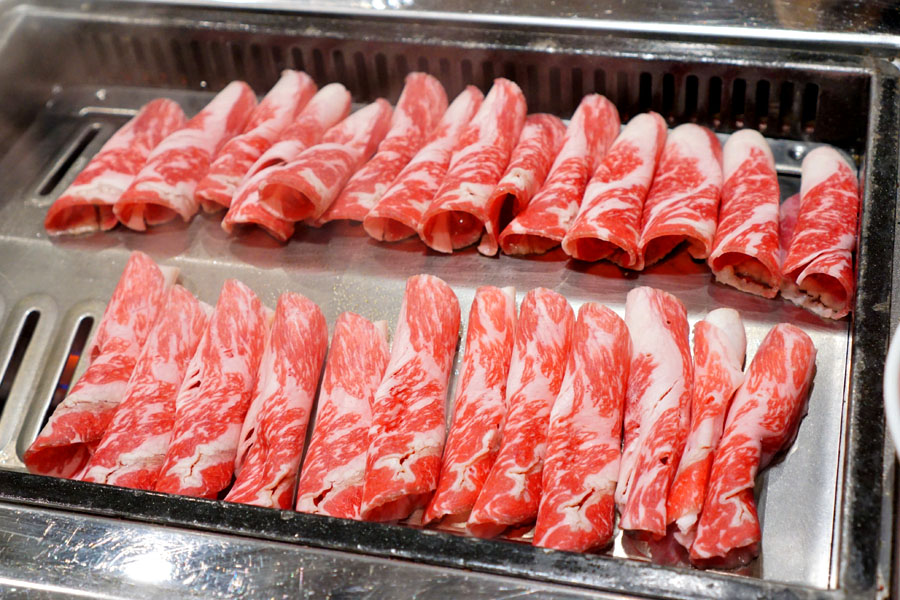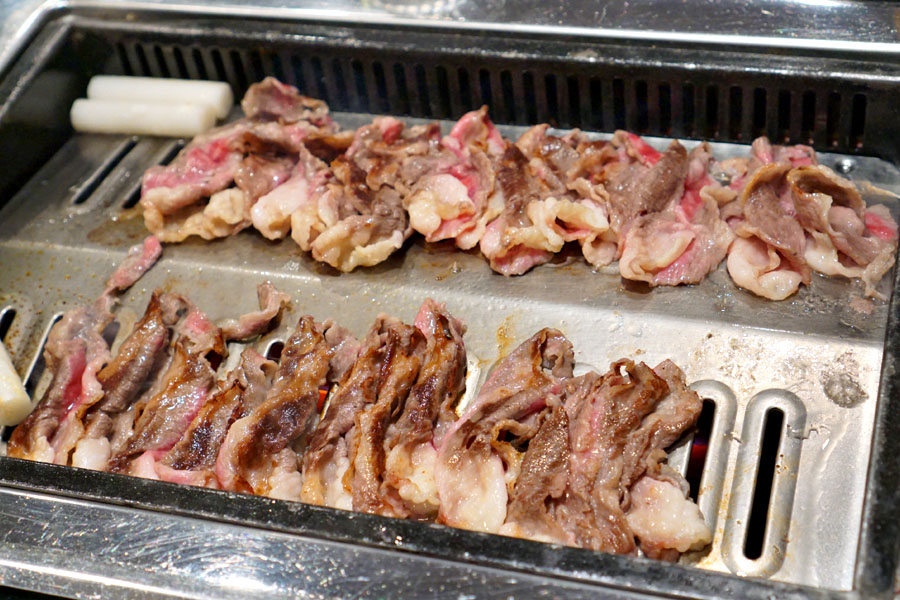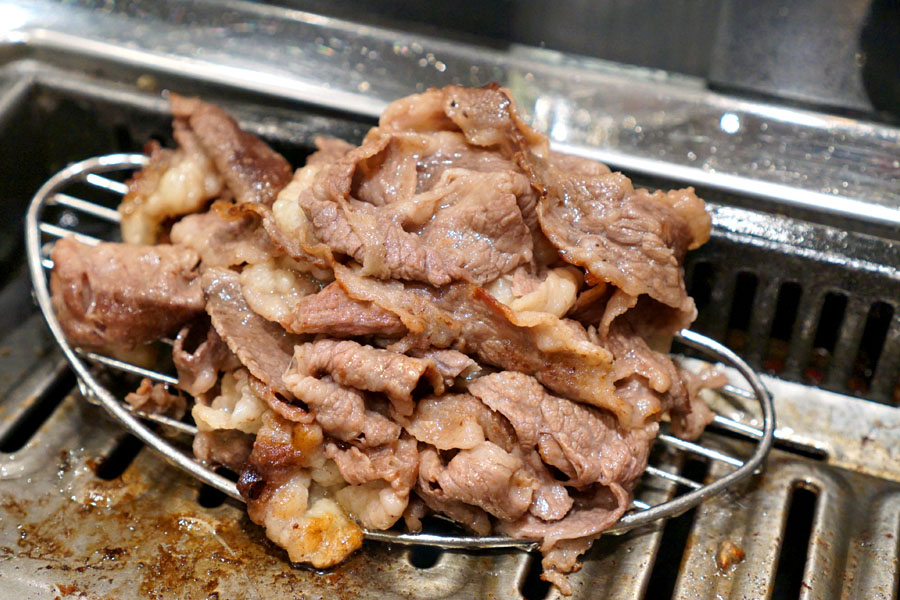 Tonight's
chadol
seemed fattier and more flavorful that what you typically get, while texturally I found the meat somewhat chewier (but not in a bad way). A good start.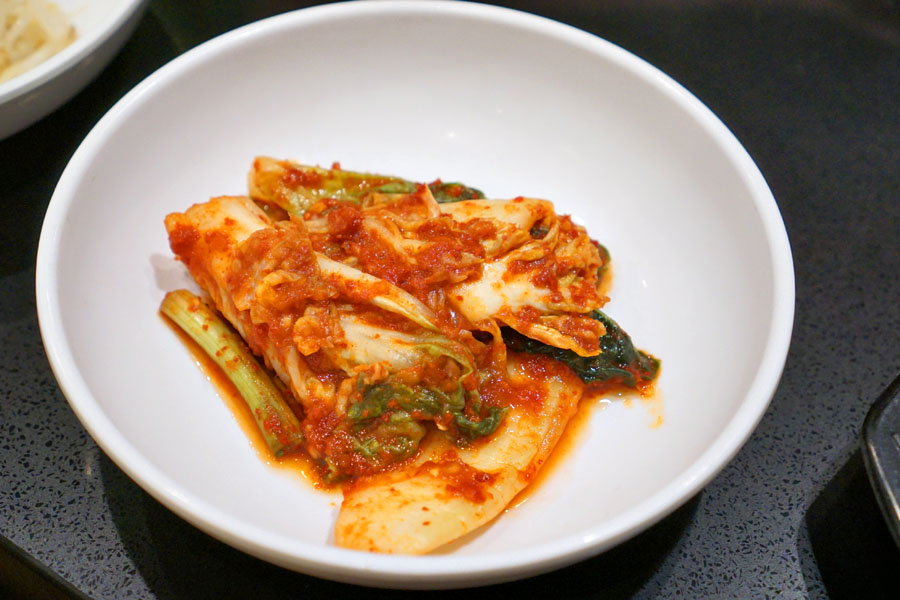 The ubiquitous
baechu kimchi
worked as advertised.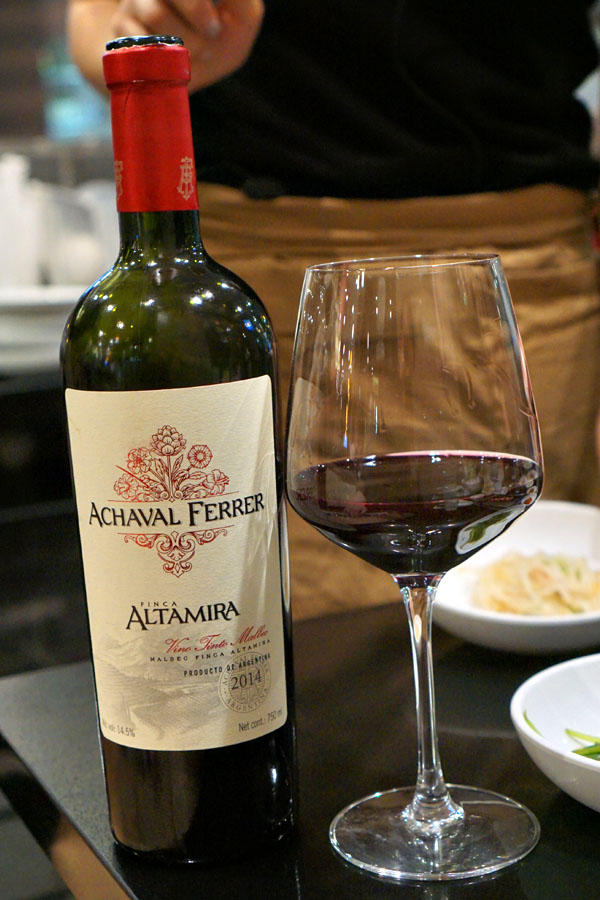 To drink, we had a bottle of the
2014 Achával-Ferrer Malbec Finca Altamira
. I got a heady nose filled with aromatic berry fruit, flowers, and smoke, while the palate was concentrated, displaying spice, herb, more dark fruit, and tobacco notes alongside a lively acidity. The wine was quite enjoyable overall, and really did stand up to all the meat we were having.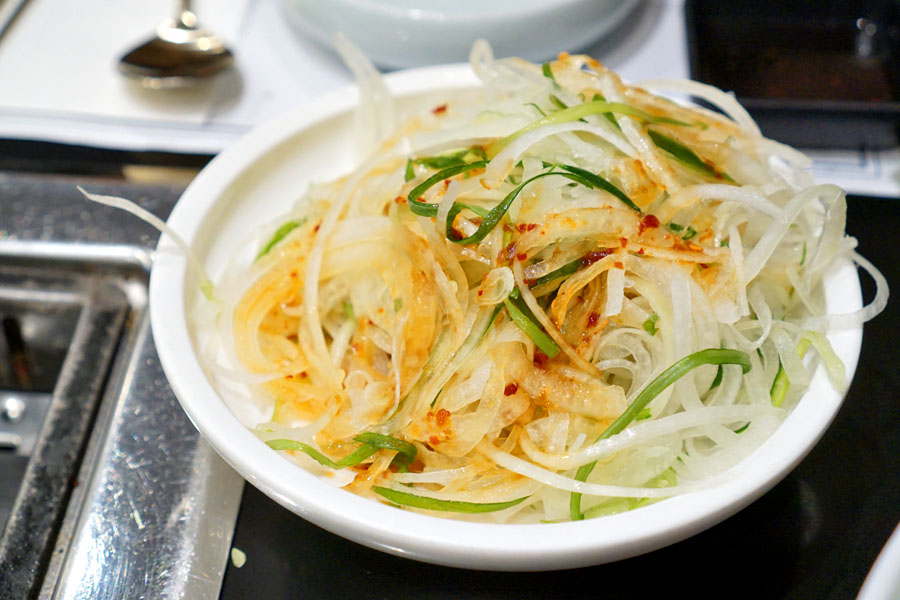 The
yangpa muchim
ate crunchy and astringent, and served as an effective counterpoint to the BBQ.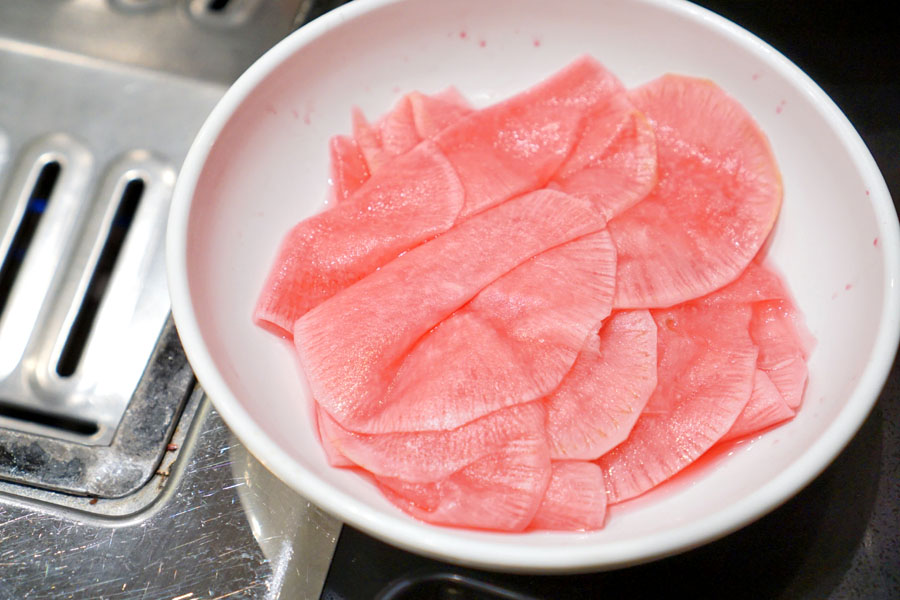 You'll want to try wrapping the meat in the provided
ssam mu
(pickled radish).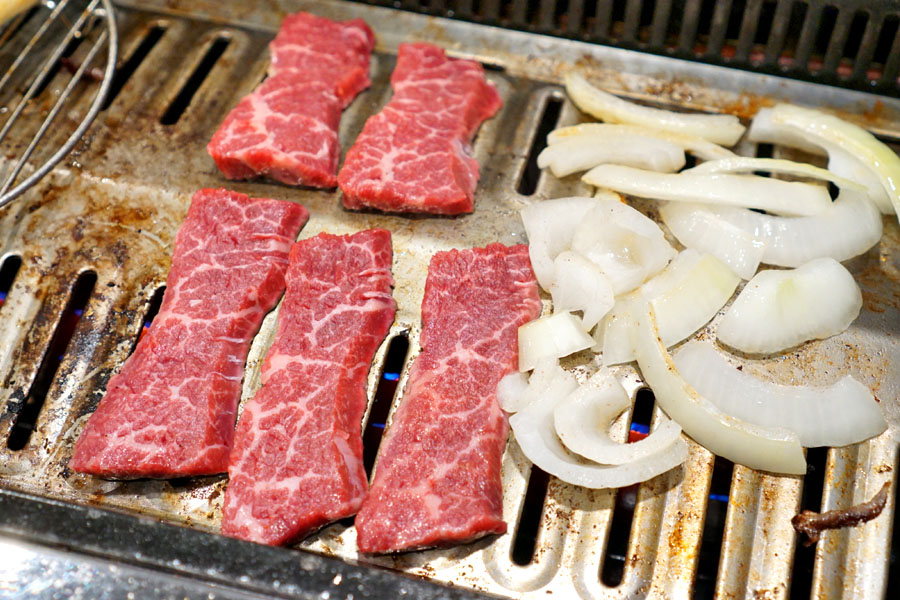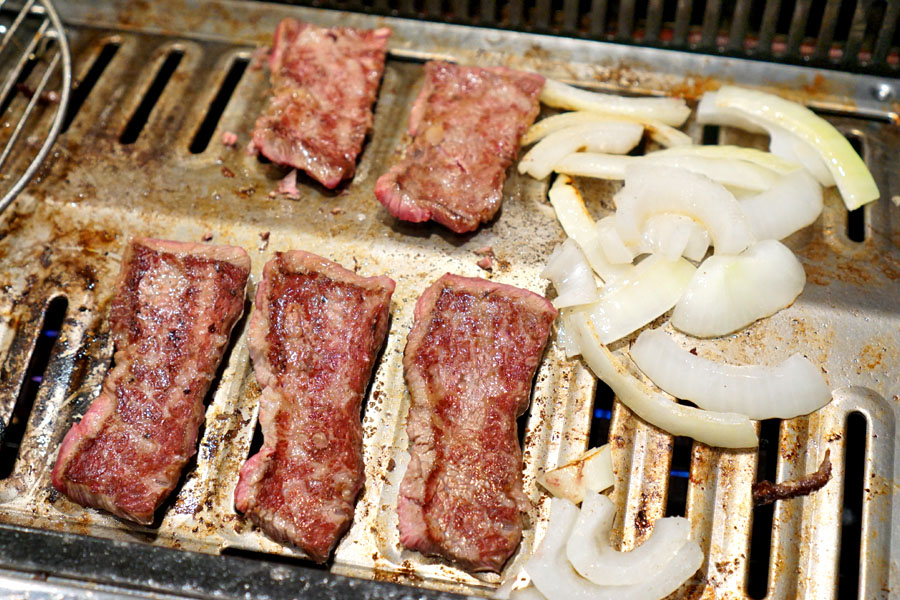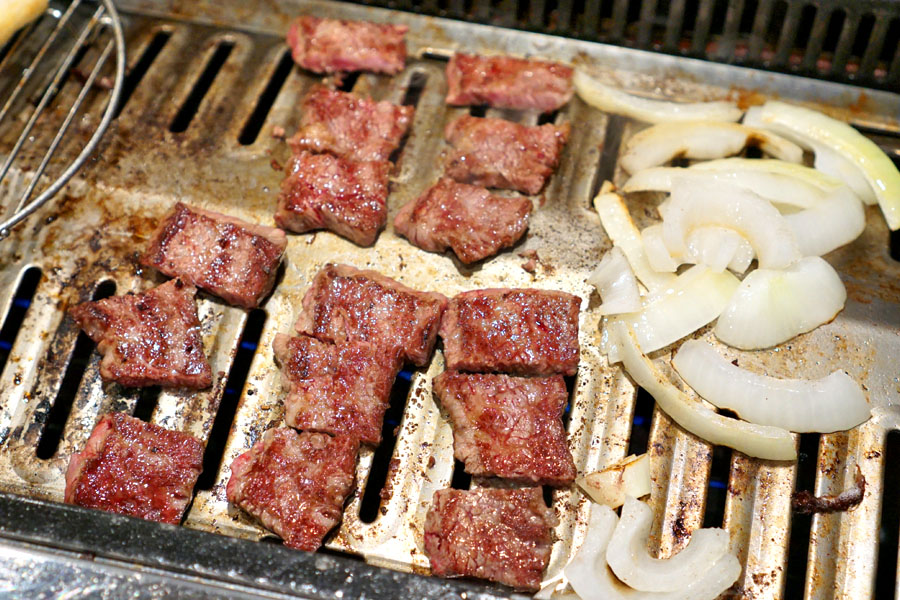 The
kkotsal
was the most tender, most succulent cut we had tonight. Its flavors were delicate and clean, and matched surprisingly well with a dab of that aforementioned jalapeño salt.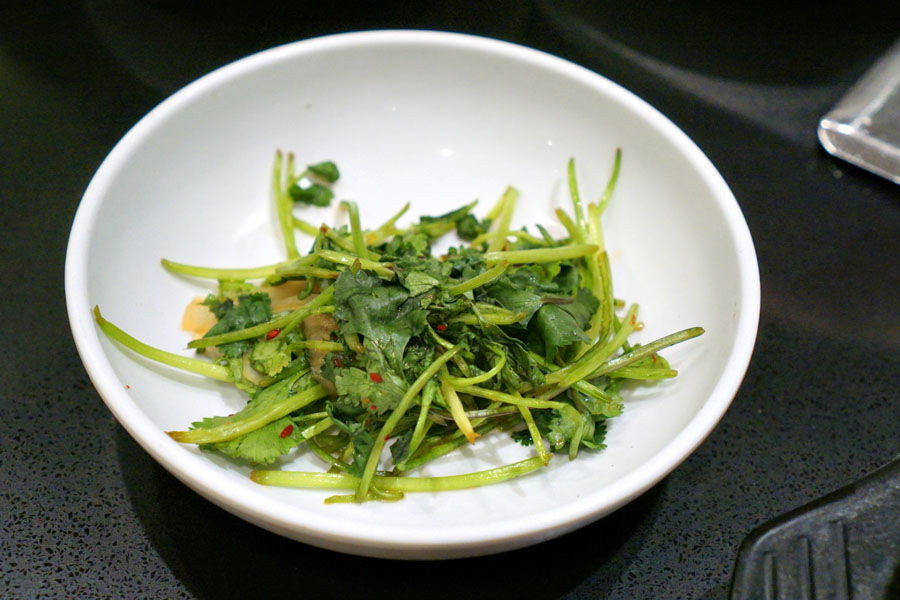 Gosu kimchi
(cilantro) was super bright and zesty, and worked beautifully as an accent to the beef.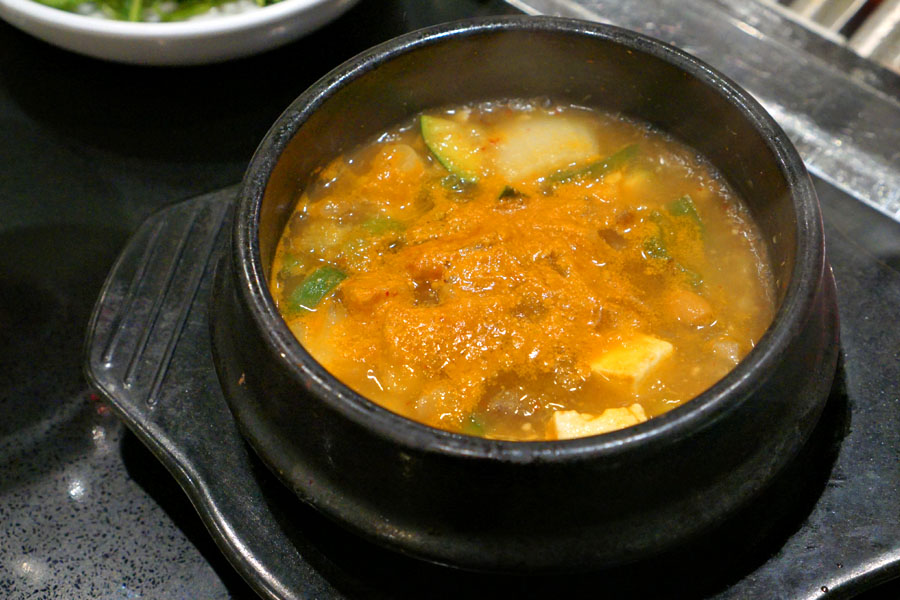 I found the
doenjang jjigae
extra meaty, though more toned down in terms of the actual soybean paste.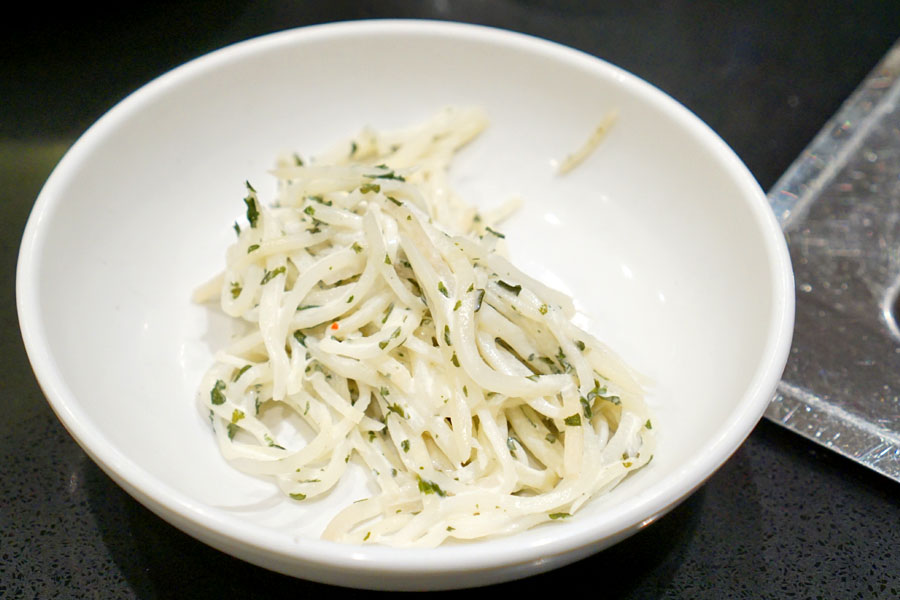 Slivers of potato were delightfully crunchy, while flavors were on the creamier side, almost recalling potato salad.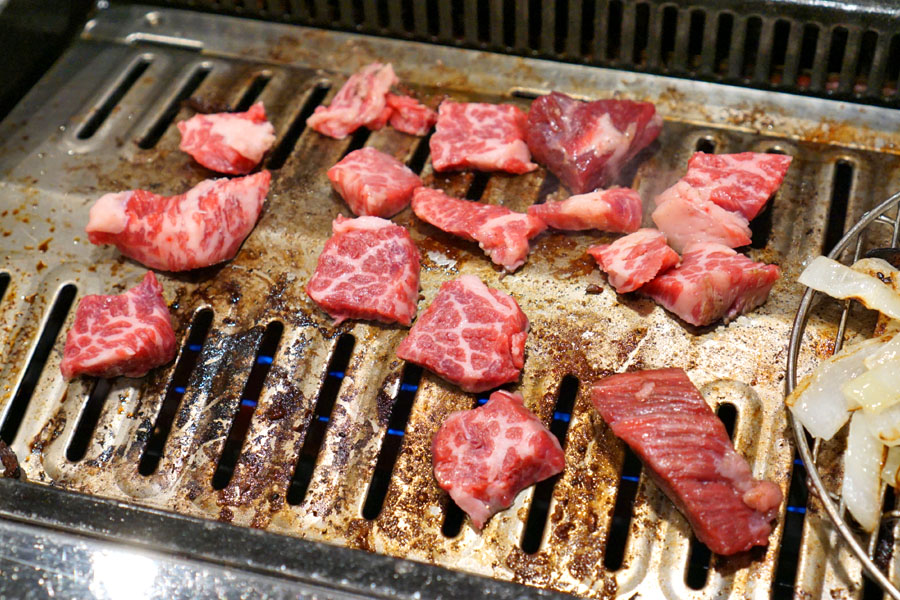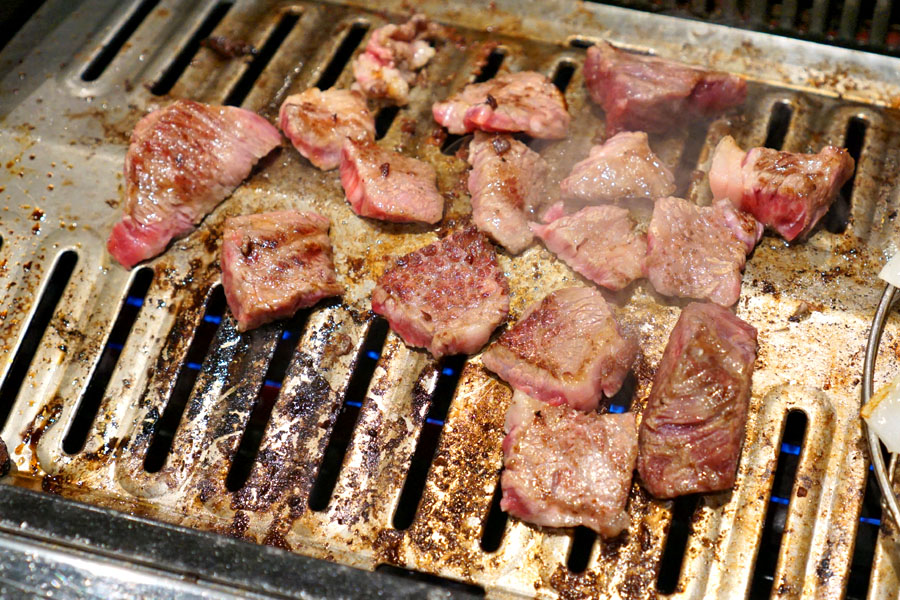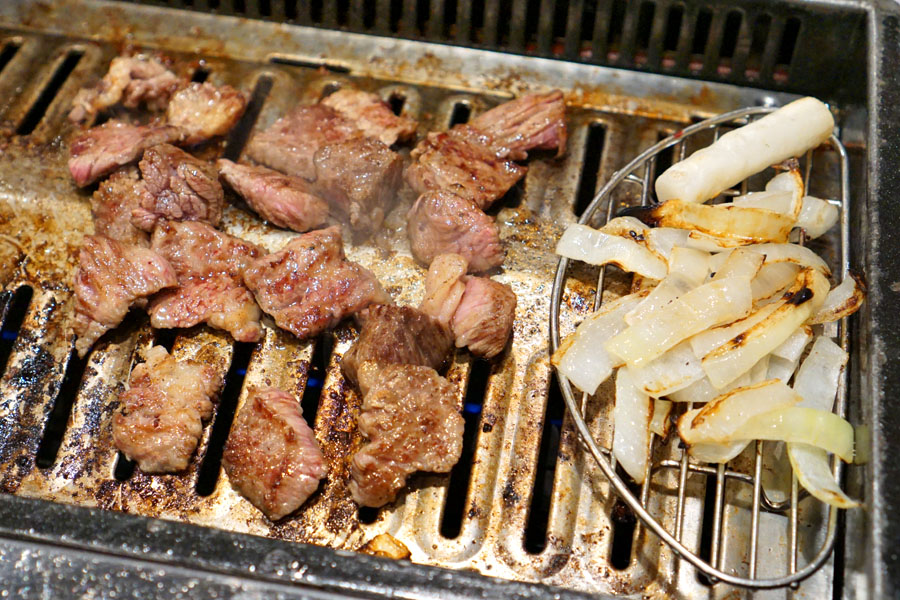 The
jumulleok
was less marinated than most preparations I've encountered, with the sesame oil serving more of a supporting role here. Not quite what I was expecting, but still not bad.
Tomatoes were properly juicy, and came dressed in a sauce that I believe combined
gochujang
with ketchup. Nice lingering spice on this one, too.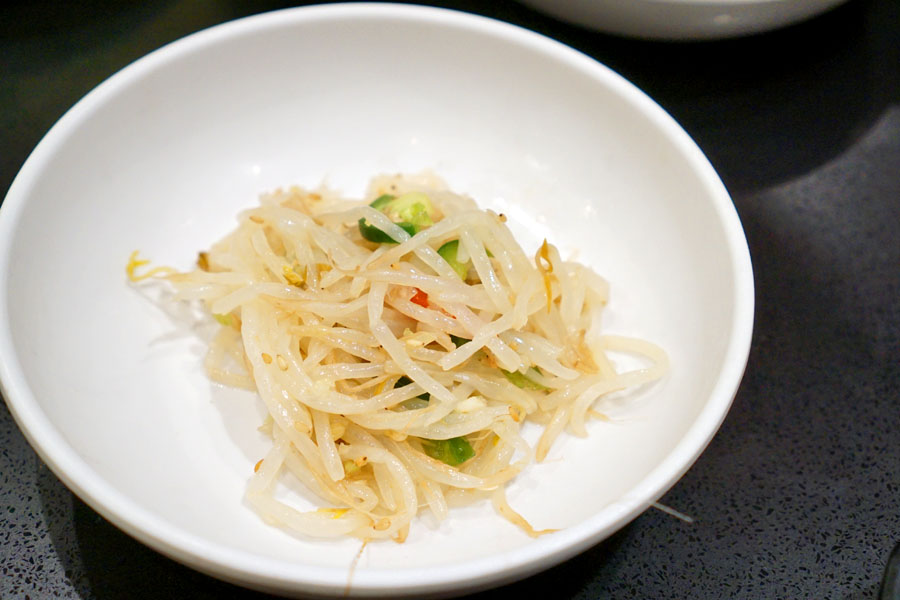 Sukjunamul
showed off vibrantly vegetal flavors against a background of sesame oil.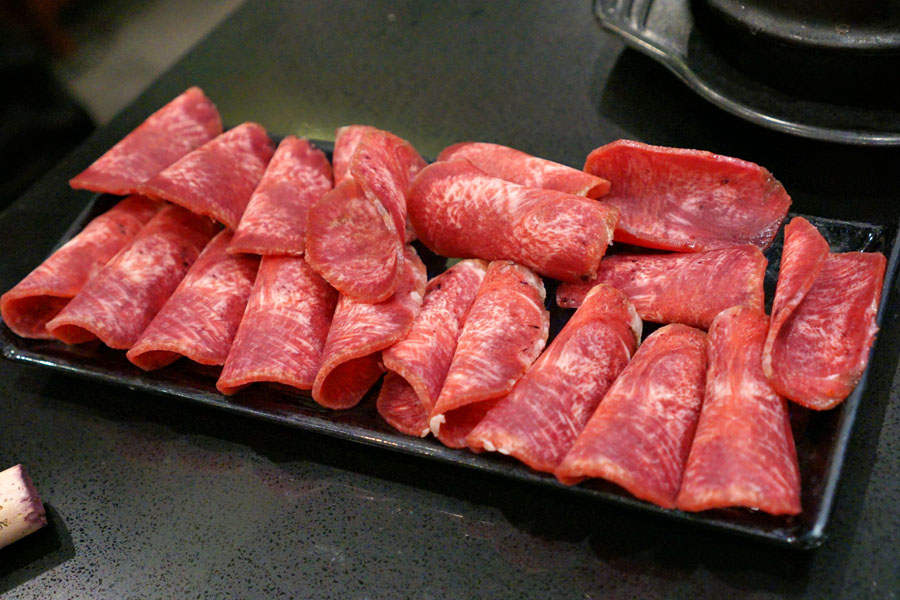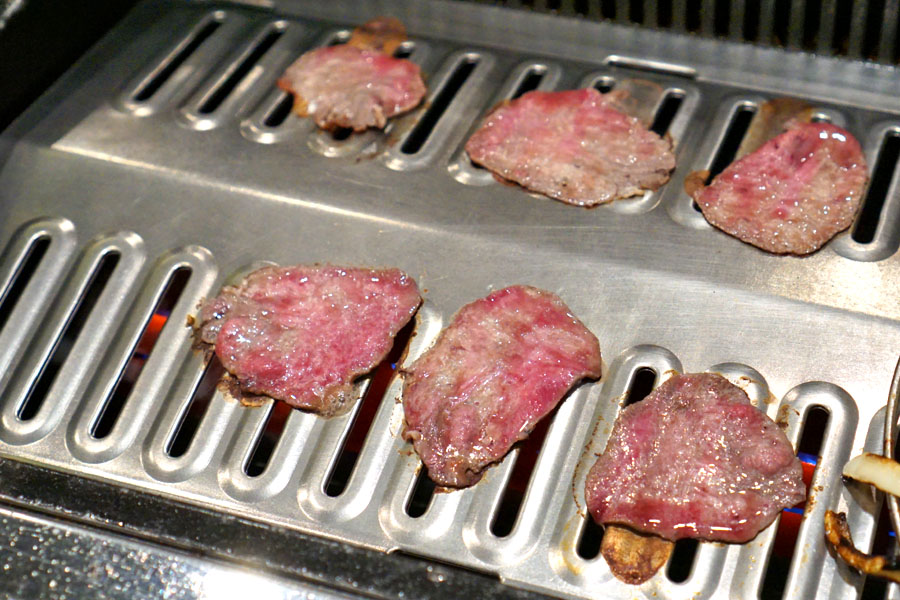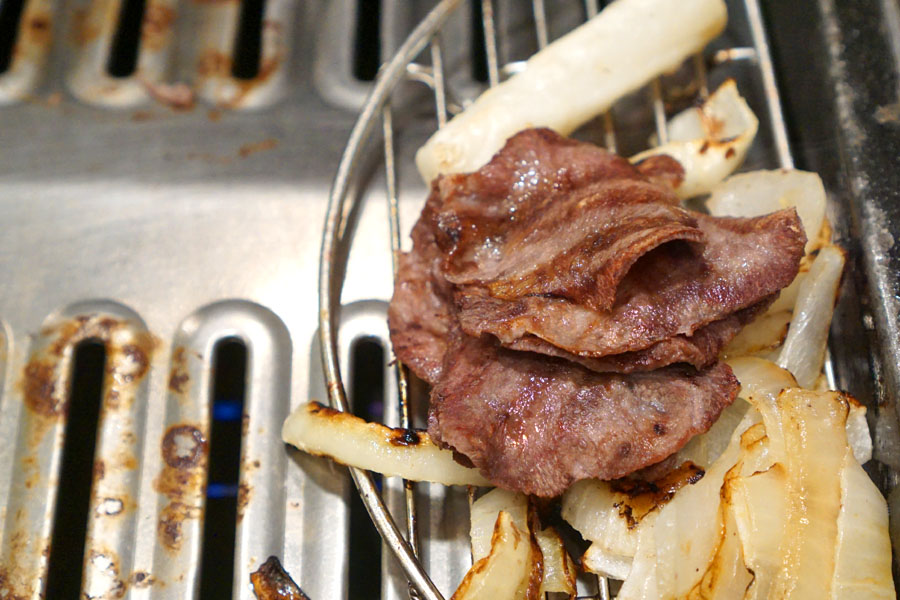 Beef Tongue [$15.99]
We ended up tacking on an order of
hyeo mit gui
. The tongue ate a bit tougher than I'd prefer, though flavor-wise it was what I was looking for.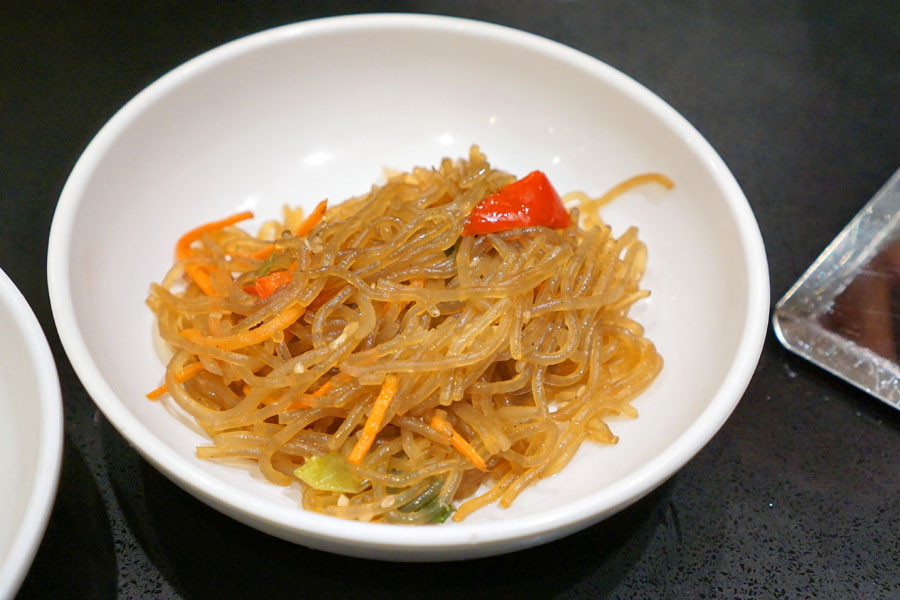 The
japchae
incorporated soft, slick strands of
dangmyeon
and plenty of soy sauce.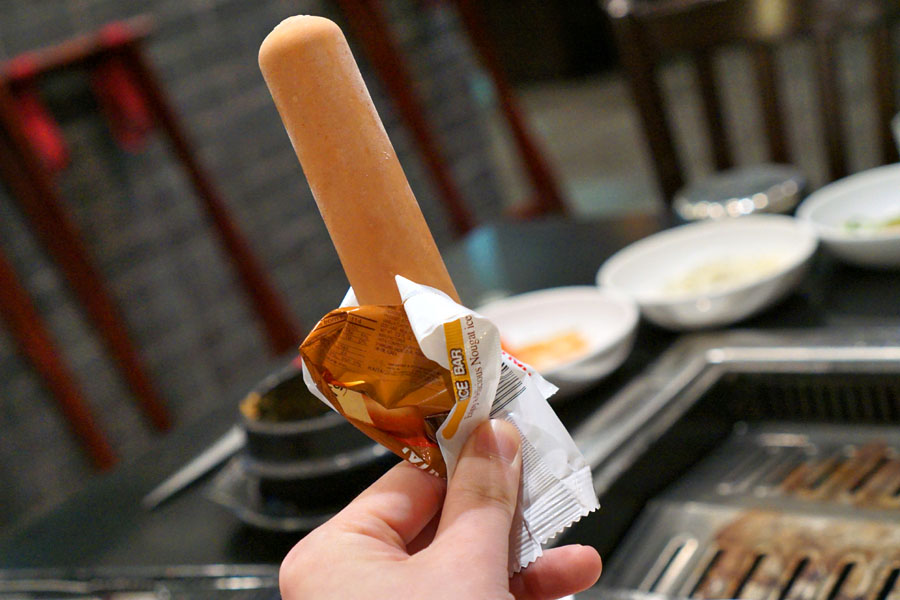 The complimentary dessert takes the form of a nougat ice cream bar (limit one per person). A fun ending.
Though the meal wasn't without its flaws, we were generally pretty satisfied with Gangnam House, and I'm somewhat curious about trying a few of the other cuts of meat on offer. Service wasn't bad, either (and yes, this is one of those places where the servers cook for you). In the end, I can't complain about having another solid Korean BBQ option in the area.