B.S. Taqueria (Los Angeles, CA) [2]
BS Taqueria
514 7th St, Los Angeles, CA 90014
213.622.3744
www.bstaqueria.com
Sun 01/06/2019, 07:50p-09:45p
I recently found myself in search of a place to have dinner in Downtown after previously made plans fell through, and wound up at Ray Garcia's new wave taco joint B.S. Taqueria. I'd reported on the place
shortly after
it'd opened nearly four years ago, and I figured that a revisit wouldn't be a bad idea.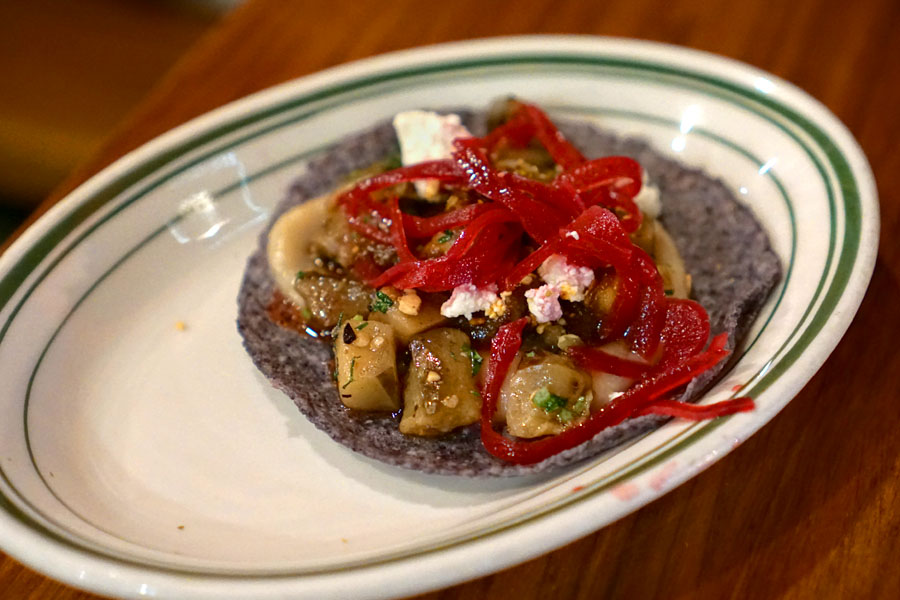 Eggplant [$5.00]
| Cannellini bean, pepita gremolata, hibiscus-pickled onions, feta
Eggplant came out smoky and savory, its hefty flavors countered just a touch by the pickled onions while feta added a creamy, lactic element to the mix.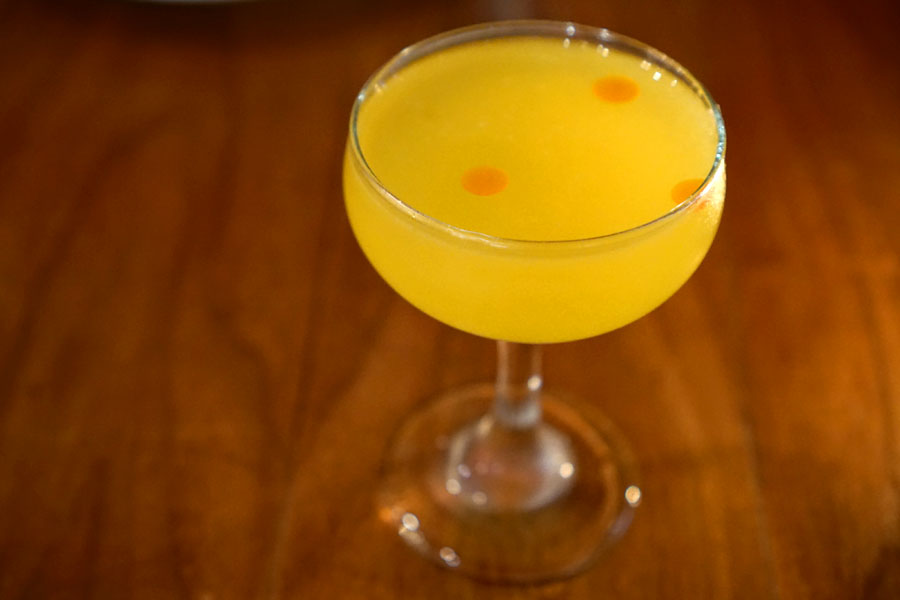 Drink for a Good Thyme [$13.00]
| Thyme-infused tequila, yellow chartreuse, habanero, lime, bell pepper
This vibrantly-hued cocktail smelled quite sweet, but in a sort of herbaceous manner (thanks to the Chartreuse), and had just a hint of heat peeking through. In terms of taste, I got spice up front, leading to unmistakable notes of aromatic thyme while the finish once again showed off the sweetness of the liqueur.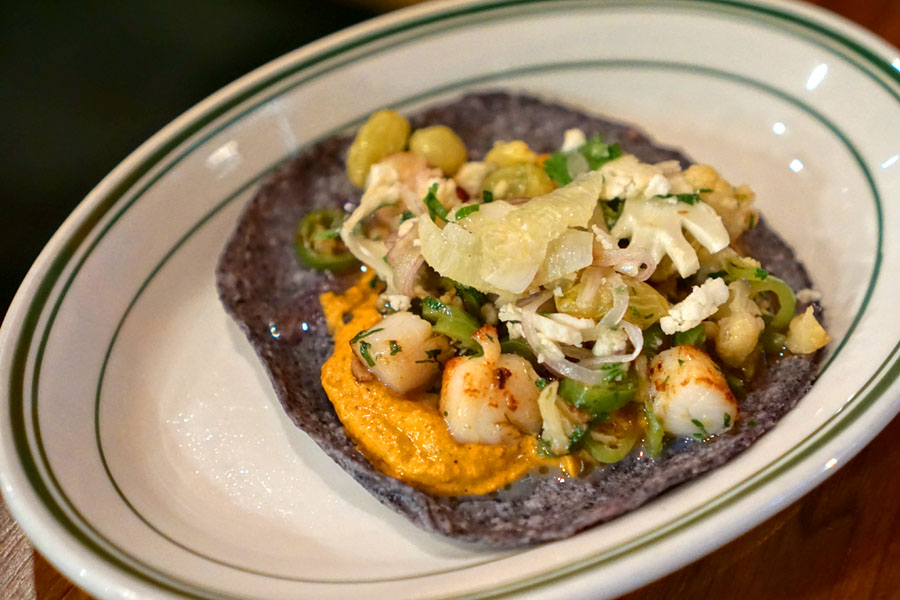 Bay Scallop [$9.00]
| Cauliflower, romesco, olive, caper, serrano
Our second taco ate decidedly sweet and nutty at first blush, but this soon gave way to the brine of the scallops and the sharp, lingering heat from the serranos.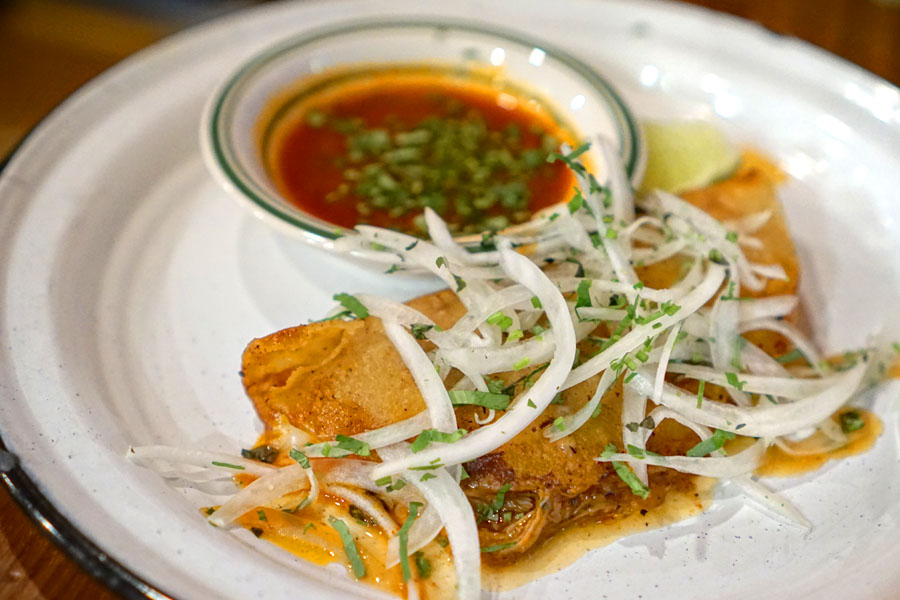 Birria Quesadilla [$9.00]
The quesadilla's a relatively new menu item I believe, but was one of my favorites tonight. I got a really gratifying back-and-forth between the lamb and the cheese here, all backed up by the crunch of the tortilla. The paired salsa was also welcomed, as was the zestiness of those raw onions.
La Diosa Verde [$13.00]
| Ancho verde, tequila anejo, housemade tajin, lemon, cucumber, mint
Our next cocktail conveyed plenty of cucumber and citrus in a surprisingly soft-drinking package. Mint and a healthy dose of anise-y spice appeared on the back end and lasted long.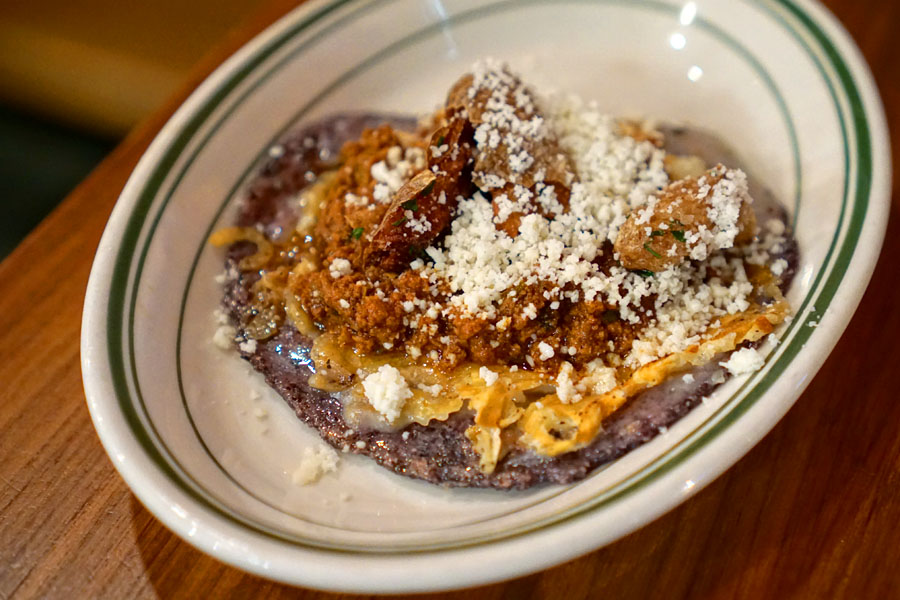 Chorizo & Papas [$5.00]
| Housemade chorizo, queso oaxaca, fingerling potatoes, salsa tatemada
The time-tested combo of potatoes and sausage didn't fail us tonight. There was just this lovely spice from the chorizo that meshed perfectly with the
papas
, all while the cheese tied it all together. Cozy and homey.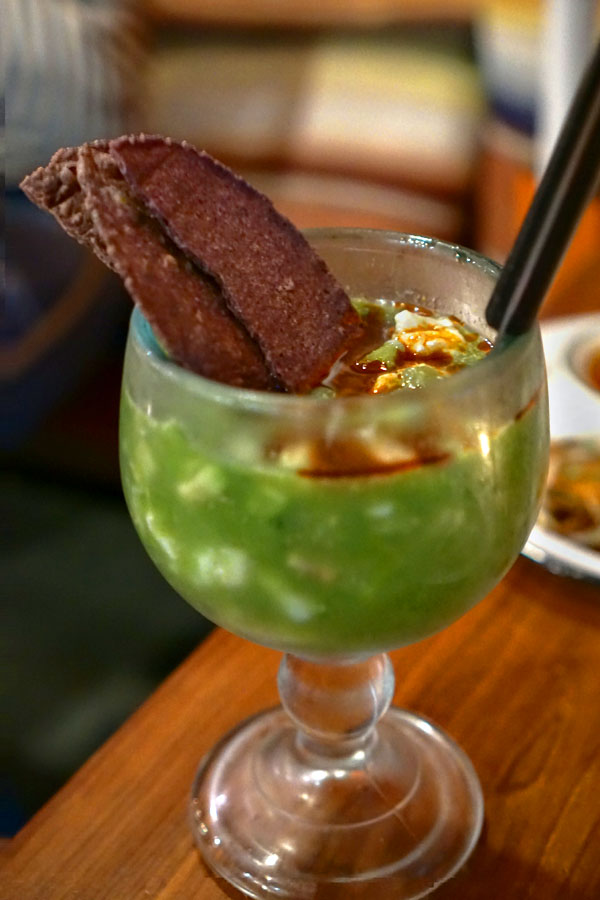 Aguachile [$14.00]
| Seasonal catch, cucumber, avocado, caper, habanero, tomatillo
BST's take on
aguachile
hit the mark thanks to its sharp, prickly heat moderated by lush avocado and bits of cucumber, which made for a natural pairing with the seafood. Nice crunch from the included tortilla chips, too.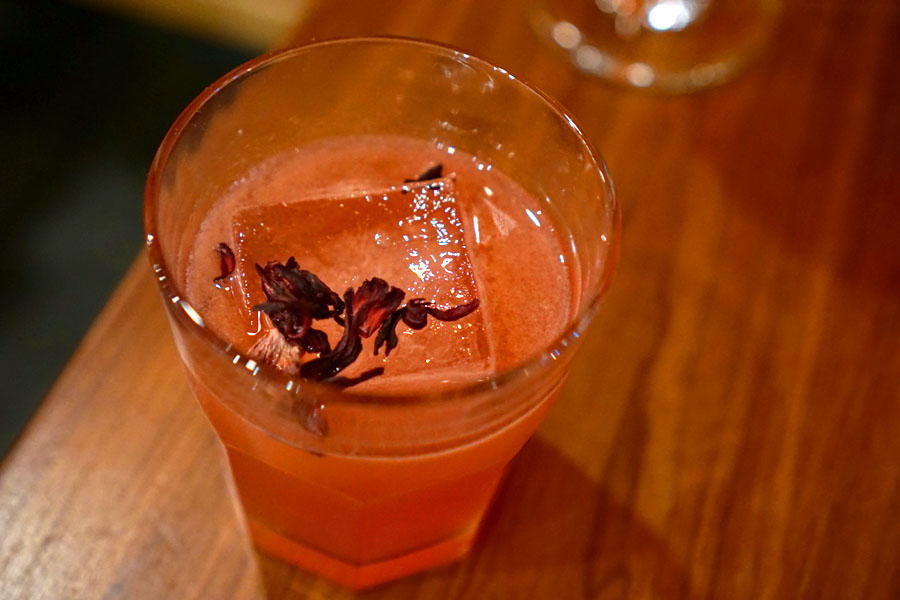 Blood Meridian [$14.00]
| Lime, hibiscus, cinnamon, domingo mezcal, angostura
This was probably my favorite cocktail tonight. I found it smoky on the nose, with a touch of sweetness in the background. Taste-wise, think fruity, floral, smoky, and a smidge cinnamon-y. Well balanced.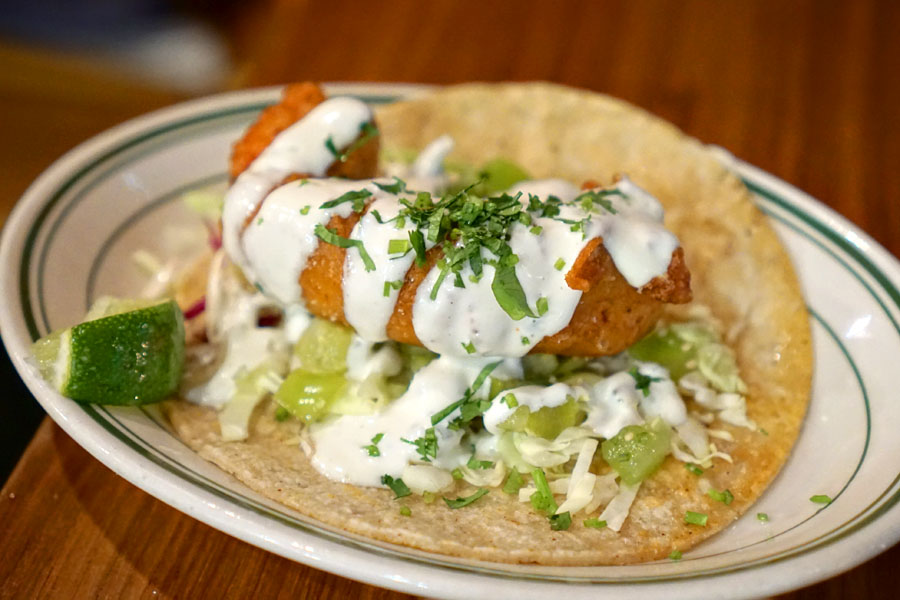 Baja Fish [$6.00]
| Beer batter, tomatillo, cabbage, cilantro crema
We have here a fairly straightforward rendition of the Baja taco staple. The fish itself was spot on: creamy and moist on the inside, but still crispy on the outside. The cilantro sauce worked as a creamy counterpoint, and I was a fan of the zesty tomatillo here as well.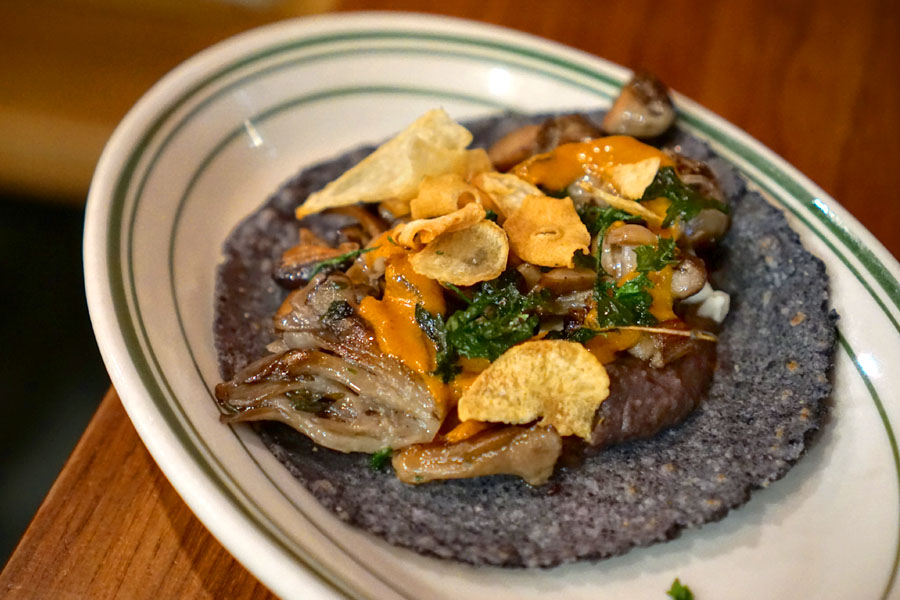 Mushroom [$5.00]
| Queso panela, black beans, garlic, chile de arbol
The earthy, woodsy quality of the mushrooms was the focal point of this taco, and was joined by the right amount of heat and plenty of pungent garlic.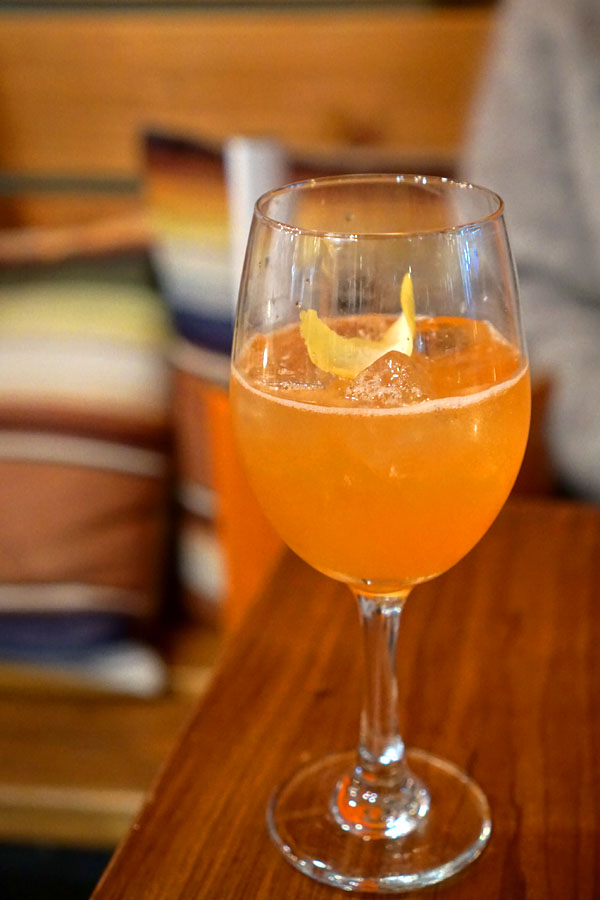 Aperol de Taqueria [$13.00]
| Tequila blanco, elderflower liqueur, peach shrub, prosecco, lemon, aperol
Our final cocktail was as quaffable as cocktails served in wine glasses tend to be. I found it refreshing for sure, with the sweetness of the elderflower and peach evened out by the Aperol's bitterness.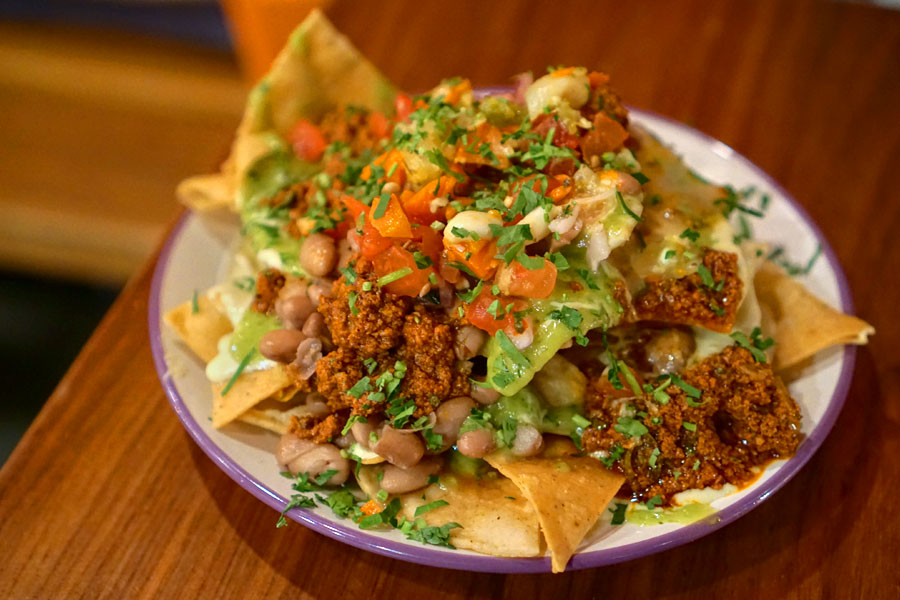 Nachos [$13.00]
| Chorizo, cheese, avocado salsa, frijoles, escabeche
Nachos were pretty delicious, its marriage of chorizo and cheese satisfying in a comforting sort of manner. The salsa functioned as a bright counterpoint, and I appreciated the sheer crunchiness of the chips too. A refined version of nachos, but still just trashy enough.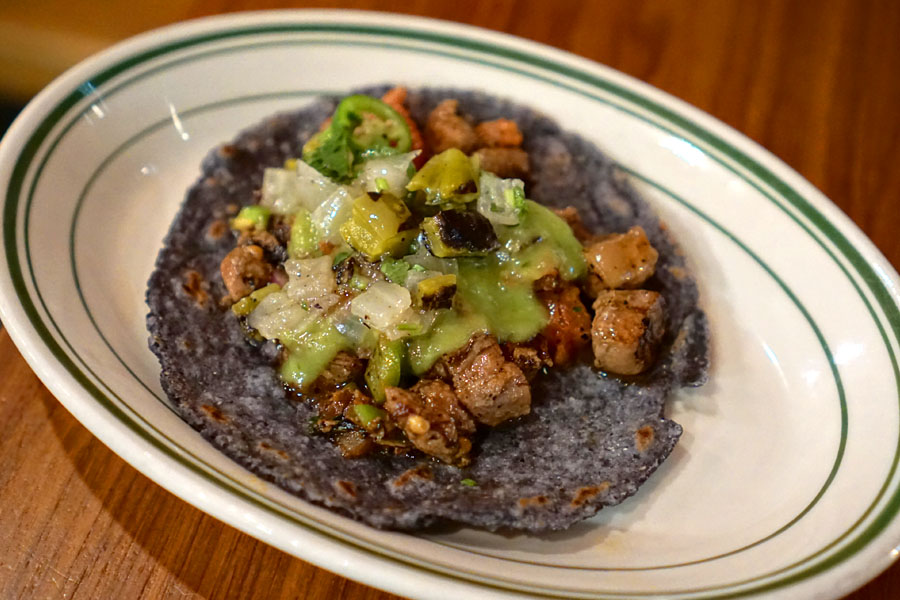 Carne Asada [$5.00]
| Flank steak, nopales, avocado salsa
The classic carne asada taco was given a revamp in our last dish. The meat itself I found fatty, juicy, peppery, and rather deeply-flavored, with a welcomed touch of smoke. It was quite tasty just by itself, but the various other components here made for a balanced bite indeed.
Almost four years in, B.S. Taqueria appears to be holding up pretty well. I really didn't have much to complain about regarding the food--which we'll say is purposefully inauthentic--and the overall experience was pleasant. It's nice to see that this place is still going strong.