HATCH Yakitori + Bar (Los Angeles, CA)
HATCH Yakitori + Bar
700 W 7th St, Los Angeles, CA 90017
213.282.9070
www.hatchyakitori.com
Sat 12/22/2018, 08:00p-10:45p

If you've been paying attention to Downtown LA development, you'll know that the old Macy's Plaza had its top lopped off back in 2015, thus converting it into an open-air affair named The Bloc. The Bloc is still in the process of filling up with tenants, but one of the earlier leases signed was that of Hatch, which ended up opening in April this year. The place is the work of Daniel Shemtob, and can be described as an izakaya-style restaurant centered on
kushiyaki
(skewered and grilled food).
About the Chef
: Daniel Eliyahu Shemtob was born in July 1988 to a Persian Jewish family, the younger of two brothers. His mother was a homeopathic practitioner while his father was a small business owner. He grew up in the Newport Beach area and, surrounded by a strong food culture, began cooking at an early age. Shemtob was always an entrepreneur, and apparently started his first venture when he was a tween: he would get people to pay him to perform errands, then outsource the actual tasks to older kids. He attended Irvine's University High School, and during his senior year, worked in the fashion industry (as a buyer for jewelry and shoes) and also started a personal shopping business. Profits from these activities were pooled with funds from his mom/brother and used to purchase real estate, but the investments ended up being a bust due to the Great Recession. Following high school, Shemtob skipped college and instead moved to LA to join a mortgage sales team. Given the aforementioned Recession, it was a bad time for that industry, and he ended up toiling for a year for barely any pay, though he did gain valuable experience in sales. He later worked for a loan modification firm started by a former coworker, where he excelled and quickly got promoted to managing a team. Shemtob used his profits from that job to start his own real estate services company. Things went well initially, but the business ended up closing after just six months, leaving him in debt.
After having a panic attack, he moved from his Hollywood Hills pad back to his mom's house. Realizing that he didn't really care for real estate, he decided to get into something he
was
passionate about: food. At first, Shemtob wanted to start a brick-and-mortar restaurant, but quickly realized that he didn't have the finances for such a project. Thus, he partnered up with high school friend Jason Quinn (of
Playground
fame) and started a food truck instead. The Lime Truck bowed in June 2010, in the midst of the food truck frenzy ignited by Kogi. It was a huge hit, and was evened deemed "Best New Restaurant" by
OC Weekly
that year. In 2011, Shemtob and Quinn appeared on Season 2 of
The Great Food Truck Race
and ended up winning the competition and the $100,000 grand prize. Quinn was bought out shortly after the win (the two partners never saw eye to eye and Quinn actually wanted to be bought out after just three months) and used his proceeds to launch Playground, while Shemtob continued to expand his business to more trucks and more cities. However, the Lime Truck didn't make nearly as much money as it could have during this period, as costs were way out of control, resulting in a paltry 3% profit margin.
Shemtob's next move was to finally go brick-and-mortar. He partnered with Murray Wishengrad, who had launched a burger concept called The Stand back in 2003. The Stand's location in Westwood Village wasn't doing well, and so it was decided to convert it into the first TLT Food, a fast casual eatery based on dishes from the truck. There were minimal out-of-pocket expenses to get started, and the restaurant eventually opened in October 2012. TLT proved to be pretty popular, and a second location dropped in September 2013, in the former home of Downtown's Silo Slider Bar; it ended up closing not too long afterward however, in August 2014. In November 2014, TLT Food debuted at the Irvine Spectrum, while it was also announced that another location would open at The Bloc. Shemtob also appeared on NBC's show
Food Fighters
around this time, and in addition, started working (along with Dr. Jason Snibbe) on Snibbs Shoes, a company focused on orthopedic work shoes. August 2016 saw TLT Food open at both The Bluffs in Newport Beach and Playhouse Plaza in Pasadena, though both locations have since shuttered (in August 2017 and February 2017, respectively) and been converted into The Stand. Shemtob began working on Hatch around autumn 2016, and, after traveling to Japan for research, opened the restaurant in The Bloc spot previously reserved for TLT.
Joining Shemtob here at Hatch are partners Nara Latip and Akarad Tachavatcharapa. Latip is an ArtCenter College of Design and Pepperdine MBA grad with a background in marketing and design. Tachavatcharapa, meanwhile, is also an ArtCenter alum and a former Saatchi & Saatchi intern, and comes with an advertising background. The three are collectively known by the somewhat cringey moniker of "The Yakitori Boyz."

Hatch is situated in a roughly 2,300ft
2
space on The Bloc's Plaza Level. It's quite unlike most other yakitori joints out there, and instead sports a clean, minimalist design that was ostensibly conceptualized by Latip.





As expected, the menu's centered on skewered morsels (grilled over
binchotan
we're told), though there are actually surprisingly few chicken parts on offer. You also get a minimal selection of small plates. To drink, you'll find an array of sakes, a beer list mostly focused on the usual Japanese labels, a smattering of wine, and a handful of spirits. Corkage was a refreshingly reasonable $15. Click for larger versions.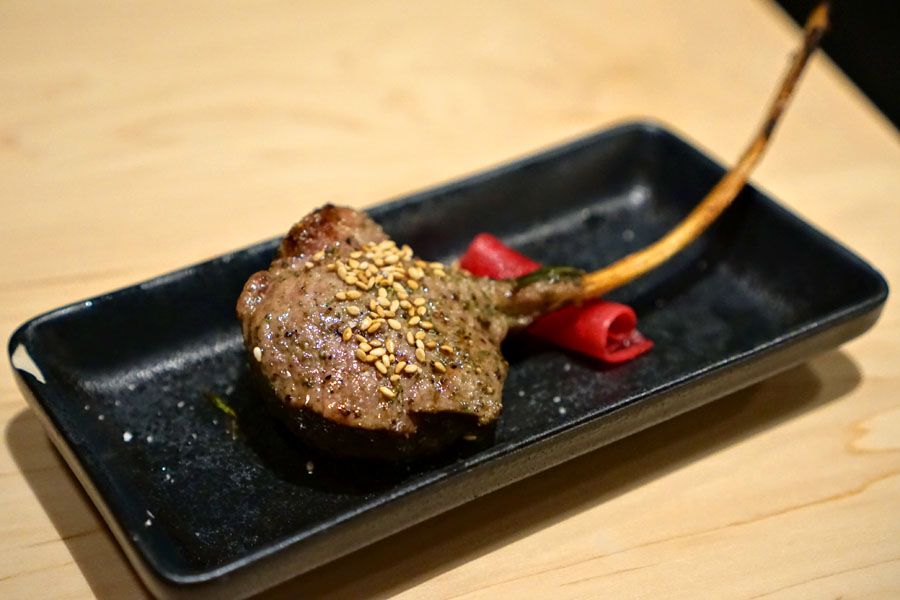 Herb Lamb [$8.00]
| garlic oil, herb mix
The meal began with a bang thanks to this wonderfully tender, juicy, flavorful lamb chop imbued with the perfect amount of peppery kick. One of my favorites of the night for sure.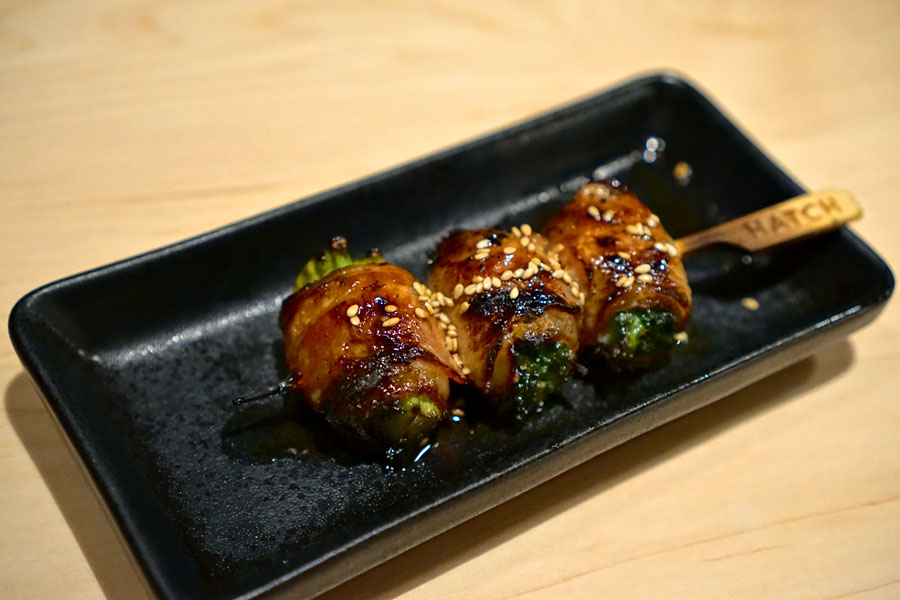 Bacon Broccolini [$4.50]
| mustard tare
Here I got loads of smoky and sweet at first from the bacon-
tare
combo, but the bitterness of the broccolini came through in spades on the back end. Nice.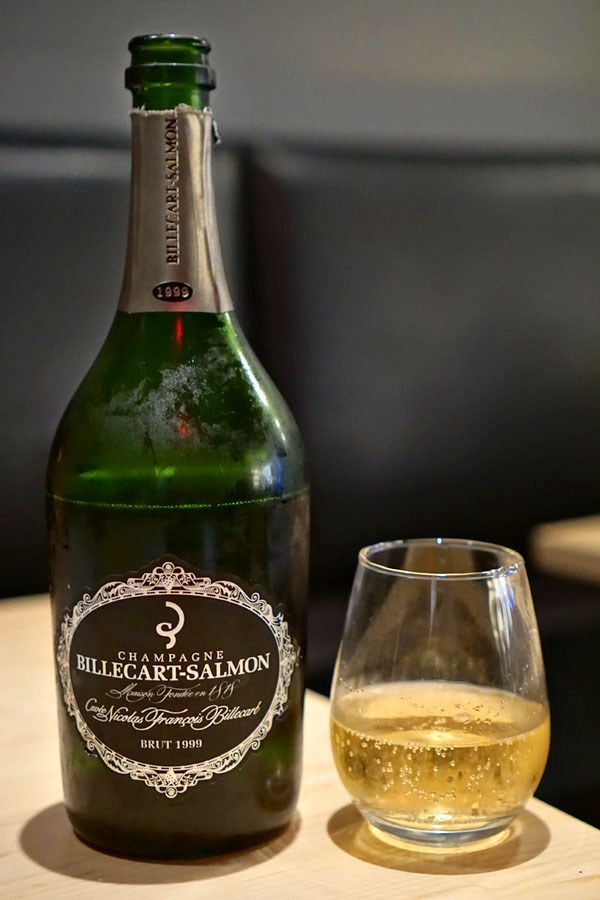 We had a bottle of bubbly to drink, the
1999 Billecart-Salmon Champagne Cuvée Nicolas-François Billecart
. Heady, heady nose rife with toasty funk along with hints of nuts, pome fruit, and oxidation. On the palate, I got concentrated yeasty notes joined by citrus, apple, a smidge of caramel, and a lively acidity. Definitely a mature sparkler, but it's still got some good years ahead.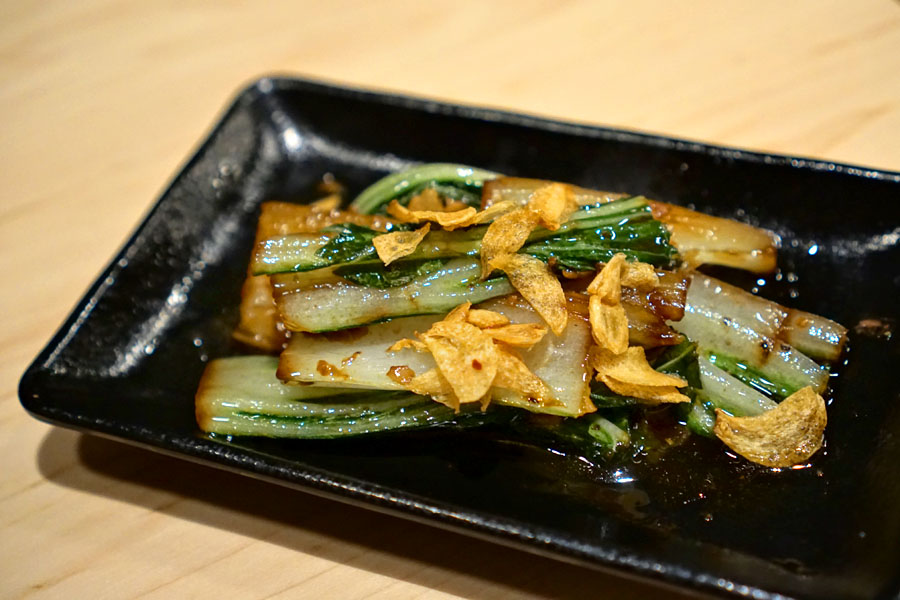 Sauteed Bok Choy [$4.00]
| soy sake, garlic chips
The boy choy was another winner thanks to its juicy, crunchy, savory 'n' bitter qualities accented by a deft touch of garlic.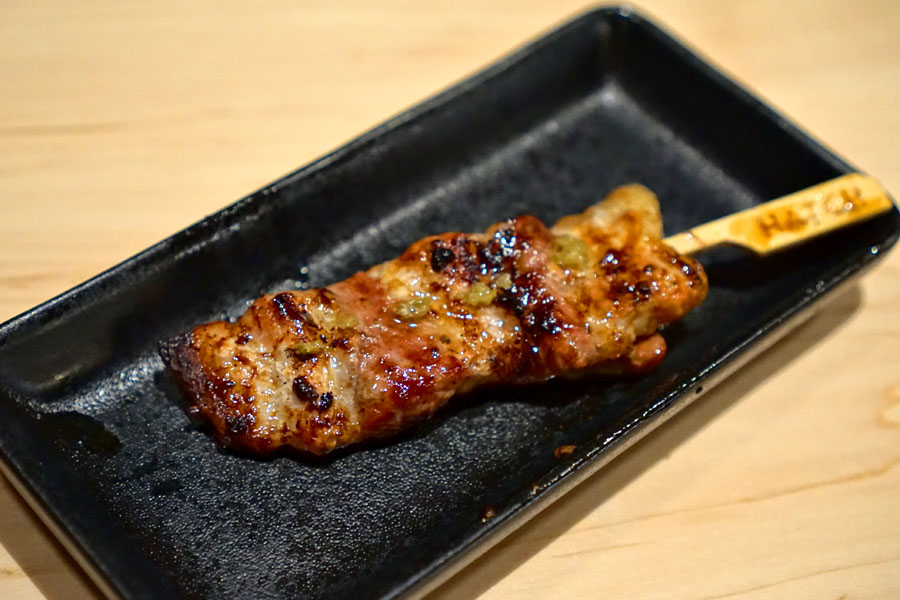 Pork Belly [$4.00]
| yuzu kosho
Tonbara
arrived properly charred, its heft and potency evened out by the spicy-sour punch of
yuzukosho
.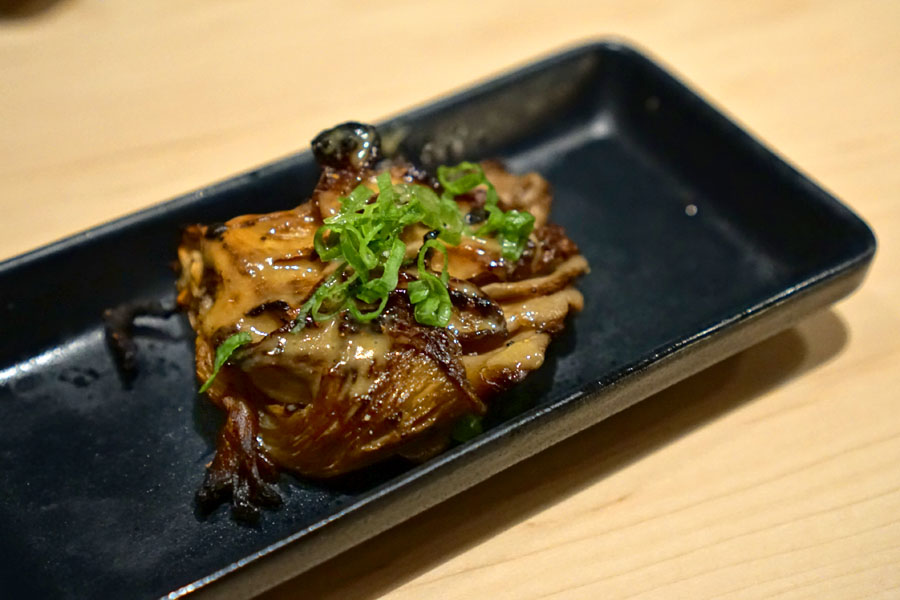 Oyster Mushroom [$5.00]
| mustard lime glaze
Soft 'shrooms were sweet and woodsy, but also in possession of a strong spicy element on the back end.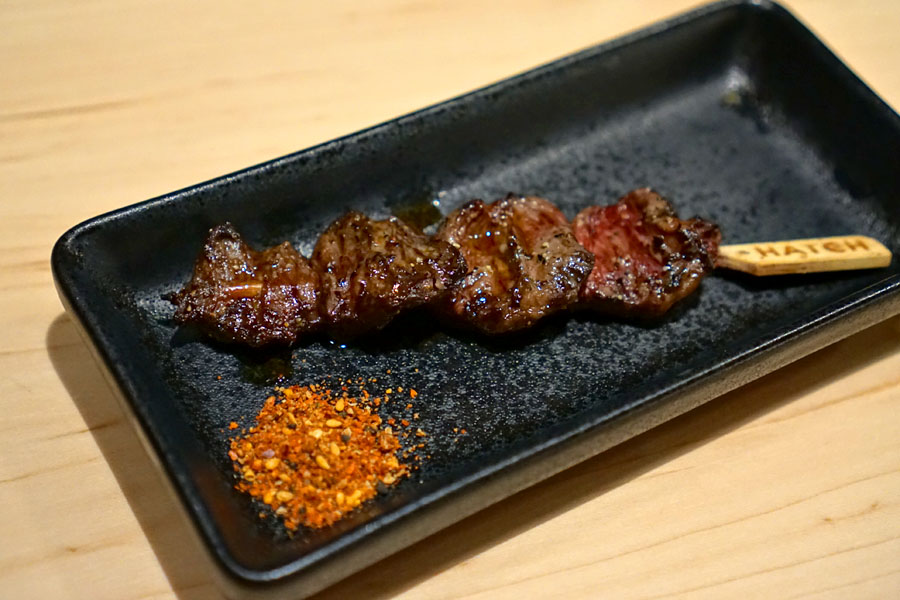 Chicken Heart [$4.00]
Hatsu
showed off a pleasantly springy texture, while its potent, earthy flavors were complemented by the heat of
togarashi
.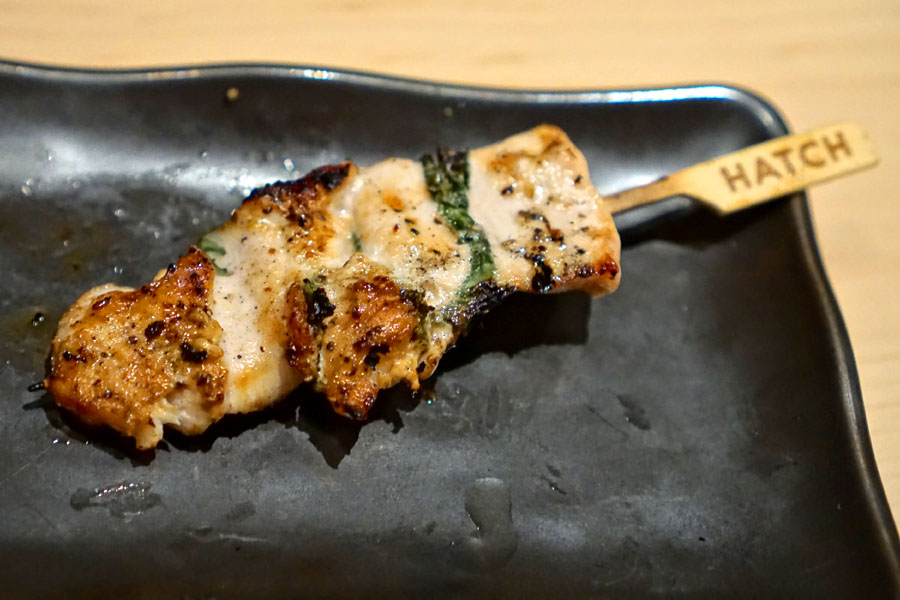 Breast & Shiso [$3.00]
Breast, unfortunately, was on the dry side, though I did find it well-charred. Great minty finish from the shiso, too.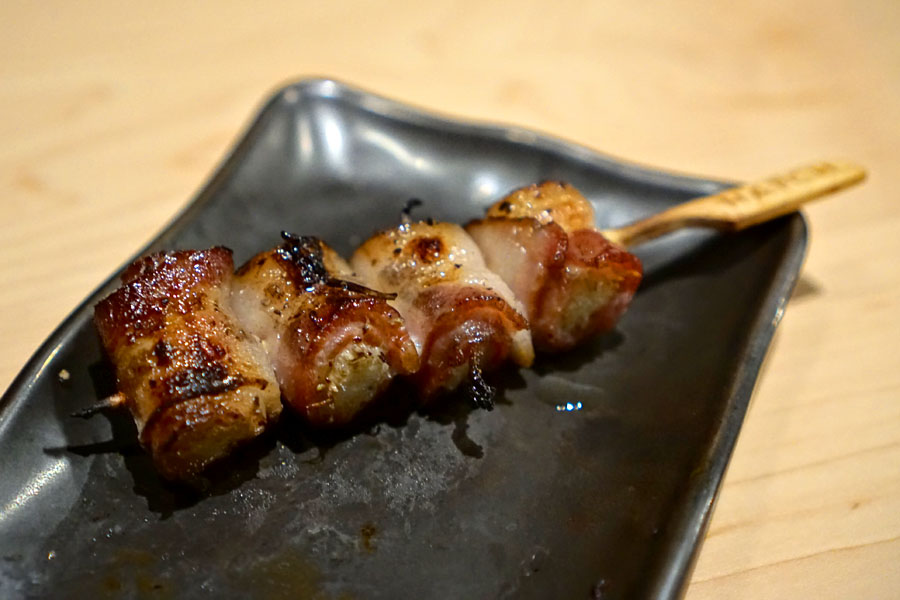 Bacon Enoki [$3.50]
Sweet, smoky bacon worked as an effective pair to the crunchy strands of
enokitake
.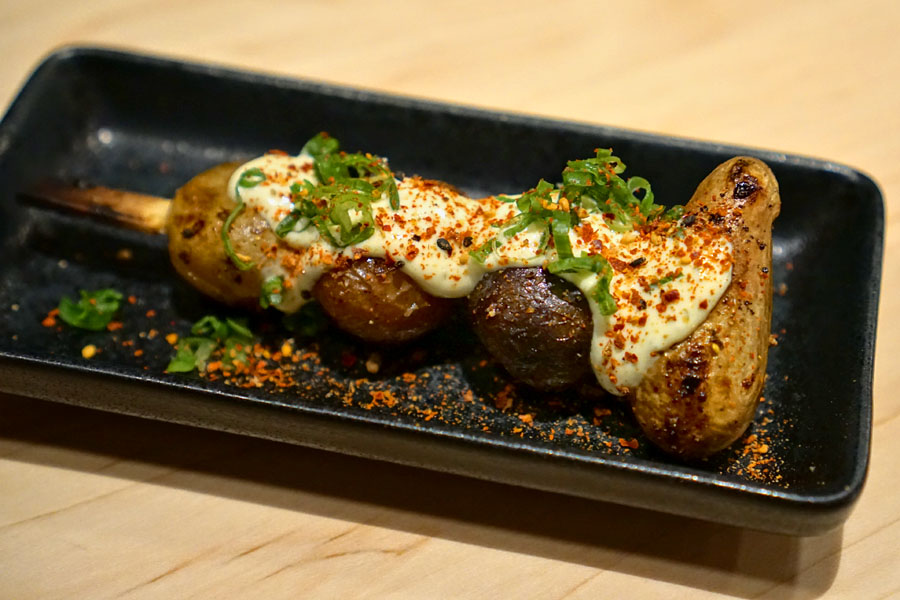 Pee Wee Potato [$2.50]
| yuzu kosho aioli, scallion
Potatoes were firm and hearty, and went well with the aioli, which provided both a creamy, lemony accent as well as a building spice.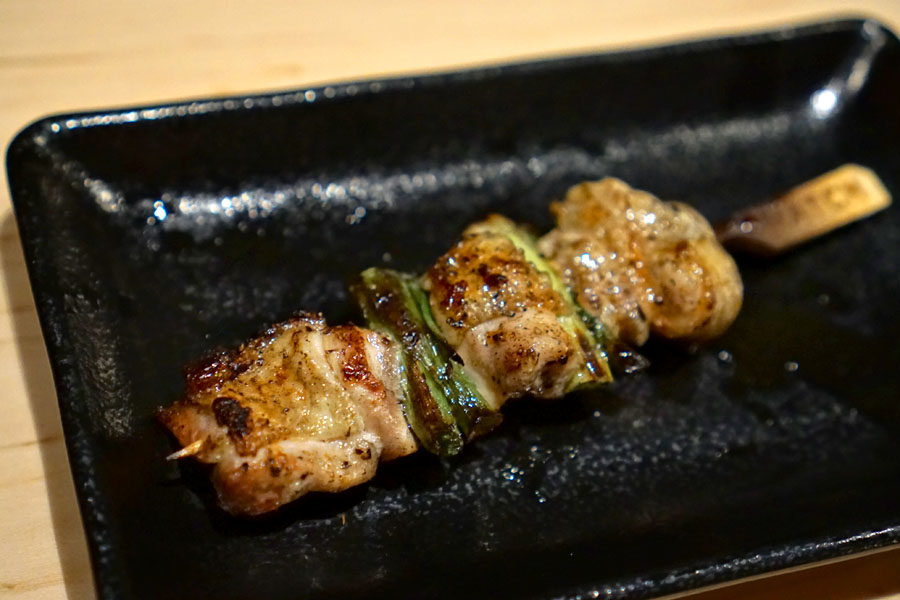 Thigh & Green Onion [$3.00]
The
negima
was a crowd pleaser, as the soft, succulent, savory cuts of thigh just made sense with the bite of
negi
.
Brussels Sprouts [$2.50]
Brussels were satisfyingly-textured, and their bitterness and char were definitely on point to boot.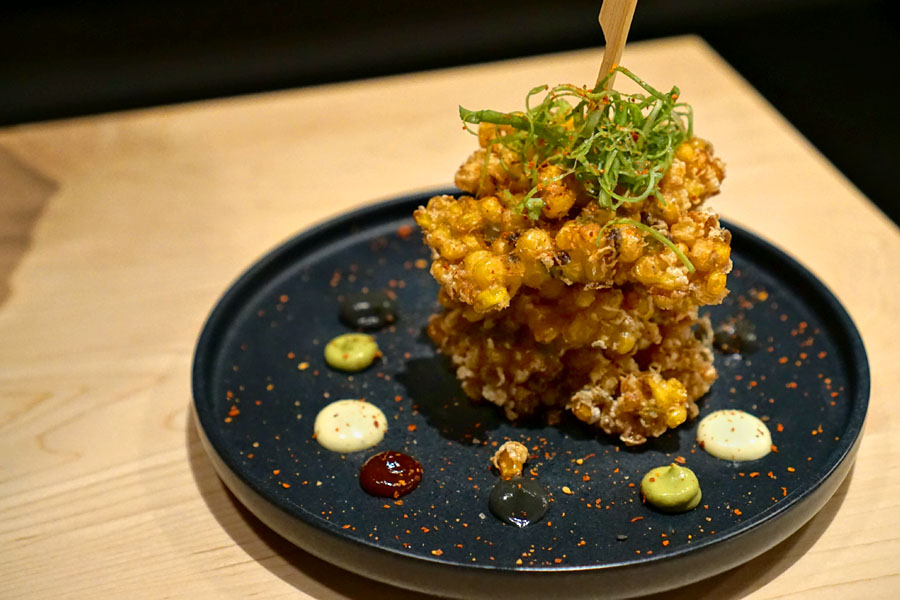 Corn Tempura [$8.00]
| sweet corn fritters, jalapeno, green onion, brown sugar, assorted dips
At this point we moved on to a few non-skewered dishes. The corn fritters had a lovely crunch to 'em, as well as a sweetness that paired with the various condiments provided, the
gochujang
especially. This actually reminded me a bit of the corn
perkedel
over at
Kasih
.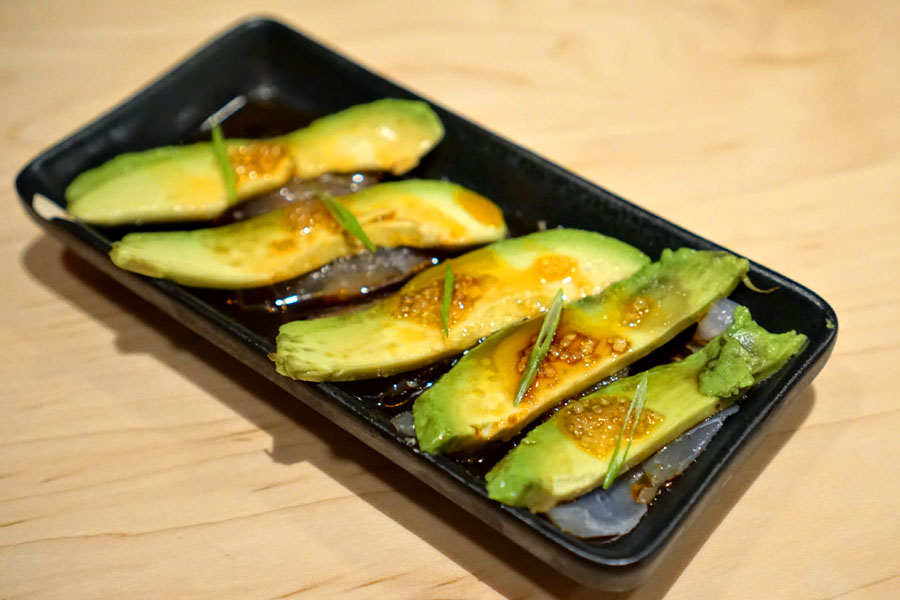 Red Snapper [$12.00]
| avocado, green onion, finger lime, house chili ponzu
Snapper was accompanied by the sour, savory nature of ponzu, all while avocado served as a cool, creamy counterpoint. The best part? Those pops of acidity from the finger lime vesicles.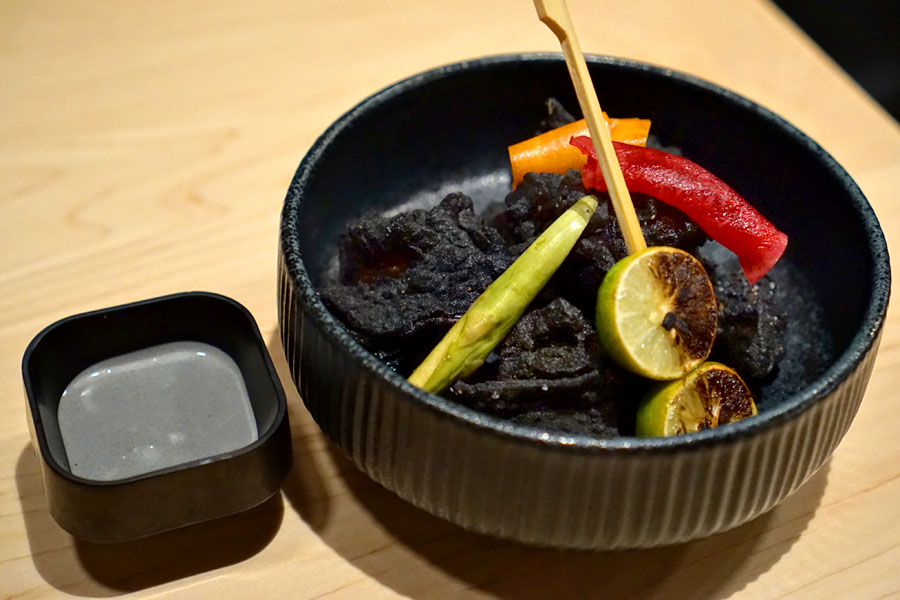 Black Karaage [$12.00]
| two day brined chicken thighs, squid ink, house pickles, grilled lime, black ranch dip
Kara-age
was spot on in terms of texture, though I felt the pieces could've used more aggressive seasoning. However, the chicken did open up with a dab of that charcoal-garlic ranch and a squirt of lime.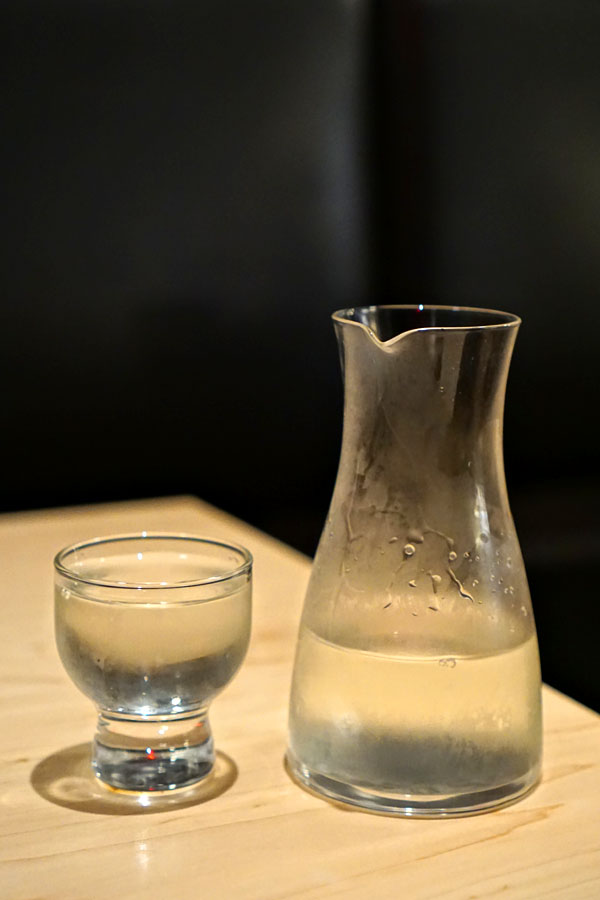 With the wine dispensed with, we moved on into a carafe of the
Ryujin "Dragon God" [$26]
, a
namachozo ginjo
class, single-pasteurized sake produced by Gunma Prefecture's Ryujin Shuzo. I got a super aromatic bouquet filled with sweet, almost candied melon. Taste-wise, there was even more vibrant melon finishing soft and smooth with a touch of heat.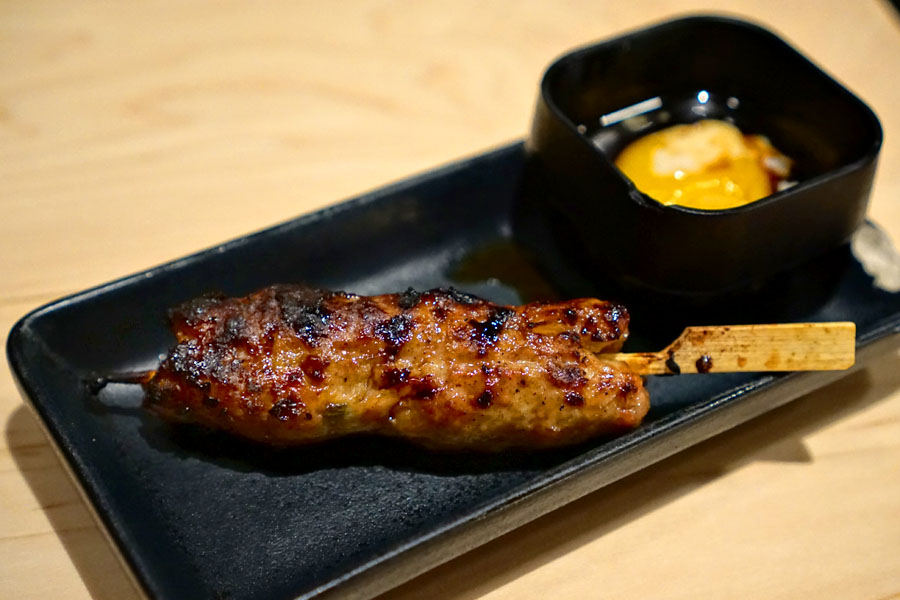 Chicken Meatball [$4.50]
| egg yolk & tare dip
I enjoyed the
tsukune
as well, largely due to its delectable marriage of sweetness and smoke, moderated by a healthy dosing of spring onion.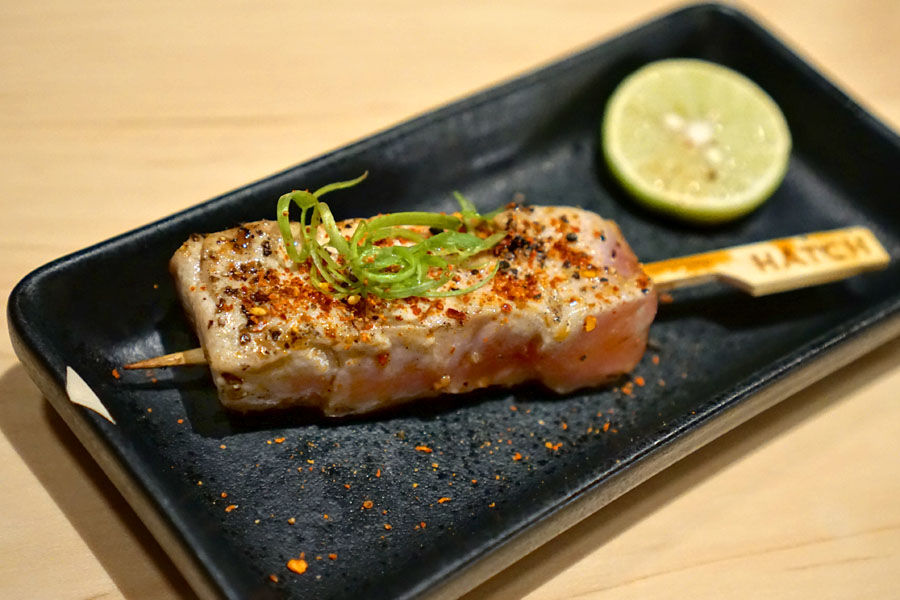 Seared Ahi [$4.00]
| scallion, house togarashi
A dense block of ahi tuna was cooked more than I would've liked unfortunately, though I did have a proper mix of acidity, brine, and spice.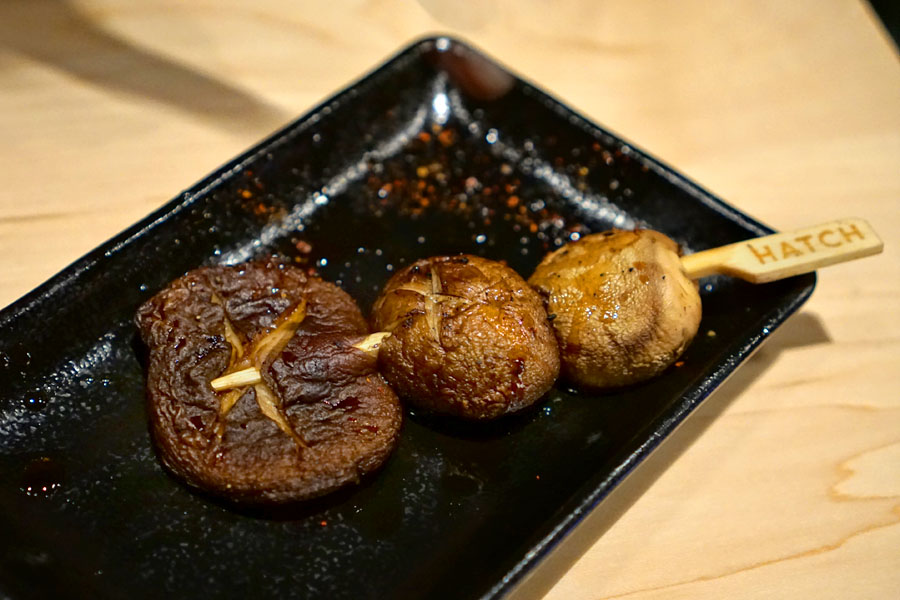 Mushroom Party [$3.00]
It wasn't much of a "party," but the mushrooms worked things out well enough, coming out soft and sweet, with their signature umami notes conveyed.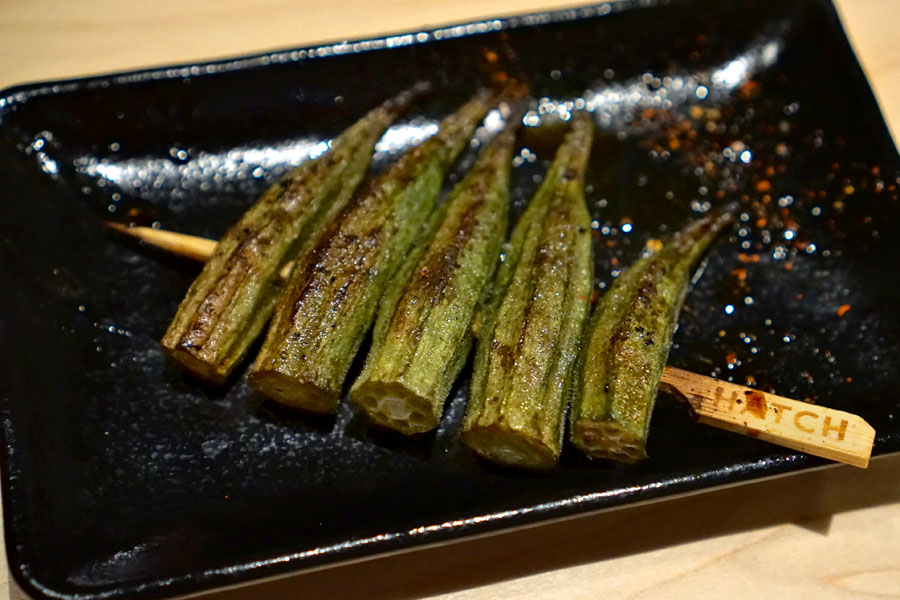 Okra [$2.50]
Okra was as mucilaginous as expected, but also satisfactorily seared and rather tasty.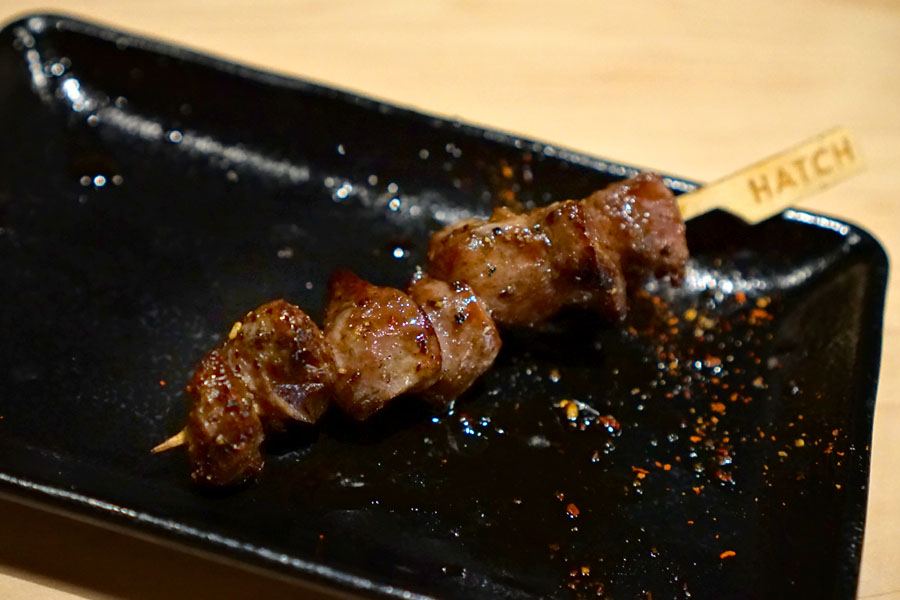 Gizzard [$3.00]
| house togarashi
We ended with the
sunagimo
, which was both crunchy and pliant at the same time, just like I wanted. Taste-wise, I found the gizzard sweet-n-savory, and better with a dab of that
togarashi
.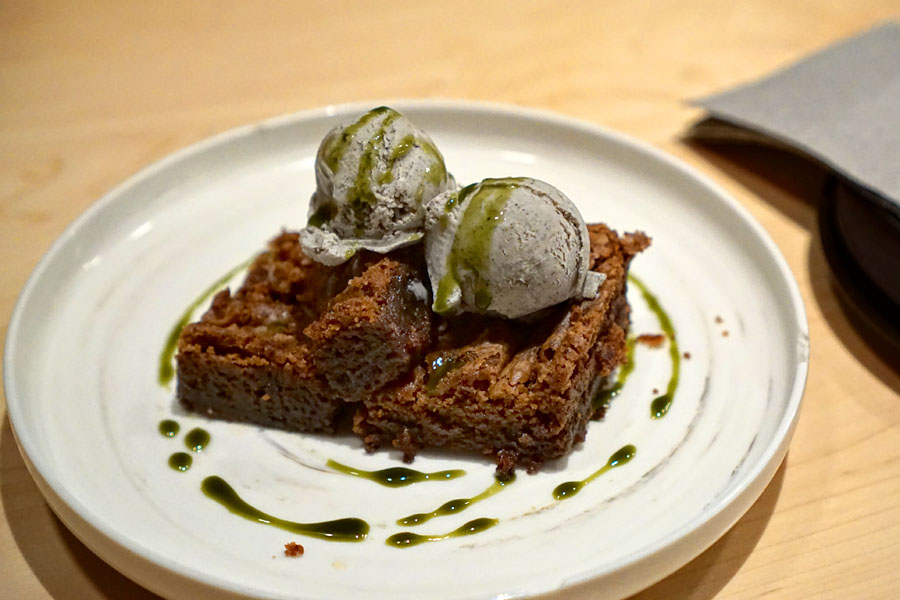 Binchotan Brownie [$10.00]
| grilled brownie, matcha frosting, black sesame ice cream
Dessert ended up being complimentary, presumably because we ordered so much. In any case, the brownie was a hit. I appreciated how its smoke balanced out the richness of the chocolate, and there was a pervasive savoriness that made me think of olive oil. The sesame ice cream, meanwhile, was a perfect pairing.
I was a bit skeptical coming into here, but the team pulled it off for the most part. Hatch is a fairly untraditional take on yakitori, but manages to stay true to the ethos of the traditional Japanese preparations. I think the most successful dishes here are actually the more unconventional ones. At the same time though, the classic items deliver too, and in fact, I'd actually like to have a larger variety of chicken parts (e.g. tail, cartilage, skin) represented on the menu. I'm curious to see if Shemtob and company decide to replicate the Hatch concept elsewhere--I could see it working.