Boston Lobster (San Gabriel, CA)
Boston Lobster Tôm Hùm Restaurant
727 E Valley Blvd, San Gabriel, CA 91776
626.288.4388
Fri 12/28/2018, 07:50p-09:30p

I'd been wanting to try Boston Lobster (
Yue Wei Xian
in Chinese) for a while now, and was finally able to check it out recently for an end-of-year dinner. The place opened in June 2014, and according to local lore, was started by a former chef from the nearby
Newport Seafood
, though I can't really find any "official" sources to corroborate this. The Department of Alcoholic Beverage Control lists the owners as Li-Shou Ma and Zhen-Bao Xiang, for what it's worth. In any case, the restaurant is essentially a clone of Newport, and serves a very similar Chinese-Vietnamese menu, which of course includes the namesake lobster.

Boston Lobster takes over the address that was previously home to J.Z. Restaurant, Oriental Pearl, and Clark Ho's G.C. River. The decor is about what you'd expect.



















The menu's pretty large, and lists pretty much all the Chinese-Vietnamese favorites you'd find at Newport. Drink-wise, there's a small selection of wines, beers, and soft drinks. Corkage, meanwhile, is supposed to be $15 a bottle, though we ended up getting charged $20 in total, which wasn't bad at all. Click for larger versions.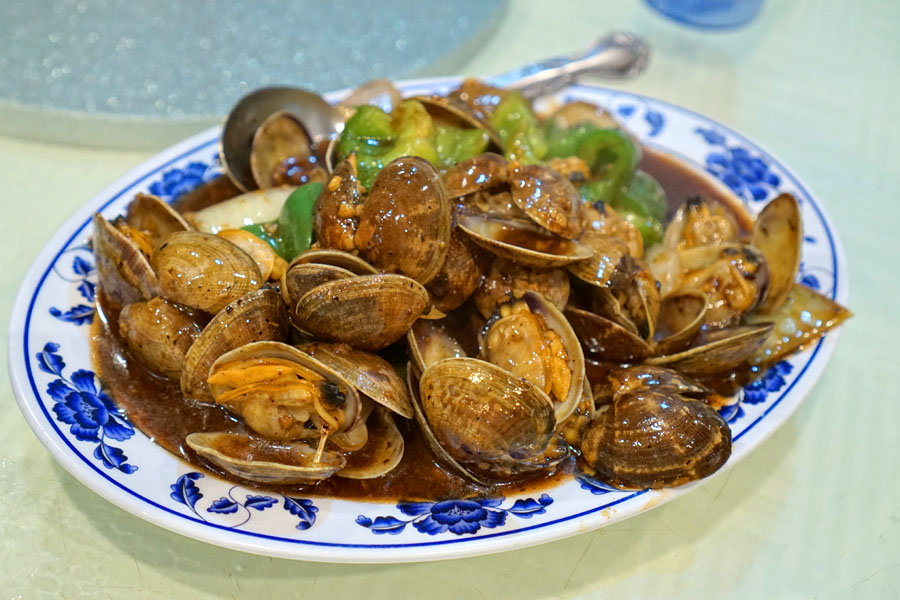 Clam with Black Bean Sauce [$12.98]
Clams arrived springy and soft, with an apparent brine that linked up well with the potent
douchi
sauce. Onions and bell peppers provided further contrast, though I wanted a crisper texture on the veggies.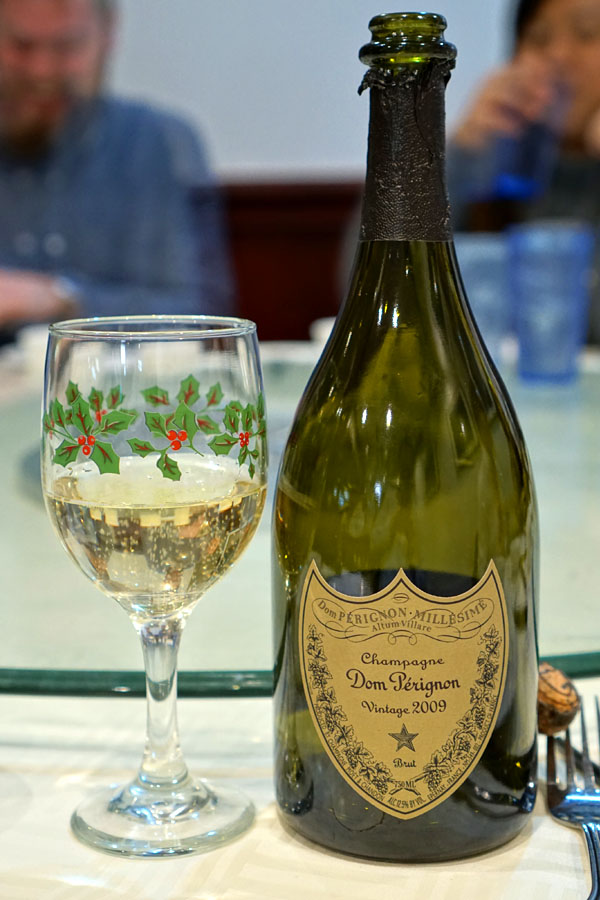 We began with a bottle of
2009 Dom Perignon Champagne
, which was fitting for the festive mood. Its bouquet was actually fairly understated and conveyed a fine toasty quality with yellow pome fruit and citrus. The palate was bright and acidic, but also a bit restrained, giving up lime, apple, stone, and a subtle nuttiness along with a trace of heat. The wine was drinking very young this evening, and could definitely benefit from at least several more years of aging.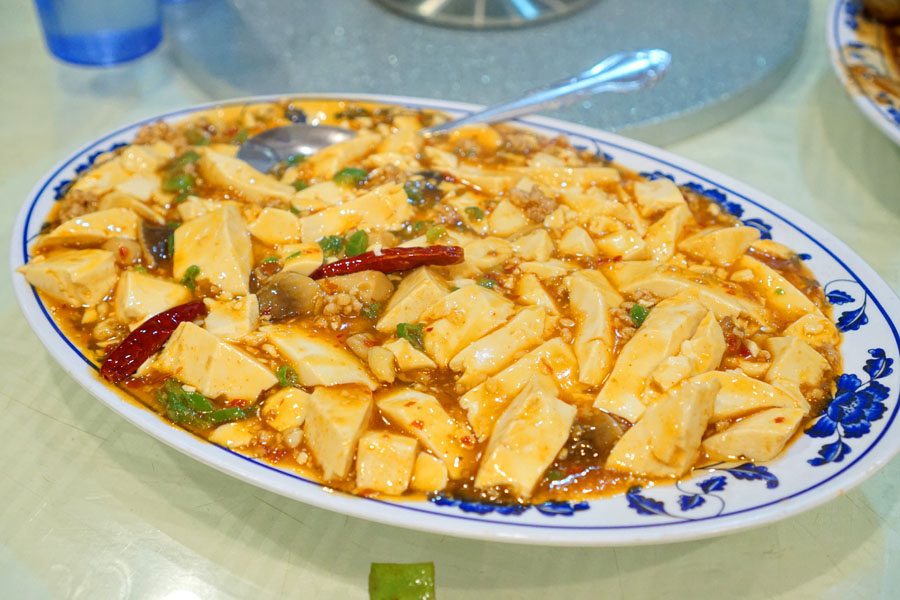 Ma Po Tofu [$10.98]
The
mapo doufu
was decent. I appreciated the silky texture of the tofu here, though I felt like there could've been more depth of spice to the dish, as well as more
mala
.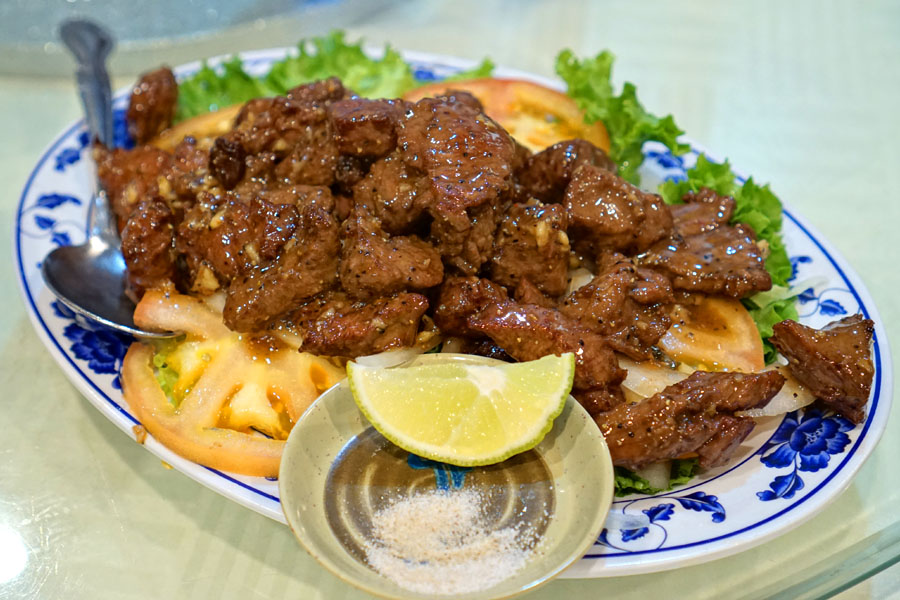 French Style Beef Cube [$13.98]
The restaurant's rendition of
bo luc lac
was a crowd pleaser thanks to its tender, perfectly seasoned cuts of beef, which were well matched with the onions in the dish. You can't go wrong with this.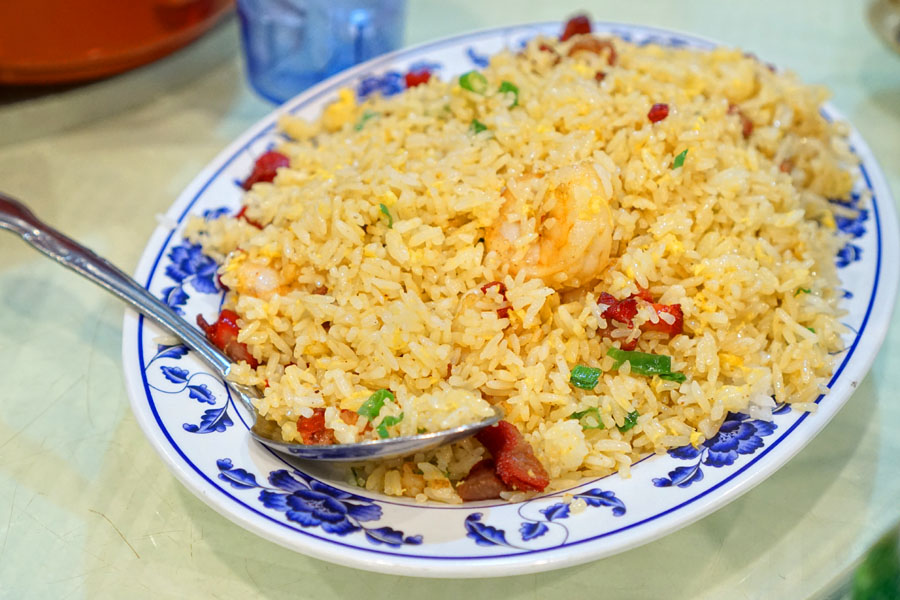 Yang Chow Fried Rice [$8.98]
The Yangzhou fried rice hit the mark. What surprised me most was how well the shrimp were cooked, and I was a fan of the texture on the rice, too. The
char siu
pork imparted a wonderful sweet-savoriness to things, making for a well balanced dish overall.
Next to drink came the
2015 Királyudvar Furmint Tokaji Sec
. This one smelled of honey and sugary tropical fruit, but also displayed a somewhat funky character that was key for balance. Taste-wise, I got acidity and astringency mixed with plenty of vibrant yellow fruit and more honey, alongside a smidge of mustiness. A fun wine for sure.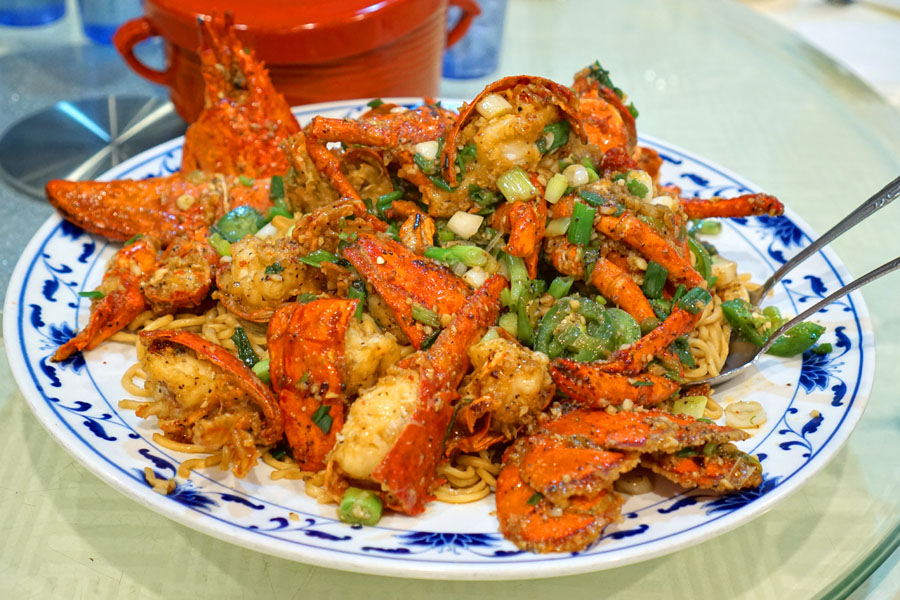 Boston House Special Lobster + Add Garlic Noodle (x2) [$75.96 + $6.00x2]
And here we see the signature Chiuchow-style Atlantic lobster, which was a touch tougher than I'd prefer. It was on point taste-wise though, with its buttery, black pepper-infused flavors joined by the potency of green onion and jalapeño in classic, gratifying fashion. The noodles were a welcomed addition as well, providing a savory, cozy quality to the course.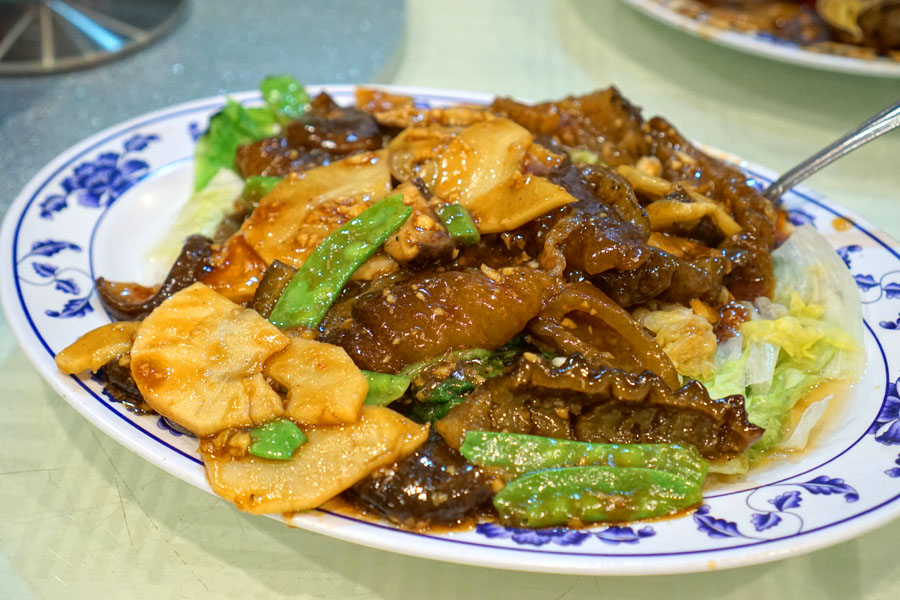 Sea Cucumber with Black Mushroom [$20.98]
Haishen
arrived slick and slippery. It didn't taste like much on its own, but was complemented by the umami notes from the mushrooms and accompanying sauce. I also enjoyed the contrast provided by the lettuce and bamboo.
Kung Pao Squid [$11.98]
Squid was generally quite tender, though unfortunately certain parts did veer rubbery. There was a very palpable salinity in the dish that stood up to the usual Kung Pao ingredients (especially the leeks and peanuts), though overall I think the flavors could've been a tad more aggressive.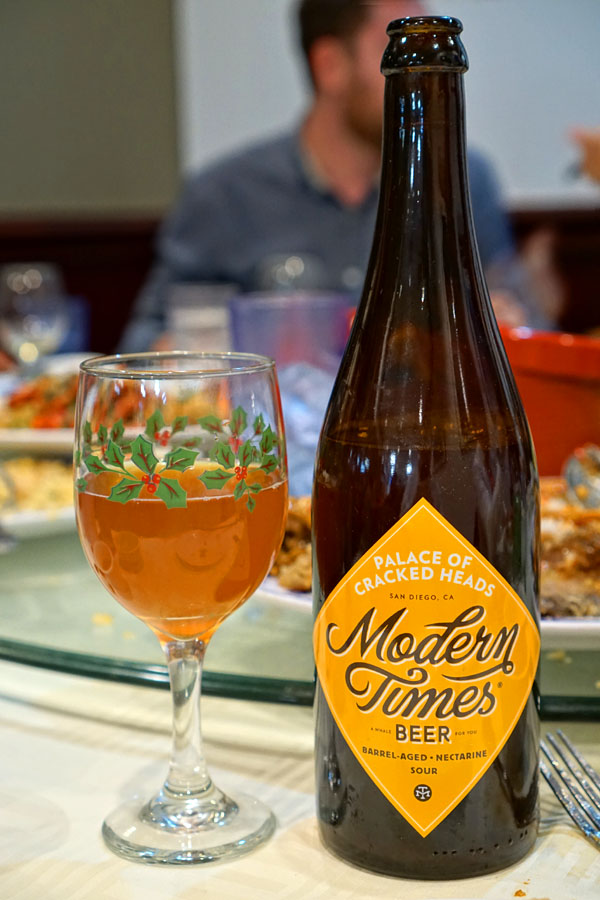 We moved on to some beer at this point, starting with the
2017 Modern Times Palace of Cracked Heads
, a nectarine-boosted red wine barrel-aged oud bruin with Lacto, Pedio, and Brett. It smelled quite nice, with lots of funky, sour notes intermixed with heady stone fruit. In terms of taste, I got super rich, spicy nectarine flavors along with a persistent tartness and earthy, yeasty quality in the background.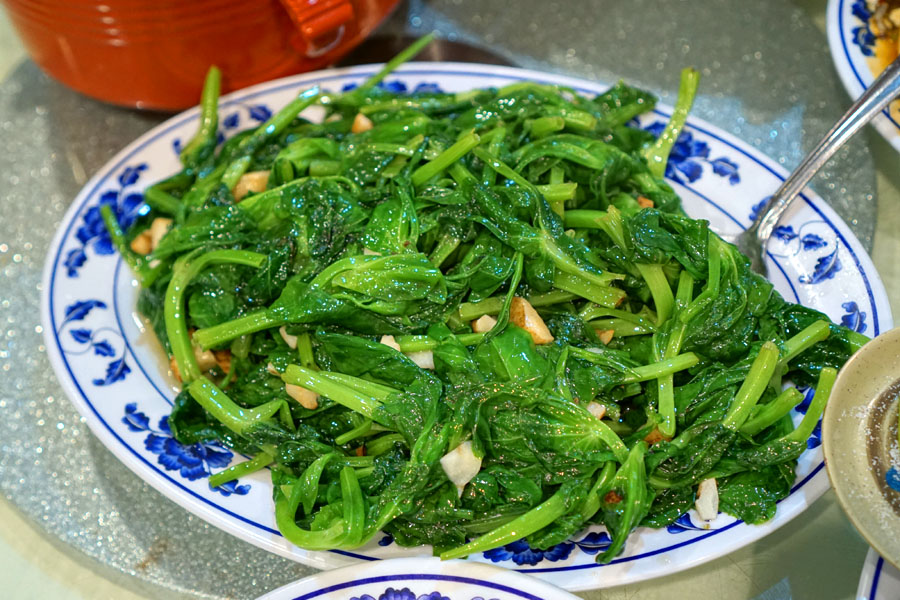 Sautéed Pea Sprout [$15.98]
The
dou miao
were beautifully textured, though far too bland, and definitely needed more garlic and salt.
Fried Pork Chop with Salt & Pepper [$11.98]
Crunchy
jiaoyan
pork chops had just the right amount of S&P seasoning, and worked great with the green onion and garlic, too.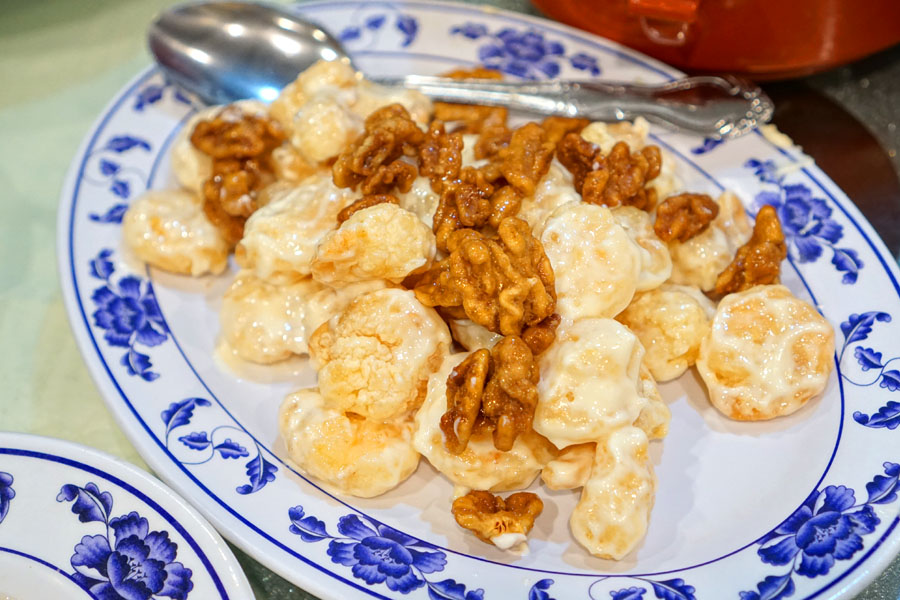 Shrimp with Walnut [$15.98]
The
hetao xia
was another winner. The shrimp had a lovely texture: just crisp enough on the outside, yet soft and supple on the inside. There was a noticeable sweetness to the dish, but it was never domineering, and still let the inherent nature of the shrimp shine.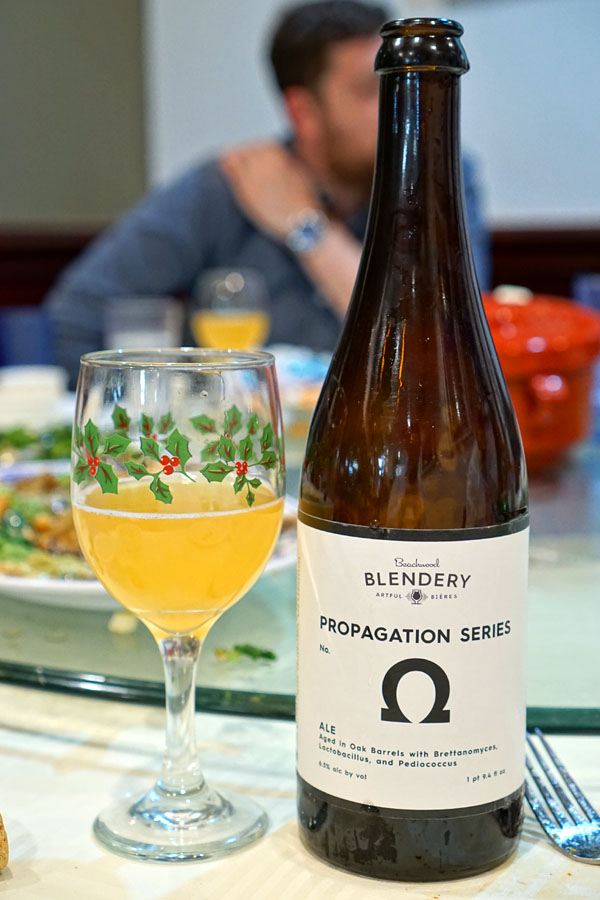 Our final beverage was the
2016 Beachwood Blendery Propagation Series: No. Omega
, a tart farmhouse ale aged in oak barrels with Brett, Lacto, and Pedio. Designed to be a sort of Brett saison and lambic hybrid, the beer smelled great, with boatloads of juicy orange moderated by a potent earthiness. On the palate, I found it super funky, and there was this rubbery, astringent, barnyard-y quality to it that was superbly moderated by more of that succulent citrus fruit. This was arguably the most complex, interesting beer of the entire Propagation series.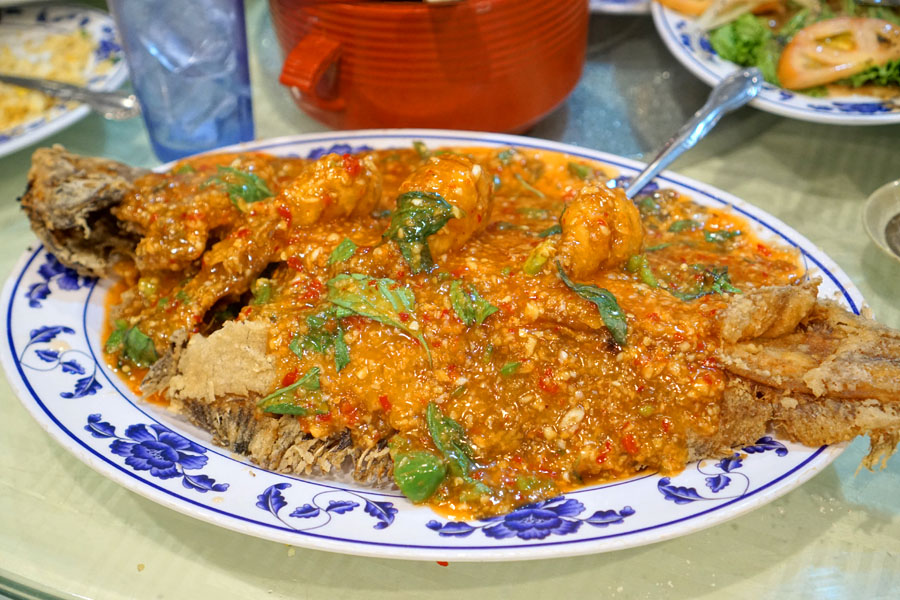 House Special Crispy Fried Sole Fish [$21.98]
We'd initially wanted the "House Special Black Cod Whole Fish," but the restaurant ran out of cod, so we ended up having the same sauce with the "Crispy Fried Sole Fish." In any case, I found the fish tender and juicy, delicate in consistency and well matched to the crunchiness of its skin. The included sauce, meanwhile, went in a sweet and funky direction, with a pleasant heat and distinct notes of basil.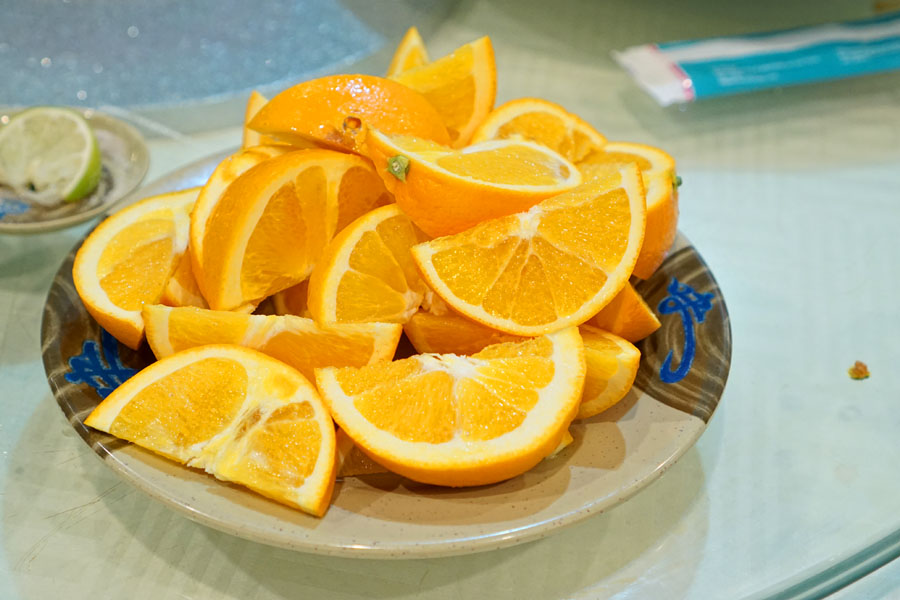 For dessert we had oranges.
It's been a long time since I've dined at Newport, but from what I can recall, I think I'd give it a slight edge food-wise. That being said, we were still generally happy with our meal tonight, despite a couple nits and the long wait to get in. Actually, this has gotten me somewhat curious about 626 Lobster and New Century Lobster, two more Newport clones that have opened up nearby--my guess is that they're all pretty similar.