Rappahannock Oyster Bar (Los Angeles, CA) [2]
Rappahannock Oyster Bar at ROW DTLA
787 S Alameda St, Los Angeles, CA 90021
323.435.4004
www.rappbardtla.com / www.rroysters.com/restaurants/rappoysterbardtla
Sun 01/13/2019, 12:00p-02:15p

I was recently in search of a Downtown spot for a working Sunday brunch, and after considering the likes of
The Exchange
and
Manuela
, decided upon
Rappahannock Oyster Bar
, where I'd enjoyed a dinner before.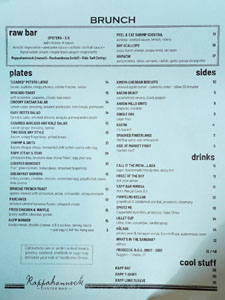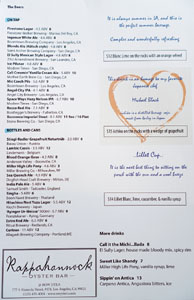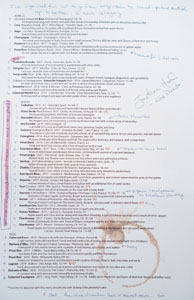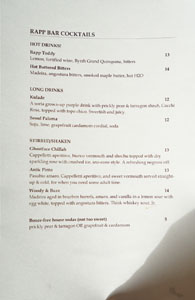 As far as the menu goes, it's still largely the work of Nick Erven, though the Chef left the restaurant last August if you recall. To drink: a brunch-appropriate selection of beers, wines selected by Jonathan Hood, and cocktails by Hope Ewing (I believe). Click for larger versions.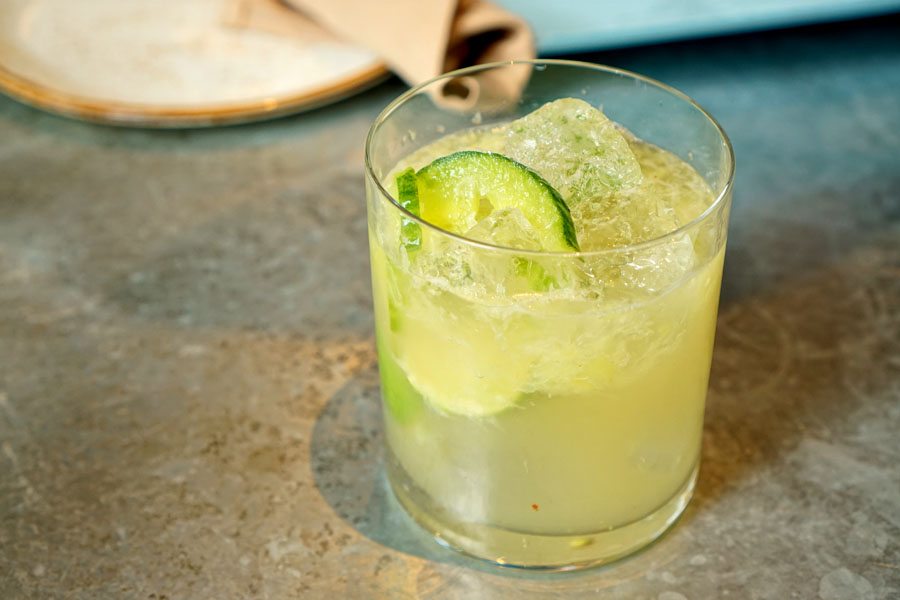 Lillet Cup [$14.00]
| Lillet, lime, cucumber, vanilla syrup
First to drink was this aperitif cocktail. Strong notes of cucumber and lime on the nose led to a palate filled with sweet 'n' sour spice along with some oxidative, aromatic elements. Refreshing, yet surprisingly multifaceted--a lovely start.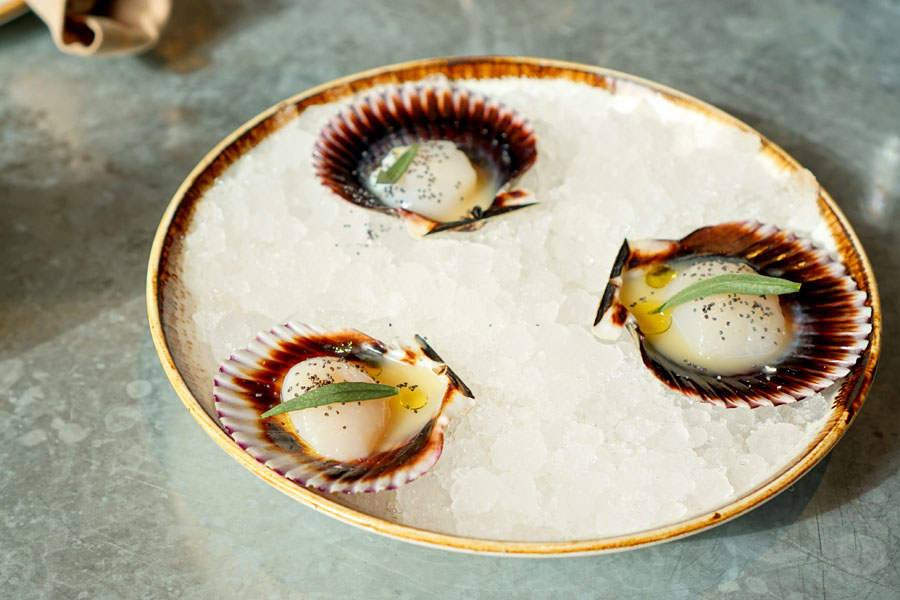 Bay Scallops [$16.00]
| yuzu, burnt orange, poppy seed, tarragon
Scallops were just supple enough, and had their clean, fresh flavors accented by vibrant citrus and a wonderful herbaceousness from the tarragon.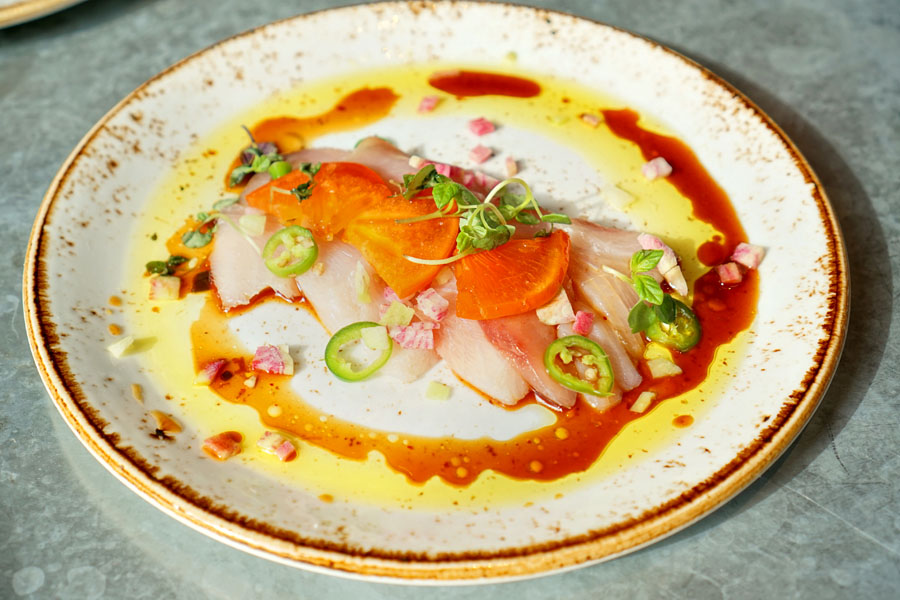 Hamachi [$17.00]
| persimmons, shiso, serrano, radish, garlic-ponzu vinaigrette
Yellowtail was a hit as well. We were fans of the savory, tart vinaigrette utilized here, and how the played with the brine of the fish. There was also a surprisingly stout heat from the serranos that stayed with you.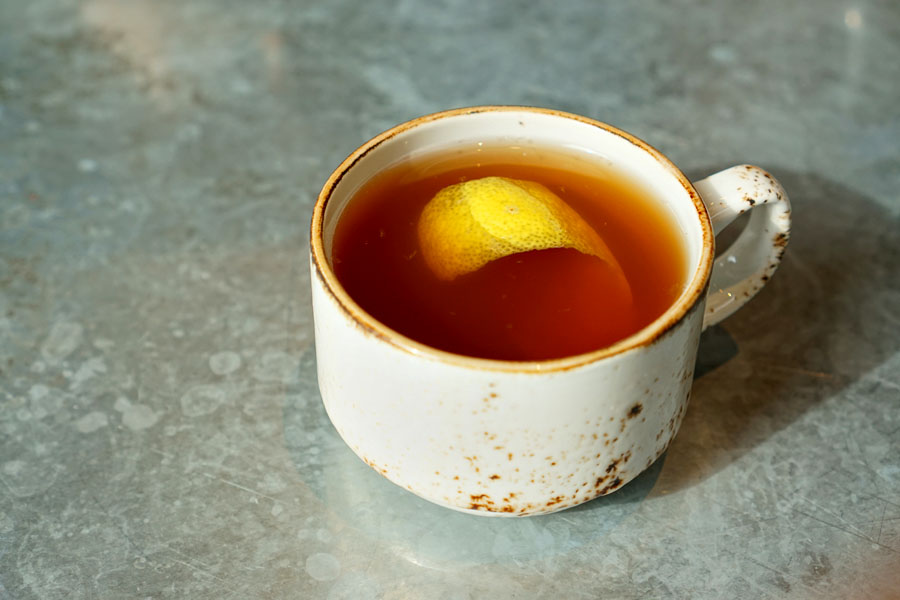 Rapp Toddy [$13.00]
| Lemon, fortified wine, Byrrh Grand Quinquina, bitters
A take on the hot toddy was appropriate for the chilly weather we were having. I found it decidedly vinous, but with plenty of bittersweet spice and lemon for balance.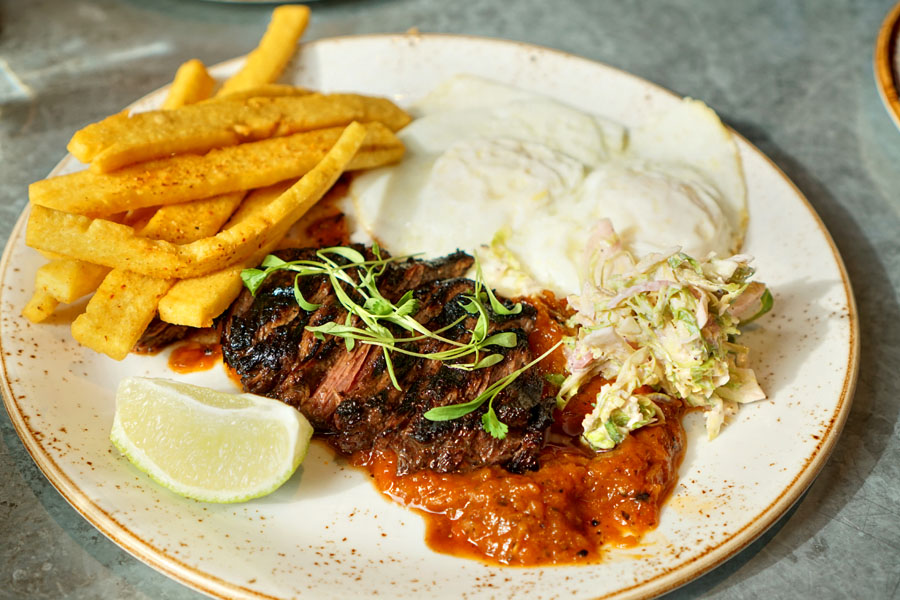 Rapp Steak & Eggs [$29.00]
| pineapple bbq, brussels slaw, masa "fries", egg your way
I believe this was hanger steak. It was a flavorful cut, with a nice char and a marked sweetness from the advertised pineapple, while texturally I found the meat slightly chewy. The corn-based fries were a hit with the group, and there were no complaints concerning the over medium egg, either.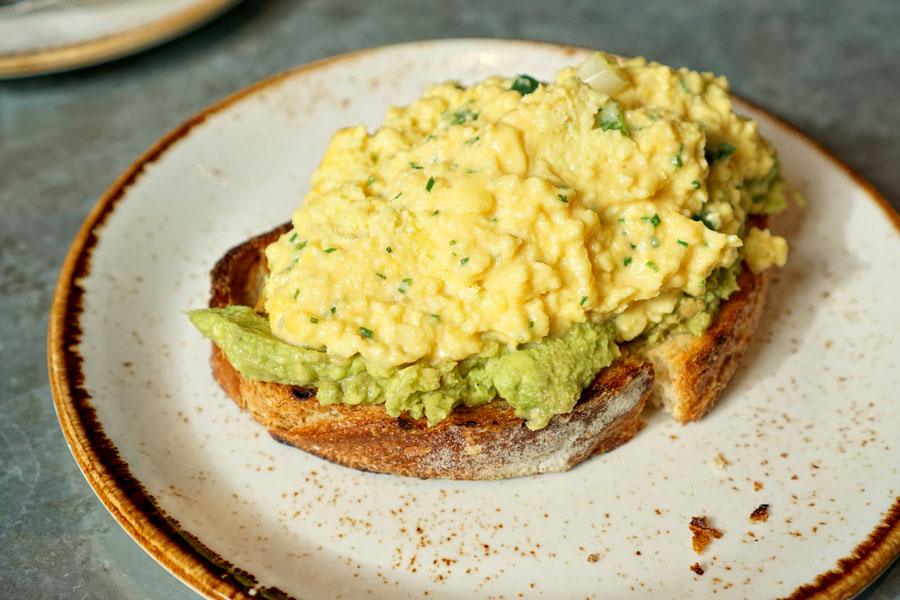 Avocado Toast [$15.00]
| soft scramble, jalapeño, chives, raw onion
Creamy, herby eggs melded beautifully with the lushness of avocado, the toast offering up a crunchy counterpoint. My favorite part, though, was the offsetting pungency from the bits of raw onion.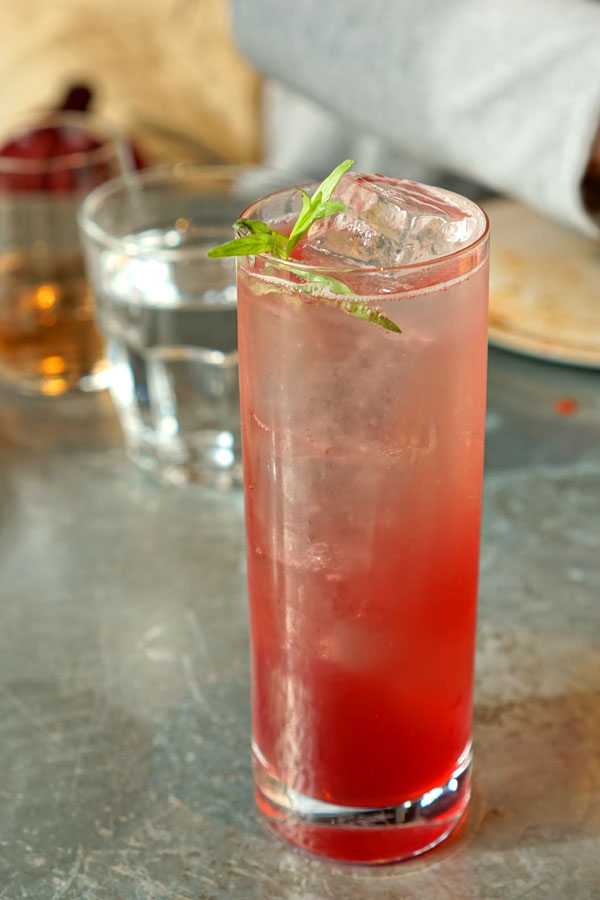 Külade [$14.00]
| prickly pear & tarragon shrub, Cocchi Rosa, watermelon beer
This ruby-hued cocktail was definitely on the quaffable side. Refreshing and effervescent, it displayed a mix of watermelon and wine at first blush, leading to the robust sweetness of prickly pear on the finish.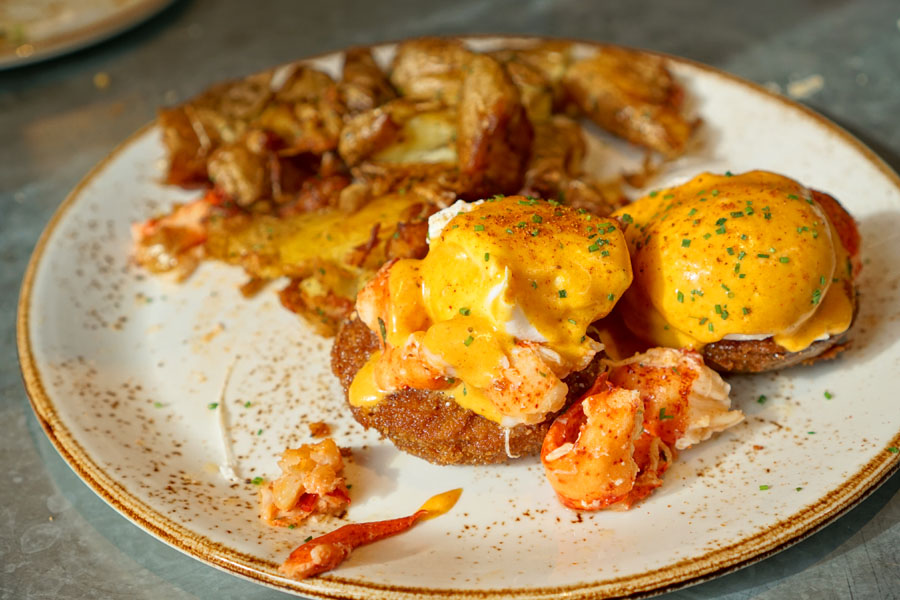 Lobster Benedict [$21.00]
| fried green tomato, hollandaise, smashed fingerlings
A riff on Eggs Benedict worked it out. Lobster was sweet and well-cooked, and made sense with the lushness of poached egg and hollandaise, while the tomato provided a contrasting tartness and crunch. We enjoyed the hearty, herby potatoes on the side, too.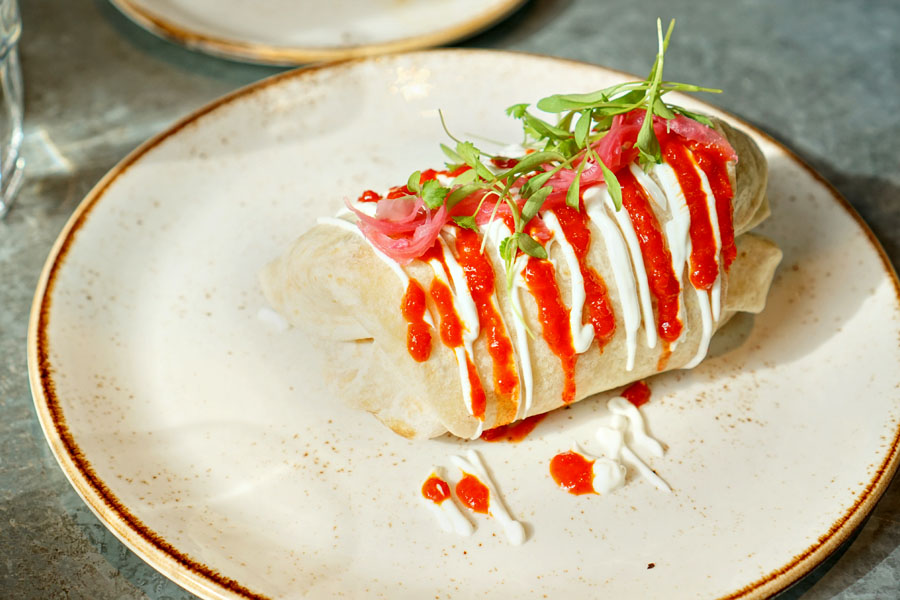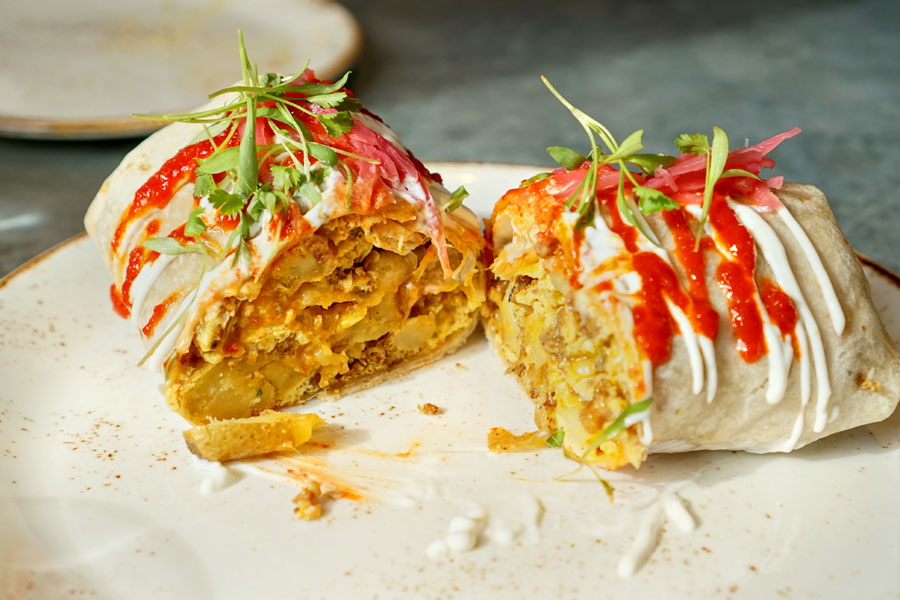 Breakfast Burrito [$15.00]
| crispy potato, cheddar, chorizo, scrambled egg, piquillo hot sauce, lime crema
Curiously, this was one of the few times I've actually had a breakfast burrito anywhere near breakfast time. In any case, what we had was a fairly classic interpretation of the dish. I especially liked the spicy-savoriness of the chorizo and how that meshed with the eggs and taters, just like you'd expect. There was also a definite sweet-heat in the burrito that I didn't mind.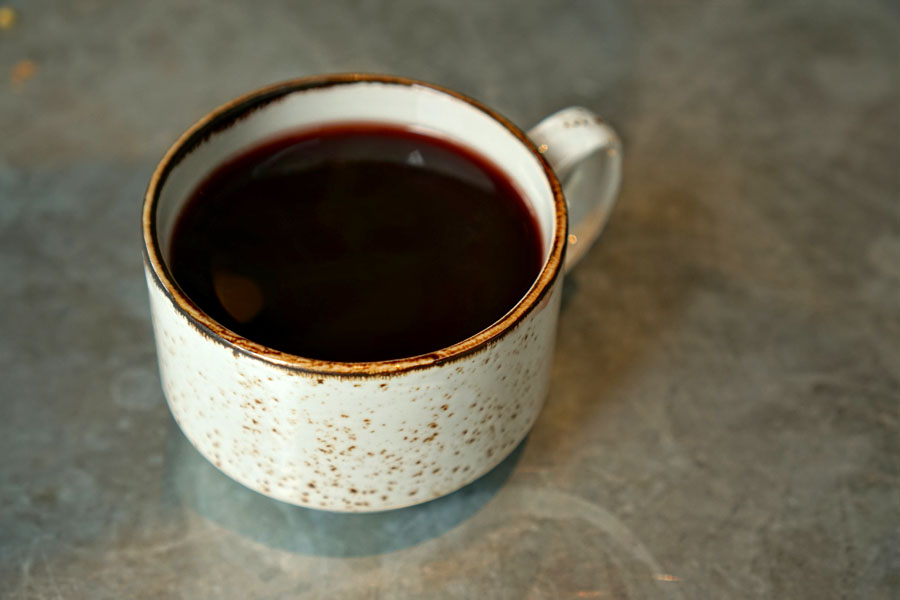 Hot Buttered Bitters [$14.00]
| Madeira, angostura bitters, smoked maple butter, hot H2O
We ended with another hot cocktail. Many of us commented that this "tasted like Christmas," due to its plethora of sweet 'n' spicy notes layered over a base of potent Madeira.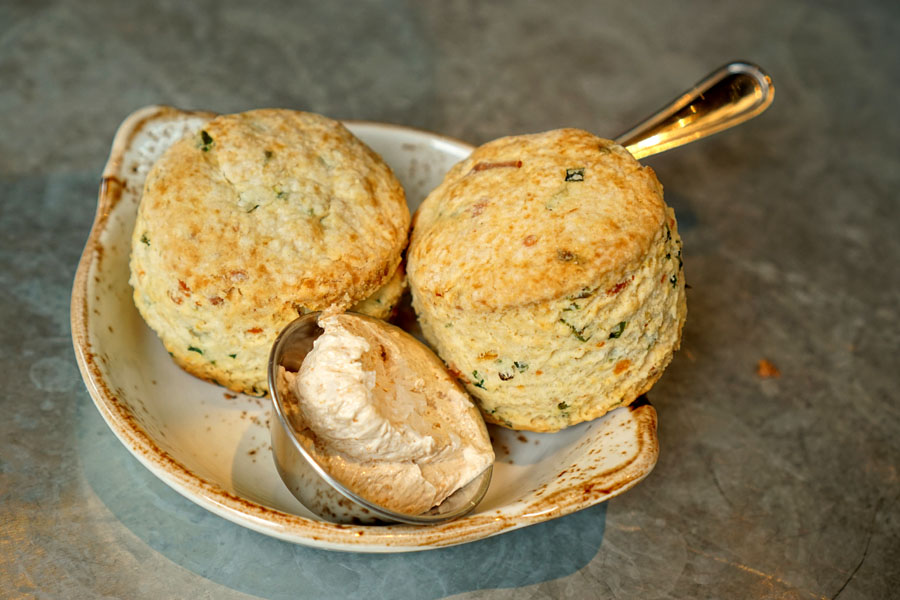 Kimchi-Cheddar Biscuits [$10.00]
| smoked apple butter - baked to order - allow 20 minutes
Biscuits were a touch dry, but otherwise spot on, showing off a
cong you bing
-like, onion-y zestiness that married perfectly with that sweet-smoky butter.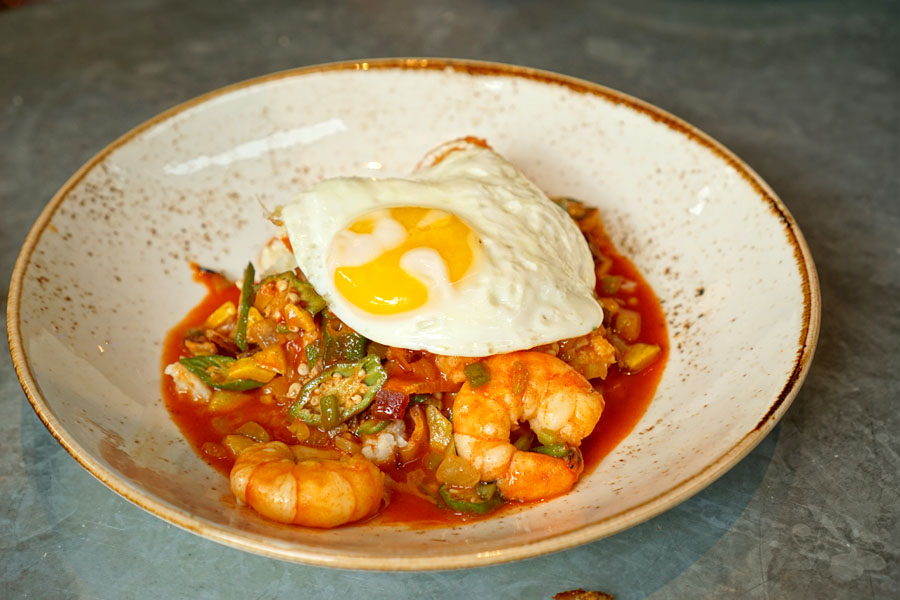 Shrimp & Grits [$21.00]
| bacon, maque choux, fermented chili butter, sunny side egg
The shrimp 'n' grits largely delivered. The actual shrimp had a proper cook on 'em, and still conveyed a salinity that linked up well with the spicy, somewhat nutty, bacon-enhanced grits.
I'm actually not much of a brunch person myself, but ended up enjoying our meal at Rappahannock. The place seems to be holding up rather well in Erven's absence, though from what I hear, the restaurant is indeed searching for a new Chef. As for Erven, word on the street is that he'd like to return to LA (he went to Detroit to open a new spot called Antihero), so we'll see.