Superfine Pizza (Los Angeles, CA)
Superfine Pizza
1101 San Pedro St, Los Angeles, CA 90015
323.698.5677
www.superfinepizza.com
Sun 12/09/2018, 08:00p-09:30p

A desire for a quick 'n' easy Downtown dinner prior to a movie at L.A. Live made for a good excuse to check out the Fashion District's Superfine Pizza, the newest project from Chef
Steve Samson
. The place opened in the middle of July, and takes over the old Bernie's Sandwich Stand space at City Market South, a stone's throw from
Rossoblu
. Stylistically, Samson seems to blend the Neapolitan aesthetic he's known for with some decidedly New York qualities, and bakes the thin-crusted pizzas in electric ovens.

The menu's straightforward enough, and features a variety of pizzas available by the slice or by the (18") pie. There's also salad, if you must, while delivery is apparently offered via Caviar, Postmates, and Uber Eats. Click for a larger version.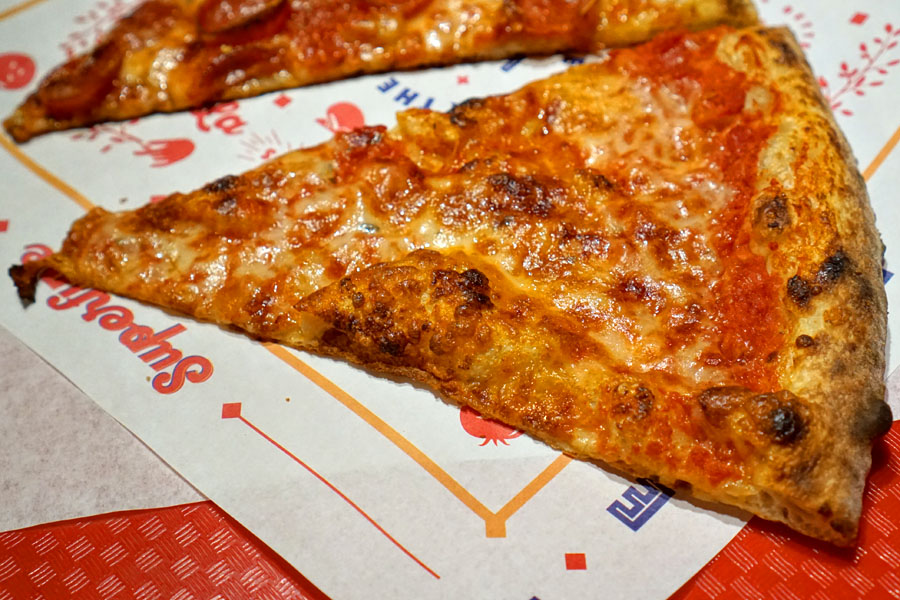 Simply Cheese [$3.00/slice]
| Tomato, Cheese
We began with the most basic of the pizzas. What stood out to me most was the crust, which I found thin and crisp throughout, but still a bit chewy. There was also a touch of smoke and bitterness that I appreciated as well. On top of that, the sweet-tangy tomato sauce was very apparent, and did a nice job offsetting the potency of the cheese.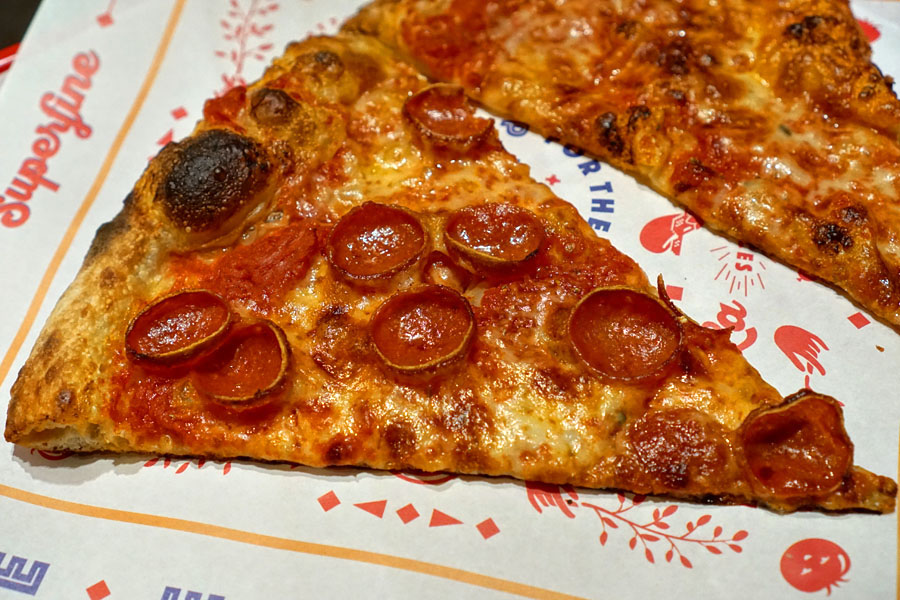 Pepperoni [$4.00/slice]
| Tomato, Cheese, Pepperoni
Our second pizza showed off all the qualities of the slice above, but with the addition of some delectably spicy 'n' savory, charred-crispy rounds of pepperoni.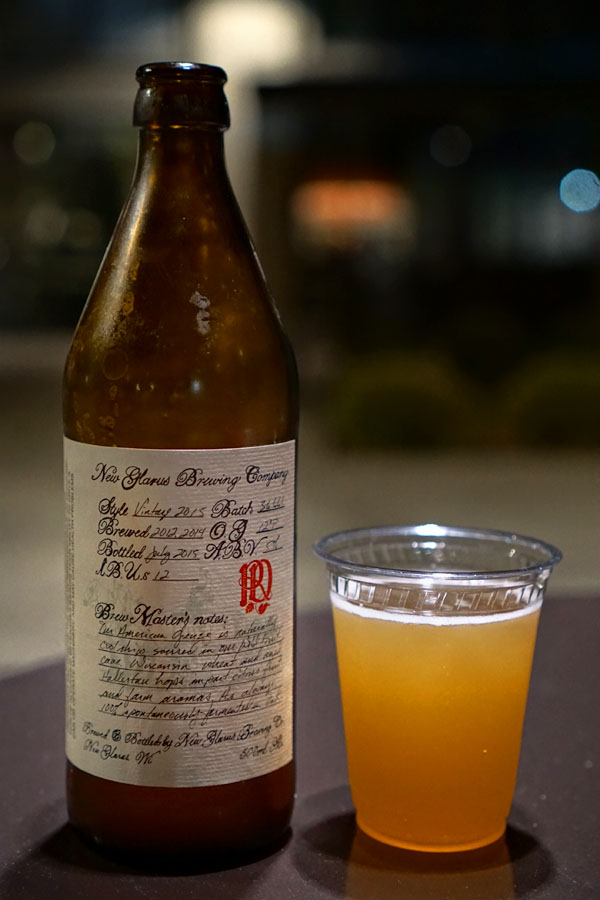 Beer is a natural pairing with pizza, and our first was the
New Glarus R&D Vintage 2015
, an American-style geuze comprising spontaneously-fermented sour ales brewed in 2012 and 2014, then bottled in 2015. The nose here was filled with sweet fruit commingled with farmyard funk. Taste-wise, I got a pleasant tartness and citric character along with a wonderfully earthy, barnyard element and a trace of oak. Dry and well balanced.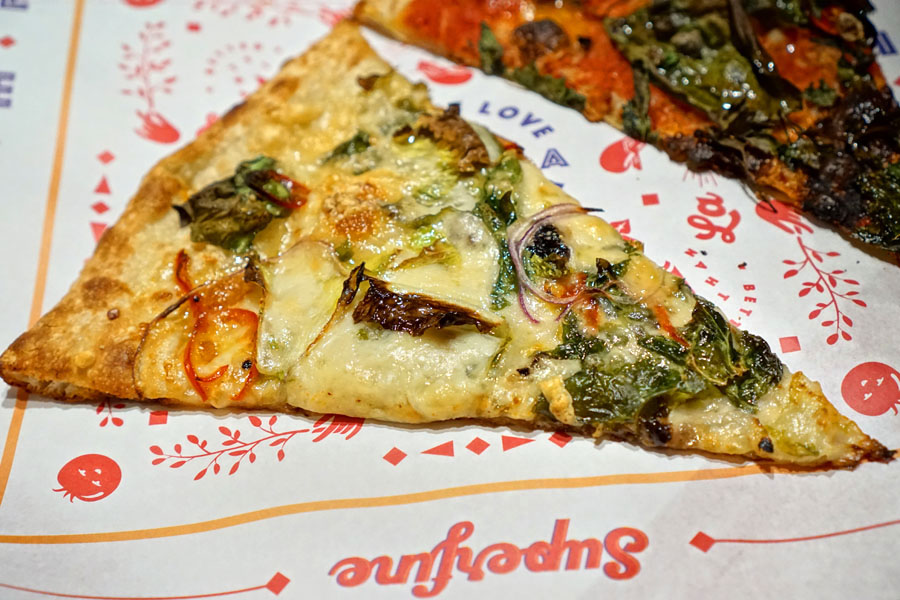 Es-Ca-Role [$4.00/slice]
| Escarole, Red Onion, Salt-Cured Olives, Chilies, Mozzarella, Smoked Provolone
The escarole was the star of the show on this slice, which ate bitter and salty, with a palpable richness and smoke from the provolone. There was also this smidge of heat that I liked, while I would've preferred even more red onion for contrast.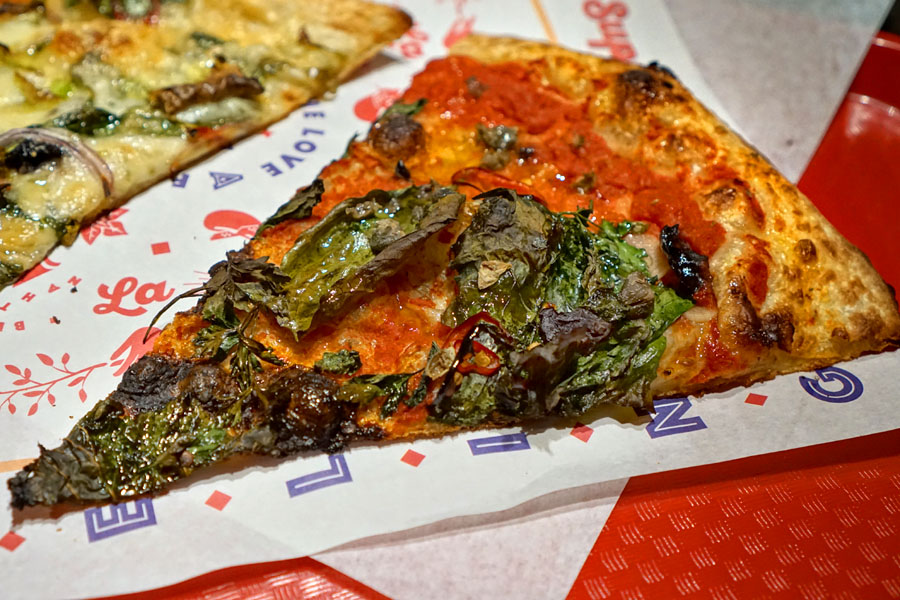 Veganissima [$3.00/slice]
| Tomato, Garlic, Rapini, Capers, Oregano, Chilies, Mint, Parsley, Basil, Extra Virgin Olive Oil
Superfine's vegan pizza was a surprise standout. The hero here was that full-flavored rapini, which meshed seamlessly with all the other ingredients at play. I was especially appreciative of the strong garlickiness on the finish.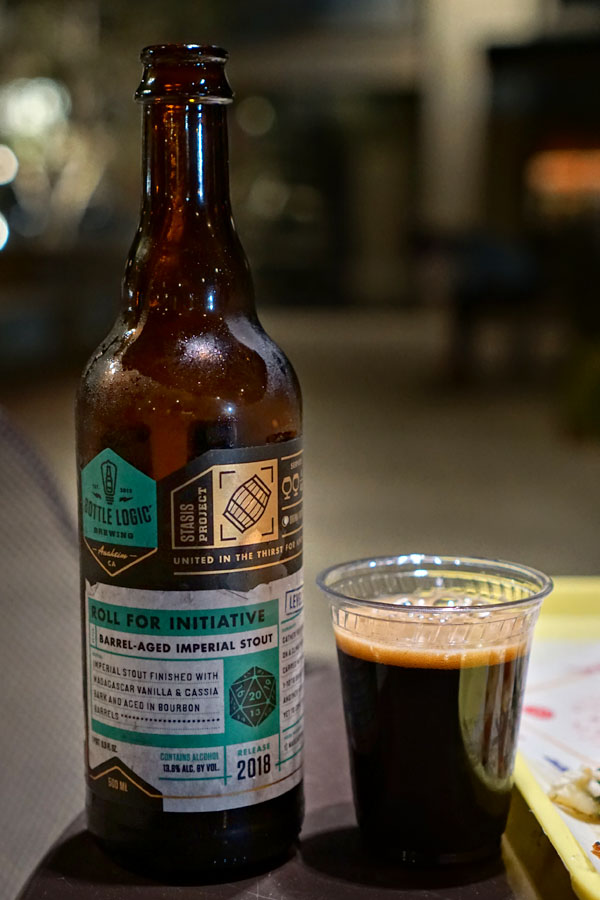 The
2018 Bottle Logic Roll for Initiative
was a cinnamon roll-inspired bourbon barrel-aged imperial stout finished with Madagascar vanilla and cassia bark. The beer smelled strongly of chocolate-y malt laced with cinnamon; there was less vanilla than anticipated. Its palate was thick and boozy, showcasing more chocolate, vanilla, oak, bourbon, and lots of the advertised cassia on the back end.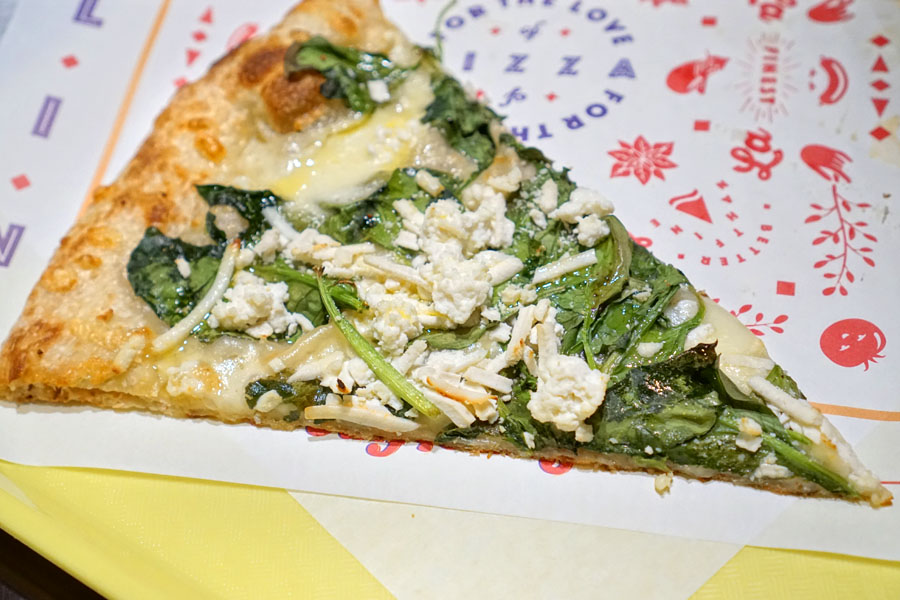 Spinach on White [$4.00/slice]
| Four Cheeses, Spinach
Here, the marriage of bright, bitter spinach and a lush, creamy combination of cheeses really worked, with the crust again serving as a moderating force.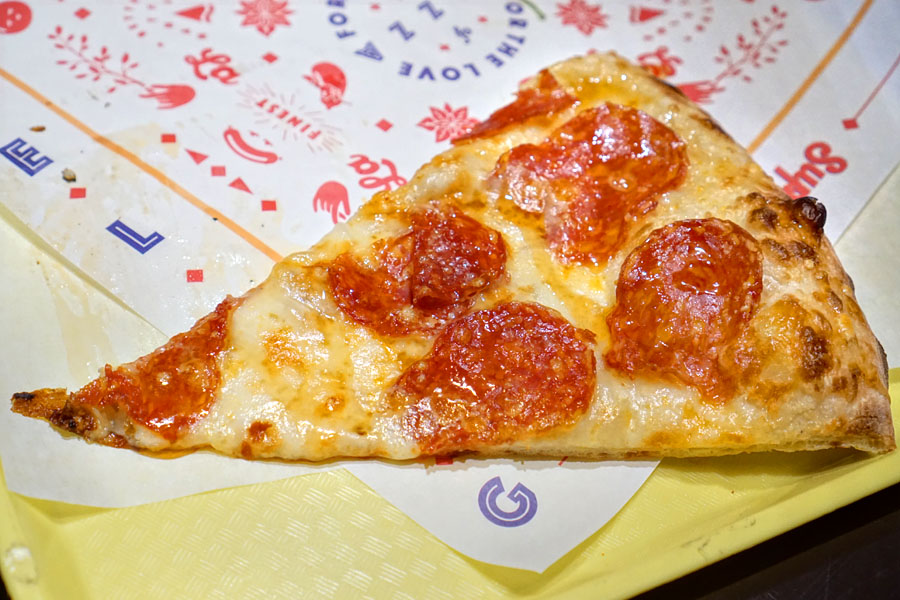 Salami Honey [$4.00/slice]
| Spicy Salami, Grana Padano, Provolone, Buckwheat Honey
I was afraid that this would be overly sugary, but it wasn't. Instead, the honey just plain made sense with the salami, forming a sweet-savory interplay that I found pretty gratifying.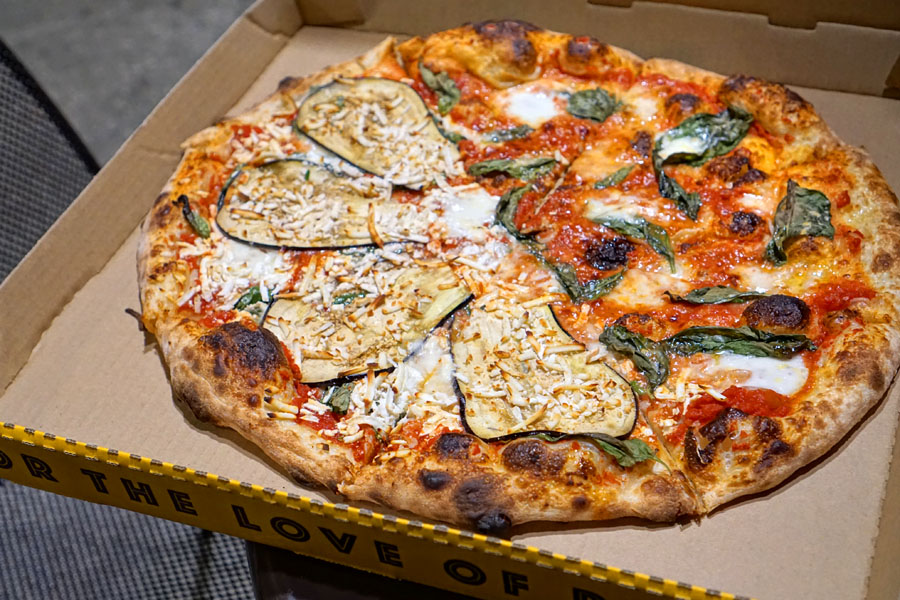 With all six by-the-slice options exhausted, we opted to go half-and-half on a whole pie.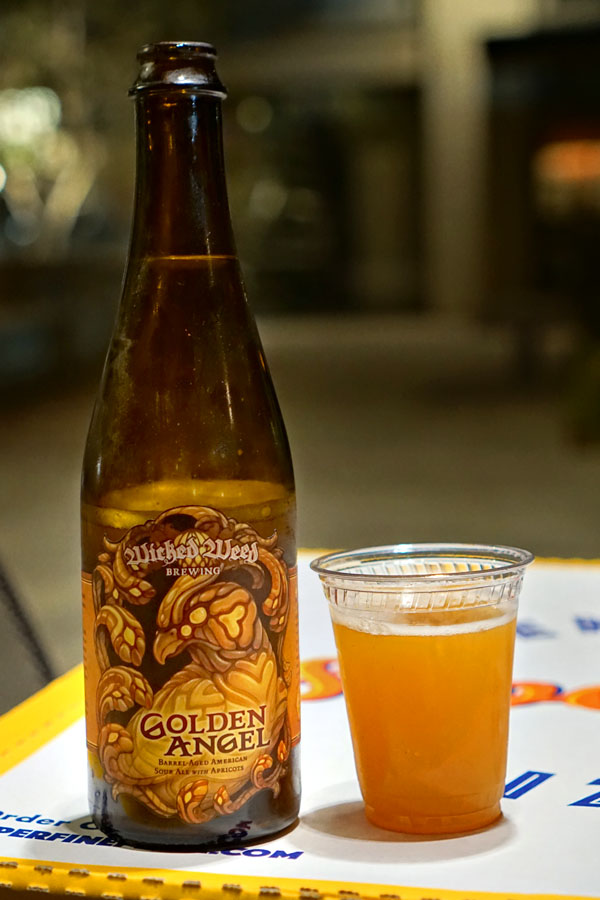 Our final beer was the
2015 Wicked Weed Golden Angel
, a sour ale aged eight months in red wine barrels with apricots, then aged another month in stainless steel with even more apricots. The resulting brew smelled of sweet, rich stone fruit with a touch of funk--very appealing. On the palate, I got more vibrant, true-to-life apricot flavor evened out by a lovely sourness and a hint of oak.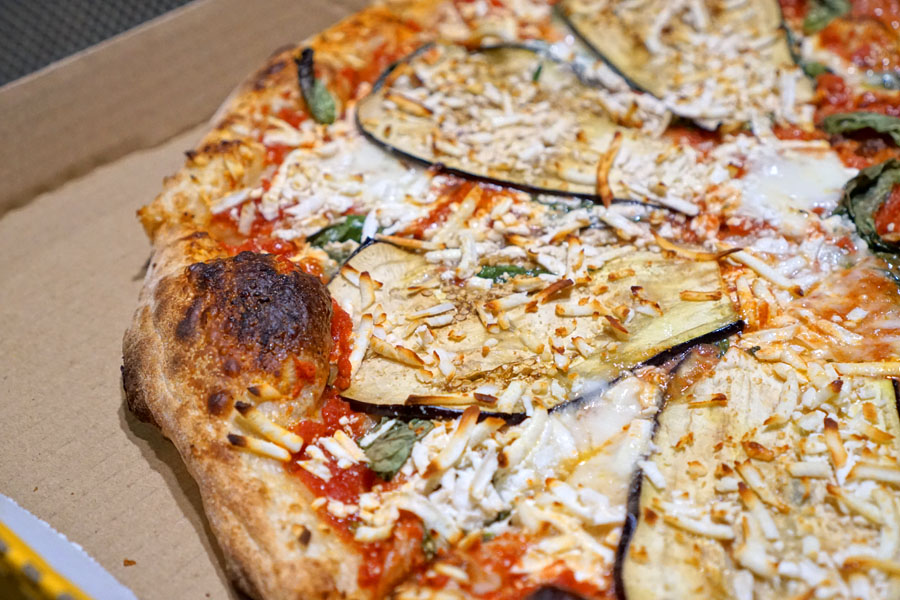 Eggplant Special [$25.00/pie]
| Eggplant, Crushed Tomatoes, Basil, Mozzarella, Ricotta, Grana Padano
The eggplant was the focal point here, its richness and smoke pairing well with the weight of the three cheeses while the tomato imparted a necessary tartness. I could've used a bit more basil though.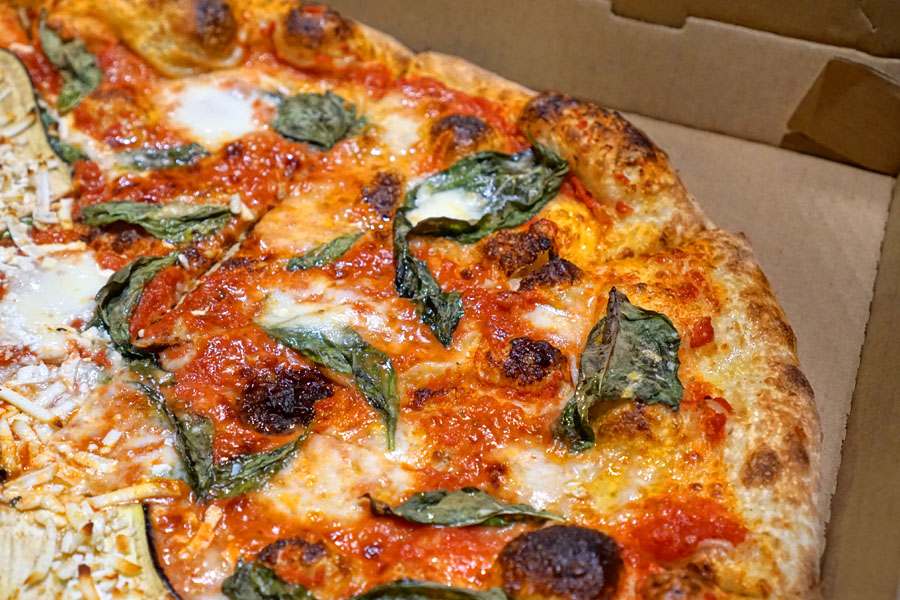 Queen Margherita [$23.00/pie]
| Fresh Mozzarella, Tomato, Basil, Extra Virgin Olive Oil
We ended with a sort of reworked Margherita. What stood out was the boldness of the tomato, and how that was contrasted by the bitterness inherent in the crust, all while the basil served as a fragrant accent piece.
It's rare that I go to a walk-up, by-the-slice pizza joint, but I'm glad I made the effort tonight. Samson's pies have this sort of old school-new school mash-up going on, and the results are pretty tasty. Superfine seems like a replicable concept, so I'm curious whether or not we'll see more locations springing up in the future--I wouldn't mind it.