Irenia (Santa Ana, CA) [2]
Irenia Restaurant
400 N Broadway, Santa Ana, CA 92701
657.245.3466
www.ireniarestaurant.com
Sat 03/02/2019, 08:30p-11:00p
Since opening in mid-2016, Ryan Garlitos' modern Filipino spot
Irenia
has quickly become one of my go-to restaurants in Downtown Santa Ana, and in fact Orange County in general. I've been back here a number of times since my initial report on the place, so I figured that it might be time for another post.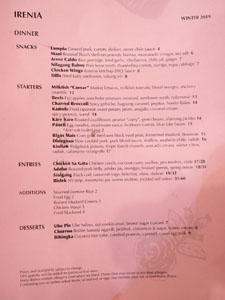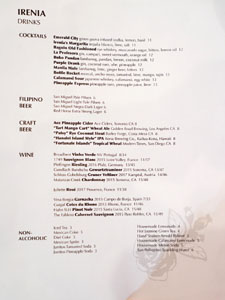 The menu has been in pretty much continuous evolution since Irenia opened, though there are a few standby dishes that have never left. Drink-wise, we have Philippine-inspired cocktails, some beer, and an abbreviated wine list. Click for larger versions.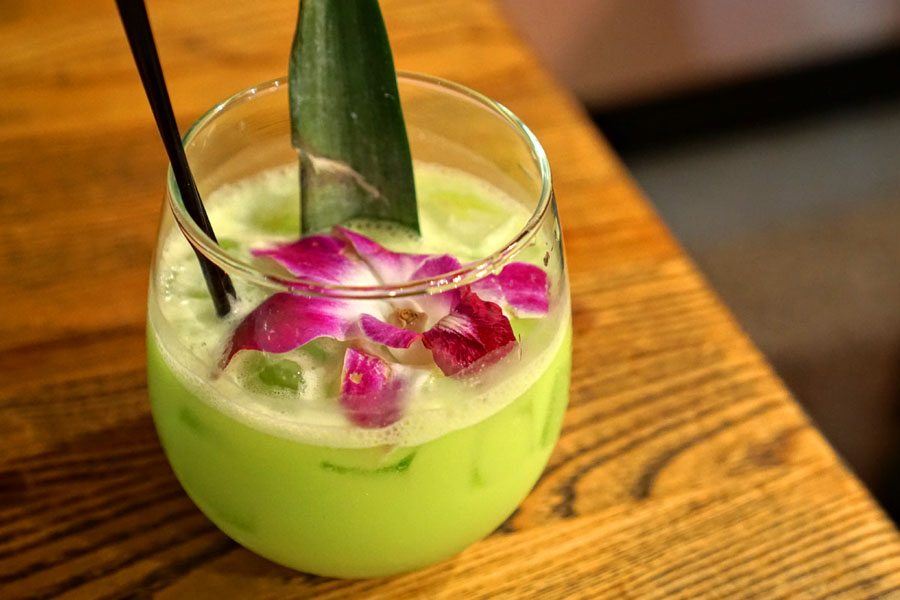 Buko Pandan [$12.00]
| lambanog, pandan, lemon, coconut milk
We began with a vibrantly-hued cocktail ostensibly inspired by the Filipino dessert
buko pandan
. Though based on a potent distilled coconut spirit called
lambanóg
, this was easy-drinking, displaying a tropical, coconut-y sweetness married with grassy, aromatic notes of pandan.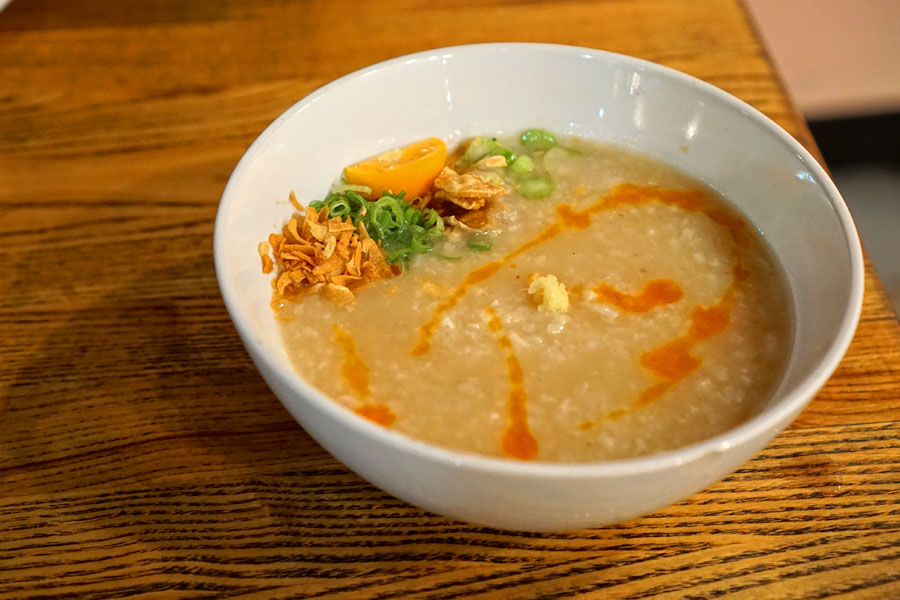 Arroz Caldo [$7.00]
| Rice porridge, fried garlic, chicharron, chile oil, ginger
The
aroskaldo
was a must-try for me, and didn't disappoint. It was a super cozy sort of dish, savory and gingery at its core, but with a delightful funk (
patis
perhaps?) and underlying heat. The salt and crunch of the chicharrones was much appreciated too, as was the brightness provided by the veggies. A superb start.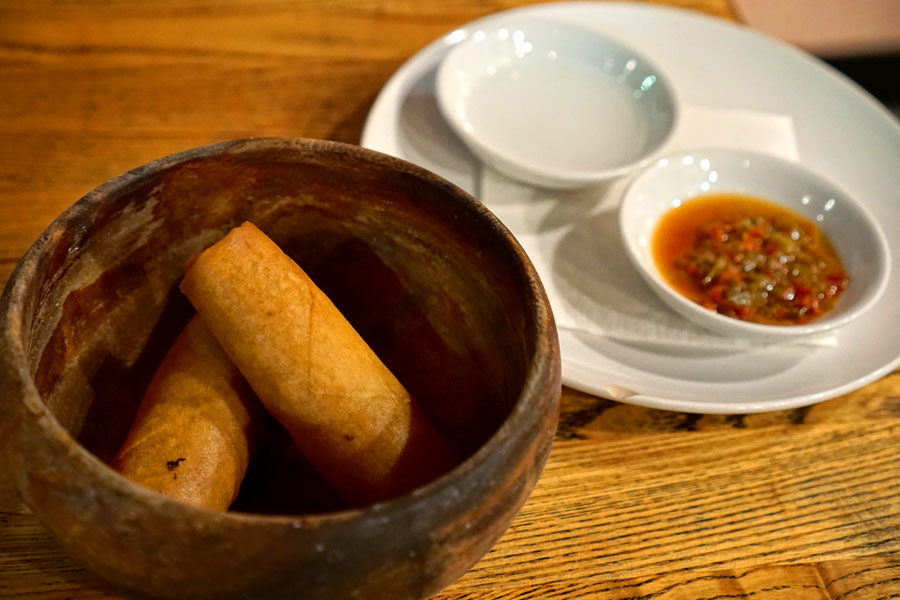 Lumpia [$4.00]
| Ground pork, carrots, daikon, sweet chile sauce
Irenia's lumpia were just about perfect, and featured a savory, satisfying, familiar filling of pork and vegetables, all encased in a thin, crisp wrapper. They were delicious alone, but even better with a dab of that sour, vinegar-based dipping sauce on the side.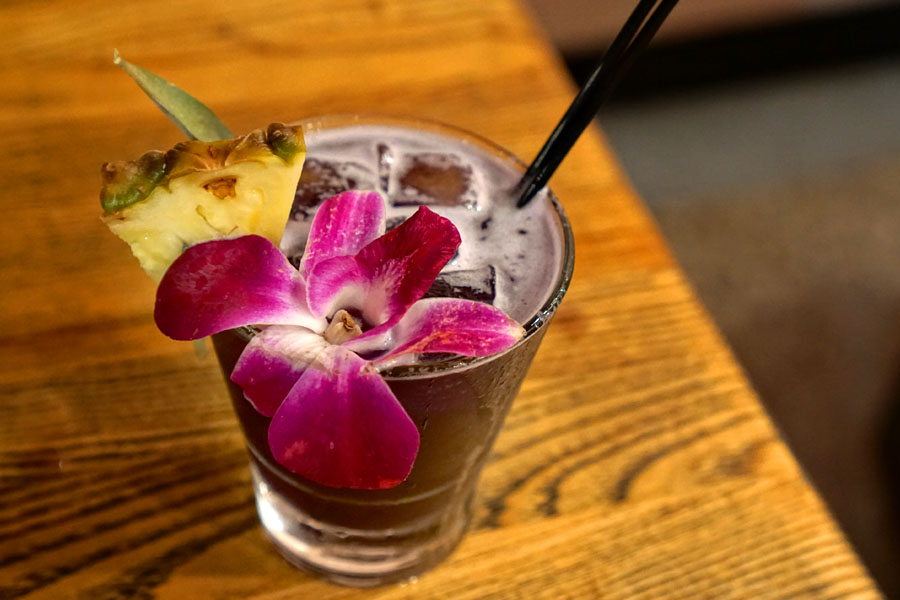 Purple Drank [$12.00]
| gin, coconut rum, ube, pineapple
Our next cocktail conveyed the familiar sweetness of ube in concert with coconut, with the tartness of pineapple serving as a counterpoint.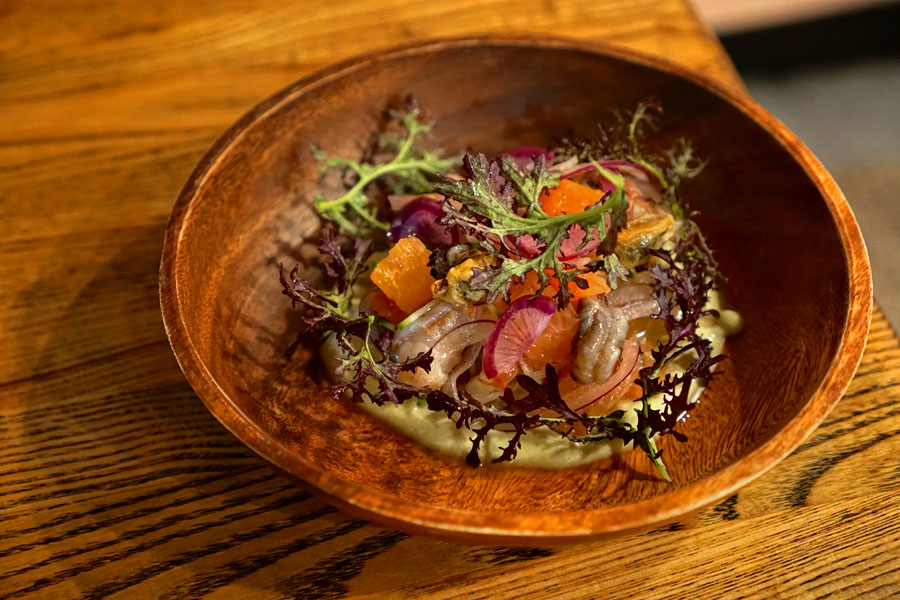 Kinilaw [$17.00]
| Ridgeback prawns, Hope Ranch mussels, avocado cream, winter citrus, radish, calamansi vinaigrette
The ceviche-esque
kinilaw
featured fresh, snappy prawns and mussels, set in an avocado cream sauce. Unfortunately, said sauce was a bit much, and tended to overwhelm the delicate flavors of the seafood. I did appreciate the zesty slivers of red onion here, as well as the juicy cuts of citrus, both of which helped lift the dish.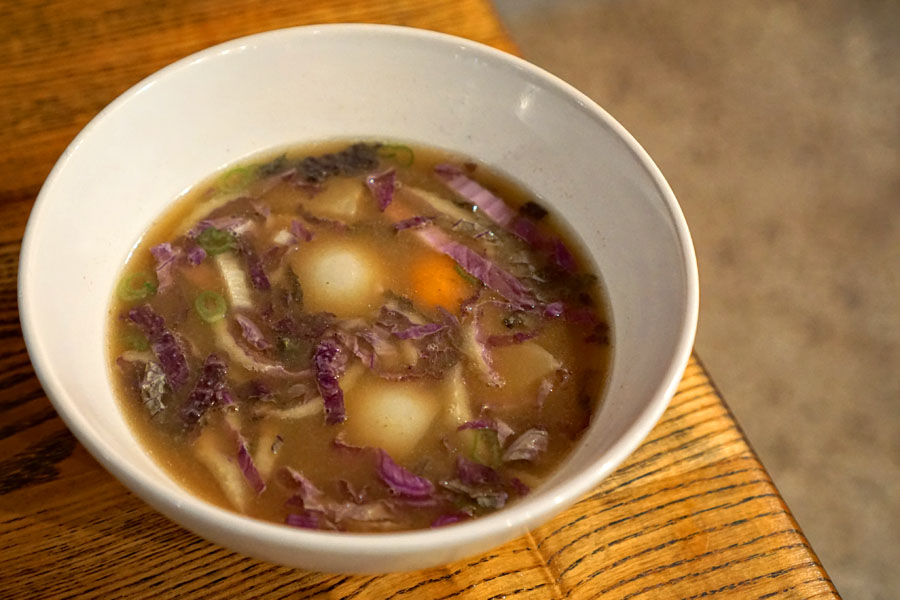 Nilagang Baboy [$7.00]
| Pork bone broth, thumbelina carrots, turnips, napa cabbage
The pork stew definitely delivered, thanks to its homey, deep-yet-delicate broth, one smartly matched to the bitterness of the various veggies.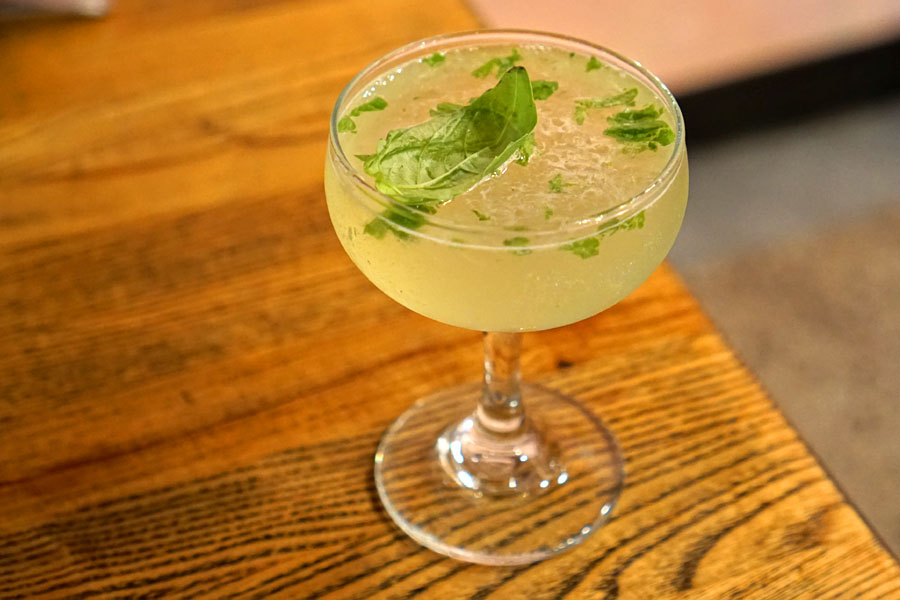 Emerald City [$11.00]
| green guava infused vodka, lemon, basil
Taking its name from the city of Muntinlupa, this next cocktail was definitely on the refreshing side. I got loads of basil up front, along with sweet, "green" flavors cut by tart citrus.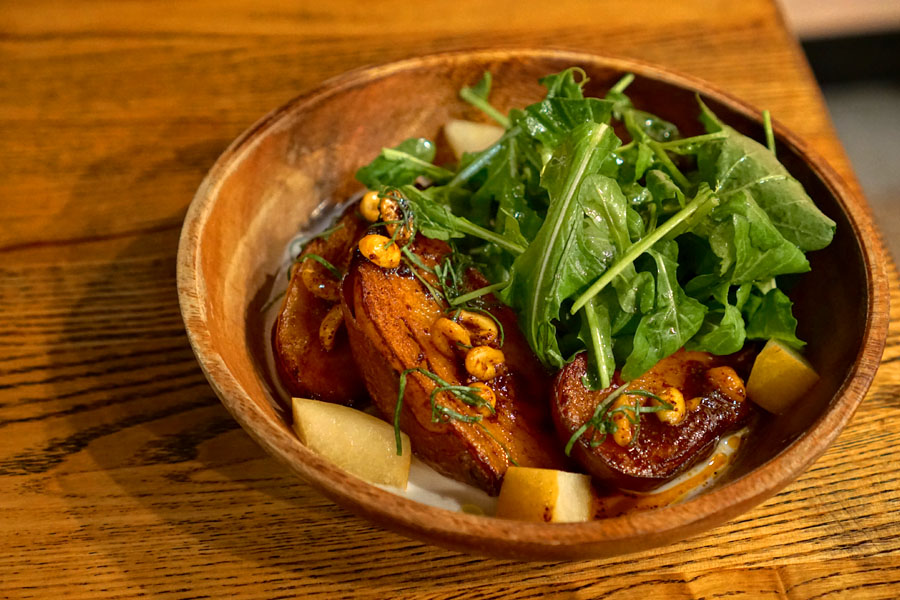 Kamote [$14.00]
| Fried Japanese sweet potato, pears, arugula, coconut cream, spicy peanuts, sorrel
Here was the most intriguing course of the evening. Coated in a rich, sticky, savory dressing, the
kamote
was tempered in its sweetness. It actually paired really well with the zestiness of arugula, while the pears imparted a juicy, tangy element. The coconut cream emphasized the sweeter notes in the dish, but even it wasn't domineering.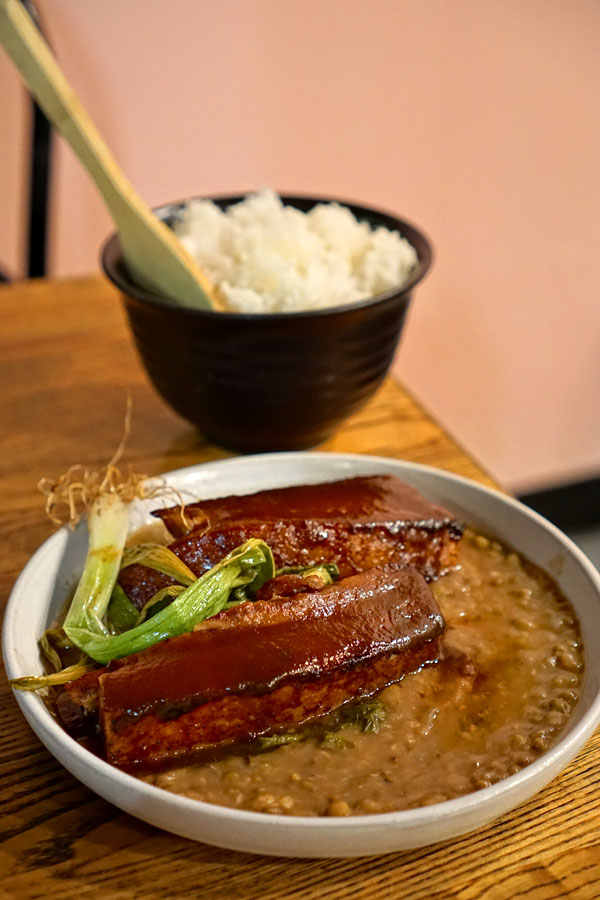 Adobo [$18.00]
| Roasted pork belly, adobo jus, monggo, braised greens, spring onion
The adobo has been on the menu since pretty much day one, and for good reason. The belly arrived fork-tender, and showed off a bevy of dark, savory flavors, evened out by a touch of tartness. Bitter braised greens served as an effective foil to the meat, and I was a big fan of the moderating effect of those mung beans, too. Be sure to make use of the included rice as well.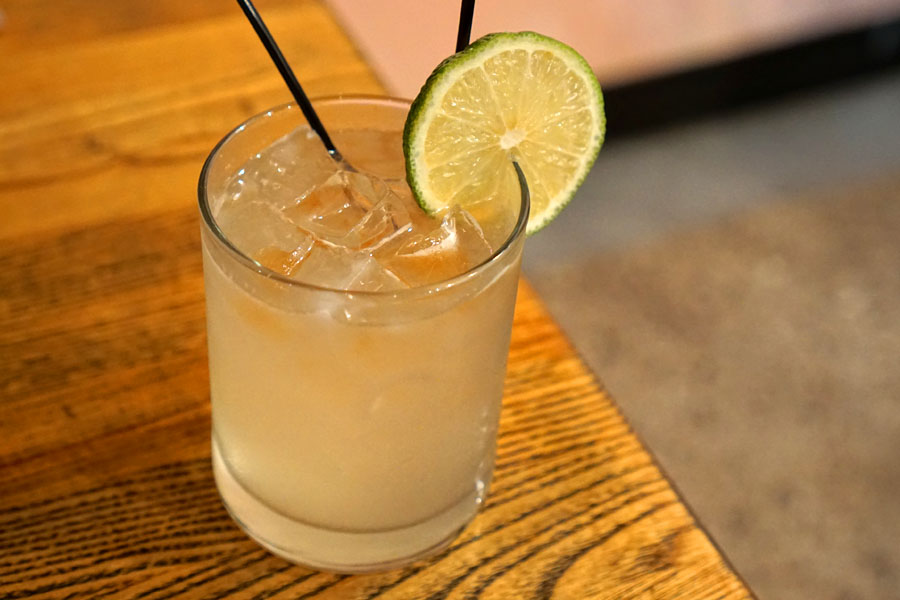 Manila Mule [$12.00]
| lambanog, lime, ginger beer, bitters
This riff on a classic mule cocktail showed off the potency of
lambanóg
, offset by the spiciness of ginger and a bit of bitterness on the back end.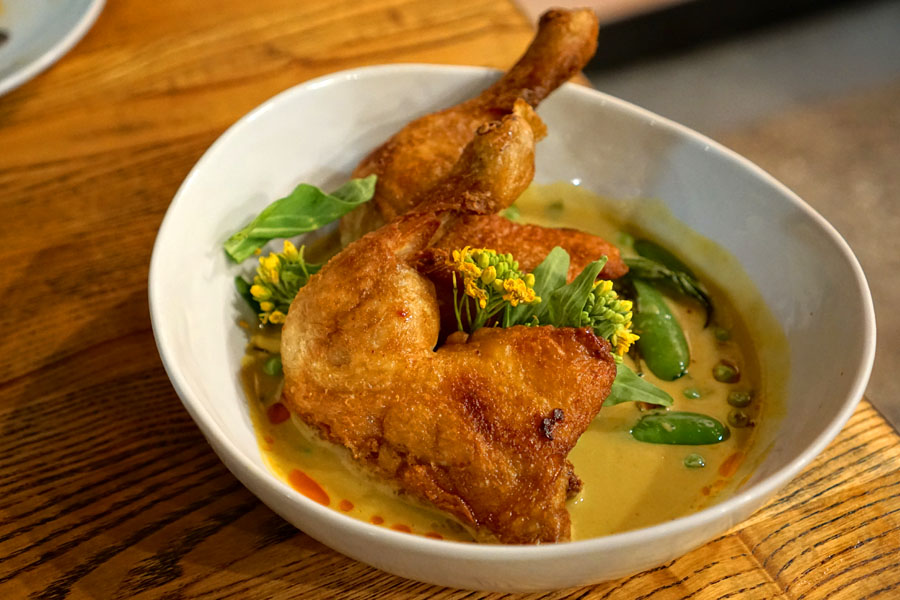 Chicken Sa Gata [$17.00]
| Chicken confit, coconut curry, yuchoy, pea tendrils, chile
We ended with the
sa gatâ
, effectively a coconut-y variation of adobo. The chicken was immensely, immensely flavorful, with a supple consistency and a wonderfully light, crispy, flavorful skin. It matched well with the included coconut curry, while the greenery imparted a necessary brightness to the mix. My only concern was that the bird was a touch dry in places.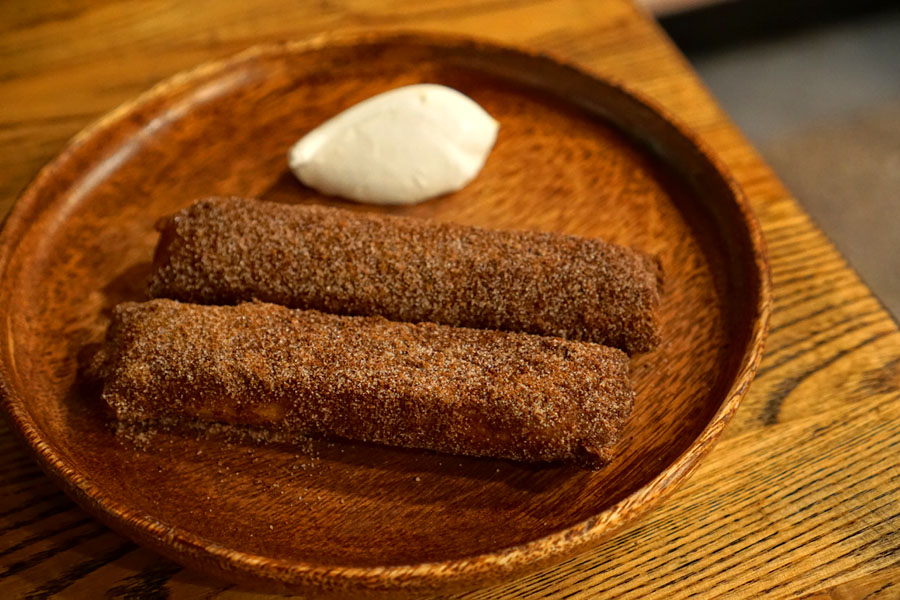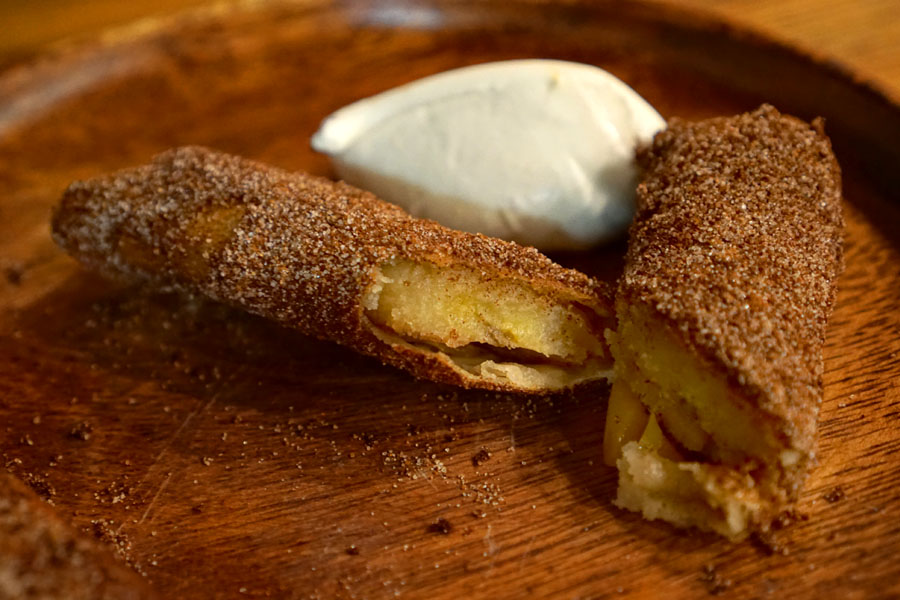 Churron [$8.00]
| Brûlée banana eggroll, jackfruit, cinnamon & sugar, lemon cream
Dessert duties were handled by this churro-
turon
hybrid. It was a fun combination for sure, with plenty of sweet spice working hand-in-hand with the banana, all while the jackfruit provided a textural element. Great crispness on the spring roll wrapper here, too.
I enjoyed yet another strong meal at Irenia this evening--just the latest in a long line--and that's the reason why I keep coming back here. I've enjoyed seeing how Garlitos' cooking has grown since the restaurant opened, and I hope that the place sticks around for a long time so I can keep on comin' back. An essential spot for OC I'd say.