Accomplice Bar (Los Angeles, CA)
Accomplice Bar + Food
3811 Grand View Blvd, Los Angeles, CA 90066
310.574.7610
www.accomplicebar.com
Wed 02/20/2019, 07:50p-09:35p
I was looking for somewhere to have dinner in the Mar Vista area recently, and ended up at Accomplice. If you recall, the place opened in July 2016 as an addendum to Chef David Kuo's newly-revamped restaurant Status Kuo (the space was a real estate/insurance/income tax place previously). However, in November that year, Status Kuo morphed into "Taiwanese soul food" spot
Little Fatty
, and Accomplice was spun off as its own thing, though the two entities are still attached to one another.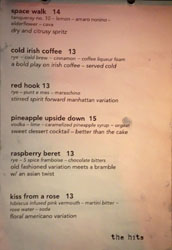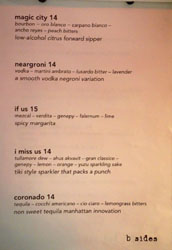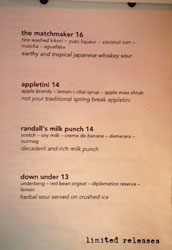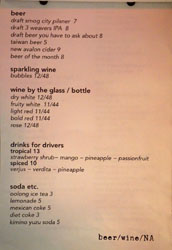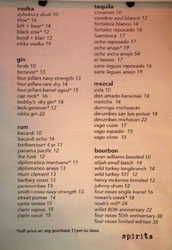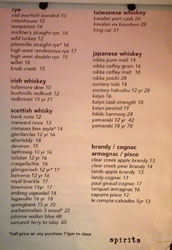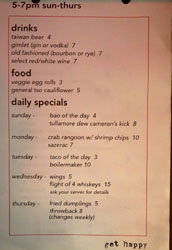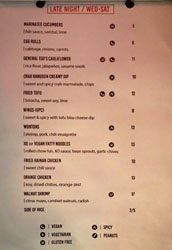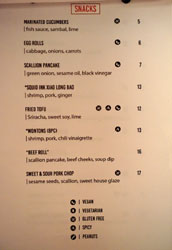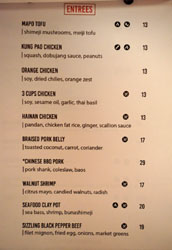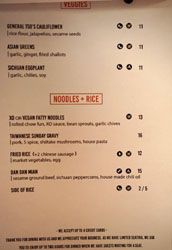 Drink-wise, you'll want to stick with the cocktails, which are definitely the main attractions here. A small amount of beer and wine is also offered. As for the food menu, it's pretty much exactly what you get at Little Fatty next door, i.e. Kuo's version of staple Chinese and Taiwanese dishes. Click for larger versions.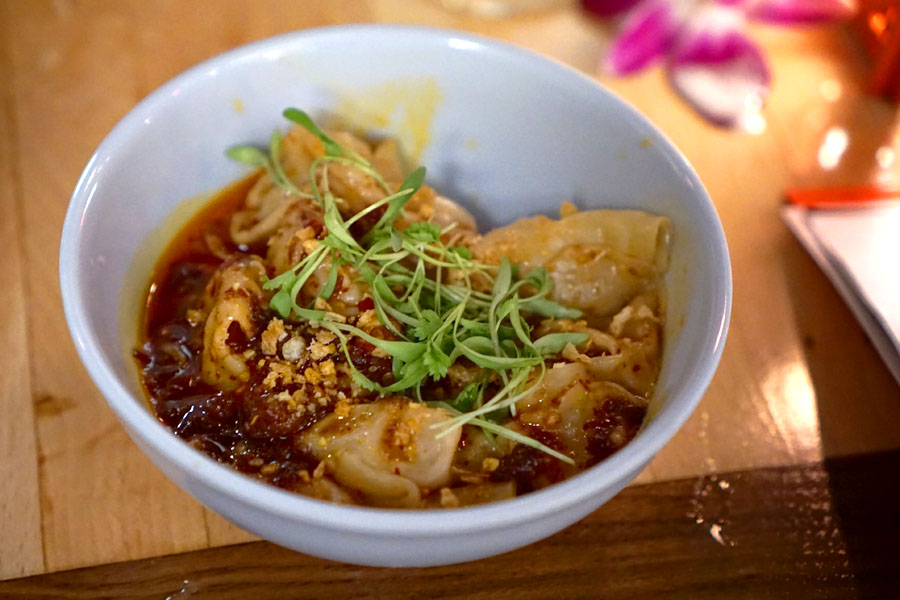 Wontons (8pc) [$13.00]
| shrimp, pork, chili vinaigrette
We began with what seemed to be the Chef's take on the Sichuan classic
hong you chao shou
. The actual filling of shrimp/pork skewed underseasoned unfortunately, though the sweet heat and depth from the chili vin definitely made up for any semblance of blandness. Texturally, the wonton skins were properly thin, and I also got a welcome brightness and freshness from the herbs up top.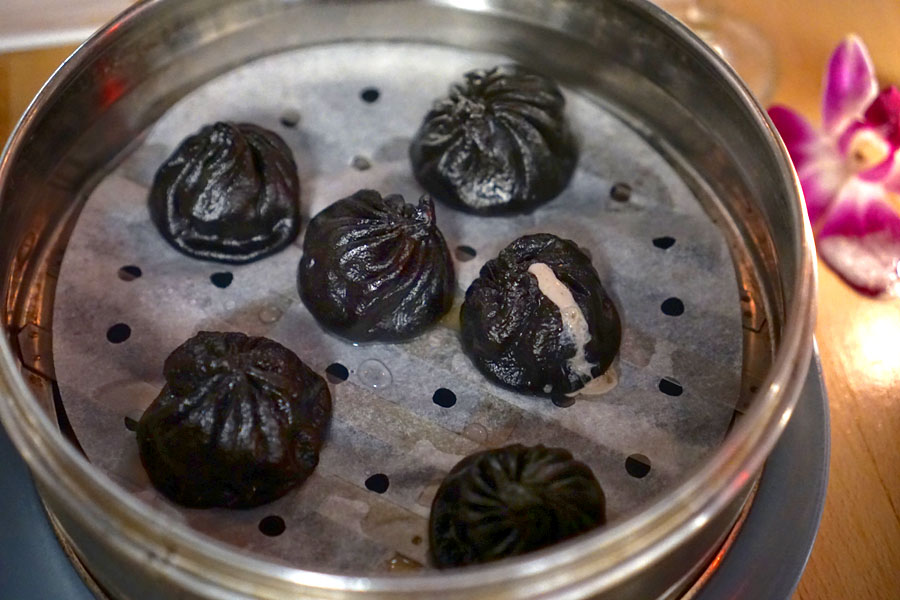 Squid Ink Xiao Long Bao [$13.00]
| shrimp, pork, ginger
The
xiaolongbao
didn't quite meet expectations. I had the same issue as above with the filling being rather nondescript, while the squid-ink infused skins had an almost sweet sesame-like taste that didn't really work for me. The included dipping sauce, meanwhile, was lacking in the acidity you typically find with your traditional vinegar-based condiment.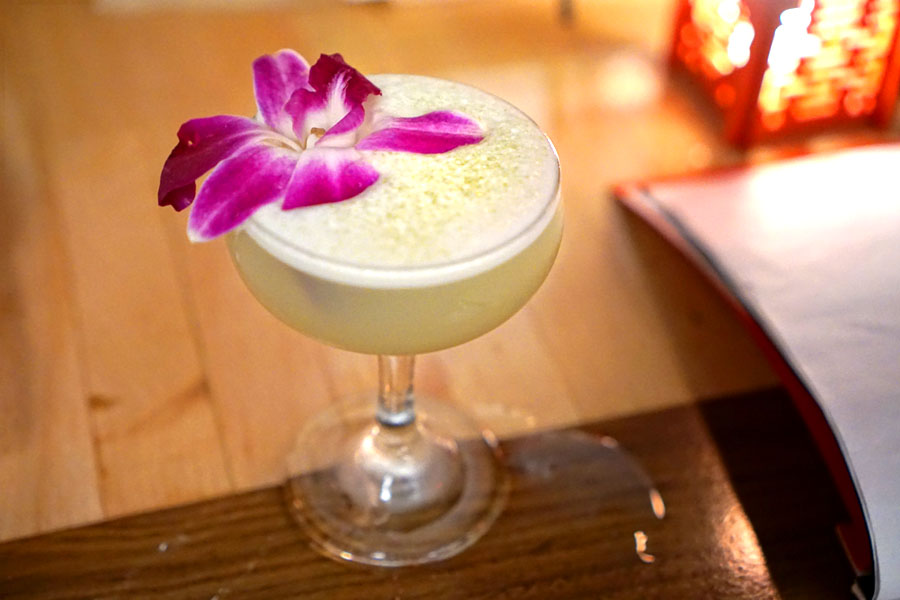 the matchmaker [$16.00]
| rice washed kikori - yuzu liqueur - coconut rum - matcha - aguafaba
Our first cocktail was a riff on the whiskey sour. I definitely got the advertised ricey notes from the Kikori, especially on the nose, and it seemed to mellow out the whiskey a bit, while the pairing of tart yuzu and tropical coconut made sense. Lovely lingering bitterness on the finish from the green tea, too.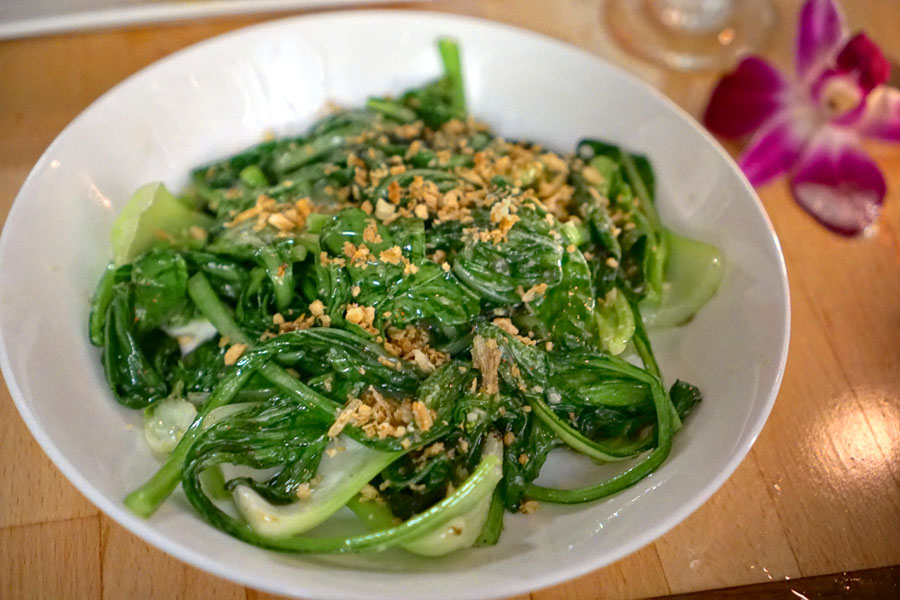 Asian Greens [$11.00]
| garlic, ginger, fried shallots
An unidentified hodgepodge of greens satisfied for sure, the bitterness of the veggies beautifully matched by savory notes of garlic. I got a nice crunch from the bok choy as well, and didn't mind those fried shallots, either.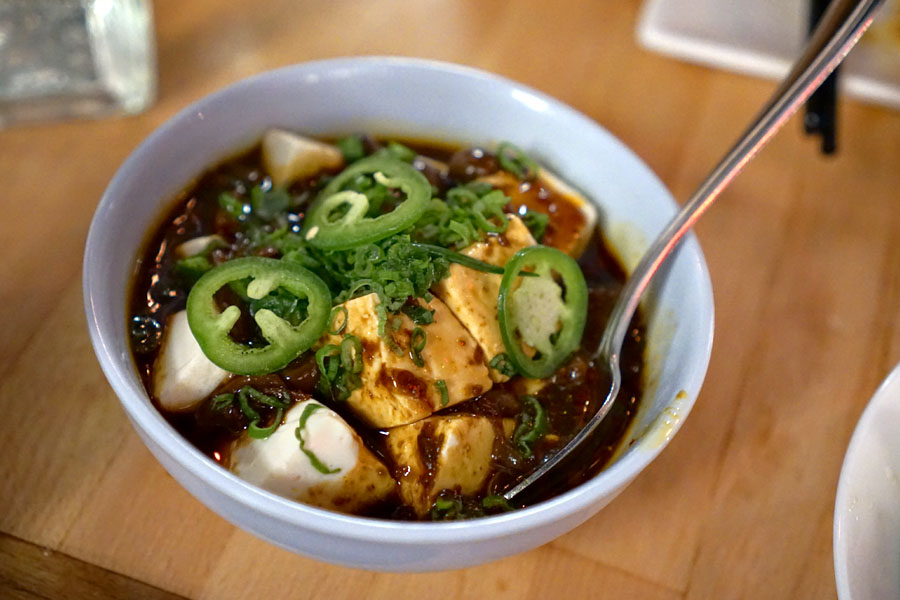 Mapo Tofu [$13.00]
| shimeji mushrooms, meiji tofu
We returned to Sichuan with the
mapo doufu
. I appreciated the texture of the tofu here, but found the paired sauce far too sweet. It was also lacking in heat, and I couldn't detect any
mala
at all.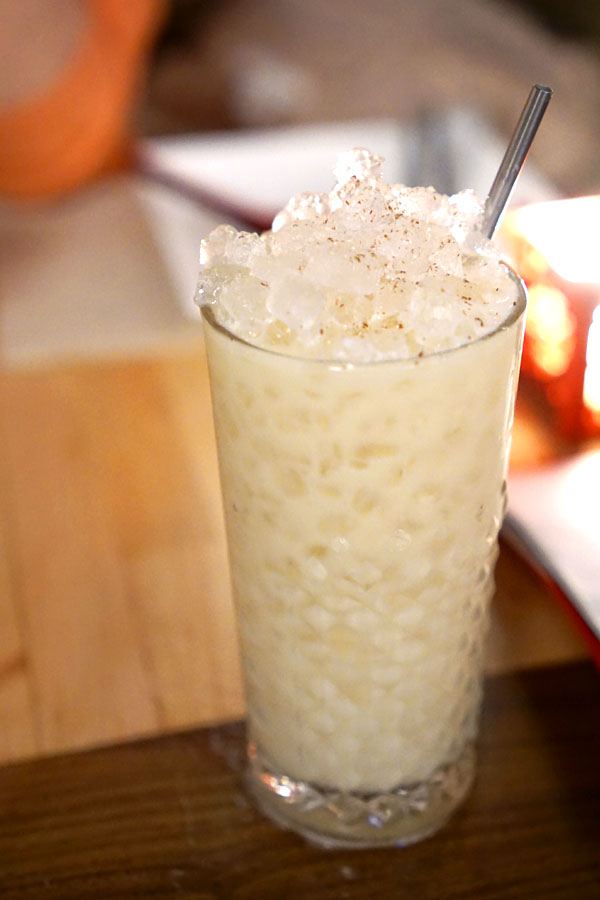 randall's milk punch [$14.00]
| scotch - soy milk - creme de banane - demerara - nutmeg
I can't seem to resist ordering the milk punch when I see one on a cocktail list, so here we are. Accomplice's was very good, especially with its super silky mouthfeel, while flavors were sweet and spicy (and vaguely reminiscent of coffee liqueur), with the unmistakable earthiness of the whisky making itself known on the back end.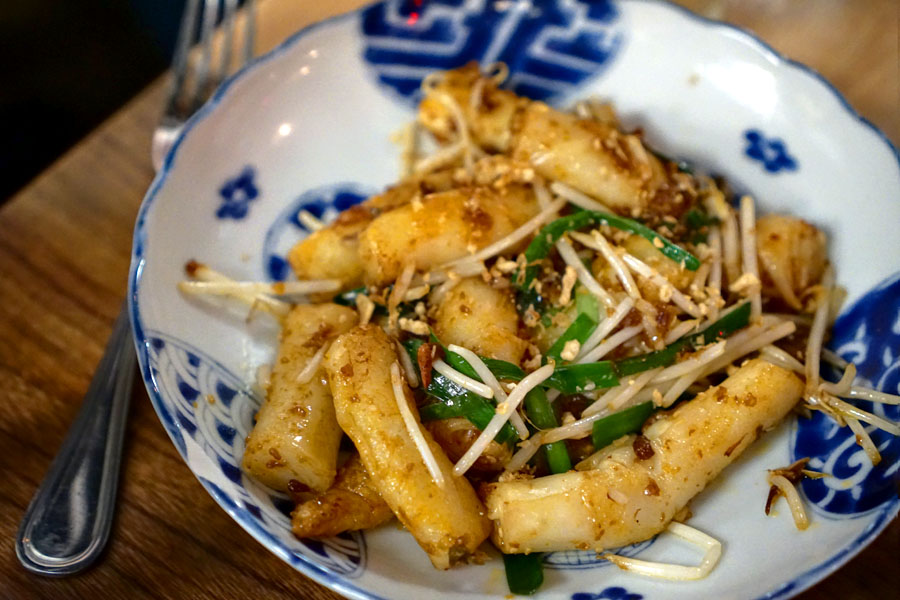 XO Fatty Noodles [$13.00]
| rolled chow fun, XO sauce, bean sprouts, garlic chives
This next dish incorporated
zhu chang fen
, which was a bit unexpected, but I really enjoyed the noodles' soft, delicate, yet substantial texture. In terms of taste, there was this healthy dose of umami from what I believe were dried shrimp that really hit the spot, while at the same time, the bean sprouts provided an offsetting freshness and crunch.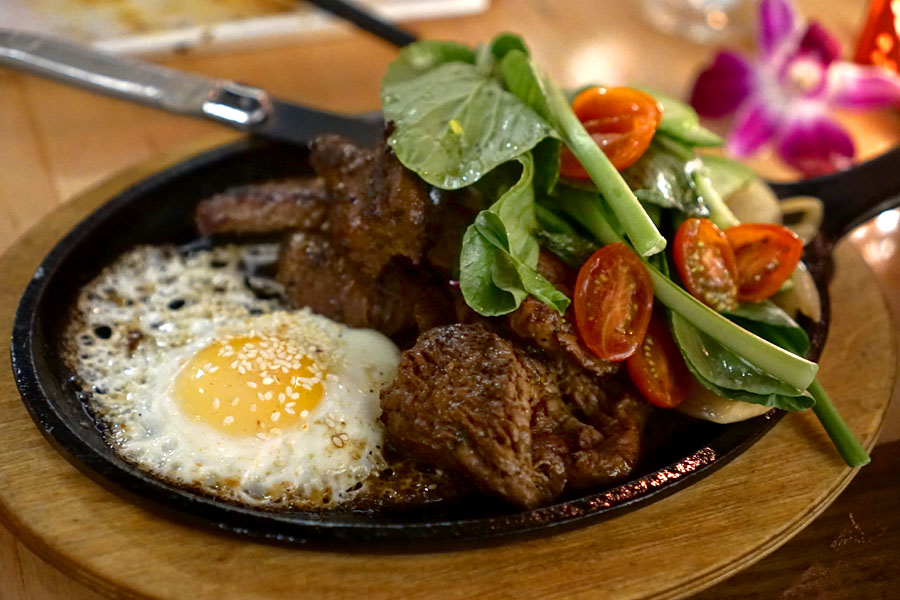 Sizzling Black Pepper Beef [$19.00]
| filet mignon, fried egg, onions, market greens
The black pepper beef missed the mark. There was surprisingly little of the actual black pepper, and more concerningly, the kitchen was heavy-handed with the salt/soy; the actual taste of the meat was pretty much masked. I will say that the salad did help provide a modicum of balance.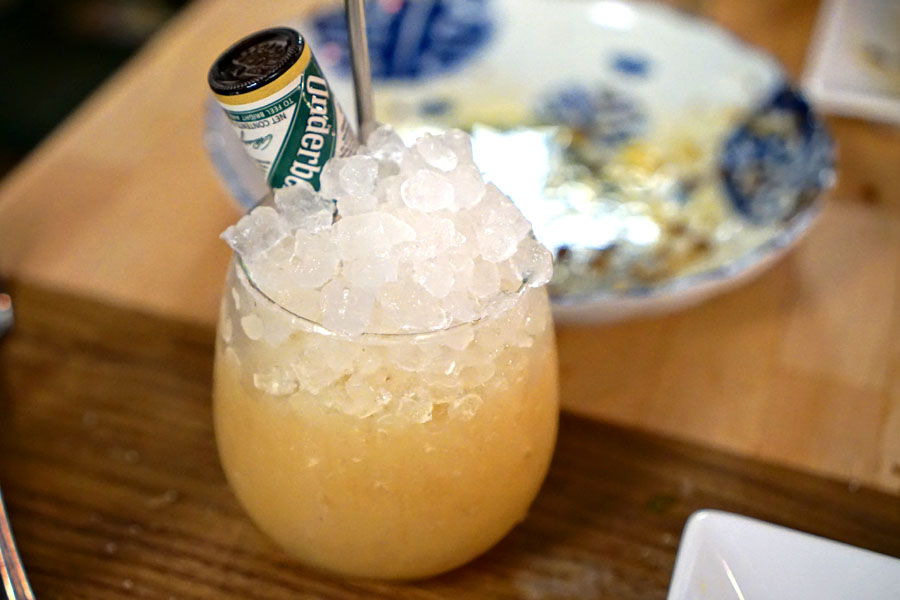 down under [$13.00]
| underberg - red bean orgeat - diplomatico reserva - lemon
Described on the menu as an "herbal sour," this next cocktail has this invigorating sort of character to it that I appreciated. The main flavors I got were medicinal, licorice-like, with some root beer-esque elements, and these worked handily when layered over a base of that dark rum and red bean orgeat.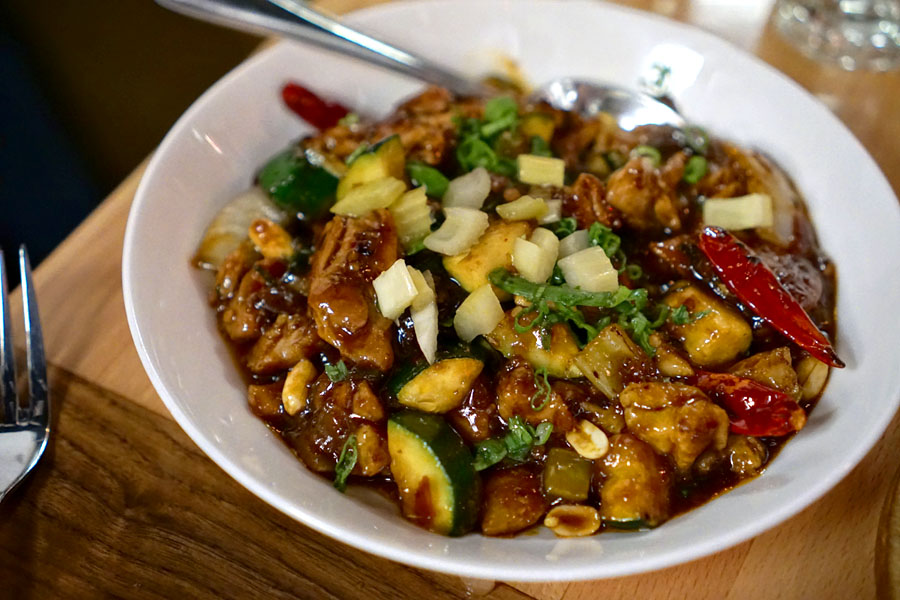 Kung Pao Chicken [$13.00]
| squash, dobujang sauce, peanuts
The
gongbao jiding
was enjoyable. Texturally, the chicken was on point, as were the peanuts, and I didn't mind the use of squash here, either. I appreciated the depth and savoriness from the
doubanjiang
, though again, I wanted that
mala
numbness.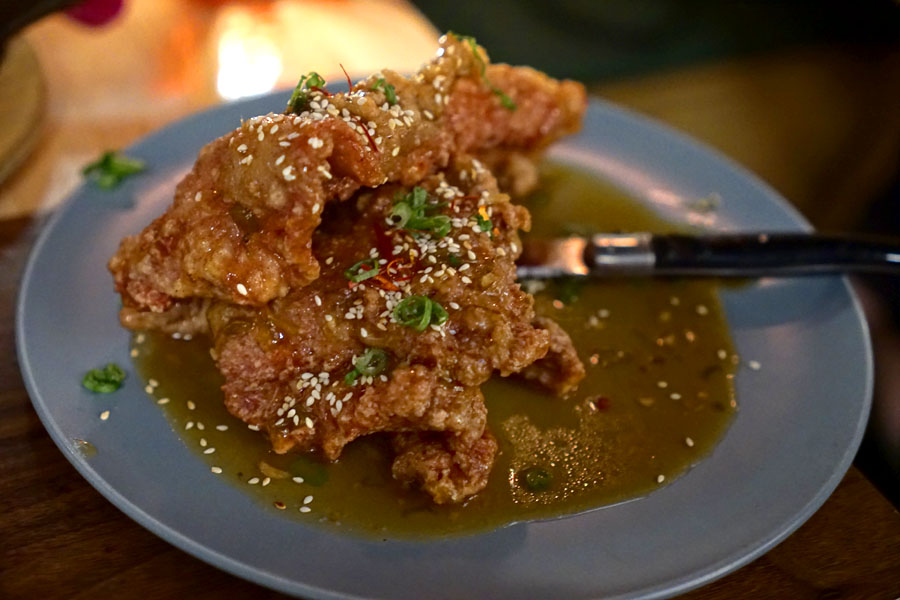 Sweet & Sour Pork Chop [$17.00]
| sesame seeds, scallion, sweet house glaze
Our final savory dish was listed under the "snacks" section of the menu, which I don't quite understand given its substantial size. In any case, the pork came out fairly tender, with a pretty crisp batter, while flavors were very familiar--not too sweet, not too sour--but also a bit one-note and monotonous unfortunately.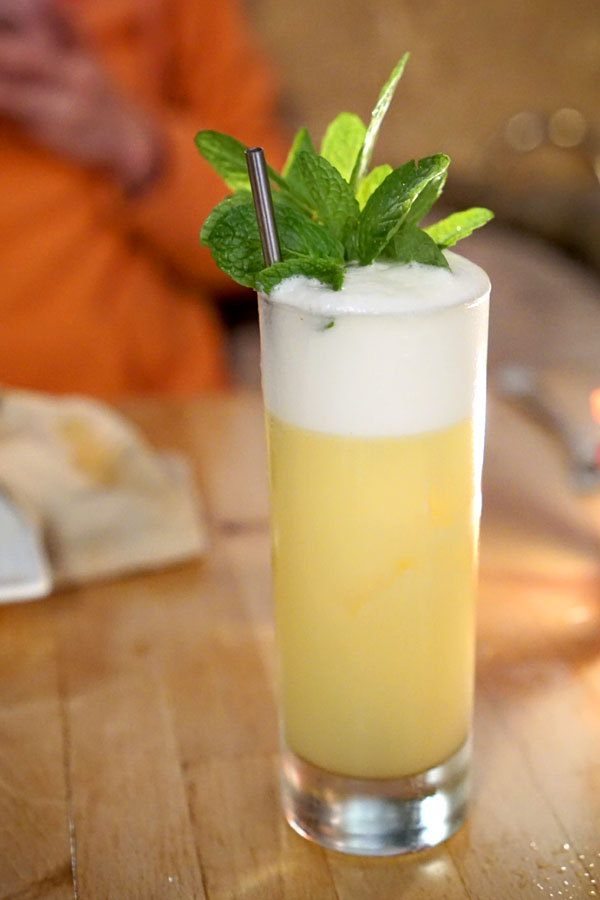 i miss us [$14.00]
| tullamore dew - ahus akvavit - gran classico - genepy - lemon - orange - yuzu sparkling sake
Last to drink was this tiki-inspired cocktail. I got lots of mint and citrus at first blush, while flavors in general were very soft, with a smidge of bitterness in the background. I was certainly a fan of the caraway notes from the aquavit, which lingered on the close.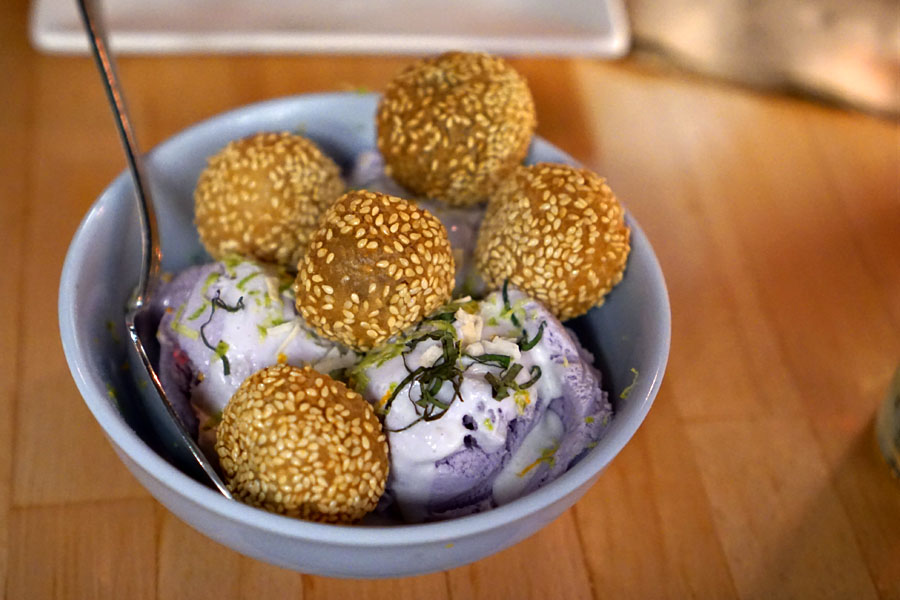 Taro Ice Cream with Sesame Seed Balls [$8.00]
We made sure to try the sole dessert option. The actual
jian dui
were chewy-yet-crisp, and worked great with their filling of red bean, while I was even a bigger fan of that taro ice cream. A winning combination for sure.
I had no complaints with the cocktails tonight (in fact, I wish we could've sampled more of 'em), and Accomplice remains one of my favorite places to drink on the Westside. We weren't as enamored with the food though, which seems to have devolved since my last visit. It's almost like the kitchen has decided to tone down the intensity of the cooking, which is a shame. In any case, whatever they're doing, it seems to be working for them, as Little Fatty/Accomplice is expanding to the 98 Cents Plus Discount Store next door. In fact, they've already cut a doorway between the two buildings, and you should be able to expect an opening within the next few months. This should hopefully alleviate the almost inevitable wait times here.