Blackship (West Hollywood, CA)
Blackship Restaurant
8512 Santa Monica Blvd, West Hollywood, CA 90069
310.734.7553
www.blackshipla.com
Fri 02/22/2019, 08:15p-10:45p

Opened on December 12th, Blackship has certainly been one of the buzzier WeHo debuts of the past year. The restaurant is part of Culinary Lab, the group responsible for the likes of
Hinoki & the Bird
and
Rosaliné
, as well as
Pizzeria Ortica
in Costa Mesa, Hollywood's Lost Property, and sports bar 33 Taps. Running the kitchen here is Chef Keiichi Kurobe, formerly of Hinoki, and his goal is to blend Italian and Japanese cuisines in a progressive manner. In fact, the restaurant's name is derived from
kurofune
("black ship"), a term for Western ships arriving in Japan for the purposes of trade, which later led to the incorporation of Western ingredients and techniques in Japanese cuisine.
About the Chef
: Keiichiro Kurobe was born in July 1985 in the United States, though he moved to Yokohama as a child, and attended Tokyo's Nishimachi International School. He returned Stateside in his teens, and from 2001 to 2004, went to New York's now-shuttered Park West, a high school built in 1978 that was actually known for its culinary arts program. He got his first real restaurant job at the start of 2002, working as a garde manger at BiCE, an Italian joint in the Shiodome area of Tokyo. Kurobe secured a position at San Francisco's Campton Place in March 2004, where he toiled under
Daniel Humm
and developed his passion for pasta. In July 2006, he transitioned to Hiro Sone's Ame at The St. Regis, and worked the line there until the end of the following year.
At the start of 2008, he went to Carme Ruscalleda's Sant Pau in Tokyo and served as a line cook and bread baker for two years. Kurobe's next move came in January 2010 when he became executive sous chef at Luce at The InterContinental San Francisco, where he met mentor
Dominique Crenn
. In July 2014, he secured his first Executive Chef position when he took over the kitchen at Chanson Restaurant at the Royal Blues Hotel in Deerfield Beach, Florida. That gig lasted under a year, and he subsequently relocated to Los Angeles to serve as exec sous for Brandon Kida at Hinoki & the Bird. Kurobe left the Century City eatery last year to start work on Blackship.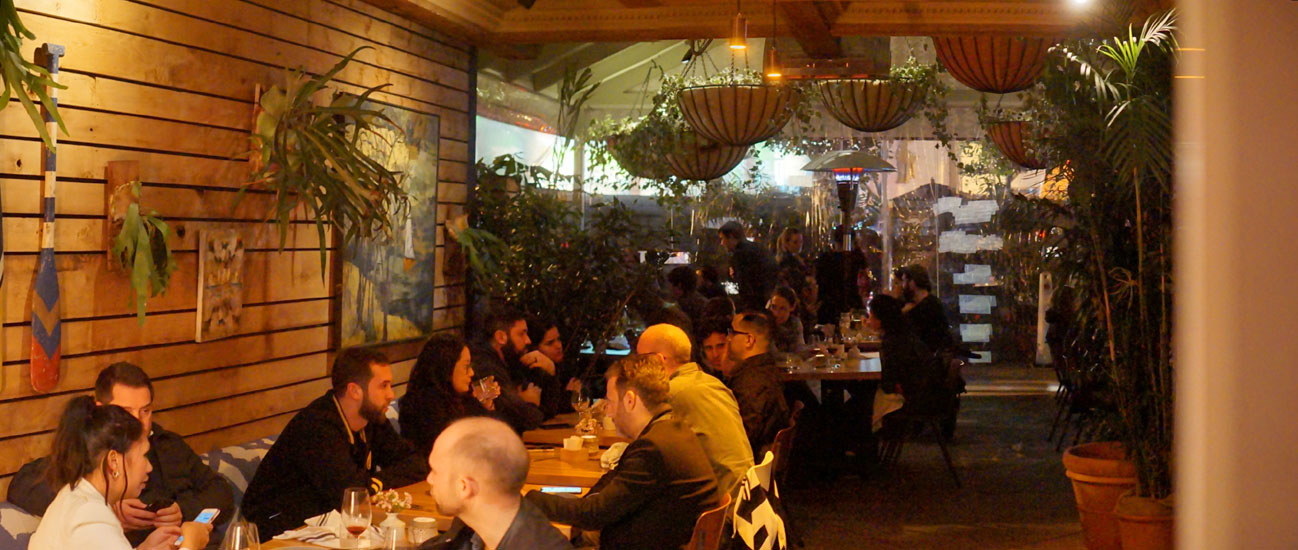 Located next to LA's first
Shake Shack
, the
Knibb Design
-penned restaurant features a well-vegetated patio area out front, which then leads to a cozy dining room and bar in the back; total capacity is around 100. Curiously, in the early 1970s the building was known as The Doors Workshop, and was where the band recorded
L.A. Woman
. Sometime later, it was home to Benvenuto Cafe (1992-2008), Mexico Restaurante y Barra (2009-2010), Tradition Tapas Kitchen/Forbidden Bar & Lounge (2011-2013), and L'Scorpion West (2013-2014).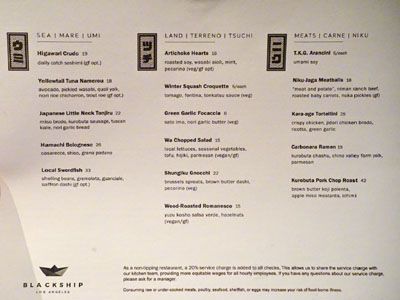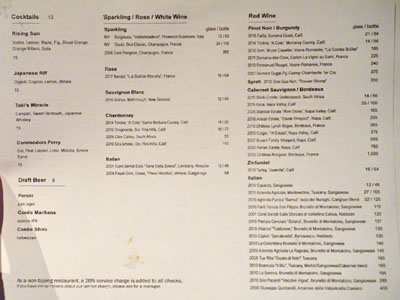 Blackship's menu is pleasingly compact, divvied up simply into sections for sea/land/meat. To drink, you get a relatively brief wine list along with a smattering of beers and a mere four cocktails. Click for larger versions.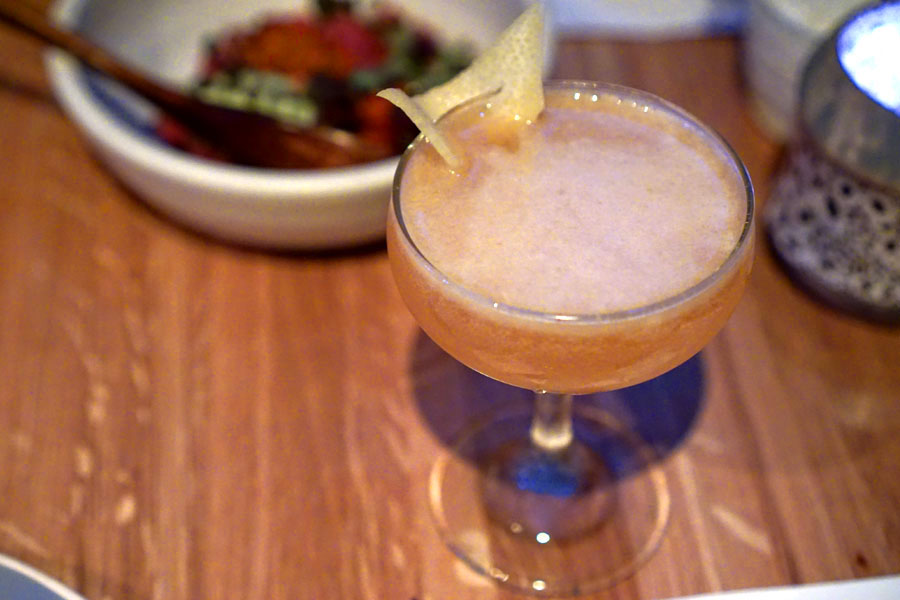 Japanese Riff [$15.00]
| Orgeat, Cognac, Lemon, Bitters
As the name indicates, our first cocktail was a riff on what I believe was the classic sidecar. I found it quite citrusy and somewhat astringent, with the fruitiness of the orgeat coming in toward the back end.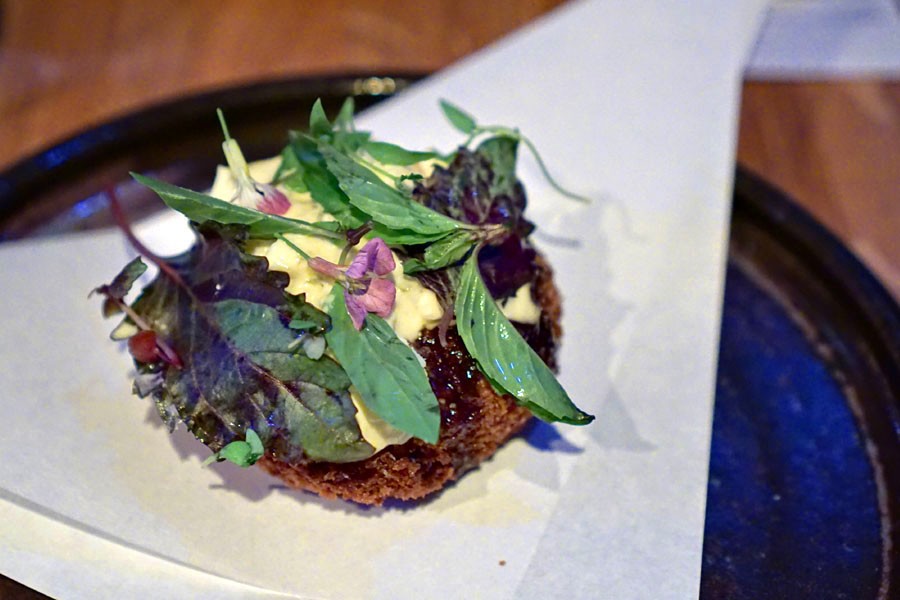 Winter Squash Croquette [$5.00]
| tomago, fontina, tonkatsu sauce
This schmancy looking fritter made for a solid start to the meal. I was afraid it'd be overly sweet, but it wasn't, instead showing off a base of spicy, autumnal flavors augmented by the bite of that
sosu
while the greenery on top worked to lift the dish. Superb contrast in textures here, too.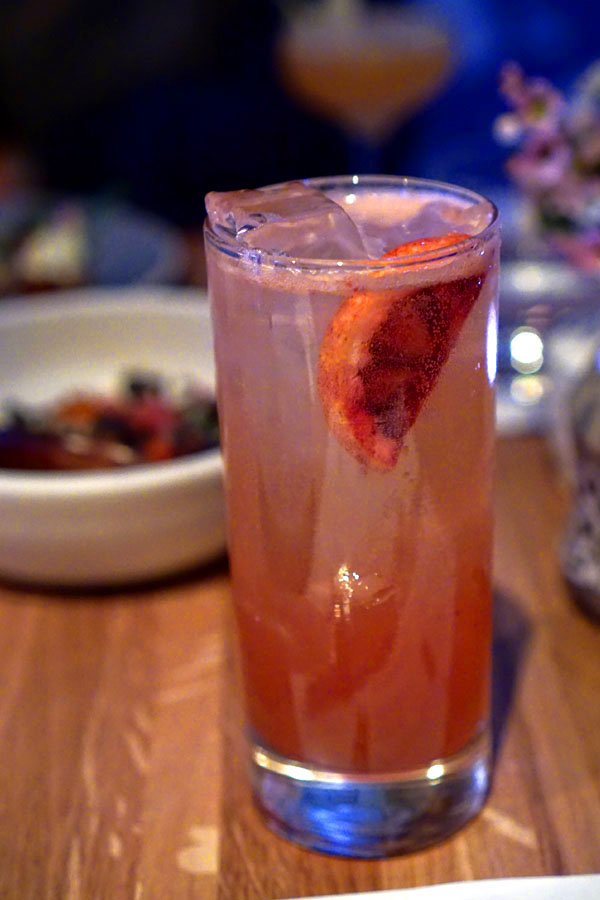 Rising Sun [$15.00]
| Vodka, Lemon, Maple, Fig, Blood Orange, Orange Bitters, Soda
Our next cocktail was on the refreshing, effervescent side, with subdued fruity and bitter notes. What I found interesting here was the drink's almost savory character, probably from the maple I'm guessing.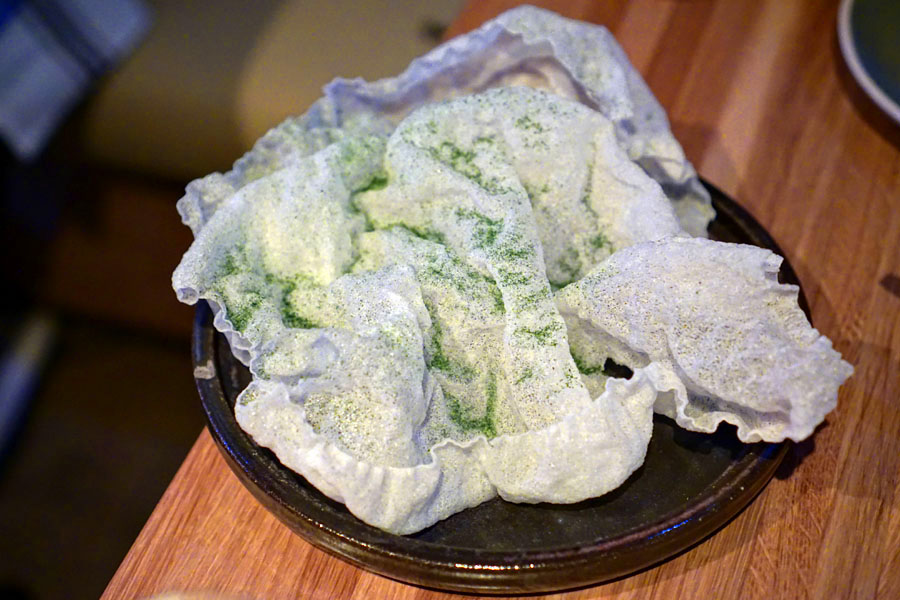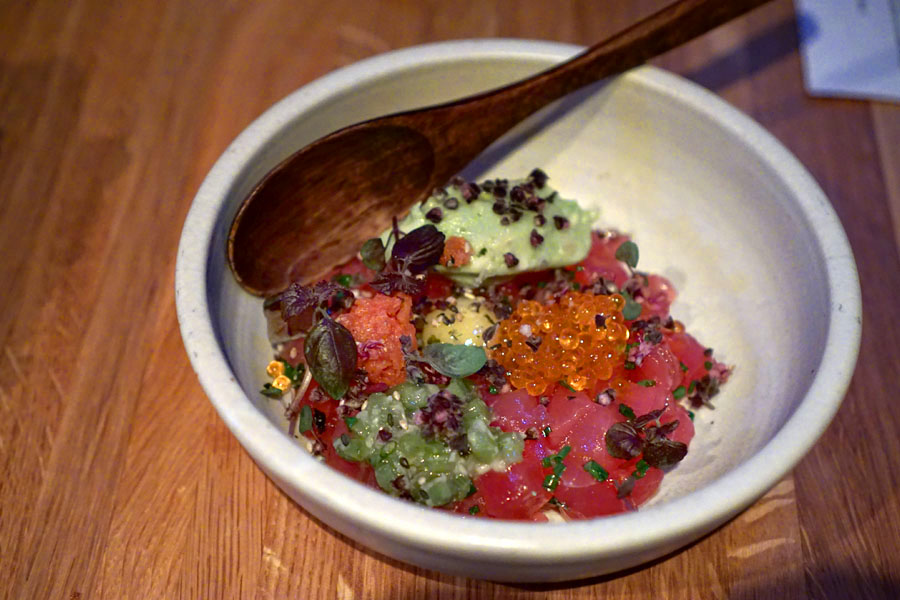 Yellowtail Tuna Namerou [$18.00]
| avocado, pickled wasabi, quail yolk, nori rice chicharron, trout roe
This tartare-like dish of
namero
featured umami-packed cubes of tuna married to the stinging heat of wasabi, all while the trout roe contributed pops of salinity and textural contrast. Avocado, meanwhile, moderated the interaction. As for that
chicharrón
, I found it almost impossibly light and fragile, the seaweed powder adding an unexpected depth.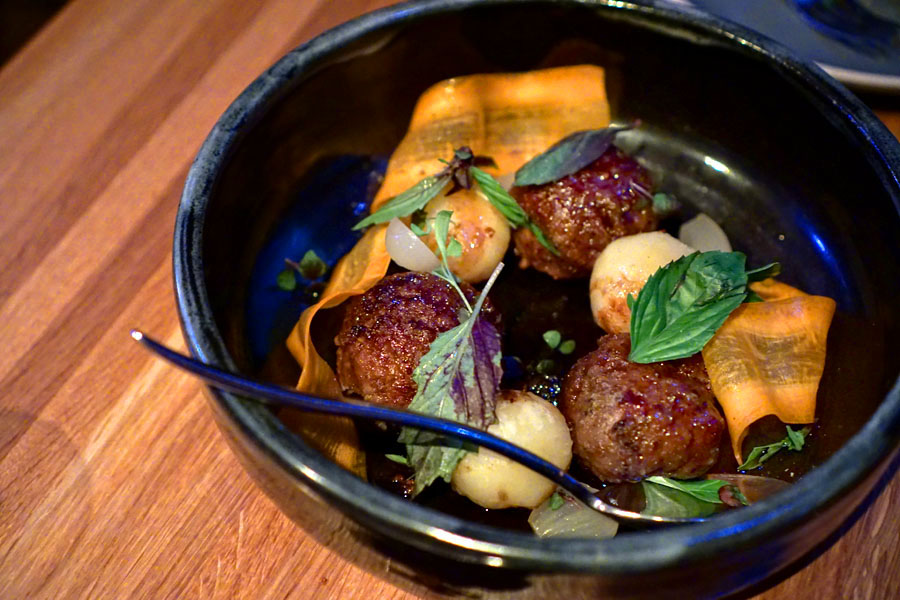 Niku-Jaga Meatballs [$18.00]
| "meat and potato", niman ranch beef, roasted baby carrots, nuka pickles
Here was the Chef's take on traditional
nikujaga
stew. The meatballs were hefty, and had this savory-sweet flavor profile going on that worked with the herbaceousness of Thai basil. Also key were the potatoes, which veered buttery, and I didn't mind the crunch and acidity from the
nukazuke
pickles, either. The most surprising thing here was that I swear I detected a little bit of
mala
-esque numbing in the dish.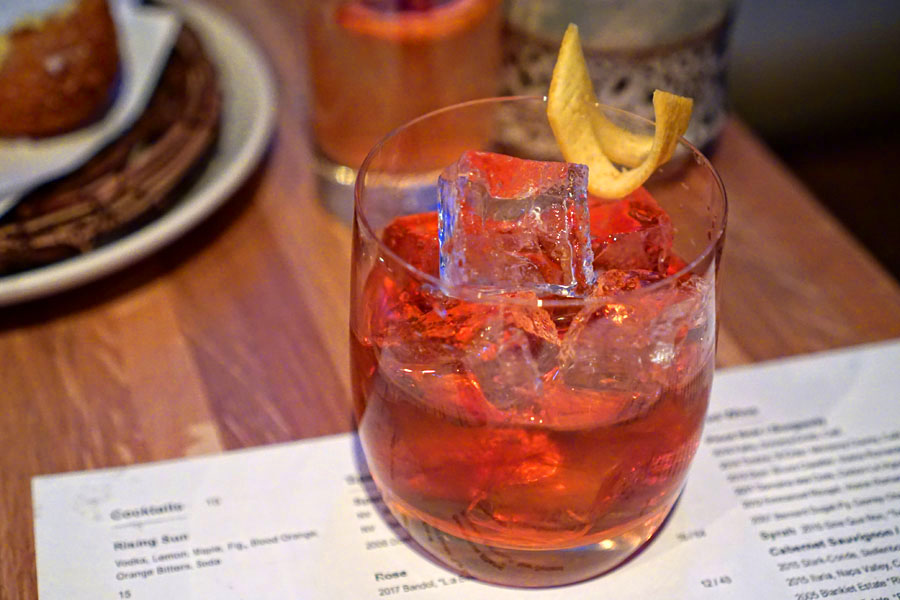 Toki's Miracle [$15.00]
| Campari, Sweet Vermouth, Japanese Whiskey
This reworked Negroni showed off the unmistakable bittersweetness of Campari for sure, and despite the substitution of Toki for gin, actually tasted really quite similar to the classic cocktail, but with perhaps a touch more booziness and weight.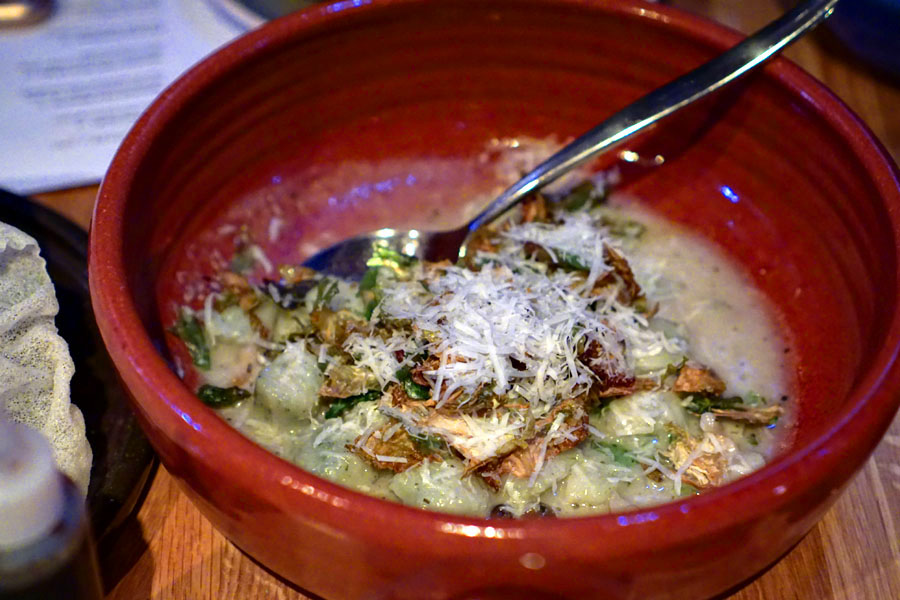 Shungiku Gnocchi [$22.00]
| brussels sprouts, brown butter dashi, pecorino
Texturally, the gnocchi were quite nice, coming out properly supple, and substantial but never heavy. The dumplings made sense with that brown butter-enriched dashi, as well as the additional oomph from the pecorino. Unfortunately, the char and bitterness from the Brussels were too strong for my liking, and tended to dominate the dish.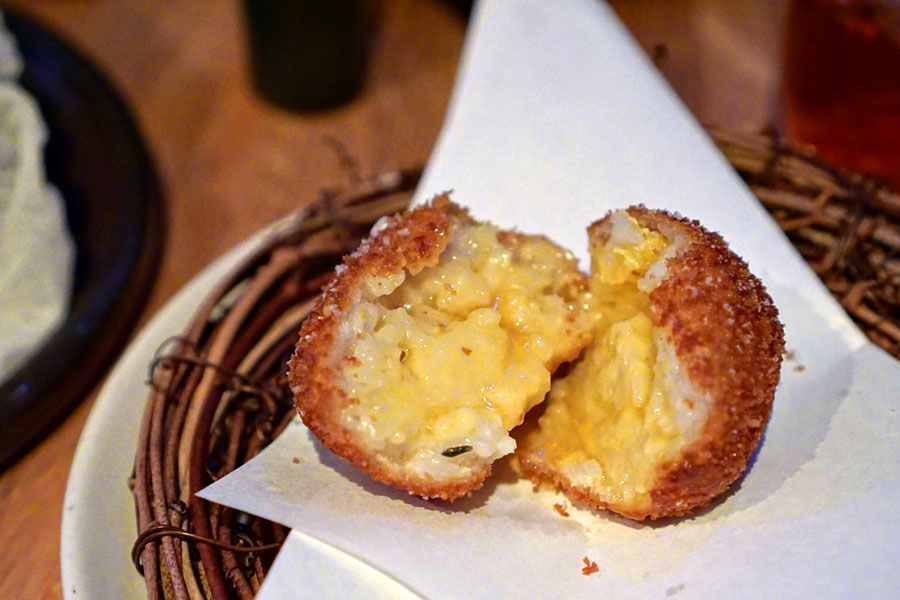 T.K.G. Arancini [$5.00]
| umami soy
Here we had a thoroughly reimagined version of
tamago kake gohan
, a dish of rice topped with raw egg. I really enjoyed the crispness of the
arancino
, as well as the texture of the rice, while the egg imparted a much-needed lushness to the fold. However, there was this pervasive bitterness that was unexpected, and somewhat off-putting.
Commodore Perry [$15.00]
| Gin, Pear Liqueur, Lime, Matcha, Simple Syrup
This cocktail was named after Commodore Matthew C. Perry, who was in command of the
kurofune
that opened up Japan for trade in the 1850s; in addition, "perry" also refers to pear cider. In any case, the drink conveyed a nose rife with green tea, lime, and pear, while the taste brought more of that pear to the forefront, along with a good amount of citrus, all while the back end was all about the botanicals of the gin.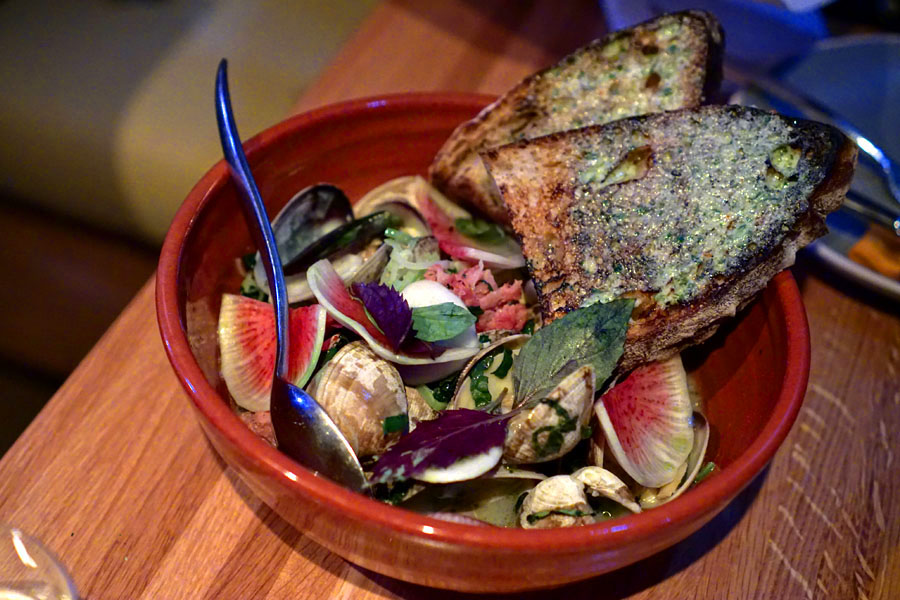 Japanese Little Neck Tonjiru [$22.00]
| miso brodo, kurobuta sausage, tuscan kale, nori garlic bread
Clams were pretty much spot on, arriving juicy and plump and saline, a smart pairing with the savory-salty nature of the sausage. Thai basil made another appearance here, and once again worked to brighten and lighten the dish. As for that toasty, garlicky bread, it was a treat as well (especially when soaked in that
tonjiru
broth), and we even took some home.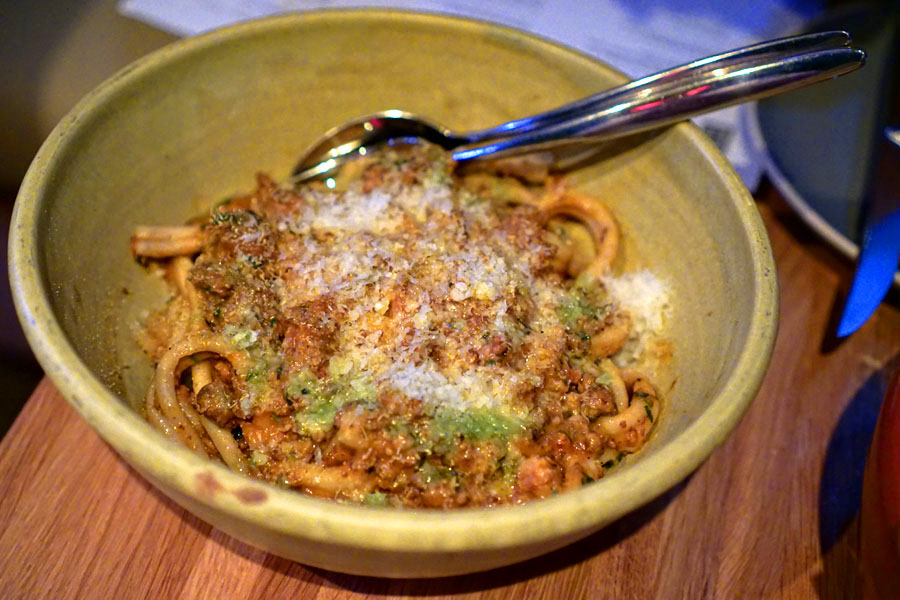 Hamachi Bolognese [$26.00]
| casarecce, shiso, grana padano
Bolognese was given the Japanese treatment here, and the result was a version of the meat sauce that was thoroughly imbued with the oceany flavors of yellowtail. It was much more intense than any classic version of Bolognese I've had before, so the shiso was absolutely crucial. As for the pasta itself, it definitely had a gratifying bite, and functioned effectively as a base to the dish.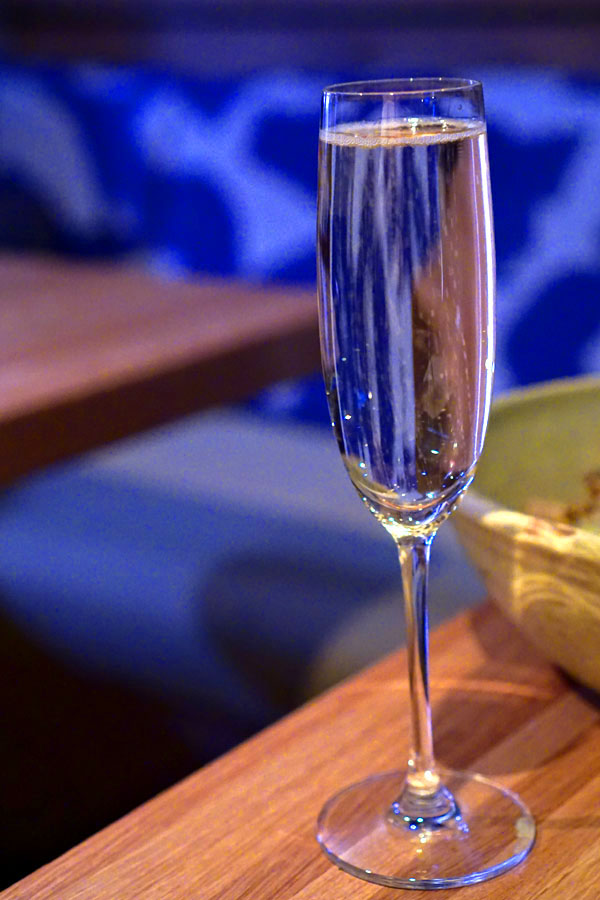 With all four cocktails sampled, we went for a glass of the
NV Deutz, Brut Classic, Champagne, France [$24]
. As the name states, this was a classic presentation of Champagne. I got appealing aromas of brioche and green apple, while flavors were again toasty, citrusy, with a mixture of sweetness and booze hiding underneath.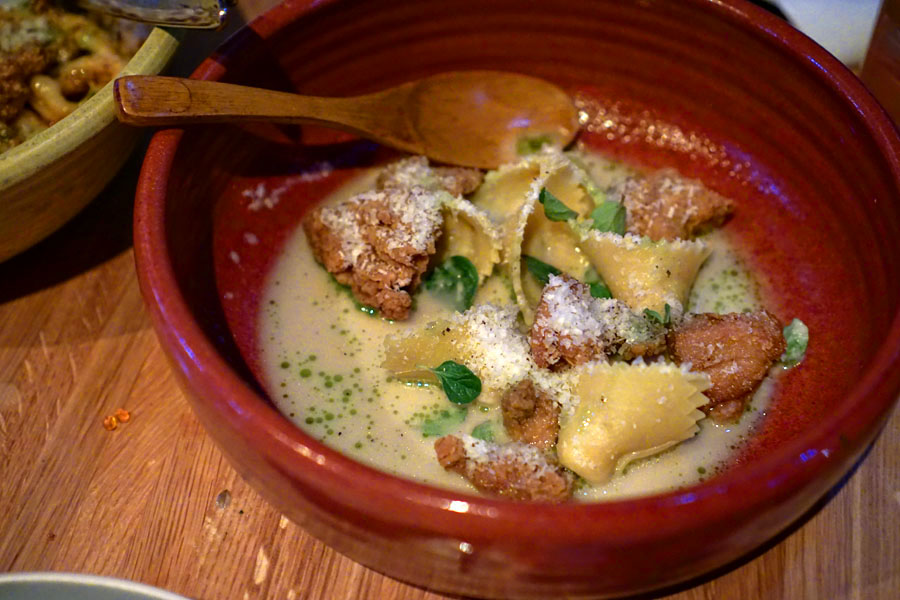 Kara-age Tortellini [$25.00]
| crispy chicken, jidori chicken brodo, ricotta, green garlic
Tortellini were unfortunately on the tough side, and I didn't get too much from their ricotta filling either. The
karaage
, meanwhile, were well-textured, though slightly underseasoned. The combination of the two elements didn't quite work for me, though the earthy
brodo
did help things coalesce, and I was a big fan of that green garlic.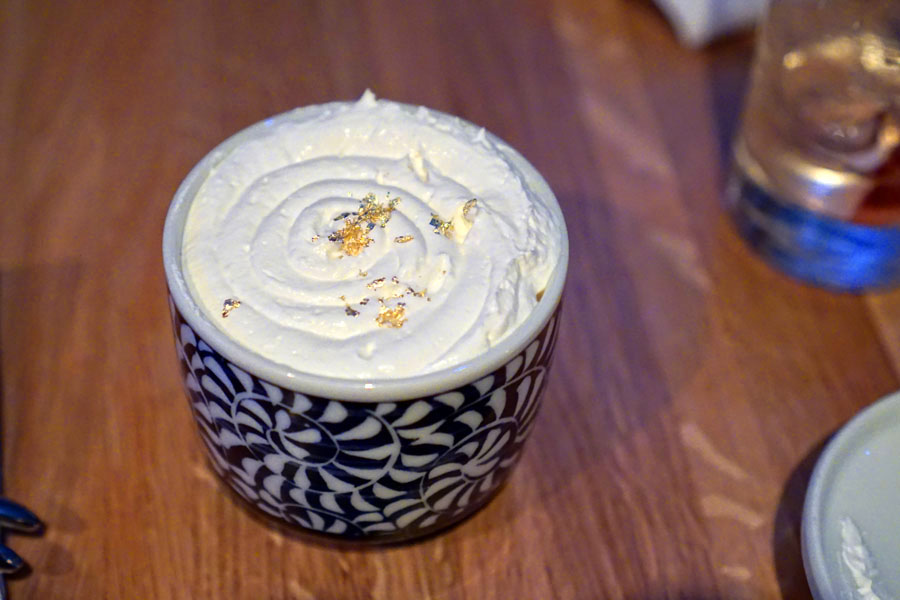 Hisho Caramel Miso Budino [$12.00]
| Toasted Hazelnuts, Chocolate Pearls
The
budino
was pretty much as good as any I've had thanks to its rich, heady flavors of caramel and dark fruit that were perfectly matched by the toasty hazelnuts. A great ending.
Kurobe is fusing Italian and Japanese cooking in a way that I'm not sure I've seen before. The former cuisine tends to be heartier, more robust while the latter is oft known for its subtlety and finesse, so I think it can be tricky to meld the two. From what we ate tonight, it's clear that some mash-ups work better than others, which isn't surprising. I don't think the restaurant has quite hit its stride completely yet, but things
are
looking promising.