Otoño (Los Angeles, CA)
Otono Restaurant
5715 N Figueroa St, Los Angeles, CA 90042
323.474.6624
www.otonorestaurant.com
Thu 03/21/2019, 08:05p-10:30p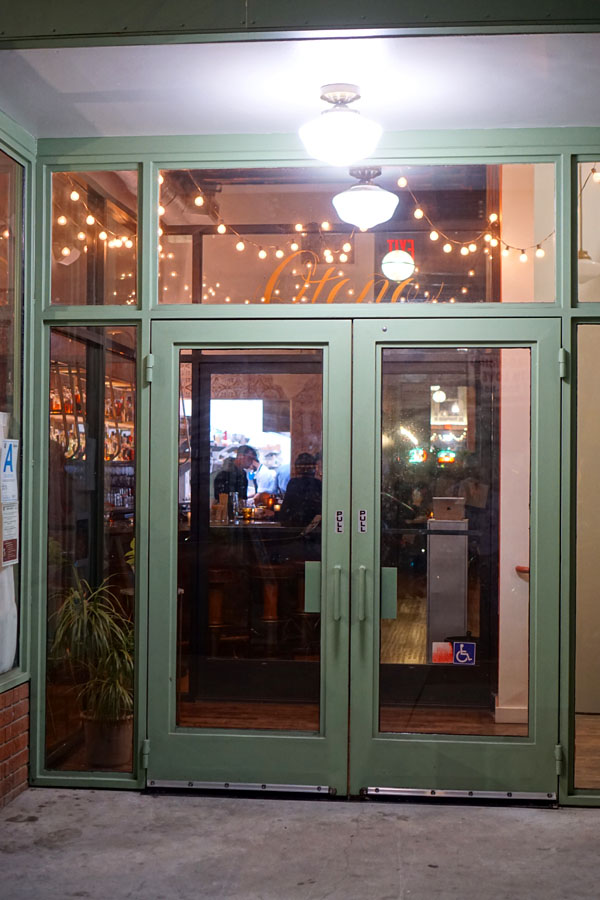 The last time we caught up with Chef Teresa Montaño, she was still running the kitchen over at
Ración
, an oft-lauded Spanish spot in Pasadena. However, she left in June 2016 to pursue her own endeavors, and the restaurant wound up closing in January 2018 (and later transformed into the short-lived Dérive). In fall 2017, it was announced that Montaño would be opening up Otoño ("autumn") in Highland Park, in partnership with Vinh Xuan "Vince" Nguyen, a local investor who was also involved with Ración. Described as a "progressive" tapas joint informed by the many culinary traditions of the Southland and inspired by the Chef's various travels (especially to Catalonia and Valencia), Otoño ended up debuting at the start of April last year.


The building that houses Otoño was constructed in 1928 to serve as a five and dime store for S. H. Kress & Co, and functioned as such until 1973. In 1979, Frank and Vera Vacek purchased the structure and turned it into Frank's Highland Park Camera, which closed in 2014. Following, the edifice (which also houses Blind Barber) was purchased by Engine Real Estate and renovated under the Mills Act. Ana Henton designed the warm, colorful Otoño space, which features a mural from Valencian street artist PichiAvo.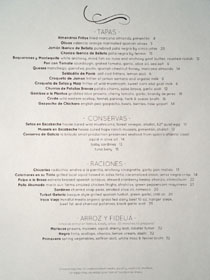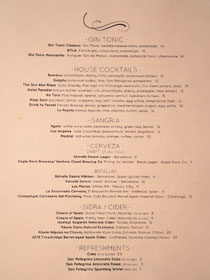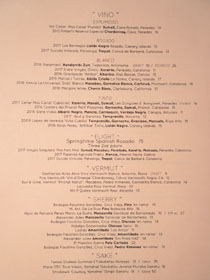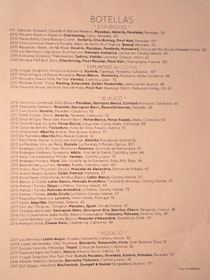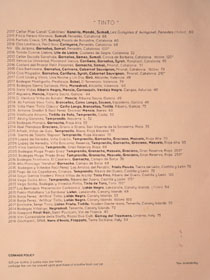 Otoño's menu is fairly wide-ranging, and features a good number of time-tested Spanish staples, including paella, as well as some more unconventional preparations. To imbibe, you'll find cocktails by Joshua Suchan, along with beers, ciders, and a Spanish-leaning wine list from Wine Director/AGM Katie Putterlik. Click for larger versions.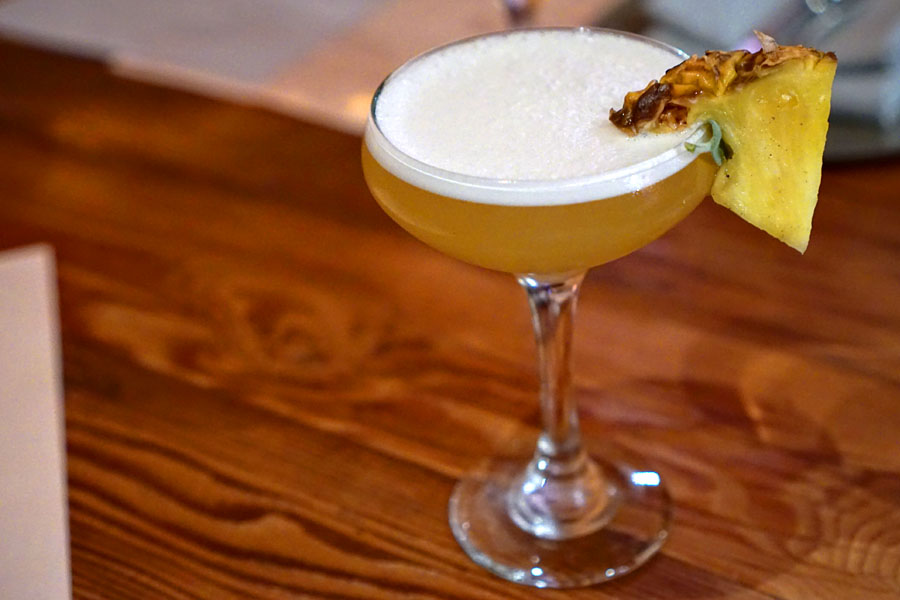 Hotel Parador [$12.00]
| brown butter washed rum, amontillado sherry, pineapple, lime, bitters
We ordered a few cocktails to begin, and our first definitely showcased the tropical, fruity flavors of pineapple along with brown buttered rum. There was also this lingering bitterness present, though I got surprisingly little from the amontillado.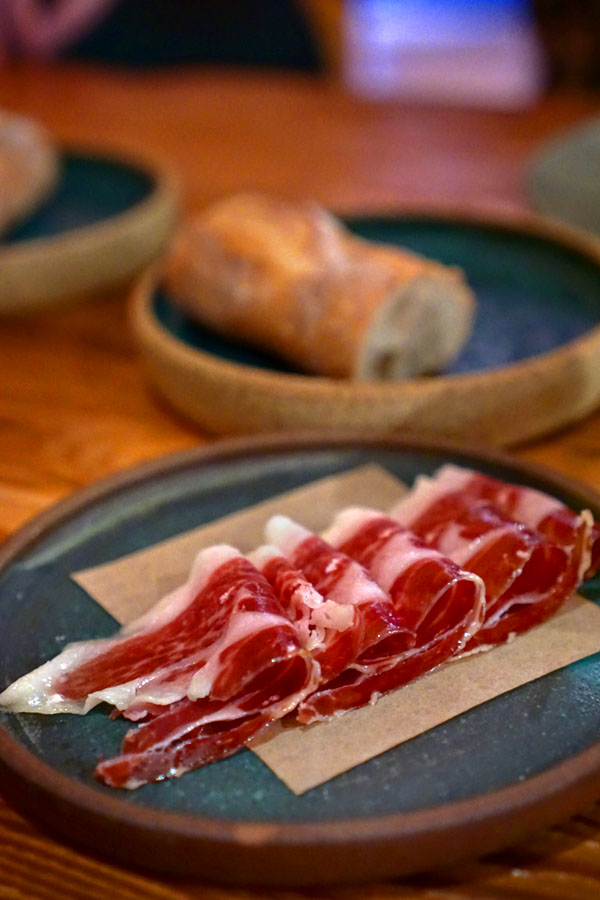 Jamón Iberico de Bellota [$20.00]
| purebred pata negra by cinco jotas
A classic starter of
jamón ibérico de bellota
didn't disappoint thanks to the ham's slick 'n' sticky consistency and nutty, savory, fatty flavors. As for the included bread, it was actually quite a bit better than expected, with a nice crustiness to it.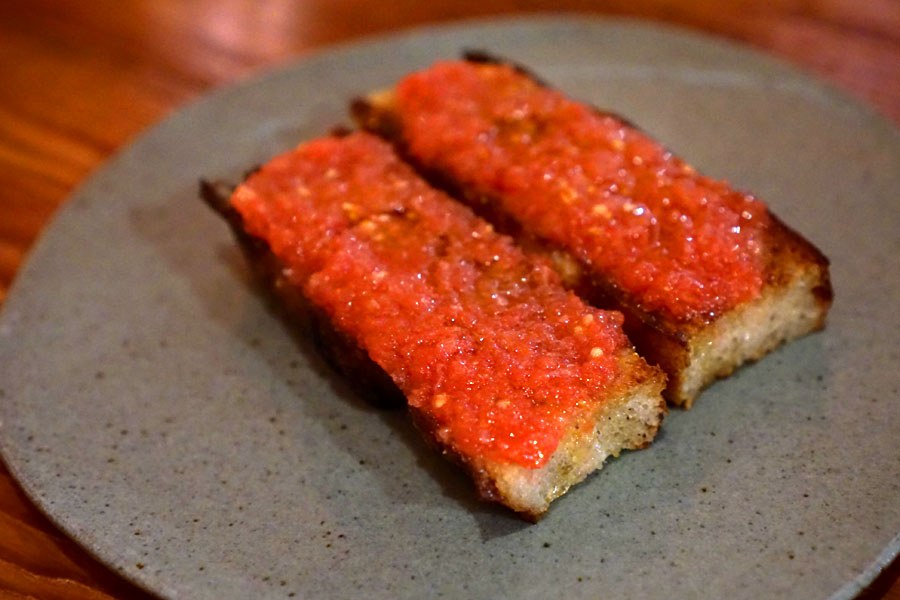 Pan con Tomate [$6.00]
| sourdough, grated tomato, garlic, olive oil, sea salt
The
pa amb tomàquet
was one of the tastier renditions I've had. I especially appreciated the smoky char on the bread and how that paired with the tartness of tomato. Delicious when taken with the ham above, too.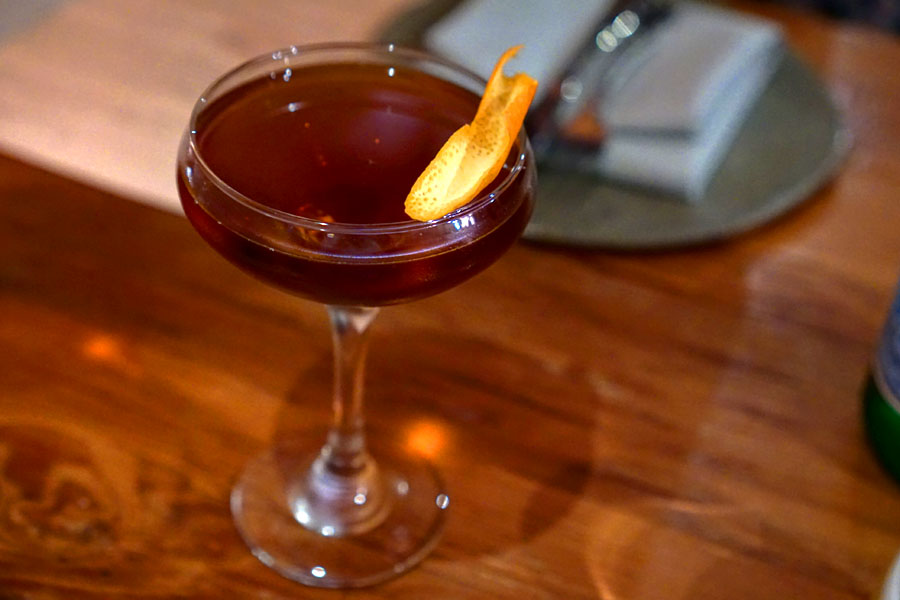 Bamboo [$12.00]
| amontillado sherry, tinto vermouth, mushroom bitters
Otoño's take on this classic late 19th century cocktail was to my liking, with its robust dark fruit and oxidative notes cut by just the right amount of bitterness.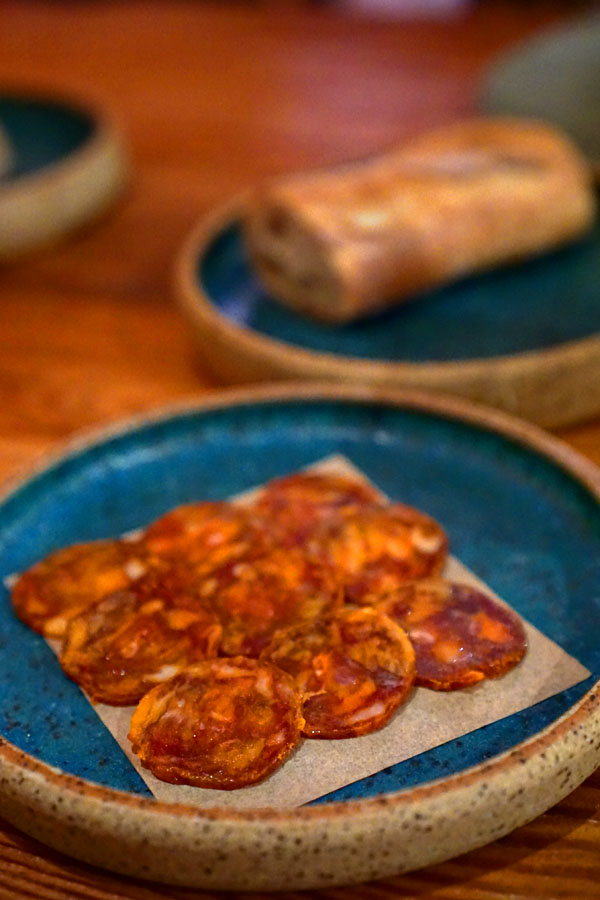 Chorizo Iberico de Bellota [$15.00]
| pata negra by fermin
Chorizo made from
jamón ibérico de bellota
was somewhat fattier than usual, with a perfect balance of smoke and spice.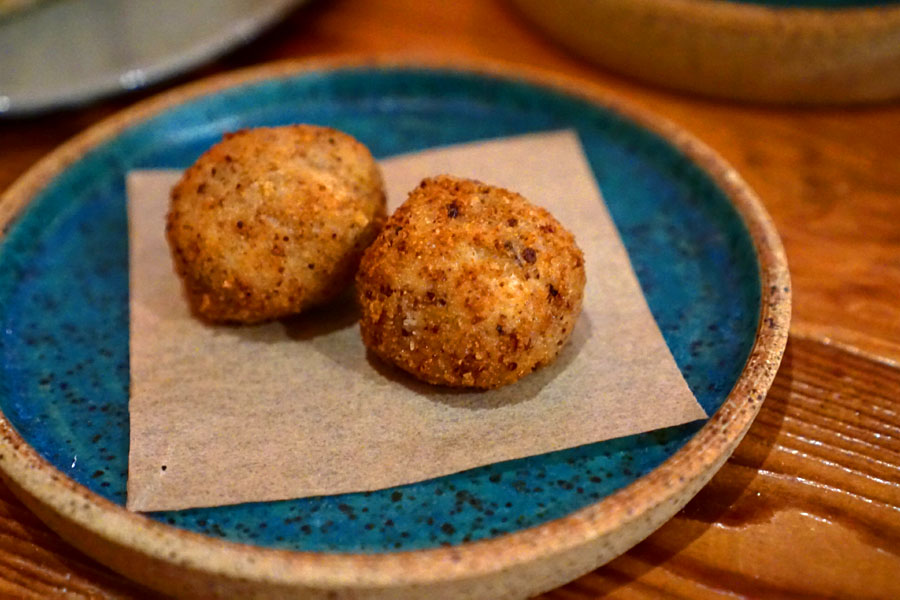 Croqueta de Setas y Maiz [$6.00]
| fritter of wild mushroom, sweet corn and goat milk
These croquettes were super creamy--I'm guessing due to the goat's milk--and conveyed the sweetness of corn at first, while woodsy flavors of mushroom came in later.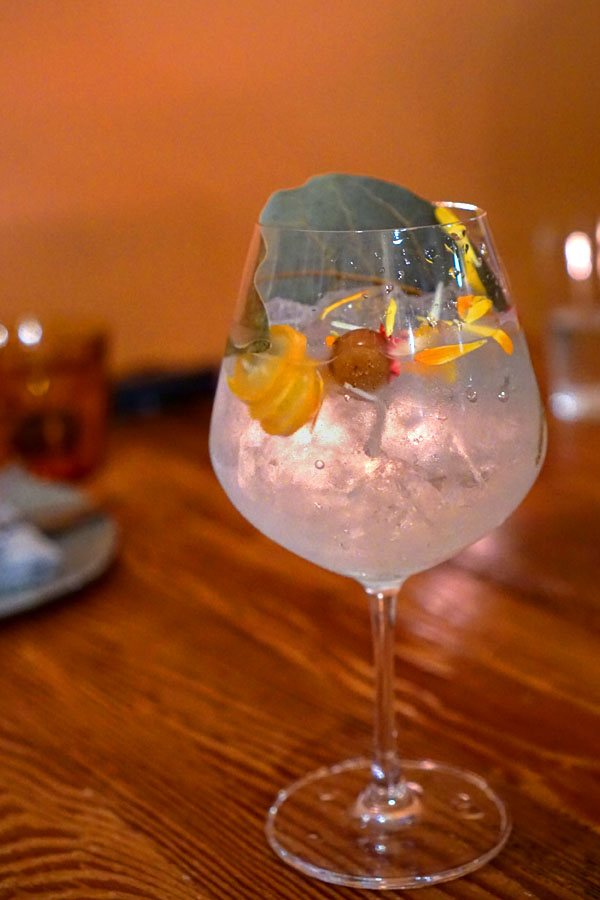 GTLA [$15.00]
| Future gin, citrus tonic, botanicals
This gin and tonic variation was a bit more interesting than usual due to the incorporation of locally-made Future gin, which had your classic botanicals flavors but also some more unexpected fruitier, nutty elements.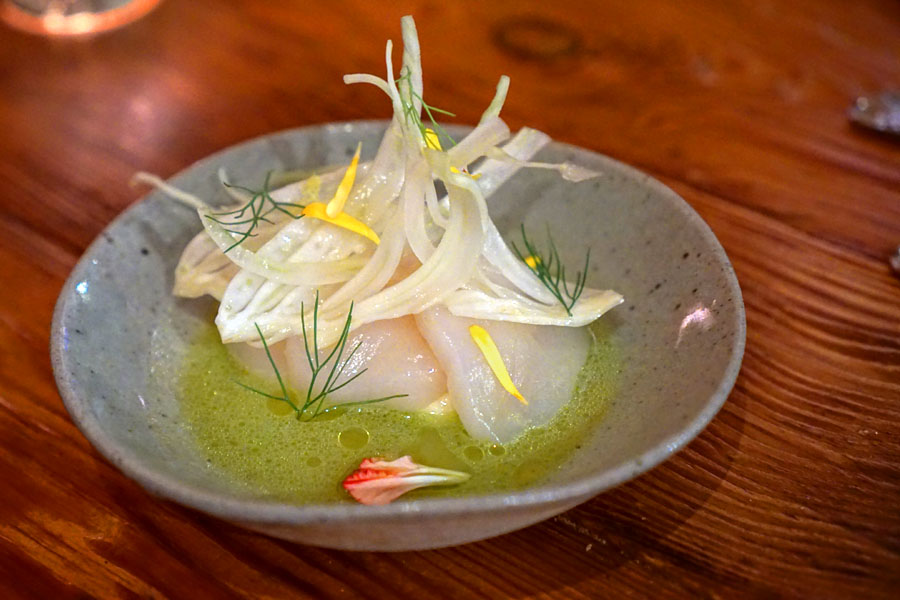 Crudo [$16.00]
| wild eastern scallop, fennel, parsnip, herb & ocean broth
Scallops arrived fresh, supple, and perked up by the zestiness of fennel. However, the parsnip I felt was just far too sweet, and detracted from the dish; I needed some more acidity to balance it out.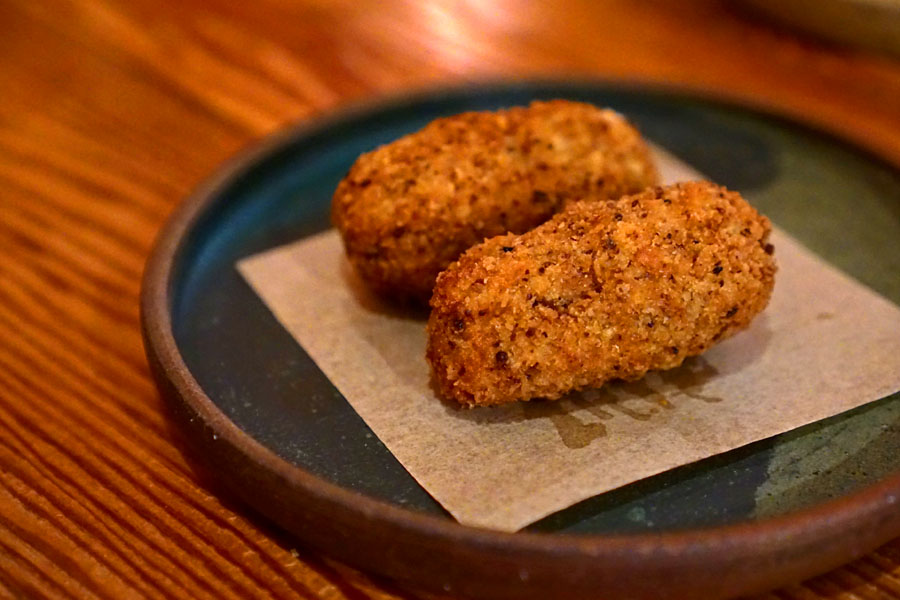 Croqueta de Jamon [$6.00]
| fritter of jamon serrano and organic milk
Ham-filled
croquetas
were perfectly crisp on the outside, as creamy as I wanted on the inside, and really hit the spot.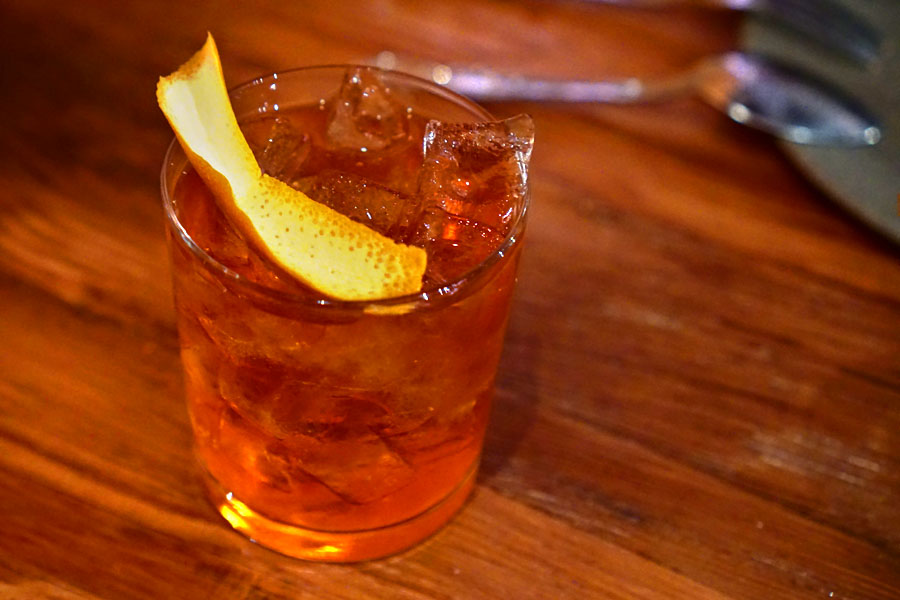 No Toro [$15.00]
| Yola mezcal, aperol, Lacuesta vermut, habanero bitters
This next cocktail had a nose brimming with smoky sweetness, while its palate veered decidedly fruity, but with the mezcal again peeking through, the whole thing finishing strong with bitterness and heat.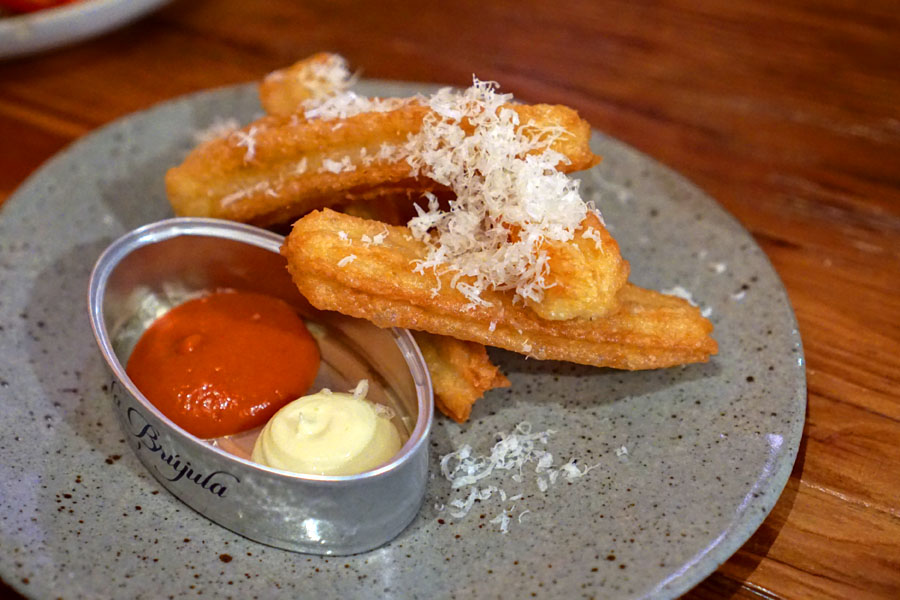 Churros de Patatas Bravas [$12.00]
| potato churro, salsa brava, garlic aioli
Churros were airy and crisp, with a relatively restrained potato taste, and worked well with the tanginess of the included salsa. I did sort of miss the heftiness and bite of a more traditional
papas bravas
presentation, though.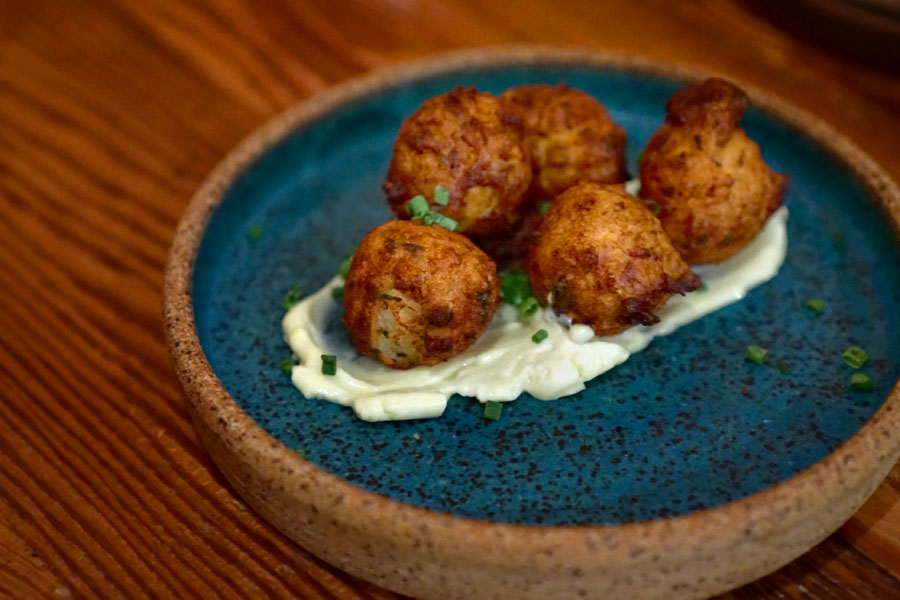 Soldadito de Pavia [$6.00]
| salt cod fritters, lemon aioli
Small, spherical fritters of
bacalao
came out piping hot and properly creamy, and showed off the salinity of salt cod in commendable fashion.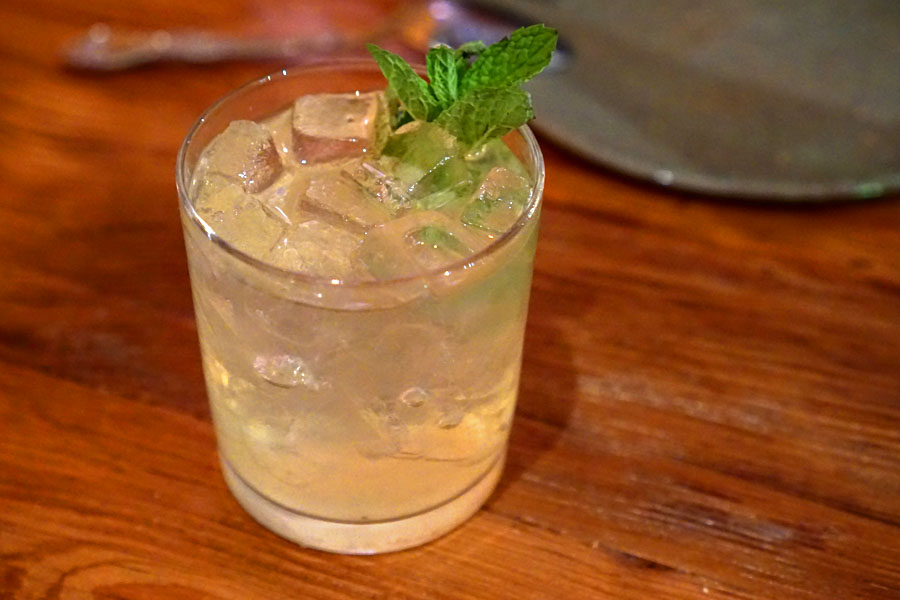 Kyoto [$12.00]
| white wine, sake, japanese whisky, green tea, lemon
Here was a cocktail from the "sangria" section of the list. I found it soft and easy-drinking, with a subdued fruitiness commingled with palpable tea-like notes.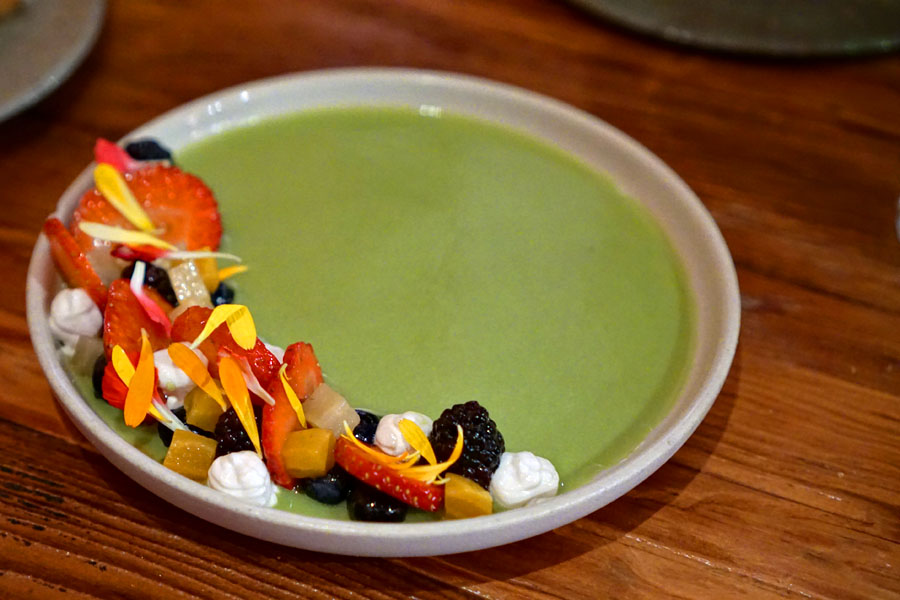 Gazpacho de Chicharo [$14.00]
| english pea gazpacho, beets, berries, rose yogurt
An unconventional gazpacho was bright and sour, with a marked tanginess from the fruit that was offset by the lush, creamy nature of that yogurt.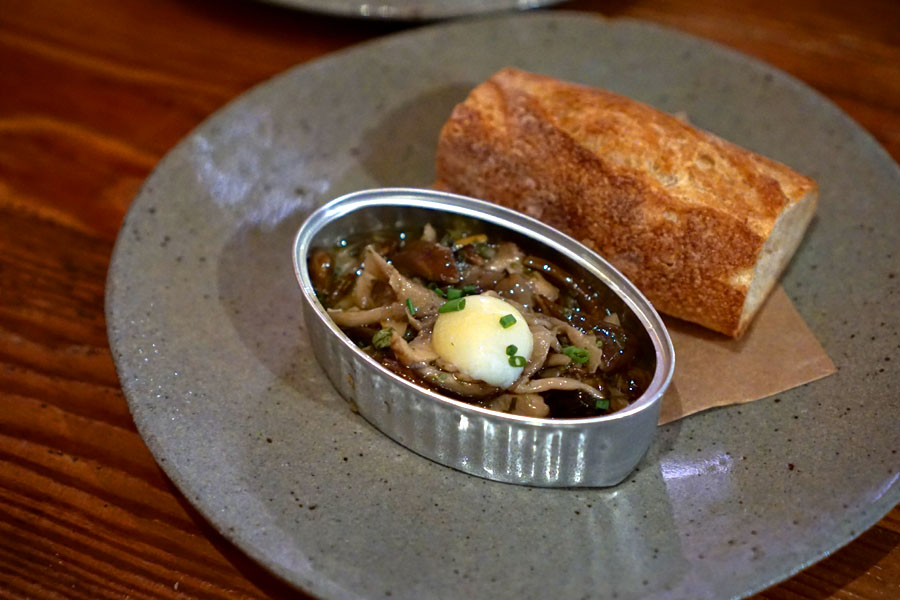 Setas en Escabeche [$10.00]
| house cured wild mushrooms, forest vinegar, shallot, 62° quail egg
Unsurprisingly, vinegar-marinated mushrooms ate tart and acidic, but also conveyed an earthiness underneath. I didn't mind the quail egg here, which added a touch of luxuriousness to the dish.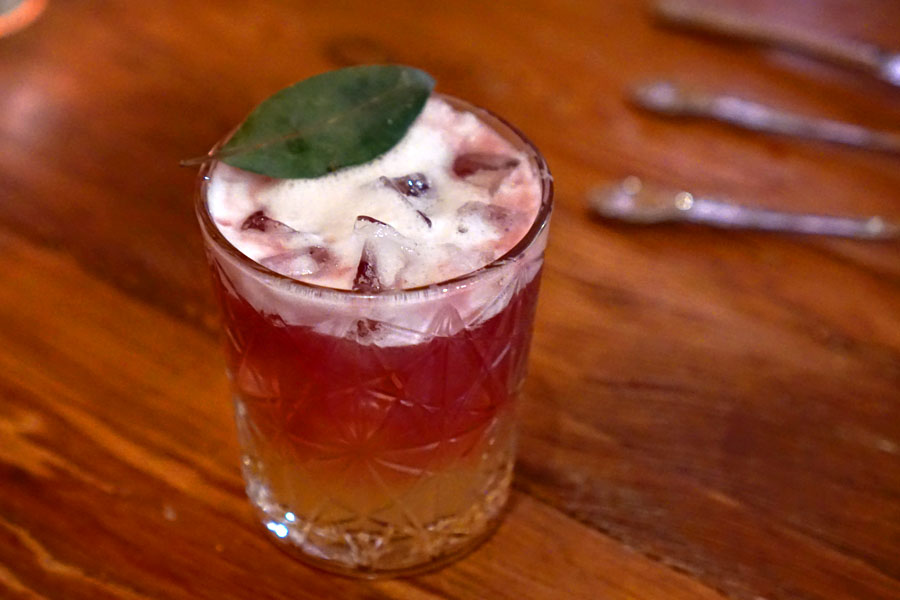 Rioja Sour [$12.00]
| bourbon, lemon, oregano, bay leaf, tomato, egg white, tempranillo float
The evening's final cocktail was a take on the whiskey sour. I found it eggy and mild at first blush, but also coming through were some citrusy and fruity flavors backed by just a smidge of bourbon.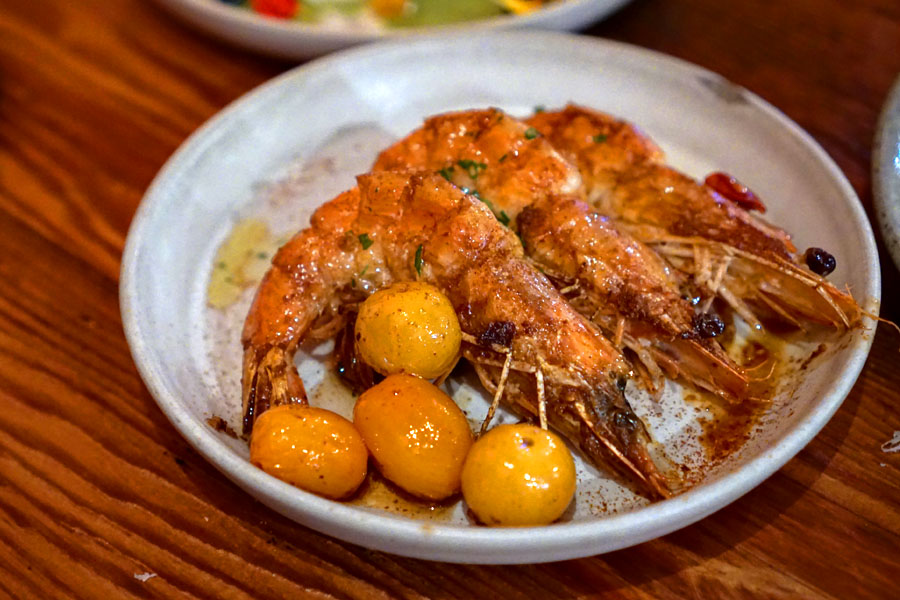 Gambas a la Plantxa [$18.00]
| griddled blue prawns, cherry tomato, garlic, brandy de jerez
Prawns were wonderfully seasoned, and displayed a particular depth that was probably due to the incorporation of brandy. I would've liked a snappier, more satisfying texture on the
gambas
, though.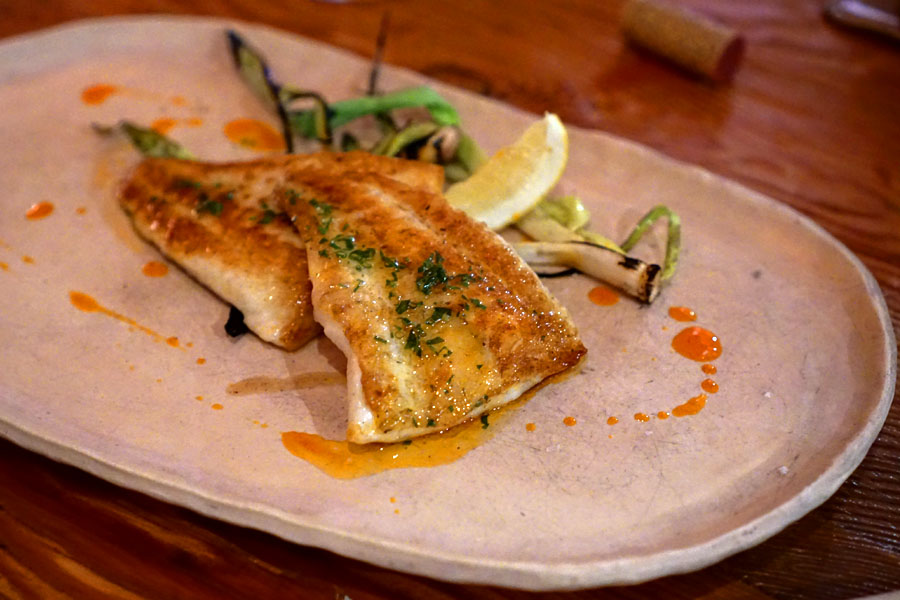 Turbot Getaria [$20.00]
| basque style grilled spanish turbot, green garlic, chili oil
Turbot arrived firm to the bite, with a nice sear and a very noticeable brine. I appreciated the use of green garlic here, but I wanted to taste more from the advertised chili oil.
At this point we moved on to a bottle of wine, the
2016 Partida Creus, SM, Sumoll, Massís de Bonastre, Catalonia [$60]
. It had a tart, funky nose filled with fresh red fruit and flowers, one that actually reminded me of what a sour beer might smell like. Taste-wise, I found it acidic and earthy, with more vibrant red fruit leading to a lingering mustiness. Rustic and fascinating.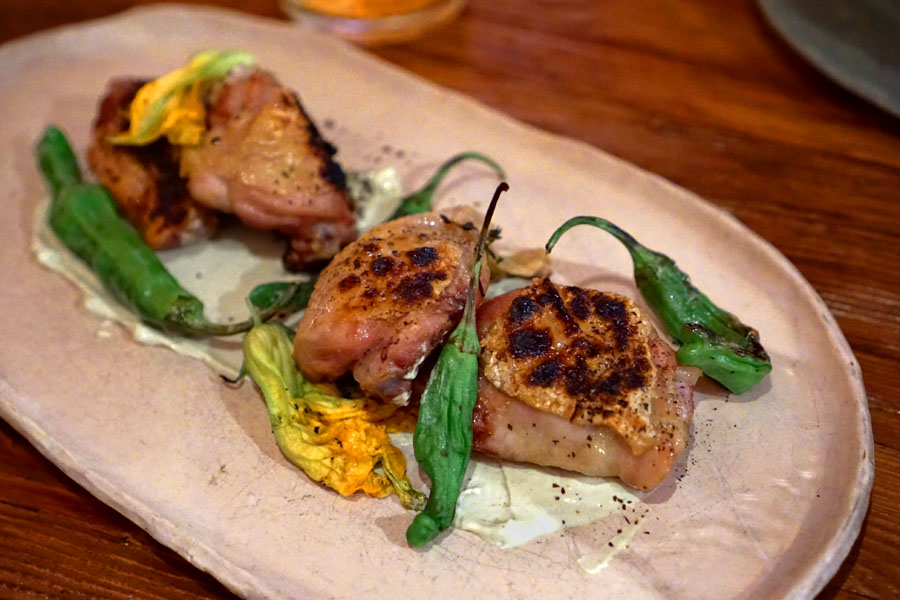 Pollo Ahumado [$23.00]
| marin sun farms smoked chicken thighs, shishitos, green peppercorn mayonesa
Chicken came out as juicy as I was hoping for, and was delightfully smoky and perfectly seasoned. It was one of my favorite dishes of the night, and I liked the intensity of the shishitos here, too.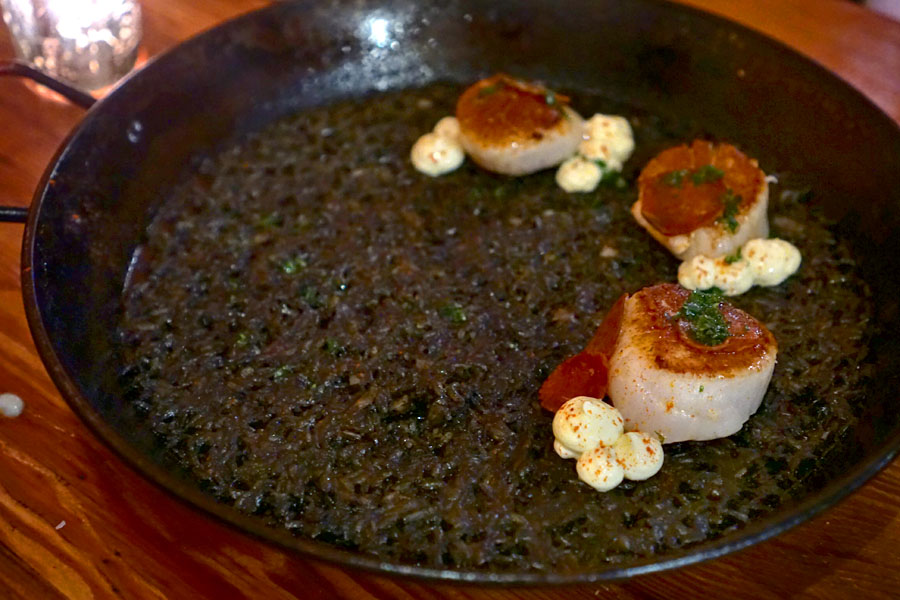 Arroz - Negra [$32.00]
| tinta, scallops, chorizo, lemon cream, dashi
In our final savory, rice came out beautifully textured and thoroughly imbued with brine and umami, while the chorizo added a touch of heat to it all. As for the scallops, they were well-cooked and properly caramelized, with a prominent salinity to 'em. My concern here, however, was the almost complete lack of
socarrat
.
A small selection of desserts is joined by an array of after-dinner drinks. Click for a larger version.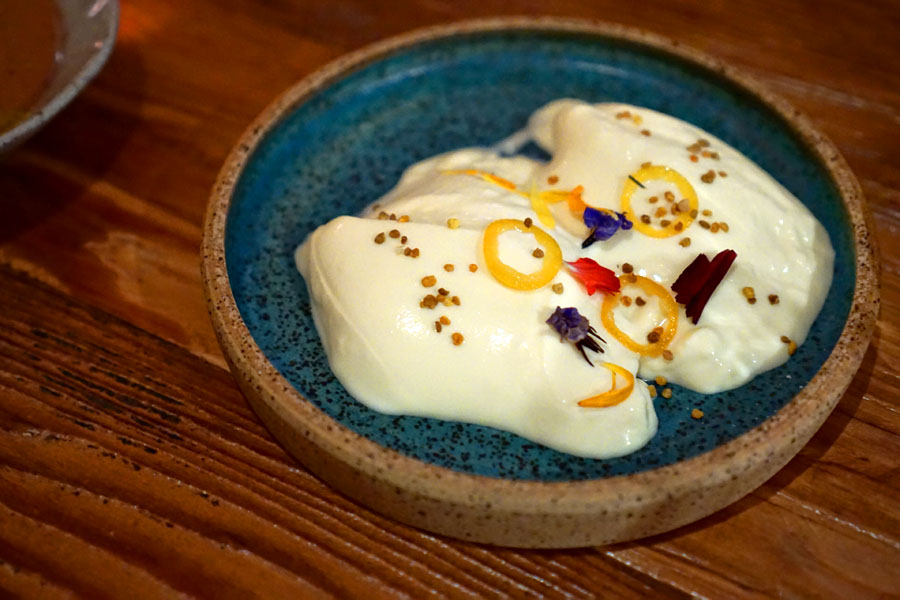 Crema Catalana [$10.00]
| citrus, cinnamon, kumquat
Crema catalana
showed off a bevy of floral, herbaceous flavors cut by the tartness of citrus. It was all rather tasty, but I was really missing the caramelized crust of the traditional dessert.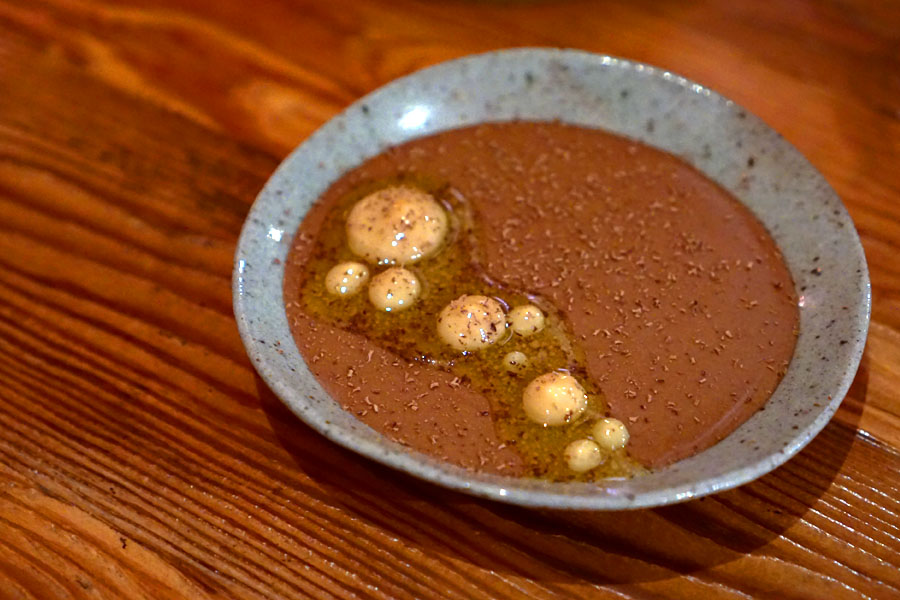 Dark Chocolate Mousse [$11.00]
| dulce de leche, olive oil, sea salt
Last up was a super rich chocolate mousse, one amped up even further by the
dulce de leche
. I will say that I wanted more savory notes from the olive oil.
LA isn't really known for its Spanish restaurants, so I'm definitely glad to have Otoño in town as another option. The place isn't completely traditional, but that's by design. Montaño's menu is rooted in Spanish cookery, but she's not afraid to infuse her food with a distinct Angeleno sensibility. Her experiments don't always work out fully, but by and large we were quite happy with the food we had tonight.