Nightshade (Los Angeles, CA)
Nightshade Restaurant
923 E 3rd St, Los Angeles, CA 90013
213.626.8888
www.nightshadela.com
Sat 03/16/2019, 08:15p-10:55p

In terms of Arts District openings, Nightshade has probably been the most anticipated since
Bavel
dropped last April. The restaurant is the long-awaited solo project from Chef Mei Lin, and debuted on January 2nd. Partnering up with Lin are
No.8
's Cyrus Batchan and Francis Miranda, who are mostly known for their Koreatown spot Lock & Key. Joining the Chef in the kitchen, meanwhile, is CdC Maxou "Max" Boonthanakit, who was formerly the Pastry Chef at
Kato
and also boasts experience at
Republique
,
ink
,
The Bazaar
, and Mimi's House in Diamond Bar.
About the Chef
: The older of two siblings (she has a younger brother), Lin was born in China's Guangdong province, but her family relocated to Dearborn, MI when she was a mere three months old. Her family ran (and still runs) an American-Chinese restaurant called Kong Kow, with her father Jin Lin serving as chef and her mother Li Lin running the FOH. As a child and into her teenage years, she helped out in the kitchen, though she didn't particularly enjoy the job. Her parents, unsurprisingly, didn't want her to pursue a culinary career and instead wished her to be a doctor or lawyer. Lin went to Fordson High in Dearborn, finishing her studies there in 2003. She then attended Henry Ford Community College, and later Wayne State University for nursing; at this point, she was also working at
Best Buy
to make ends meet. However, she quickly realized that nursing wasn't for her, dropped out, and started the culinary program at Schoolcraft College in Livonia. After one-and-a-half years there, she graduated in 2007. In April 2008, Lin landed a catering gig at the Detroit Lions Headquarters and Training Facility, but by October, had moved on to Michael Symon's Roast steakhouse at the Westin Book Cadillac hotel in Detroit.
She stayed until April 2009, then went to Marcus Samuelsson's C-House at the Affinia Hotel, where she worked a stint as a line cook and helmed the restaurant's raw bar. In February 2010, she became chef de partie at Spago in Las Vegas, under Eric Klein. During this period, Lin also vacationed in Europe, and did a three week
stage
at L'Atelier de Joël Robuchon in Paris. Upon returning, she was able to get a job at
Michael Voltaggio
's
ink
, and helped open the restaurant in September 2011. Early on at ink, she was splitting her time between there and Wolfgang Puck at Hotel Bel Air, but that soon ended, and she was apparently promoted to sous chef after only six months. In 2014, Voltaggio convinced her to apply for Season 12 of
Top Chef
, and after a lengthy application process, she was able to get on the show.
Top Chef
was filmed from May to June, and premiered that October, with Lin's win over Gregory Gourdet announced on the finale in February 2015. She was out of ink by early 2015, and after the win, spent a couple years traveling, eating, doing events and pop-ups, and even private cheffing for Oprah. Meanwhile, work on Nightshade began in earnest in March 2018.

Nightshade takes over Oscar Hermosillo's Cerveteca DTLA, which closed in late 2016. Before that, the address was home to longstanding sushi spot
R23
, which opened in 1991, waaaay before being in the Arts District was cool (I think it probably started being cool post-
Church & State
). The space was redone by
Gracia Studio
out of Tijuana, and seats about five dozen diners.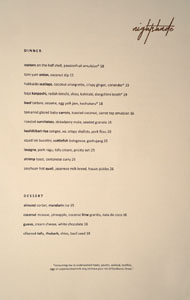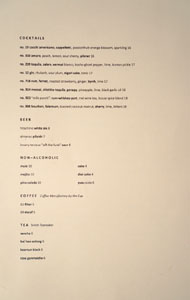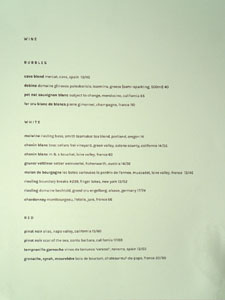 Nightshade's contemporary, pan Asian-inspired menu is on the smaller side, which I actually appreciate. Drink-wise, tea, cocktails, and a couple beers are joined by a compact, global, white-leaning wine list. Click for larger versions.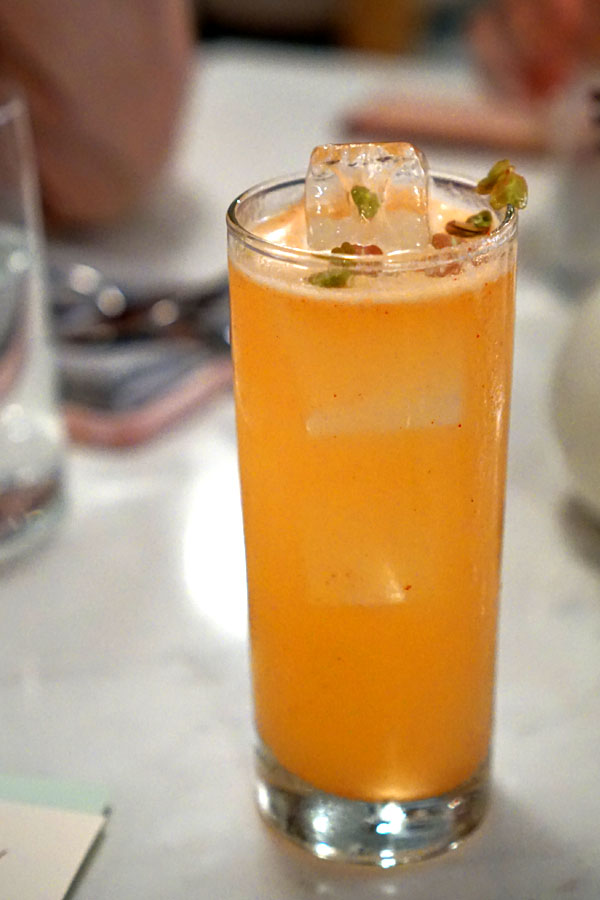 no. 12 [$17.00]
| gin, rhubarb, sour plum, nigori sake, tonic
Each of Nightshade's cocktails sports a numerical moniker with a specific meaning, with the #12 here a reference to our current Year of the Pig, the twelfth animal to appear in the Chinese zodiac. In any case, the drink showcased
umeboshi
and rhubarb at the forefront, while the ricey sweetness of the
nigorizake
made itself known later on.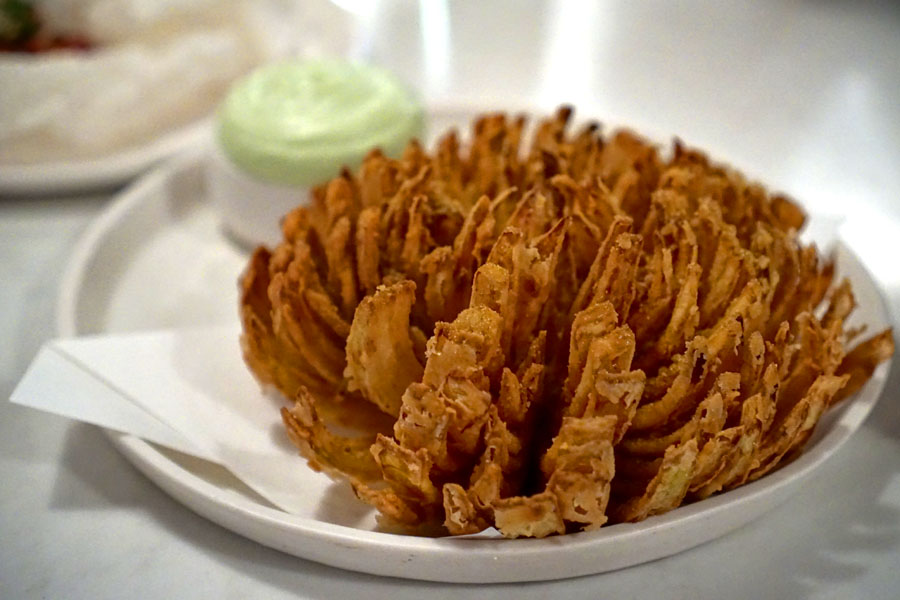 tom yum onion, coconut dip [$15.00]
We began with one of Nightshade's most well known dishes, which I found refined enough, yet still very much reminiscent of its trashy, Bloomin' Onion roots. The onion itself incorporated a light, non-oily batter that still provided a nice crunch, while the sweetness of the vegetable was well conveyed. It was rather tasty just by itself, but I didn't mind that almost unbelievably airy coconut condiment on the side either.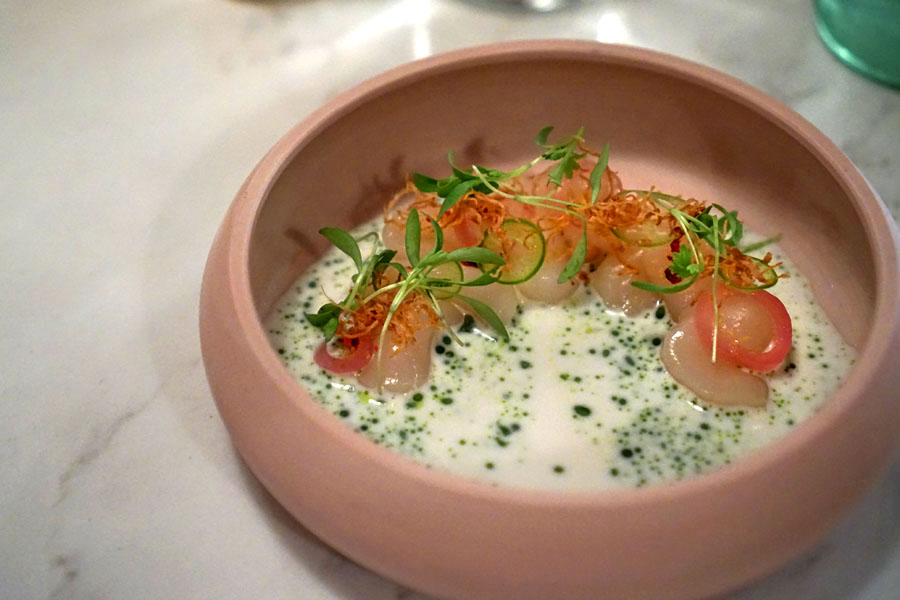 hokkaido scallops, coconut vinaigrette, crispy ginger, coriander [$23.00]
Hokkaido
hotate
were fresh and briny, their salinity matched by that lush, creamy, herbaceous vinaigrette and just a slight smidgen of heat. The best part, though, might've been the pungency imparted by the peppercorns. A table favorite.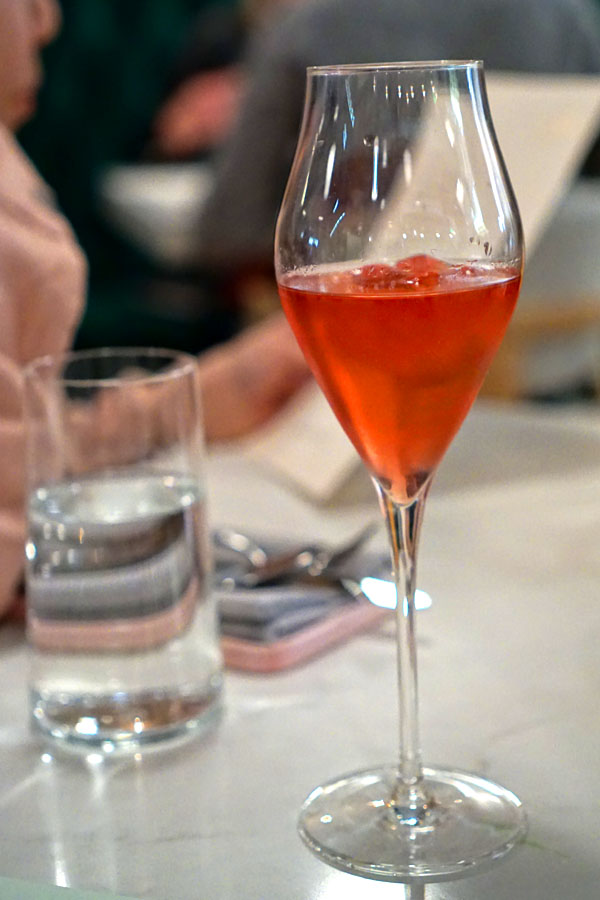 no. 923 [$18.00]
| "milk punch": rum-whiskey-port, mei wine tea, house spice blend
Our second, garnet-hued cocktail was straightforwardly named after Nightshade's street address. Featuring a wine cooler
created by the Chef
(in collaboration with Union Wine Company), it was super aromatic, bringing fourth loads of warm, soft, spicy, floral flavors along with a backbone of tropical sweetness.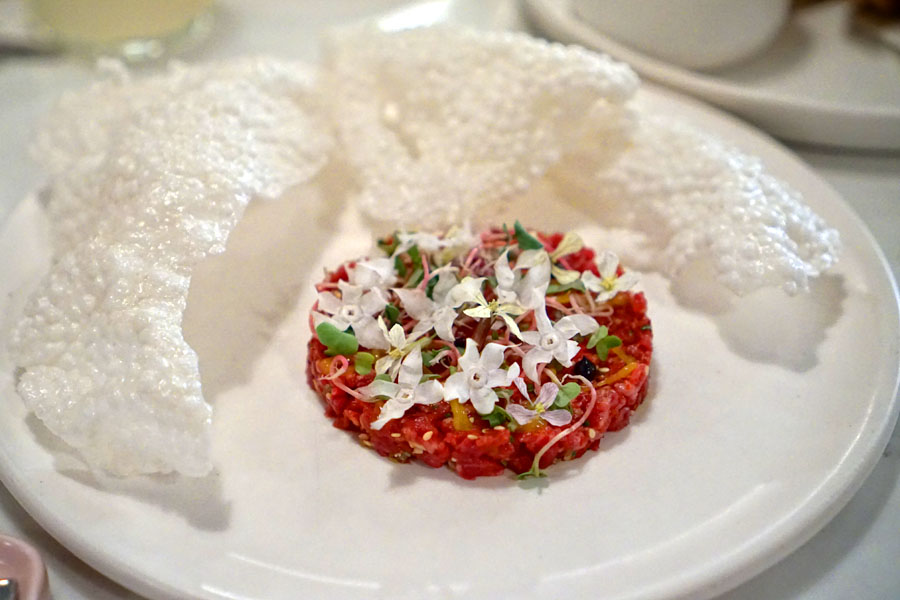 beef tartare, sesame, egg yolk jam, kochukaru [$18.00]
Lin's thoroughly revamped
yukhoe
delivered in spades. I loved the sheer depth of savor here, and how well that integrated with the heat of the
gochugaru
, all while the herbs added an overarching brightness that perfectly lifted the dish. The included crackers, meanwhile, served a necessary textural and tempering element. A favorite of mine, and no doubt one of the beef tartars I've had, ever.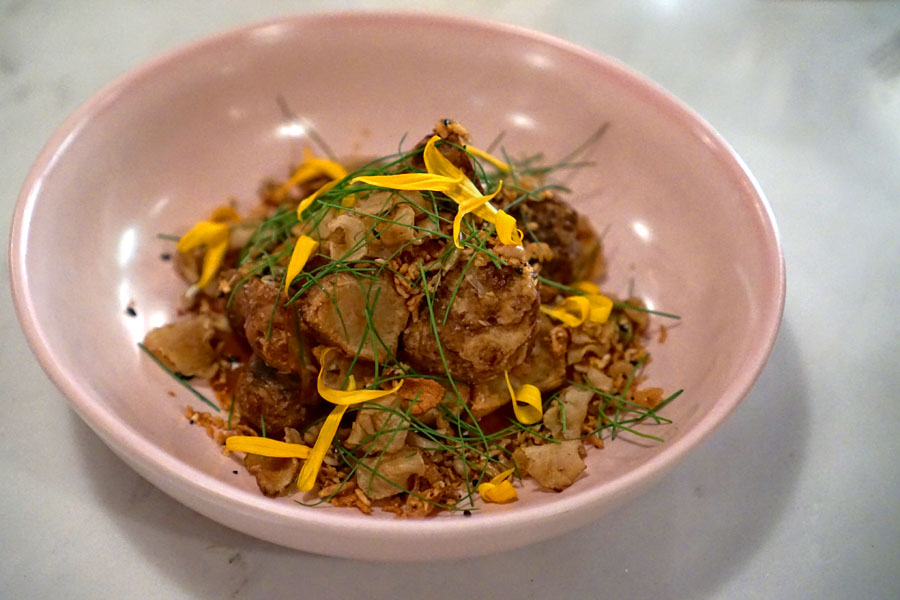 roasted sunchokes, strawberry mole, seeded granola [$16.00]
I don't usually care for sunchokes, but was a huge fan of this next dish. The key here was how well the root vegetable's inherent sweetness was kept in check. There was this very familiar sort of umami flavor profile, joined by a wonderful spicing and robustness from the mole, all while the granola offered up both nuttiness and crunch. This was another favorite of mine, and very possibly the best preparation of sunchoke I'd ever tasted.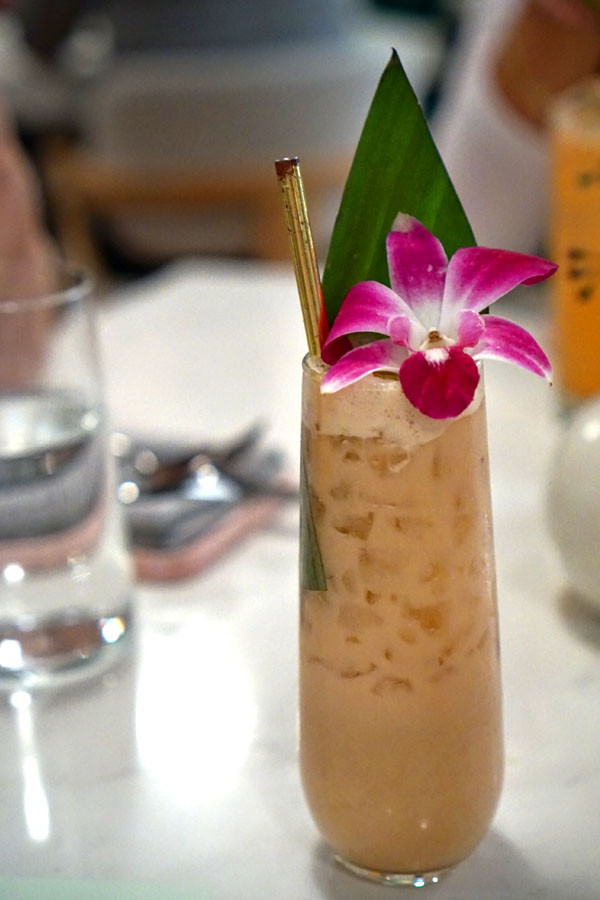 no. 888 [$16.00]
| bourbon, falernum, toasted coconut-makrut, sherry, lime, bitters
Named after a particularly lucky number in Chinese numerology, this next cocktail was my favorite of the bunch. Think sweet-nutty and coconut flavors, alongside dark fruit and sherry, with a touch of citric tartness for balance.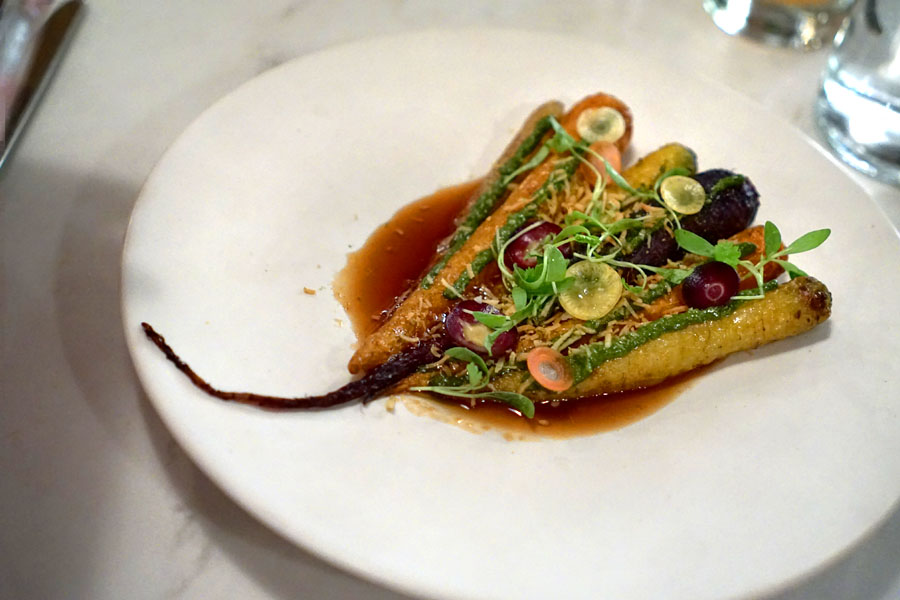 tamarind glazed baby carrots, toasted coconut, carrot top emulsion [$16.00]
Carrots were well-textured, their natural sweetness augmented by the tartness of tamarind while the carrot tops and herbs contributed an offsetting brightness that was crucial.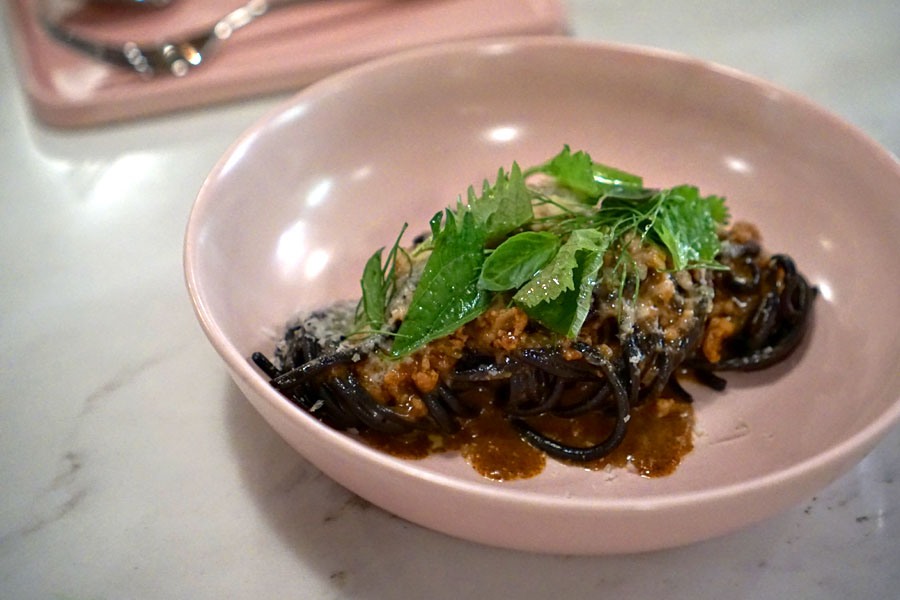 squid ink bucatini, cuttlefish bolognese, gochujang [$23.00]
Dark-tinted strands of bucatini arrived with a pleasantly firm bite, along with plenty of oomph courtesy of the advertised
bolognese
. Unfortunately, the
gochujang
was almost nonexistent here, though I did appreciate the herbs (fennel, shiso, Thai basil I believe) up top. Overall, a bit muddled I'm sad to say.
no. 718 [$17.00]
| rum, fernet, roasted strawberry, ginger, byrrh, lime
Here was a long cocktail named after the birthday of former Bar Manager Connie Kim. It displayed lots of ginger up front, leading to prominent notes of strawberry, with the finish veering ginger-y, bitter, and medicinal. Nice.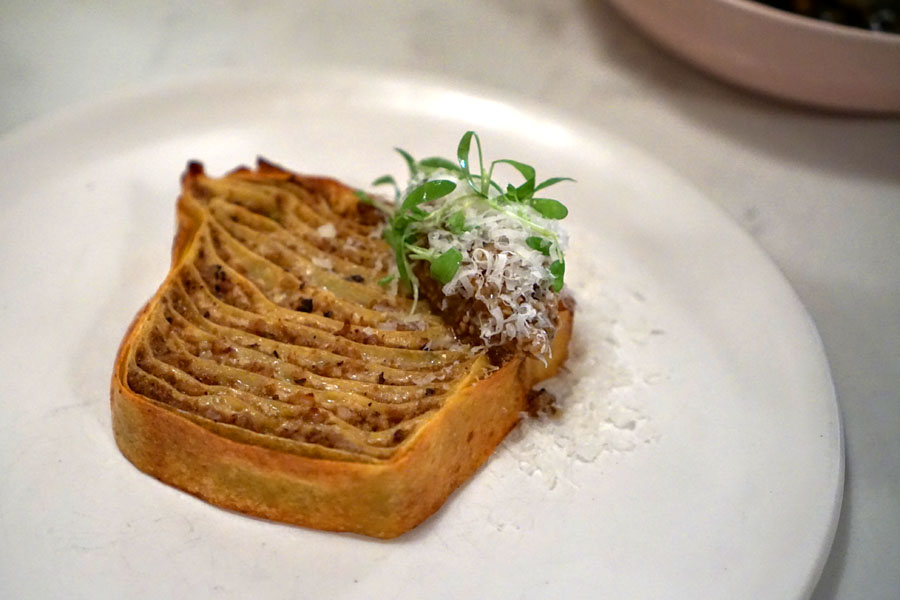 lasagna, pork ragu, tofu cream, prickly ash [$25.00]
Naturally, we had to order Nightshade's signature lasagna-
mapo doufu
mash-up. It was on point texturally, with the egg pasta conveying a delightful suppleness that actually recalled wonton wrappers. I also got a homey, familiar savoriness from the pork ragù that worked with the herbs in the dish. There was also a decent amount of heat, but I wanted more, and also lacking was the amount of
mala
. In the end, this was a bit too restrained.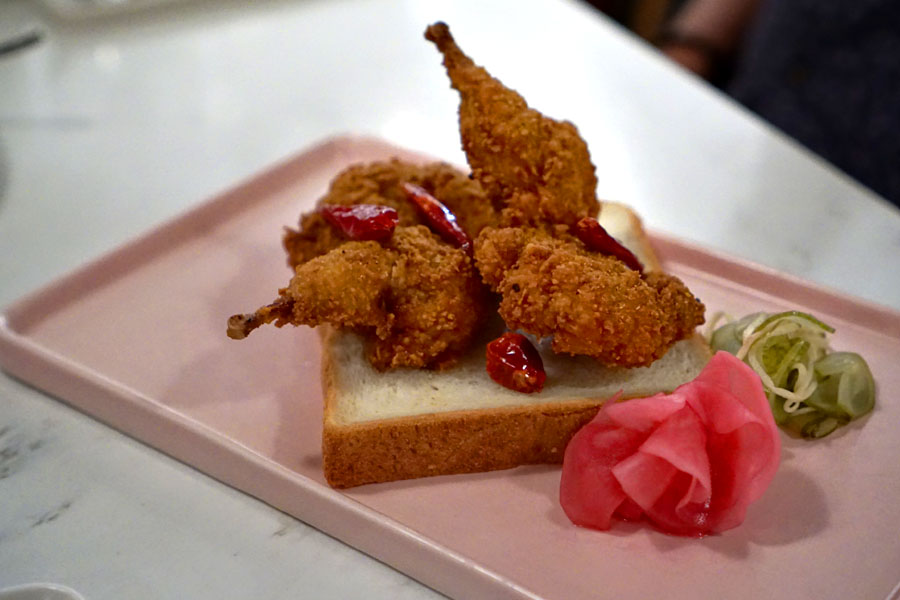 szechuan hot quail, japanese milk bread, house pickles [$26.00]
The quail was delicious, coming out crisp, juicy, beautifully seasoned, and showing off plenty of the lingering heat and numbing spice that was missing from the previous dish--I think it did a great job capturing the essence of its Sichuan inspiration. Pickles provided a welcomed hit of acidity to the mix, while the milk bread--though a touch dry--helped even out the strong flavors present.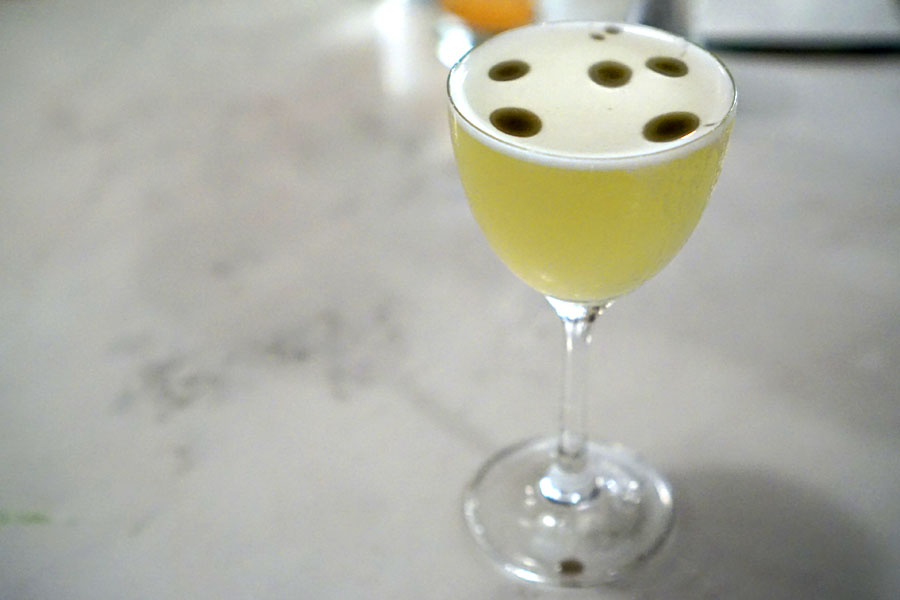 no. 914 [$16.00]
| mezcal, shishito-tequila, genepy, pineapple, lime, black garlic oil
Our final cocktail apparently got its name from the birthday of one of Nightshade's owners, and was arguably the most interesting drink of the night. I found it super smoky, but with a tart, fruity, citric base. The key here, though, was that black garlic oil, which gave the drink a distinctly savory, oily edge that I was rather fascinated by.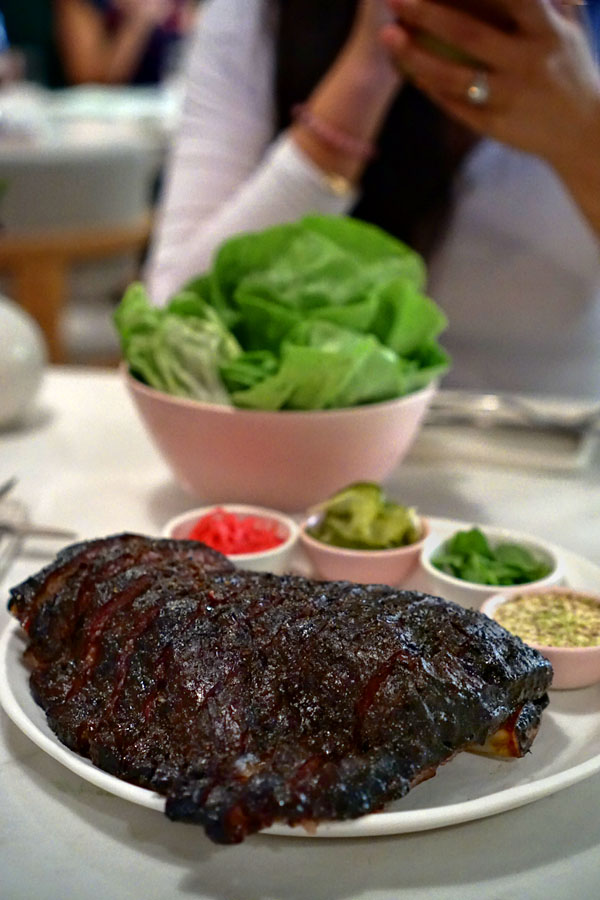 black garlic-maple glazed bone-in beef short rib [$108.00 = 36oz x $3/oz]
The meal's
pièce de résistance
came in the form of a bone-in Omaha Angus short rib, aged in-house for five days, then slow-cooked for over 12 hours. The meat was coated in a black garlic-maple glaze, and accompanied by a bonito-habanero dressing with lime zest, mint leaves, pickles, fermented radish, and Bibb lettuce. I found the rib wonderfully tender and fatty, with a subdued smoke to it that was accented by pricks of salt. The various accoutrements contributed a much-appreciated acidity to things, and the meat was even better when wrapped up in the lettuce,
ssam
style. That being said, even though the flavors all came together, I kept thinking that the dish would've been even better had there been more smoke, more char character. How about some kimchi on the side, too?
almond sorbet, mandarin ice [$15.00]
Desserts at Nightshade are actually the creation of the restaurant's Chef de Cuisine, and we made sure to try all four on offer. We began with a dish ostensibly inspired by the oranges and almond biscuits (
xing ren bing
) that often come at the end of Chinese meals. Composed of an almond sorbet with tangerine, topped with curved shards of liquid nitrogen-frozen mandarin juice, the dessert did a wonderful job showcasing the sweet, nutty, surprisingly robust flavors of the almond in concert with tart, refreshing notes of citrus.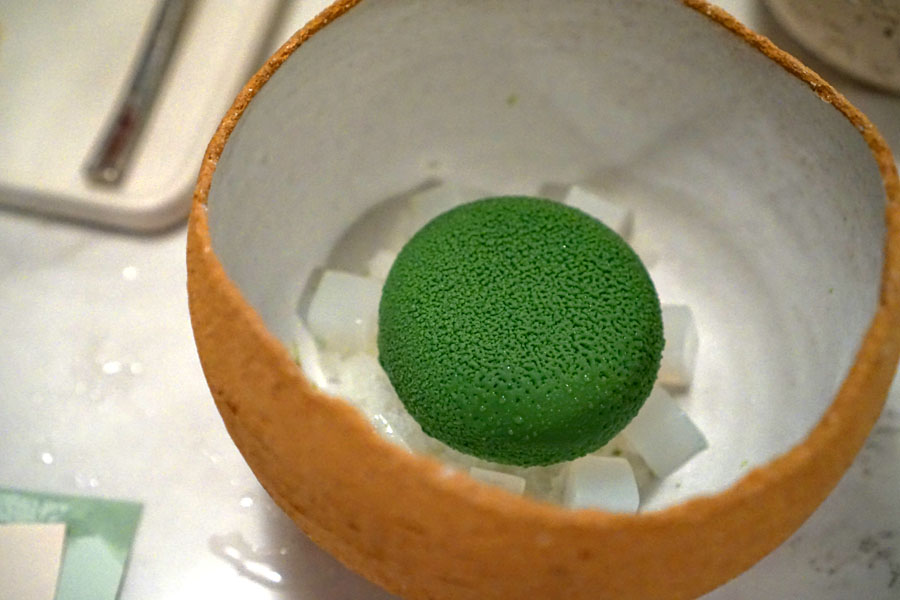 coconut mousse, pineapple, coconut lime granita, nata de coco [$16.00]
Humorously, this next dessert was apparently inspired by Harry Nilsson's song
Coconut
and its famous lyrics: "put the lime in the coconut." Taste-wise, you really did get the interaction between the tartness of lime-pineapple and the tropical sweetness of coconut, all while the
nata de coco
evened out everything and added some textural contrast. And if you're wondering, the green macaron-looking thing was actually comprised of pineapple chunks surrounded by coconut mousse and a thin layer of passion fruit chocolate.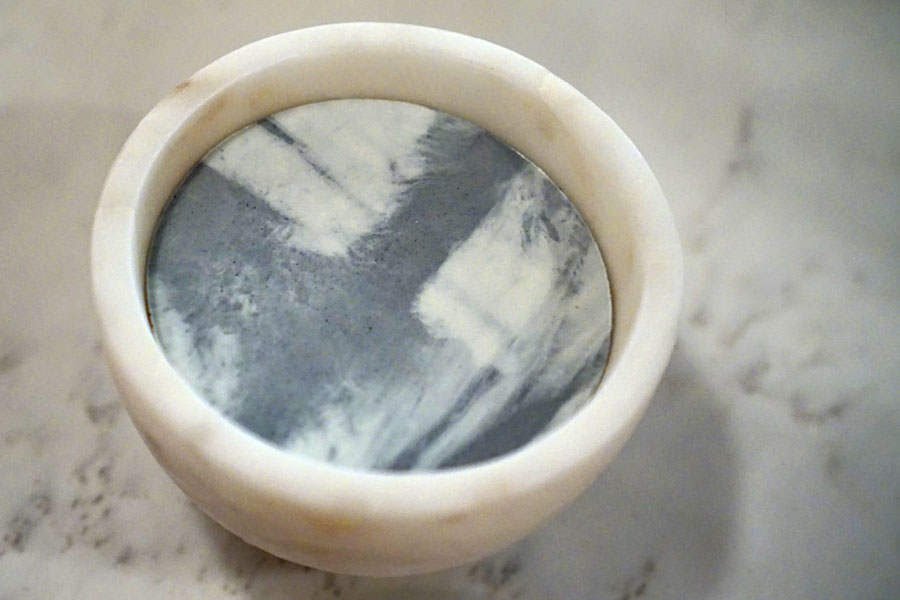 guava, cream cheese, white chocolate [$16.00]
Topped with a white chocolate disk streaked with charcoal (designed to match the restaurant's marble-topped tables), this minimalist-looking dessert featured a frozen guava mousse along with freeze-dried lychee crumbles and whipped cream cheese. The inspiration here was actually the popular Guava & Cheese Strudel from LA's iconic Porto's Bakery & Cafe. I think it did an admirable job mimicking the flavors of the pastry, showing off lovely tart fruit elements in concert with the lushness of cream cheese. Texturally, there was this nutty crunch present that I really appreciated.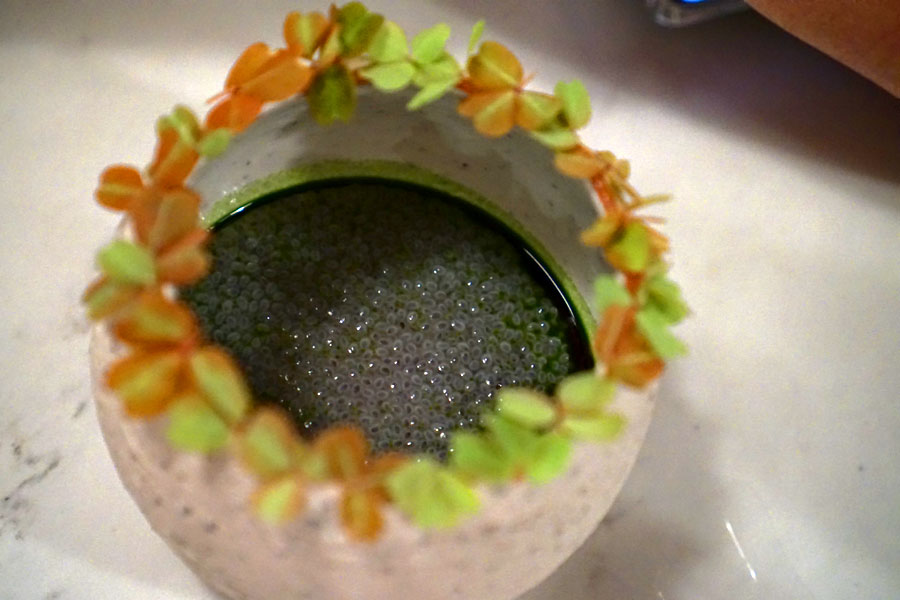 silkened tofu, rhubarb, shiso, basil seed [$18.00]
We ended with the most polarizing dessert of the bunch. This one displayed an intensely herbaceous, somewhat savory flavor profile, with accents in the form of that lemony red sorrel. The tofu worked as a moderating force, but this was certainly on the more contemplative side.
There's been quite a bit of hype surrounding Nightshade, and the restaurant is definitely showing promise at this early stage. There's a lot of smart, inspired cooking going on here, and I have to say that I was quite smitten at how, in many instances, Lin was able to so effectively fold in and integrate a variety of culinary influences. That being said, there were certainly a couple things that missed the mark, and so there's still room to grow. Methinks this is a place that'll just keep getting better and better as the kitchen gains confidence and experience.