Ración (Pasadena, CA)
Racion Restaurant
119 W Green St, Pasadena, CA 91105
626.396.3090
www.racionrestaurant.com
Sun 05/17/2015, 07:30p-10:30p

Up until recently, if one had a craving for tapa-ish food, I'd likely send them to
The Bazaar
,
José Andrés
' modernist homage to the Spanish staple. However, with the advent of Ración, an ostensibly Basque-influenced Spanish slanger situated in Old Town Pasadena, I'm not so sure. Taking its name from
raciones
, which are like larger sized tapas, the restaurant debuted in March 2012 and is the work of Chef Teresa Montaño and GM/Pastry Chef Loretta Peng.
About the Chefs/Owners
: Peng was born in 1979, the daughter of Taiwanese immigrants, and grew up in the tony enclave of San Marino. She attended UCLA, studying Economics and American Lit, and moved to New York in 2002 to start a PhD program in Literature. In 2004 however, she dropped out of the program and, despite having no professional cooking experience, secured a job at David Bouley's eponymous Bouley. Peng stayed there for six months, eventually becoming chef de partie on the fish line, and later worked small stints at a dozen or so other restaurant in the City, including Picholine and Floyd Cardoz's Tabla. The following year, she moved to the front-of-the-house, becoming a server and bartender at SushiSamba, a scene-y Japanese fusion joint.
That position didn't last long, however, and she soon found herself back in Los Angeles looking for a role in restaurant management. Peng landed at bakery-café chain Le Pain Quotidien, and during her tenure there, was able to open three locations and strengthen her management skills. After a quick stay at Susan Feniger and Mary Sue Milliken's Border Grill, she relocated back to NYC in 2008 to start an accelerated MBA program at Columbia Business School. She graduated in 2009, and moved once again to LA, returning to former employer Border Grill. That summer, Peng was put in charge of their mobile catering operation, where she met sous chef Teresa Montaño.
Montaño, for her part, was born in 1982, an Albuquerque, New Mexico native who grew up poor in a family of six kids, all raised by a mother who was rather resourceful in the kitchen (out of necessity). Her childhood was dominated by soccer, and she was quite good at it, good enough to land her a spot at Pepperdine University. She dropped out, however, in the summer of 2004, and, having no prior work experience, landed a gig at Vital Zuman, an organic farm in Malibu that specialized in figs.
The job got Montaño more interested in food, so in 2006, she enrolled at the Art Institute of California's Los Angeles campus. After finishing her degree the following year, she became a grill cook for the team that opened Tender Greens Culver City. Wanting to experience a higher-end restaurant, she moved to Feniger and Milliken's
Ciudad
in Downtown LA. Montaño worked there for a year and a half before being promoted to Kitchen Manager at sister restaurant Border Grill, where she was able to hone her management abilities. At this point, she was asked to run the food program on the Border Grill Truck.
It was June 2009. Montaño and Peng didn't care for each other at first, but after months of spending time together, eventually became friends, and later lovers. The duo moved back to New York in 2010 after Peng got an offer from the Restaurant Opportunities Center, a non-profit focused on bettering conditions for industry workers. Her task was to turn around COLORS, a worker-owned fine dining-ish restaurant, and she quickly recruited her partner to revamp the menu (Montaño had to turn down a gig at
Jean-Georges Vongerichten
's ABC Kitchen as a result). The pair made some positive changes to the place, and even launched the casual COLORS Café at the NYU Wagner School of Public Service, but ended up departing in late 2010.
After moving back to LA once again, they started conceptualizing Racion. The original plan was to open the restaurant inside the Eastern Columbia Building in DTLA's Broadway Theater District (just up the street from
Alma
). They even launched a
failed Kickstarter
in April 2011, but delays in construction eventually forced the couple to sign a lease that November for their current space in Pasadena. With a location locked down, Montaño and Peng debuted Racion in March of 2012.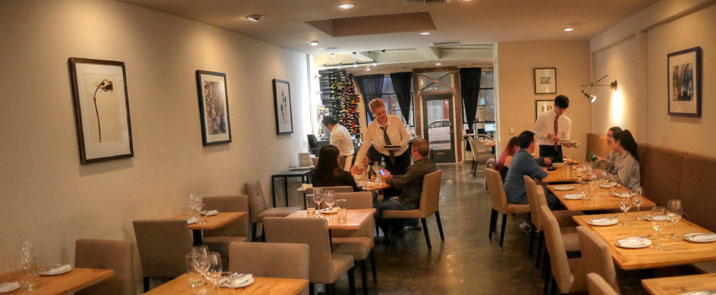 The restaurant occupies the former home of Michelin-starred Northern Italian eatery
Trattoria Tre Venezie
. The previous restaurant's homey, slightly cluttered digs have been transformed into something much more minimal, though still comfortable. The Ana Henton (
Love & Salt
,
Aestus
,
Lukshon
) penned affair seats 55, with an additional six at the bar up front.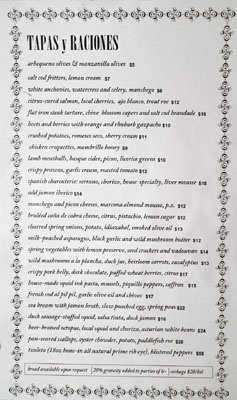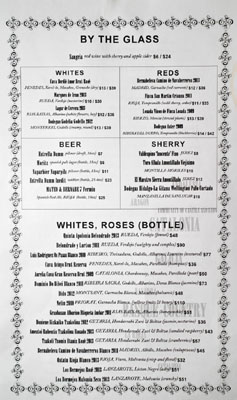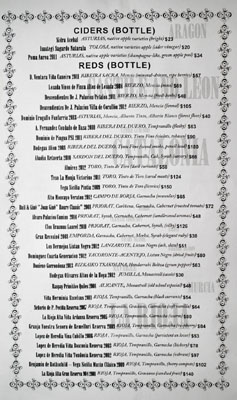 Racion's menu is somewhat lengthy, as they tend to be at tapas joints, and features an array of classic selections along with some of Montaño's more unconventional creations. To drink, you get an all-Spanish wine list, some beers, a smattering of sherry, and a few ciders. Corkage is $20. Click for larger versions.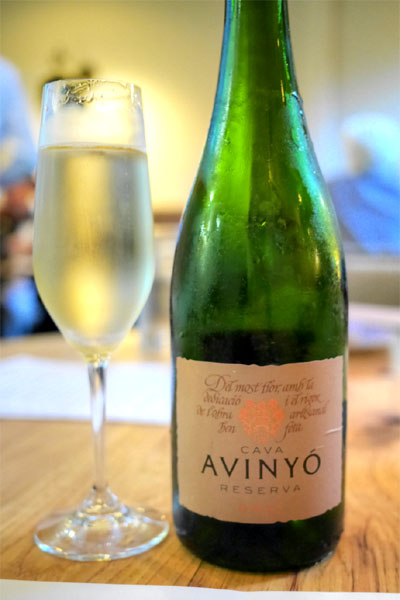 As always, the first wine was something with bubbles, this time the
Cava Avinyo Brut Reserva, Penedes, Xarel-lo, Macabeo, Parellada [$36]
. I found it a crisp, refreshing sparkler, and dry, with some tasty pear and apple notes joined by a pleasant minerality.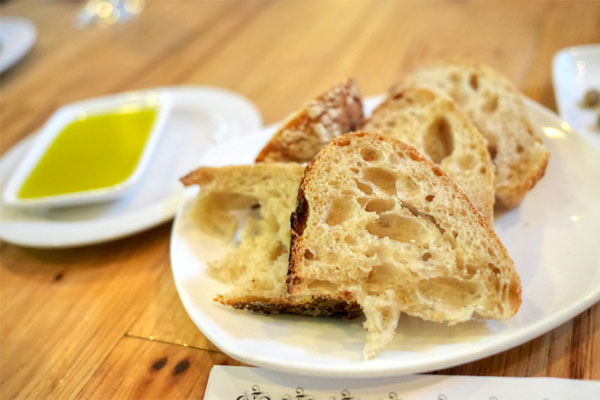 Bread is by request only, and I'm glad we requested it. Nice crustiness and lactic tartness here, with a very good olive oil to boot.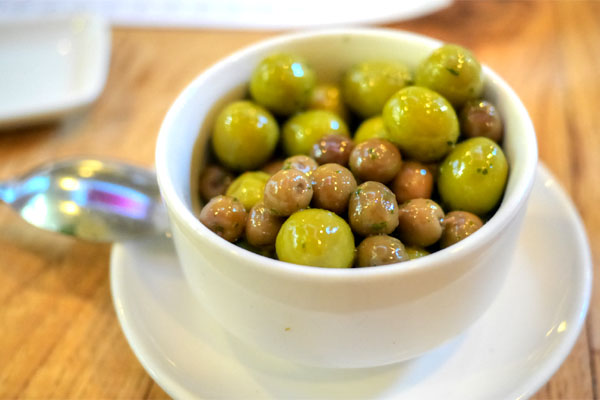 arbequena olives & manzanilla olives [$5.00]
Arbequinas and Manzanillas were classic in their piquancy.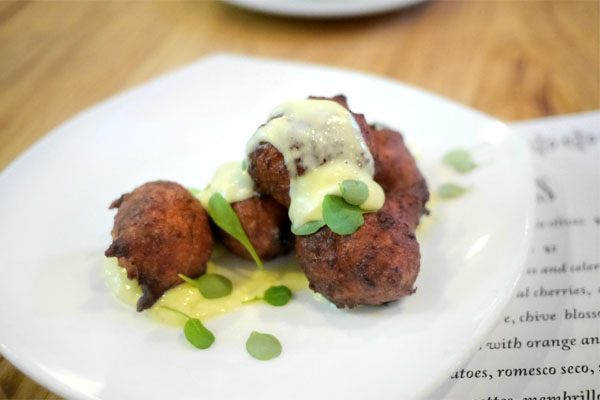 salt cod fritters, lemon cream [$7.00]
Bacalao fritters were more supple than they appeared, almost creamy, with a soft lemon-y quality up front leading to plenty of salt and savor toward the back end. Very nice.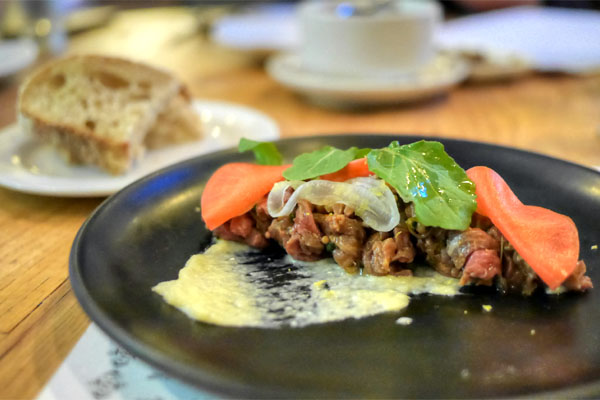 flat iron steak tartare, chive blossom capers and salt cod brandade [$16.00]
The tartar arrived well-textured, with a depth to the steak that was smartly matched with the brightness of its various accompaniments. Great when taken with the included bread.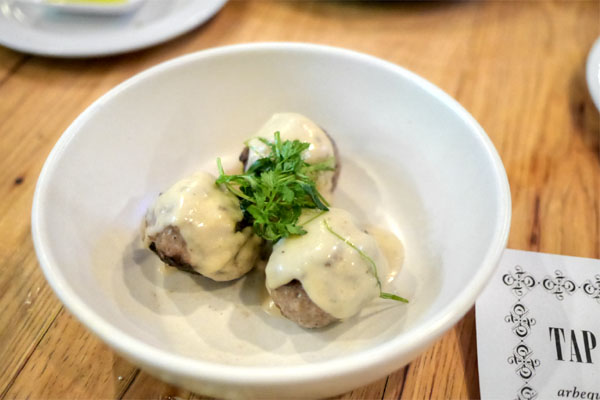 lamb meatballs, basque cider, picon, licorice greens [$10.00]
Albóndigas
were a must, and came out appropriately lamb-y and earthy, with a great char, savor, and a luscious cream sauce that almost recalled Stroganoff. Yum.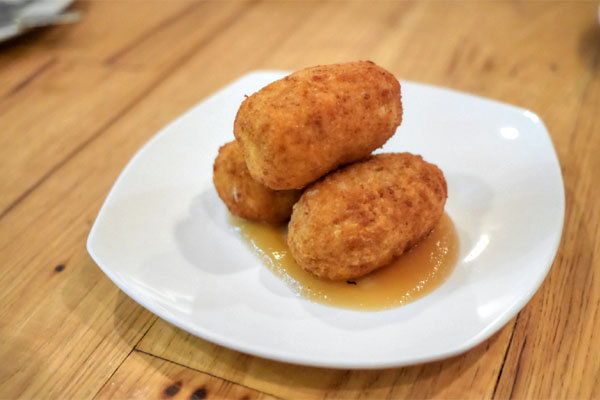 chicken croquettes, membrillo honey [$9.00]
Croquetas
were wonderfully creamy, with the rich, satisfying savor of the bird leading to an intriguing sugariness on the close due to the honey.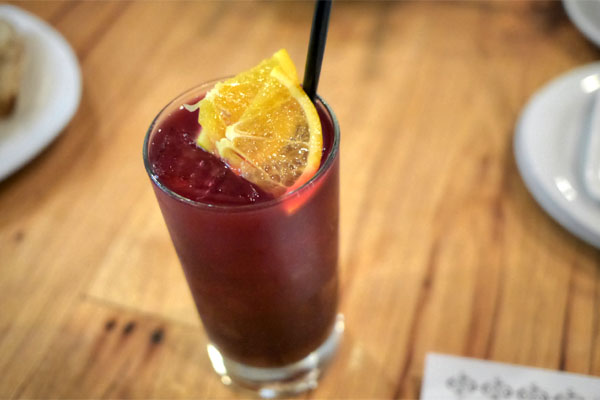 Naturally, we had to try a glass of the
Sangria [$6]
, made here with red wine, sherry, and apple cider. It was a refreshing, easy-drinking preparation, with a sweet spice to it that I was fond of.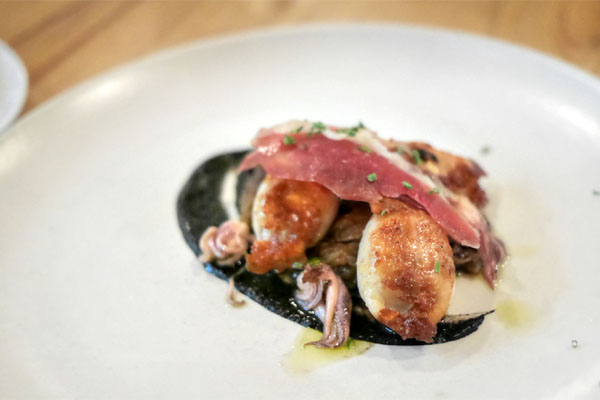 duck sausage-stuffed squid, salsa tinta, duck jamon [$16.00]
Next was a marriage of two of my favorite things. I loved the savory, herby, undeniably gratifying sausage just by itself, but it was definitely taken up a notch by the snappy, springy squid here and the salt of that ham. This is one you probably want to get.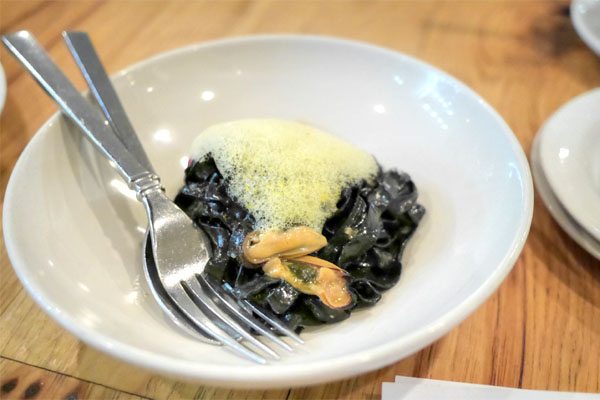 house-made squid ink pasta, mussels, piquillo peppers, saffron [$15.00]
Properly-textured noodles were imbued with a subtle brine, augmented by the salinity of the mussels while piquillo and saffron offered up a fitting counterpoint.
beer-braised octopus, local squid and chorizo, asturian white beans [$24.00]
Octopus was a winner as well, crispy and charred on the outside, yet still tender, its delicate savor amped up by the spicy chorizo while the beans did a great job moderating the dish.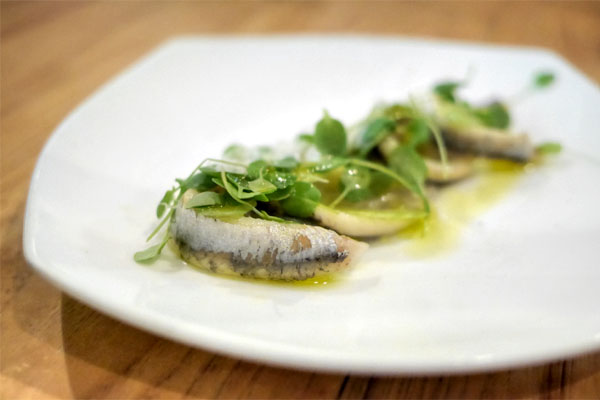 white anchovies, watercress and celery, manchego [$6.00]
Anchovies were a pleasant surprise, fishy and firm examples beautifully balanced by the zip of the watercress and celery in particular. Nice bit of salt from the Manchego, too.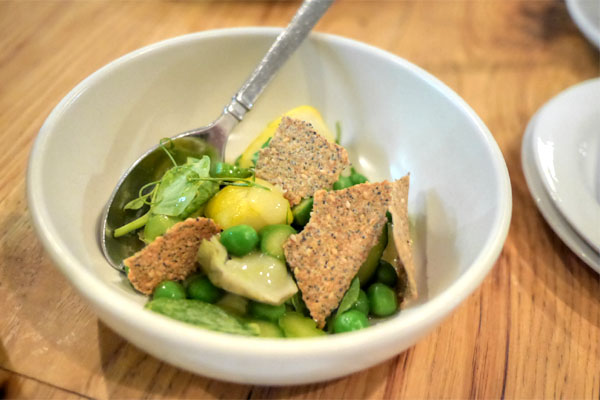 spring vegetables with lemon preserve, seed crackers and vadouvan [$14.00]
Veggies were delightfully light and bright, giving up some great textures and fresh flavors that evened out the crunchy, strongly-spiced chips.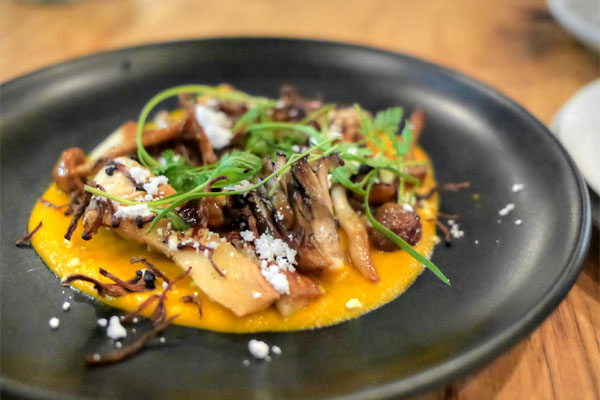 wild mushrooms a la plancha, duck jus, heirloom carrots, eucalyptus [$13.00]
Mushrooms were earthy and satisfying, their dark, woody nuances well-matched to the greenery on the plate. However, the carrot base I found overly sweet, and slightly jarring.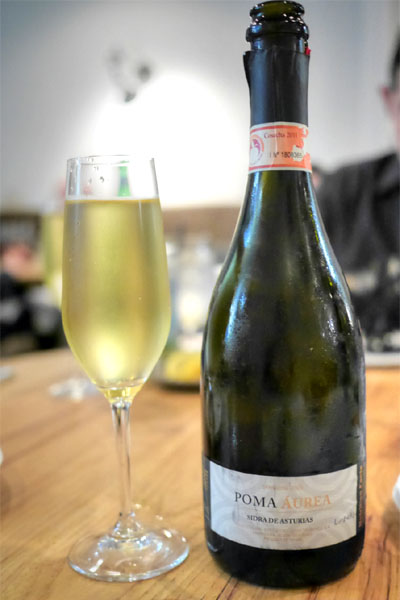 Our next tipple was a
sidra
, specifically a bottle of the
Poma Aurea 2011, Asturias [$34]
. It was a delicious cider, quite bubbly, with a dry, funky, crisp apple quality to it that was just to my liking.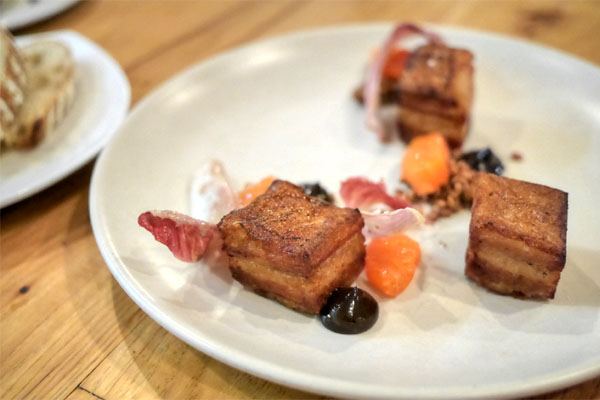 crispy pork belly, dark chocolate, puffed wheat berries, citrus [$17.00]
Cubes of pork belly were wonderfully crispy, yet super fatty, melt-in-your-mouth almost. But at the same time, their heft was cut by the bitterness of the radicchio and dark chocolate, all while the citrus imparted a marked lightness to the dish. Great texture and temper from the wheat berries, too.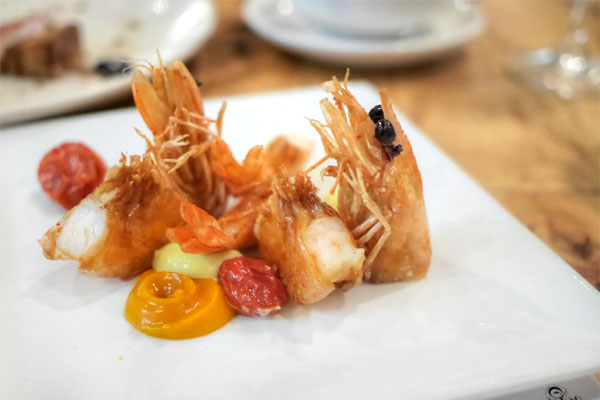 crispy prawns, garlic cream, roasted tomato [$13.00]
Prawns were just crispy enough, imbued with a delicate brine that was complemented, but not dominated by the duo of aioli and tomato.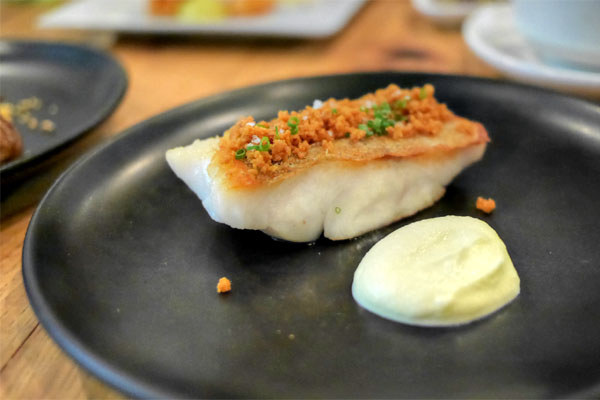 french cod al pil pil, garlic olive oil and chives [$17.00]
Cod came out tender and flaky, its subtle relish well matched to the allioli on the side. However, I wanted to taste more from the actual
pil pil
treatment here.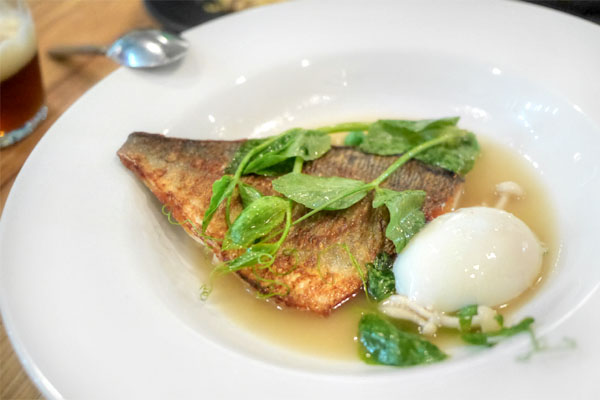 sea bream with jamon broth, slow poached egg, spring peas [$22.00]
Sea bream showed off a delightfully crisp skin, its softly saline flavors taken up a notch by the rich, hammy broth while the runny egg added further luxuriousness to the mix. Lovely brightness from the peas to even it all out as well.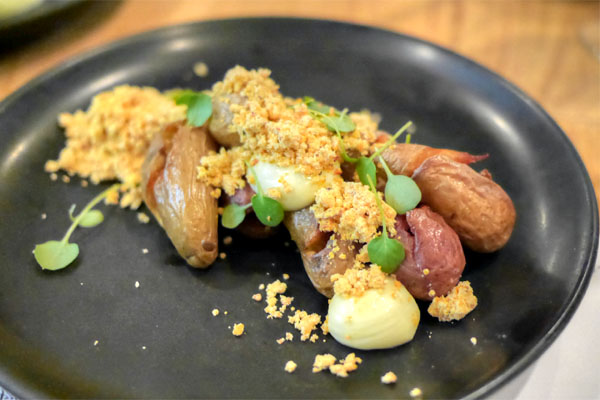 crushed potatoes, romesco seco, sherry cream [$11.00]
In our final savory, potatoes arrived as hearty as I'd hoped for, with a slight saltiness that made perfect sense with the contrasting notes of romesco and sherry cream.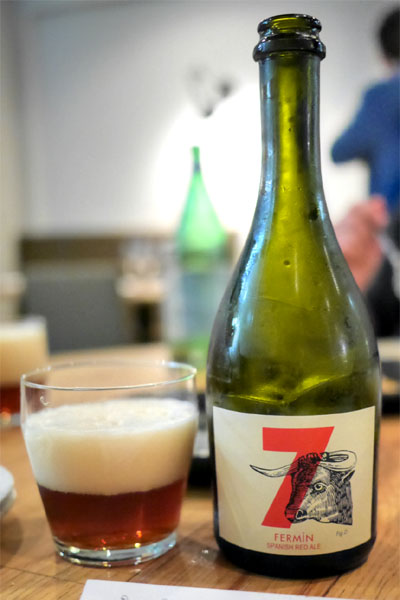 Our last drink of the night was a beer, the
Mateo & Bernabe 7 Fermin, Spanish Red Ale, Rioja [$25]
, certainly the most interesting Spanish
cerveza
I'd ever tasted. On the nose: sweet red fruit and malt, with a not unpleasant metallic tinge. Taste-wise, I found it malty and sweet, with more fruit and a countervailing hoppiness to even things out. Quite delicious overall.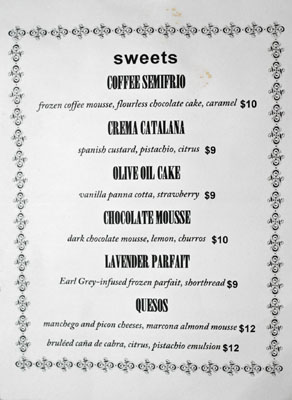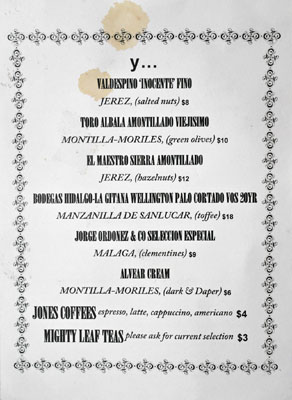 Time for the sweet stuff. Click for larger versions.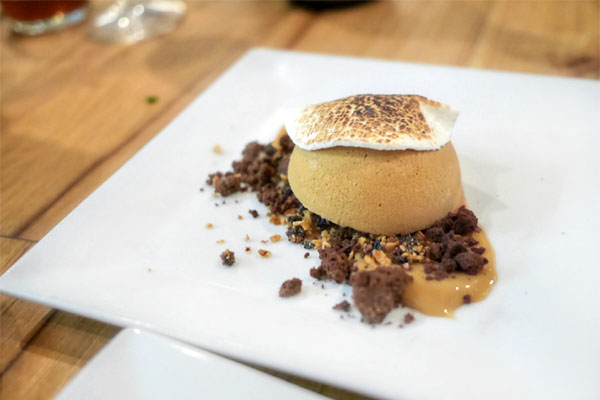 Coffee Semifrio [$10.00]
| frozen coffee mousse, flourless chocolate cake, caramel
We ended up getting all five of the desserts, starting with this take on a semifreddo. Think a balance of chocolate and coffee flavors in multiple textures.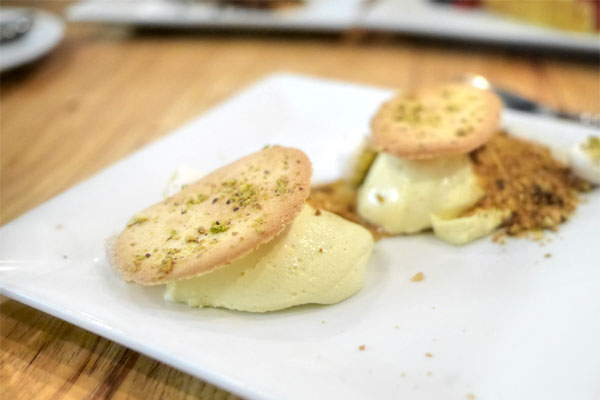 Crema Catalana [$9.00]
| spanish custard, pistachio, citrus
Catalan cream was light and airy, with a nutty, citrusy bent that made sense with the crispy crackers and streusel here.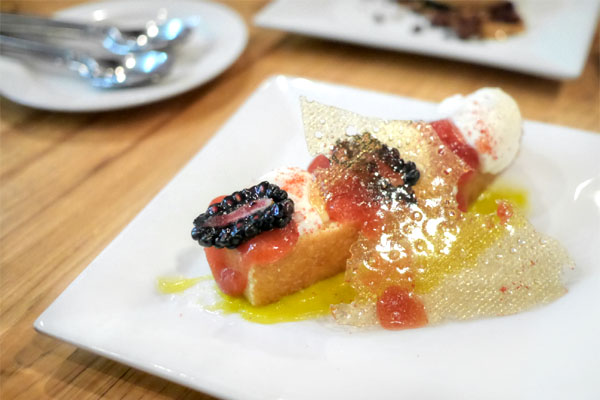 Olive Oil Cake [$9.00]
| vanilla panna cotta, strawberry
The requisite olive oil cake was super moist, and teeming with aromatic notes of vanilla that just called for the countering tartness of the berries.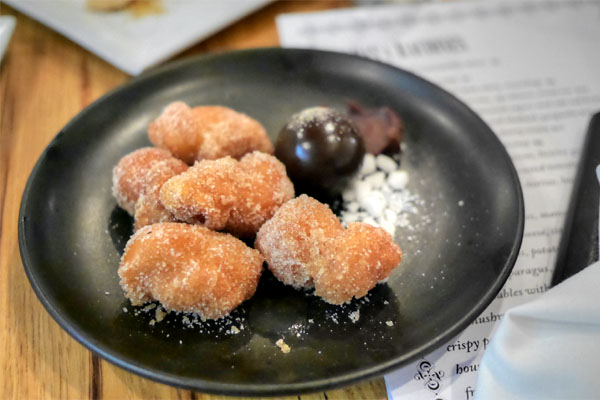 Chocolate Mousse [$10.00]
| dark chocolate mousse, lemon, churros
Churros came out piping hot, creamy, and very enjoyable on their own. The mousse wasn't even necessary.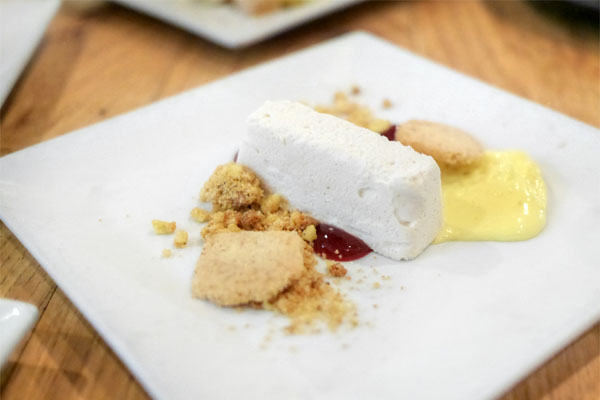 Lavender Parfait [$9.00]
| Earl Grey-infused frozen parfait, shortbread
Arguably my favorite of the quintet, the parfait showed off some delightfully sweet, floral notes that went superbly with the shortbread crumbles.
I'd heard a lot of good things about Racion before even stepping into the restaurant, and I'm happy to report that the place did not disappoint. The cooking here seems to bridge the gap between your pedestrian tapas joints and the temple that is The Bazaar. You get your classics, rendered in high quality, as well as some more intriguing dishes that hint at modern Spanish stylings intermingled with a Californian sensibility. It's an appealing combination to be sure.