Bowery Bungalow (Los Angeles, CA)
Bowery Bungalow
4156 Santa Monica Blvd, Los Angeles, CA 90029
323.663.1500
www.bowerybungalow.com
Tue 04/02/2019, 08:30p-10:35p

I recently had dinner at Silver Lake's Bowery Bungalow, which had been on my "to-eat" list for a few years now. The modern Mideast spot opened in October 2014, and is the work of former real estate investor and serial restaurateur George Abou-Daoud. Though his company
Bowery Street Enterprises
, he's responsible for a slew of LA restaurants, mostly centered in the Hollywood area: Tres Sheik (2018), Common Project (2017-2018), Homeward Ground (2017), Farida (2017-2018), Twin Sliders (2013), Urban Garden (2012-2016), Township Saloon (2011-2014), Rosewood Tavern (2011-2016), GelatoVino (2010-2012), District (2010-2011), The Mercantile (2009-2014), Tamarind Avenue Deli (2008), Mission Cantina (2008), Delancey (2008), and last but not least, The Bowery (2005)--whew, I think I got 'em all.

Bowery Bungalow occupies a cozy Sunset Junction cottage that was previously home to the longstanding Thai eatery Sompun (which opened circa 1982 I believe).

There's a nice patio out back, too.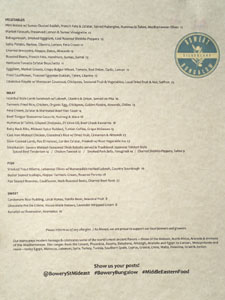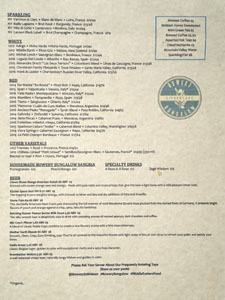 Bowery Bungalow's menu highlights the cuisine of the Middle East and Mediterranean, but with certain liberties taken. Drink-wise, you get a small wine list and an octet of beers. Corkage is $25. Click for larger versions.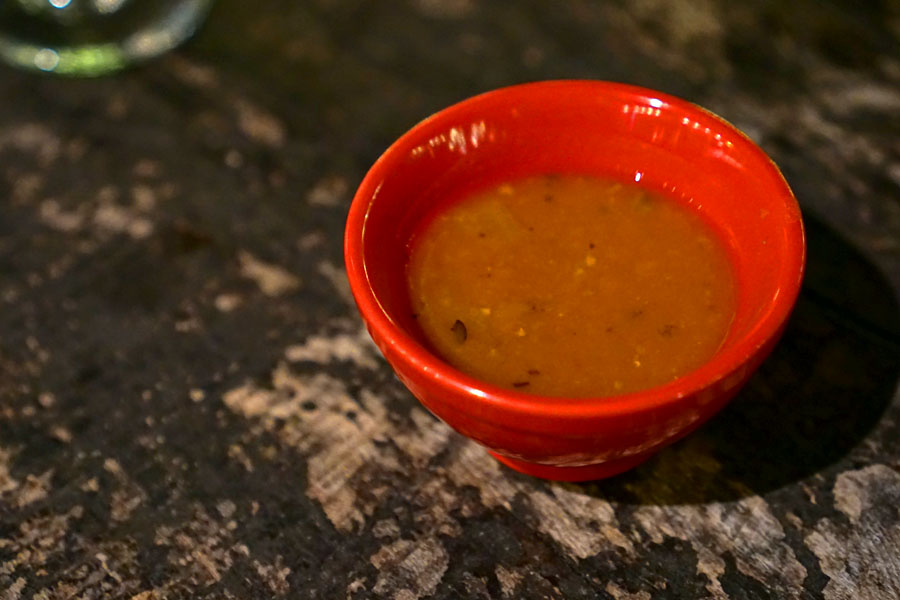 We began with a sort of amuse bouche in the form of a vegan lentil soup. I liked it more than I thought I would thanks to its familiar flavors, smart spicing, and pleasant acidity. Humorously, a fellow diner described it as "watery chili."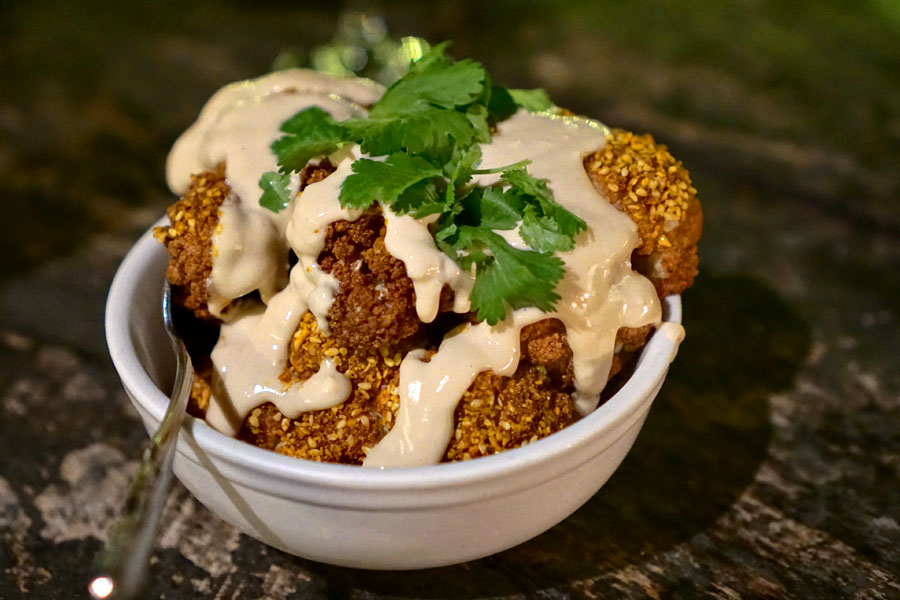 Fried Cauliflower, Toasted Egyptian Dukkah, Tahini, Cilantro [$12.00]
Cauliflower matched splendidly with the spice of
duqqa
, while tahini offered up a creamy, nutty counterpoint. My only quibble was that I wanted a firmer texture, more crunch on the florets.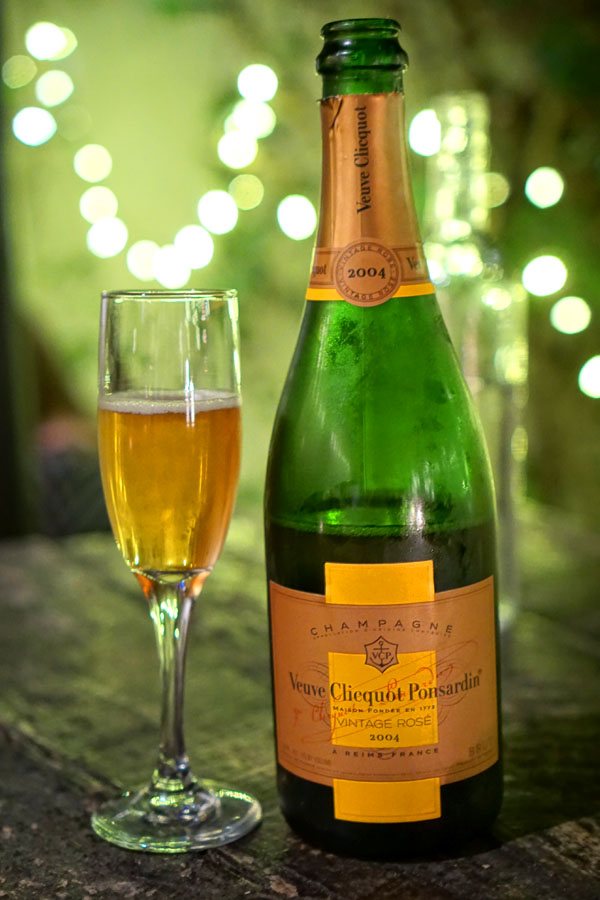 To drink, we had a bottle of the
2004 Veuve Clicquot Ponsardin Champagne Brut Rosé Vintage
. It had an appealing nose filled with strawberry and toast, but with a slight hint of oxidation. Taste-wise, I got more toast and subtle berry at first, joined by a bright acidity and minerals, while the back end showcased more rich, lingering fruit. Nicely matured, though still quite vivacious.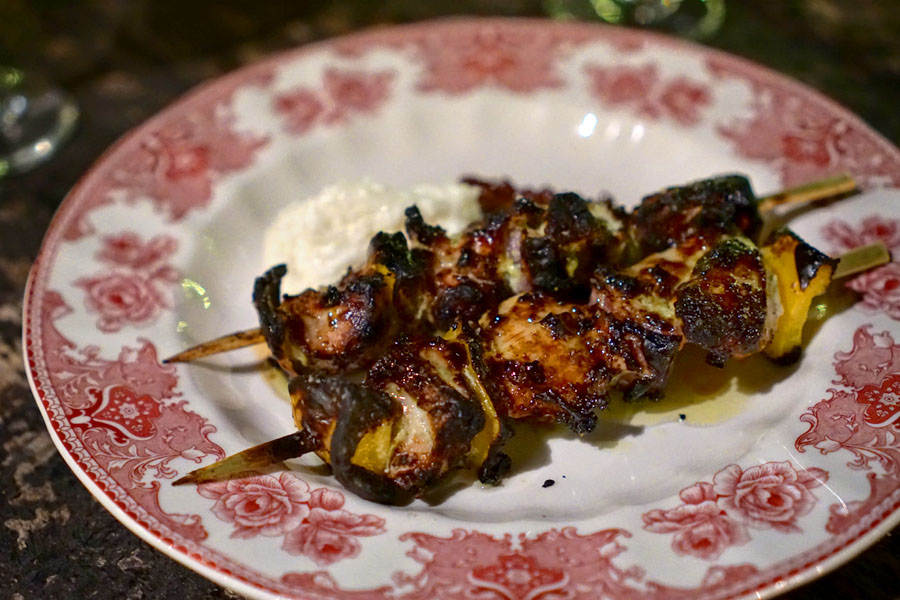 Chicken Tawook Shishkatori [$12.00]
| Savory Mideast-Seasoned Shish Kabobs served in Traditional Japanese Yakitori Style
Skewered chicken was an absolute delight, coming out supple and super juicy, with the perfect amount of seasoning and a healthy dosing of smoke and char. It was delicious alone, but even better with a dab of the included
toum
(garlic condiment). This was my favorite dish of the night, better than most
yakitori
out there, and quite possibly the best chicken kebab I've ever had.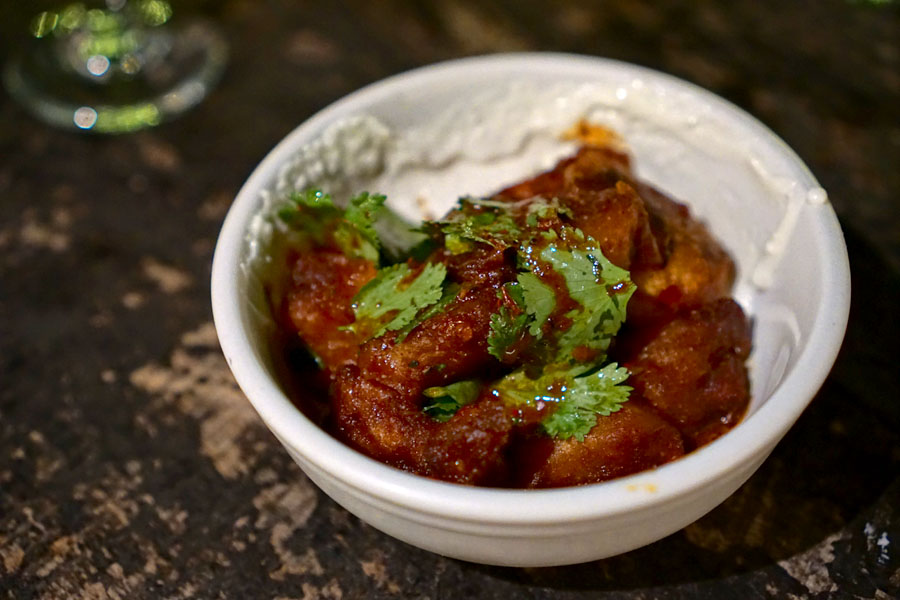 Spicy Potato, Harissa, Cilantro, Lemon, Feta Cream [$12.00]
The restaurant's take on
batata harra
delivered as well. The potatoes were hearty and substantial, with a proper crispness to 'em, while flavors were spicy, sour, and satisfying. I also appreciated the moderating effect provided by the feta, as well as the punch of acidity imparted by the lemon.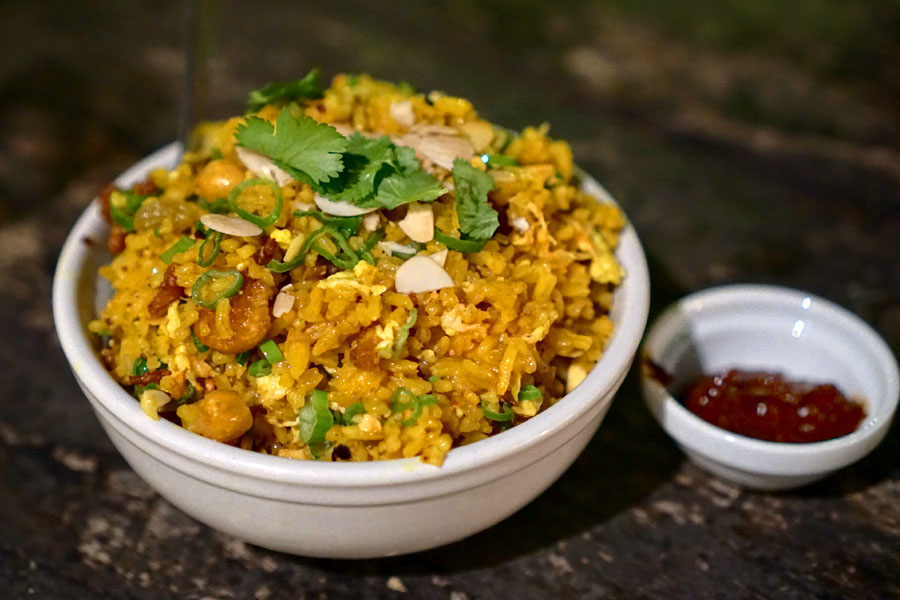 Turmeric Fried Rice, Chicken, Organic Egg, Chickpeas, Golden Raisins, Almonds, Chilies [$13.00]
This next dish was a fun one, and was sort of like a mash-up of Persian
polo
and Chinese
chaofan
. It was a light, delicate preparation, one showcasing nutty, fruity notes and the zestiness of scallion, all while being grounded by a combination of chicken 'n' egg.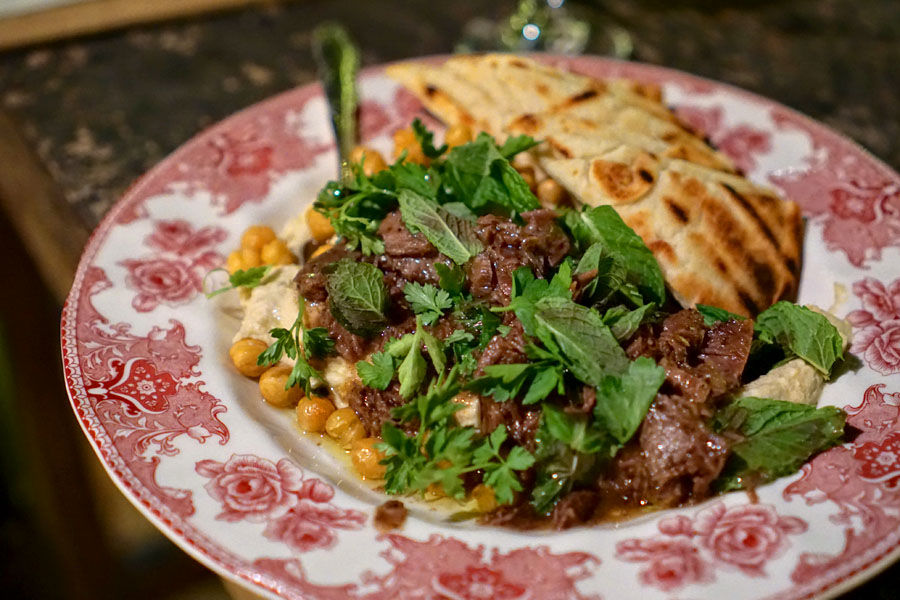 Hummus bi Tahini, Crisped Chickpeas, EV Olive Oil, Beef Cheek Kawarma [$18.00]
Tender, well-spiced cuts of beef cheek showed off a bevy of dark, savory flavors, and married well with the relative mildness of the hummus. The herbs up top added a necessary brightness to the mix, and I appreciated the textural contribution from those crunchy garbanzos. Make sure to eat this with the provided pita.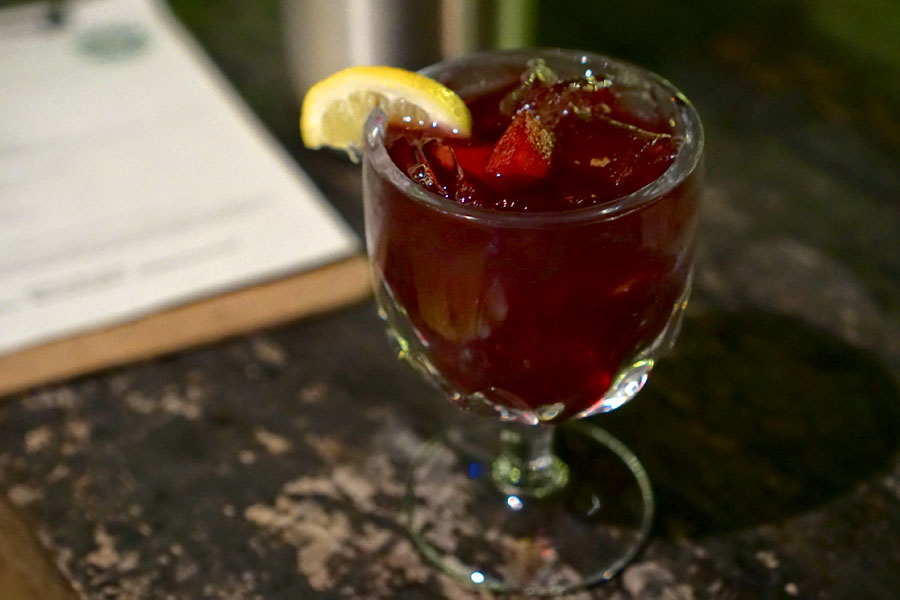 With the wine all drunk up, we sampled the
Pomegranate Sangria [$10]
, which definitely highlighted the tart, dry, astringent character you get from the fruit.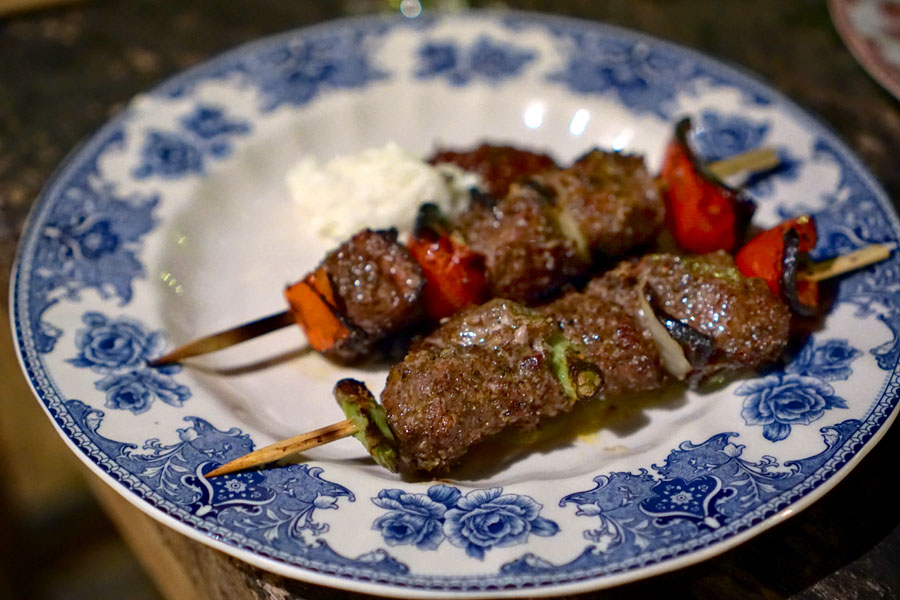 Spiced Beef Tenderloin Shishkatori [$14.00]
| Savory Mideast-Seasoned Shish Kabobs served in Traditional Japanese Yakitori Style
Although the beef kebab wasn't quite as revelatory as the chicken variant above, it was still thoroughly enjoyable. I found the meat surprisingly tender and expertly seasoned, with a good amount of smoke and a nice herbiness on the back end.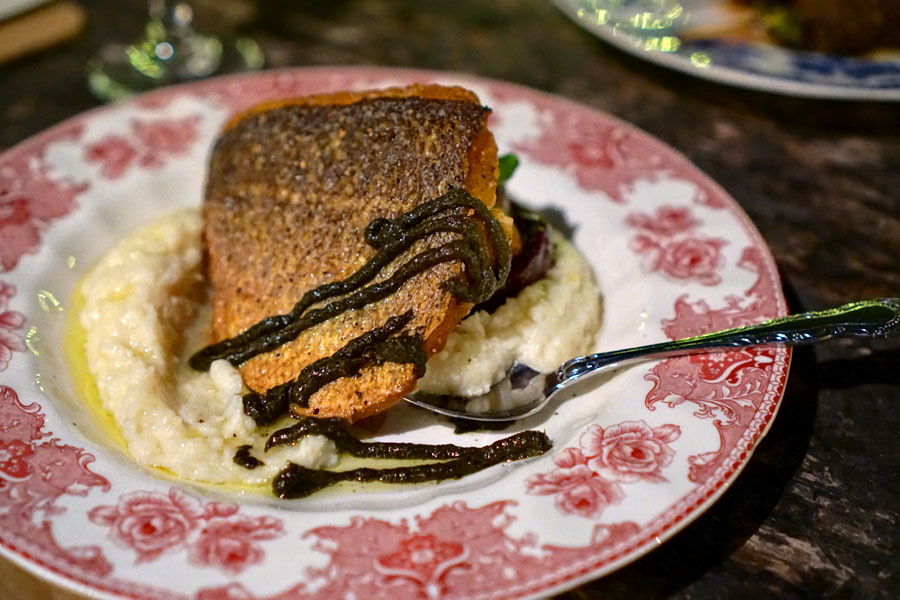 Pan Seared Branzino, Cauliflower, Herb-Roasted Beets, Charred Beet Root [$27.00]
Branzino conveyed a refined brine, while its crispy skin was a joy to eat. Cauliflower worked as an effective contrast to the fish, but I really didn't need (or want) the beets here.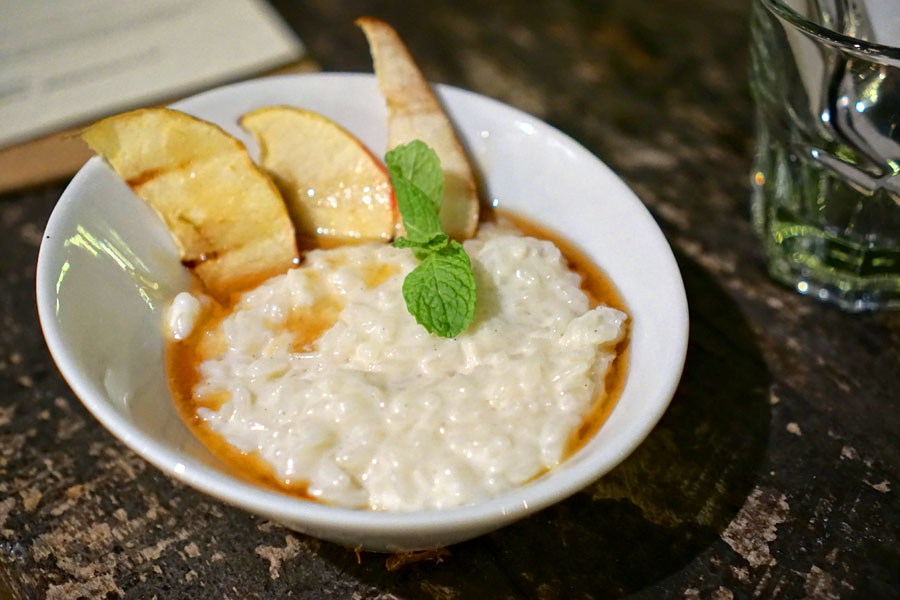 Cardamom Rice Pudding, Local Honey, Vanilla Bean, Seasonal Fruit [$8.00]
The rice pudding met expectations, and had this pervasive, warming spice that linked up well with the sweetness of the honey.
I had a surprisingly strong meal at Bowery Bungalow, and I'm really glad I finally made it out. The cooking is definitely grounded in the Levant, but it's not strictly traditional, which is key. You get dishes that are clearly Middle Eastern-inspired, but which you probably would never encounter in the actual Mideast, and that's not a bad thing in this case. This place seems like the most personal of Abou-Daoud's restaurants, and I'm hoping it'll stick around longer than most of his other projects.