Guerrilla Tacos (Los Angeles, CA)
Guerrilla Tacos
2000 E 7th St, Los Angeles, CA 90021
213.375.3300
www.guerrillatacos.com
Fri 03/22/2019, 07:55p-11:05p

The last time I reported on
Guerrilla Tacos
, it was late 2014, and Chef/Owner Wesley Avila still has his truck parked outside of the now-shuttered Blacktop Coffee. Much has happened since then. By 2015, the truck had become so popular that Avila had to find a partner to handle the operations side of things. Said partner came in the form of Brittney Valles (not to be confused with
Brittany
Valles, former CdC at
ink
), an alumna of Sprout Group and Blue Bottle.
On August 19th, 2016, the evening of Guerrilla Tacos' four-year anniversary party, it was announced that the roving restaurant would be finding a permanent home in the Arts District. The next February, Avila was deemed a "Best Chef: West" Semifinalist by James Beard, while in July it was revealed that GT would be taking over the former home of La Reyna on 7th Street (though some reports stated that it'd be part of the new
Arrive
DTLA hotel, which never materialized). October 2017, meanwhile, saw the release of Avila's cookbook,
Guerrilla Tacos: Recipes from the Streets of L.A.
from Ten Speed Press. The Guerrilla Tacos truck stopped serving for good on July 19th, 2018, and the long-awaited restaurant grand-opened a week later.


Guerrilla Tacos takes over the old La Reyna Deli Restaurant, across the street from
Everson Royce Bar
. The space was redone by local firm
Do Good Work Corp
, and sports a lively aesthetic that pays homage to LA street art. In a corner booth, do also note the stencil of Jonathan Gold, who actually passed away just days before the restaurant opened.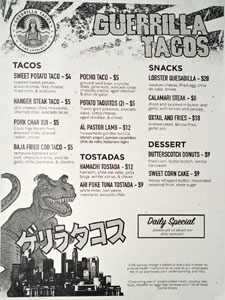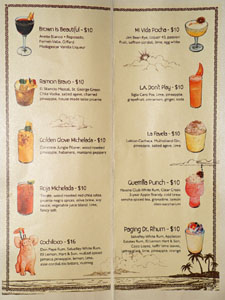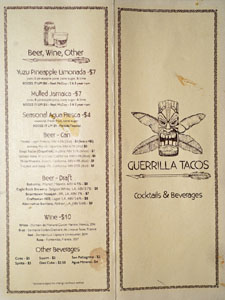 As expected, the menu is anchored by a selection of Avila's Los Angeles-inspired tacos, but you'll also find a number of accompanying dishes as well as daily specials. Delivery is even available via Caviar, somewhat surprisingly. To drink, you get a selection of beer and a smattering of wine, but much more interesting is the cocktail list, which is tiki-leaning, reasonably-priced, and the work of Boyle Heights'
Va'La Hospitality
(i.e. Aaron Melendrez, Damian Diaz, Othón Nolasco). Click for larger versions.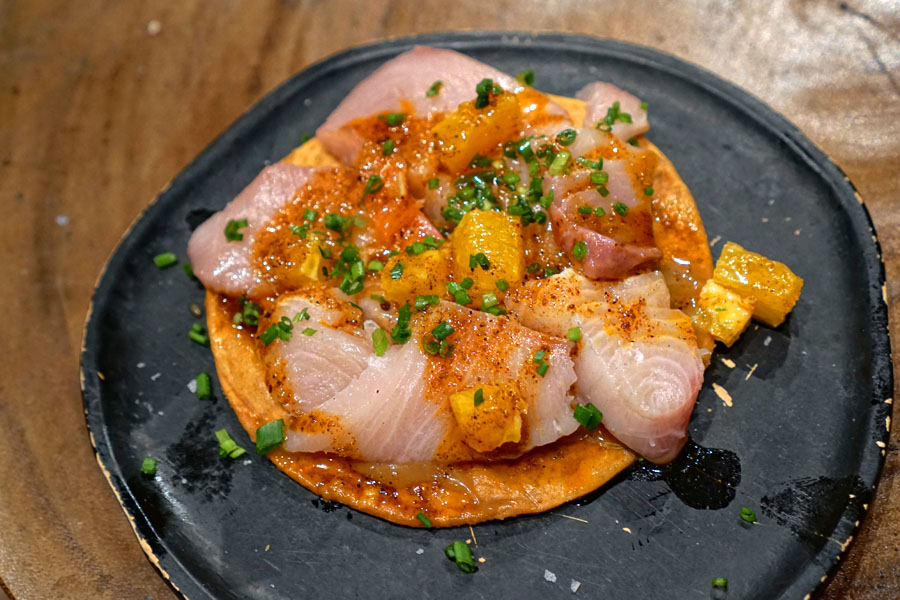 Hamachi Tostada [$12.00]
| hamachi, chile del valle, salsa bruja, winter citrus, & chives
The meal got off to a good start with this tostada. Cuts of yellowtail were meaty and just the right amount of fatty, and paired well with the savory, multifaceted, vaguely Asian flavors of the accompanying "witch sauce." The citrus, meanwhile, offered up a tartness that really lifted the dish.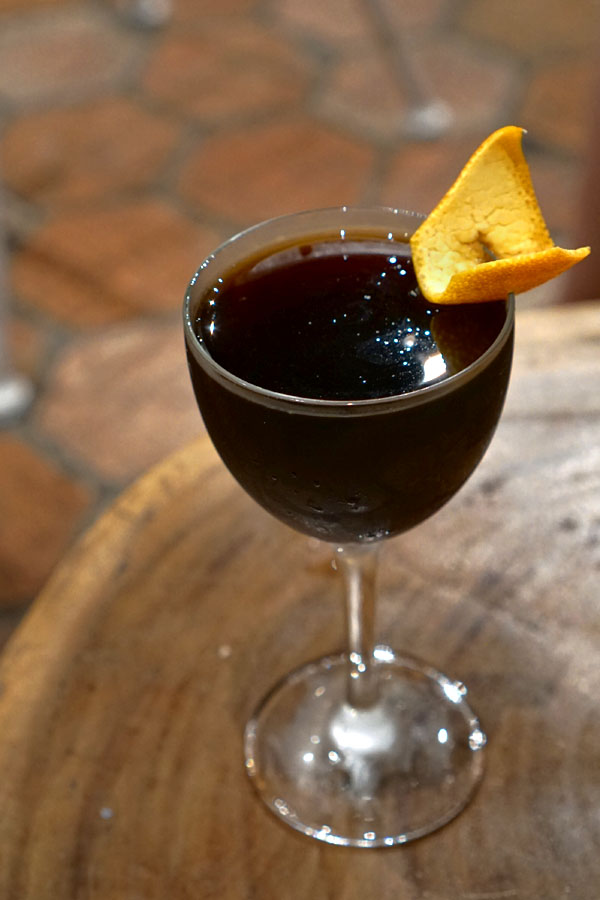 Brown is Beautiful [$10.00]
| Arette Blanco + Reposado, Fernet-Valle, Giffard Madagascar Vanilla Liqueur
Our first cocktail showed off a bittersweet nose filled with notes of cocoa and coffee. Taste-wise, I got more coffee, more bittersweetness, along with notes of mint, dark fruit, and sweet, enveloping vanilla.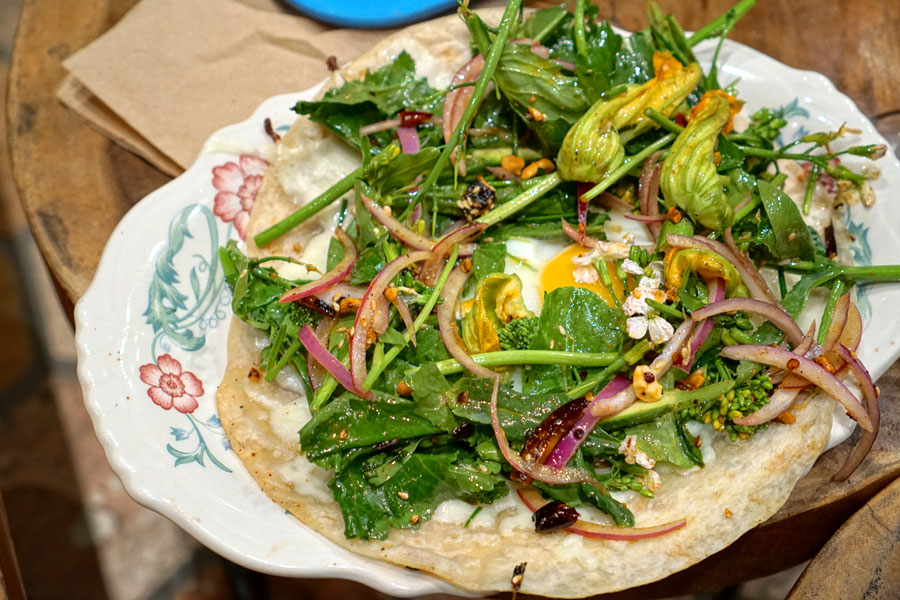 Farmer's Market Quesadilla [$17.00]
| Oaxaca cheese, arugula, squash blossoms, zucchini flowers, sherry vinegar, fried egg, sesame
A special tonight was this untraditional, open-faced quesadilla. I got loads of bright, bitter, acidic flavors, all bound together by the creaminess of that cheese and runny egg. I quite liked the nuttiness and texture from the sesame here, too.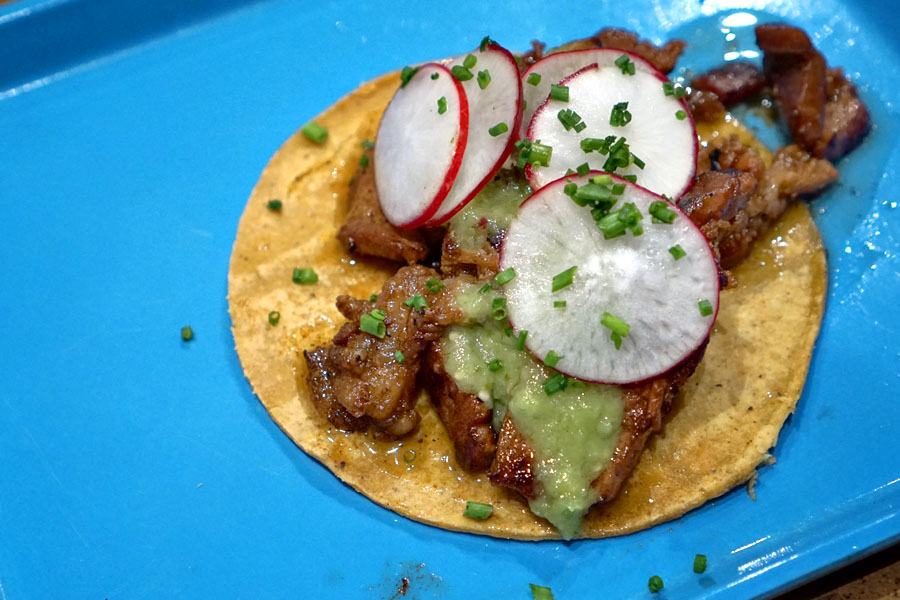 Pork Char Xui [$5.00]
| Cook Pigs Ranch Pork, avocado chile, shaved radish, chives
The pork here wasn't what I was expecting when it comes to
char siu
, which was a bit unfortunate as a I think a more traditional preparation would've worked better. The meat had this definite porcine funk to it, along with a combination of sweet and savory and a much needed punch of acidity from the avocado salsa. I didn't mind the lightness and crunch provided by the radish, either.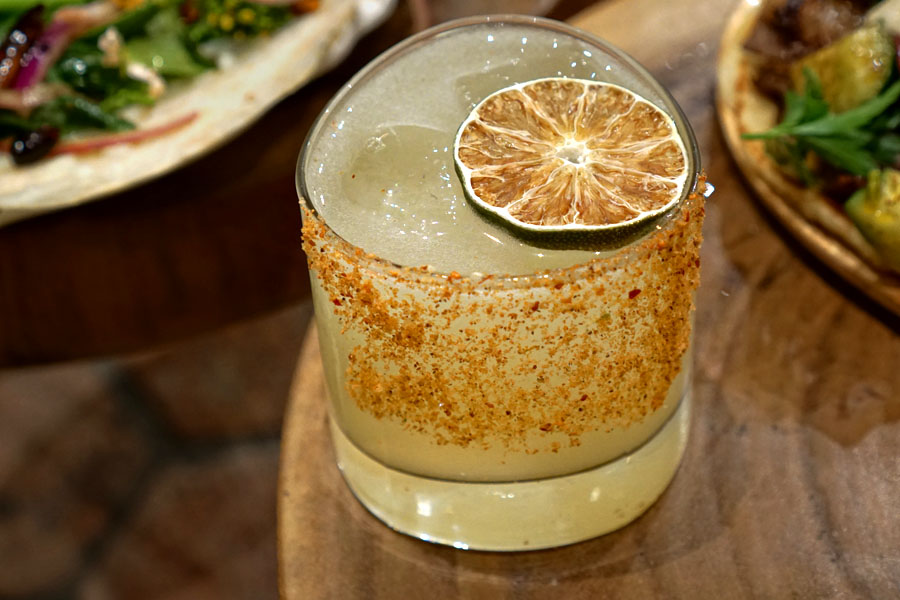 House Margarita [$10.00]
Here we had a commendable rendition of the classic cocktail. I found it really well balanced, and I appreciated how the actual tequila was so front and center.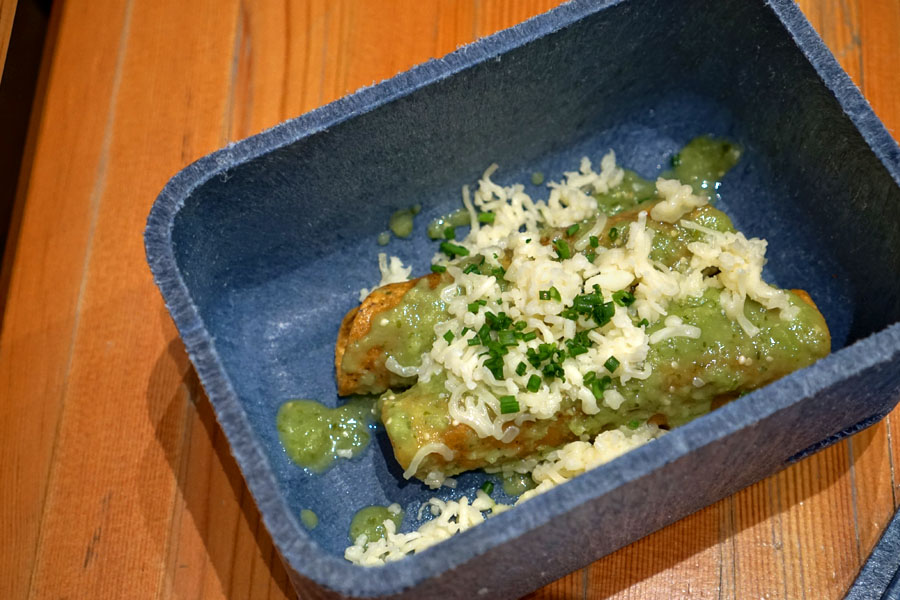 Potato Taquitos (2) [$5.00]
| Yukon gold potatoes, avocado salsa, cotija cheese, aged cheddar, & chives
Guerrilla's take on
flautas
was a standout for me, and one of the better versions of the dish I've had. The filling of potato was just super satisfying, and matched up like clockwork with the crispness of those tortilla shells. I was a big fan of the brightness and acidity of the salsa up top, while the cheese added a certain coziness to it all.
Cochiloco [$16.00]
| Don Papa Rum, SelvaRey White Rum, 151 Lemon Hart & Son, mulled spiced jamaica, pineapple, lemon, lime, aloe cordial, tiki bitters, nutmeg
This Zombie-like cocktail certainly utilized one of the more unconventional vessels I've seen. It sported loads of tropical fruit flavors, as well as a healthy dose of sweet spice and a surprisingly complex finish. The booze, unsurprisingly, was well hidden.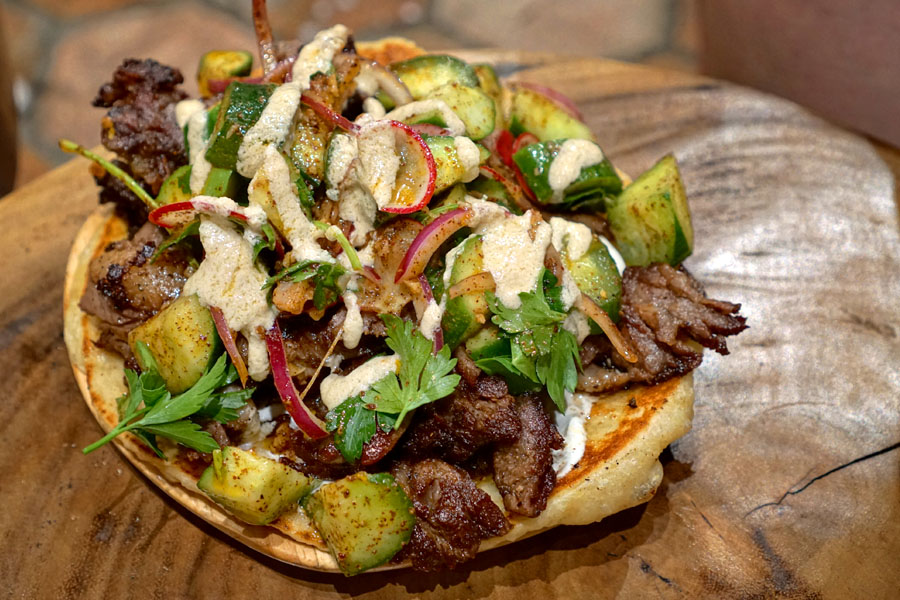 Lamb Taco [$12.00]
| gordita, lamb shoulder, labneh, jalapeño tahini, cucumber, onion, sumac
Another special for the night, next was a Middle Eastern-inspired dish that stretched the definition of a "taco." It did a great job showcasing the richness and earthiness of lamb, paired with bountiful amounts of char and smoke. The yogurt-tahini contributed a creaminess that helped bind everything together, and I was a fan of the crunch of those cucumbers as well. My concern here was that the meat could've been juicier, suppler.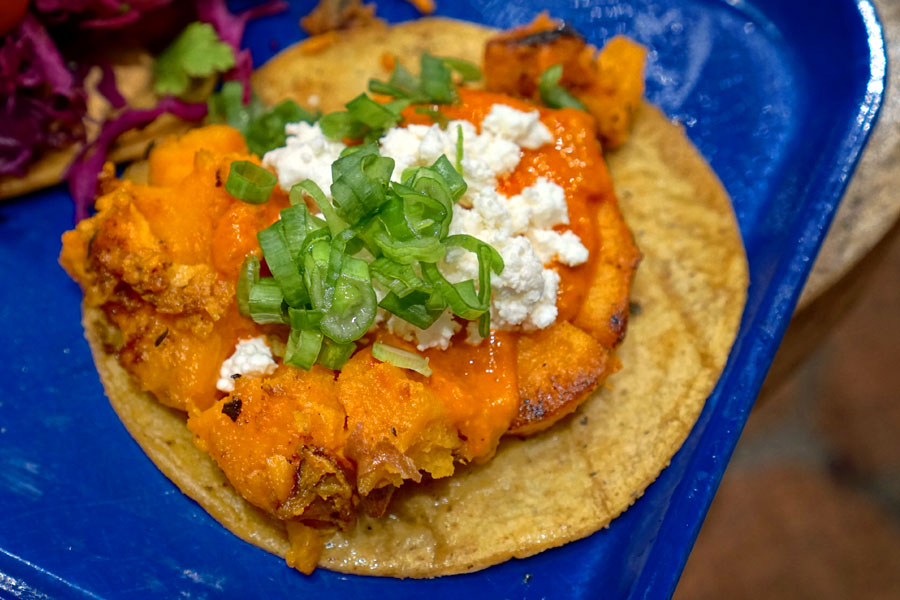 Sweet Potato Taco [$4.00]
| roasted sweet potato, almond chile, feta cheese, fried corn, & scallions
Next was the taco that apparently helped put Guerrilla Tacos on the map. The key for me was how the sugar content of the sweet potato was tempered. I think the feta did a nice job evening out that sweetness, and even more important was the zestiness provided by the scallions, of which I could've actually used more.
Paging Dr. Rhum [$10.00]
| SelvaRey White Rum, Appleton Estates Rum, 151 Lemon Hart & Son, Coco Lopez, kaffir lime leaves, lemongrass, lime, pineapple, orange
This cocktail was on the soft, smooth, floral, fruity side, with a good amount of coconut in there and a counterbalancing pungency from the lemongrass.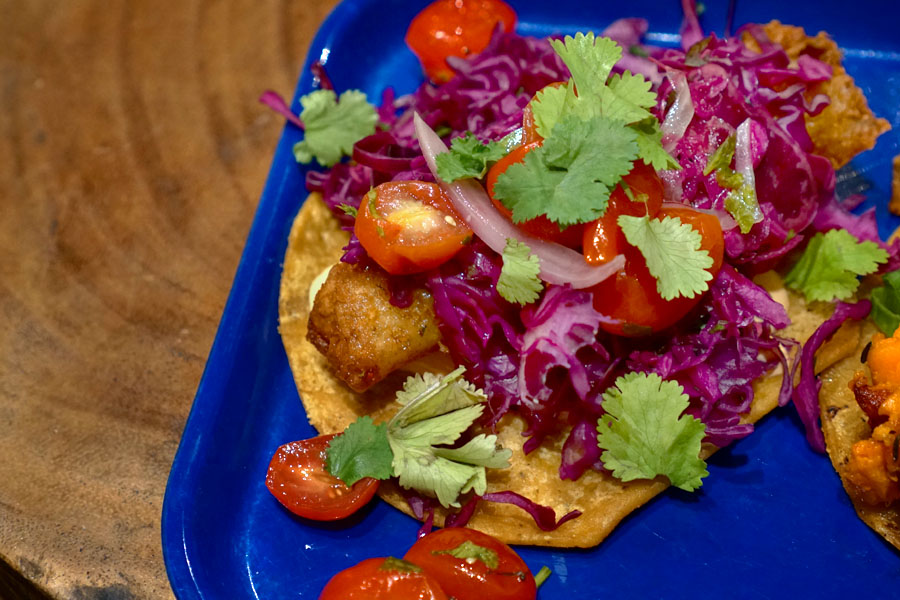 Baja Fried Cod Taco [$5.00]
| tempura-battered wild cod, chipotle crema, pico de gallo, chile Japonese, & cilantro
Guerrilla's version of your classic fish taco didn't deviate too much from the norm, which isn't necessarily a bad thing. The fish itself I found well textured, and I enjoyed how that chipotle-laced crema really tied together the various parts of the dish, especially the bitterness from the red cabbage.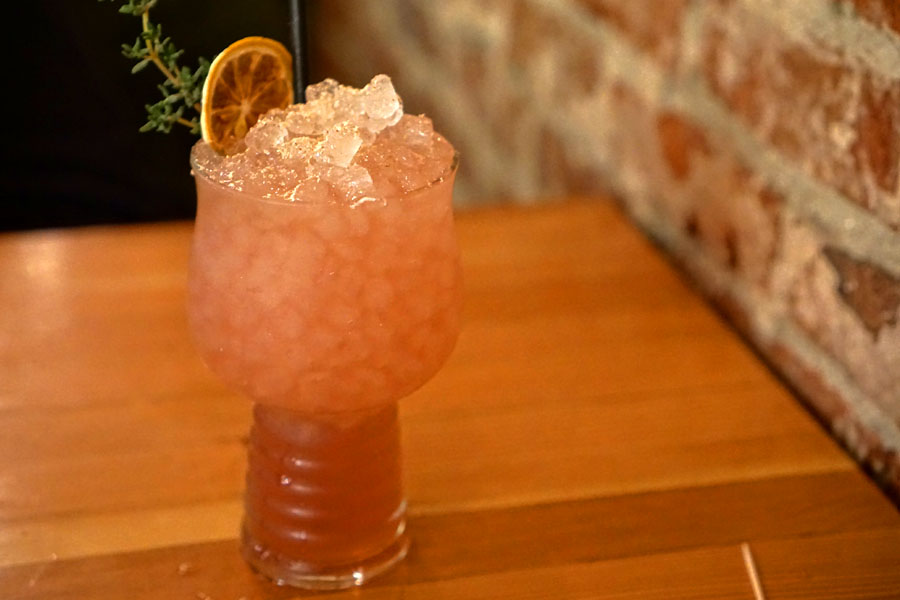 Guerrilla Punch [$10.00]
| Havana Club White Rum, Clear Creek 2-year Apple Brandy, cold brew sencha spiced tea, grenadine, lemon oleo-saccharum
Our final cocktail was to my liking as well. I actually got a good amount of heat up front, mixed with the fruitiness of grenadine, while spice and tea notes came in later, joined again by more fruit. A nice back-and-forth here.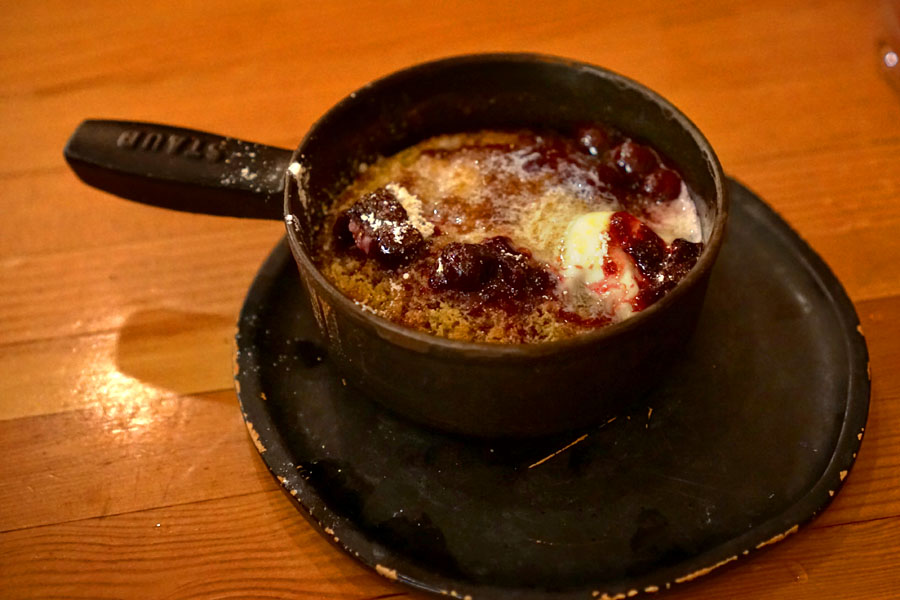 Sweet Corn Cake [$9.00]
| honey whipped butter, macerated seasonal fruit, elote sugar
We ended with the
pan de elote
, which I'd liken to a more intense version of cornbread, one that definitely emphasized the familiar sweetness of corn. The inclusion of fruit made for a smart, tart accompaniment, and I liked the crispy bits in there for contrast.
Guerrilla Tacos isn't "authentic" in the traditional sense, but it was never meant to be. The point here is that the place is authentically
LA
. Despite its name, this doesn't really seem like a
taqueria
, but instead a spot that happens to present a wide ranging array of flavors in a tortilla-based format. Avila's efforts here mostly work, and the restaurant seems like a worthwhile evolution of the Chef's former truck. I wouldn't mind trying more of the menu.