Yamaya Japanese Wagyu & Grill (Torrance, CA)
Yamaya Japanese Wagyu & Grill
2529 Pacific Coast Hwy, Torrance, CA 90505
310.257.1800
www.hakatayamaya.com
Sun 04/28/2019, 08:25p-10:15p

I'm quite the fan of
yakiniku
, and Yamaya was pretty much the last place I needed to check off my list for the South Bay. The restaurant opened at the start of 2010 as Hakata Yamaya, and was more of a wide-ranging, izakaya-style spot. However, the place was renovated, reconceptualized, and renamed in the middle of 2017, and the result was a more focused restaurant with much higher quality meat. Note that this place is associated with
Yamaya USA, Inc
, a meat and seafood wholesaler.

Yamaya is located in the Rolling Hills Plaza strip mall, at an address that was previously home to Sansui-Tei (which was actually run by the same owner as Yamaya), Furasato, and Bangkok Avenue. The interior's about what you expect.





Unsurprisingly, the menu is focused on beef in various forms and formats, though there's also an array of accompanying dishes as well as
nabe
. Note that genuine Japanese wagyu (usually from Miyazaki Prefecture, but sometimes Kagoshima or Kumamoto) is offered, which is a nice touch and what we went for this evening (in the form of the "Japanese Wagyu Set"). Click for larger versions.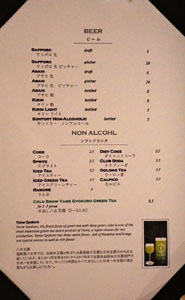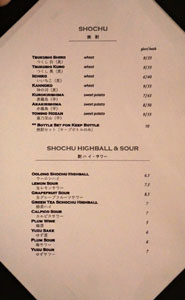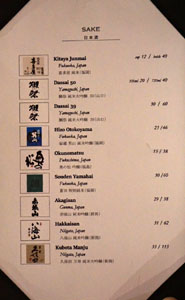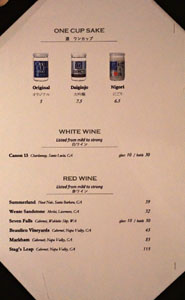 In terms of beverages, you get your usual Japanese beers, shochu, sake, and a brief wine list. Corkage is $20 a pop. Click for larger versions.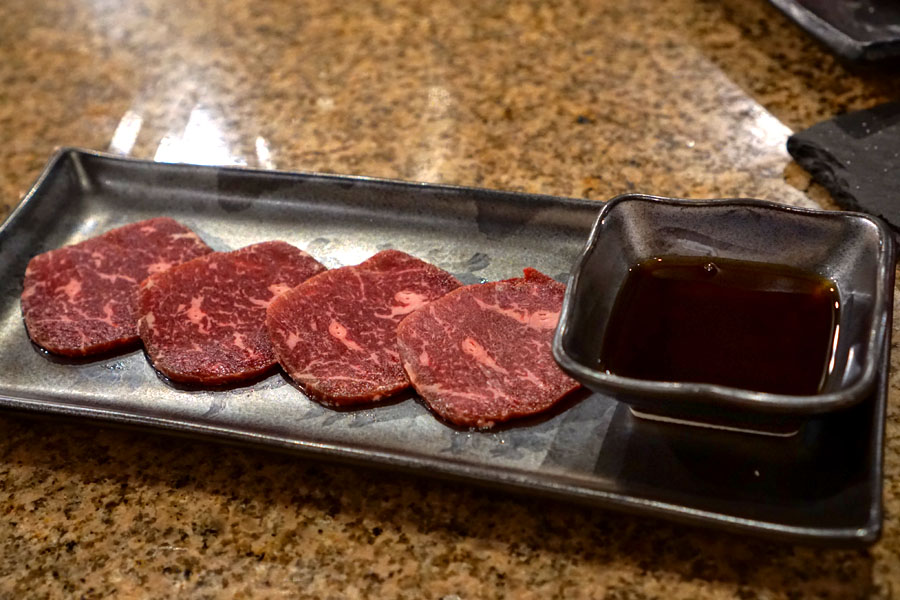 Washugyu Sashimi with Smoked Shoyu [$12.00]
We began with a complimentary serving of Tajima wagyu-Black Angus hybrid sashimi, sourced from Yamaya's own farm in Oregon (Lindsay Ranch). Taken alone, the meat ate clean and mild, with a chewy consistency. The key, though, was to make use of the included soy sauce, which had a wonderful smoky character to it that paired superbly with the beef. I found this particularly good with the wine below, as it tended to soften the Shafer.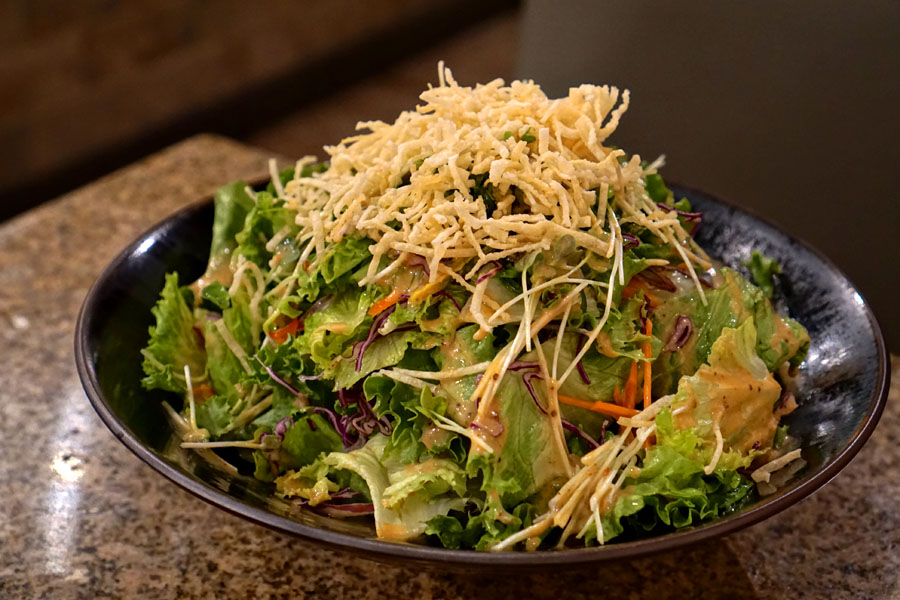 Yamaya Original Salad [$9.00]
The salad served as a welcomed respite from all the meat we were having. I especially appreciated the use of
wakame
here, as well as all the crispy fried bits on top.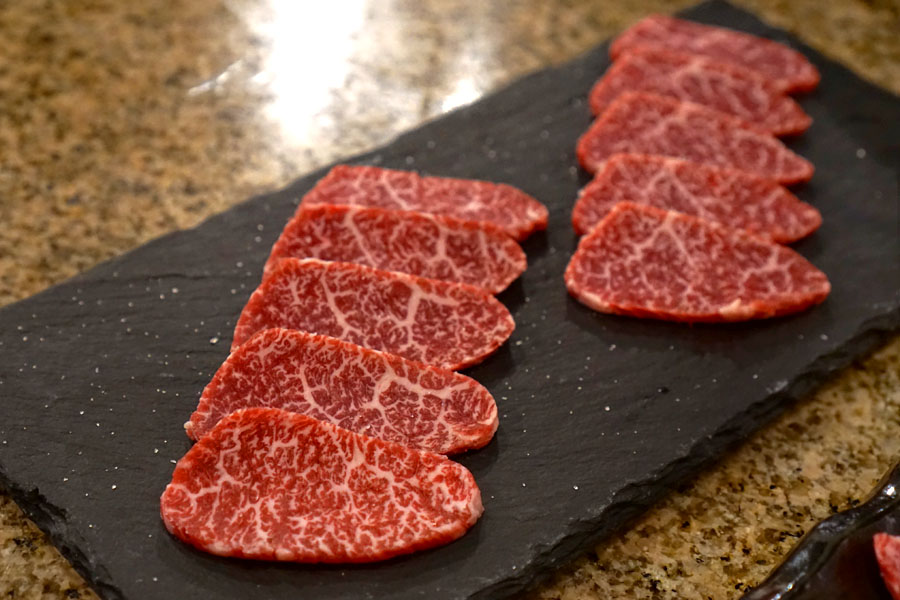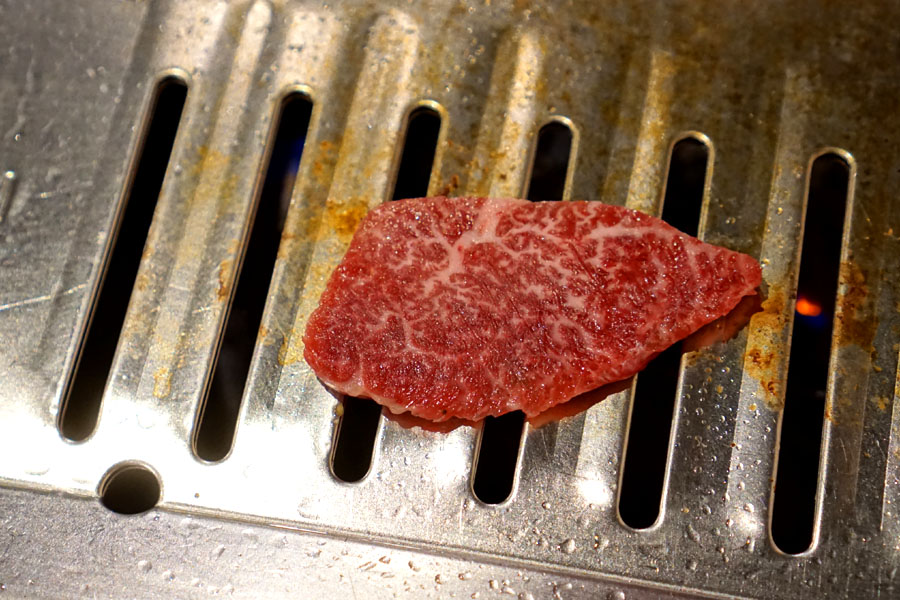 Rib Cap
We were instructed to start with the rib cap, which was the leanest of the four wagyu cuts we had. I found it really well balanced, with classic beef flavors joined by a healthy dosing of fat. This was great with a smidge of char and a sprinkle of salt.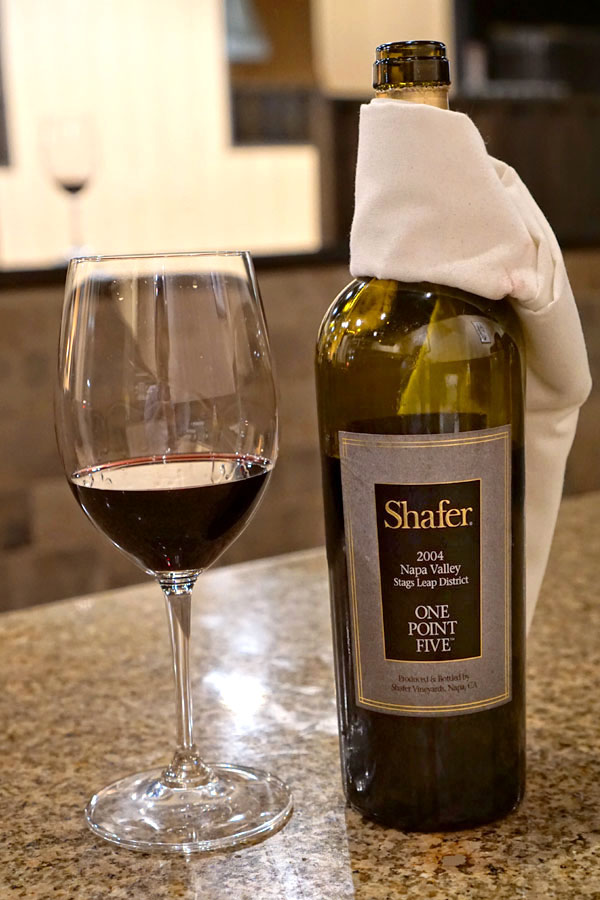 To drink, we had a bottle of the
2004 Shafer Cabernet Sauvignon One Point Five
. I got a vivid nose brimming with violet and berries, along with a marked tannic character and a meaty, musty element. The palate was thick and chewy, a uncommonly concentrated wine showcasing dark fruit, forest floor, tobacco, robust tannins, and a slight heat on the long, long finish. Pretty impressive--this one is drinking quite well now.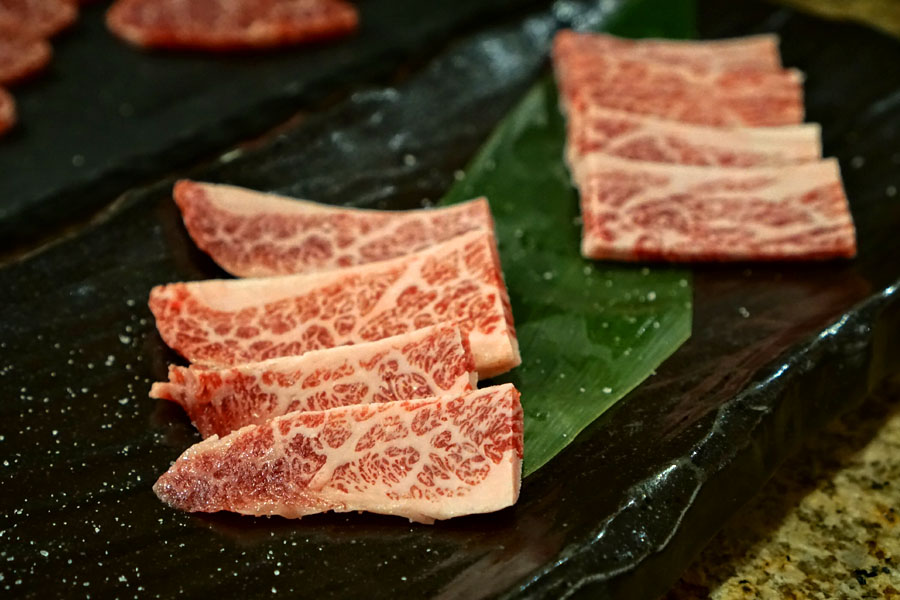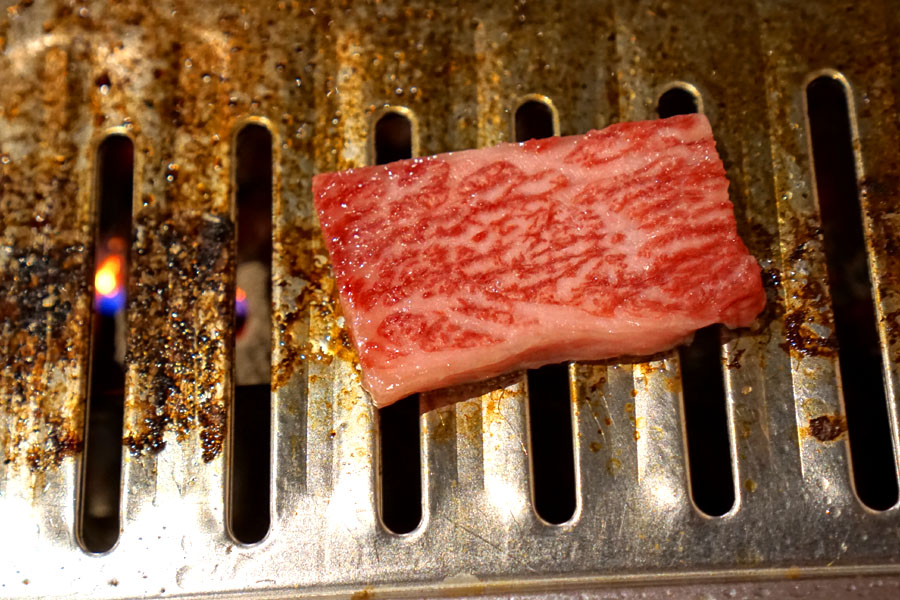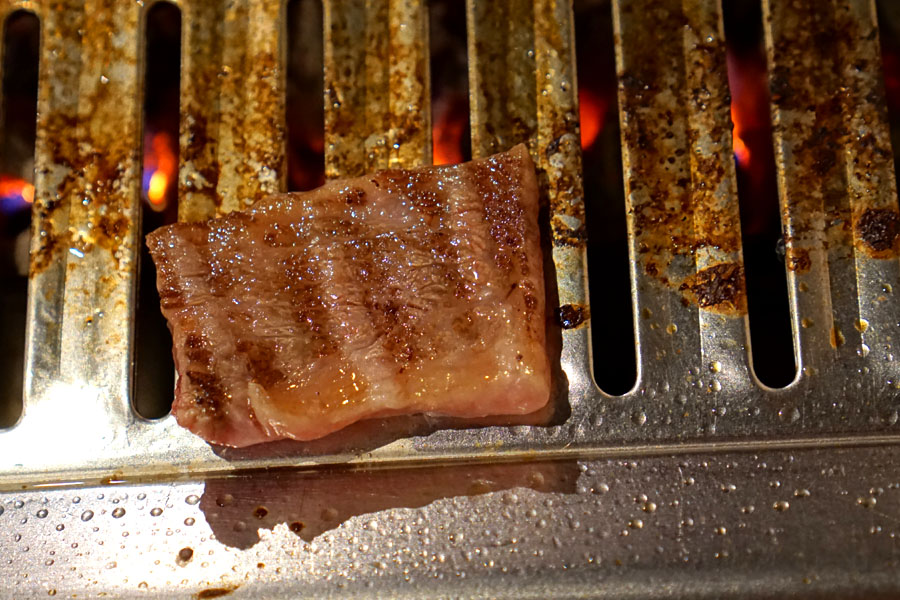 Short Rib
The
karubi
smelled fantastic, and was a luxurious eating experience and a definite step up in fattiness and richness from the cut above. My dining companion likened this to a beef "toro," and noted how easily the meat left a sheen of oil on the lips, though the meat was never overwhelming. Try this with a bit of grilled white onion.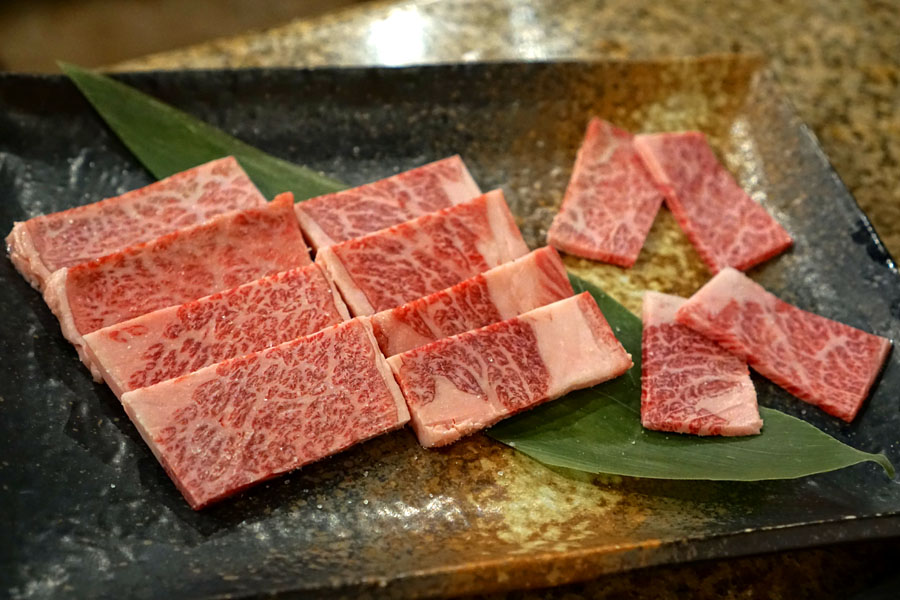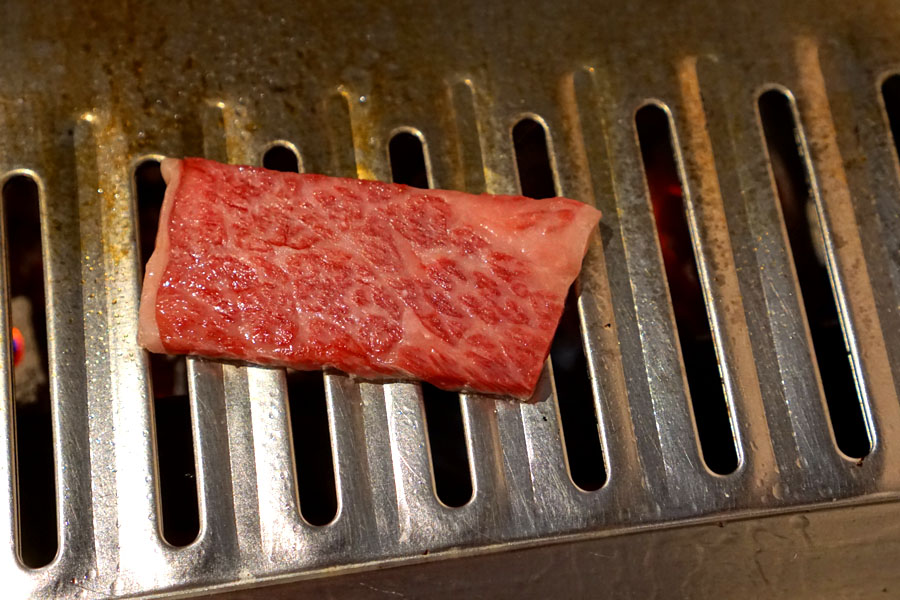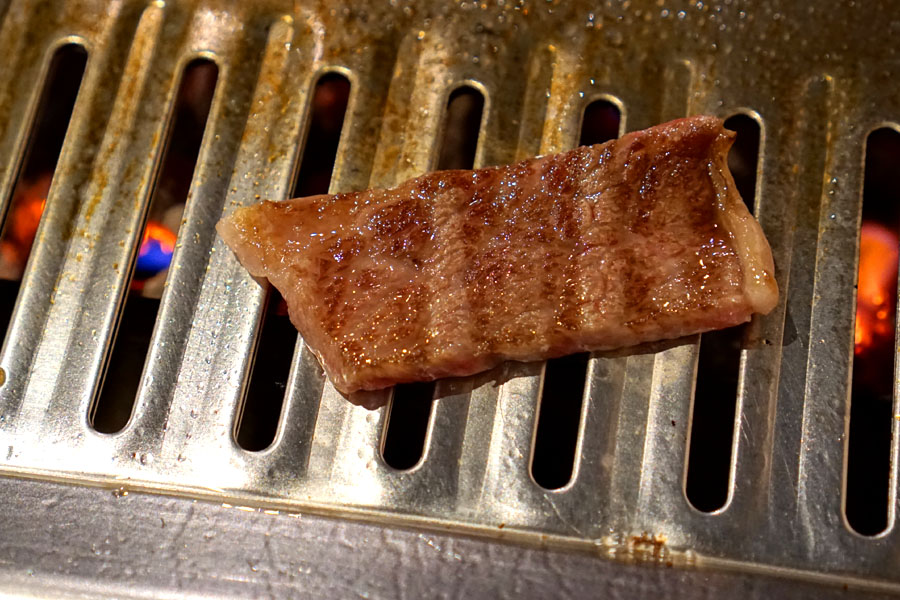 Chuck Flap
Taken from around the neck area of the cow, the
zabuton
represented yet another notch up in the decadence scale. This cut was notable for its massive amounts of umami. In fact, it almost had a briny taste to it, one that linked up really nicely with more of that grilled onion. We also tried the smaller pieces on the side completely raw, sashimi style. Compared to the
washugyu
above, this was considerably fattier, yet still relatively restrained flavor-wise. It really opened up with a dab of salt.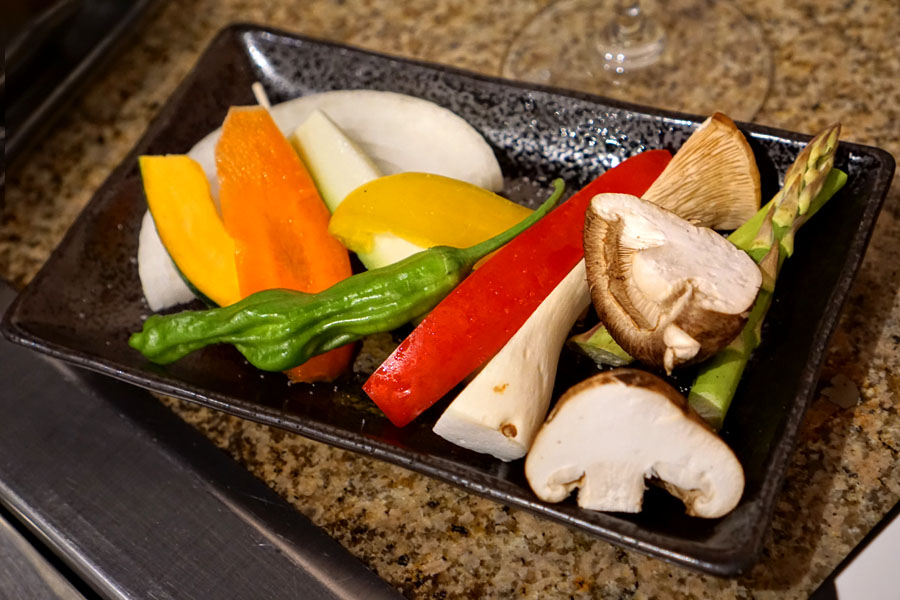 Our combo came with an assortment of veggies, which worked as a welcomed contrast to all the beef.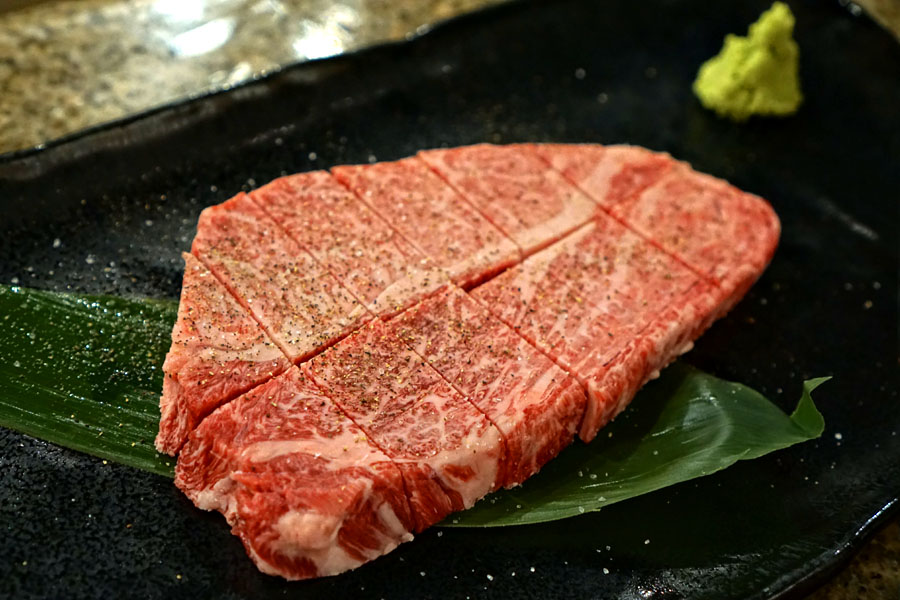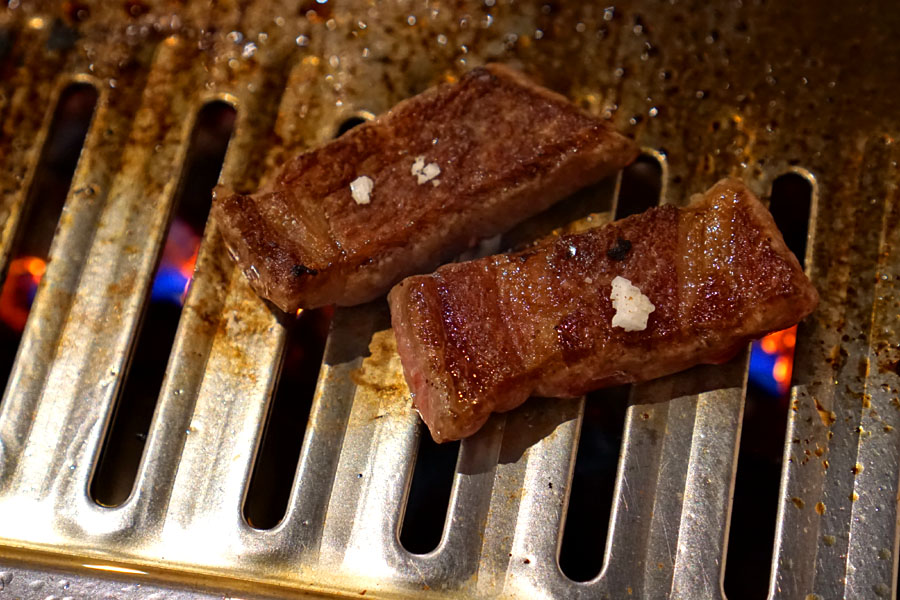 Ribeye
Last up was the
rib shin
. Thanks to its thickness and more substantial texture, I found this the most satisfying of the cuts we tried. It also took well to searing and caramelization, making for a thoroughly enjoyable course that was heightened even further by the application of salt and wasabi.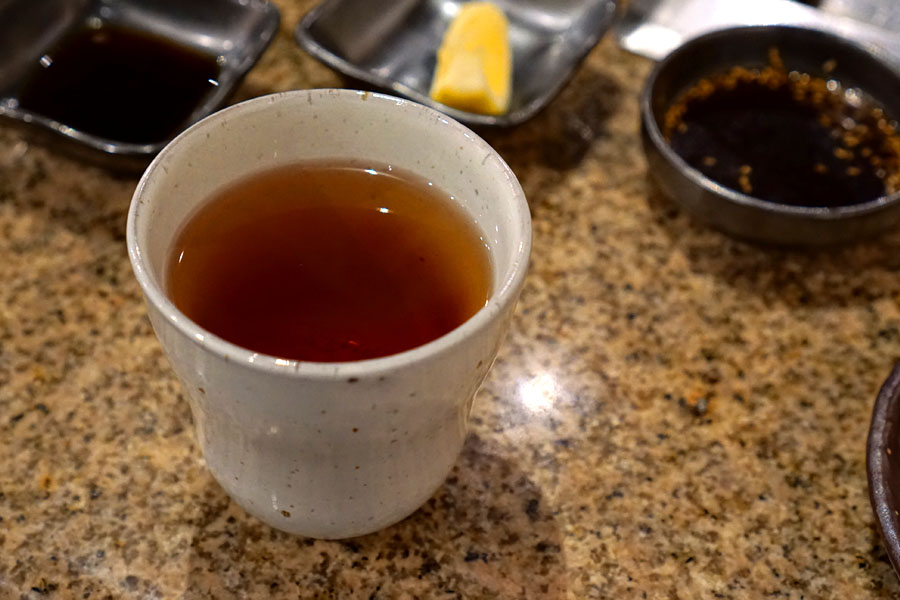 We concluded with a piping hot cup of roasty
hojicha
.
As stated above, Yamaya was the really the last
yakiniku
joint I wanted to try in the Torrance area, and I'm happy I finally made it out. I had an enjoyable experience here, and I really appreciated the ability to have real deal wagyu, which was pretty fantastic this evening. For all you Japanese BBQ fans out there, this place is certainly worthy of consideration.