Tesse (West Hollywood, CA)
Tesse Restaurant
8500 Sunset Blvd, West Hollywood, CA 90069
310.360.3866
www.tesserestaurant.com
Thu 04/18/2019, 08:30p-11:20p

So Bill Chait's back. If you're not familiar with Chait, he was the main guy behind restaurant group
Sprout LA
and a driving force in many of LA's most notable openings of the past ten years, places like
Bestia
,
Republique
, and
Sotto
, among others. However, he had a falling out with his partners at Sprout, and ended up leaving the company at the end of 2015. Following, he joined the team at San Francisco's vaunted Tartine Bakery and helped open the first Tartine Manufactory in August 2016. In mid-2017, it was revealed that the Manufactory would be making its way down to Los Angeles, while Tesse was announced shortly afterward.
Tesse, which is short for
délicatesse
("delicacy"), apparently came to fruition through the efforts of Evolution Media, an investment firm backed by Creative Artists Agency. Evolution Media is a minority owner in Fred Segal, and tapped Chait to create a restaurant next to Fred Segal's flagship store at the new 8500 Sunset development. Though the lease for the space was signed back in '16, the French-inflected spot only ended up debuting in June last year. At the helm here is Executive Chef & Partner Raphael Francois.
About the Chef
: Francois grew up in Belgium and France, and got interested in cooking after watching his grandparents in the kitchen while he was living with them in Tournai. By the age of 16, he had started working in restaurants as a way to make his own money. One of his first jobs was at Tournai's Restaurant Giverny, and he also cooked at Sea Grill and the longstanding Comme Chez Soi in Brussels. From 1995 to 1997, he worked on a degree in hotel management, then went on to achieve his Culinary Certificate. Francois also has experience at Château du Mylord in Ellezelles and Maison de Boeuf in Bruxelles, and from there, he relocated to Paris. In January 1999, he started as a chef de partie at the Four Seasons Hotel George V, a position that lasted until the following May. He then became sous chef at Lenôtre before transitioning to Hôtel de Crillon and its Les Ambassadeurs restaurant in January 2001.
After two years, Francois went to work for a hotel company, and during his tenure there, spent time with Eric Jan at Château de Curzay and Chalet d'Adrien, two countryside establishments. After two more years, he left to become Executive Chef at Loges de l'Aubergade in Puymirol, where he stayed for a year. In February 2006, the Chef moved back to Paris to take over the kitchen at Hélène Darroze's eponymous eatery, during which time he also helped with her other projects. Francois' next move was to London in April 2008, where he took on the Exec Chef role at Darroze's restaurant at The Connaught hotel. He remained there until December 2012, and later relocated to New York at the tail end of 2013. Stateside, he worked as Executive Chef at the iconic Le Cirque until January 2016, then moved to DC to become a partner at contemporary bistro Le DeSales, which opened in March 2017. Francois joined the Tesse team shortly after.
Francois is joined in the kitchen by Executive Pastry Chef & Partner Sally Camacho Mueller. We first encountered her at
WP24
back in 2010. Since that time, she's competed on Season 2 of
Top Chef: Just Desserts
, where she was runner-up to eventual winner Chris Hanmer. In September 2011, she helped open Wolfgang Puck at Hotel Bel-Air, but would end up leaving the Puck empire a year later to serve as Executive Pastry Chef of the Jonathan Club. That gig lasted until the start of 2015, and in May that year she became an instructor at the Culinary Institute of America at Greystone in Napa Valley. Camacho Mueller left the CIA in August 2016, and later joined the team at Tesse the following August.
Also on board as a Partner is Jordan Ogron, who handles the wine side of things and works the FOH. Starting in 2008, he cut his teeth at John Sedlar's
Rivera
, working as a manager and sommelier. During his time there, he also consulted for the now-shuttered
Fraiche
in Santa Monica. In August 2010, Ogron moved to Fig & Olive, where he started as AGM, then became Wine Director, GM, and Service Director. From there, he helped open
Bestia
in November 2012 as General Manager, and soon after, consulted for
Short Order
. September 2013 saw him move to The Standard in Hollywood, while he transitioned to the Hakkasan Group in June the following year, where he focused on both
Hakkasan
Beverly Hills as well as Herringbone in Santa Monica. Work on Tesse, meanwhile, began in September 2016.

Attached to Tesse is
Boutellier
, a wine shop curated by Ogron that ostensibly concentrates on harder-to-find selections that don't overlap much with the restaurant's wine list. The room can also transform into a private dining area, if necessary. Wines purchased at Boutellier may be opened at Tesse for a $15 corkage fee, with no limit on the number of bottles.

Tesse was penned by
Preen Inc.
's Alexis Readinger, who was also responsible for the likes of
Howlin Ray's
,
Odys + Penelope
,
Hatfield's
, and Akasha, among others. It's a multifaceted, multitextured space, modern and warm at the same time.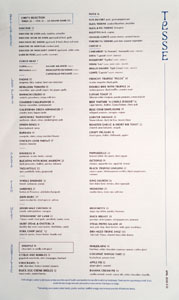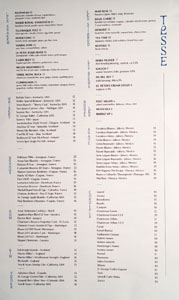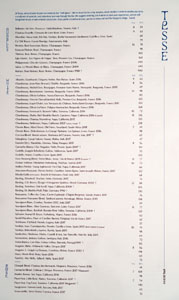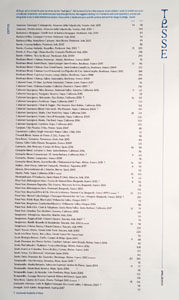 Tesse's wide-ranging, French-inspired menu is on the lengthier side, headlined by charcuterie/cheese, but with plenty of smaller plates, pastas, and mains, too. Drink-wise, there are Gallic-ish cocktails by none other than the team of Nick Meyer and
Julian Cox
. If wine's you're thing, there's a pretty substantial list put together by Ogron, one featuring "half-glass" pours. Getting wine doled out in 3-ounce portions is refreshing for diners, and probably more profitable for the restaurant. Meanwhile, corkage is $30 a pop for your first two bottles, then $50 for the next two, with a four bottle maximum. Click for larger versions.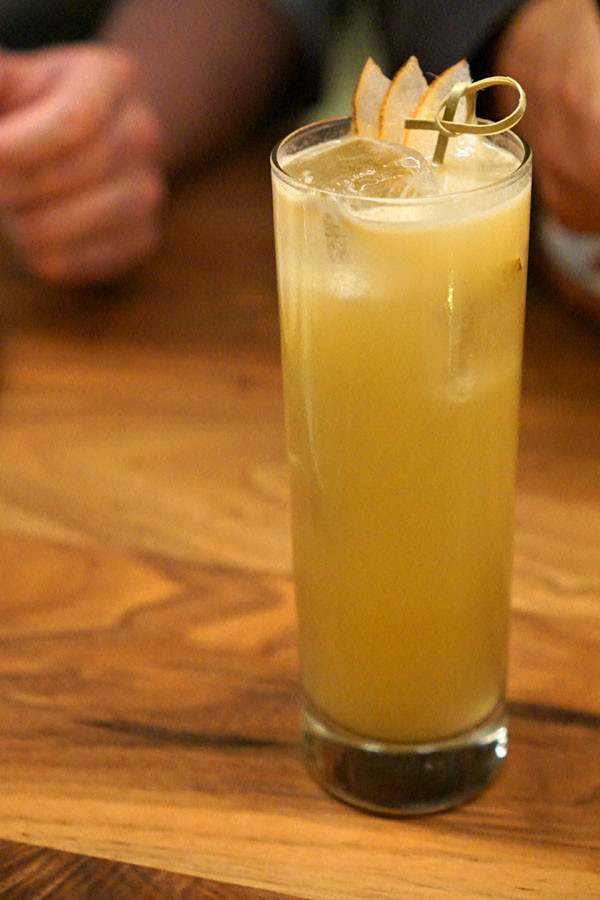 Three Monk Buck [$15.00]
| chartreuse, benedictine, pear, ginger, lemon, sparkling perry
We ended up going through a number of cocktails this evening. Our first really showed off the zestiness of ginger up front, which was then joined by fruity, bitter flavors and more lingering burn on the back end.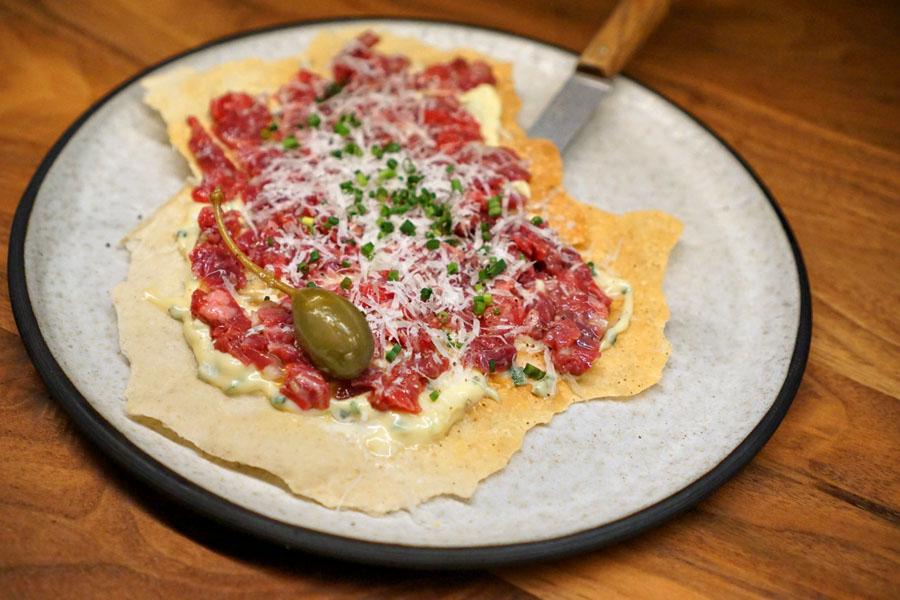 Beef Tartare "A l'Huile d'Olive" [$16.00]
| caper berries, shallots, Grana Padano, chive aioli
The tartar was lovely. I found the meat satisfyingly textured and well matched to the heft of the cheese. Caper berries and shallots imparted an offsetting tanginess that worked, while the chip on the bottom gave us some needed crunch.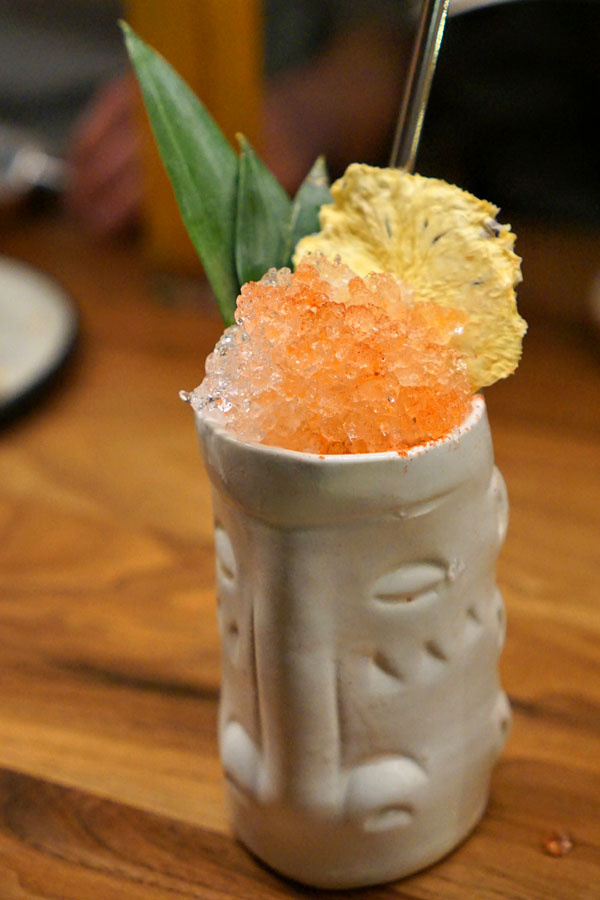 Filipineau [$15.00]
| pineau des charentes 10 year, tequila blanco, pineapple 3 ways, umeboshi, lime
This tiki-ish cocktail conveyed strong flavors of pineapple alongside classic notes of sweet spice. I got very little booziness here, which I guess wasn't surprising.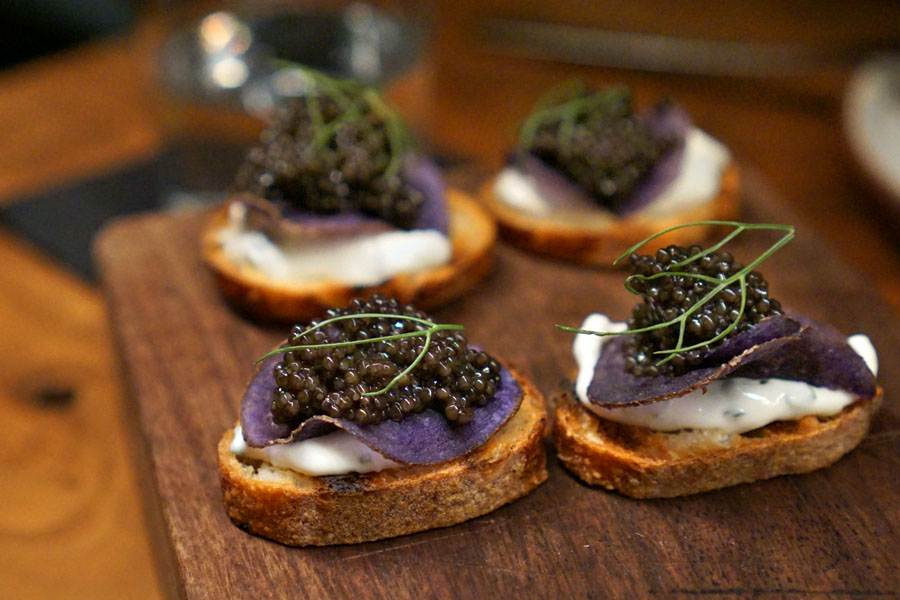 Caviar Toast [$25.00 x 2]
| Siberian white sturgeon, purple potatoes, crème fraîche
These were essentially
canapés
, and displayed the strong, unmistakable brine of caviar, but tempered by the lushness of crème fraîche. The potato added some salt to the mix, while the bread contributed both texture and a smoky char.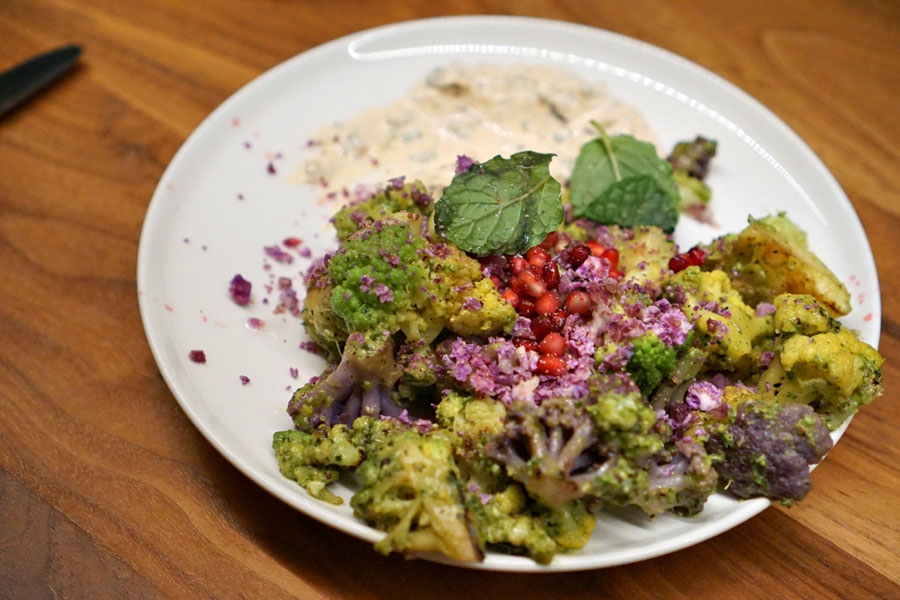 Charred Cauliflower [$14.00]
| harissa, cucumber, pomegranate
This was a smart take on cauliflower, one that married the relatively mild flavors of the veggie with smoke, bitterness, and fruit, all tied together by that creamy harissa-infused yogurt. I would've liked a slightly crisper consistency on the florets though.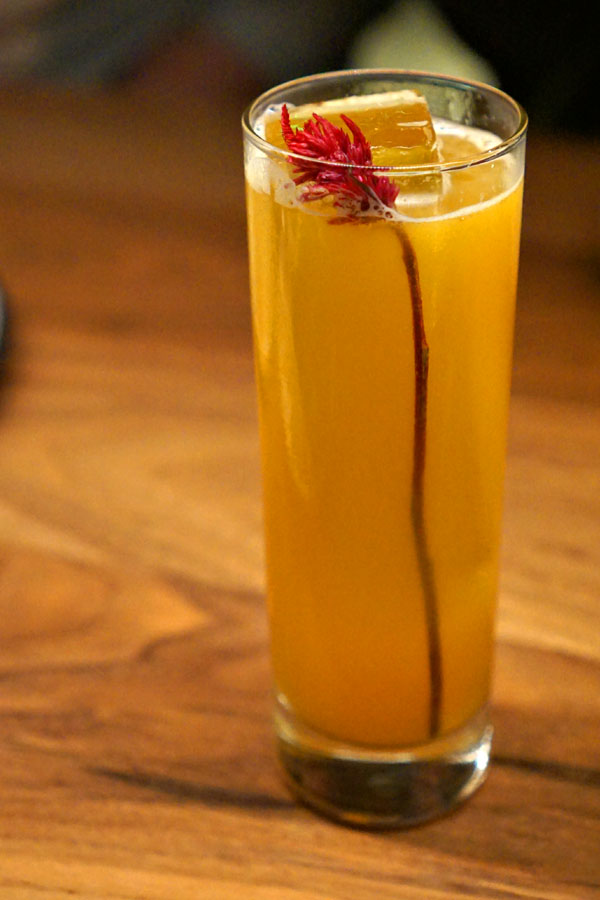 Cardi Beet [$15.00]
| tequila reposado, habanero, golden beet, citrus
Our next cocktail definitely showcased the unmistakably earthy, vegetal sweetness of beet, but cut by the booziness of tequila and the heat of habanero.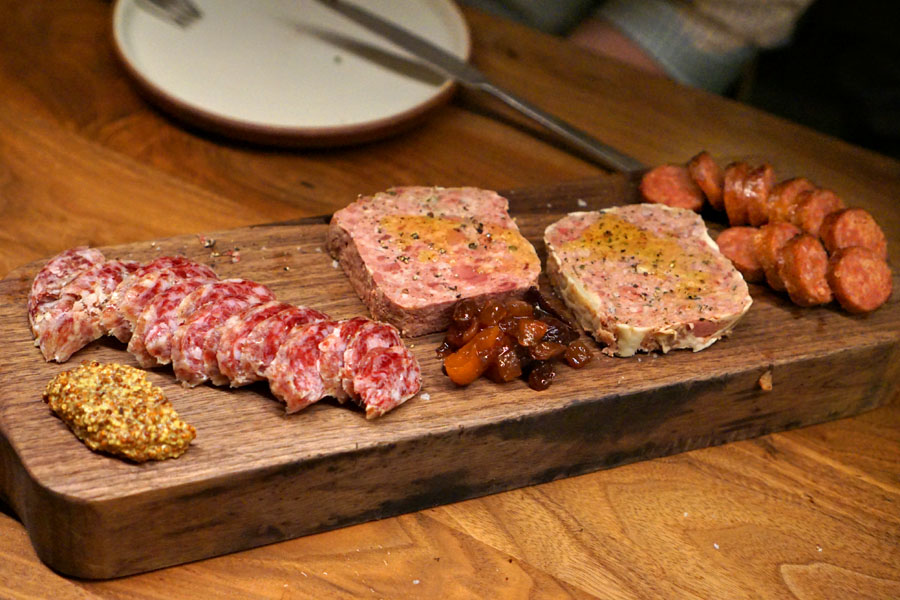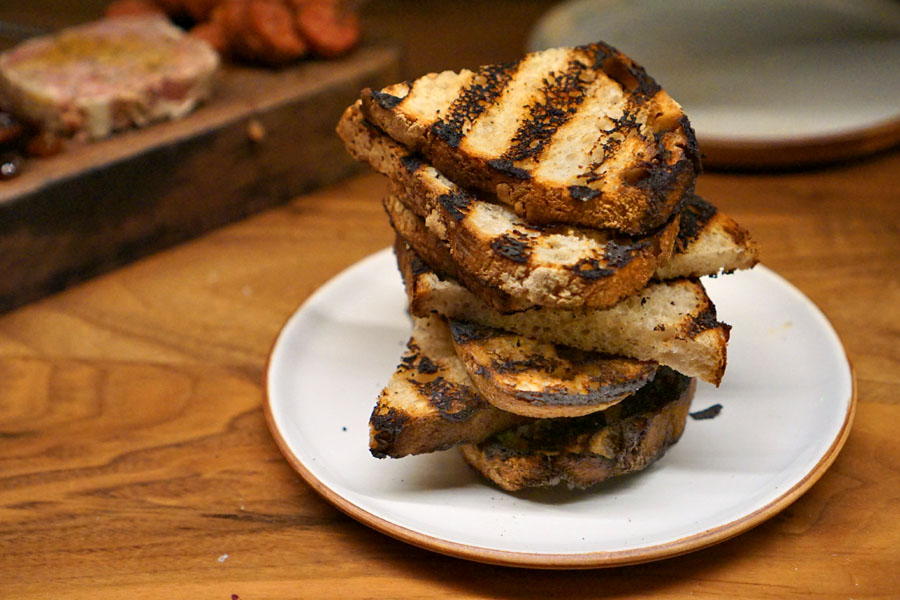 We ended up getting four types of charcuterie, which were plated on one board along with mustard and a stone fruit chutney. On the side was some charred bread.
Melon Degeneres [$15.00]
| mezcal, floc de gascogne, cantaloupe, herbes de provence
This delightfully punny cocktail showed off a great back-and-forth between juicy, sugary cantaloupe and the smoky, astringent nature of mezcal, all while the ham added a hit of salt to the fray.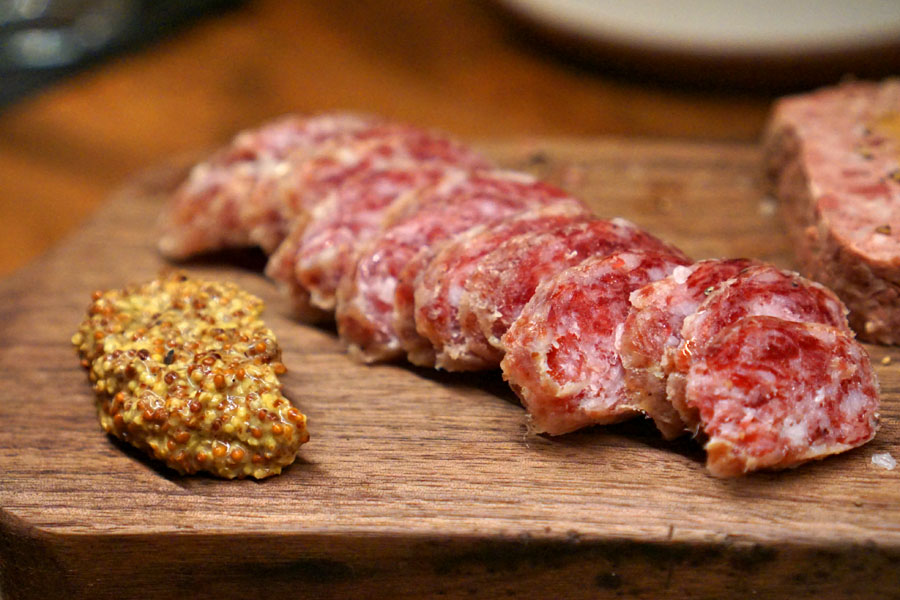 Saucisse Seche de Lyon [$12.00]
| aged pork & beef, garlic
Our first sausage showed off a pleasantly soft, supple consistency along with some mouthwateringly intense flavors, primarily concentrated on the pork. I found this especially tasty when taken with the mustard.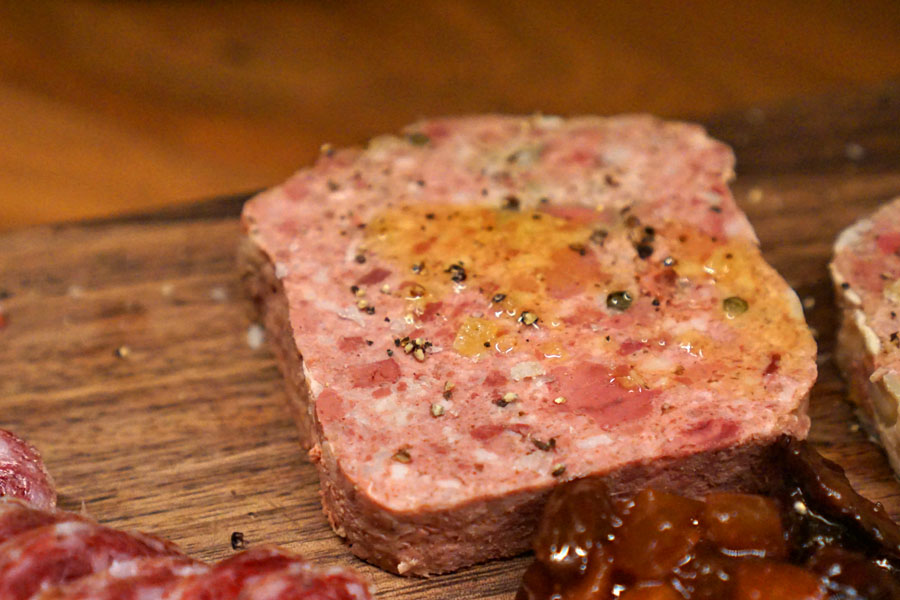 Pate du Chef [$16.00]
| pork, green peppercorn
This classically-leaning pâté hit the spot with its delightfully porky flavors, augmented by pops of salt, herb, and a strong finish of peppercorn.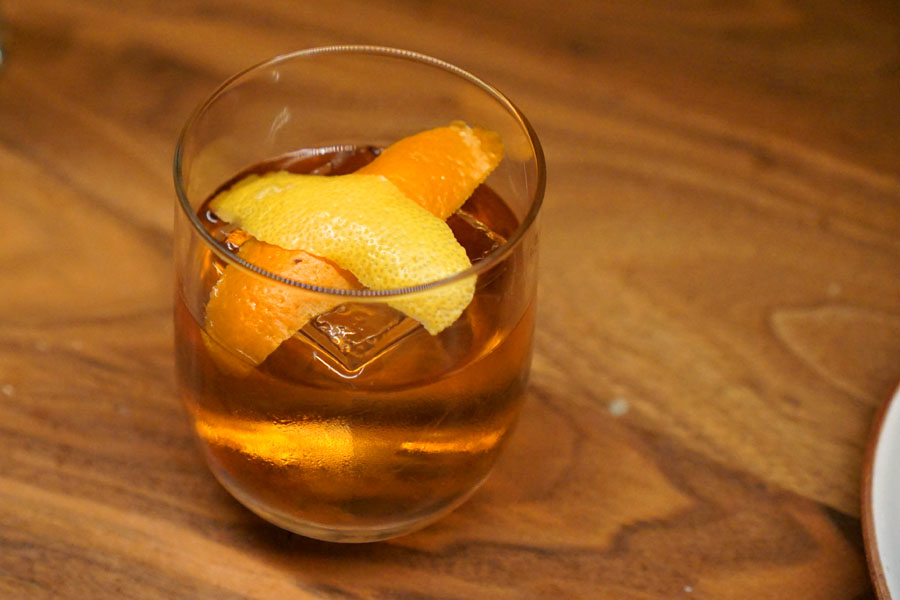 Deux Carre [$15.00]
| bonded rye whiskey, cognac, calvados domfrontais, genepi, 5 year madeira, vermouth
Here we had a take on the classic Vieux Carré cocktail. It had a pleasant nose filled with sweet, almost candied citrus. The palate was definitely on the boozier side, with notes of apple giving way to plenty of bitter, botanical elements.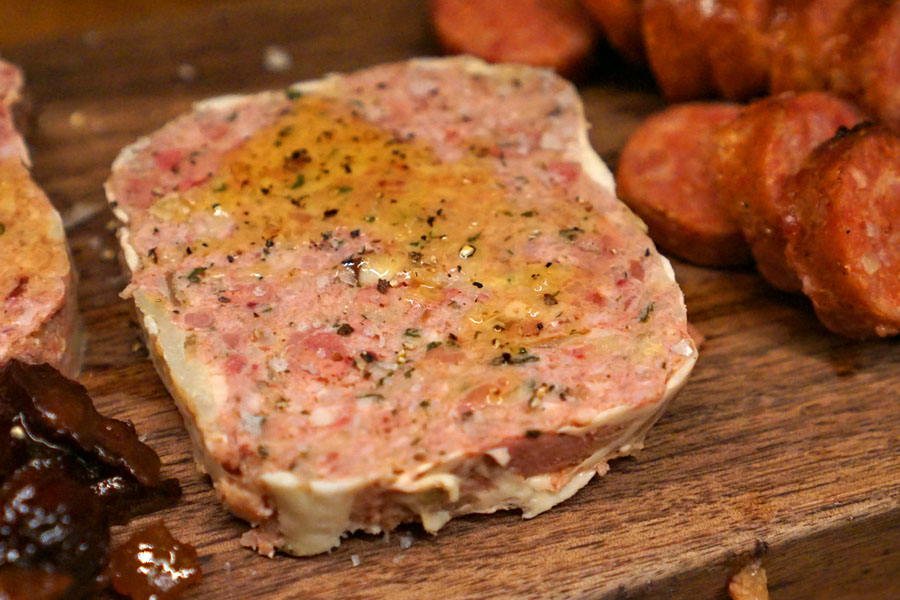 Franche-Comté [$16.00]
| comte cheese, smoked bacon
Our second pâté packed a punch with its rich, robust, almost liver-y flavors, all balanced out by a pervasive herbaceousness.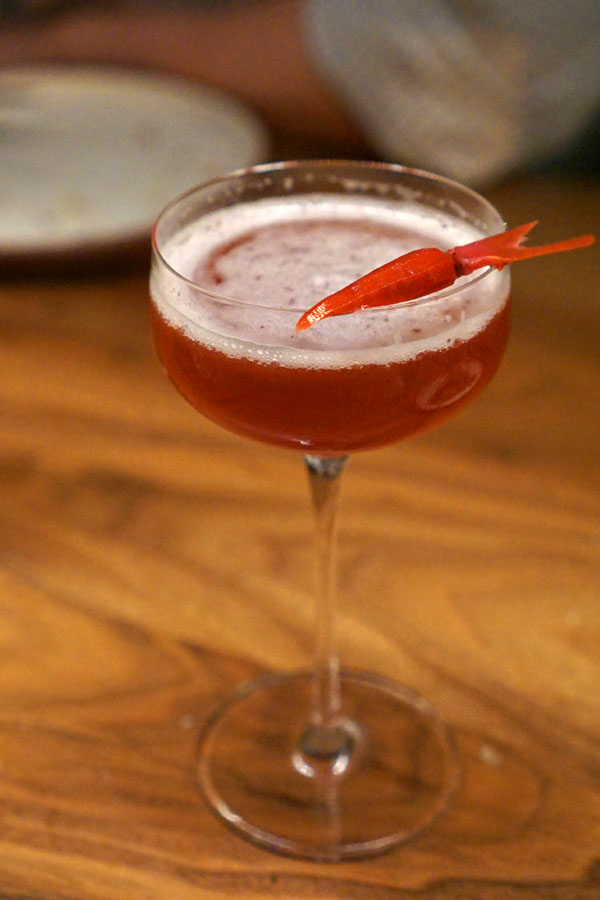 Weird Bonal Yankovich [$15.00]
| bourbon, bonal, purple carrot, maraschino, lemon
Here came another fun, punny cocktail. This one was loaded with fruity, apple-like notes commingled with the vegetal sweetness of carrot, but also had a very noticeable bitterness.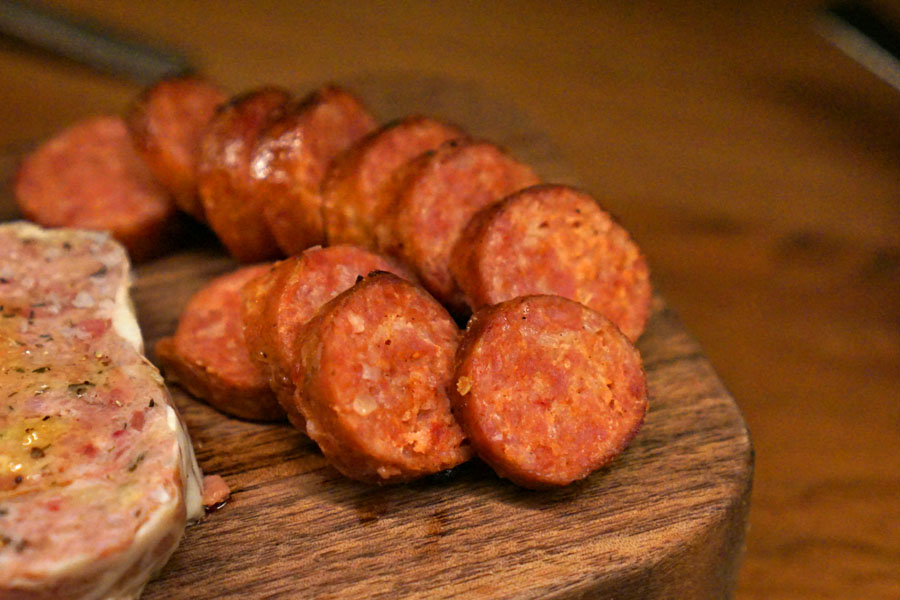 Saucisse de Muscadet Confit [$12.00]
| aged pork, white wine
This sausage was the most surprising item of charcuterie we sampled. It arrived warm-ish, while its texture was soft and smooth, but also meaty and gratifying. Flavors were relatively subdued, though I did detect a growing, lingering spice.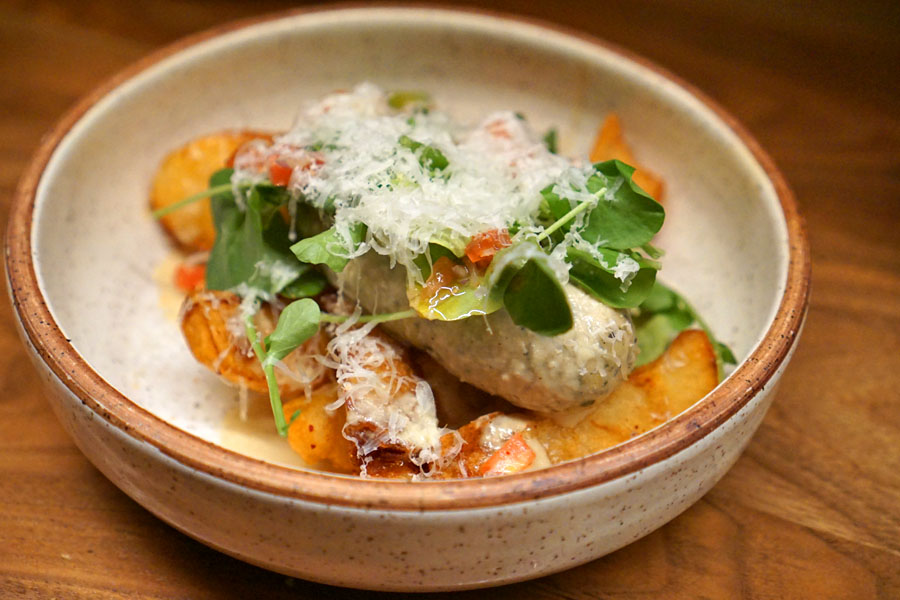 Lobster Sausage [$21.00]
| Maine lobster, duck fat fries, beurre blanc
This reimagined
boudin blanc
was filled with bits of lobster infused with strong, anise-like notes. It was decently tasty, though lacking in texture unfortunately. Speaking of texture though, the potatoes did work as a counterpoint to the sausage, adding some salt and heft to the mix.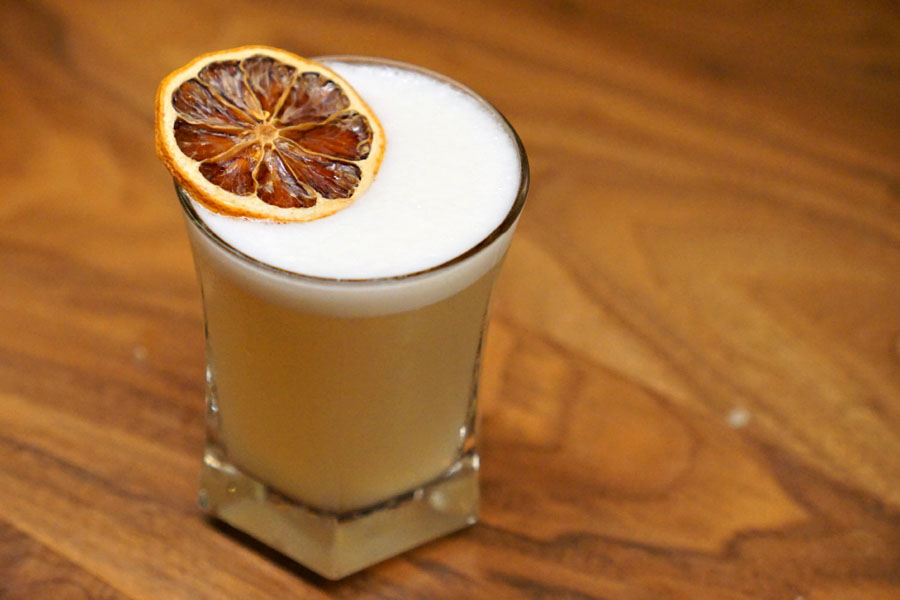 Telemaque Fizz [$15.00]
| rhum agricole, calvados, lemon, egg white, genepi
Topped with a soothing layer of egg white, our next cocktail masterfully blended rum and apple brandy in a sweet, easy-drinking package.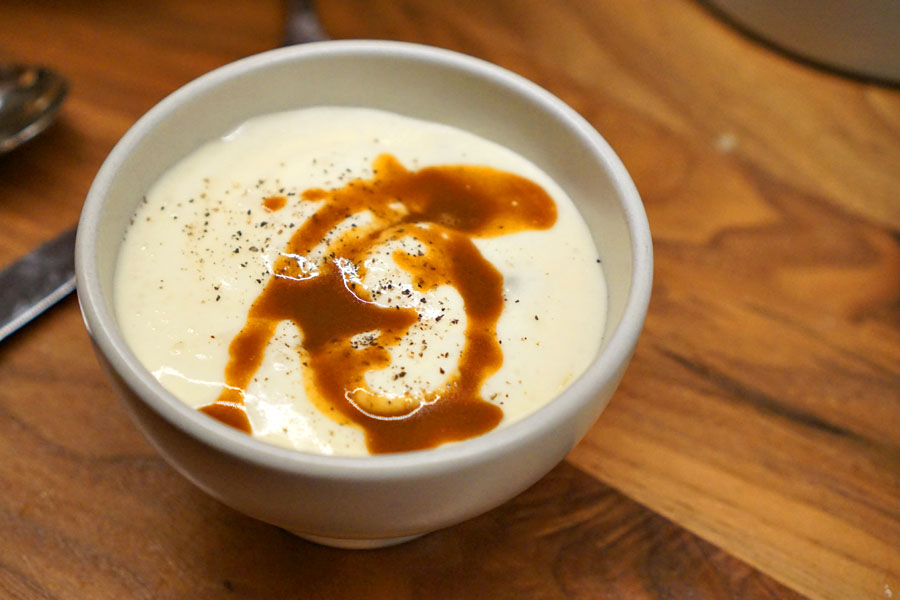 Blue Crab Simplissime [$19.00]
| whipped potatoes, tarragon, cognac
Now this was a preparation of crab that I'd never encountered before. I found the dish buttery and rich, with a very noticeable sweet spice element and a marked pungency from the tarragon. The potatoes tried to moderate everything, but unfortunately the actual crab was too masked for my liking.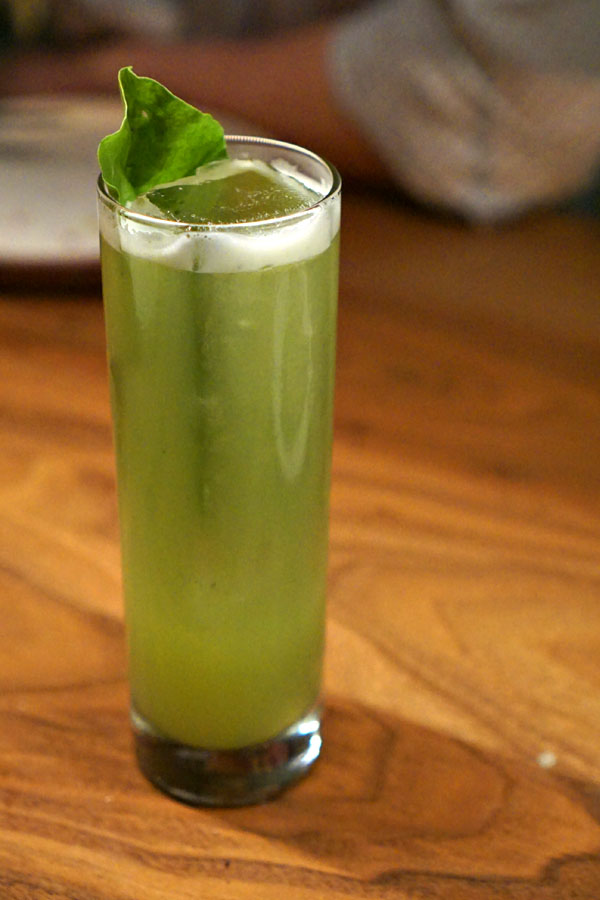 Hypertonic [$15.00]
| French sorrel, pineapple, ginger, gin, lime, tonic
A pleasantly green-hued cocktail drank sweet and herby and bright. There was a good amount of pineapple present, while the finish was really all about the spiciness of ginger.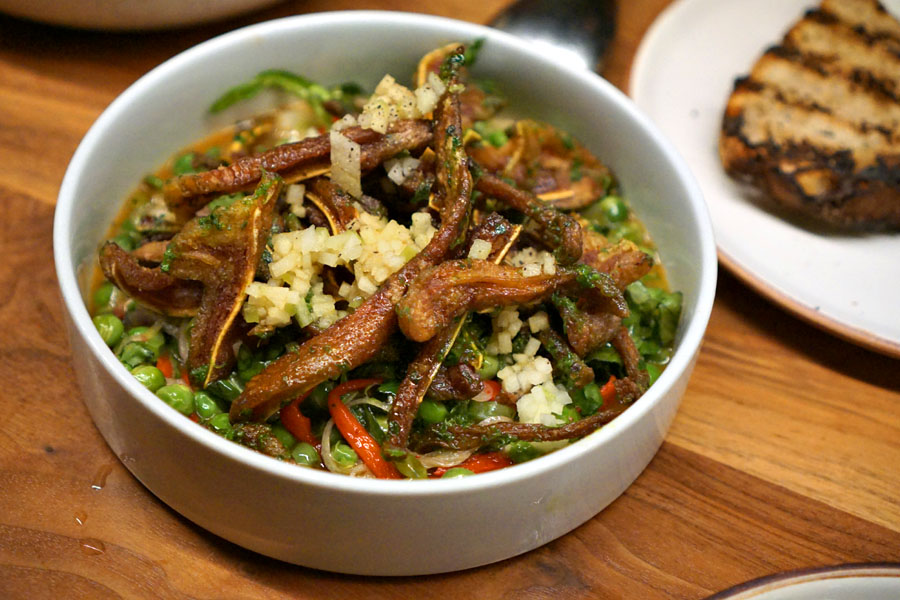 Crispy Pig Ears [$18.00]
| french peas, shallot, chiffonade, apples
Pig ears came out crunchy and salty, just as I wanted, while those sweet, beautifully-textured peas worked swimmingly as a counterpoint. I appreciated the freshness from the apples, too.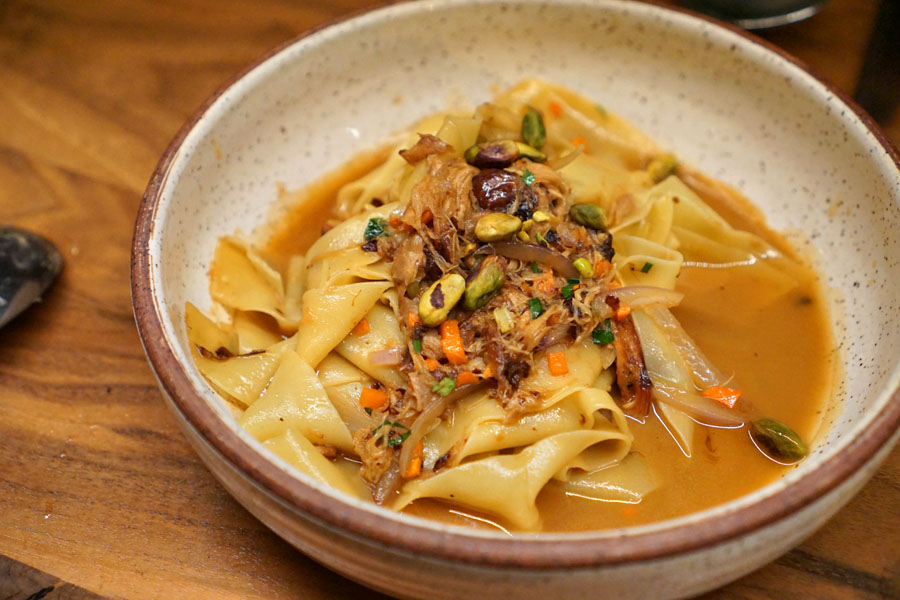 Pappardelle [$24.00]
| braised rabbit, dry plums, beer ragout
Time for some pasta. Sheets of pappardelle were slick and supple, and made sense with the homey flavors of slow-cooked rabbit. I will say that I didn't get much from the plums here.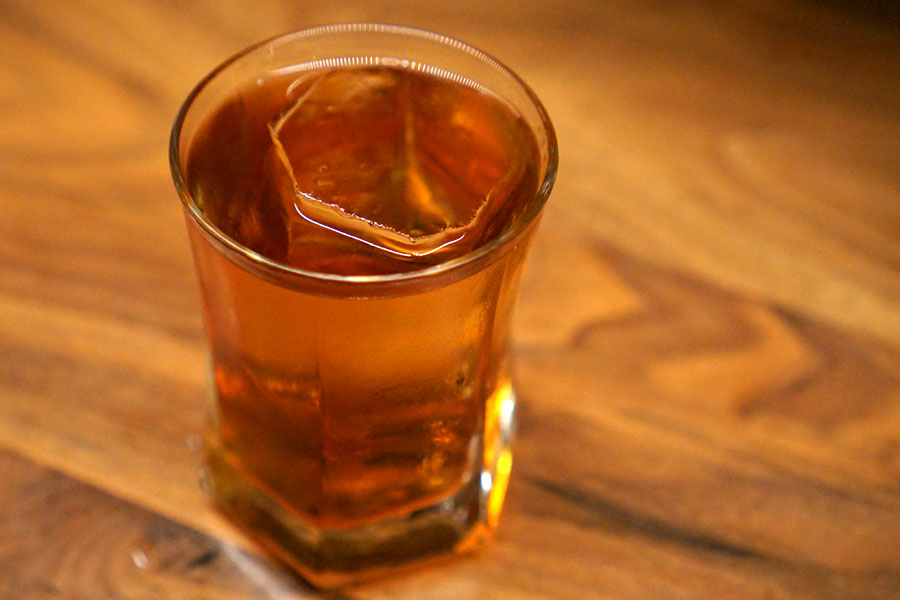 Démodé [$15.00]
| bourbon, amer nouvelle, maraschino, china-china
Now this was a well put together cocktail. Its nose was actually surprisingly restrained, with pome fruit commingled with some alcoholic heat. On the palate, I found it very spice-forward, but with supporting notes of fruit, bitterness, and herbs.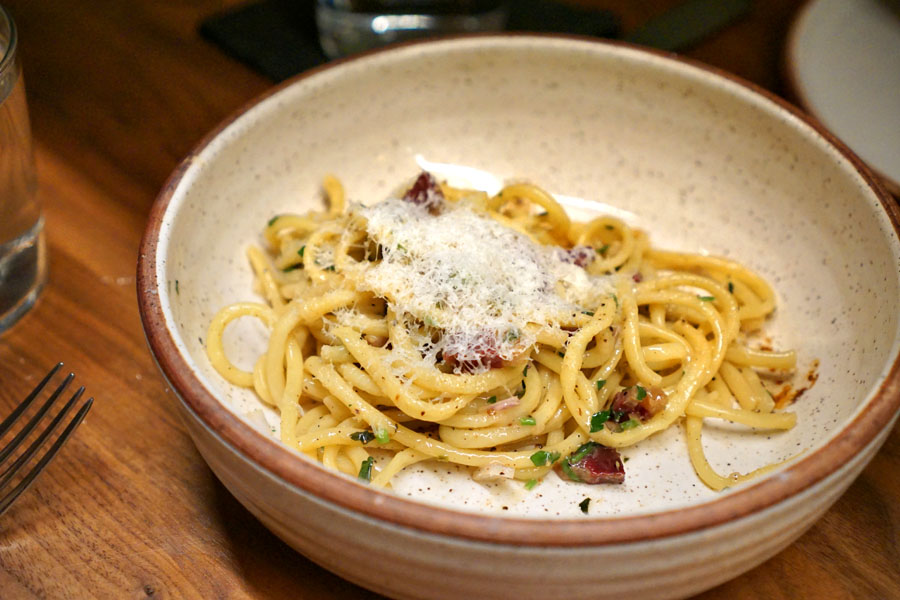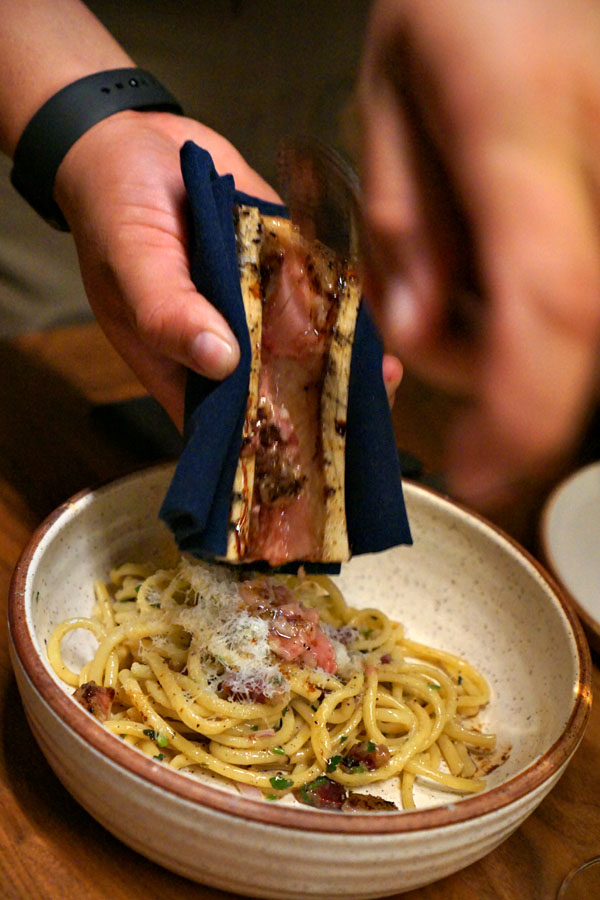 Bucatini with Bone Marrow [$21.00]
| duck prosciutto, shallots, parsley, balsamic
Bucatini came out with a pleasantly firm texture. Shallots and parsley gave the dish a bit of brightness, but the key for me was the duck, with contributed salt, savor, and contrast. I didn't even need the marrow, which seemed a tad superfluous.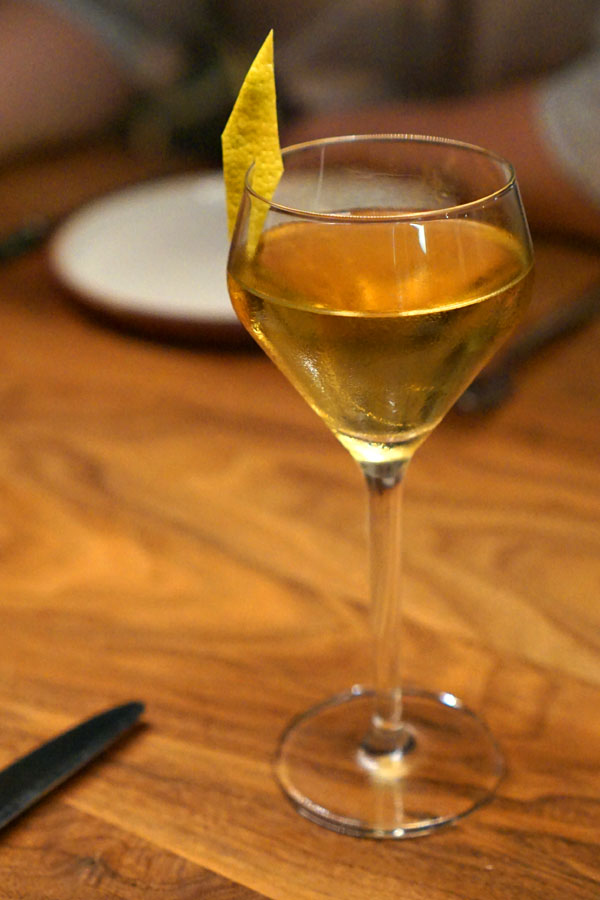 Tea Time [$15.00]
| Japanese whisky, irish whiskey, fennel tea, suze
What struck me here was how this cocktail smelled. It actually reminded me of children's breakfast cereal, Trix in particular, which was surprising. In terms of taste, I got lots of sweet, juicy apple notes, commixed with the potency of the whiskies and a touch of vegetal bitterness.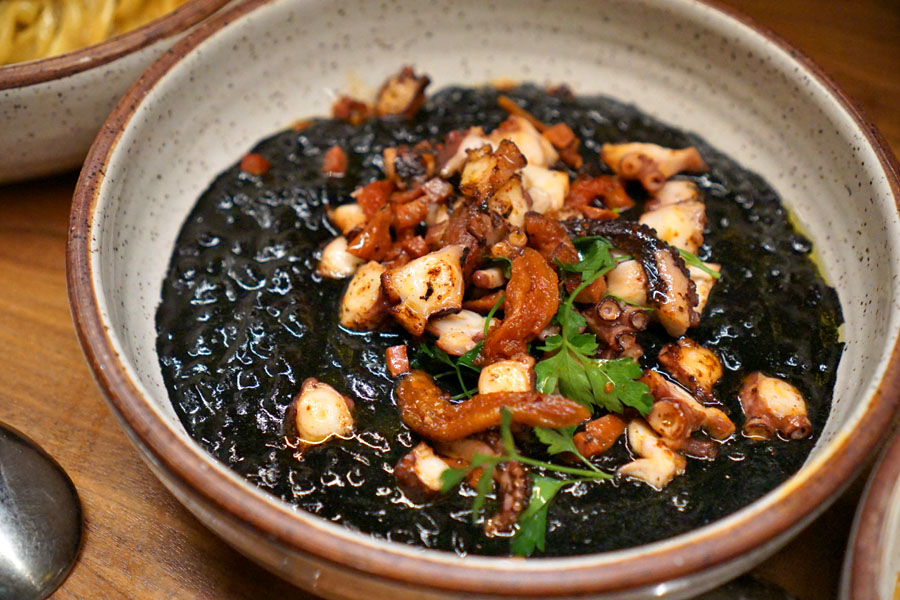 Octopus [$19.00]
| chorizo, aquarello rice, squid ink, lemon
This was the weakest course of the night for us. The octo itself was well-seasoned and well-textured, but the dish was just
far
too salty. I'm not sure if it was the squid ink or the chorizo or something else that was the problem, but some of my dining companions had trouble even finishing a modestly sized portion of the rice.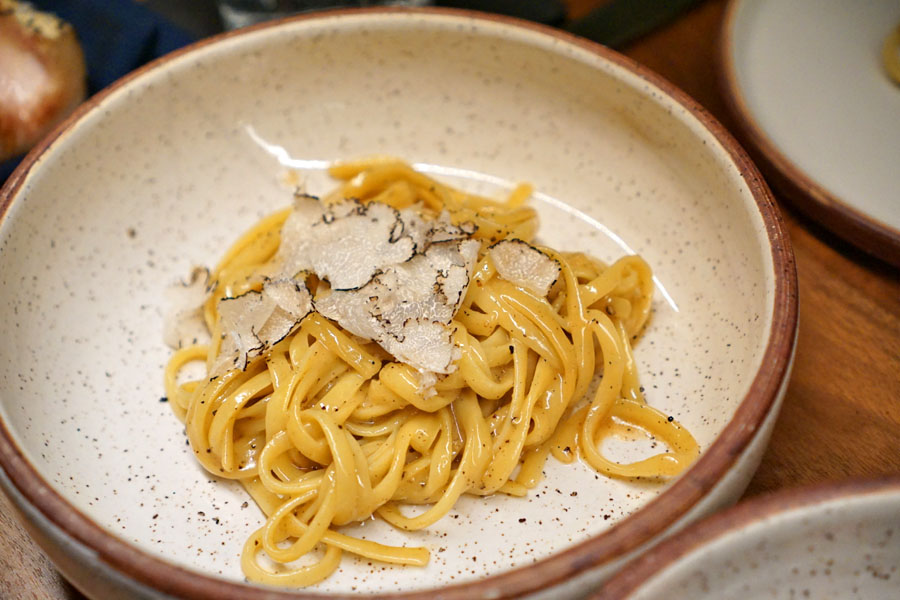 Black Truffle Linguini [$42.00]
| cacio e pepe, Melanosporum truffles, black peppercorn, romano
For our final pasta dish, we had properly al dente strands of linguini, paired with flavors of truffle, cheese, and pepper. It's hard to go too wrong with that combination.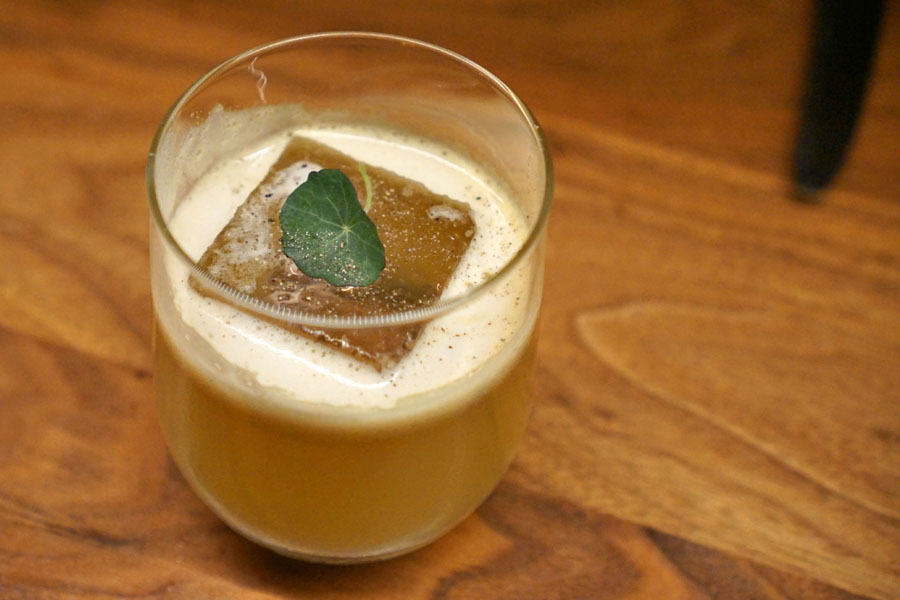 Compagnon [$15.00]
| green chili vodka, cherry tomato, nasturtium, tarragon, lemon, grapefruit, mellow habanero
There was a lot going on in this cocktail, but the overall effect was a very "green" sort of flavor profile, one moderated by the presence of fruit and accented by just a smidgen of heat.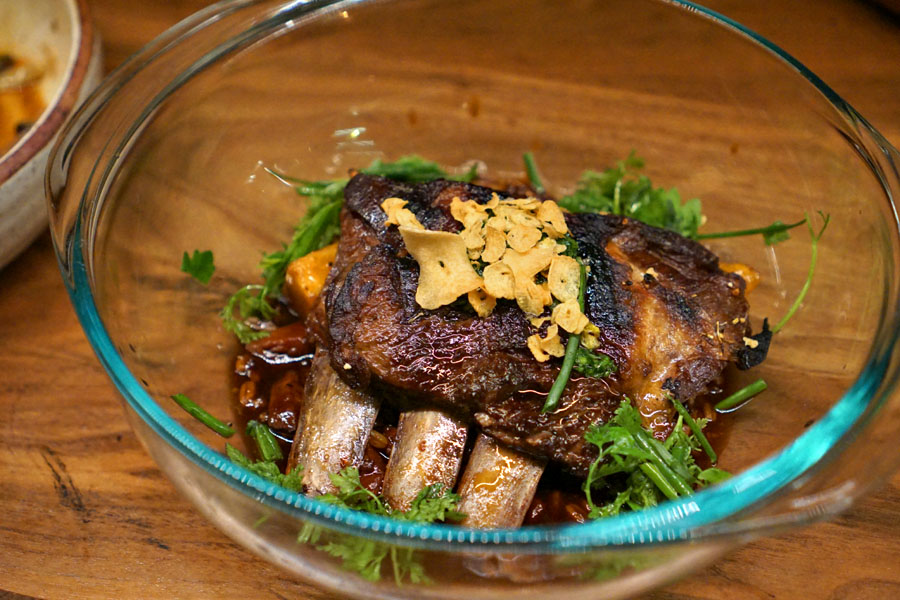 "Epigramme" of Lamb [$33.00]
| 7 hours confit, fried garlic, persillade, barley, roots
Our final savory was this interestingly-monikered preparation of lamb. The meat was falling-off-the-bone tender, though I wasn't as keen on its taste, which veered bitter, spicy, oily, and underseasoned, though all the greenery did help even things out.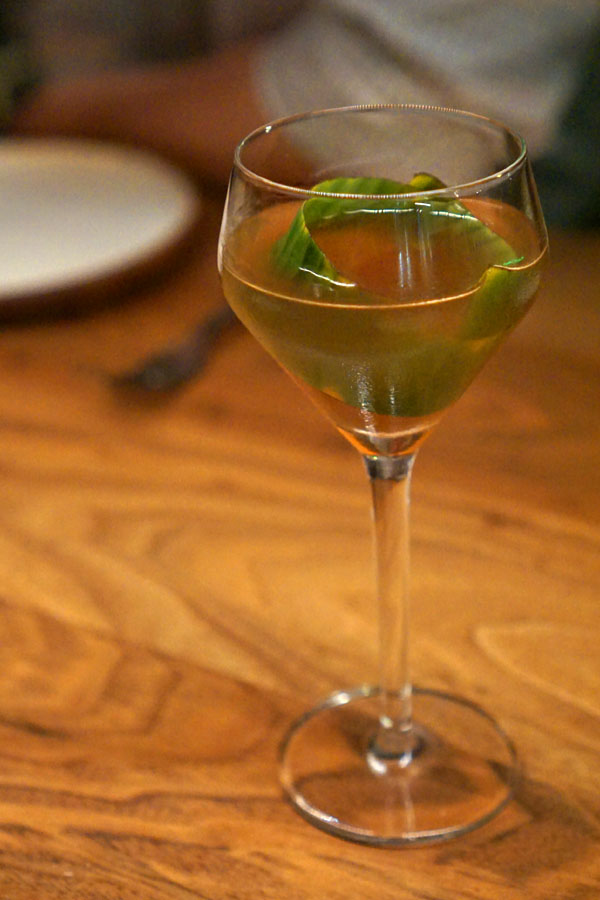 Mad Real [$15.00]
| banana cognac, black strap, demerara
We ended with the most polarizing cocktail of the evening. The drink smelled of banana and botanicals, while taste-wise, I got more banana of course, along with notes of spice, wood, and brown sugar. I found it all rather fascinating.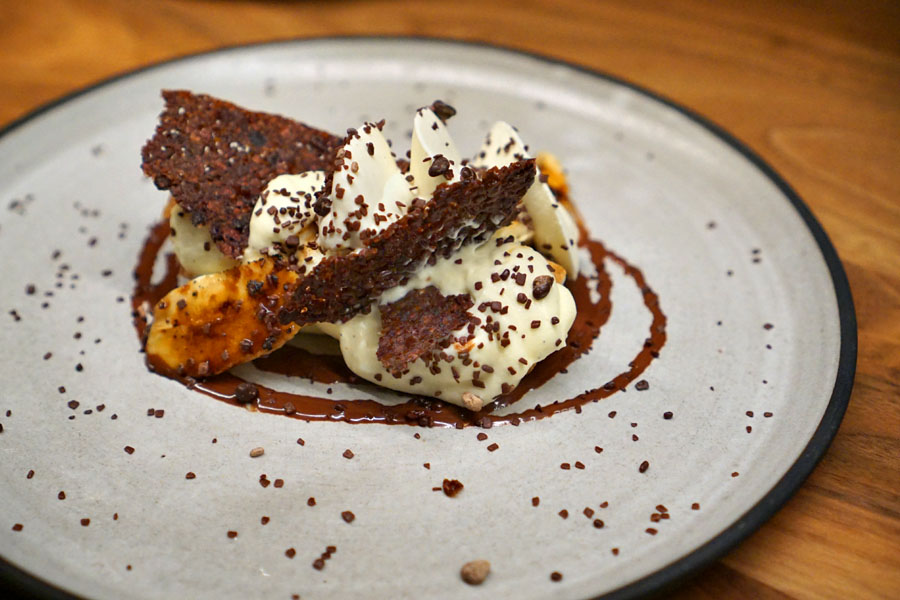 Banana Cream Pie [$14.00]
| vanilla custard, cremé, cocoa nib, white chocolate chantilly
Dessert time. I'm a fan of banana cream pies in general, so I really enjoyed this, especially the caramelization on the fruit and the nutty, crunchy bits present. It did an admirable job recalling the classic dessert while keeping things fresh. Note that the dish was comped, probably because we'd ordered so much food.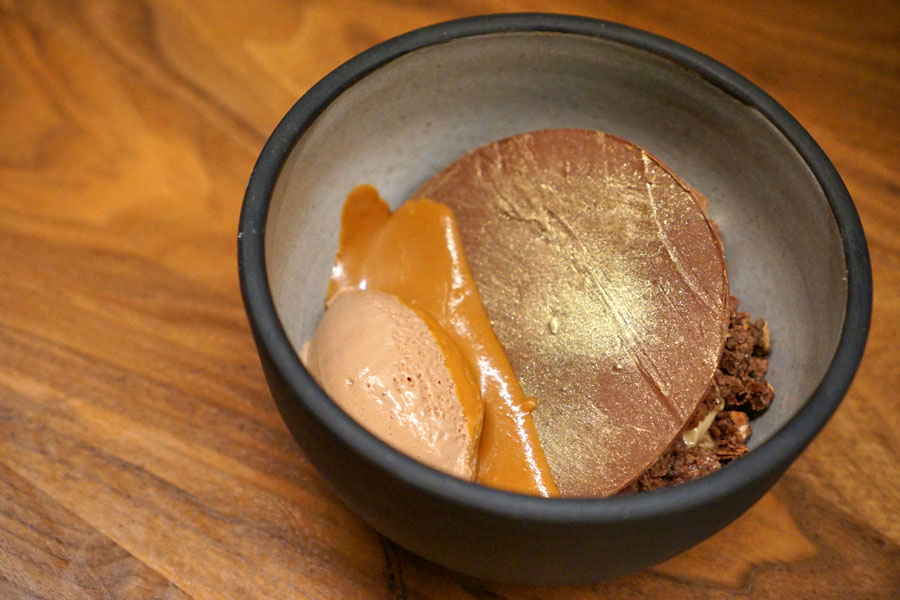 Chocramel [$13.00]
| milk chocolate, honey caramel, peanuts
We had here a time-tested combo of chocolate and peanut butter, but with some interesting textures going on. A bit candy bar-like I'll say.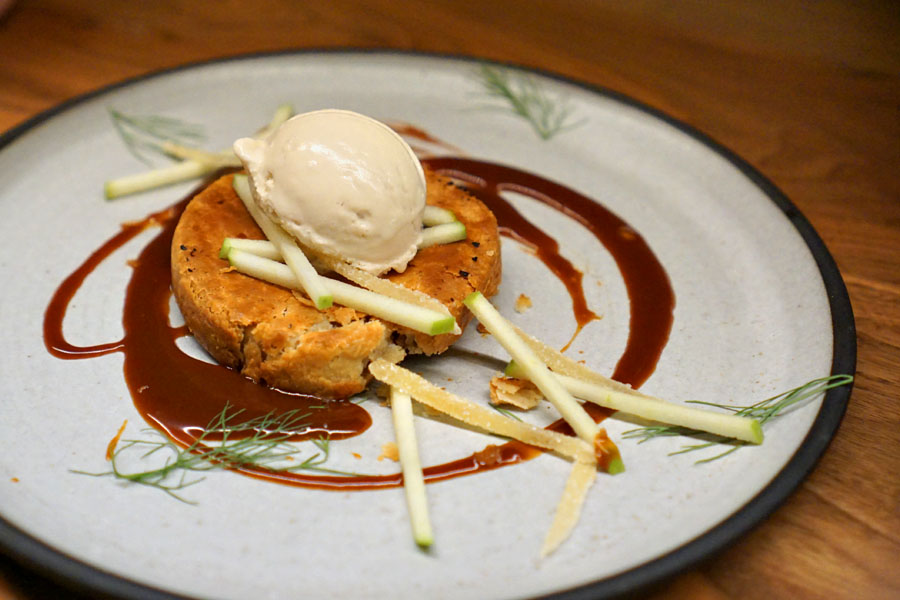 Apple Pie [$12.00]
| ginger glacé, caramel
The apple pie met the mark, giving off a classic flavor profile at its core, but with some robust ginger and spice keeping things interesting.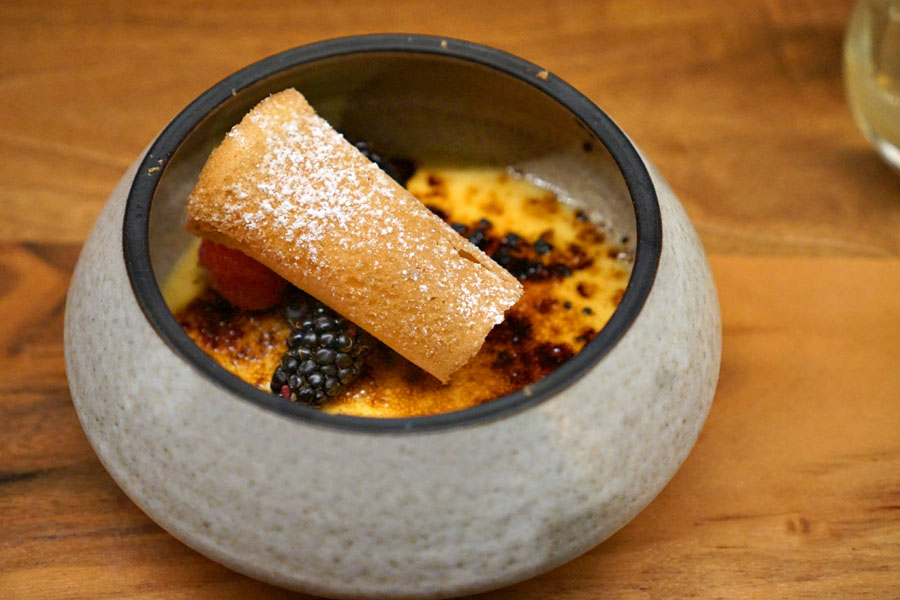 Duck Egg Crème Brûlée [$12.00]
| muscovado, market berries
This was one of the most venturesome versions of crème brûlée I've had, thanks to its more savory, more smoky, more bitter flavors. Nice crunch from the tuile-like tube on the top, too.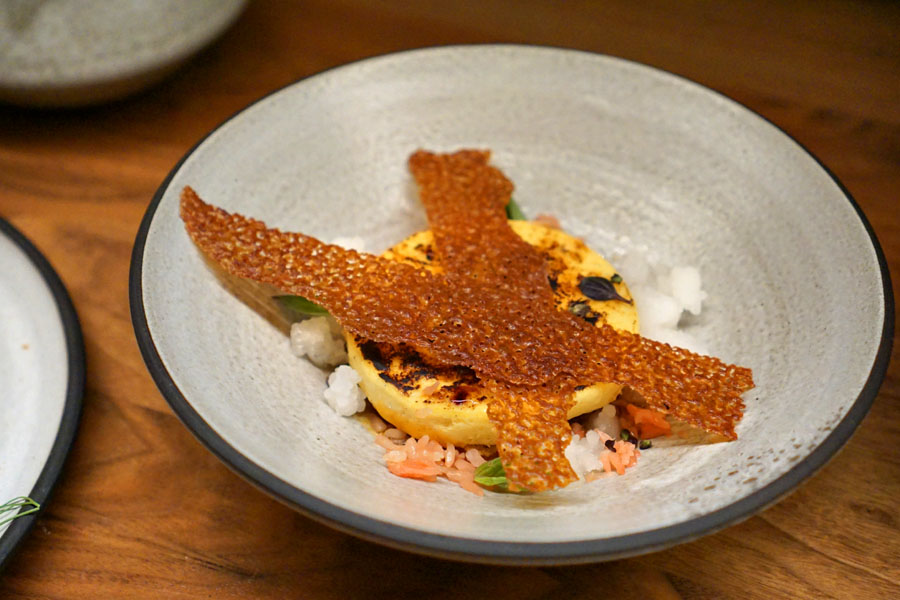 Citrus and Bubbles [$13.00]
| grapefruit semi-freddo, nitro champagne, thai basil
Last up was the most divisive of the desserts. Think intense, bracing, in-your-face notes of citrus fruit, laced with the pungency of Thai basil and set over a surprisingly boozy, acerbic base of frozen bubbly. I didn't mind it, but you might.
Tesse is situated in a part of WeHo that's not exactly well known for its culinary merit. The restaurant hopes to change that perception, and I think they're making some headway. The food is pretty easy-going at its core, but you can tell that there's a measure of ambition in the cooking. Much of what we ate delivered, though there was certainly a fair share of misfires as well, and I think part of the issue is that the kitchen might be trying to do too much. I counted a whopping 67 items on the menu, so I do think some rationalization is in order here.