Yours Truly (Los Angeles, CA)
Yours Truly Restaurant
1616 Abbot Kinney Blvd, Los Angeles, CA 90291
310.396.9333
www.ytvenice.com
Sun 06/30/2019, 08:10p-10:20p
We last caught up with Vartan Abgaryan at
71Above
, not too long after it opened back in 2016. The place soon established itself as one of the more notable dining destinations in Downtown, and things seemed to be going well by most accounts. However, in February this year, it was announced, somewhat surprisingly, that the Chef would be leaving the restaurant, to be replaced by his CdC and longtime colleague Javier Lopez. Not long after, we found out that Abgaryan was going to be running things at Venice's new Yours Truly, and the eatery ended up dropping on March 21st.
Yours Truly is located in the former home of
Salt Air
, which shuttered at the start of February. Salt Air was spearheaded by David Reiss, and Reiss remains on board as a partner, as do Moise and Carol Ann Emquies. New to the mix is Paul Pruit, the founder of hospitality consulting group
New School
, who's also a partner in
Roy Choi
's Best Friend at the Park MGM in Las Vegas (in addition, he was a F&B partner at
The Line Hotel
and helped out with both
A-Frame
and Salt Air). Running the FOH, meanwhile, is General Manager Michael Abruscato, a Salt Air alum.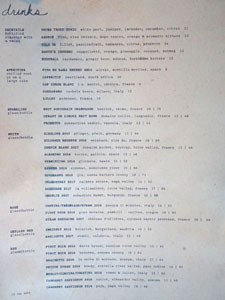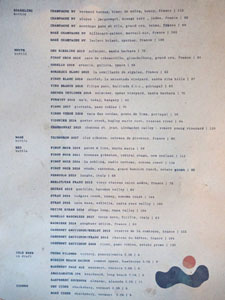 Abgaryan refers to his cooking here as "Modern Californian," which I guess it means it draws from all over the place (not necessarily a bad thing). To drink, you'll find low-proof cocktails from Brian Butler, beverage director for Reiss Co, about a half dozen beers, and a fairly diverse wine list. Click for larger versions.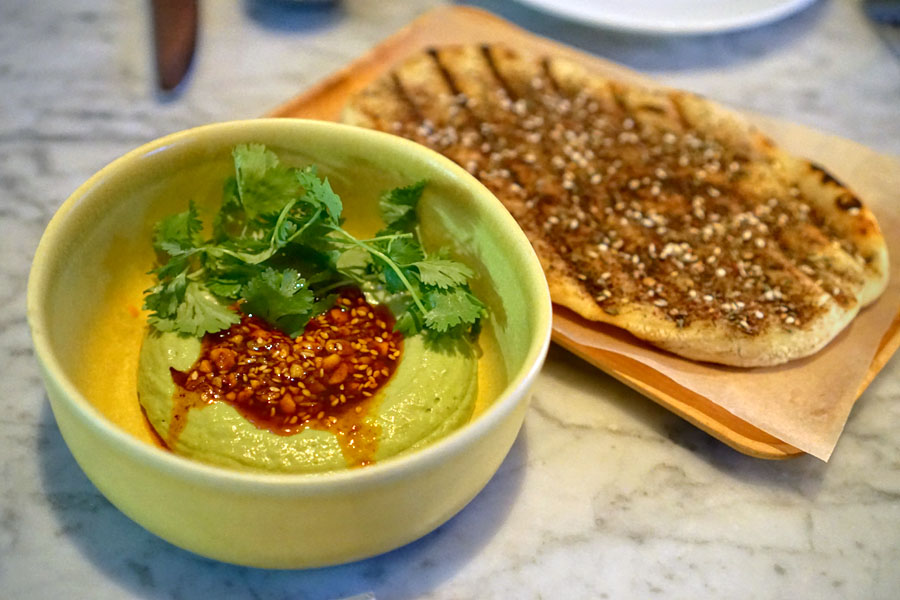 Avocado Hummus [$16.00]
| salsa macha, peanut, lime, za'atar flatbread
Our meal got off to a fantastic start. The "hummus" blended the smooth, savory, and surprisingly complex nature of avocado with a delightfully nutty, multifaceted spice from the salsa, while the cilantro imparted a striking brightness. It was a perfect pairing with the flatbread, a supple, heavily spiced, sesame-forward example that was reminiscent of
manakish bi za'atar
. Really fun, really smart.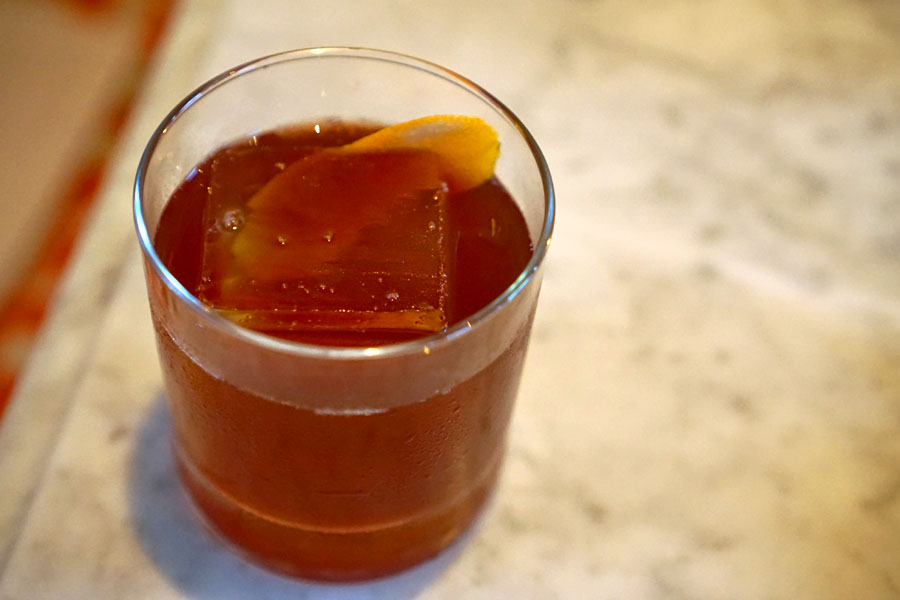 Adonis [$13.00]
| fino, vino chinato, dopo teatro, orange & aromatic bitters
The evening's first cocktail was a doozy. It smelled great thanks to its aromas of citrus and dark fruit, while the sherry gave things an oxidative slant. On the palate, I got more intense Fino character, with tons of nuts, fruit, and chocolate joined by citrus and herb on the drink's long-lasting finish. Very cool.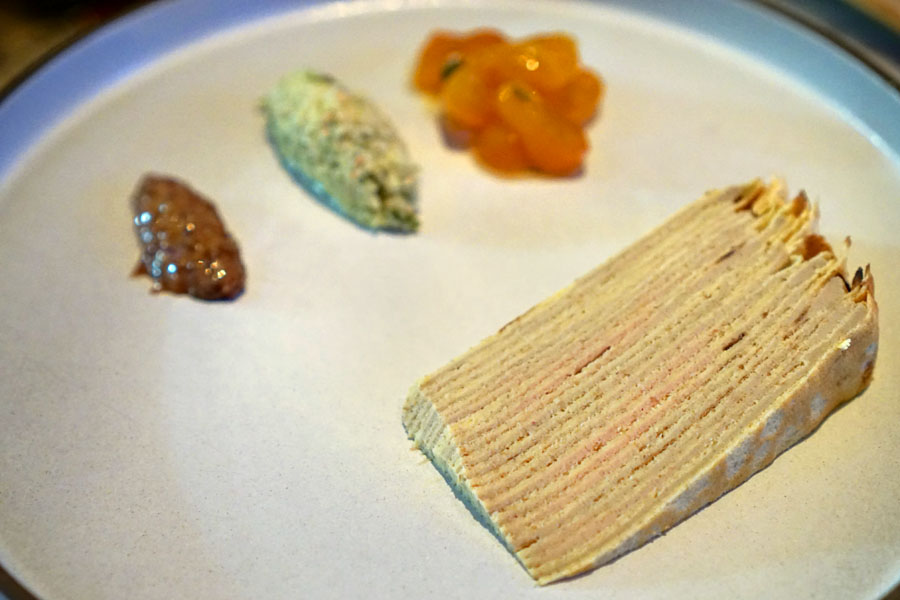 Chicken Liver Mille Crêpe [$15.00]
| rye crêpe, kumquat, artichoke persillade, currant mostarda
The most unconventional dish we had was this savory take on a
mille crêpes
cake. What was intriguing here was how the airy rye pancakes moderated the potency of the liver; it was almost like having it spread over a piece of bread. However, the dish wasn't complete without is three accompaniments, which provided contrasting sweetness, acidity, and mustard-y zing.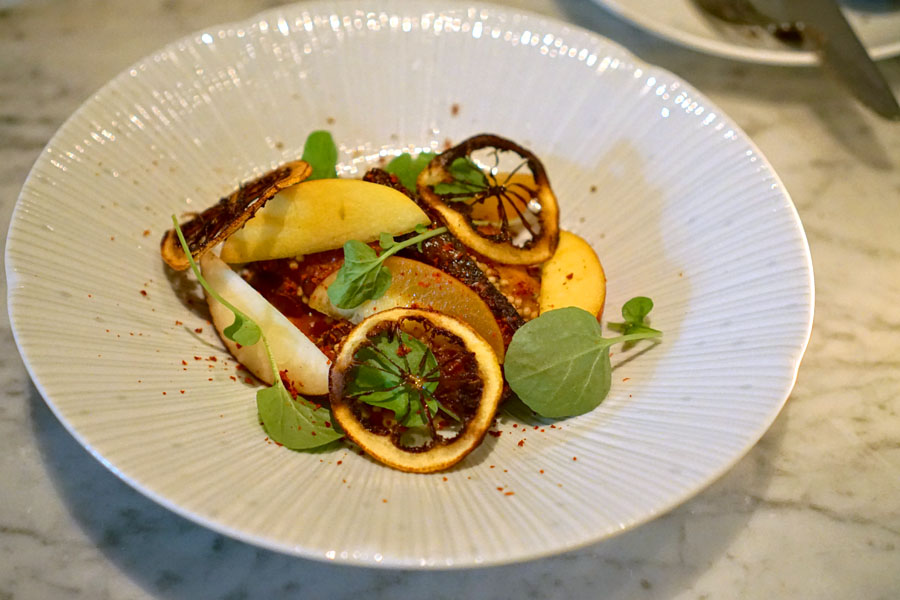 BBQ Octopus [$26.00]
| peach bbq, lebni, mustard seeds, watercress, aleppo pepper, lemon
I was pretty impressed with the octo as well, which I found tender enough, with a proper level of smoke and char. The barbeque sauce was a bit of a concern for me, but fortunately its sweetness was tempered, and instead I got a nice amount of heat from it. Great tanginess from the mustard here, too.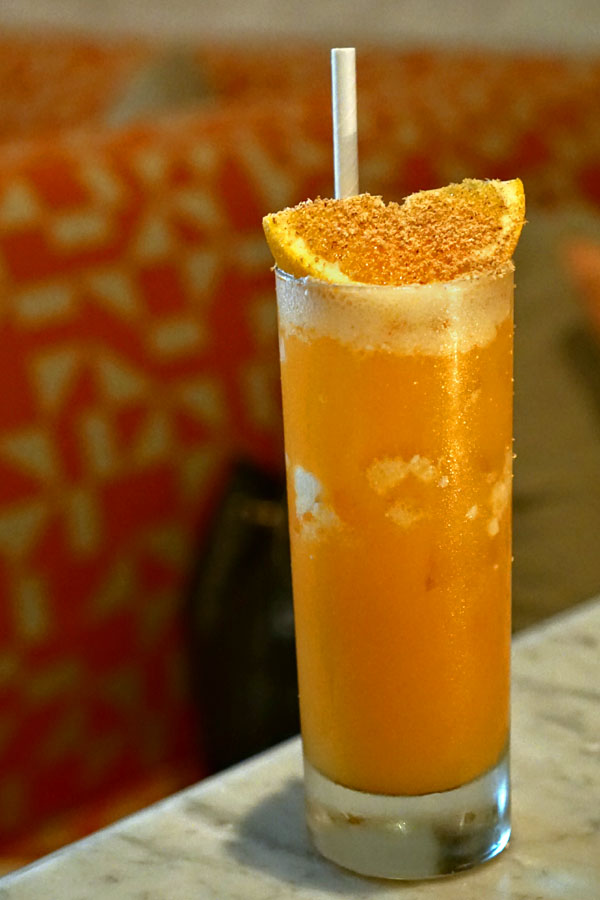 Dante's Inferno [$13.00]
| cappelletti, orange, pineapple, coconut, nutmeg
Given the name of our second cocktail, I was expecting something a bit more challenging, but this was super quaffable. In fact, it almost had some Creamsicle-like flavors, its notes of tart pineapple and citrus well-accented by the warming spice of nutmeg on the back end.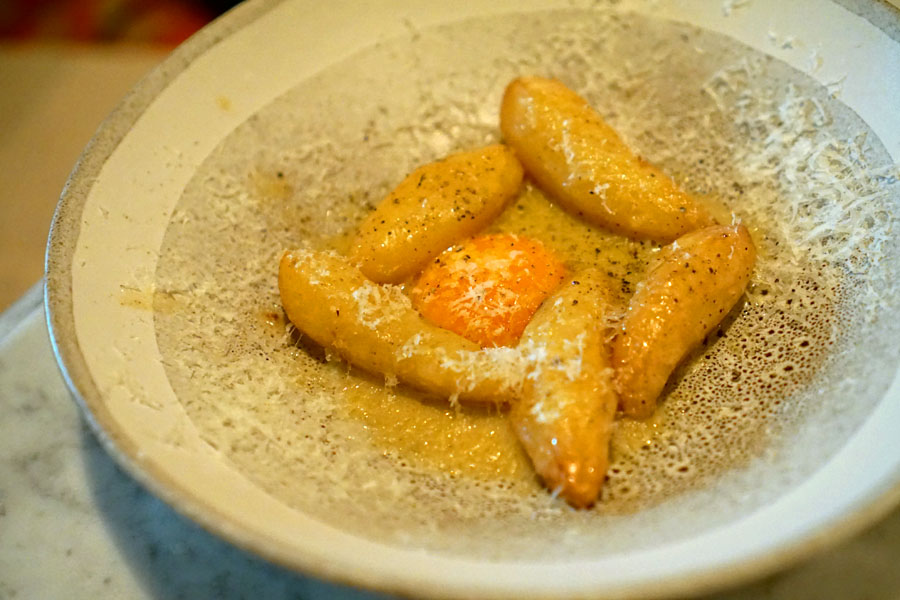 Fingerling Potato [$14.00]
| cacio e pepe, black peppercorn, egg yolk, pecorino, parmesan
A rejiggered
cacio e pepe
was a winner, and really did recall the classic dish. I got a healthy dose of black pepper, which worked seamlessly with the saltiness of the Parm, all while the egg imparted further richness to the fray. What made this really work, though, were those silky, creamy potatoes, which functioned beautifully as a stage where all these strong flavors could sing.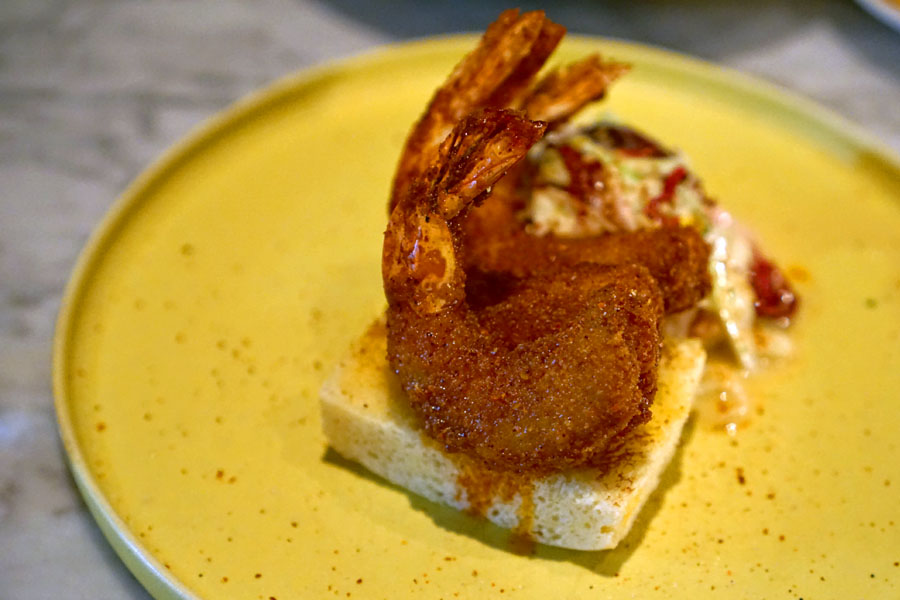 Nashville Hot Shrimp [$29.00]
| japanese milk bread, cabbage, pickle juice vinaigrette, mustard
Thankfully, the hot shrimp weren't too hot, but instead showed off an aggressive level of seasoning that was much more contemplative. It linked up pretty well with the strong salinity of the prawns, and I appreciated the levity provided by the slaw. As for the milk bread, it was perhaps a touch dry, but did serve to even out the heady flavors at play here.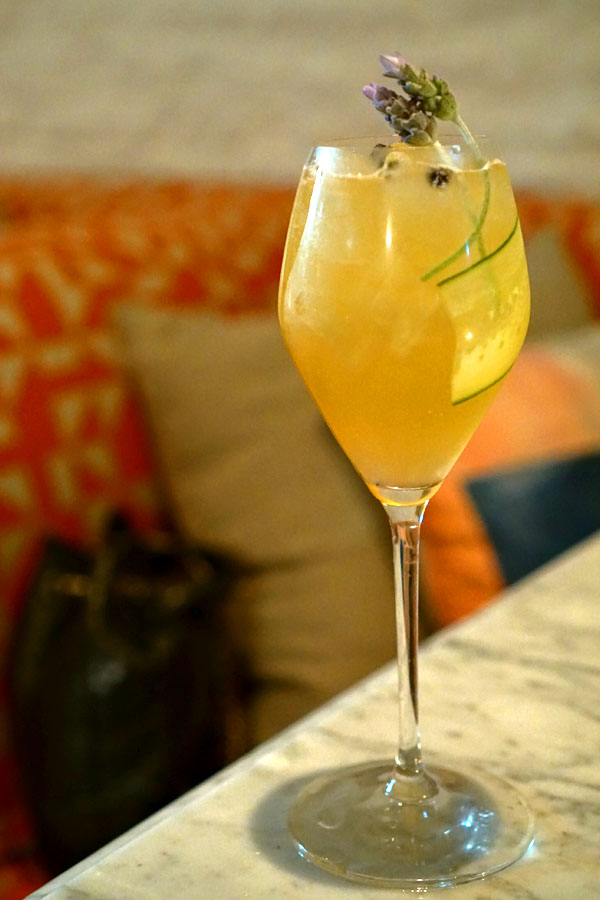 Yours Truly Tonic [$11.00]
| white port, juniper, lavender, cucumber, citrus
I found this super fruity, which I guess you can sort of expect from cocktails served in a wine glass. Refreshing flavors of peach and sour plum contributed to a very familiar sort of tartness that I couldn't quite put my finger on. The lavender, meanwhile, was more of a factor on the nose, while the juniper was fairly subdued as well, peeking through just enough.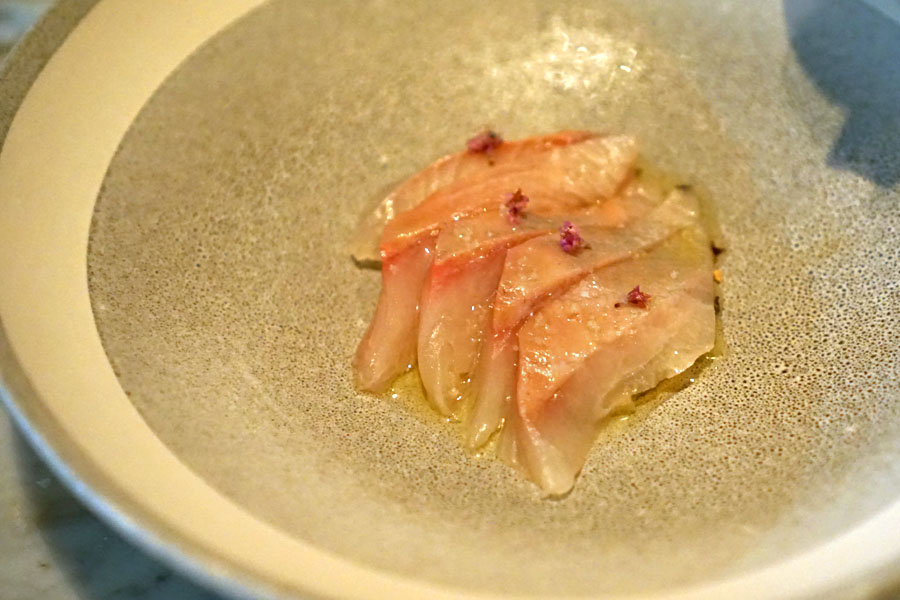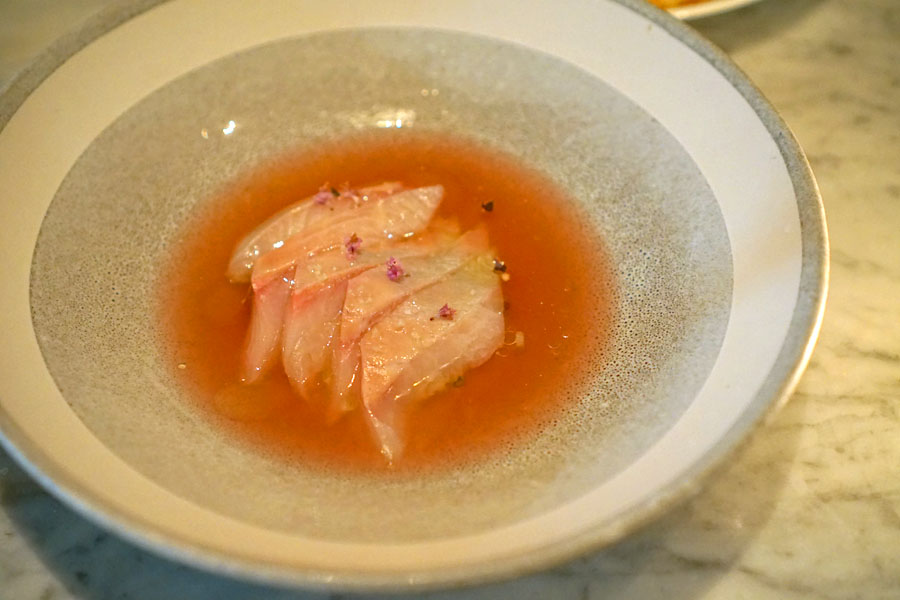 Kanpachi [$18.00]
| rhubarb, daikon, verjus, lime, green tea, basil, mint
Here, the fattiness and brine of amberjack was mellowed out by a rather tart rhubarb-based broth. The dish was a bit one-note though, as I really didn't get much from the advertised mint or basil, which I think would've helped lift and balance the dish. I couldn't really taste the green tea, either.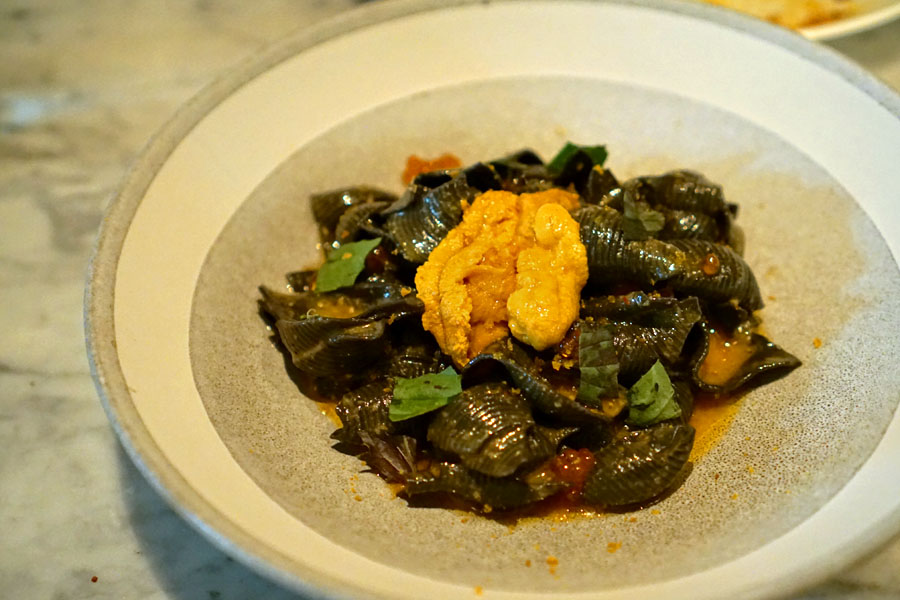 "Carbonara" [$32.00]
| squid ink shells, uni, trout roe, bottarga, chipotle butter
Squid ink-infused
conchiglie
were set in a buttery, chili-infused sauce. It had this type of heat that builds up, that sneaks up on you a little bit. The sea urchin actually smoothed out the considerable heat and salt in the dish, making for a more interesting than expected eating experience.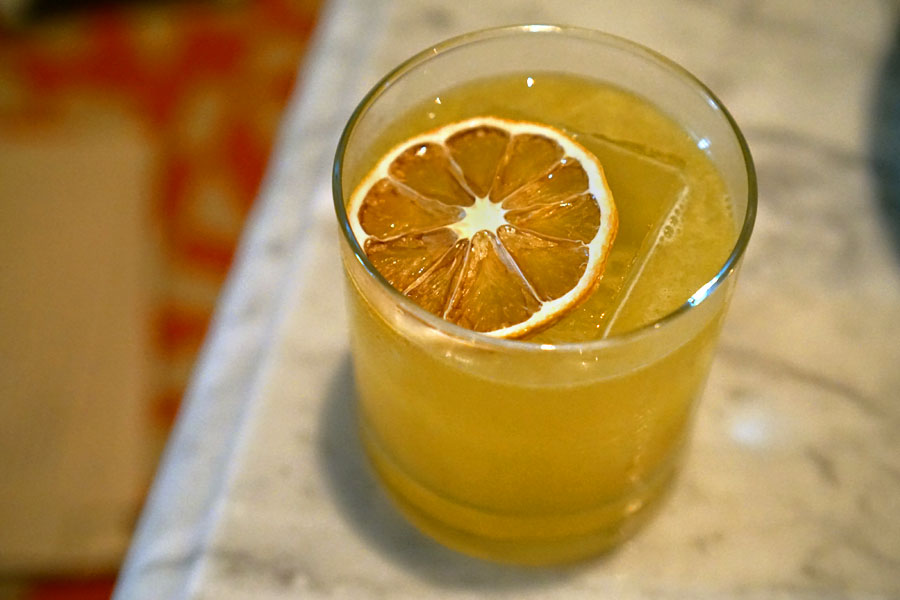 Gold 75 [$14.00]
| lillet, passionfruit, habanero, citrus, prosecco
Our final cocktail was a fun one. Thanks to the use of Prosecco, I found it not unlike a fruited sour beer (think Berliner Weisse), while I also detected a touch of heat from the habanero bringing up the rear.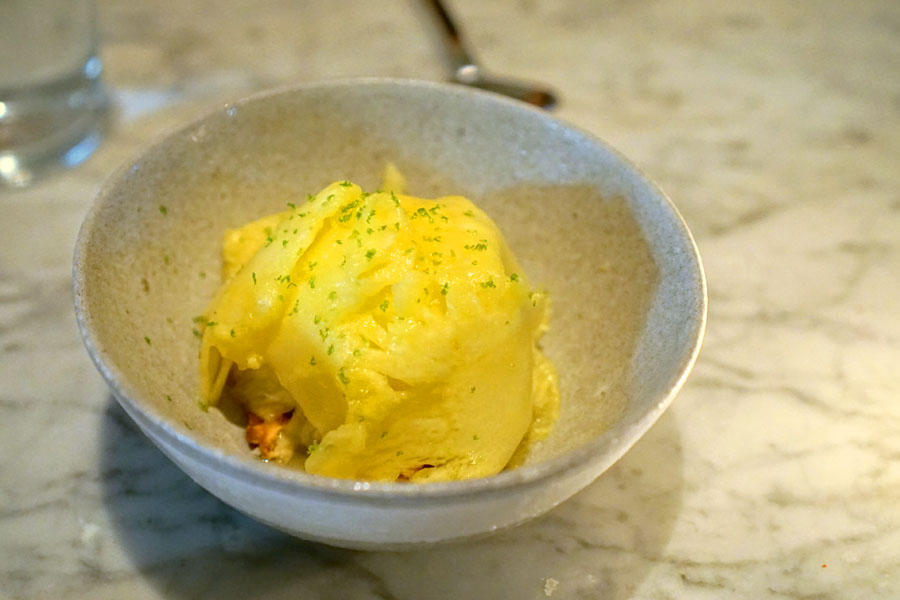 Coconut Macaroon [$10.00]
| coconut ice cream, shaved pineapple, lime
Dessert comprised a crunchy, coconut-y macaroon, draped with multiple layers of tart pineapple and sprinkled with lime zest. I wasn't in love with this, but I did enjoy the almost floral notes present.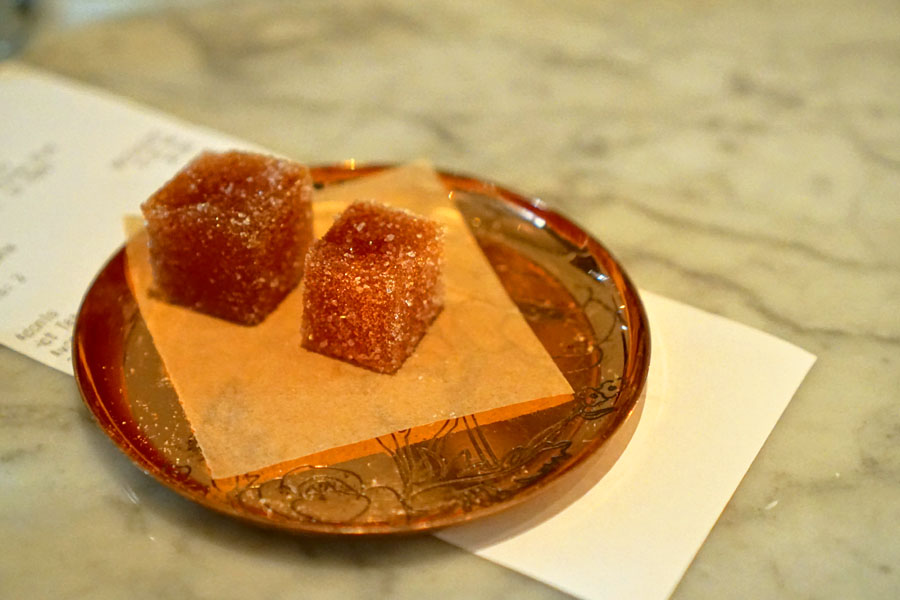 Lemon-basil
pâtes de fruits
had this sort of generic sweetness up front, with the basil coming in on the mid-palate, joined later by sour citrus.
Yours Truly describes itself as an "earnest neighborhood restaurant," and I do sort of get that. Despite a couple hiccups, I think Abgaryan is doing some pretty commendable work in the kitchen, taking inspiration from myriad sources and combining them into food that seemingly makes more sense than it should. The cooking's bold, maybe even brazen, but also approachable and often whimsical at the same time. I was a bit bummed to see the Chef depart 71 Above, but he seems to have found a good home here, so we'll see how long he can stay.