Public Beer Wine Shop (Long Beach, CA)
Public Beer & Wine
121 W 4th St, Long Beach, CA 90802
562.499.0415
www.publicbeerwineshop.com
Sun 11/27/2016, 09:40p-11:10p

I'd been visiting Public, a bottle shop-slash-tasting room, sporadically since it opened at the very end of 2013. The place was given a kick in the pants in April this year, when it was sold to none other than Chef Eddie Ruiz (of the now-shuttered
Corazon y Miel
) and his partners Gino and Annaliese Espinosa. Turns out that Ruiz moved to Long Beach in 2015 and quickly became a regular at Public. Since taking over, he's instituted a short, CyM-inspired food menu that's served Thursdays through Sundays, so we decided to check it out.


Public sits on the bottom floor of the historic Walker Building. Most of the space is taken up by a pretty typical bar setup, but I prefer to sit in the more sedate area out front. Note the cooler full of beers; it's a fairly small selection, but also highly "curated."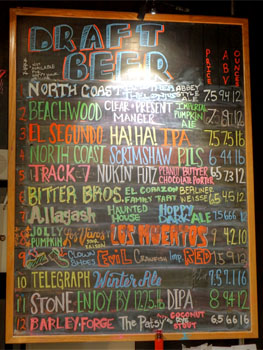 We were offered a special Thanksgiving menu this evening, but all the regular dishes were still available as well. Drink-wise, you get a dozen beers on tap, but the bottles are usually more interesting. Corkage is free. Click for larger versions.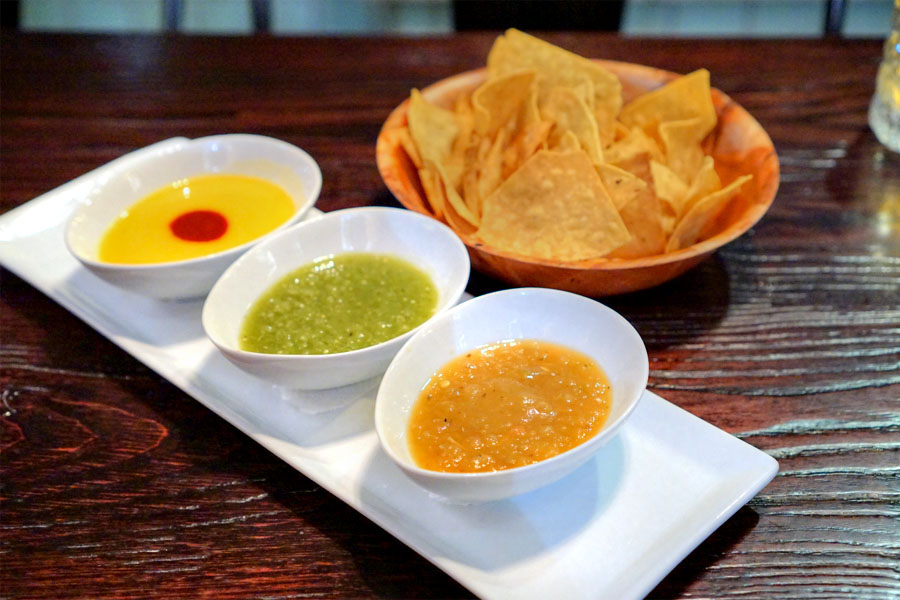 Chips & Salsa Flight [$5.00]
| 3 salsas of the week served with non-gmo tortilla chips
We felt compelled to begin with the ubiquitous chips 'n' salsa. The actual chips were on point, coming out warm and crunchy, while the salsas each had their own charm. First was a house
molcajete
salsa infused with saffron, which I found fruity and slightly spicy, though not overtly saffron-y. The tomatillo was nice and bright, with a sharper heat. Finally, a combination of habanero and roasted chile was definitely hot (too much so for me in fact), but with a smoky edge.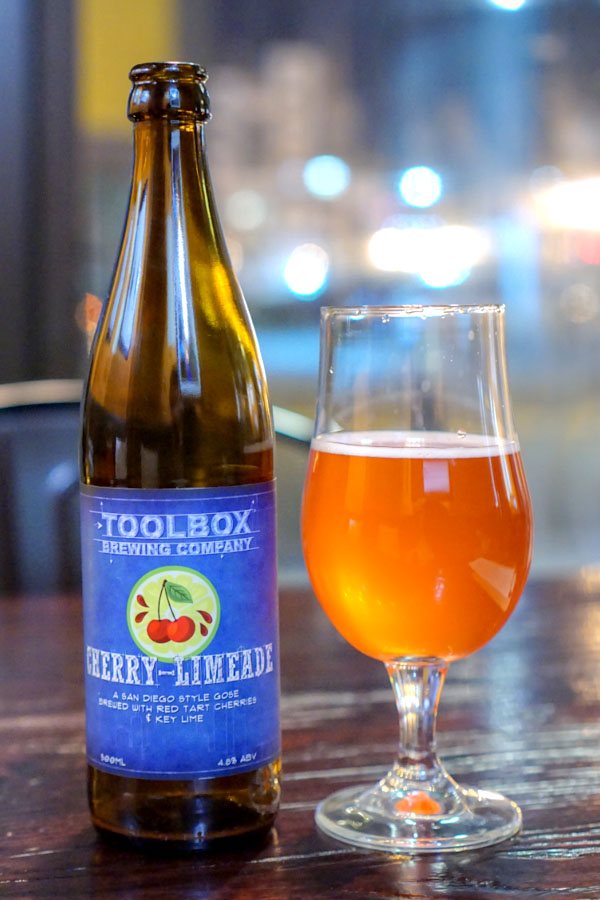 First to drink was the
2016 Toolbox Cherry-Limeade
, a gose-style ale brewed with red tart cherries and key lime. Nose of the advertised tart cherry and lime. Taste brought light cherry at first, with a bit of sweet spice, the beer finishing with an astringent sourness. Not much to this one overall--flavors seemed a bit muted.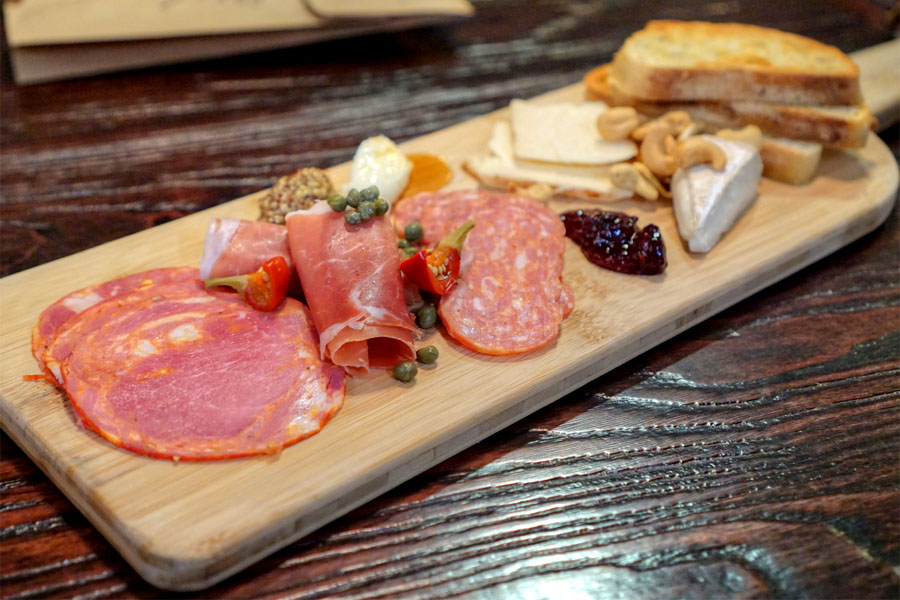 Charcuterie Board [$15.00]
| cured meats, cheese, pickles, olives, seasonal fruit jam, toast
Charcuterie was provided by Michael Puglisi's
Electric City Butcher
. A hot capicola ate meaty and tender, and showed off a great spiciness along with a finish that was almost anise-y in nature. There was also a salty, nutty prosciutto, along with pleasantly piquant slices of soppressata. On the cheese side of things, we had a crunchy, nutty, mature-tasting Artigiano from Wisconsin and a classic, creamy, mildly funky Brie. Rounding things out were accoutrements of olive bread, cashews, blackberry jam, butter with honey, whole grain mustard, and capers.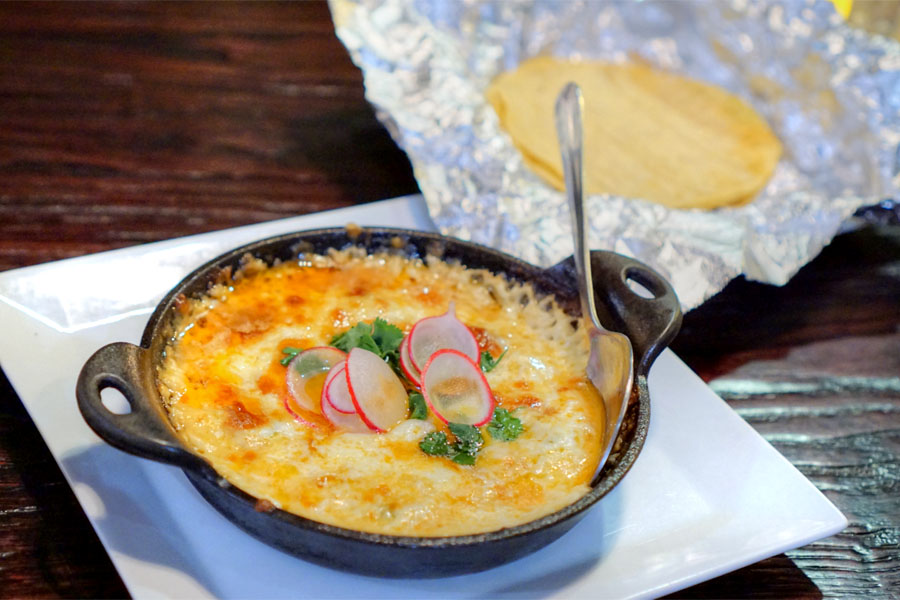 Queso Fundido [$14.00]
| queso, chorizo, anaheim chilies
This dish was legit cheesy, but with a spicy-savory component from the chorizo and some well-placed herby accents. Even better when folded into the provided tortillas with a dollop of salsa.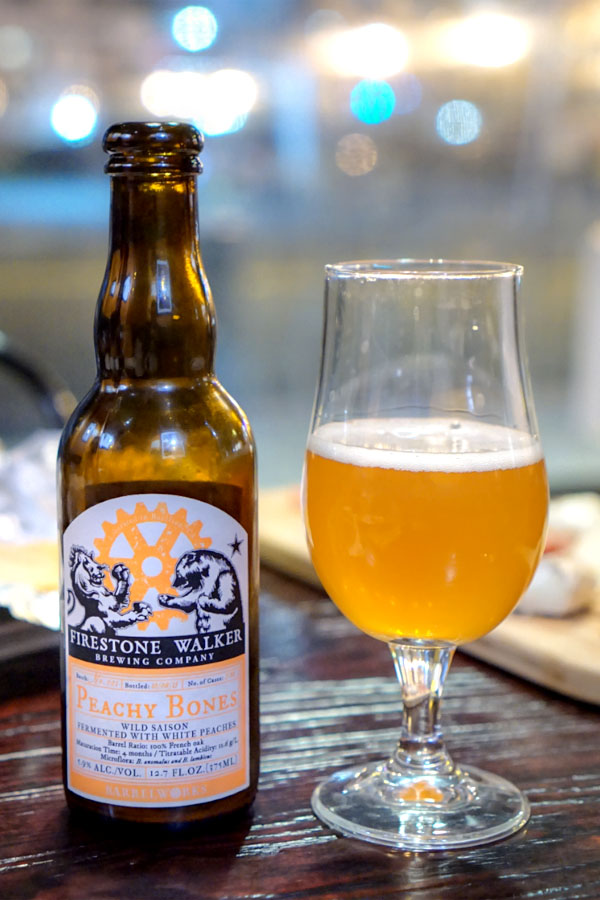 Next to drink came the
2015 Firestone Walker Peachy Bones
, a Brett saison aged in French oak for four months, then further fermented with white peaches. This one smelled super bright, sweet, and juicy, with some almost lychee-like notes. Its taste went funkier, displaying the yeast, while the stone fruit came in on the mid-palate before transitioning to a bitterness on the close.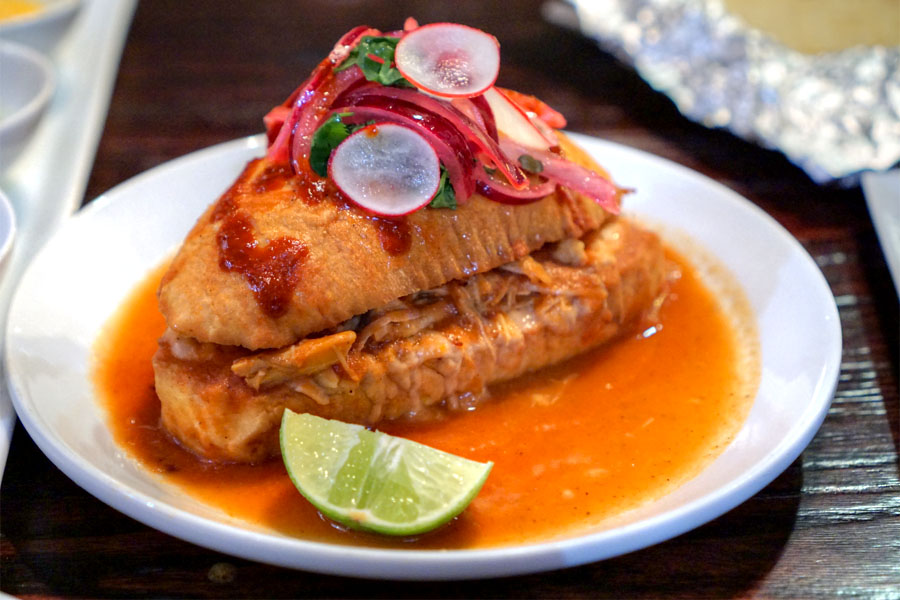 Torta Ahogada [$12.00]
| braised pork in tomato sauce, bean purée, queso fresco, pickled onions
A messy looking sandwich showcased tender shards of pork enrobed in classic, cozy spices, with the pickles on top providing a great touch of countering crunch and acidity.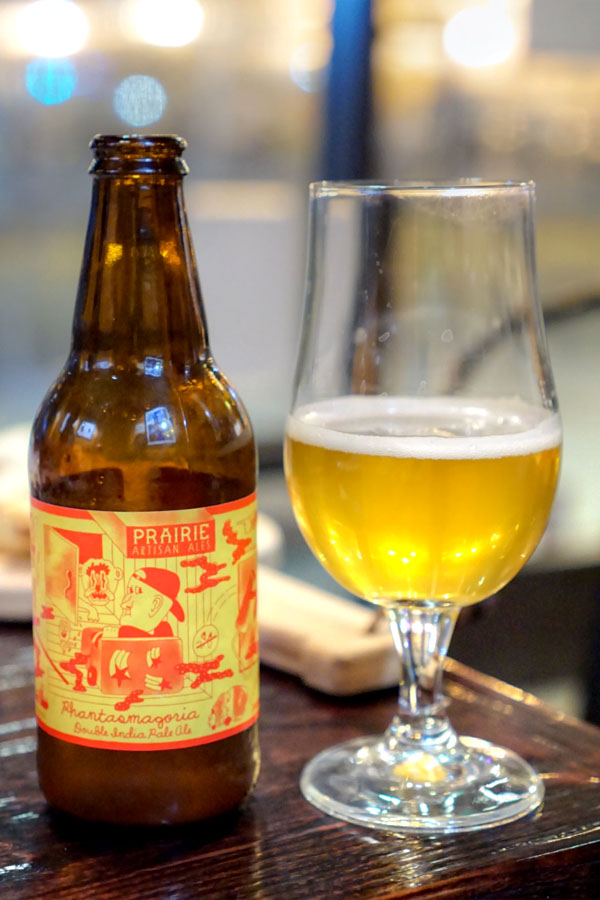 The
2016 Prairie Phantasmagoria
was a double IPA done in the West Coast style. I found this highly aromatic, with loads of hops and juicy fruit on the nose. The palate went floral at first, but with intense, piney hops coming in later and lasting long. Surprisingly nice.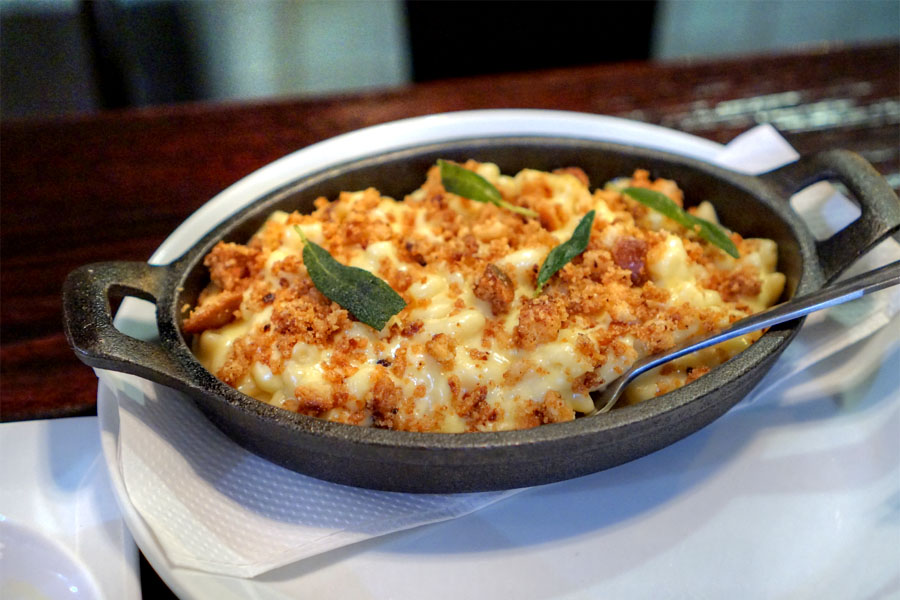 Smoked Gouda Mac and Cheese [$10.00]
| gouda, garlic butter breadcrumbs, fried sage
The mac 'n' cheese was hard to resist, and did indeed come out properly creamy, though not particularly smoky. It was tasty though, especially with those breadcrumbs, which reminded us of processed garlic bread (you know, the ones you got in the long bags at your local Vons back in the day).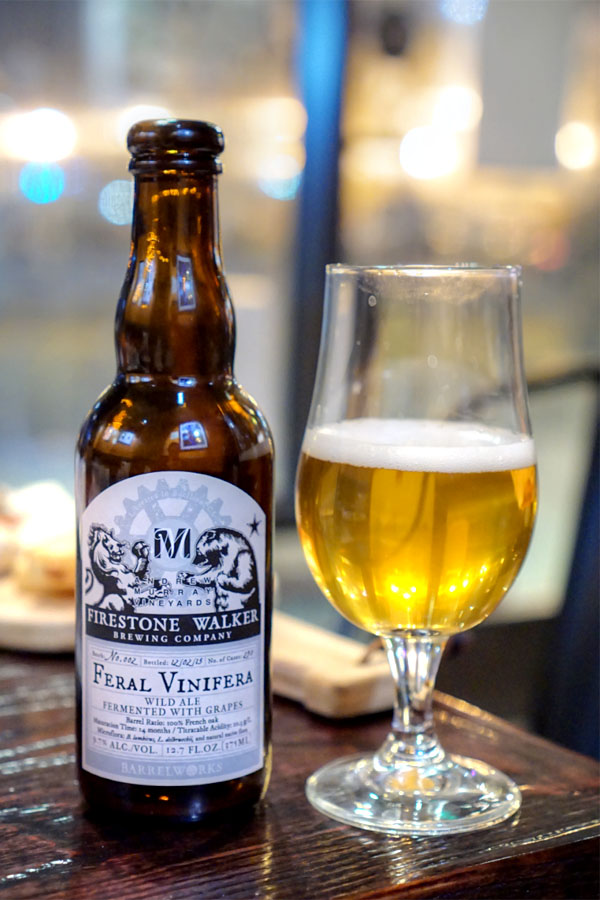 Our final beer was the
2015 Firestone Walker Feral Vinifera #2
, a wild ale fermented with wine grapes (Sauvignon Blanc, Chenin Blanc, Muscat) and aged in French oak for 14 months, created in collaboration with Andrew Murray Vineyards. Nose was sweet and fruity, but with a vinous funk underlying. In terms of taste, again I got very wine-like notes, commingled with yeast, more fruit sweetness, and some minerality.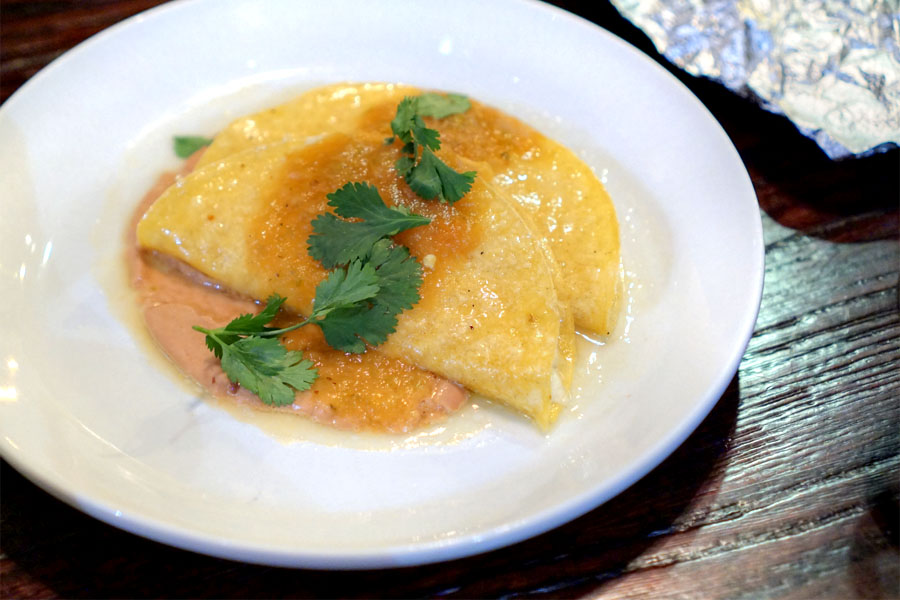 Tacos de Mi Abuela [$9.00]
| queso casero, bone marrow fried beans, salsa de abuela, fleur de sel
Last up were tacos stuffed with a mild, homey
queso casero
and perked up by the salsa on top. Nice pairing with the rich, bone marrow-enhanced beans.
Although the cooking probably wasn't quite at the level of what Ruiz was putting out over at Corazon y Miel, the food was more than fitting given its context. We had a fine time at Public, and it's great to have something else to enjoy about the place. We'll probably be back.