Gravitas (Washington, DC)
Gravitas Restaurant
1401 Okie St NE, Washington, DC 20002
202.763.7942
www.gravitasdc.com
Thu 10/03/2019, 07:30p-11:45p

I was dining at Eric Ziebold's
Métier
back in August last year, and when I asked the manager there for restaurant recommendations, one of the first spots that he mentioned was Gravitas, which actually had just opened that July. The place had been on my "to-eat" list ever since, so I decided to give it a go. Situated in the small neighborhood of Ivy City, Gravitas is the work of Chef/Owner Matt Baker, and serves creative American fare with an emphasis on the Chesapeake Bay region.
About the Chef
: Matthew Baker was born and raised in the Houston area, and started getting interested in food at an early age. This led to a culinary arts degree from Johnson & Wales (c/o 2008), which was followed by a stint learning hospitality management at Florida International University. After completing his studies there in 2009, he cooked briefly in South Beach, then relocated to Singapore to open Krish (a spot serving South Asian-inflected European fare) as Executive Chef. This gig lasted until February 2011, and following, he ended up moving to DC. Now in the District, Baker cooked for a short while at
Minibar
before transitioning to Robert Wiedmaier's Marcel's. In October 2011, he became executive sous at another one of Wiedmaier's spots, Brasserie Beck, working under Brian McBride. He then switched over to the longstanding Occidental Grill & Seafood in May 2012, where he functioned as CdC for EC Rodney Scruggs. It was also at this time where Baker started his own restaurant consulting company: Well Fed Hospitality Group (where wife Lindsay also worked).
He left Occidental in September 2014 to become opening Executive Chef at City Perch Kitchen + Bar at North Bethesda's Pike & Rose development; interestingly, one of the partners in the place was none other than LA's own
Sherry Yard
. However, he decamped in August 2015 to begin work on Gravitas, which actually started out as a series of pop-ups. The brick-and-mortar version, meanwhile, was announced in April 2016, while September 2016 saw the debut of Baker's French Exit sandwich concept, also in pop-up form (though it's slated to become a permanent fixture in the new Quarter Market in Ballston). In June 2017, he consulted on Franklin Hall, a beer spot in the historic Manhattan Laundry building, then launched a
Kickstarter
for Gravitas. Then, after considerable delay, the restaurant finally opened on July 1st, 2018.
Meanwhile, doing most of the heavy lifting for our menu this evening was Chef de Cuisine Vincent Badiee. Born to a Persian family, he grew up in rural Virginia near Fredericksburg and graduated from Courtland High School in 2006. Following, he attended Georgetown, but soon realized that he wanted to cook for a living. He thus moved to NYC at the start of 2007 and enrolled at the International Culinary Center, focusing on the school's Italian cuisine program. Because of that focus, he was able to live in Italy for one-and-a-half years, where he worked for the late Gualtiero Marchesi and
staged
at Oasis Sapori Antichi, in addition to studying at ALMA in Colorno. After graduating in January 2009, Badiee moved back home and worked on the line at Brock's Riverside Grill in Fredericksburg. The following September, he landed a gig at Robert Wiedmaier's Brabo in Alexandria, then transitioned to Frank Ruta's Palena at the beginning of 2013.
In January 2014, he returned to New York and became sous at Il Ristorante Rosi, which was run by ICC dean Cesare Casella. About a year later, he was promised a job at Daniel, but ended up working at Café Boulud instead, taking up residence at the pasta station. Badiee's next move came in November 2015, when he started a three month stint as sous at Lidia Bastianich's Felidia. Then, in February 2016, he secured the exec sous position at Maison Premiere, a Beard-winning cocktail/oyster bar in Brooklyn. A year later, he joined the team at Eleven Madison Park, where he ended up focusing on R&D. He decamped at the start of 2018 and was lured back to DC by José Andrés, who promised a position at Minibar. However, he never did work there, but instead was sent to cook at Zaytinya, where he stayed until last September. From there, Badiee served as CdC at
Fiola
before coming to Gravitas in February this year.
Pastry Chef duties are handled by DC native Jerry Zawacki, who studied at the California Culinary Academy in San Francisco. After graduating in 2006, he returned home and began working at 2941 Restaurant in Falls Church, VA. In February 2007, he moved to Addie's in Rockville, MD, and in August 2008, switched over to Todd Gray's Equinox. After a fire shuttered the restaurant in December 2009, he began cooking at Wolfgang Puck's The Source, under Scott Drewno. However, Zawacki didn't stay long before leaving to head up the kitchen at The Gibson cocktail bar in May 2010. In March 2011, he, interestingly enough, decided to work as a barista at Filter coffee shop, which lasted for about nine months; during this period, he also consulted for Big Bear Cafe. December 2011 saw him open Phillip Blane's Unum as both Pastry and Sous Chef, but he was out by the next July.
He then spent three months as EC at 1905 Bistro & Bar in Shaw, then cooked at Pesce in Dupont Circle before opening
Derek Brown
's sherry bar Mockingbird Hill. At the start of 2014, Zawacki began a six month tenure at Aaron Silverman's oft-lauded
Rose's Luxury
. That September, he moved to NYC to work pastry at the iconic Del Posto, but was back in DC the following June. In August 2015, he was named Exec Chef of Petworth Citizen, then became sous at Robert Curtis' Hazel in October 2016. Zawacki started his own company, Mottonai Consulting, in March 2017, and soon after, was hired to refresh the food program at U Street Corridor cocktail joint Service Bar. He left in March 2018 and spent some time baking at Little Pearl before joining Mirabelle as pastry sous that July. He stuck around for four months, did some work at a friend's bakery, then started at Gravitas in February this year.

Gravitas takes over a building that was once home to the Pappas Tomato Factory, and which was redone with assistance from
Natalie Park Design Studio
and
The Lemon Collective
. Many of the structure's industrial elements have been retained, though the space has been softened by large swaths of warm wood, cozy light fixtures, and pops of greenery. Capacity is around 65 in the main dining room, 20 in the mezzanine, and 16 on the patio; there's also a six-seater bar up front. The rooftop, meanwhile, is home to Conservatory at Ivy City, a bar/lounge area surrounded by an urban garden.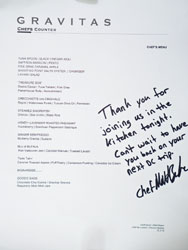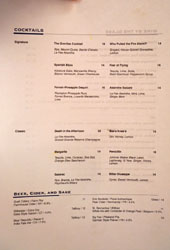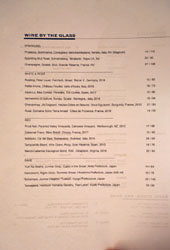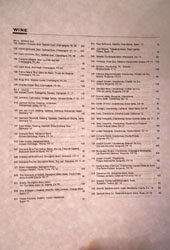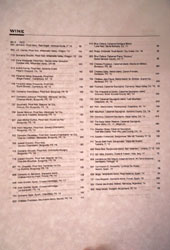 As for the menu, the main options are a five-course create-your-own tasting at $90 and a six-course Chef's Tasting Menu at $140, plus a three-course pre-theater menu at $56. You can also order à la carte at the bar/lounge/patio, and brunch is in play, too. However, we were here for the Chef's Counter, a multi-course experience that's available to only two diners a night. It's priced at $180pp (plus $36 for service and $24.48 for taxes and fees), with an optional $120 beverage pairing. Speaking of beverages, you get a mostly American and French wine list, a smattering of beer, and cocktails, all courtesy of Director of Operations David Kurka (who comes to us from Officina/
Masseria
, Inox, Brasserie Beck, Brabo, Cityzen, and Range). Click for larger versions.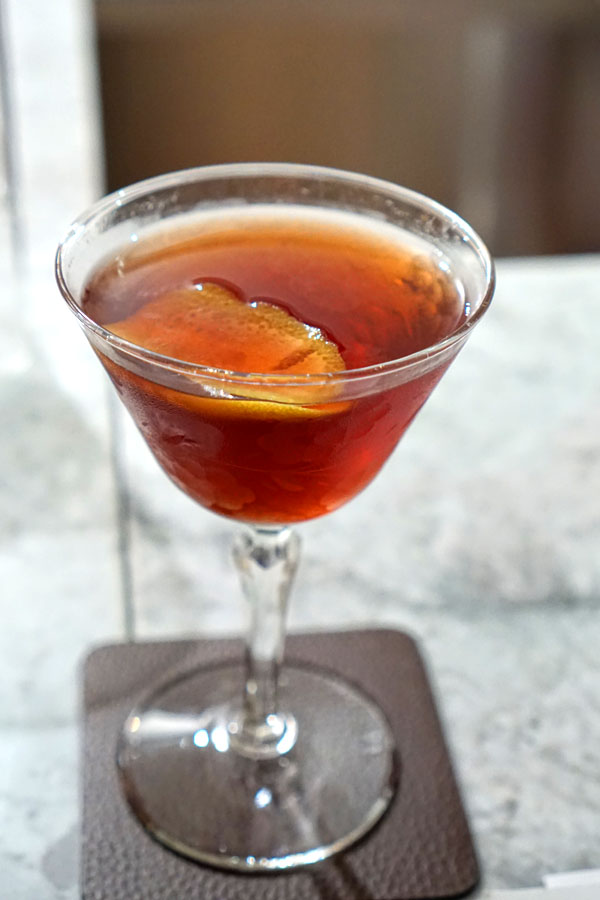 The Gravitas Cocktail [$16.00]
| Rye, Maurin Quina, Barolo Chinato, La Fée Absinthe
We opted for cocktails this evening, and I guess it just made sense to commence with the restaurant's namesake libation. It had a pleasing bouquet filled with citrus and dark berry fruit, while the taste brought chocolate and rich cherry perked up by sharp, anise-y notes from the absinthe. A nice start.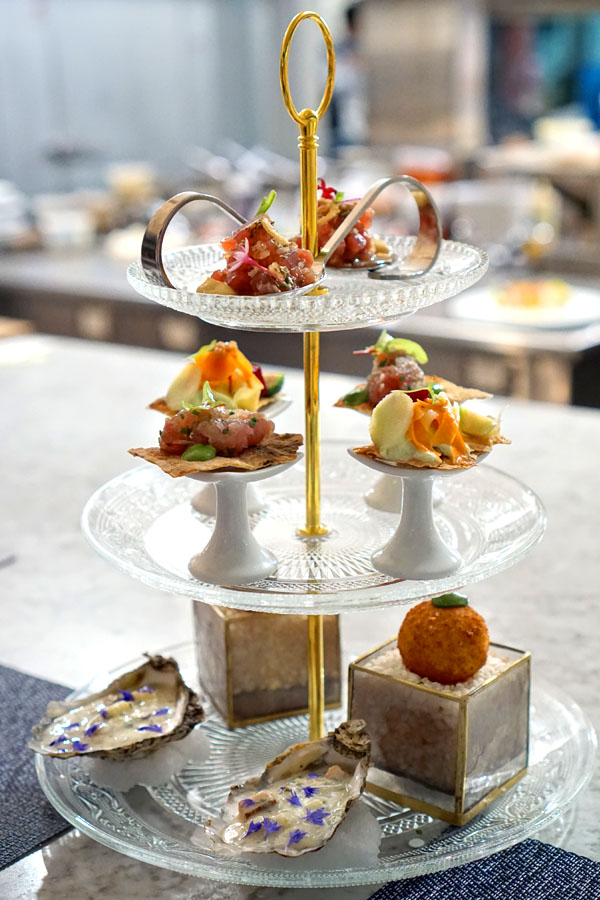 Our meal kicked off with a tower presenting a quintet of canapés.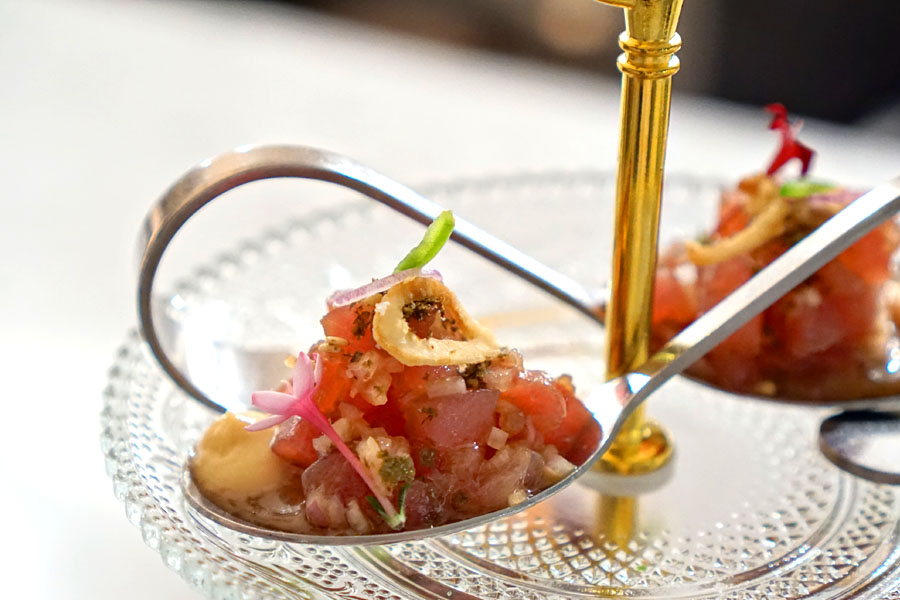 1: Tuna Spoon
| Black Vinegar Aioli
First up was the Chef's one-bite take on tuna tartar. Yellowfin ate clean, with a particular depth to it thanks to the use of soy and black vinegar, and I appreciated the piquancy imparted by what I believe was garlic and crispy shallot. I think this could be even better with some more heat to it.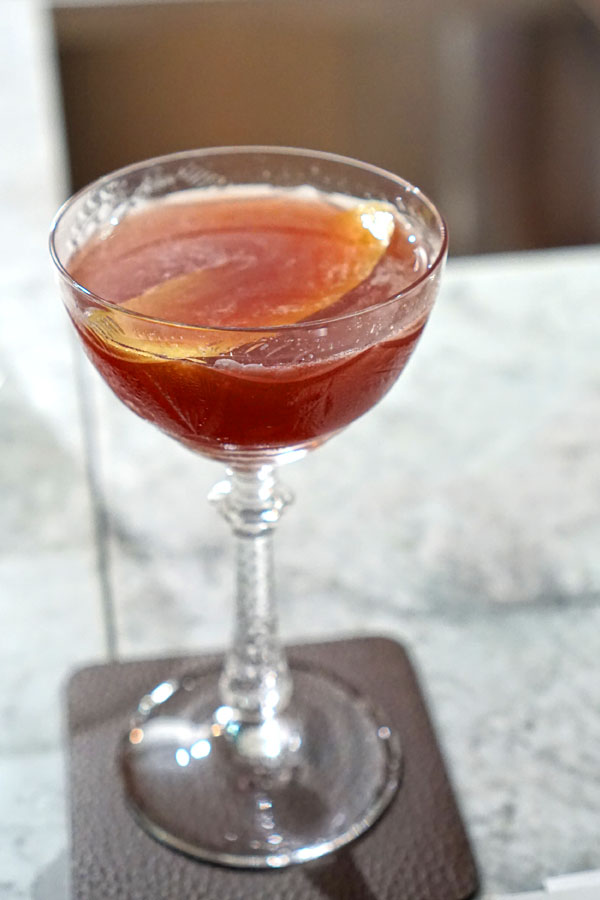 Who Pulled the Fire Alarm? [$14.00]
| Singani, House-Spiced Grenadine, Lemon
Our second cocktail had a nose of delicate sweet spice, but its taste was more assertive, giving up strongly astringent notes and lemon, along with a mid-palate displaying fruity, floral spice.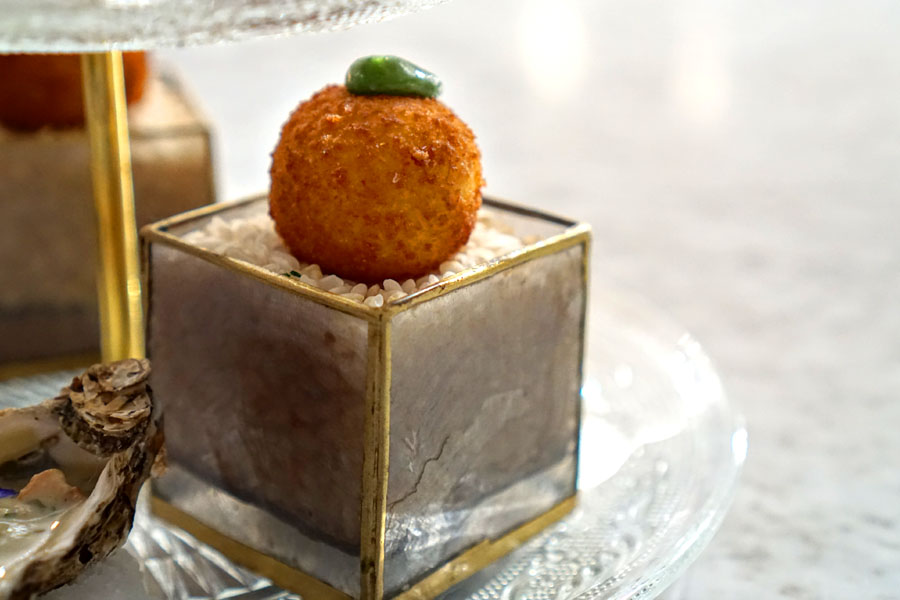 2: Saffron Arancini
| Pesto
A saffron-laced
arancino
was hearty and substantial, its crisp exterior hiding rich insides enhanced by the incorporation of English pea. On top? A bright basil pesto.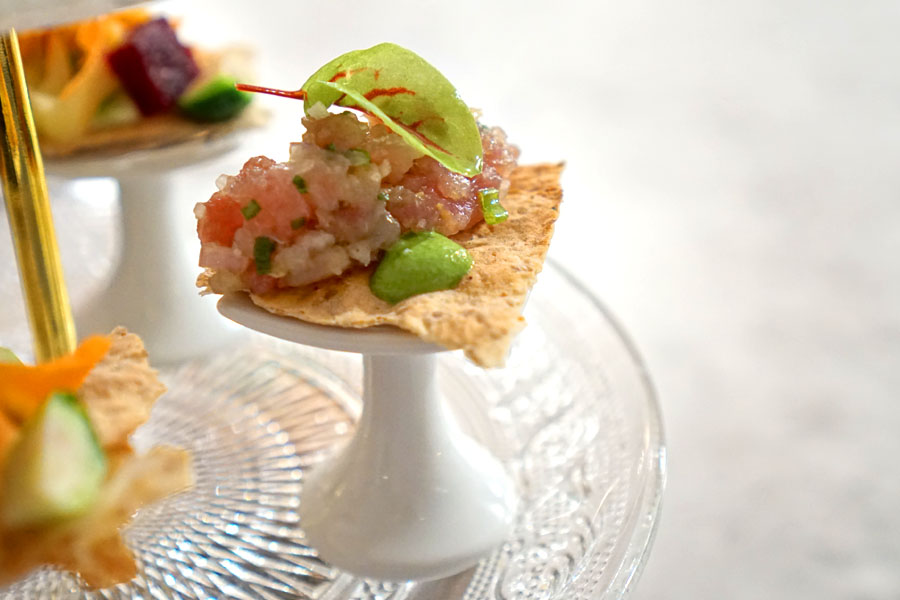 3: Italian Tuna Tartare
A second tuna tartar featured basil aioli, red vein sorrel, chives, and shallots (I believe). It was altogether different than the one above thanks to its plethora of tart, sour nuances that counteracted the brine of the tuna.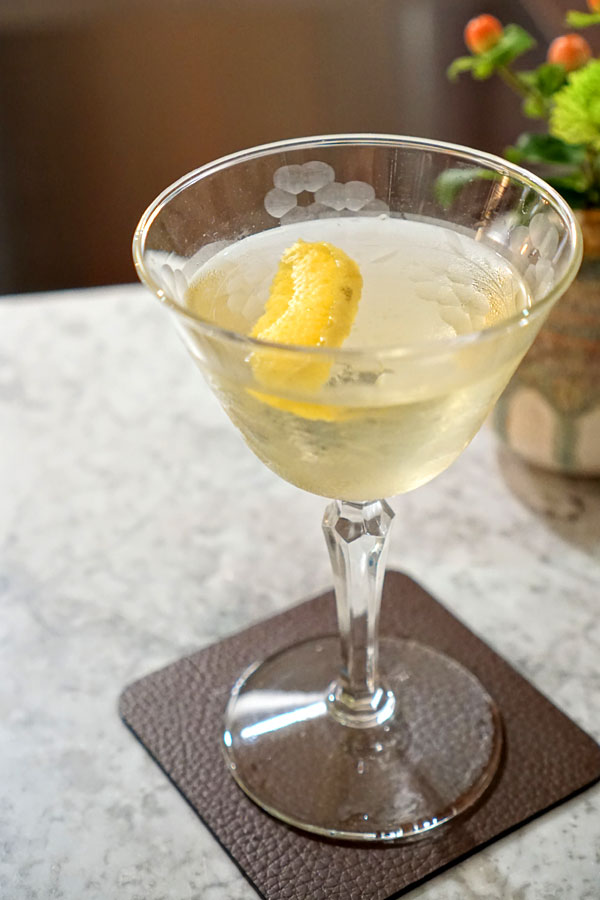 Spanish Bijou [$14.00]
| Kizakura Sake, Manzanilla Sherry, Bianco Vermouth, Green Chartreuse
This next cocktail was lovely, with aromas that were reminiscent of candied lemon. Taste-wise, I got this subdued funkiness at first, which led to decidedly nutty notes and a sour-salty element that was almost
suanmei
-like.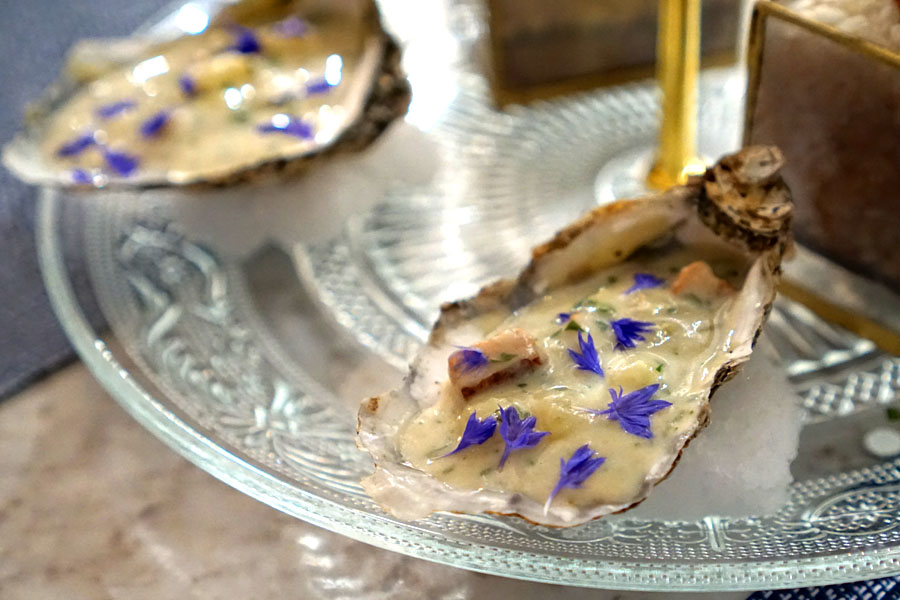 4: Shooting Point Salts Oyster
| 'Chowder'
Here were Badiee's favorite type of oyster, done in a New England clam chowder style. It really did capture the essence of the traditional soup: think lush, salty, "hammy," with a nice touch of lightness from the herbs.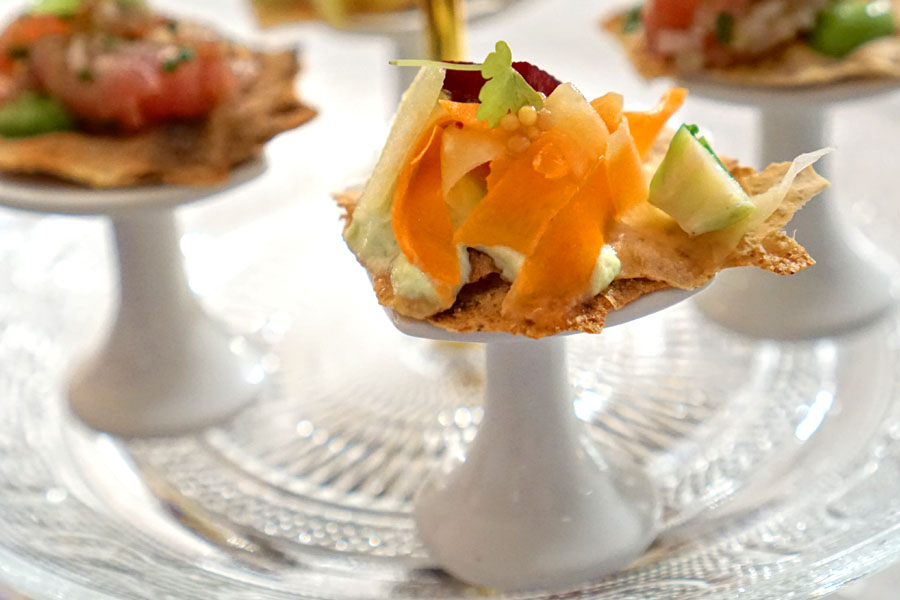 5: Chef's Salad
Our "salad" course was ostensibly based on the larger, seasonally-changing version on the regular menu. I got lots of crunch, lots of bitterness here, all tied together by a creamy dressing.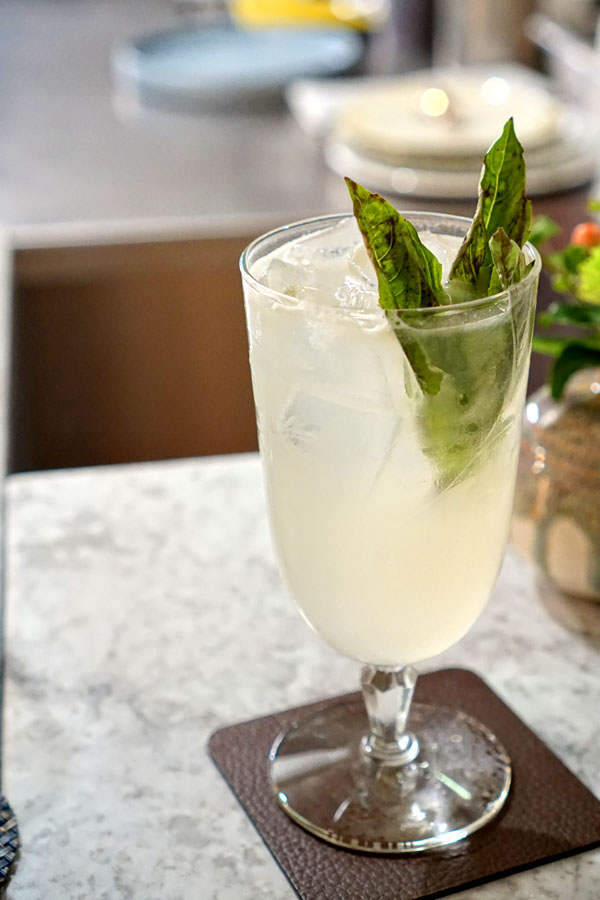 Fear of Flying [$14.00]
| Tequila, Lime, Soda, Basil-Szechuan Peppercorn Syrup
This cocktail was certainly on the light, fizzy, refreshing side, though I wish I could've tasted more from the advertised Sichuan pepper.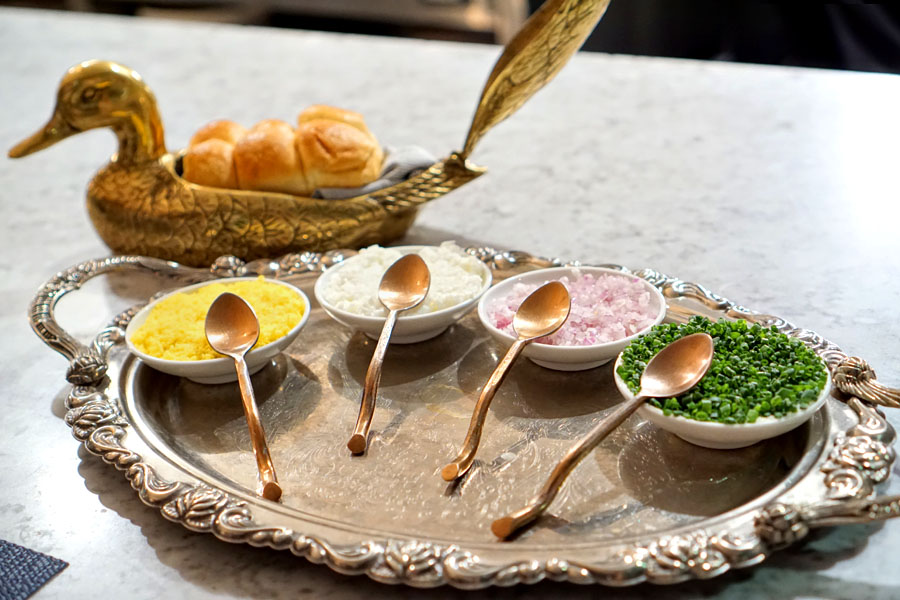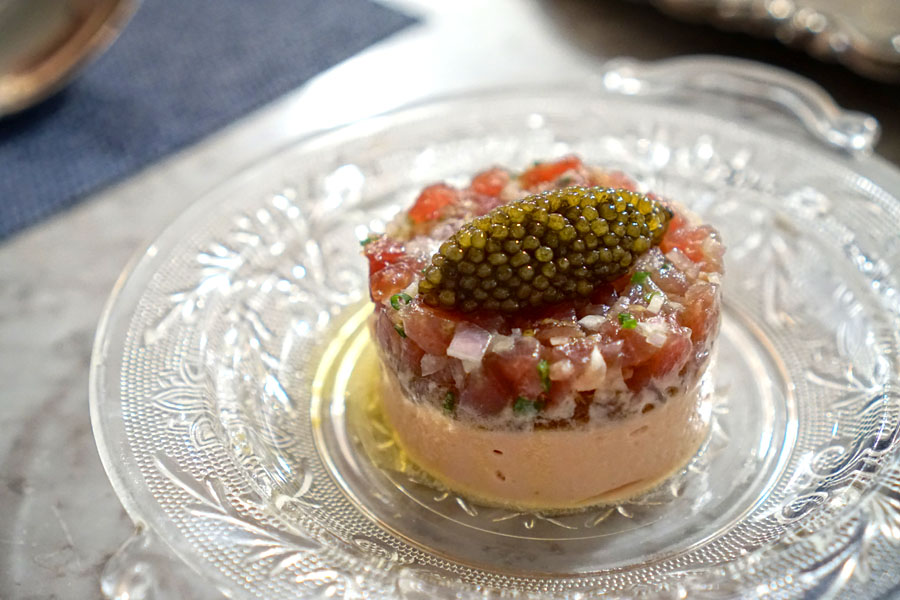 6: 'Treasure Box'
| Osetra Caviar, Tuna Tartare, Foie Gras, Parkerhouse Rolls, Accoutrement
The hero of this rather luxurious, Le Bernardin-inspired course was a foie gras mousse parfait, topped with tuna tartare (w/ chives, shallots), then further topped with a half-ounce of golden Osetra. I tried it alone first, and absolutely loved how the saltiness from the caviar was evened out by the light, herbaceous notes from the tuna, all while the refined earthiness of the liver came through on the finish. Meanwhile, accoutrements included egg yolks, egg whites, chopped shallots, and chive-topped crème fraîche, not to mention those soft, sweet Park House rolls, served in a brass(?) duck (charmingly named Feather Locklear by a another guest) that was discovered by Badiee in the basement of an antique shop in Fredericksburg. We made open-faced sandwiches with said rolls, and I especially appreciated the zestiness of those shallots, as well as how the egg white moderated everything. Overall a fun, interactive, and of course delicious course.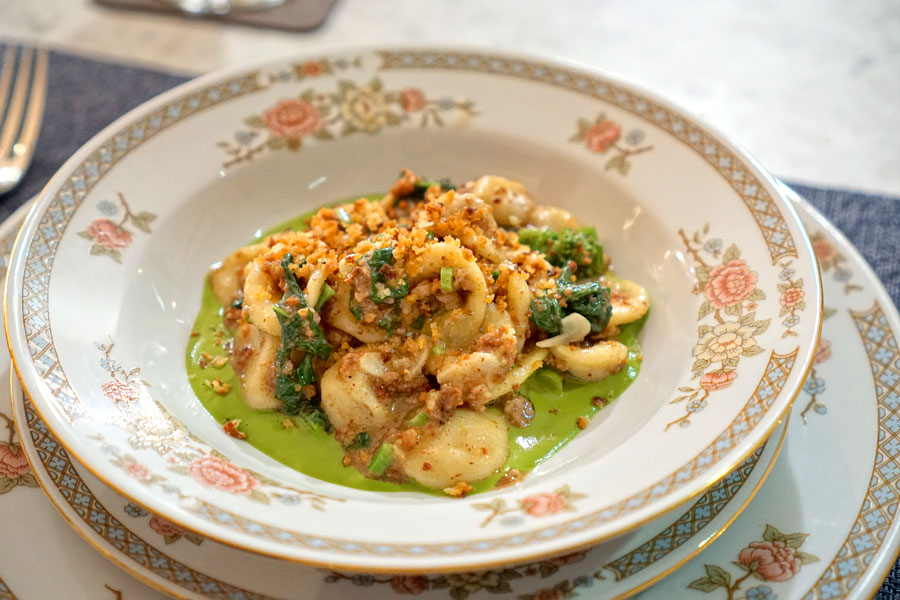 7: Orecchiette con Cinghiale
| Rapini, Watercress Puree, Tuscan Olive Oil, Parmesan
Our pasta course comprised orecchiette, set in a Tuscan olive oil-enhanced watercress purée, with wild boar sausage, broccoli raab, lemon zest, lemon fluid gel, red pepper flakes, and bone marrow breadcrumbs. I found this classically Italian at its core, but definitely taken up a notch. I especially loved the zippiness of the cress, and how that balanced out the richness of the marrow, all while broccolini imparted a pervasive bitterness. Great textures, too--a favorite.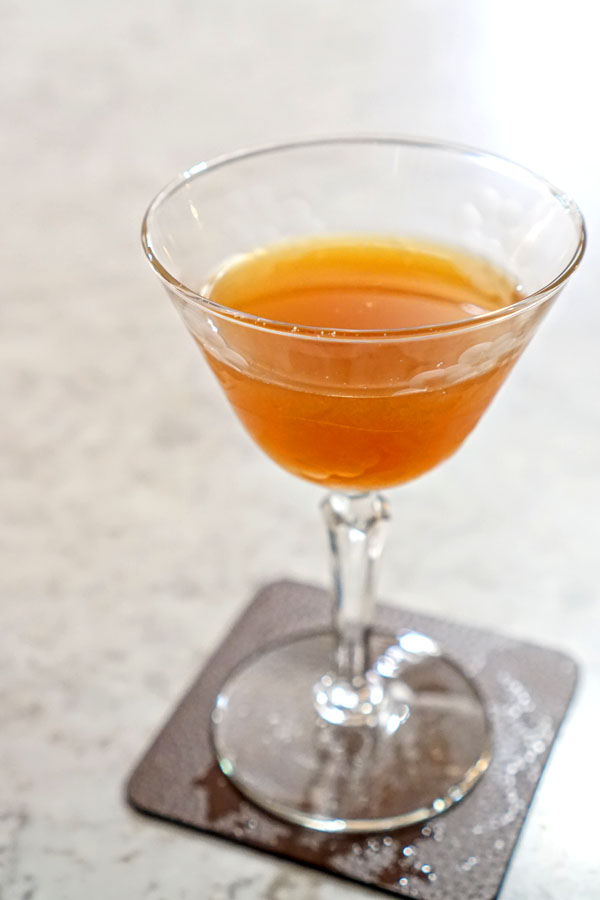 Fernet~Pineapple Daquiri [$16.00]
| Plantation Pineapple Rum, Fernet Branca, Luxardo Maraschino, Lime
A reworked daiquiri was the standout cocktail of the night for me. It had a delightfully sharp, acerbic nose filled with fernet and cherry. The palate was similarly biting, bringing forth minty notes along with an undercurrent of sweetness. Really interesting, but in a good way; this could almost function as a digestif.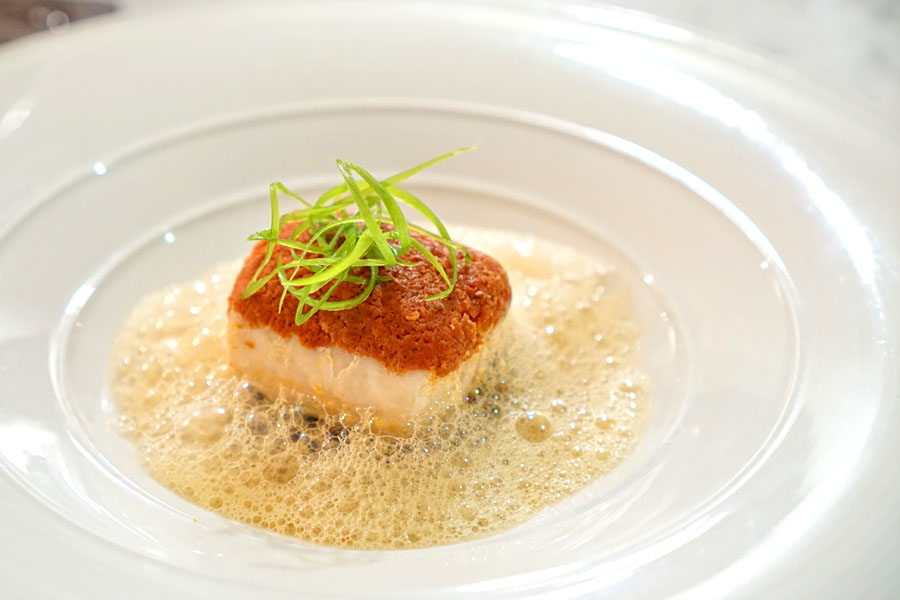 8: Steamed Swordfish
| Chorizo, Sea Urchin, Black Rice
Here was bamboo-steamed swordfish, atop a base of black rice, celery, shallots, and carrots, surrounded by a foam of uni, red grape, and almond (which apparently froths up naturally), and crowned with a layer of Spanish chorizo and a scallion salad. Taking the fish alone, I found it nicely textured--firm, but still yielding--with a delicately savory flavor profile. It actually paired smartly with the chorizo, which had a level of spice that complemented the fish without overwhelming it. At the same time, the sweetness of the rice had a moderating effect, while the foam amped up the brine level and also imparted a delightful nuttiness to the mix.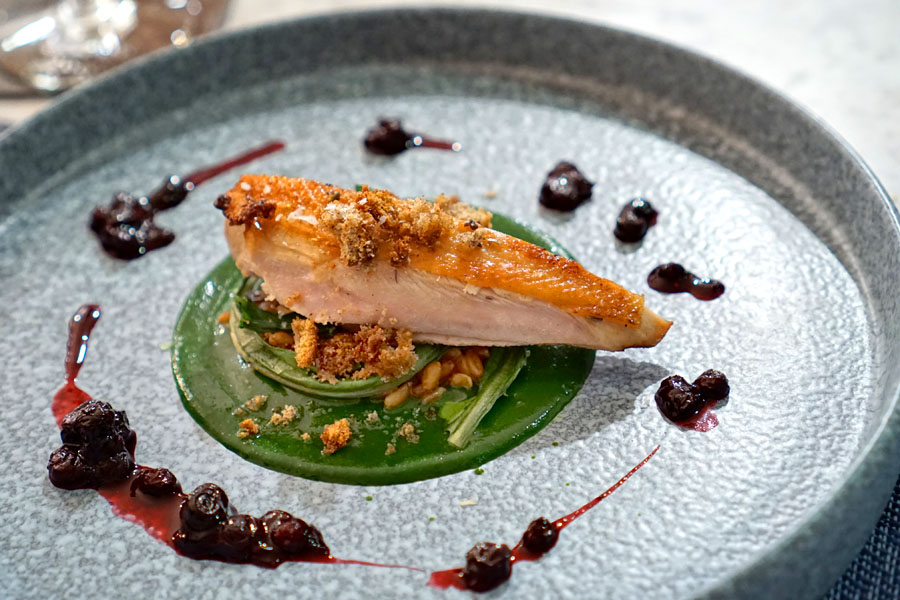 9: Honey~Lavender Roasted Pheasant
| Huckleberry, Szechuan Peppercorn Gastrique
In our final savory course, roast pheasant sat on top of dandelion purée, toasted spelt, and quick-roasted dandelion, while also on the plate were a ginger-boosted huckleberry gastrique and ginger cake crumbles with buckwheat. The bird was beautifully seasoned, while its consistency was firm, dense, and satisfying. A subtle sweetness pervaded the pheasant, and I really enjoyed the pepperiness from the dandelions. My favorite part, surprisingly, was the huckleberry and its tart, fruity contribution to the dish. Overall this was very apropos for autumn I felt.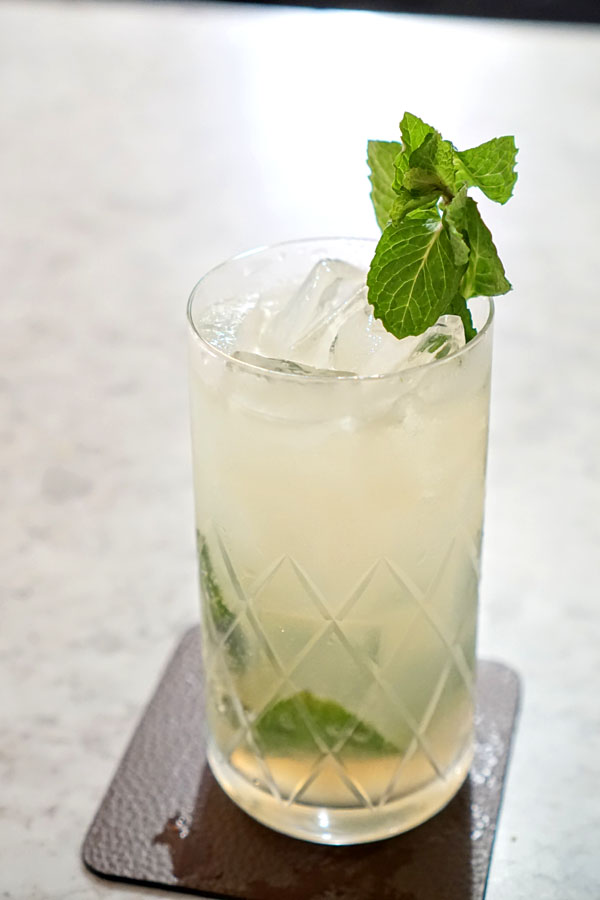 Absinthe Swizzle [$14.00]
| Le Fée Absinthe, Mint, Lime, Ginger Beer
Another long cocktail was also light and effervescent, showing off a healthy amount of anise alongside lighter touches of mint and ginger.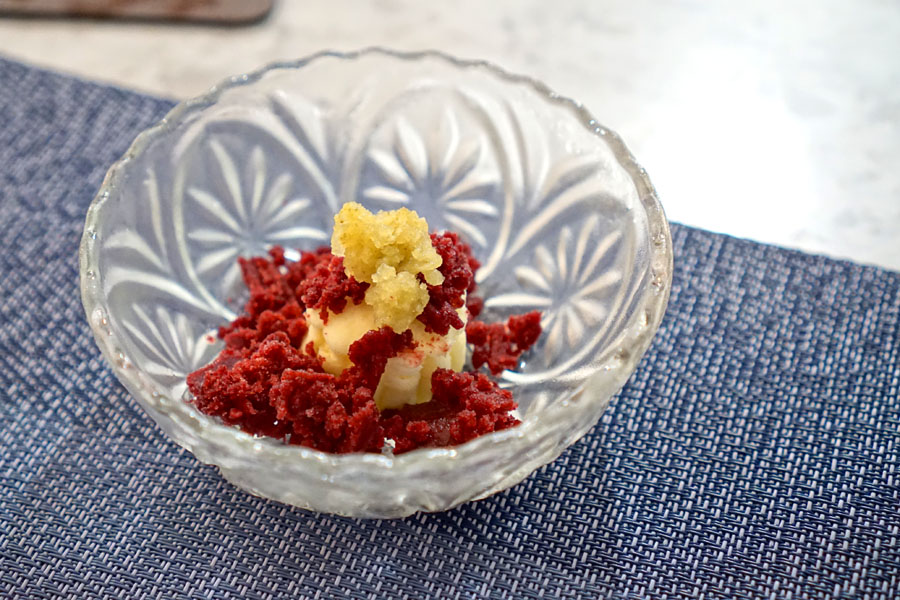 10: Ginger Semifreddo
| Mulberry Granita, Sudachi
Serving as a sort of intermezzo was this creamy, relatively mild ginger custard that linked up gorgeously with the tartness of both
sudachi
and mulberry (a play on the classic combo of blackberry and lime).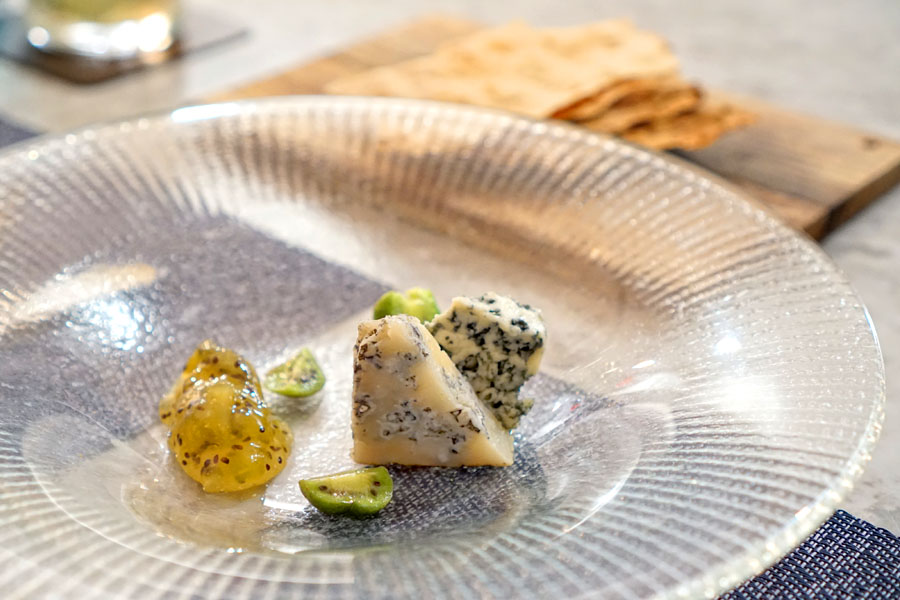 11: Blu di Bufala
| Kiwi-Vadouvan Jam, Candied Walnuts, Toasted Lavash
A blue from Lombardy ate grassy and funky and salty, but managed to be relatively fine-spun at the same time. It married in effective fashion with the spice and piquancy of the jam, which incorporated arctic kiwi and New York-sourced vadouvan.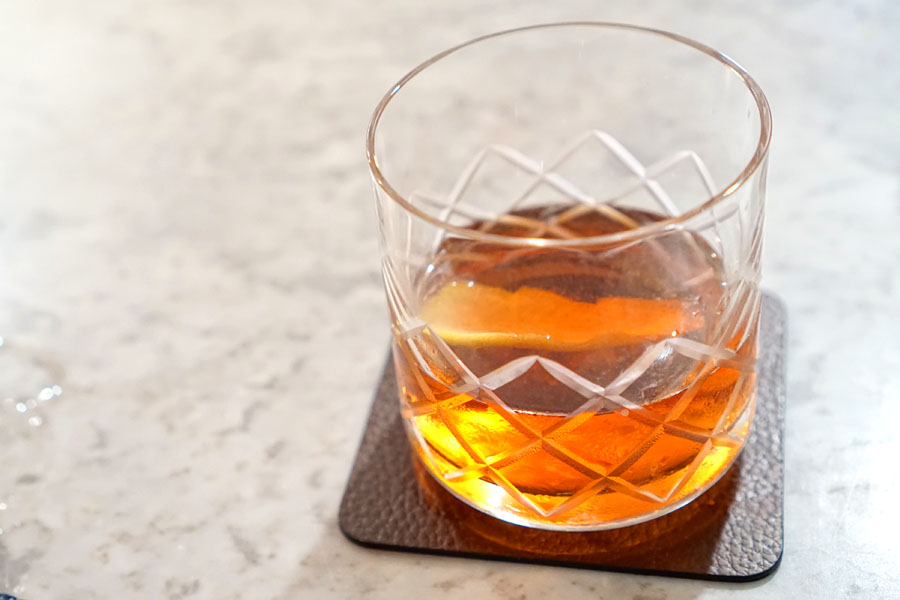 Sazerac [$14.00]
| Rye, Brandy, La Fée Absinthe, Peychaud's Bitters
Here was Gravitas' take on one of the oldest cocktails around. It had a really spicy nose that was simultaneously grassy and boozy. Tasting it, I got lots of sweetness and nuttiness right up front, joined by alcoholic heat, while the absinthe made itself known toward the mid-palate.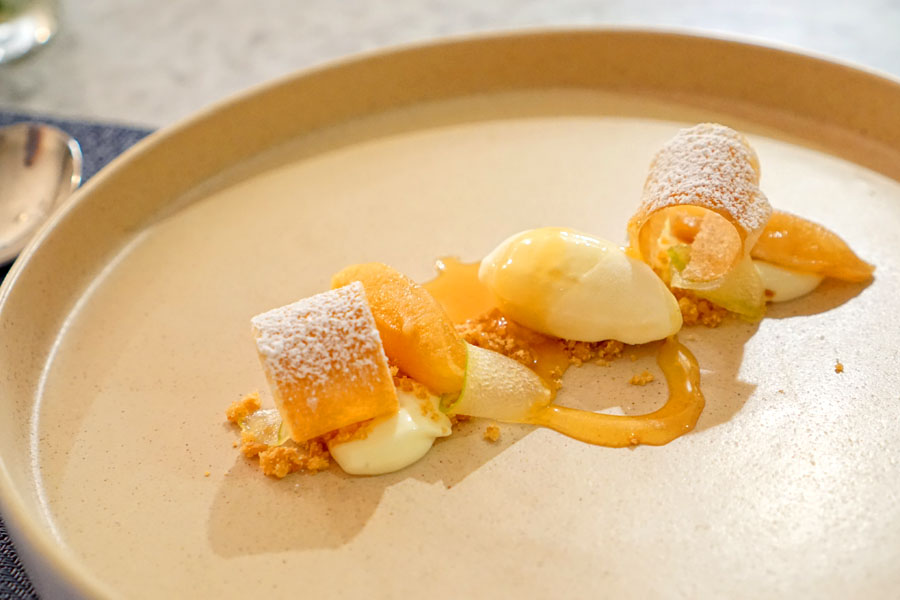 12: 'Tarte Tatin'
| Caramel Roasted Apples, Puff Pastry, Cardamom Pudding, Calvados Ice Cream
This thoroughly reimagined tarte Tatin featured apples slow-roasted with caramel and calvados, raw apples compressed with apple syrup, green cardamom pudding,
feuille de brick
, caramelized puff pastry crumbles, and calvados ice cream, all drizzled with the apple syrup from the aforementioned roasting. The star was the apple, as it should be, and what really made this work for me was how the calvados really amped up the inherent nature of the fruit. I was also a fan of the crumbles, as well as the pastry, and liked the bitterness imparted by the cardamom, too.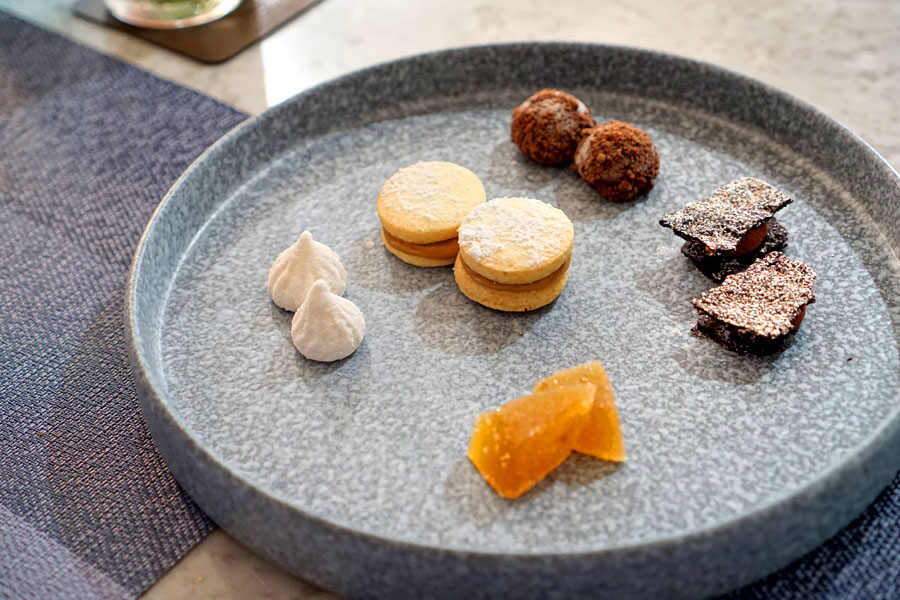 13: Mignardise........
We were then provided five varieties of mignardise: tangy-sweet mirabelle plum
pâtes de fruits
(a reference to Zawacki's time spent at Mirabelle); eggless lychee marshmallows rolled in lime sugar, which I found somewhat minty; "sandy"
alfajores
with chewy
dulce de leche
; smoky, nutty, bitter chocolate mini-sandwiches made with cocoa nib brittle and dark chocolate cremeux; and some sort of lime confection--encased in a chocolate shell and rolled in what I believe were crushed sablé biscuits--that gushed in my mouth.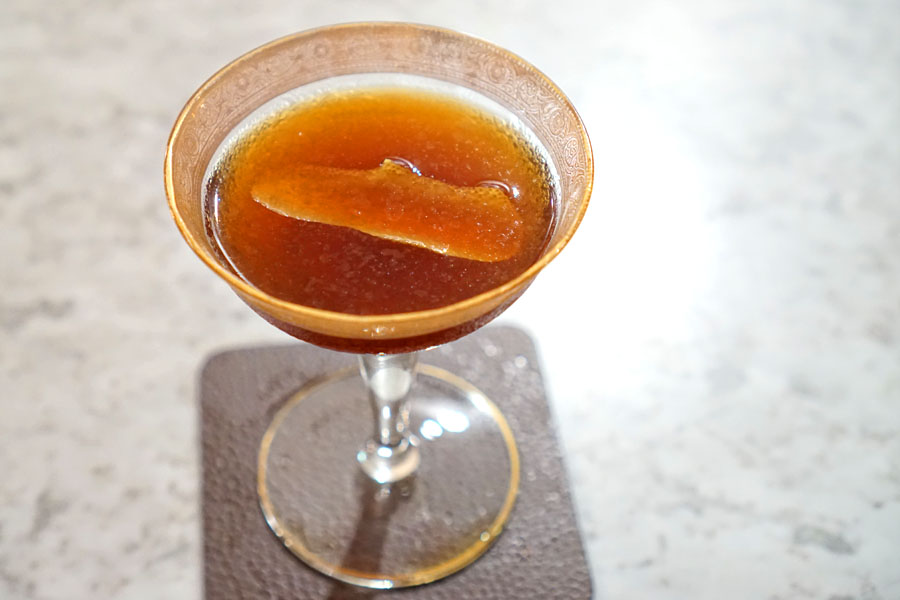 Bitter Giuseppe [$14.00]
| Cynar, Sweet Vermouth, Lemon
The evening's last cocktail served as an appropriate digestif thanks to its decidedly vegetal, bittersweet nature, livened up by plenty of citrus.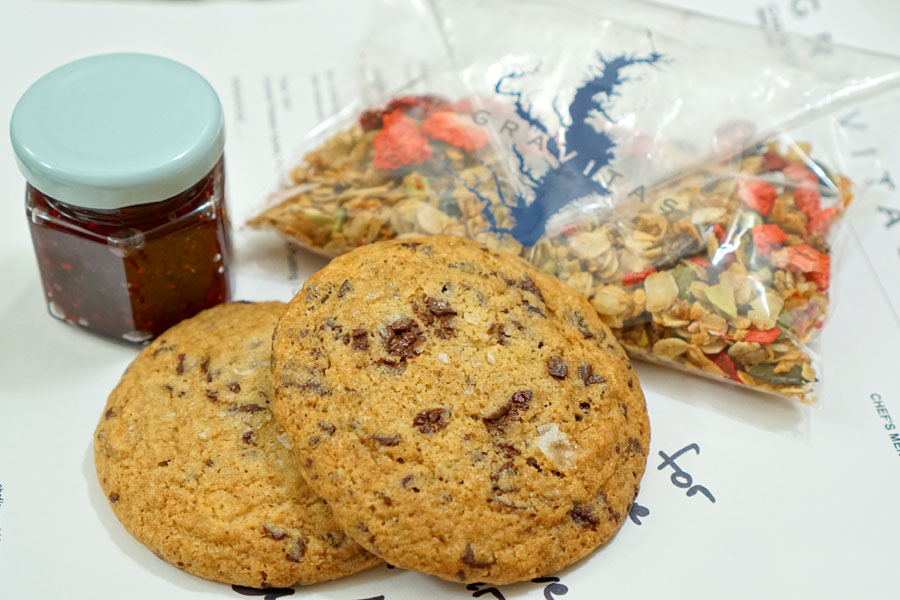 14: Goodie Bags
| Chocolate Chip Cookie, Gravitas Granola, Strawberry Hibiscus Jam
To take home: cookies, granola, and a jar of strawberry-hibiscus preserves.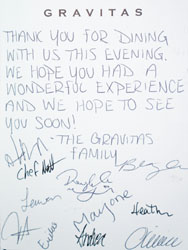 Along with the goodie bag came a thank you card signed by the entire staff, which was a nice touch. Click for a larger version.
Coincidentally, Gravitas ended up receiving its first Michelin star just two days prior to this meal, and I can see why. The cooking's an effective blend of the contemporary and the classic, speaking to the seasons and showcasing ingredients in a thoughtful, deliberate manner. As for what's next, the Chef mentioned that he'd like to launch an ever higher-end restaurant in the future. He didn't have a name ready to go for it, but I suggested "Levity" (being the opposite of "Gravitas"), which he seemed to take a liking to. You can be sure that if "Levity" ever debuts, I'll be there.