Mini Sushi Bar (Washington, DC)
Mini Sushi Bar at Mandarin Oriental
1330 Maryland Ave SW, Washington, DC 20024
202.643.1225
www.sushibardc.com
Fri 10/04/2019, 12:15p-01:50p

I last checked in with Chef Minoru Ogawa back in 2017, when I visited his namesake
Sushi Ogawa
in Kalorama. Since then, he helped open Zeppelin just this March, a multifaceted Japanese concept from Micah Wilder, Ari Wilder, and Adrian Williams (the latter two were colleagues from the Chef's Cafe Japone days). In addition, he's shuttered his more casual spot Mirai, which was situated in the former home of
Seasonal Pantry
. More worryingly, Ogawa has seemingly lost control of his first solo restaurant, Sushi Capitol, to business partner Can Yurdagul (who was once engaged to his daughter Nina), and even more worryingly, he's been slapped with a wage theft lawsuit by three former employees,
including Yurdagul
. On the bright side, the Chef was able to debut Mini Sushi Bar last October. Situated in the Mandarin Oriental (where Ogawa worked from 2006 to 2011), the spot is located just off the hotel's lobby and seats a mere eight diners.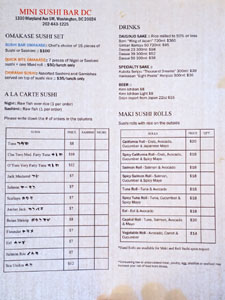 The menu here is pretty straightforward: two omakase options at $100 and $50, as well as
chirashi
and à la carte selections (both
nigiri
and rolls). To drink, you get a handful of sakes, and even fewer beers. Click for a larger version.

Mini Sushi Bar's lone
itamae
Jin-san hails from Fuzhou, Fujian province, China. He moved with his family to the US in 2000, settling in the DC area. Following in his older brother's footsteps, he started making sushi part-time in 2002 at a place called Raku in Bethesda. In 2006, he began working full-time at Sakura Japanese Steakhouse in Waldorf, MD, where he stayed for nearly 12 years. Jin-san was poached by Ogawa around the start of the year, and helped open Zeppelin. After six months or so, he transferred over here to Mini Sushi Bar, replacing one Nakata-san, who's since returned to the main restaurant.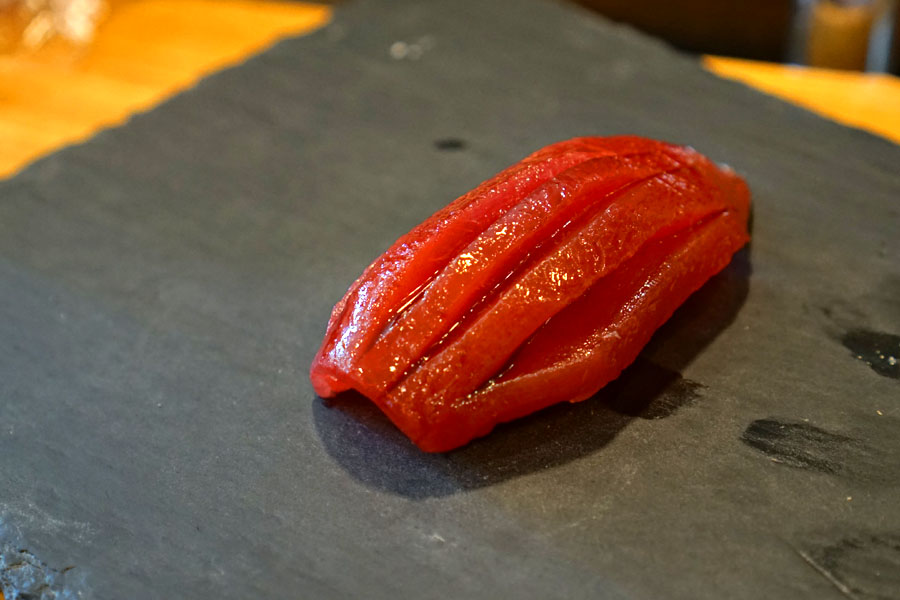 1: Maguro
You won't find any
zensai
to start the meal with here. Rather, you get right into the
nigirizushi
, beginning with this ruby-hued cut of
akami
. Think clean, lean, soy-enhanced flavors leading to a stronger-than-usual salinity, with a smidge of wasabi. I found the rice especially crucial here for contrast.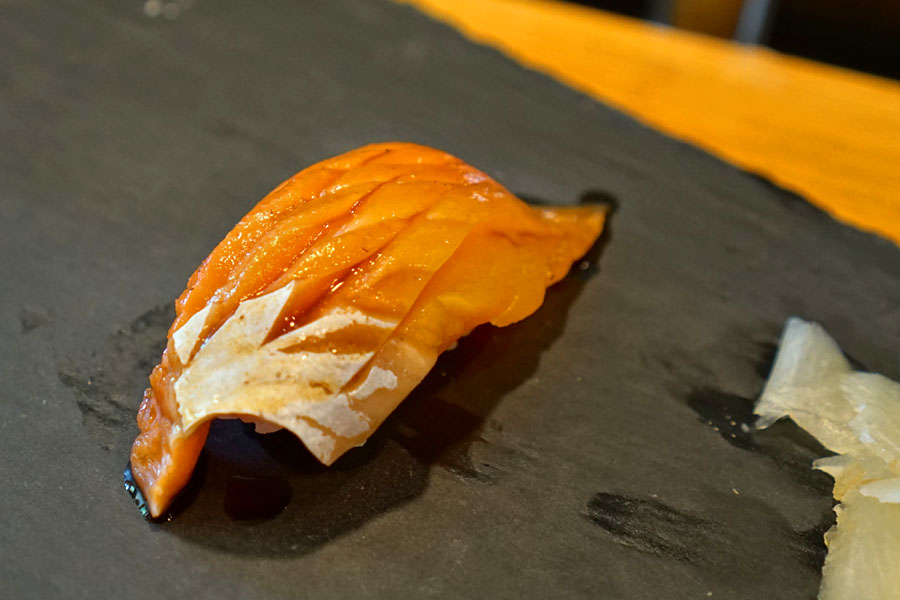 2: Iwana
Arctic char was superbly textured, and showed off rich, briny flavors finished with the heat of wasabi. This had much more character than your typical cut of salmon (which comes from the same family).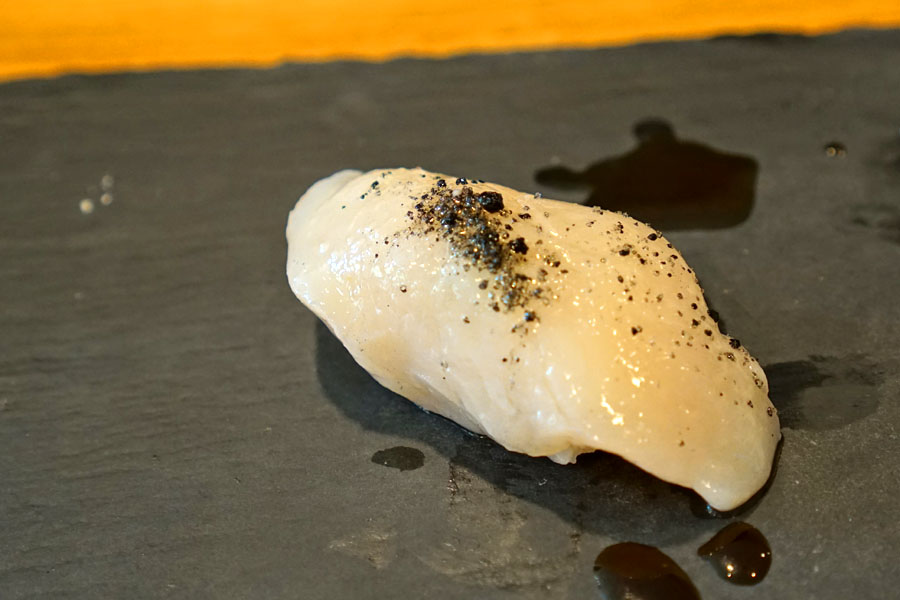 3: Hotate
Hokkaido scallop arrived supple and creamy, its sweetness cut by tart lemon and hits of black salt.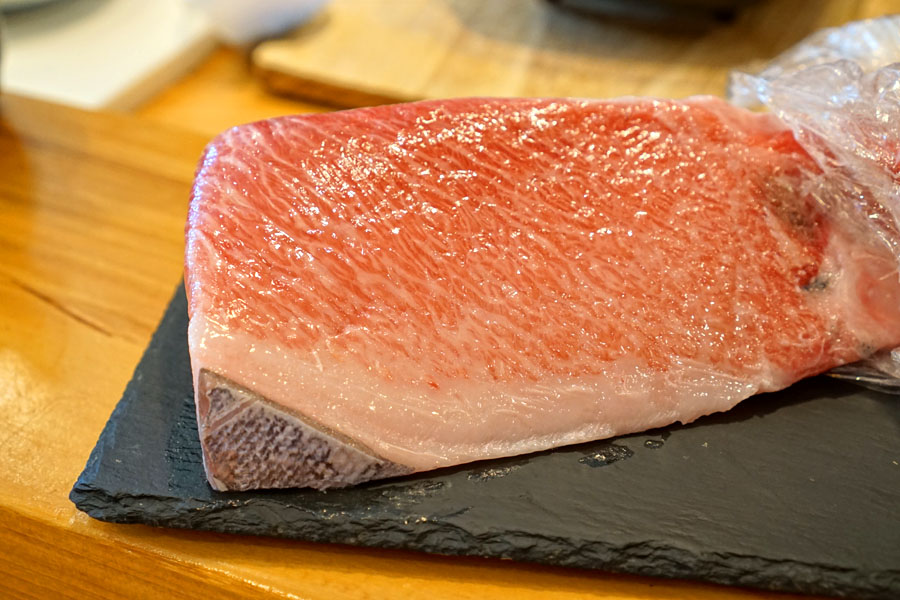 Jin-san then brought out a slab of otoro...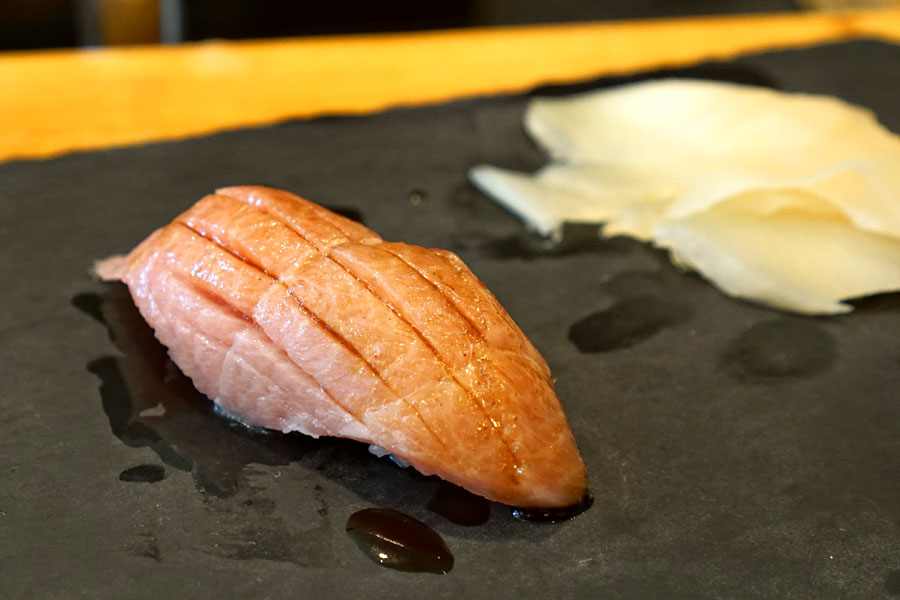 4: Otoro
...For use in the next course. Sourced from the Mediterranean, I found the tuna melt-in-your-mouth fatty, with a healthy dosing of soy and a slightly sinewy character. And again, the
shari
was absolutely key for balance.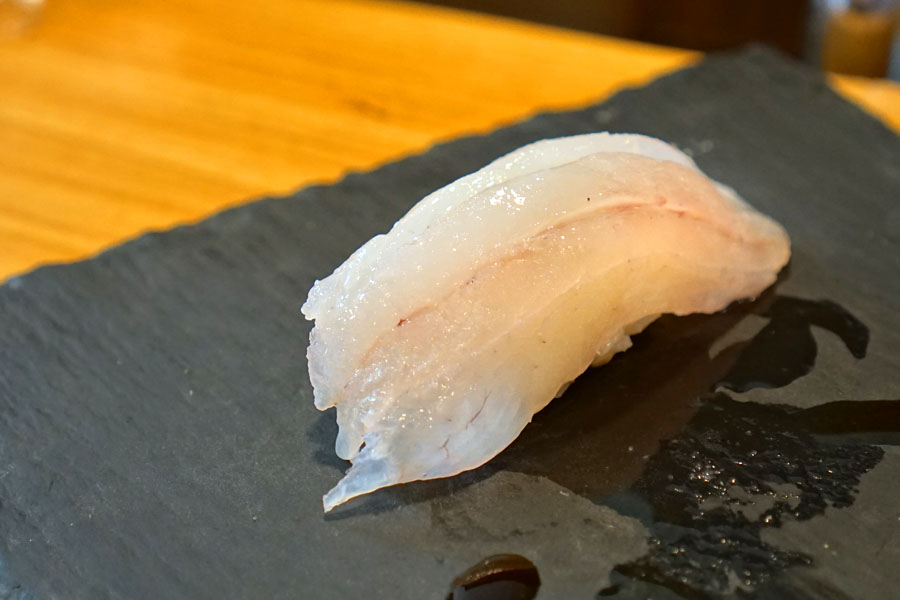 5: Hirame
Korean flounder was much more flavorful than usual, which I appreciated. Also appreciated was the light touch of citrus present.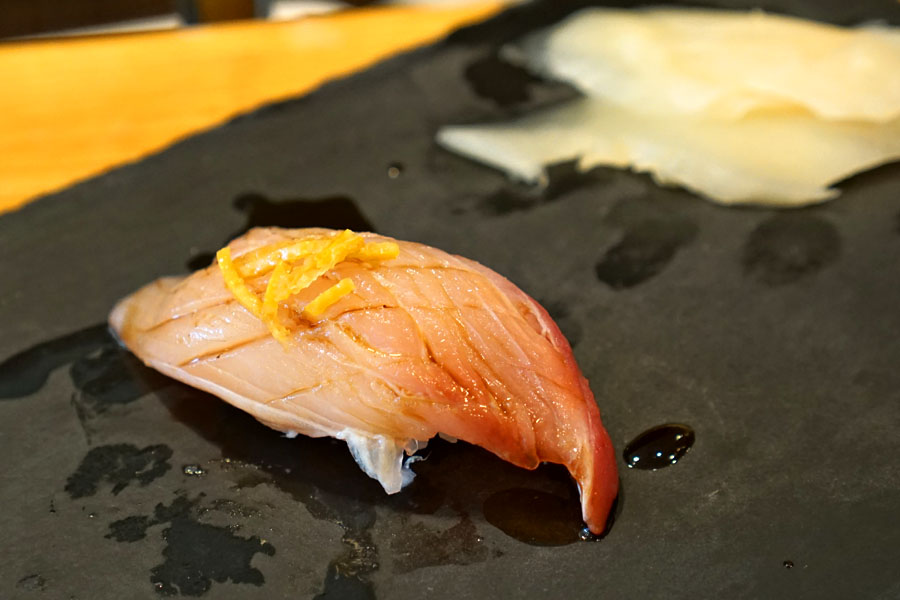 6: Kanpachi
Next came amberjack from Hawaii, which I found pleasantly "crunchy," while yuzu rind contributed a marked sourness to the bite.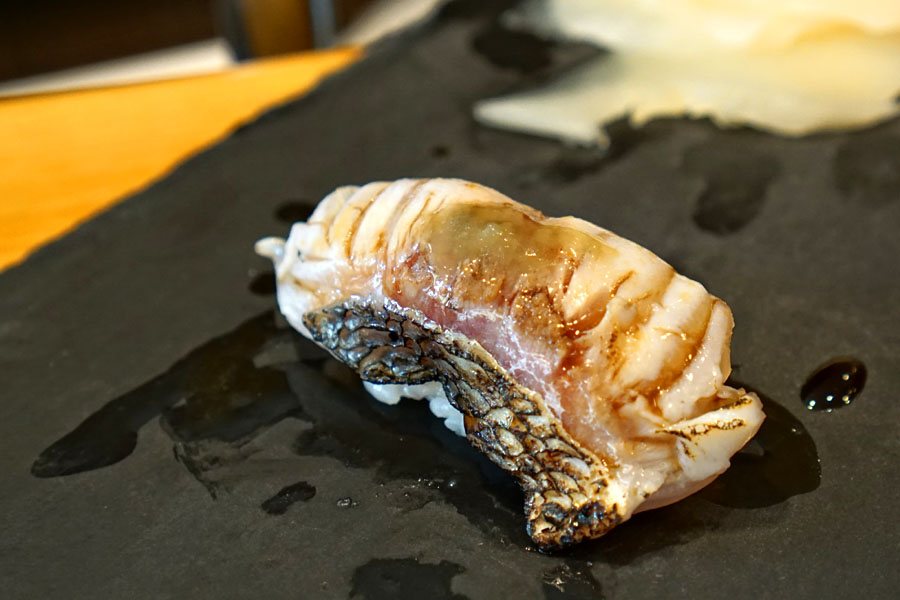 7: Kurodai
Black snapper arrived supple and seared, and as a result, had this wonderful smoky savoriness to it. It was delicious just like that, but I also loved the tingling spice provided by the Yuzu-It (which is like a less intense version of
yuzukosho
).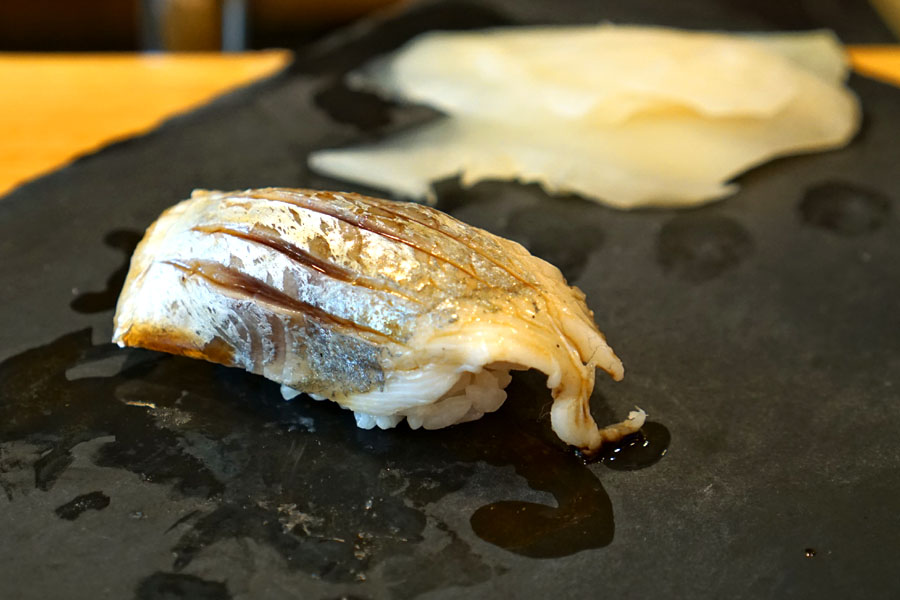 8: Ibodai
Texturally, butterfish was soft and juicy, while in terms of taste, it had an especially powerful brine that lingered long and strong.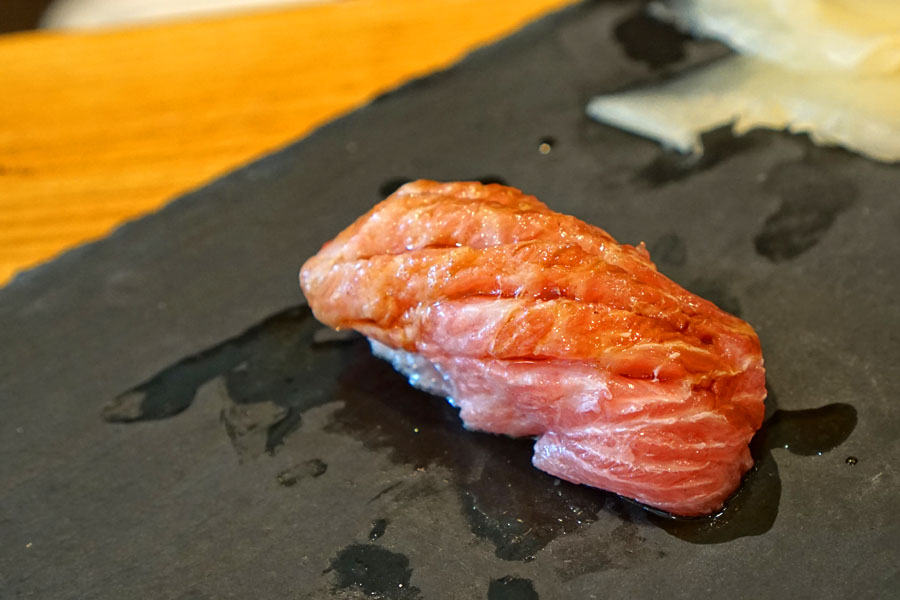 9: Otoro
Our second cut of otoro came from Spain, and was noticeably oiler and fattier than the version above, with a seemingly chewier consistency to boot.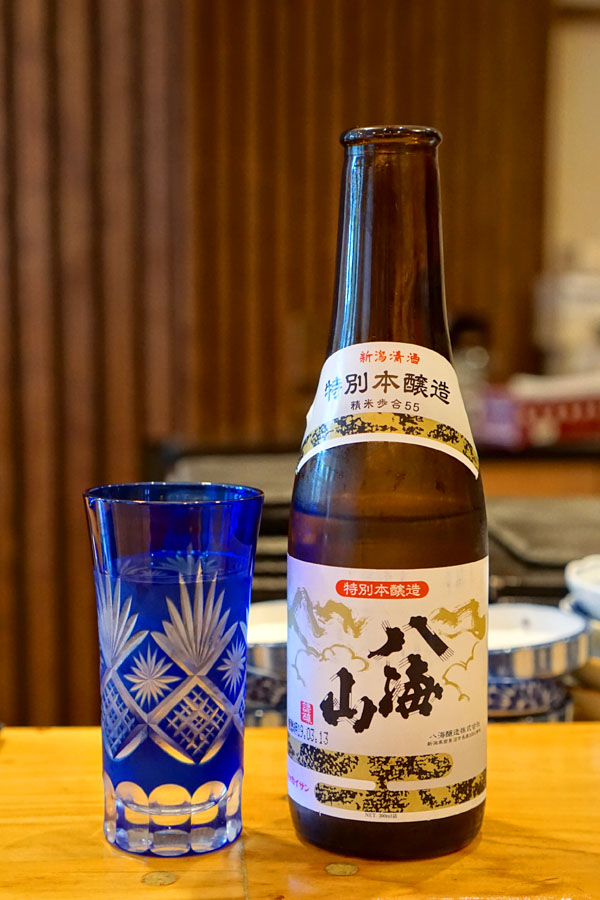 To drink, just a half bottle of the robust
Hakkaisan "Eight Peaks" Honjozo [$36]
, which stood up well to the more full-flavored fishes today.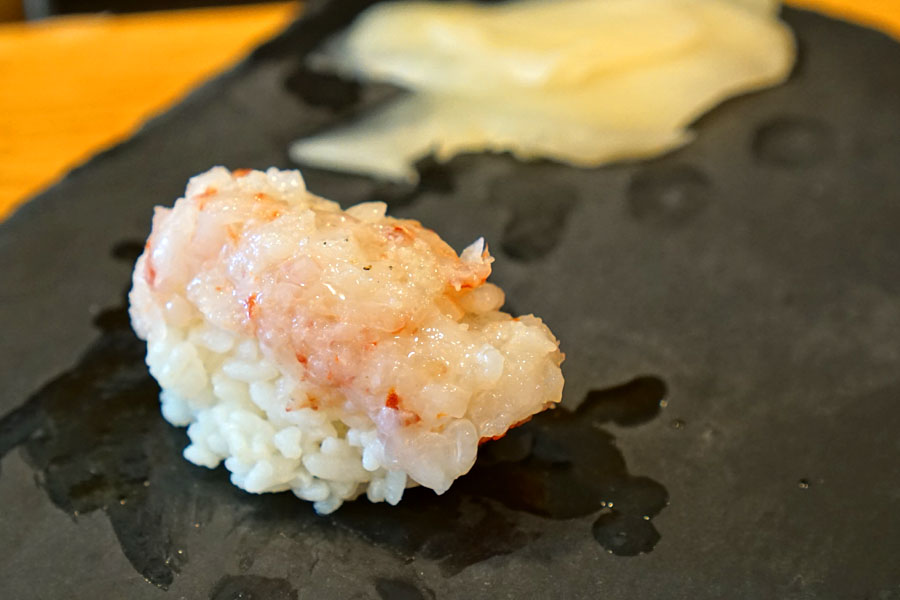 10: Akaebi Tataki
South American red shrimp arrived chopped, resulting in flavors that were more aggressive than usual. It's sort of an uncommon preparation, but I was glad to see it utilized here. Even better with a squeeze of citrus.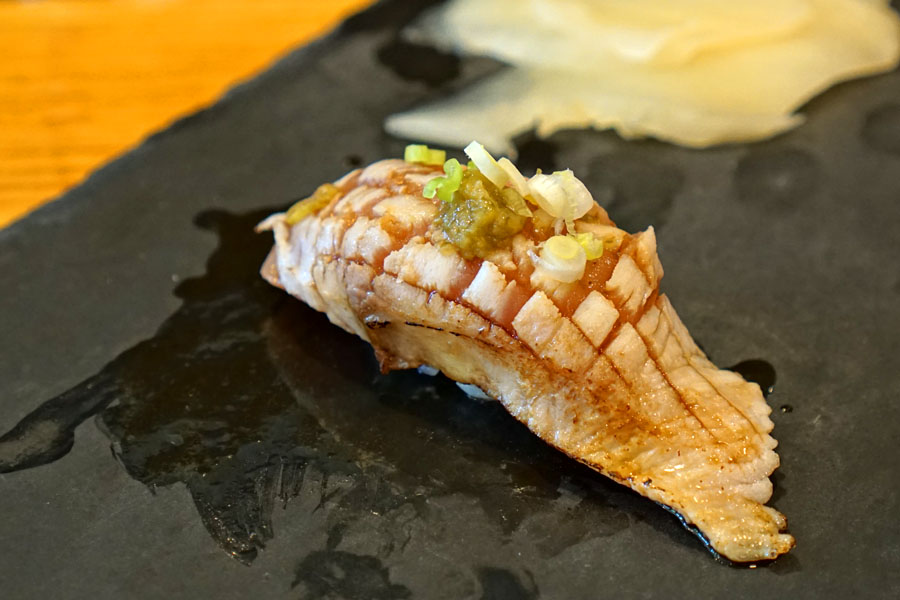 11: Katsuo
Seared bonito had an excellent smoke to it, one that matched swimmingly with the fish's saline character and the spiciness from the
yuzukosho
.
12: Aji
Horse mackerel had a strong, yet refined brine to it, and paired perfectly with the included
negi
.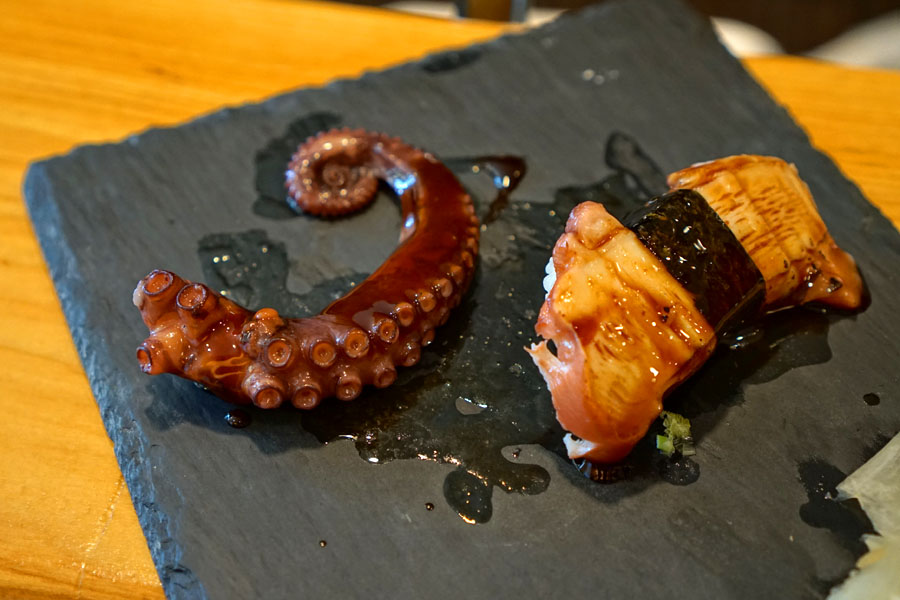 13: Tako
Octopus appeared doused in a sweet-savory dressing, and had a texture that was almost abalone-like, while the finish showed off umami notes from the seaweed. I'd never had anything quite like this at a sushi place before. Also on the plate was a bonus octo leg, which I found sweet and tender, though it could've used more sear and smoke.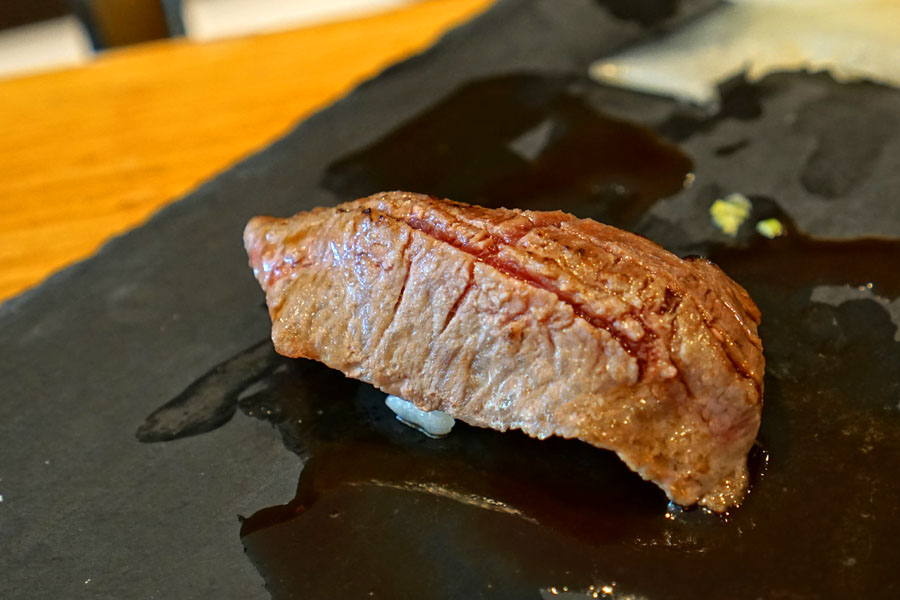 14: Miyazaki Wagyu
A5 beef from Miyazaki ate as rich and fatty as you'd expect, while I found the rice particularly important here as a counterbalance.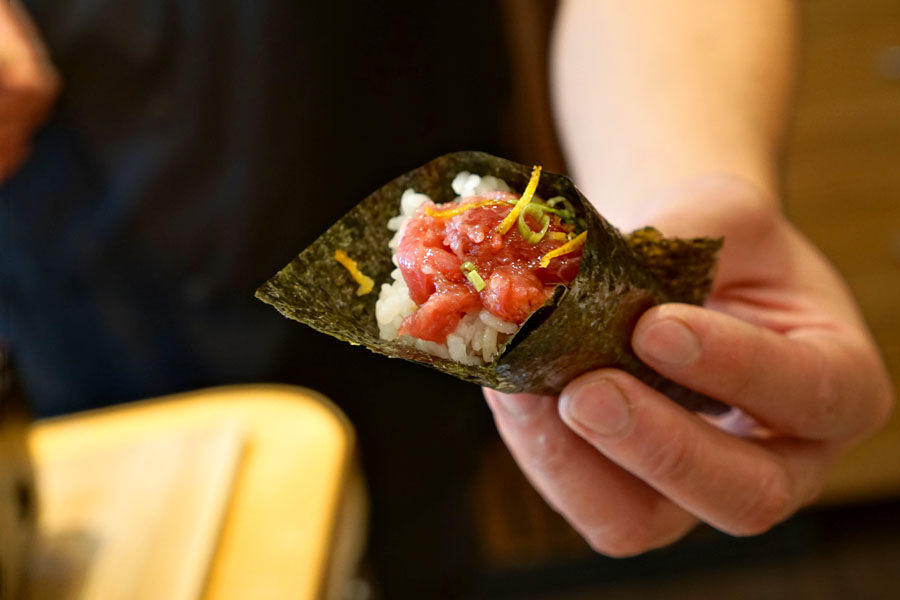 15: Negitoro Temaki
The typical tuna-green onion hand roll was taken up a notch by the inclusion of
kamatoro
. This was definitely heavier and oiler than you typically get, so the
negi
was even more crucial.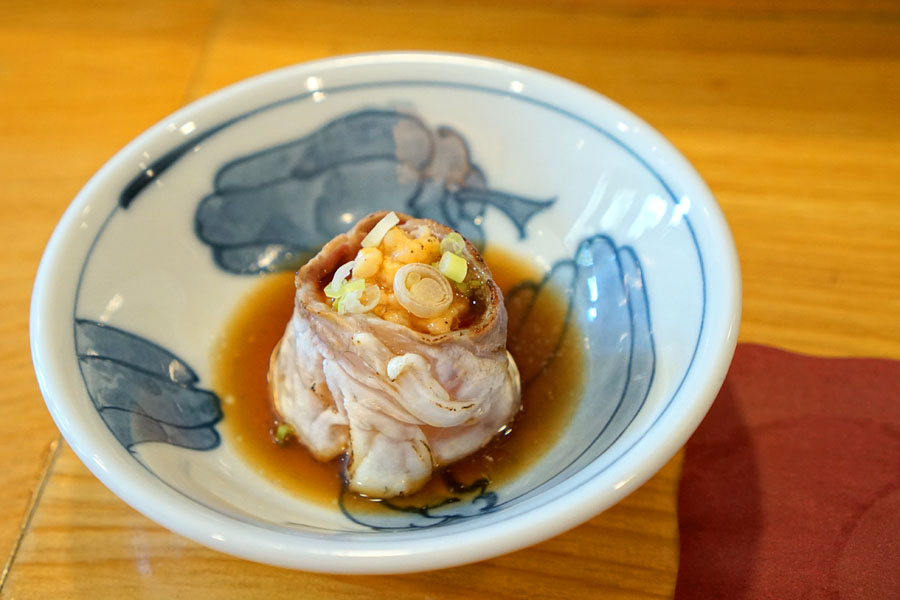 16: "Sushi Shumai"
Jin-san was having some fun here. What we had was scraped
kurodai
tail mixed with a spicy sauce, wrapped with more of the snapper, then seared and dressed with ponzu. I actually quite enjoyed the heat in the dish, and how that interacted with the smoke present, all while the ponzu imparted a contrasting tartness to it all.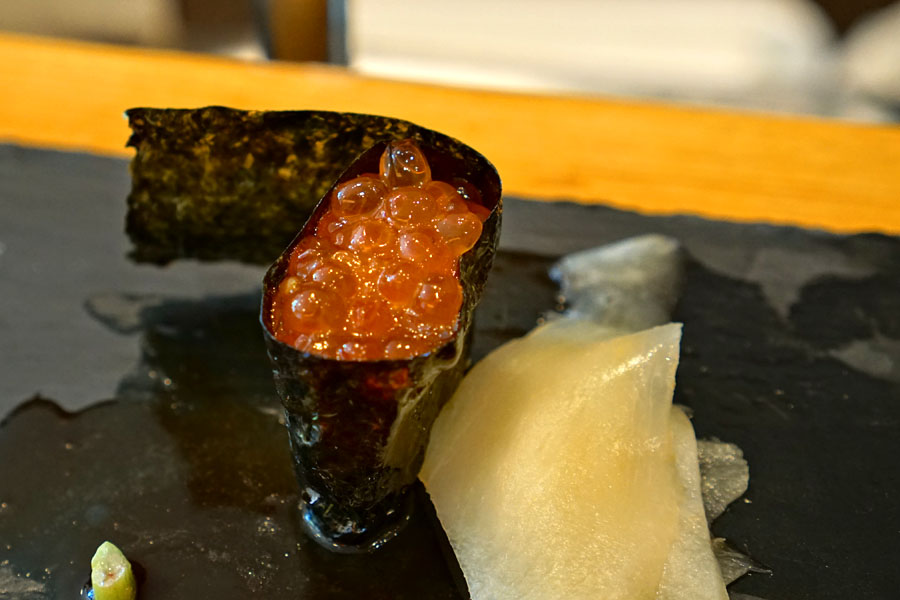 17: Ikura
Salmon roe was extra briny, as well as extra sweet. Even more surprising was how much the nori took a backseat here.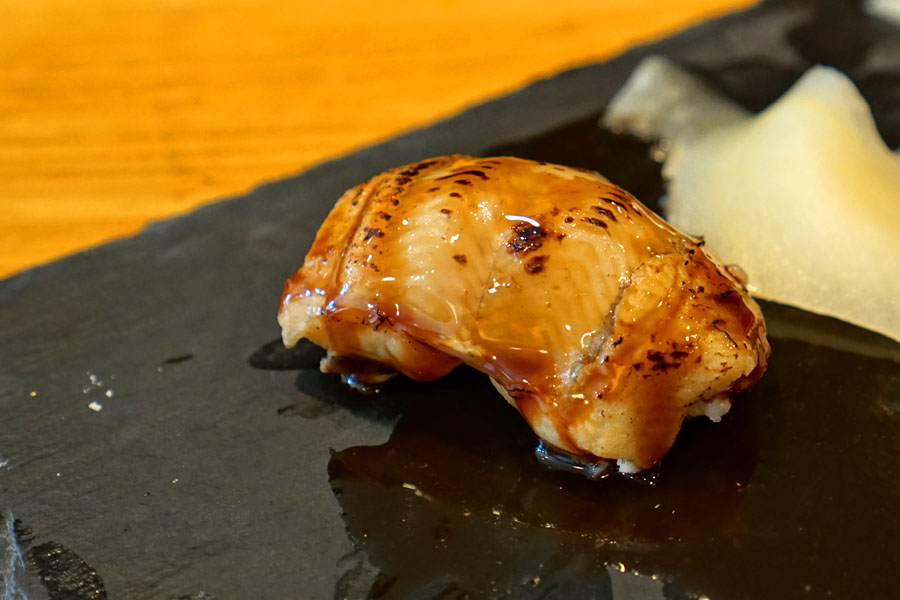 18: Anago
Sea eel displayed a lovely touch of char, as well as a subdued sweetness that made total sense with the weight of the fish.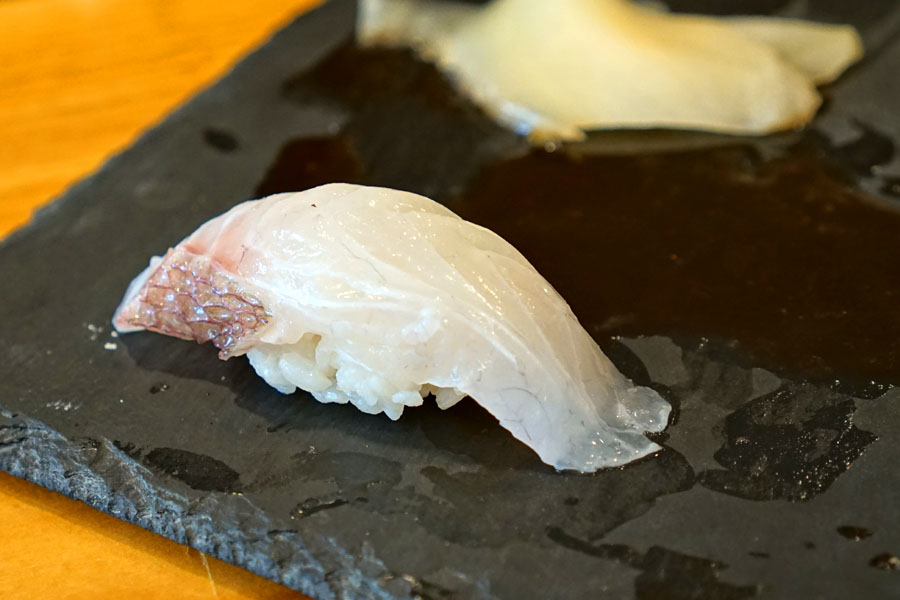 19: Madai
We ended with a bonus piece that I requested. Sea bream ate super fresh, super clean, and was perked up by pricks of salt and an overarching citric sourness. This was almost like a palate cleanser.
Mini Sushi Bar is a strangely-monikered spot in a weird location, but it managed to deliver easily one of the better sushi experiences I've had in the District. I didn't have much to complain about with regard to the food, and I'm a big fan of the sheer intimacy of the place, which allows for ample one-on-one time with the Chef. Despite all the drama that's happening with Ogawa-san and his company, I'm happy to see that at least this place is going strong, and I do hope that it can manage to stick around.