Rooster & Owl (Washington, DC)
Rooster and Owl Restaurant
2436 14th Street NW, Washington, DC 20009
202.813.3976
www.roosterowl.com
Wed 10/02/2019, 08:15p-10:15p

During my last visit to DC, the fine folks at
Bresca
named Rooster & Owl when I asked them for restaurant recommendations, so here I am. The Columbia Heights eatery is the work of Executive Chef/Owner Yuan Tang and his wife Carey Tang (née Russell), and apparently the name of the place was inspired by the duo's opposite work schedules (he works during the night and she during the day). R&O opened on February 7th this year, and serves vegetable-focused contemporary American fare drawing from a wide range of culinary influences.
About the Chef
: Yuan Lung Tang was born in November 1982 in Hong Kong, but his family moved to Virginia after he turned 10. He grew up in Falls Church, and, along with his sister, spent considerable time at his parents' Chinese restaurant, where he started out answering phones before beginning to cook at age 14. Tang graduated from J.E.B. Stuart High School in 2000, then enrolled at George Mason University, where he achieved a B.S. in accounting in 2005. In January 2006, he began working as a federal auditor at Kearney & Company, and during his tenure there, was able to eat well on the company's dime when he went on business trips. This helped rekindle his interest in food, and he ended up leaving his job in 2009. Following, Tang moved to New York to attend culinary school, but those plans soon fell through, as he was quickly offered a position at Sohui Kim's The Good Fork in Brooklyn. He cooked there from June 2009 to May 2010, then moved to Danny Meyer's The Modern (May 2010-Feb 2011) and
Jean-Georges
(Feb 2011-Feb 2012) before becoming sous at John Fraser's Dovetail. Apparently, Tang also had side hustles in catering and wine sales during this period.
The Chef eventually relocated to Washington when Carey was offered a job in the area, and the move also made sense given that the two wanted to be closer to home, in case they planned to start a family. In August 2014, he began working as sous chef at Ashok Bajaj's longstanding 701 Restaurant in Penn Quarter, then cooked at RJ Cooper's ambitious
Rogue 24
(where Carey also worked as a head waiter). Rogue ended up shuttering in January 2016, and the Tangs started the pop-up version of Rooster & Owl the following month, with assistance from
Kickstarter
. Held with Pastry Chef Corey Jamison (another 701 alum who also spent time at
Fiola
and Gramercy Tavern), these pop-ups ran for a couple years (during which time the Chef also catered and drove for Uber) before the couple was able to launch their brick-and-mortar location earlier this year.
GM duties at Rooster & Owl are handled by Carey, who also works for Children's National Hospital during the day, while Ben Byron (Siren by RW) is on board as Manager. In the back-of-the-house, Tang is assisted by Sous Chef Sean Tew, a former construction worker and Art Institutes grad who previously cooked at Spike Gjerde's A Rake's Progress and Fig & Olive. Meanwhile, Olivia Green serves as Pastry Chef, and comes to the restaurant from Tosca,
Kinship
/
Métier
, Slipstream, and District Doughnut.

Rooster & Owl takes over the old home of Tegist Ayalew's Creme (Jul 2014-Jun 2018), which, curiously, also housed Daniel Labonne's La Bonne Bistro pop-up from June to December 2015. The space was redone by local firm
HapstakDemetriou+
, and features plenty of earthy tones, as well as bird-themed trinkets and the Chef's cookbook collection. Total capacity is around 50.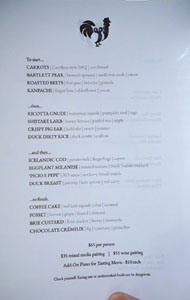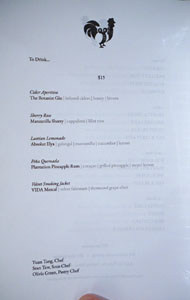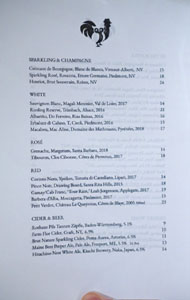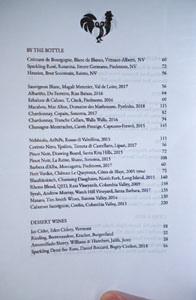 As for the menu, the conceit here is that diners are supposed to build their own four-course tasting menu, which is then shared amongst the table: a "social, shared dining experience" according to the restaurant. Pricing is $65 a head (with additional courses costing a very reasonable $10), plus $35/$55 for a beverage/wine pairing. I opted for cocktails this evening, and though the program here was initially designed by Jason Swaringen (Green Zone, McClellan's Retreat, Gypsy Soul, Rogue 24, Quill at The Jefferson), he ended up leaving in July. His replacement goes by the name of Edgar (an alum of Arroz at the Marriott Marquis as well as Jaleo Bethesda), and was the one serving me tonight for the most part. Corkage is $25. Click for larger versions.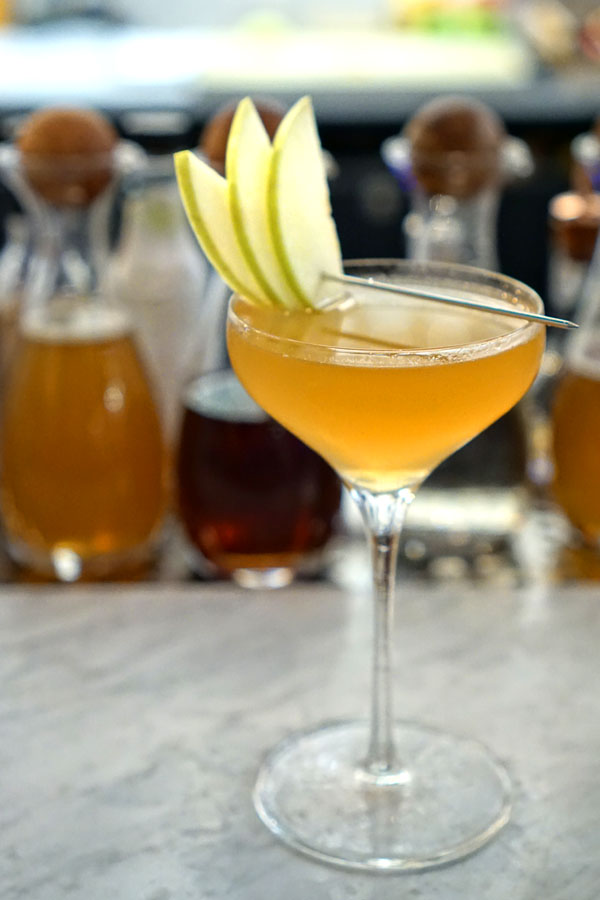 Cider Aperitivo [$15.00]
| The Botanist Gin, infused ciders, honey, bitters
My first cocktail was certainly on the apéritif-y side. It smelled earthy and vegetal, with an anise edge, but the taste was altogether different: tart and fruity and boozy, laced with gin botanicals and finished by sugary notes of honey.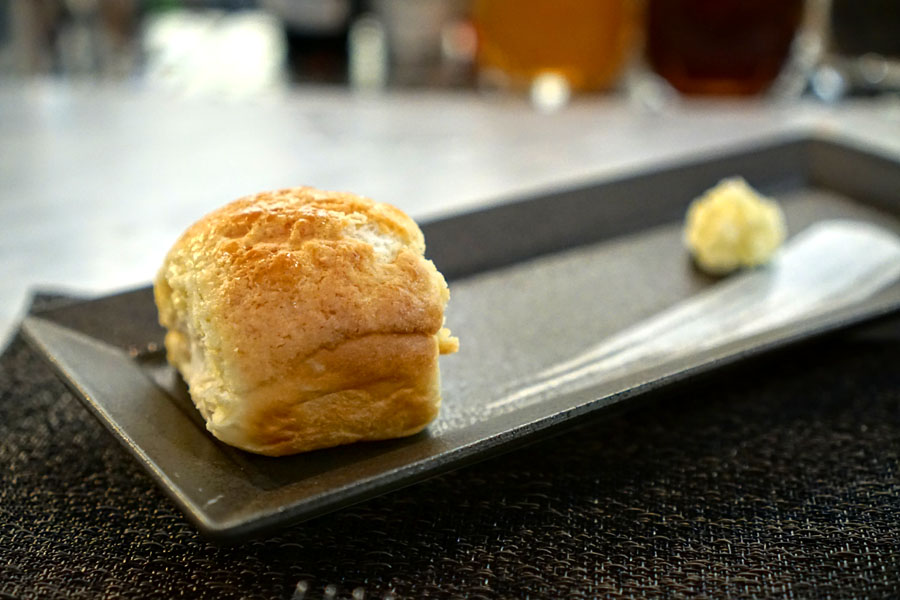 In lieu of standard bread, you get the restaurant's take on
boluo bao
, or pineapple bun. Topped with a crisp, sugary crust, it really did recall the classic pastry, and paired gorgeously with a super funky housemade cultured butter (perhaps a nod to the
boluo you
variant of the bun).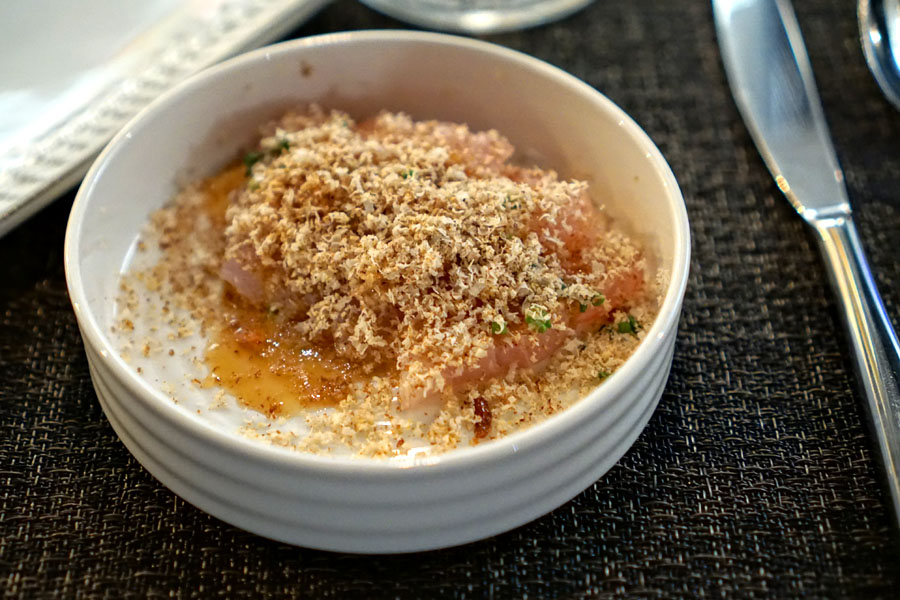 1: Kanpachi
| finger lime, elderflower, pecan
Dense shards of amberjack were enhanced by the application of a savory, woodsy, whiskey barrel-aged, elderflower-boosted white soy. If that wasn't enough, the pecans imparted a wondrous nuttiness to the dish, especially in terms of aroma, and I loved the sour pops from the finger lime vesicles. A superb start--really smart.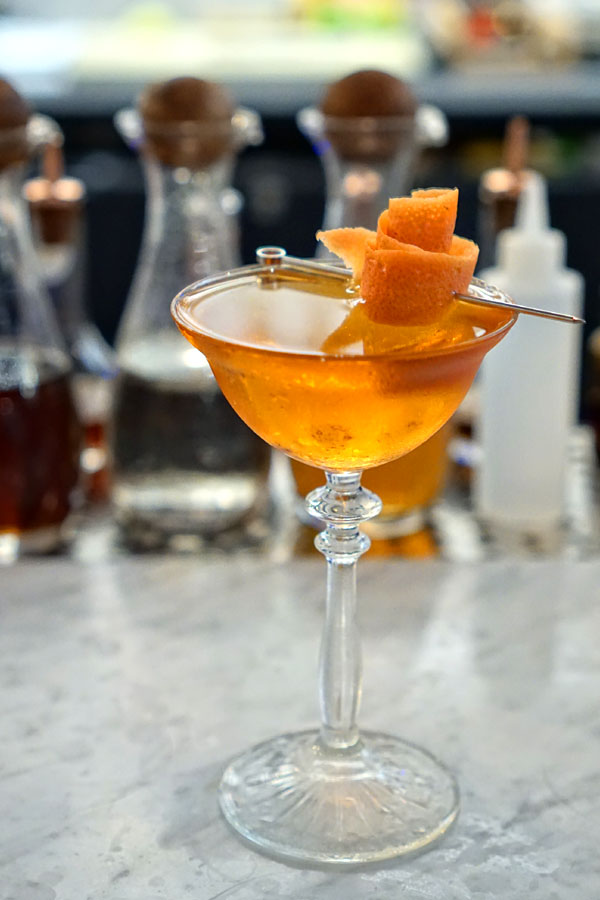 Sherry Rose [$15.00]
| Manzanilla Sherry, cappelletti, lillet rose
This next cocktail was a winner. I got loads of juicy citrus on the nose, with a touch of oxidation. Taste-wise, think nutty and chocolate-y at first blush, but leading to a bitterness and vegetal character on the back end, all tarted up by a hint of
suanmei
-esque piquancy. Neat.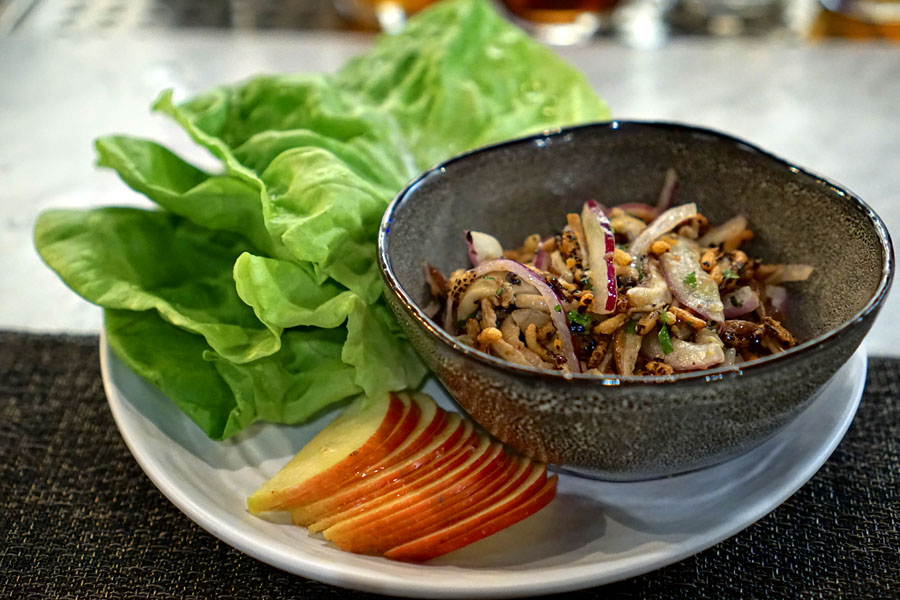 2a: Shiitake Larb
| butter lettuce, puffed rice, apple
Served warm, shiitakes were complemented by roasted garlic and hazelnut oil, as well as the citric, herbaceous nuances you'd expect from a classic larb. Puffed rice, meanwhile, offered up a great change-up in texture, while sesame sauce-dressed apples worked for further contrast. It was a tasty dish, though I would've liked to have seen some more aggressive seasoning.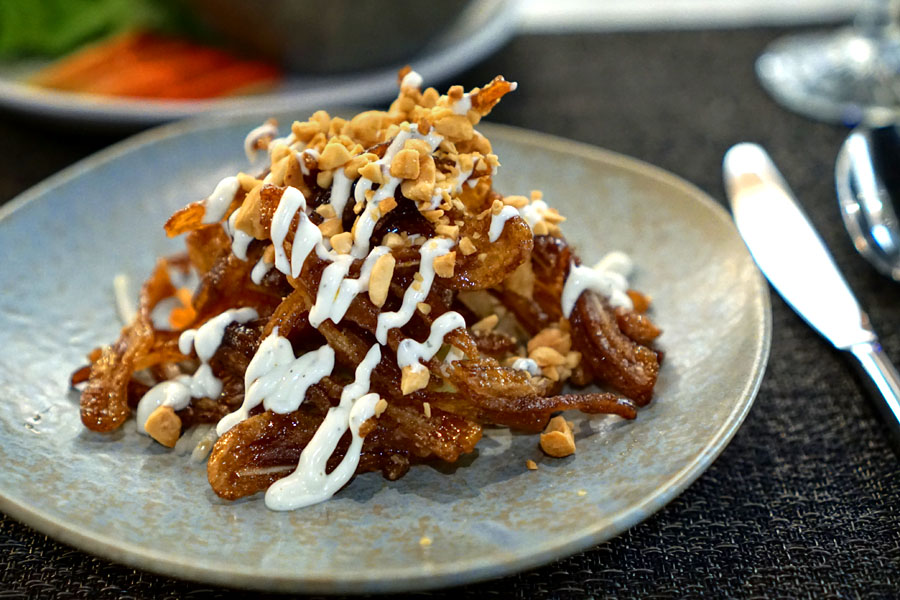 2b: Crispy Pig Ear [+$10.00]
| kohlrabi, ranch, peanut
This almost seemed like a General Tso's-style preparation of pig ear due to its sweetness, and in fact the ear was overly sweet for my taste. Fortunately, the raw kohlrabi and celery did help rein things in, as did the peanut, while that creamy buttermilk ranch worked to bring everything together.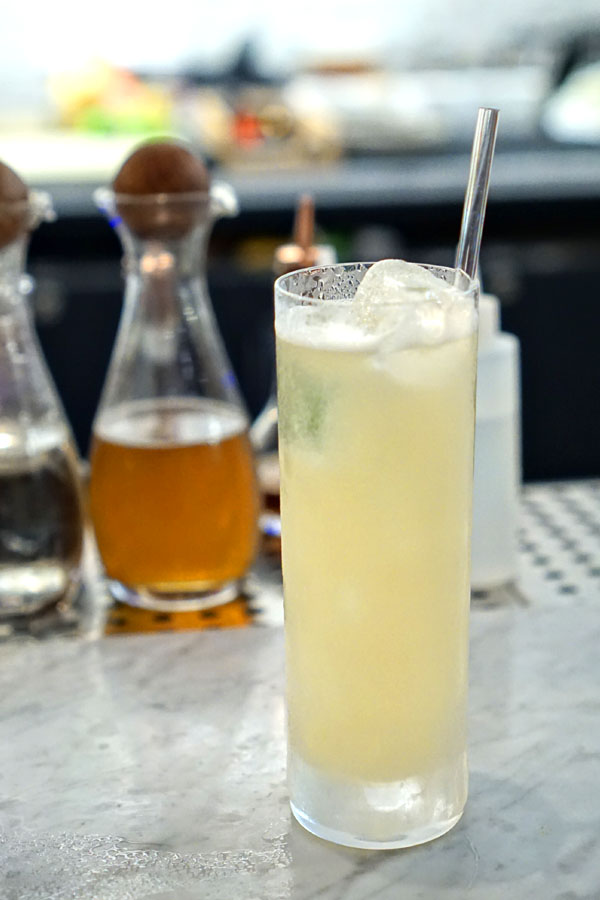 Laotian Lemonade [$15.00]
| Absolut Elyx, galangal, manzanilla, cucumber, lemon
The lone long cocktail of the night, this was refreshing and tart initially, but had the spicy burn of galangal lingering long on the finish, joined by whispers of sherry. A good match with the Asian-y courses above.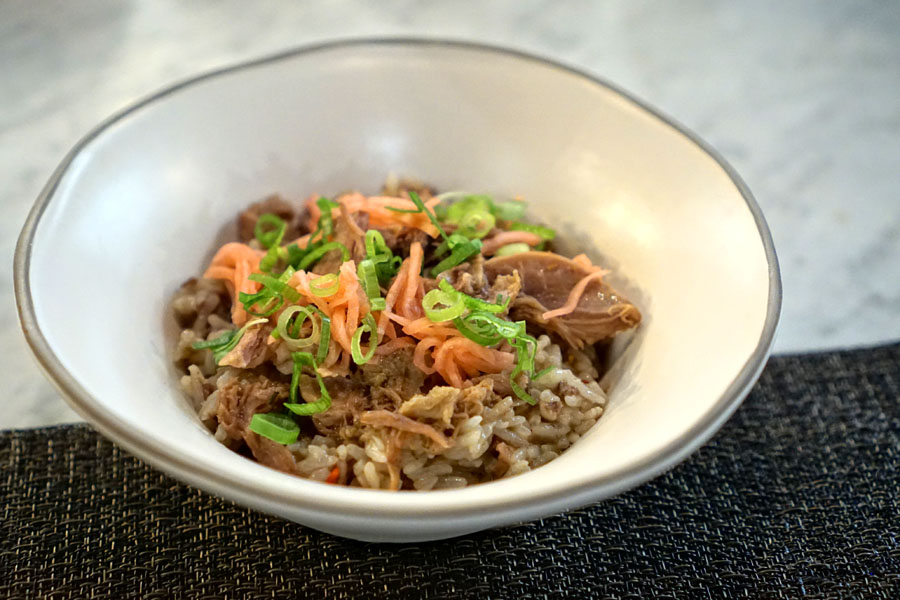 2c: Duck Dirty Rice [+$10.00]
| duck confit, scallion
The dirty rice was a favorite. The bird itself was near-falling-apart tender, with plenty of deep, earthy,
ducky
flavors, and I loved the brightness imparted by the onions. Just a really cozy, satisfying dish that I'd want to eat again and again.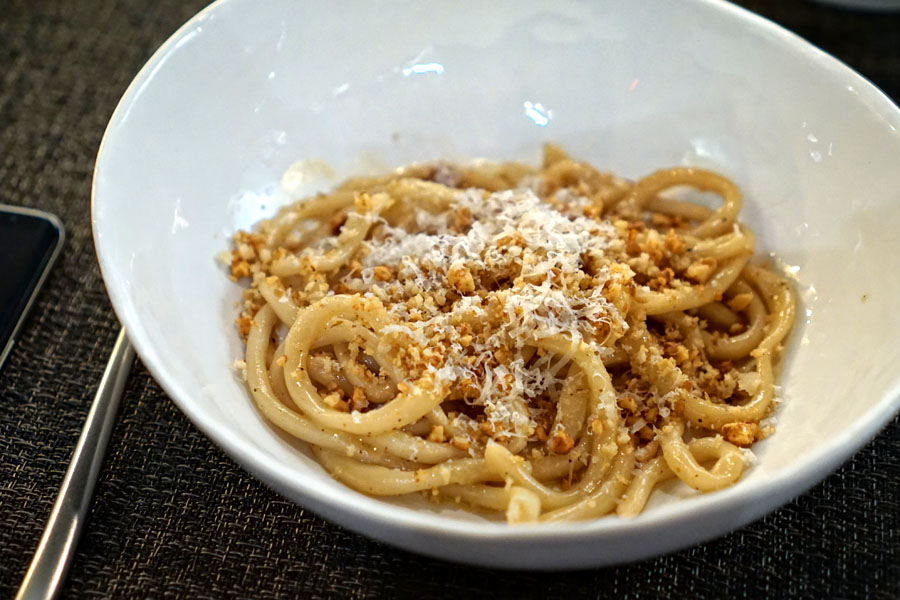 3: 'Picio e Pepe'
| XO sauce, anchovy bread crumb
Strands of
pici
were thick and substantial, with a definite chew. There was a very robust brine to the dish thanks to those breadcrumbs, as well as a marked nuttiness. Unfortunately, the pasta didn't really convey the deep, multifaceted umami notes you typically find with XO.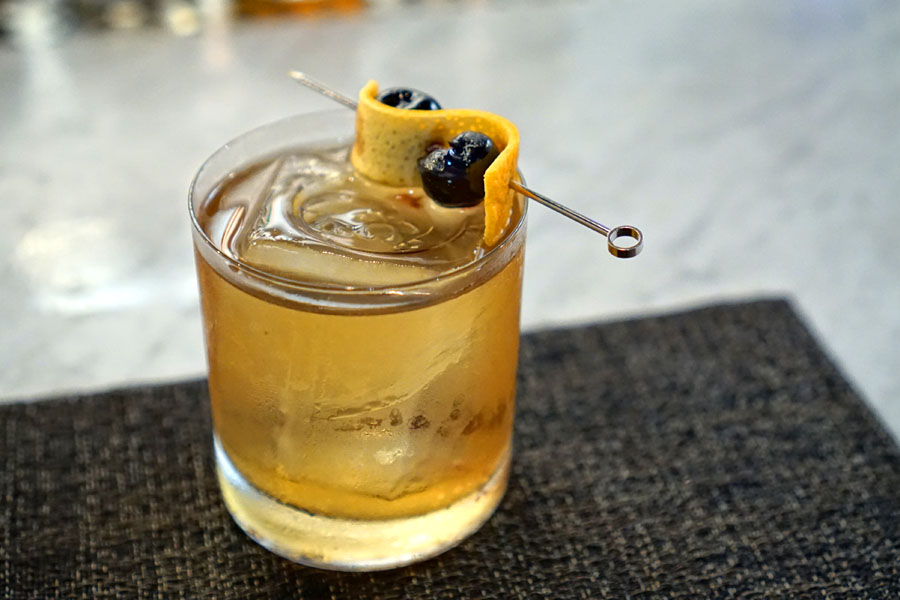 Peking Old Fashioned [$15.00]
At this point, Edgar proceeded to make me an off-menu cocktail (though it was supposedly slated to go on the menu the next day). What we had here was duck fat-washed rye with five spice syrup, black walnut bitters, and Angostura. It smelled of savory spice intertwined with citrus, while the palate was viscous, bringing forth the heft of the duck alongside notes of sweet spice, caramel, and toffee, the whole thing backed by plenty of boozy, bitter elements. A strong effort.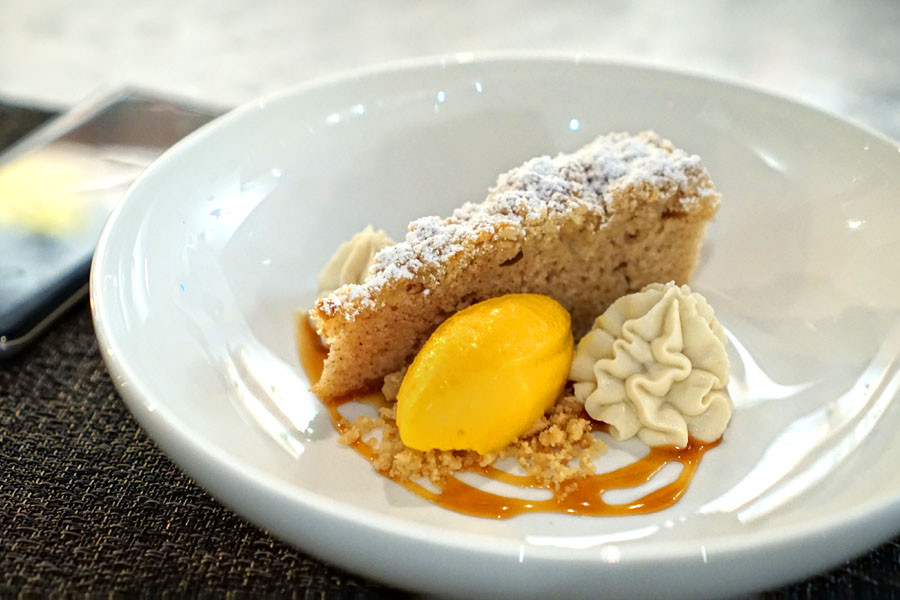 4: Coffee Cake
| red kuri squash, chai, caramel
For dessert, we had one of the best coffee cakes I've tasted. The back-and-forth between the coffee caramel and the chai namelaka was spot on, and I also appreciated the sweetness of that squash sorbet. What was interesting was that, when I took it all in together, the overall effect reminded me of pumpkin pie, which was very apropos for the season.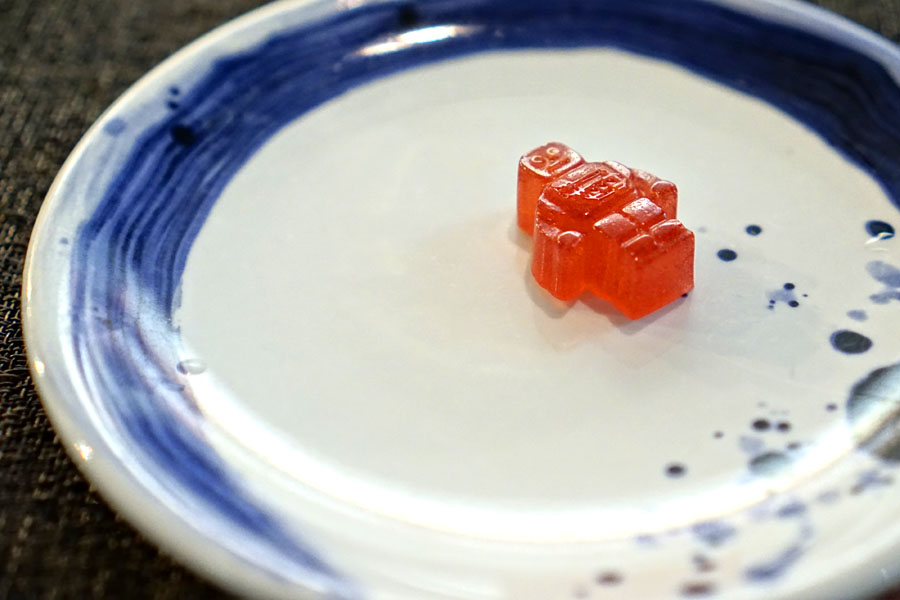 A bittersweet raspberry-prosecco gummy served as the mignardise course.
"Unnamed Dessert Cocktail"
To close: a complimentary dessert cocktail (from the beverage pairing) comprising Martell VSOP Red Barrel, Pasubio Vino Amaro, Tempus Fugit crème de cacao, and citrus-spiced honey syrup. The nose here was sort of like a mix between red wine and cola (i.e. a
kalimotxo
), while the taste was tart red fruit along with subtle honey and touches of cocoa.
Tonight's meal at Rooster & Owl was pretty unlike any other I've enjoyed in the District. The way Tang's cooking presents itself as unconstrained by any one classification is unique, and exciting, and lends itself to creativity. That being said, there were certainly a couple missteps with some of the plates, but nothing that can't be fixed, especially given that the restaurant is still young. Service, meanwhile, was excellent, and I have to give credit to Edgar (and Ralph) for that. A solid showing overall.