Maydan (Washington, DC)
Maydān Restaurant
1346 Florida Ave NW, Washington, DC 20009
202.370.3696
www.maydandc.com
Mon 09/30/2019, 06:55p-09:00p

Yep, I'm back in DC once again. So during a meal at
Reverie
back in May, a couple sitting next to me recommended that I try out Maydan, but warned me that it'd be tough to secure a reservation. And indeed it was. I couldn't find any availability, but undeterred, decided to just walk in and sit at the bar, which worked out just swell. Situated in Cardozo, Maydan translates roughly to "gathering place" in a number of Mideast-area languages, and fittingly, the restaurant focuses on the live-fire cooking of the Middle East, North Africa, and the Caucasus. The spot opened on November 21, 2017 to considerable fanfare, and is the work of restaurateur Rose Previte and co-Executive Chefs Gerald Addison and Chris Morgan.
About the Owner
: Born to a Lebanese-Sicilian family, Rose Michele Previte hails from Ada, Ohio, and grew up helping out at her mother's catering business and later restaurant, as well as her father's sausage cart. After finishing up at Lima Central Catholic High School, she attended Ohio Northern University, majoring in PR and Spanish (and studying abroad in Spain). During this period, she interned for a human rights organization in Washington, but also waitressed at Politiki, where she met future husband David Greene. Following graduation in 2003, she moved to DC to find employment in the public policy sphere, and also tended bar at Politiki's replacement, Pour House, for over six years.
Previte eventually enrolled at George Mason University, achieving a master's in public policy in 2007. Shortly thereafter, she got married to Greene, and began working at the Arlington County Manager's Office before moving with her new husband to New York for a short stint. In November 2009, the couple relocated to Moscow, as Greene (by this time an NPR journalist) was sent on assignment. The two traveled extensively while they were there, and she even documented her adventures in a blog:
Rambling Rosa
. They returned to DC in January 2012, and Previte soon linked up with Mike Schuster (her former boss at Pour House) to begin working on a business plan for Compass Rose; a lease was signed that October.
Focused on global street food, the restaurant opened on April 17, 2014 with Chef John Paul Damato at the helm, and was a success. Said success caught the eye of Douglas Development in 2016, and the developer offered them a spot inside Shaw's Manhattan Laundry building, an 1887-era warehouse that was being converted into mixed-use. She partnered up with Schuster again, as well as attorney Andy Lacy, but was in need of a chef. Turns out Previte had been talking about opening a restaurant with one Chris Morgan for years, and Morgan had wanted to open a place with his buddy Gerald Addison. The three then got together, and the team behind Maydan was thus formed.
About the Chefs
: Gerald Addison grew up in Adams Morgan and Cleveland Park, the sons of parents who worked in the art world. He got his first real restaurant job in 2003, when he was 15, working a summer at Nora Pouillon's eponymous Restaurant Nora. From there, he moved to New York in 2007 to attend culinary school, then worked at both Alta and Geoffrey Zakarian's The National. In 2012, he went out to California and spent a couple years there before returning to DC to become sous at
Derek Brown
's Eat the Rich. Following, Addison opened A Baked Joint as head chef in June 2015, and later worked as CdC at Parts & Labor in Baltimore. He then cooked briefly at Jack Rose Dining Saloon, and ended up joining Previte at Compass Rose in January 2017.
Chris Morgan grew up in McClean, VA, and attended the University of Barcelona (c/o 2009) and the University of North Carolina at Wilmington (c/o 2010), majoring in economics. After realizing that he wanted to cook for a living, he spent time in Los Angeles, Portland, and San Francisco. Starting out at Judy Rogers' famed Zuni Cafe, he then opened Company in September 2012 with mentor Karen Hoffman, eventually working his way up to the position of sous before leaving to work under Melissa Perfit at
Charles Phan
's Hard Water. During this period, Morgan also attended the California Culinary Academy (August 2012 - May 2013), and took classes at the San Francisco Wine School. He returned to DC in 2013 and became exec sous for Ed Witt at The Partisan before joining Jeremiah Langhorne as part of the opening team at
The Dabney
. After a tenure as EC of McClellan's Retreat, he was invited by former employer Nathan Anda to become head chef for the Red Apron Group. Following a stint at Parts & Labor with Addison, Morgan joined his colleague as Co-Executive Chef of Compass Rose in June 2017.
Previte and her Chefs quickly decided that they wanted to pursue a live-fire Middle Eastern concept, and soon embarked on a research trip to Morocco, Tunisia, Georgia, Lebanon, and Turkey. They also learned under local Iranian cook Najmieh Batmanglij. Maydan bowed in November 2017, and was a success from pretty much the start. In February 2018, it was deemed a "Best New Restaurant" semifinalist by James Beard. April saw a "Restaurant of the Year" nod from
Food & Wine
and a "Best New Restaurants in America" award from
GQ
. Then, in August 2018, Maydan was named one of
Bon Appetit
's "Best New Restaurants." The next month, the restaurant received a Bib Gourmand from Michelin, then got a proper star the following year in the 2020 guide.

Maydan was penned by Michelle Bove, head of local firm
designCASE
. The space spans about 3,000 square-feet, and holds roughly 100 diners. I was at the 16-seater lower level bar, which is right in front of the restaurant's circular, wood-fired hearth (which uses both white oak and charcoal from what I understand).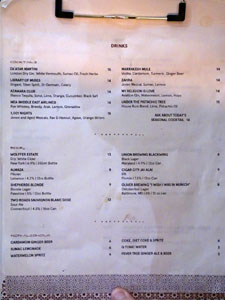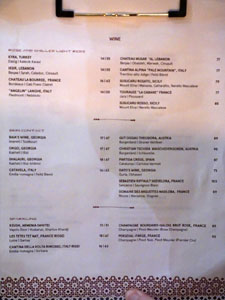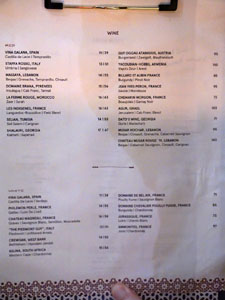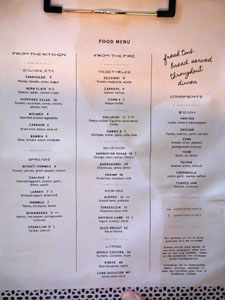 Above we see Maydan's pan-Mideast menu, featuring the Chefs' takes on the region's staples. To go along, we have a small array of theme-appropriate cocktails, a handful of beers, and a wine list focused on the Mediterranean region. The beverage program was initially developed by Said Haddad, but he left in December 2018, so I'm actually not sure who's running things now. Corkage is advertised at $35 a pop. Click for larger versions.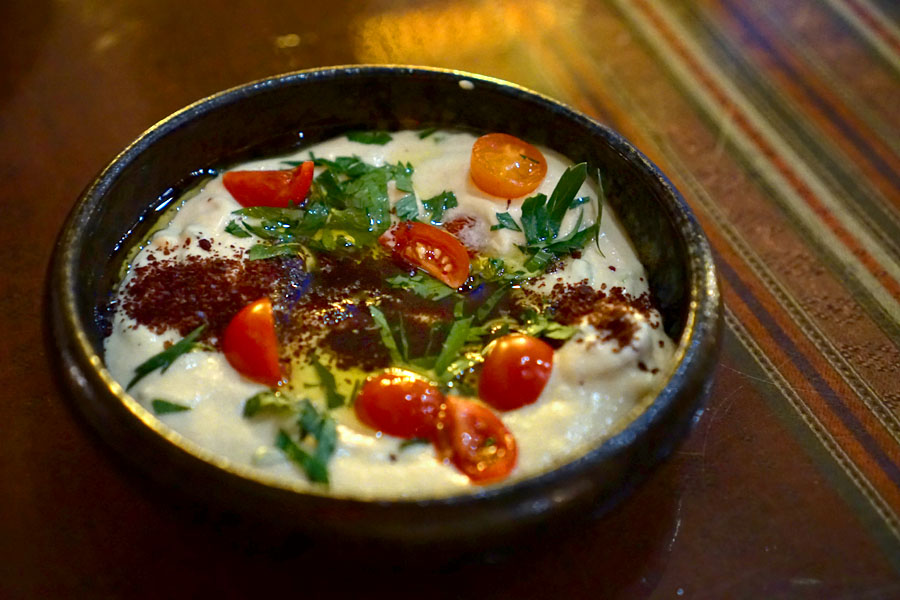 Beiruti Hummus [$8.00]
| Tomato, parsley, green pepper, scallion
I felt compelled to start with Maydan's take on hummus, a particularly smooth preparation that was brightened up by tart tomatoes and zesty greens. A smart variation of the more ubiquitous version of the dish.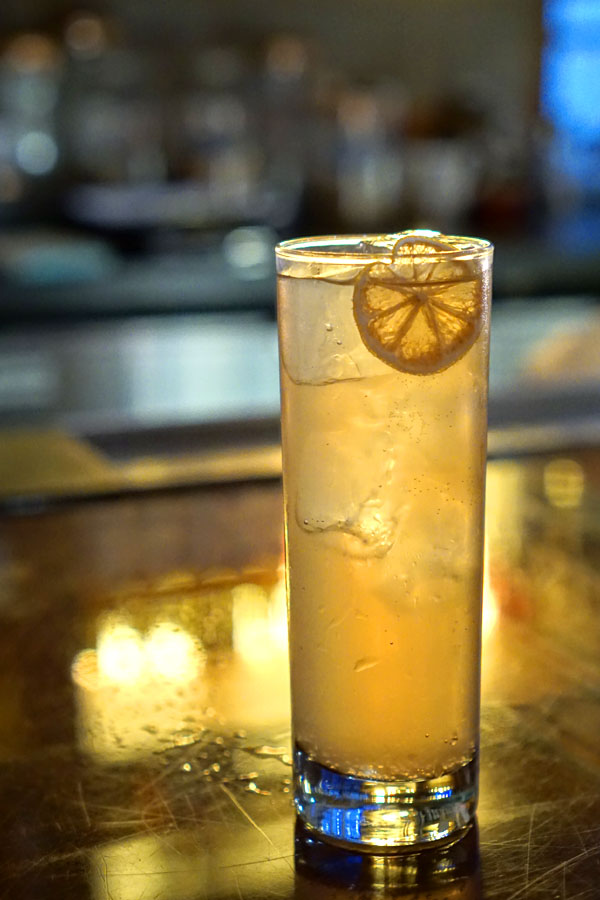 Zahra [$14.00]
| Joven Mezcal, Sumac, Lemon
The evening's first cocktail was sweet and refreshing, showing off overarching floral notes and barely a trace of booziness from the mezcal. The sumac, meanwhile, made its piquancy known on the back end, but in a delicate fashion.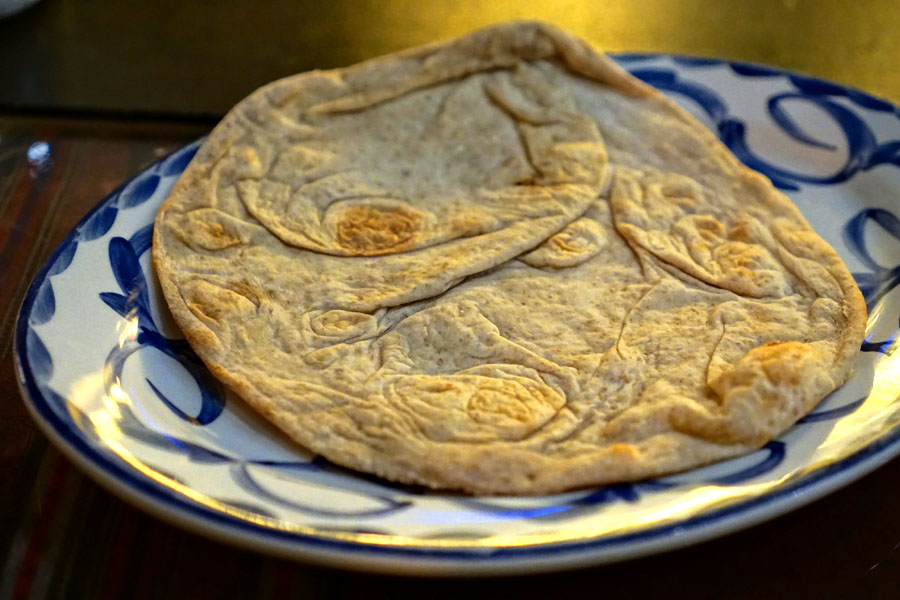 The restaurant provides unlimited servings of its
toné
flatbread, ostensibly an amalgamation of various breads from the region that's cooked on the walls of a clay oven for around a minute. It had this very familiar sort of flavor profile to it, one that was almost reminiscent of saltines. It worked well as a vessel for the spread above, though I would've liked it softer and fluffier.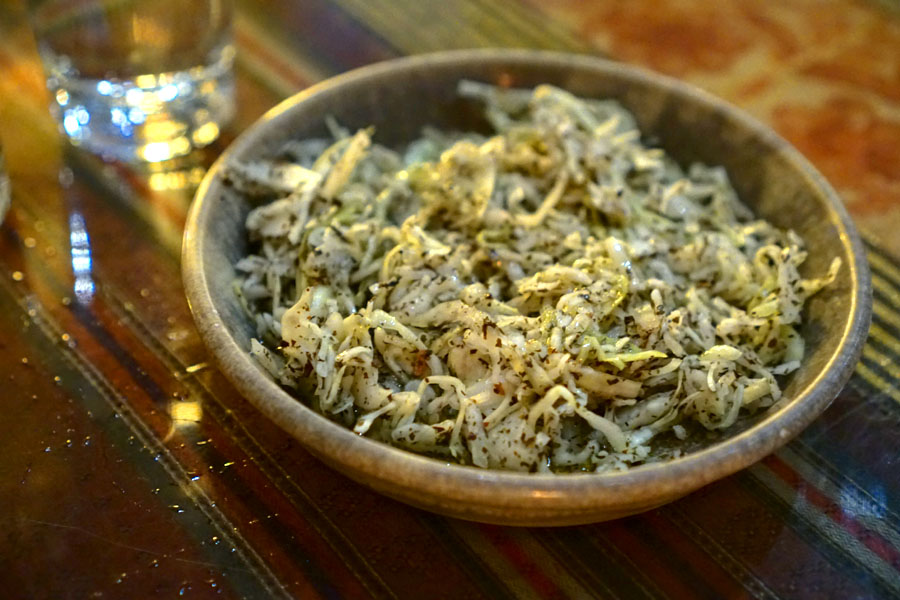 Cabbage [$6.00]
| Dried mint, lemon, olive oil
The slaw was a winner. I loved the cabbage's bitter crunch and how it meshed with the almost sumac-like tartness present. A fitting foil to some of the heavier dishes to follow.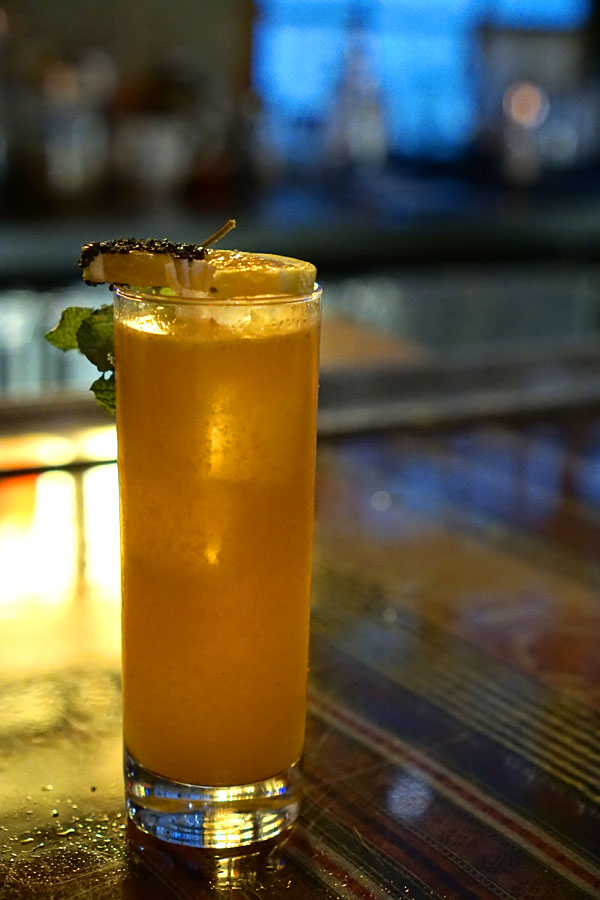 Azamara Club [$14.00]
| Blanco Tequila, Sotol, Lime, Orange, Cucumber, Black Salt
This next cocktail displayed plenty of smoky, boozy, vegetal elements, all set against a healthy dosing of heat and spice. I also got a pervading citric sourness, while the finish had a palpable heat to it.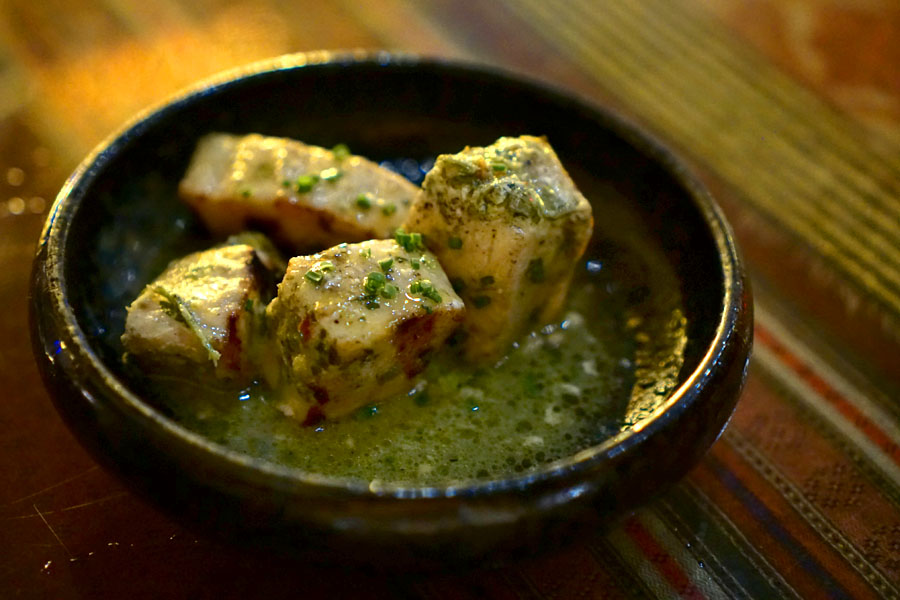 Swordfish Kebab [$18.00]
| Orange, onion, butter, cilantro
This was probably my favorite dish of the night, and really one of the best preparations of swordfish I've had. The fish came out super juicy and way more supple than usual, while seasoning, smoke, spice were spot on. Delish.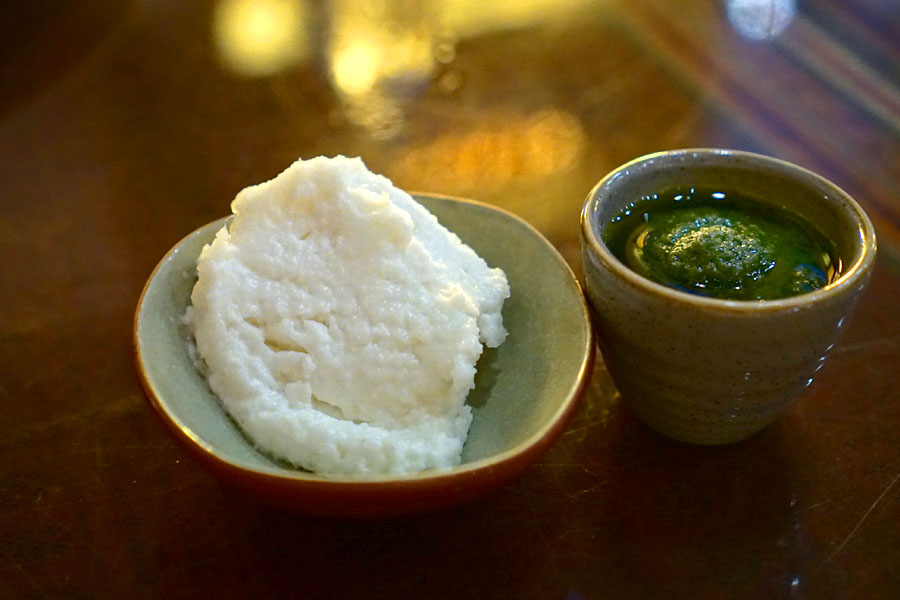 Toum [$1.00]
| Garlic, oil, lemon
Zhough [$1.00]
| Parsley, cilantro, cumin, serrano
To accompany the food, I requested two of my favorite condiments. The
toum
seemed slightly creamier, slightly thicker than usual, and was fairly mild at first, but then the garlickiness definitely crept up on me, but in a good way. We also had the
zhug
, which had a wonderful brightness and vibrancy to it, along with considerable depth and a lingering heat.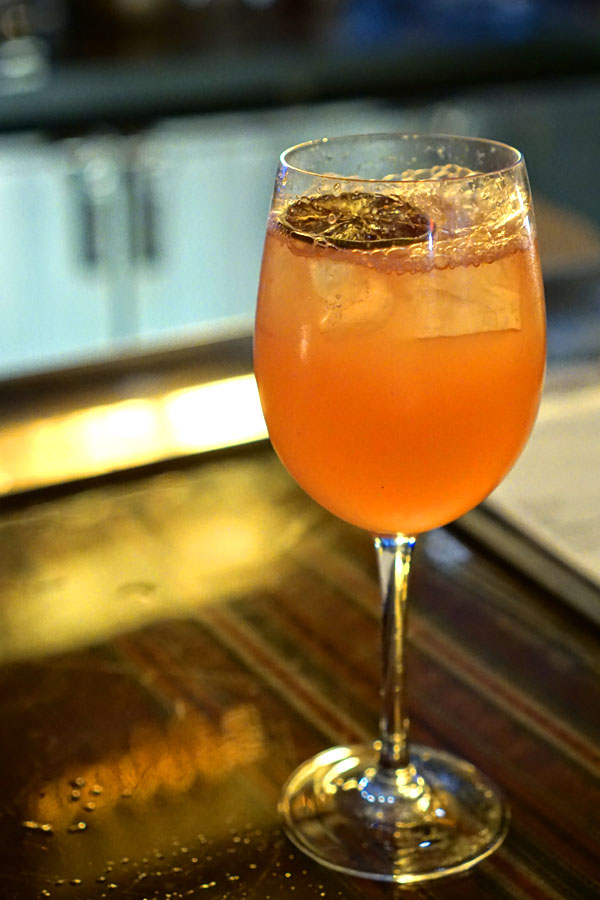 My Religion Is Love [$14.00]
| Aviation Gin, Watermelon, Lemon, Hops
The quaffable cocktail showed off the restrained fruitiness of watermelon, with gin botanicals peeking through. The hops, meanwhile, contributed a bitter, grassy, floral layer to the drink that helped keep things interesting.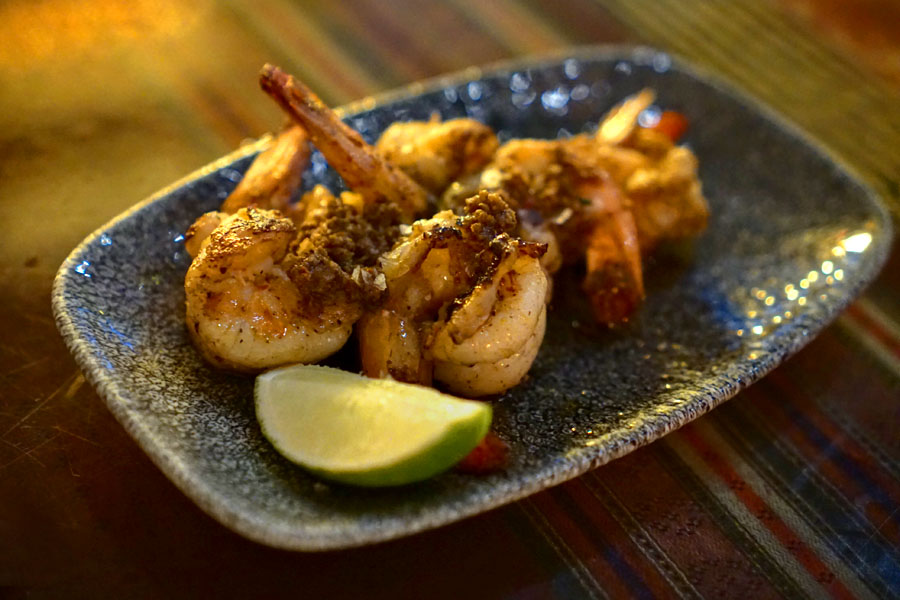 Shrimp [$18.00]
| Dried lime, tamarind, chile
Shrimp were well-cooked and well-textured, and had a robust brine that was cut by a proper amount of smoke and spice, as well as a permeating nutty element in the dish. Very nice.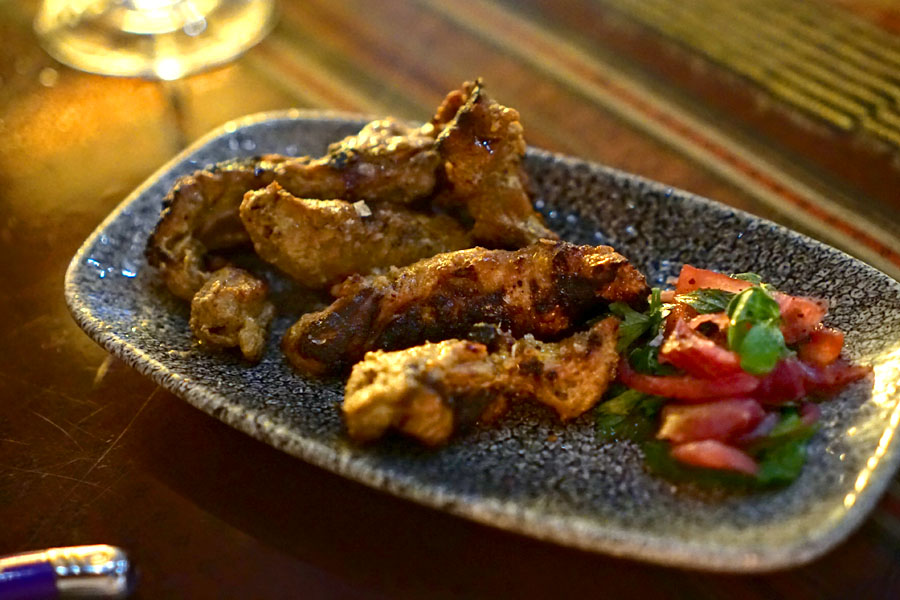 Saffron Lamb [$13.00]
| Yogurt, turmeric, citrus
Lamb had a superb char and sear to it, along with subdued saffron and a good amount of game, all while that minty salad on the side helped for contrast. My quibble here was that the meat could've been more tender.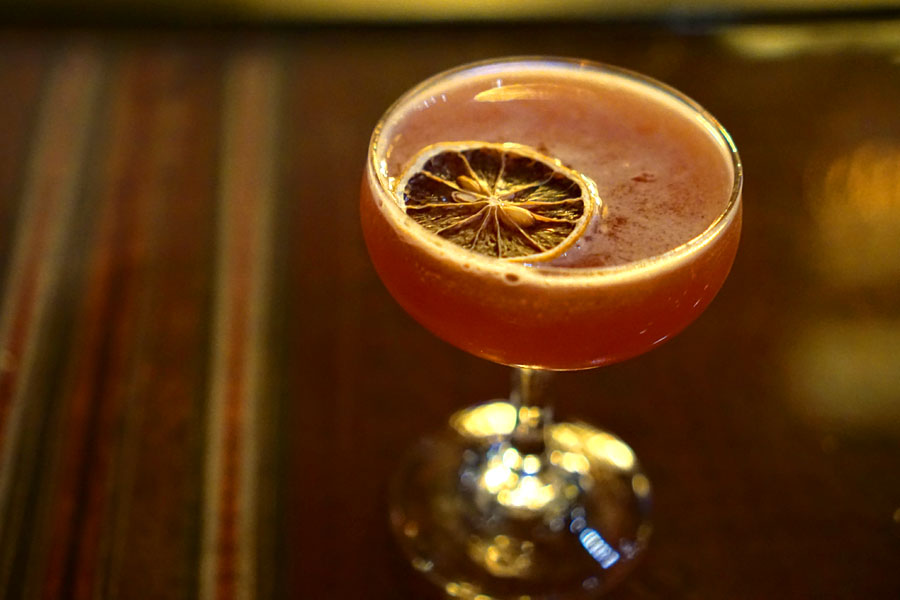 MEA (Middle East Airlines) [$14.00]
| Rye Whiskey, Brandy, Arak, Lemon, Grenadine
The night's final cocktail was the heftiest of the bunch. I found it citrusy and bittersweet on the nose, while the palate brought loads of anise, commingled with the sweetness of grenadine.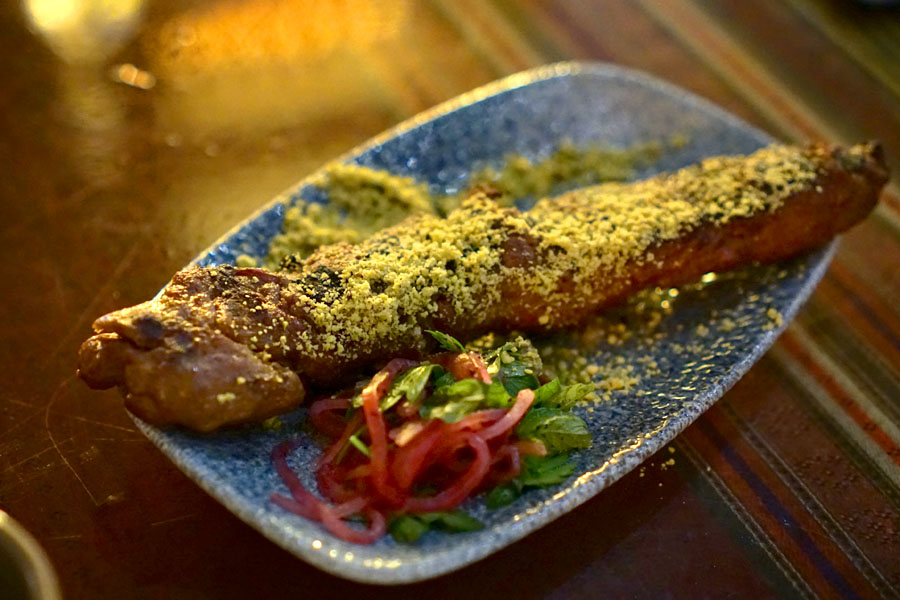 Aleppo [$12.00]
| Ground lamb, pistachio
Our final savory brought an aggressively seasoned lamb kebab, one teeming with acerbic, spicy notes and the nuttiness of pistachio. It was an intriguing mish-mash of flavors, and went great with the herb salad on the side. However, my concern here was that the meat was too monolithic in terms of consistency; I wanted something grittier, more rustic.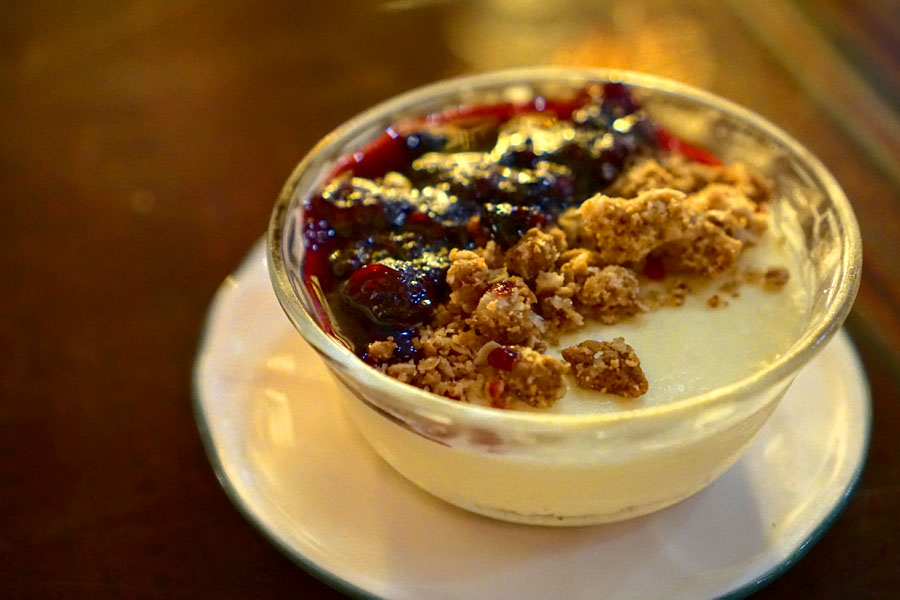 Cheesecake [$10.00]
| Oat cookie, blueberry sauce
There's no written dessert menu at Maydan, so my three options were presented verbally: almond milk pudding,
namoura
cake, and this "cheesecake" that I got, which was made with labneh that'd been cooked down and filtered. I found it a really smart interpretation of the traditional dish. The actual "cheese" part was super thick and creamy, with a sweet, nutty bent, and went beautifully with the saltiness of those crumbles. The fruit then contributed an offsetting tartness, and overall things just came together beautifully.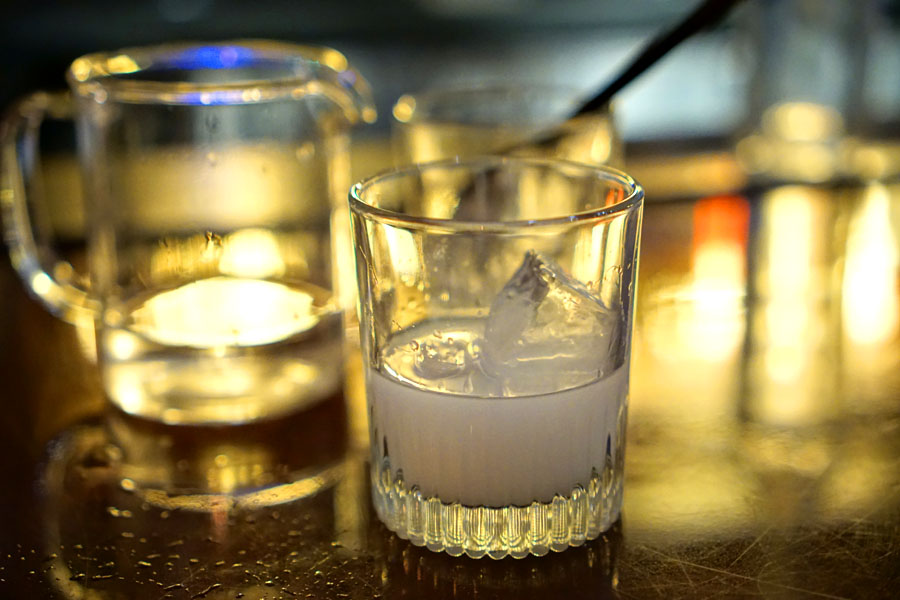 At the end of the meal, my bartender graciously provided a complimentary serving of El Massaya Arak, which served as a proper digestif. As expected, I got massive amounts of anise here, but also layers of sweetness and grapiness and heat underneath. Also note the cloudiness of the drink when combined with filtered water and/or ice, a result of the louche effect wherein essential oils are released.
There's been a lot of buzz surrounding Maydan, and after eating here, I can see why. The cooking's classic at its core, but the Chefs manage to mix things up just enough, and of course we can't forget about their measured application of smoke and char to the food, which adds its own unique charms. The space itself is worth noting as well, and I have to say that the service was totally on point to boot. It all comes together to make for a lovely experience, and I guess I'm not the only one who thinks so, as the restaurant ended up receiving its first Michelin star the very day after this meal.