Kiyota (Tokyo, Japan)
Kiyota Sushi
6-3-15 Ginza, Chuo-ku, Tokyo 104-0061
03.3572.4854
Thu 10/31/2019, 12:10p-02:25p

Naturally I had to fit in some sushi during my time in Japan, and ended up at Kiyota. One of Tokyo's most storied
sushi-ya
, Kiyota opened all the way back in 1963. The restaurant really began making a name for itself with second-generation Chef/Owner Takeaki Niitsu, who apparently was able to prepare sushi for the Emperor of Japan. Niitsu retired in 2000 and decided to pass the business on to Chiba native Masashi Kimura, who formally took over in 2001. In 2016, Kimura announced that his second-in-command Norihiko Yoshizawa (who worked under him for 15 years) would be succeeding him, though he soon changed his mind and instead picked Hiroshi Saeki.
Saeki was the head of the well-regarded Sushi Saeki in Osaka, and was supposed to spend a year in Kyoto before moving to Tokyo to take over Kiyota in the first half of 2019. However, Saeki seemed to have taken a liking to Kyoto, and eventually decided to stay, opening up the second iteration of his eponymous restaurant there in October 2018 (the original shuttered that June). With Saeki out of the picture, Kiyota was indeed handed off to Yoshizawa, the now fourth-generation
taisho
. Kimura, meanwhile, ended up opening the even higher-end Kiyota Hanare in December 2018. Also located in Ginza, that place was originally meant for loyal Kiyota customers, but is ostensibly open to the public now, though at a staggering price point of roughly $1,000 a person.
Kiyota has largely built its reputation on the quality of its bluefin tuna, which is sourced exclusively from renowned supplier Ishiji at Toyosu Market (formerly at Tsukiji). Giving its longstanding relationship with Ishiji, the restaurant is evidently able to secure the
harakami-ichiban
, the finest, and priciest cut of the belly. Top-notch tuna doesn't come cheap, and that's reflected in Kiyota's pricing. Our lunch here was ¥35,000 ($323.98) a person, while the cost at dinner rises to ¥50,000 ($462.83). Add on top of that a 10% sales tax, though there's no separate service charge.
A fun fact: See the bicycle in front of the restaurant? Apparently that's what the Chef rides to the fish market to pick up the day's seafood.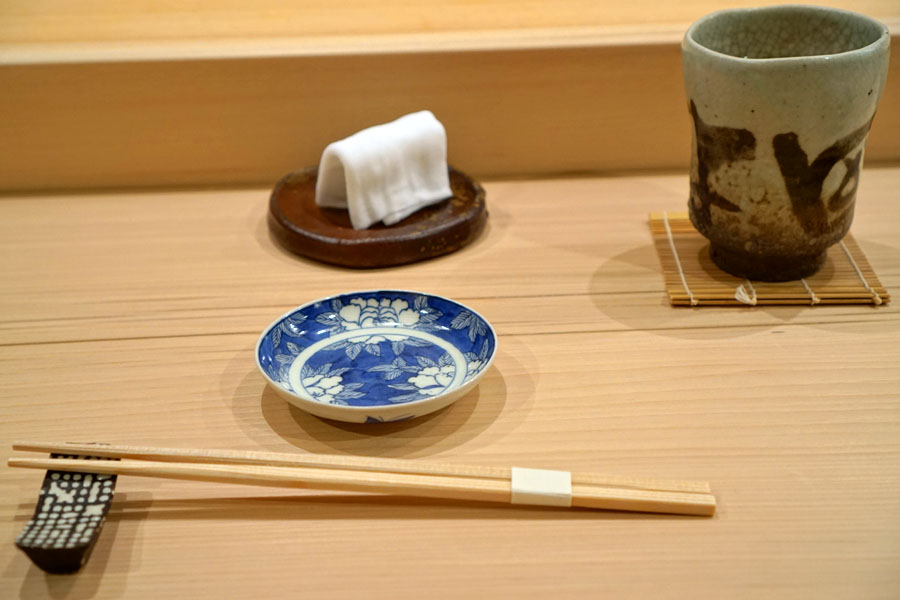 Upon entering, I was quickly seated at the nine-person bar, reputedly crafted out of 400-year-old
hinoki
cypress. I've read reports stating that this same wood has been in use since the restaurant opened nearly six decades ago, which is a bit surprising given that all of the sushi was served
directly on the counter
(the upper section), which I'd never seen before.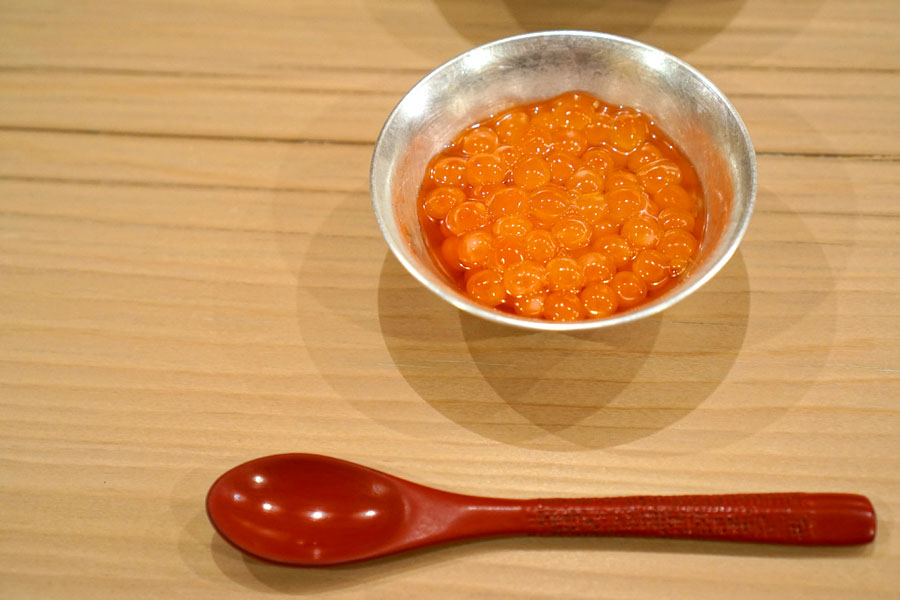 1: Ikura
Before the sushi, we were treated to a few
otsumami
courses. The first was this salmon roe, which was unlike any I've had before. I'm not sure what the Chef did differently here, but the eggs were much, much "stickier" than usual, with a heightened level of richness and brine.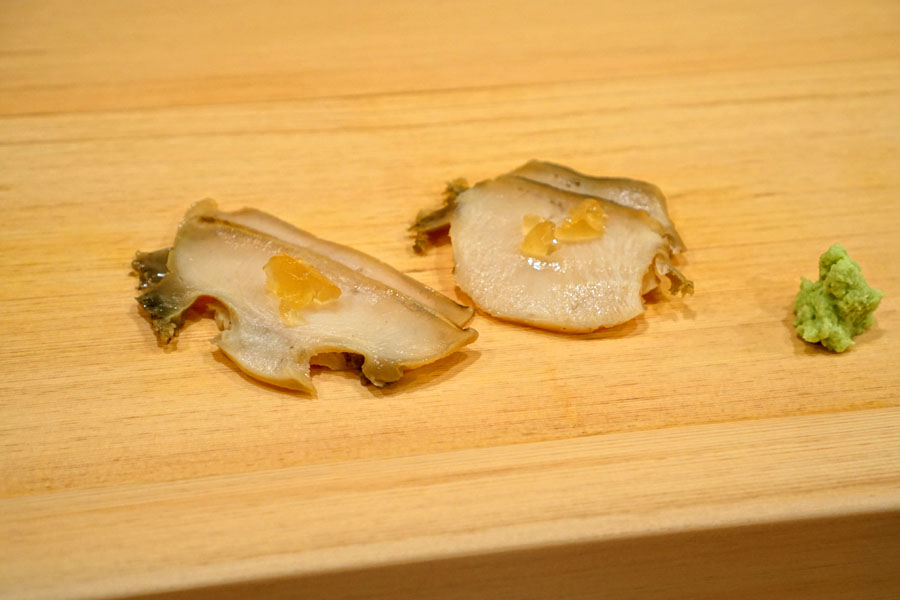 2: Awabi
Abalone had a great texture, while its umami-laced flavors were enhanced by a topping of saline jelly, which I believe was made from a stock incorporating the innards of the gastropod.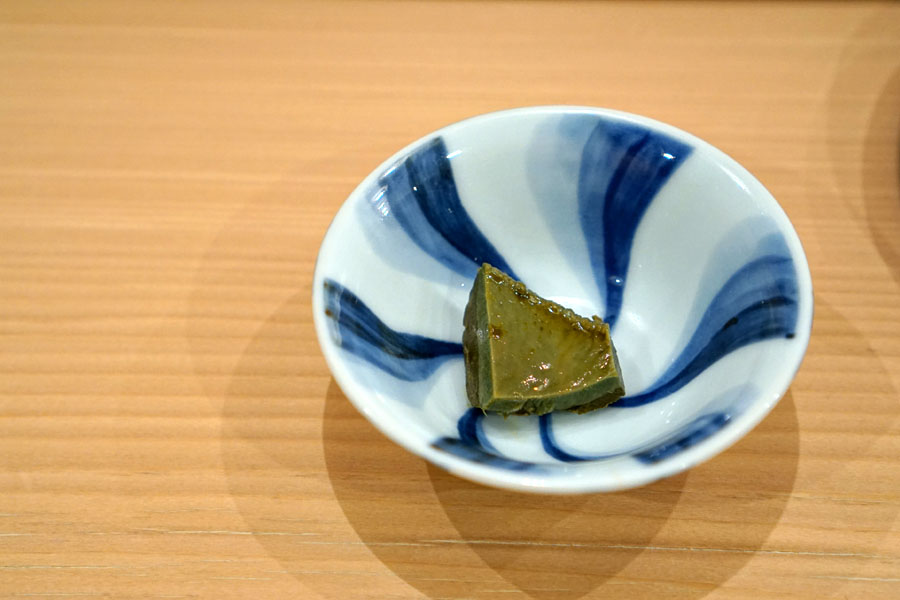 3: Awabi Kimo
Next came the liver of the abalone, which ate as earthy and funky as it looked.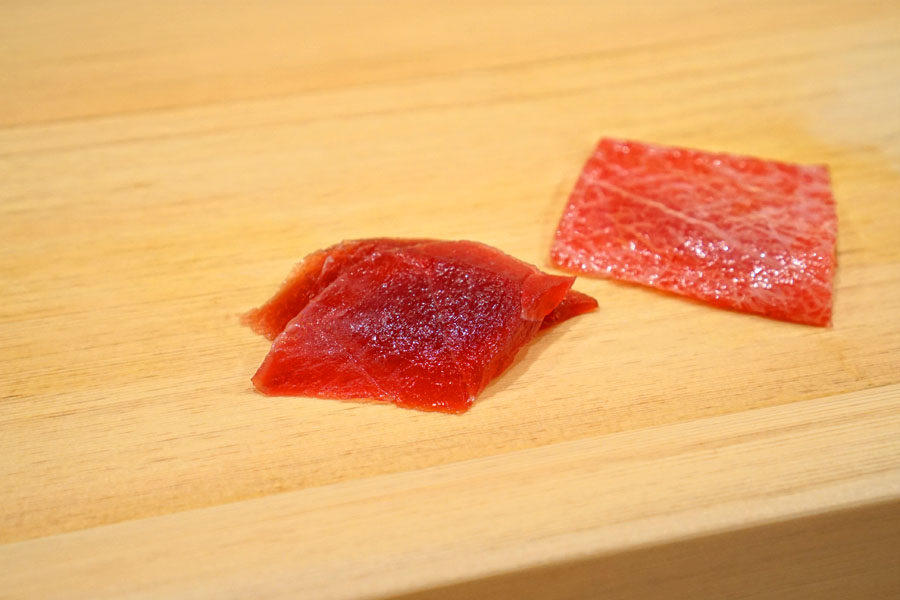 4: Honmaguro Sashimi
Here were two cuts of bluefin. I started with the
akami
, which was so much brinier than usual, and perfect with the zing of the included wasabi. The toro, meanwhile, was interesting in its own right, since it had an almost beef-like fattiness to it--very cool. I believe the restaurant uses Oma tuna (caught off the northern coast of Aomori Prefecture), oft regarded to be the best available, and which is in peak season during the fall.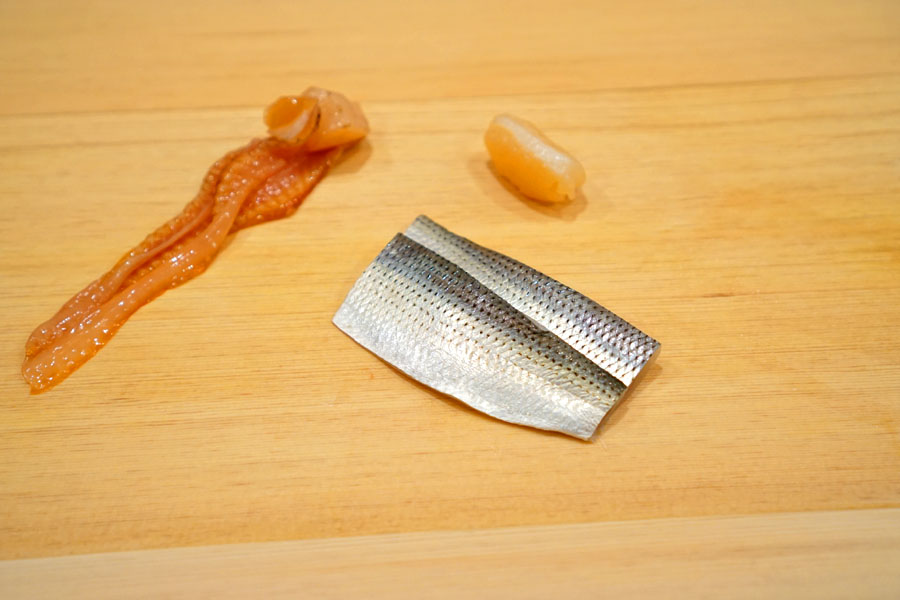 5: Sashimi Moriawase
Yoshizawa-san then served three more varieties of sashimi.
Kohada
(gizzard shad) was firm to the bite, with an assertive brine that went great with a dab of wasabi. On the left was
akagai no himo
, or ark shell mantle, which I found mildly sweet, with a lovely crunch to it. The most interesting item was the
kobashira
, otherwise known as the adductor muscle of
aoyagi
. A surprisingly valuable part of the surf clam, it was super, super sweet, with a firm, "crisp" consistency reminiscent of
tairagai
(pen shell).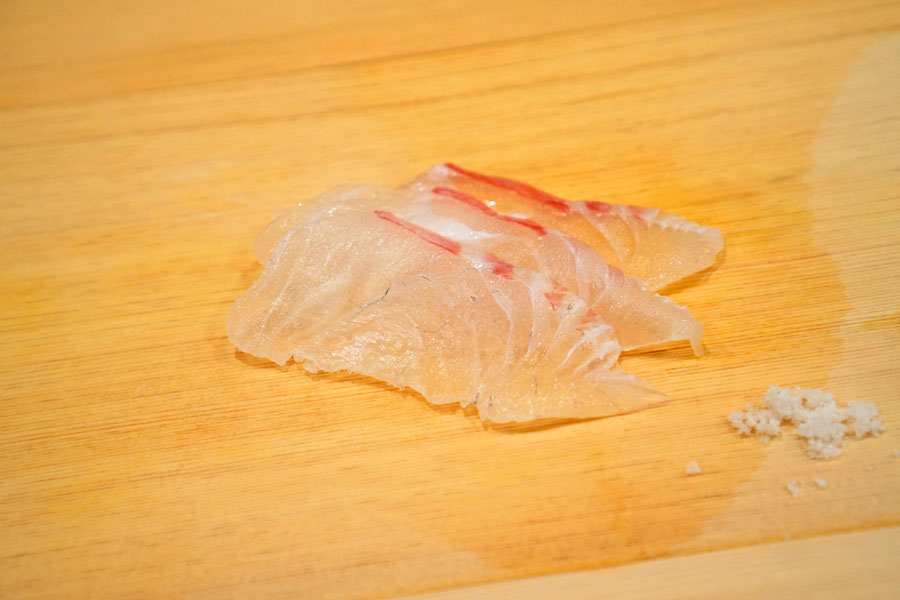 6: Madai Sashimi
Red sea bream displayed a snappy-yet-creamy consistency that I really enjoyed, while its flavors were ridiculously clean, and took well to hits of salt (in lieu of soy sauce).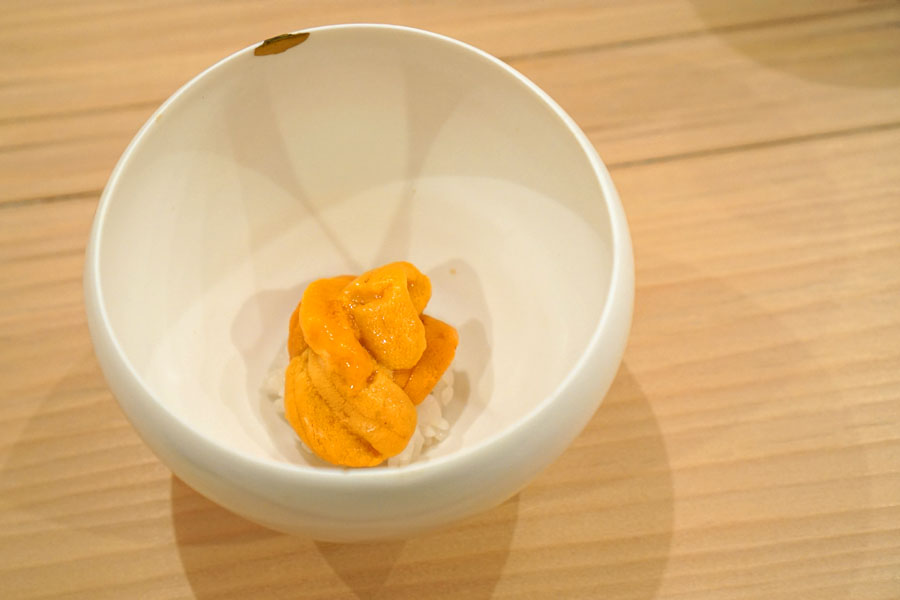 7: Bafun Uni
The Hokkaido sea urchin was the best example I've ever had. It was just so much sweeter than what we get in the US, with no trace of bitterness or minerality, and matched perfectly with the accompanying rice (which had some unusually distinct grains).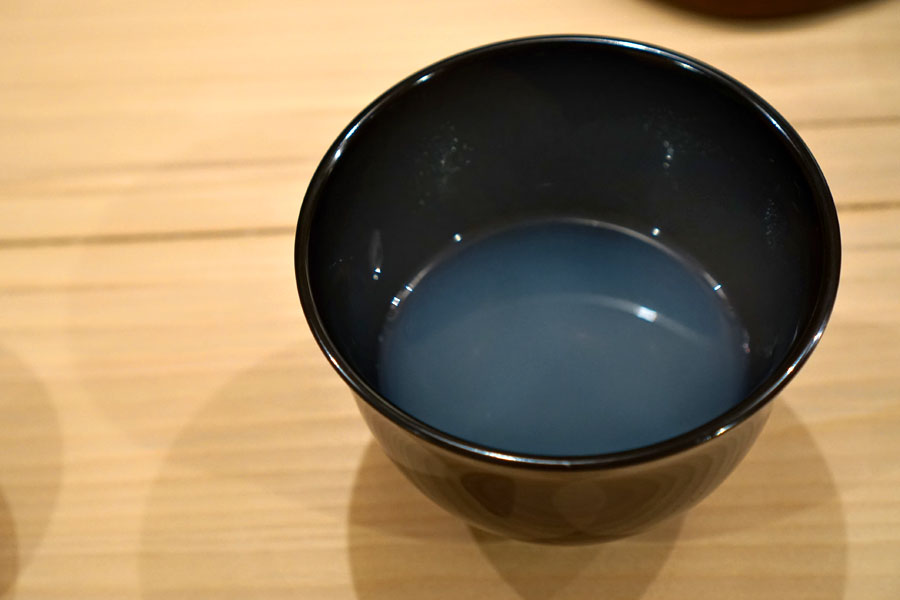 8: Hamaguri no Ushiojiru
Here was a cozy clam soup to cleanse the palate before the parade of
nigiri
to follow.
The Chef's ginger was pretty intense, and quite a bit saltier than I'm accustomed to.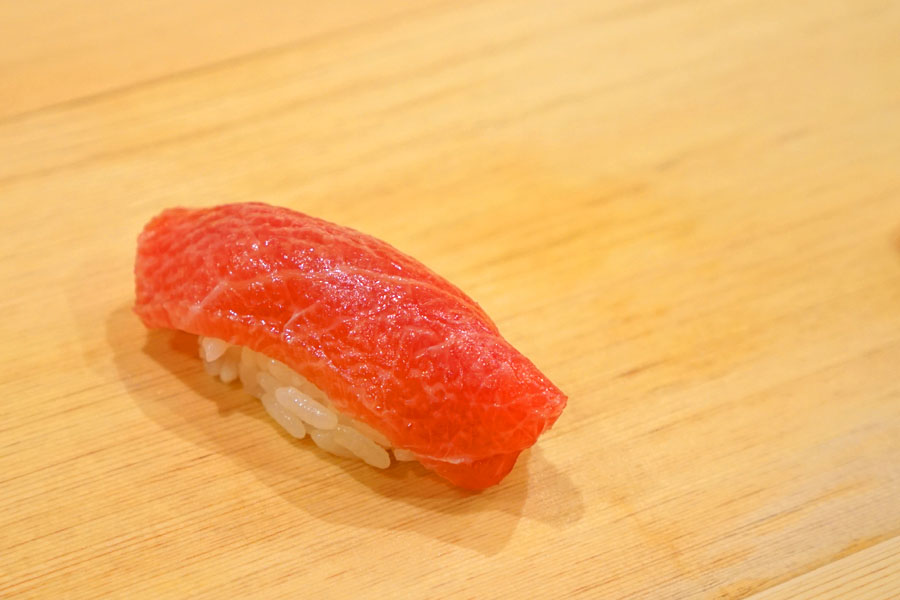 9: Shimofuri
Kiyota is famous for the quality of its tuna, so it made sense to start with it. Yoshizawa-san described this first cut as between otoro and chutoro, and texturally, the fish was very, very fine-spun. I found it delicate-tasting initially, but then this salinity hit me and lingered long on the finish, all while there was this pervasive sweetness encompassing everything. Delicious.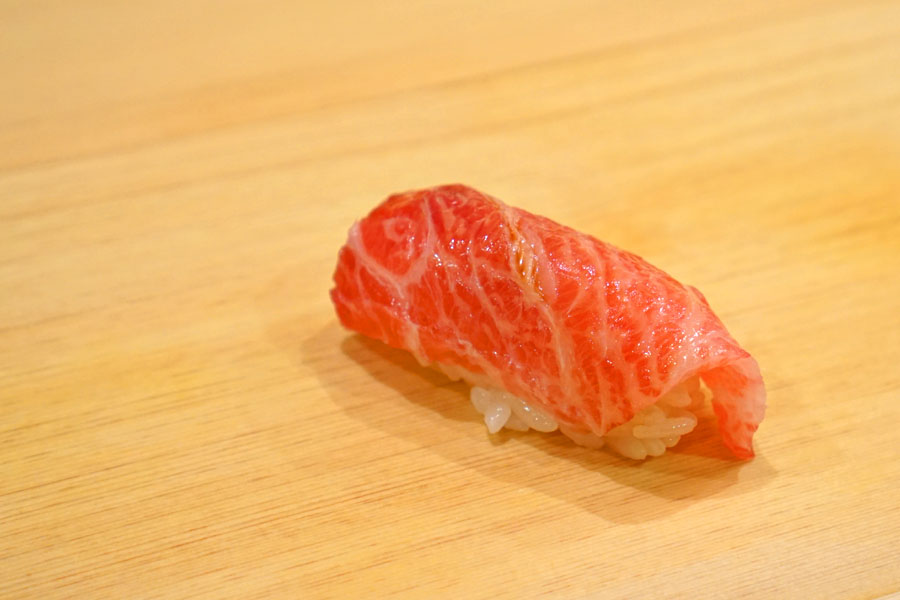 10: Otoro
An extremely well-marbled piece of otoro was perhaps the fattiest, oiliest example I've eaten, while its sweetness level was also a big, big step up from normal. I definitely appreciated the
shari
here for balance. Another showstopper.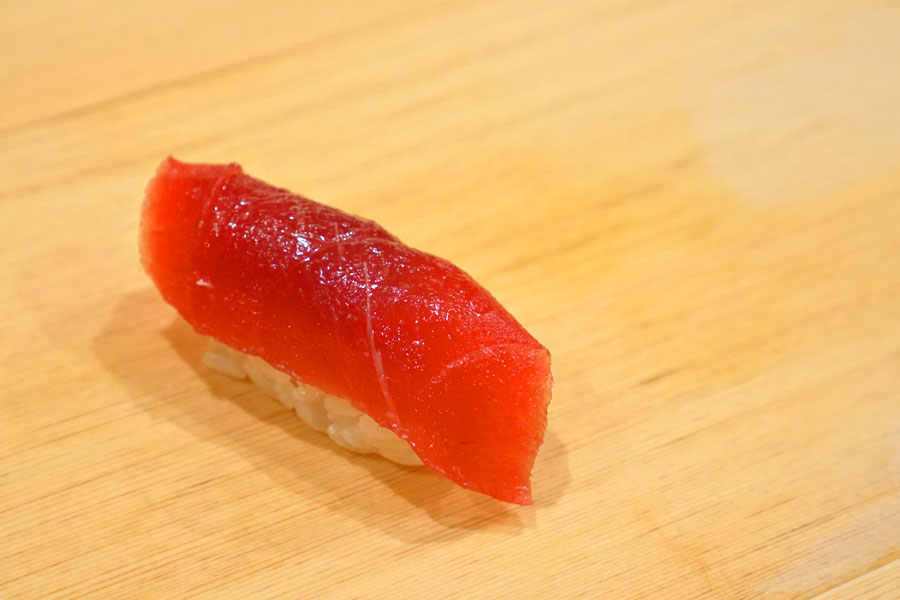 11: Akami
This lean cut of bluefin showed off a permeating sort of brine that was simultaneously robust, yet refined, and I got a great hit of wasabi on the back end that served as the perfect finishing touch. Kiyota's tuna lives up to its reputation.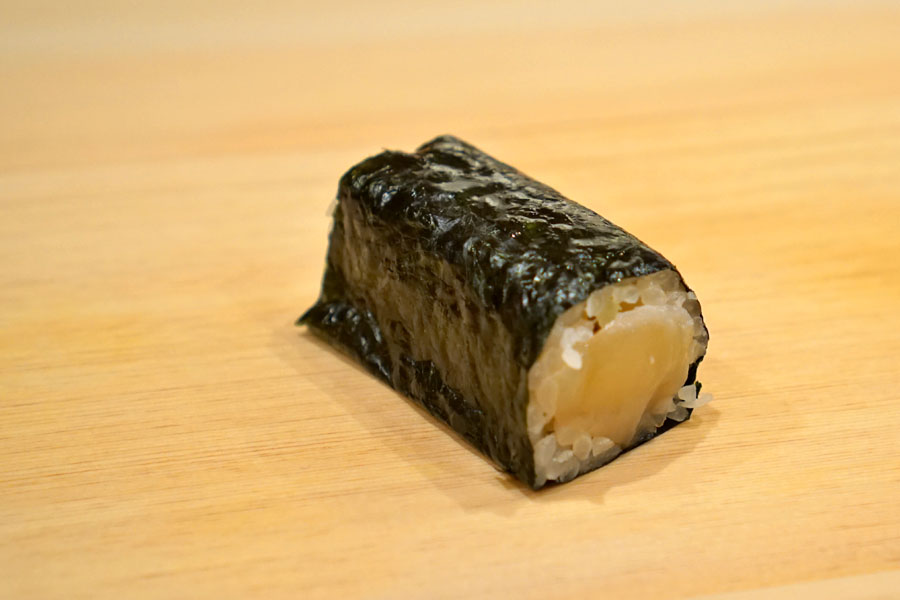 12: Kobashira Maki
With the tuna done with, clam adductor made another appearance, this time in roll form. The sweetness of the muscle was a good match with the salty, umami-laden smack of the seaweed, all while the rice effectively moderated it all.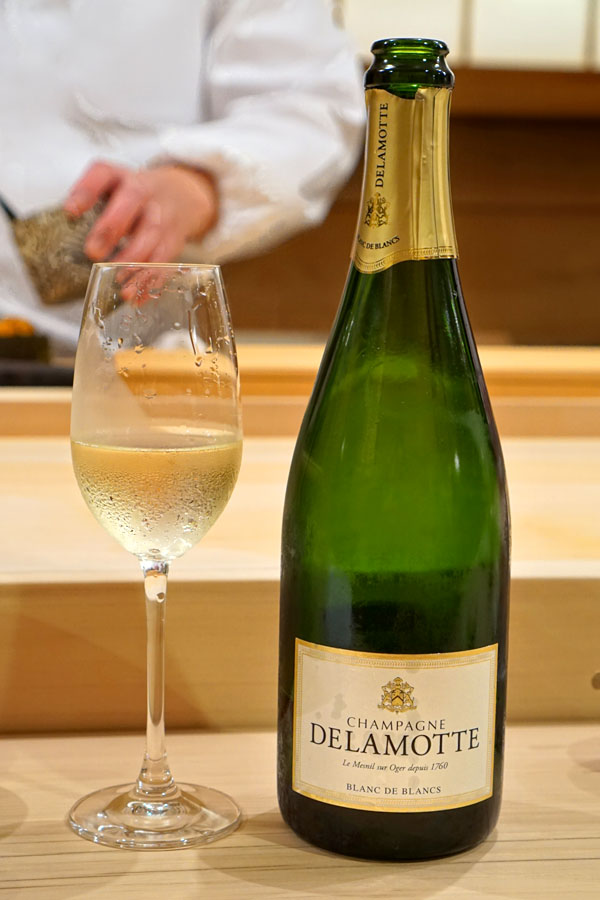 To drink, I opted for some bubbly, specifically a bottle of the
NV Delamotte Champagne Blanc de Blancs Brut [¥20,000 ($185.13)]
. The wine had a surprisingly restrained nose with very light oxidation and just a hint of pome fruit. The palate brought a healthy amount of toast and oxidation, along with fruity, citrusy notes, some minerals, and a trace of honey. Overall I found this rather neutral, which is probably a good thing for sushi.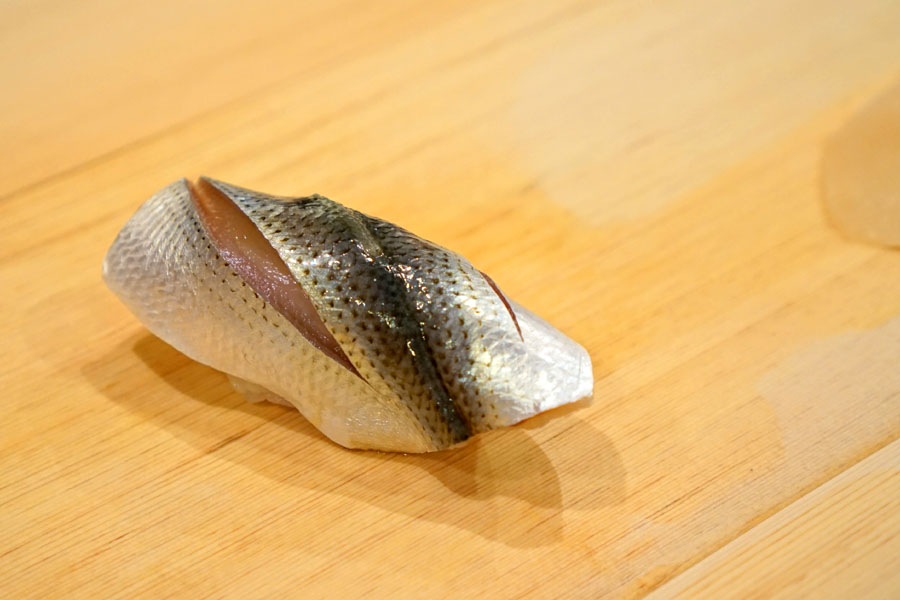 13: Kohada
The first of two
hikarimono
was the gizzard shad, which veered quite a bit sweeter than usual, though its signature brine was still there, dutifully evened out by the very distinct nature of the rice.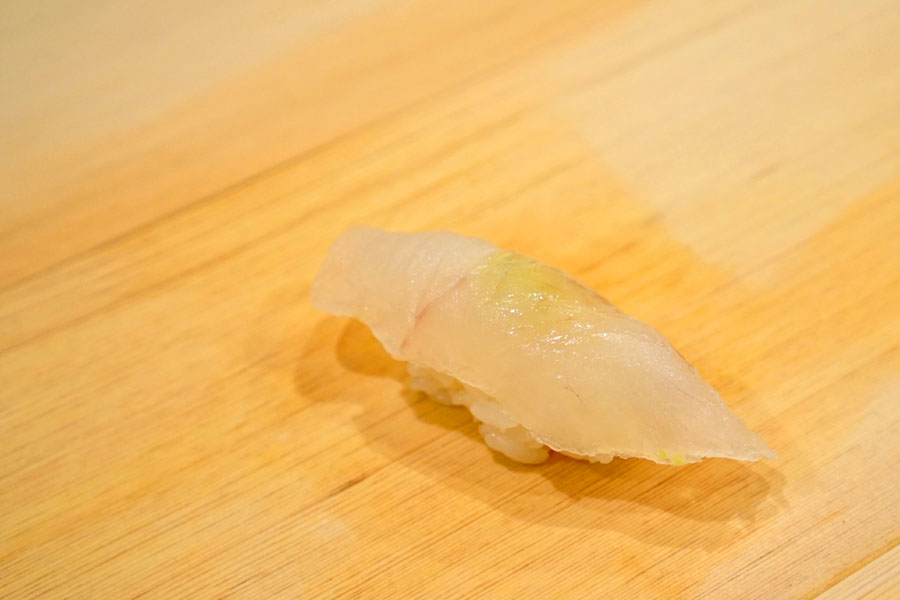 14: Hirame
Flounder was more full-flavored than I'm typically accustomed to (not a bad thing), while texturally, the fish had a rather sticky, chewy mouthfeel.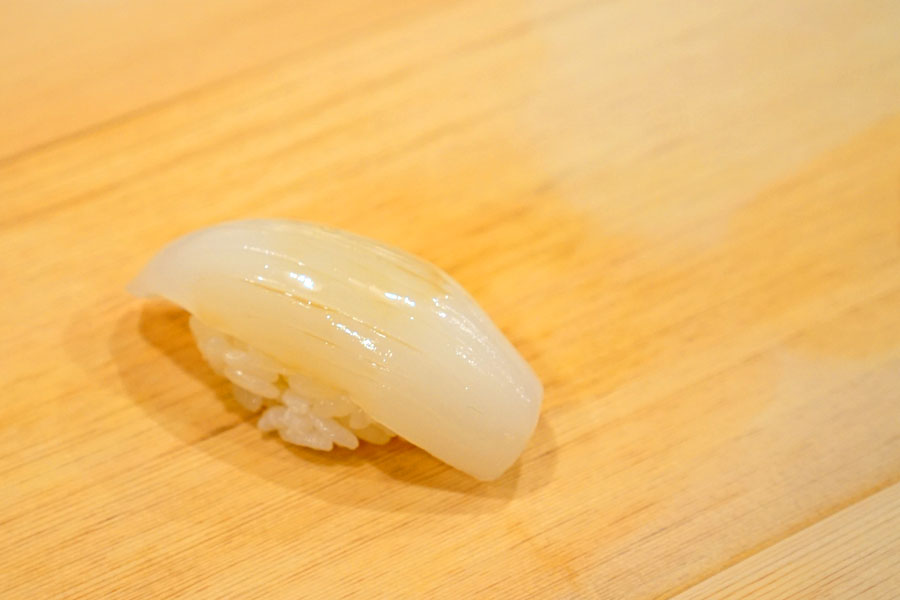 15: Ika
Ink squid had a pleasantly firm, creamy, gummy consistency, while its relatively subdued flavors matched up swimmingly with the light touch of wasabi present. And again, the rice really made itself known here for contrast.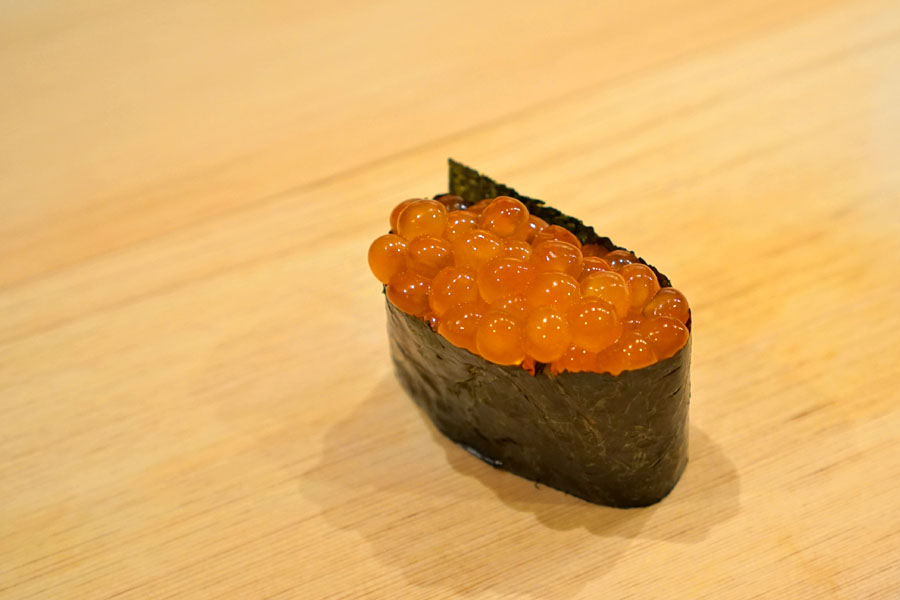 16: Ikura
More restrained compared to the version I had earlier in the meal, the salmon roe was beautifully balanced by the sweet-savory nature of the seaweed here.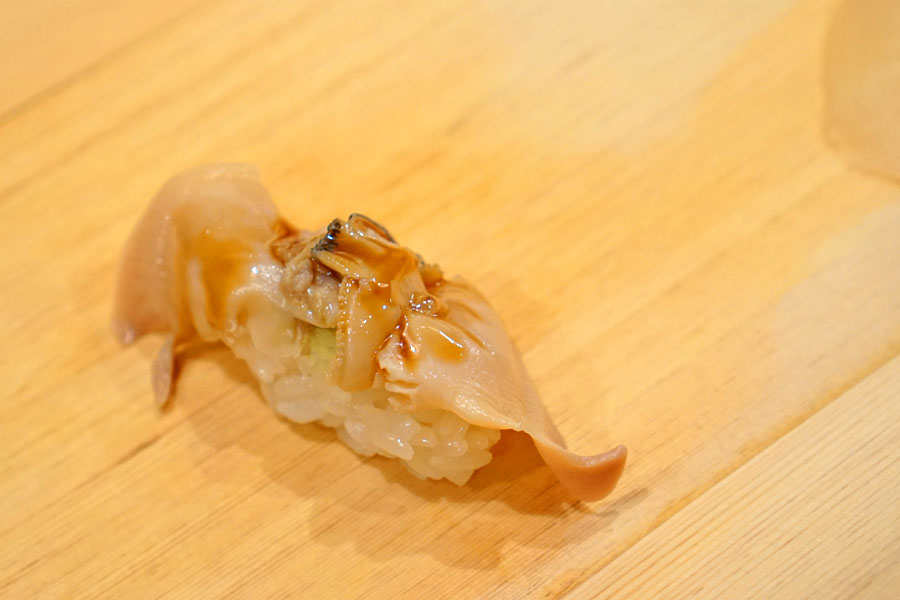 17: Hamaguri
Hard clam had a soft, spongy texture, while its surprisingly refined salinity was paired with a dollop of sweet-ish sauce.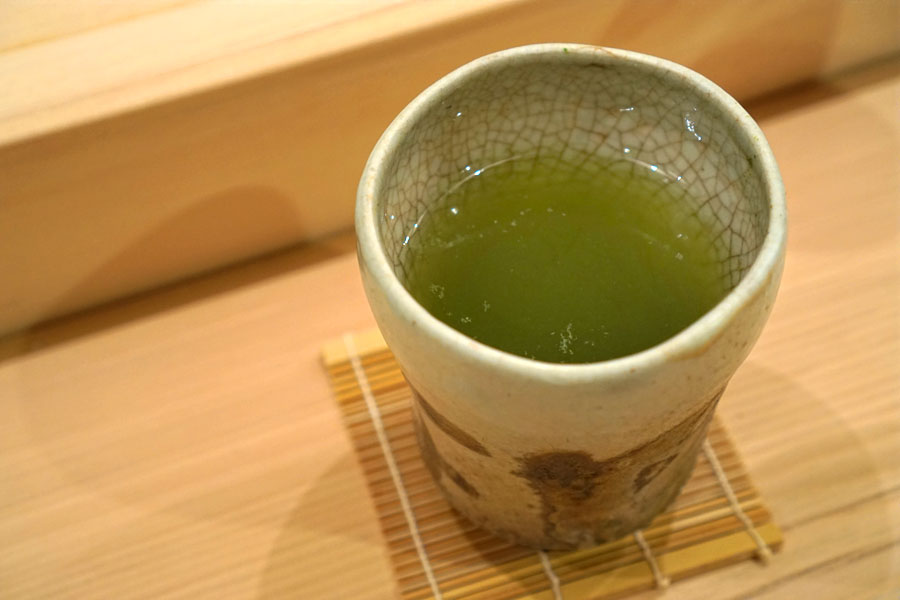 Green tea was enjoyed throughout the lunch.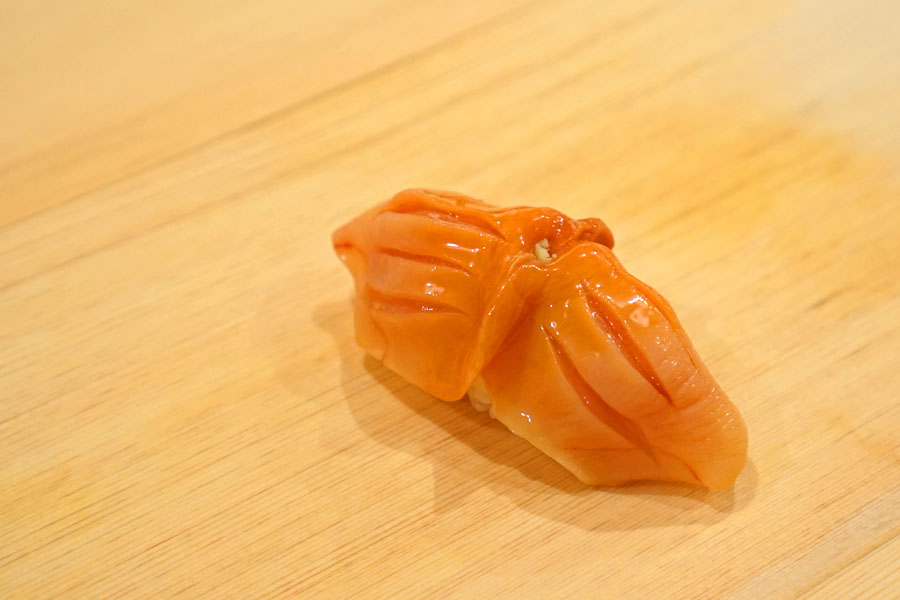 18: Akagai
The ark shell was a real treat. It was spot on texturally, and I was a big fan of its permeating sweetness and how that went back-and-forth between the clam's brine and the slight burn of wasabi.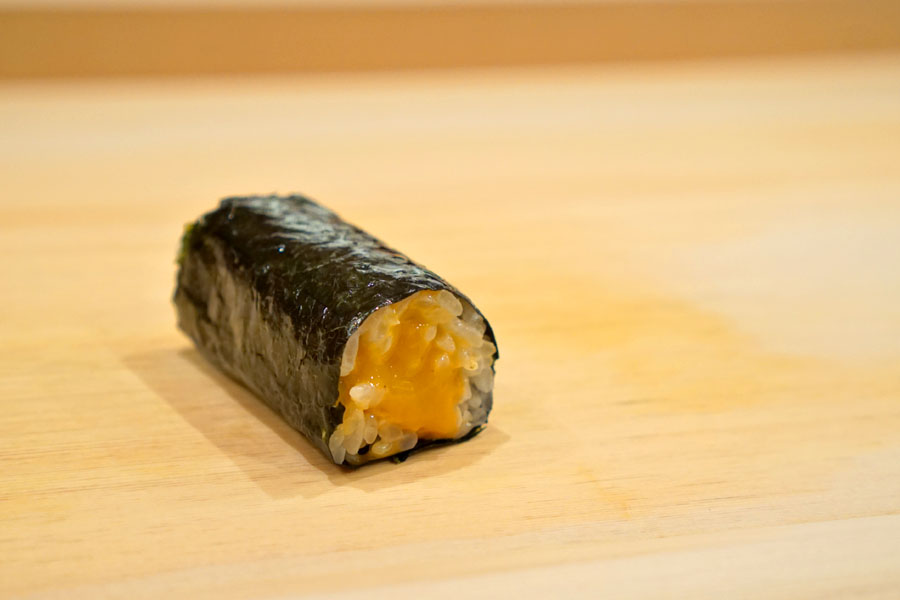 19: Uni Maki
Our second roll did a great job playing the sugary, super creamy nature of sea urchin against counteracting forces from the seaweed and rice.
20: Saimaki Ebi
Young
kuruma ebi
was gorgeously textured, and was near ridiculously sweet, its finish bordering on sugary. I'm pretty sure this was the sweetest "sweet shrimp" I've ever had.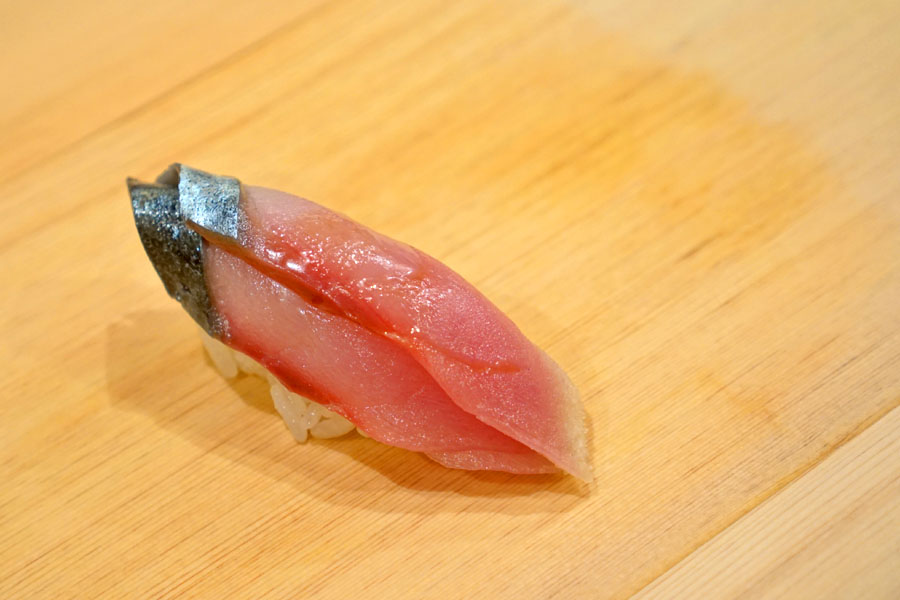 21: Saba
The mackerel was quite unlike what you typically find. In terms of feel, the
neta
was extraordinarily soft, pillow-y almost, while its taste was unbelievably
fruity
at first, with the fish's trademark salinity appearing only on the finish. This might be the best mackerel sushi I've tried.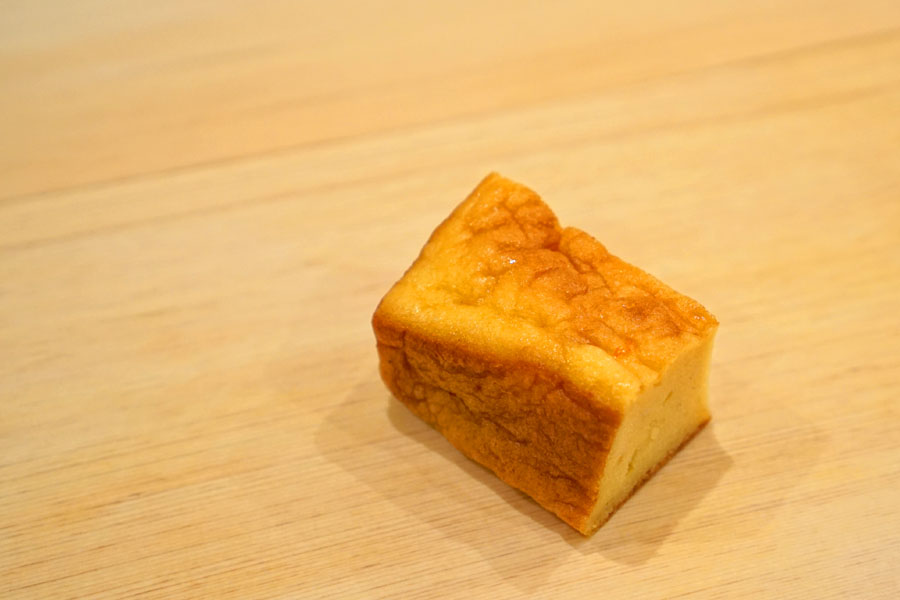 22: Tamagoyaki
The
gyoku
here was more of the "cake" style, and its flavors leaned sweet and homey.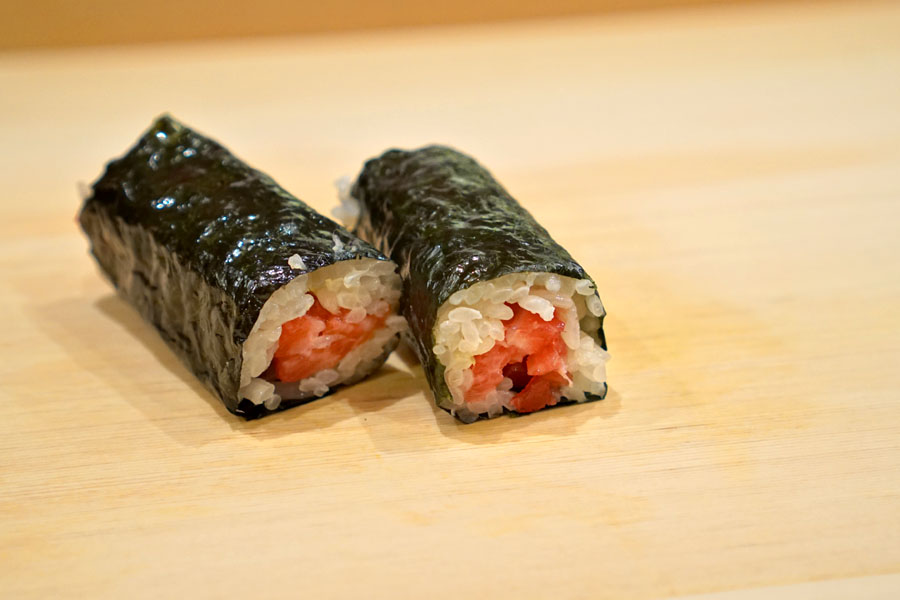 23: Tekkamaki
Our third
hosomaki
incorporated both toro and lean tuna, which actually made for a great juxtaposition of textures. Taste-wise, think utterly classic, just as you'd want.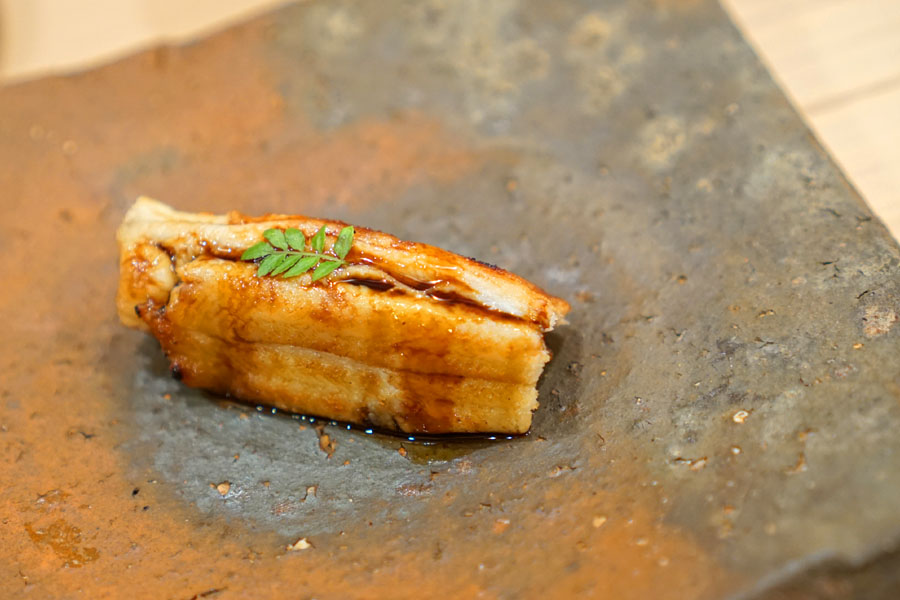 24: Anago
The saltwater eel was one of the strongest examples I'd ever encountered. The key was its sear, which gave the fish a superb exterior crispness, while flavors represented a perfect balance between savory and sweet.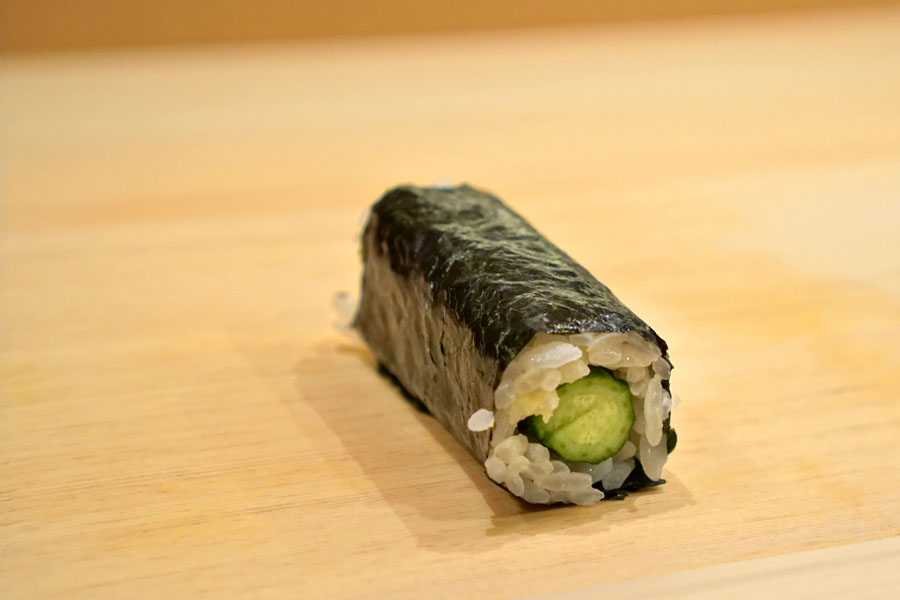 25: Kappamaki
Functioning almost as a palate cleanser, the cucumber roll conveyed the bright, crunchy nature of the veggie, countered by a noticeable wasabi burn.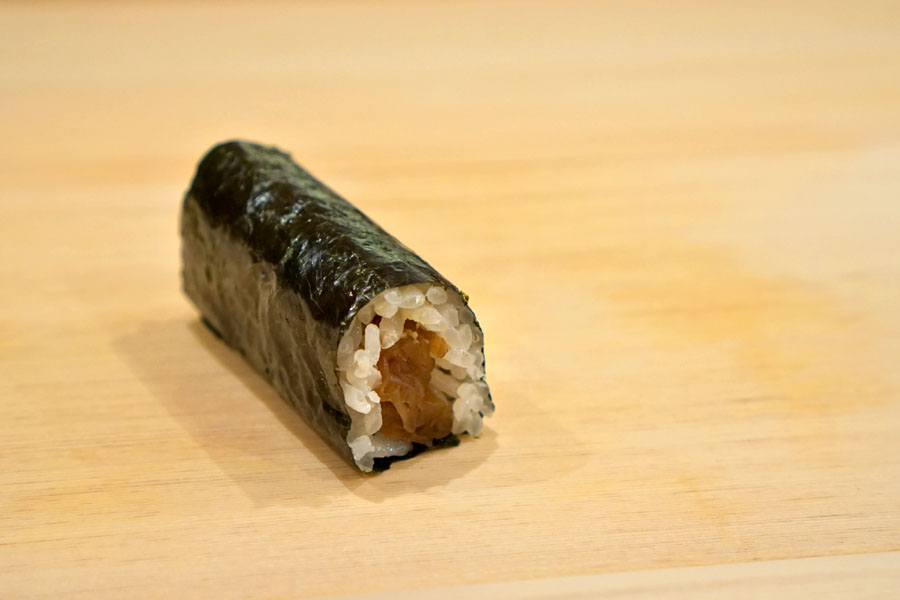 26: Kanpyo Maki
Last up was the
teppo maki
, featuring crunchy, sweet-n-sour strips of dried gourd.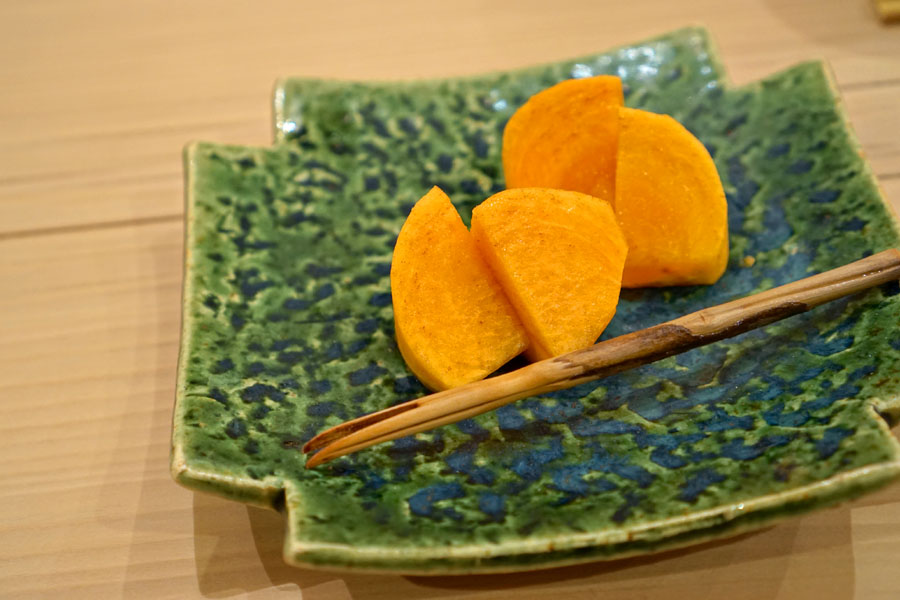 27: Kaki
I'm generally not a fan of persimmons, but I don't think I've had any better than this. Texturally the fruit straddled the line between crisp and supple, while its sweetness was far more elegant than usual.
This meal was pretty much flawless, and what sort of struck me was the unfussy, uncluttered nature of the food here. The various
neta
were really front and center, and the feeling I got was that Yoshizawa-san really wants to let the ingredients speak for themselves (as he didn't do much talking of his own!). Kiyota's famed tuna delivered for sure, but so did everything else, while the
shari
I found very neutral, making itself known when needed. I feel confident saying that this was easily among the finest sushi experiences I've ever had.