Gem Dining (Fountain Valley, CA)
Gem Dining Restaurant
10836 Warner Ave, Fountain Valley, CA 92708
714.516.8121
www.gemdining.com
Fri 12/20/2019, 07:05p-09:05p

Word on the street is that Gem Dining's the hottest restaurant to hit Fountain Valley in ages, though I can't imagine that the bar is set very high. Situated across the street from Mile Square Regional Park on the site of the old Nhu Y Ca 8 Mon (and Abilene Rose/RJ's Pit BBQ before that), the Little Saigon-adjacent eatery opened in August, and serves up California-inflected Southeast Asian fare. It's the work of Chef Cuong Viet Nguyen and Ivy Ha's
Kei Concepts
group.
Kei was born out of the original Sup Noodle Bar in Buena Park, which Nguyen opened in March 2014 serving AYCE pho, a nod to his late uncle who ran a pho restaurant in the 1960s. In June 2016, an outpost of Sup debuted inside the H Mart in Torrance, but it lasted a mere six months. Nguyen and company then launched Pango Asian Taqueria in August 2016, though the fast casual taco/fries joint only survived until the end of that year. Pango was quickly flipped to The Vox Kitchen, which bowed in February 2017 and turned out to be a huge success. In November 2017, the third Sup landed in Cerritos, just across the street from Los Cerritos Center. The team then began work on its most ambitious project yet, Gem, and after constructing a building from scratch, the restaurant soft-opened in August to considerable acclaim. In October, Kei Concepts opened The Alley, a franchised location of the hype-driven Taiwanese milk tea peddler, right next door to Gem.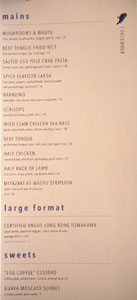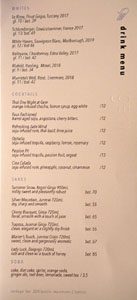 Gem's pan-Asian menu is easy enough to navigate. To drink, you get a pretty ho-hum wine list, some beers, sakes, and a smattering of cocktails. Corkage is $20 (limit two), which is what I'd recommend here. Click for larger versions.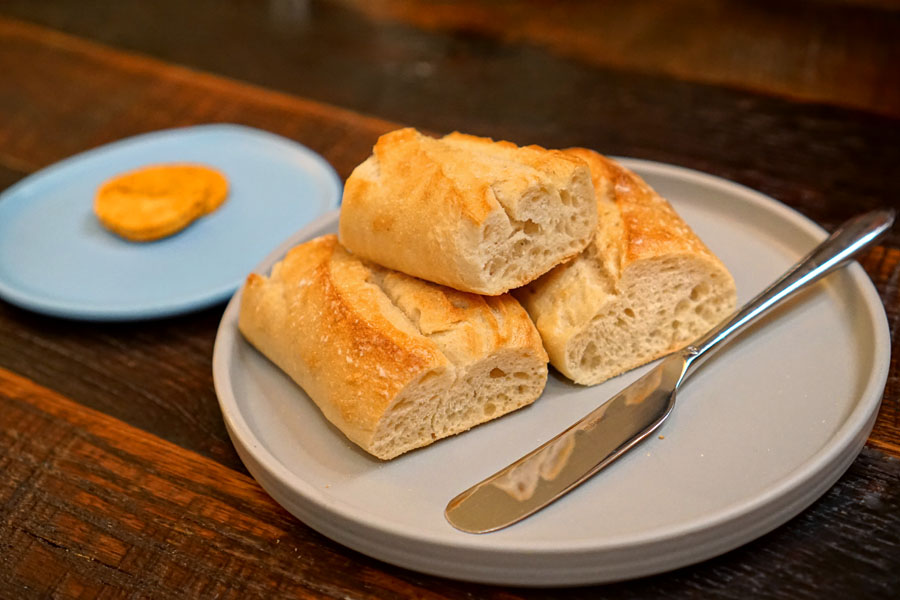 The meal got off to a lackluster start on account of the bread, which I found dense and bland, while the Cajun butter barely helped. This was throwaway bread.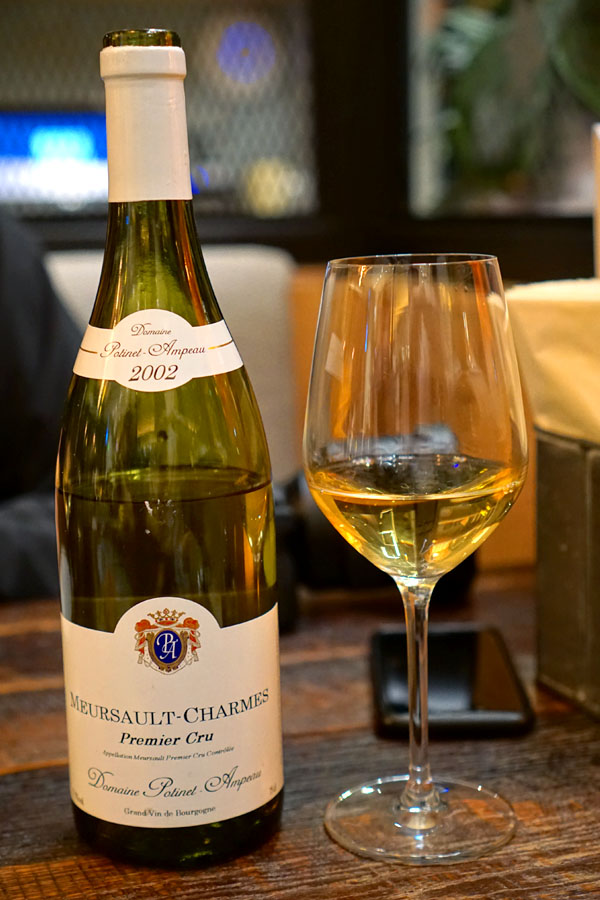 We ended up bringing two bottles--both Burgundies--the first of which was the
2002 Domaine Potinet-Ampeau Meursault 1er Cru Charmes
. The wine had a delicate nose blending florals with notes of juicy, almost tropical fruit. Tasting it, I got lots and lots of citrus, cut by a persistent spice, acidity, and a bit of heat, while underneath it all was a layer of caramel. Quite nice.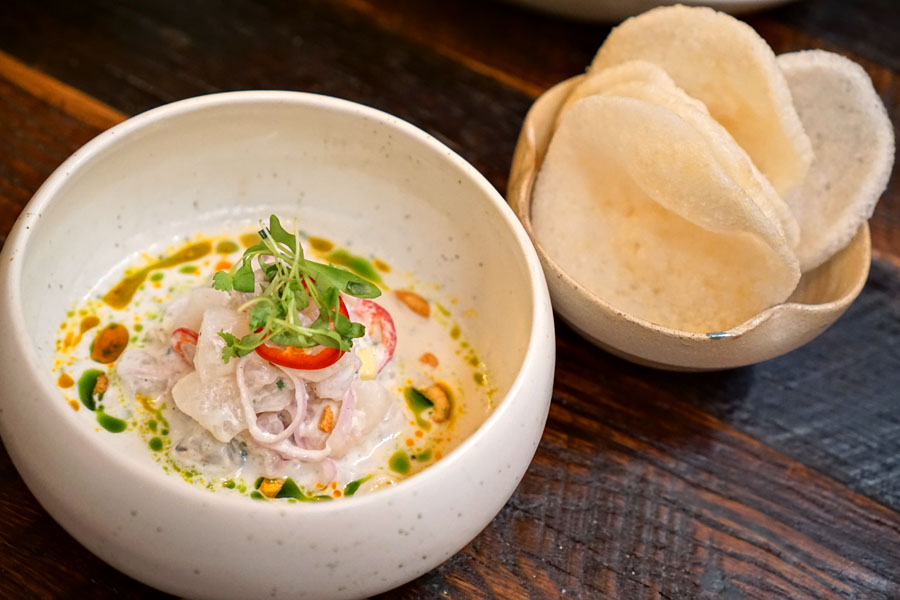 Seafood Ceviche [$13.50]
| thai chili, shrimp, branzino, scallop, coconut, mango
The ceviche was a standout thanks to how well the sweetness of coconut played with the plethora of sour, acidic notes in the dish, and I liked the harmonizing effect from the herbs and heat. Prawn crackers, meanwhile, offered up a welcomed change-up in texture.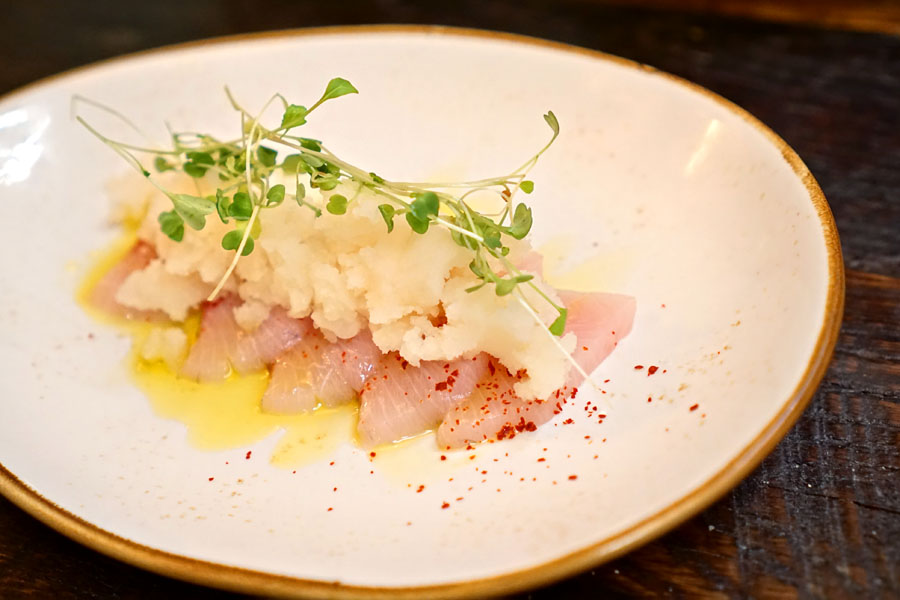 Hamachi Crudo [$12.50]
| yellowtail sashimi, yuzu sorbet, lemon, evoo
Yellowtail arrived with a clean, focused fattiness and complementary hits of spicy and sweet. However, the granita on top was just overwhelming with its sharp, bracing sourness, and there was far, far too much of it.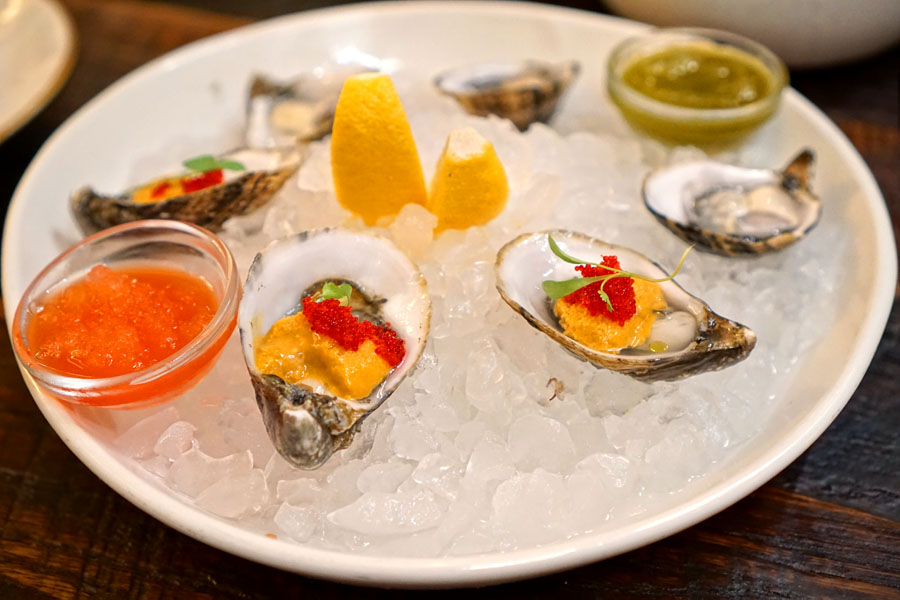 West Coast Oysters [$3.00/each + $10.00/each]
| blood orange & thai chili granita + add uni
Two varieties of oyster were on offer tonight. Shigokus were as clean and saline as I wanted, with a touch of sweetness to boot. The Fat Bastards, on the other hand, were much, much brinier, and that brine lingered long and strong, so the sea urchin actually helped temper things. As for the two condiments, I enjoyed the sweet heat from the Thai chili, though I found the blood orange way too sour.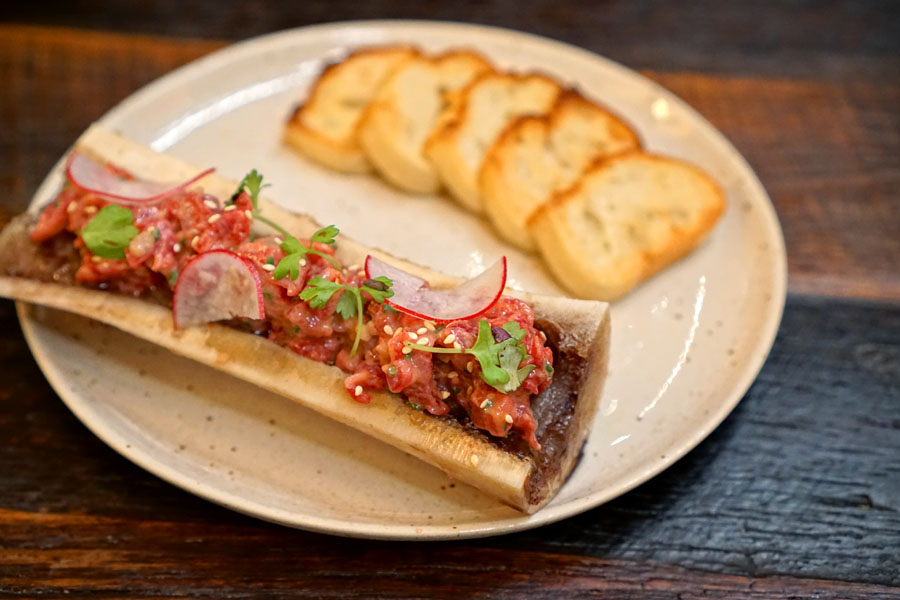 Wagyu Tartare [$15.00]
| goma sauce, bone marrow, crostini
The actual tartar here was on point, and I especially appreciated the nutty contribution from the sesame, while the toast functioned just as you'd expect. However, the bone marrow was superfluous, distracting even, as that combo of heavy-on-heavy was just too much.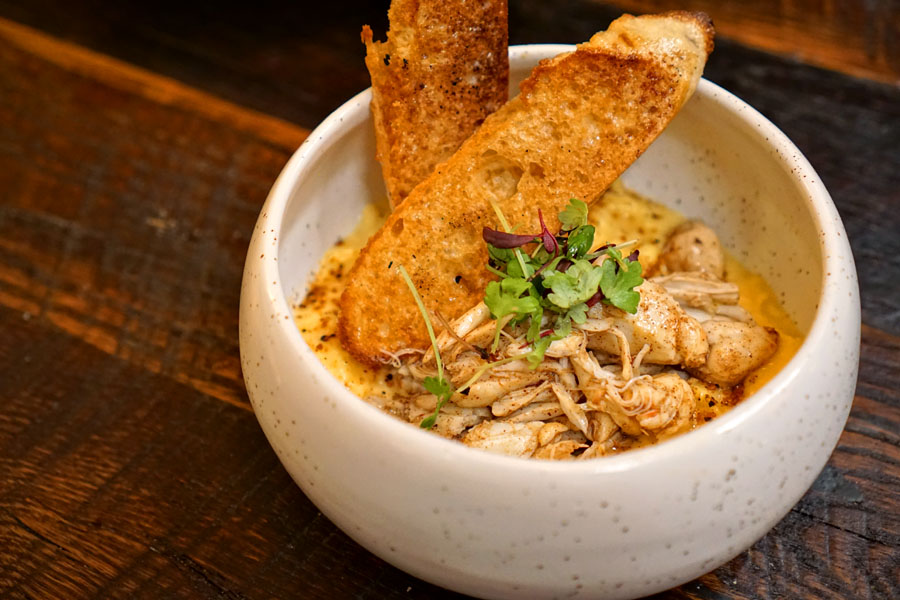 Crab Toast [$17.50]
| jumbo lump crab meat, soft scrambled egg, toast
Crab ate rich and buttery, and melded well with the egg, which was indeed as soft as advertised. Not surprisingly, the toast was crucial for contrast and texture.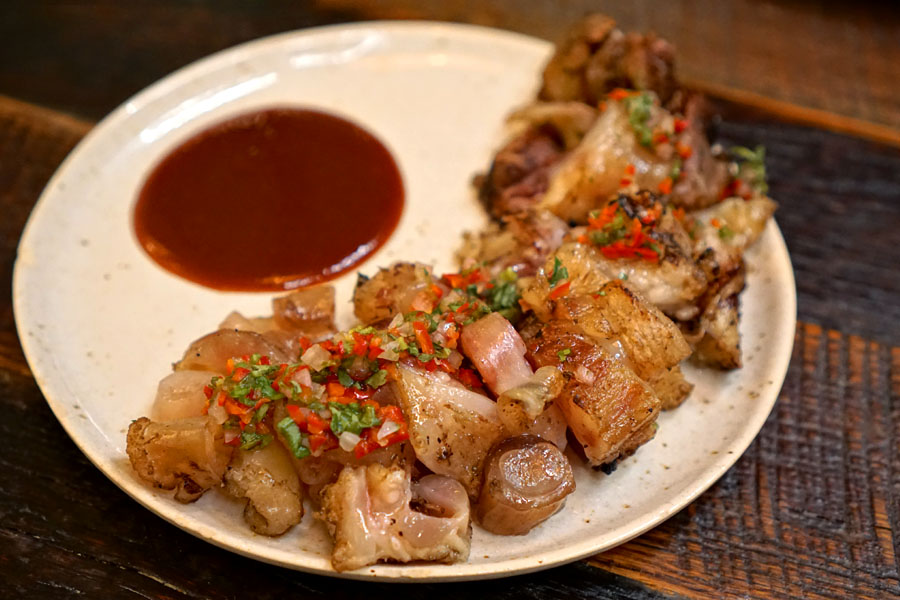 Beef Tendon [$8.50]
| scallion gremolata, spicy citrus hoisin
The beef tendon was a winner. I was a big fan of its firm-yet-yielding consistency, while flavors married a pho-esque herbiness and spot on seasoning with the piquancy of that hoisin. Simply one of the best preparations of tendon I've had.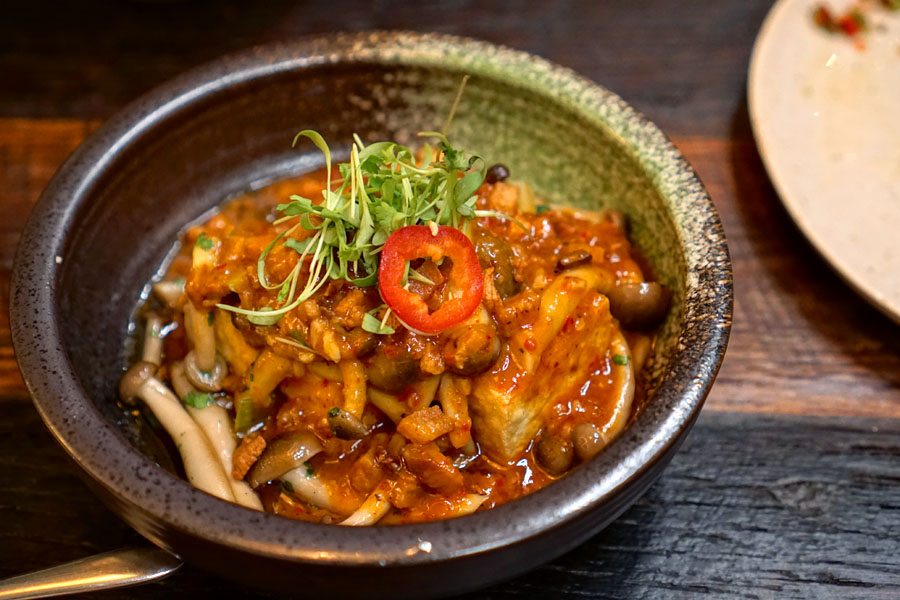 Mapo Mushrooms [$11.00]
| shimeji mushroom, pork, mapo sauce, tofu
Next up was a commendable rendition of
mapo
, one that really showcased the dish's combination of heat and
mala
, balanced by a bright herbaceousness. This would be great over rice. Another table favorite.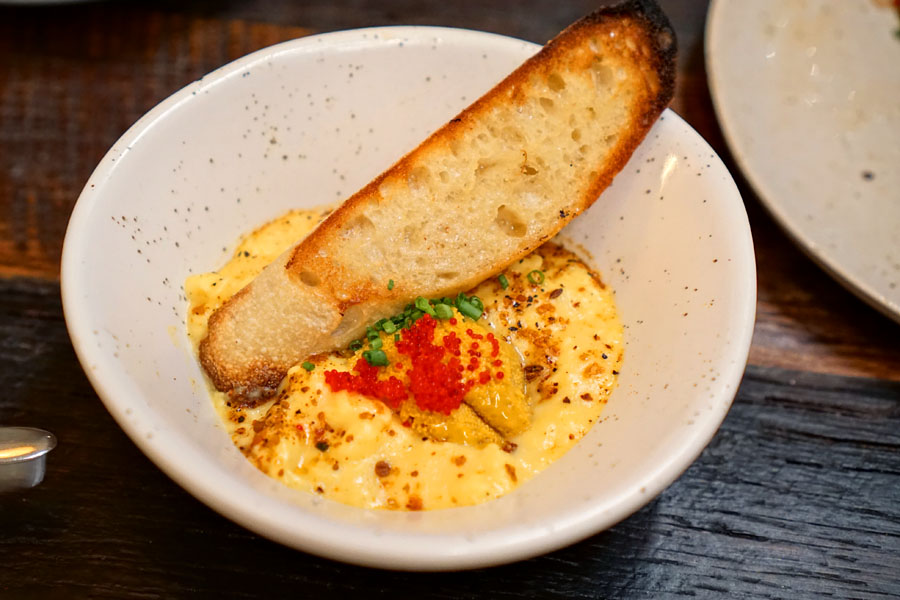 Uni Toast [$18.00]
| uni, soft scrambled egg, toast
This dish didn't come together as well as I was hoping for. The sea urchin was brinier than I'd like, and not very sweet, and basically got lost in the egg. Once again, the toast was a necessary accoutrement.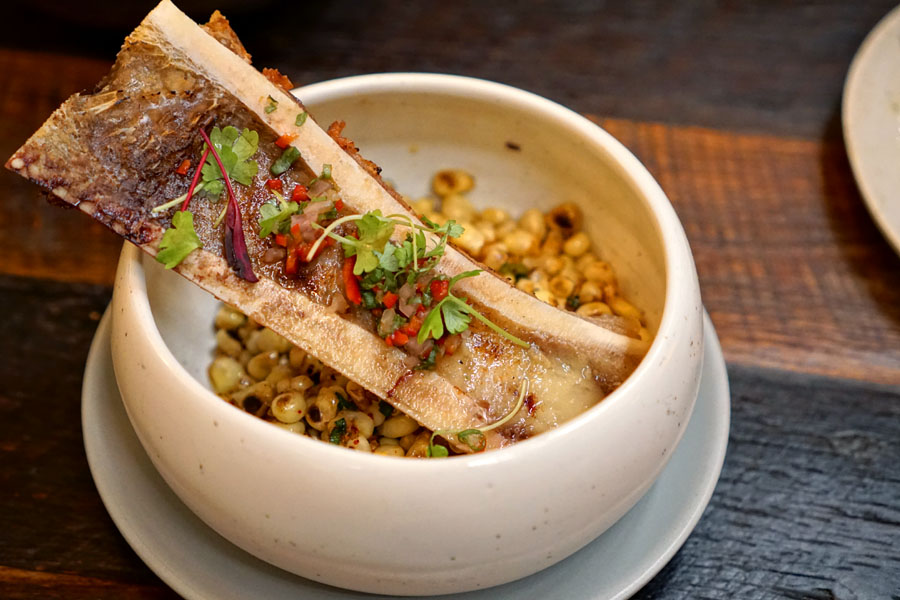 Bone Marrow Elote [$12.00]
| roasted bone marrow, corn
The Chef's take on esquites mostly worked. I like the actual corn, which was well-textured, sweet, and generally very tasty. Notwithstanding, the bone marrow seemed excessive, as it simply didn't add much to the dish.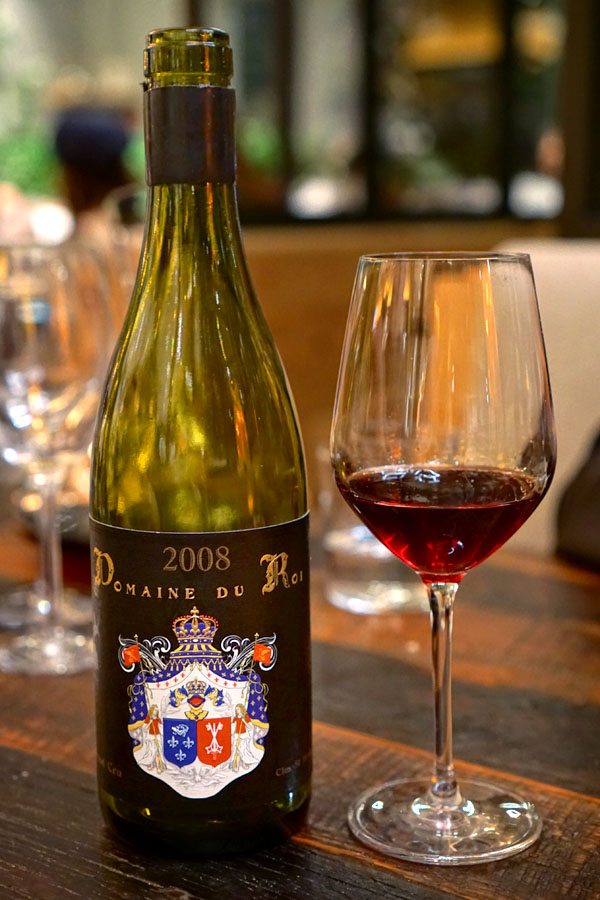 Our second wine was the
2008 Domaine du Roi Clos St. Denis Grand Cru
. Nose of cherry cola intermingled with a bit of soil. Taste-wise, I found it rather concentrated, displaying lots of robust, succulent red fruit that just grew and grew, countered by a persistent spice element and a smidge of earth. This was drinking beautifully tonight.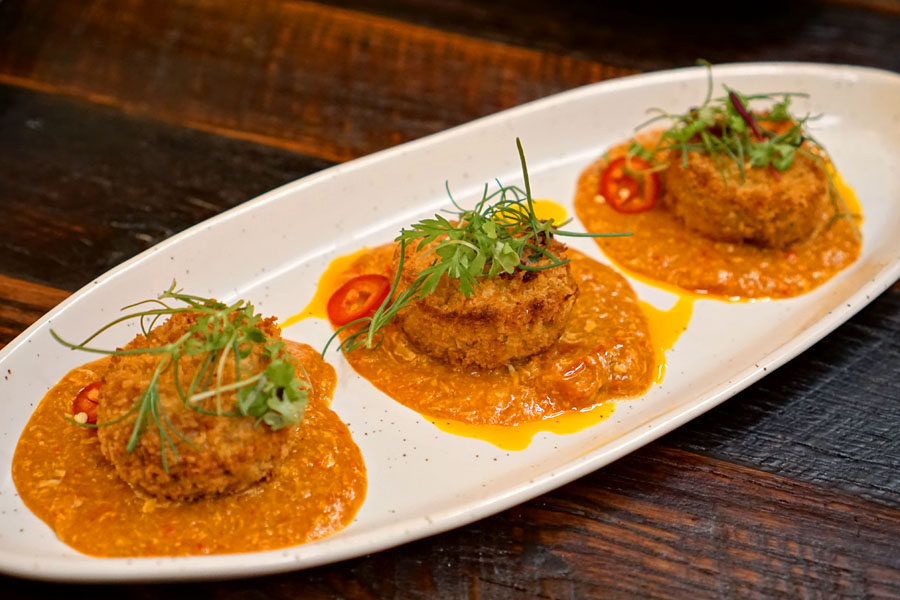 Singaporean Crab Cakes [$17.00]
| singaporean chili sauce, crispy crab cakes
My crab cake was drier than I'd prefer, though it did pair well enough with the accompanying chili sauce, which had a vaguely Indian tinge to it as well (think chicken tikka masala). The dish had the right amount of heat, and I did appreciate the greenery up top, too.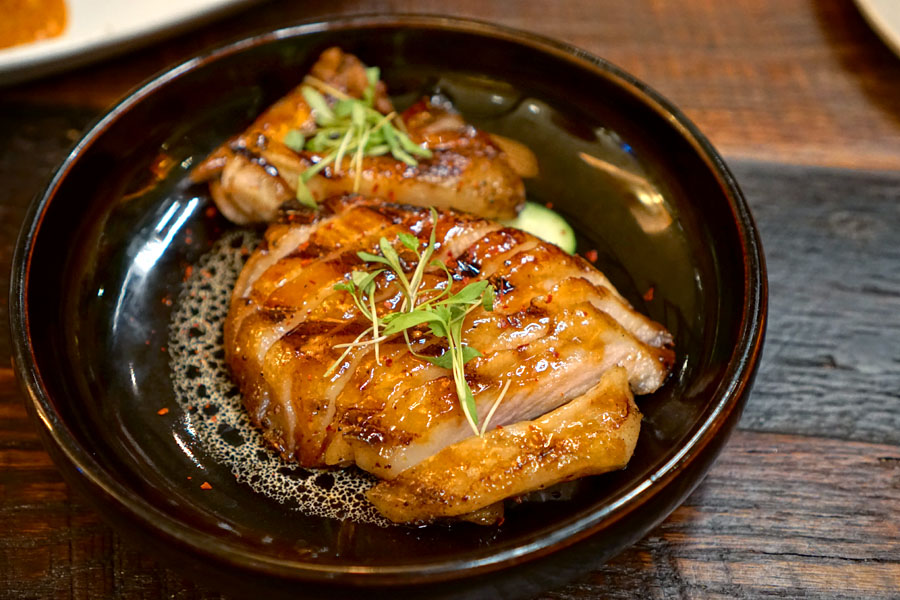 Pork Jowl [$9.00]
| grilled pork jowl, honey glaze, cucumber
A surprisingly large portion of jowl showed off a marriage of sweetness, char, fat, and a decidedly porky funk on the finish. The brightness of the cucumbers on the bottom was much appreciated.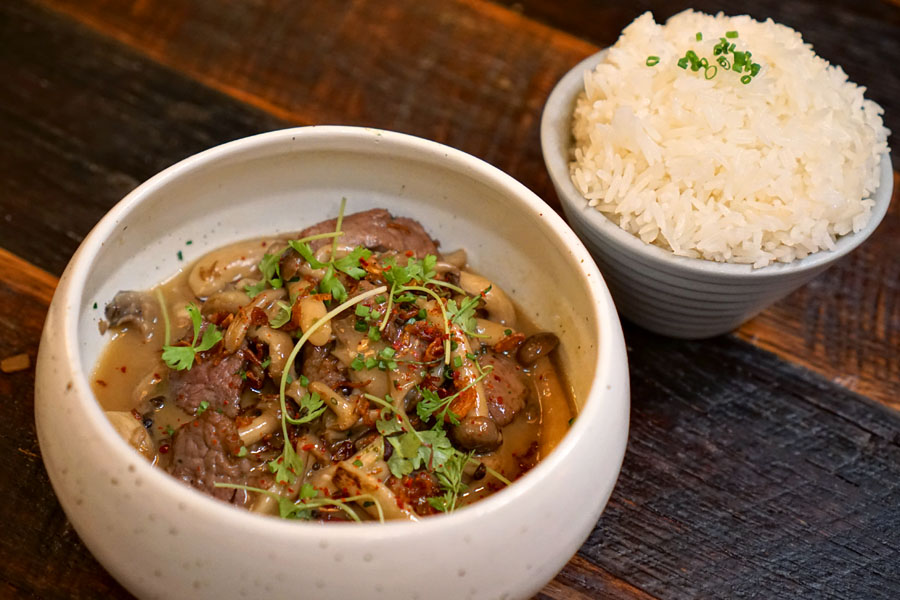 Mushrooms & Wagyu [$19.00]
| rice, mixed mushrooms, wagyu, garlic, soy
Our first main was a surprise favorite. The 'shrooms were super buttery, lush, with a palpable richness from the beef that meshed effortlessly with supporting flavors of garlic and soy. Superb over the long-grained rice on the side.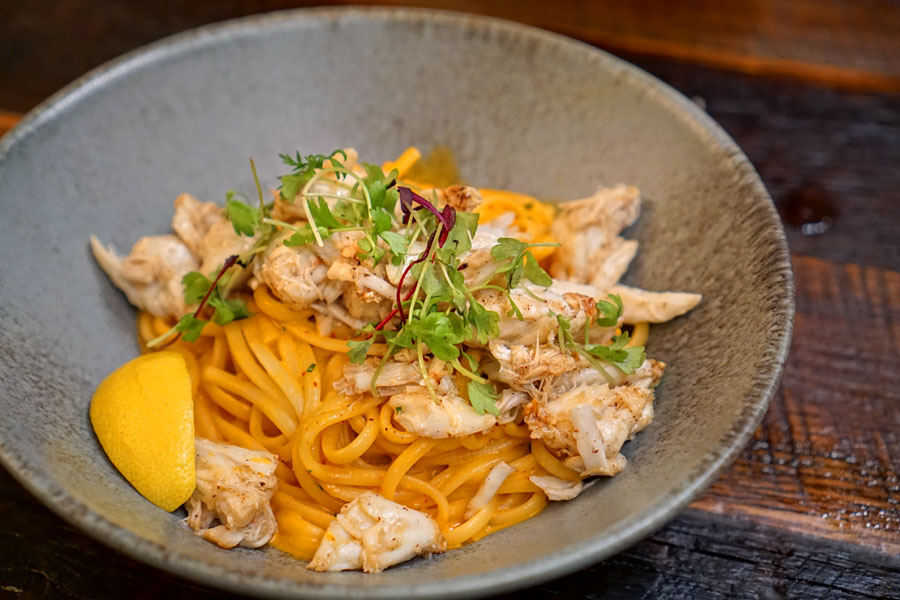 Salted Egg Yolk Crab Pasta [$24.00]
| jumbo lump crab, salted egg yolk cream, linguini
The sweet salinity from the salted egg really made itself known here, lingering long on the palate while the crab contributed a very apparent brine. As for the pasta, I found it a touch softer than I'd like, but it nonetheless served its purpose here.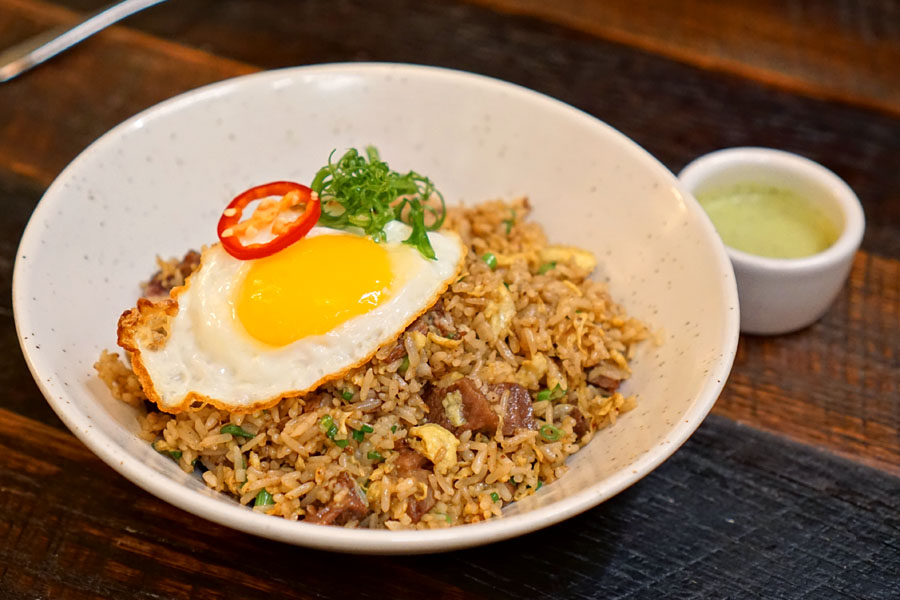 Beef Tongue Fried Rice [$15.00]
| braised beef tongue, soy, fried egg
Beef tongue recalled Mexican-style lengua, arriving tender, well-spiced, and serving as a delectable addition to the fried rice, which was just super satisfying. Curiously, the dish was served with a small cup of
aji verde
, which provided a sharp, spicy kick to the dish. Another favorite.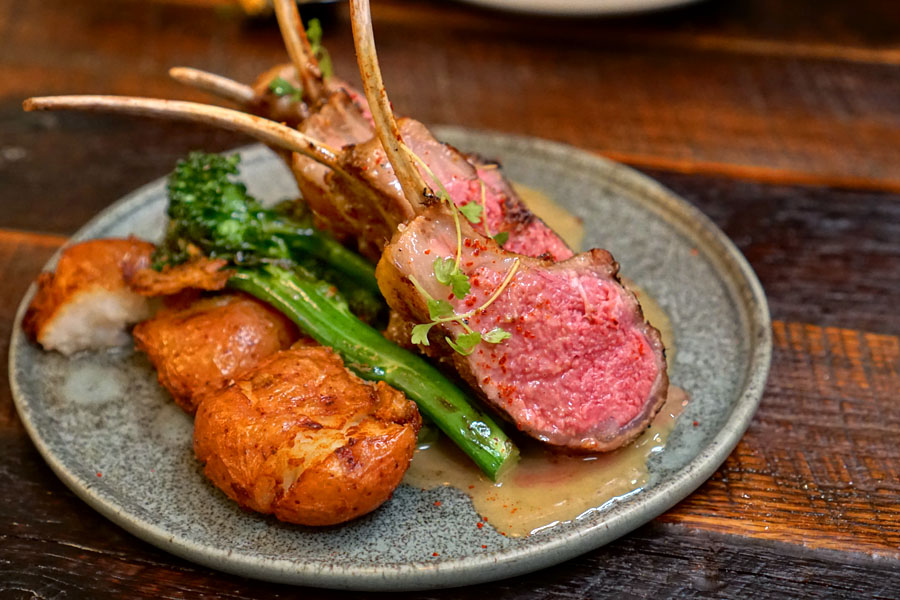 Half Rack of Lamb [$35.00]
| broccolini, crispy potato, soy beurre blanc
Lamb was sweet and buttery, though I wanted more salt, more savor, more oomph to it. The potatoes definitely delivered, as did the broccolini, which offered up a bitter contrast to the meat.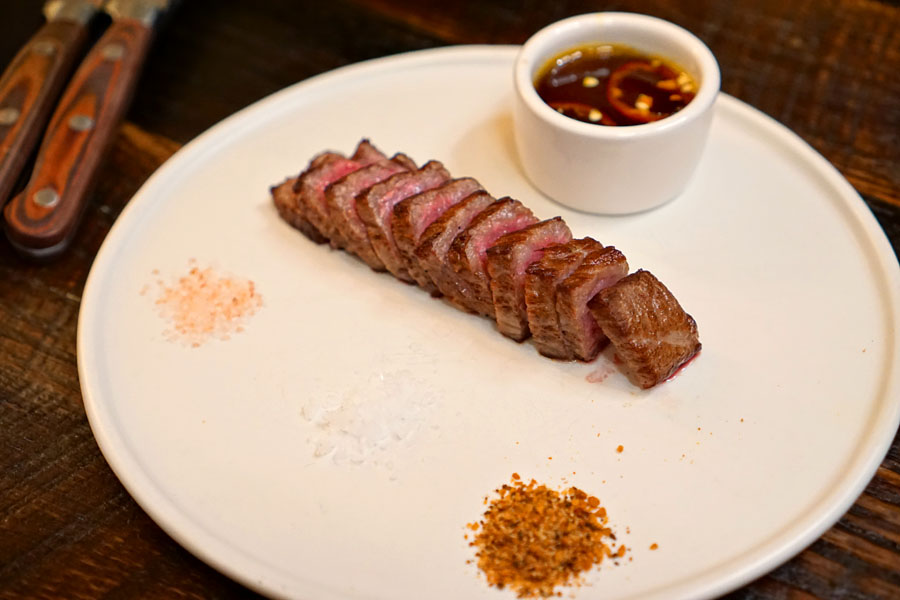 Miyazaki A5 Wagyu Striploin [$55.00/3oz]
| chef's choice of salts & yuzu soy
In our final savory dish, wagyu was as tender and fatty as I wanted, though sadly, the beef veered underseasoned. It really needed a dip in the accompanying salts, but be wary of the soy, which was way too aggressive.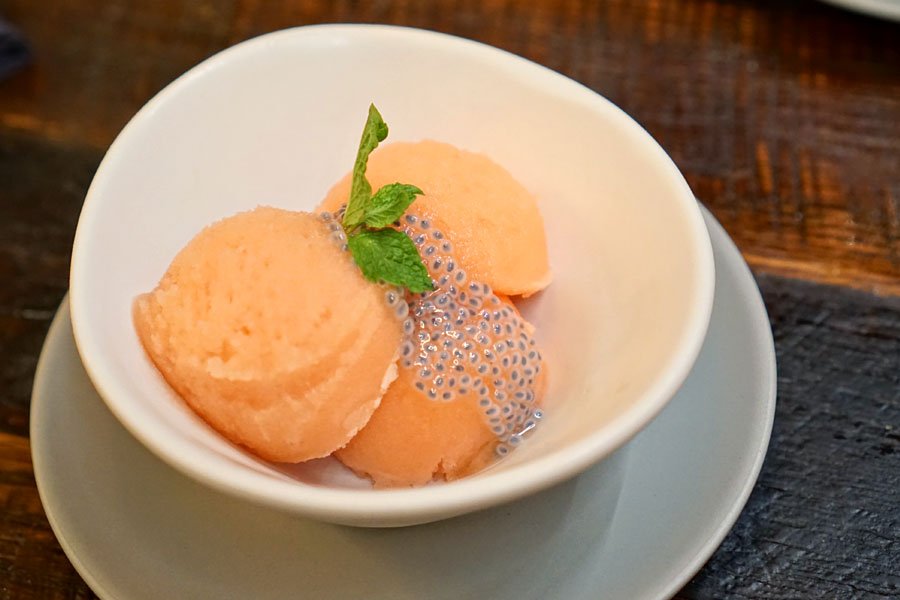 Guava Moscato Sorbet [$7.00]
| 3 scoop sorbet, basil seeds
I couldn't taste the Moscato here, but that wasn't really a problem given how refreshingly fruity the sorbet was.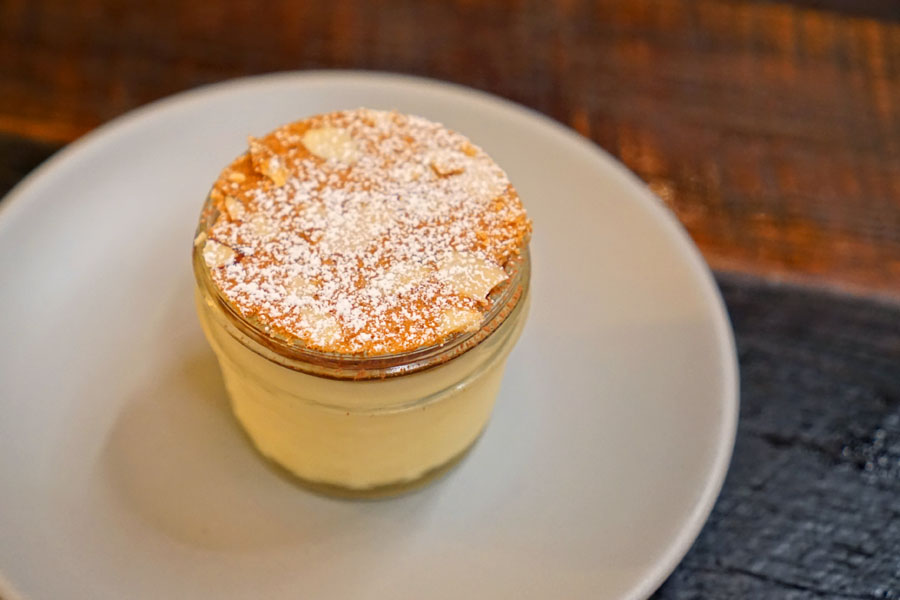 "Egg Coffee" Custard [$6.00]
| coffee glaze, salted cream, custard, almond tuile
I also enjoyed the custard, with its delectable combo of salty and sweet flavors finished by the sugariness of what seemed like caramel.
There's been quite a bit of hype surrounding Gem Dining, and that was evident just by looking at how packed the restaurant was during our meal. However, the place didn't quite live up to that hype. The service wasn't as polished as I'd like, while pacing was also off. I got the feeling that the staff was trying to get us in and out as soon as possible: 19 courses in well under two hours is definitely on the speedy side, and we all felt rushed while eating. There were some great dishes tonight, but also a few more concerns with the food than I'd like to see, as it sometimes felt like the Chef was trying to do too much. That being said, Gem is still relatively young, so there's certainly still time for Nguyen and company to tighten things up.