Bar Restaurant (Los Angeles, CA)
Bar Restaurant
4326 Sunset Blvd, Los Angeles, CA 90029
323.347.5557
www.barrestaurant.la
Wed 12/11/2019, 08:15p-11:30p

The straightforwardly-monikered Bar Restaurant in Silver Lake was a spot that had been on my radar for the better part of 2019. Grand-opened in October, the place describes itself as a "neo bistro" inspired by the contemporary Paris dining scene, which basically means it follows the ethos of bistronomy. It's owned by Robert "Jeff" Ellermeyer (Más Malo, Malo, The Echo, El Prado), and in fact, sits in his old Malo space on Sunset. The front-of-the-house is run by GM Pierluc Dallaire (Botanica, Joe Beef), while the kitchen is the charge of LA dining vet Doug Rankin.
About the Chef
: Douglas Rankin was born in March 1983, and grew up in the town of Wethersfield, Connecticut. His mother had a background in agriculture, which is part of how he got interested in food. After finishing high school, he ended up relocating to New York, where he learned to cook under none other than
Amar Santana
. Around 2009, Rankin moved from Manhattan and landed in Orange County. He eventually found a sous chef gig at
Saam
at The Bazaar, working under
Michael Voltaggio
. He actually followed Voltaggio to
Ink
, and opened that place in September 2011 as sous. Rankin then went to work for Chris Cosentino, and opened the pork-focused PIGG at Adam Fleischman's ill-fated UMAMIcatessen in March 2012 (the place shuttered the following November).
Following, he went to cook with Ludovic Lefebvre, and in April 2013, opened
Trois Mec
as CdC. January 2015 saw him promoted to Director of Culinary Operations for both Trois Mec and
Petit Trois
next door. However, he was out by the end of the year, having left to do his own thing (he says Ludo was supportive). After briefly considering moving out of SoCal, Rankin wanted to start doing pop-ups, and held his first "Rogue" dinner at
Playground 2.0
on January 6th, 2016 (he was already acquainted with owner Jason Quinn, who came into Trois Mec and asked him to cook at 2.0). That event appeared to be successful, and though Rogue was supposed to pop-up more at the old
Littlefork
space, I don't think that ever happened. Of course Rogue, the permanent spot, also never came to fruition, which is a shame, given that it was intended to shake up the restaurant labor model by utilizing extensive cross-training amongst various positions (e.g. so that a dishwasher could serve as well).
In March 2017, it was revealed that Rankin was teaming up with
Beau Laughlin
to open something in Los Feliz, right next door to
Atrium
(another Laughlin project). Just a few months later, in May, he got married to Stephanie Senter, a PR professional who was working with Murphy O'Brien at the time; their son Teague James Rankin was born the following March. Meanwhile, Malo (and Más Malo) closed for good at the end of July 2018. The building was retooled for Bar Restaurant, and re-opened in February the next year, though in a very limited capacity (i.e. drinks/snacks at the bar). Rankin later joined the project after things didn't work out in Los Feliz, and the place opened for real in early October.

As mentioned above, Bar Restaurant takes over the former Malo, which debuted all the way back in 2003. Before that, the address was home to Cal-Mex joint Cobalt Cantina, which opened in 1992, and Larry Nicola's L.A. Nicola, which bowed in 1980 (it expanded to include the adjacent "martini lounge" a few years later). In its current state, the painfully neutral, arty, 1980s-esque space has to be one of the more intriguing dining rooms in LA.

There's also a much more conventional covered patio, which has its own charms.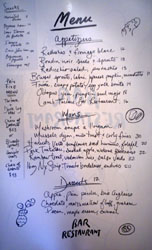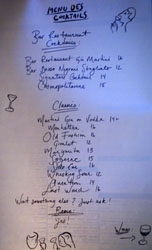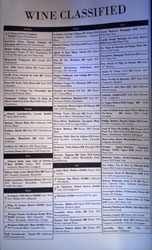 Rankin's hand-written menu of French-
ish
fare is pretty tight, which I appreciate. We ordered à la carte, though there is a three-course prix fixe option as well. Libation-wise, you get cocktails, beers, and a wine list managed by Sommelier (and occasional model) Meghan Burton (Quality Branded/Fourth Wall Restaurants, The ONE Group, Megu). Do note that the prices on the menu didn't necessarily reflect the prices that we were charged (the menu definitely needed to be updated, which is a bit concerning); the actual costs are used below. Click for larger versions.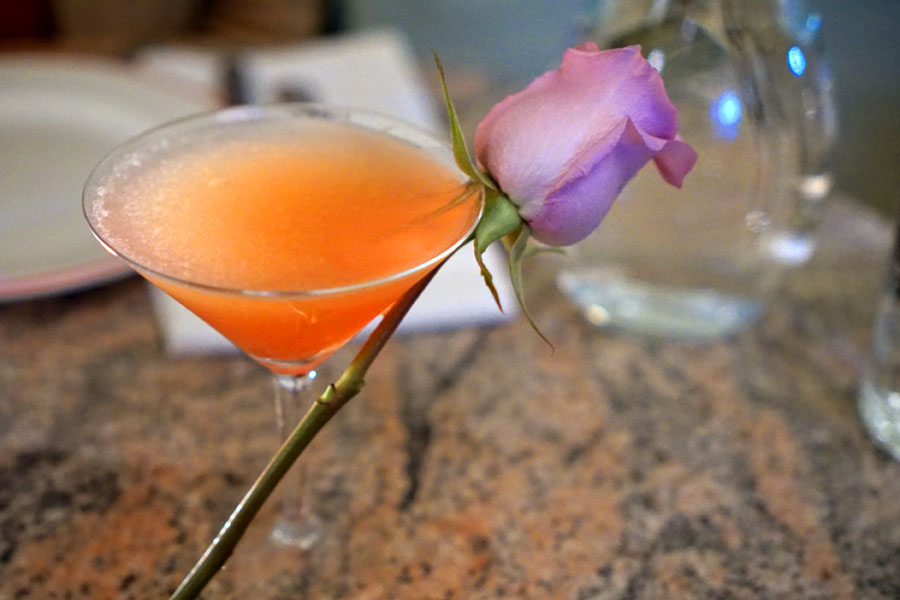 Cosmopolitainne [$18.00]
We drank cocktails this evening, and our first was this take on the ubiquitous cosmopolitan. It was pretty textbook except for the concomitant rose (which was indeed real), with lots of citrus right up front set against some rather sugary flavors from the cranberry-Cointreau combination. Overall I found it a bit trashy, which is just what you'd expect.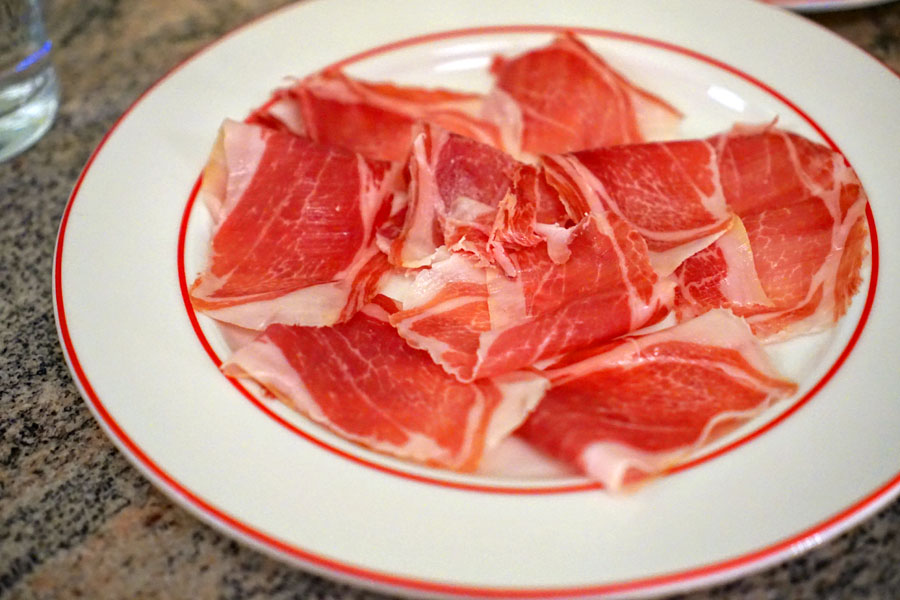 Ibérico Paleta [$15.00]
Here were shavings of ham made from the
front
legs of Iberian pigs. Think creamy and slick on the palate, with a plethora of salty, fatty, and sweet-nutty flavors--delish.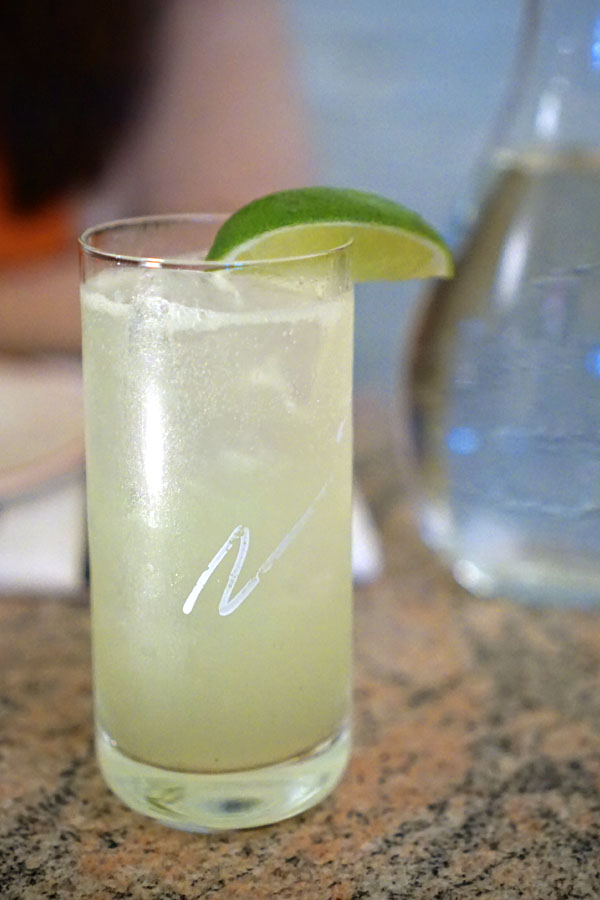 Signature Cocktail [$15.00]
This next cocktail was described as being similar to a gin spritz, and was composed of gin, cucumber, mint, a little soda, and a little prosecco. It tasted as fizzy and refreshing as it sounded, with lots of lime offset by mint and a healthy dose of cucumber on the back end.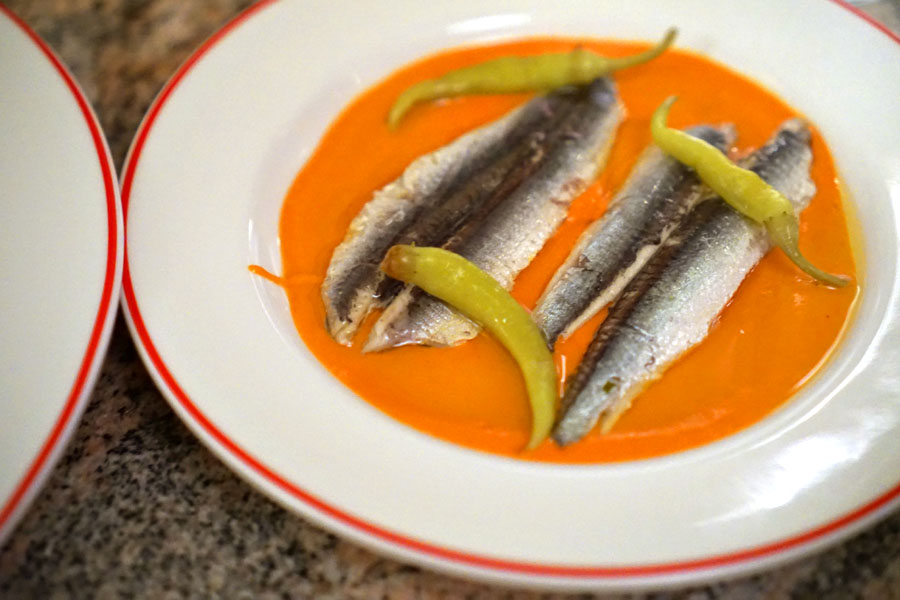 Boquerones, Piquillo [$12.00]
Anchovies were delightful, coming out supple and briny, but with a bright, contrasting acidity. They were tasty alone, but even better when eaten with those pickles and piquillos--a winning combination to be sure.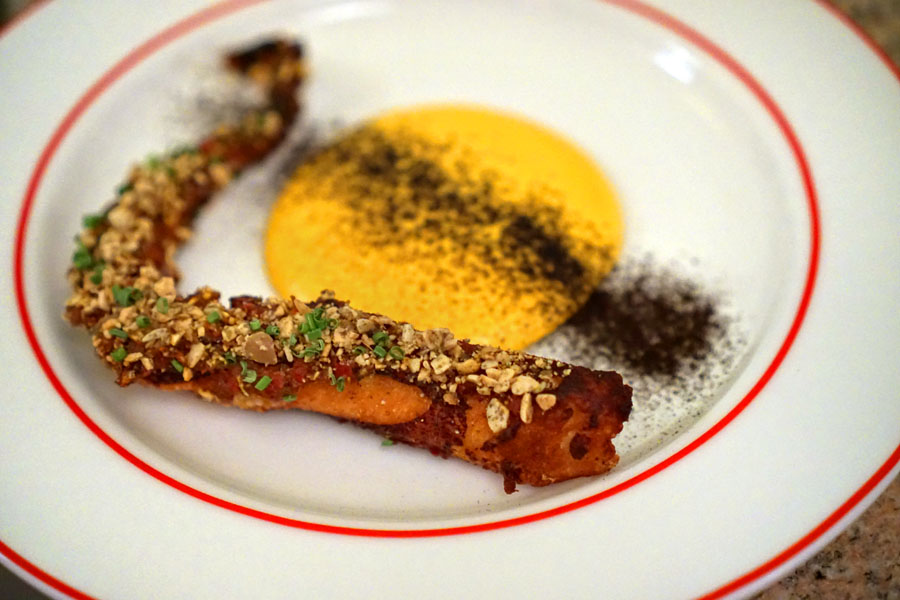 Octopus, yam, pumpkin seed mojo [$19.00]
Octo was perfect texturally, arriving with a crisp exterior hiding soft, supple insides, and delivered in the taste department, too. I absolutely loved the nutty spice that pervaded it, while the yam mousse lent just a smidge of sweetness, and the burnt lemon powder a touch of astringency. It was just a marriage of flavors that satisfied in an almost primal sort of way. A favorite no doubt, and one of the best preparations of octopus I've had all year.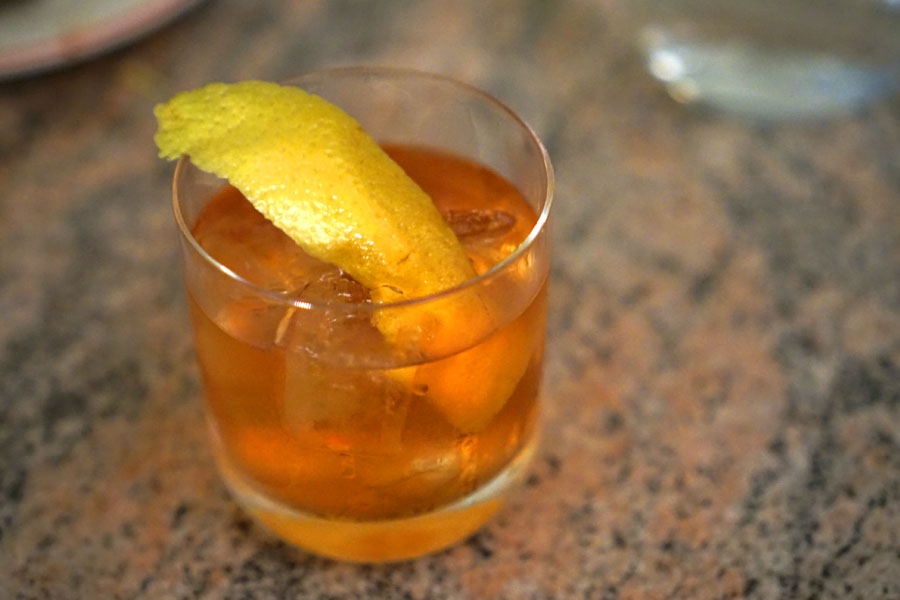 Old Fashion [$16.00]
At this point we ordered a couple classic cocktails, beginning with the most classic of them all. This particular version of the old fashioned utilized Buffalo Trace bourbon, and had a nose filled with citrus-laced caramel. Meanwhile, the taste was as boozy, bitter, and spicy as one would expect, but with a base of counterbalancing brown sugar.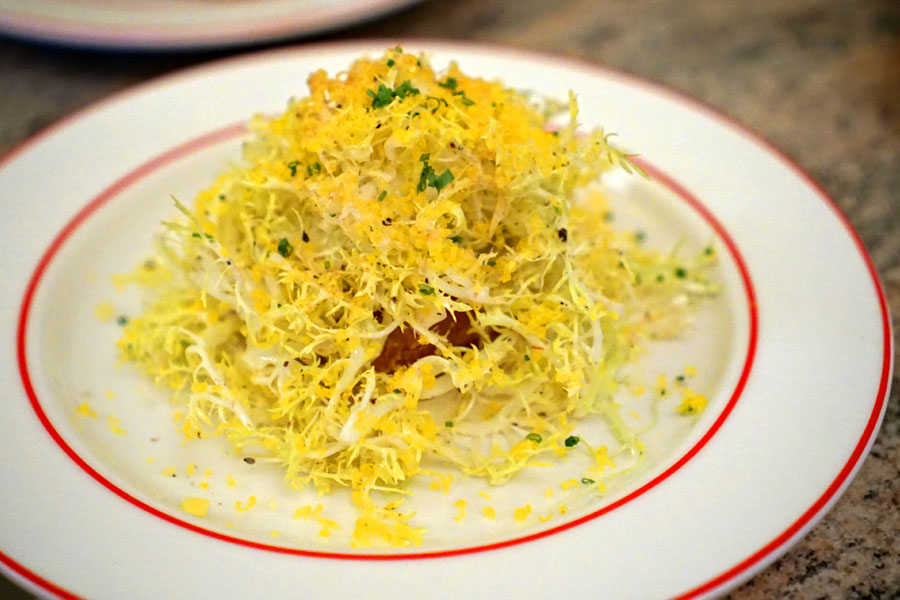 Frisée, crispy potato, egg yolk bonito [$15.00]
The star of the show here was that block of Yukon Gold potato in the middle of the plate, which was apparently frozen for two days before being fried. It had this wonderfully gritty, yet creamy consistency with classic notes of salt and savor, along with a properly crisp exterior. I enjoyed it just by itself, but I made sure to make use of the bright, tangy, champagne vin-dressed greens for contrast, too. A fun take on the frisée salad.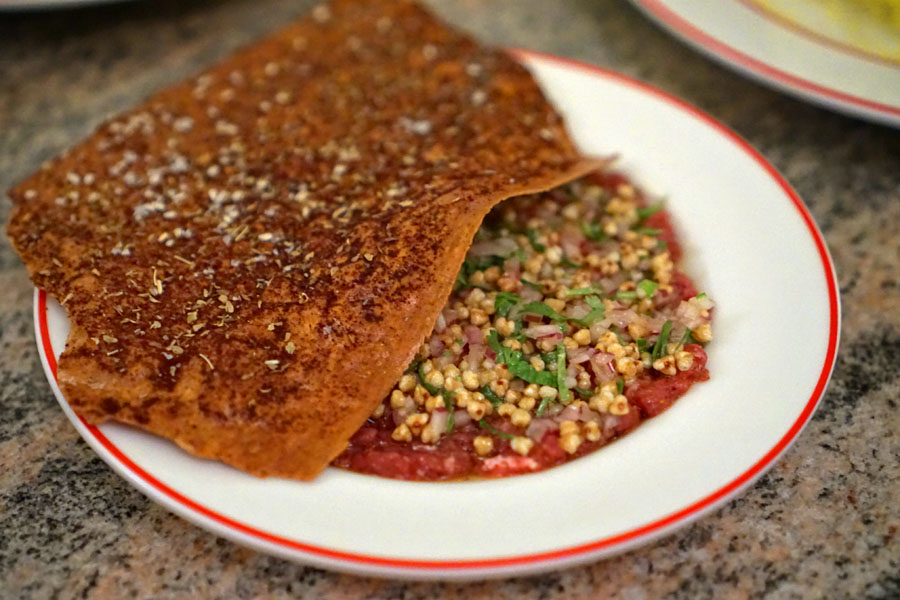 Lamb Tartare Bar Restaurant [$16.00]
The restaurant's namesake tartar came out beautifully seasoned, and had this really great sweetness to it. The meat was on point texturally as well, and matched up like clockwork with the nutty crunch of puffed buckwheat. Even better? That crispy, grainy cracker with its sumac-fueled sourness. Another standout, and probably the best lamb tartar I've ever had.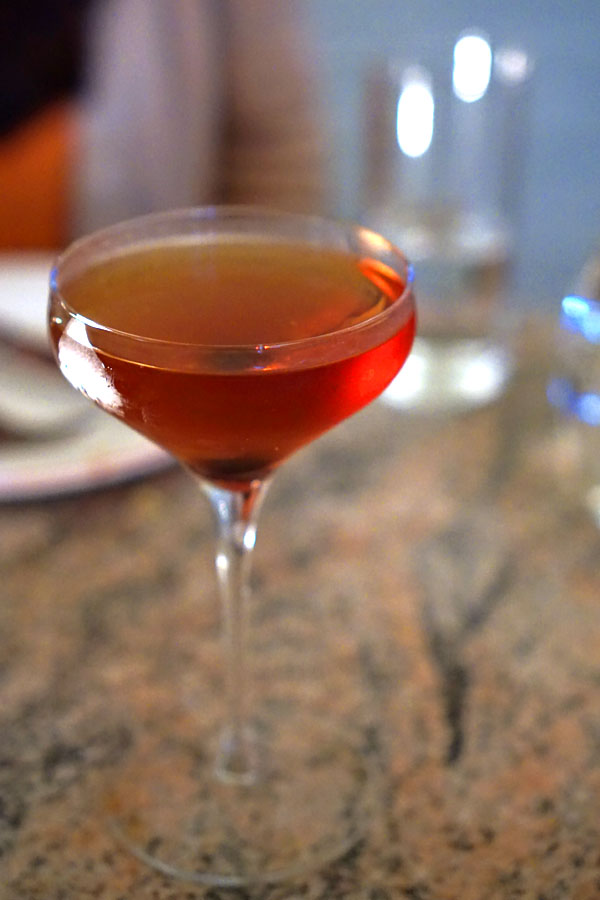 Manhattan [$16.00]
This take on the Manhattan cocktail incorporated Old Overholt rye. It had an intoxicating nose filled with dark fruit and a trace of bubblegum. Tasting it, I got more rich berry fruit balanced by plenty of booziness and bitter spice. The drink was certainly potent, but had a softness to it as well.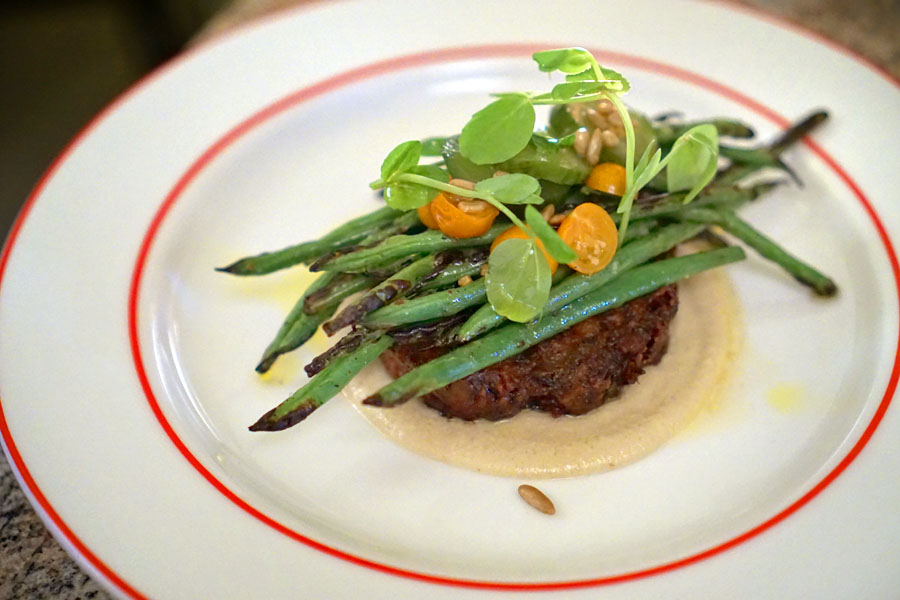 Haricots Verts, sunflower seed hummus, falafel [$21.00]
Crisp, slender green beans played foil to a moist, nutty, well-spiced puck of falafel while hummus served as a natural, seamless pairing.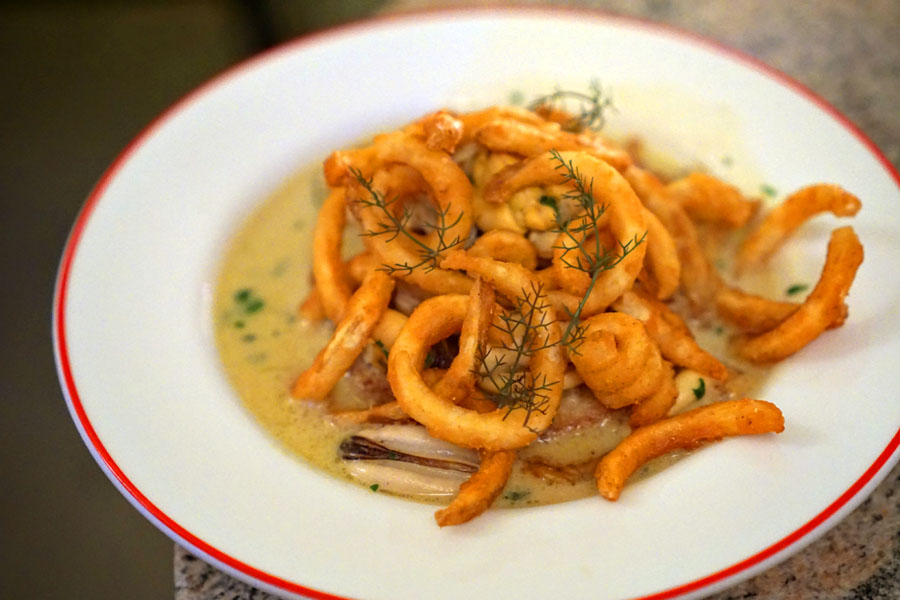 Mussels, dijon, milk toast & curly fries [$31.00]
Rankin's riff on
moules-frites
is perhaps the restaurant's most well-known dish, and it's easy to see why. I appreciated the mussels' clean, focused brine, as well as how they came de-shelled, which you just don't see all that often. They were taken up a notch by the dish's rich, heady, Dijon-boosted broth and that absolutely saturated chunk of milk toast in the middle, but clearly the funnest things here were those fries, which were sort of like Jack in the Box's, but just that much better.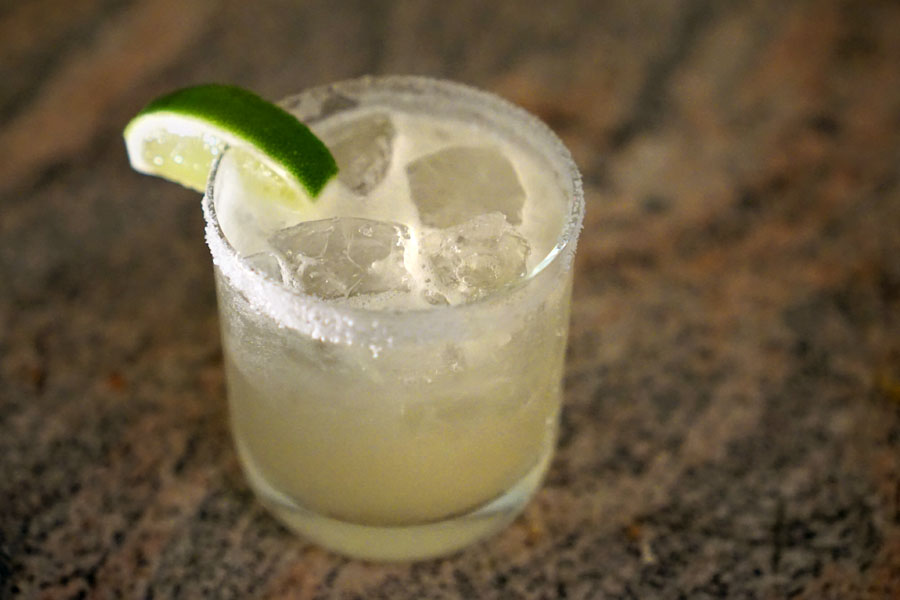 Margarita [$13.00]
I'd say that the margarita here what somewhat less citrusy than usual, with more of an upfront, apparent agave character. That's not a bad thing necessarily.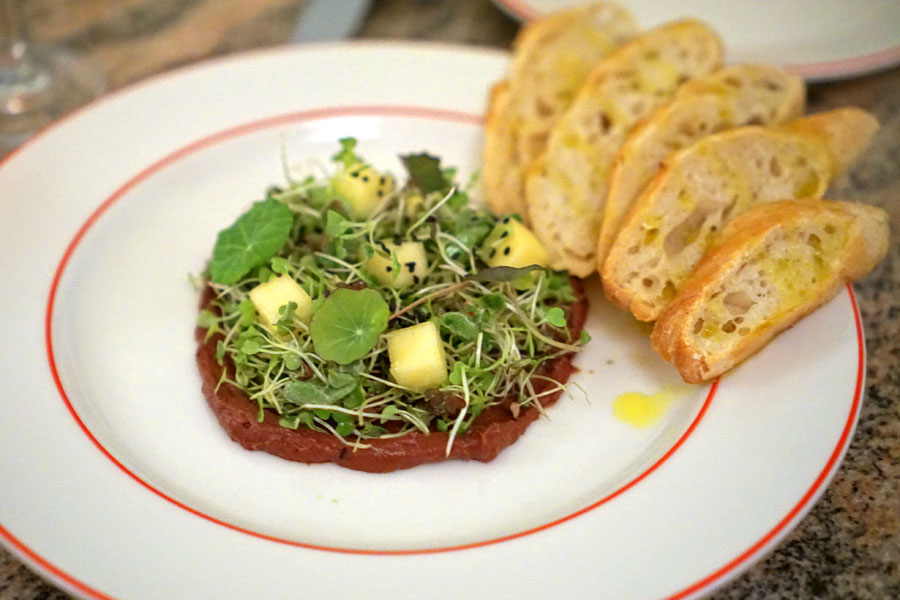 Boudin noir, seeds & sprouts [$14.00]
This smart take on
boudin noir
transformed the sausage into a sort of paste, one that still demonstrated the unmistakable richness and earthiness inherent in the classic dish, but also with an unexpected, but much appreciated hit of spice on the finish. The traditional pairing of apple offered up crunch and sweetness, but even better was the zestiness of those sprouts.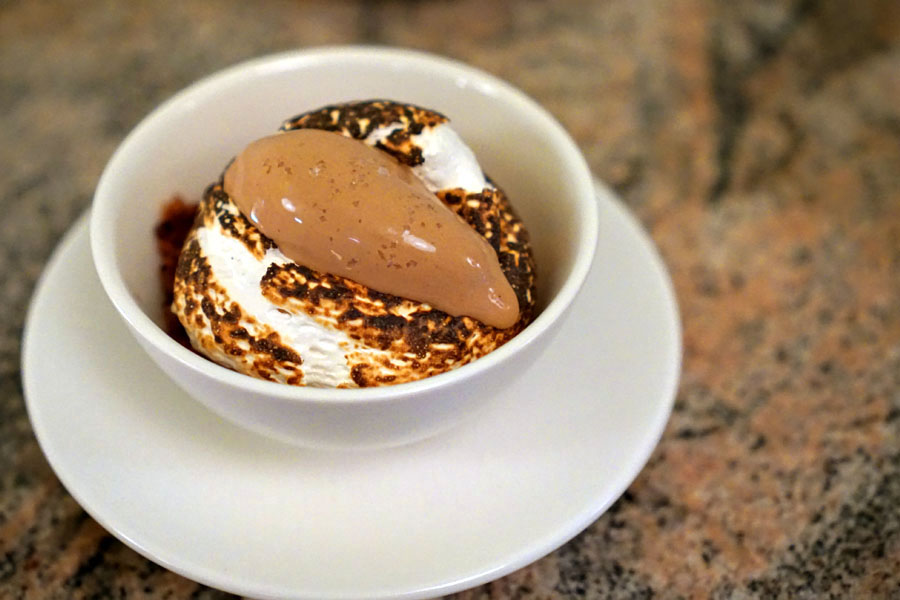 Chocolate, marshmallow fluff, graham [$13.00]
We ended up ordering all of the desserts, and the first was basically a reimagined version of a s'more. It was actually quite smoky, though the marshmallow did help even things out.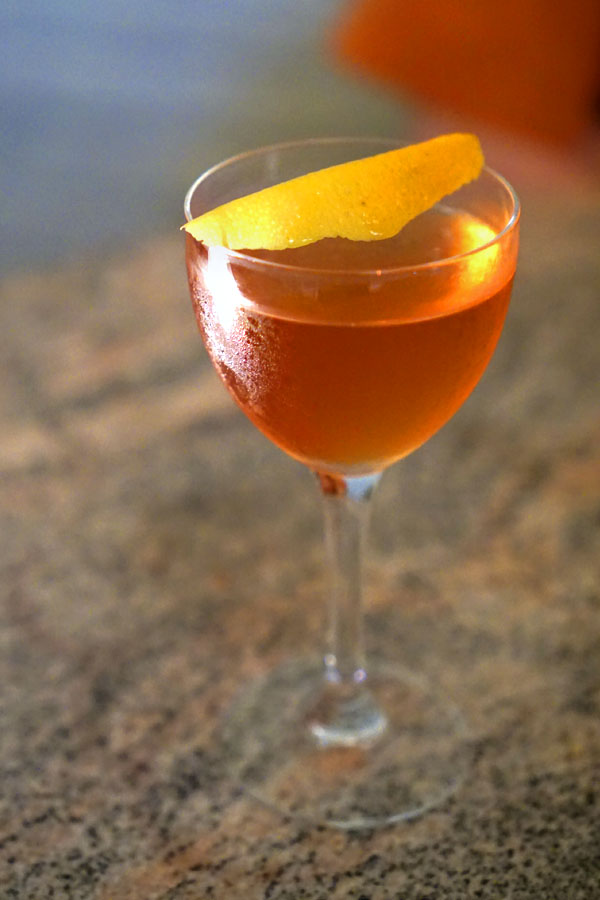 Vieux Carré [$15.00]
The evening's final cocktail was an off-menu selection that I requested. I smelled lots of citrus on the nose, backed by the sweetness of vermouth. The taste was vaguely cough syrup-y due to the combination of boozy, medicinal spice and sugary berry fruit, with the bitters bringing up the rear.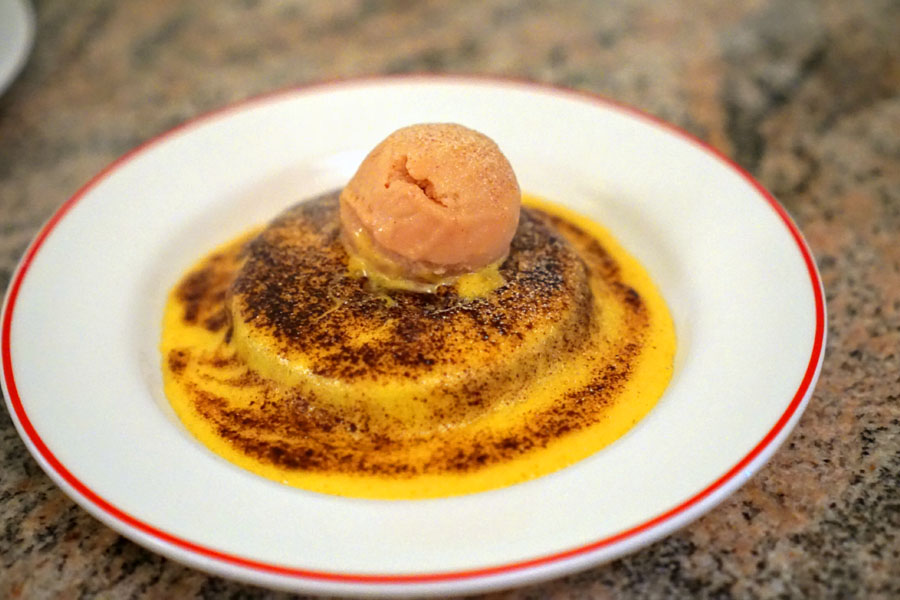 Apple, pain perdu, brie anglaise [$13.00]
This fun take on French toast pit the bright, sweet nature of apple sorbet against the pungent, mushroom-y funk of that creamy cow's milk cheese. A really neat combination, actually.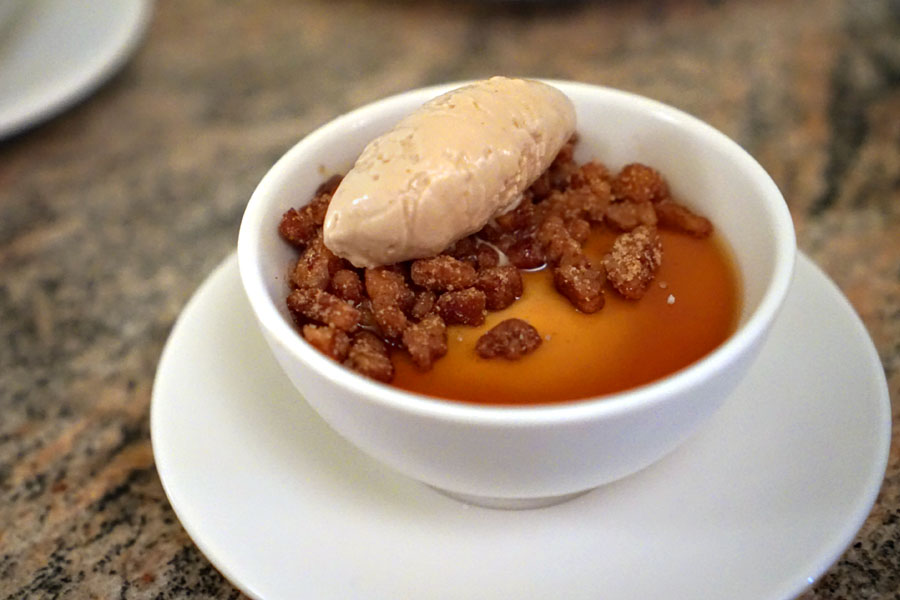 Pecan, maple cream, caramel [$13.00]
The meshing of caramel and maple made for a sugary dessert, but fortunately the pecans offered up some contrast, and there were these hits of bitterness that really elevated the dish.
I feel confident in saying that Bar Restaurant's one of my favorite openings of the year. The food's definitely rooted in the whole idea of
bistronomie
, but Rankin makes things much more personal. His cooking has a welcomed point of view, and I like how the clarity and precision and seriousness of the plates is joined by flashes of fun and whimsy. He's not afraid to step outsides the bounds of France, either, so the fare has this sort of Cal-Continental flair to it that works. I'm actually surprised that Bar Restaurant isn't getting more attention. However, things
are
starting to pick up, as just six days after this dinner, the place was named one of
Los Angeles Magazine
's "
Best New Restaurants
."