Jeune et Jolie (Carlsbad, CA)
Jeune & Jolie Restaurant
2659 State St, Carlsbad, CA 92008
760.637.5266
www.jeune-jolie.com
Fri 11/22/2019, 08:50p-12:05a

I didn't expect to be eating in Carlsbad at all this year, but here I was. The venue of choice for dinner was Jeune et Jolie ("young and beautiful"), which came recommended by one of my dining companions. The place opened on December 15th, 2018, and serves casual-but-elegant, French-inflected fare ostensibly inspired by the
nouvelle cuisine
movement. The owner is one John Resnick, an East Coaster who first moved to San Diego to work in the hotel biz at the Hard Rock and the Pearl. He later transitioned to GM positions at Consortium Holdings' Craft & Commerce and Ironside before striking out on his own in 2016, first with Campfire (also in Carlsbad), and then with Jeune et Jolie here. Running the kitchen at both of Resnick's properties is Executive Chef Andrew Bachelier.
About the Chef
: Bachelier was born on April 11th, 1982 to a Mexican-French family. He spent his childhood in Guadalajara and Arizona, and it was during these early years where he first got into food whilst helping grandpa with his live-fire cooking. His family later moved to the San Diego area, and he ended up graduating from Mt. Carmel High School in 2001. Bachelier's formative years in the kitchen were spent at the now-shuttered
Blanca
in Solana Beach, where he stayed for four years. In 2007, he jumped over to a chef de partie position at
Addison
at The Grand Del Mar, under William Bradley. His next move came in 2011, when he joined the Italian-focused Urban Kitchen Group, first as exec sous at Cucina Urbana in Banker's Hill.
In September 2013, Bachelier was able to open Cucina Enoteca in Del Mar as CdC, but was out the door by the middle of 2015. He teamed up with Resnick the following February, and the two debuted the live fire-centric Campfire in September 2016, situated in the old Smog Masters/Hassebrock Automotive/Dragmaster auto repair shop in Carlsbad. Named after the middle names of Resnick and Bachelier's daughters (Elsie June and Margot Jolie), Jeune et Jolie was announced in June 2018, and ended up opening six months later. The place was largely well-received, and in November was named one of
Esquire
's "
Best New Restaurants in America
" (along with LA's own
Bon Temps
,
Sushi Note
,
Alta Adams
, and Joy).

Jeune et Jolie takes over a building that was previously home to Alliance Jiu-Jitsu, clothier Seams Fashionable, and home furnishing retailer State Street Market Place. Penned by LA-based firm
Bells + Whistles
(Campfire,
Broken Spanish
), the space has a sort of American diner-meets-French bistro vibe that was actually quite unexpected. Total capacity for the 2,000 square-foot space is about 90.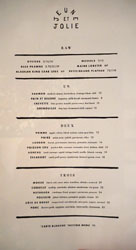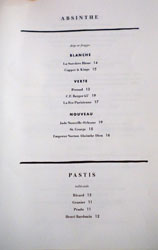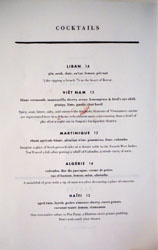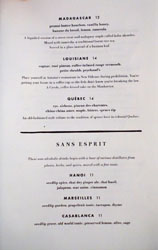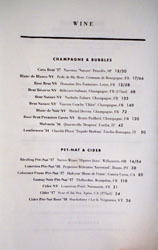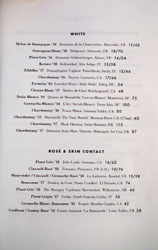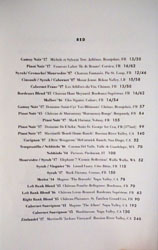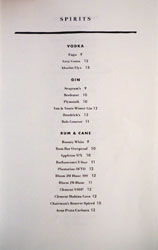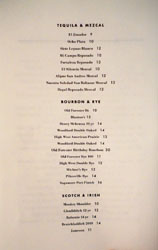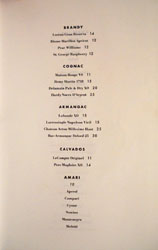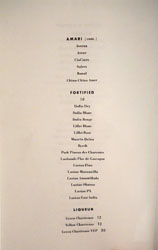 Bachelier's French-Cal menu is available in both à la carte and "Carte Blanche" tasting formats, and we opted for the former given our large-ish party size. Drink-wise, things are the charge of Beverage Director Leigh Lacap, another Consortium vet who also oversees things at Campfire. He's got an interesting cocktail list inspired by former French colonies as well as a fairly wide selection of "low intervention" wines, and there's even an absinthe tower to play with. We were charged a corkage fee of $20 in total. Click for larger versions.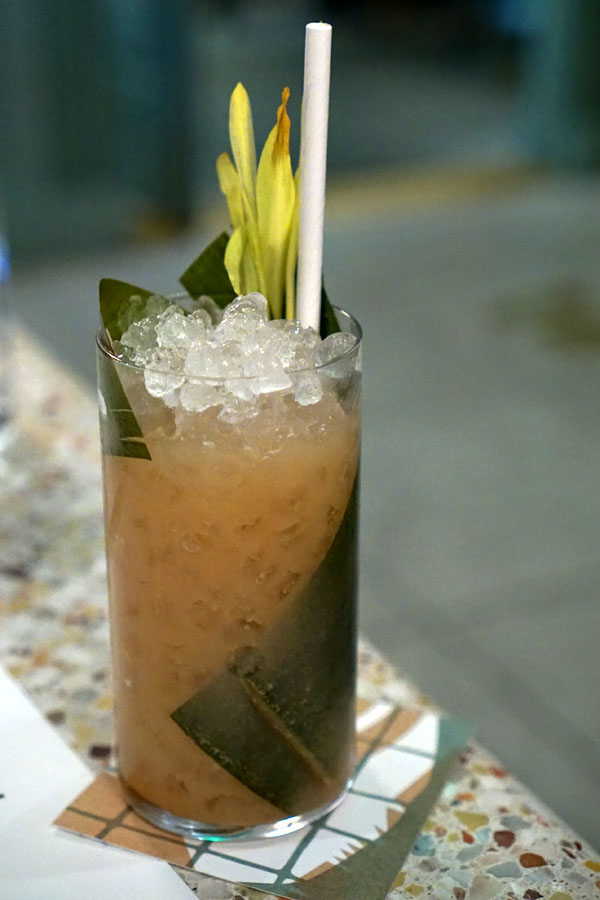 Madagascar [$12.00]
| peanut butter bourbon, vanilla honey, banane du bresil, lemon, ranovola
We got started with a couple cocktails, and the first was inspired by
koba akondro
, a confection comprising a batter of peanut, honey, banana, and corn flour, wrapped and cooked in banana leaves. It was a thick, viscous drink, but also delicious. I especially enjoyed the sweet, seamless marriage of banana and peanut butter, and how that was tempered by the use of
ranovola
, a burnt rice tea.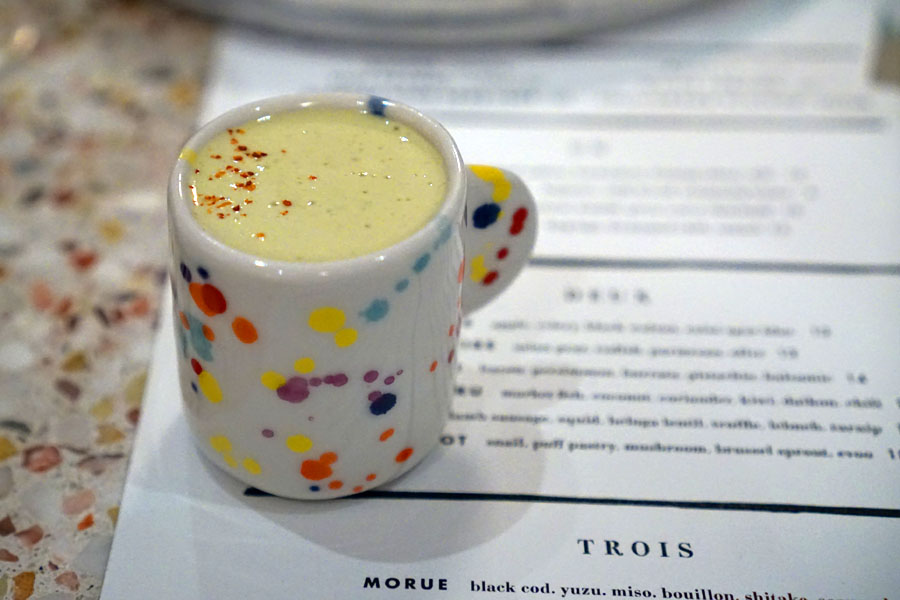 For our amuse bouche, we were provided a potato-daikon potage with kaffir lime, topped with an Espelette-dusted lemongrass espuma. I think it did a great job showcasing the actual potato, and I also appreciated the soup's lingering sweetness and herbaceousness, cut by a smidge of tartness from the citrus.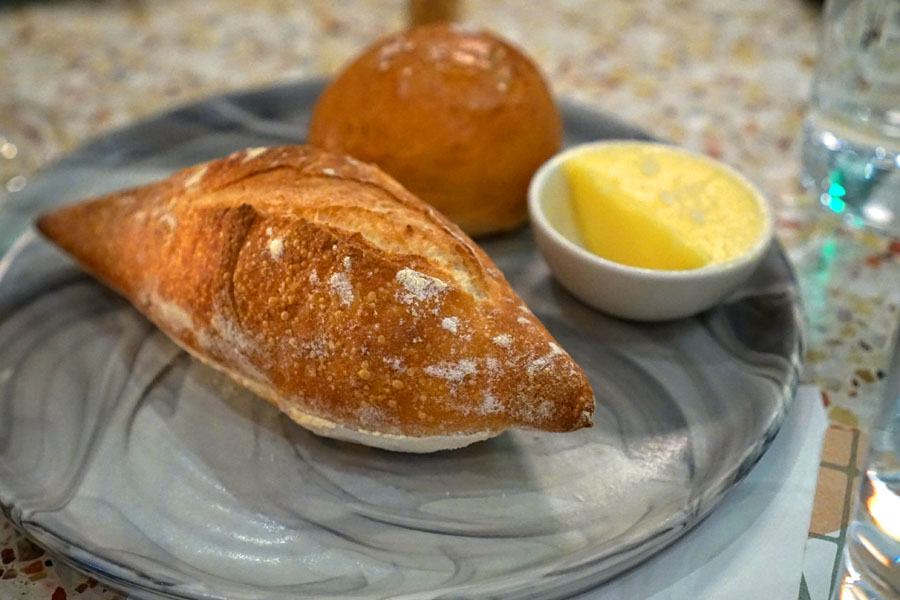 Pain et Beurre [$8.00]
| baguette, milk bread, normandy butter
We were then provided this serving of bread, which was comped given the long wait we endured before being seated. I started with the Japanese-style brioche milk bun, which ate delightfully soft and sweet, and matched up beautifully with that sea salt-laced
beurre de Normandie
. The housemade mini baguette, though, might've been even better, thanks to its combination of flaky exterior-creamy interior, delectable butteriness, and subtle smoke. Excellent.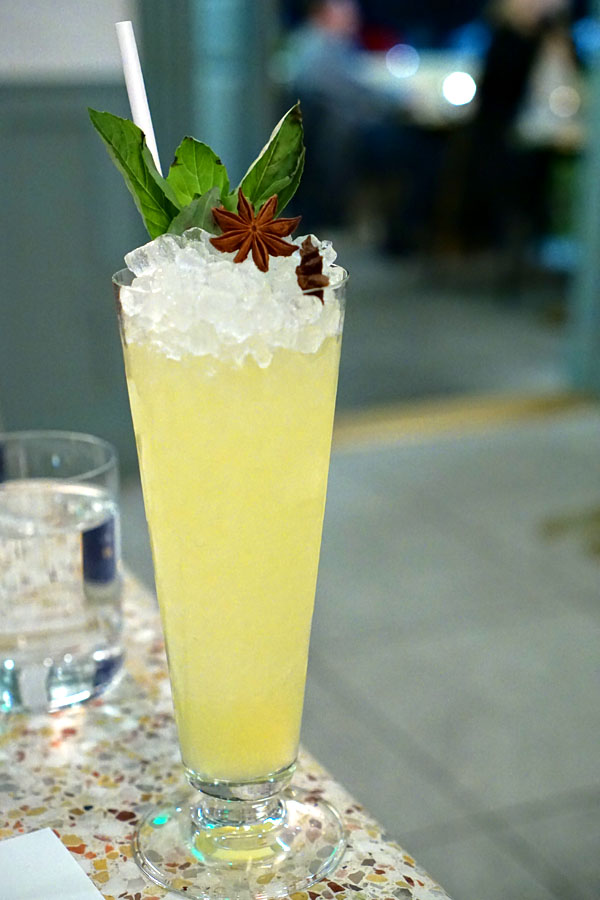 Viêt Nam [$13.00]
| blanc vermouth, manzanilla sherry, aveze, lemongrass & bird's eye chili, génépy, lime, pastis, thai basil
A vaguely Vietnamese-y cocktail drank as bright and refreshing as it looked, with sweet-n-sour flavors balanced out by astringent, anise-y notes and a long-lasting pinch of heat. Very neat.
Blue Prawns + Oysters + Mussels [$21.00 + $16.00 + $13.00]
Next came a few selections from the raw bar. Mussels were served with a very citrus-forward, pesto-y condiment as well as a vadouvan aioli, which was unexpected but not unwelcomed. A red wine mignonette came with the oysters (Shigokus?), which I found clean and almost bracing in their brine. My favorite item, though, was the shrimp, which was perfectly textured, with a lovely sweetness that paired swimmingly with the accompanying citrus sauce.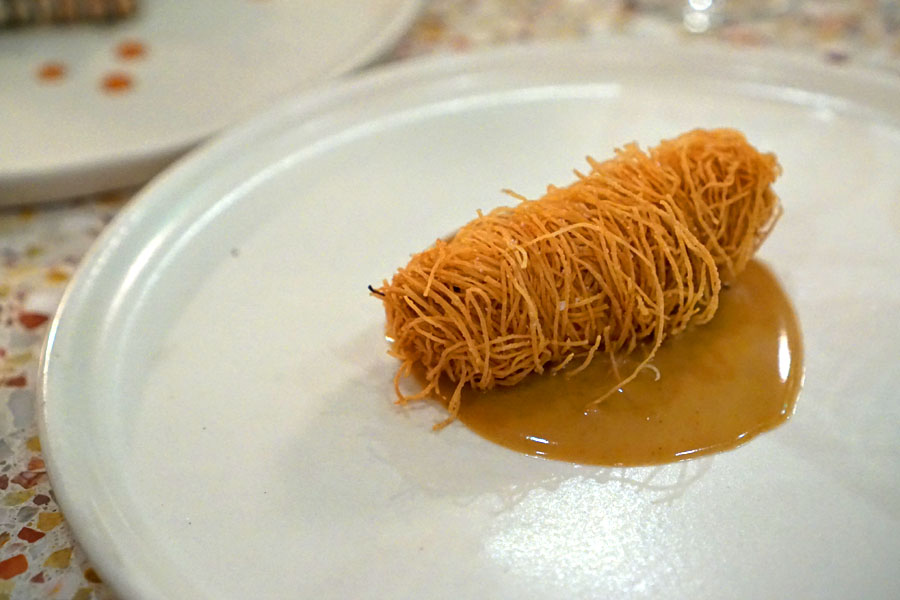 Crevette [$10.00]
| blue prawn, kataifi, green curry, thai basil
Blue prawn arrived expertly cooked, its inherent sweetness and salinity perfectly meshing with the crispness of those pastry strands. However, I found the companion curry too heavy-handed, as it tended to overwhelm the shrimp.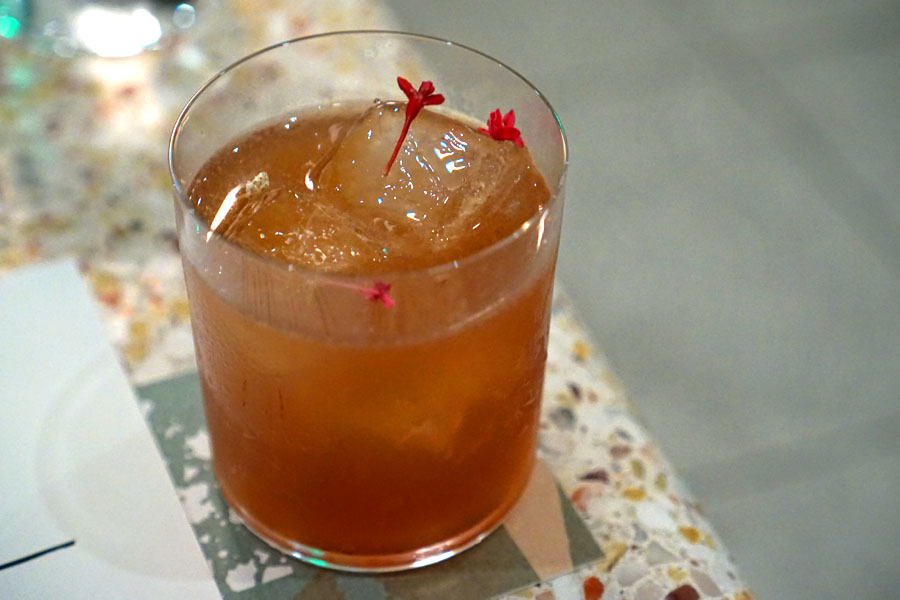 Haïti [$13.00]
| aged rum, byrrh, pedro ximenez sherry, sweet potato, coconut water, lemon, cinnamon
The inspiration for this cocktail was
pen patat
, a sweet bread made with cinnamon, evaporated milk, and sweet potato. I was a big fan of the back-and-forth here between the tartness of the drink and its sugary dark fruit flavors, all accented by an overarching floral character. Very nice.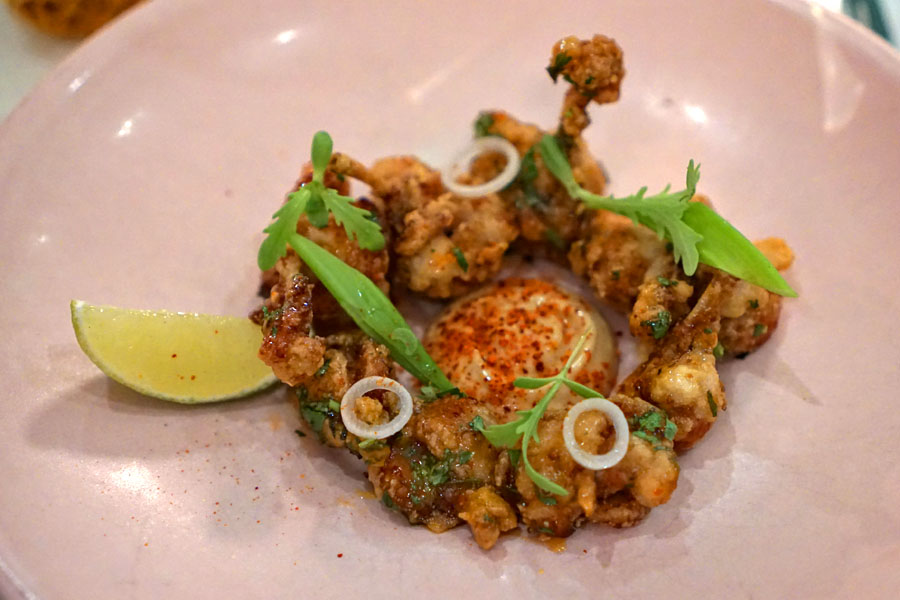 Grenouille [$12.00]
| frog legs, fermented chili, tamari
Frog was super juicy, super tender, and had this crispiness (think General Tso's) that I just found really satisfying. There was also this pervasive sweetness in the dish that worked hand-in-hand with the fermented chili notes present. A definite favorite of mine.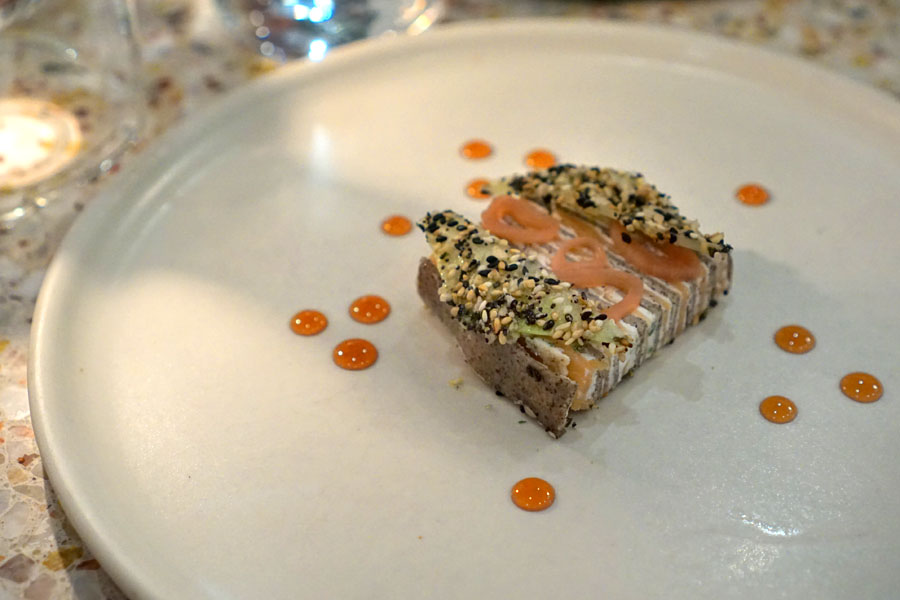 Saumon [$10.00]
| smoked salmon, buckwheat, fromage blanc, dill
This multilayered construction was another standout, and also just really fun. It basically was like an "everything" bagel with lox and cream cheese, and I mean that in the best way possible.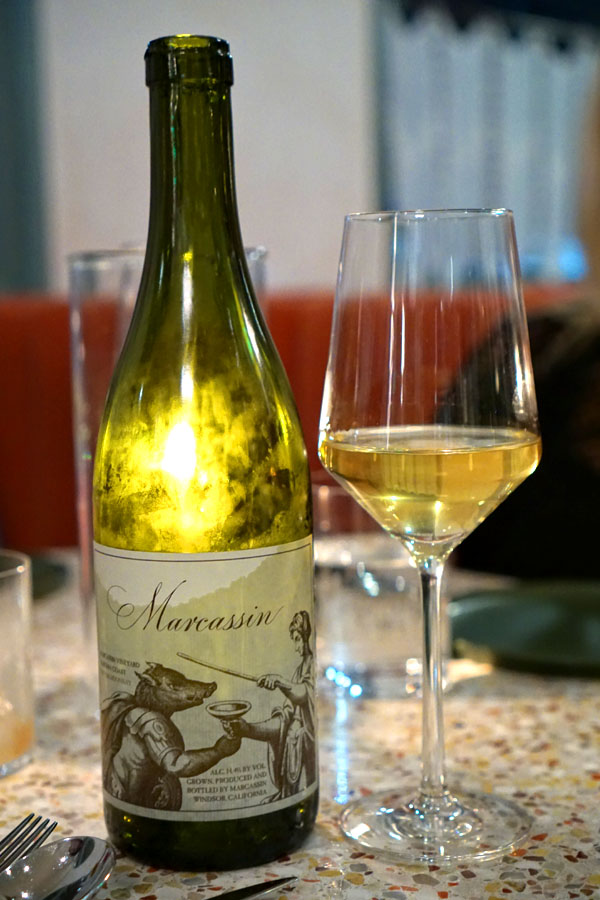 One of my dining companions brought a bottle of the
2012 Marcassin Chardonnay Marcassin Vineyard
, which we opened at this point. It had an appealing aroma filled with stone fruit, grass, and a subtly fantastic blue cheese-esque musk. Taste-wise, this was definitely on the spicier side, but also conveyed tempering notes of fruit, caramel, and brown butter, while the finish once again veered spice-heavy and oak-driven. Note that I last tried this wine at
The Hobbit
back at the start of 2018, and it's matured quite nicely, having become a bit more concentrated I'll say.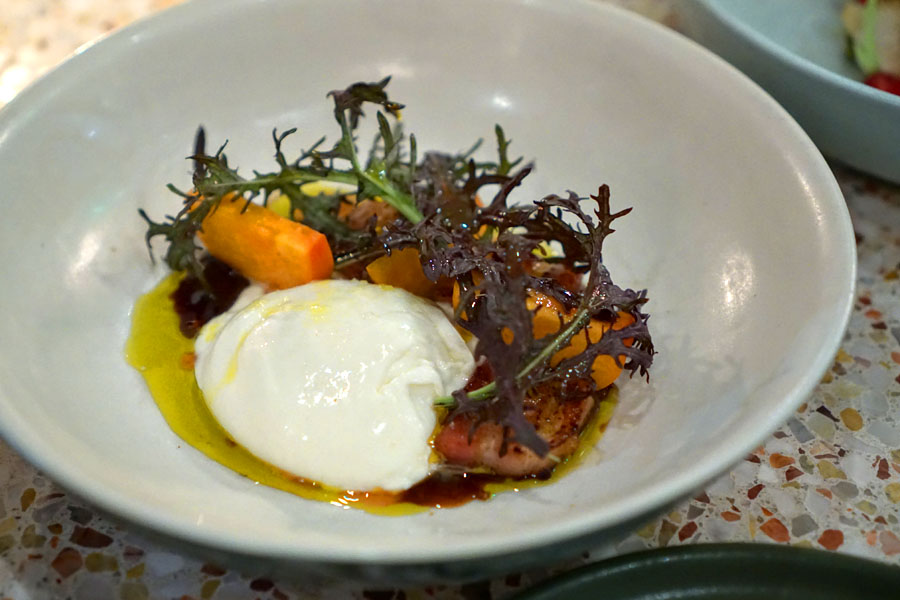 Lardon [$14.00]
| bacon, persimmon, burrata, pistachio, balsamic
The bacon delivered just the amount of fat, savor, and char you'd want, but fortunately this all was softened by the presence of that lush, cool, creamy burrata, while the persimmon imparted the right amount of sweetness.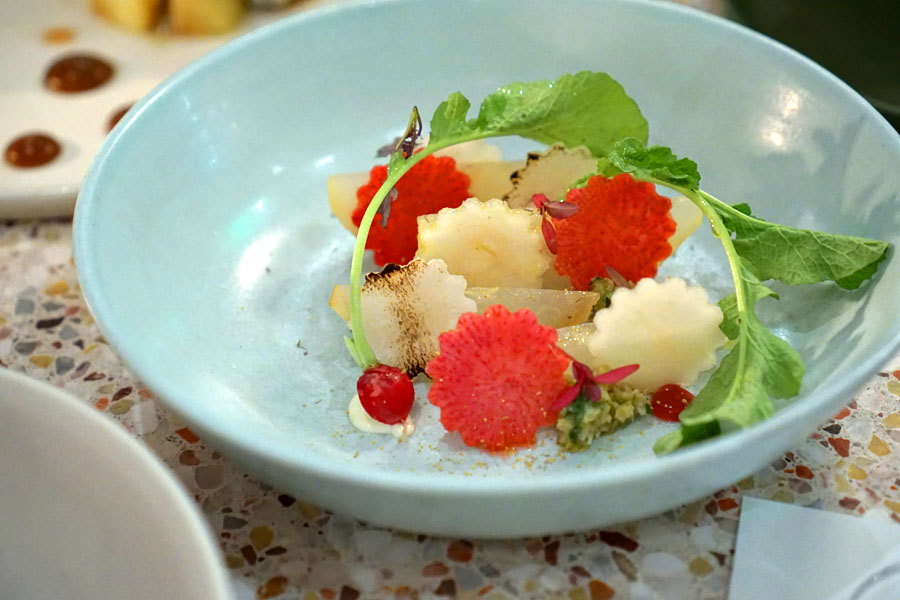 Poire [$13.00]
| asian pear, radish, parmesan, olive
Next was this somewhat intriguing amalgamation of radish and pear. It leaned toward the sweet side, with the cheese and olive working as moderating elements, but what was most interesting was the sort of onion-y funk present, which was actually the dominant force in the dish for me.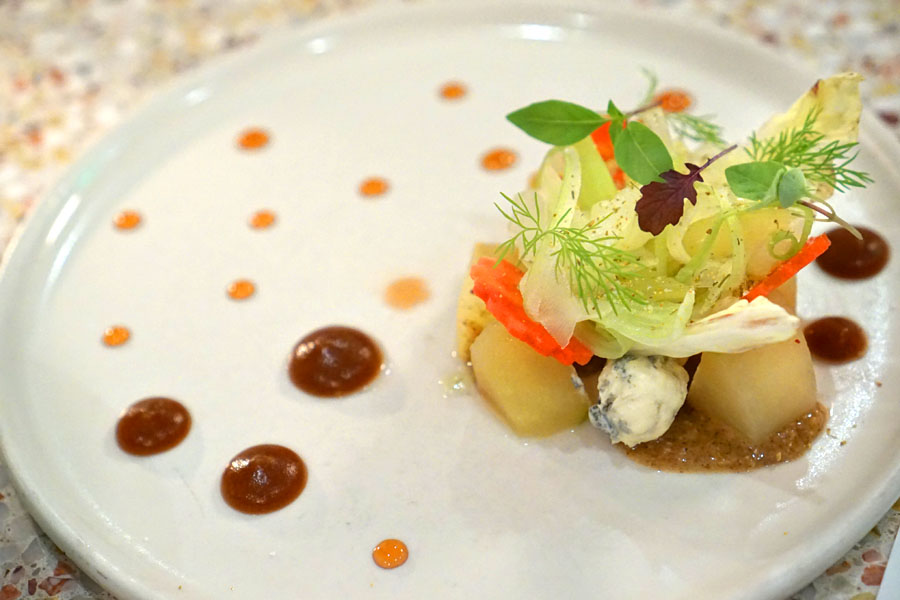 Pomme [$13.00]
| apple, celery, black walnut, saint agur blue
Here, I was pretty smitten by the pairing of sweet, crisp, juicy apple with that barnyard-y blue cheese. And even though I'm no fan of celery, the veggie really did work here for contrast.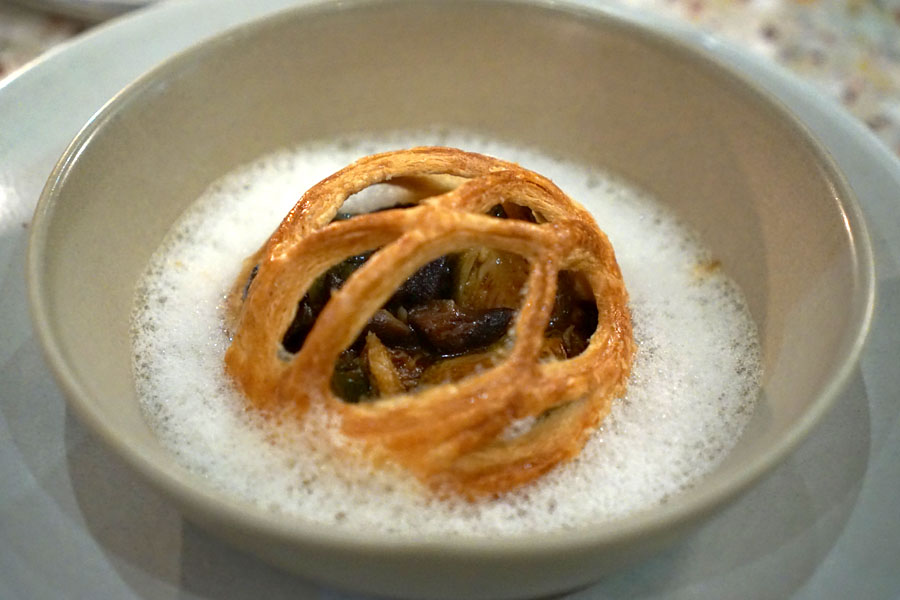 Escargot [$18.00]
| snail, puff pastry, mushroom, brussel sprout, evoo
Escargot is something I pretty much have to order when I see it on a menu, but this dish didn't quite deliver. I just found the snails overly salted, as well as overly bitter from the Brussels. They simply got lost, overshadowed in the dish, though I did appreciate the counterpoint provided by the pastry.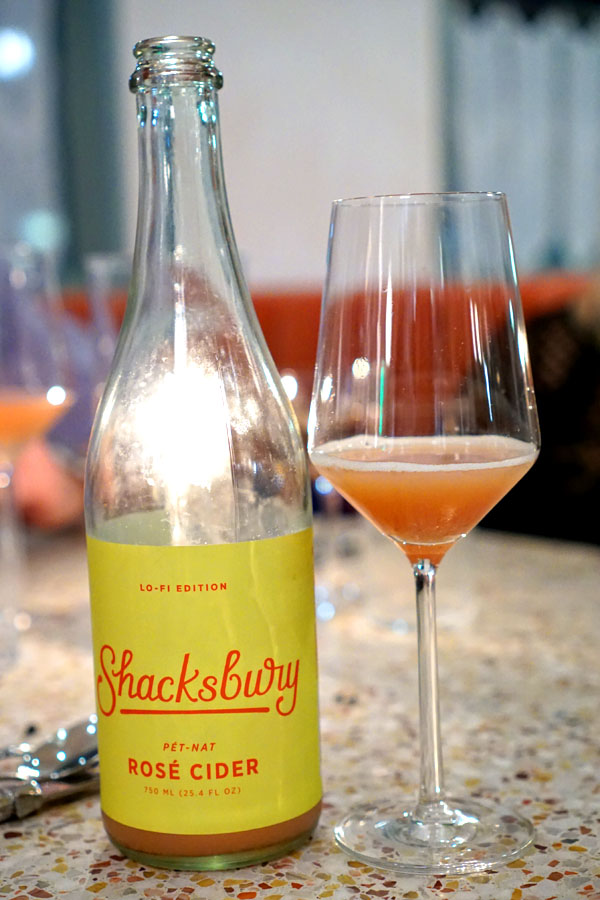 Created in collaboration with Lo-Fi Wines out of Alamos, CA, the
Cider Pét-Nat Rosé '18, Shacksbury / Lo-fi, Vergennes, VT [$36]
was a cider fermented with Cabernet Franc grape skins. I got a super floral nose brimming with sweet apple notes and light barnyard. The palate was surprisingly dry, bringing forth crisp, refreshing notes of pome fruit punctuated by a tannic tartness.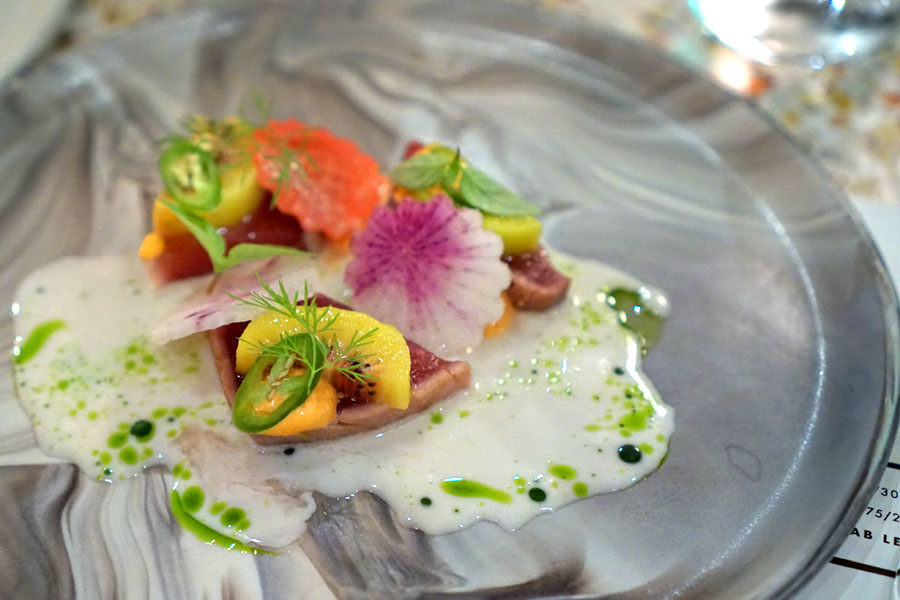 Poisson Cru [$15.00]
| market fish, coconut, coriander, kiwi, daikon, chili
A lean, clean cut of bluefin made sense with its sweet, coconut-y broth, while crunchy shards of radish functioned as an appropriate contrast. Even better though was the touch of heat on the back end.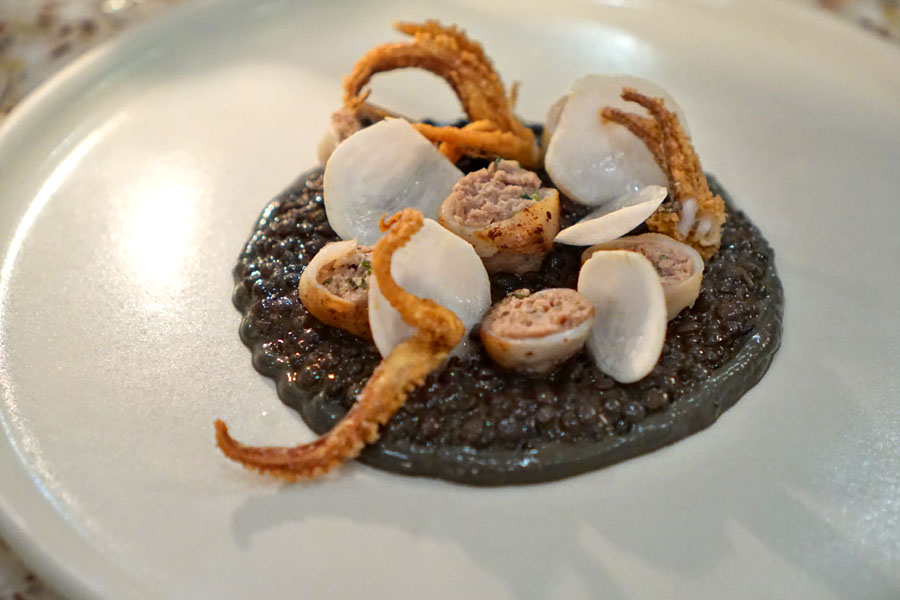 Agneau [$19.00]
| lamb sausage, squid, beluga lentil, truffle, lebneh, turnip
An herby lamb sausage made for a delicious stuffing for the squid, which had just the right amount of salinity. The lentils, meanwhile, worked as a base for the dish, and I was certainly a fan of the texture on those fried legs, too. Another standout.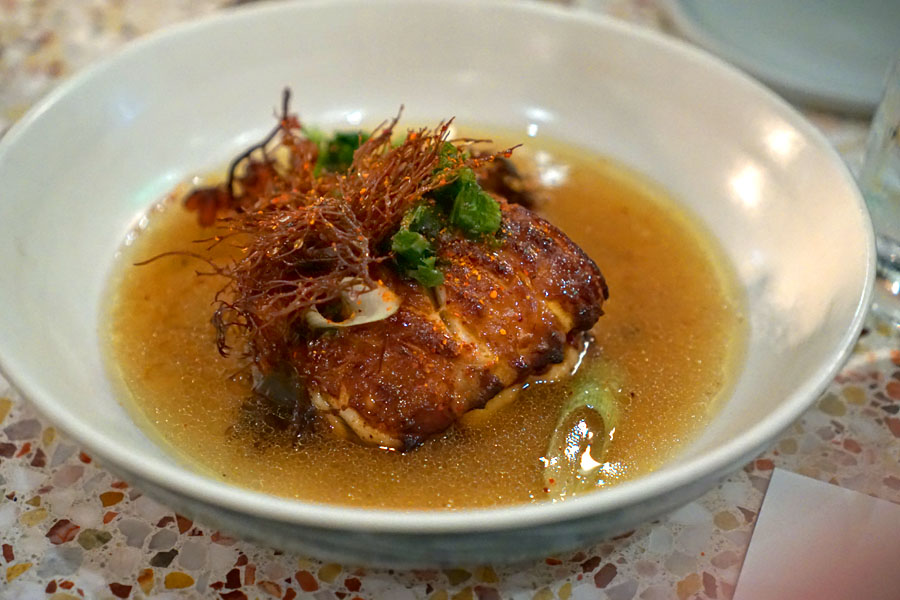 Morue [$29.00]
| black cod, yuzu, miso, bouillon, shitake, seaweed
Cod arrived sweet and buttery, the seaweed and 'shrooms adding further oomph to the dish. The accompanying brown butter bone broth was poured tableside, and was unexpectedly potent, showing off an almost bisque-like richness.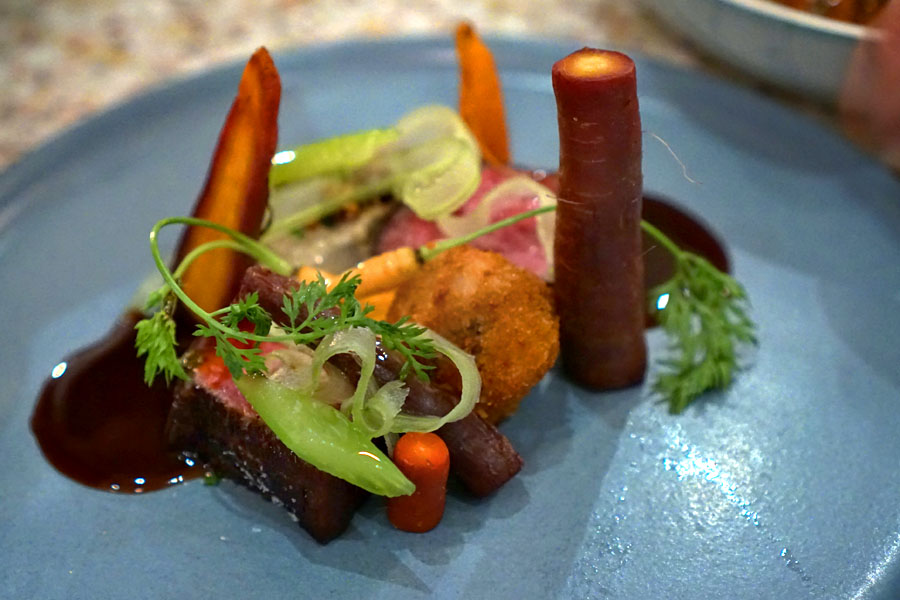 Côte de Boeuf [$32.00]
| wagyu beef, sweetbreads, mirepoix, yogurt, streusel
Beef rib was oh-so satisfying in a classically luxurious sort of manner, and was rather tasty just by itself. However, I really did like the added depth and heft provided by the sweetbreads, while the variety of veggies did lighten things up.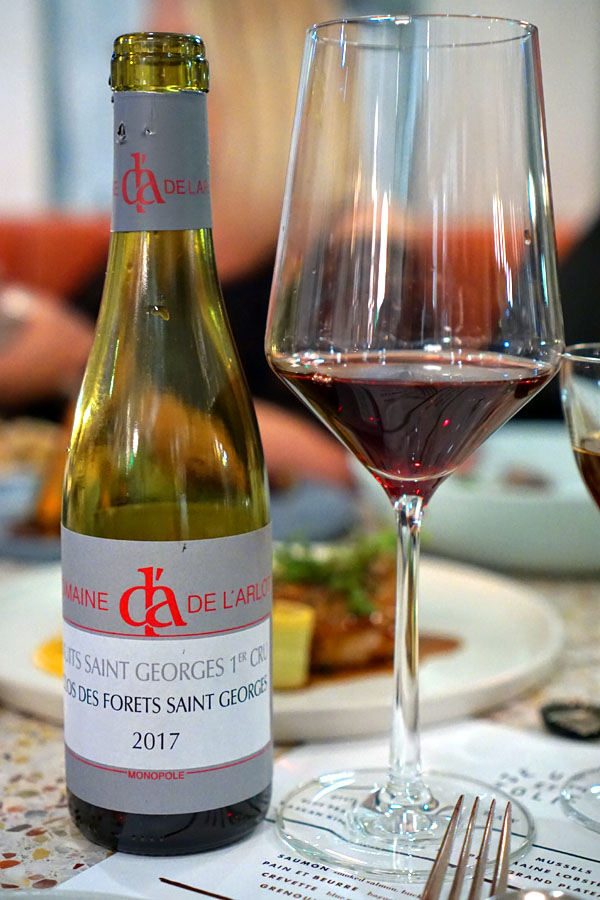 Our final wine was the
Pinot Noir '17, Domaine De L'Arlot, Nuits St. Georges 1er Cru, FR [$99]
. The bouquet on this one was on the sumptuous side, giving up loads of flowers alongside rich berry and a trace of earth. The palate was soft and smooth and silky, displaying very apparent dark fruit, with strawberry at the forefront and minerals, spice, and tannins bringing up the rear.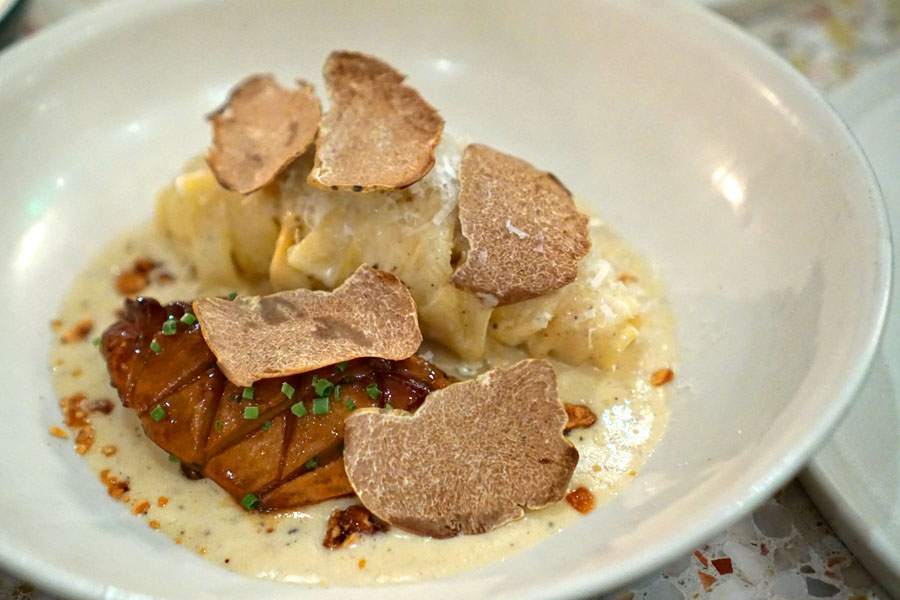 Rutabaga + White Truffle (3 grams) [$24.00 + $45.00]
| rutabaga, fungi, pepper, parmesan, gruyere
Rutabaga made for a rough, tough pasta that I wasn't particularly enamored with. It was all a bit too severe for me, though the cheese and mushrooms did help in that regard. The supplemental truffles didn't do much to quell the austerity of the course, either.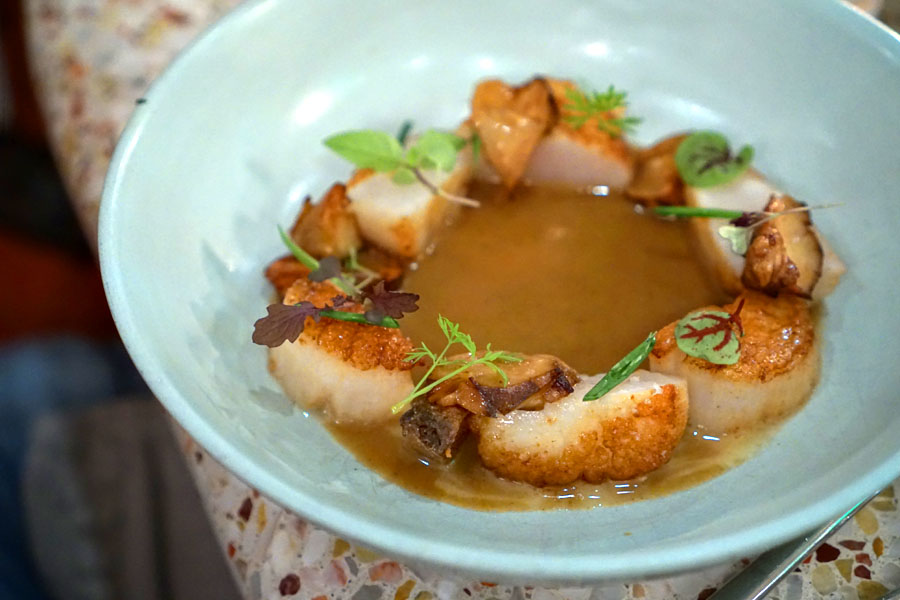 Coquille [$32.00]
| scallop, sunchoke, abalone mushroom, vin jaune
Scallops had a proper sear on 'em, and featured creamy, pillowy interiors and a healthy amount of caramelization. The included sauce had this sweet, brown butter-like note to it, so I would've appreciated something more to brighten things up.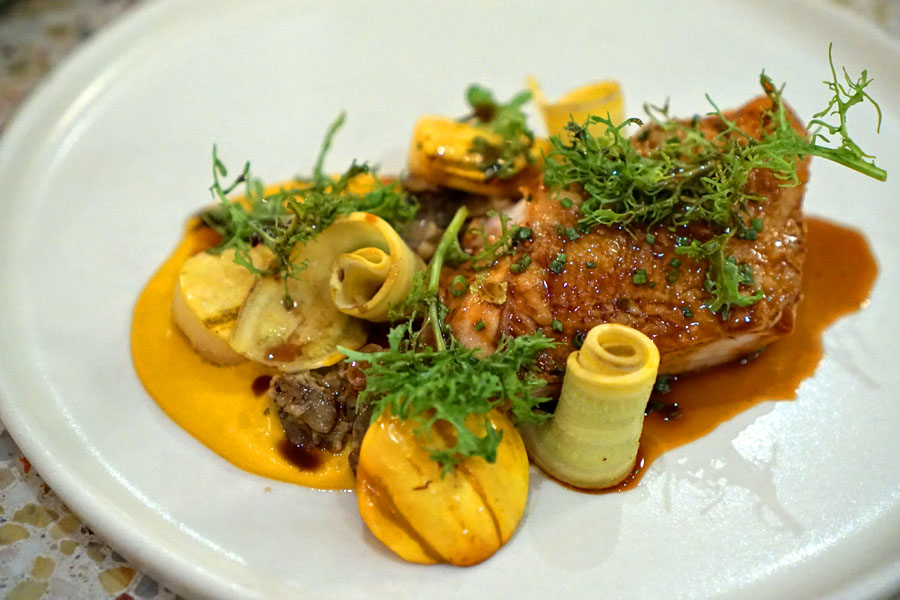 Poussin [$25.00]
| jidori chicken, pumpkin, pepita, risotto
Chicken came out somewhat dry unfortunately, though it was on point in terms of taste. The bird also worked well with the various sweet-nutty elements on the plate, but I wanted more from the advertised risotto, which sort of got lost in the mix. Note that this dish ended up being comped on account of the aforementioned dryness.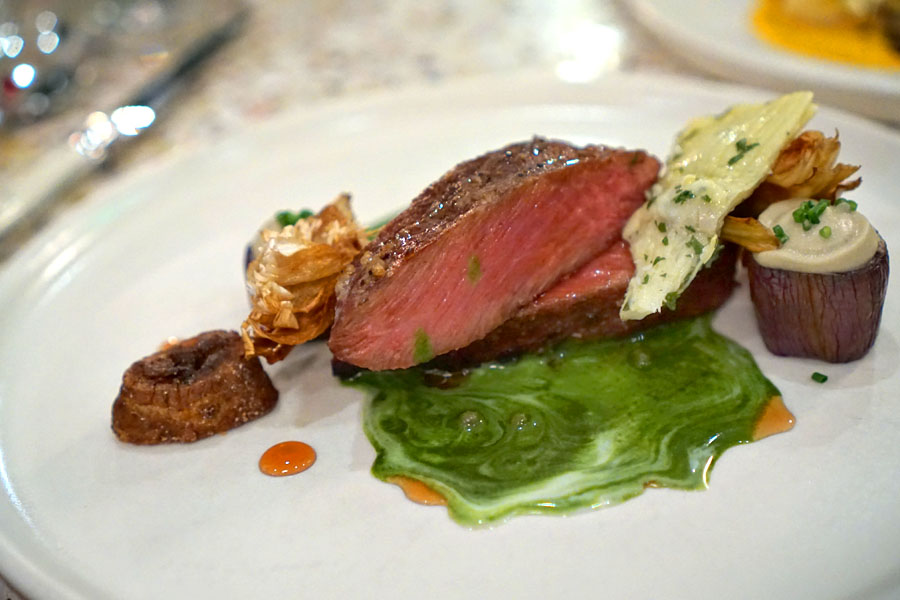 Porc [$33.00]
| iberico pork, eggplant, artichoke, buttermilk, chermoula
The pork had a spot-on texture and succulence, while flavors skewed citrusy and grassy on account of that chermoula. It was sort of an unconventional sensation, but it worked.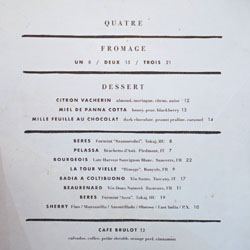 As for dessert, there were but a mere three choices, joined by cheese and an array of sweet wines. Click for a larger version.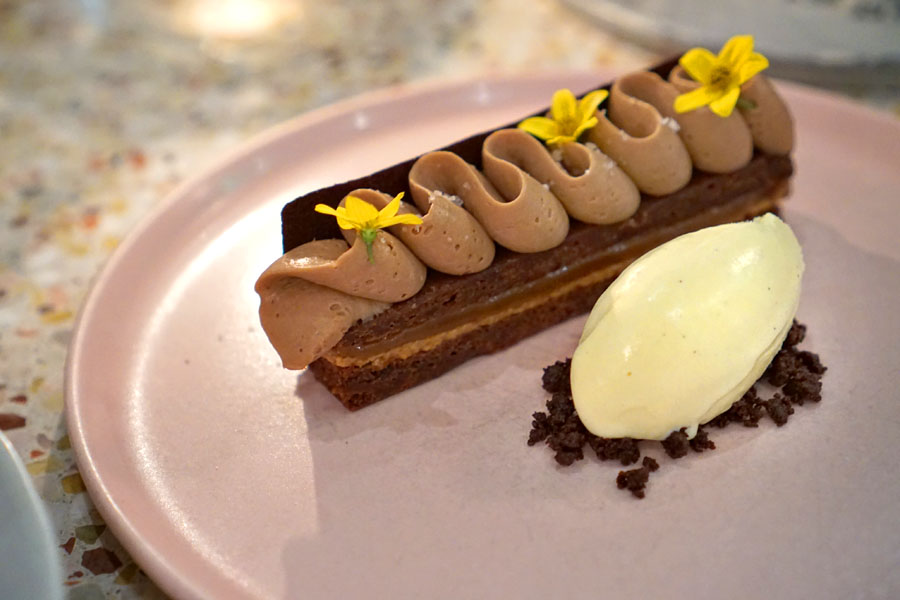 Mille Feuille au Chocolat [$14.00]
| dark chocolate, peanut praline, caramel
Our first dessert was a thick, dense interpretation of the classic pairing of nuts and chocolate, one that really sang when eaten in concert with that salted vanilla ice cream.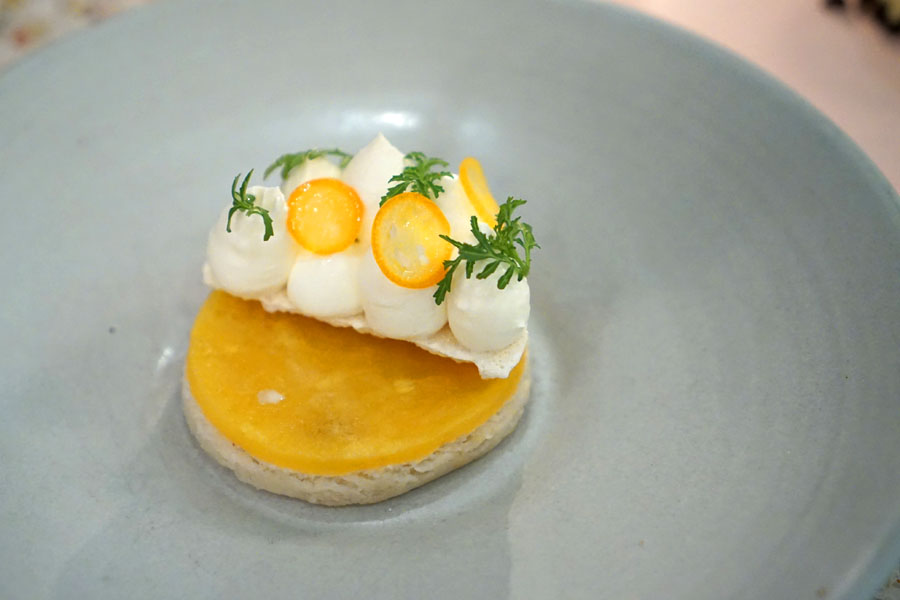 Citron Vacherin [$12.00]
| almond, meringue, citrus, anise
Here, a disk of almond cake came crowned with a robust kumquat gelée, while the unmistakable pungency of anise made itself known very quickly.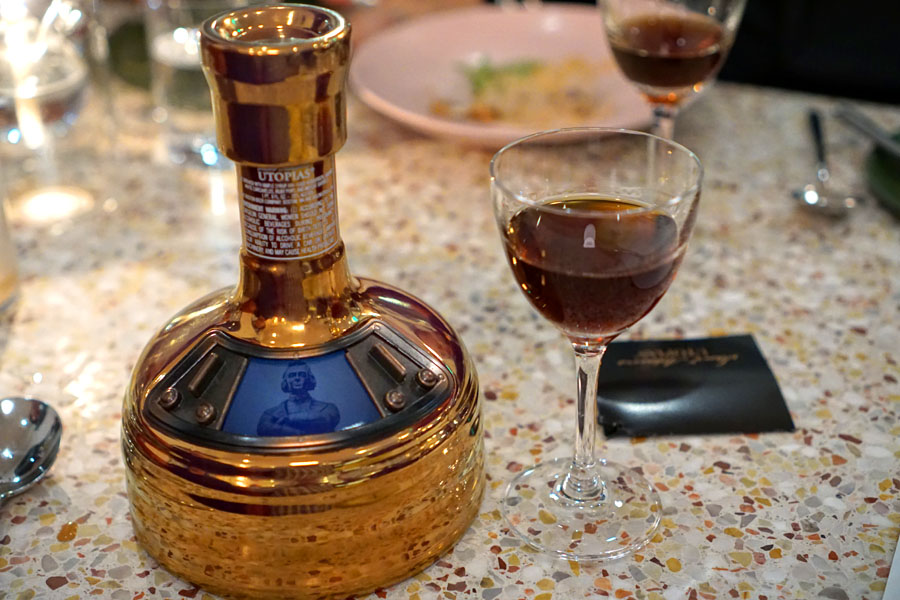 To go along with dessert, we opened a bottle of
2017 Samuel Adams Utopias
that one of my fellow diners had brought. It was a blend of ales (up to 24 years old) brewed with maple syrup, aged in Buffalo Trace bourbon, aquavit, white Carcavelos, ruby port, and Muscat barrels, finished with a touch of oak-fermented Belgian ale. I got a heady nose teeming with notes of dark fruit, chocolate, caramel, and port wine. Tasting it, I found it uncompromisingly intense, with sweet malt, maple, and dried berries all over the place, joined by sharp spice, oak, and a persistent alcoholic heat. I'd wanted to try this beer for at least a decade, and it did not disappoint--there's nothing else out there quite like it.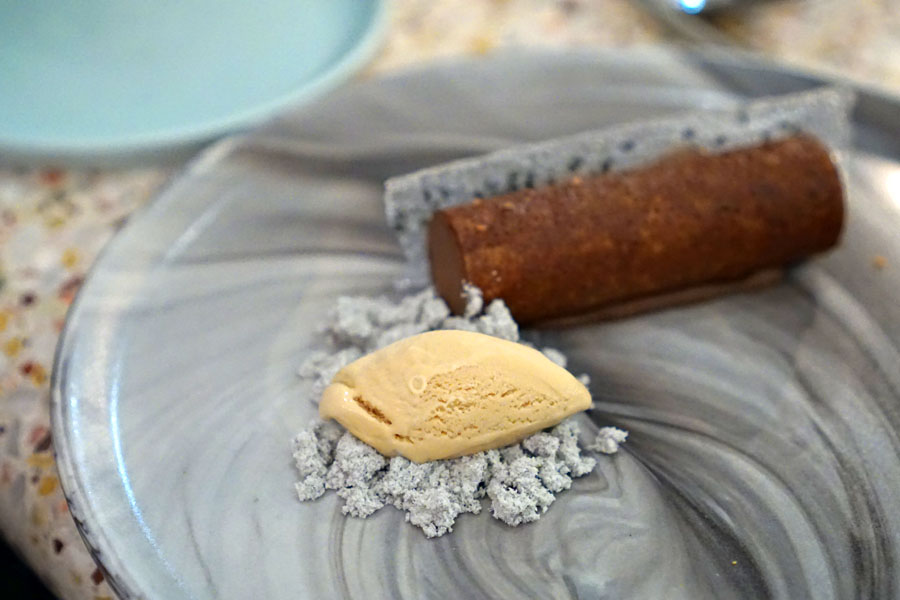 Given that we ordered so much, we were gifted the evening's dessert from the tasting menu. It comprised a chocolate "cigar," with a wonderfully nutty sesame tuile, a delightfully spicy clove ice cream, and a lingering smoke from the chocolate "ash." Superb.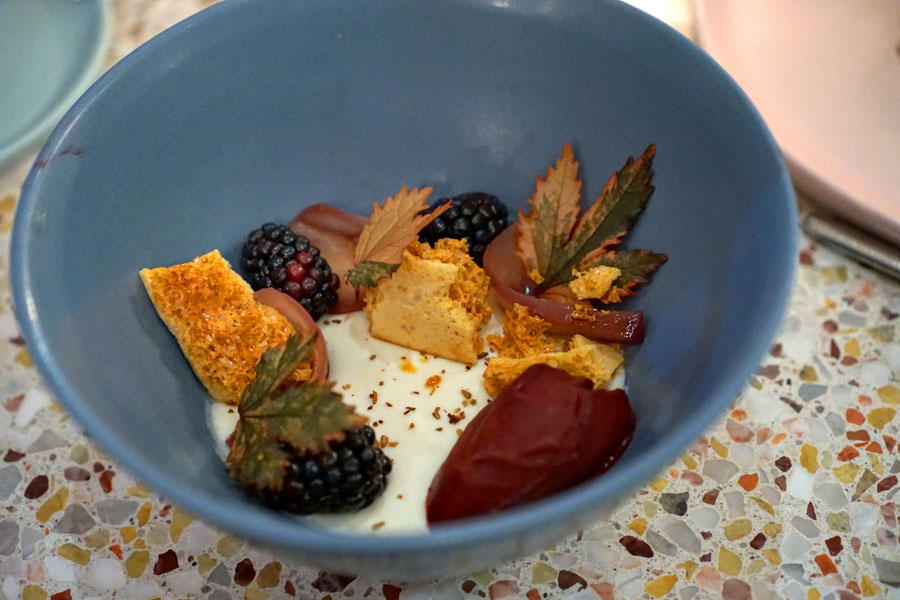 Miel de Panna Cotta [$13.00]
| honey, pear, blackberry
A textbook panna cotta served as an exceptional stage for disparate flavors of honey, ginger, red wine poached pears, and blackberry sorbet to all come together.
Despite a few duds, we had peachy time at Jeune et Jolie. The cooking here demonstrates this sort of
bistronomie
-type vibe I'd say. You definitely get that French influence in the dishes, although it's twisted and reshaped to match the restaurant's SoCal environment. Bachelier's food is mostly fun, even playful; at the same time though, you do certainly get a sense of the technique and traditional behind it. I never thought I'd be eating this well in Carlsbad, that's for sure.
---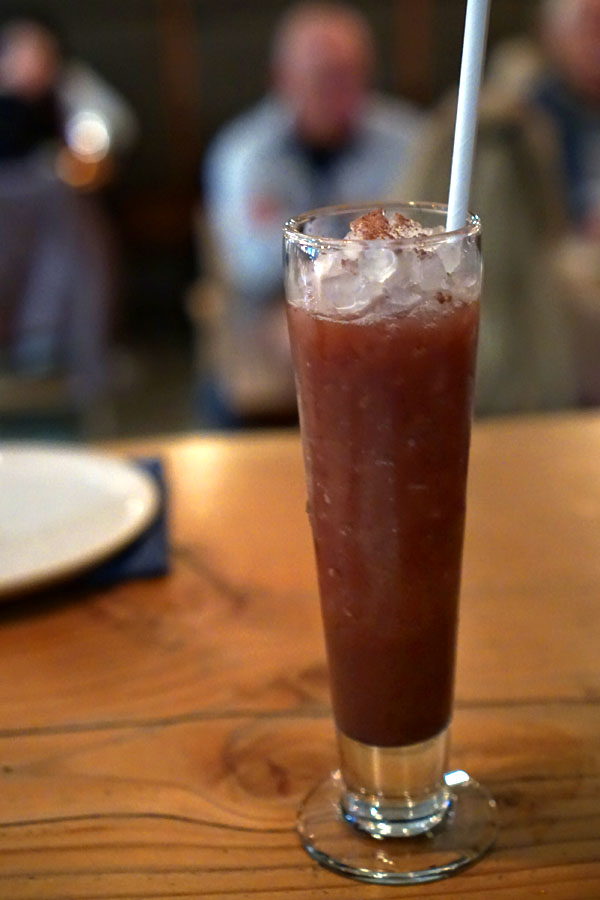 Why Wait? [$12.00]
| bourbon, roasted cocoa nib, port, hazelnut praline, black sesame
As I mentioned above, we had to wait a bit before our table was ready, so we headed down the street to Campfire for some cocktails. Our first was a scrumptious, almost syrupy blend of sweet dark fruit, cocoa, and nuts that went down easy. One of my fellow imbibers even likened this to a "boozy Yoo-hoo."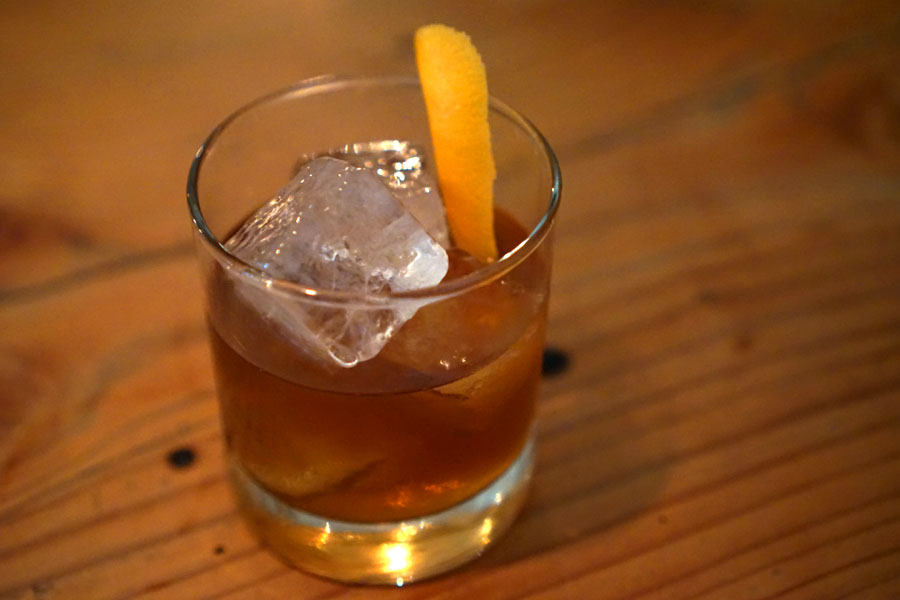 Campfire [$12.00]
| bourbon, scotch, roasted malts, demerara, smoke, chocolate
This next cocktail was on the more spirit-forward side, as you can probably tell from the photo, but it wasn't quite as boozy as it looked. With its flavors of caramel, dark fruit, chocolate, and spice, it actually recalled a brownie, but far less sugary of course.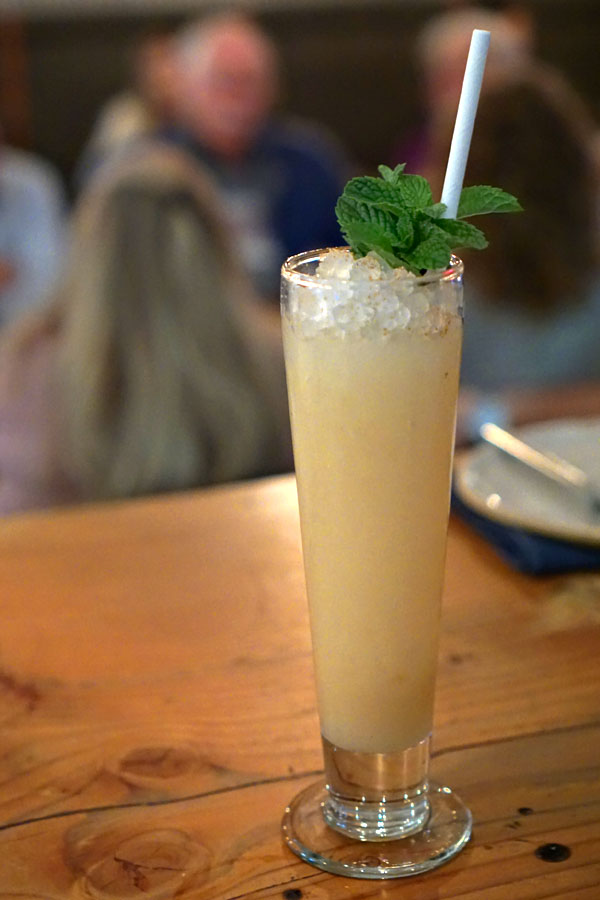 Little Debbie [$12.00]
| bourbon, cognac, date, cardamom, oat milk, lemon, nutmeg, mint
With a name like "Little Debbie," I was expecting a cocktail that tasted like a snack cake. This did not, though it did have a hint of chocolatiness to go along with its soft, sweet spice. Again, pretty gluggable.