Jeong Yuk Jeom (Los Angeles, CA)
Jeong-yukjeom Korean BBQ
621 S Western Ave, Los Angeles, CA 90005
213.384.2244
www.jeongyukjeom.com
Tue 12/10/2019, 07:40p-10:05p

A friend's birthday dinner brought me to the latest player in LA's high-end KBBQ scene. Named after
jeongyukjeom
, a term for "butcher shop," the restaurant opened in August 2018 on the first floor of Koreatown's Madang Mall. The place is the brainchild of "Brian" Jae-yong Son and his brother Andy Son, and the duo aren't new to the
gogi-gui
game, having previously operated outposts of
Kang Ho-Dong Baekjeong
in Flushing, NY and Palisades Park, NJ (both of which are now closed). General Manager duties here, meanwhile, are handled by Soo-hyun Ahn.

Situated on the site of the original Woo Lae Oak, Madang Courtyard debuted in June 2010, and along with it opened a Korean barbeque spot called Bann. Bann eventually rebranded itself as Madang 621 in early 2012 before shuttering in the summer of 2015. It was quickly replaced by Hansol Noodle, which itself closed near the end of 2017. Jeong Yuk Jeom retains the same basic layout as its predecessors, though its decor has certainly been revamped. The restaurant's oddly-configured lower level features an unusual ramp setup, but is also home to the bar, the seldom-used communal table, and most importantly, a pair of ruby-tinted dry-aging units.

If you make your way up the ramp and past the soju display cases, you'll enter the main dining room, which makes a lot more sense. Note the lack of vent hoods, as all ventilation is handled via downdraft systems built into the grills. This proved pretty effective, as we walked out smelling relatively minimally of meat.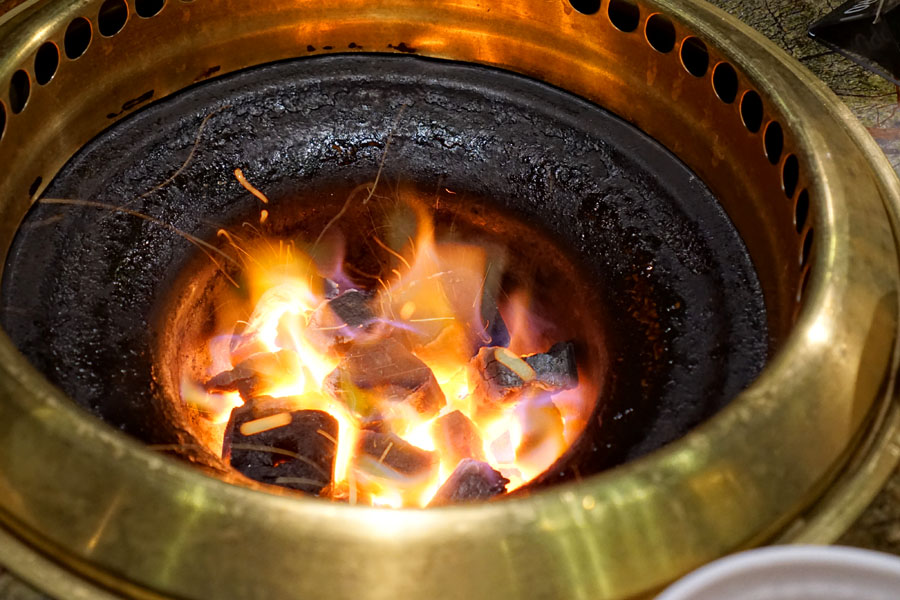 And speaking of those grills, it was nice to see that they made use of actual
sootbul
(charcoal).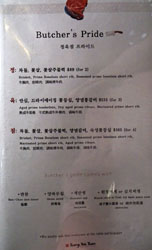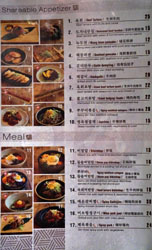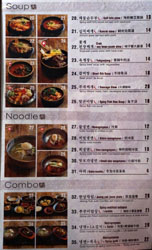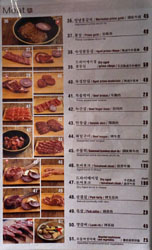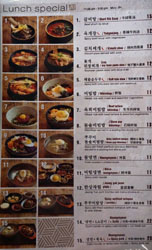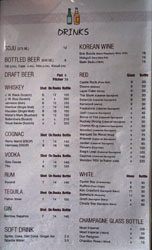 Jeong Yuk Jeom's menu actually lists a fairly wide range of dishes, but our attention was squarely focused on the meat, which includes a number of prime and aged cuts. We ended up ordering one of the "Butcher's Pride" combos, and supplementing with a few additional courses. Beverage-wise, it's your typical soju/beer, along with some harder stuff and a somewhat better-than-normal wine list. Corkage is $25, and we were charged only once. Click for larger versions.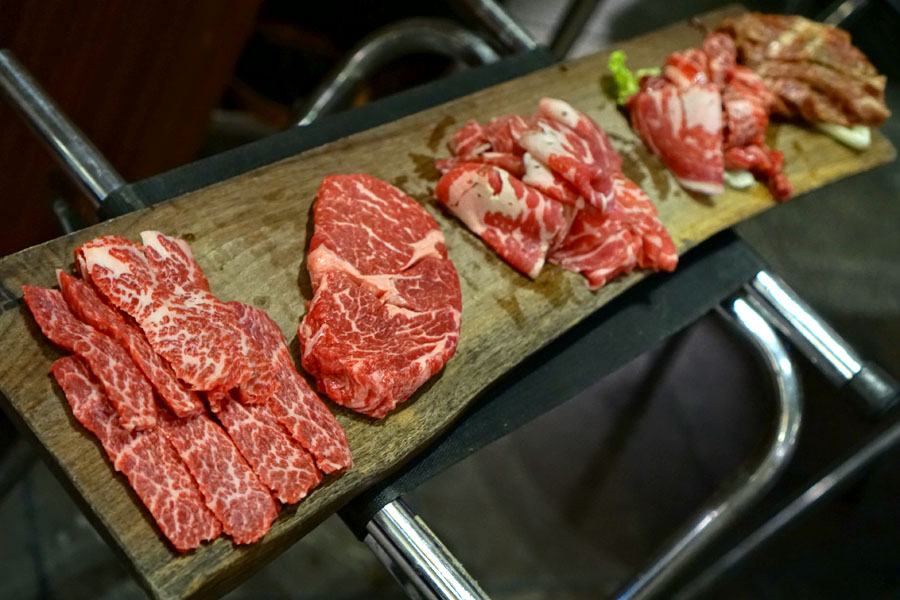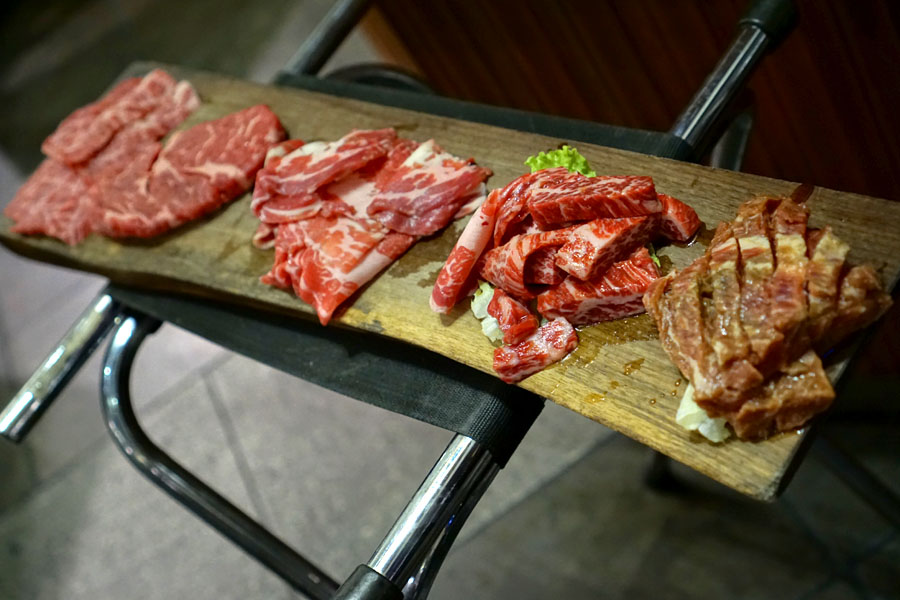 Butcher's Pride "Jeom" for 4 [$165.00]
| Brisket, Prime Boneless short rib, Seasoned prime boneless short rib, Marinated prime short rib, Aged prime ribeye
We began with the largest of the three combos for our party of seven. It was composed of
chadol
,
kkotsal
,
kkotsal jumulleok
,
yangnyeom galbi
, and
sugseong kkot deungshim
in terms of meat, and also included an array of side dishes,
yangpa muchim
,
gyeran jjim
, and your choice of
doenjang jjigae
or
kimchi jjigae
.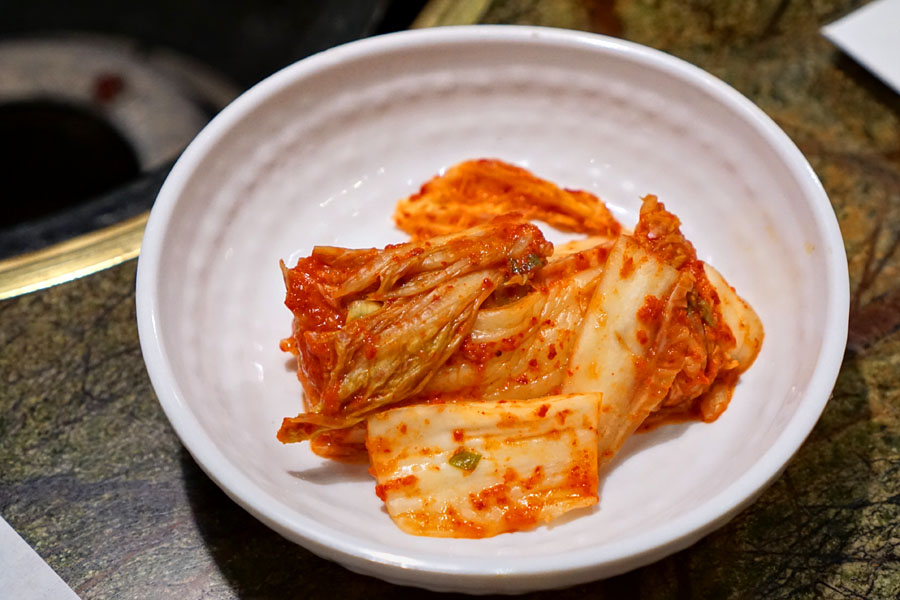 The standard
baechu kimchi
was pretty par for the course, though perhaps a touch funkier than usual.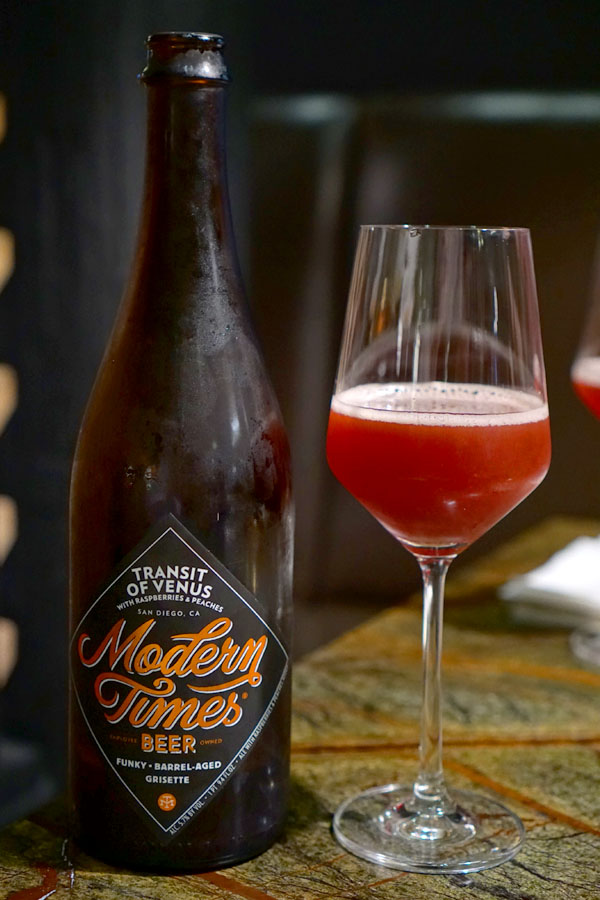 For drinks, we opted for beer this evening, and got things started with the
2018 Modern Times Transit of Venus with Raspberries & Peaches
, a red wine barrel-aged grisette with
Saccharo
,
Brett
, and
Lacto
. It smelled fantastic, with aromas of juicy, floral peach and ripe berry. The massive infusion of fruit continued on the palate, where it was joined by earthy undertones and a tinge of acidity. A really great surprise, and no doubt one of the tastiest saisons I've had from the brewery.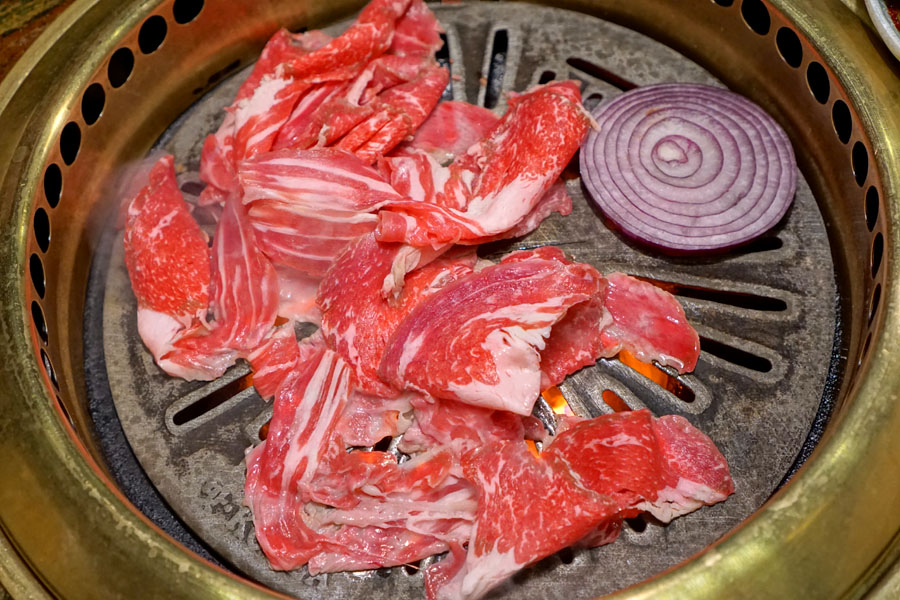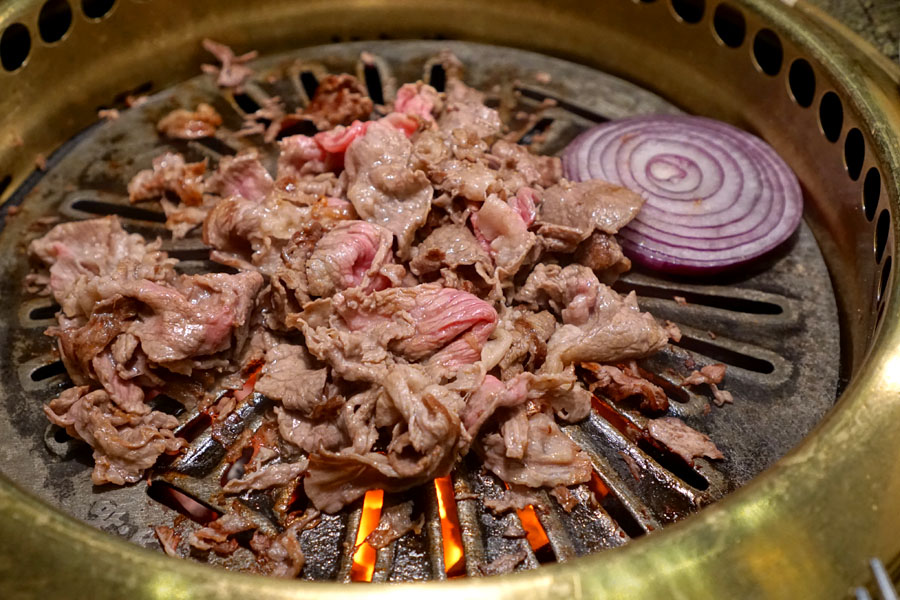 As you'd expect, things kicked off with the
chadol baegi
. I found it a solid rendition of brisket, with a satisfying chew and a pleasant beefiness that made it enjoyable even without a dip into the included condiments.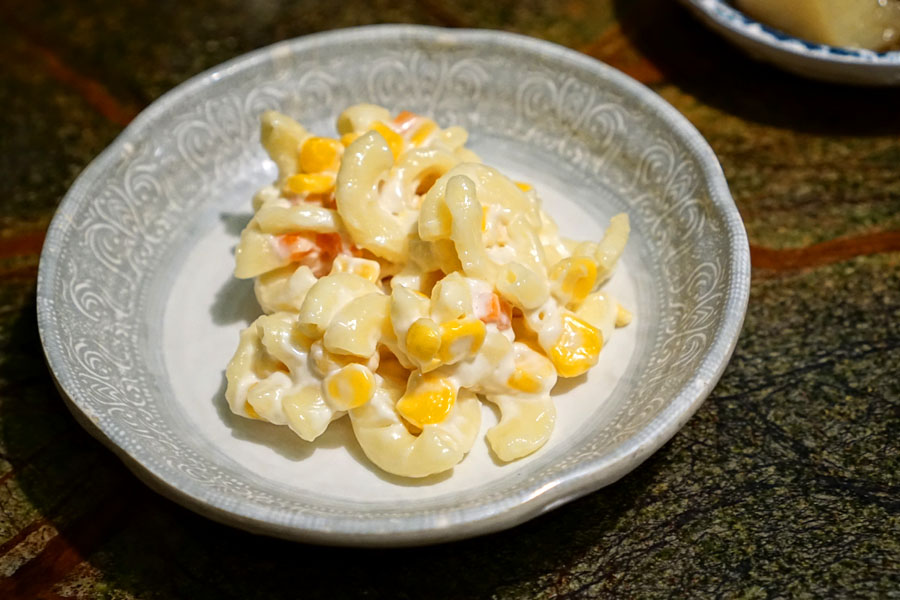 The pasta was softer than I'd prefer in the macaroni salad, which had a definite sweetness to it on account of all the corn.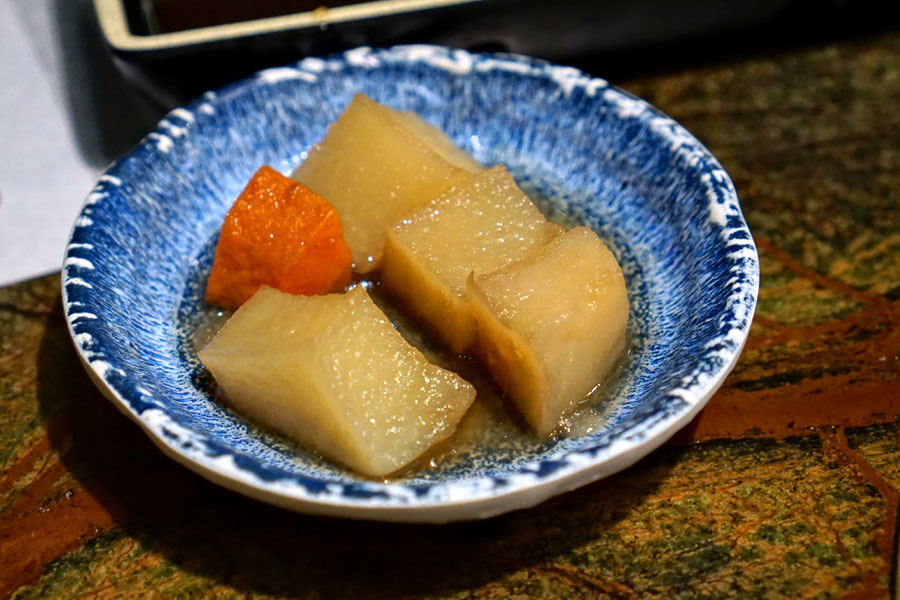 Gamja jorim
featured firm-but-yielding blocks of potato, in a sweet-savory marinade.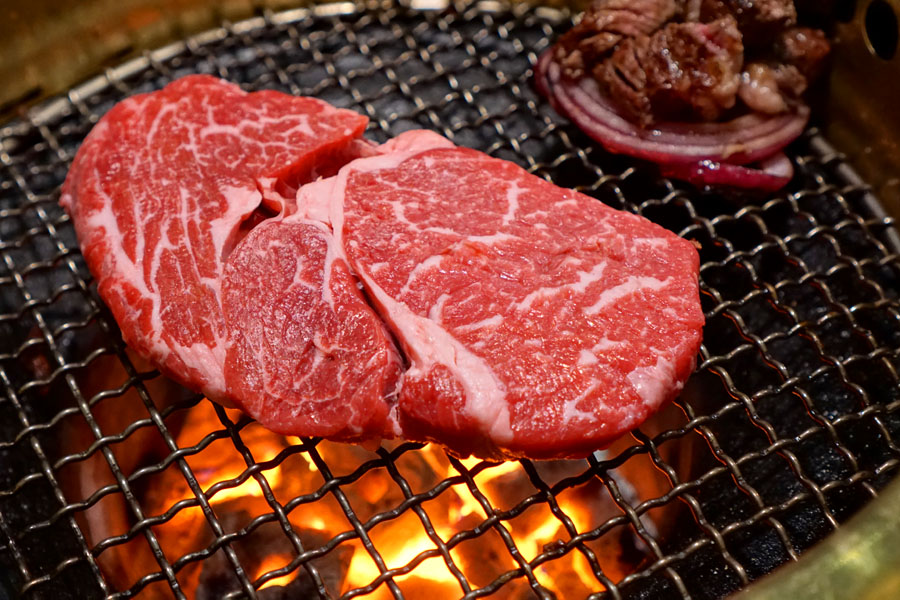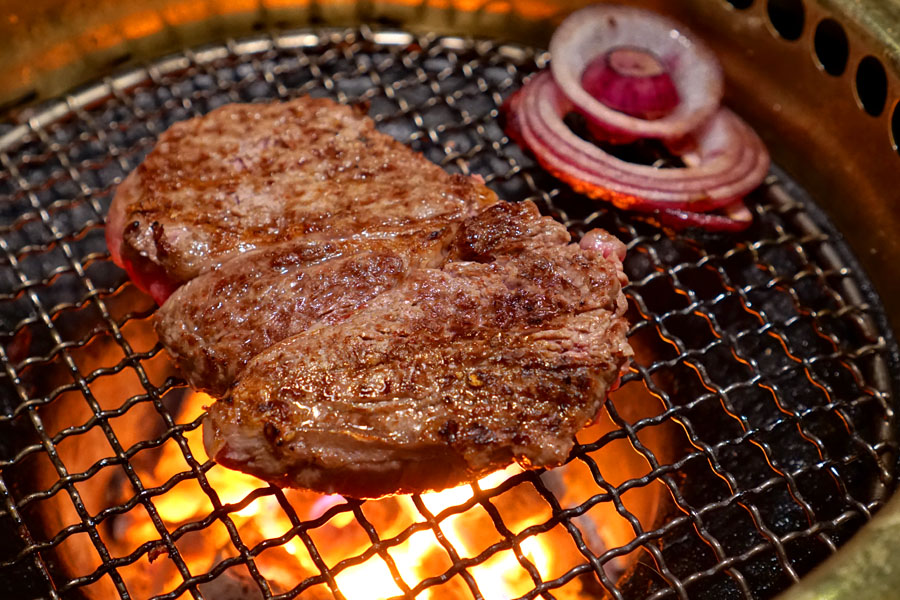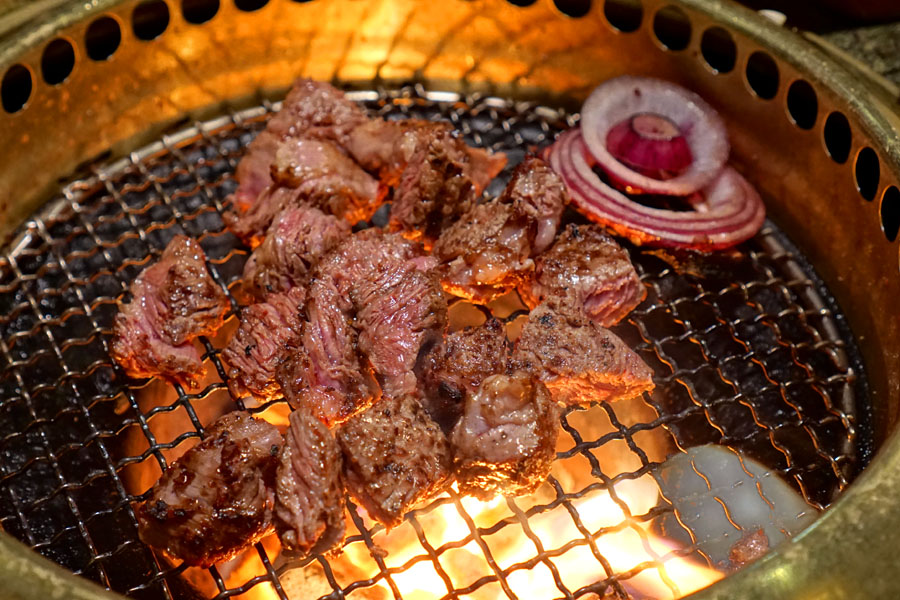 The
sugseong kkot deungshim
(aged prime rib eye) was one of the tenderest cuts of beef I've had at KBBQ. Flavors were pretty textbook, and though enjoyable, things could've been a bit more robust, a bit more in-your-face in terms of meatiness.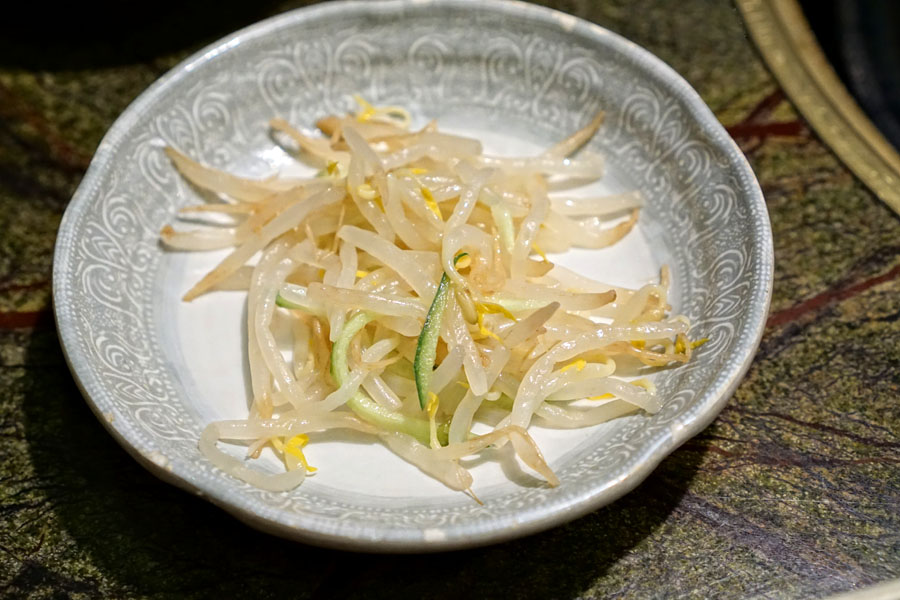 Sukjunamul
(mung bean sprouts) were particularly well-seasoned, with a refreshing crispness to boot. One of my favorite
banchan
for sure.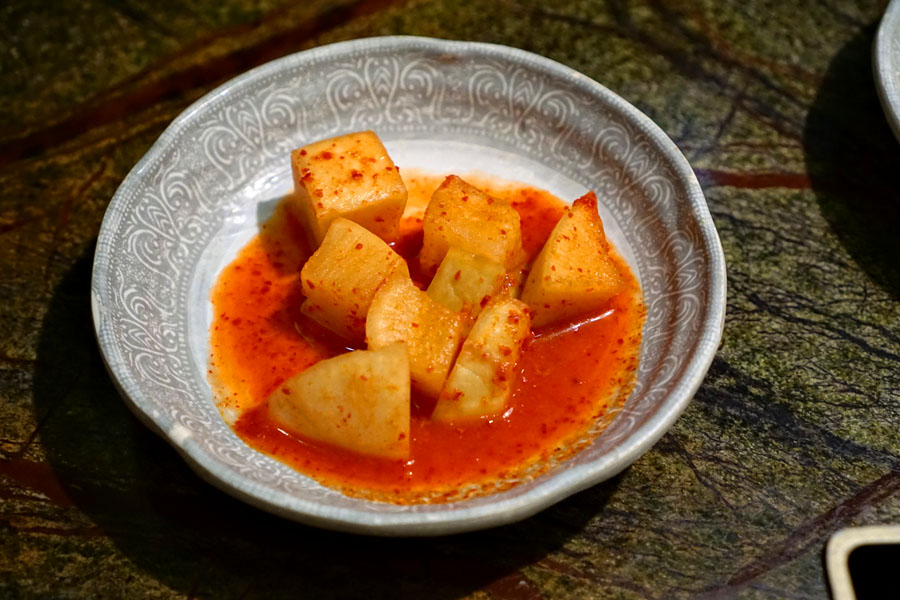 The
kkakdugi
ate super crunchy, and a tad sourer than normal I'd say.
Next to imbibe was this blended, bourbon barrel-aged barleywine: the
2018 Modern Times Altar of the Orc Lord Aged in Bourbon Barrels with Coconut, Cocoa Nibs, & Vanilla
. The beer smelled great, giving up huge vanilla and cocoa on the nose. The palate was thick for sure, bringing forth more cacao and more vanilla, with coconut appearing in the middle while the finish displayed a hint of oak--it was a bit like Nestle Quik, actually. Delicious, and perhaps my favorite barley wine I've tasted from Modern Times.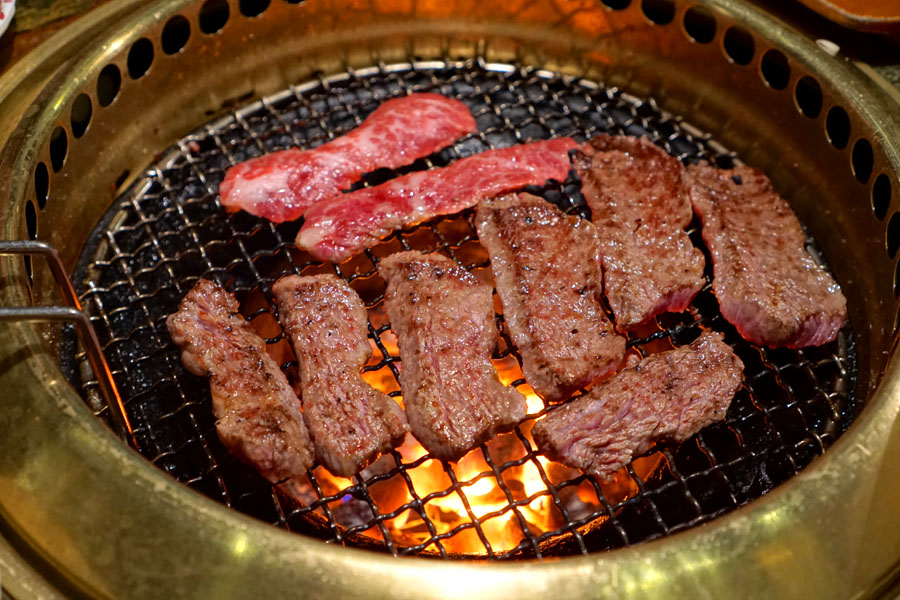 Prime boneless short rib was super tender, even more so than the rib eye above. It was also noticeably fattier, oilier, lusher, and fuller-flavored. Remember,
kkotsal
means "flower meat," and that marbling really does come into play here.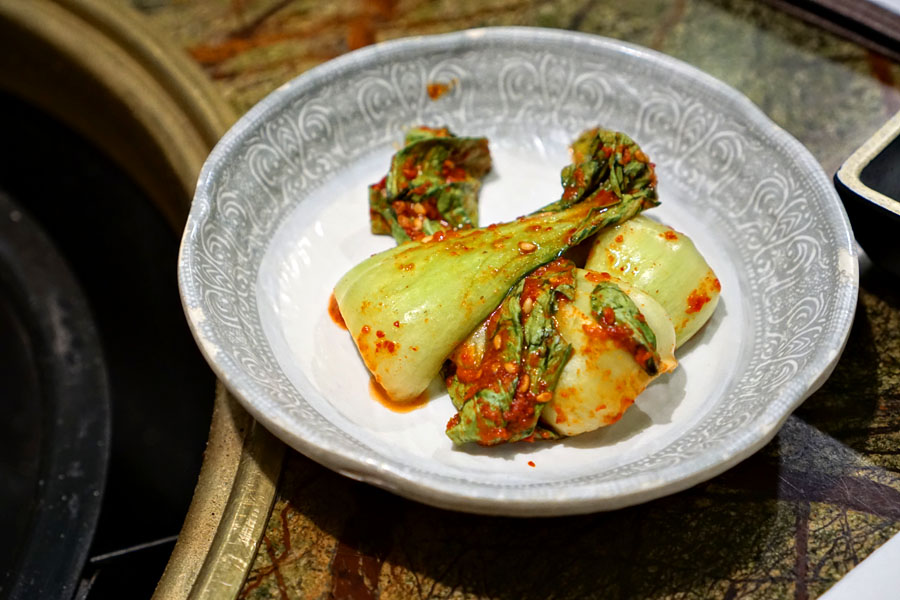 The somewhat uncommon
cheong-gyeongchae kimchi
was a treat. I was a big fan of the bok choy's refreshing crispness, and how that worked with the alternating sweet 'n' spicy notes present in the side dish.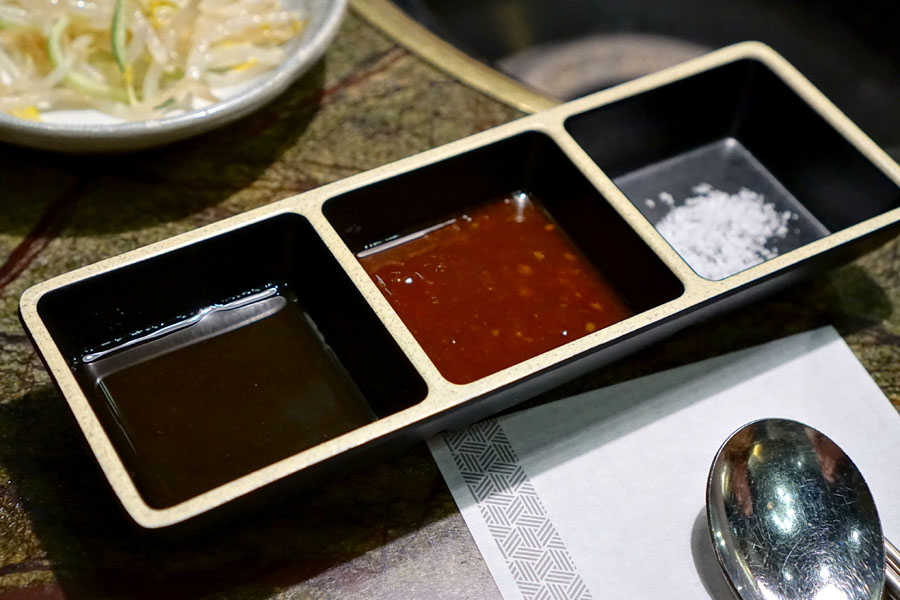 Condiments included what I believe was a
ganjang
-based sauce, a rather sweet-ish preparation of
gochujang
, and good ol' salt, which is what I mostly stuck with.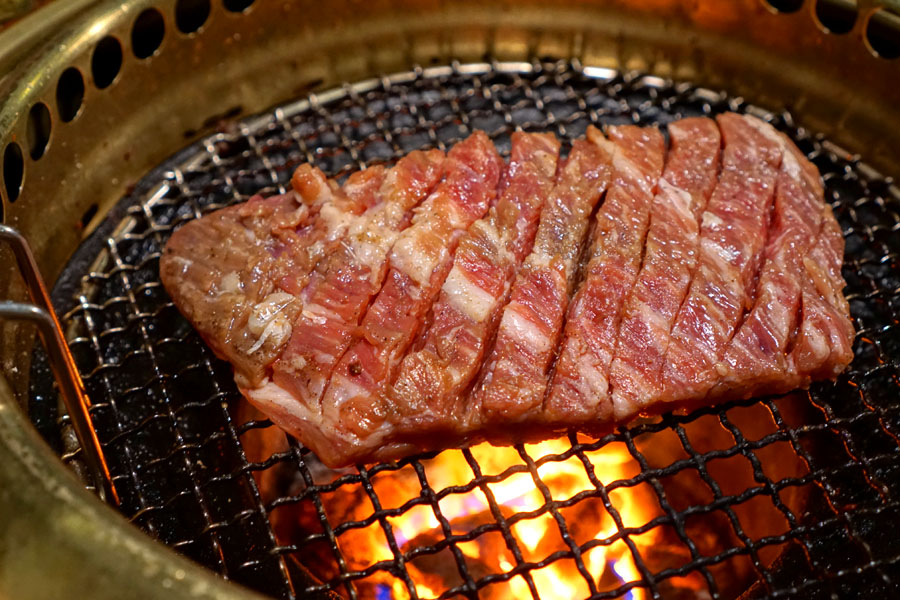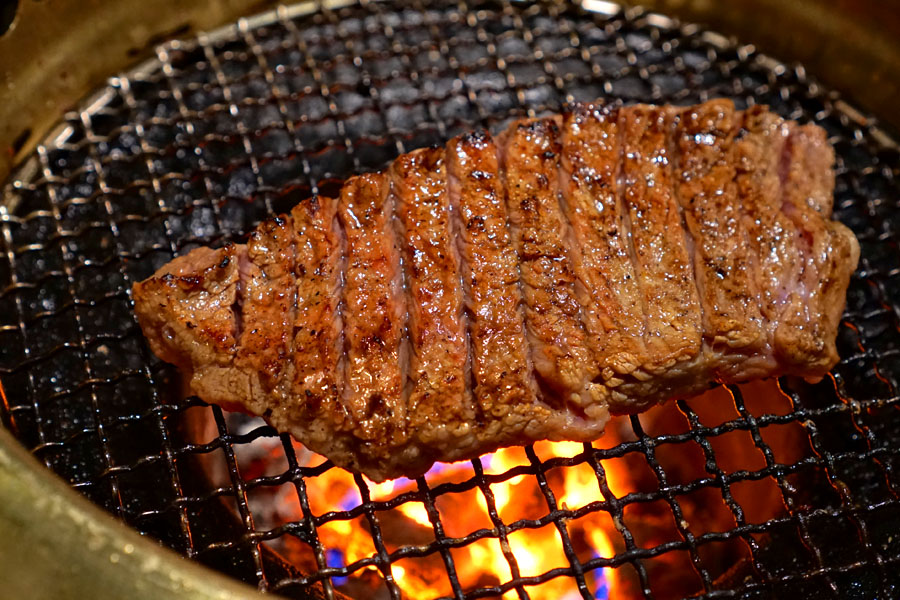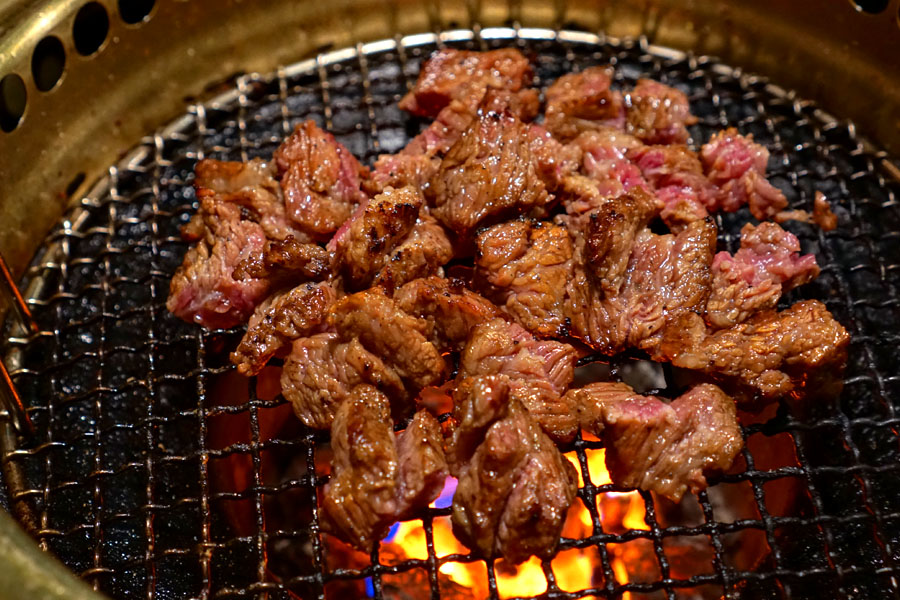 The
yangnyeom galbi
(marinated prime short rib) was on point, coming out soft and supple texturally, with a lovely balance of sweet, savory, and char. One of the better ones I've had in recent times.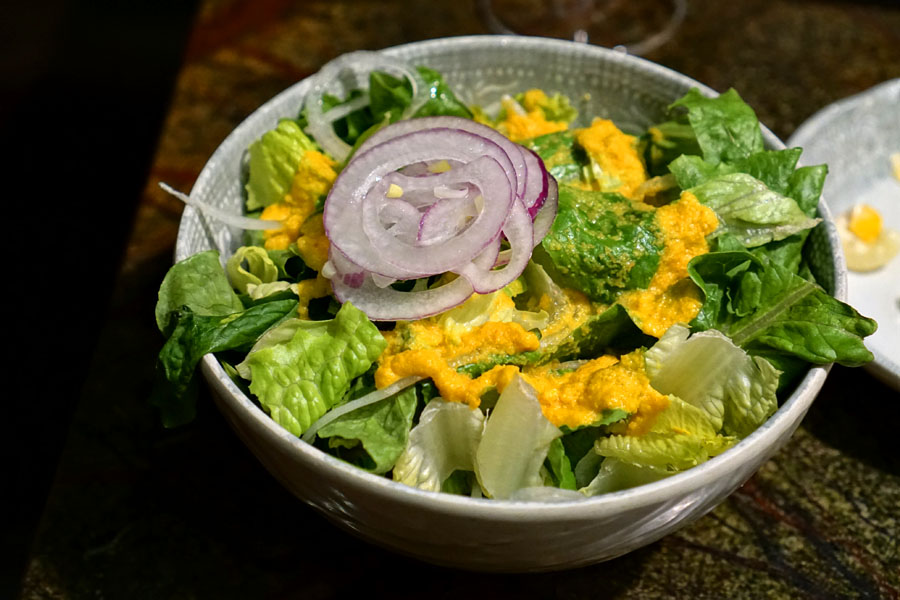 The requisite salad worked well enough as a respite from all the meat.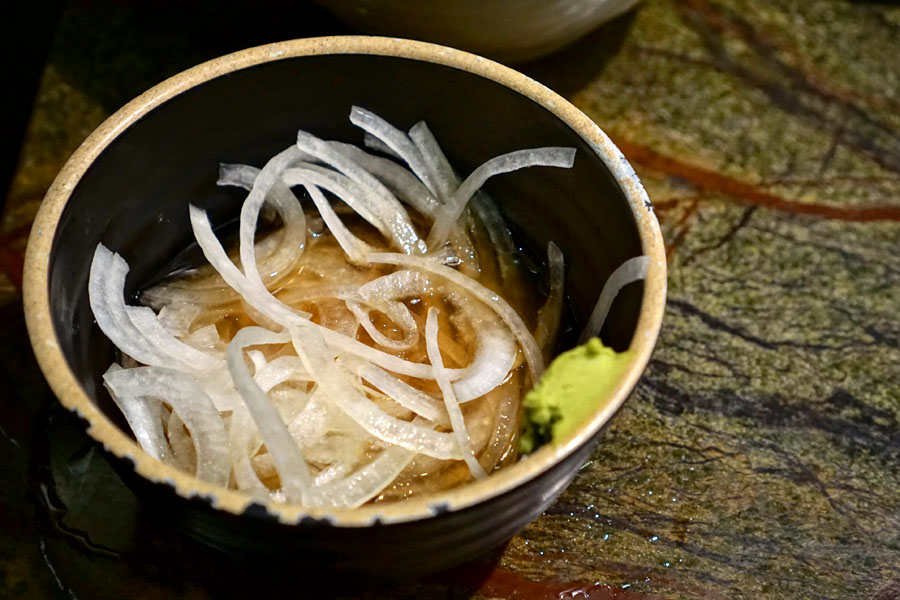 Accompanying the salad above was the
yangpa muchim
, a preparation of zesty, sweet onions.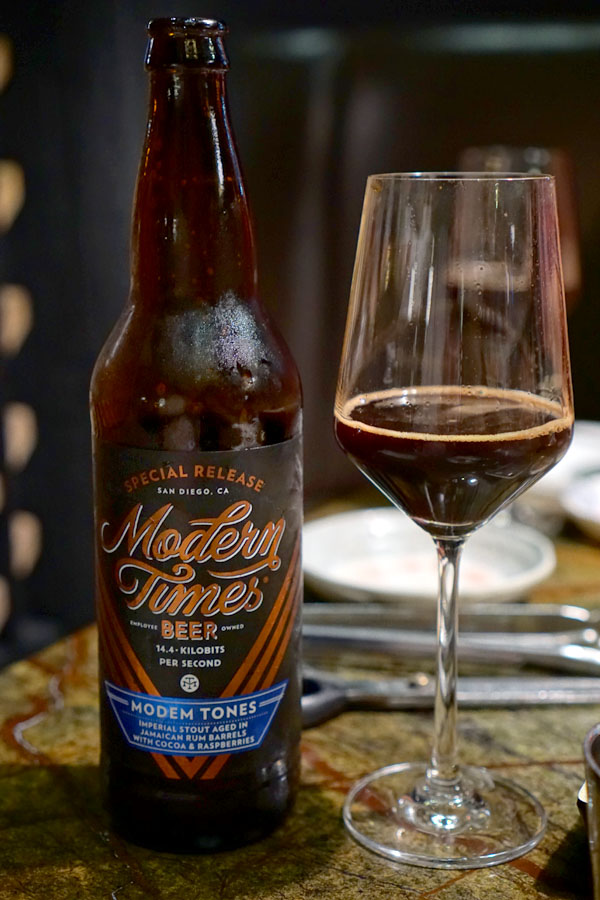 We then moved on to an imperial stout, the
2018 Modern Times Modem Tones Aged in Jamaican Rum Barrels with Cocoa & Raspberries
. I got boatloads of cocoa powder on the nose here, along with richer dark chocolate notes, though not much fruit. Tasting it, there was this almost cough syrup-like berry tartness, commixed with more chocolate and elements of the rum barrel. This was the most polarizing beer of the night, as some of my dining companions found it a bit "off."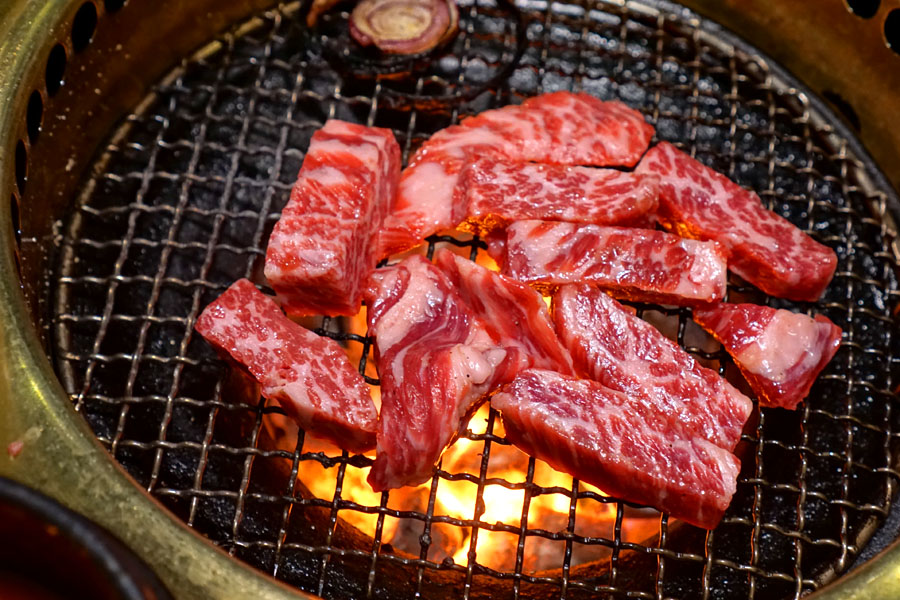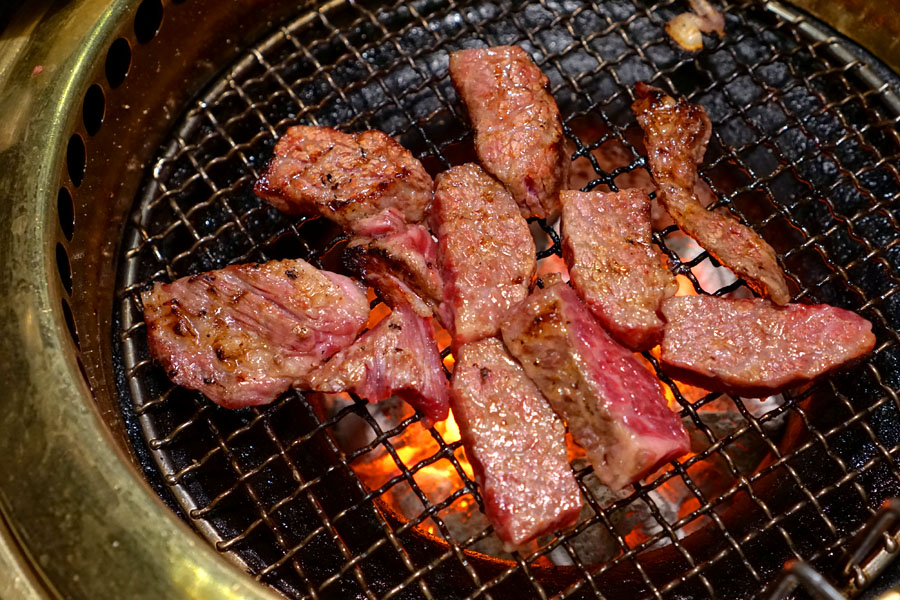 The final meat in our combination was the seasoned prime boneless short rib. This was also a strong showing texturally, and developed a particularly nice sear and butteriness that made it stand out from the pack. I will say that this was one of the lesser-marinated versions of
kkotsal jumulleok
I've encountered, meaning that it emphasized more of the inherent taste of the beef.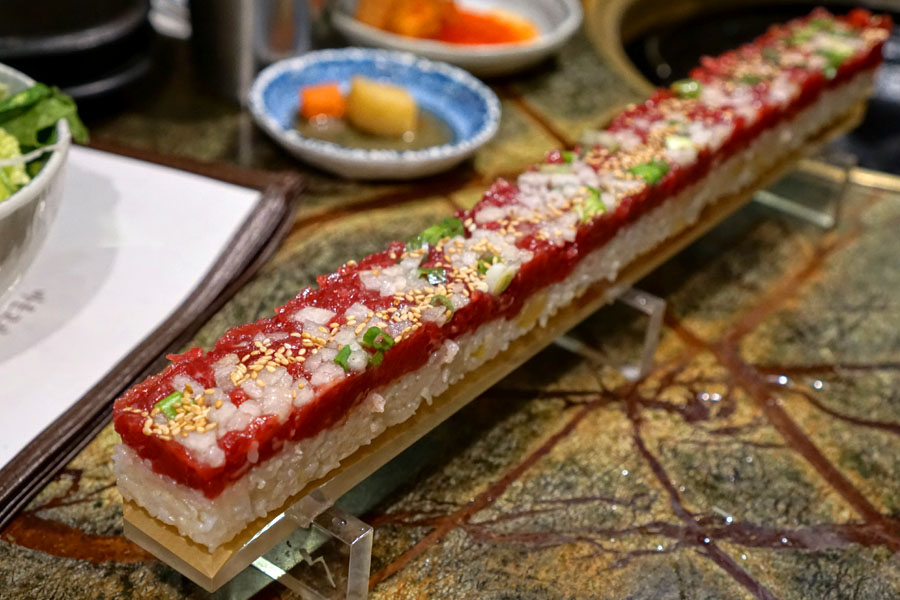 Giant beef tartare sushi [$22.00]
| Beef tartare with seasoned rice and chestnut
We also sampled Jeong Yuk Jeom's "Instagram famous" presentation of
yukhoe chobap
, which of course is known for its unusual length (maybe around 20 inches or so). The meat here had a very, very palpable sweetness, along with a welcomed sesame accent, while the rice certainly helped even things out. It was enjoyable enough, but I'd still much prefer a more traditional incarnation of the beef tartar.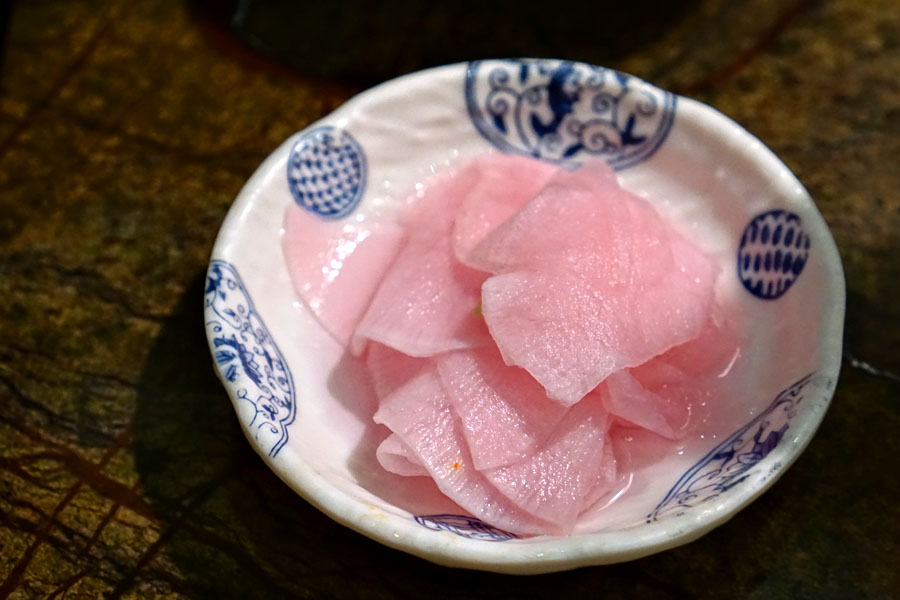 Ssam mu
worked as a crunchy, sour offset to the meat.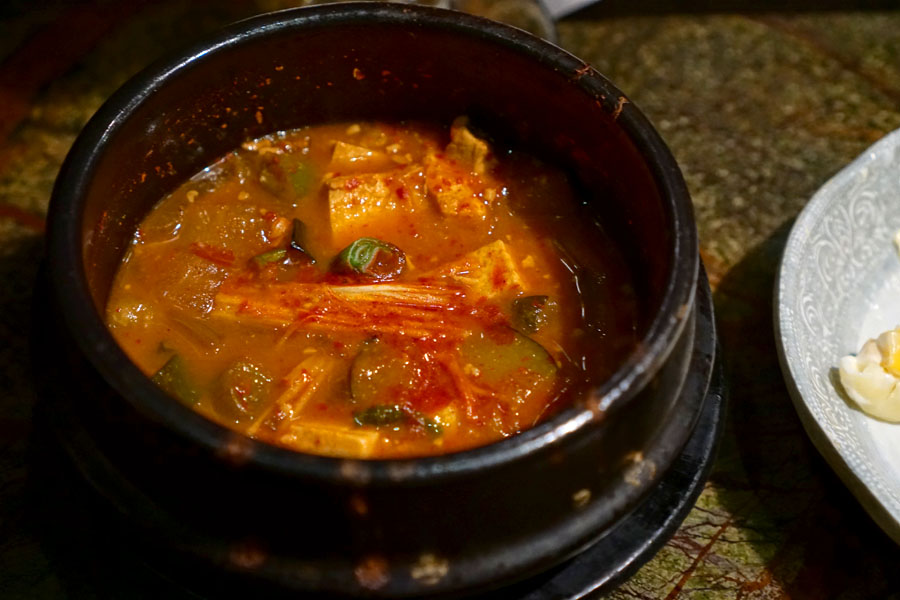 The
doenjang jjigae
hit the spot, though it was quite a bit spicier than usual, and also had a noticeable brine to it (one of my fellow diners said that it incorporated
kkotge
, or flower crab).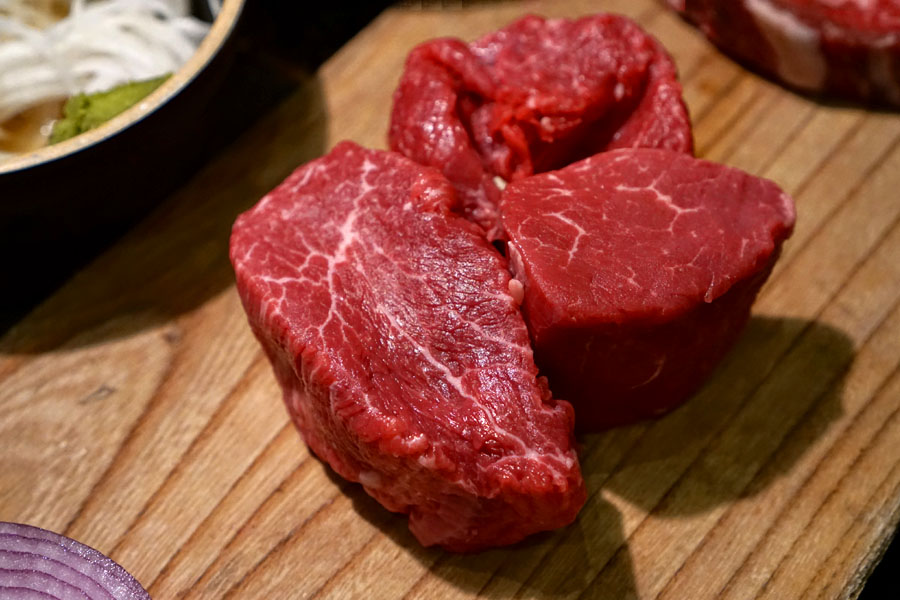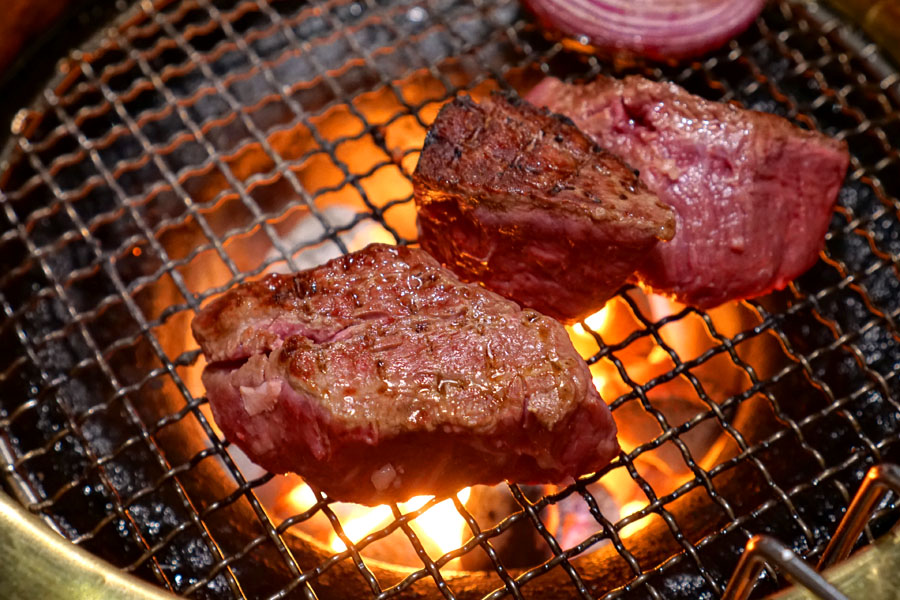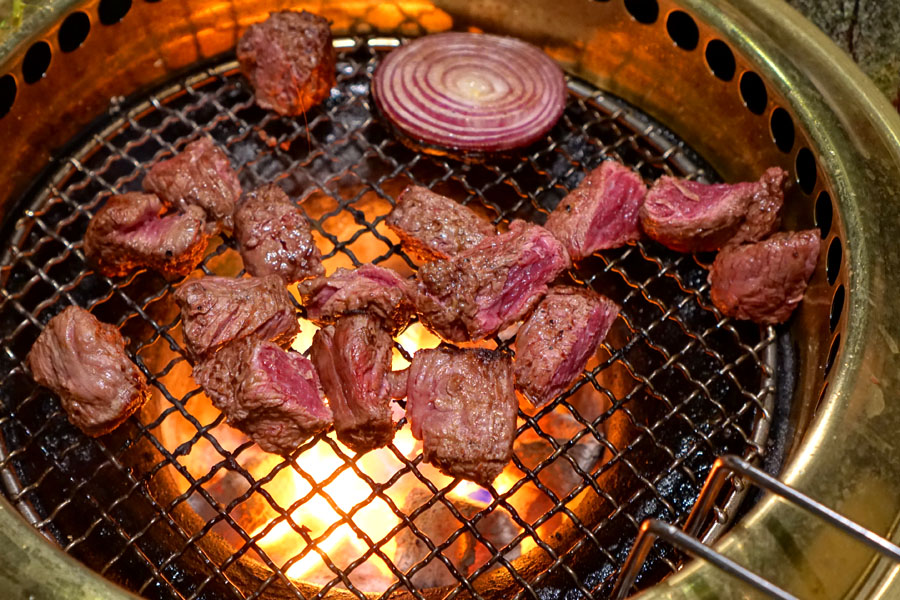 Aged prime tenderloin [$49.00]
We did supplement our combo with a couple à la carte meats, beginning with the
sugseong ansim
. No doubt, the filet had a different sort of consistency, a different sort of grain to the meat, one that I quite enjoyed. However, I was looking for more in the flavor department.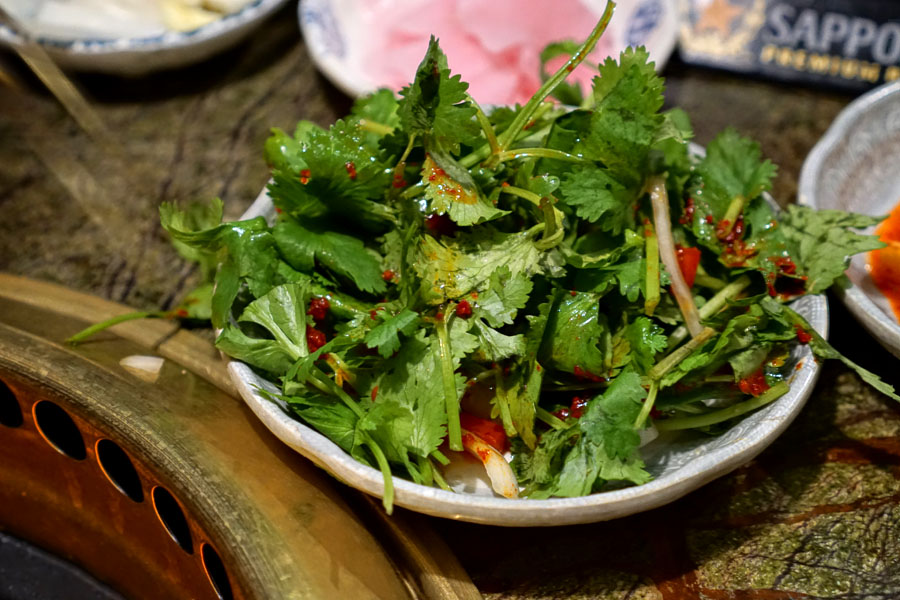 The
gosu muchim
was a refreshing addition for a cilantro lover like myself.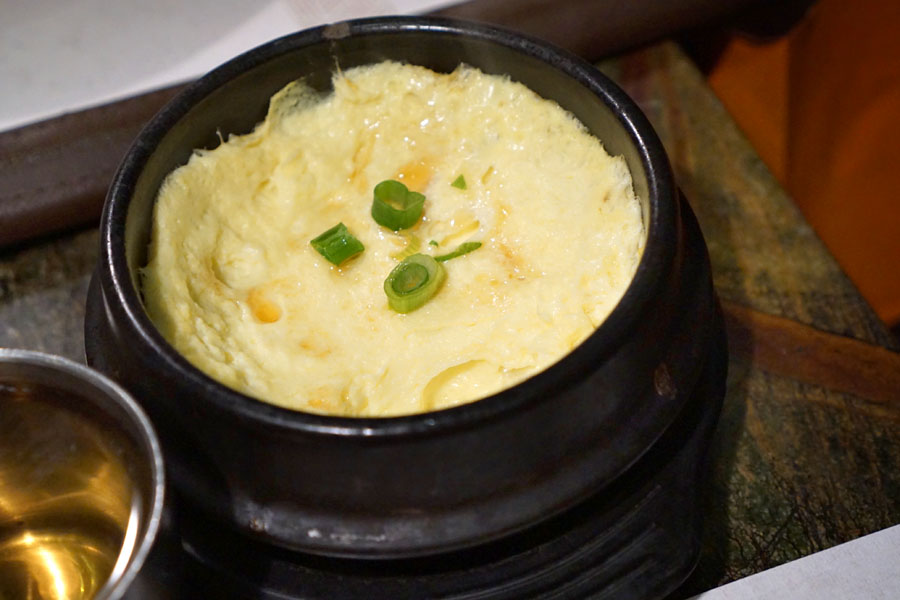 Our
gyeran jjim
met the mark. I found it an especially succulent example, one with a lovely hit of brine on the back end.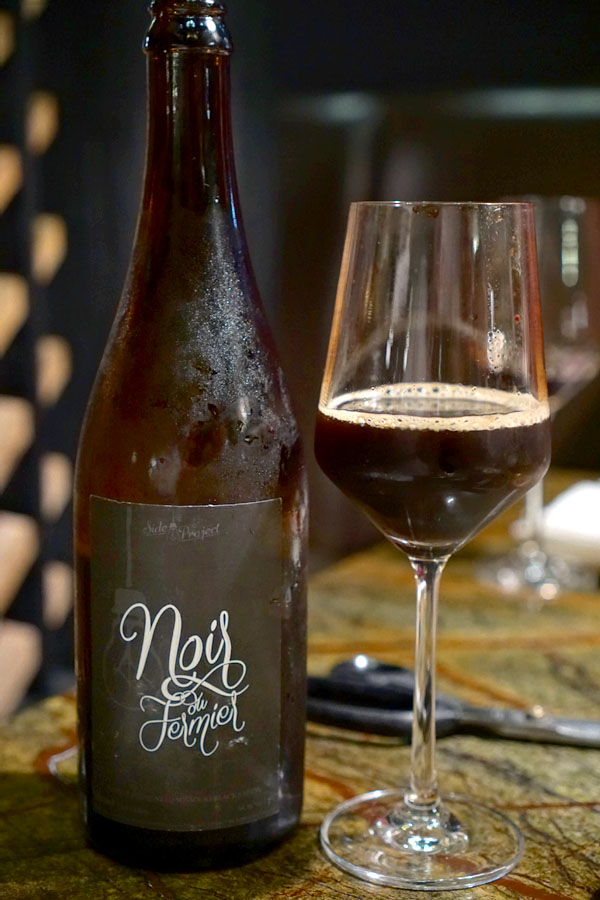 The final beer of the night was the
2015 Side Project Noir Du Fermier
, a black saison fermented in and aged in red wine and bourbon barrels, with
Brettanomyces
and
Lactobacillus
. The bouquet on this one featured sweet, dark fruit and sour raisin, with a touch of nuttiness underneath. Taste-wise, I got a sour, dry base layered with rustic, earthy notes and more of that tart berry fruit. A fine example of a dark farmhouse ale.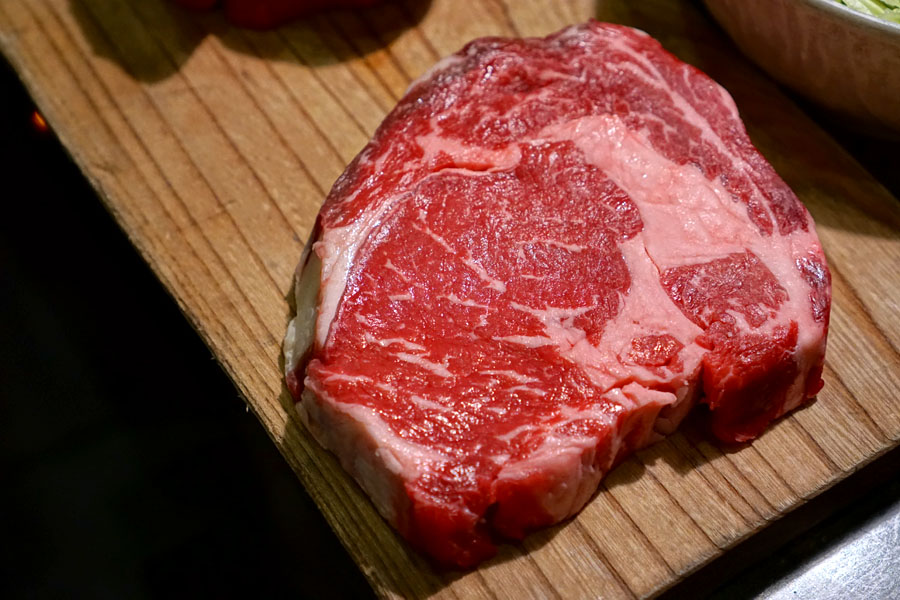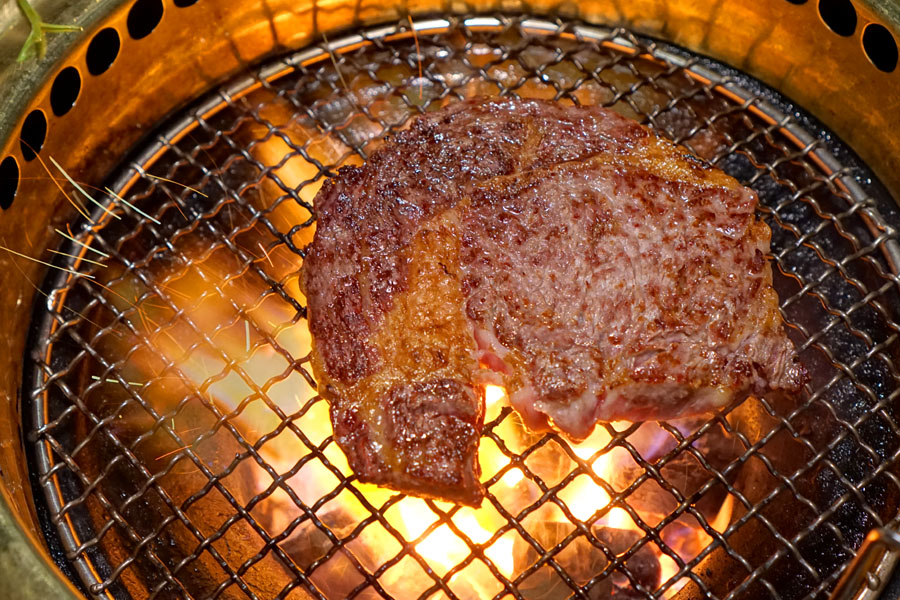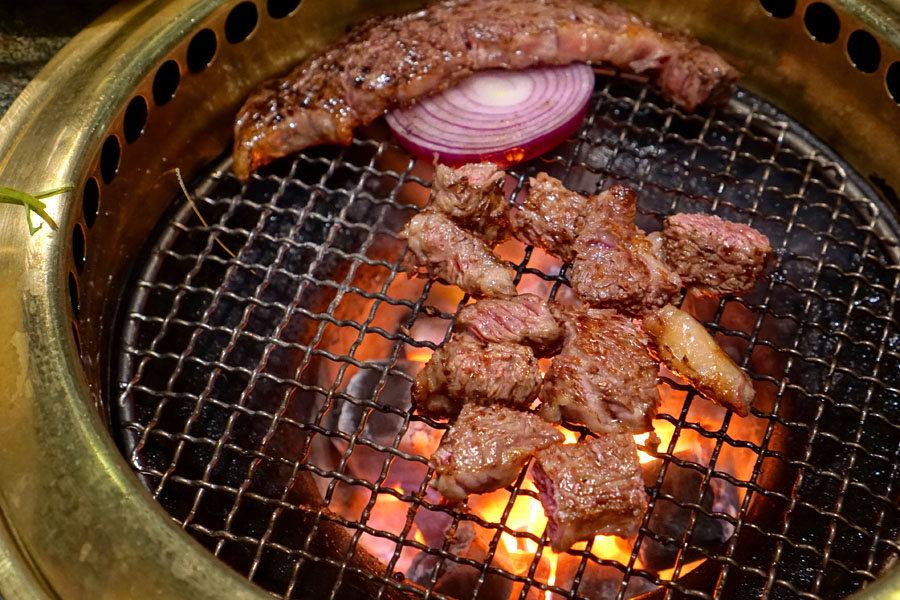 Dry aged prime ribeye [$59.00]
The
deurai eijing kkot deungshim
was the lone dry-aged entrant of the meal. Texturally, it wasn't quite as pillowy as the rib eye above, though it was still properly tender. In terms of flavor, it did have an almost grassy sort of musk to it indicative of its age, though I wouldn't have minded more of that. It was probably my favorite meat of the group, and was best with just a pinch of salt.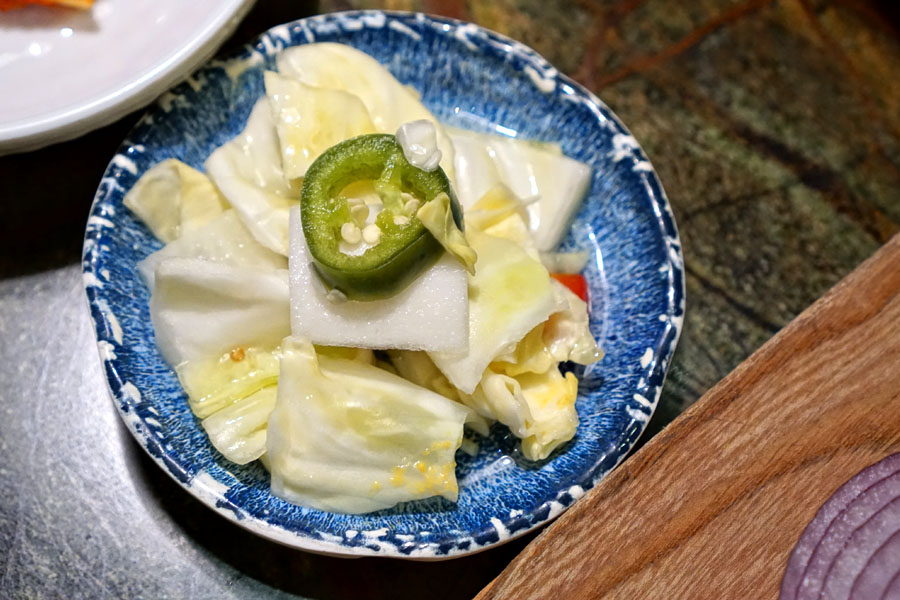 Crisp shards of
baek kimchi
functioned as a palate cleanser of sorts.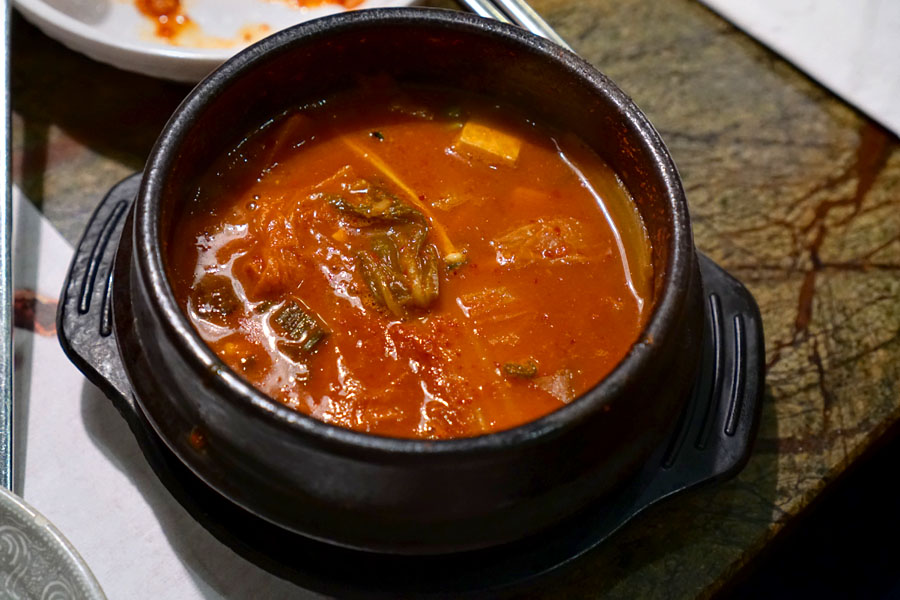 The
kimchi jjigae
was pretty aggressive due to its sourness and barnyard-y notes, which were more prominent than its heat to me.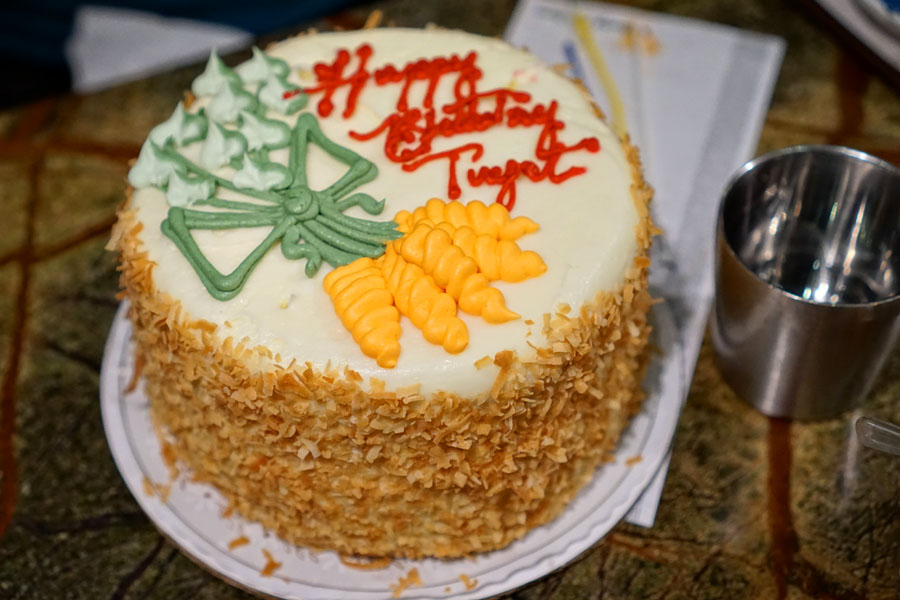 Given that this was a birthday, we had to end with a cake, and opted for this
Sweet Lady Jane Carrot Cake
, a not-too-sweet, mildly spicy version chock-full of walnuts, raisins, and a pecan-caramel filling. The toasted coconut was a nice touch.
Jeong Yuk Jeom worked out swell as a venue for this birthday dinner, and I'm glad to have the place as another option in K-town for those times where I'm seeking a classier sort of KBBQ experience. The meats were solid across the board, and delivered remarkably well in the texture department. They were generally very tasty too, though given that the restaurant ostensibly prides itself on its use of
aged
cuts, I would've liked to have seen the restaurant go more full bore on that aspect in order to imbue more funk, more richness, more depth to the meat.