LionHeart Pop-Up (Irvine, CA)
Lion Heart Underground Dinner
Irvine, CA 92618
949.378.9805
www.lionheartoc.com
Fri 06/12/2020, 07:30p-10:10p
Due to the coronavirus situation, it's been a while since I've eaten inside an actual restaurant. In fact, I'm pretty sure that this is by far the longest gap I've had in dining out since I began this blog back in '06. However, with things starting to open up, I recently attended a pop-up dinner at a townhome in Irvine, which I guess would sort of be halfway to a proper restaurant meal. This particular underground supper series is entitled LionHeart (perhaps a reference to
Wolvesmouth
?), and comes to us from Chef Jason Reynolds. It currently runs Fridays and Saturdays, with one seating at 7:30pm. The cost is $85 a head, and tickets can be purchased
on Tock
(though curiously, from what I've read, LionHeart was originally a "pay what you feel" setup at the start).
About the Chef
: Jason Paul Reynolds doesn't have a typical culinary background. Rather, after graduating from UC Irvine in 2004 with a degree in economics, the California native decided to pursue a career in the real estate industry, and boasts experience in both mortgage lending and brokerage. However, after a decade or so in that business, he decided to change things up and pursue cooking, and to prepare himself, embarked on a series of
stages
at Michelin-level restaurants across the US. Reynolds ended up interning at Melissa Perello's Octavia in San Francisco, Matt Lambert's The Musket Room in New York, and Nicholas Stefanelli's
Masseria
in DC. He then launched LionHeartOC in March 2018, with the dinners held at his home in Irvine.
In October 2018, he temporarily relocated to Chicago and spent time in the kitchens of Next, Roister, The Aviary, Blackbird, Acadia, Schwa, and Smyth--an impressive line-up to be sure. He also operated LionHeart on the side during this period, and at one point, was even thinking of opening a permanent spot in the Windy City. Reynolds later returned to Orange County in late 2019, and had the goal of launching a brick-and-mortar restaurant in Irvine in early 2020. However, his plans were dashed due to COVID-19, and the Chef has since returned to doing pop-up dinners.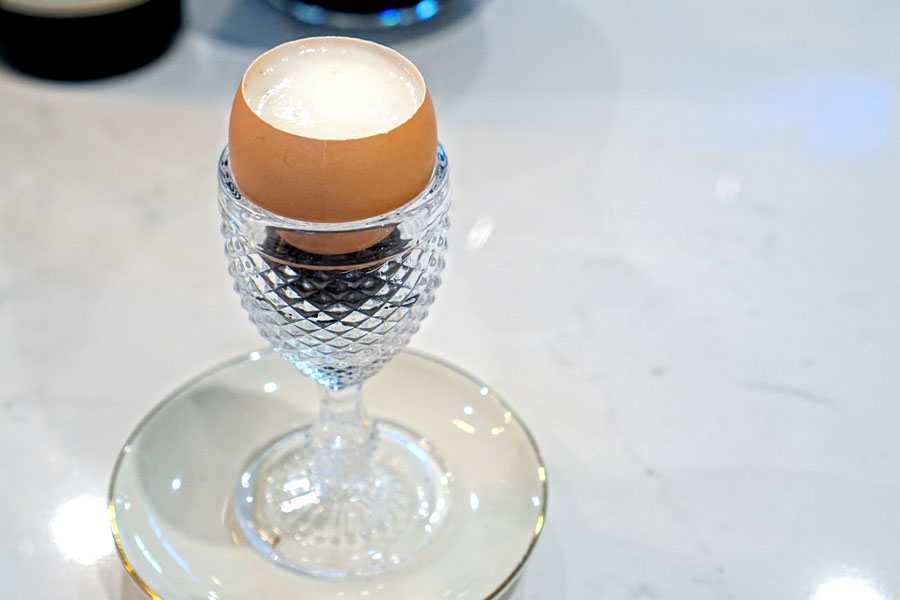 1: Chawanmushi, Potato Foam, Olive Oil
We began with a very atypical rendition of
chawanmushi
. Texturally, rather than the light, jiggly consistency one usually finds, the custard here was denser, firmer, almost scrambled egg-ish in fact. Said custard was somewhat more aggressively seasoned as well, while the potato added a further layer of interest. I actually didn't get much from the olive oil.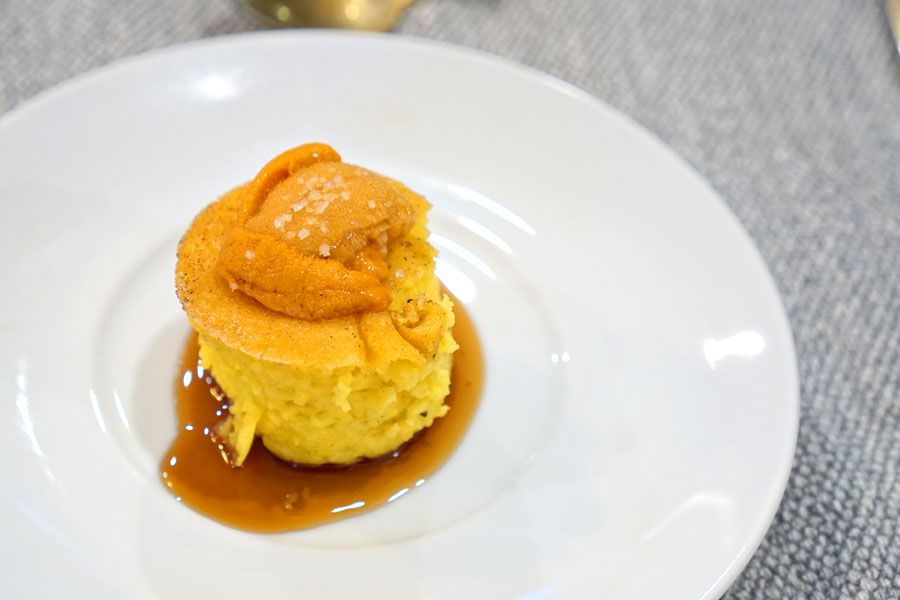 2: Japanese Corn Pancake, Hokkaido Uni, Oolong Syrup
The next course managed to be a surprise standout. The cake ate hot and gritty, its decidedly corn-heavy flavor profile pairing well with pricks of salt and a finish redolent of sea urchin commixed with a sugary oolong sauce that recalled maple syrup. Taking everything together, I got an almost Southern sort of vibe that I found rather beguiling.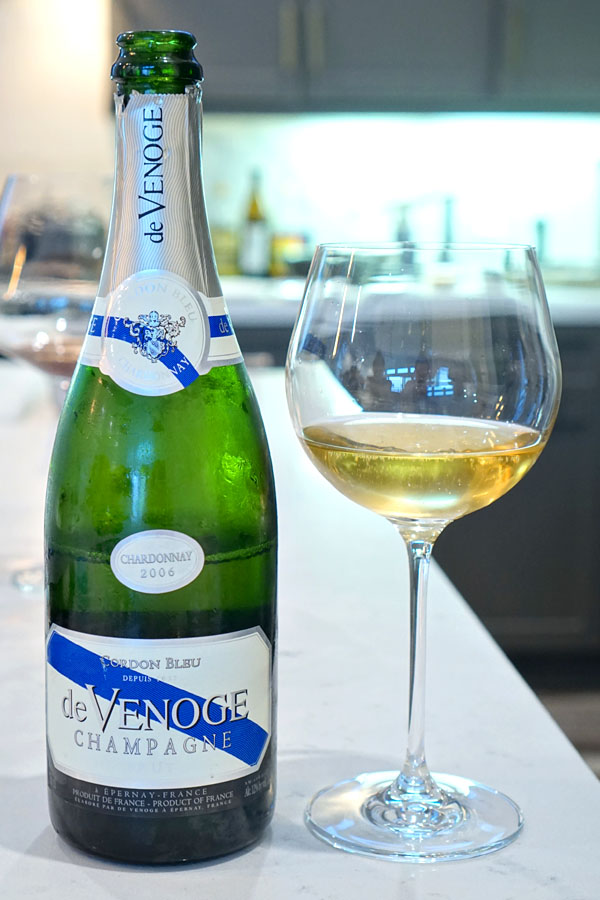 LionHeart is a strictly BYOB affair, and giving my preference for old bubbly, my contribution was the
2006 de Venoge Champagne Blanc de Blancs Brut
. The nose was assertive, with an apparent breadiness backed by almond and earth. On the palate, I found this on the rounder side, and certainly mature-tasting thanks to its plethora of toast commingled with more nuts and a distinct mushroom-like must that lingered long.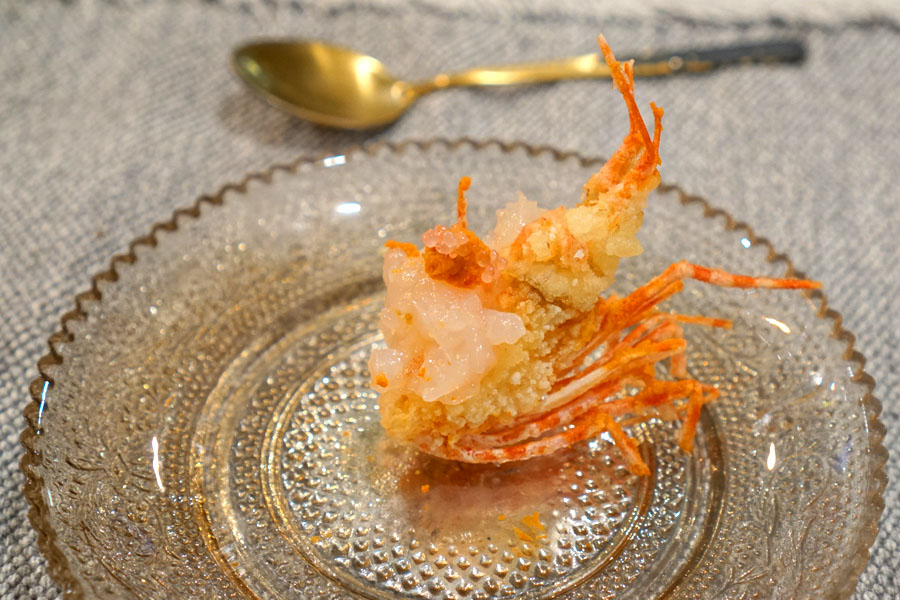 3: Deep-Fried Santa Barbara Spot Prawn, Body Tartar, Brain Butter, Finger Lime
Here was a smart take on the sushi staple that is
ama ebi
. The deep-fried shrimp head was just what I wanted--all salty and savory and crunchy--but what made this dish shine was how that all married with the sweet, delicate prawn tartare. It was a great juxtaposition of both tastes and textures, and I also appreciated the slight pops of acidity imparted by the finger lime.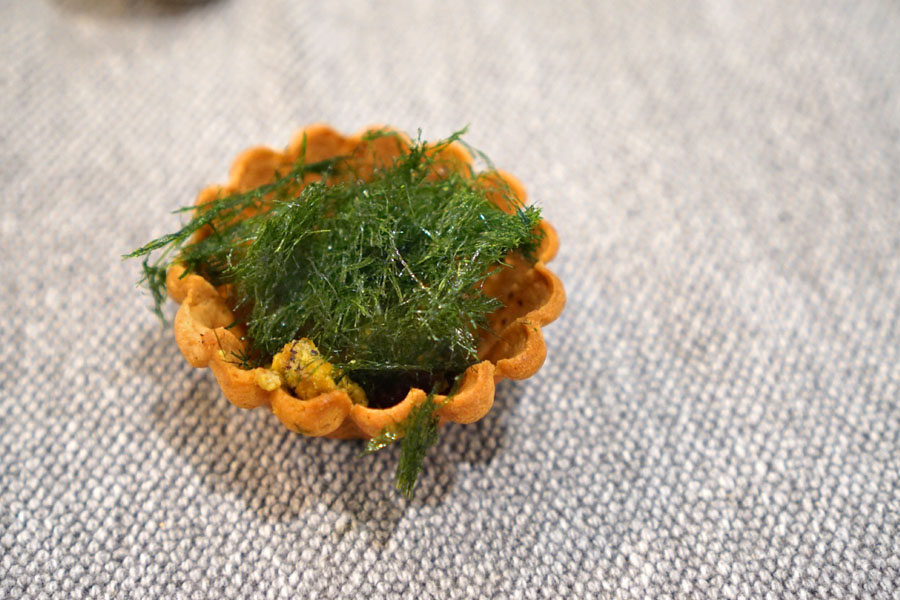 4: Green Tomato Pie Tart, Korean Seaweed
A miniature tart featured a properly crumbly crust and a bevy of savory-sweet-sour flavors, though the star of the show was the bite's topping of Korean seaweed, which had this delightfully fluffy, cotton candy-like texture that just made me smile.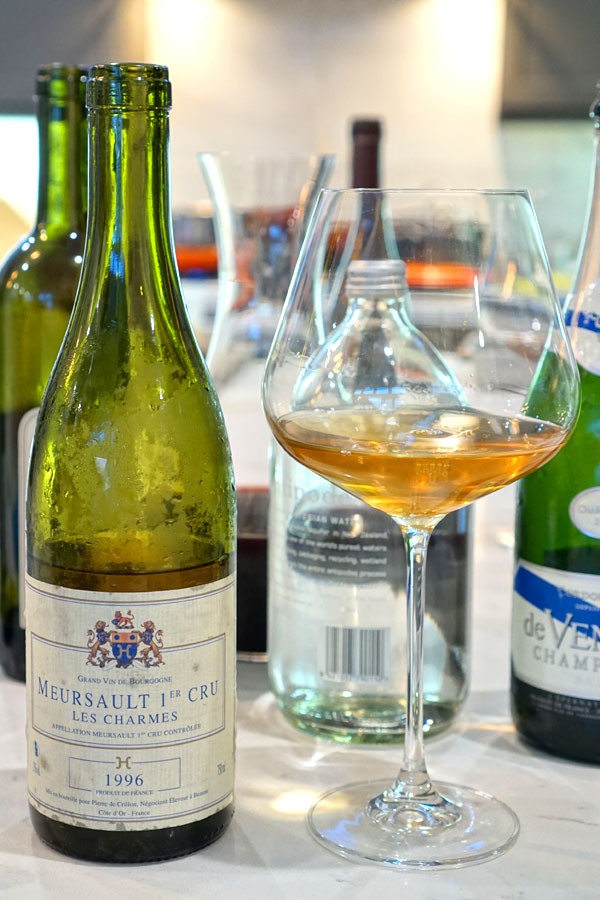 We moved on to a burgundy for our next wine, the
1996 Pierre de Crillon Meursault 1er Cru Les Charmes
. This one smelled somewhat oxidized, and featured strong aromas of caramel, butter, and barnyard. In terms of taste, I found mature flavors of smoke, nuts, stone, earth, and funk, all countered by a tangy, citric component.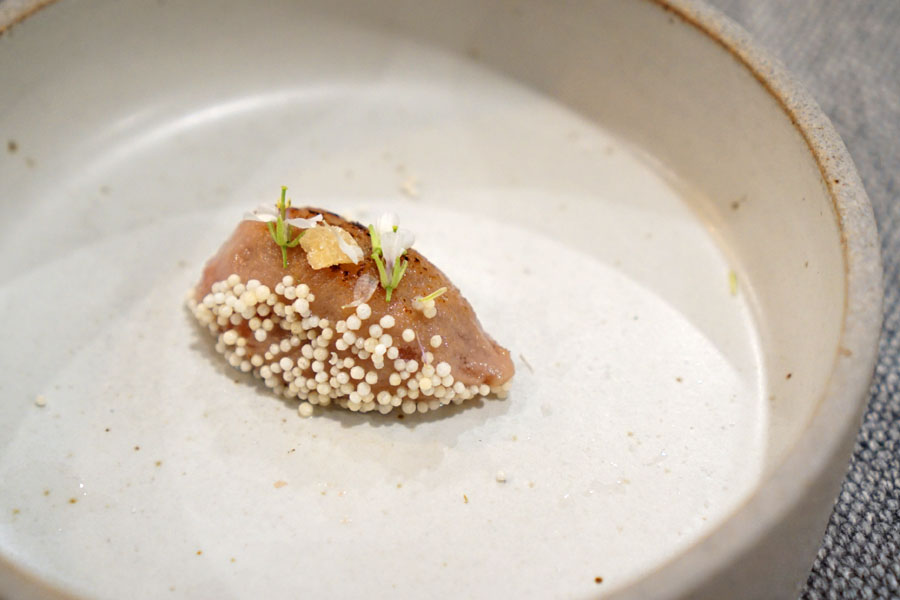 5: Five-Day Aged Bluefin, Arare, Crystallized Ginger, Wasabi, Arugula, Yuzu
Here was something I'd never seen before: a quenelle of blue fin, but comprised of the lean, chutoro, and otoro parts all shredded and blended together. Texturally, the tuna was sort of a new sensation, while the brine and fat of the fish certainly came through, moderated by the rice crackers and ginger especially. Neat.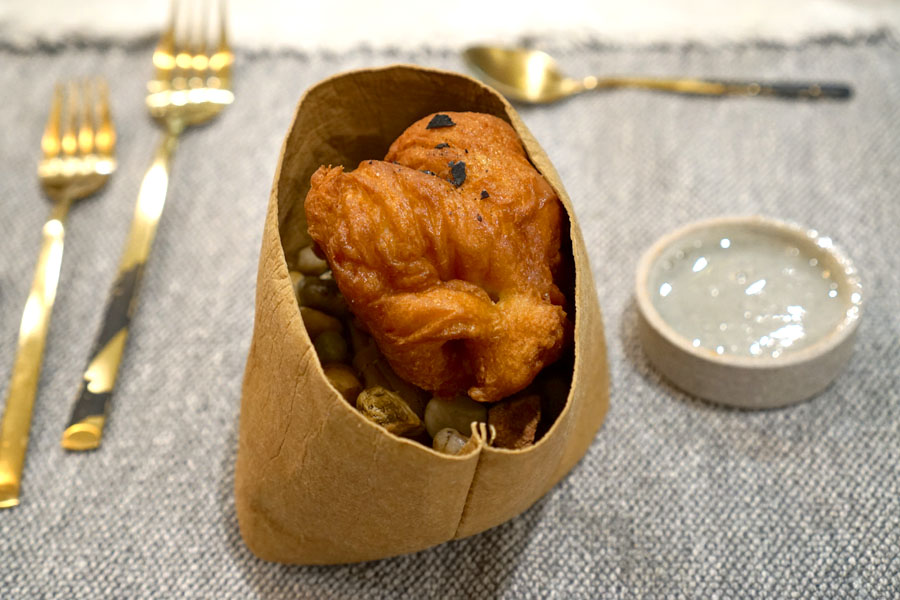 6: Mantou, Condensed Milk, Black Sesame
The meal then took a noticeably Chinese-y turn with the Chef's take on
mantou
. I was never a fan of the buns as a kid, but really enjoyed these. What was successful for me was the bread's balance between crisp and soft textures, as well as its elegant sort of sweetness. This sweetness ended up working hand-in-hand with that wonderfully nutty black sesame-infused condensed milk, making for a very cozy eating experience overall.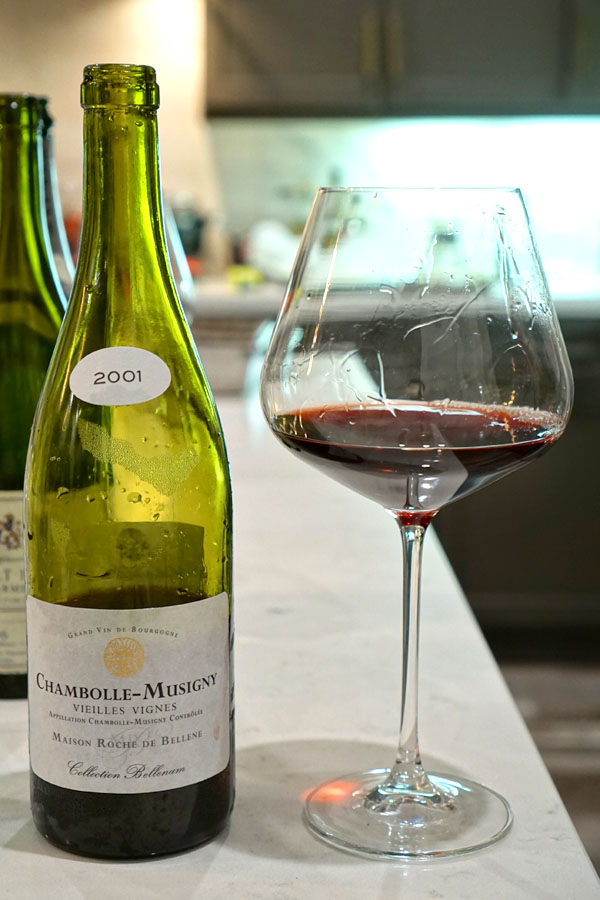 At this point we moved to a red, the
2001 Maison Roche de Bellene Chambolle-Musigny Collection Bellenum Vieilles Vignes
. Smelling the wine, I got an emphatic meatiness, along with flowers and a touch of seaside brine hiding underneath. That salinity continued on to the palate, where it was joined by tart red fruit, earth, and fairly noticeable tannins.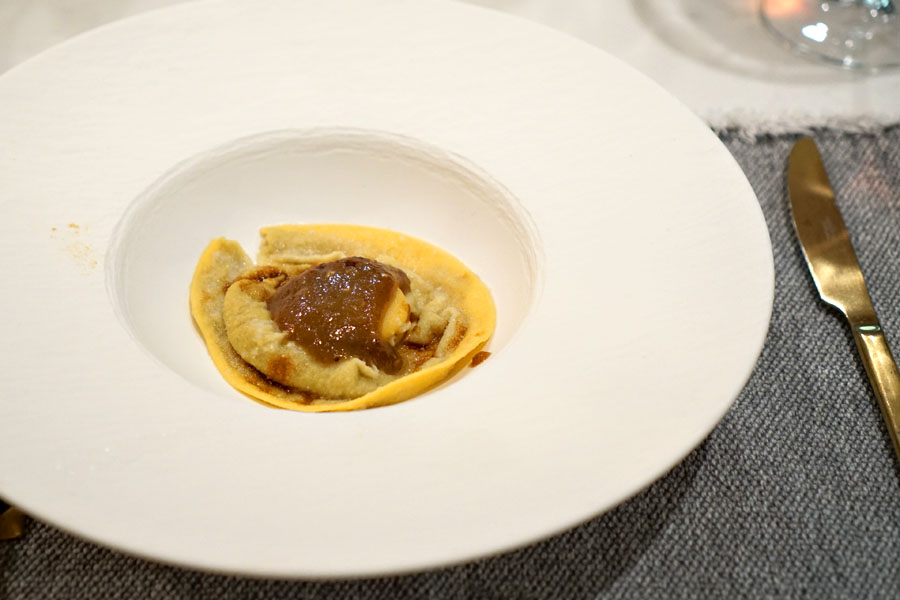 7: Raviolo, Eggplant Purée, Dandan Sauce, Black Vinegar Reduction
Next came a single raviolo stuffed with a somewhat baba ghanoush-like preparation of eggplant. The hero here was clearly that nutty, umami-laden
dandan
sauce, which linked up awfully well with the lusciousness of the egg.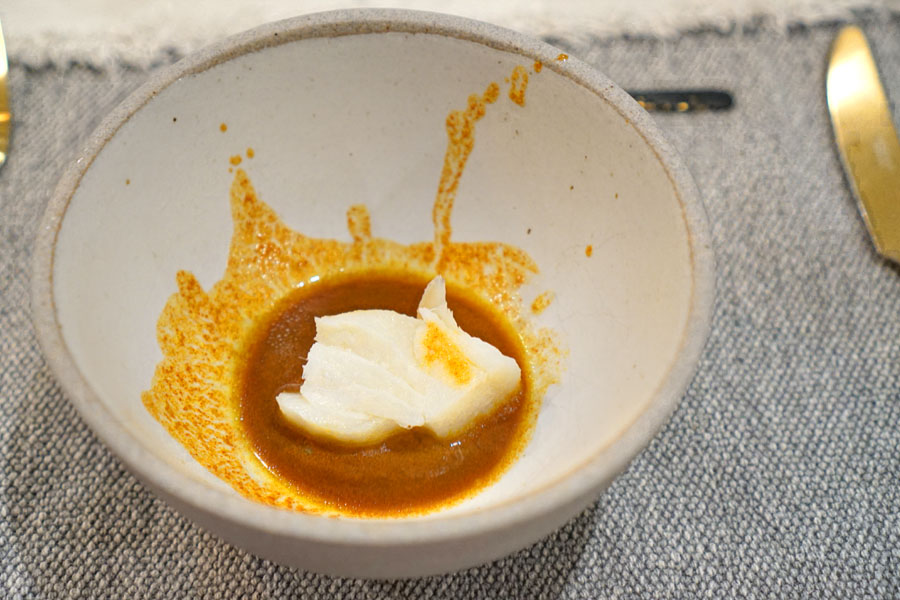 8: Two-Day Aged New Zealand Cod, Carrot Beurre Blanc
Aged cod was super flaky, though a bit too austere for my liking, at least when taken alone. Thankfully, the fish really sang when paired with that subtly sweet, carrot-boosted beurre blanc.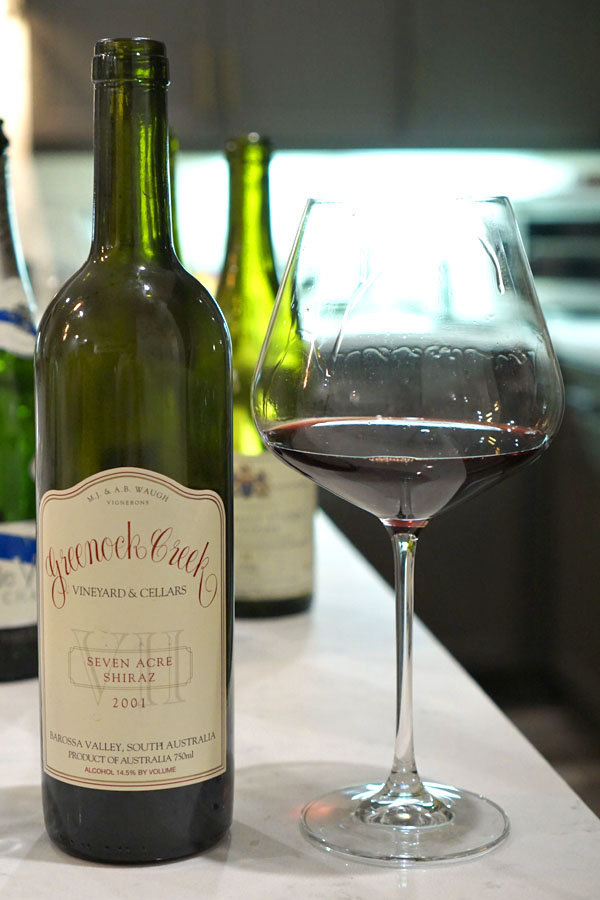 The heftiest wine of the evening was certainly the
2001 Greenock Creek Shiraz Seven Acre
. The nose demonstrated mature, concentrated berry all over the place. I found the palate soft, rich, viscous, with flavors that matched the aforementioned ripe fruit with a healthy dosing of spice and herb.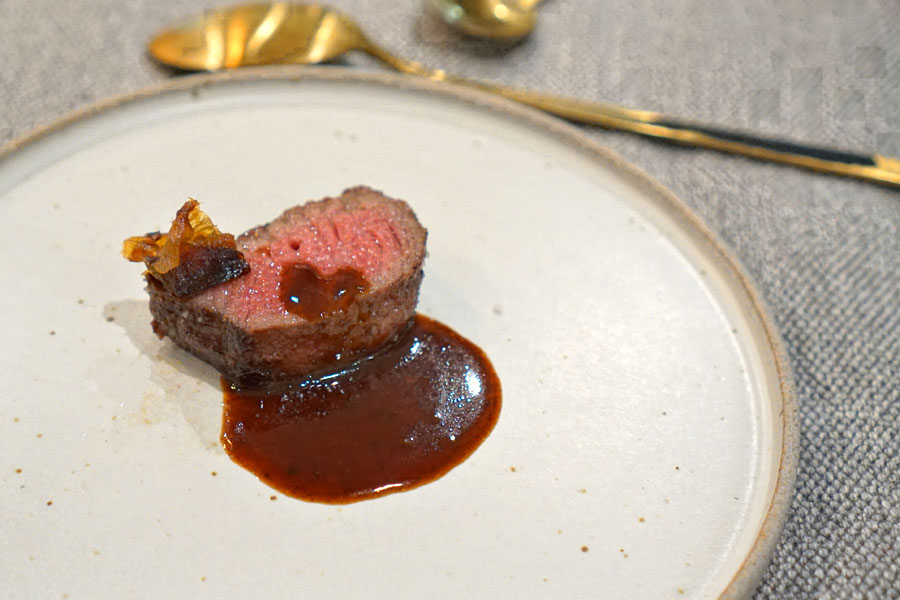 9: Hokkaido Snow Wagyu Tenderloin, "Mother Sauce" Reduction, Shallot Jerky
In our final savory course, Hokkaido-sourced wagyu displayed its unabashedly lush, luxurious character and was delicious just by itself. However, adding another dimension to the dish was the accompanying sauce, which, according to the Chef, had been in work for a whopping eight months. It showed off an
Allium
-esque element, which wed well with that three-day cooked "shallot jerky" on top.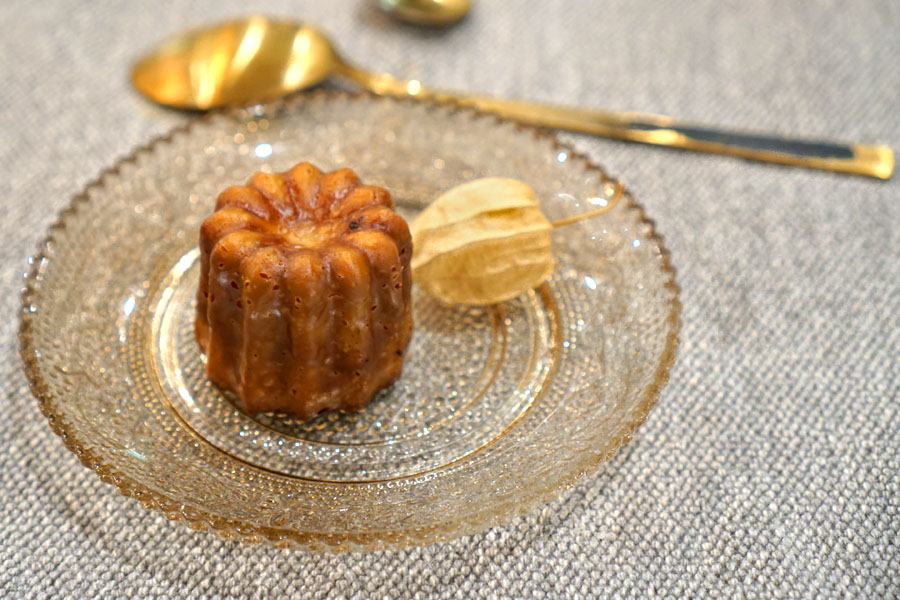 10: Canelé, Pichuberry
Dessert time. The canelé was just right, combining a crisp, crunchy crust with a soft, creamy, boozy interior. Also on the plate was a pichuberry (a.k.a. Cape gooseberry), though the two didn't really jibe together.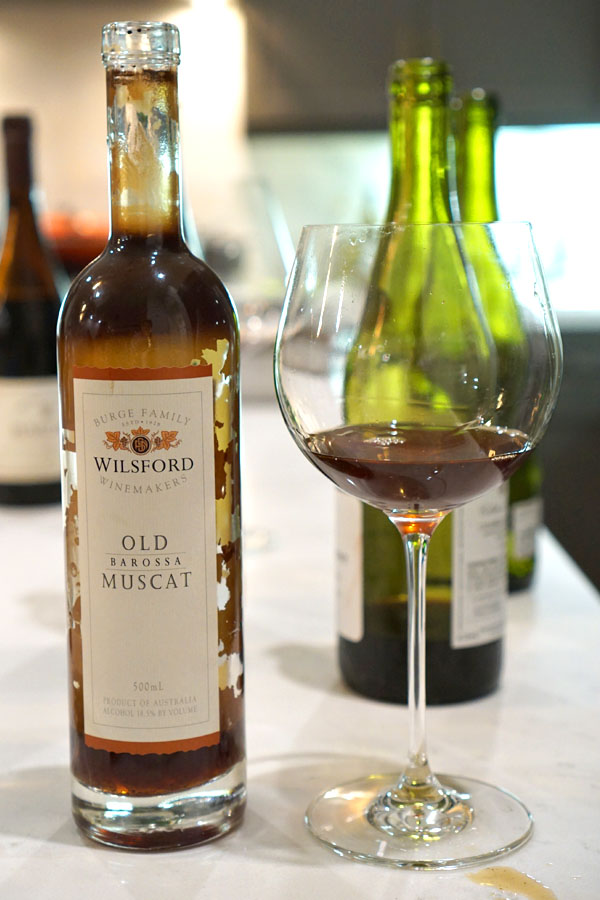 Last to imbibe was the
NV Burge Family Wilsford Old Barossa Muscat
. This was a proper dessert wine, giving up boatloads of sugary flavors recalling raisin, honey, and caramel, but all tempered by a persistent tartness.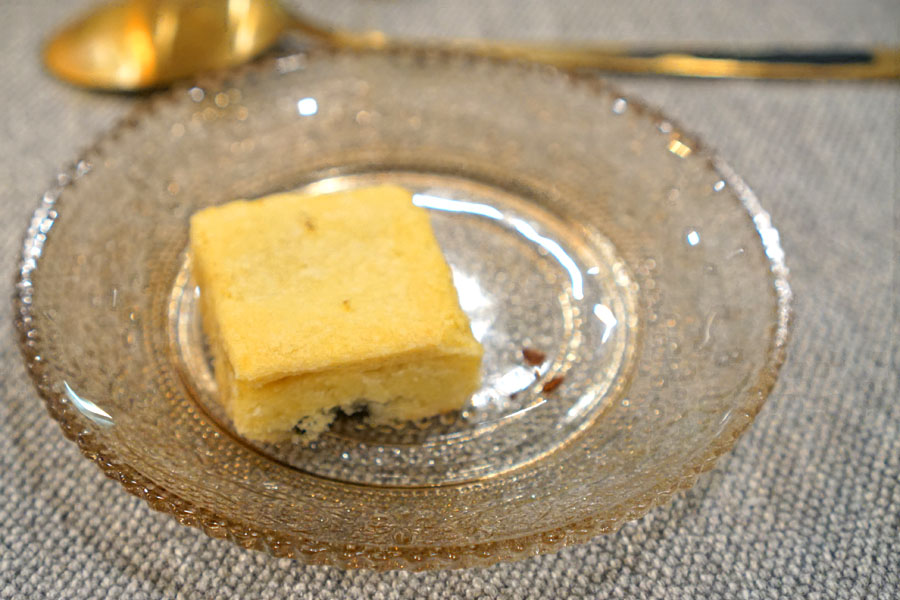 11: Pineapple Cake, Black Truffle
I'm quite the fan of
fengli su
, so I was happy to see this here. Texturally, I found the cake much "sandier" than usual, while classic fruit flavors were joined by a clear-cut truffle-driven musk.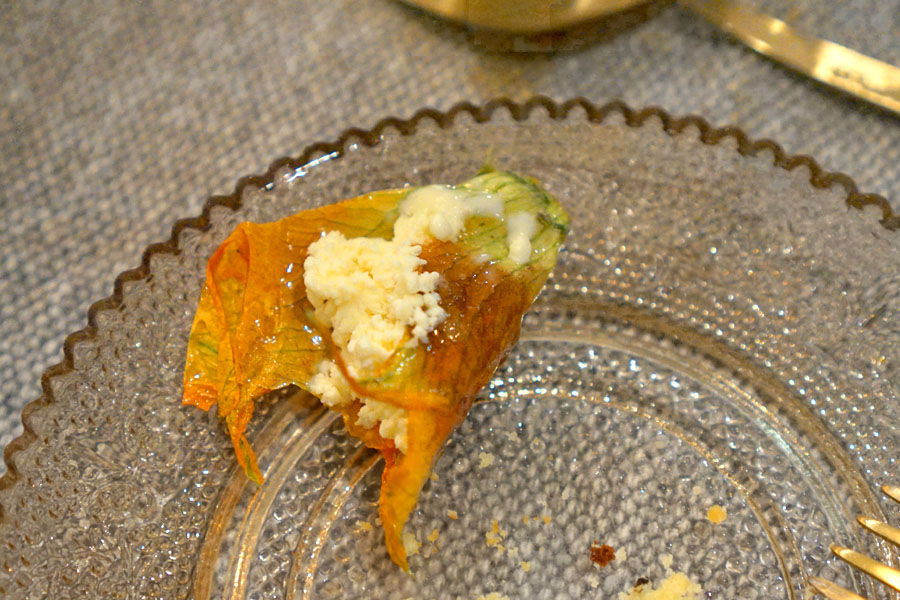 12: Candied Squash Blossom, Squash Ice Cream
Last up was a sticky candied squash blossom filled with delectable squash ice cream. What was intriguing was that I detected an undercurrent of brine in the dessert, which I actually didn't mind.
After eating in my car for the past three months, it was great to be able to have a "real" multi-course dinner. The cooking I saw tonight at LionHeart was probably the most venturesome I've experienced in Irvine, though that is an admittedly low bar to exceed. It was interesting to witness what Reynolds was able to accomplish despite his limited training, and it should be exciting to see how his cooking evolves. I guess the question then becomes: is the Chef still pushing to open a permanent spot? If so, I'll be checking it out.