Valle at MTN (Los Angeles, CA)
Valle Pop-Up at MTN
1305 Abbot Kinney Blvd, Los Angeles, CA 90291
424.465.3313
www.vallevenice.com
Tue 06/09/2020, 07:20p-08:10p
If you saw my last post, you'll know that I finally managed to land one of
n/naka
's prized bento boxes. However, that was a relatively light meal, so I decided to continue dinner at Valle (Spanish for "valley"), a new Oaxacan-inspired dining experience residing inside Venice's MTN (abbreviation for "mountain"), which had previously shut down due to the coronavirus.
If you're not familiar with MTN, it was a Californian take on an izakaya created by Chef Travis Lett and business partner Fran Camaj. The two came up with the idea back in 2008, shortly after they opened
Gjelina
. However, it took almost a decade to debut MTN, which opened in late July 2017, the fourth eatery in Lett's mini empire behind Gjelina, GTA/Gjelina Take Away (2011), and Gjusta (2014). The spot took on quite a bit of hate from diners due to its lack of reservations, unwelcoming service, and mandatory gratuity, but was well-liked by critics. In fact, MTN even landed a position on
Bon Appetit
's 2018 list of "Best New Restaurants," a ranking that also included
Bavel
,
Felix
, Freedman's,
Majordomo
, and
Vespertine
. A shocker came in October 2019, when it was revealed that Lett would be leaving Gjelina Group, apparently due to disagreements with Camaj regarding the company's direction. The Chef thus relinquished all control of his restaurants, MTN included. His project at the old Johnny's Pastrami in West Adams is no longer happening, either.
Getting back to Valle, it soft-opened on May 4th (and grand-opened two days later), and comes to us from Chefs Pedro Aquino and Juan Hernandez, along with Gjelina Group buyer Max Dornbush. Aquino grew up in the village of San Marcos Tlapazola, about an hour southeast of Oaxaca City. He moved to the United States in his teenage years, settling in Los Angeles, and would graduate from Venice High School. Following, he found employment at the now-shuttered Tengu, a Japanese spot in Westwood where Lett also worked. In 2008, Aquino followed Lett to Gjelina, where he started as a prep cook, became a sous in 2009, and opened MTN as Chef de Cuisine in 2017.
Hernandez, meanwhile, was one of five children growing up in San Bartolomé Quialana, a village situated less than two miles away from Aquino's hometown. He too immigrated to the US, and attended University High School in West Los Angeles. He eventually found his way to Gjelina as well, starting at the restaurant in 2008 as a line cook. Over the course of a dozen years, Hernandez worked his way up to the position of Chef de Cuisine there. Following their meeting in 2008, he and Aquino quickly developed a close bond, as they both came from the same region in Oaxaca, and also spoke the same dialect of Zapotec. Thus, it definitely makes sense for them to team up here for Valle, especially since Lett is now out of the picture.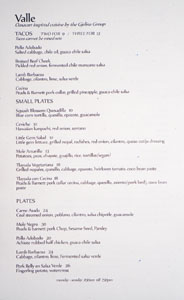 Above we see Valle's menu, which is pretty straightforward at the moment. Note that there was a mandatory service charge of 15% as well as 9.5% sales tax added on to my order. Click for larger versions.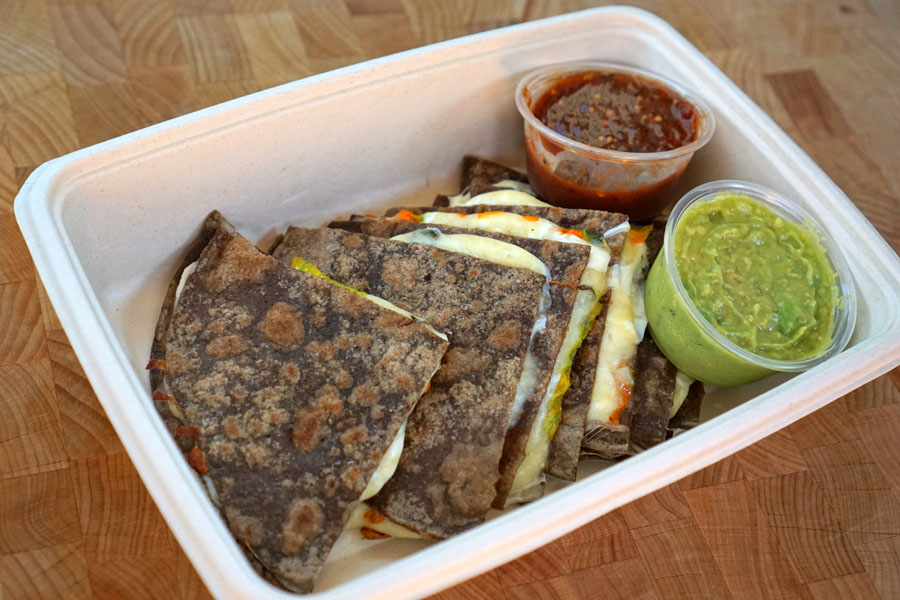 Squash Blossom Quesadilla [$10.00]
| Blue corn tortilla, quesillo, epazote, guacamole
My meal got off to a strong start with this purple-tinted quesadilla. I really appreciated the pungency that the epazote imparted to the filling of salty Oaxaca cheese, while the substantial, well-griddled tortilla completed the package. The quesadilla was enjoyable just by itself, but I also liked the brightness of the accompanying guac, and especially the deep, multifaceted heat of that salsa.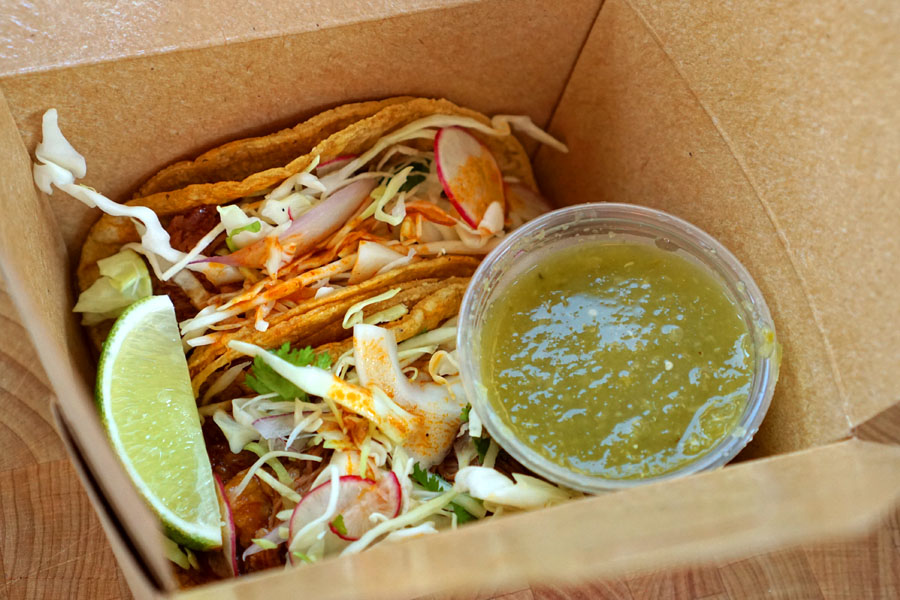 Lamb Barbacoa [$9.00]
| Cabbage, cilantro, lime, salsa verde
The first of two tacos I tried featured supple, flossy shards of lamb imbued with a mild, cozy spice. The meat just made sense with the cabbage here, but even better was that thin, gritty, yet wonderfully zesty salsa on the side.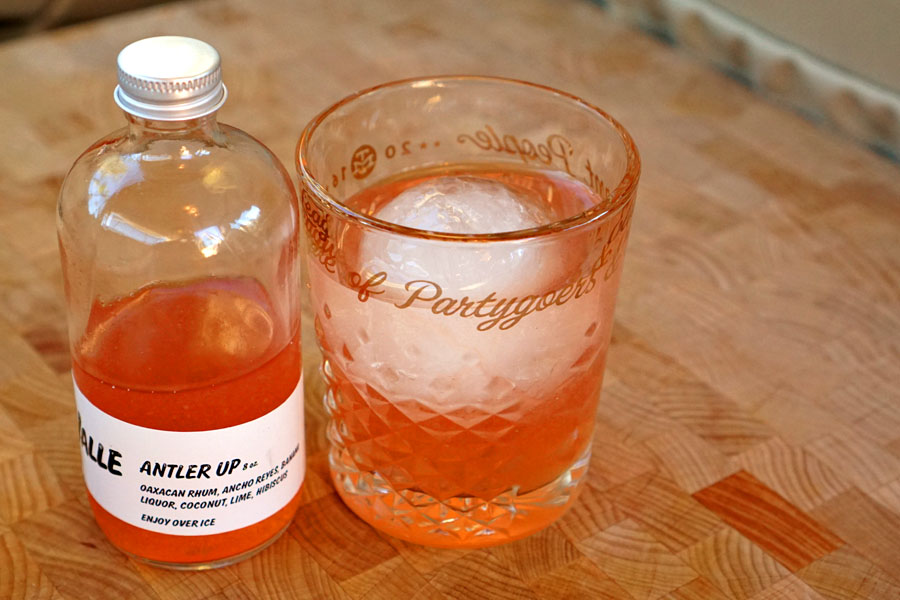 Antler Up [$18.00]
| Oaxacan Rhum, Ancho Reyes, Banana Liquor, Jamaica, Lime
To imbibe, I went with cocktails to-go, which were each designed to be shared by two people. This first one had a nose that went in a decidedly sweet, fruity, almost candied direction. On the palate, I got a healthy amount of sugary banana with floral overtones, accented by a touch of lingering heat. Rather summery, and appropriate for the hot weather.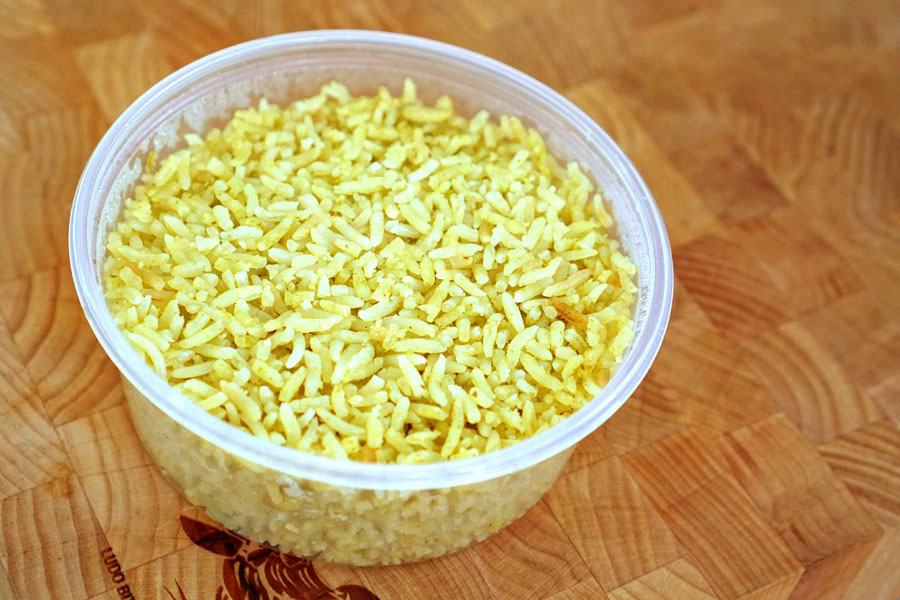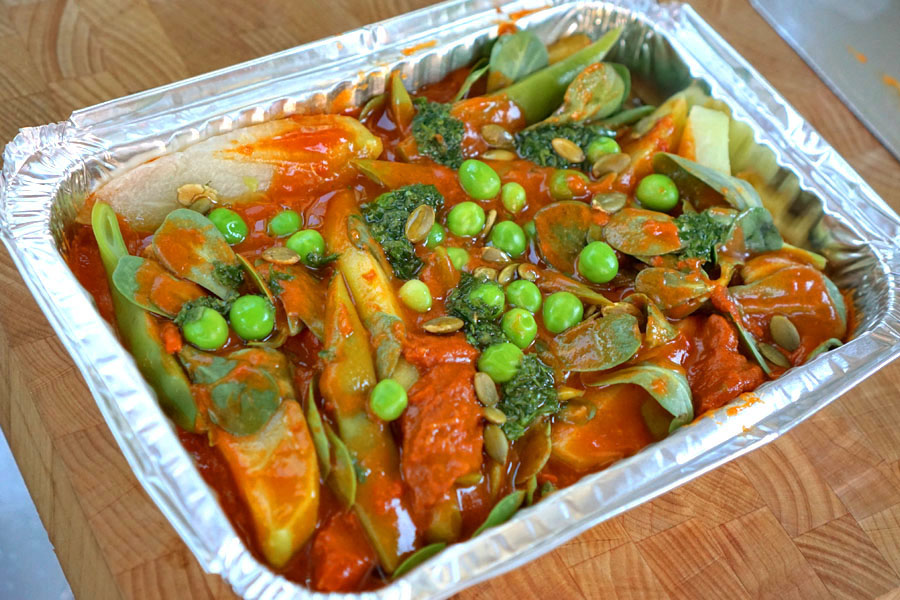 Mole Amarillo [$13.00]
| Potatoes, peas, chayote, guajillo, rice, tortillas
For some reason I felt compelled to try the lone vegan item on the menu, and unfortunately it didn't quite deliver. It was tasty enough, but lacked the depth and complexity that I was hoping for, while the veggies just seemed somewhat underseasoned. The rice did live up to expectations though, as did those hearty, super corn-forward tortillas.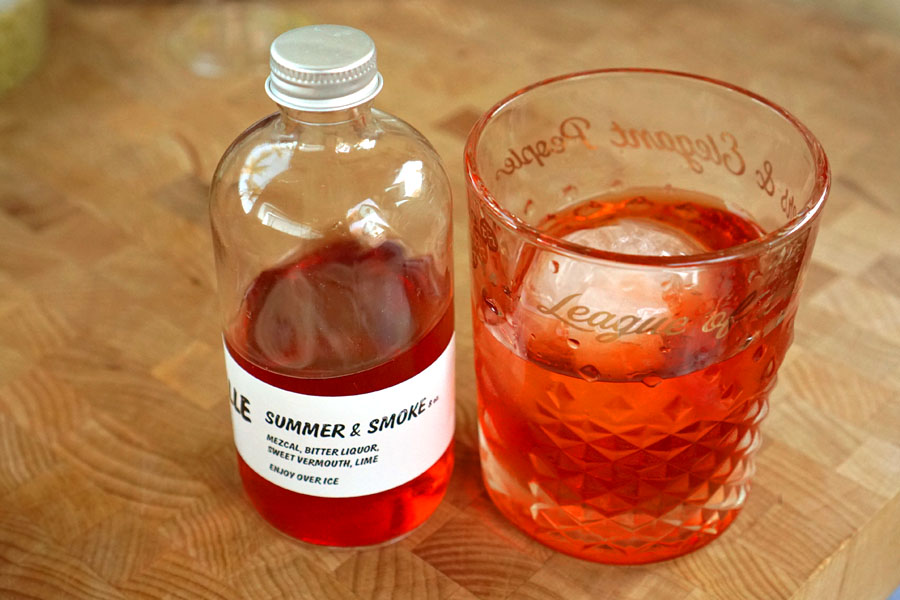 Summer & Smoke [$18.00]
| Mezcal, Bitters, Sweet Vermouth, Lime
This ruby-hued cocktail definitely had a boozy, bitter aroma, with a touch of rubberiness to it. In terms of taste, I found it soft and sweet initially, but with smoky, astringent notes coming in later before the drink finished once again on the sweet side. Note that ice was not provided, so I ended up having to bring my own spheres.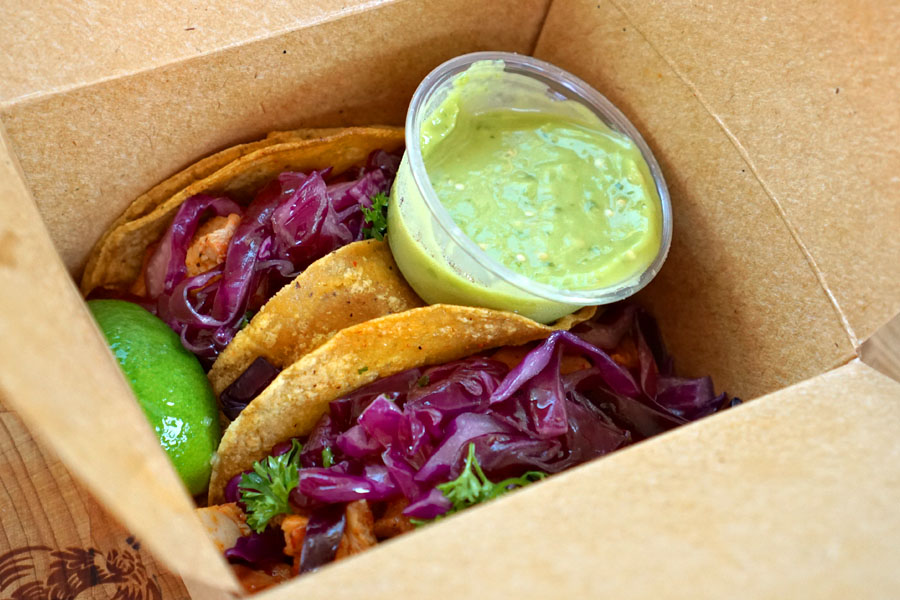 Pollo Adobado [$9.00]
| Salted cabbage, chile oil, guaca-chile salsa
Chicken came out satisfyingly textured, with a surprisingly decent char. The bird melded seamlessly with its delicate achiote-fueled spice, and the crunch and lightness of the cabbage were spot on, as was that zippy, prickly salsa. A very effective package overall.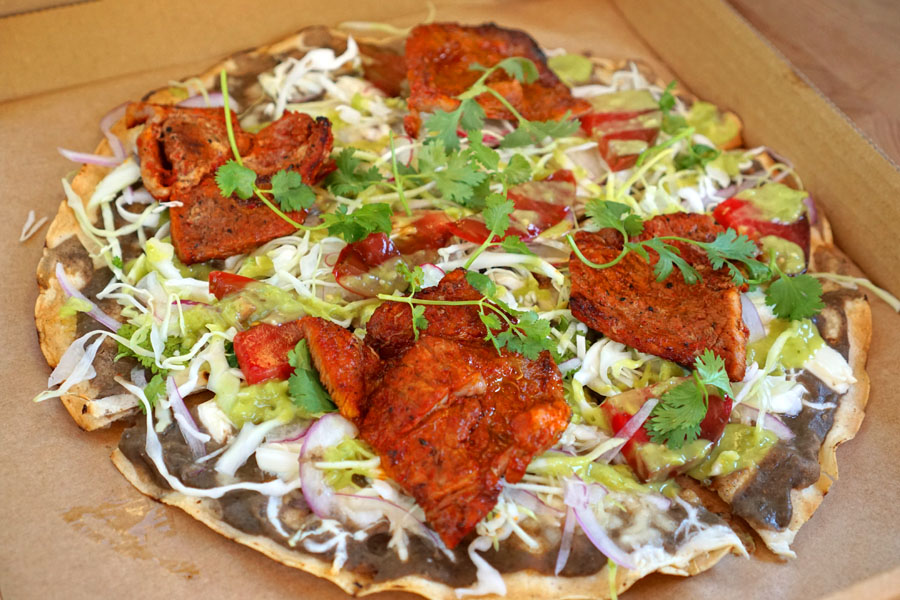 Tlayuda con Cecina [$18.00]
| Peads & Barnett pork collar cecina, cabbage, quesillo, asiento (pork lard), coco bean paste
I finished out the meal with Valle's impressive-looking
clayuda
. I was a fan of the dish's thin, crispy, flaky crust, and how it set the stage for a marriage of bean and cheese, all moderated by the cabbage and juicy chunks of tomato. As for the pork collar, it was beautifully spiced, albeit a bit difficult to eat given its chewy texture and how large the pieces were.
When Valle launched, it was still uncertain whether or not MTN would re-open. However, in the intervening weeks, it's been confirmed that MTN is indeed dead and gone. That's a bit of a bummer, since I liked the place, and considered it one of the more interesting Japanese restaurants in town. That being said, Valle looks to be a worthy replacement. I felt that the food tonight was pretty promising, and I'm curious to see what else Aquino and Hernandez can do when they're not confined to the takeout format.