Masseria (Washington, DC)
Masseria Restaurant
1340 4th St NE, Washington, DC 20002
202.608.1330
www.masseria-dc.com
Tue 07/24/2018, 08:55p-11:45p

For my most recent trip out to the District, I made a real effort to cross Masseria off my "to-eat" list, since it'd been on there for far too long. Situated on a gritty stretch near Union Market food hall, the restaurant is the work of Chef Nicholas Stefanelli, a longtime fixture on the DC dining scene. It's named after a sort of Puglian country estate called a
masseria
, and is a tasting menu-only spot with a, yes, coastal Italian leaning.
About the Chef
: Stefanelli was born in Maryland's Prince George's County, the son of a Greek mother and Italian (Apulia) father. His grandparents did a lot of cooking, and it's at their house where he first got his start in the kitchen, though he didn't really consider a culinary career at this point (he was keen on baseball). After graduating from DeMatha Catholic High School in 1998, he went to Milan to study fashion and, in the process, fell in love with the food culture there. Upon returning Stateside, Stefanelli went to culinary school at L'Academie de Cuisine in Gaithersburg, finishing in 2001.
Following, he externed at Roberto Donna's seminal Italian eatery Galileo, where he quickly rose to the position of chef de partie. He then transitioned to Laboratorio del Galileo, a tasting menu-focused restaurant-within-a-restaurant located in the back of Galileo. In February 2003, he began working at Maestro, a high-end Italian restaurant situated inside the tony Ritz-Carlton Tysons Corner. There, he became sous to CdC
Fabio Trabocchi
. Stefanelli spent over four years here, and during this period, also
staged
at
The French Laundry
. From August to December 2007, he served as CdC at Trabocchi's NYC spot Fiamma Osteria, then returned to DC at the start of 2008.
At this point, he began preparing for the debut of his first solo effort, entitled Hint, but the place never materialized. Instead, Stefanelli spent the latter part of 2008 helming the kitchen over at Mio, replacing former EC Stefano Frigerio, who'd had a falling out with one of the restaurant's partners. In August 2009, he became opening Executive Chef at Ashok Bajaj's Bibiana Osteria-Enoteca, where he stayed until December 2014. During his tenure there, the restaurant was deemed one of
Esquire
's "Best New Restaurants," and Stefanelli was even named a "Rising Star Chef of the Year" semifinalist by James Beard. Early 2015 saw him start work on Masseria, and the restaurant ended up debuting in August that year. The place was soon named "New Restaurant of the Year" by the Restaurant Association of Metropolitan Washington, while Michelin bestowed a star in October 2016.
Joining Stefanelli in the kitchen is new Executive Chef Ben Pflaumer, who left Osteria Morini in July this year, while FOH duties are the realm of GM/Sommelier David Kurka (Inox, Brasserie Beck, Brabo, Cityzen, Range).

Upon entering, the first thing you see is Masseria's courtyard, which seems like a nice place to hang out with a cocktail and some bites.

Next is the somewhat rustic "pergola," which has been enclosed since the place opened, but still has a retractable roof (I think).

And finally we see the restaurant's main dining room, replete with its dual-sided, marble-topped bar and open kitchen-facing counter (which is where I was seated).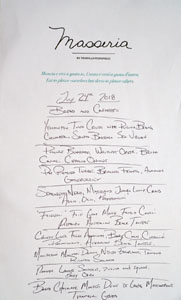 Masseria features four- and five-course prix fixe options at $98 and $115 (add $75 or $95 for wine pairing), while there's also a six-course La Cucina menu at $143 plus $115. However, I opted for the unadvertised eight-course tasting, which was priced at $165. To drink, I went with cocktails this evening, which are the creation of Bar Manager Julien-Pierre Bourgon (Restaurant Eve/TNT Bar/PX Lounge, America Eats Tavern, Trummer's on Main). If that's not your thing, there's also a nice wine list curated by Kurka, as well as a smattering of beer/cider. Click for larger versions.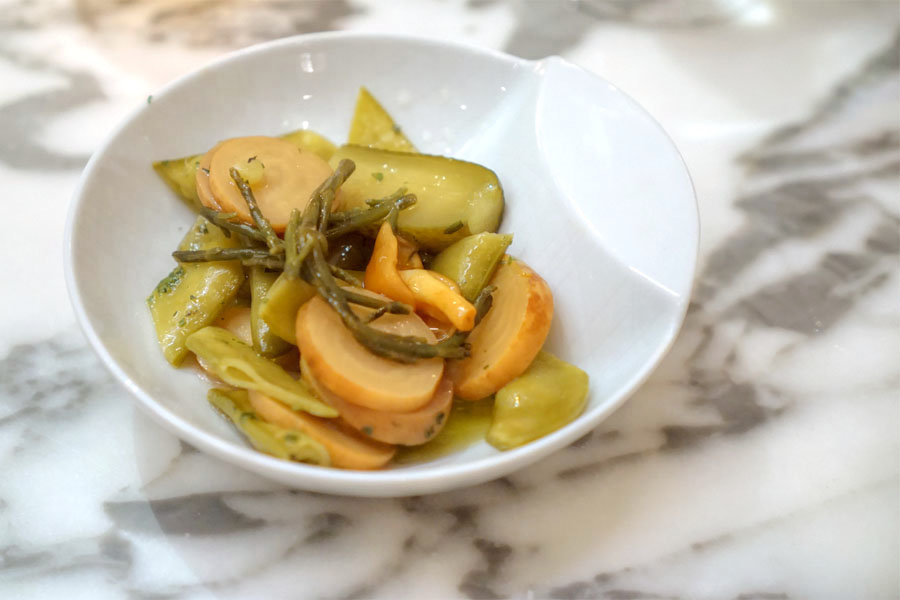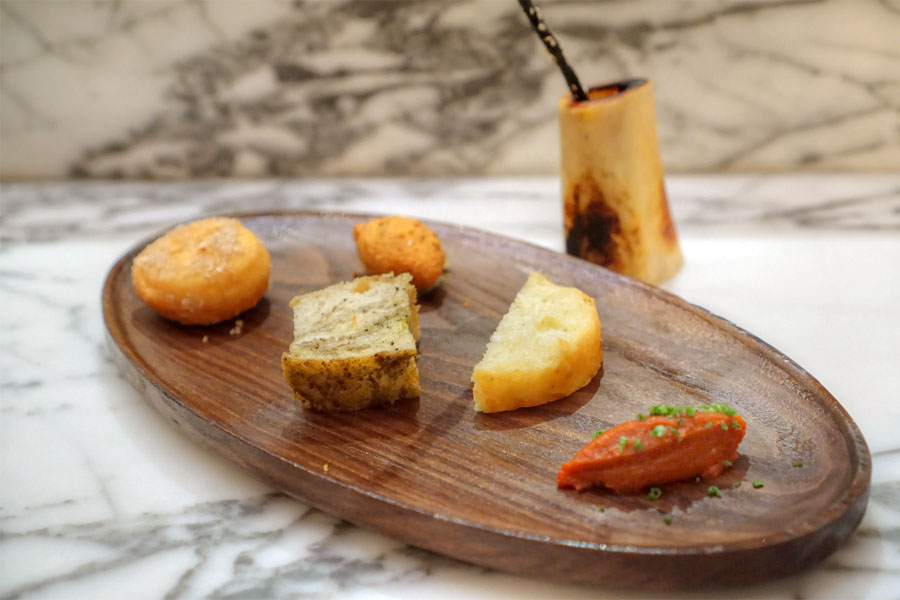 1: Bread and Canapes
In lieu of your typical bread service, Masseria offers up a much more imaginative presentation of
pane
. I was particular fond of the squid ink-sesame
grissini
, which had touch of zesty fennel on the finish. Also delish were the wonderfully cheesy Fontina
bombolone
and the herby, savory smoked potato focaccia with tomato purée. Accompanying the bread, meanwhile, was the house
giardiniera
.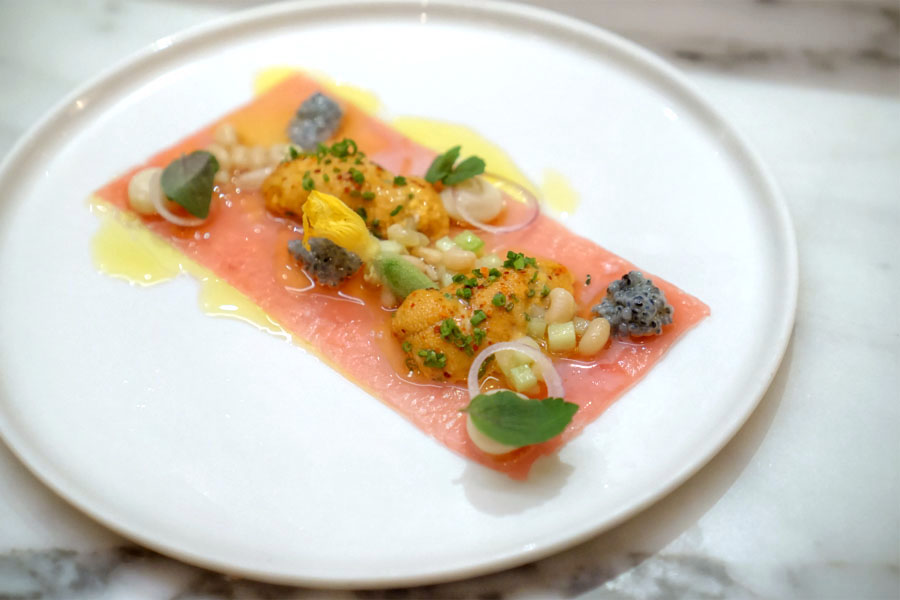 2: Yellowfin Tuna Crudo with Risina Bean, Cucumber, Santa Barbara Sea Urchin
Next was a near perfectly rectangular yellowfin carpaccio, topped with rehydrated basil seeds, risina beans, risina purée, diced cucumber, shaved red onion, as well as uni dressed in espelette (a $15 supplement). I loved the nuttiness from the beans here, and how they worked with the bright, zippy flavors of the veggies while the tuna and urchin contributed plenty of sweet, briny goodness. Excellent finish of olive oil, too. A promising start.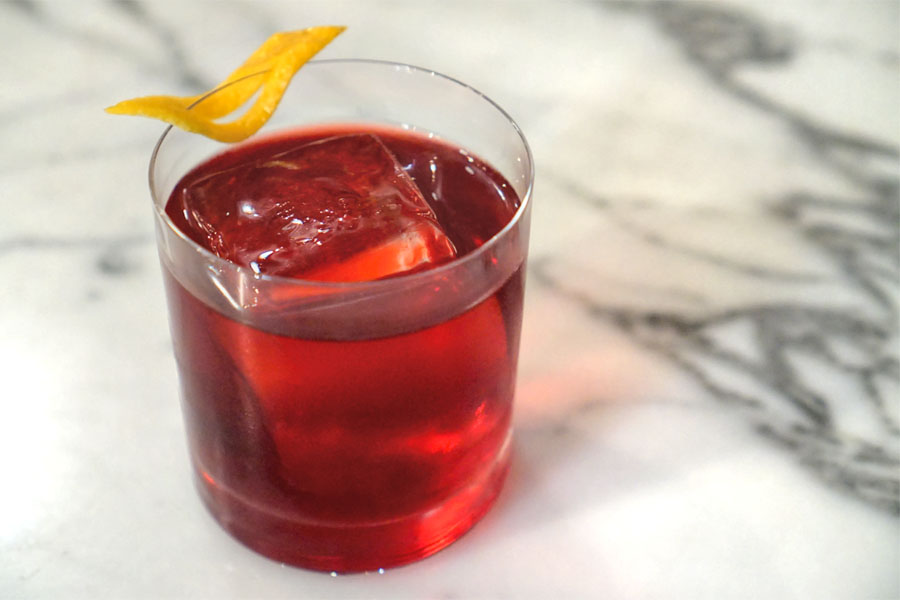 Count Camillo [$14.00]
| St. George Gin. Contratto Bianco Vermouth. Path Valley Beet Infused Campari.
The first cocktail served as a fitting apéritif for sure. I definitely got the sweetness of the beet on the nose, joined by citrus and herbs. The palate was super smooth, with more earthy-sugary beet alongside the botanicals of gin while the finish was all about the vermouth.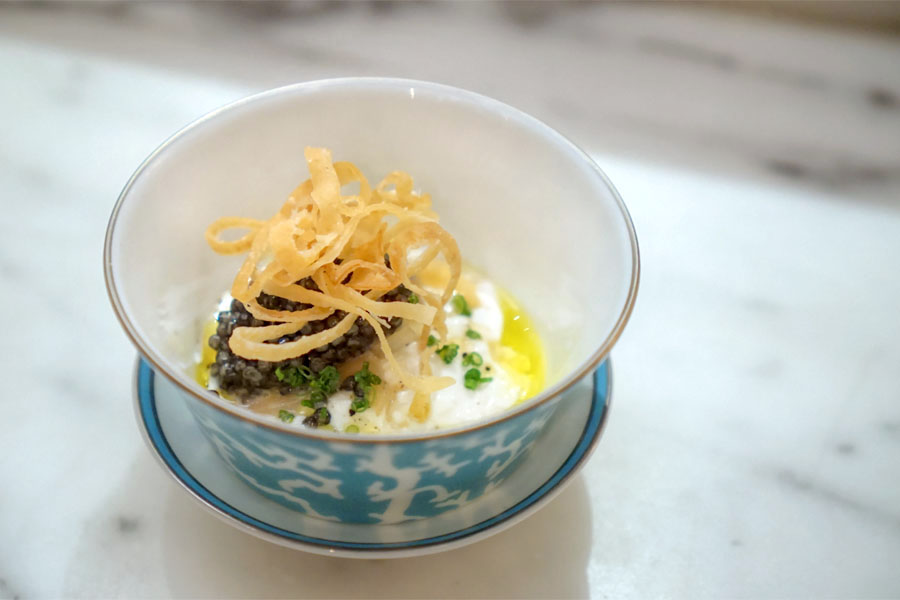 3: Pugliese Burrata, Wellfleet Oyster, Beluga Caviar, Cippolini Onions
This was a favorite of mine: a good-sized dollop of imported burrata topped with a Wellfleet, a quenelle of Beluga, plus pickled and fried cipollinis. What struck me first was the assertively oceany, nutty flavors of the caviar, kicked up a notch by the oyster. The olive oil and cheese served as perfect complements, and I was a huge fan of the savory crunch of those onions, too. Pretty flawless.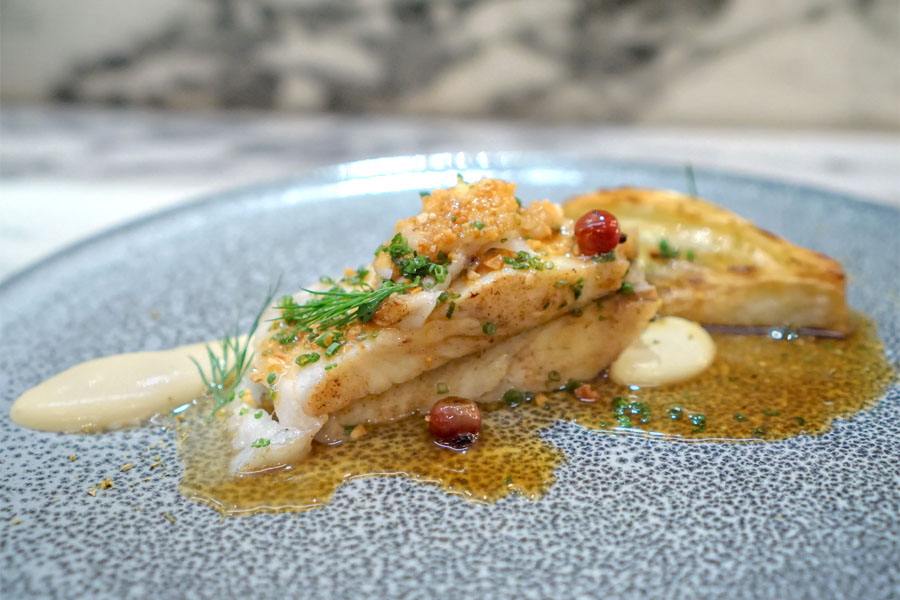 4: Pan Roasted Turbot, Braised Fennel, Almonds, Gooseberries
The
rombo
was another standout, and one of the better preparations of the fish I've tried. I thoroughly enjoyed its meaty, substantial texture, while its savory/saline flavors--enhanced by the application of brown butter--were contrasted by tangy gooseberries and fennel, all while toasted almonds and almond cream moderated the interaction.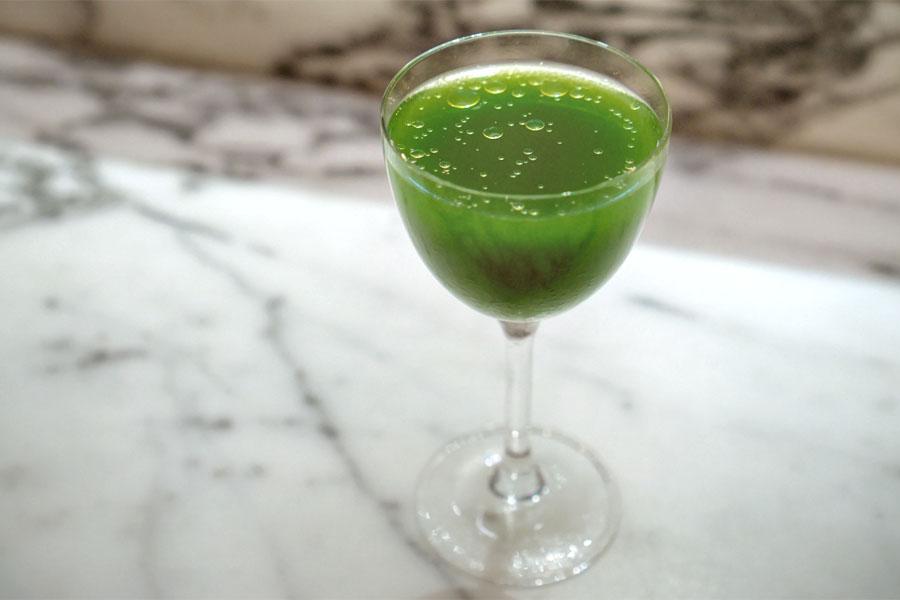 I'm The King Of Brooklyn...For All She Knows [$14.00]
| Pueblo Viejo Tequila. Parsley, Lime. Green Chartreuse. Olive Oil. Sea Salt.
This next cocktail just might have been the greenest I'd ever seen. I found it innocuous at first, with soft, sweet flavors at the forefront. However, as things progressed, the parsley came through more, as did the lime, while the finish was decidedly on the savory side.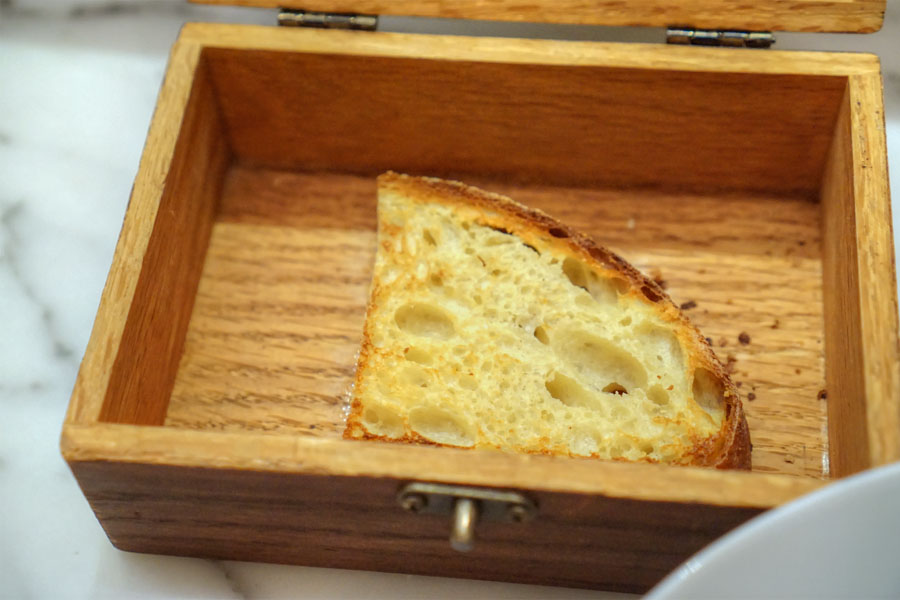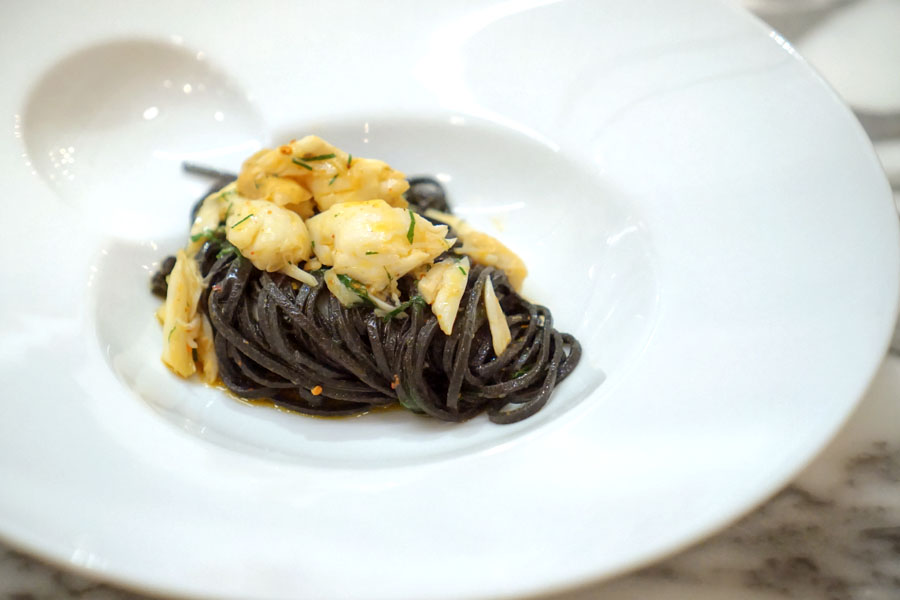 5: Spaghetti Nero, Maryland Jumbo Lump Crab, "Aglio, Olio, Pepperoncini"
The spaghetti was another winner, a picture perfect preparation that married the sweet brine of blue crab with just the right amount of heat. Also spot on was the texture of the noodles, and I was a fan of the dish's undertones of garlic as well. Along with the pasta came a slice of
pane di Altamura
, a type of traditional semolina-based bread from Puglia.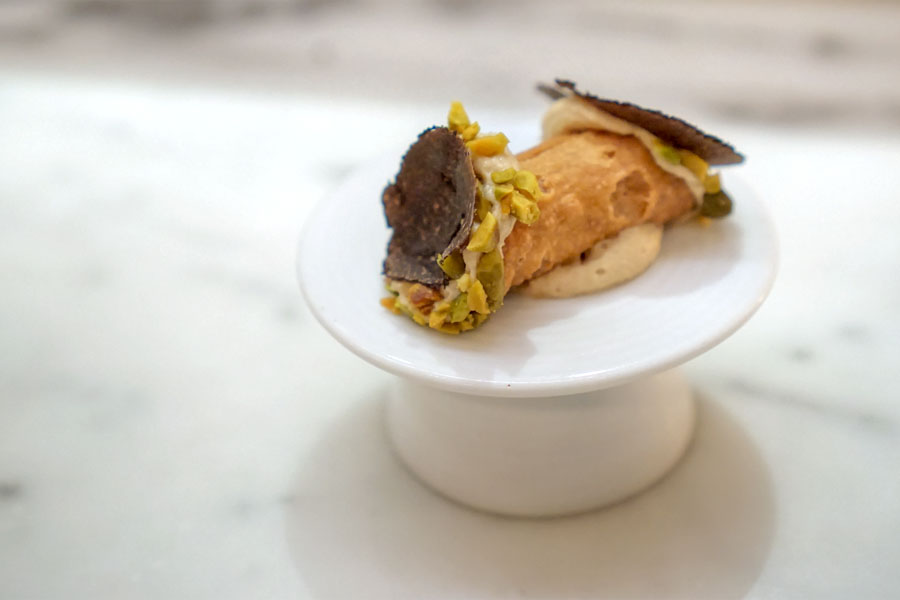 6: "Foienoli" Foie Gras Mousse Filled Cannoli, Pistachio, Australian Black Truffle
This was a fun one: a cannoli shell stuffed with foie gras mousse, finished with toasted Sicilian pistachio and shaved winter black truffle. The truffle was what hit me first, but its unmistakable musk soon transitioned to the sweet, livery taste of the foie while the pistachios offered up a nutty counterpoint. Excellent crunch from the fried pastry, too.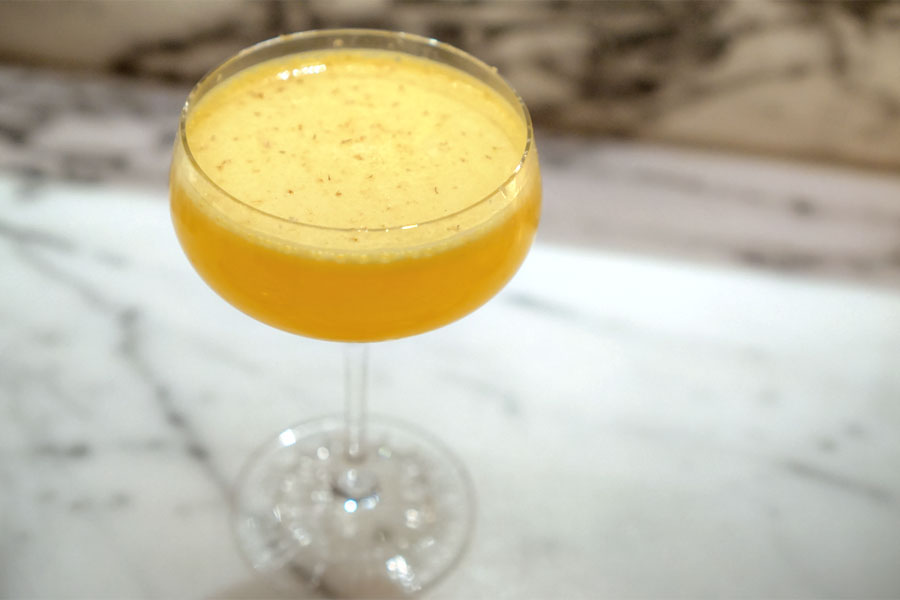 We Did It All For Don (The Beachcomber) [$14.00]
| Smith & Cross Rum. Sherry. Lime. Passion Fruit. Cinnamon. Nutmeg.
A tiki-inspired cocktail hit the mark with its appealing nose of citrus and warming spice, while the taste really showcased the passion fruit, the sherry peeking through just a tad.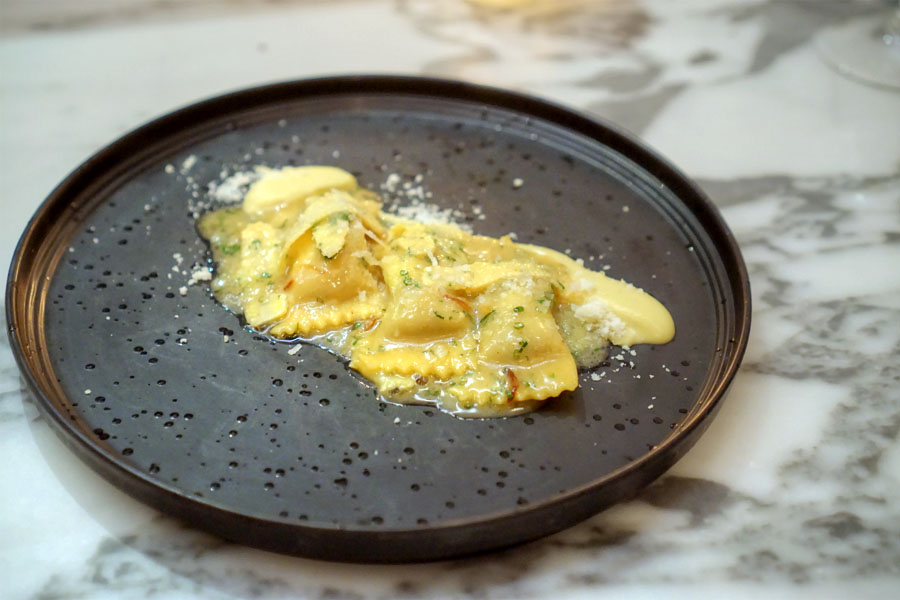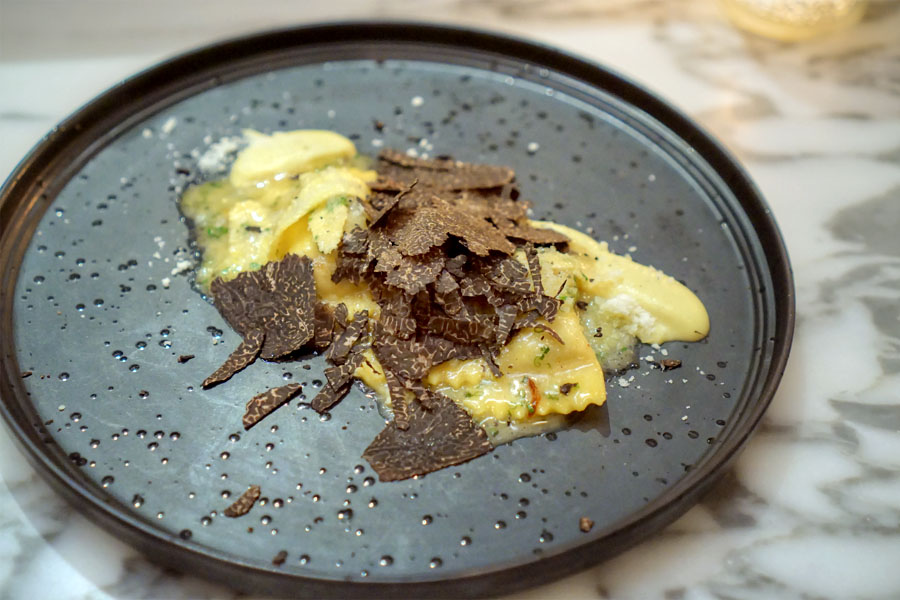 7: Chicken Liver Filled Agnolotti, Baby Corn, Cippolini, Parmigiano, Australian Black Truffle
Masseria's agnolotti was one of the better versions I've tried. The chicken liver made for some unquestionably rich, robust, in-your-face flavors, but along with that potency came a lot of finesse. I found this a cozy sort of dish, and the truffles (a $70 supplement) certainly made it even better.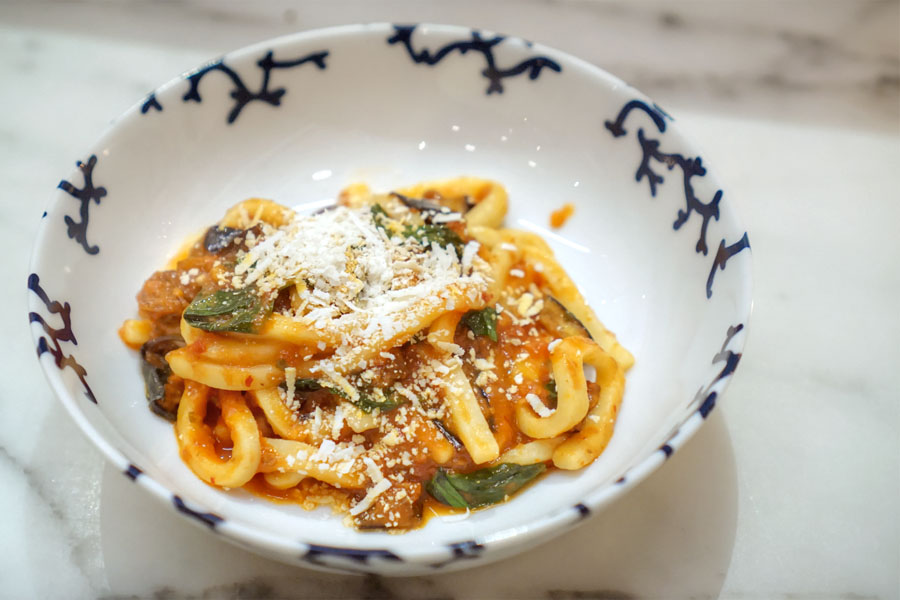 8: Maccheroni Molinari Domus, 'Nduja, Eggplant, Tomato, Ricotta Salata
The third pasta course featured, thick, slick housemade noodles dressed in a sweet-tart tomato-basil sauce. The
'nduja
and eggplant, meanwhile, imparted a necessary smokiness and savoriness to things.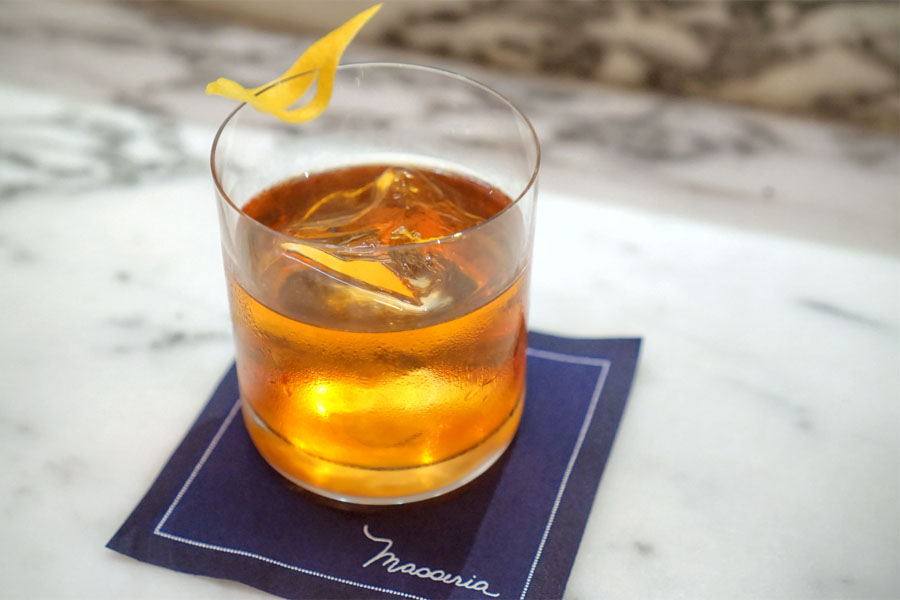 In The Middle of a Railroad Track [$14.00]
| Dickel Rye. Thyme infused Maple. Angostura Bitters. Lemon Twist.
Here was the booziest cocktail of the evening, but not in a bad way. It had an aromatic nose rife with lemon and thyme. The palate brought spicy alcohol heat, but layered with sweet, candied flavors and a finish filled with rich maple. Interestingly, the thyme became more apparent as the drink warmed.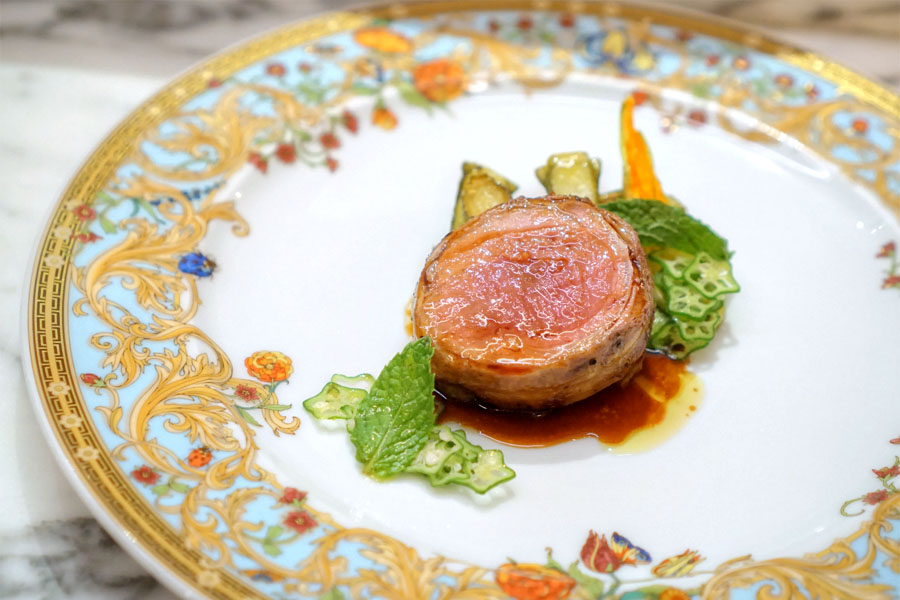 9: Roasted Lamb Saddle, Zucchina and Squash, Baby Okra
The night's final savory brought roasted lamb saddle, wrapped in chewy belly, supported by zucchini and squash purée, roasted zucchini and squash, squash blossom, shaved okra, and white wine jus. The meat showed off a wonderful depth of flavor that I just found wholly satisfying, and the various incarnations of veggies really gave a much needed lightness and summeriness to the plate.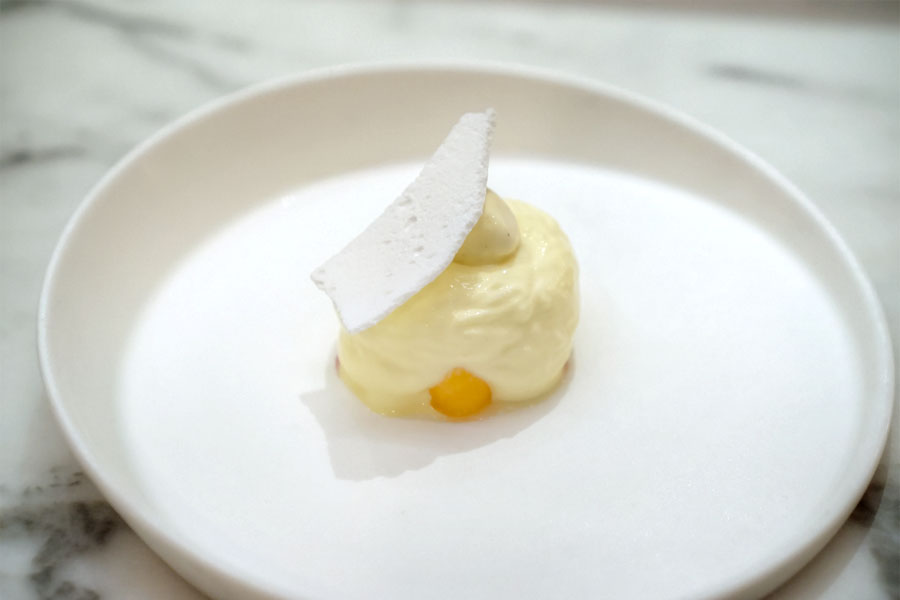 Desserts are the work of Pastry Chef Jemil Gadea (Bibiana), and first up was an intermezzo of sorts: cantaloupe with anise hyssop, mint, and mulberry-red wine sauce, topped with a cloud of white wine sabayon, with a coconut-vanilla-melon sorbet and a shard of meringue. The creamy sabayon provided the main driving force in the dish, its sweetness evened out by the tangy elements present while the meringue imparted the right amount of texture.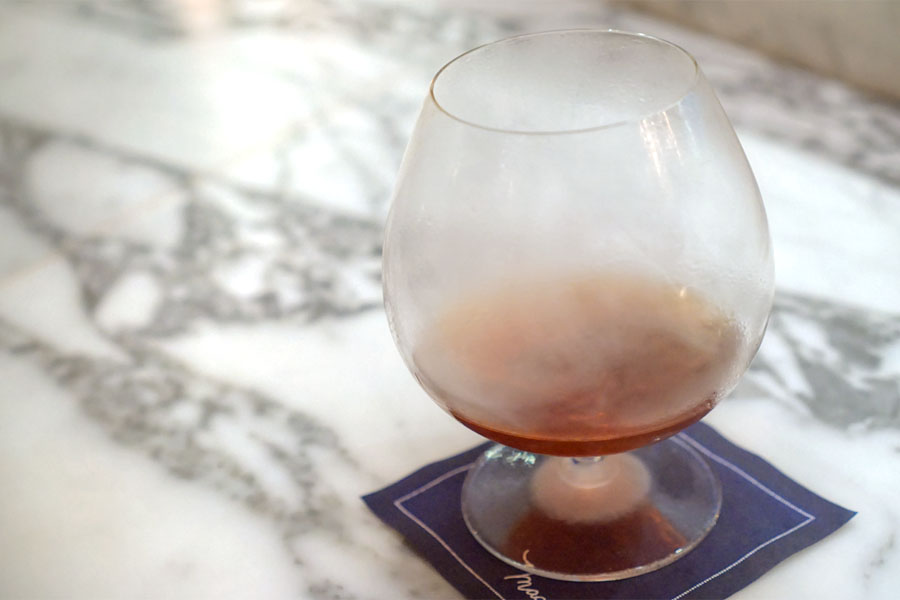 Fumo di Uva [$14.00]
| Copper & Kings Aged Brandy. Don Ciccio Black Walnut Liqueur. Black Walnut Infused Glycerin Smoke.
The meal's last cocktail came with some theatrics, which I certainly didn't mind. It smelled great, with lots of nutty, sweet notes and dark fruit. On the palate, I got plenty of the brandy at first, which was then joined by a bevy of herbaceous, astringent, almost medicinal flavors, once again tempered by a smidge of sweetness.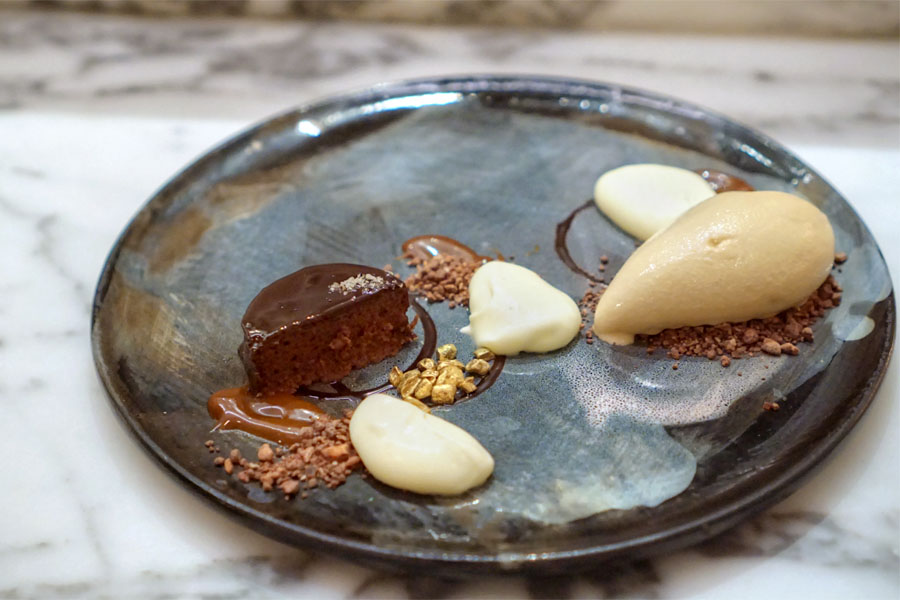 10: Baked Chocolate Mousse, Dulce de Leche, Mascarpone, Tiramisu Gelato
Dessert proper combined an unabashedly rich
torta al cioccolato
with an even richer
dulce de leche
, the mascarpone cream serving as a moderating element. I was a big fan of the coffee-infused ice cream too, but the best thing here was the "pop rocks," which provided a fun textural contrast.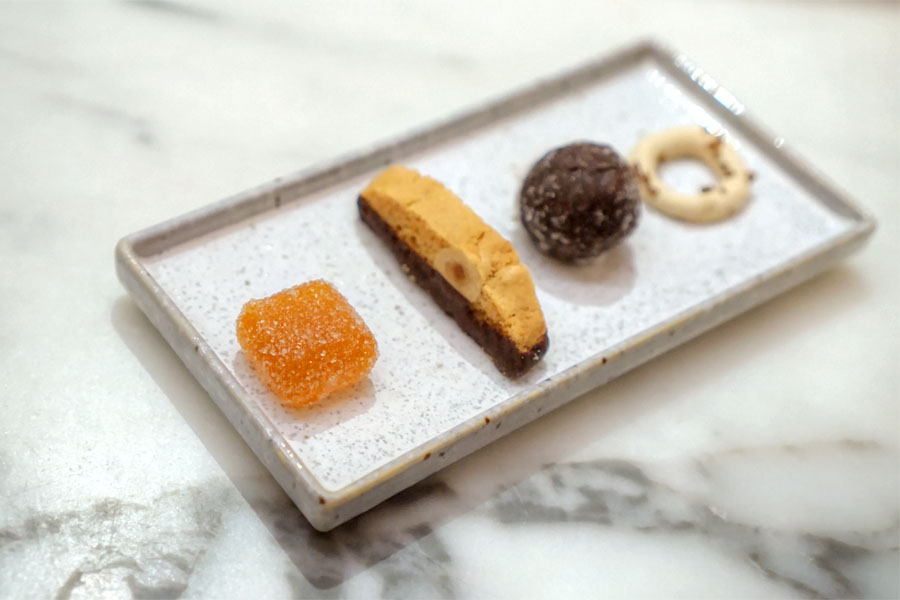 Four bites to finish: apricot-lemon verbena
pâte de fruit
, hazelnut-dark chocolate
biscotto
, coconut-caramel chocolate truffle, and a sticky coffee meringue.
I had high expectations coming into Masseria, and the restaurant actually managed to exceed them. The cooking shows off a deft marriage of refinement and rusticity, blending the familiar and the inventive in a stellar fashion that made for one of the best Italian meals I've had in a while. I'm really having trouble finding fault with the meal, so hats off to Stefanelli and his crew. As for the Chef's next steps, he's in the midst of opening Officina, a tri-level affair at the Wharf that brings together a market, restaurant, and bar; it should be opening up in the coming month or so. After that, he'll be working on a massive Greek restaurant (remember, he's half Greek) to be situated inside the new Fannie Mae headquarters building. This one should be done in late summer 2019, so more to look forward to.