The Varnish (Los Angeles, CA)
The Varnish Bar
118 E 6th St, Los Angeles, CA 90014
213.265.7089
www.thevarnishbar.com
Thu 07/15/2021, 10:10p-12:00a
Following dinner at
Amboy
, I ventured south to Downtown's Historic Core to check out The Varnish, which, amazingly, I had never been to before. Located behind a nondescript door at the back of Cole's French Dip, The Varnish comes to us from Cedd Moses'
Pouring With Heart
, the noted nightlife purveyor that's been a key part of the revival of LA's drinking scene.
After purchasing Cole's in 2007, 213 Hospitality (as Pouring With Heart was known at the time) opened the speakeasy-style bar in February 2009 in partnership with the late Sasha Petraske (of Milk & Honey fame) and 213 Beverage Director Eric Alpern. The place was decidedly well-received, evening winning the Spirited Awards' "Best American Cocktail Bar" title in 2012 and landing on the World's 50 Best Bars list in 2011/2012, and has been chugging along ever since.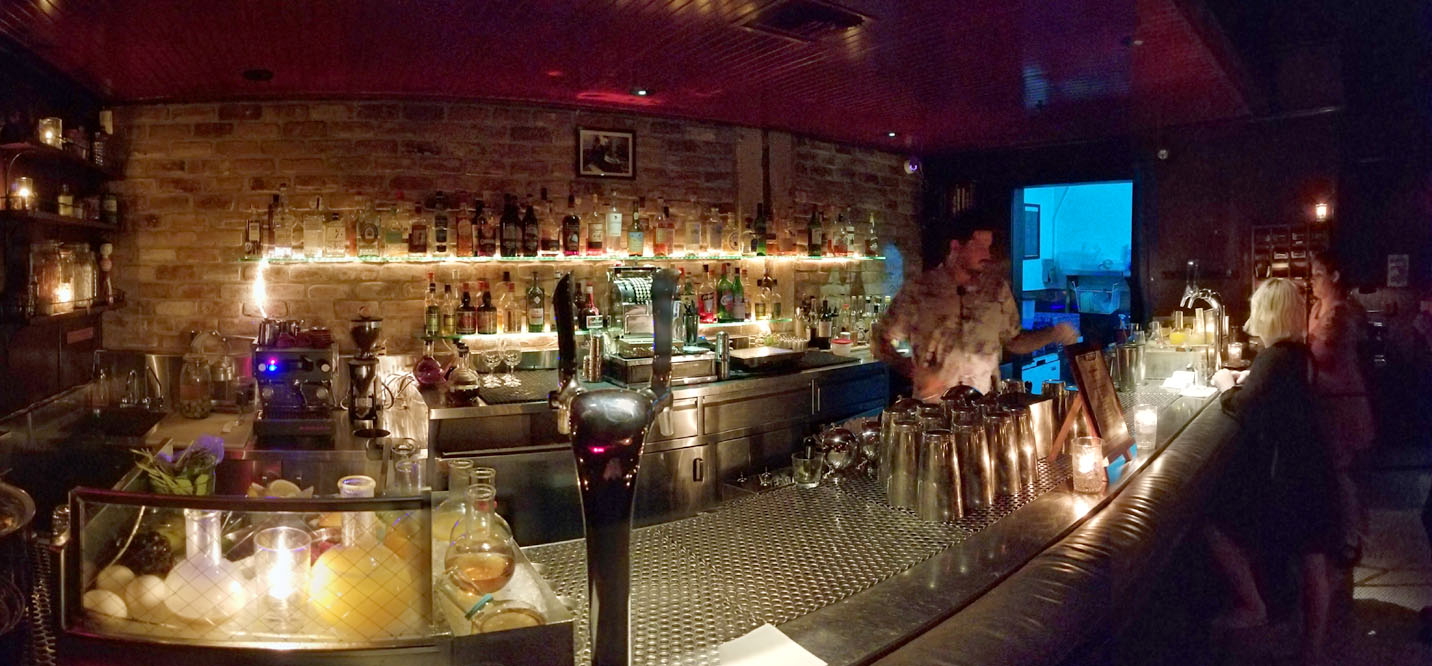 Since I was imbibing alone, I was placed at the standing-only bar. Behind the stick was Greg, who provided some commendable service this evening.

And here we see the rest of the space, which I'm told was previously a storage room.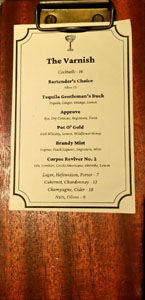 The menu is one of the most concise that I've seen, and focuses on classic-leaning cocktails. Click for a larger version.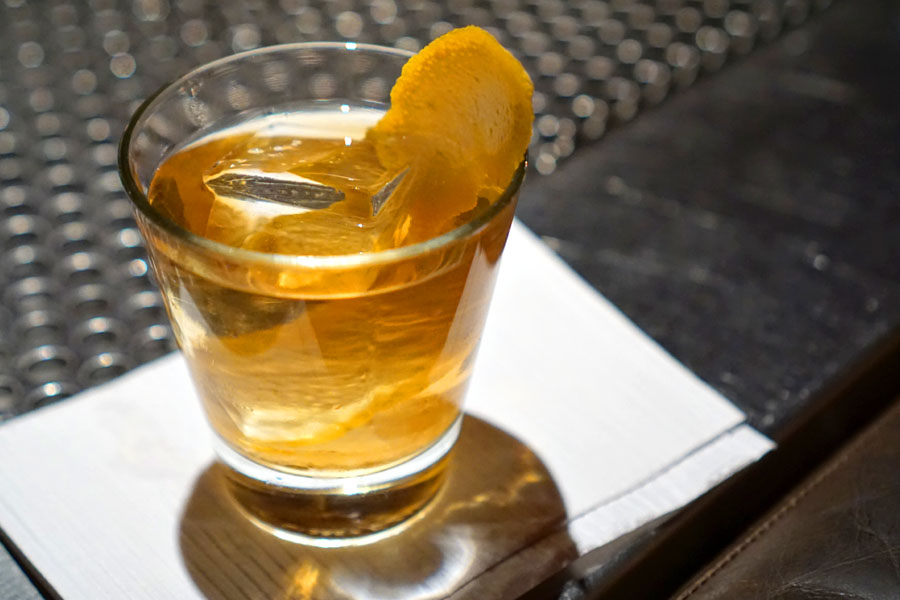 Bartender's Choice: Smuggler's Notch [$16.00]
| Aged Matusalem Rum, Absinthe, Orange Bitters, Brown Sugar, Orange Twist
To start, I decided to let Greg do his thing, and requested something rum-based and spirit-forward. The cocktail he came up with had a potent nose filled with a mix of orange and the advertised brown sugar. The palate here was thick, dense, with more spicy-sugary notes joined by traces of bitters and citrus, all backed by an anise-y coolness from the absinthe. Pretty neat.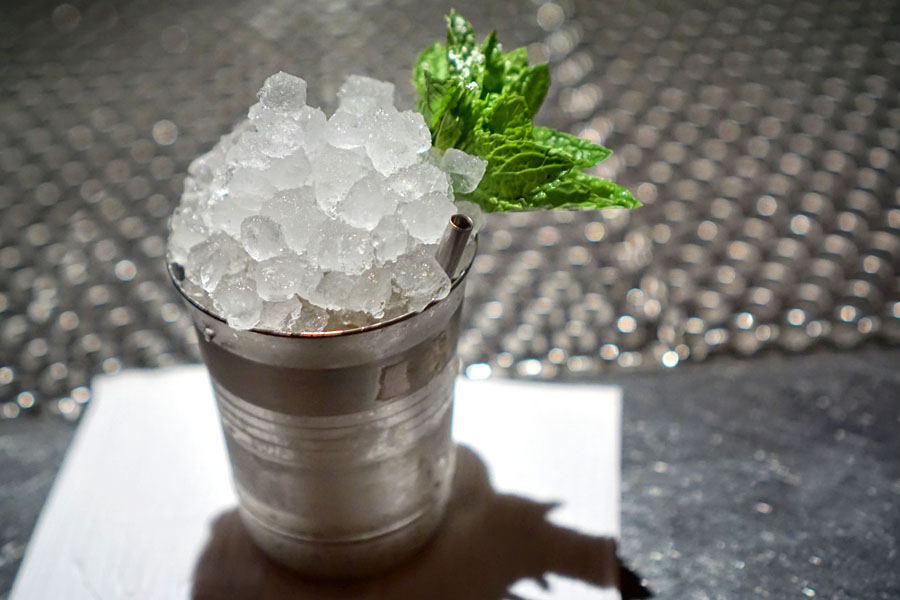 Brandy Mist [$16.00]
| Cognac, Peach Liqueur, Angostura, Mint
I ordered my second cocktail off the menu, and it was something altogether different than the first. The drink highlighted the fruity nature of the peach liqueur, but supported by the oomph of cognac, all while the mint contributed a refreshing layer on top. Nicely balanced.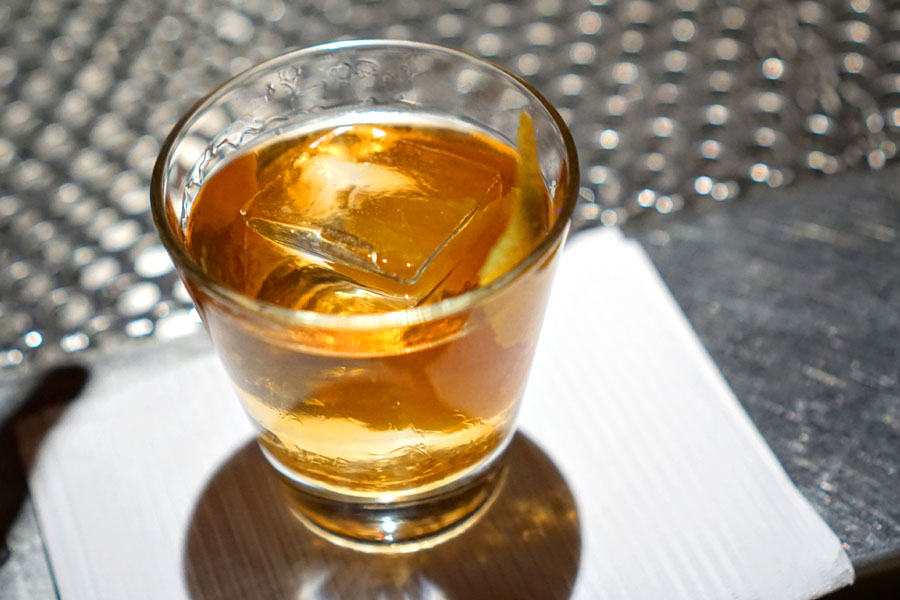 Approve [$16.00]
| Rye, Dry Curacao, Angostura, Twist
The night's third cocktail was also listed on the menu, and appeared to be a variation on the old fashioned. The bouquet on this one was surprisingly restrained, but its taste was quite the opposite. I got an almost apple-esque sweetness up front, combined with spicy, bitter notes and wisps of citrus and boozy heat. Lovely.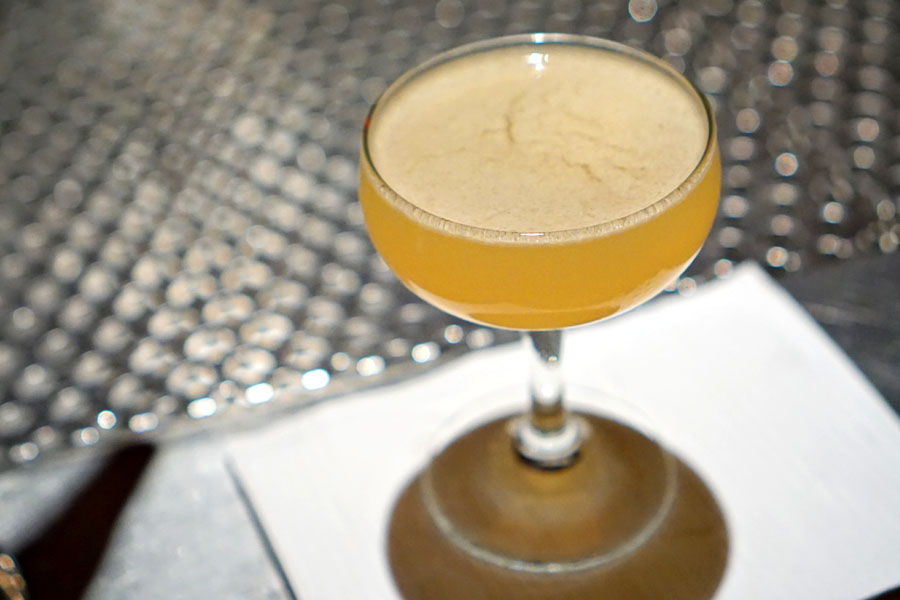 Bartender's Choice: Apricot Tropicalis [$16.00]
| Pisco, Apricot, Lime
For my final libation, I requested something pisco-based from Greg. The cocktail smelled great, with elements of stone fruit and nuts all over the place. Tasting it, I got more of that apricot, commingled with distinct herbaceous notes and the kick of the brandy.
I'm not sure why it took me this long (over 10 years) to check out The Varnish, but I'm glad I finally did. It's a bar that has helped define the City's craft cocktail scene, and one that's turned out a legion of bartenders that have gone on to accomplish great things elsewhere; I'm thinking of names like Alex Day, Cari Hah, Aly Iwamoto, and Devon Tarby, among others. Hopefully it won't be another decade before I'm back.