Cranes (Washington, DC)
Cranes Spanish Kaiseki Restaurant
724 9th St NW, Washington, DC 20001
202.525.4900
www.cranes-dc.com
Mon 06/14/2021, 08:15p-11:00p
I hadn't traveled at all since the start of the pandemic early last year, but with the situation seemingly improving, I recently ventured outside of Southern California for the first time in a while. I wasn't
too
excited though, since it was for a business trip to my old stomping grounds in Washington. That being said, I did enjoy researching some of the new restaurants that had opened up in the area since my last visit, and decided to check out Cranes on my first night in. The brainchild of Chef/Owner Pepe Moncayo, the spot is located in DC's Penn Quarter neighborhood (not far from Chinatown), and features a menu designed to blend the traditions of both Catalan and Japanese cooking. As for the name of the place, it's a reference to the migratory bird and how Moncayo's culinary career has brought him to various parts of the world over the years.
About the Chef
: Moncayo was born in 1978 in Barcelona, the middle of three children. His mother died when he was a teenager, and as a result, he was appointed the family cook, since his father was busy working, his older brother was completing mandatory military service, and his younger sister was only a child. His dishes were apparently pretty bad at first, but he slowly improved and grew to enjoy being in the kitchen. Moncayo later enrolled in the culinary program at CETT in Barcelona. However, he didn't quite enjoy the education there, and thus dropped out to work at the Catalan restaurant at Hotel Alimara, which was affiliated with the school. He subsequently made his way to Via Veneto, under the command of the notoriously violent Josep Muniesa, and stayed there for a year.
In 2004, Moncayo was able to land a gig at Santi Santamaria's legendary Can Fabes in Sant Celoni, which was led by Iván Solà Baqueró. Two years later, he helped open Santamaria's new spot EVO at the Hesperia Tower hotel in Barcelona, then, in March 2008, became Chef de Cuisine at Javier and Sergio Torres' Dos Cielos. He left Spain in March 2010 to become second-in-command (under EC Daniel Chavez) at Santamaria's eponymous Santi at the Marina Bay Sands in Singapore. It was here at the Sands where, after befriending a group of chefs from a Japanese eatery at the resort, Moncayo first got interested in Japanese cooking. Unfortunately, the unexpected passing of Santamaria in February 2011 meant that Santi didn't last very long, and the place shuttered in March the following year.
From there, the Chef partnered with Chavez and Osvaldo Forlino to open OLA Cocina Del Mar at the Marina Bay Financial Centre in August 2012. He left the business the following June, then quickly teamed up with Ben Chng and Constance Song (two of his regular customers) to open Bam!, which dropped in December 2013. Located in Singapore's Tanjong Pagar district, Bam! was Moncayo's first foray into Spanish-Japanese cookery, and is still around today. The Chef eventually moved to the US in April 2019 to start work on Cranes, which features a similar concept, and the restaurant wound up opening on February 8th last year. Despite the unfortunate timing, the place soldiered on, and even garnered a Michelin star just recently in April.

Cranes takes over the former Victor Building home of a Ruth's Chris Steak House that closed in late 2018. It's a rather large space, one spanning roughly 11,000 square-feet, and was redesigned by local firm
//3877
. Above, we see the restaurant's bar at the end of the night.

Pictured here is the upper part of the dining room, which offers a view into the open kitchen.


And here we see the lower dining area, which is roughly divided into two parts. Note the origami-inspired ceiling panels.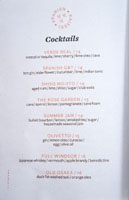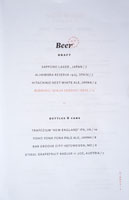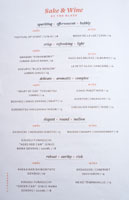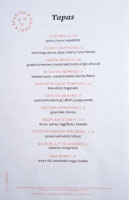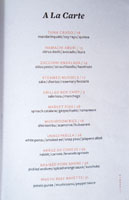 Cranes' menu is divvied up into selections of smaller and larger plates, though I opted for the six-course "omakase" option at $95 a head, plus $55 for beverage pairing. To drink, you get a smattering of beer, some theme-appropriate cocktails, (mostly Spanish) wine, and a sake list originally assembled by Monica Lee (who's now at Elle in Mount Pleasant). Click for larger versions.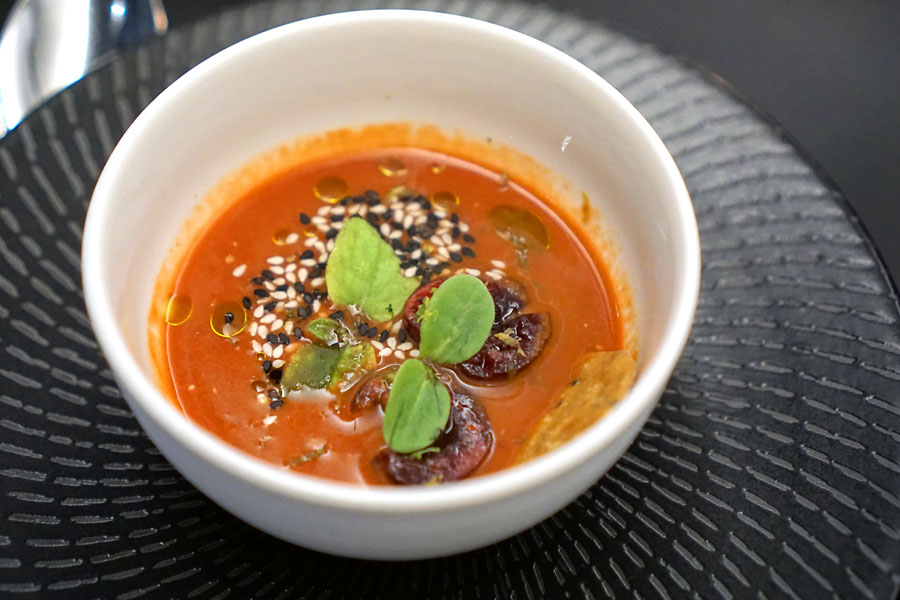 1: Cherry Gazpacho
| manchego panna cotta / lemongrass
Masia De La Luz, Cava
We got started with Moncayo's cherry-infused riff on gazpacho. Fortunately, the cherries were restrained in their presentation, providing a subtly fruity, floral quality to match the bright, refreshing, herbaceous nature of the soup. The crux of the dish, though, was the
queso manchego
at the bottom of the bowl, which offered up a weight and substantialness that really worked for me. Also key was the lingering nuttiness from the sesame seeds, as well as the crunch of the "chip" on the side. The accompanying wine was a citrusy, lightly acidic, pleasantly fruity cava, which worked well with the lively nature of this first course.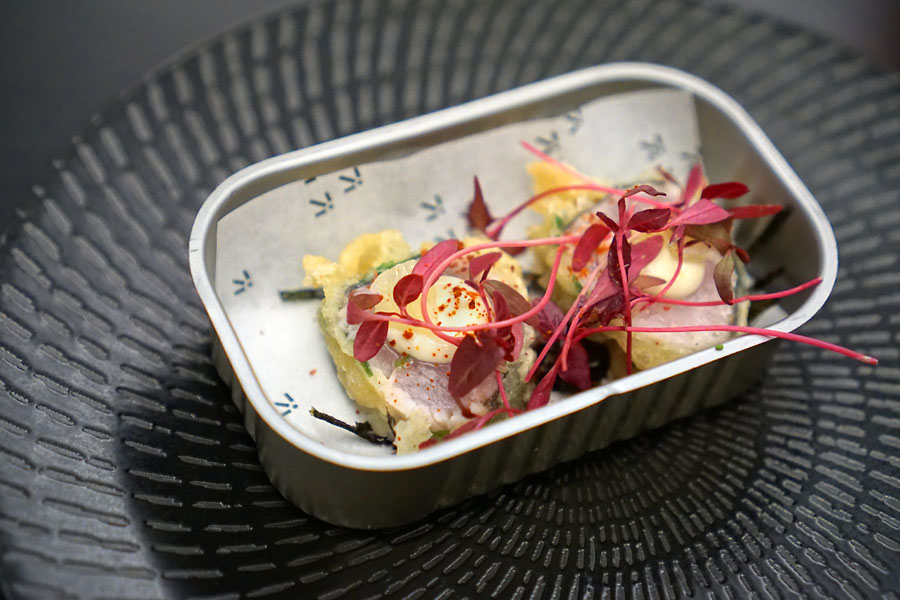 2: Stuffed Mackerel
| preserved radish / shiso / yuzu kosho
Masia De La Luz, Cava
A tempura of Spanish mackerel stuffed with shiso and preserved radish was probably my favorite course of the night. I loved the back-and-forth between the cool, creamy, elegantly-flavored fish and the strong nori-fueled umami notes present, all while the sour, herby smack of
yuzukosho
and microgreens served as the perfect finishing touch. Great contrast in textures here, too.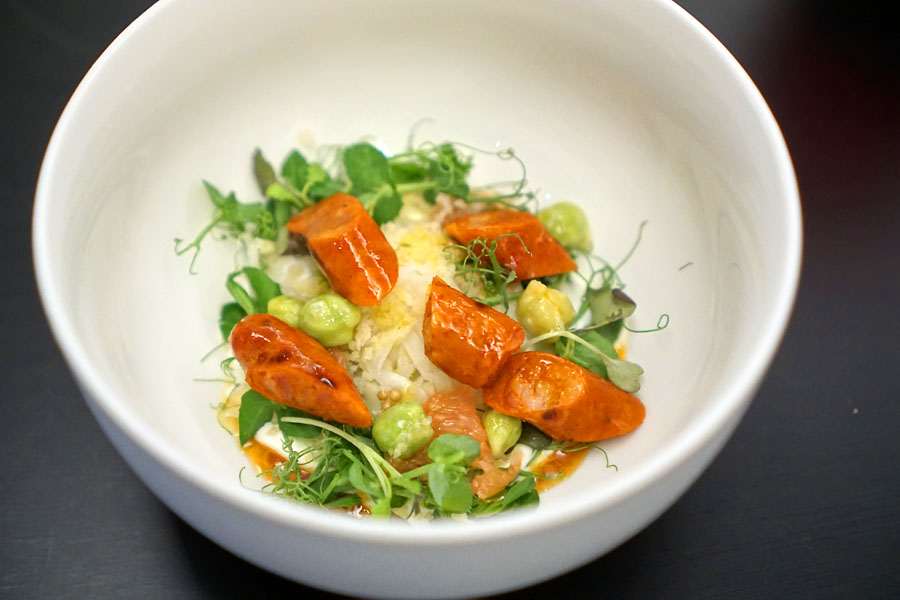 3: Txistorra & Stracciatella
| orange caramel / pomelo / pickled fennel
Cherry Bouquet
My next dish married cuts of well-spiced
chistorra
sausage against cool, sweet shards of stracciatella cheese. It was an effective union, one made even better by the incorporation of those grassy greens and chickpeas. To go along with the food, I was given a pour of Dewazakura's "Cherry Bouquet" sake, which offered up a fruity-yet-dry intensity that stood up well to the course.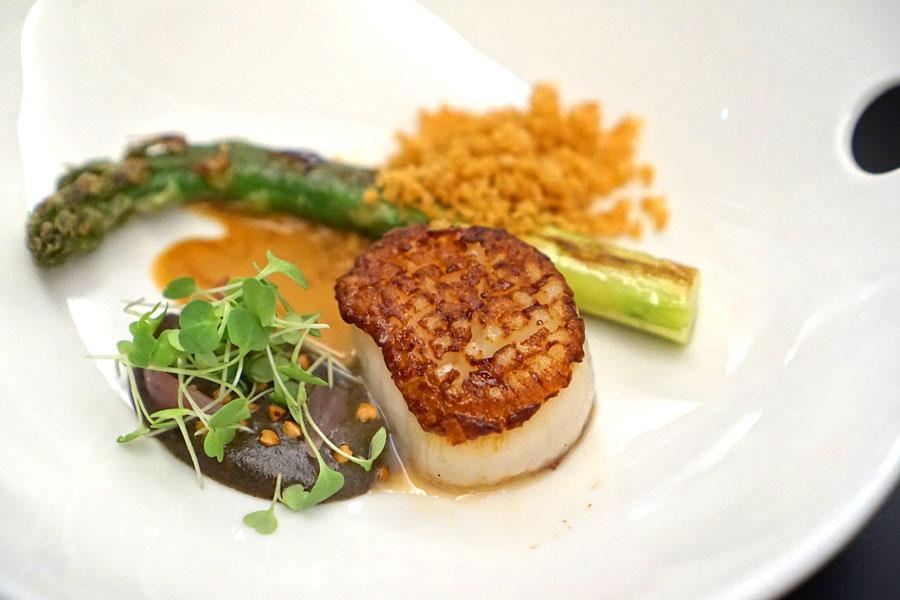 4: Scallop and Asparagus
| charred eggplant / pickled onions / buckwheat
Amabuki "Strawberry" Junmai Ginjo Nama
Here we had a perfectly cooked scallop, a properly caramelized example loaded with just the right amount of saline. The egg floss on the side amped up the umami factor even further, while that bitter stalk of asparagus uplifted the dish and worked to offset the smoky notes from the eggplant. As for the paired sake, it was on the softer, rounder side, but also featured a dryness and wasabi-like element to go along with its fruity, funky aromas.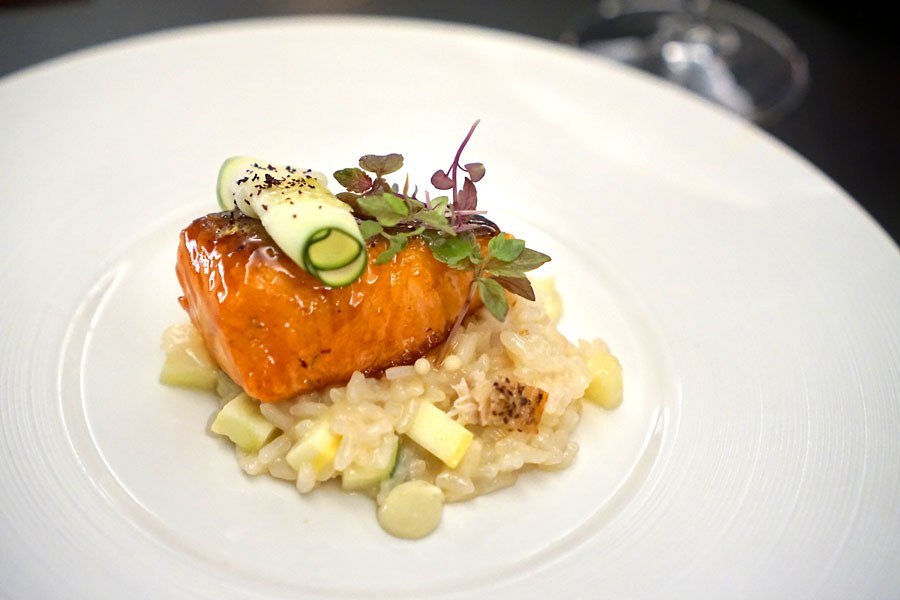 5: King Salmon
| zucchini rice / cracked pepper mackerel / jalapeno allioli
Maison Champy, Chardonnay
Salmon arrived with a pretty much flawless cook on it, and showed off the fatty, briny elements I wanted, with a crispy skin to boot. The fish was coated in a sweet-ish,
unagi
-inspired glaze, and said glaze was then countered by the risotto-style sushi rice, which incorporated dashi and tangy white ponzu. To drink, I had some white Burgundy, an abundant, almost creamy wine with lots of stone fruit and a well-placed touch of funk--quite nice.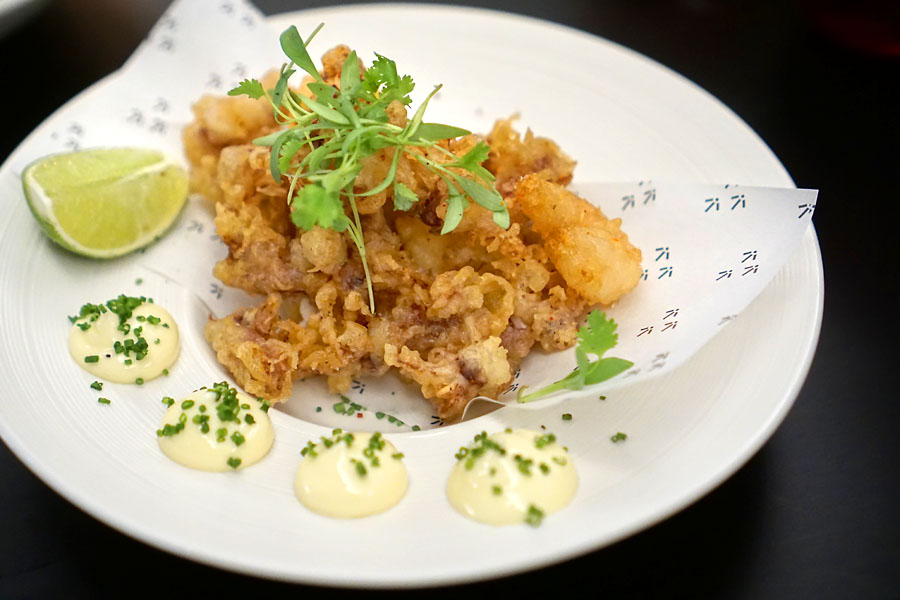 Shrimp & Squid Tempura [$16.00]
| lime allioli / togarashi
At this point I added on a couple supplemental courses, the first of which was this superb rendition of tempura. I was impressed by the sheer delicacy of the frying going on here, and I appreciated how the textures and oceany flavors of both the squid and shrimp were conveyed. I got an excellent creamy, herby tartness from the included alioli, too.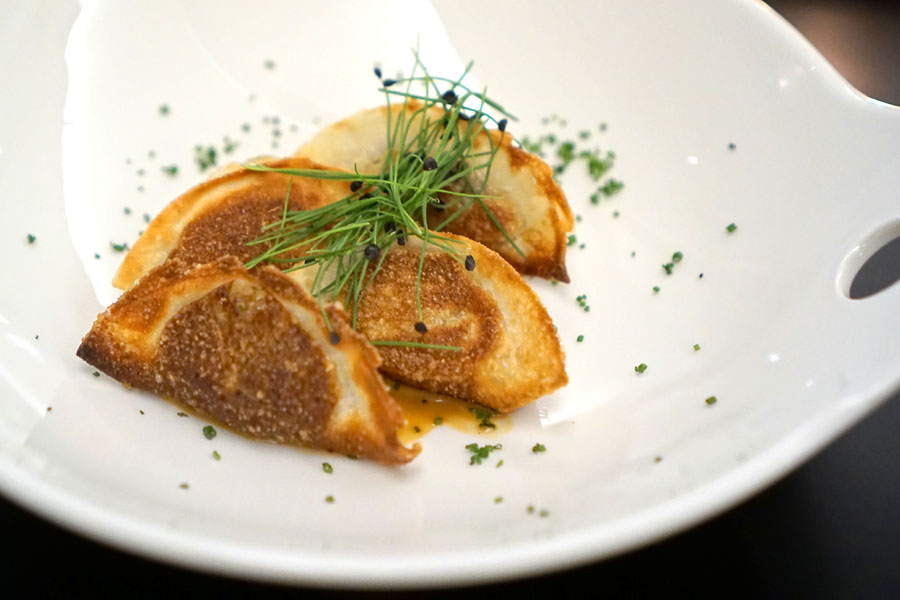 Duck Rillette Gyozas [$11.00]
| noisette vinaigrette
Dumplings came out super crispy, and were stuffed with a deeply-flavored filling of long-cooked duck, one with an almost liver-y earthiness to it. Fortunately, the included greenery helped even out the heady flavors at play.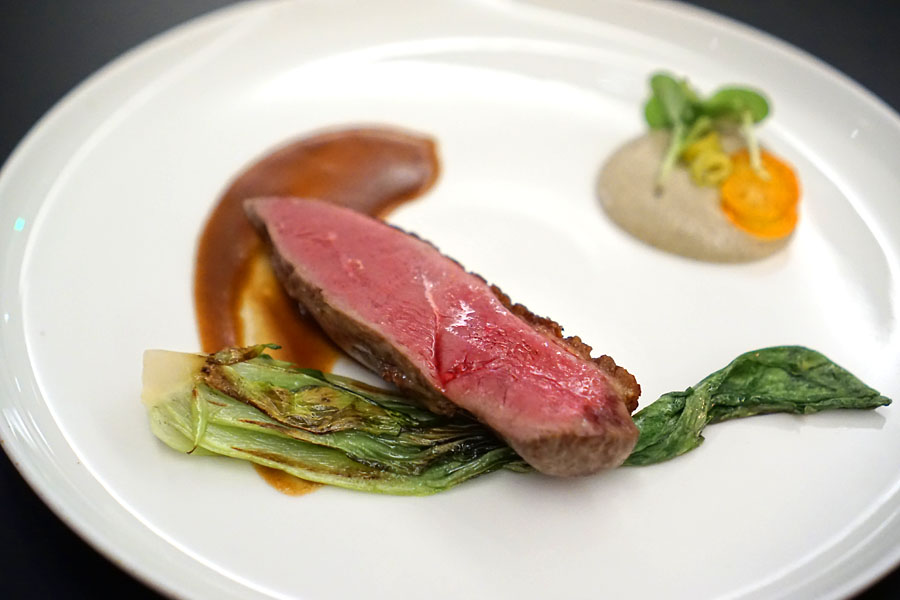 6: Duck Magret
| mandarinquats / pepper sauce / sunchoke / bok choy
Legende, Bordeaux, Cabernet Sauvignon
In our final savory course, smoked duck breast displayed a delightfully springy, supple consistency and flavors that were simultaneously duck-y as well as ham-like. It was a winning combination, and linked up well with the zippy black pepper sauce, while the bok choy and surprisingly spicy sunchoke purée helped moderate the interaction. To drink: a luscious, super perfume-y, fruit-laden claret tinged with a hint of mint.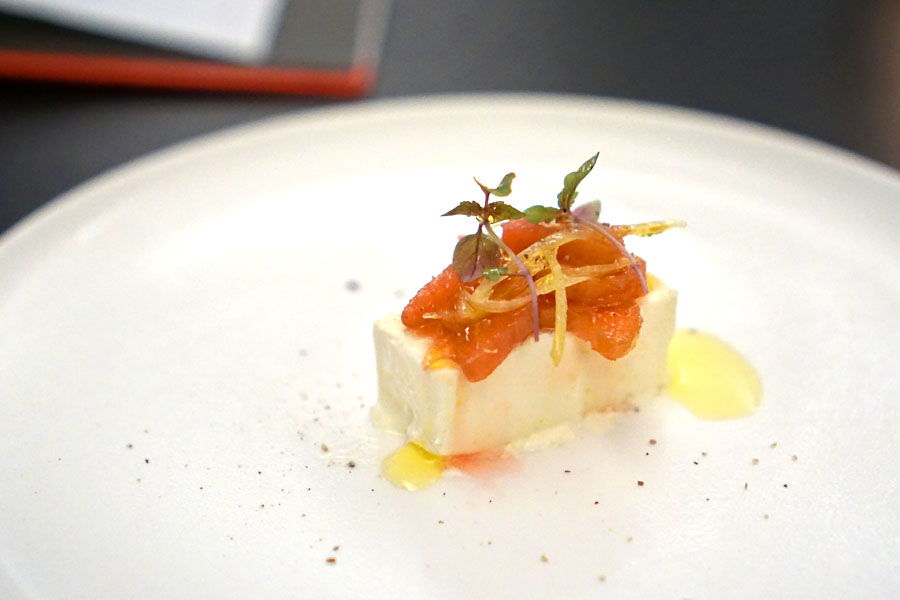 7: Semifreddo
| poached rhubarb / lemon / olive oil
Pre-dessert duties were handled by this
semifrío
, topped with tangy rhubarb and candied lemon, along with a fragrant drizzle of EVOO.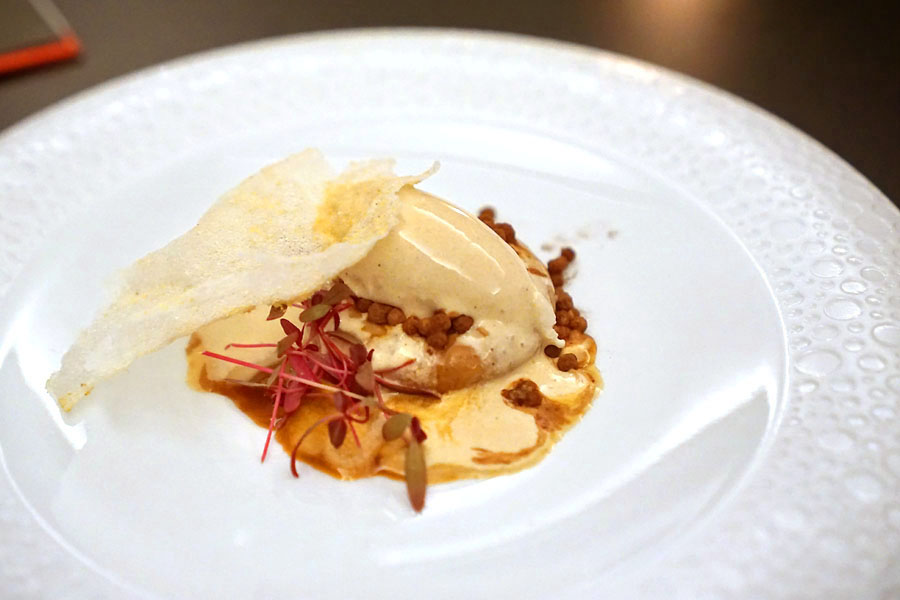 8: Chocolate de Cabra
| milk chocolate cremeaux / caramel / goat milk ice cream / cocoa candied rice puffs
Tamagawa Time Machine Amber Sake
Dessert proper brought a delectable merger of chocolate and goat's milk, one boosted by the application of caramel and crunchy bits of puffed rice. I found this elegant, yet cozy at the same time. As for the evening's final beverage pairing, Tamagawa's "Time Machine" was quite unlike any other sake I've had. It was unabashedly nutty and funky, with an oxidized, almost sherry-esque quality joined by honeyed fruit and loads of soy sauce-like umami notes.
9: Mignardises
| mango brown butter caramel / tropical pate de fruit / coconut truffle
Closing out the night was a trio of mignardises. I began with the lychee-calamansi pâte de fruit, then moved on to the coconut-y bonbon, and ended with that dense, richly flavored square of
beurre noisette
caramel.
It was certainly nice to get out of town after all this time, even if it was only for a work trip. My dinner at Cranes was pretty strong across the board, and the kitchen was able to meld Japanese and Spanish cuisines in a fairly subtle manner, with neither side really dominating. It's a type of fusion that I can get behind, and was a nice welcome back to the Capital's dining scene. As for Moncayo's next steps, he's reportedly working on opening a Singaporean spot at The Wharf mixed-use development, so I'll definitely be on the lookout for that next year.