Xiquet (Washington, DC)
Xiquet by Danny Lledó
2404 Wisconsin Ave, Washington, DC 20007
202.913.4671
www.xiquetdl.com
Tue 06/15/2021, 08:05p-12:10a

For the second meal of my recent business trip to the District, I decided to check out the relatively new Xiquet, which comes to us from Chef/Owner Danny Lledó, a DC area native. Named after the Catalan word for "boy," the Glover Park restaurant centers on the cuisine of Spain's Valencia region, in a tasting menu format, and has a particular focus on wood-fired cooking.
About the Chef
: Lledó was born in 1977 in the Maryland suburb of Takoma Park to a Spanish father (a chef) and a Portuguese mother. From approximately 1985 to 1987, he lived in his dad's Valencian hometown of Dénia, where his grandparents ran a farm and his uncle operated a fishing boat. After returning to the US, he found himself at Our Lady of Good Counsel High School back in Montgomery County, MD, during which time he helped his father out in the kitchen at times (including at the Bethesda-based Ridgewells Catering). Following high school graduation, Lledó worked with Yannick Cam at his DC restaurant Provence, then spent time at longstanding Downtown Spanish eatery Taberna del Alabardero.
In 2001, he cooked for a while at the Miami outpost of Madrid's Sobrino de Botín, which is reportedly the oldest continuously operating restaurant in the world, then returned to DC for positions at José Andrés'
Jaleo
, Cafe Atlantico, and
Minibar
. The Chef was also going to school at University of Maryland College Park during this period. After finishing his bachelor's degree in finance, he worked for New York Life Insurance until 2005, then started his own consulting company: VLC Advisory. In 2012, Lledó got back into the restaurant biz by co-founding Fancy Hospitality (with Chris Chambers) and purchasing Crush Kitchen & Winehouse in Annapolis, MD.
In 2013, he joined the management team at Slate Wine Bar, which had opened in DC's Glover Park neighborhood the previous year, and would eventually buy out his partners in 2019. Following the buy-out, the Chef took seven months to remodel the place, and re-debuted the wine bar in February 2020. As part of the revamp, he dedicated part of the building to Xiquet, which opened at the start of March last year, just two weeks before the pandemic shutdowns. The restaurant quickly pivoted to to-go, but was able to welcome on-site diners back in July, and the team even received a Michelin star this April.

The building that houses Xiquet and Slate was previously home to the generically named Kitchen, and before that the slightly less generically named Ceviche, and before that the even slightly less generically named Austin Grill. Pictured above is the first level of the edifice, which holds Slate (the wine bar wasn't open this evening, hence the emptiness).

Diners are then led up to the mezzanine lounge, which serves as a waiting area.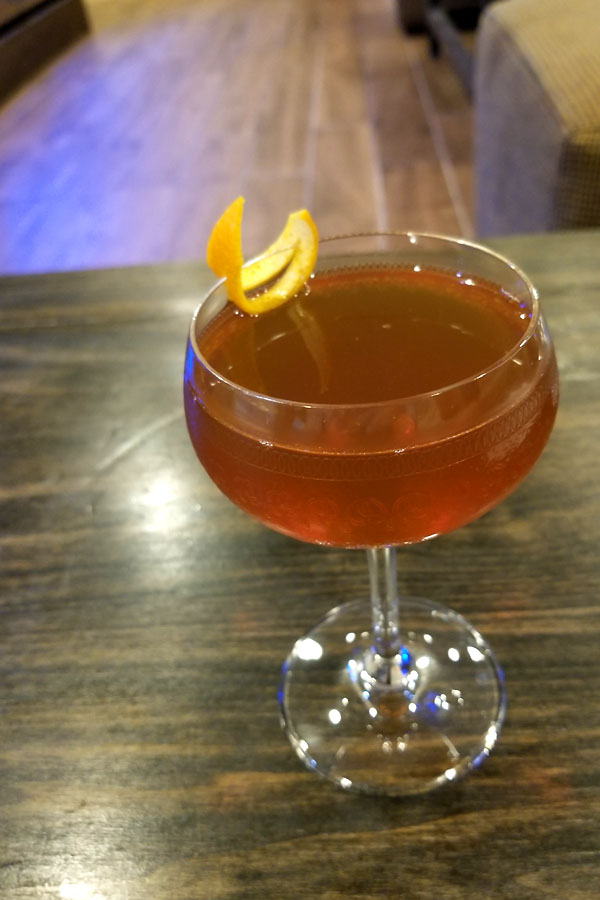 Xiquet Manhattan [$18.00]
| old overholt rye • carpano antica • blood orange bitters
I took the opportunity to enjoy a cocktail during the wait. The restaurant's riff on the classic Manhattan had a relatively restrained nose featuring a commixture of chocolate and red fruit, while the palate went in a complex, multifaceted direction, its berry sweetness joined by a bevy of herbal, bitter nuances.

We now make our way up to Xiquet's top floor dining room (previously used as offices for Slate), replete with its glass-enclosed kitchen. It's actually a fairly small space, with but seven tables in total.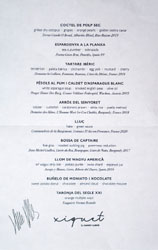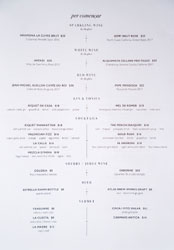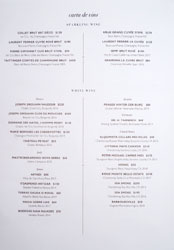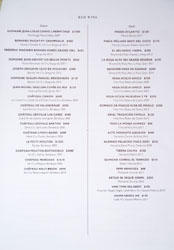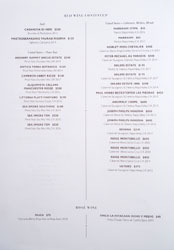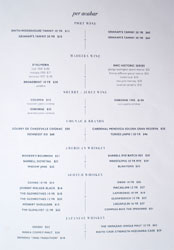 À la carte ordering is a no-go here (though it was indeed offered when the place first opened), and instead you're presented with a choice of two tasting menus: seven courses at $125 or 10 courses at $175, plus $75/$125 for beverage pairing. Also pictured above is Xiquet's selection of wines (initially put together by Rachael Buehrer), cocktails, beers, and spirits. Corkage is a reported $50 per bottle. Click for larger versions.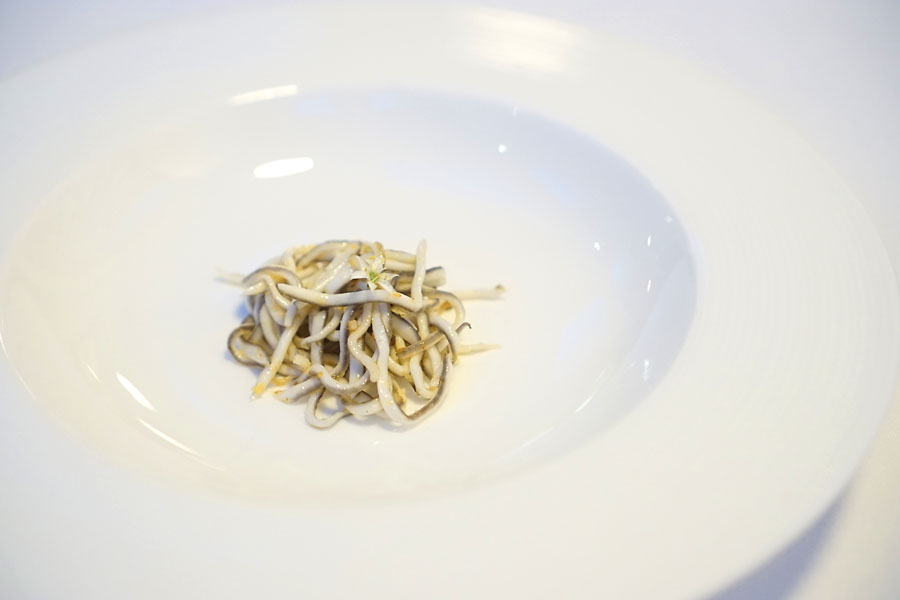 Amuse bouche duties were handled by smoked
angulas
(a.k.a. elvers), dressed in paprika and garlic oil. The baby eels made for a fantastic start to the meal, demonstrating a perfect amalgamation of brine, vegetal savor, and spice.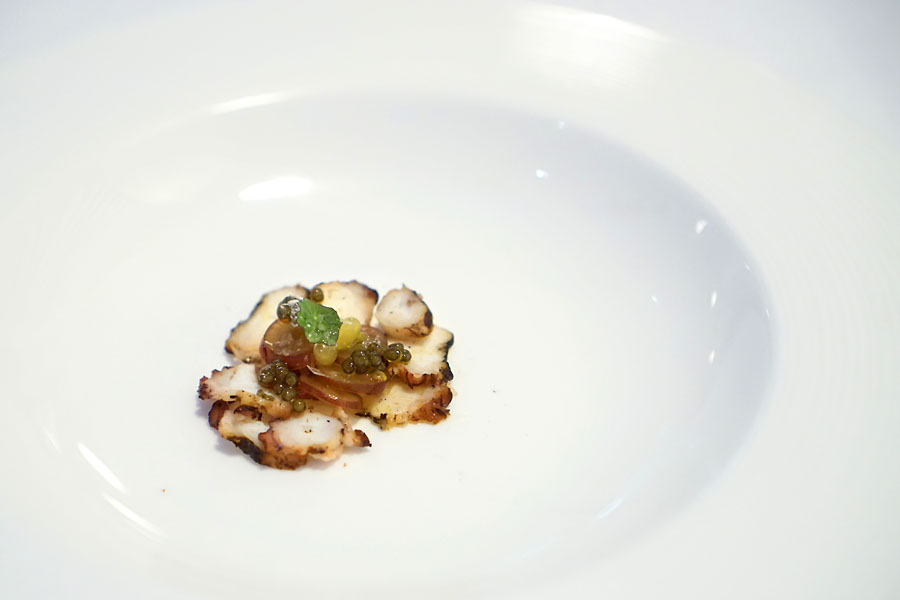 1: Coctel de Polp Sec
| grilled dry octopus • grapes • orange pearls • golden osetra caviar
Thin, tender slices of wood-grilled dried octopus featured a strong saline component that was further boosted by the caviar. However, it never got overwhelming, since the grapes and citrus helped even things out.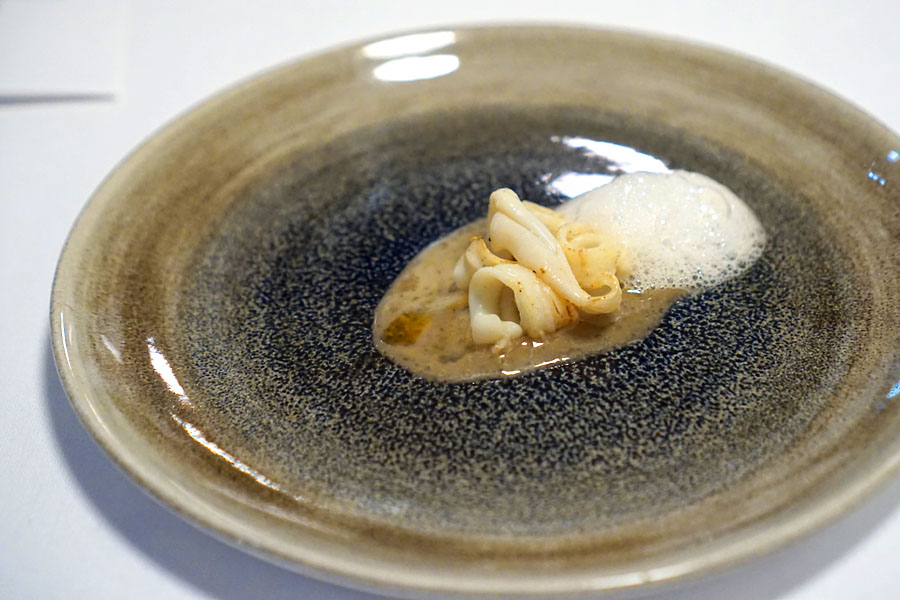 2: Espardenya a la Planxa
| sea cucumber • sobrasada
Poema Cava Brut, Penedès, Spain NV
The sea cucumber was a treat. I loved its simultaneously crunchy yet supple texture, while its oceany flavors were joined by a honeyed sweetness and some savory, somewhat brown butter-like notes. The echinoderm matched up well with the paired sparkler, which, while lively and apple-y, also showed off more complexity and toast than I was expecting.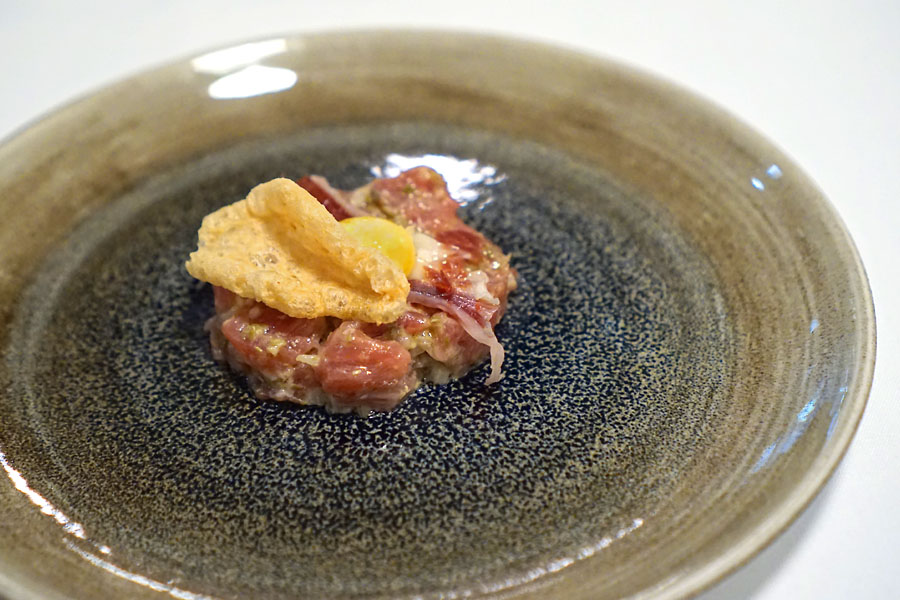 3: Tartare Ibèric
| tenderloin • paleta ibérica • chicharrón • egg yolk • mustard • sherry
Domaine la Colliere, Fontaine, Rasteau, Côtes du Rhône, France 2016
It's uncommon to find a pork tartar at restaurants, so I was very happy to see it here. The tenderloin possessed a delightful consistency, and had its richness taken up a level by the lushness of the egg yolk. The meat meshed easily with the tanginess of capers, mustard, and what I believe was onion, while the crunchy, salty smack of the pork rind on top served as the perfect finishing touch. Definitely a favorite tonight. As for the accompanying wine, it had a super earthy, meaty, herbal nose, while its palate showed an herbaceous, minty character alongside tannic fruit. It stood up well to the heft of this course.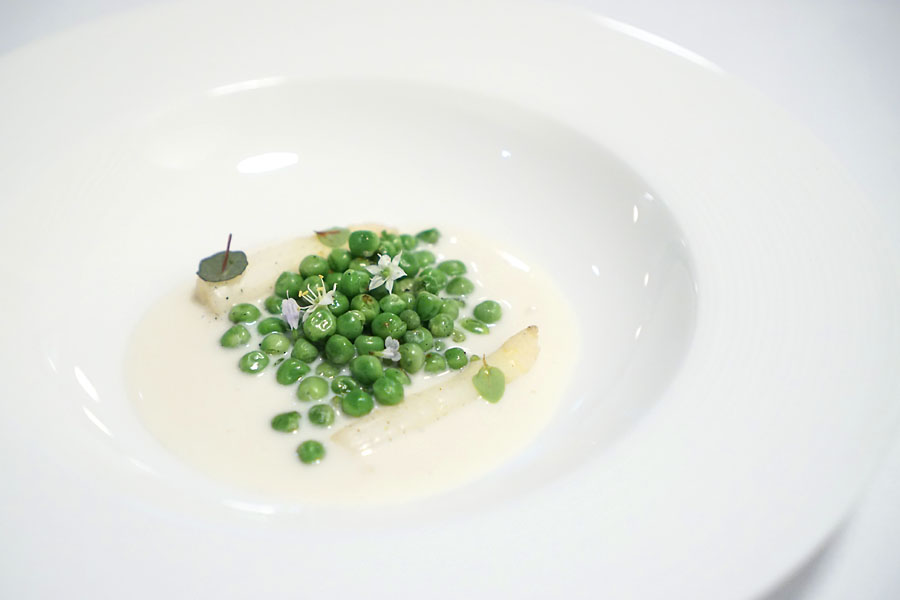 4: Pésols al Fum i Caldet d'Asparagus Blanc
| white asparagus soup • smoked english peas • olive oil
Prager Hinter Der Burg, Gruner Veltliner Federspiel, Wachau, Austria 2019
Next was a deft matchup of sweet pea and bittersweet asparagus, all overarched by a subdued layer of smoke. I was a fan, and also quite the fan of the wine pairing. The Grüner conveyed a tasty mix of freshness, yellow fruit, acidity, and minerals, but became even fruitier when taken with the soup.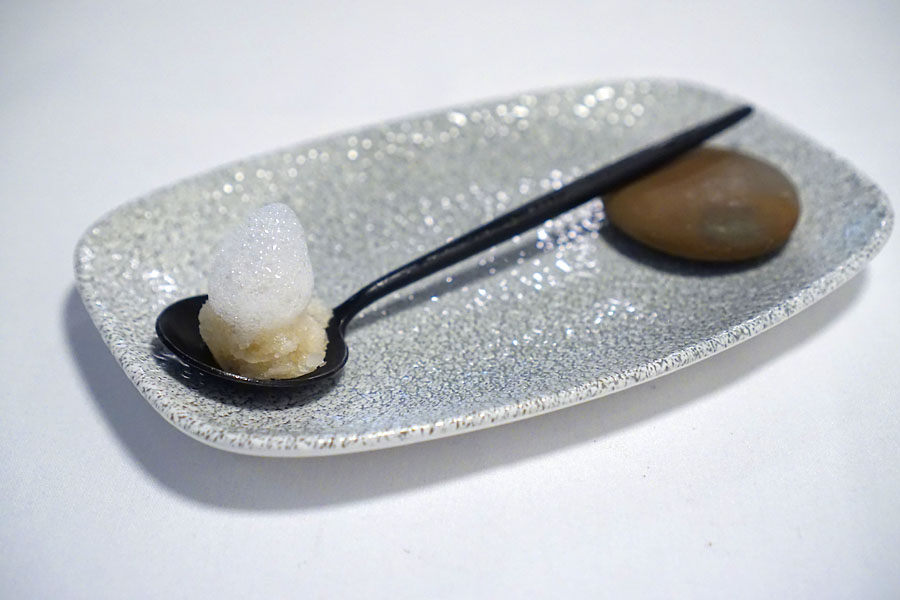 Our intermezzo course comprised a sweet-n-zesty rosemary-ginger granita, topped with a sugary honey-lemon foam. Lots of lingering ginger and honey with this one.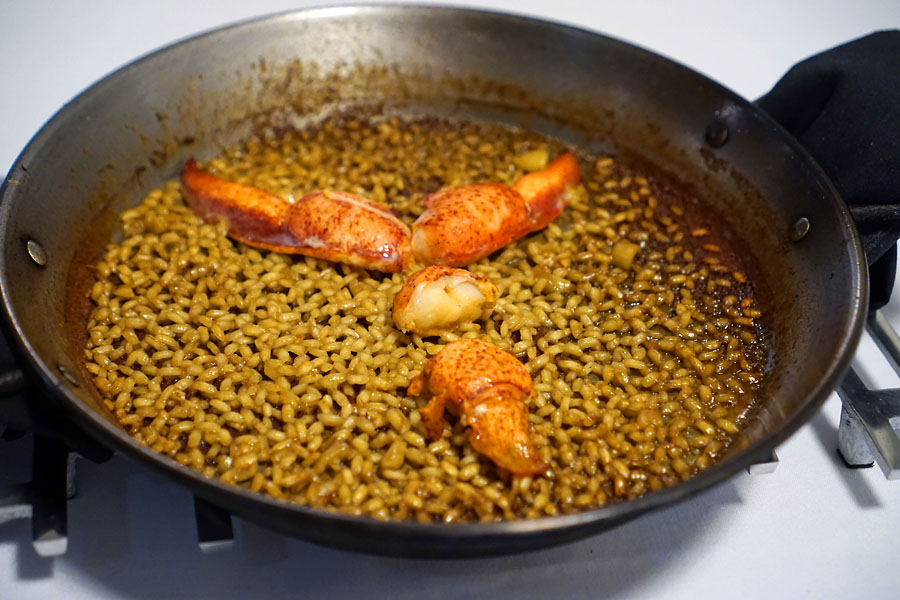 5: Arrós del Senyoret
| lobster • cuttlefish • carabinero prawn • sénia rice • paella method
Domaine des Hâtes, L'Homme Mort 1er Cru Chablis, Burgundy, France 2018
Here we have the "gentleman's rice," named such since all the lobster was removed from the shell as to not dirty the diner's hands. Speaking of that lobster, it was beautifully textured, and had its signature sweetness well matched to the intense richness and brine of the cuttlefish-imbued rice. Said rice was very heavy in the crunchy, smoky
socarrat
department, but my quibble here was that I wanted more of the actual non-crispy rice for balance. The accompanying white Burgundy was a natural pairing thanks to its intense, funky nose filled with shellfish and yellow fruit and its soft, round palate showcasing pome fruit, minerals, and a touch of butter.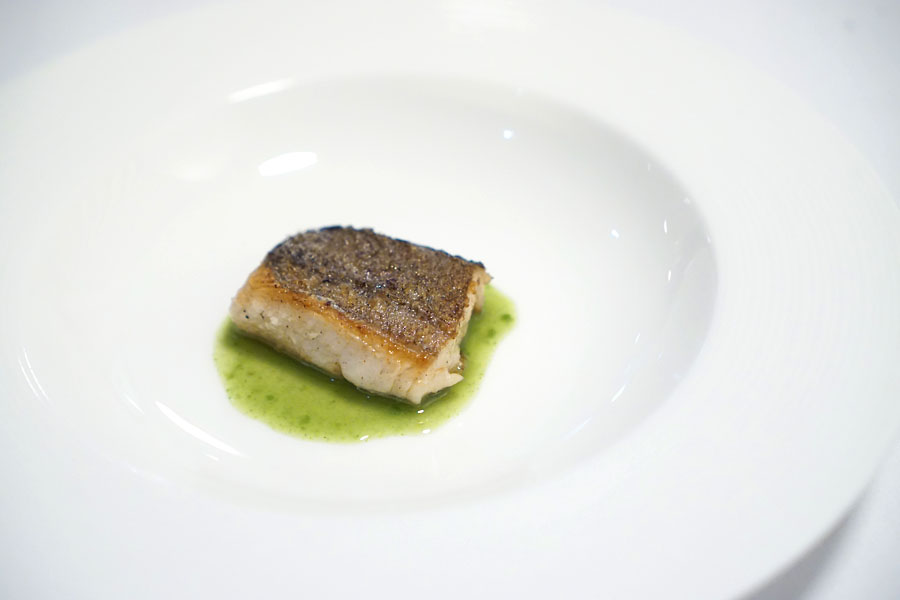 6: Lluç
| hake • green sauce
Commanderie de la Bargemone, Coteaux D'Aix-en-Provance, France 2020
The hake was another standout. I found the fish properly flaky and juicy, yet it had a seemingly confounding "dryness" as well that actually worked for me. The skin was also on point, and I was particularly smitten with the bright yet umami-forward
mojo verde
. As for the paired rosé, think super fragrant strawberry commingled with lemon, saline, and funk.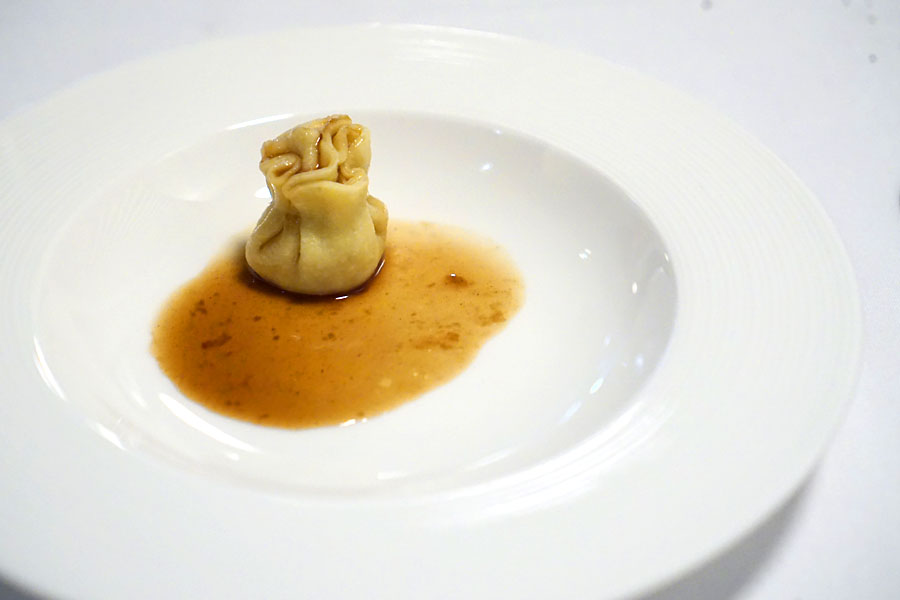 7: Bossa de Captaire
| foie gras • roasted suckling pig • pommeau reduction
Jean-Michel Guillon, Cuvée du Roi, Bourgogne, Cotes de Nuits, Burgundy 2017
Here we have a Spanish beggar's purse, one stuffed with a filling of heady suckling pig and delicate-yet-earthy-foie, all set in a sumptuous, savory, tangy apple brandy sauce. Given the heft of this course, a potent wine was called for, and the paired Burgundy fit the bill nicely. I got lots of meat and mineral on the nose, combined with red fruit, while the palate was viscous and opulent, with loads of dried cherry, herb, and earth.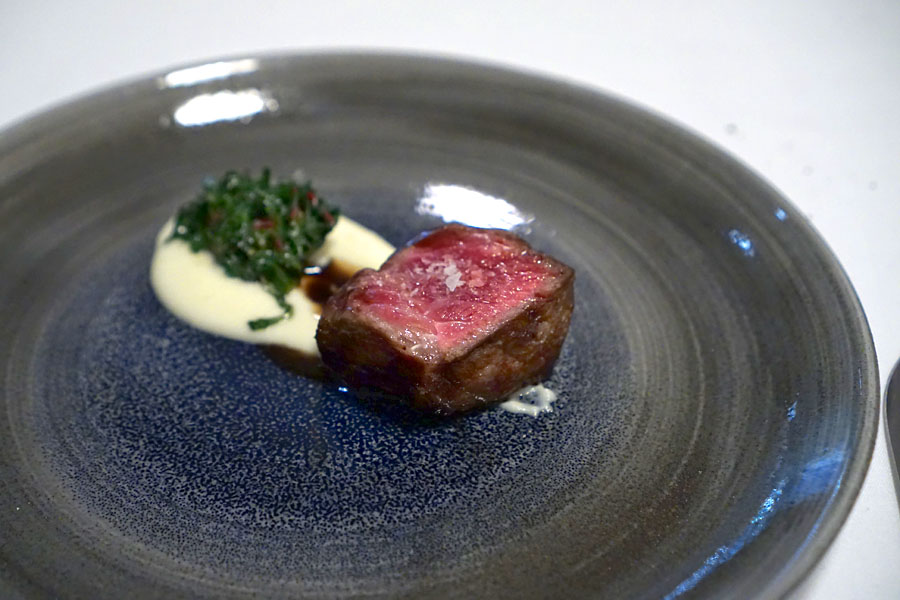 8: Llom de Wagyu Americà
| srf wagyu strip loin • potato purée • swiss chard • espanyol jus
Asenjo y Manso, Ceres, Ribera del Duero, Spain 2016
In our final savory course, a luxurious, fatty, super flavorful cut of Snake River Farms beef was a joy to eat just by itself, but was even better when smoothed out by puréed potatoes and bitter chard. To drink, we were given something aptly full-bodied. The wine was teeming with notes of robust berry, violet, chocolate, and tobacco, with a nice hit of spice on the back end to boot.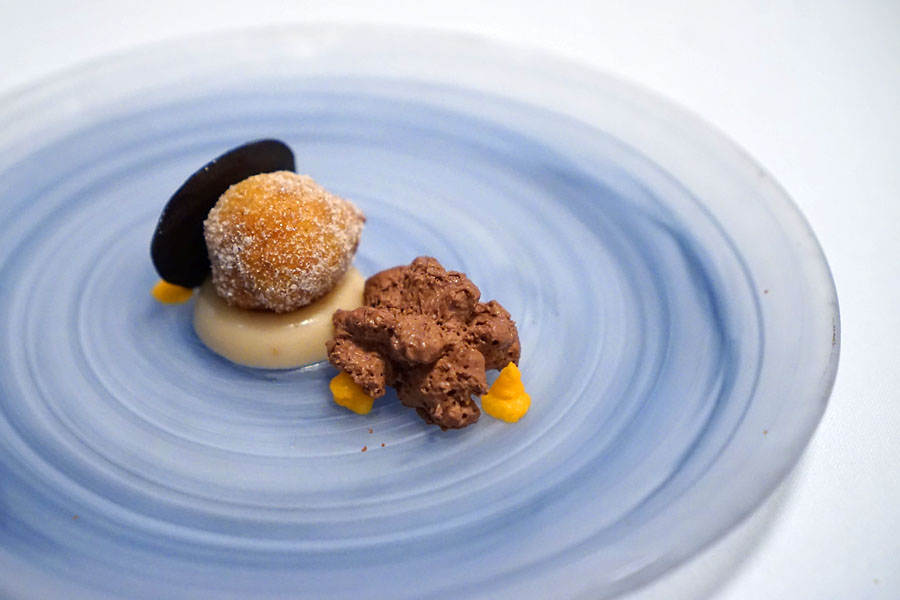 9: Buñelo de Moniato i Xocolate
| sweet potato donut • chocolate • almond cloud • chocolate mousse
It's time for our pre-dessert, which was composed of a well-fried sweet potato buñuelo that had an almost cinnamon-esque sweet spice to it. I found it rather tasty by itself, but definitely appreciated the contrast provided by the chocolate mousse and dark chocolate chip.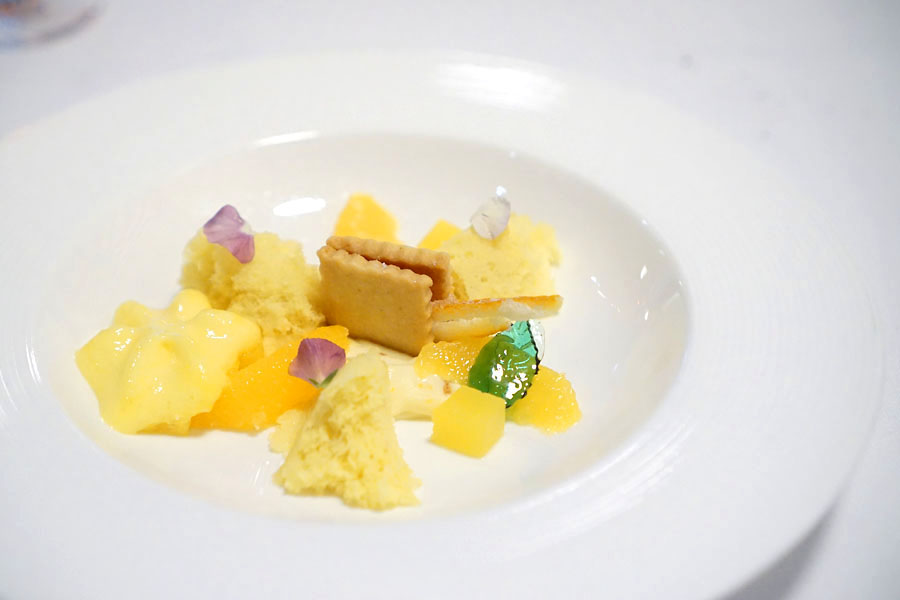 10: Taronja del Segle XXI
| orange multiple ways
Yzaguirre Vermut Rosado
Dessert proper was this "21st Century Orange," which did a wonderful job of conveying the essence of the citrus in nine ways: orange shortbread cookie, sour candied rind, orange mousse, sliced orange, orange gelatin, orange cake, orange espuma, sprinkles of orange sand, and finally, a spray of orange-cherry blossom water. It all resulted in a superb mishmash of disparate textures that made for a fun finish to the meal. As for the accompanying vermouth, I found the wine uncommonly floral and perfume-y, with lots of citrus fruit cut by bitterness and herb.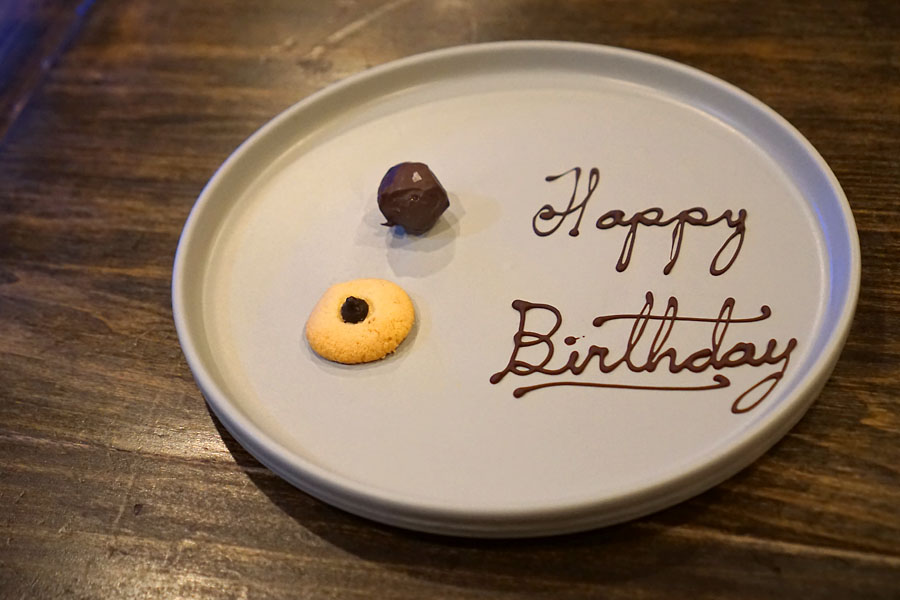 With dinner completed, it was time to retire to the mezzanine bar once again for some mignardises: a somewhat briny cookie and an unabashedly decadent chocolate truffle.
La Calle [$16.00]
| old overholt rye • aperol • vermouth • port
I also enjoyed another cocktail, this one blending fresh, fruity elements with notes of astringent citrus, port-fueled depth, and bitter herb.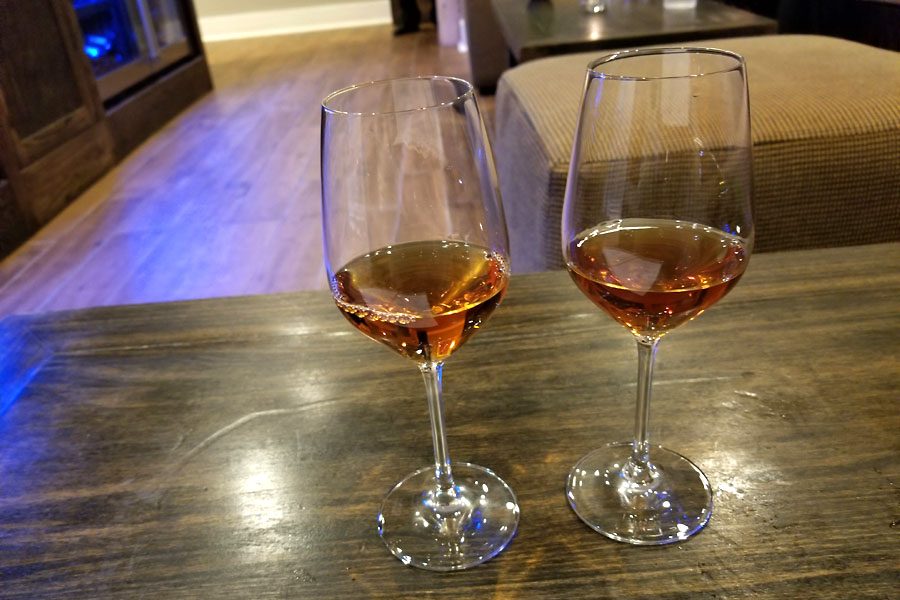 Finally, we have here two expressions of Madeira put together by the Rare Wine Co. The
George Washington Special Reserve [$25.00]
was composed mostly of Madeiras 10 to 20 years old, with the remainder being much older wines. It was of the sweeter style, which Washington supposedly preferred, but was also eminently balanced. I'd give the edge to the
Thomas Jefferson Special Reserve [$25.00]
, though. A blend of 10% Malvasia (up to 80 years old apparently) and 90% dry Madeira, this one was decidedly less sugary, with a much nuttier, spicier disposition.
I ended up having a lovely time at Xiquet this evening. It's not very often that I get to enjoy a Spanish meal like this, especially one so inspired by Valencian cuisine, so Lledó and his team were really able to put together a distinctive dining experience. The service was also quite polished, and appropriate for a Michelin-level tasting menu joint. As for the Chef's future plans, he's supposedly already begun working on another high-end restaurant concept. While Xiquet honors his Valencian father, his new spot will apparently highlight the Portuguese food of his mother's side of the family, so I'll be looking forward to checking out that place if it ever sees the light of day.