Amboy Quality Meats & Delicious Burgers (Los Angeles, CA)
Amboy Quality Meats and Delicious Burgers
727 N Broadway, Los Angeles, CA 90012
213.935.8188
www.amboyqualitymeatsanddeliciousburgers.com
Thu 07/15/2021, 08:55p-09:45p

It's been well over six years since I last checked in with Alvin Cailan (it was when he opened
Ramen Champ
at the start of 2015), so I'll summarize what the Chef's been up to since then:
Aug 2015: Ramen Champ suspiciously closes down for the remainder of the month.
Sep 2015: It's revealed that Cailan has stepped away from the ramen joint, and that a new management team (from Ramen Yokocho) would be taking over in October. Curiously, the place shut down again at the end of 2016, but then came back to life in April 2017 before closing for good last year.
Jan 2016: The Chef launches Unit 120, a "culinary incubator" of sorts at Chinatown's Far East Plaza. Chad and Chase Valencia of LASA are the first to try their hand there.
Jan 2016: Cailan starts service at Amboy, a lunch-focused takeout window attached to Unit 120 serving casual Filipino fare.
Jun 2016: The second Eggslut opens in Las Vegas at The Cosmopolitan.
Aug 2016: Amboy switches things up and tries dinner service. Its takeaway window is replaced by Easy's, a burger concept by Jeremy Fall that lasts for about a month. Easy's is now a full-blown restaurant at Beverly Center.
Nov 2016: Speaking of Jeremy Fall, he opens Tinfoil Liquor & Grocery in Highland Park, with Cailan helping with the menu. The place closed at the start of September 2018, and has been replaced by Flask/Jeff's Table.
Nov 2016: The third Eggslut opens in Venice.
Dec 2016: A Bob's Burgers pop-up takes over Unit 120; Cailan collaborates on accompanying hamburgers with guest chefs.
Jan 2017: The LASA team announces plans to take over Unit 120 for good. Unit 120, meanwhile, announces plans to move into the old Wing Hop Fung space, but I don't think that ever happened.
Feb 2017: Cailan scores a cookbook deal.
Feb 2017: The Chef links up with Tao Group for Luchini Pizzeria & Bar in Hollywood, but his role is apparently minimized by the time the place opens. It shuttered in fall 2020.
Mar 2017: Cailan moves to New York and takes up residency at the Chefs Club Counter pop-up.
Mar 2017: The fourth Eggslut opens in Glendale.
Jun 2017: Cailan starts giving diners at Chefs Club Counter a preview of Paper Planes, his upcoming restaurant that never ends up happening.
Dec 2017: Another Bob's Burgers pop-up, this time in NYC.
Jan 2018: The fifth Eggslut opens at Beverly Center.
Jul 2018: The Chef grand-opens The Usual, a comfort food eatery at The Nolitan hotel.
Sep 2018: The sixth Eggslut opens in Beirut of all places; it's now closed.
Feb 2019: Plans are revealed for a full-service version of Amboy in New York; it never comes to fruition.
Apr 2019: The seventh Eggslut opens inside Crystal Tower in Kuwait City.
Jun 2019: Cailan partakes in a Good Burger pop-up in WeHo.
Aug 2019: The eighth Eggslut opens in Notting Hill, London.
Sep 2019: The ninth Eggslut opens in Shinjuku Southern Terrace in Tokyo.
Nov 2019: Anthony Cailan, the Chef's brother, is accused of sexual misconduct and leaves his sommelier post at The Usual.
Mar 2020: The Usual closes, I'm assuming due to the allegations above.
May 2020: Cailan returns to Los Angeles and opens the second iteration of Amboy inside Chinatown's Far East Plaza.
Jul 2020: The tenth Eggslut opens at the Starfield COEX Mall in Seoul.
Jul 2020: The 11th Eggslut opens in Fitzrovia, London.
Jul 2020: The 12th Eggslut opens in Miyashita Park, Shibuya, Tokyo.
Aug 2020: Cailan's first cookbook, Amboy: Recipes from the Filipino-American Dream, is released.
Feb 2021: The 13th Eggslut opens in the basement of The Hyundai Seoul in Yeouido-dong.
As you can see, Cailan's been quite busy with various project over the past several years, but the place I'm most interested in is Amboy v2.0. The spot takes over the former home of
Chego
, and debuted last May. It was actually conceptualized with the pandemic in mind, which is why it offers meats and various provisions in addition to prepared food. And if you're wondering about what Amboy means, it's a portmanteau of "American" and "boy," and is a slang term oft used to denote a Filipino-American.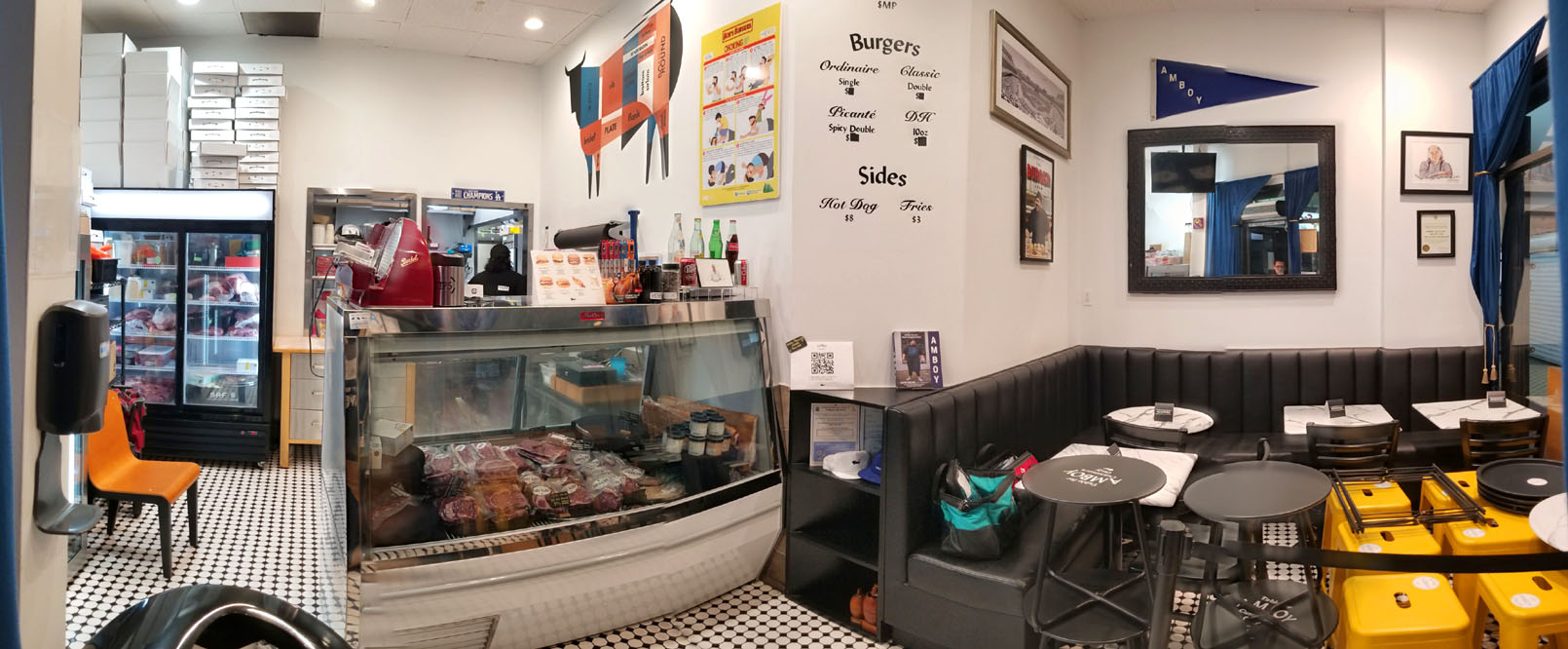 It's rather small inside, and though there is seating, it wasn't in use on this particular evening.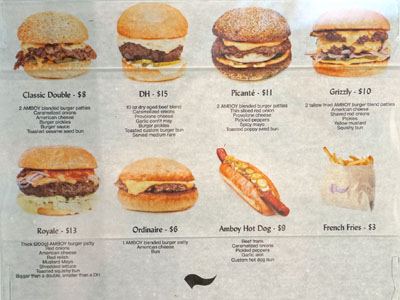 Above we see the food menu, which is dead simple with its six burger options and a couple accompaniments. Click for a larger version.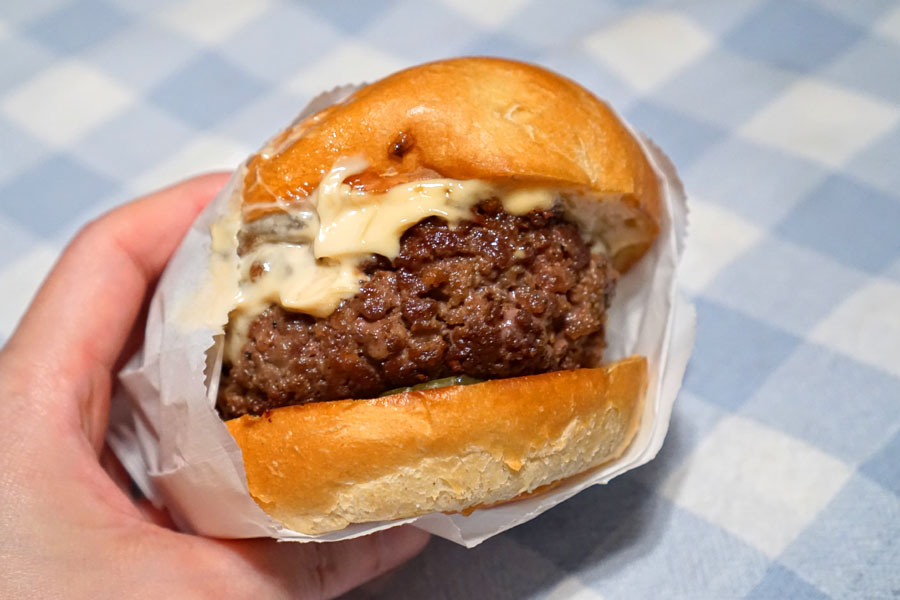 DH [$15.00]
| 10 oz dry aged beef blend, Caramelized onions, Provolone cheese, Garlic confit mayo, Burger pickles, Toasted custom burger bun, Served medium rare
I began with the DH, which, from what I've seen, appears to be the hamburger that Amboy's most known for these days. The first thing I noticed was the patty's crisp, savory sear on the outside, which was excellent. This then led to a juicy, flavorful, somewhat peppery interior that I found very, very satisfying. Pickles worked beautifully for contrast, and I also liked how the garlicky mayo helped tie it all together. This might be one of the best burgers I've ever had.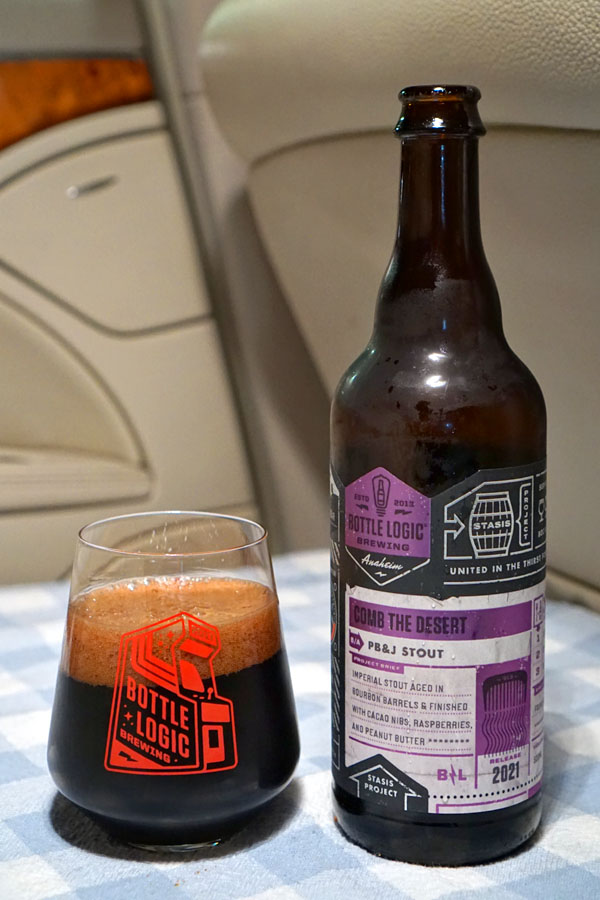 To drink, I brought along a bottle of the
2021 Bottle Logic Comb the Desert
, a bourbon barrel-aged imperial stout with cacao nibs, raspberries, and peanut butter. Nose was rich, luscious berry with peanut butter lurking in the background. Tasting it, I got loads of juicy fruit commingled with plenty of peanut, while the stout finished with a surprisingly long-lasting jamminess. This was easily the best PB&J beer I've tasted.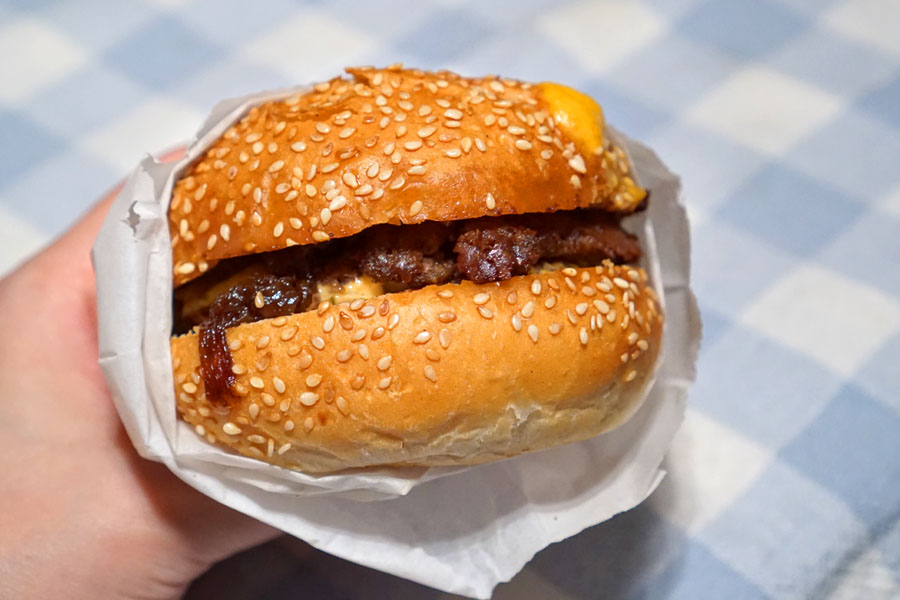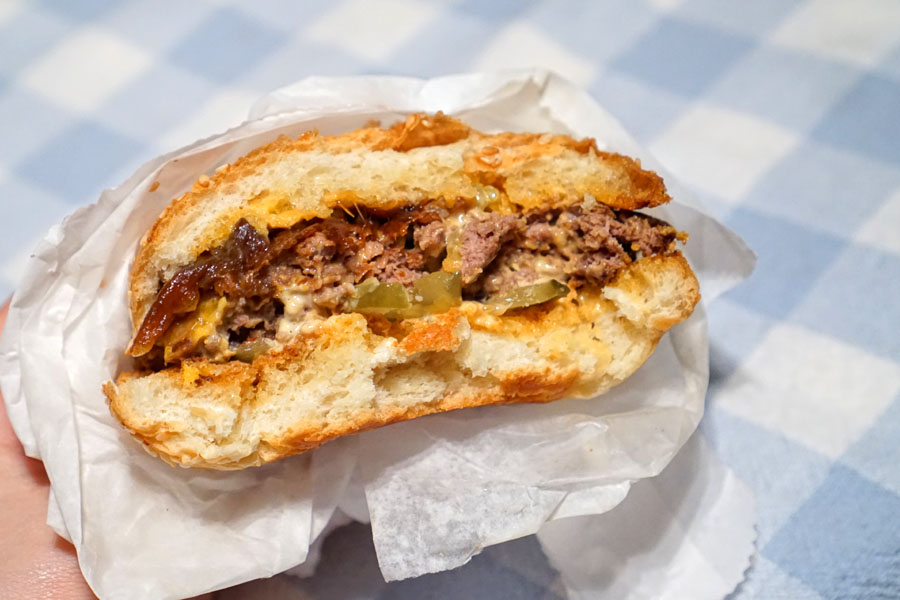 Classic Double [$8.00]
| 2 AMBOY blended burger patties, Caramelized onions, American cheese, Burger pickles, Burger sauce, Toasted sesame seed bun
This next burger was about as classic as its name would imply, with the main story here being the back-and-forth between sweet onions and sour pickles, all layered over a meaty base. What was unexpected was actually the surprisingly strong nuttiness I got from all the sesame.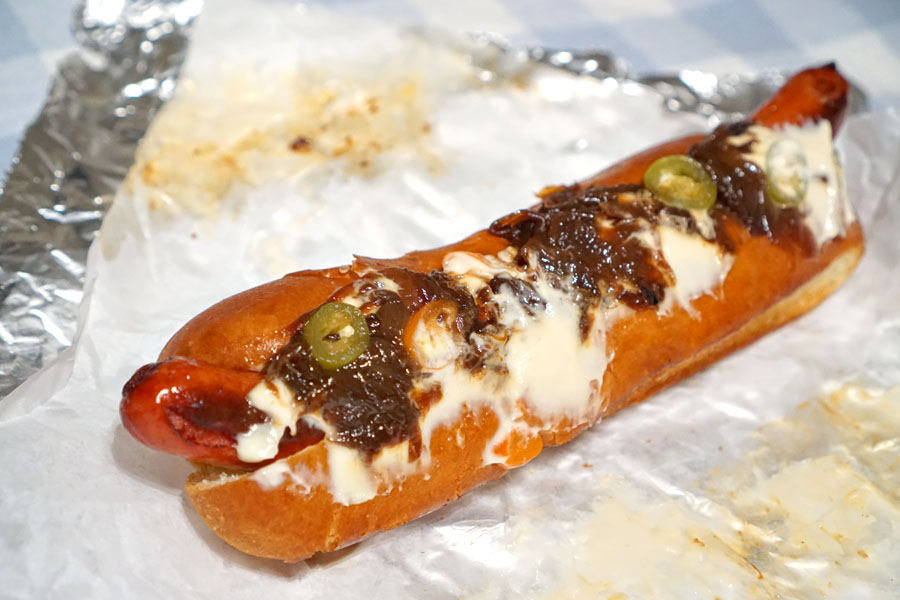 Amboy Hot Dog [$8.00]
| Beef frank, Caramelized onions, Pickled peppers, Garlic aioli, Custom hot dog bun
I made sure to try the hot dog, and was impressed by the snappy, savory, spicy sausage utilized. Also appreciated was the heat of the chilies, as well as the toastiness of the bun, though I could've used less caramelized onion.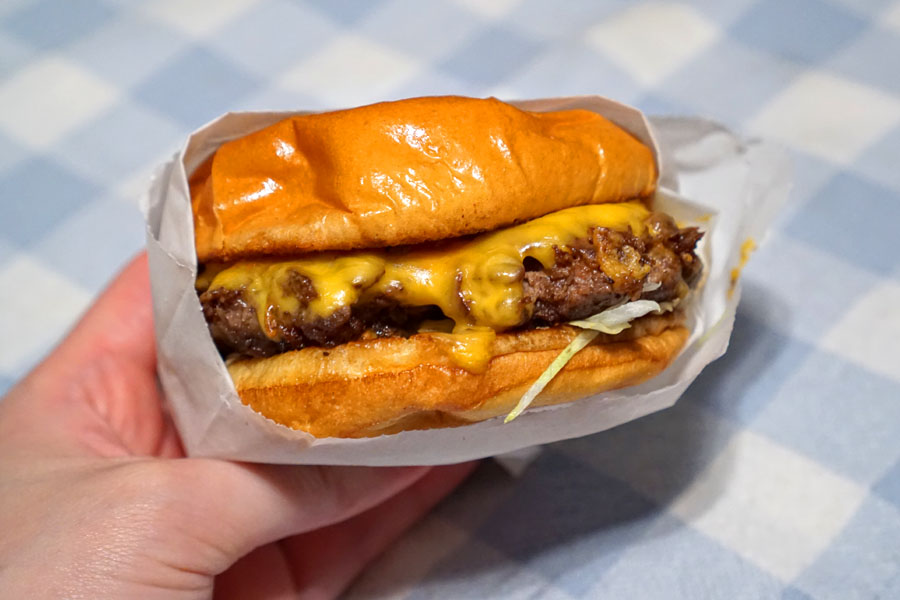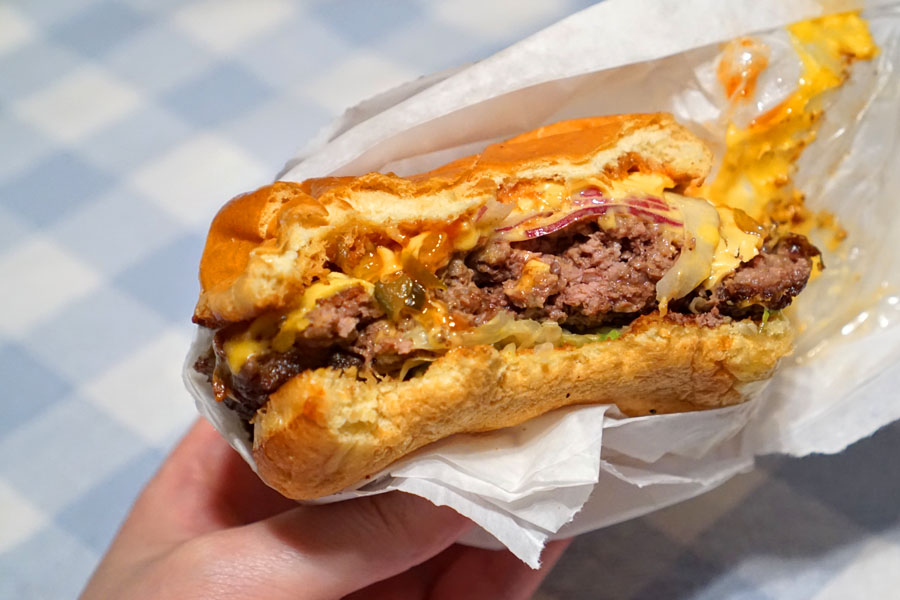 Royale [$13.00]
| Thick (200g) AMBOY burger patty, Red onions, American cheese, Red relish, Mustard mayo, Shredded lettuce, Toasted squishy bun, Bigger than a double, smaller than a DH
I was quite the fan of the Royale, too. Again, there was a superb sear going on with the patty, and I loved the almost nostalgic combination of meat and cheese. The very apparent tanginess from the pickles really worked here as well, as did the zing of the raw onion. All the various elements just meshed pretty much flawlessly.
It's unfortunate that I never made it out to the first incarnation of Amboy, but Amboy QMDB looks to be a worthwhile successor. Cailan definitely knows his way around a burger, and the DH and Royale were two of the tastiest examples I've had in recent memory. Now what I'm curious about is if the original Amboy concept will ever make a return to LA. The Chef was looking to turn it into a proper sit-down restaurant back in 2016, so I guess we'll see if that ever happens.