Gozen (West Hollywood, CA)
Gozen Japanese Sake Bistro
521 N La Cienega Blvd, West Hollywood, CA 90048
213.308.9393
www.gozenbistro.com
Sat 06/19/2021, 08:20p-11:55p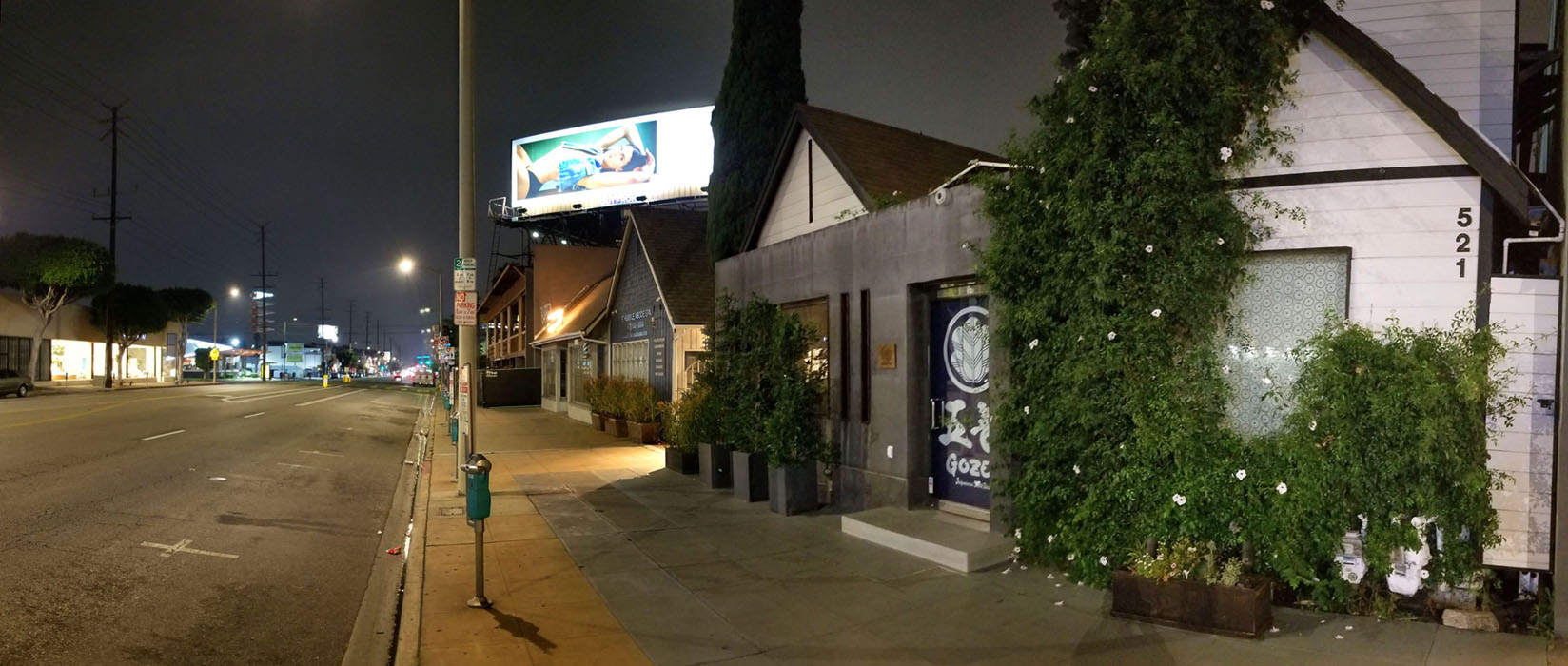 I think a lot of us were surprised at the closure of
Raku
, which shuttered in late summer last year. And like many others, I was very curious as to what exactly was replacing it. The answer to that question was revealed in November with the debut of Gozen (五善). Named after the Buddhist principle of "five good things," the kaiseki-focused spot is the brainchild of Hideaki Hosono (a.k.a. 細野ひで晃 or Mr. Hide), a director of commercials, music videos, and more recently, films.
However, due to a worsening pandemic, the restaurant was forced to revert to takeout shortly after its opening, and the team even launched a
Gozen Express
food truck. Fortunately, the place was able to welcome back on-site diners at the end of March, so I was curious to check it out. Do note that, although Gozen's opening EC was Keiko Sakai, she has since been superseded by veteran chef Nao Sugiyama.
About the Chef
: Naohiko Sugiyama was born in November 1954 in Okayama Prefecture, and first made a name for himself with his kappo-style eatery Ten-nao, which opened in 1981. In 1990, he came to the US, landing in Los Angeles, where he worked at both Katsu and
Matsuhisa
. Following, he relocated to New York to lead the kitchen at Shin's at Le Parker Meridian Hotel (open November 1993), then moved to Brad Kelley's short-lived, kaiseki-focused Katana in SoHo, which debuted in 1995 and closed in September 1997 due to issues with Sugiyama's immigration paperwork. After seven months back in Japan, the Chef returned to NYC once again, and quickly started work on opening his eponymous flagship restaurant in Midtown West.
Sugiyama ended up opening in 1999 and was largely well received, even collecting a three-star review from Ruth Reichl and earning a score of 28/30 in the Zagat guide. The place continued on for some time, but finally shuttered in May 2015 after its lease expired. The Chef eventually made his way back to LA, and in fall 2017, became top toque at
Shiki
in Beverly Hills, replacing Shige Fujimoto. He was soon joined by none other than
Mori Onodera
, a colleague from the Katsu/Matsuhisa days whom he had coaxed out of retirement. In early 2019, Onodera left to cook at
Inn Ann
, and Shiki ultimately closed in March the following year. Sugiyama's next move was to Gozen, and apparently, he took over the kitchen here just recently in June.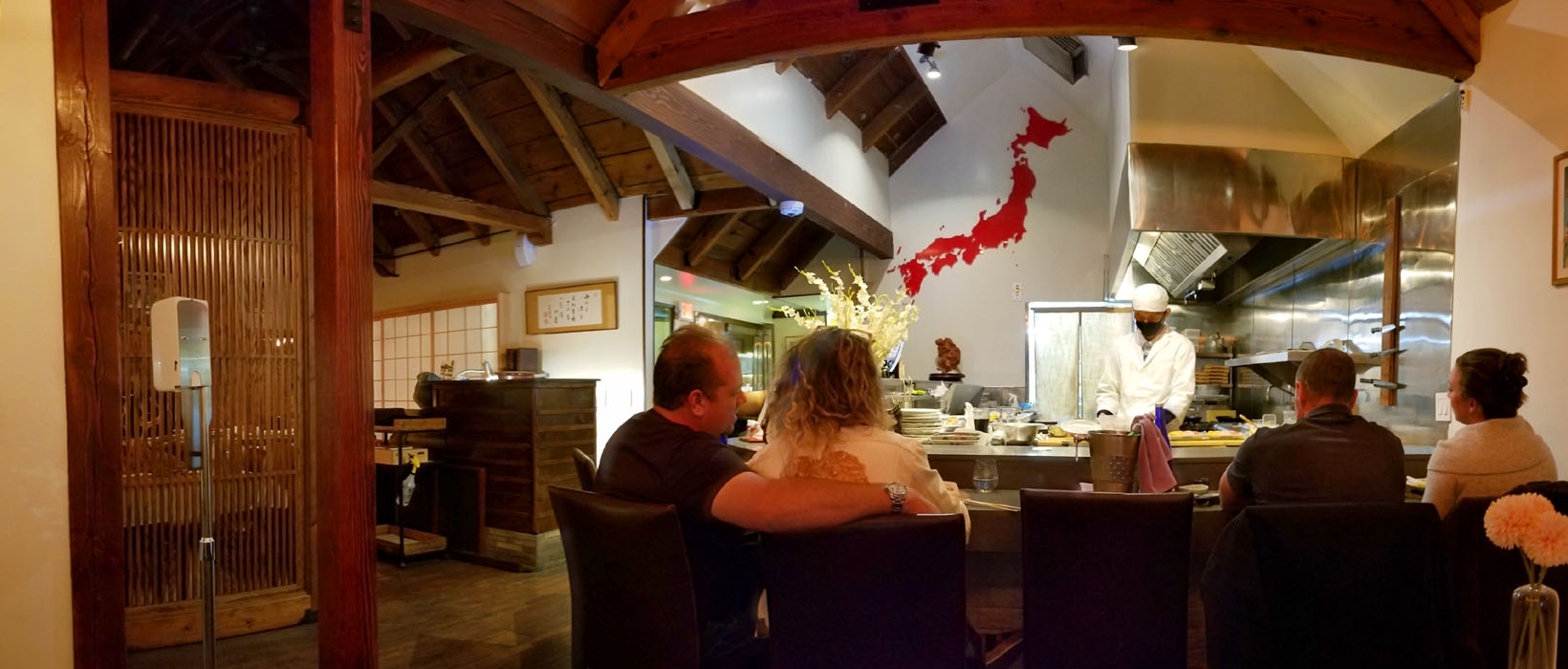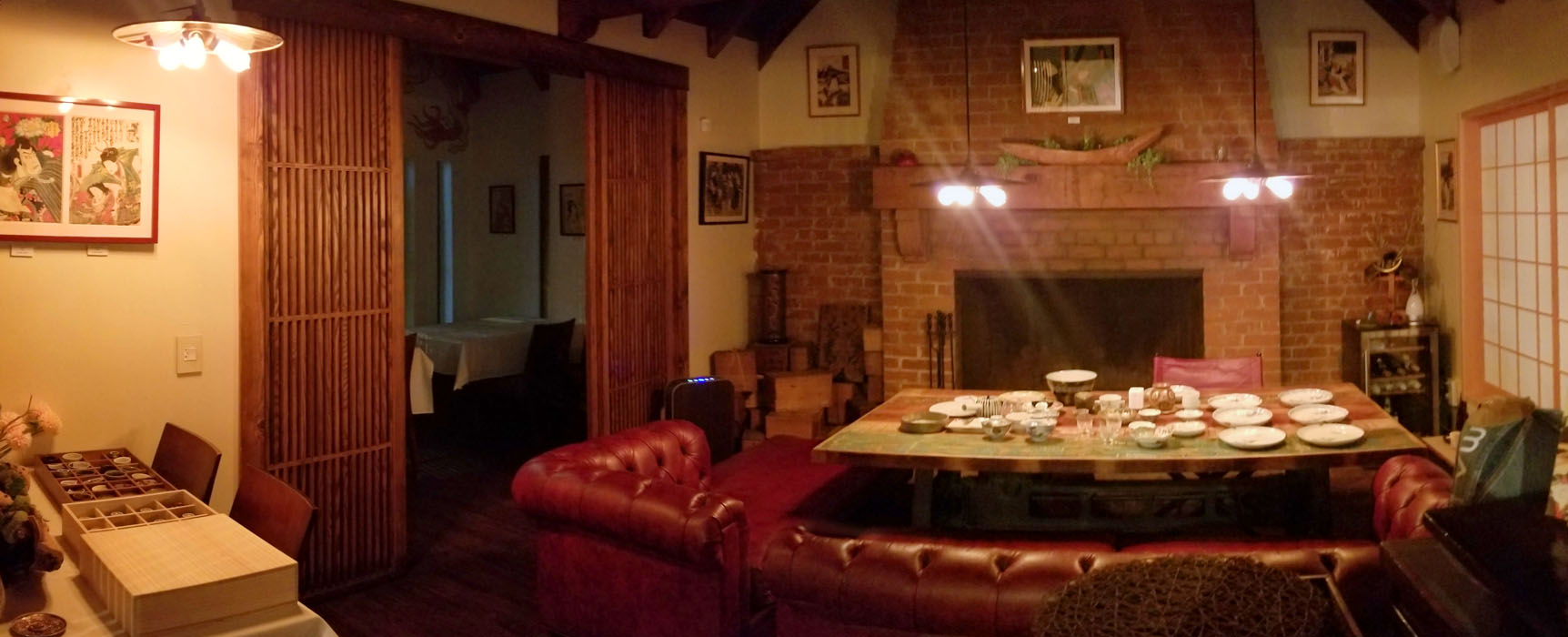 Inside, things haven't changed all that much from the Raku days, though ownership has added authentic
ukiyo-e
prints to the walls along with some other ornamentation. Shown above are the bar and front dining areas, though there are patio and private room options as well.






Pictured here are Gozen's three seasonally-changing, kaiseki-style menus. We went with the 夢 (
Yume
, "Dream") at $240 a head, but you can also opt for the 華 (
Hana
, "Flower") at $160 or the 光 (
Hikari
, "Light") at $80. I believe there's also a vegan option called 菜 (
Sai
, "Vegetables") that's offered for $120. Click for larger versions.








To drink, the focus at Gozen is clearly on the sake, and indeed, the place probably has one of the better lists in town, though if you must, there's also a selection of shochu, wine, and beer. Corkage is $30 for the first bottle, then $50 for the second, with a limit of two per party. Click for larger versions.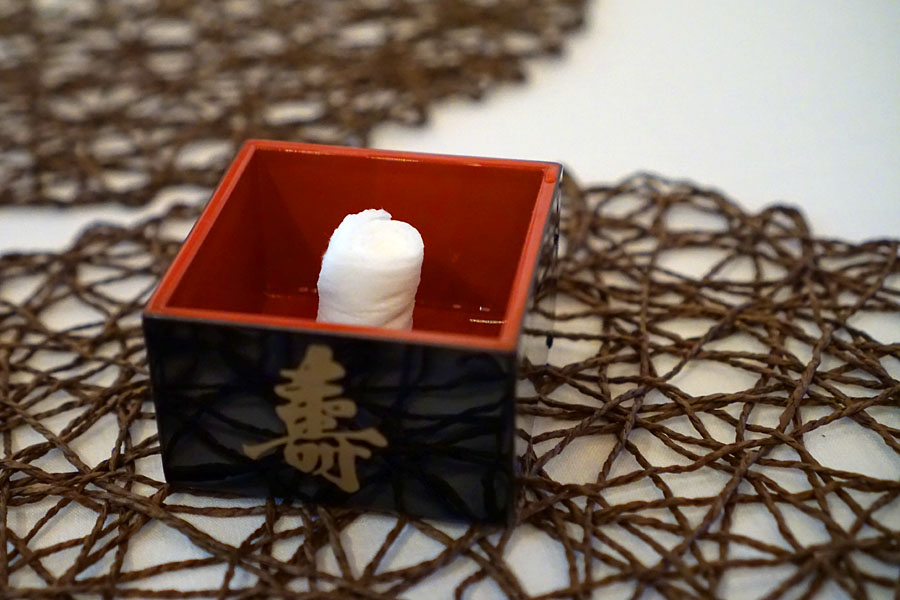 A traditional
oshibori
(wet hand towel) was provided right after we sat down.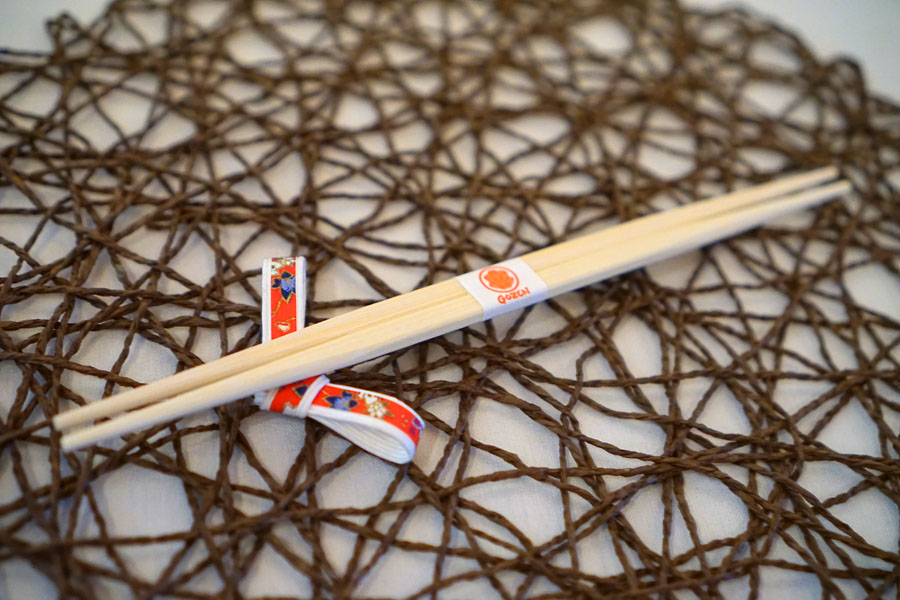 Chopsticks were straightforward, but do note the somewhat fanciful
hashioki
(chopstick rest).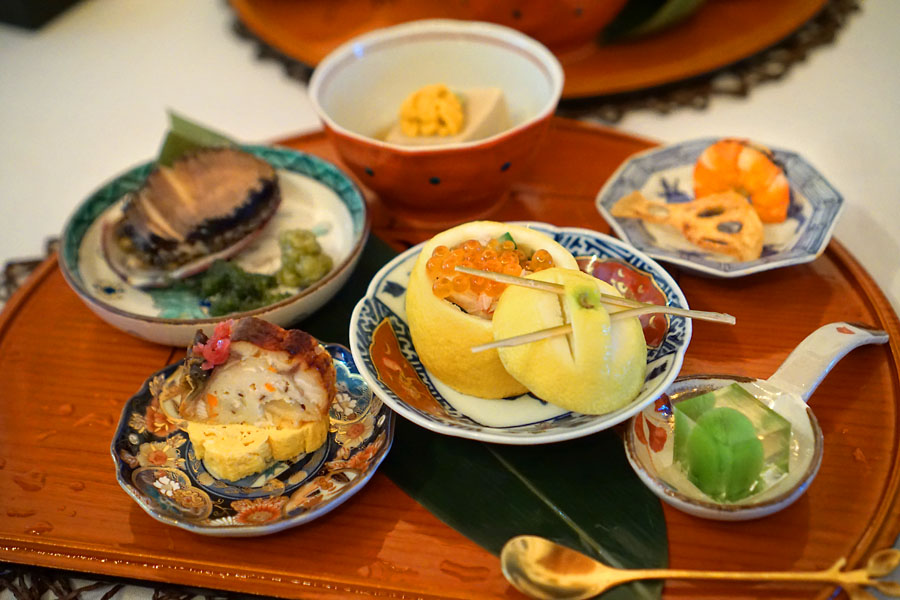 Our first course comprised of a colorful selection of
zensai
, or small appetizers.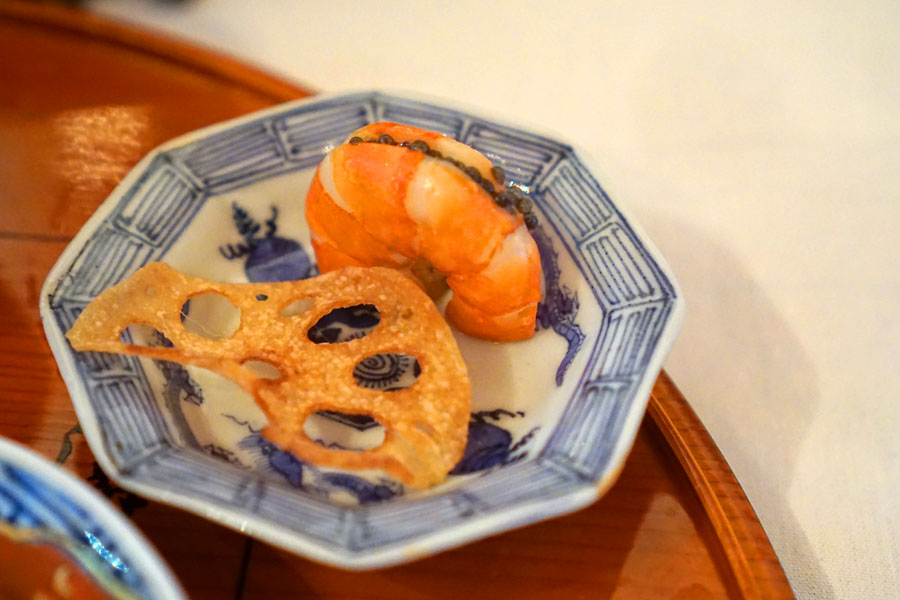 1a: Umani Shrimp and Fried Lotus Root with Caviar on Top
Cooked shrimp showed off a cool, refreshing snap, while its sweetness played off of the saline nature of the caviar. Nice salty crunch from the
renkon
chip, too.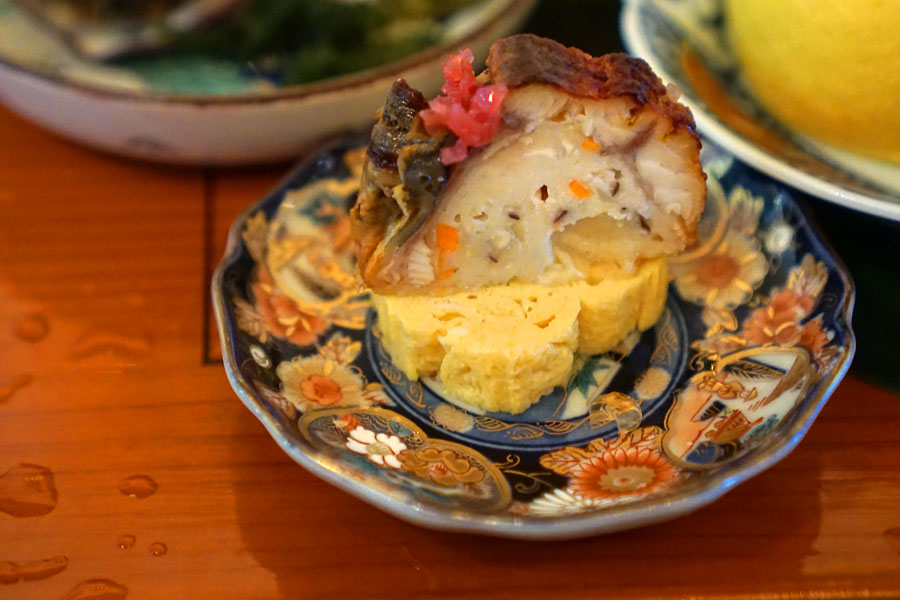 1b: Dashi-maki Tamago (Japanese-style egg omelet) and Grilled Freshwater Eel over Fish Cake
I began with the unagi-vegetable cake, which had a somewhat potato-esque texture and all the sweet-soy flavors you'd expect. As for the omelette, I got an elegant sweetness from it, alongside a supple, yet substantial consistency that I really enjoyed.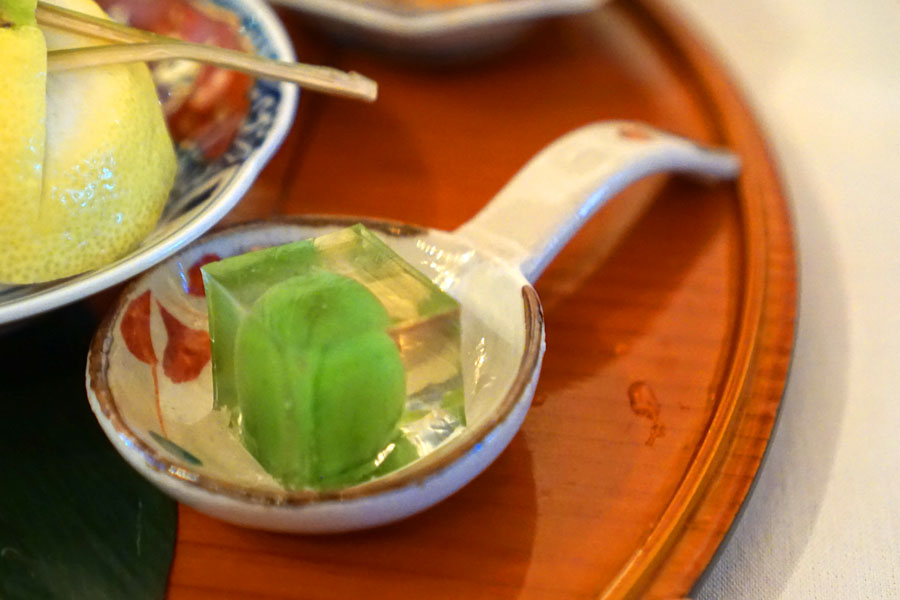 1c: Young Peach Wine Jelly
A baby peach suspended in jelly gave off an almost candied sort of sweetness, while the finish highlighted the richness of the wine. There was some lovely textural play here as well.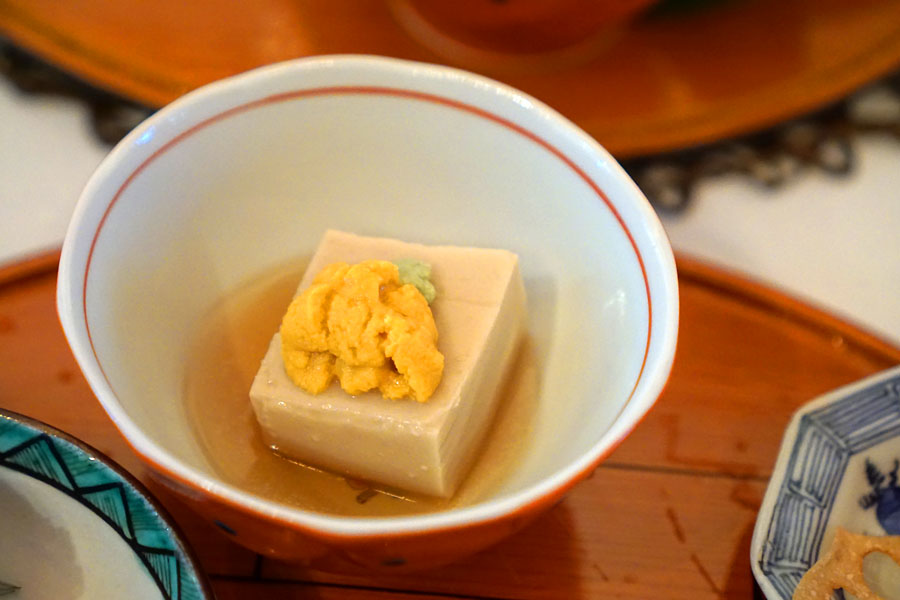 1d: Steamed Sesame Tofu
Gozen's housemade
goma dofu
ate creamy and dense, and showcased loads of sweet nuttiness, especially on the finish. The tofu melded well with the Santa Barbara uni on top, but really opened up when taken with the wasabi.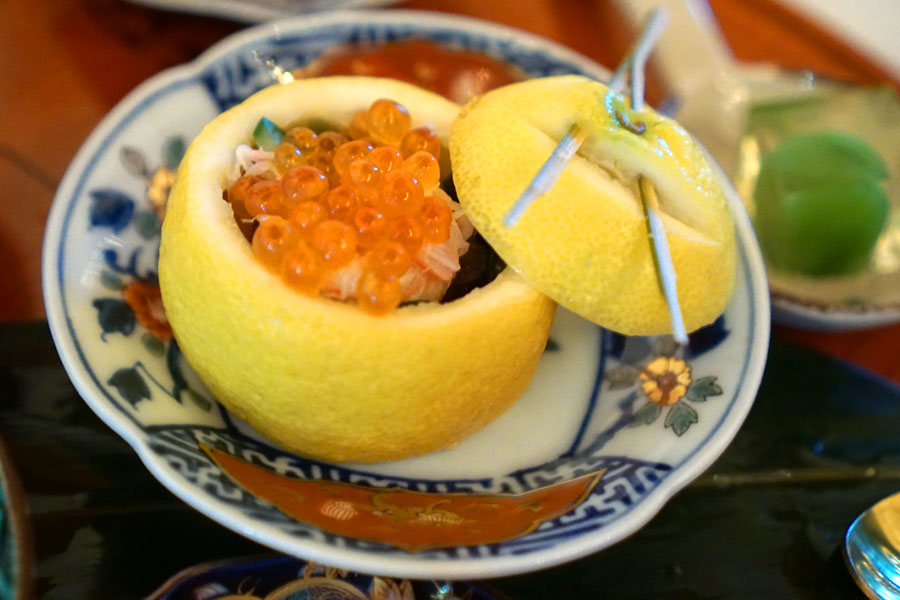 1e: Crab and Salmon Roe
Here, cool, sweet shards of crab meat paired easily with the sharp brine of ikura, all while citrus and cucumber brightened things up.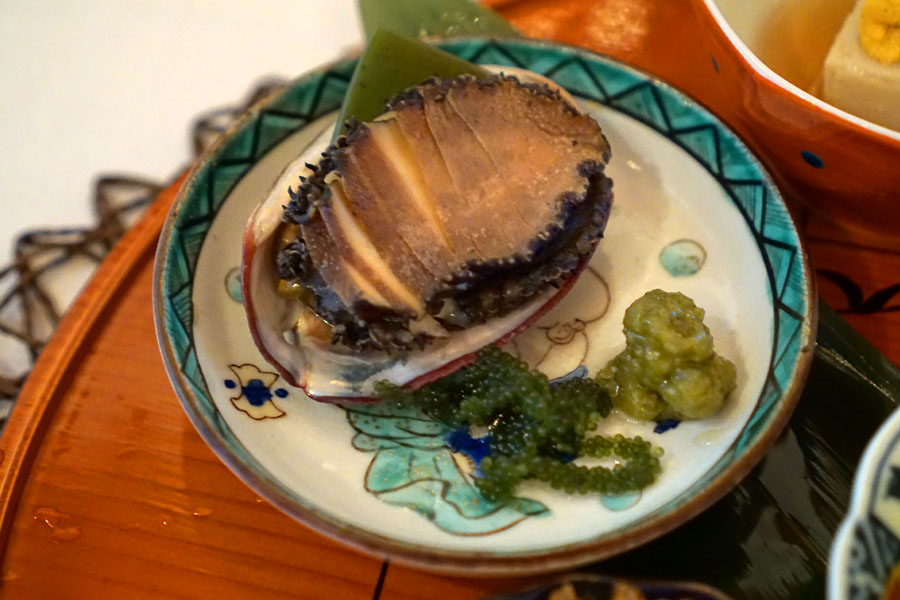 1f: Abalone
Finally, we have here the most sizeable starter of the sextet.
Awabi
arrived delightfully tender, and showed off an immense savoriness that only strengthened the more I chewed. The abalone was accompanied by the most intense
yuzukosho
I've ever had, along with
umibudo
(sea grapes) from Okinawa, which were mostly there for texture.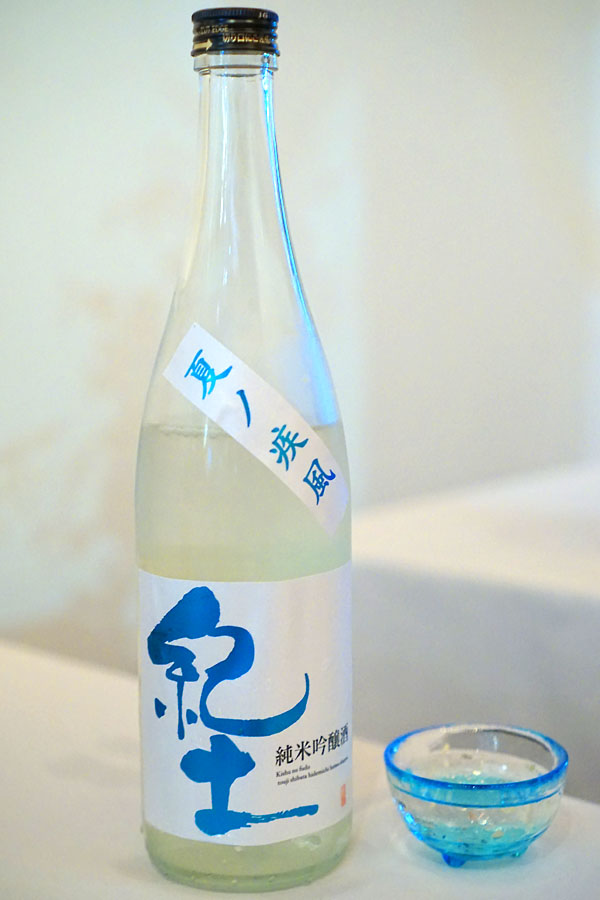 To drink, I requested a
namazake
, and was recommended the off-menu
Heiwa Shuzou "Kid" Junmai Ginjo "Natsu No Shippu" [$75]
from Wakayama Prefecture. The sake smelled great, giving up aromas of fresh honeydew and flowers. On the palate, I found it on the soft-yet-robust side, its sweetness joined by ricey, umami notes and a very palpable acidity.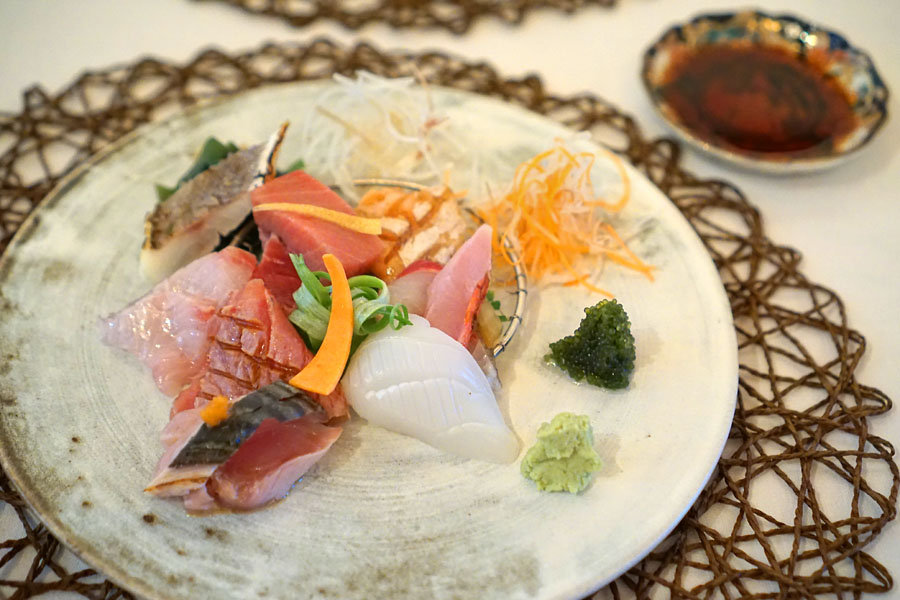 2: Nine kinds of Assorted Daily Sashimi
Next came the
otsukuri
course, composed today of nine different cuts of fish:
Ika - A particularly "meaty" example that matched up especially well with the wasabi.
Kinmedai - The golden eye snapper was a standout thanks to its delicate hints of sear.
Sake - Luscious to the bite, the salmon was well-imbued with an intense, woody smoke.
Chutoro - A lush, fatty piece of bluefin that really screamed for some wasabi.
Akami - A lean, clean, somewhat mineral-driven cut of tuna.
Kamasu - Surprisingly easy to eat, this one had a delicate char element that I quite liked.
Kanpachi - Mild and dense and sticky on the palate, the amberjack really opened up with a dab of soy.
Aburi Toro - Wonderfully soft and unctuous, with a strong smoky counterpoint.
Katsuo - The bonito featured a super supple consistency and flavors that deftly combined savor and smoke.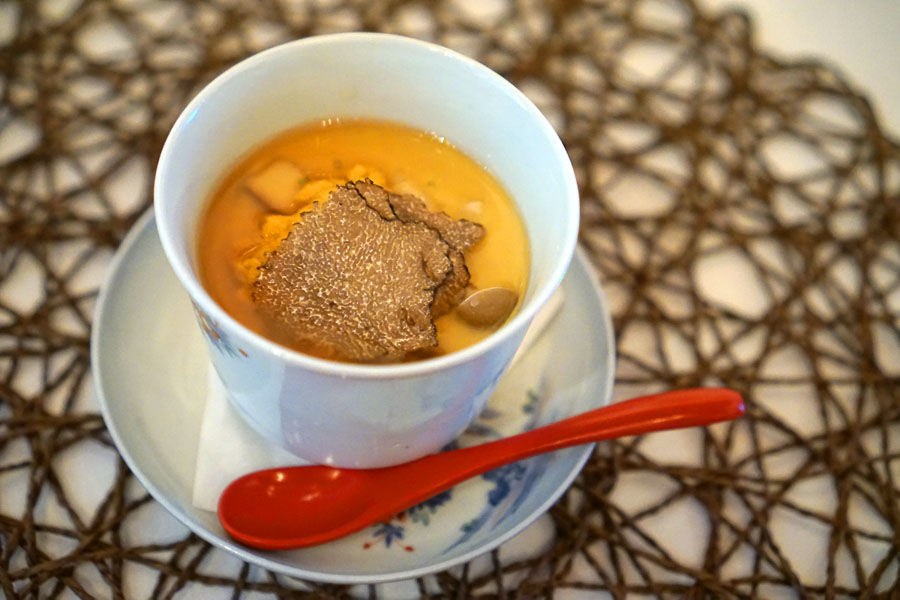 3: Chawanmushi - Steamed Egg Custard with Sea Urchin and Truffles
A silky preparation of
chawanmushi
sported an uncommonly intense depth of savor alongside some smoky, almost ham-like notes. Summer truffles and mushrooms only added to this explosion of umami, though hits of citrus lightened things up.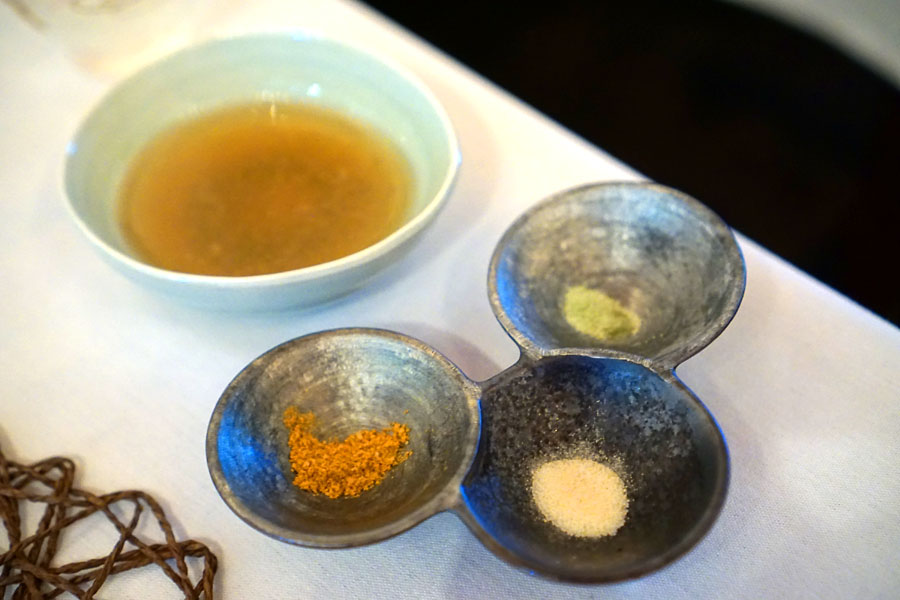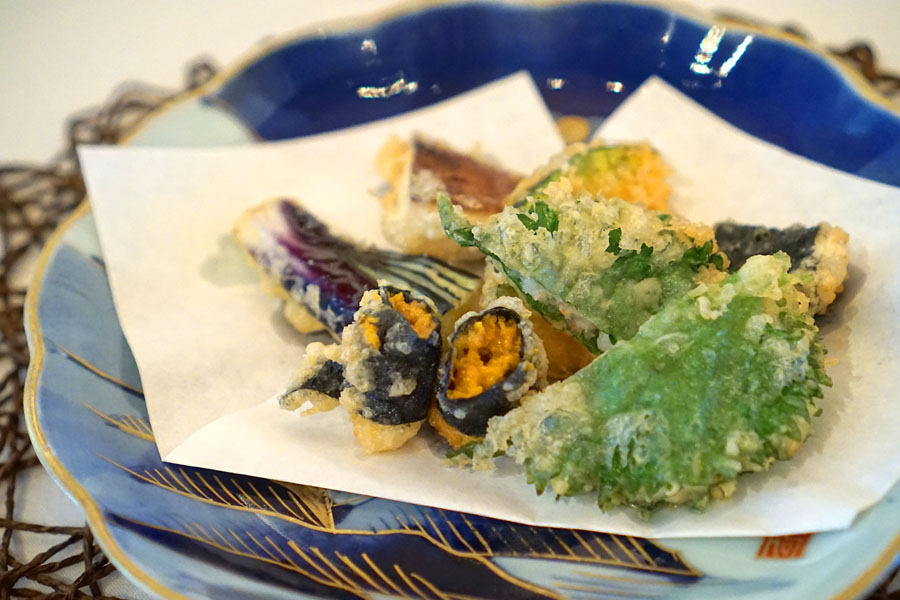 4: Sea Urchin, Minced Shrimp with Shiso Leaf, Scallop with Seaweed, Seasonal Vegetables Tempura
Our tempura course was quite lovely, and comprised several selections, accompanied by an especially light
tentsuyu
and three types of salt: curry, yuzu, and matcha:
Sea Urchin - Uni came out delicately fried, and matched up beautifully with the savoriness of its seaweed wrapper.
Minced Shrimp with Shiso Leaf - The shrimp was my favorite of the bunch, since its sweetness was superbly contrasted by the zestiness of the oba.
Scallop with Seaweed - I got loads of saline-sweetness here, well offset by the umami notes from the nori.
Seasonal Vegetables - We had eggplant, mushroom, and my favorite of the trio: kabocha, which linked up surprisingly well with the curry salt.
5: Four kinds of Nigiri Sushi
Next came four pieces of sushi:
Uni - Santa Barbara sea urchin had a sweet-mineral flavor profile that ended up marrying well with the strong vinegar character of the shari here.
Sake Toro - Salmon belly was undoubtedly a full-throated expression of the fish, one evened out by a touch of smoke.
Kinmedai - The splendid alfonsino displayed a fantastic texture, its clean flavors giving way to the heat of wasabi on the back end.
Toro - Surprisingly sumptuous, with a sweet brine that was once again nicely moderated by the rice.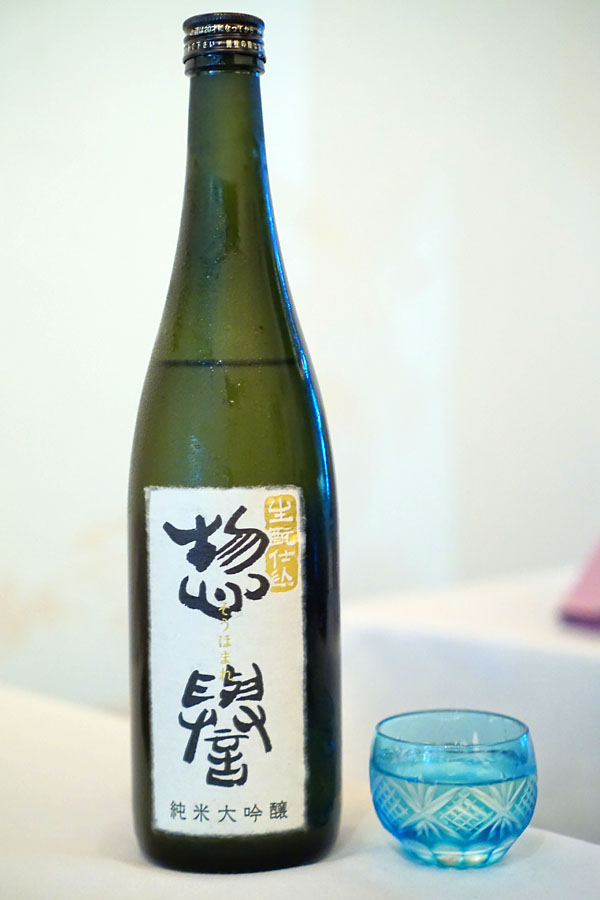 Our second bottle was the
Sohomare Kimoto Junmai Daiginjo "Tuxedo" [$150]
from Tochigi Prefecture. There was a refined, yet powerful nose on this one thanks to an almost candied sweetness lurking in the background. Tasting the sake, I found it very elegant, its fruity, rice-driven, somewhat umami-laced flavors all in harmony, yet displaying a depth that made it stand up to the heavier courses to follow.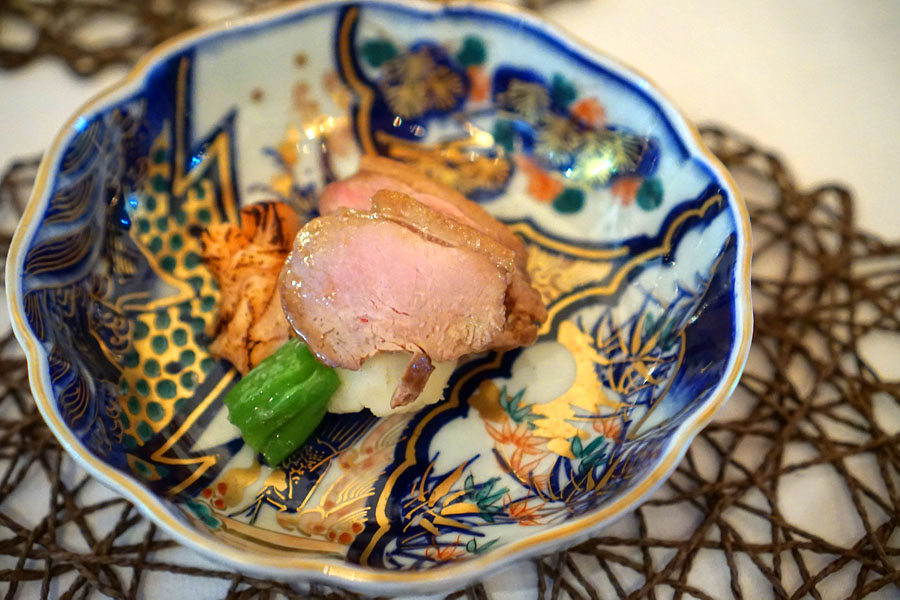 6: Roasted Duck with Mashed Potatoes
Duck arrived smoked with sakura chips and hickory, and the result was a tender, utterly fragrant bird with an underlying sweetness. Also on the plate was a super supple, smoky cut of salmon, while the potatoes worked effectively to mellow out the strong flavors at play.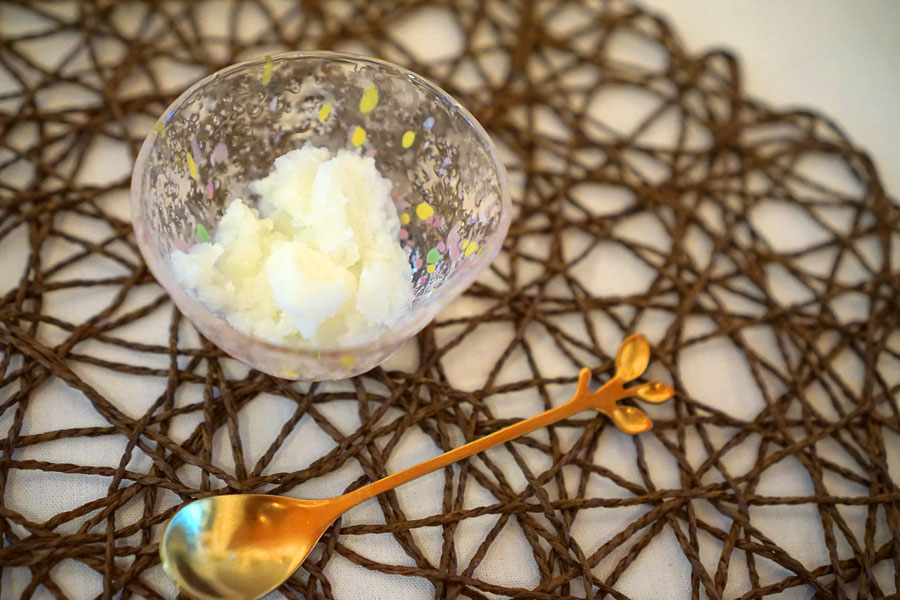 7: Yuzu Sorbet
A zippy yuzu granita served as a palate cleanser.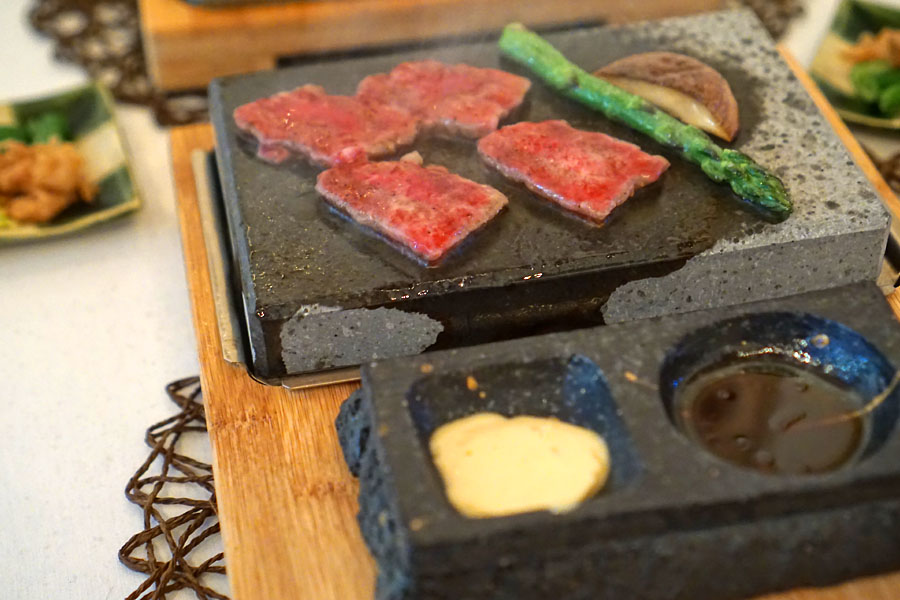 8: Yogan-yaki Wagyu Beef with Japanese Mustard Butter Sauce
Cooked on a hot lava stone, cuts of Miyazaki A5 ribeye were as decadent as I wanted, and really developed a nice smoky sear. Condiments included garlic soy and a Japanese mustard butter sauce, but they weren't necessary given the inherent deliciousness of the beef.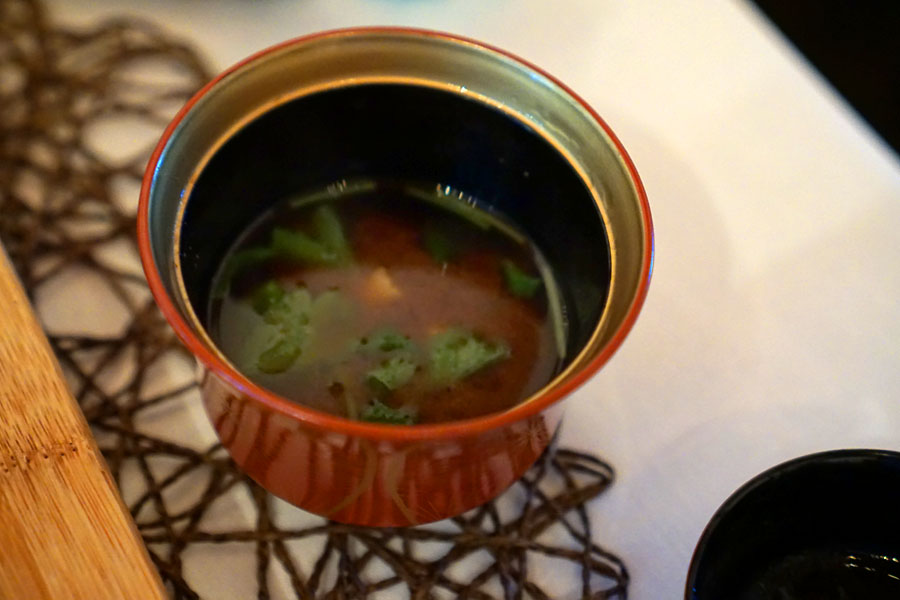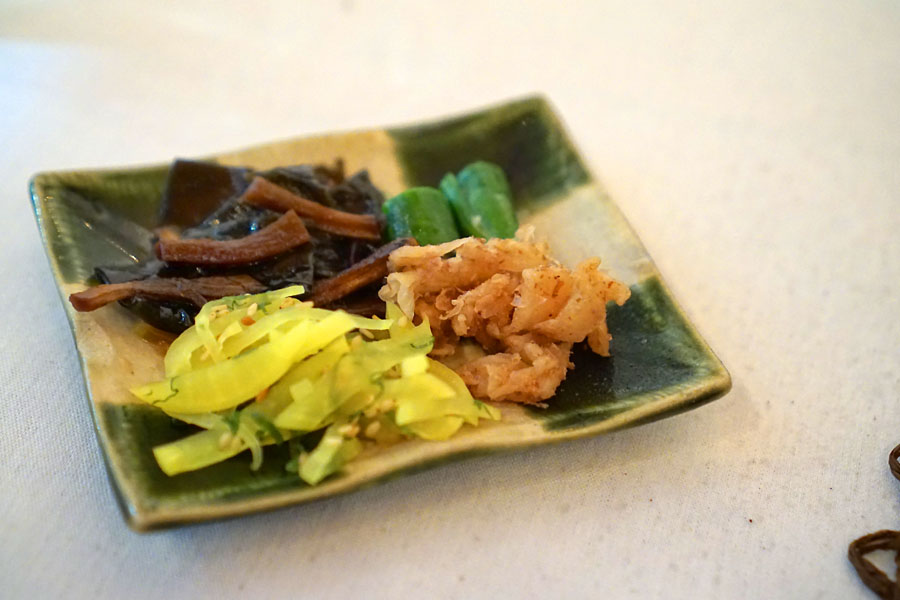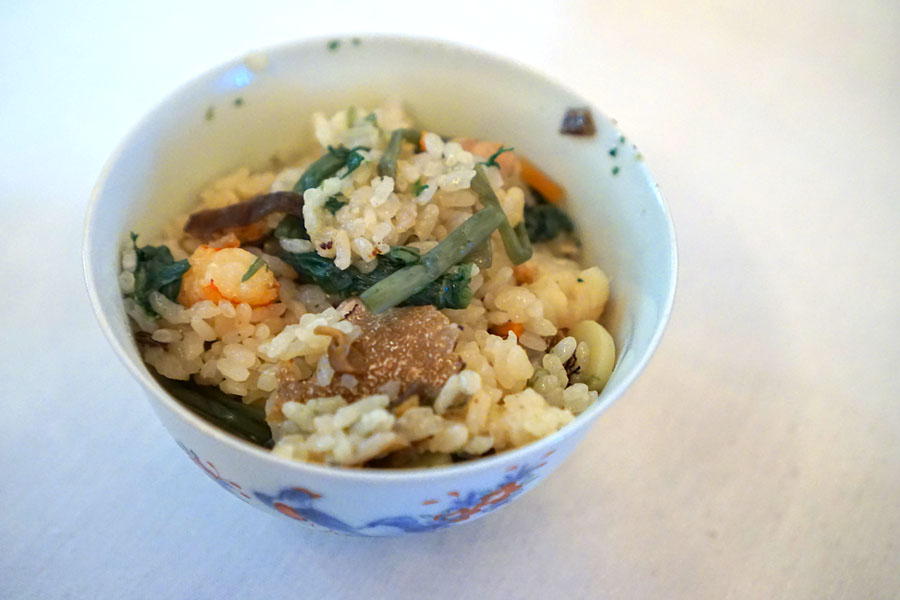 9: Kamameshi (Japanese seasoned rice in a small pot) with Truffles, House-Made Pickles and Miso Soup
The
gohan
course served as the traditional closer, and today's
kamameshi
certainly hit the spot. The rice conveyed a lovely nuttiness that connected well with the truffles and Santa Barbara prawns, while nori imparted an overarching layer of umami. Crunchy pickles served as a fitting counterpoint, while the accompanying miso soup was far more intensely flavored than usual.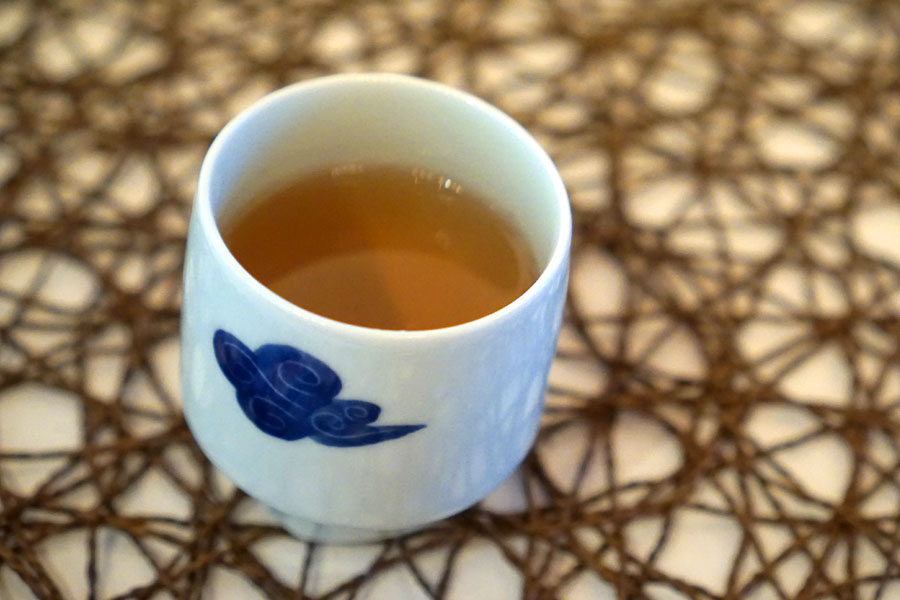 We were provided with cups of roasty
hojicha
prior to dessert.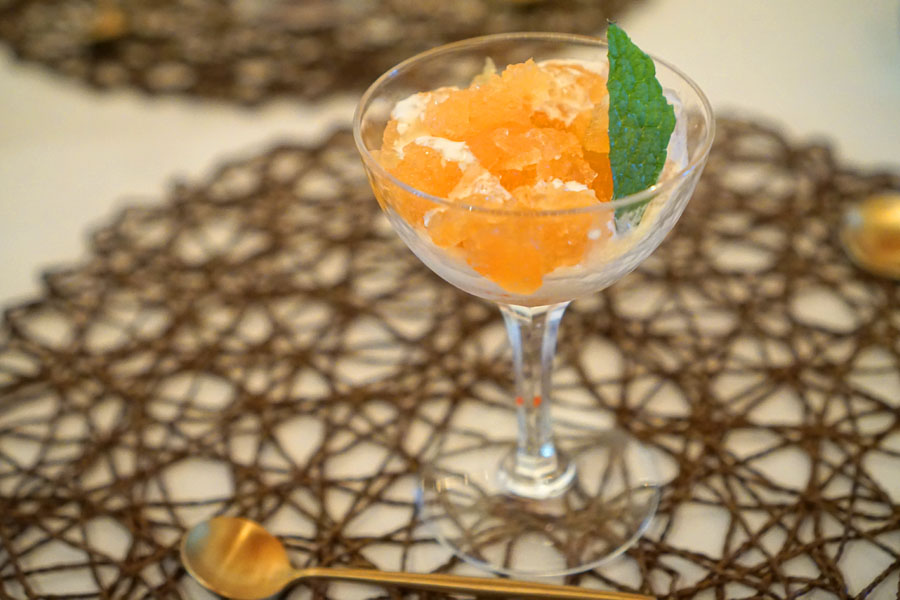 10a: Grapefruit Jelly
Our first
mizumono
course was a glass of floral, semi-sweet grapefruit gelatin.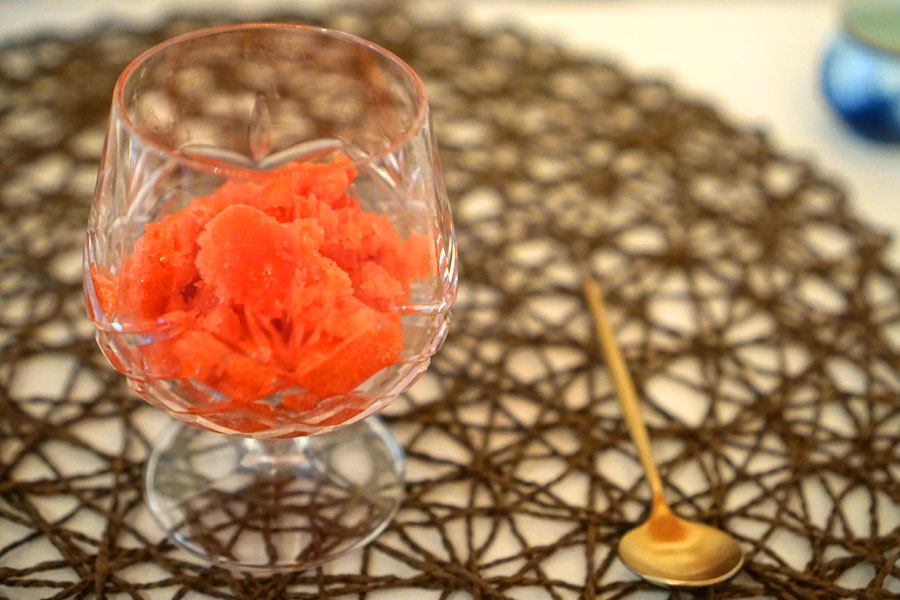 10b: Raspberry Sorbet
The housemade raspberry sorbet was even more refreshing with its sharper, zingier flavors.
Like many of you, I was saddened by the sudden, unexpected closure of Raku, but Gozen looks to be a worthwhile replacement. Now of course it's a much higher-end affair here, and in fact, the formal nature of the food makes the restaurant's "bistro" moniker is bit of a misnomer. It's good to see Chef Sugiyama back in action after the demise of Shiki, and given the relative dearth of kaiseki-focused spots around town, I'm glad to have this place available as another elevated Japanese option.