Seven Reasons (Washington, DC)
Seven Reasons Restaurant
2208 14th St NW, Washington, DC 20009
202.417.8563
www.sevenreasonsdc.com
Wed 06/16/2021, 08:15p-10:50p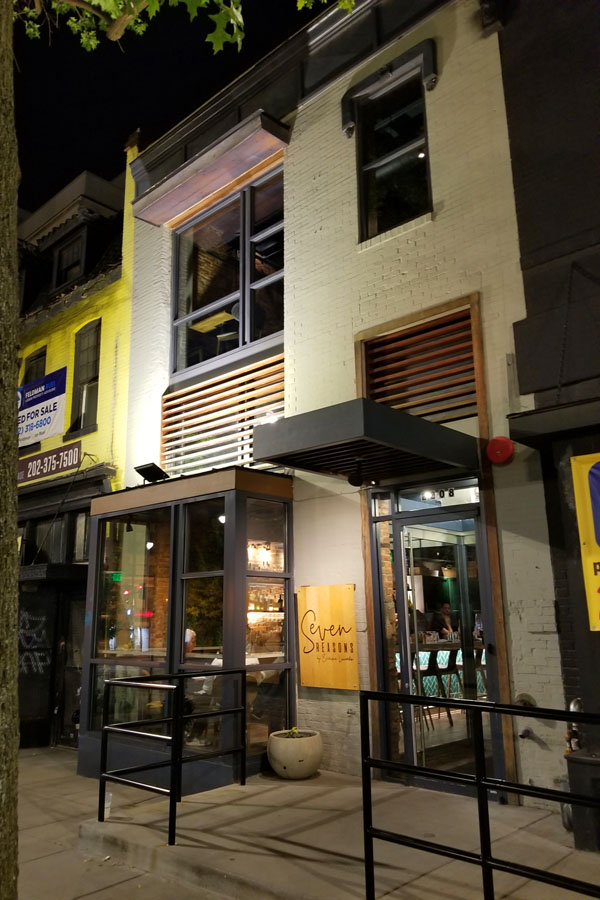 For the third and final dinner of my recent trip to DC, I stuck with the Latin theme of my two previous meals and ended up at Seven Reasons. With a name inspired by the mysticism surrounding the number seven, the South American restaurant is the work of Chef/Owner Enrique Limardo, and has been one of the most bandied about DC dining spots of the past couple years, so a visit was certainly in order.
About the Chef
: Limardo was born and raised in Caracas, Venezuela, the son of an engineer father and an architect mother. Though he knew that he wanted to cook by the time he was 14, he followed in his mom's footsteps and went to college for architecture, but soon realized that it wasn't for him. Thus, at age 19, he began culinary school at Caracas' La Casserole du Chef. A year later, in 1998, Limardo moved to Spain to study at Escuela de Cocina Luis Irizar in San Sebastián, then continued his education at Barcelona's La Escuela Universitaria de Hotelería y Turismo de Sant Pol de Mar from 1999 to 2001 (he also met future wife Tatiana Mora there).
Following graduation, the Chef underwent a series of internships at a number of lauded restaurants throughout the country: Àbac with Xavier Pellicer, El Racó d'en Freixa with Ramón Freixa, Can Gaig with Carles Gaig, El Celler de Can Roca with Joan Roca, and Mas de Torrent and Rúccula with Joan Piqué. He then spent time with Paul Owens at The Cliff in Barbados, then cooked at the Bahia Principe hotel in Riviera Maya, Mexico. Limardo eventually settled back in Caracas, and he and Mora opened Paprika in April 2004, as well as the more ambitious Yantar two years later. During this period, he was also granted the Tenedor de Oro award by the Asociación Venezolana de Gastronomía.
However, by 2010, he had closed both his restaurants due to the economic situation in the country at the time. Limardo then became traveling private chef for one of the partners behind business advisory firm Inverdt, and stayed in that position until August 2014. His next step was immigrating to the US, where he landed in DC without much of a plan. However, he was eventually able to secure a work visa through his wife's brother, and a former colleague back in Venezuela introduced him to restaurateurs Irena Stein and Mark Demshak. The two hired Limardo to be EC at Alma Cocina Latina in Baltimore, which they opened together in April 2015. The Venezuelan eatery was well-received, and the Chef quickly began making a name for himself Stateside.
In late 2016, he became a partner at Chicken + Whiskey, a pollo a la brasa joint in DC that ended up opening in June the following year. Sometime later, Limardo was approached by Ezequiel Vázquez-Ger, a former business consultant, and he soon convinced the Chef to leave Baltimore and open a restaurant in Washington. They began work on Seven Reasons at the start of 2019, and were able to open surprisingly quickly, on April 16th that year. The restaurant was widely lauded pretty much right from the get-go.
The Washington Post
's Tom Sietsema wrote a
three-star review
of the spot, and gave it the #1 position on the publication's "
2019 Fall Dining Guide
." At the end of 2019,
Esquire
deemed Seven Reasons the "
Best New Restaurant in America
," and even named it one of the "
40 Most Important Restaurants of the Decade
."


The restaurant occupies a tri-level building that was previously home to Italian spot Piola. The first floor houses the bar and kitchen-facing dining room while the second holds more seating, the stairs to the tiny third level, as well as the 30-seat patio.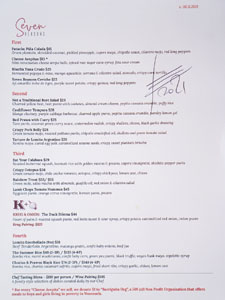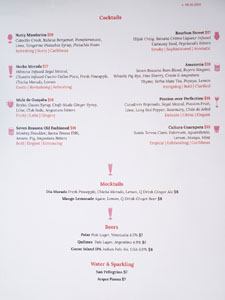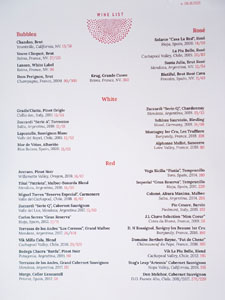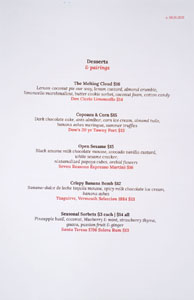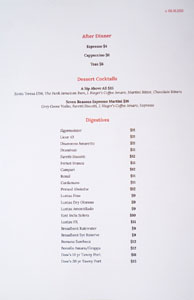 Seven Reasons' Latin American menu is of a manageable size, and has an à la carte focus, though I opted for the six-course, $110 Chef Tasting Menu. To drink, you get some interesting cocktails from barman Josue Gonzalez, a handful of beers, and a compact wine list with a slight South American focus. Click for larger versions.
Nutty Mandarina [$19.00]
| Catoctin Creek, Italicus Bergamot, Pamplemousse, Lime, Tangerine Pistachio Syrup, Pistachio Foam
I opted for cocktails this evening, and got things started with this refreshingly citrusy, somewhat acerbic concoction, one that featured an almost raisin-y undertone along with plenty of nuttiness from that fluffy foam on top.
1: Seven Reasons Ceviche
| Aji amarillo leche de tigre, purple sweet potato, crispy quinoa, red long peppers
The meal got off to a very strong start thanks to this ceviche, which was likely one of the best ever for me. Cuts of red snapper were fresh and supple, and were joined by wonderfully herbaceous, grainy flavors that matched up beautifully with the restrained acidity of the fish's marinade. However, what surprised me the most here was the
camote
purée, which imparted a backing of sweetness that was better integrated than in any other ceviche I've sampled.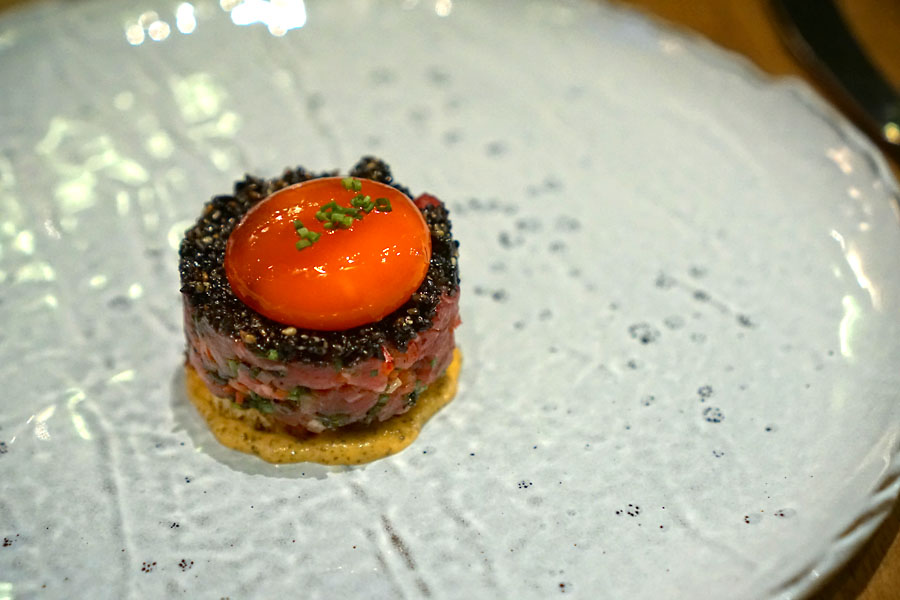 2: Tartare de Lomito Argentino
| Kombu mayo, cured egg yolk, caramelized sesame seeds, crispy sweet plantain brioche
The beef tartar was also a winner. I was enamored with the sheer richness of the meat, and how much umami it conveyed. The super viscous soy sauce-cured yolk imparted even more savoriness to the mix, while the crunchy seeds and crispy plantain chip on the bottom offered up crucial contrasts. I think I even detected a hint of what seemed like horseradish in there.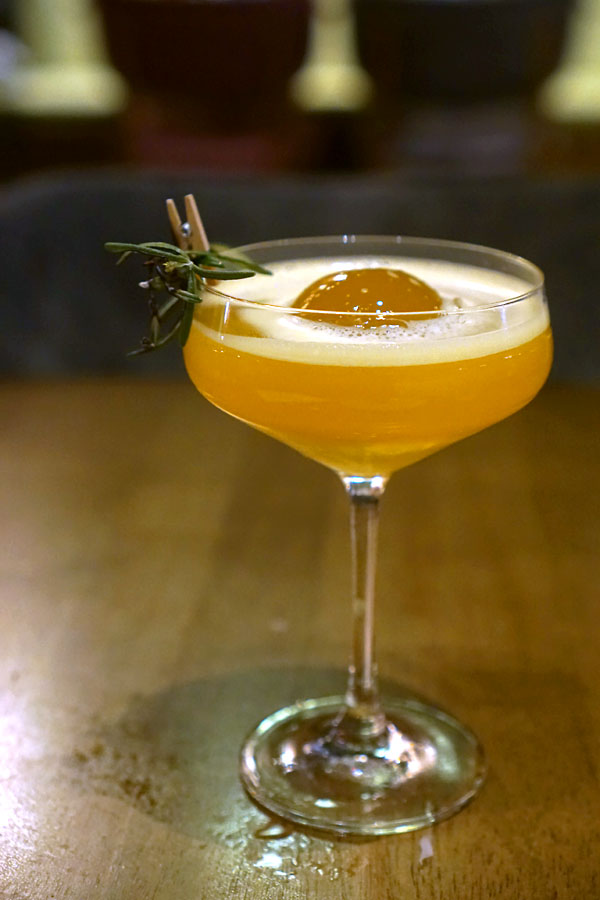 Passion over Perfection [$18.00]
| Cazadores Reposado, Illegal Mezcal, Passion Fruit, Lime, Long Red Pepper, Rosemary, Chile de Arbol
Our next cocktail packed a surprising punch, yet still managed to be quite dainty. The nose was all about smoky rosemary, with hints of fruit peeking through. Taste-wise, I got loads of passion fruit up front, joined by a palpable heat and some lovely floral notes.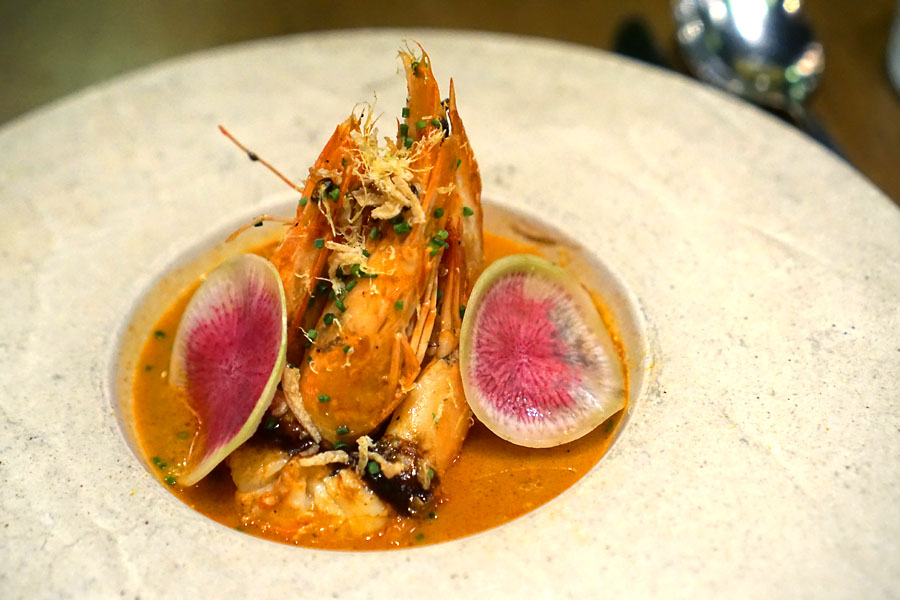 3: Red Prawn with Curry
| Taro purée, coconut green curry sauce, watermelon radish, crispy shallots, chives, black garlic dressing
I was definitely a fan of the elegance of the curry, which managed to be powerful yet rather finessed at the same time. It was a great pairing with the prawns, as was the layer of taro on the bottom, which really amped up the intrinsic sweetness in the dish. I liked the lighter elements provided by the radish, too. Unfortunately, the shrimp came out way too soft, and were in fact bordering on mushy, which really tempered my enjoyment of the dish.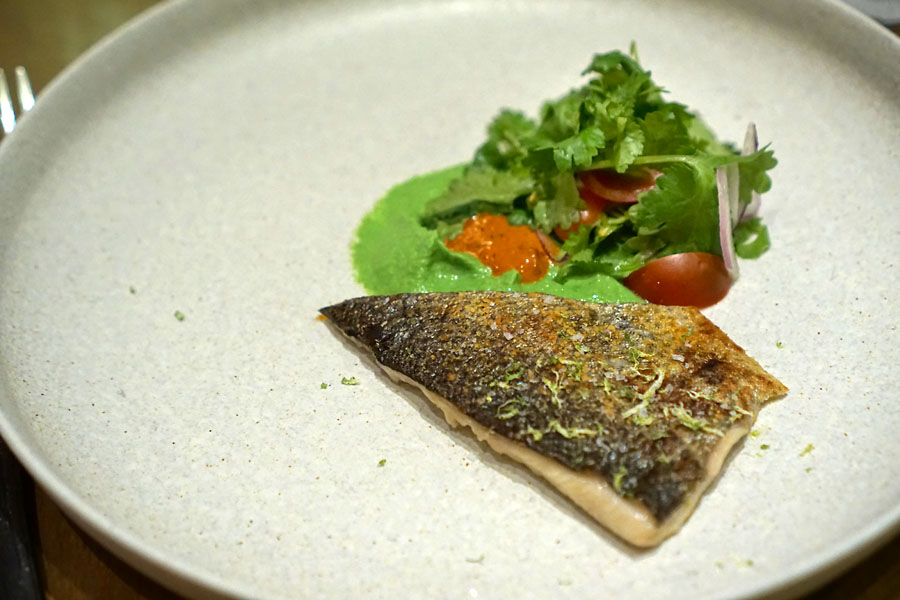 4: Rainbow Trout
| Green mole, salsa macha with almonds, guajillo oil, red onion & cilantro salad
The trout was also a favorite. I loved the fish's juicy, tender, flavorful flesh and crispy, salty skin, while the bright, zippy mole and herb salad really completed the package. Delish.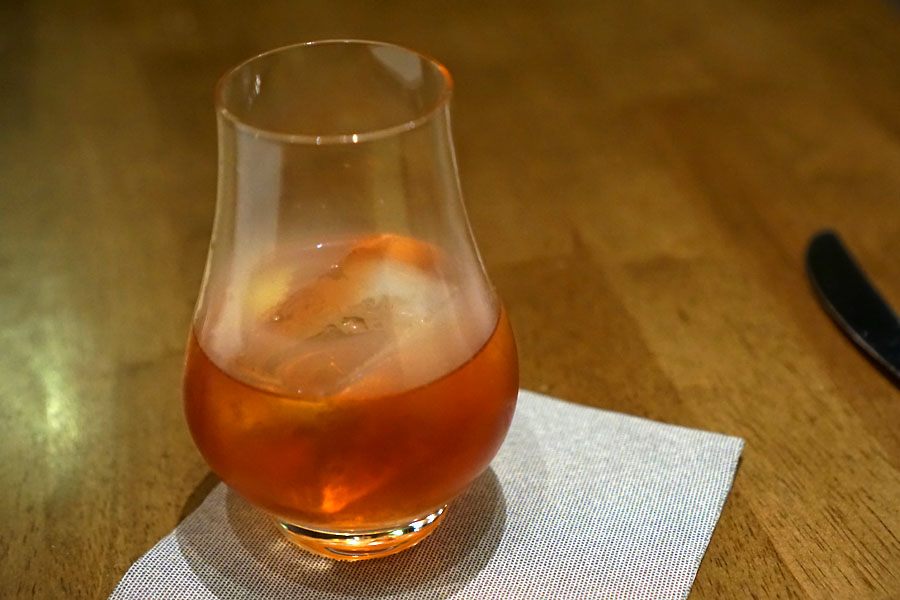 Bourbon Street [$17.00]
| Elijah Craig, Banana Crème Liqueur Infused Caraway Seed, Peychaud's Bitters
Next came the night's most potent cocktail, which was actually smoked tableside. The drink had an intensely fragrant aroma filled with wood, cinnamon, caraway, smoke, and apple. Tasting it, I got caramel and caraway spice up front, paired with a banana-fueled sugariness and counterbalancing notes of sharp, bitter herb.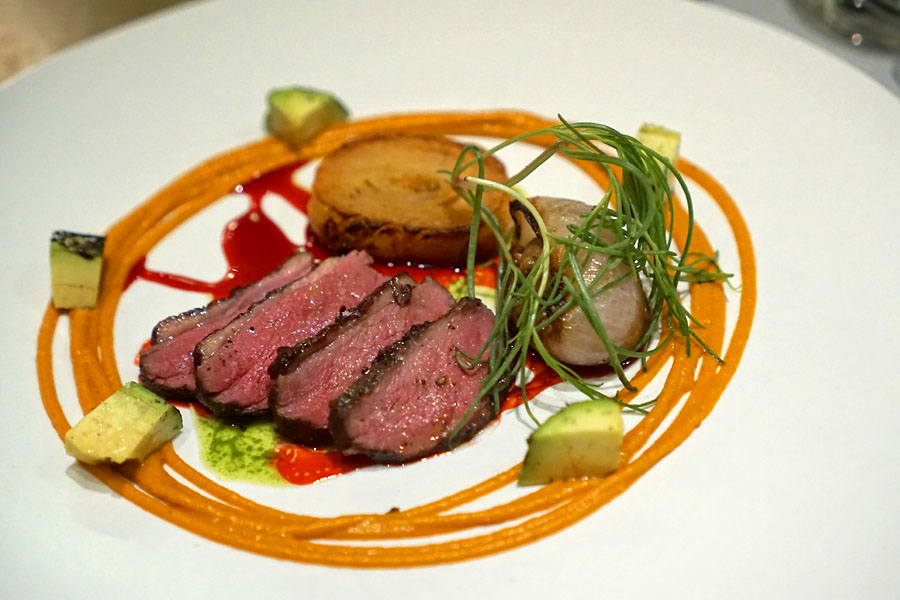 5: The Duck Dilema
| Heart of palm & roasted squash purée, red beets sweet & sour syrup, crispy potato, caramelized red onion, onion purée
Duck arrived beautifully spiced, with a marked sweetness that actually meshed effortlessly with the bird's inherent earthiness. I was a big fan of those herby, hearty potatoes as well as the sweet-n-smoky onions, while tarting things up a bit was that tangy beet syrup.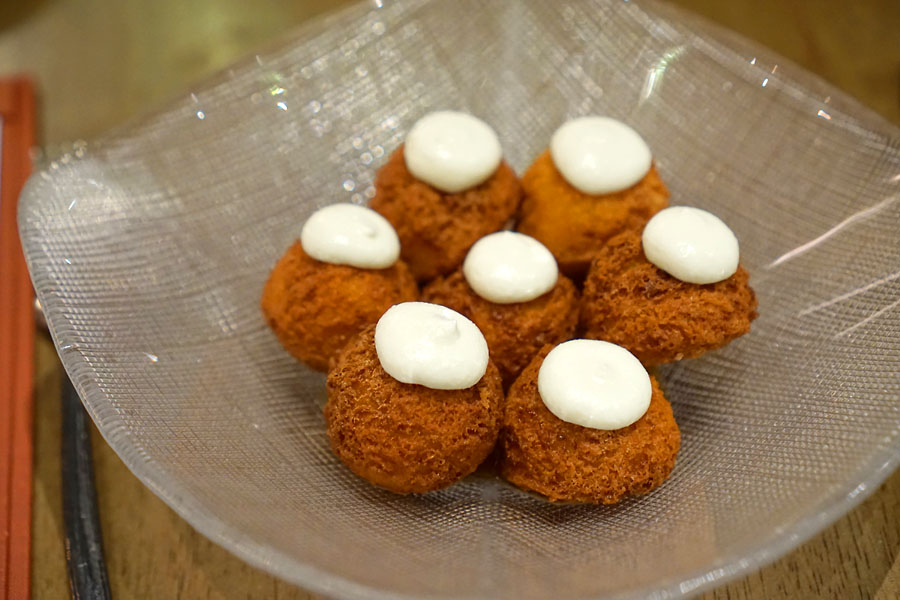 Cheese Arepitas [$13.00]
| Mini venezuelan cheese arepa balls, spiced raw sugar cane syrup, feta sour cream
At this point I opted to add on a couple supplemental dishes to the tasting menu. Cheese fritters were stuffed with a rich, creamy, super lactic filling that made sense with their crispy fried dough. Also a surprise hit was the sugary syrup at the bottom of the bowl, which actually linked up gorgeously with the cheese.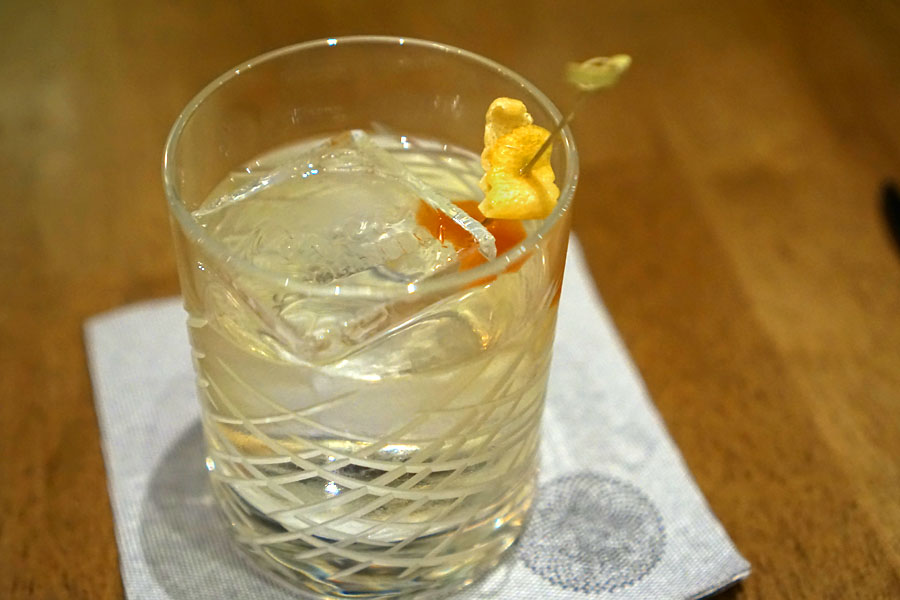 Amazonia [$18.00]
| Seven Reasons Rum Blend, Rujero Singani, Whistle Pig Rye, Fino Sherry, Creole & Angostura, Thyme, Yerba Mate Tea, Papaya, Lemon
I have a hard time resisting a clarified cocktail, and tonight was no exception. The drink smelled tart and milky and citrusy, while the palate was far more interesting with its oxidative, almost "rubbery" flavors combined with plenty of herbs and bitters. The taste was a bit hard to nail down, in fact.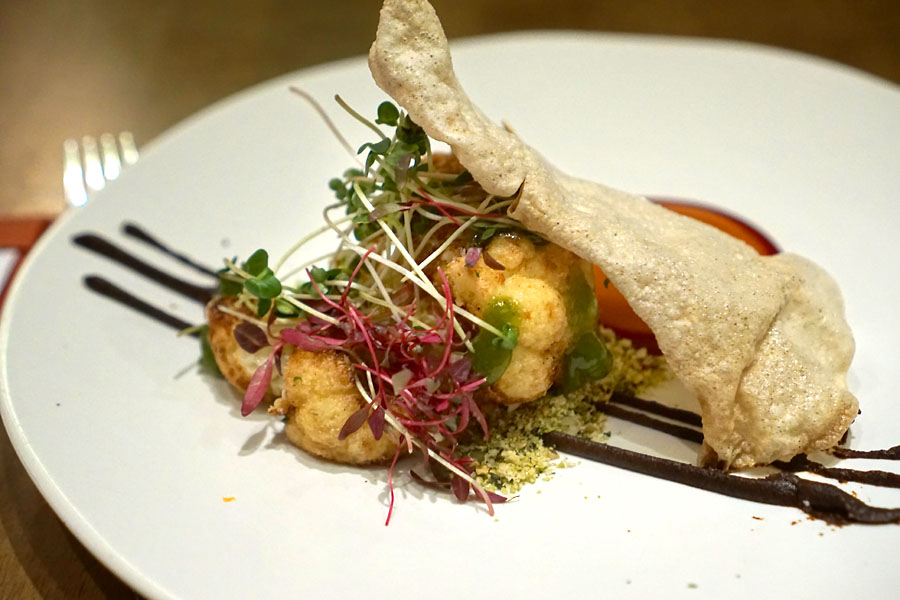 Cauliflower Tempura [$28.00]
| Mango chutney, purple cabbage barbeque, charred apple puree, pepita cassava crumble, parsley lemon gel
I'm a sucker for cauliflower, so I just couldn't resist. The florets were a touch softer than I'd prefer, but tasted great when paired with that sweet-n-sour combo of chutney, apple, and BBQ sauce. I also appreciated the zing of the herbs on top, and the sushi rice-black bean "chicharrón" worked for me as well.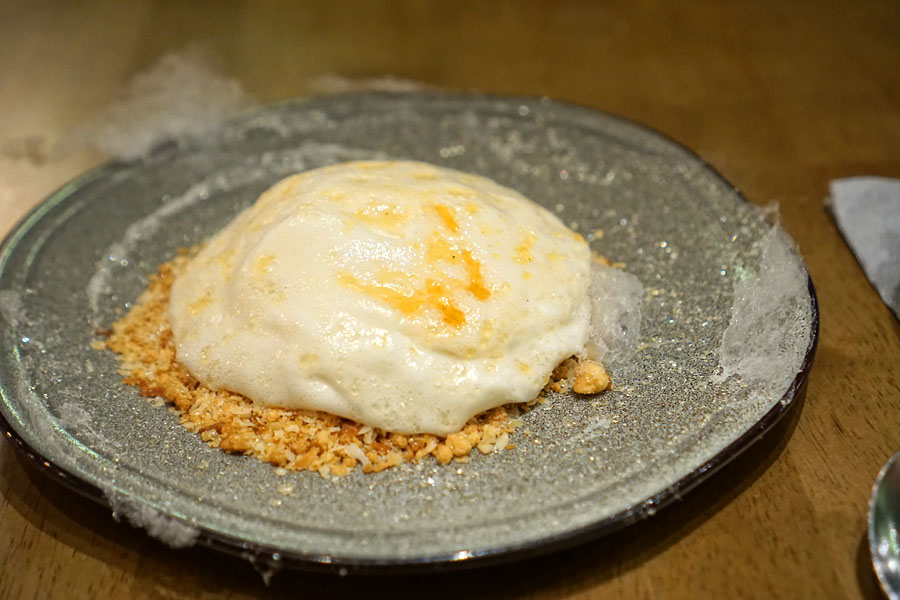 6: The Melting Cloud
| Lemon-coconut pie our way, lemon custard, almond crumble, limoncello marshmallow, butter cookie sorbet, coconut foam, cotton candy
Dessert arrived covered in a veil of cotton candy, which was quickly torched off tableside (unfortunately I didn't get a "before" photo). A deconstructed lemon-coconut pie of sorts, this one showed off flavors of smoke and citrus up front, which then led to boatloads of toasty coconut. It was a delicious marriage of tastes and textures, and I even got some Pop Rocks-esque sensations in there.
Noche Morada [$17.00]
| Hibiscus Infused Illegal Mezcal, Cilantro Infused Cuatro Gallos Pisco, Fresh Pineapple, Chicha Morada, Lemon
For our last cocktail, here was something on the lighter, easier-going side. The drink demonstrated plenty of rich, fruity, floral qualities, but was enlivened by overarching pineapple and light touches of cilantro.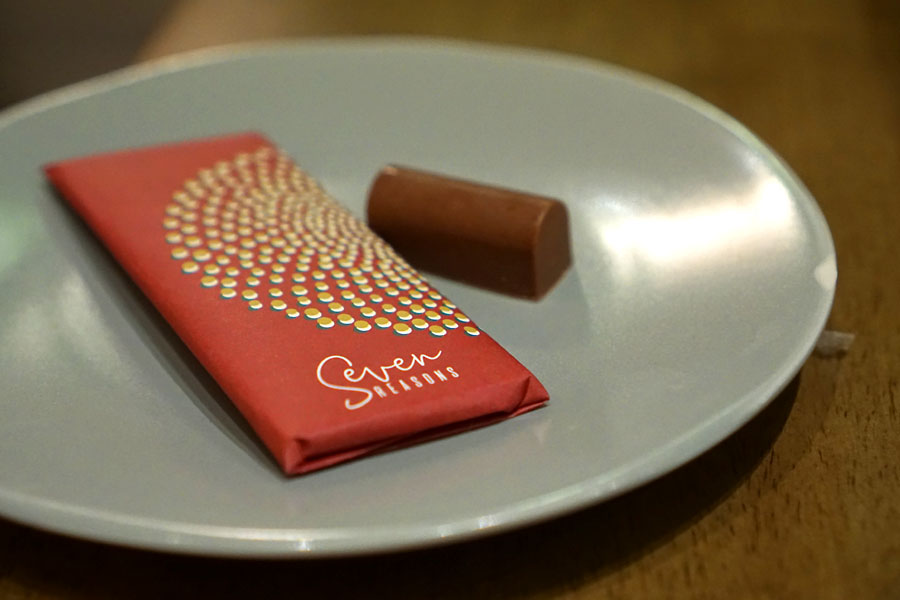 To close: a milk chocolate bar and a smoky peanut butter chocolate.
I'd actually wanted to come here since my last visit to DC, as the restaurant came highly recommended by a number people I spoke to on that trip. Save for the squishy shrimp, I very much enjoyed my meal here, and in fact, I don't think I'd ever encountered pan-Latin fare quite like this before. I can see why so many people like the place. And speaking of which, the success of Seven Reasons has allowed Limardo to expand, and he first branched out in November 2019 with a fast casual eatery called Immigrant Food, which has since grown to a second location at Union Market. However, I'm far more interested in Imperfecto, the Chef's Mediterranean-Latin fine dining spot that opened just recently in March. I'm definitely going to try to book a reservation there next time I'm in town.