Soulmate (West Hollywood, CA)
Soulmate Restaurant
631 N Robertson Blvd, West Hollywood, CA 90069
310.734.7764
www.soulmateweho.com
Mon 07/05/2021, 08:15p-11:05p

Early May saw the launch of Soulmate, which has to be one of the hottest WeHo openings in a while. The restaurant is financed by former
Joe's
partner Joel Herzer and solar energy maven Tom Buttgenbach (they also owned Pacifique along with the late Joe Miller), and was originally slated to feature the cuisine of Wes Whitsell. Whitsell, as you may recall, made his name in LA as the top toque over at
Manuela
, but left the Arts District eatery in late 2017. After spending some time in his home state of Texas, he returned to LA and started cooking at Pacifique while getting ready for Soulmate. Things seemed to be moving right along, but Whitsell ended up leaving the partnership at the start of this year (he's now at
Hatchet Hall
). His replacement is Chef Rudy Lopez, who's created a menu centered on California-influenced Spanish-Mediterranean fare.
About the Chef
: A SoCal native hailing from West Covina, Rudy Palmiro Lopez was born to a Spanish mother and a Guatemalan father. After graduating from West Covina High School in 2004, he joined the team at Red Robin, where he eventually became training lead for the company's Southwest region. He left the burger chain in September 2008 to cook at a Fleming's steakhouse, and in 2009, started culinary school at
The Art Institute of California-Los Angeles
. After finishing his studies in early 2010, Lopez secured a position at Kerry Simon's LA Market, situated inside Downtown's JW Marriott hotel.
In November 2012, he transitioned over to
José Andrés
' Mi Casa at Dorado Beach, a Ritz-Carlton property in Puerto Rico. He stayed a year there, then spent another year with
Ricardo Zarate
over at
Paiche
as exec sous. In October 2014, Lopez became EC at Soho House in West Hollywood, and in August 2015, took on a similar position at h.wood Group's The Nice Guy, later overseeing culinary operations for the entire company. After two years, he moved on to
The NoMad
, where he started as sous but quickly rose to the position of CdC. He left the Downtown hotel in January this year to join the team here at Soulmate.
The front-of-the-house, meanwhile, is run by Nick Shultz, who's been part of the LA dining scene since the late 2000s. He started his hospitality career at the end of 2009 with SBE, then became Director of Operations for The Churchill. He also spent over four years with
Wolfgang Puck
Fine Dining in both LA and Las Vegas, and during his tenure there, helped open Puck's restaurant at the Hotel Bel-​Air. In January 2016, Shultz began managing Alain Ducasse's Rivea at the Delano in Las Vegas, and a year later, left to serve as GM at
Lukshon
. His final post before joining the Soulmate team in 2020 was that of VP/GM at Bottega Louie.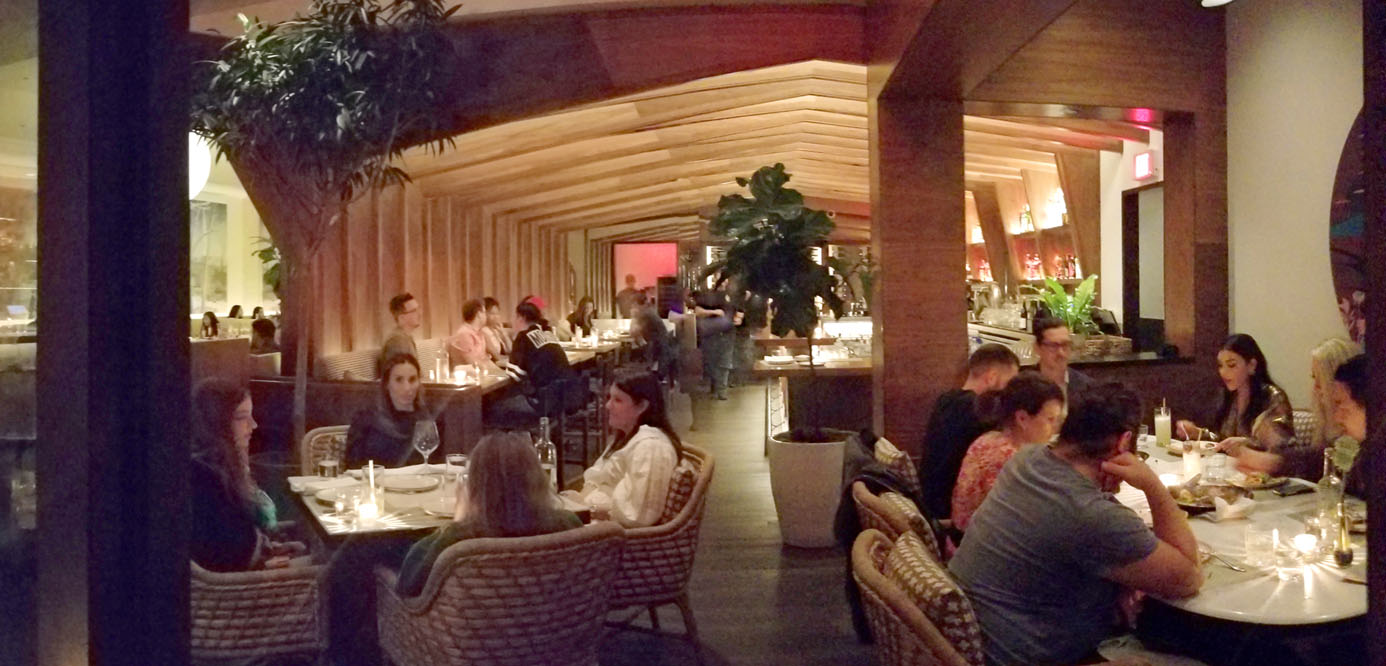 Soulmate has gotten a lot of attention for its 75-seater patio (replete with its own bar), and indeed, it's lovely. However, the interior space is just as impressive, actually perhaps even more so. The design here comes courtesy of
Kelly Architects
and
Sean Leffers Interiors
.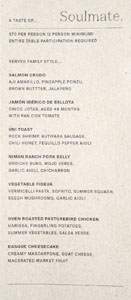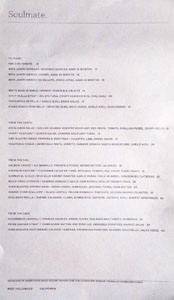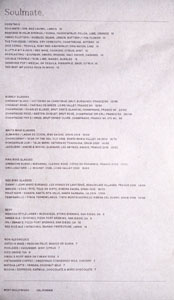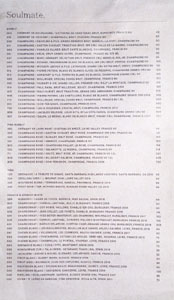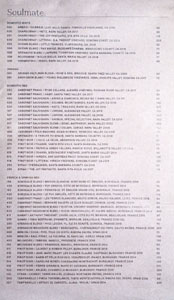 As for Soulmate's menu, it certainly leans Spanish, but is definitely not entirely traditional, as Lopez doesn't appear to be afraid of drawing from other culinary traditions. Note that there's actually a seven-course family-style tasting menu available at $70 a head, which we opted for while also supplementing with additional courses. Drink-wise, you get a half dozen beers, a fairly lengthy, varied wine list with a penchant for the bubbly stuff, and cocktails from Bar Director Naomi Schimek (whom you may remember from her time at The Spare Room and The Tar Pit). Click for larger versions.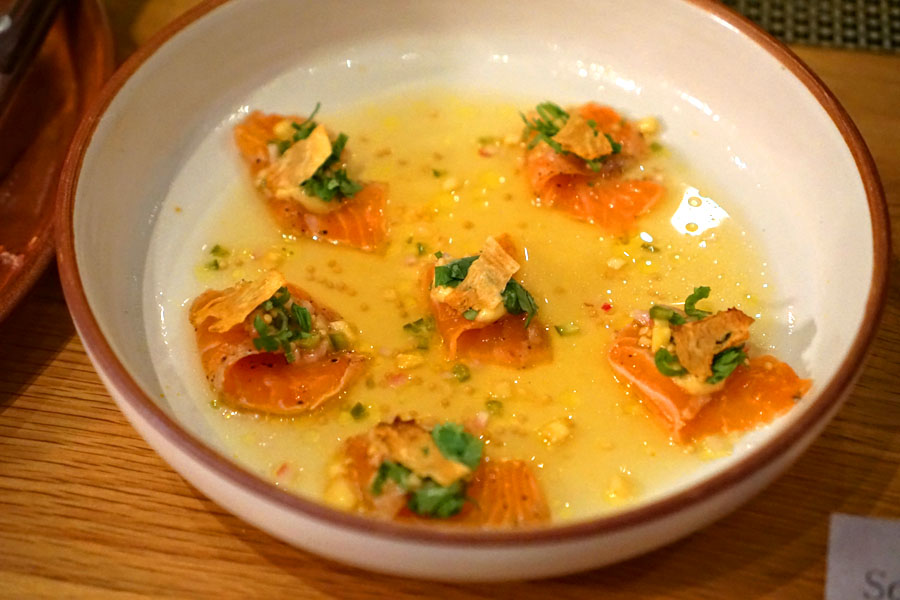 1: Salmon Crudo
| Aji Amarillo, Pineapple Ponzu, Brown Butter, Jalapeño
In our first course, shards of salmon were paired with a tangy, almost mignonette-like ponzu that did a nice job offsetting the robust, briny flavors of the fish. A good start.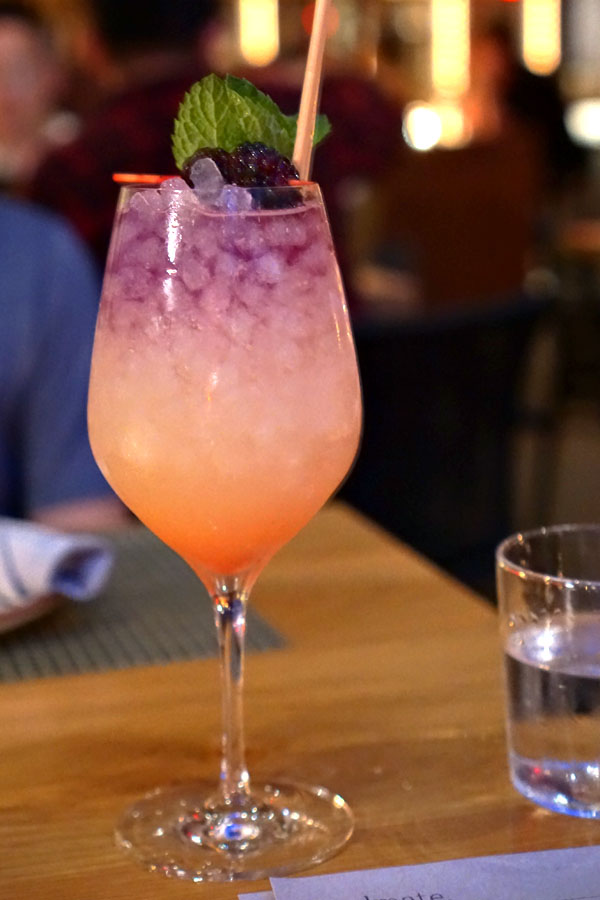 Fanny Flutters [$16.00]
| Bubbles, Guava, Lemon, Butterfly Pea Flower
We ended up making our way through all ten cocktails, and this first one blended a lemonade-esque character with deep fruit flavors, making for a fun, fizzy summer quaffer.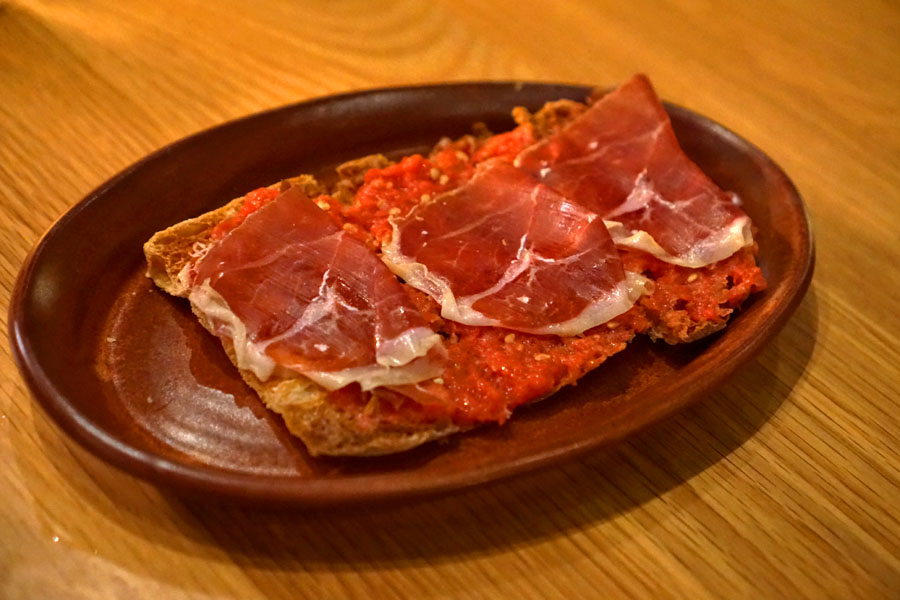 2: Jamón Ibérico de Bellota
| Cinco Jotas, Aged 48 Months with Pan con Tomate
In this version of
pa amb tomàquet
, a sweet, juicy tomato spread did a great job playing foil to rich, savory, smoky slivers of ham, all while the bread gave up a fantastic crunch and toastiness.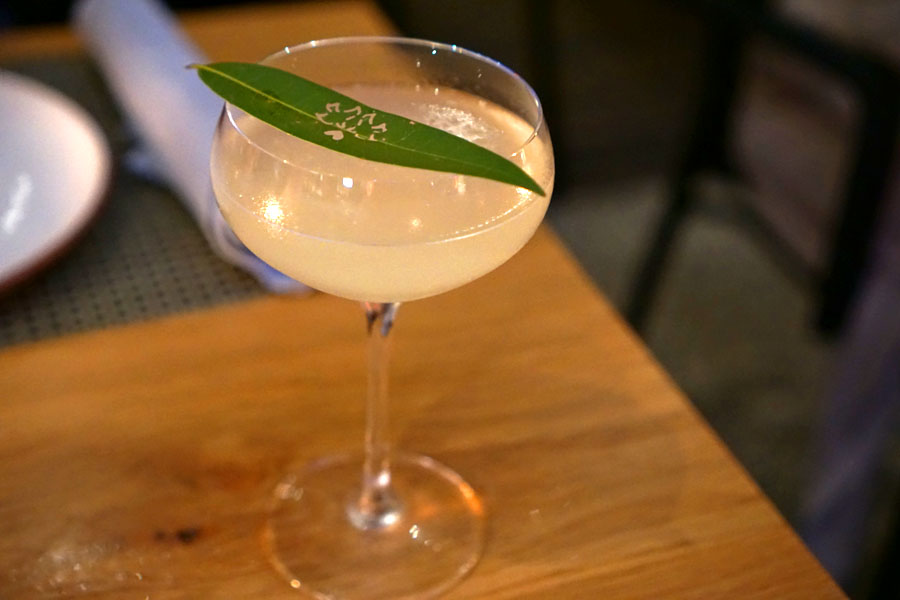 Soulmate [$16.00]
| Gin, Bae Laurel, Lemon
The restaurant's signature cocktail commingled the botanical nature of gin with the herbiness of bay leaf, the whole thing backed by an undercurrent of sweetness.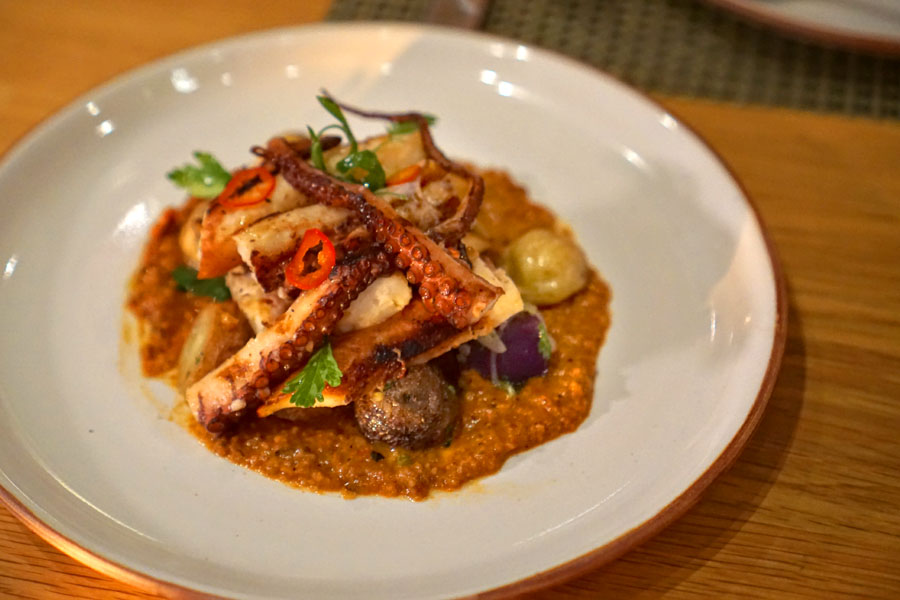 Wood Fired Octopus [$25.00]
| Charred Romesco Sauce, New Potato, Pickled Fresno Chile
My quibble here was that some parts of the dish were overly salty, but other than that, this was a smart take on the classic pairing of
pulpo
and romesco. I especially appreciated the strongly smoky, savory, saline qualities of the octo, and how that matched up with the tangy nature of the tomato-garlic sauce. Excellent use of potatoes here to boot.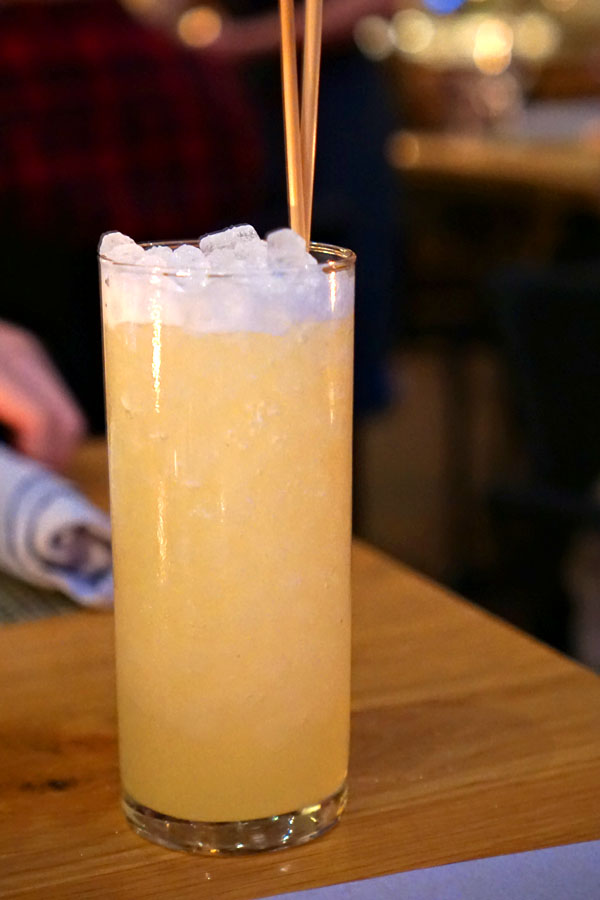 Sunshine Pop [$16.00]
| Mezcal or Tequila, Pineapple, Sage, Citrus
This next cocktail was a table favorite, melding restrained pineapple flavors with herbaceous nuances of sage and an all-encompassing smokiness from the mezcal.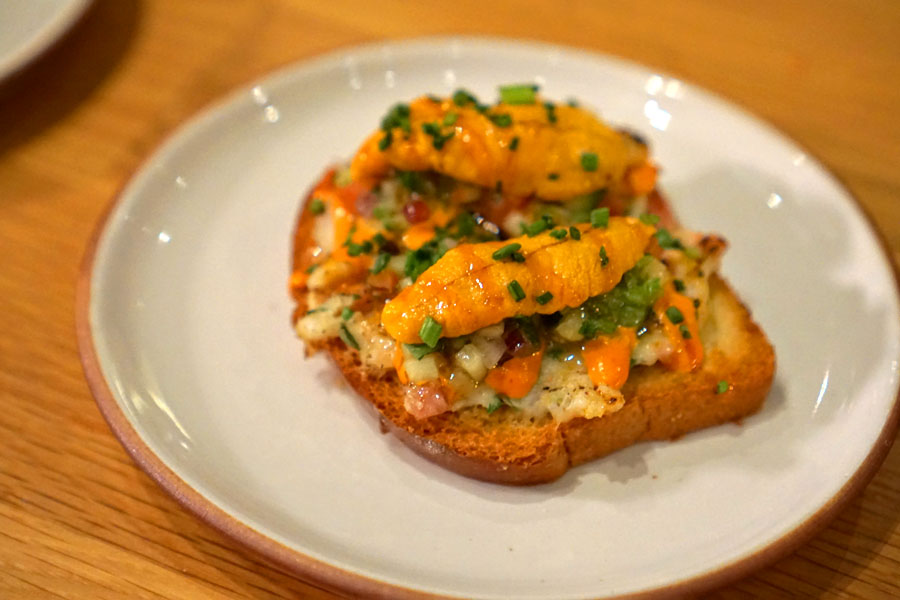 3: Uni Toast
| Rock Shrimp, Butifara Sausage, Chili Honey, Pequillo Pepper Aioli
The uni toast was definitely a standout. I quite appreciated the initial back-and-forth between the brightness of the "salsa" and the sweetness of the sea urchin. This then transitioned to the savory spice of
botifarra
, before it all finished with the unmistakable brine of the uni. Also key was the crisp, Texas toast-like bread here, and overall, the bite was delightfully multifaceted.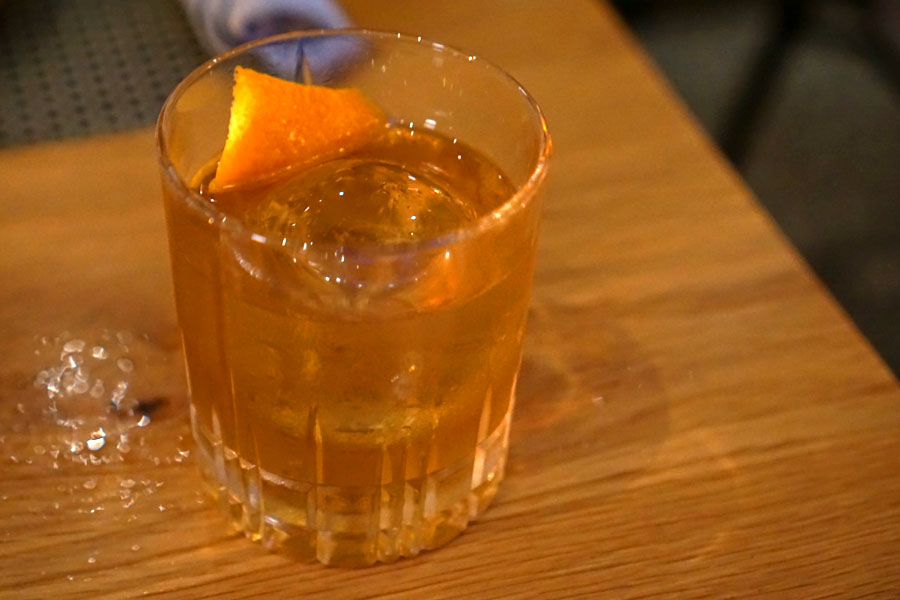 Everlasting [$16.00]
| Bourbon, Amaro, Orange, Salt, Smoke, Caramel
Here was the most potent of our first round of cocktails. The nose on this one was rife with caramel, smoke, and leather, while the palate was sweet and cherried, with nuances of brown sugar, brown butter, and coconut all making for a surprisingly saccharine drinking experience.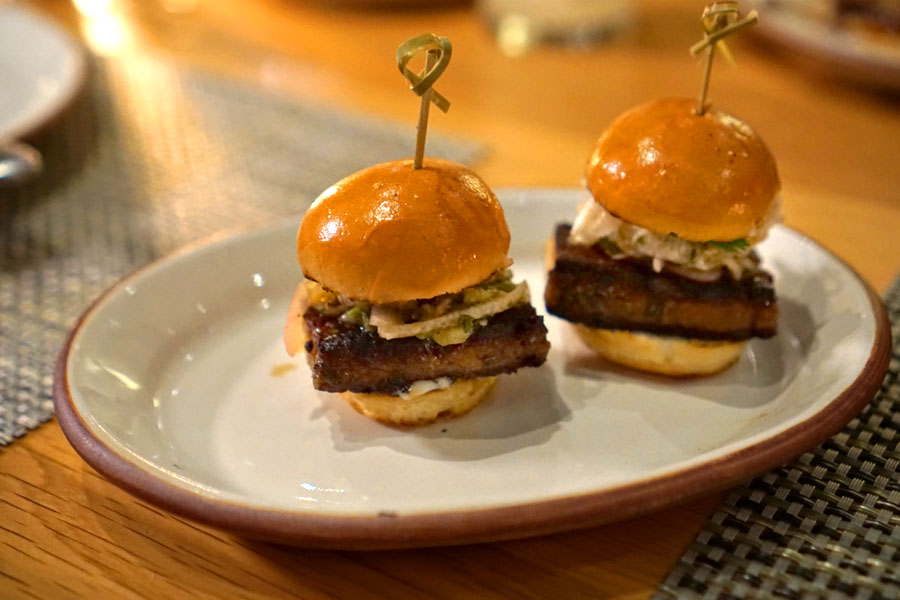 4: Niman Ranch Pork Belly
| Brioche Buns, Mojo Verde, Garlic Aioli, Chicharron
These sliders made for another crowd pleaser. The pork itself was a home run thanks to its crispiness and spot-on ratio of lean-to-fat. The mojo and aioli did a commendable job balancing out the heft of the meat, while the slight sweetness of the bread completed the package.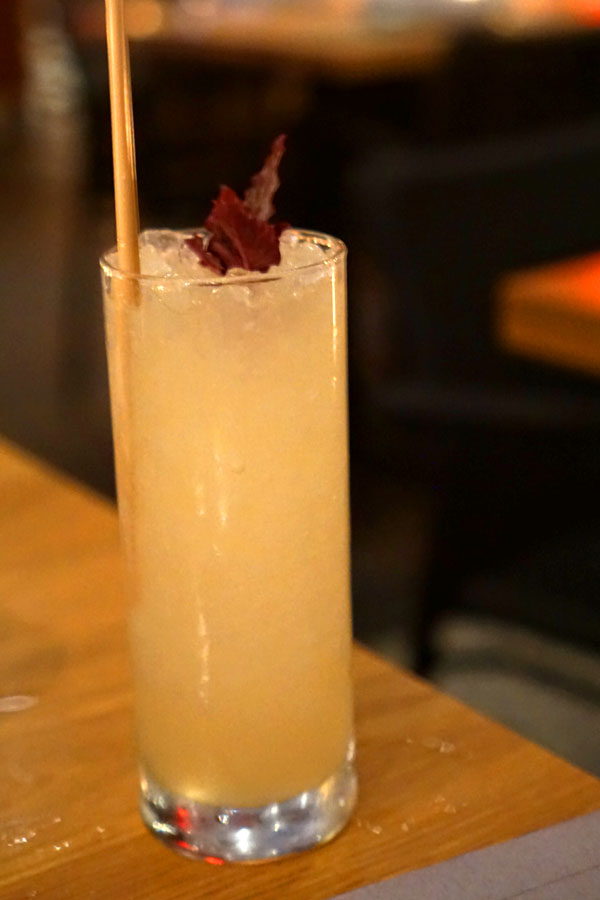 Vice Versa [$16.00]
| Tequila, Ruby Red Grapefruit, Fire Water, Lime
This next cocktail was on the viscous side, and featured a plethora of tropical, fruity flavors backed by citric astringency and a palpable spiciness on the back end.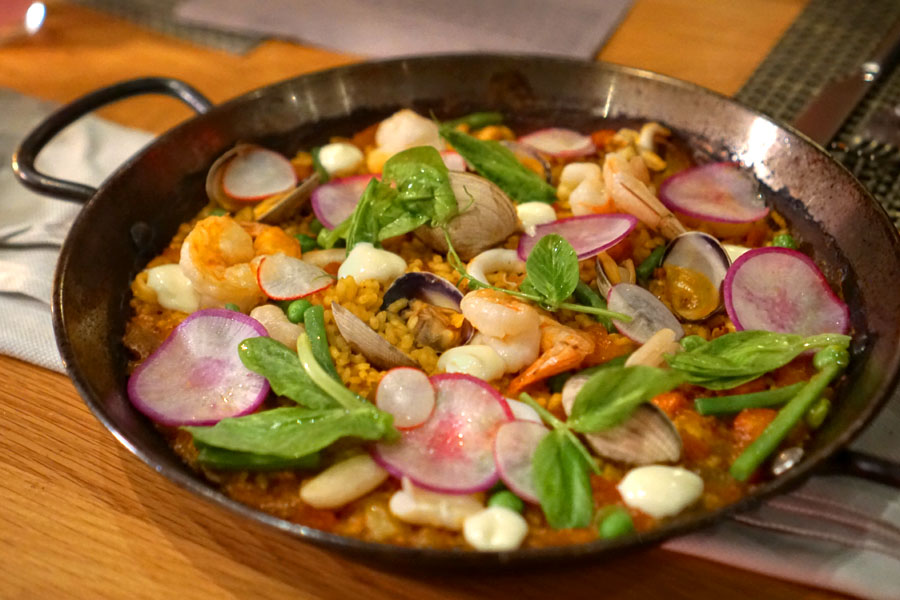 5: Soulmate Paella [+$8.00 per person]
| Shrimp, Calamari, Clams, Bomba Rice, Saffron, Chorizo, Aioli, Market Vegetables
I have a hard time saying no to paella, and enjoyed tonight's example. Each item of seafood was well presented, and I really appreciated the bitter-sweet contrast provided by the radishes and peas. In addition, there was a decent amount of smoky socarrat that developed at the bottom of the pan. Do note that we got this in place of the standard fideuà on the tasting menu, at an upcharge of $8 a head.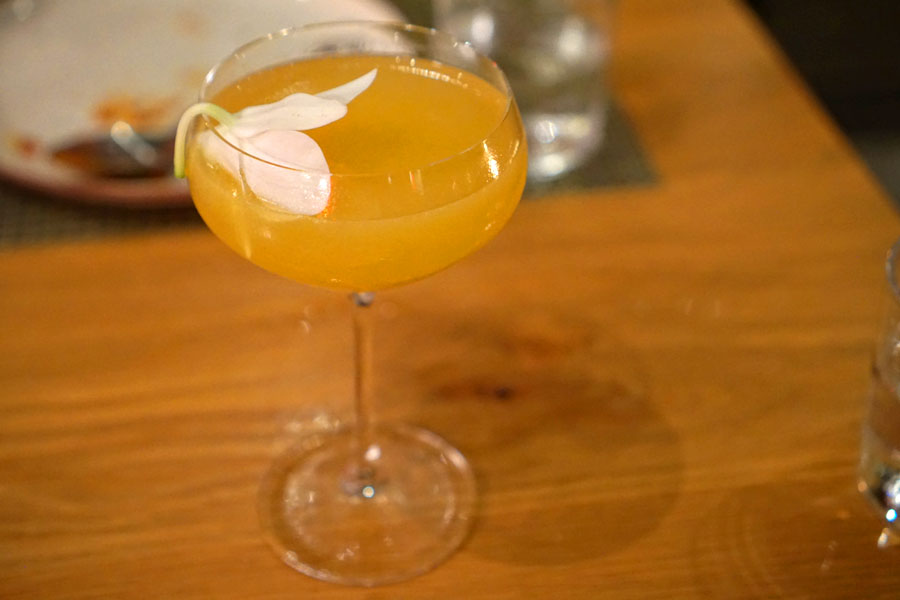 Double Trouble [$15.00]
| Rum, Lime, Mango, Bubbles
This was a surprisingly easy-going cocktail, one with loads of robust mango all over the place, evened out by pricks of tart lime and just the faintest hint of booziness from the rum.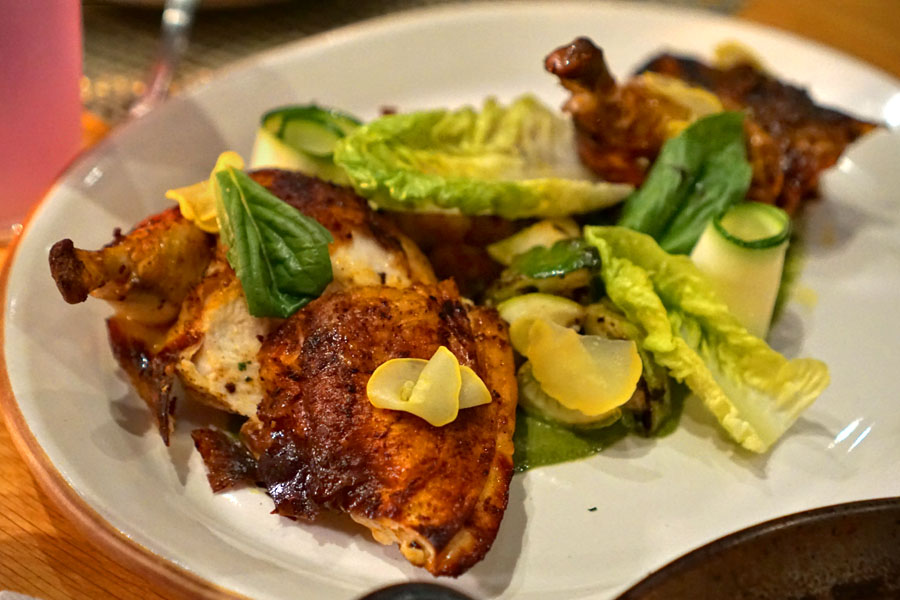 6: Oven Roasted Pasturebird Chicken
| Harissa, Fingerling Potatoes, Summer Vegetables, Salsa Verde
A lot of people say that you shouldn't order chicken at restaurants, but order this one, as it was arguably the best dish of the night. The bird itself came out wonderfully juicy, and had a hint of harissa-fueled sweet spice to go along with its deep, savory flavors. At the same time, I loved the zingy nature of the salsa verde here, while the potatoes served as the perfect finishing touch. Delish.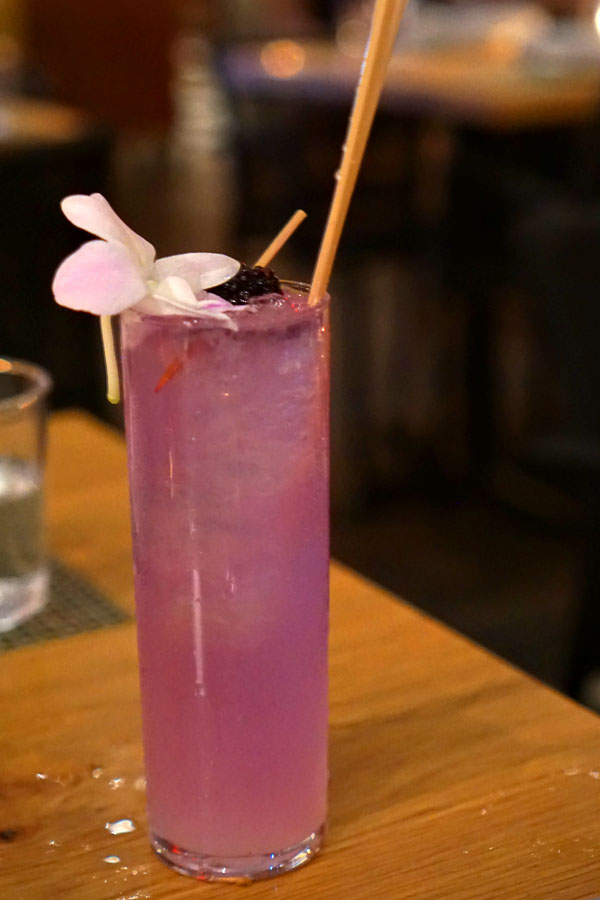 The Best MF Vodka Soda in WeHo [$15.00]
I don't think I've actually had a vodka soda before, so I guess this was indeed the best version I've tried. I will note that the cocktail had a surprising amount of citrus in it, and of course the drink's amethyst hue was fetching to look at.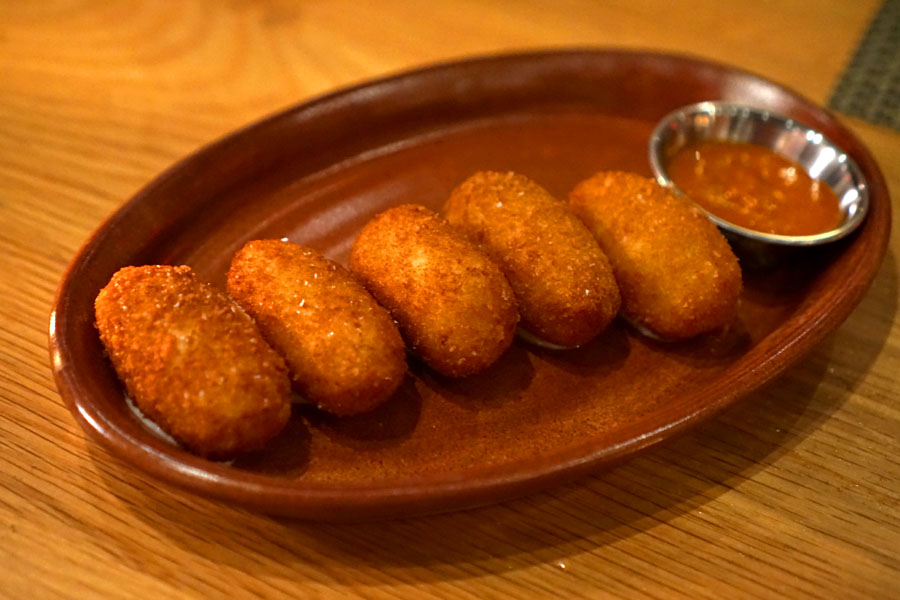 Croquetas de Pollo [$15.00]
| Garlic Aioli, Brava Sauce
Chicken croquettes featured crisp exteriors and creamy, savory insides with a trace of citrus. They were tasty alone, but really sang when matched with the sharp, sour spice of their patatas bravas-inspired dipping sauce.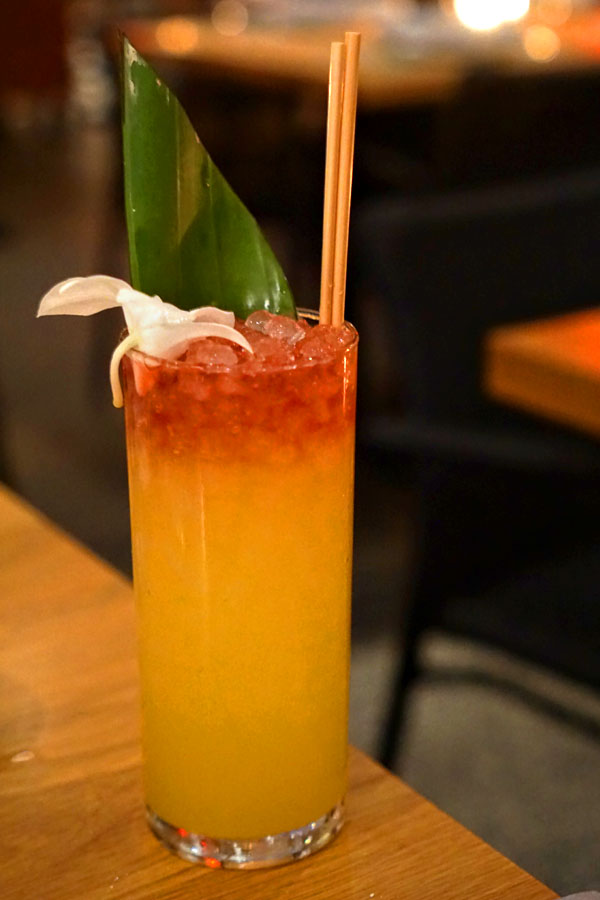 Weekend in Palm Springs [$16.00]
| Vodka, Passionfruit, Feijoa, Lime, Orange
This dual-toned cocktail showcased boatloads of tropical fruit flavors, with passion fruit at the forefront, while the vodka was basically lurking in the background.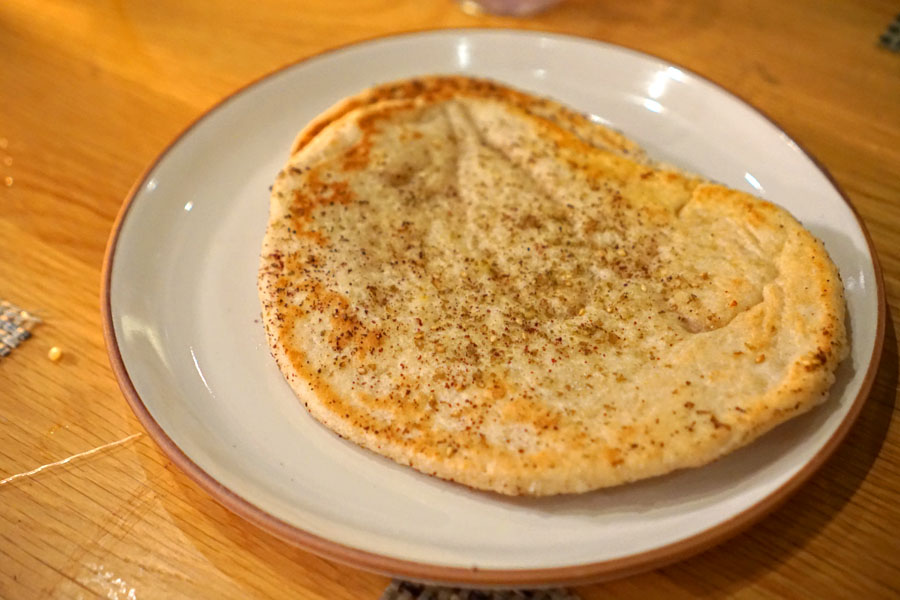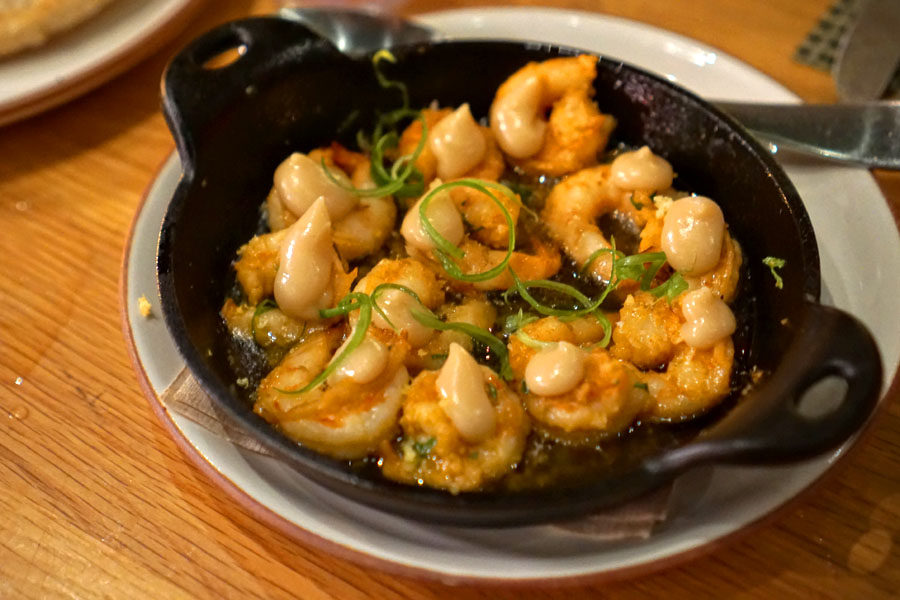 Gambas al Ajillo [$21.00]
| Wild Blue Shrimp, Roasted Garlic Puree, Chile de Arbol, Housemade Flatbread
This Spanish staple was composed of snappy, well-textured shrimp set in a delightfully garlicky, subtly spicy olive oil. The flatbread on the side was an unexpected, but not unwelcomed accompaniment, and I liked how fluffy and well-seasoned it was.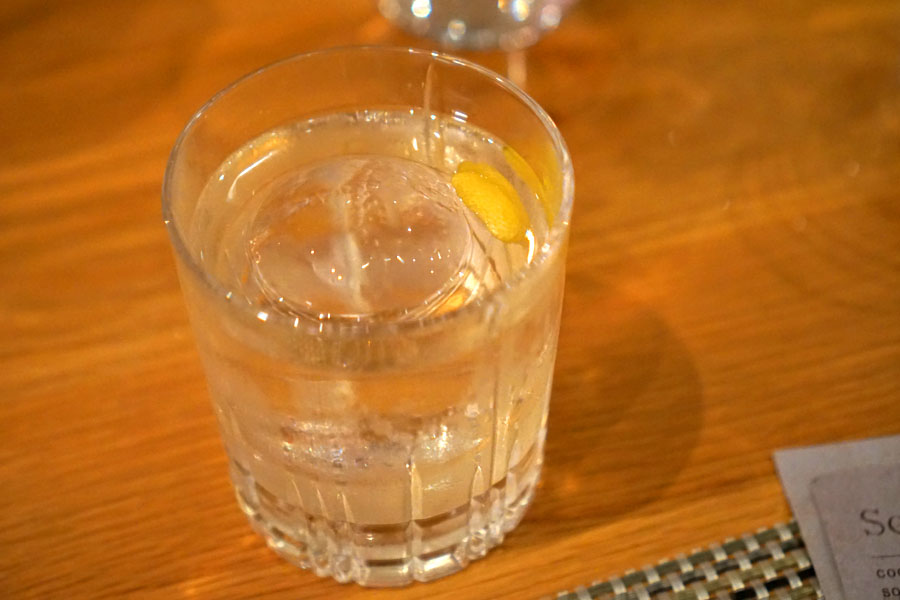 The Thin Edge [$16.00]
| Vodka, Dry Vermouth, Chartreuse, Bitters
Our penultimate cocktail was no doubt the booziest of the bunch. A variation of a vodka martini, this one did a nice job showing the interplay between the spirit and the vermouth, with the Chartreuse adding a further touch of complexity to the mix.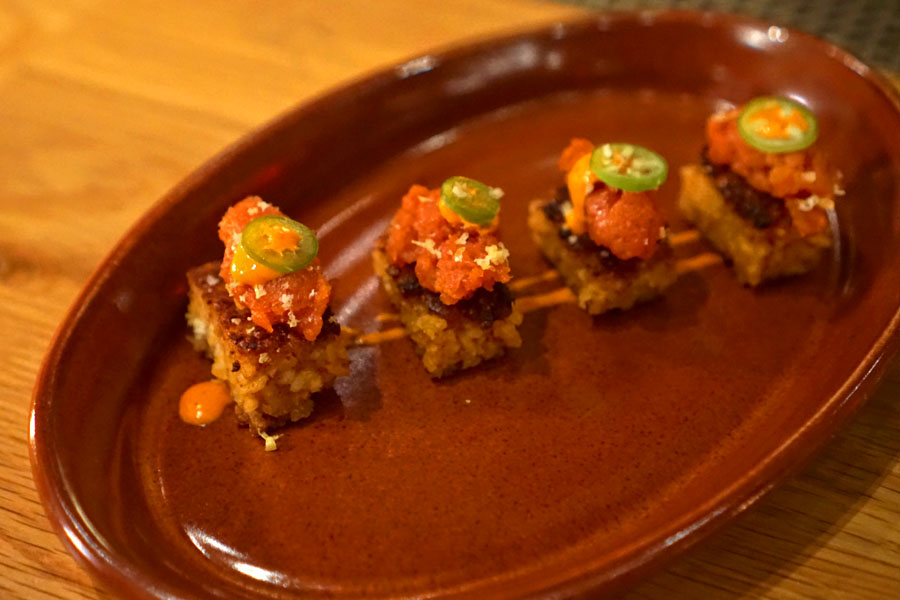 Spicy Paella Bites [$20.00]
| Big Eye Tuna, Crispy Seafood Rice, Chili Aioli
Here, super crunchy cuboids of rice made for a smoky, toasty counterpoint to the surprisingly potent, chile-enriched tuna tartare up top. I actually found this somewhat reminiscent of the ubiquitous crispy rice with spicy tuna dish made popular by Nobu.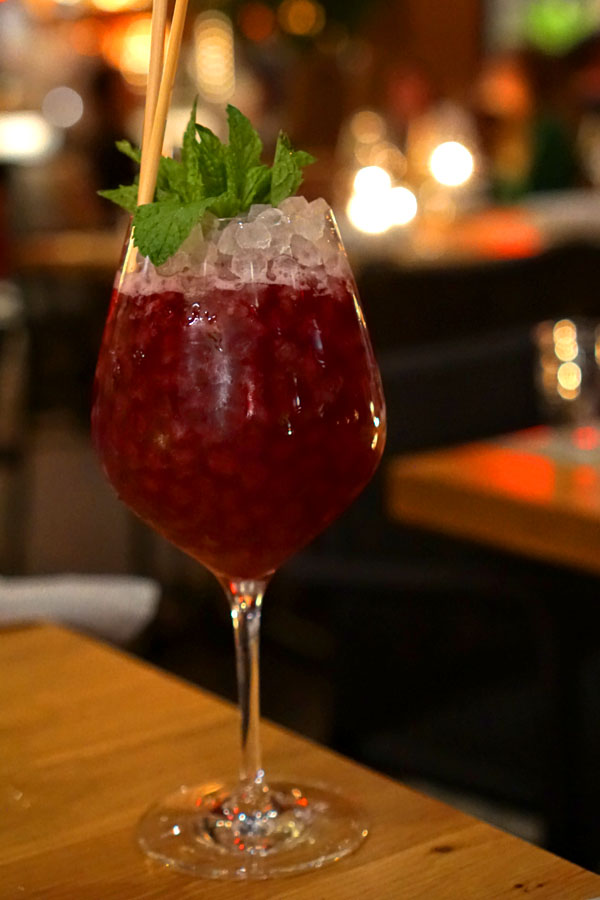 A Little Bit Alexis [$15.00]
| Red Wine, Curacao, Citrus, Mint
This final,
Schitt's Creek
-inspired cocktail was an effective take on the classic sangria, and I liked the additional oomph provided by the curaçao.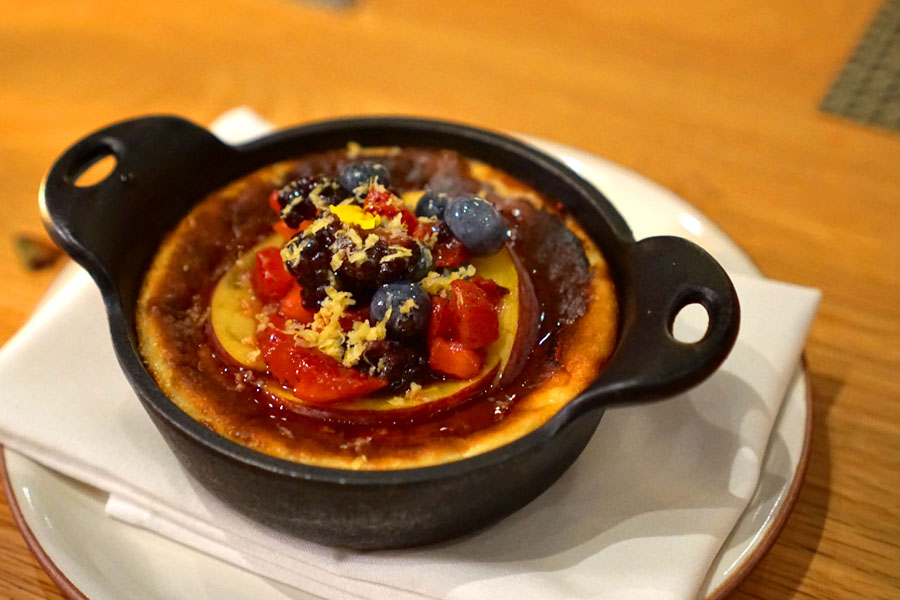 7: Basque Cheesecake
| Creamy Mascarpone, Goat Cheese, Macerated Market Fruit
I've had a lot of Basque cheesecake over the past year or so, but this was one of the better ones. The dense-yet-airy nature of the cake worked for me, as did the dessert's enveloping, but never domineering smoke, while the sweet-n-sour fruit worked beautifully as an accent piece.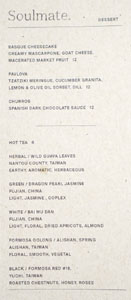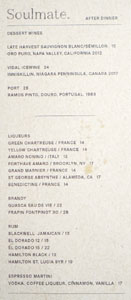 Now the cheesecake, while very tasty, wasn't quite enough, so we ended up tacking on two other desserts from the menu above. Do note that everything from this point forward ended up being graciously comped by our server, given that we'd ordered so much. Click for larger versions.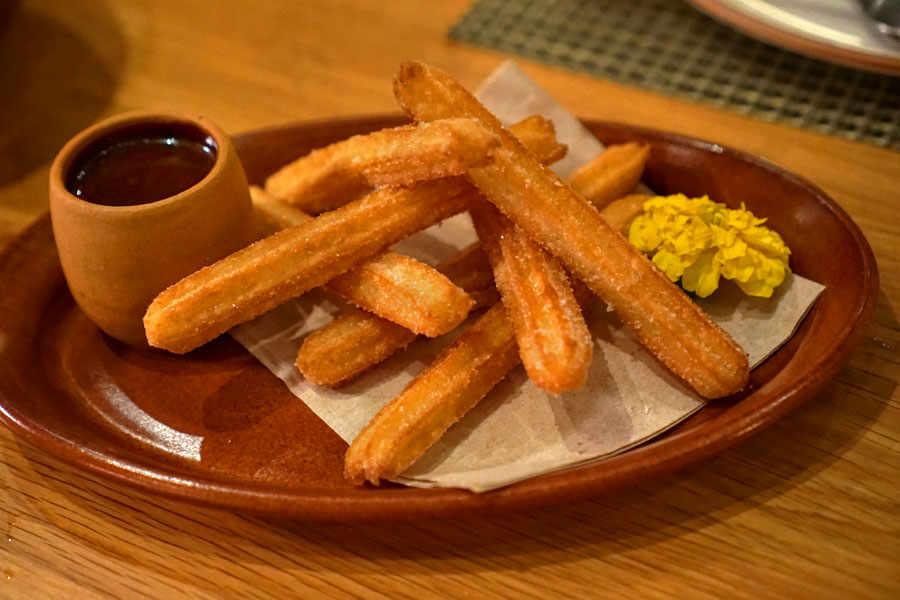 Churros [$12.00]
| Spanish Dark Chocolate Sauce
Churros arrived thin and airy, with a restrained sweetness that made their chocolate dipping sauce all the better.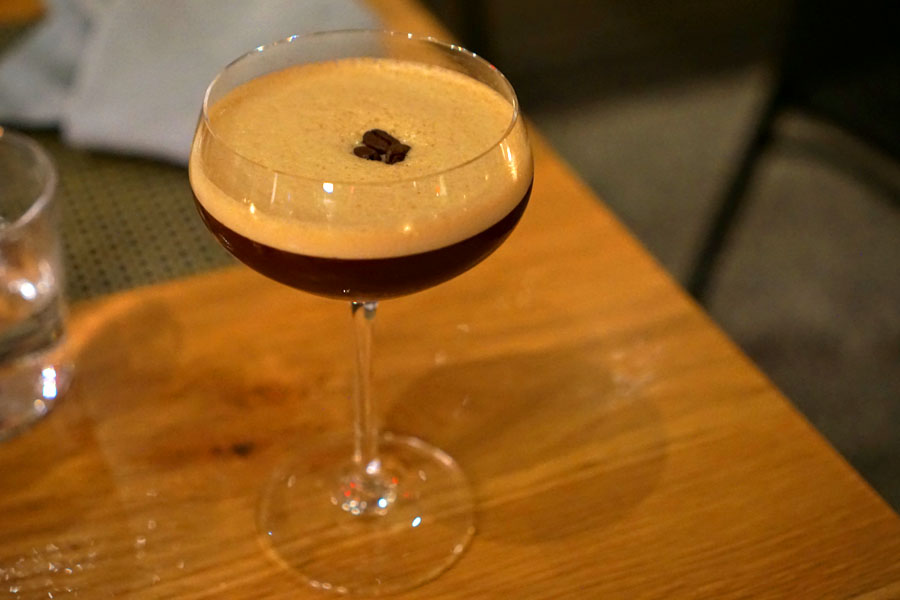 Espresso Martini [$17.00]
| Vodka, Coffee Liqueur, Cinnamon, Vanilla
Our dessert cocktail was pretty flawless, its heady notes of bittersweet coffee meshing flawlessly with fragrant vanilla and the sweet-spiciness of cinnamon.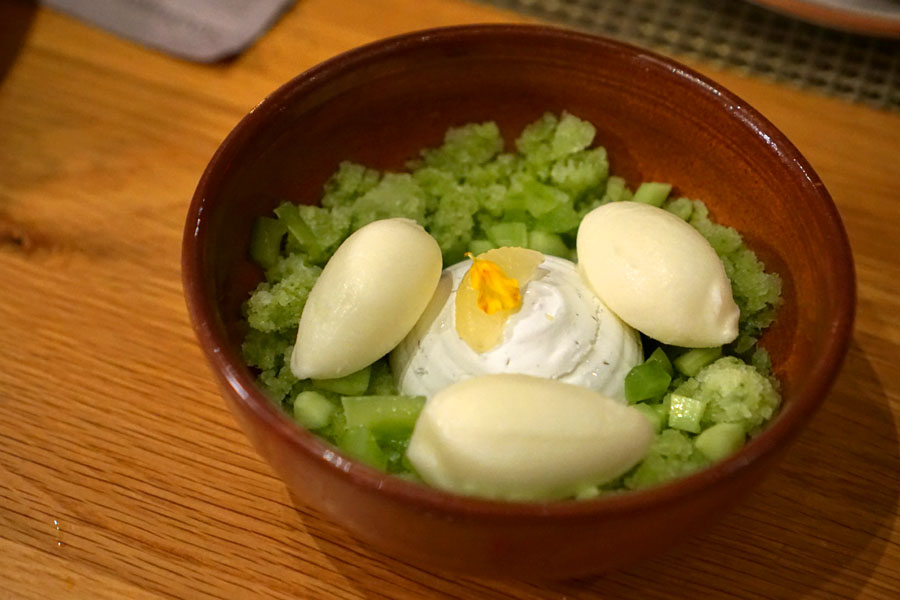 Pavlova [$12.00]
| Tzatziki Meringue, Cucumber Granita, Lemon & Olive Oil Sorbet, Dill
As good as the churros and cheesecake above were, the pavlova was clearly the winner of the three desserts. I loved the interaction between the yogurt and the dish's utterly refreshing notes of cucumber. The savory nature of the olive oil also made its presence known, and the dill functioned as an overarching aromatic component. There were some fantastic textures at play here as well. Interestingly, one of my fellow diners and I both agreed that this was akin to a dessert you'd expect to see at
Nightshade
(which is sorely missed).
All in all, this was a rather successful meal I have to say. Lopez has done a good job marrying the core of Spanish cuisine with his Southern California sensibilities, and the results are generally quite enjoyable, and sometimes even a bit surprising. Combined with the admittedly attractive space, and you get what I think will be a recipe for success here in West Hollywood. Soulmate will likely end up being a go-to restaurant of mine in the area.
---

After dinner, I headed over to DTLA to pay a visit to one of my favorite drinking spots, Bar Jackalope, which I hadn't been to since the start of the pandemic. If you haven't checked out the place before, what's pictured above is basically the entire (indoor) space, so it's definitely an intimate sort of place.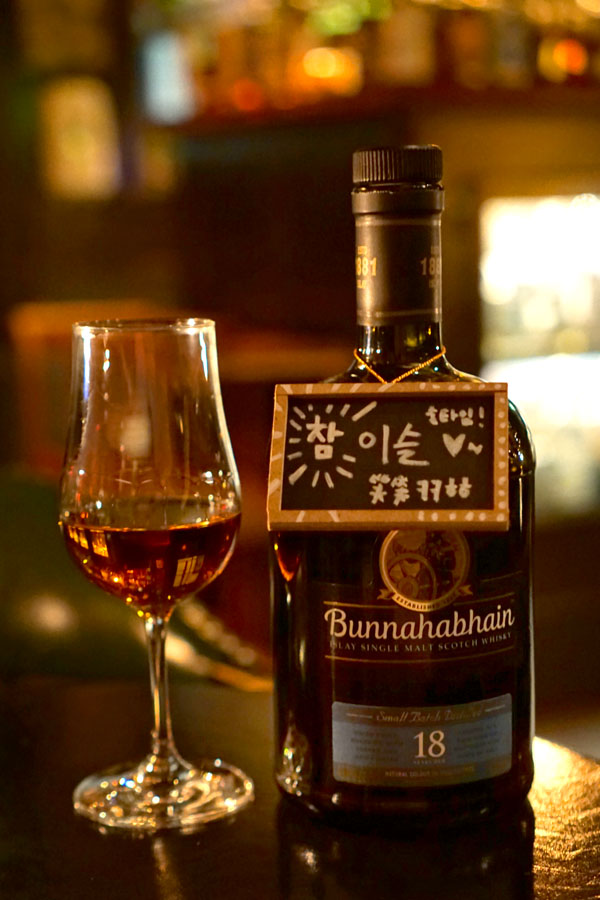 If you're not aware, Bar Jackalope allows guests to buy bottles, which are stored in private lockers and confer a year-long "membership" that allows for priority access to the bar. I got my
Bunnahabhain 18 Year Old [$630]
at the end of January last year, and therefore didn't have much time to enjoy the whisky before things started shutting down. Thus, it was certainly nice to be able to come back in here and get another crack at the Scotch after so long (and yes, memberships were indeed extended to account for the bar's mandatory closure).