Chef C's Smhokin Pot (Carson, CA)
Chef C's Smhokin Pot
17944 S Avalon Blvd, Carson, CA 90746
310.283.2029
www.smhokinpot.com
Wed 10/13/2021, 07:40p-09:10p

I was recently in search of takeout while heading over to Redondo Beach, and decided to stop by Carson's cheekily-named Chef C's Smhokin Pot. Situated across the street from Dignity Health Sports Park (home of the LA Galaxy), it's one of the latest businesses to make the transition from food truck to brick-and-mortar restaurant. The spot serves up a menu of casual, SoCal-inflected Cajun cuisine, and is headed by Chef/Owner Calvin Alexander.
About the Chef
: Born in September 1971, Alexander is an LA local and attended Gardena High School. After spending the early part of his career at Smart & Final, he eventually found his way to East Los Angeles College, where he attained an associate degree in respiratory therapy in 2003 and subsequently worked at Miller Children's Hospital in Long Beach. However, he never lost his passion for Cajun cooking, which he got from his father Clarence, a native of Shreveport who previously ran his own furniture company. As Alexander improved his skills in the kitchen, he began selling his creations to friends and colleagues in 2015. This led to appearances at various events and festivals, then to a food truck in 2017. In 2018, the Chef left his respiratory therapy career to focus on food full-time, and soon began plans for a permanent home for the Smhokin Pot, which ended up grand-opening on April 24th this year.

Chef C's Smhokin Pot takes over a strip mall storefront that once held Louisiana Hometown Seafood. The space is pretty small, with limited seating, so I imagine the place will primarily be a takeaway affair.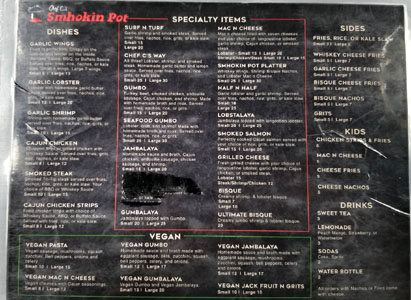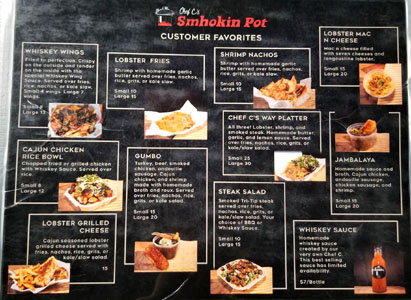 And here we see the menu, which features both traditional and unconventional takes on Cajun-inspired fare. Click for larger versions.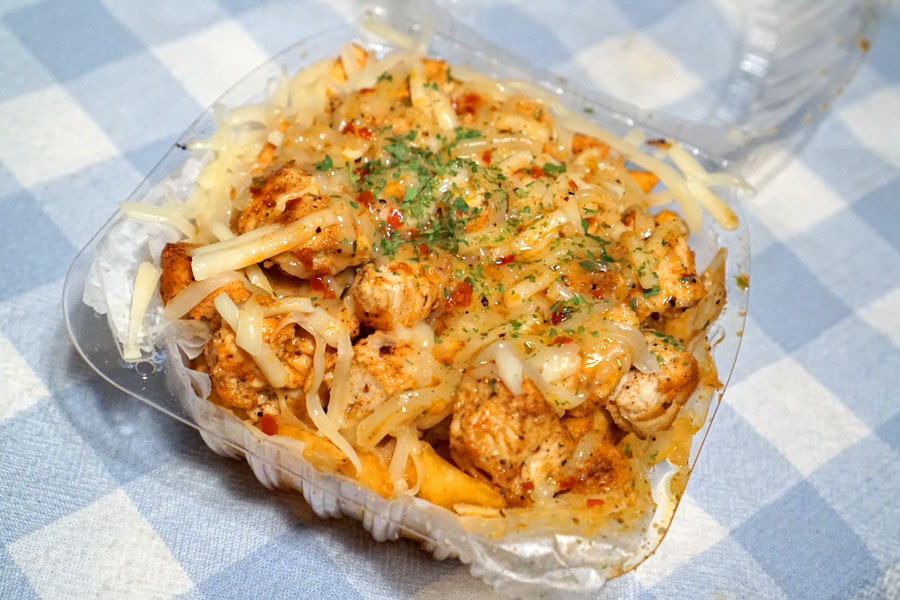 Cajun Chicken (Small) [$8.00]
| Chopped fried or grilled chicken with Whiskey Sauce. Served over fries, grits, rice, nachos, or kale slaw.
Grilled chicken breast had a decent sear, and was reasonably tender, though I wonder if the dish might've been even better had thigh been used instead. The bird was delectably seasoned though, with a good dosing of spice to go along with the dish's sweet underpinning, while the fries were pretty much spot-on as well.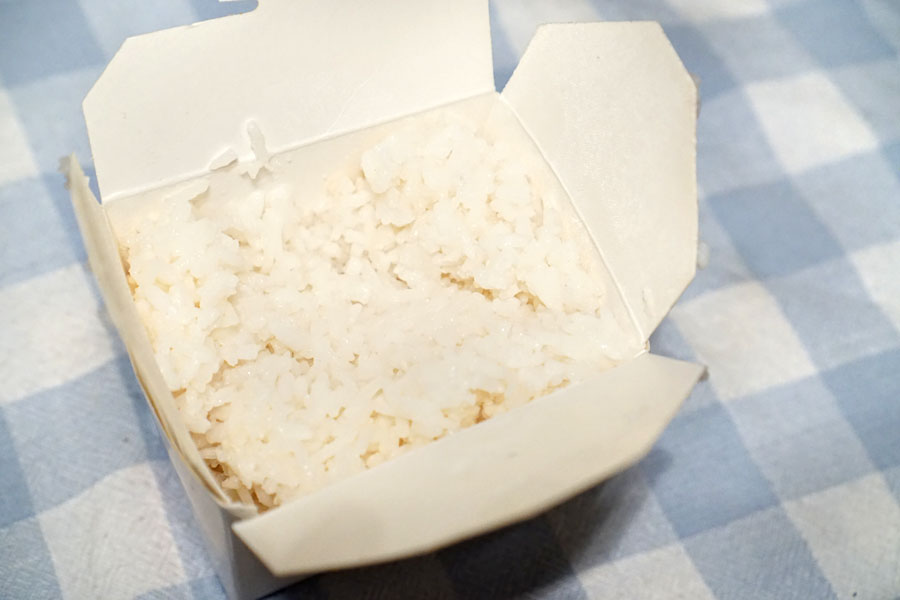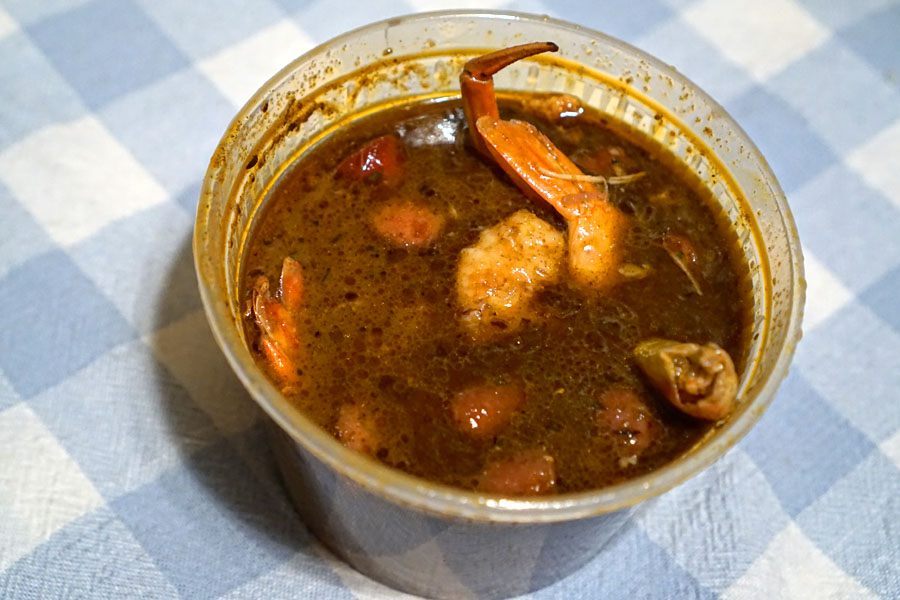 Gumbo (Small) [$15.00]
| Turkey, beef, smoked chicken, andouille sausage, Cajun chicken, and shrimp. Made with homemade broth and roux. Served over fries, nachos, rice, or grits.
I definitely enjoyed the gumbo, which had all the deep, dark, developed flavors I was looking for, along with a creeping spice that really worked for me--delish. The rice served as an apt counterpoint to the strong flavors at play, but was more cooked than I would've liked.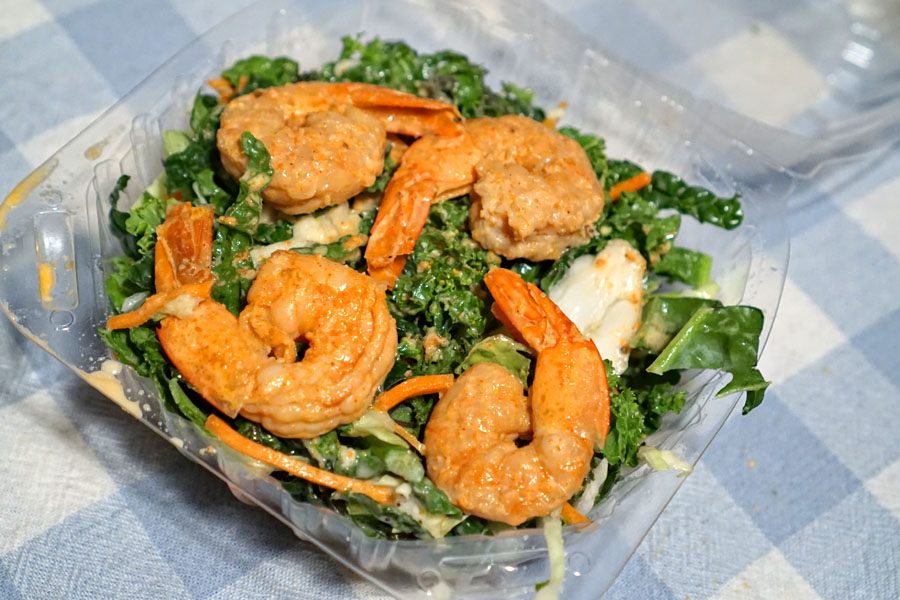 Garlic Shrimp (Small) [$10.00]
| Shrimp with homemade garlic butter served over fries, nachos, rice, grits, or kale slaw.
Shrimp were very tasty, with a deft application of both garlic and butter, though they could've used a bit more in the texture department. Speaking of texture though, the kale did provide a nice crunch, and also offered up a refreshing bitterness that made a lot of sense here. That being said, I had to get this with kale as the restaurant had run out of the grits I'd initially wanted (shrimp 'n' grits being the classic pairing).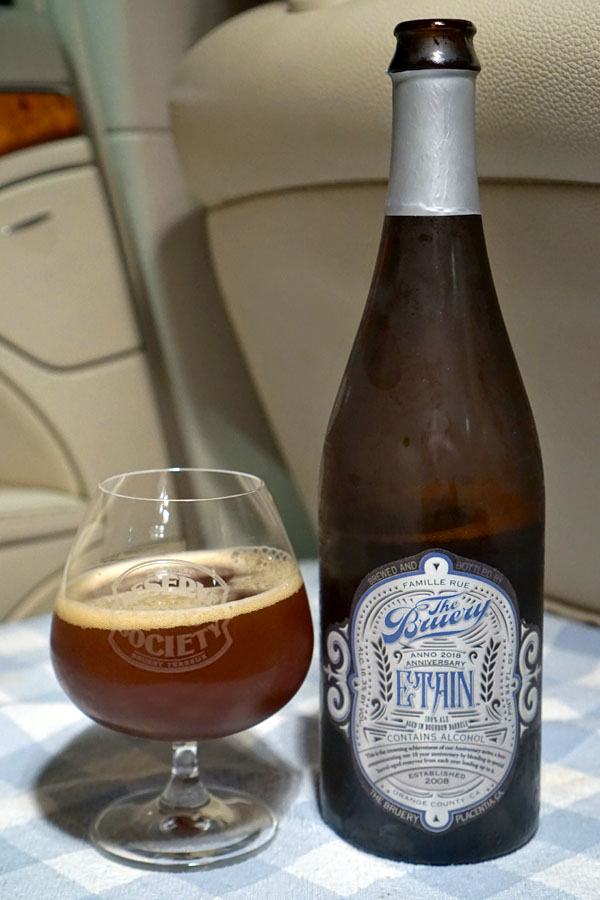 To drink, I brought along a bottle of the
2018 The Bruery Etain
, a blend of ten barrel-aged ales meant to celebrate the brewery's 10th anniversary. The beer smelled of rich chocolate and caramel interspersed with dark fruit and nuts--very inviting. Taste-wise, I found boatloads of chocolate-covered raisins alongside toffee, more dark-toned fruit, and a good amount of oak toward the finish.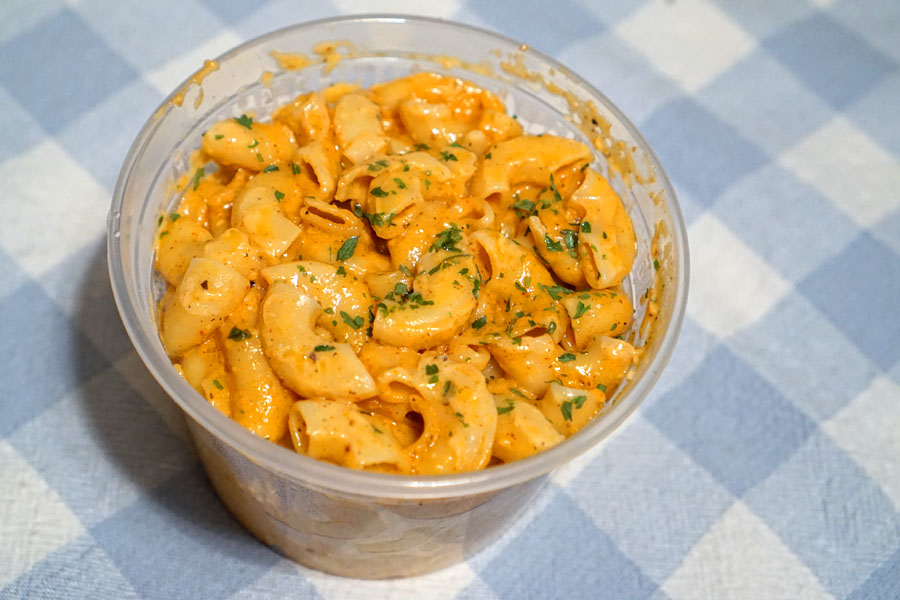 Mac n Cheese - Lobster (Small) [$15.00]
| Mac n cheese filled with seven cheeses and your choice of langoustine lobster, garlic shrimp, Cajun chicken, or smoked steak.
The first thing you'll notice about the lobster macaroni and cheese is that they completely left out the lobster! That's a pretty major misstep, though I'm somewhat willing to overlook the omission since this ended up being one of the best mac 'n' cheeses I've had. The texture on the pasta was just right, and I simply loved the undercurrent of heat present and how that meshed with the innate cheesiness of the dish.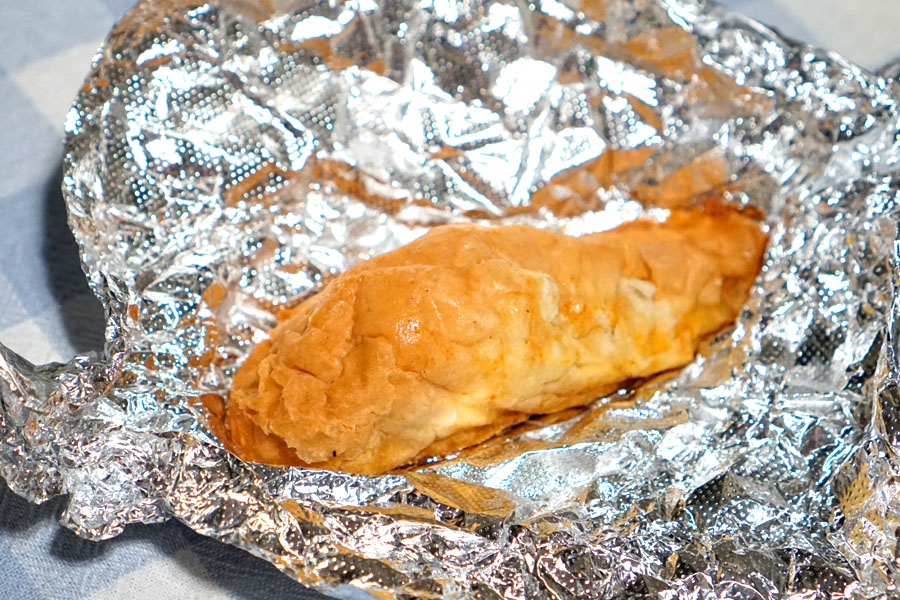 A complimentary serving of bread didn't look like much, but was in fact surprisingly gratifying. I quite liked the contrast in textures between the mostly supple loaf and its crispy bottom, while flavors balanced sweetness with a salty edge.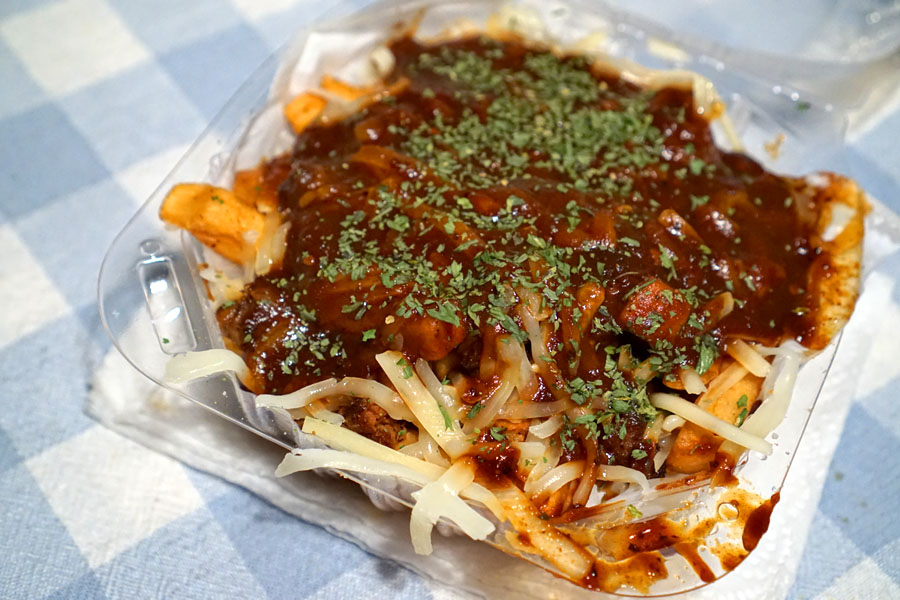 Smoked Steak (Small) [$10.00]
| Smoked Tri-Tip served over fries, nachos, rice, grits, or kale slaw. Your choice of BBQ or Whiskey Sauce.
Beef arrived relatively tender, with a satisfactory amount of smoke to it. The meat married better than I expected with the barbeque sauce, which wasn't overly sugary as I'd feared, but instead, showed off a lovely sweet heat punctuated by just a hint of pepperiness. Do note that--as with the grits above--the restaurant had run out of tortilla chips, so I had to order the meat over fries instead of nachos.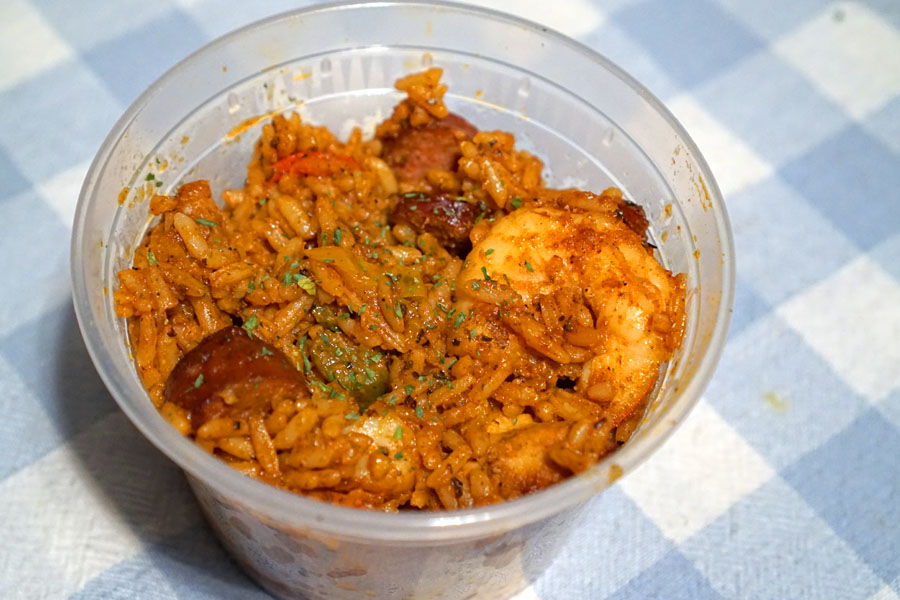 Jambalaya (Small) [$15.00]
| Homemade sauce and broth, Cajun chicken, andouille sausage, chicken sausage, and shrimp.
The jambalaya was a winner, and probably my favorite item of the night. The dish demonstrated a great dry spice character and plenty of depth, while I was particularly fond of the sausages, as well as the cook on the rice. A must-order here, and something I could just eat a big heaping bowl of.
There were a number of what I'll describe as "logistical" impediments to my meal here, which really should be addressed, but fortunately, they didn't detract too much from my experience. Alexander's flavors were on point, and represent sort of an amalgam of traditional Cajun tastes with a bit of Southern Californian sensibility. It's a combo that works for the most part, and could have wide appeal. The Smhokin Pot seems like a replicable concept to me, so I wouldn't be surprised if more of these eventually pop up. I wouldn't mind one closer to home.