Modern Times Leisuretown (Anaheim, CA)
Modern Times Leisuretown
549 S Anaheim Blvd, Anaheim, CA 92805
714.874.4439
www.moderntimesbeer.com/tasting-room/anaheim/
Thu 09/02/2021, 08:00p-09:25p

I've been a semi-regular drinker of Modern Times beer for a while now, so I was happy to hear that the brewery would be expanding to Orange County. News of said expansion came in the latter half of 2016, and after four years of construction, Leisuretown finally debuted on July 28th last year. The complex repurposes a former
dulcería
/warehouse, automotive repair shop, and 1911-era Craftsman home, with the restoration overseen by Shaheen Sadeghi of The LAB and The CAMP fame. In total, the site encompasses around 33,000 square-feet, and includes a brewhouse, beer garden, daytime café, mini-mart, and yes, even a swimming pool.

Shown above is the bar, which shares a building with Leisuretown's beer production facilities.

And here's the main seating area. The kitchen is to the left of the photo. You can also access the pool from this spot, but unfortunately it was closed during my visit.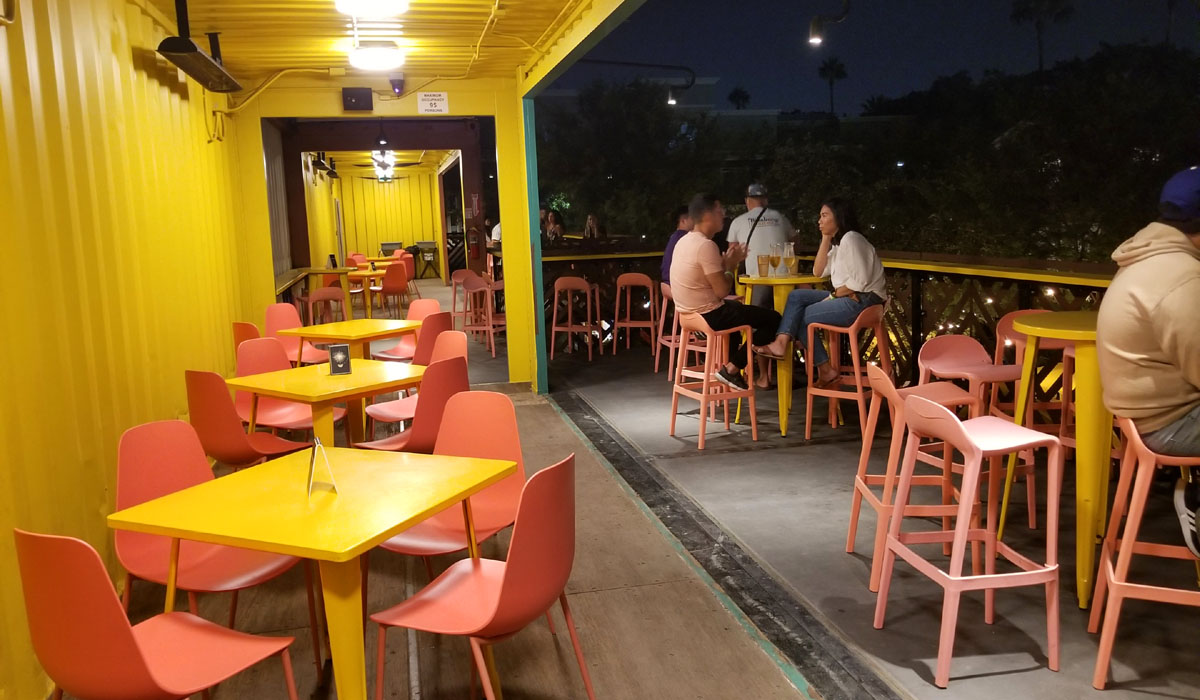 Upper-level seating, constructed out of shipping containers.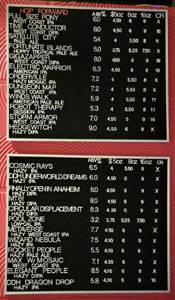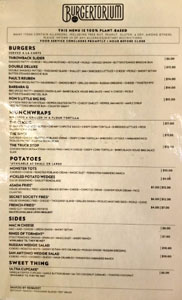 Pictured above is the draught list, which is a bit too hop-heavy for my tastes; I'd like to see more in terms of sours and saisons. As for the food menu, it's basically your typical bar-appropriate fare, but rendered in a completely plant-based manner, as Modern Times founder Jacob McKean is a longtime vegan. Click for larger versions.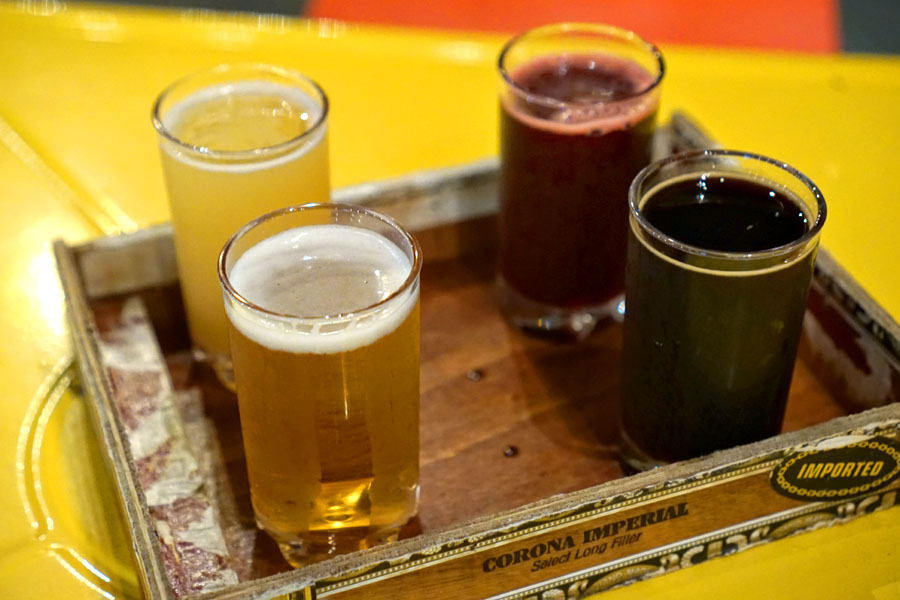 Beers can be purchased in a flight of four 5oz pours, which is what I opted for. Clock-wise from bottom-left, we have:
Storm Armor [$4.50] - First up was a West Coast IPA hopped with El Dorado, Chinook, Mosaic, and Galaxy. Surprisingly juicy nose on this one, but with the expected pine-y nuances. Taste-wise, I found it rather floral, with tropical, citrusy notes and malt sweetness all cut by an elegant bitterness.
Circular Displacement [$4.50] - Next came a hazy double IPA, one with an unexpectedly muted aroma. Its palate, though, was another story, offering up a wasabi-esque sting and a bevy of vegetal, barnyard-y flavors offset just a smidge by elements of tropical fruit.
Nectarnomicon: Blastberry Edition [$5.00] - This was a Berliner Weisse with black raspberry, red raspberry, cranberry, strawberry, and vanilla. The beer smelled both sour and darkly fruity, while its taste brought forth loads of jammy berries commingled with chocolate-y qualities and an undercurrent of funk.
Soft Swerve: Banana Coconut Sundae [$8.00] - Last up was a sundae-inspired barrel-aged imperial stout with Thai bananas, Dominican cocoa nibs, toasted/untoasted coconut, toasted almonds, and Ugandan vanilla. Not surprisingly, I got massive chocolate and coconut on the nose, though not much banana. Tasting it, I found the beer soft and silky, again with cocoa at the forefront, supported by a healthy dosing of vanilla, coconut, and finally that fruit I was looking for.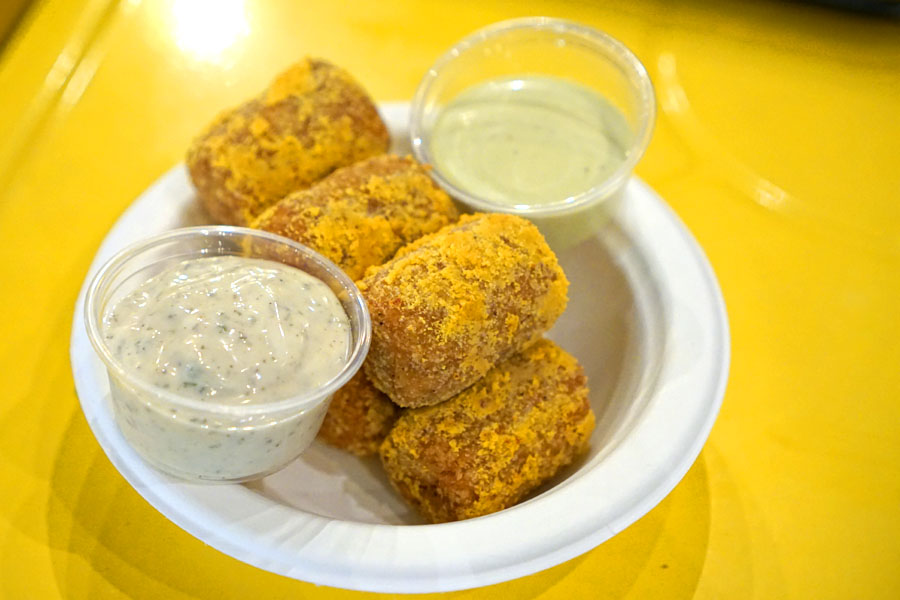 Monster Tots [$10.00]
| Chorizo • Cheese • Roasted Poblano Crema • Magic Dust • Fermented Habanero Ranch
Now on to the food. I'm a sucker for tater tots, so this was a must-order for me, though the dish was actually less like your classic tots and more fritter-like. They didn't have the crispy, "gritty" consistency you might expect, instead coming out supple, even a bit creamy. The combo of chorizo and cheese worked, though was what unexpected was the "Magic Dust," which gave the potatoes a distinct dry spice sort of character. As for the sauces, the poblano crema came out peppery, but also conveyed this intriguing, indescribable component that I just couldn't put my finger on. The habanero ranch, meanwhile, ate bright and vegetal, with just a touch of earthiness from the fermentation.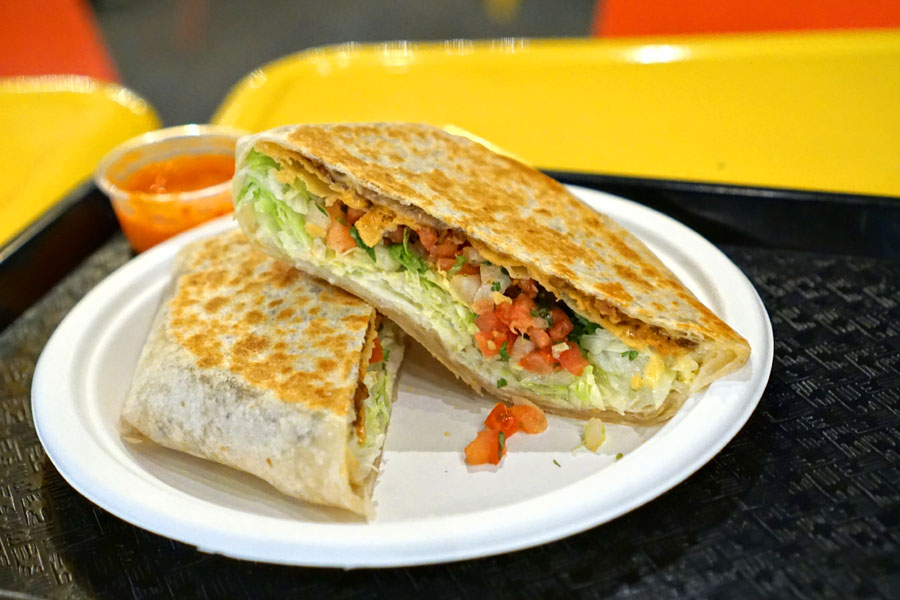 The Classic Munchwrap [$11.00]
| Seasoned Taco Mix • Queso • Creamy Chipotle Sauce • Crispy Corn Tortilla • Shredded Lettuce • Pico • Cashew Sour Cream
I've had many a Crunchwrap Supreme from Taco Bell, and I have to say that Leisuretown's version really does capture the essence of the traditional preparation. Particularly key was the lightness imparted by the pico and lettuce, as well as the well-griddled four tortilla, and I loved the crunchy layer inside. Everything just came together really well here, and I liked the dish even better with a dash of that tart, sharp, surprisingly spicy sauce on the side. My favorite item of the night.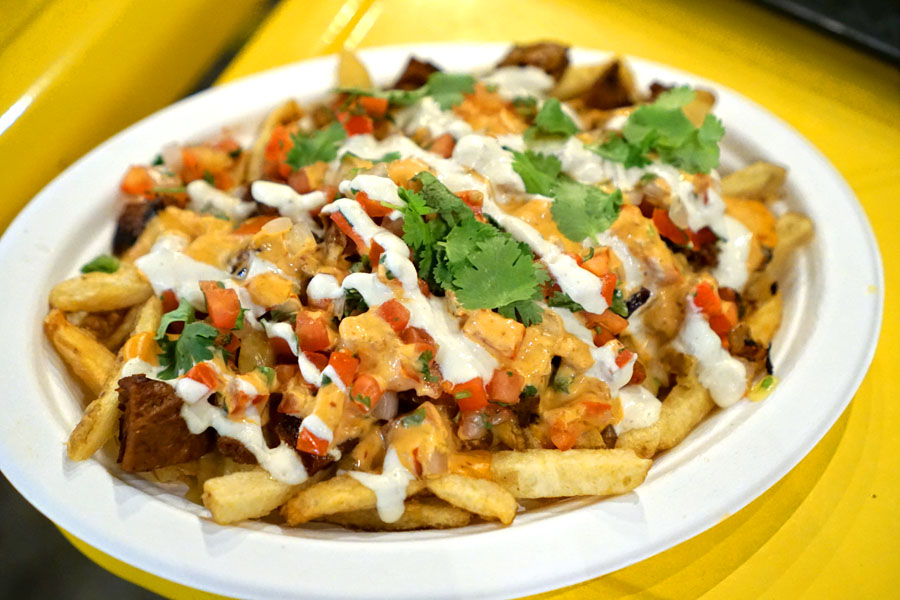 Asada Fries [$13.00]
| House Kennebec Fries • Asada Braised Seitan • Cheese • Chipotle Crema • Cashew Sour Cream • Pico • Cilantro
I have a hard time turning down carne asada fries, and tonight was no exception to that rule, even if there was no actual asada at play. The faux carne had a chewy, somewhat mushroom-like texture, while its taste was decidedly heavy on the umami. The liquid-y cheese certainly played its part, as did the pico de gallo, while the crema helped bind it all together. Overall, this was pretty tasty, but lacked the trashiness of the traditional dish.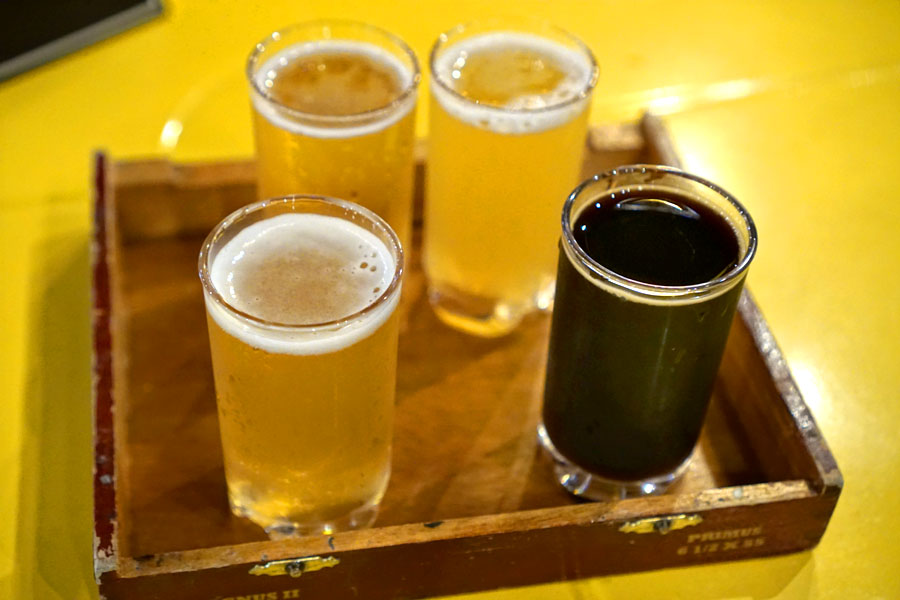 At this point it was time for my second beer flight. Again, clock-wise from the bottom-left:
Satellite City [$4.00] - A West Coast pale ale made with rice and dry-hopped with Citra, Galaxy, and Waimea. Nose of pleasant, subdued hops and citrus. Palate was crisp and refreshing, with a marriage of funk and tropical fruit overarched by a pine-y bitterness.
Time Dial [$3.75] - Here we have a cream ale hopped with Chinook and Cascade. The bouquet was a bit more assertive than most other beers of this style, and contained a touch of muskiness. Taste-wise, I got your classic cream ale flavors in a crisp-yet-soft, slightly mineral-y package.
Mist Dragon Dry Hopped w/ Galaxy [$4.50] - Created in collaboration with Humble Sea Brewing, this was a so-called foggy lager made by fermenting a hazy IPA malt bill with lager yeast, then hopping the resulting beer with Galaxy and Perle. Aromas here were rather restrained, with just wisps of citrus and stone fruit. The taste, however, was much more assertive thanks to a plethora of dank, bitter notes combined with just enough fruitiness.
MT Ultra: Cuvée 2021 [$12.00] - A draft-only blend of three barrel-aged imperial stouts, each with a distinct sets of adjuncts: Vanuatu/Tahitian/Mexican/Ugandan vanilla, Gesha coffee, or raw/macaroon cut/toasted coconut. The nose on this one was expectedly huge, and I got tons of sugary, fragrant aromas that went in an almost banana-like direction. As for the palate, it was velvety smooth, with loads of decadent chocolate and coconut flavors offset by more floral, fruity qualities.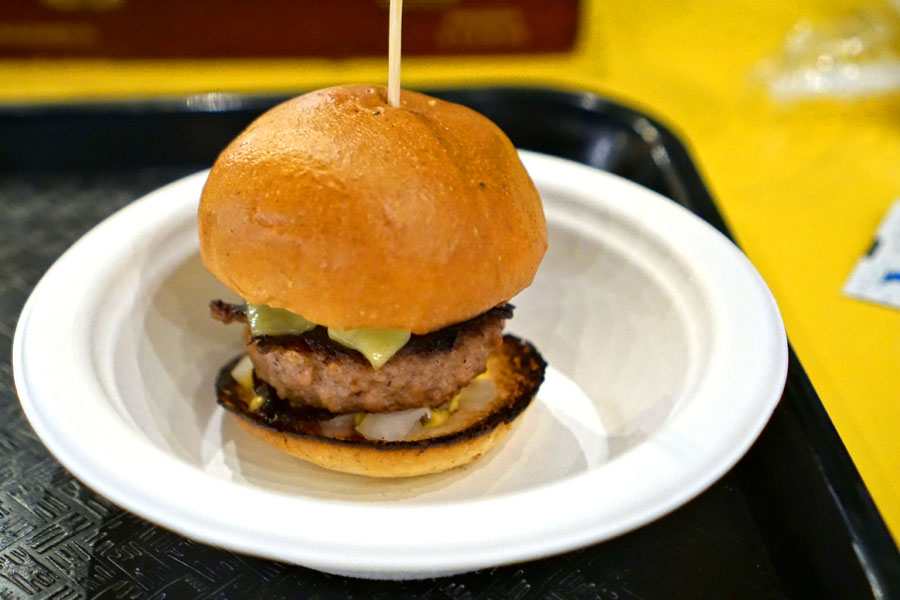 Throwback Slider [$6.00]
| Smashed Patty • Cheese • Yellow Mustard • Ketchup • Pickle • Minced Onion • Butter Steamed Brioche Bun
For my second round of food, I started with this slider, which actually had the most convincing "meat" out of all the dishes I tried. Patty aside, the flavors here were as classic as the name would imply, with the piquancy of the mustard-pickle combo making itself particularly known.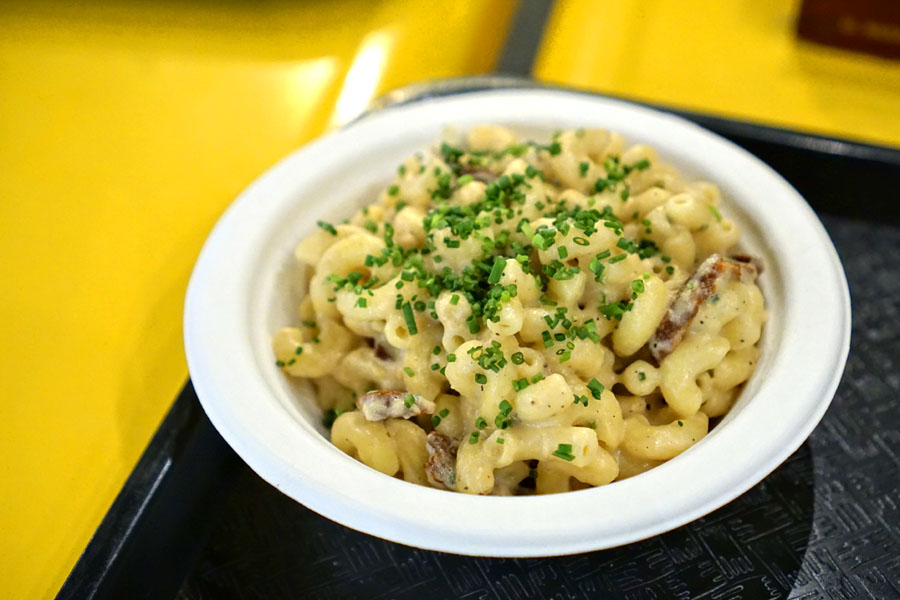 Mac n Cheese [$8.00]
| Mac • And • Cheese • Green Onion • Smoky Seitan
This riff on macaroni and cheese wasn't particularly cheesy, but was nevertheless pretty tasty. The pasta itself was nicely textured, and I liked the pepperiness present, not to mention the crunchy, salty bits of seitan mixed in.
Paul's Reuben [$14.00]
| Pastrami Spiced Patty • Sauerkraut • Smoked Beet • Grilled Onion • Russian Dressing • Cheese • Toasted Rye
We'll conclude with this variation on the iconic Reuben sandwich, served on spicy, toasty marbled rye. The mock pastrami was clearly not pastrami, though still managed to be pretty gratifying nonetheless. It meshed easily with the cheese and Russian dressing, while the onions served as a welcomed exclamation point. I didn't mind the sweetness imparted by the beets, either.
Leisuretown has been a long time coming, but I'm happy to report that the place hits most all the right notes. The space itself is pretty rad, while the beer was all quite good. The food was also generally enjoyable for being completely vegan, and overall, I could definitely see myself returning here.