Matū (Beverly Hills, CA)
Matu Restaurant
239 S Beverly Dr, Beverly Hills, CA 90212
424.317.5031
www.matusteak.com
Fri 10/01/2021, 08:45p-11:45p

I think it's safe to say that Matū is one of the more unique steakhouses to land in Los Angeles in recent times. Named after the Māori word for "substance" or "material," the spot is largely the creation of Jerry Greenberg (
Sushi Nozawa
,
Uovo
, HiHo Cheeseburger), and debuted over the summer. According to Matū's origin story, Greenberg was so impressed by the grass-fed Wagyu from New Zealand's
First Light Farms
that, at the invitation of co-founder Jason Ross, he opted to become a co-owner of the firm. Then, in 2018, Greenberg decided to launch an entire restaurant to celebrate the beef, and thus put together a team consisting of friends Lowell Sharon and Mike Odell, author Mark Schatzker (of
Steak: One Man's Search for the World's Tastiest Piece of Beef
fame), Hillstone vet Ryan Gianola, and Chef Scott Linder. Together, they came up with the concept and menu for Matū, and the restaurant ended up grand-opening on July 8th (do note, though, that Sharon and Schatzker have stepped away from day-to-day operations, but continue to consult with the team).


Matū resides in a building that once held a Panera Bread, and the Beverly Hills Chamber of Commerce before that.
Marmol Radziner
penned the space, which spans 2,800 square-feet and accommodates 60 diners, and apparently every seat in the house is afforded a peek of the open kitchen and its wood-fired grill.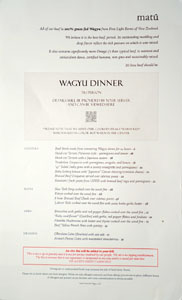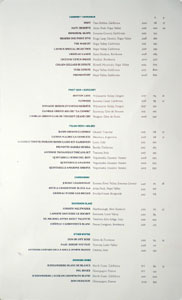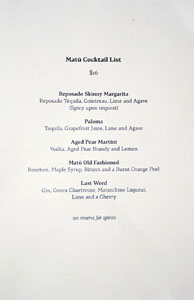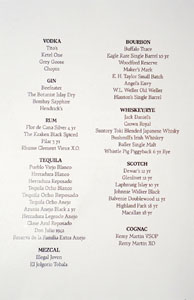 Food-wise, things are centered on a regularly-changing five-course tasting priced at $78 per person. However, we opted to go à la carte and run the gamut on the menu, ordering every single item offered. As for the beverages, you get a smattering of cocktails, a selection of spirits, and a relatively compact wine list focused, unsurprisingly, on reds. Corkage is $40 a bottle, with no apparent limit on the number of those bottles. Click for larger versions.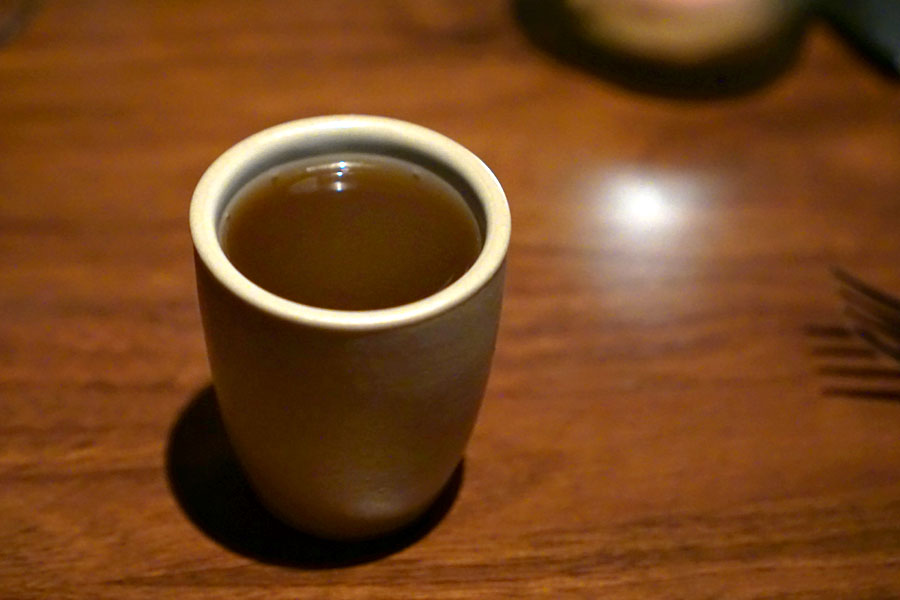 Beef Broth made from simmering Wagyu bones for 24 hours [$6.00]
Serving as an "apéritif" was this broth, which was relatively light, but still packed a decent punch. I detected some mushroom-y notes here, as well as a hint of ginger, and overall this made for a cozy start to the meal.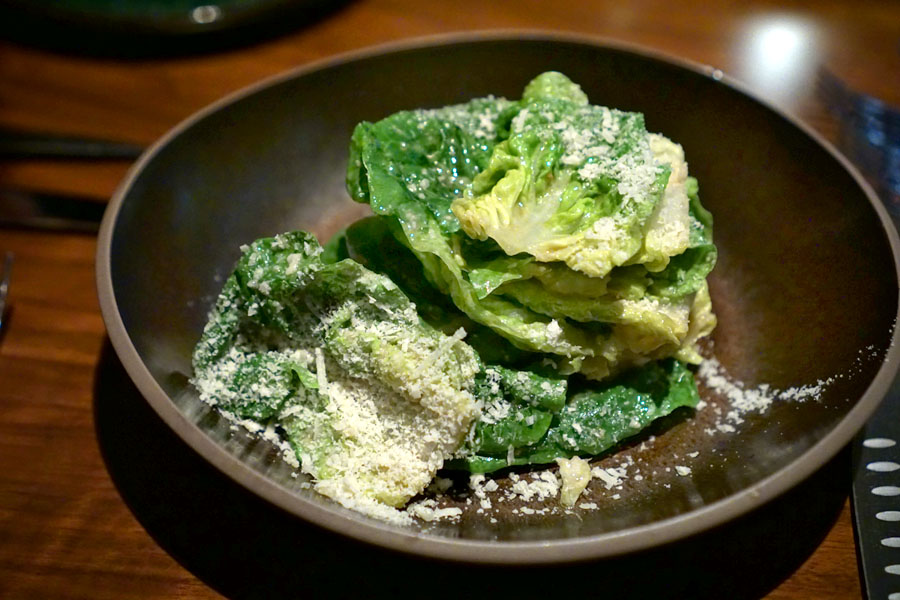 "47" Salad (baby gems with a savory vinaigrette and parmigiano) [$12.00]
Our first salad was far better than expected thanks to its spot-on commingling of tart vinegar-y flavors, funky, nutty, umami-laden notes, and the refreshing, crunchy nature of the lettuce.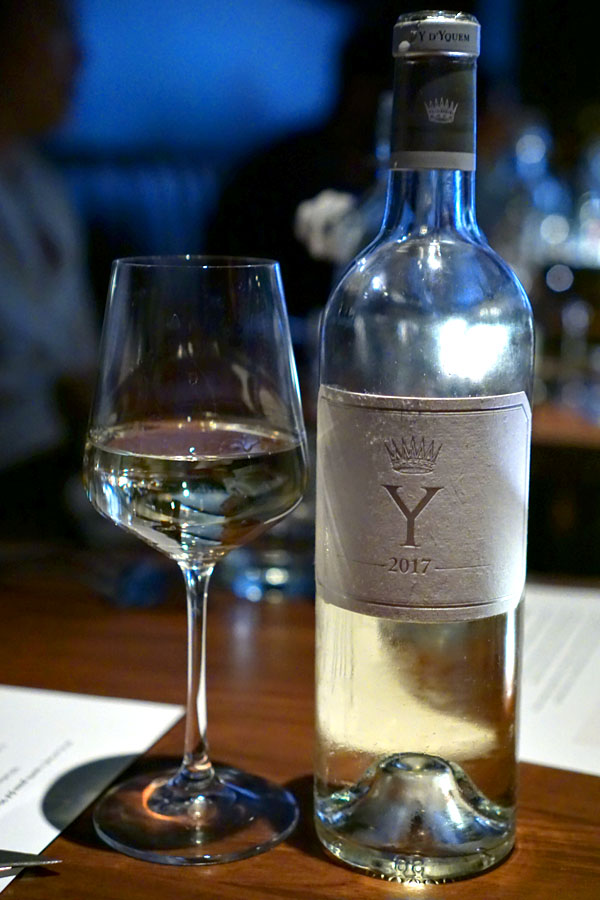 We ended up bringing three bottles this evening, the first of which was the
2017 "Y" (Ygrec) de Château d'Yquem
, a dry white wine from the legendary Sauternes producer composed of Sauvignon blanc and Sémillon. The nose on this one was delightful, giving up aromas of honey, flowers, and tropical fruit, with a "green" layer hiding underneath. Taste-wise, I got boatloads of passion fruit, along with noticeable notes of durian and lychee, but there was also a backbone of barnyard, minerals, and acidity keeping it all in check. Exotic and delicious--I'd be curious to try this wine again with some more age on it.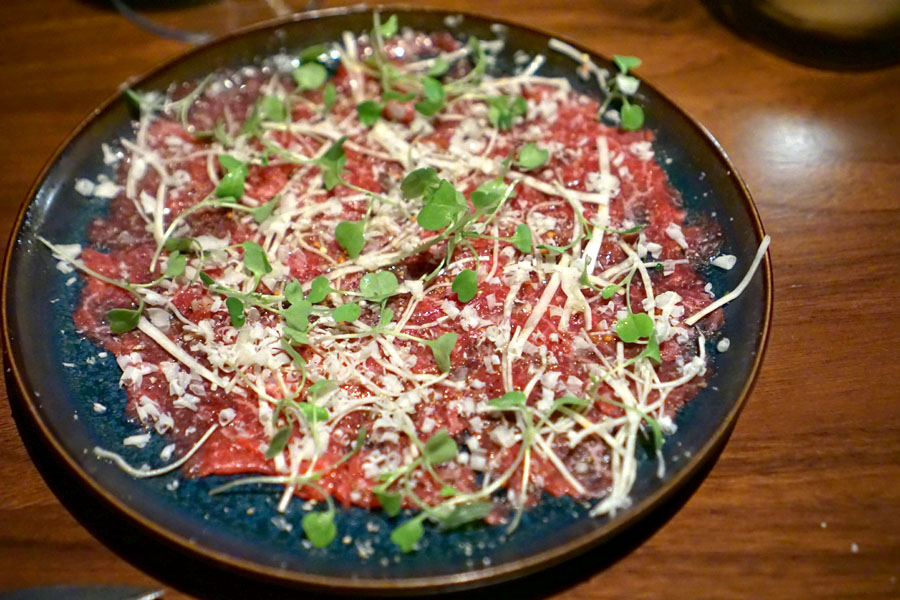 Tenderloin Carpaccio with parmigiano, arugula, and lemon [$18.00]
The carpaccio was pretty textbook, the utterly tender slices of beef meshing well with salty pricks of cheese while the zestiness of the sprouts enlivened the entire dish.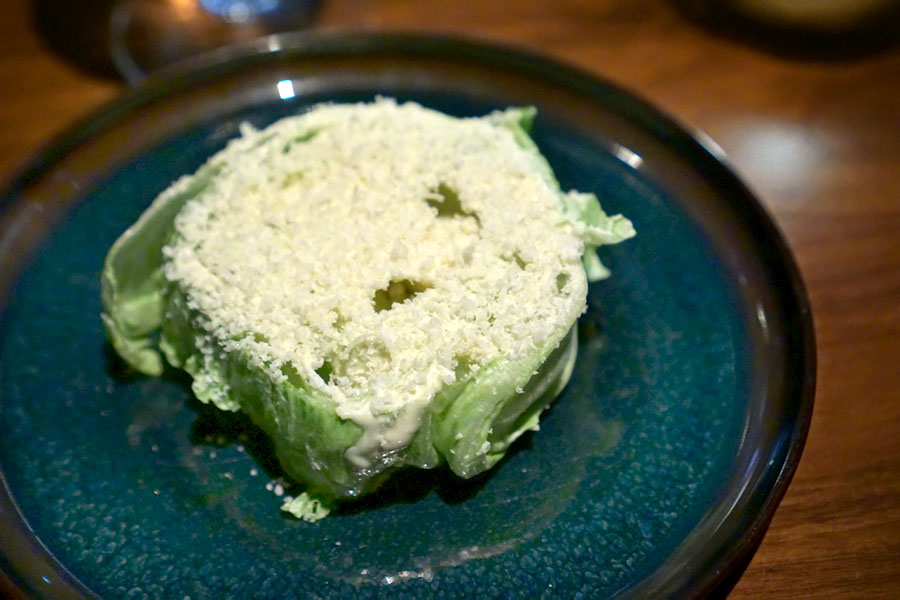 Baby Iceberg lettuce with "Japanese" Caesar dressing (contains cheese) [$12.00]
Next up was one of the best riffs on the classic Caesar salad that I've had in a while. The key here was this pervasive tartness from what I assume is yuzu. This paired beautifully with the weight of the cheese, and I really appreciated the touch of brine present. Great counterbalancing crunch from the lettuce, too.
Hand-cut Tartare Piemonte style - parmigiano and lemon [$18.00]
I was impressed by the tartar given how much "daintier" it was in comparison to most others I've had. The beef integrated flawlessly with the oomph of the Parmesan, while the lemon energized the palate even more. I got a nice textural contrast from the toasty bread as well.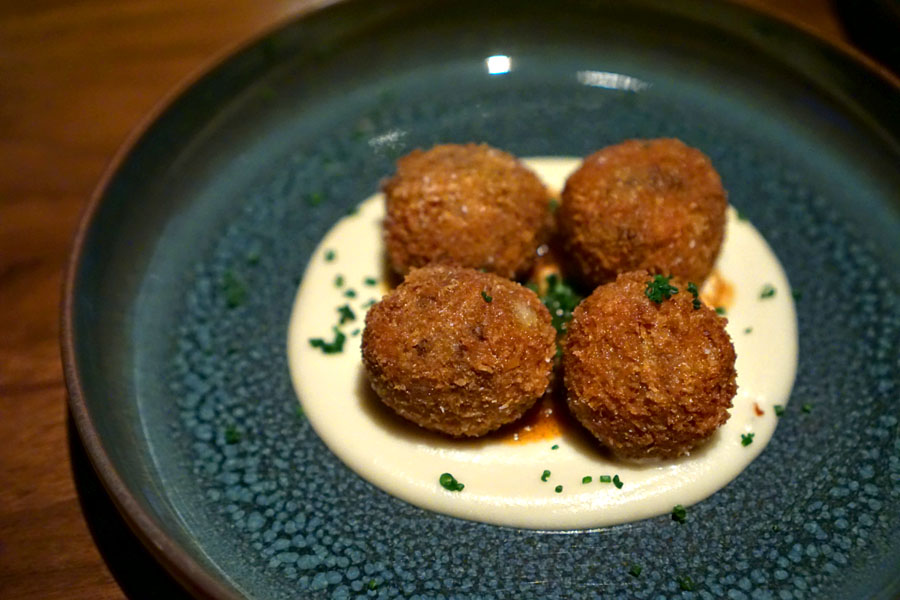 Braised Beef Croquetas served over celeriac puree [$22.00]
The croquettes were a winner, and I'll liken them to a hearty beef and root vegetable stew, but rendered in spherical form. Yum.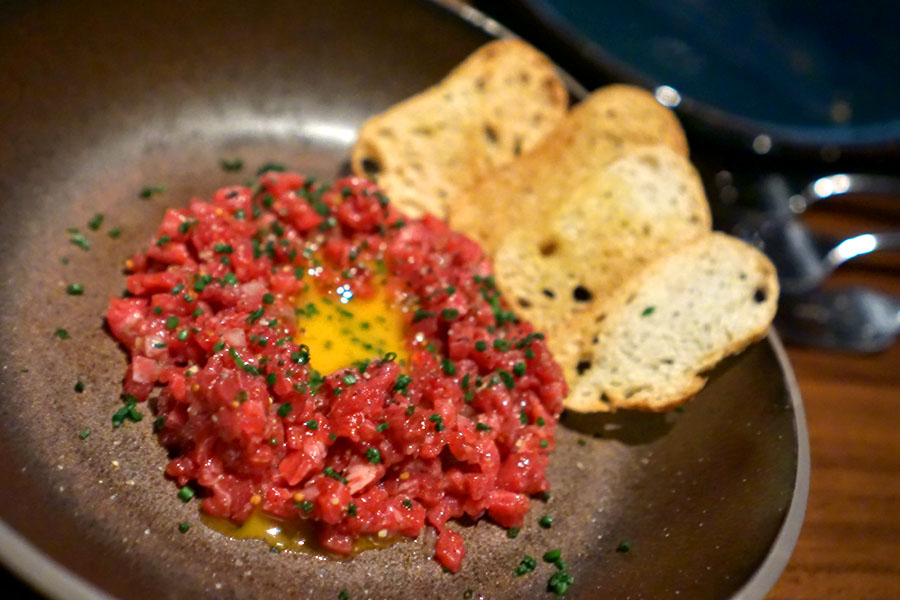 Hand-cut Tartare with a Japanese accent [$18.00]
Now as good as the tartar above was, this one was just a tad bit tastier. The crux was how the beef was amped up by the savoriness of what seemed like a soy-based marinade. At the same time, the egg yolk imparted further luxuriousness to the dish, and I loved the sour accent provided by what seemed like yuzu.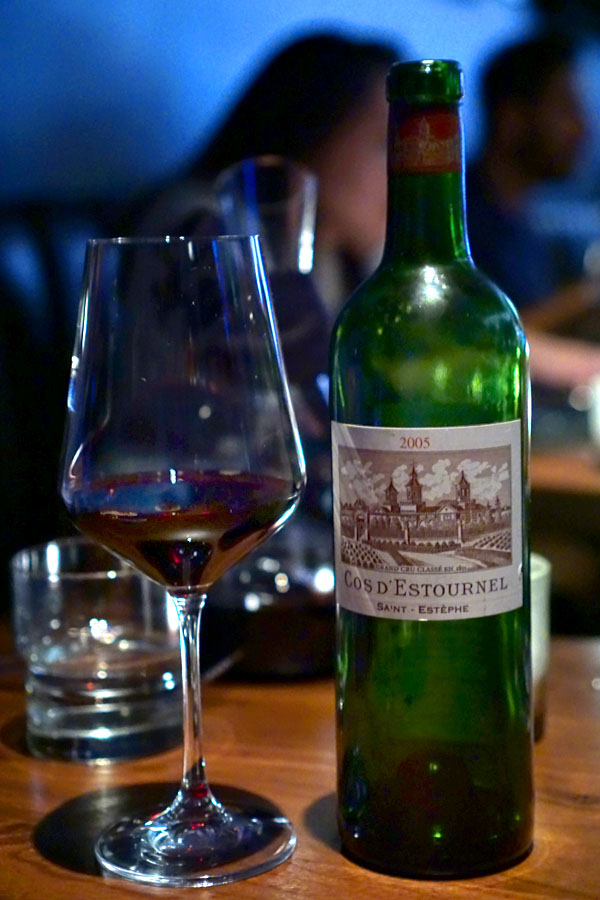 The food here calls for some powerful red wine, so we also brought along two bottles of Bordeaux, both hailing from Saint-Estèphe and both from the same great 2005 vintage. The first was the
2005 Château Cos d'Estournel
, which was opened and decanted for about an hour prior to serving. Huge nose of lush, concentrated blue fruit backed by touches of woodiness and graphite. On the palate, I found the claret soft, velvety, rich, with more monumental berry fruit joined by hints of spice and leather, as well as a tannic tanginess that actually recalled Nerds candy. This one was drinking quite well tonight, but I suspect it'll get even better with age.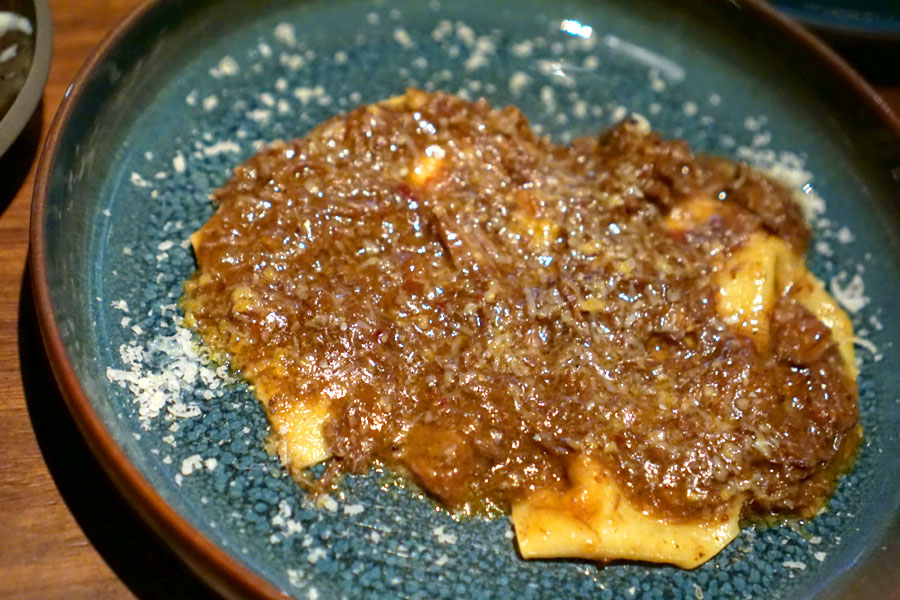 Fazzoletti (fresh pasta from UOVO) with braised beef ragu and parmigiano [$22.00]
Shards of handkerchief pasta arrived supple and slippery, and were a joy texturally, while the slow-cooked beef sauce gave the dish an unquestionably homey, comforting character perked up by herbs and Parm.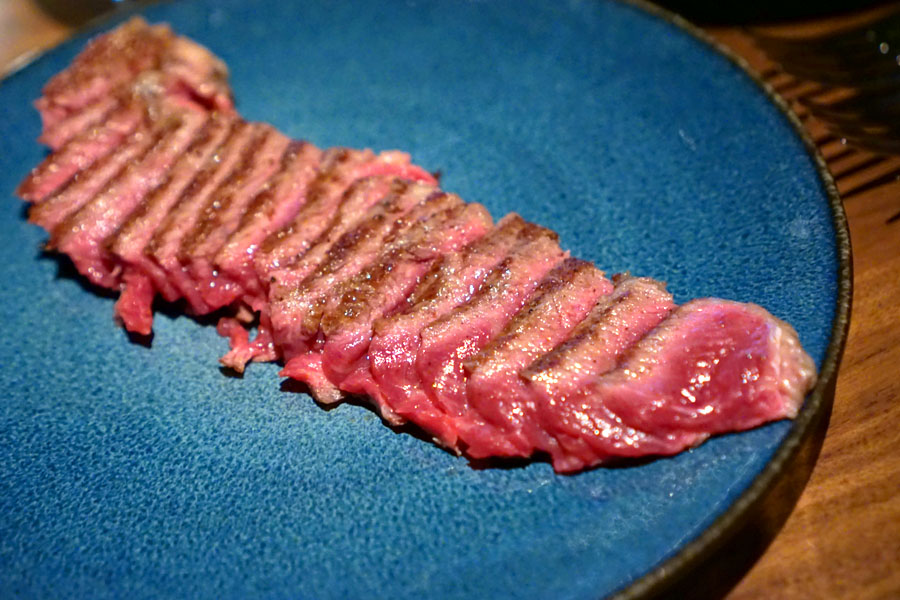 New York Strip cooked over the wood fire [$68.00]
And now we arrive at Matū's purest expression of grass-fed Wagyu. The steak was unlike any I've had before, its taste combining savory-sweet nuances with a focused, earthy beefiness, while the cut's consistency was luscious, almost silken, with a lovely contrast from its seared exterior. It was like rusticity and refinement all rolled into one. Now do note that we were not offered the choice of temperature for our steak, and indeed, the meat was cooked rarer than I typically get, but this level of doneness actually made total sense given the nature of the beef.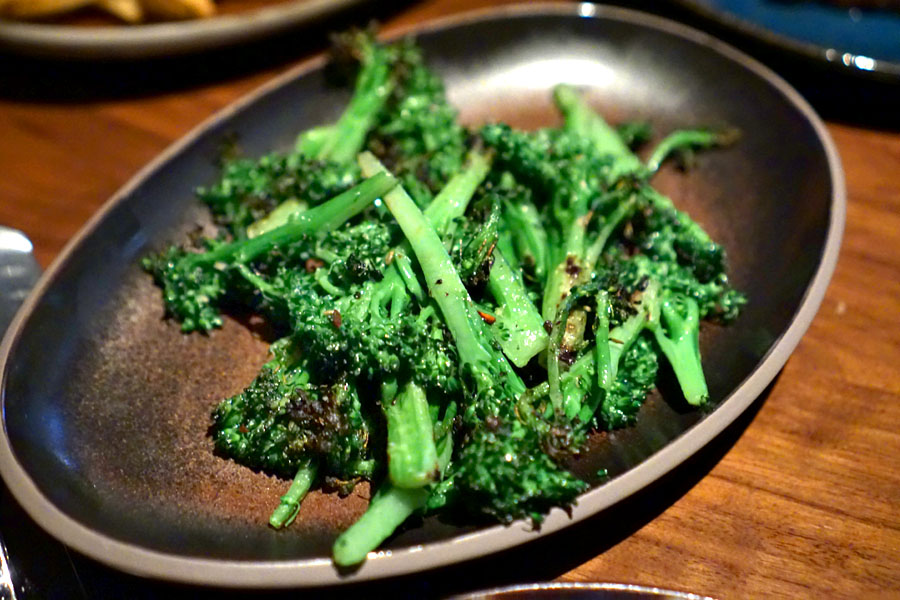 Broccolini with garlic and red pepper flakes cooked over the wood fire [$12.00]
Bittersweet stalks of broccolini met the mark with their smoky savor and mouth-watering garlickiness.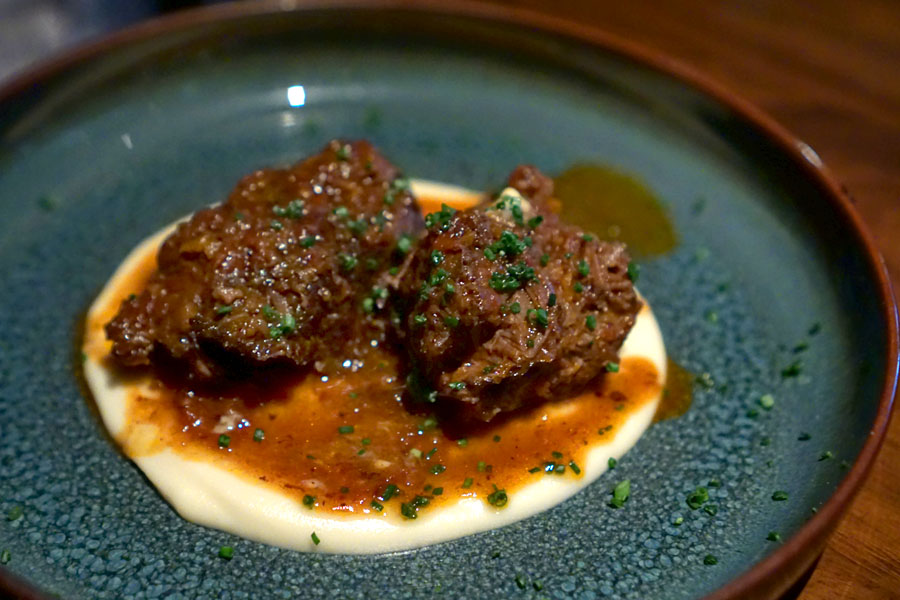 8-hour Braised Beef Cheek over celeriac puree [$48.00]
Falling-apart tender blocks of beef cheek were on point with their wonderfully deep, dark, long-cooked flavors, all lightened up just a smidge by the celery root. Pure comfort.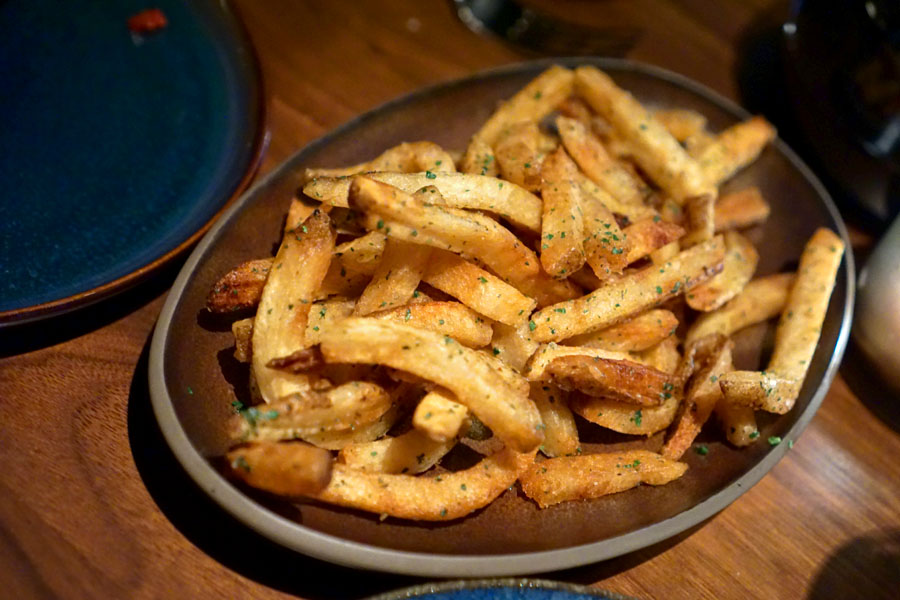 Beef Tallow French Fries with parsley [$12.00]
The kitchen also did a good job with the fries, which came out crispy on the outside yet creamy on the inside, with great hits of salt and herb.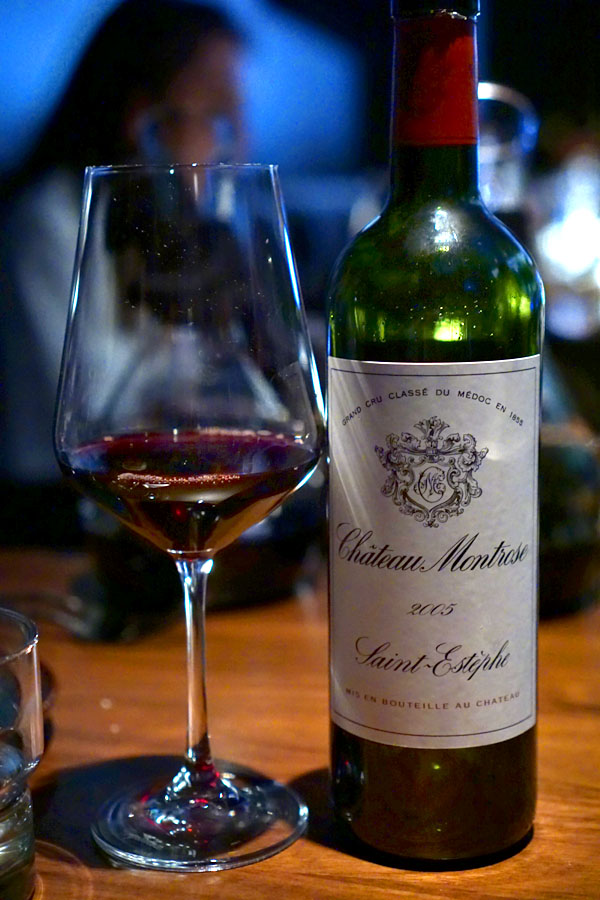 Our second bottle of Bordeaux was the
2005 Château Montrose
, which we opened and drank at the same time as the Cos d'Estournel. The difference in bouquets was surprisingly stark, since this one demonstrated massive aromas of dried herbs, light tobacco, and not much else initially; however, as the night progressed, some absolutely lovely dark berry notes began to appear. Early sips showed off the claret's earthy, tannic, grippy side, but again, as the evening went on, the wine began to convey all its juicy, concentrated fruit, backed by spice and stone. This one could probably benefit from further time in the cellar, moreso than its fellow Saint-Estèphe compatriot above.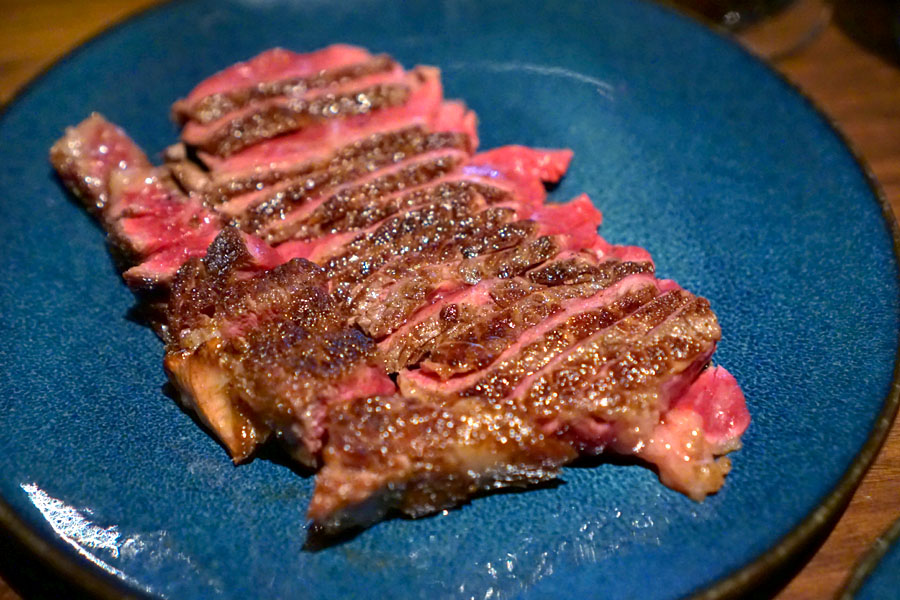 Ribeye cooked over the wood fire [$68.00]
The differences between this rib eye and the NY strip above were actually more minimal than what you'd find with more garden-variety steaks. It had a somewhat slicker, smoother consistency, and a slightly more full-bodied flavor profile, but otherwise exhibited the same fabulous marriage of grass-fed goodness and Wagyu-sourced opulence. In the end, this might've been the most elegant rib-eye I've had.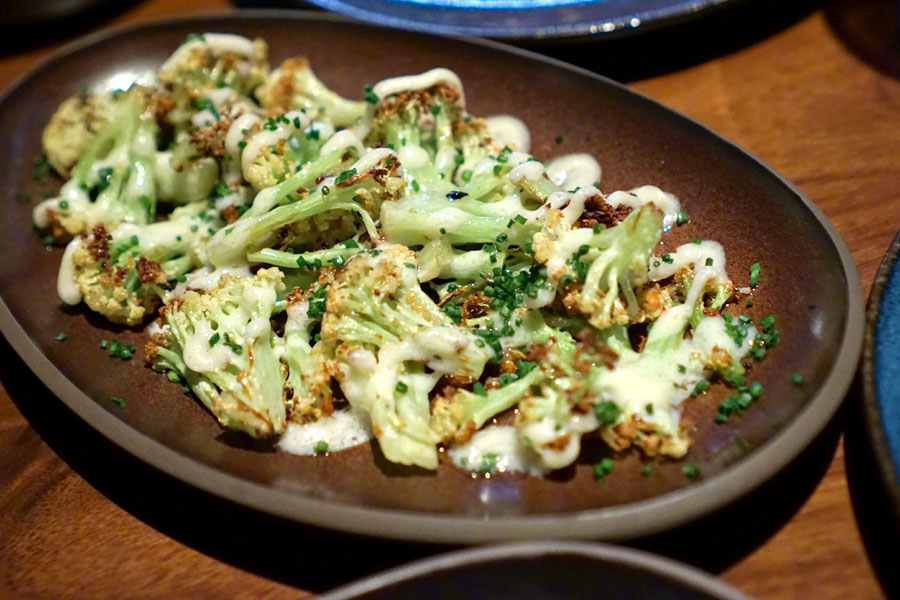 "Baby cauliflower" (Caulilini) with garlic, red pepper flakes and fonduta [$12.00]
Crunchy-yet-supple stalks of caulilini melded swimmingly with accompaniments of red pepper and garlic, but what struck us here was how the dish somehow reminded us just a smidge of In-N-Out's Animal Fries.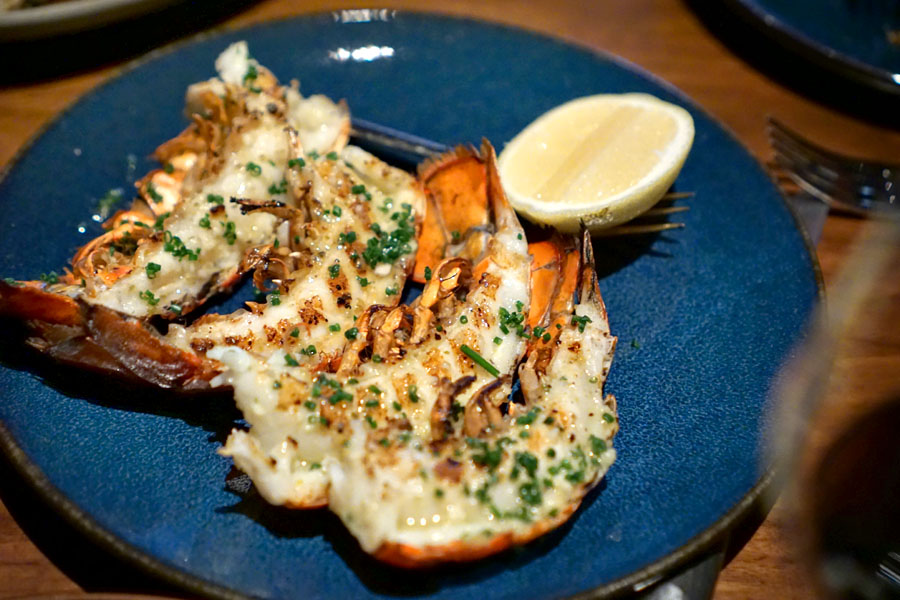 Lobster Tails cooked over the wood fire with yuzu-kosho garlic butter [$58.00]
In our lone seafood dish of the night, lobster arrived pretty much perfectly textured, with nice hits of smoke to go along with the tails' natural sweetness. Also much appreciated was the relatively restrained yuzukosho-boosted butter, which complemented the lobster without getting in the way.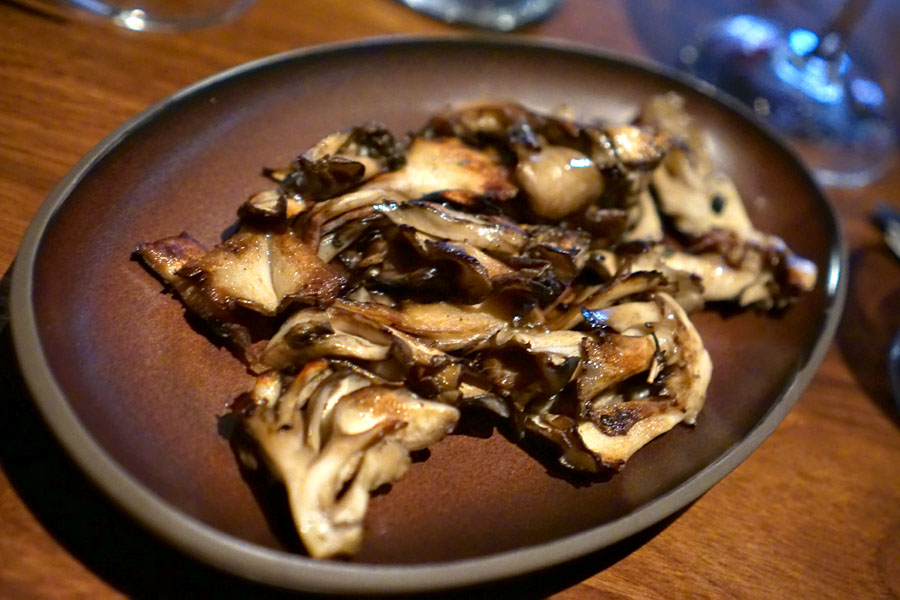 Maitake Mushrooms with butter and thyme cooked over the wood fire [$12.00]
Hen-of-the-woods mushrooms were superb texturally, and displayed a woodsiness that paired easily with the zippy aromatics of thyme.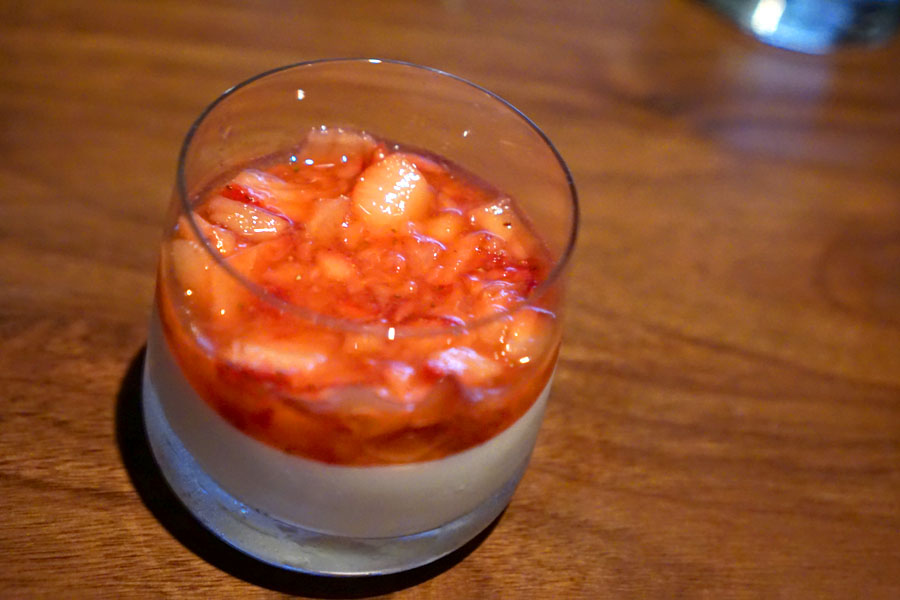 Arturo's Panna Cotta with macerated strawberries [$11.00]
Time for dessert. Now I don't know who Arturo is, but he makes a solid panna cotta. There was a splendid back-and-forth here between the sweet cream and tart-ish berries, and I found the dish rather refreshing given all the potent flavors above.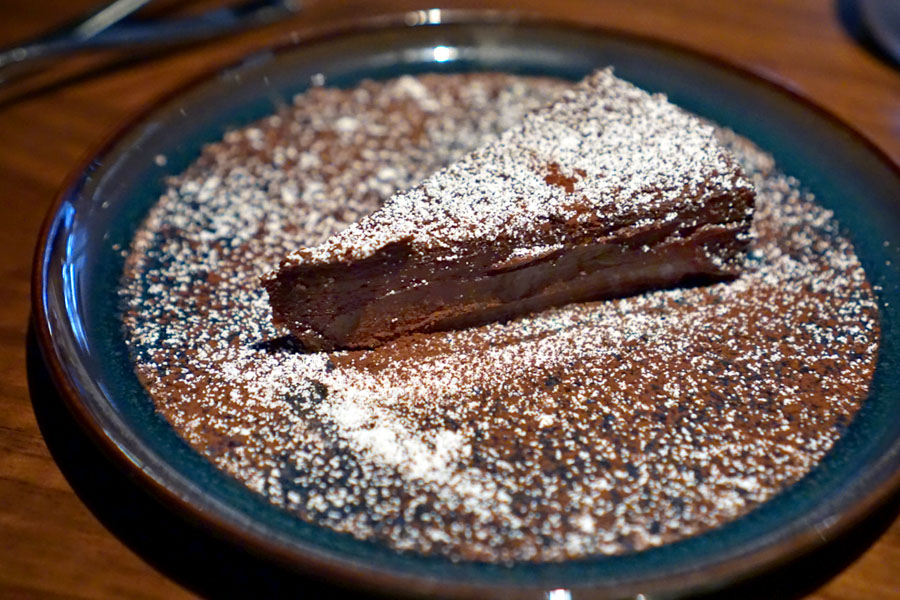 Chocolate Cake (flourless) with sea salt [$11.00]
Last up was a flourless cake, which wasn't quite as hefty as it looked, but still gave us all the chocolate-y richness that was expected. A fitting closer.
Matū is quite different than any other steakhouse I've been to, and in fact, I reckon it'd be more accurate to classify this place as a "beef restaurant," a bit in the Japanese style. Categorization aside, the beef itself is also distinct in that it combines some of the best qualities of grass-fed and Wagyu steak with a bit of the concentration and depth you'd expect from dry-aging (the meat here isn't dry-aged). It was fun to experience the beef in so many different preparations, and overall this is a very welcomed addition to LA's carnivorous dining scene; there's nothing else quite like Matū out there at the moment.