Sushi Takeda (Los Angeles, CA)
Sushi Takeda
123 Astronaut Ellison S Onizuka St, Los Angeles, CA 90012
213.613.0083
www.instagram.com/sushi.takeda/ / www.instagram.com/take_da_sushi/ / www.hide-sushi.com
Sat 10/09/2021, 06:05p-09:15p

Sushi Takeda (formerly Sushi Hide) is the latest entrant to LA's high-end sushi scene, one that proudly touts its
Edomae
traditions of aging and curing, so of course a visit was in order. Situated on the third floor of Little Tokyo's Weller Court, the place comes to us from
Tsujita
veteran Hide Takeda, with financial backing from Xinyu "Alex" Zhang, a former customer of the Chef's from the Sawtelle sushi-ya.
About the Chef
: Hideyuki Takeda hails from the city of Kobe, and started his culinary career at the age of 16, when he dropped out of school and started apprenticing. After working in Japan, he immigrated to the US in 2007 at the age of 34, following the advice of a
senpai
. Stateside, he found employment at
Jinpachi
, which had just opened the previous year and was actually owned by a friend from high school. From there, Takeda joined the team at Sushi Tsujita not long after its August 2014 debut. He served as the spot's head sushi chef for years, but left in early 2020 (pre-pandemic) due to conflicts with ownership. By August, he was offering in-home catering and selling to-go boxes via Instagram, while in January this year, Sushi Hide officially opened for takeout in the old home of Mako Sushi (which was actually owned by Yasuo Iida, father of
n/naka
's Carole Iida).
However, things didn't go all that smoothly. At the end of March, the place closed due to the Chef having to undergo wrist surgery, and didn't reopen until early May, though in-person dining did start in June. Meanwhile, the restaurant changed its name at the end of August in order to reduce confusion with Hide Sushi on Sawtelle. We actually had a dinner here planned for August 21st, but had to move it because Takeda came into contact with someone with COVID-19. After rescheduling, we actually had to reschedule again because the business was short-staffed, and thus couldn't execute the higher-tier menu that we'd reserved. Thankfully though, we did make it out eventually, as evinced by this post.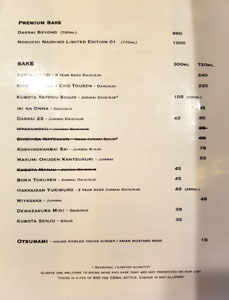 There's no written menu at Sushi Takeda, but instead, diners are presented with the choice of either the Nigiri Omakase at $120pp, or the Signature Omakase at $250pp, which adds on roughly seven small dishes and is what we opted for. Drink-wise, your options are basically limited to a compact sake list and a couple beers, while corkage is $35 a pop. Click for larger versions.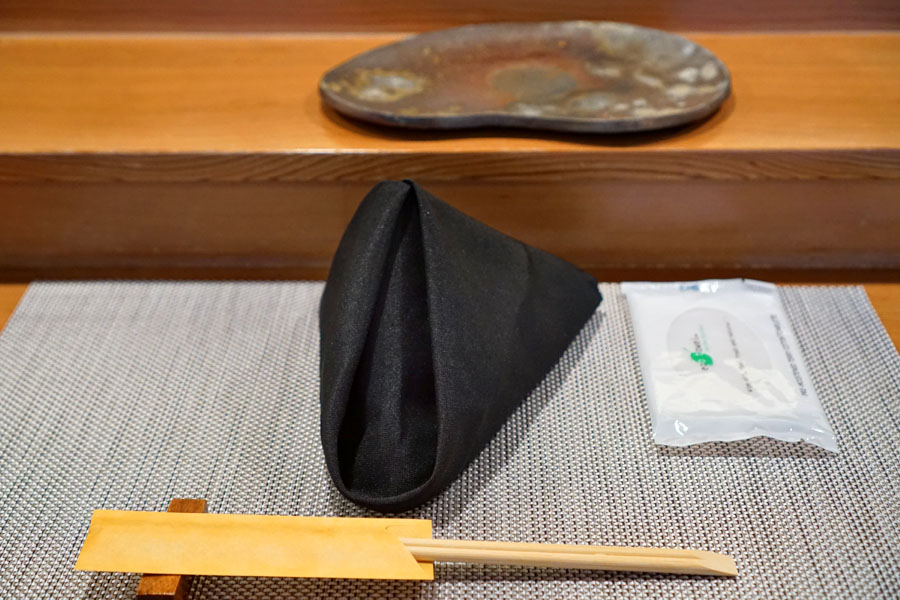 Pictured above is how my seat at the bar was set when I arrived. I will say that I would've preferred a traditional
oshibori
instead of a prepackaged one.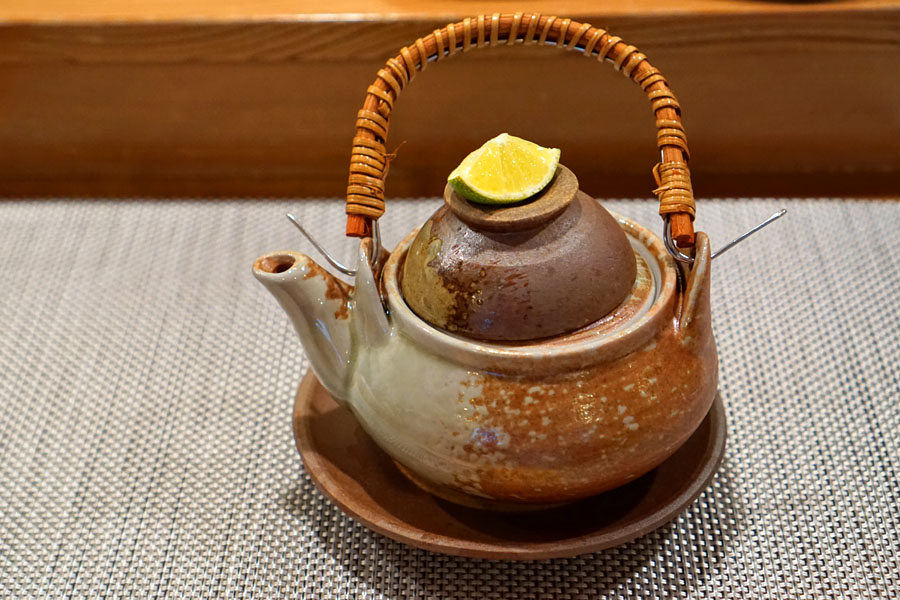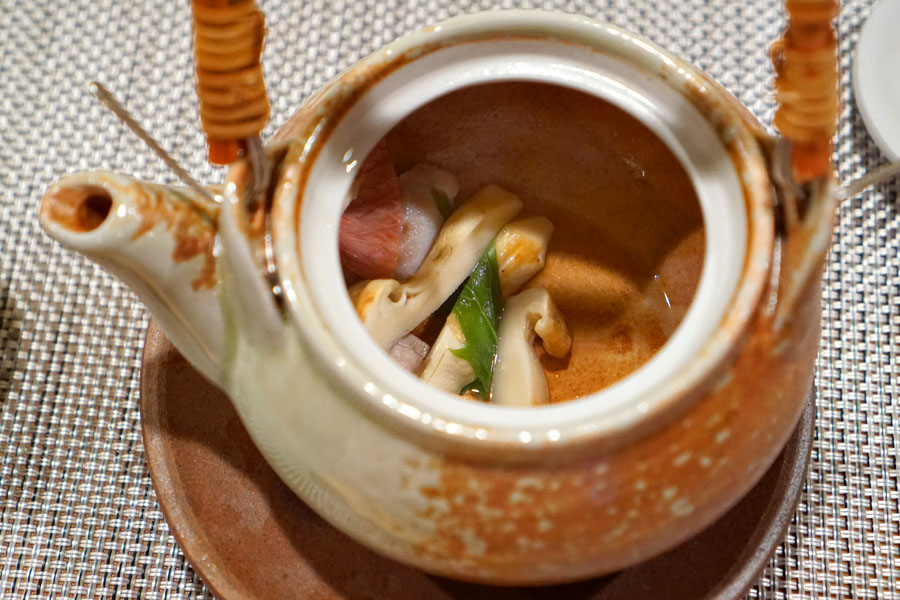 1: Matsutake Dobin Mushi
We were in the middle of matsutake season, so I was happy to see them featured in our starting course: a pretty much perfect rendition of
dobinmushi
. I first enjoyed the broth alone, and loved how its cozy depth was augmented by the earthy, vegetal nature of the mushrooms. Several subsequent sips were spruced up by squirts of sudachi, which stressed the woodsiness of the matsutakes. Then, with the liquid all supped up, I eager dug into the remaining ingredients inside the tea pot, which included more 'shrooms as well as some delectable cuts of golden eye snapper. A very promising start.
2: Mushi Kegani
Steamed Hokkaido hairy crab displayed all the sweetness and salinity I was looking for, but kicked up a notch by the buttery funk of
kanimiso
. Also surprisingly crucial here were the shiso flowers, which imparted a wonderfully herbaceous zest that really enlivened things.
3: Akami
Chef Takeda is a bit unorthodox in that he prefers to commingle nigiri with his prepared dishes, so here was wild bluefin from Boston right up front. The tuna itself demonstrated a cool, sweet, almost fruity character, one that was duly offset by the slightly warm, slightly firm
shari
utilized.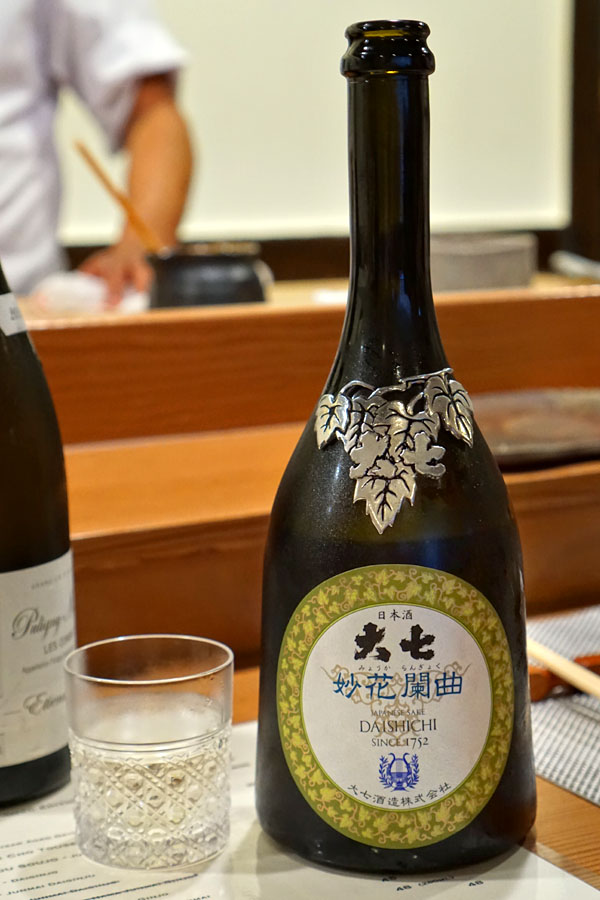 To drink, we brought along the
2017 Daishichi Myoka Rangyoku (妙花闌曲) "Heavenly Flower"
, a four year-aged
kimoto junmai daiginjo shizukuhara
-class sake from Fukushima Prefecture, made from
Yamada Nishiki
polished down to 50% (apparently equivalent to a
seimai-buai
of 34% due to the brewery's signature super-flat rice polishing technique). The aromas here were certainly full-throated, as I got massive amounts of banana on the nose, joined by cream candy and flowers. The palate, meanwhile, was similarly vigorous, showing off loads of rich candied fruit layered over a backbone of umami and caramel; it definitely stood up well to some of the more aggressive flavors we experienced during our meal. I also have to give Daishichi credit for the packaging here, as the bottle is quite lovely, and is apparently made from Venetian glass, while the ivy leaf emblem is German pewter and the label features
maki-e
lacquer from Kaga.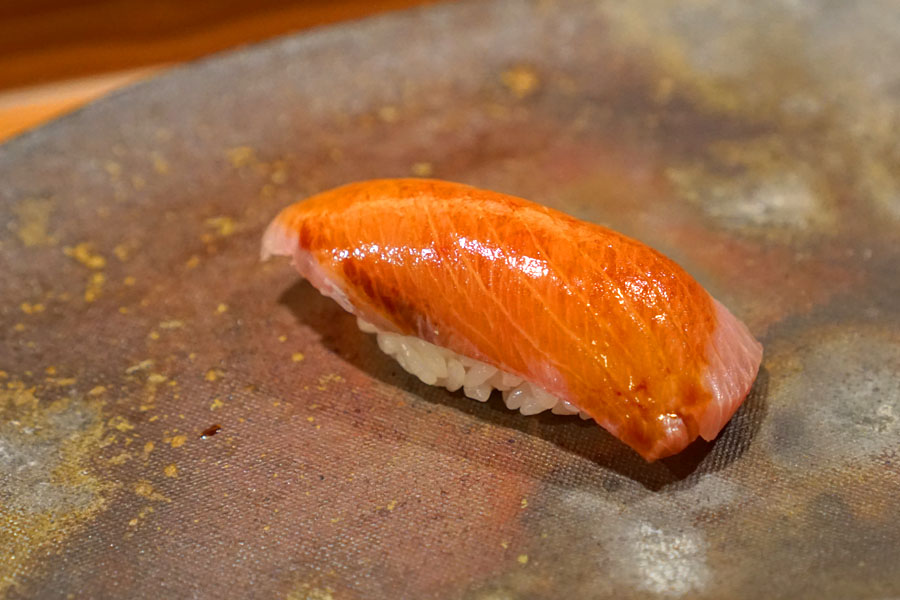 4: Buri Toro
Yellowtail belly from Hokkaido managed to blend a luscious, fatty quality with just enough delicacy, and featured a great hit of wasabi that snuck up on me toward the finish. Actually, I'd say that the richness of fish appeared to emphasize the nuttier qualities of Takeda-san's rather robust rice.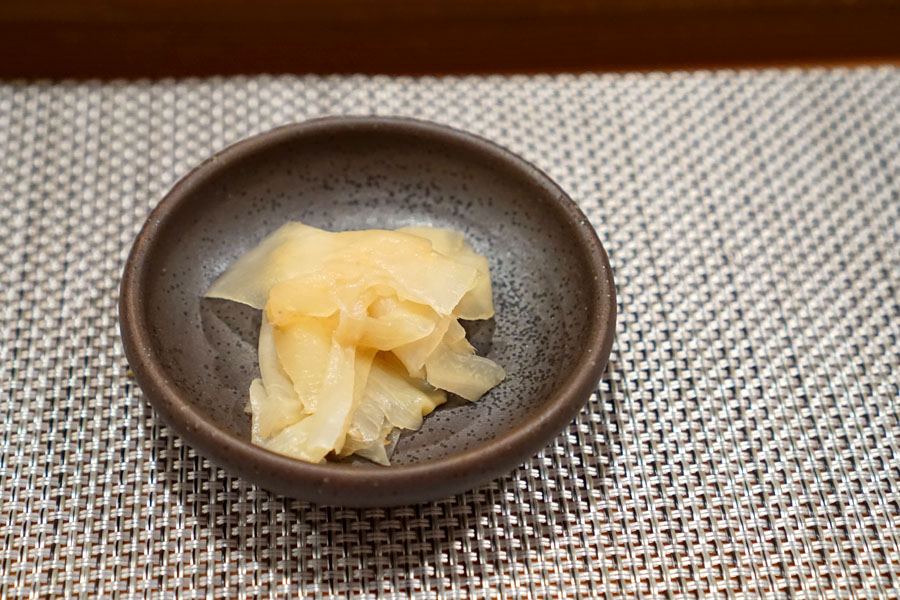 Along with the sushi came the ginger, which ate somewhat crunchier, somewhat sourer than most I'd reckon.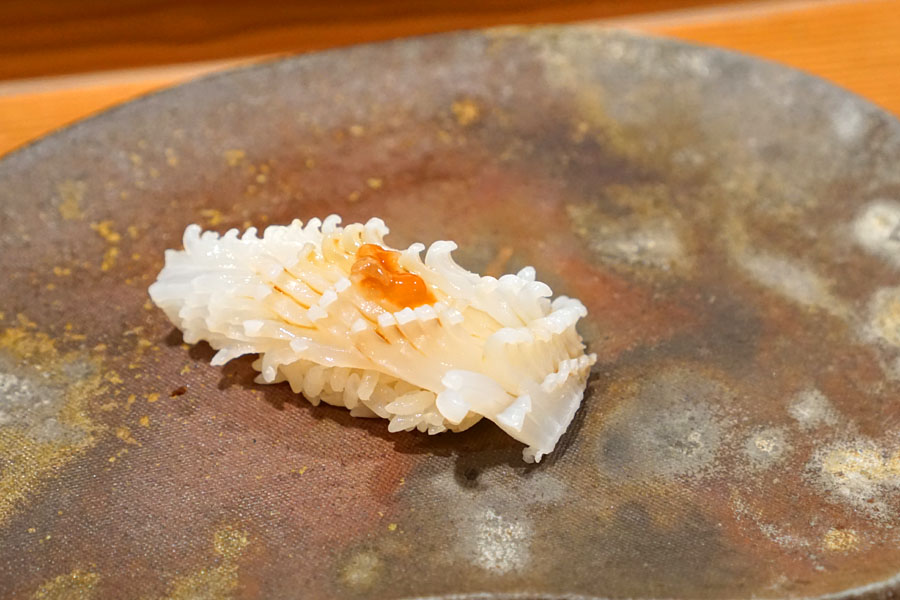 5: Yari Ika
The fine knife cuts on our spear squid resulted in some great textural play, and I was a big fan of the pungency contributed by that dollop of fermented tuna innards (some type of
shiokara
I assume) on top, which made the course an excellent pairing with the sake above. I don't think I've ever had squid quite like this before--a standout.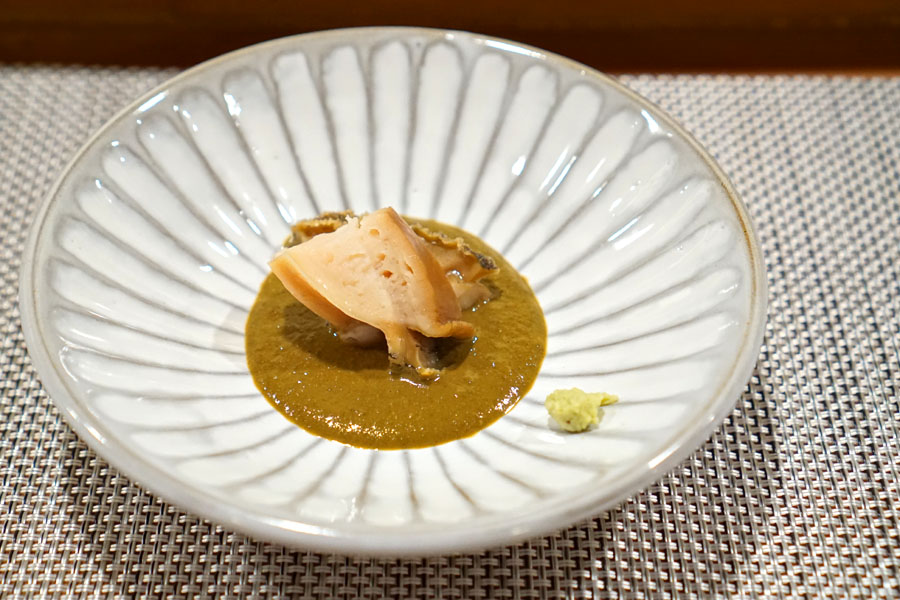 6: Awabi to Kimo
The abalone (female we were told) was another favorite of mine. It was a joy to eat texturally, and I absolutely loved the complexity of the accompanying
kimo
(liver) sauce, which really amped up the relatively restrained nature of the gastropod. Excellent bit of heat from the wasabi, too.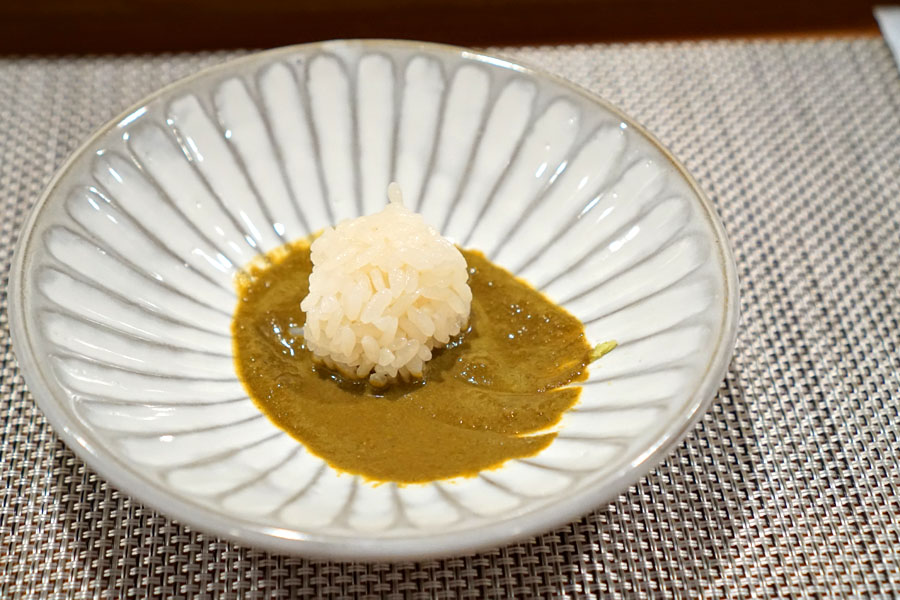 We were also provided a ball of rice, which we were told to mix in with the sauce to make a sort of "risotto." And indeed, the
shari
really did serve as a great juxtaposition to the liver.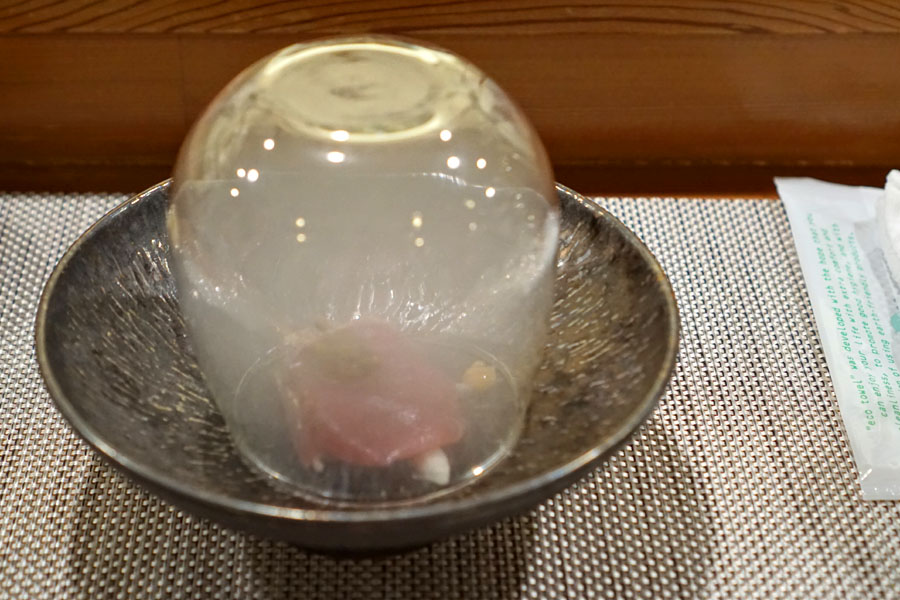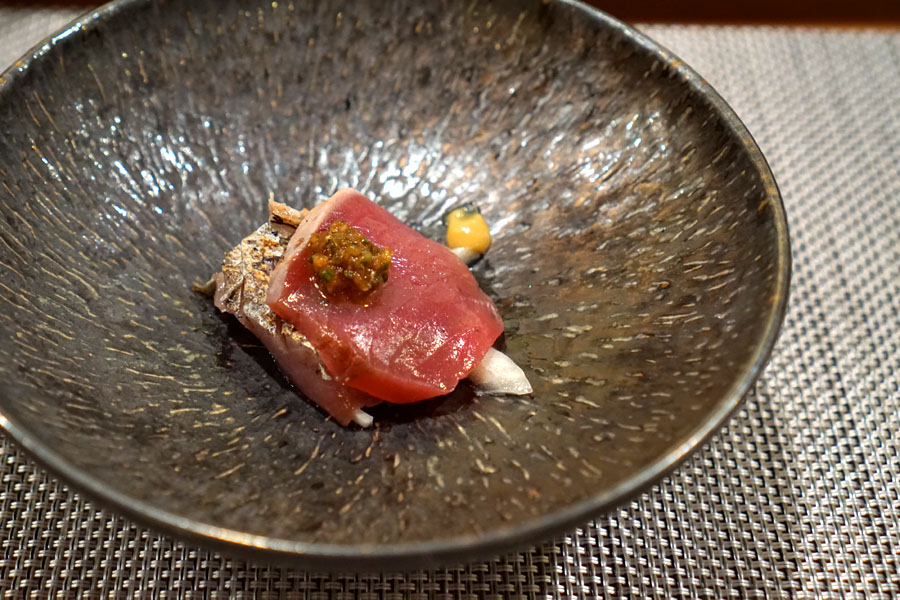 7: Katsuo no Kunsei
Hay-smoked skipjack tuna conveyed a pretty remarkable depth that was further boosted by the aromatics of hickory smoke. I also loved the zing of that
karashi
mustard, especially when paired with the fattier piece of the fish on the bottom. Great layering of flavors here--this was likely one of the best preparations of bonito I've ever had.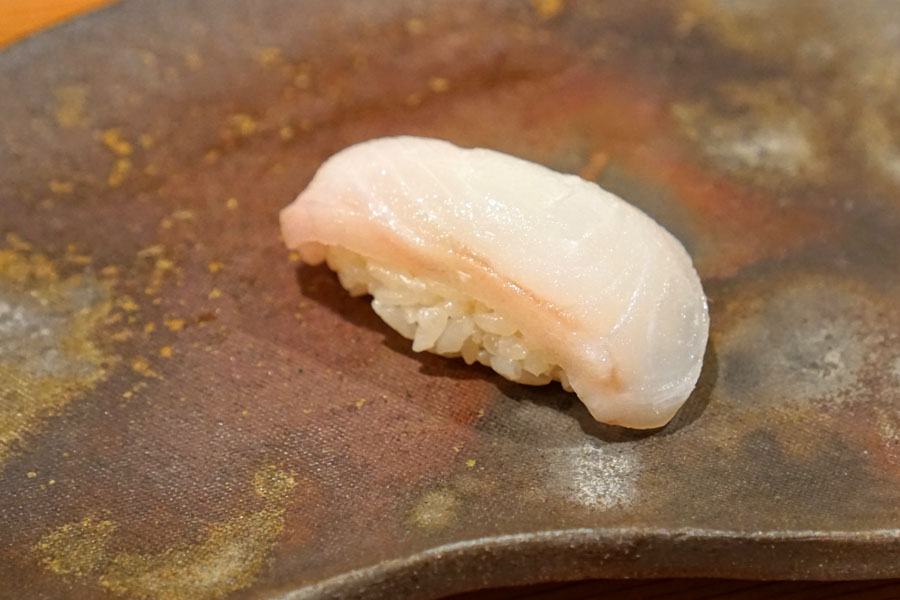 8: Samekawa Karei
Sharkskin flounder had a delightfully supple consistency, as well as a delicate taste that took well to hits of both citrus and salt.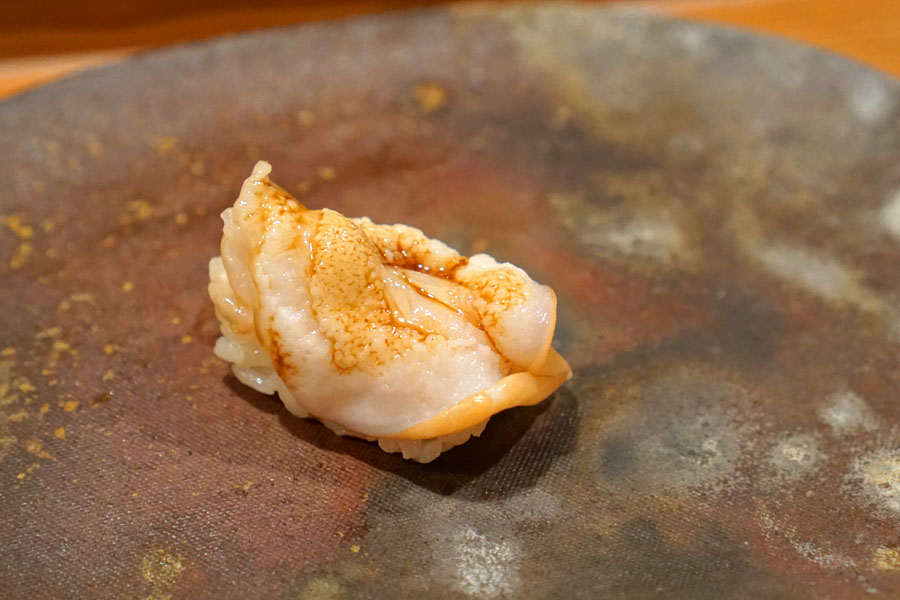 9: Ishigaki Gai
I don't see cockle too often on sushi menus in LA, so this was a real treat. I was pretty enamored with its chewy, yet somewhat spongey texture, while its fruity sweetness paired well with the nuttiness of Hide's rice.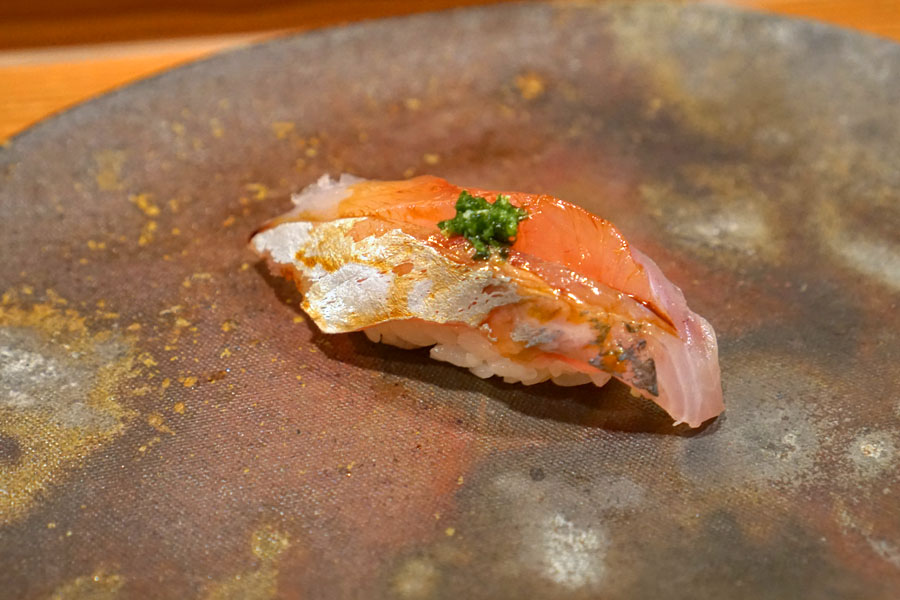 10: Aji
Spanish mackerel from Hyogo was another highlight, and probably one of the top preparations of the
neta
I've had. I loved the back-and-forth between the soy and the greenery up top, while the fish demonstrated a wonderfully dense, meaty, satisfying bite. Superb finishing counterpoint from the rice, too.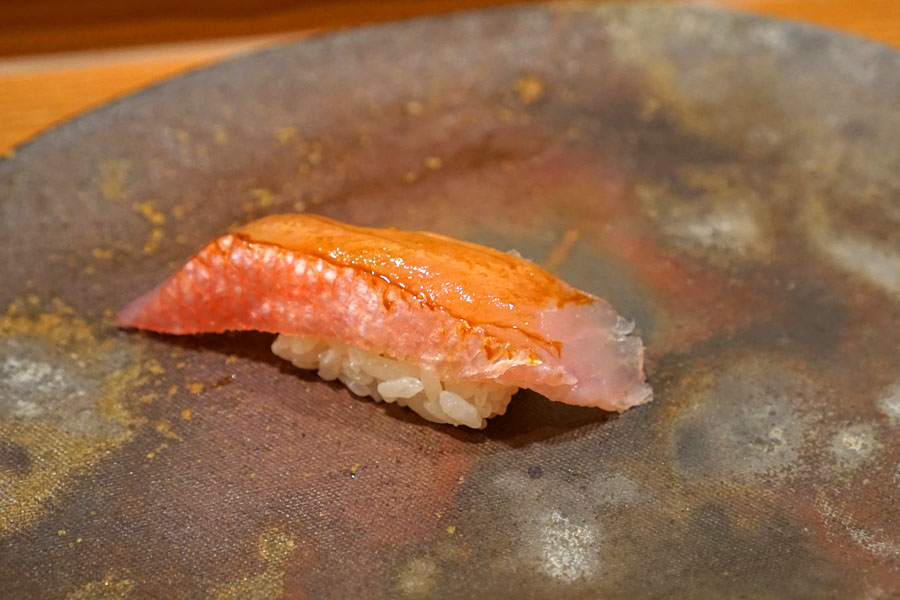 11: Kinmedai
Golden eye snapper is one of my go-to fishes for sushi, and the example tonight from Chiba didn't disappoint. I was fond of the interplay here between nutty and soy flavors, while cut's texture seemingly emphasized the consistency of the individual rice grains.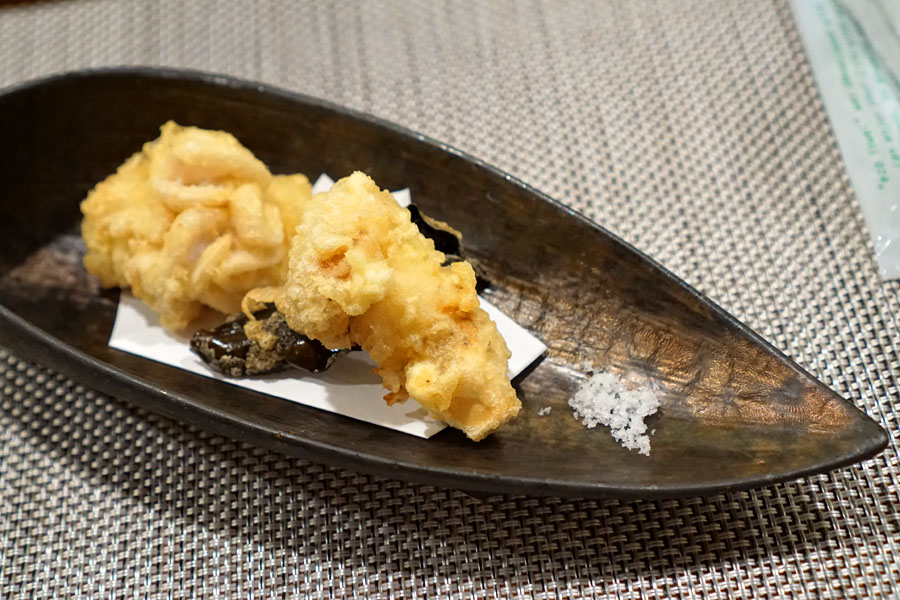 12: Shirako to Matsutake no Tempura
I'm quite the tempura aficionado, so I was glad to see it tonight. Three items were offered, and I began with a surprisingly brittle shard of seaweed, and there was also more of that delightfully woodsy, earthy matsutake. My favorite was the soft roe, which I found eminently creamy on the inside, but properly crispy on the outside, with a refined brine that took well to a dab of the salt on the side.
Next to drink was some white Burgundy, the
2015 Etienne Sauzet Puligny-Montrachet 1er Cru "Les Combettes"
. Initial whiffs of the wine were round, rich, buttery, but with time, tropical fruit and citrus began to show up, along with wisps of black pepper. The palate on this one went in a soft, smooth direction, and highlighted flavors of spice and pome fruit, but with a vegetal-mineral backbone.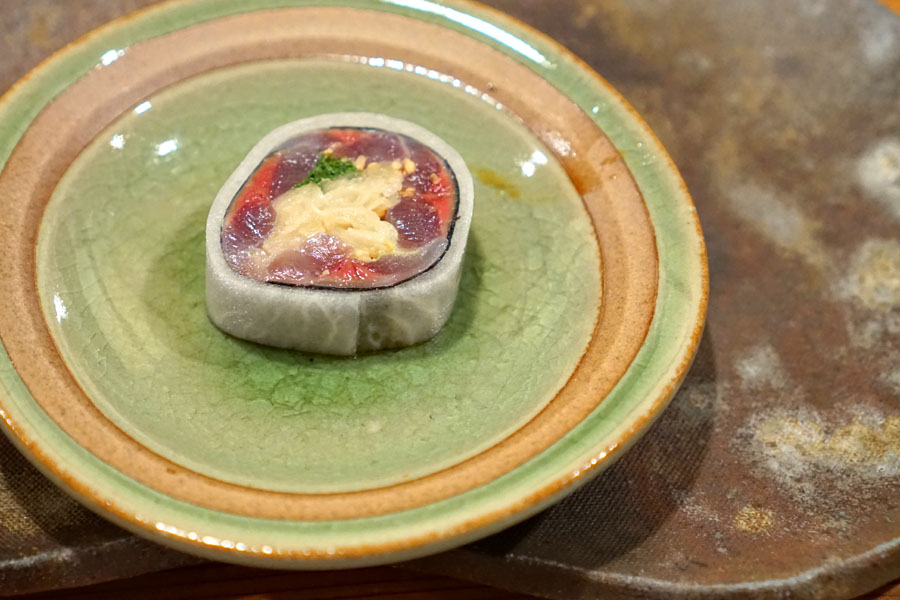 13: Sanma Maki
Here we see Hide-san's signature dish, which was quite unlike anything I've encountered around these parts. I believe it was pike mackerel, ginger, sesame seeds, shiso, and wasabi, wrapped in a layer of seaweed and pickled daikon. The end result was a delectable mélange of disparate textures and tastes, with the interaction between the fish-ginger-shiso being especially key. Note that the Chef usually makes this with
iwashi
, but the fish wasn't available due to the season.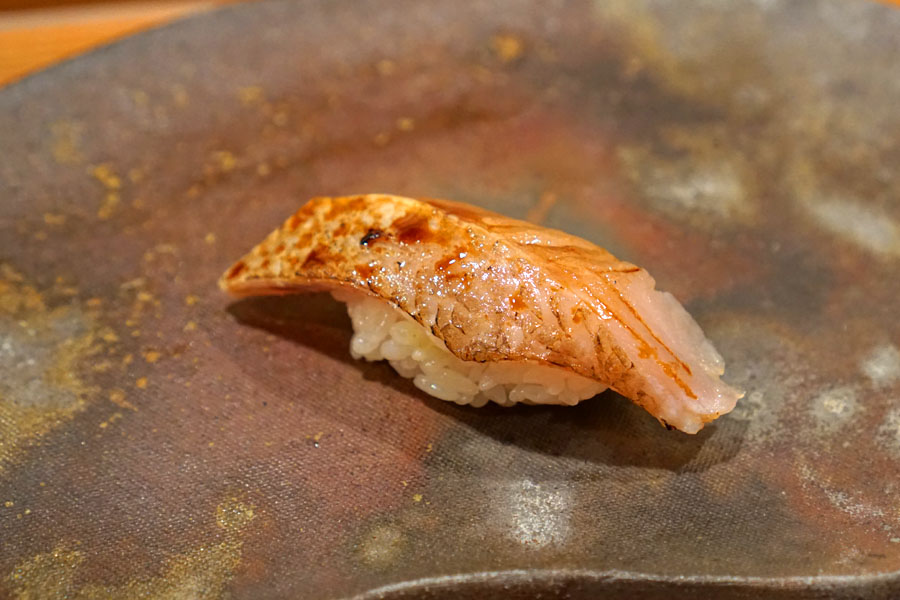 14: Nodoguro
Blackthroat seaperch (a.k.a.
akamutsu
) is my favorite fish, so I was certainly pleased to see it on the menu this evening. It had all the lushness, fat, flavor, and smoke I was looking for, and was a joy to eat, especially with the counterbalancing effect of the rice.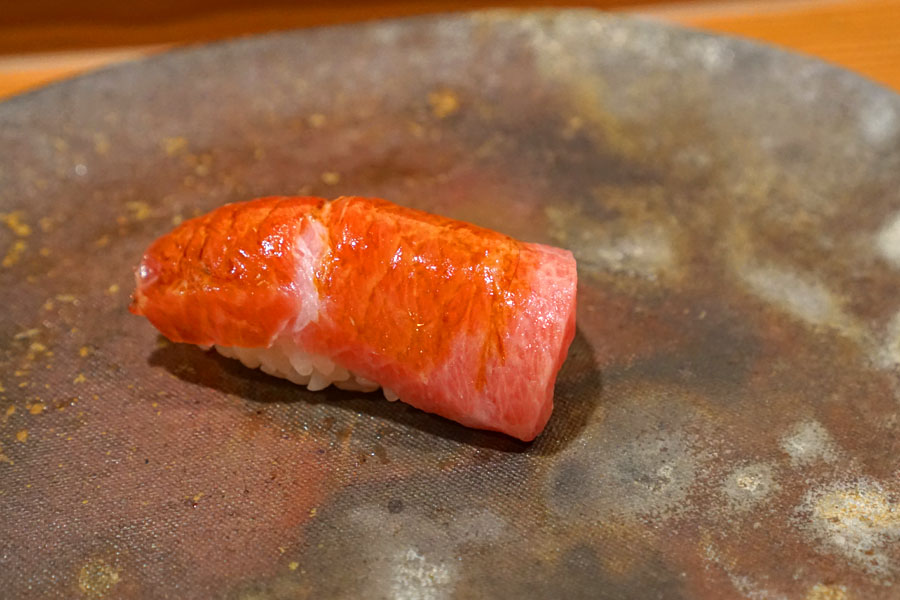 15: Otoro
Speaking of fat and flavor, the Boston bluefin belly had boatloads of it as well, presented in a manner that conveyed both potency and finesse at the same time.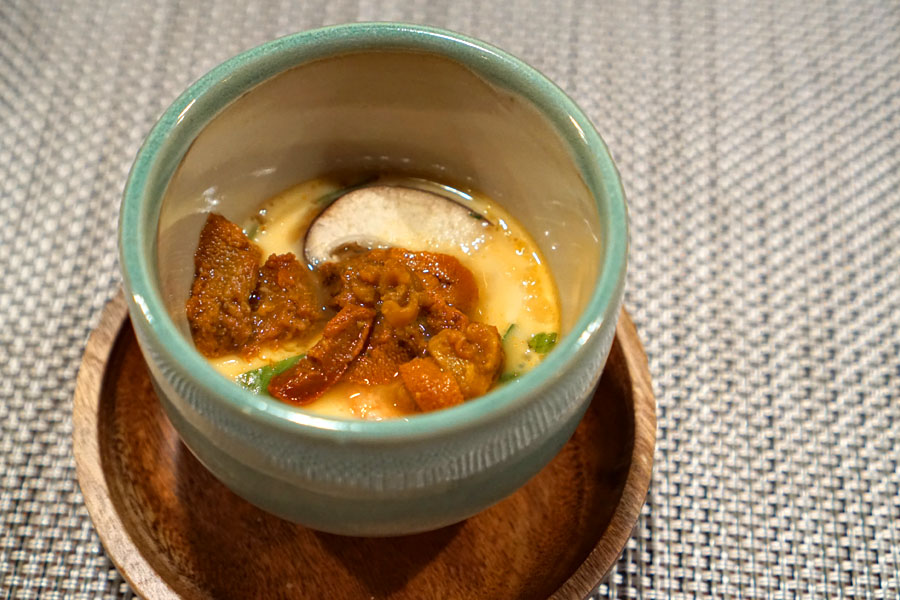 16: Chawanmushi
The chawanmushi course came topped with uni simmered in what I believe was sake/mirin/soy, and the result of this was a sweet, almost candied presentation of the sea urchin. Thankfully, the egg custard itself worked great as a contrasting element, and I also appreciated the extra oomph provided by the mushrooms.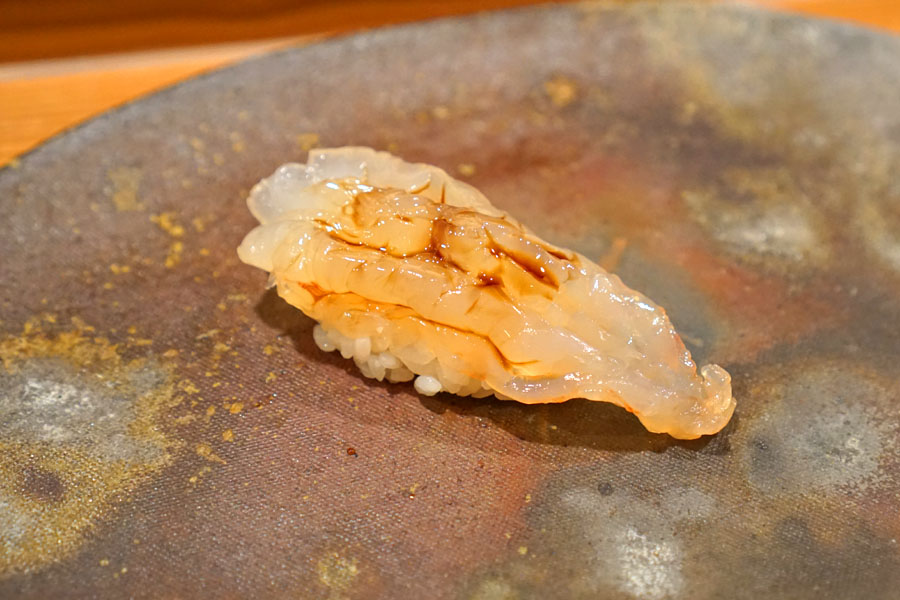 17: Botan Ebi
Spot prawn was cured roughly seven hours with kombu, i.e. the
kobujime
method. The effect was a concentrated, umami-rich, somewhat vegetal flavor profile to go along with the ebi's inherent sweetness, while texturally, the shrimp still had a lovely snap to it.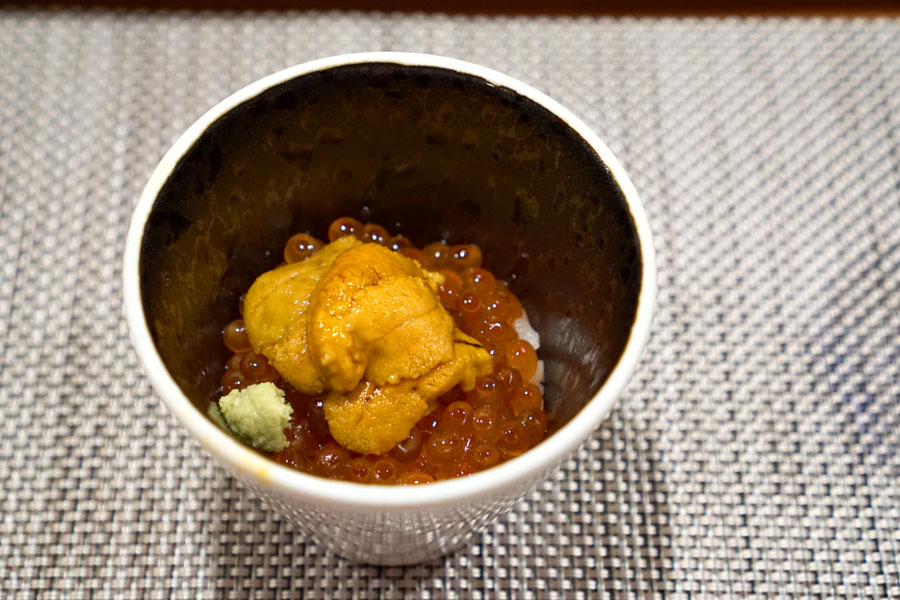 18: Uni-Ikura Don
Uni and ikura made for some delectably savory roe-on-roe action, all layered over a moderating base of rice. Great kick from the wasabi, too.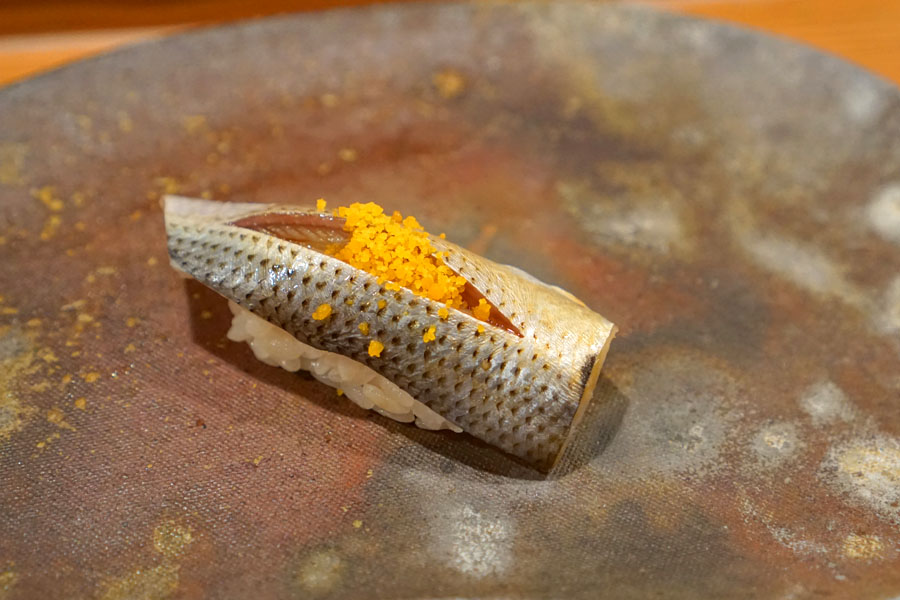 19: Kohada
Gizzard shad is something that I tend to enjoy, and the version here delivered thanks especially to the tempering effect that the egg-based
oboro
had on the fish's unabashed salinity.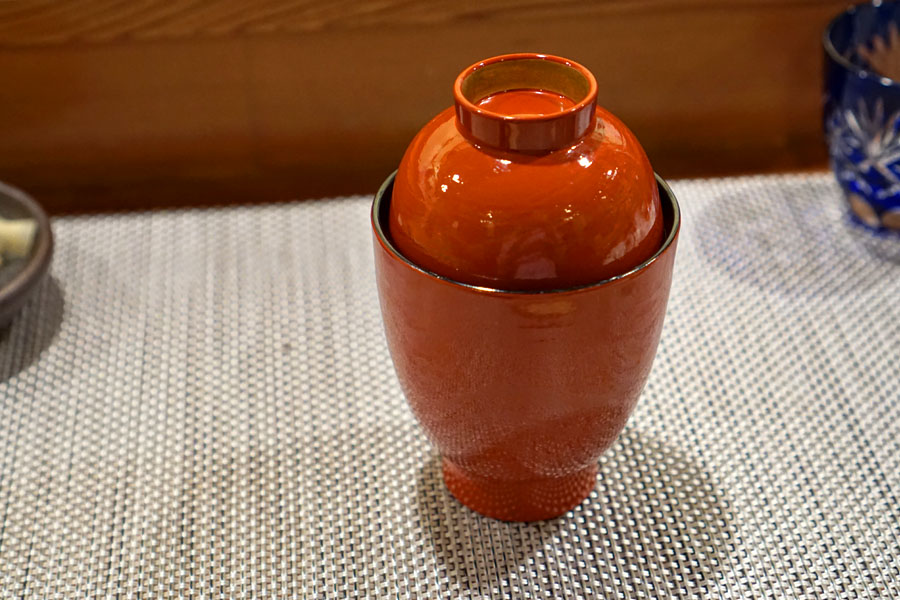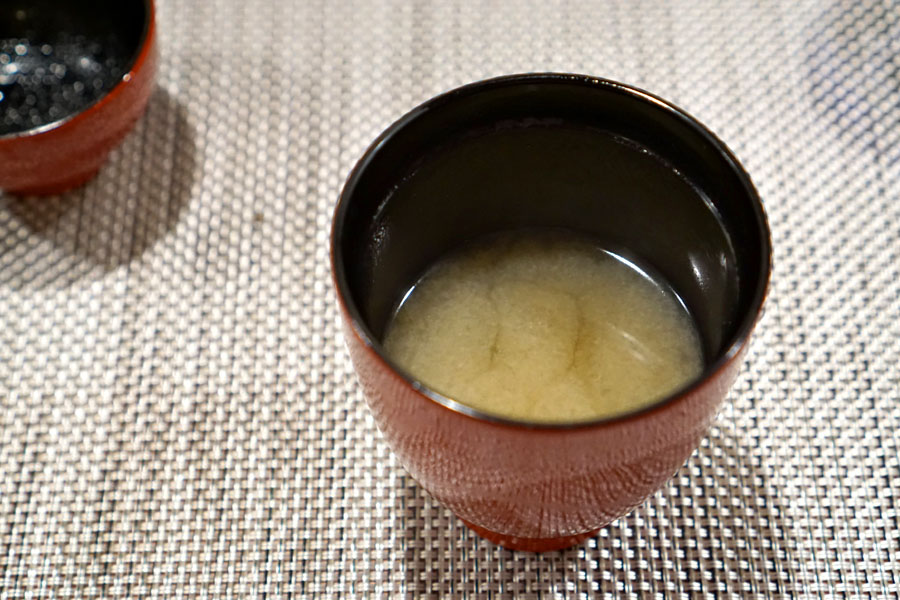 20: Misoshiru
Tonight's miso soup was especially concentrated, and possessed a forceful brine that really set it apart from most.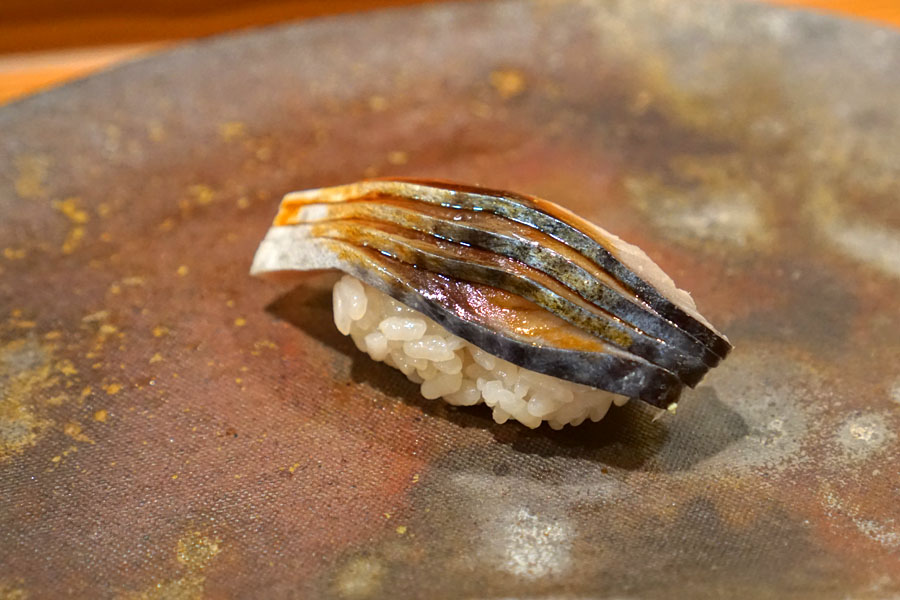 Supplement: Saba [$7.00]
At this point, we supplemented with a few addition pieces of nigiri, and first up was the mackerel, which did an admirable job evening out its decidedly potent flavors with a sweet, almost fruity underpinning.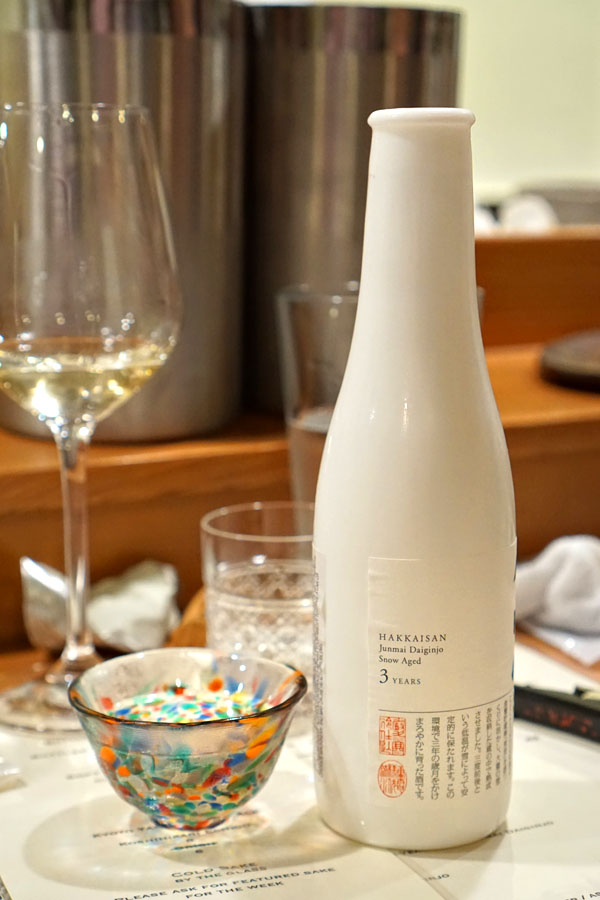 With our two bottles above dispensed with, we ordered the
Hakkaisan Yukimuro [$48]
, a three-year snow-aged
junmai daiginjo genshu
-class sake. Nose on this one was on the sweeter side, with orchard fruit at the forefront, alongside a bit of creaminess. The palate was generally soft, round, while flavors married pome fruit with rice-forward, umami qualities.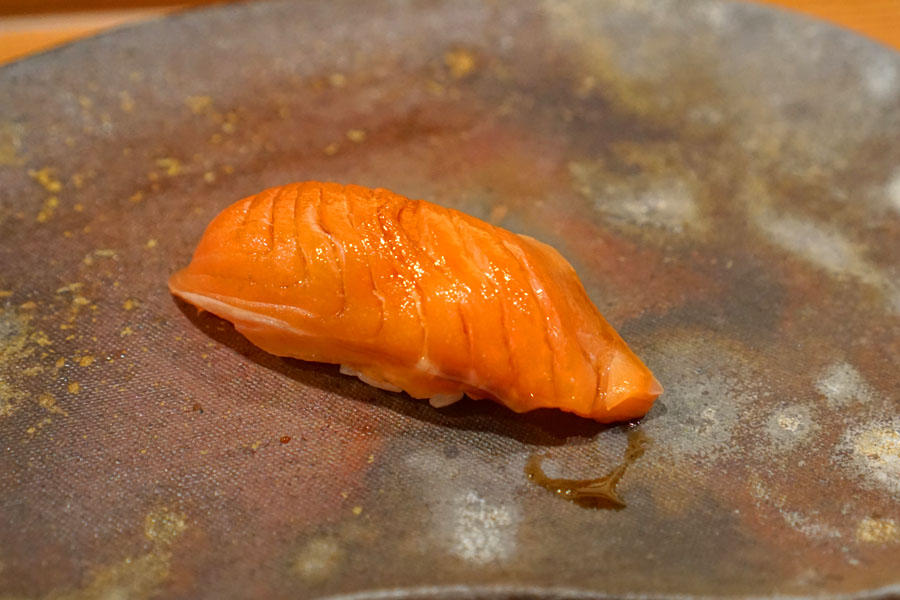 Supplement: Sakuramasu [$10.00]
Cherry trout from Aomori featured a deft blend of sweetness and saline depth, while the wasabi definitely made itself known on the finish.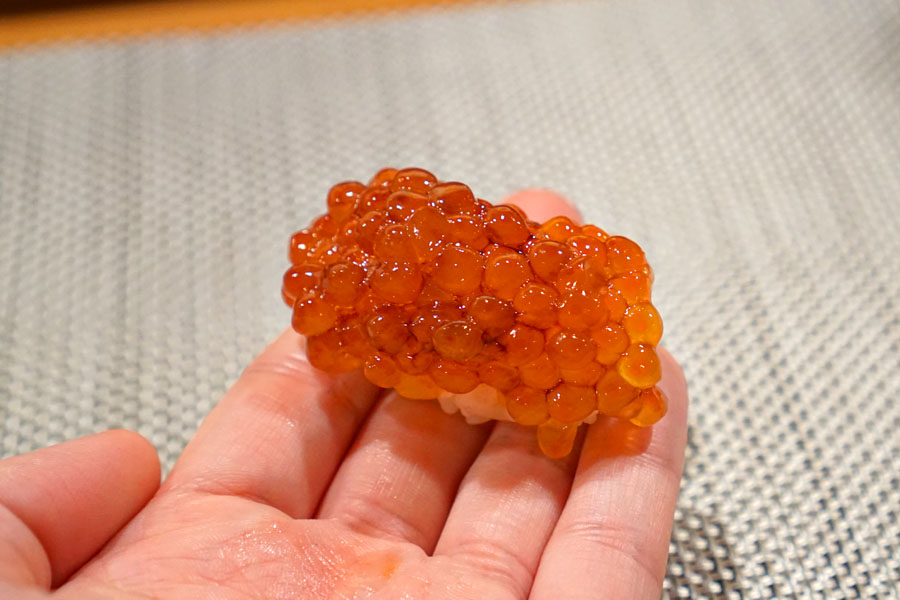 Supplement: Sujiko [$9.00]
Next came immature miso-marinated salmon roe still in the egg sac, which isn't something that I commonly see as a sushi topping. The eggs had a sticky consistency, while flavors were decidedly on the sweeter side, making for a good counterpoint to the warm rice utilized.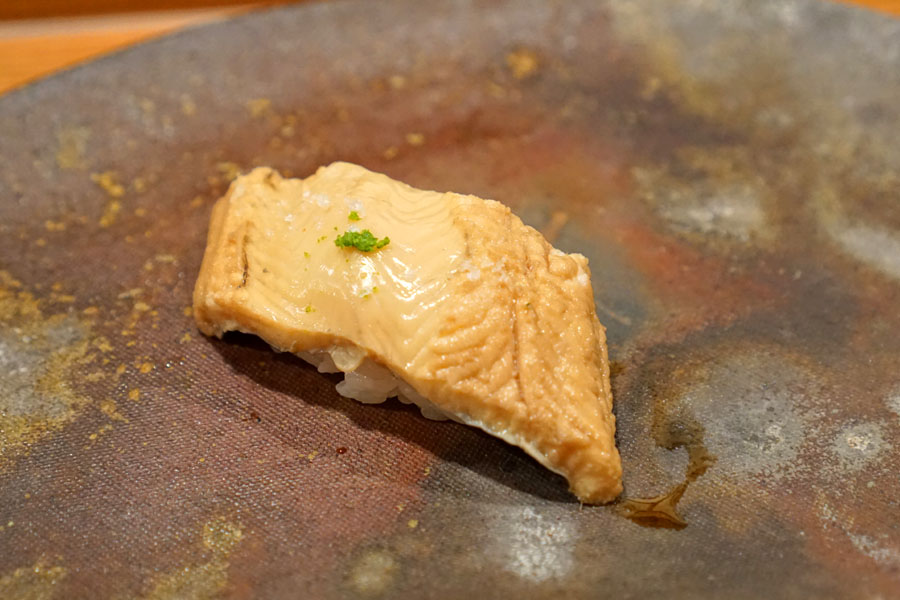 Supplement: Anago [$9.00]
The sea eel was one of the better incarnations I've had thanks to the dainty texture of the fish as well as the give-and-take between citrus notes and the bite's more savory elements.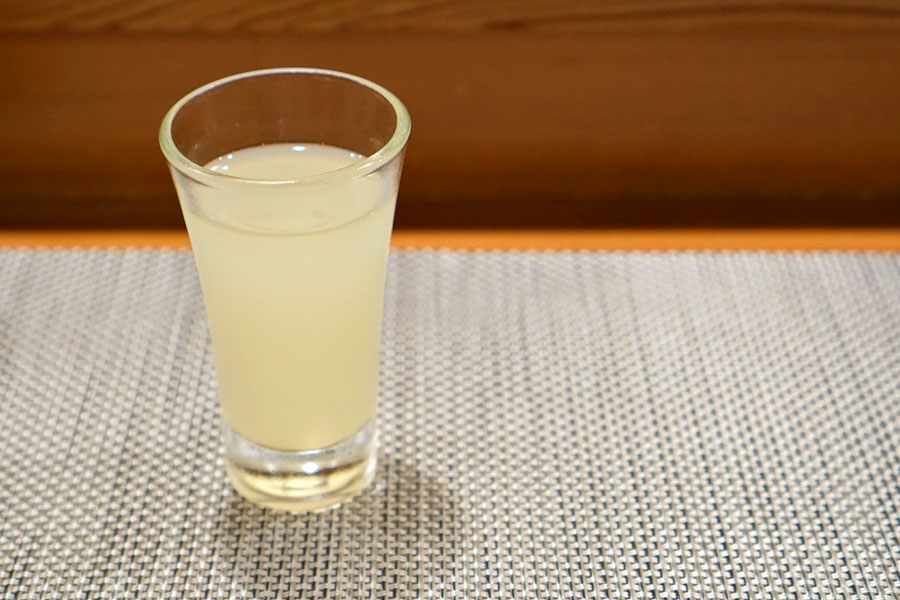 21: Yuzu-ade
In place of dessert came yuzu juice, which actually worked great as a sort of palate cleanser.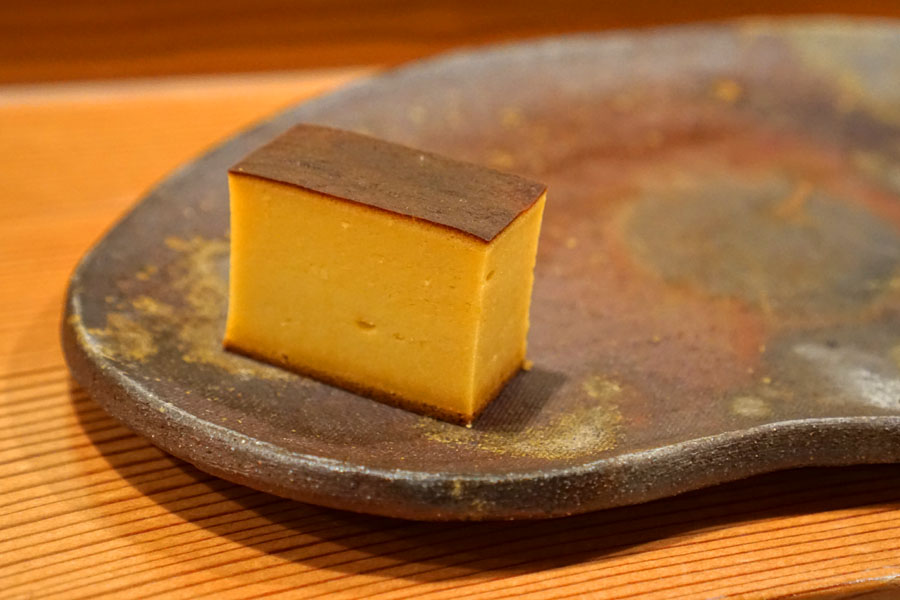 22: Tamago
Last up was Takeda's tamago, which was of the denser, castella variety, and displayed an almost corn-like sweetness set over a base of saline.
It was a bit of an ordeal landing a reservation here at Sushi Takeda, but the wait was well worth it. Aided by assistants Demetrio and Samuel (
Sasabune
, Tamon, Noshi, Hamasaku), the Chef delivered a very compelling meal tonight, one that combined near-impeccable execution with a number of twists and surprises. In fact, I'd have no problem placing Takeda among the top echelon of sushi restaurants here in Southern California. It raises the bar for Little Tokyo, and is an absolute must-visit spot for Angelenos serious about sushi.
---
Following dinner, we headed over to Downtown drinking den Bar Jackalope for a pretty memorable tasting of whiskies, and while we were there, enjoyed great service from both Evan Roth and Peter Park. Here's what we sampled: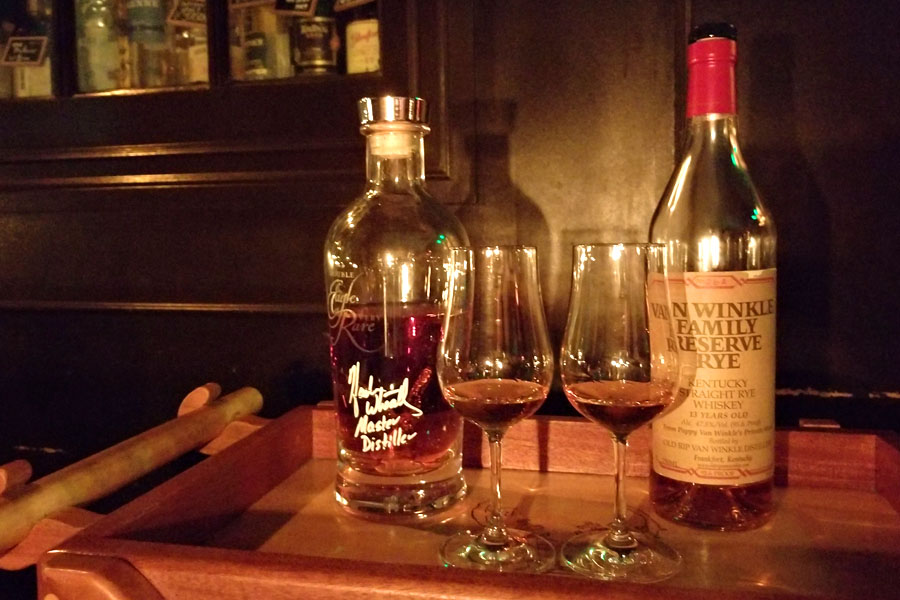 Eagle Rare 'Double Eagle Very Rare' 20 Year Old Kentucky Straight Bourbon Whiskey [$190.00/flight pour]
– Kicking things off was this big boy, which was probably the rarest whiskey I've had the pleasure of tasting. The nose on this one was enjoyable, though nothing too out of the ordinary, with a base of decadent brown sugar cut by herbaceous nuances and some amount of oak. The palate, though, was much more special. What struck me was the sheer vinousness of the spirit, this sort of dark fruit character that meshed easily with baking spice notes, caramel, and a barrel-forward finish that actually reminded me a bit of Nerds candy. In the end, I found this quite balanced and nicely put together despite its age.
Old Rip Van Winkle 'Pappy Van Winkle's Family Reserve' 13 Year Old Kentucky Straight Rye Whiskey [$26.00/flight pour]
– Next up was very likely the oldest rye I've ever tried. Aromas here were lovely, with a distinct floral quality joined by dark berry fruit and a touch of spice, while peach appeared in spades as the whiskey opened up. Taste-wise, I got a tempered rye spice commingled with more fruit, some nuts, caramel, and a marked pepperiness on the back end. Quite well-integrated and definitely mature, and overall, a pleasant change of pace from most ryes I'd say.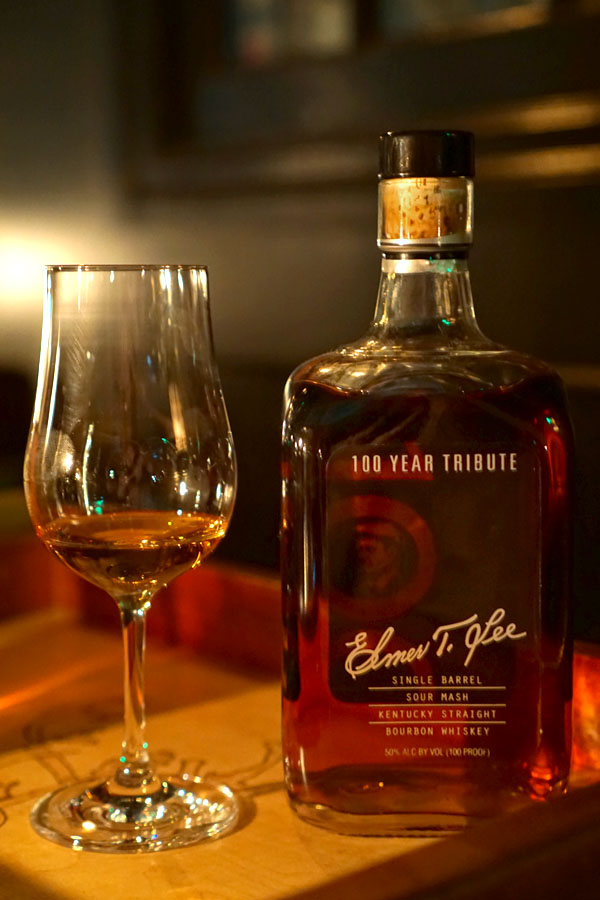 Elmer T. Lee '100 Year Tribute' Single Barrel Sour Mash Bourbon Whiskey [$200.00/flight pour]
– This wins for best nose of the night, as the whiskey smelled amazingly of thick, lush, honeyed nuts and stone fruit. In terms of taste, I found it decidedly robust, its spicy, sweet, berry-like qualities leading to a finish distinctly reminiscent of cherry cough syrup.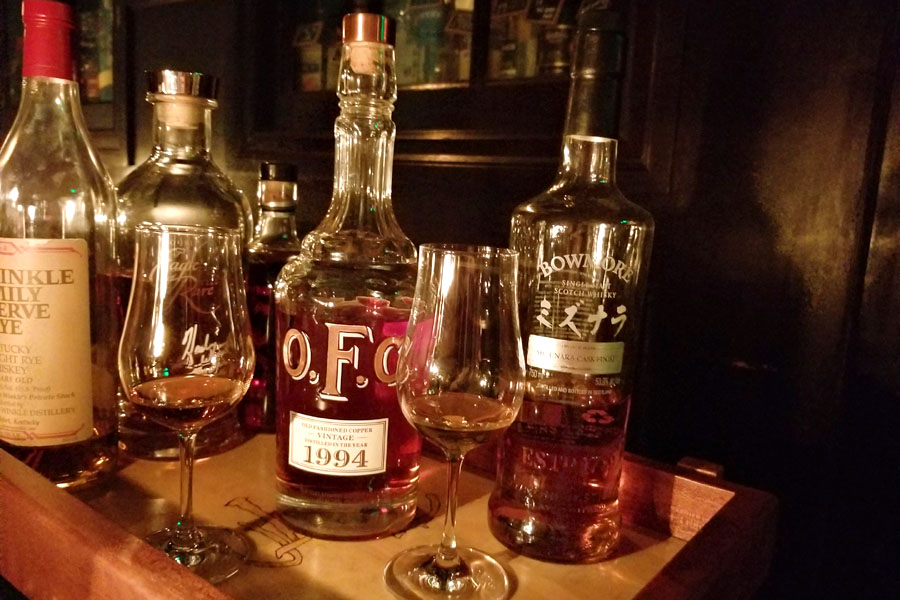 1994 Buffalo Trace Distillery O.F.C. Old Fashioned Copper Bourbon Whiskey [$190.00/flight pour]
– Distilled in 1994 and bottled in 2019, this 25 year-old bourbon gave up boatloads of brown sugar on the nose, backed up by some red fruit and a healthy dosing of barrel. Tasting it, I got a base of mature fruit, alongside baking spices, caramel, and a noticeable, but not domineering oak that lingered a bit. I think things came together rather nicely here, and I didn't find the juice over-oaked despite its age.
Bowmore Mizunara Cask Finish Single Malt Scotch Whisky [$67.00/flight pour]
– Reportedly a blend of 1990s vintages aged in Japanese oak, this whisky certainly had the most intense aromas of the bunch thanks to its smoky, peaty, saline notes, undergirded by just a hint of sweetness. However, the palate was a tad more restrained than the nose would imply, and showed off sweet-n-sour tropical fruit that then transitioned to herbal, peppery, smoky elements toward the rear.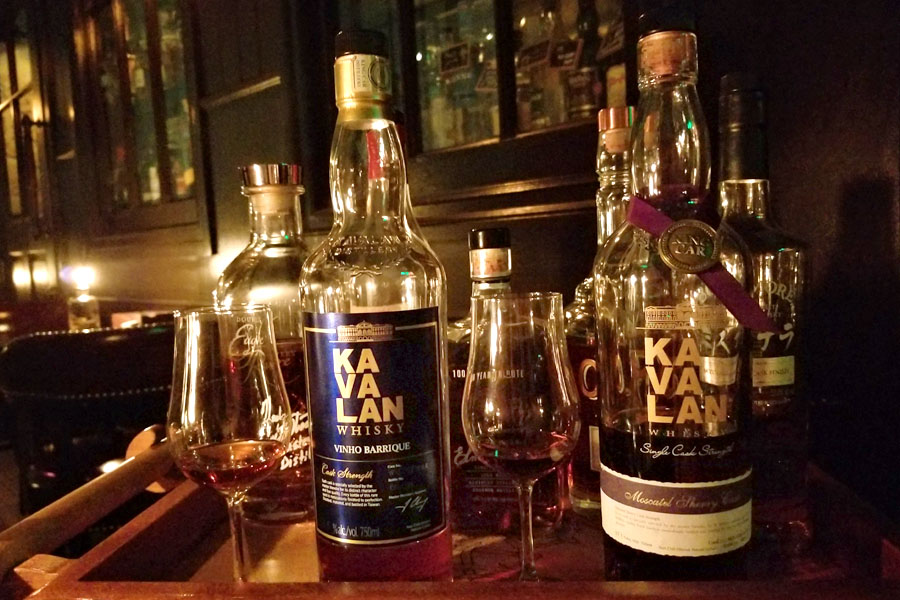 Kavalan Solist Vinho Barrique Cask Strength Single Malt Whisky [$24.00/flight pour]
– We ended the evening with two entries from Taiwanese producer Kavalan. The first featured an elegant, almost dainty bouquet with a distinctly vinous quality and traces of fruit and chocolate. The whisky was a bit more aggressive on the palate, as I got a good amount of peppery spice commingled with more dark-toned fruit, while bringing up the rear was that American oak.
Kavalan Solist Moscatel Sherry Single Cask Strength Single Malt Whisky [$55.00/flight pour]
– The distillery's other entrant tonight was something altogether different. There was a huge sherried character on the nose, with loads of oxidative, nutty notes joined by a counterbalancing sweetness. Sipping the whisky revealed robust nuances of spicy fruit up front along with hints of cocoa, all leading to a bevy of rather nutty flavors toward the finish.