Tlayuda L.A. (Los Angeles, CA)
Tlayuda LA Mexican Restaurant
5450 Santa Monica Blvd, Los Angeles, CA 90029
323.963.5045 / 213.261.4667
www.tlayudala.com / www.ordertlayudala.com
Sun 09/26/2021, 08:05p-09:10p

I was recently in the mood for some Mexican takeout, and thus headed over to East Hollywood's Oaxacan-inspired Tlayuda L.A., which had been on my list to try for some years now. The place is the brainchild of Laura Guerrero (née Urbina), along with her husband Alejandro "Alex" Tinoco. An LA native, Guerrero actually started out working for Sotheby's, but in 2012, became owner of The Experience Ink, a tattoo parlor in Mission Hills. The success of that business allowed her to open her own restaurant, and thus she launched Tlayuda L.A. at the start of July 2015, taking over the former EaHo home of Restaurante Mi Lindo Oaxaca.
Naturally, I had to sample the restaurant's namesake dish. A tlayuda (or clayuda) is often described as a "Mexican pizza," and this box certainly embraces that categorization.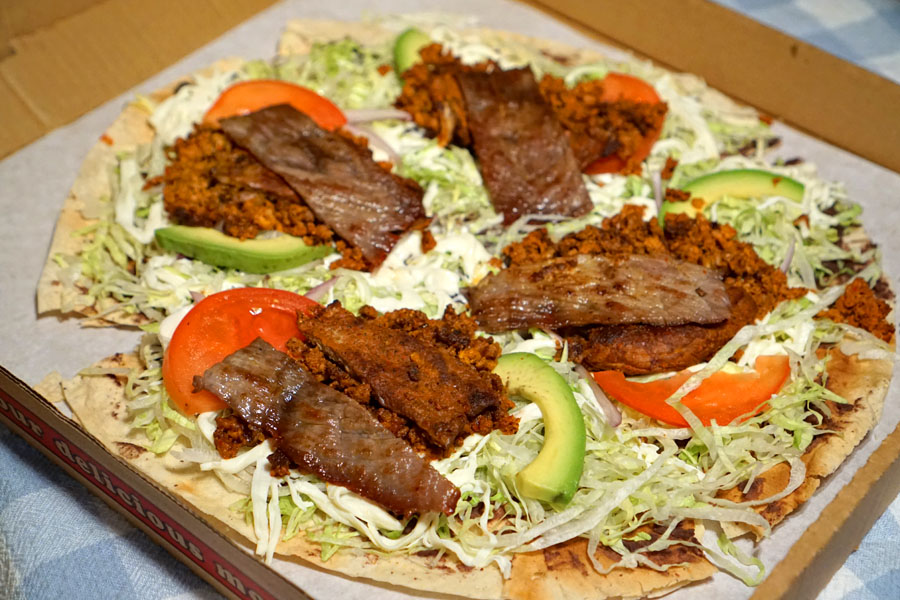 Tlayuda Supreme [$18.50]
| An extra large toasted corn tortilla, a spread bean puree, lettuce, tomato, onion, avocado, cheese, and 3 meats - Tasajo beef, cesina pork and chorizo
And here we see the tlayuda in all its glory. The first thing I noticed was the sheer crispiness of the thin, toasty tortilla, which was imbued with a very palpable smoke that I rather liked. On top of that was a coating of black beans, which imparted a necessary weight to the dish, especially in the absence of the traditional layer of
asiento
(lard). As for the meats, my favorite was the cecina, with its sweet spice and growing heat, but I also enjoyed the classic, comforting nature of the crumbly chorizo, as well as the familiar, almost Asian-y character of the well-seasoned shards of chewy tasajo. Completing the package were juicy slices of tomato, lush cuts of avocado, and of course, a slight saltiness from the Oaxaca cheese. It all made for a fun, tasty amalgam of different textures and flavors.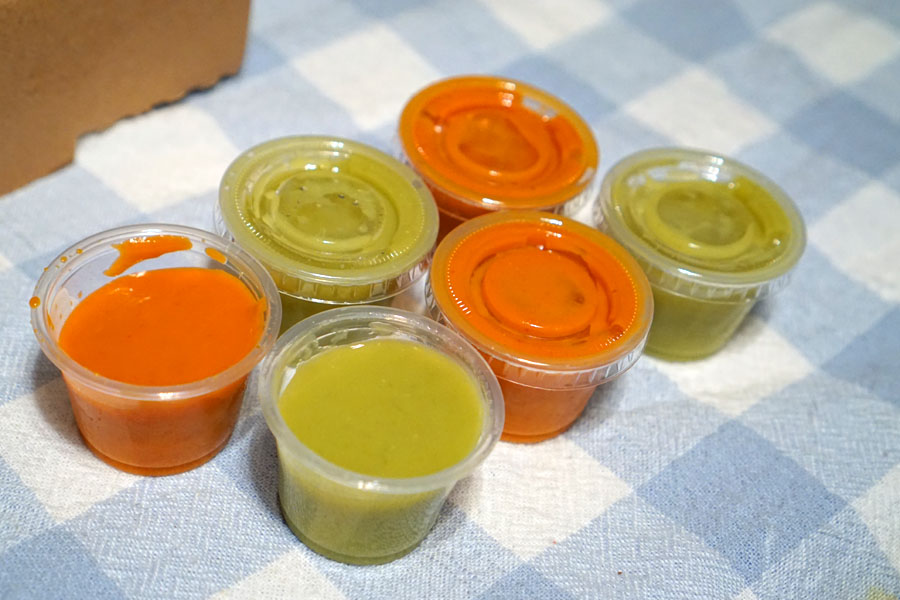 I was also provided with two types of salsa. The green was sharper, with a fruity sort of heat, while the red was milder thanks to its tomato-fueled sweetness. Both were great with the tlayuda above and even better with the burrito/quesadilla below.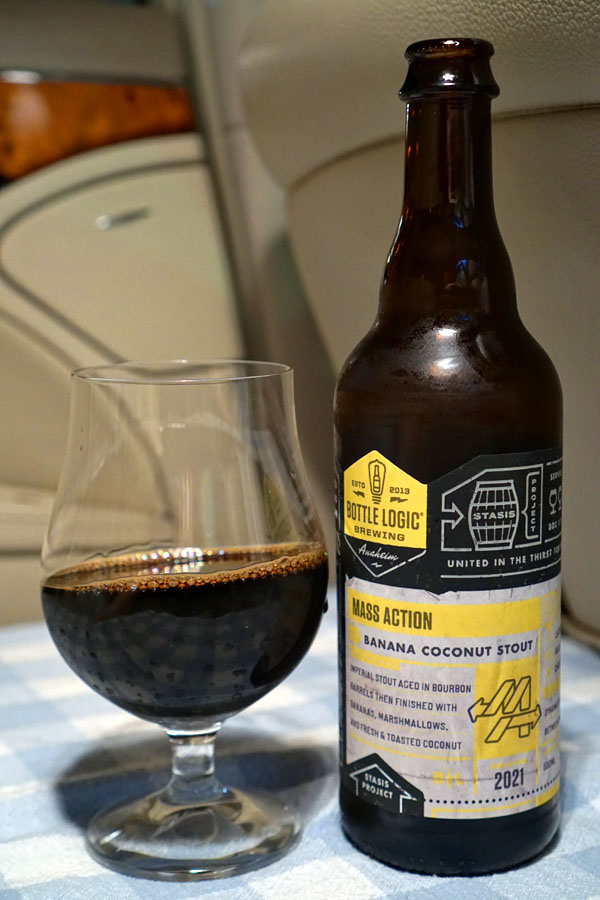 I brought along a couple bottles of beer, and first up was the
2021 Bottle Logic Mass Action
, a bourbon barrel-aged imperial stout finished with bananas, Jet-Puffed marshmallows, and both fresh and toasted coconut. It smelled fantastic, giving up massive aromas of sugary banana, marshmallow, and chocolate. The palate on this one was definitely on the thicker, viscous side, with ripe banana and restrained coconut up front leading to flavors of rich cocoa and marshmallow, with a bit of dark fruit and oaky spice, while banana made itself known once again on the back end.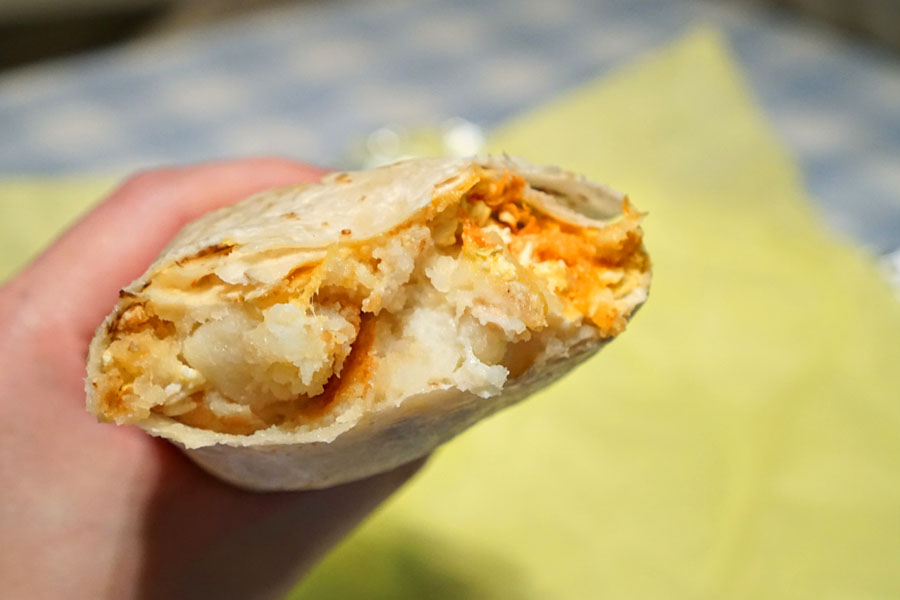 Breakfast Burrito [$9.50]
| eggs, tomato, onion, serrano, potatoes, cheese and chipotle salsa
I'm a sucker for breakfast burritos, so I felt compelled to order one tonight. The thing that struck me first were the potatoes, which were particularly hearty and well-seasoned. They melded well with both the cheese and eggs, while the tomato-onion combo imparted a touch of brightness to it all. I will say, though, that I wouldn't have minded some bacon or chorizo up in here.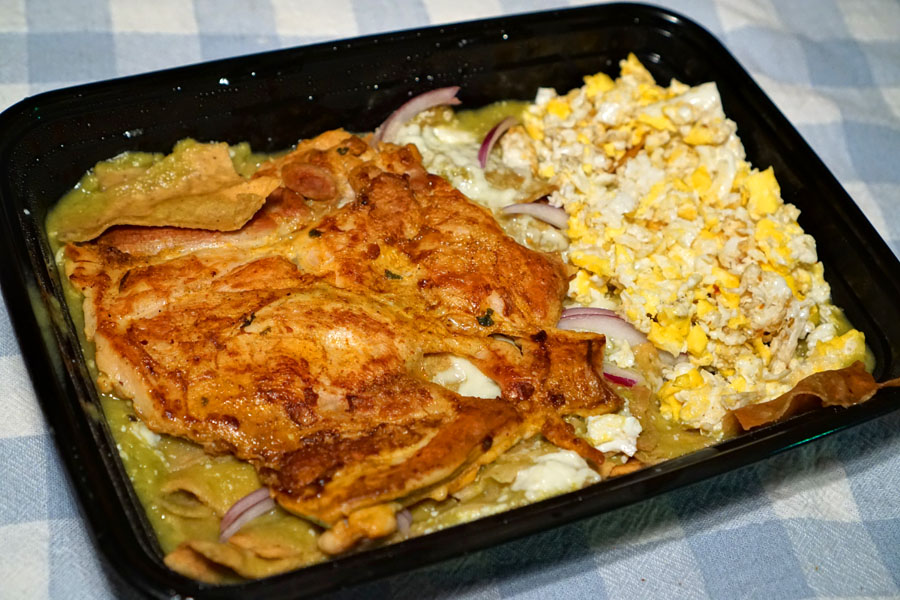 Chilaquiles [$15.99]
| Fried tlayuda pieces topped with our house spicy or mild salsa, cheese (queso fresco) and red onions. Add eggs and your choice of meat
I've grown to love chilaquiles over the past several years, and pictured above is a fine example of the dish. Again, I appreciated the thinness, crunchiness, and smokiness of the tortilla pieces here, and especially how they married with the sour spice of the salsa verde. The included chicken was quite tasty just by itself, while the scrambled eggs came out nice and fluffy, though a touch underseasoned. Great zestiness from those raw red onions, too.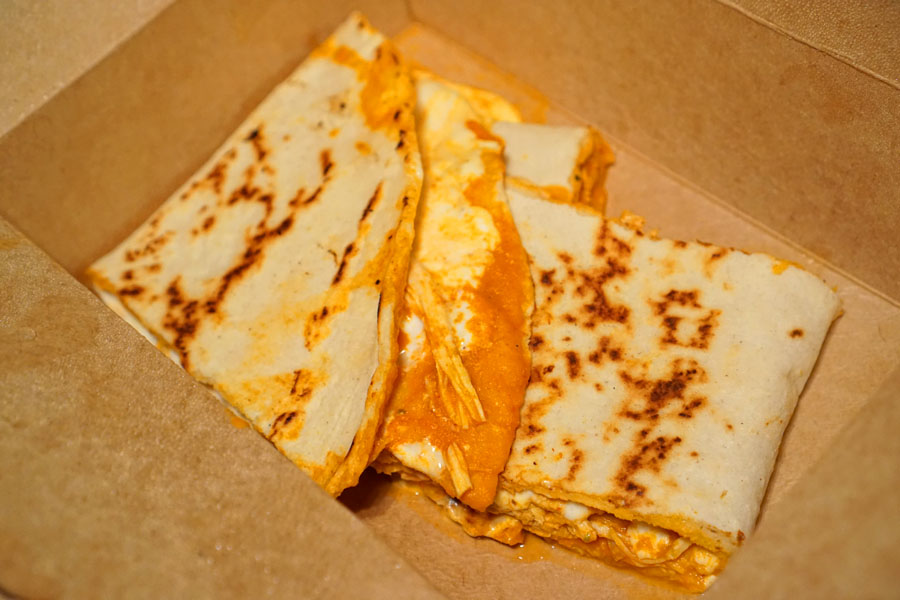 Chicken Tinga Quesadilla [$11.50]
| Chicken tinga quesadilla on a large corn tortilla
The quesadilla featured homey, mildly-spiced shreds of chicken that matched up easily with the surprisingly substantial cheese (
quesillo
perhaps?). I also appreciated the hefty corn tortilla used here, which definitely showed off of the essence of the masa.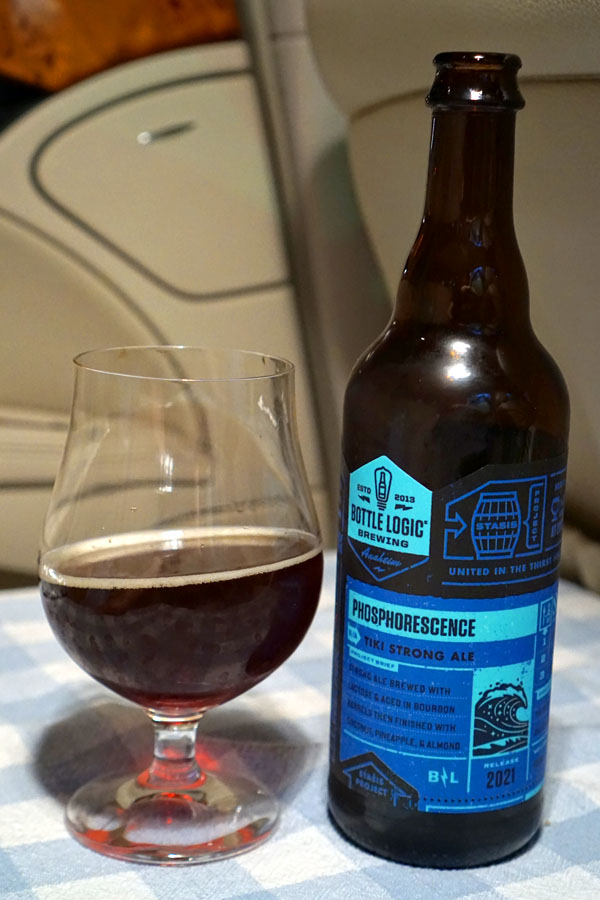 Next to drink was the
2021 Bottle Logic Phosphorescence
, a bourbon barrel-aged strong ale brewed with lactose and finished with coconut, pineapple, and almond. This one smelled great, with boatloads of pineapple and coconut that totally recalled the beer's tiki cocktail inspiration. Taste-wise, I got tons of caramelized pineapple, set against a spine of sugary malt, while layers of sweet almond and coconut contributed additional facets to the brew. The finish, meanwhile, was all about even more pineapple.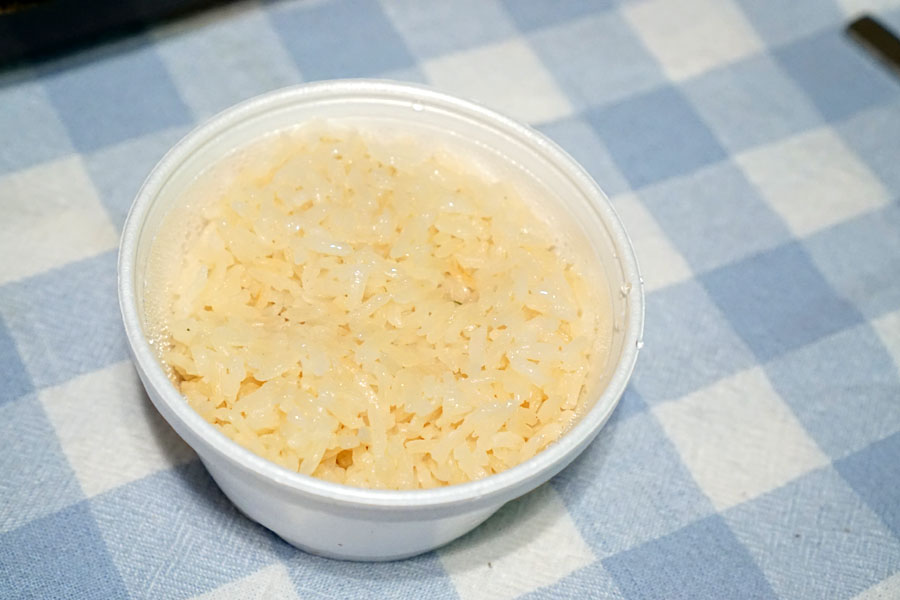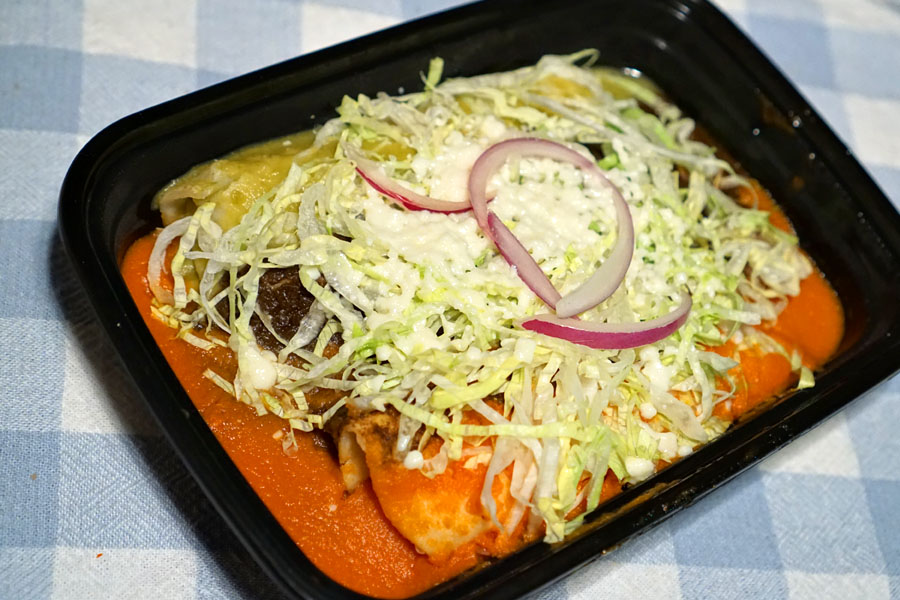 Enchiladas Mixtas [$16.50]
| 3 chicken enchiladas, 1 with red salsa, 1 green salsa and 1 mole sauce. Served with rice
Next came a trio of enchiladas. I started with the rojo, and found it generally easy-going, with an enjoyable sweet-sourness from its use of tomato. The verde, on the other hand, went in a bright, zippy direction, but my favorite was the mole, with its spot-on balance between sweet and savory, complemented by nutty notes and a creeping heat. Also appreciated was all that shredded lettuce, as well as, once again, the red onion. However, my concern was that the chicken was on the drier side, while the rice, although nicely seasoned, was too soft, too sticky.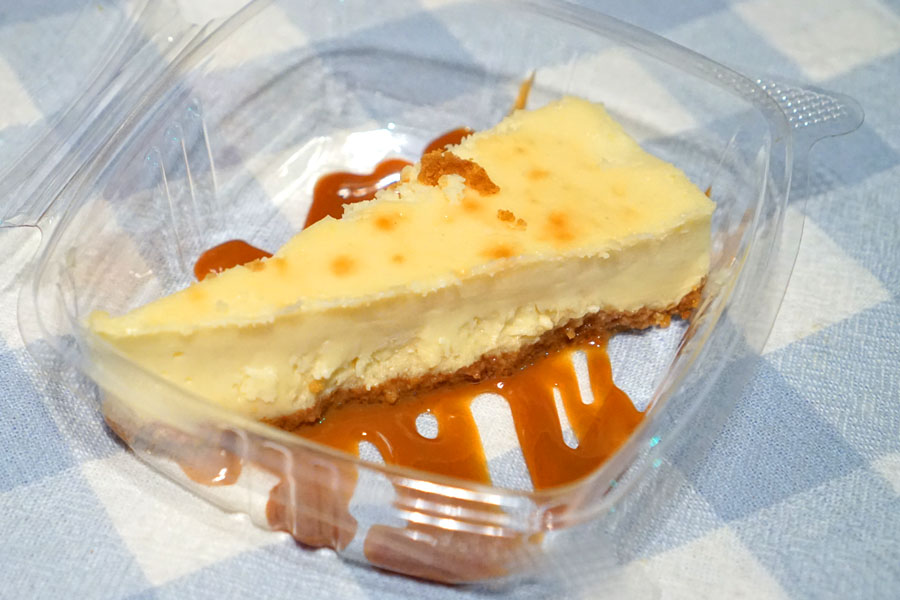 Cheesecake [$4.50]
| Mascarpone cheesecake with graham cracker almond crust
Dessert duties were handled by cheesecake from
Chef Turok
, a.k.a. Brian Menendez. I've actually heard a bit about his cheesecakes over the past couple years, and the slice tonight didn't let me down. The cake ate somewhat lighter than what you typically find, but was still substantial and satisfying, with a subtle tanginess to go along with the overall sweetness of the dish. I was also a fan of the crust, which was very tightly integrated, as well as the accompanying drizzles of caramel sauce.
Overall, I'd say that this was a pretty successful meal. Going in, I was a bit concerned given that Guerrero is known for taking some liberties with the food--as evinced by the removal of pork lard in the tlayuda--but fortunately the kitchen generally managed to deliver. I can understand why so many people like this place, and I think I'd probably visit fairly regularly if I lived in the area.