Mélisse (Santa Monica, CA) [4]
Melisse Restaurant
1104 Wilshire Blvd, Santa Monica, CA 90401
310.395.0881
www.citrinandmelisse.com
Sat 09/11/2021, 08:40p-11:50p

Opened in 1999,
Melisse
is a fine dining standby for the Los Angeles region, and one that I've visited on a number of occasions. Nevertheless, Chef/Owner Josian Citrin and longtime partner Ken Takayama apparently thought that the place was getting a bit long in the tooth, and thus decided to shutter the business in March 2019 and switch things up. When it reopened that December, the restaurant was divided into two concepts. The first is
Citrin
, a more casual Cal-French spot that I visited early last year. The second is good ol' Melisse, but a thoroughly rejiggered, higher-end, much more intimate iteration seating only 14 guests at a time. I was actually planning to check it out last year, but the pandemic quickly scuttled those plans. However, with the COVID-19 situation improving, Melisse 2.0 was able to start up service again at the start of June, this time with a new Chef de Cuisine at the helm: Ian Scaramuzza.
About the Chef
: Scaramuzza is a native of Scotland, and grew up in the Maryhill district of Glasgow. He attended Cleveden Secondary School in Kelvinside, and after graduating, began his culinary career at age 18 as an apprentice at a local event space called House for an Art Lover, which was run by Ian Mackie. Following, he went to French spot Etain, cooking under Geoffrey Smeddle, and soon followed his boss to The Peat Inn near St Andrews. After a year or so, he began
staging
at the Gleneagles Hotel in Auchterarder, which was run by Andrew Fairlie, and was eventually offered a commis position at the restaurant in April 2007.
Scaramuzza diligently worked his way up the ranks, but at the start of 2012, relocated to London and went to work for Claude Bosi at Hibiscus, where he was promoted to Head Chef within a scant six months. Around this period, he also underwent a series of internships at a number of notable establishments. These included Pollen Street Social, The Ledbury, The Greenhouse, Alain Ducasse at The Dorchester, Restaurant Sat Bains, and The Vineyard in the UK, as well as De Pastorale in Belgium, De Leest in Netherlands, and Tickets in Spain. In March 2015, Scaramuzza won the Roux Scholarship, a cooking competition for up-and-coming British chefs, which gave him the opportunity to train at Corey Lee's highly-lauded
Benu
in San Francisco.
He got married to fiancée Anne Marie Howley in September 2015, while Hibiscus ended up closing a year later. By the time he was at Benu, he was already out of a job, and thus Lee arranged for his
stagiaire
to relocate to the US and work for him. In the meantime, Scaramuzza returned to England, began cooking at Clove Club with fellow Scotsman Isaac McHale, took part in the WastED pop-up with Dan Barber in February 2017, and also helped Clare Smyth in the opening of Core. In July 2017, he took on the role of CdC at Lee's ground-breaking In Situ, located at the San Francisco Museum of Modern Art. For his work there, he was awarded "Best Chef: West" semifinalist status by James Beard in both 2019 and 2020. However, he left the spot in May 2021 to head up the kitchen at Melisse, a position secured, curiously enough, with the help of
Addison
's William Bradley.

Here we see the Melisse space, which is a lot more intimate than what diners experienced in the previous incarnation of the restaurant. There are but five tables (three two-seaters, two four-seaters), and each offers a view of the open kitchen.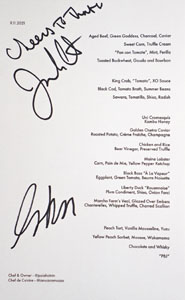 Pictured above is tonight's menu, which is priced at $295 per person, not including optional supplements or the $195/$395 wine pairing. And speaking of wine, there's an extensive list managed by Wine Director Matthew Luczy that actually has some good values (see the Chablis we got below). Meanwhile, corkage is $75 a bottle, limit two, though the fee can be waived if you purchase a bottle from the restaurant (Luczy was kind enough to waive both corkage fees this evening). Click for a larger version.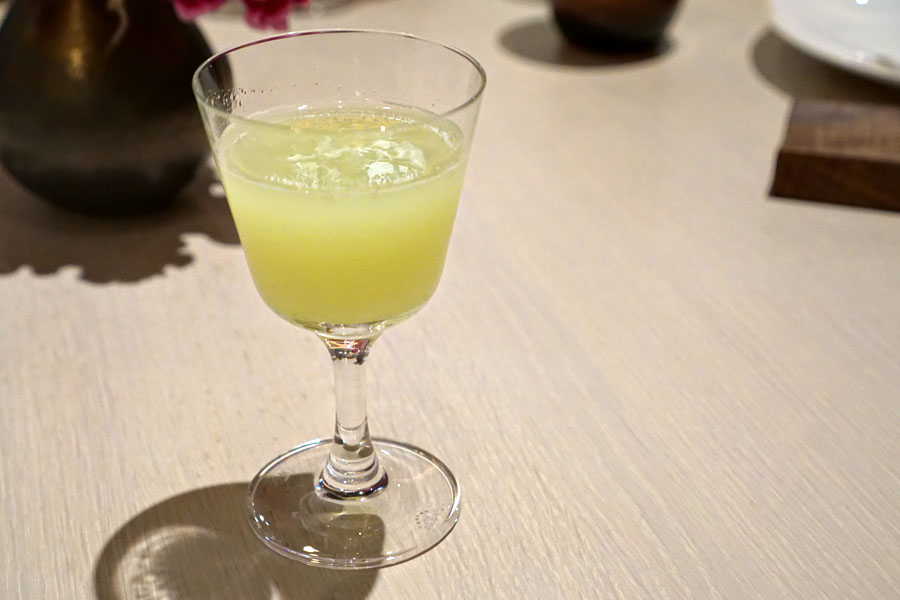 Our meal began with a chartreuse-tinted welcome beverage comprised of vodka, Japanese peach, yuzu, almond syrup, and St-Germain. I found the apéritif to be on the easier-drinking side, its generally light, tart-ish disposition playing foil to the sweetness of the almond.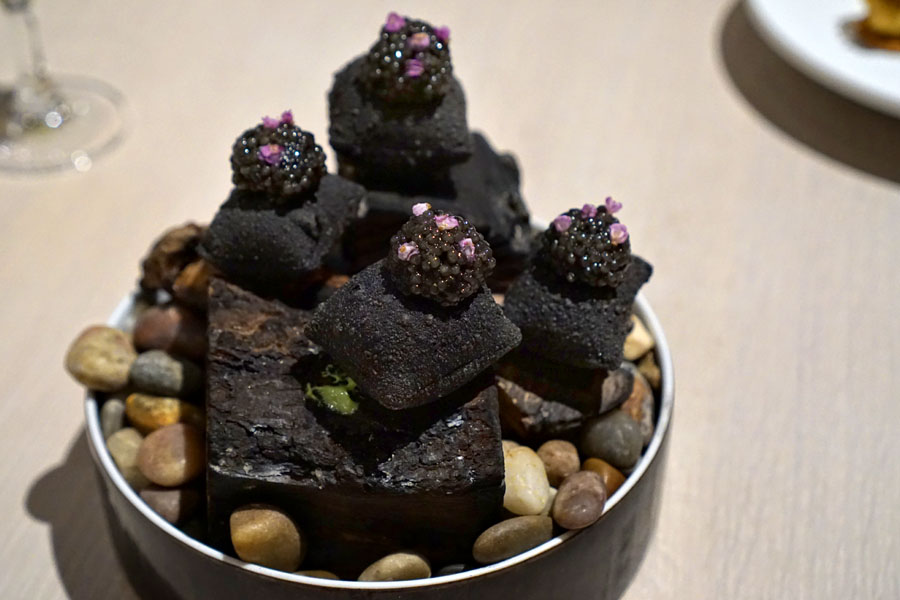 Canapé 1: Aged Beef, Green Goddess, Charcoal, Caviar
Next came a series of canapés. Though these charcoal puffs appeared airy, they were in reality rather weighty thanks to their filling of wagyu tartare. Said tartar imparted a sense of moment to the hors d'oeuvre, while the sharp salinity of the golden Ossetra and shiso blossoms on top elevated the bite. I got a nice crunchy sensation from the shell, too. Now I will point out that we experienced a misstep in service with this dish. When the course was brought out, one of the puffs slipped off and on to the table, and thus should've been replaced instead of being put back on the plate.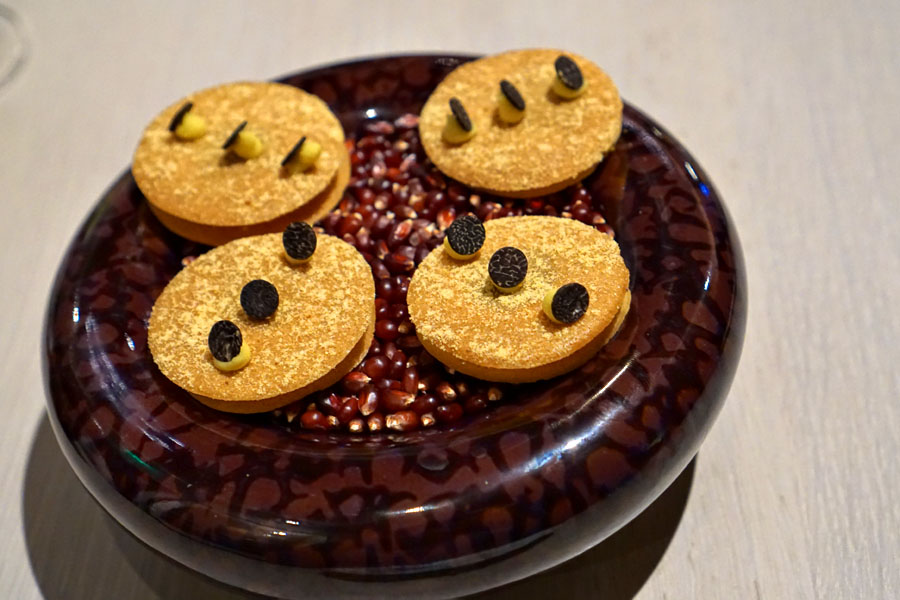 Canapé 2: Sweet Corn, Truffle Cream
The crackers were arguably my favorite of our beginning bites, as I loved the harmonization between the sweetness of the corn, the musk of the truffle, and the creamier elements present.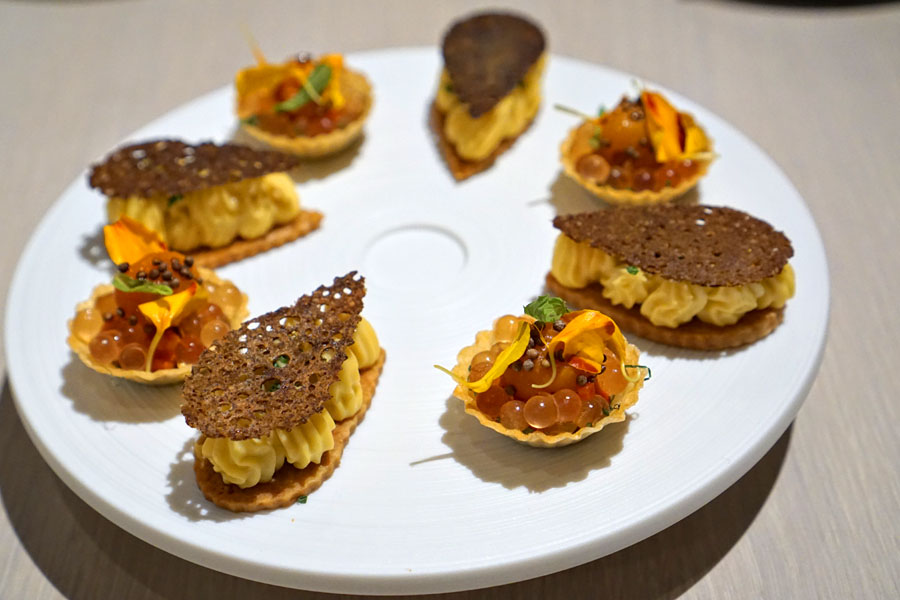 Canapé 3: "Pan con Tomate", Mint, Perilla
Canapé 4: Toasted Buckwheat, Gouda and Bourbon
I was also a fan of the Chef's riff on the Catalan staple of
pa amb tomàquet
, which featured a tart, juicy, refreshing tomato jelly that really captured the soul of the traditional dish. Last up was a teardrop-shaped take on cheese and crackers, one that married the undeniable richness of the Gouda with the sweet funk of a bourbon sablé, all while the buckwheat served as a crunchy counterpoint.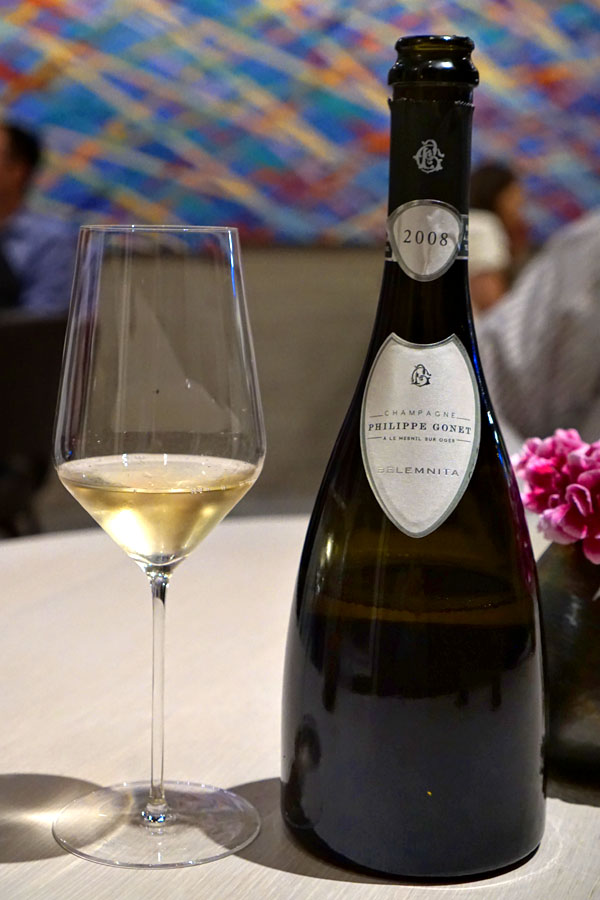 With the canapés dispensed with, we opened up a bottle of bubbly that we'd brought along: the
2008 Philippe Gonet Champagne Grand Cru "Cuvée Belemnita" Blanc de Blancs
. The wine had a beautiful nose that demonstrated an intense toastiness right up front, but with hints of luscious orchard fruit peeking through just enough. On the palate, I got delightful flavors of brioche initially, while accompanying elements of must, citrus, and minerals came in later and lingered long. This one was drinking very well tonight, though I suspect it'll get even better with time.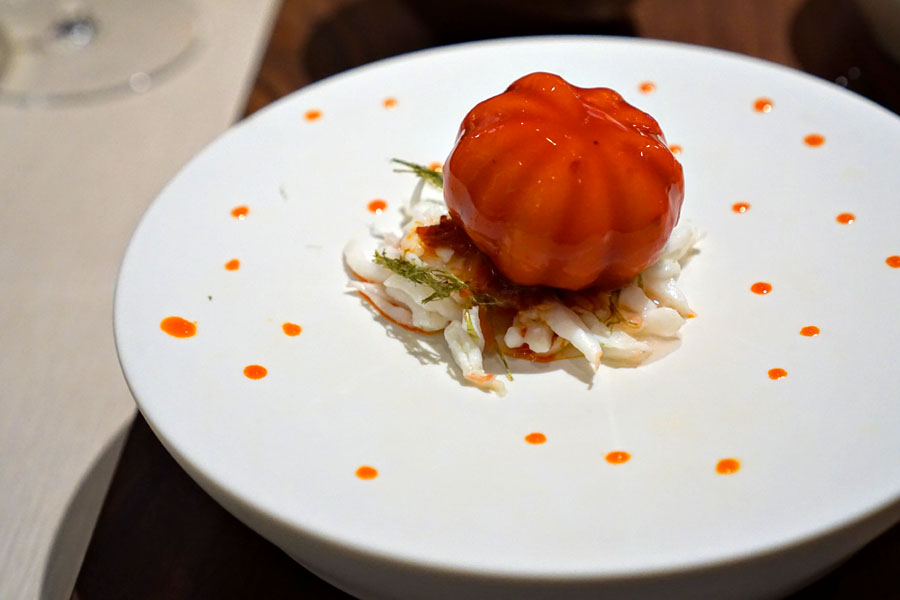 Amuse Bouche 1: King Crab, "Tomato", XO Sauce
At this point, we proceeded into a trio of amuse bouche, all of which incorporated tomato in some form. In this first presentation, I started with the king crab, which displayed a wonderful sweetness that melded perfectly with the spicy depth of the XO. It was a delicious combination to be sure, but what was more interesting was the "tomato," which contained an incredibly light mousse that seemingly mimicked the tart, herby flavors of a marinara sauce, and actually worked as a complement to the crab.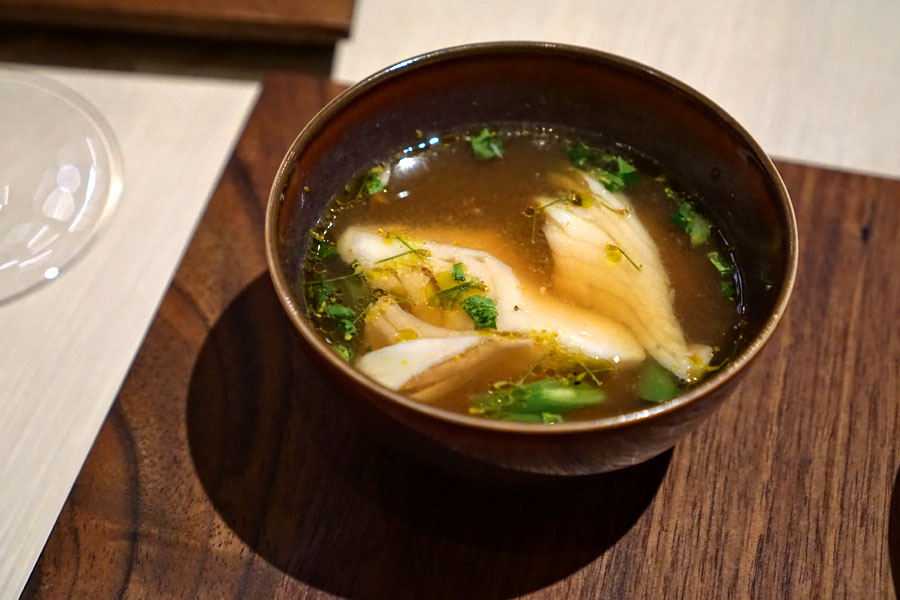 Amuse Bouche 2: Black Cod, Tomato Broth, Summer Beans
A clear broth (which I believe incorporated littlenecks and kombu) conveyed the essence of tomato in a light yet gratifying manner, and did a commendable job evening out the lush, silky nature of the cod. However, my favorite component here just might've been the beans, which imparted a lovely weight and texture to the soup.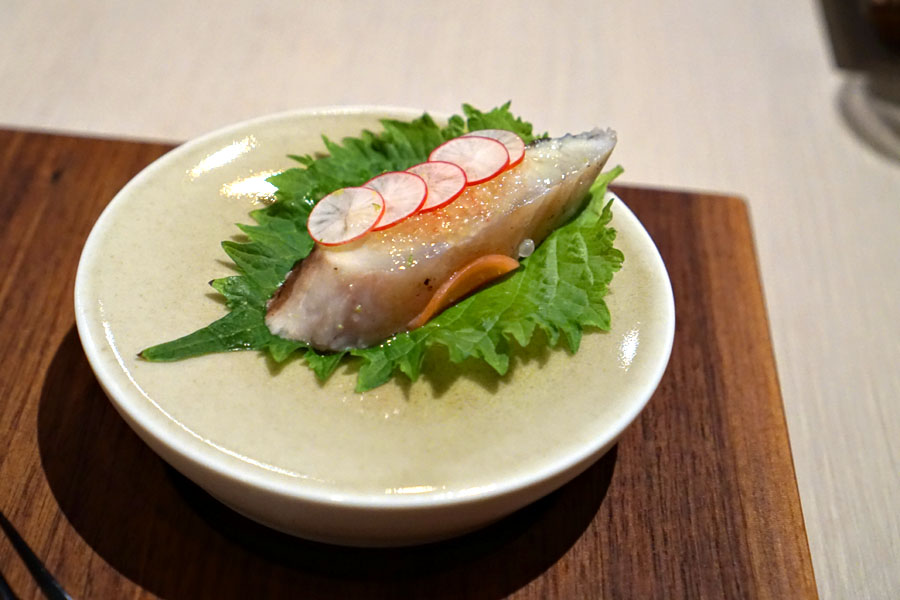 Amuse Bouche 3: Sawara, Tomatillo, Shiso, Radish
A coal-kissed, fermented tomatillo-brushed shard of king mackerel was a joy to eat. I was a fan of its multifaceted consistency, as well as the juxtaposition of flavors from the green tomato, radish, and jalapeño. Also crucial was the shiso, which provided a mintiness that brightened the bite on the back end.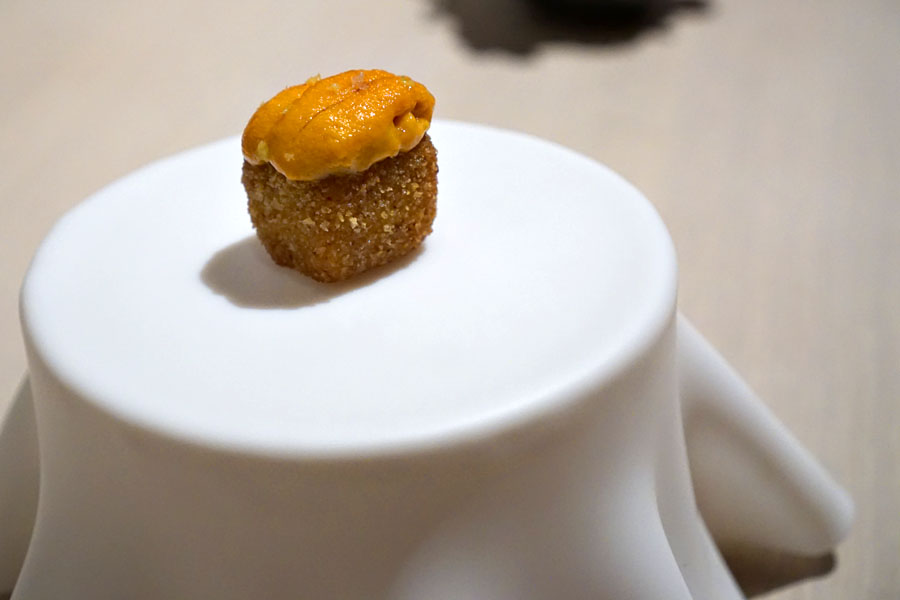 1: Uni Cromesquis
| Kombu Honey
Our first "proper" course comprised a Santa Barbara uni
cromesquis
, crowned with lobes of Hokkaido uni, fermented kombu homey, miso, and lemon zest. What struck me first was the sheer sweet salinity of the urchin-honey combo, perked up just a smidge by the citrus. However, what really made this work was the counterbalancing effect of the croquette, with its rich, creamy interior and crispy, savory crust. A very fun bite--I could've easily popped a few more of these guys.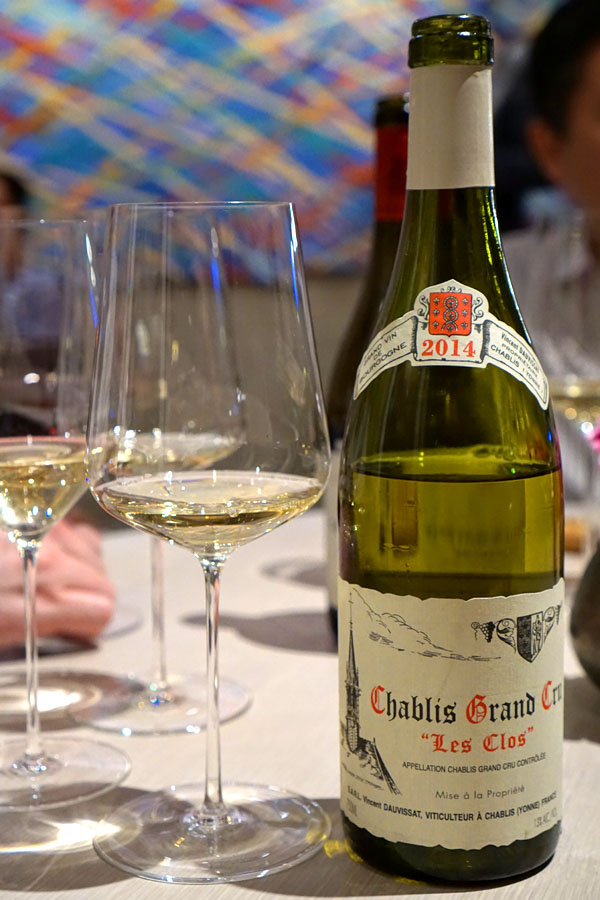 Next to drink was a bottle off of Melisse's wine list: the
2014 René et Vincent Dauvissat Chablis Grand Cru "Les Clos" [$450]
, which Luczy had actually opened, for aeration purposes, roughly six hours before our meal. I got a robust bouquet filled with fruits, flowers, and funk, but with a distinct mineral and saline undercurrent. On the palate, the wine went in a soft, smooth, silky direction, its yellow fruit, citrus, and spice notes joined by a measured application of minerality. Intriguingly, as the Burgundy warmed, some intense pineapple notes appeared, and in fact, they were so assertive that I was actually reminded of
fengli su
. Absolutely lovely.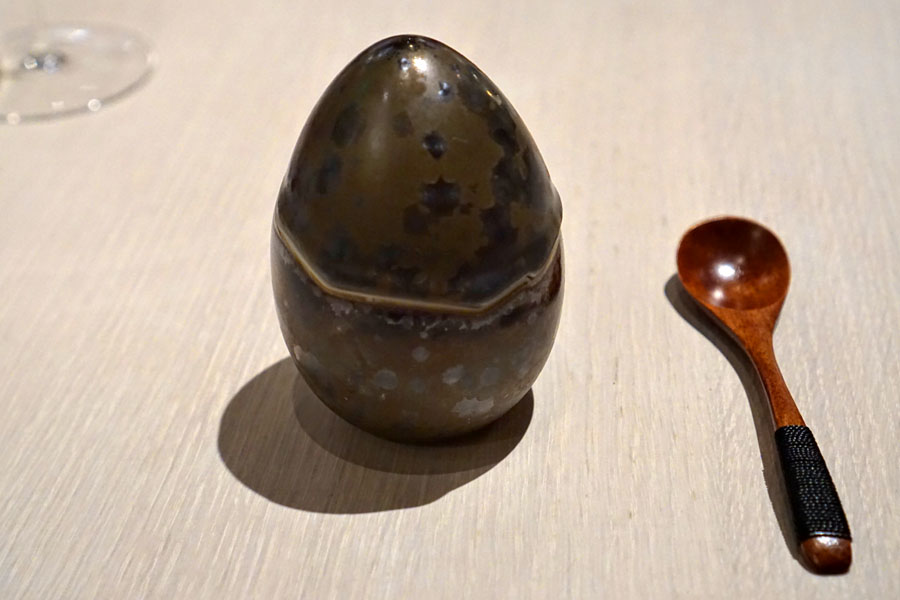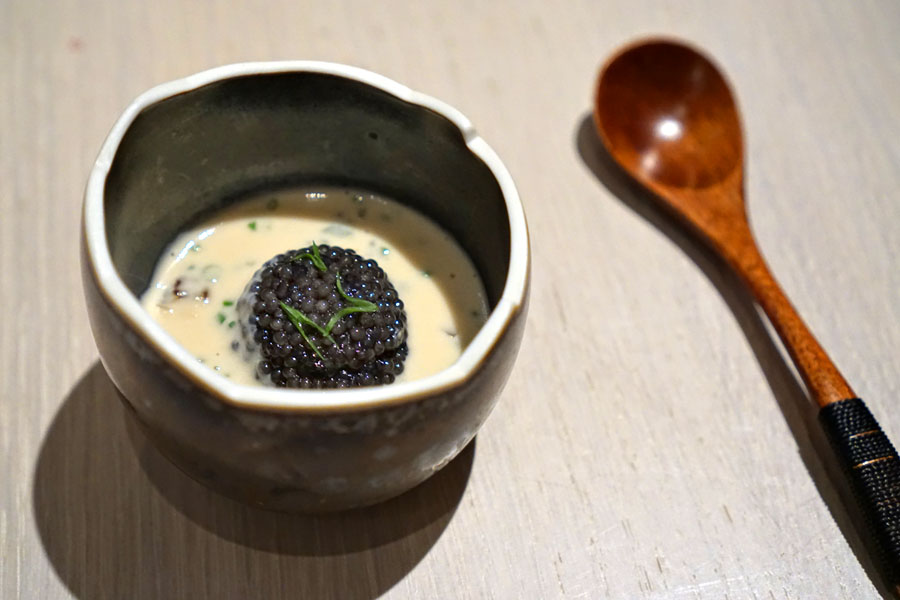 2: Golden Osetra Caviar
| Roasted Potato, Crème Fraîche, Champagne
Inspired by French onion dip, a roasted potato custard was robustly flavored with the savoriness of caramelized onion and the salty bite of caviar. It was a cozy, comfy sort of dish, though I would've liked to have tasted more from the actual potato.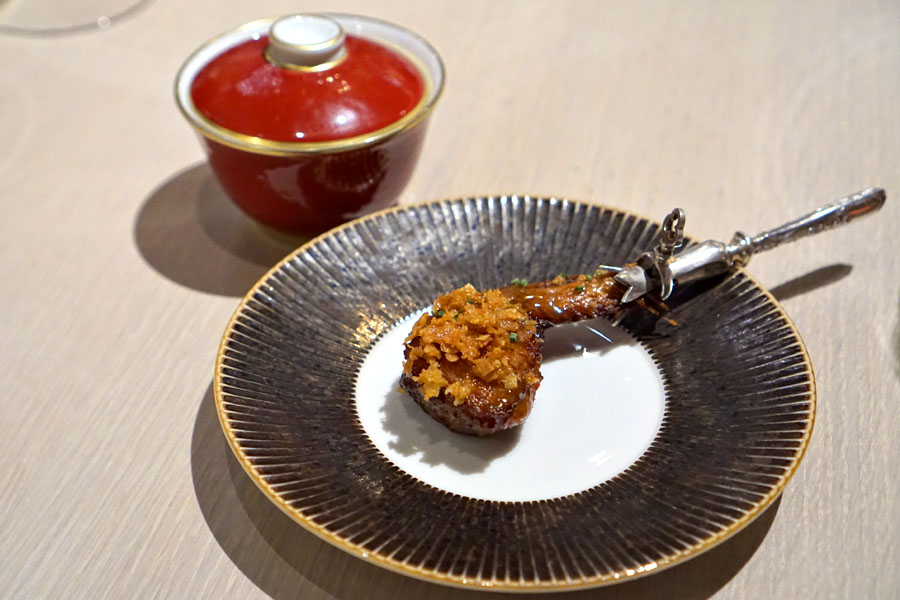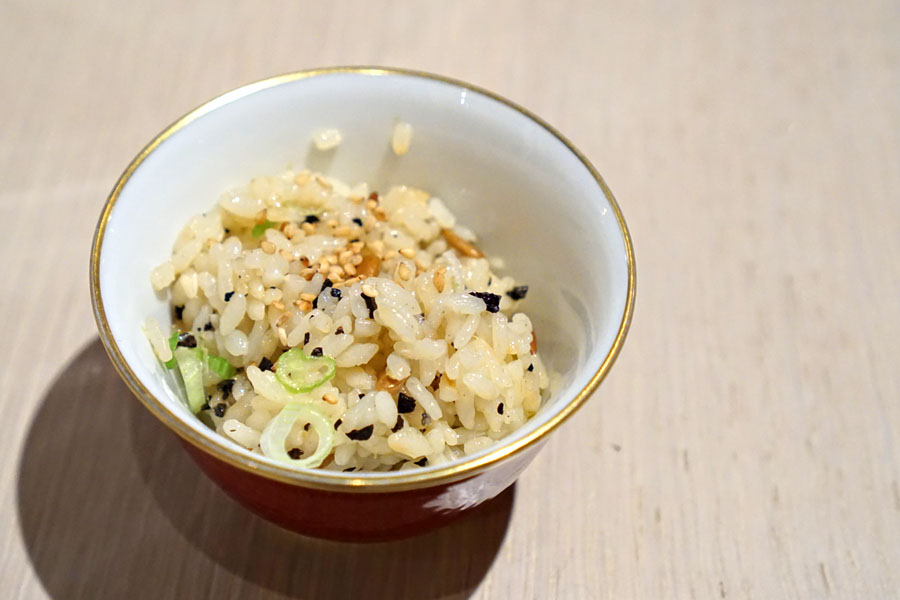 3: Chicken and Rice
| Beer Vinegar, Preserved Truffle
Here came a deboned chicken wing, glazed in beer vinegar and stuffed with preserved truffle and ham, then coated with crispy chicken skin. The wing had this sweet-savory interplay going on, but the flavors were a bit muddled, and didn't reconcile as well as I was hoping for. The accompanying chicken fat-steamed
Koshihikari
rice was the real hero. I loved the incorporation of the various seeds and nuts, as well as the counterpoint offered up by the scallions--I could've easily eaten a bigger bowl of the stuff.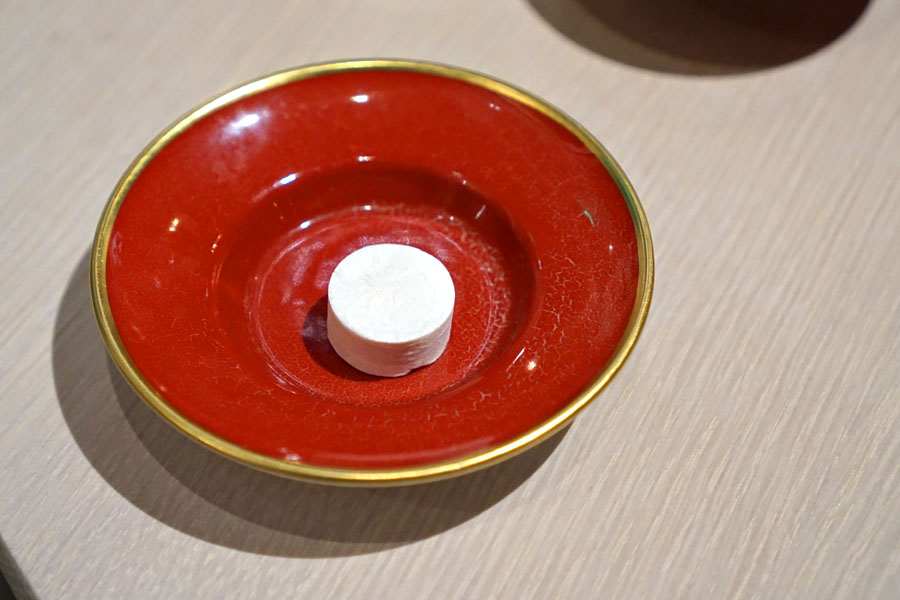 We were then presented with a finger bowl and expanding napkin, just in case we dirtied our fingers with the course above. Interestingly, this made me recall the first time I encountered such a setup, which was at Bruno Chemel's
Baumé
up in Palo Alto over a decade ago.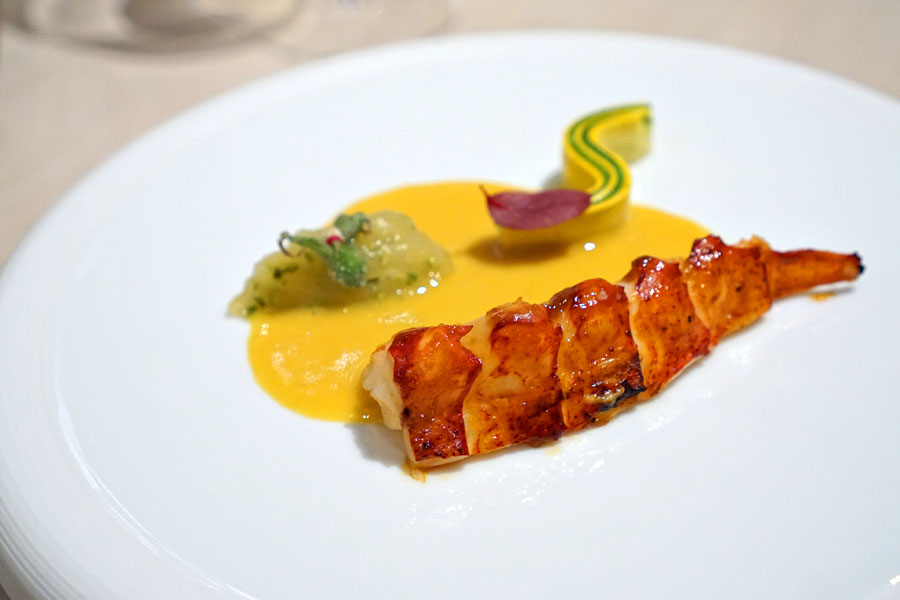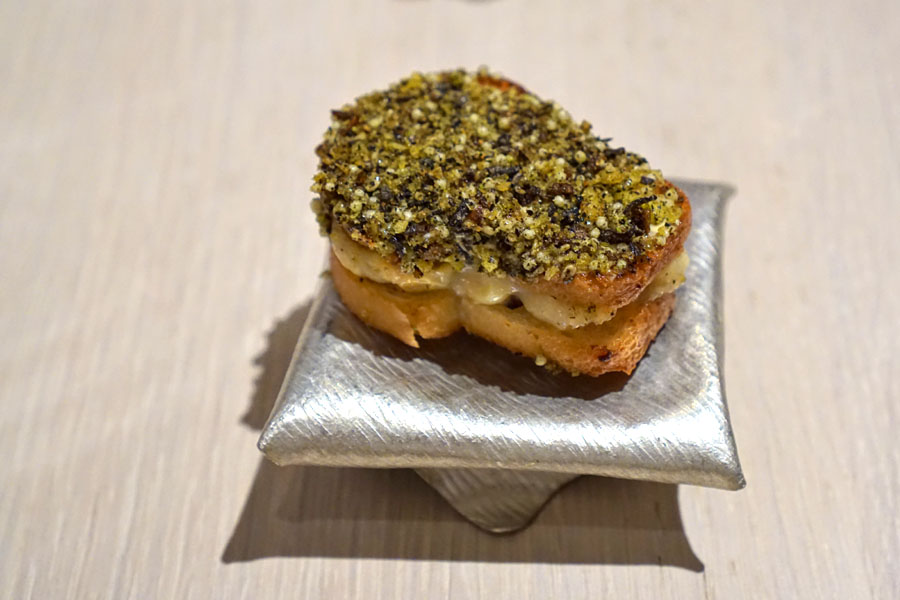 4: Maine Lobster
| Corn, Pain de Mie, Yellow Pepper Ketchup
A dainty lobster tail showed off a simultaneously snappy-but-supple consistency, and had its natural sweetness complemented by a corn-based sauce. My favorite part, though, was that wonderfully pungent dollop of pepper ketchup on the side, which I sort of want with everything now. Accompanying the main dish, meanwhile, was a lobster toast, which melded the sweetness of the crustacean and corn in an even more effective manner, but balanced out by the
pain de mie
and the bite's corn nut furikake topping.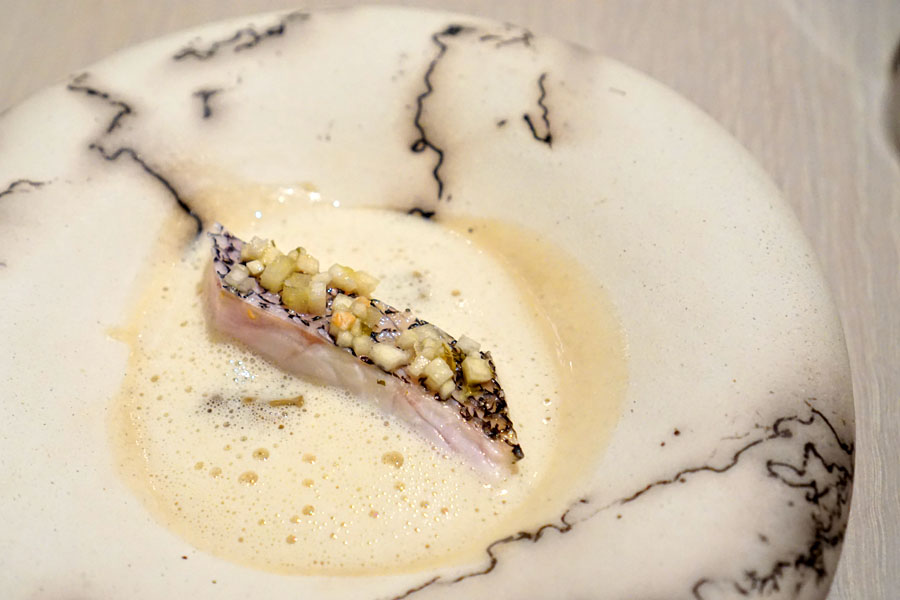 5: Black Bass "À La Vapeur"
| Eggplant, Green Tomato, Beurre Noisette
A satisfyingly textured cut of steamed bass was set in a sweet, rich, nutty broth of brown butter and whey. Eggplant served as a complementary element to the fish, but far more crucial was the zippiness of the green tomato and lemon verbena up top.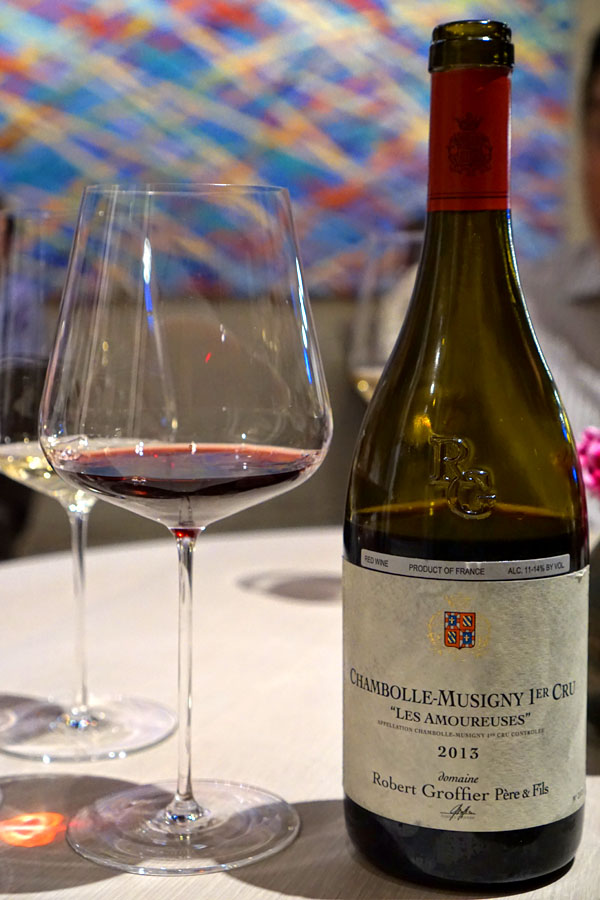 Our third and final bottle was another Burgundy we brought: the
2013 Domaine Robert Groffier Chambolle-Musigny 1er Cru "Les Amoureuses"
. This one smelled strongly of perfume-y flowers and dark fruit, with some meatiness hiding underneath. Taste-wise, I found the wine utterly expressive, its heady violet flavors and juicy berry notes underpinned by a dry, herbaceous backbone, with the overall package giving off a sense of refinement and integration. And if that wasn't enough, I detected a distinct, inviting black pepperiness as the wine warmed. Delicious--as the night progressed, both Burgs progressed, and I kept going back and forth on which bottle I preferred.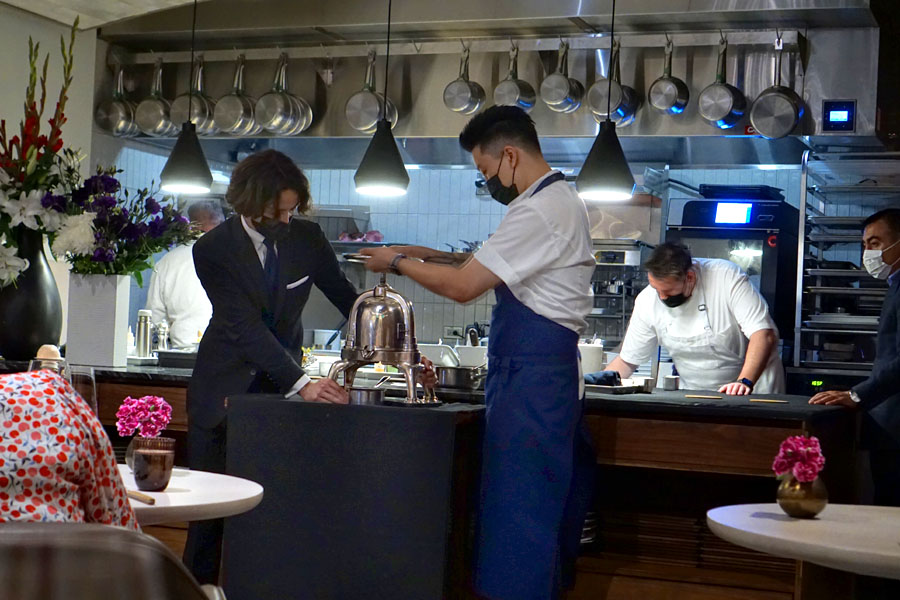 Above we see Luczy and Chef Justin working Melisse's solid silver 19th century duck press. The goal here is to extract the blood and liquids from the duck carcass in order to thicken a red wine- and cognac-based Rouennaise sauce, giving it a velvety, almost chocolate-like consistency.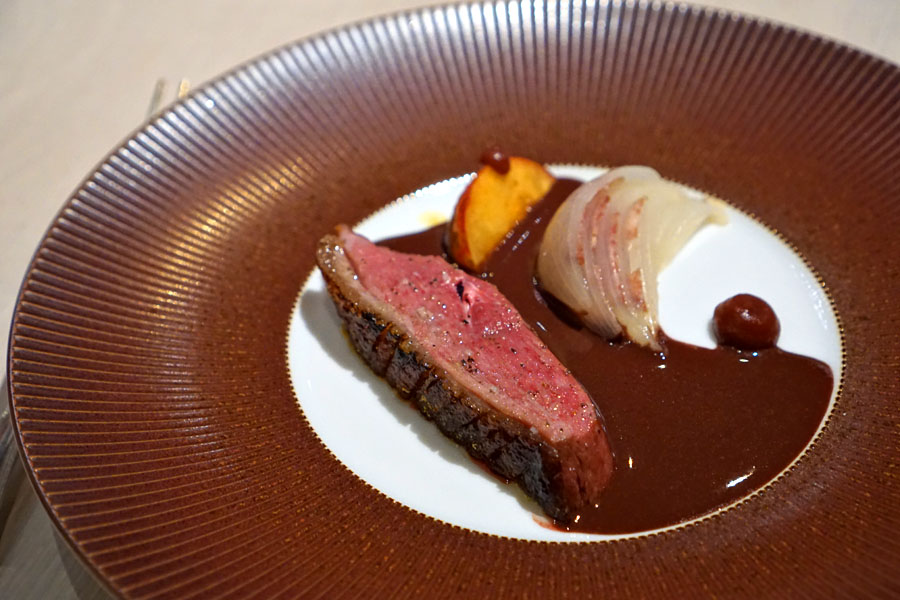 6: Liberty Duck "Rouennaise"
| Plum Condiment, Shiso, Onion Farci
The aforementioned sauce was subsequently applied to this 21-day aged, oven-roasted Liberty duck. Imbued with notes of sweet spice, the bird itself was incredibly full-flavored to be sure, but was surely taken to the next level by that silky Rouennaise, which conveyed both finesse and potency in the same breath. Accoutrements included a seared plum lacquered with plum wine vinegar, a fantastically ginger-y plum-shiso-honey purée, and my favorite: punchy slices of onion layered with spicy sausage.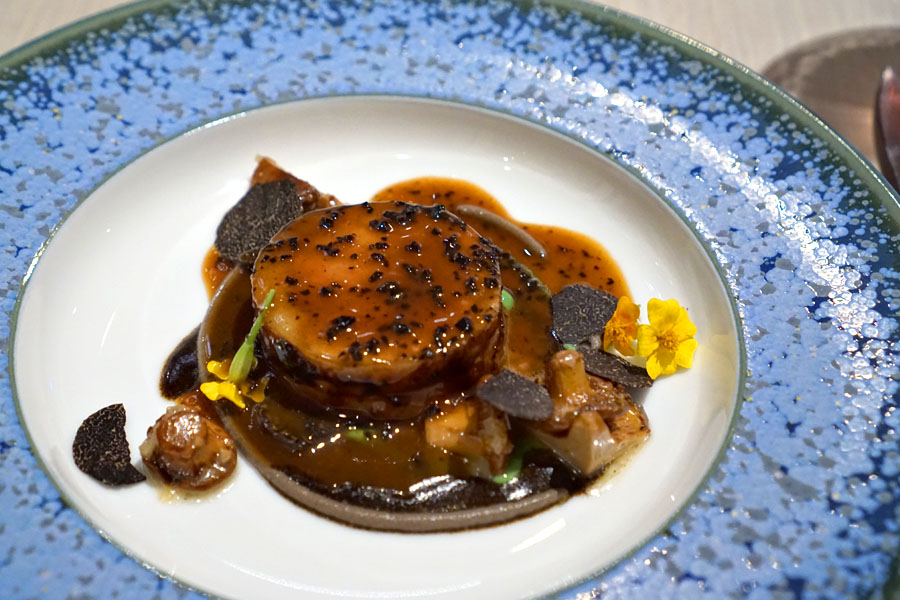 7: Marcho Farm's Veal, Glazed Over Embers
| Chanterelles, Whipped Truffle, Charred Scallion
A medallion of charcoal-grilled veal had a soft, springy, almost gelatinous texture, its relatively restrained flavors taking well to an oloroso sherry-black truffle sauce, all while the charred scallion vinaigrette and sauce verte offered up some diversity. An exemplary pairing with the red wine above.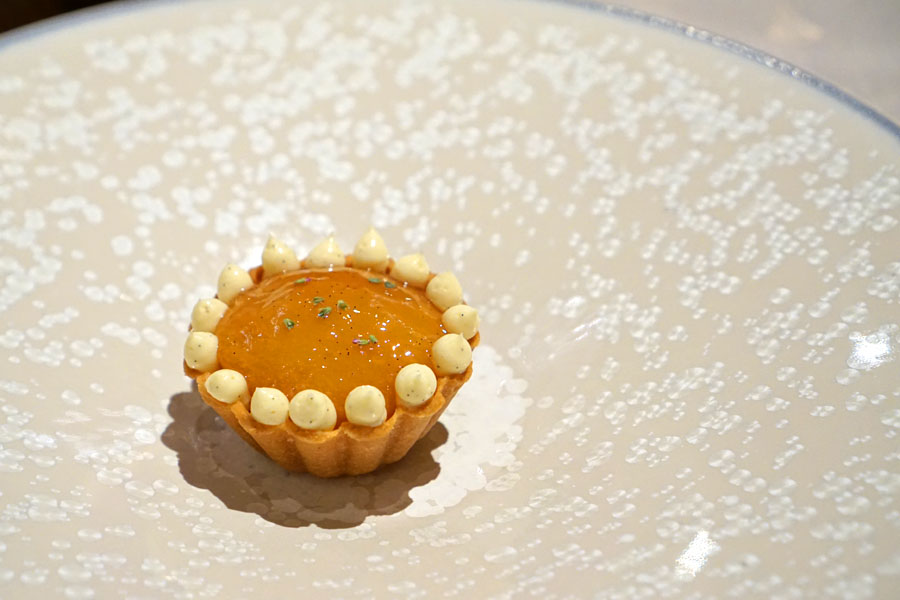 8a: Peach Tart, Vanilla Mousseline, Yuzu
Our first dessert course brought a poached peach tart with a yuzu-vanilla crème anglaise. I was especially fond of the thick, firm, buttery crust, and how that matched up with the rich stone fruit flavors here. I got a nice smidge of tartness from the yuzu, too.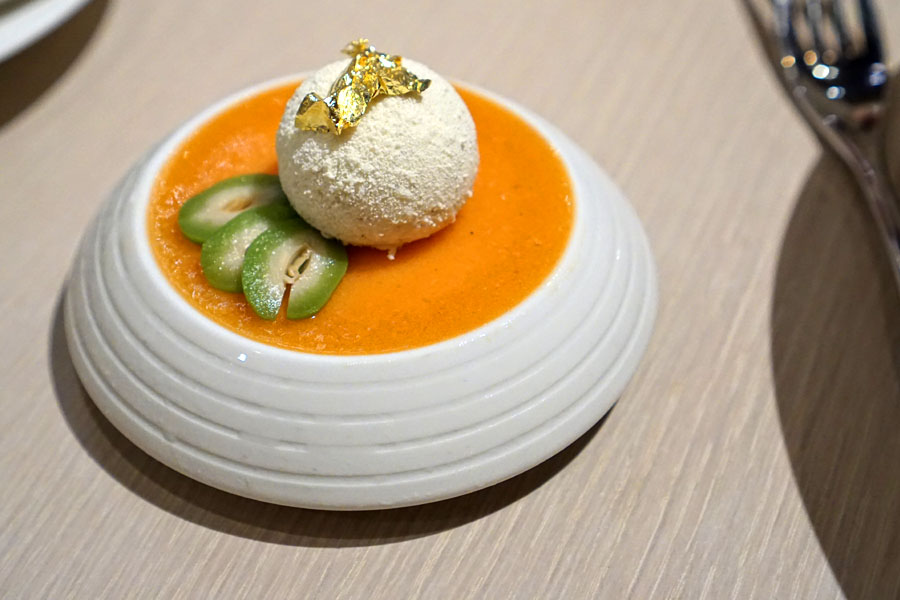 8b: Yellow Peach Sorbet, Mousse, Wakamomo
This next variation on peach was even better. I was pretty enamored with the sorbet, which had just a hint of vegetalness, and how that blended with the white peach mousse sphere. Also key were those sugary, semi-crunchy slices of baby Japanese peach, which were actually utilized in the welcome cocktail above.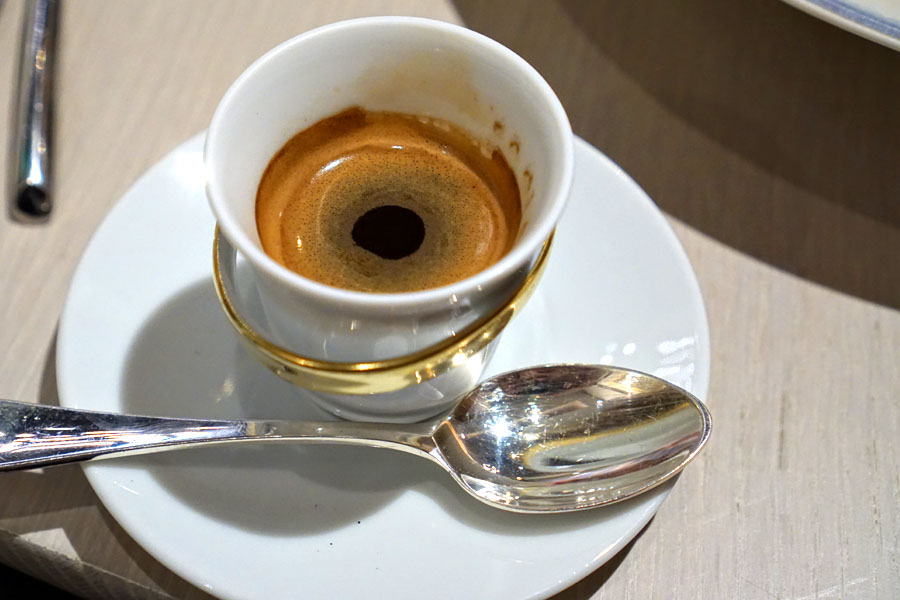 A complimentary cup of espresso to go with dessert.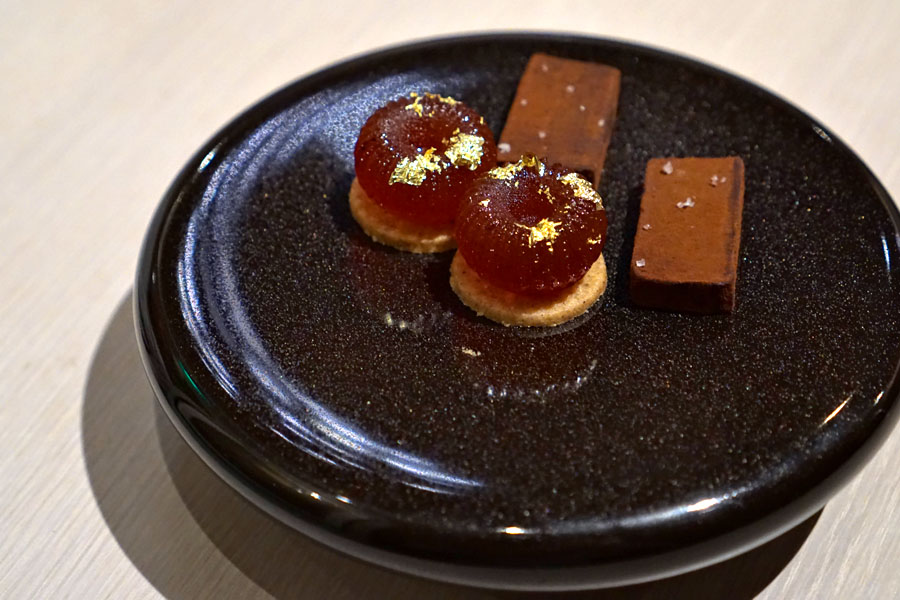 Mignardise 1: Chocolate and Whisky
Mignardise 2: "PBJ"
Our meal concluded with two types of mignardises. First were perfectly textured blocks of fudge, which were quite enjoyable, though light on the advertised whisky. Next came a jammy, somewhat herby passion fruit gelée sat on top of a mountain berry sablé.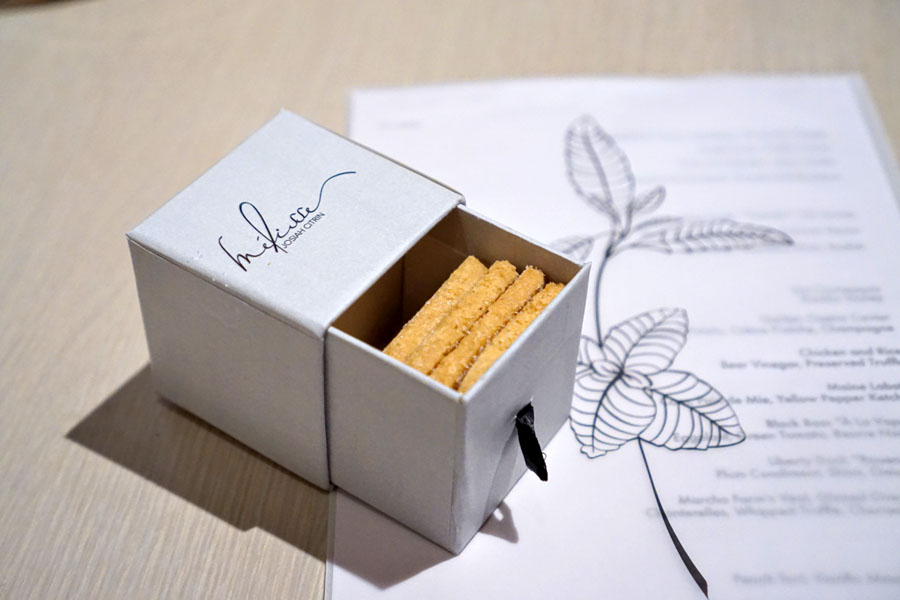 Along with a night's menu came shortbread cookies to take home. Unsurprisingly, I couldn't resist eating one at the restaurant.
Melisse has long been a fine dining staple for the Southland, and with a new Chef on board now, the place looks to have plenty of life left. Getting Scaramuzza is a win for LA, and I think he'll be able to expand the scope of what's possible here, to take the restaurant to new heights. It seems like we're heading into the next chapter for Melisse, and I'm sure the kitchen will continue to grow, so I'm excited to see what else the team has in store for us in the future.