n/soto at JACCC (Los Angeles, CA)
n/soto at Japanese American Cultural and Community Center
244 San Pedro St, Los Angeles, CA 90012
213.628.2725
www.n-soto.com
Wed 09/08/2021, 08:30p-10:50p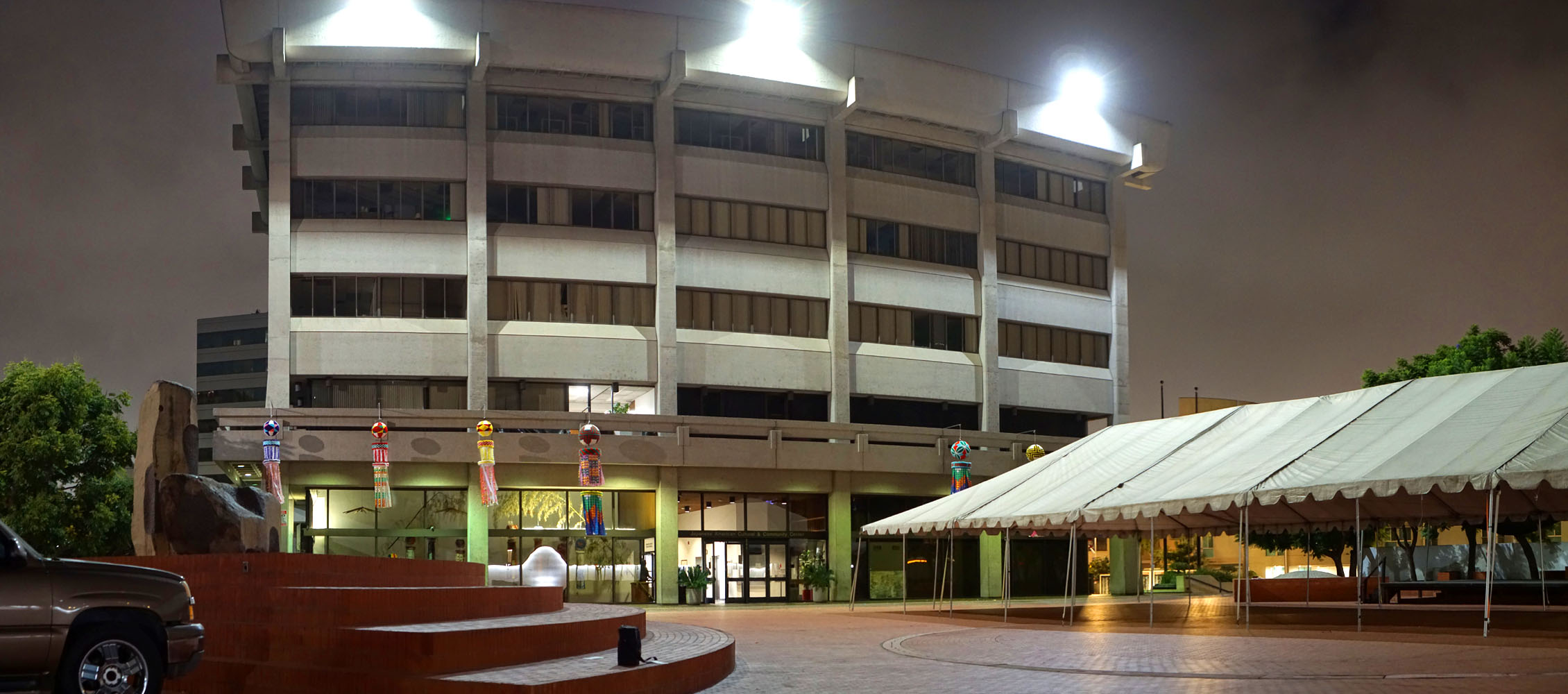 It doesn't seem like it's been that long, but Niki Nakayama's much-lauded n/naka opened
in spring 2011
, over a decade ago. Despite that, it's still one of the toughest reservations in town, and the success of the place always made me wonder if the Chef had any plans for expansion. Well, that question was answered back at the start of March, when Nakayama, spouse/co-Chef Carole Iida, and business partner Erin Wade launched n/soto in the former Ondal 2 space in Mid-City. The new spot was apparently inspired by the
ekiben
-style bento boxes that n/naka
started offering during the pandemic
. In fact, the word
soto
(外) means "outside" in Japanese, and is a reference to how COVID-19 shut people off from the outside world.
Now n/soto's takeout boxes have been largely well-received, but the restaurant aims to serve California-inflected izakaya-style fare when it properly opens, hopefully sometime later this year. As a preview to that, the team has started a series of dinners designed to give diners a taste of what to expect, with the first held on September 1st.
These pop-ups
have been taking place inside Little Tokyo's
Japanese American Cultural and Community Center (日米文化会館)
, specifically the JACCC's
Toshizo Watanabe Culinary Cultural Center
, and are slated to run through November 6th. Meanwhile, helming the kitchen at n/soto is Chef Yoji Tajima, a longtime fixture in the LA Japanese cuisine scene.
About the Chef
: Tajima Yoji (田島洋治) was born in the city of Shimonoseki, in Yamaguchi Prefecture. As a young adult, he struggled to find a job, and thus decided to enroll at Osaka's Tsuji Culinary Institute (辻󠄀調理師専門学校), where he trained in Chinese, French, and Italian cooking, in addition to Japanese of course. After graduating in 1990, he worked in Japan for a period, then immigrated to the United States in 1995. Now in Southern California, he found a job at Taiko in Brentwood, which had just opened the previous year. From there, he was tapped to run the kitchen at the new Taiko Beach Cities in El Segundo, which debuted in late summer 2000.
Following, Tajima spent time at both The Hump and Nishimura before teaming up with Giacomino Drago to open Sushi House Unico in Beverly Crest in 2006. The success of SHU allowed the two to launch Yojisan Sushi in Beverly Hills in April 2012. Things went well for years, but Yojisan suspended operations at the start of the pandemic, and Tajima eventually stepped away from the restaurant. As for how he got his new job at n/soto, it was through Jeffrey Undiarto, n/naka's Wine Director whom the Chef first met at Sushi House Unico/Yojisan. Note that Undiarto also co-owns Iki Ramen in Koreatown (in the old
Saint Martha
space), so Tajima actually prepares special omakase dinners there on Monday nights.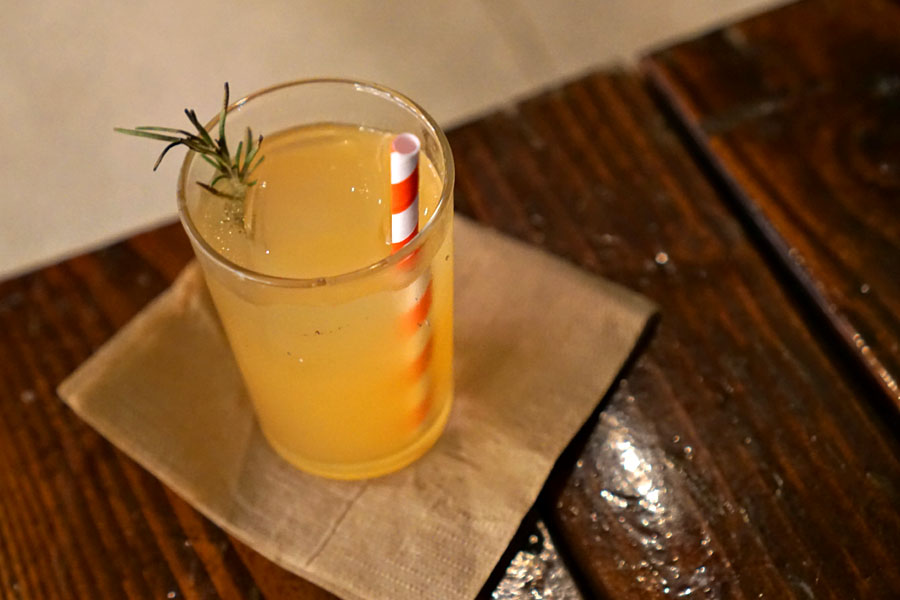 Upon arriving, we were quickly presented with a welcome beverage: a non-alcoholic version of the
Soto De Asobu - Play Outside
from the cocktail list. The drink was made by Steven (an operations guy for n/soto), and comprised grapefruit-rosemary sherbet, grapefruit juice, Fever Tree tonic, and a garnish of rosemary. I found it generally bittersweet and refreshing, though I could've used more from the herb.

After receiving the drink above, we stepped outside to enjoy JACCC's James Irvine Japanese Garden, originally installed in 1980 and designed by the late Dr. Takeo Uesugi.

With our welcome cocktails dispensed with, we then stepped back inside and took a seat at the kitchen counter. The facility also boasts an adjacent dining room that can accommodate over 200 guests.

And here's the view into the kitchen from aforementioned counter.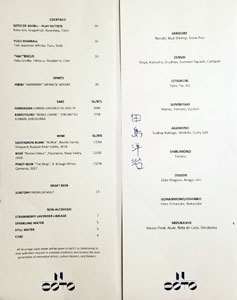 Pictured above is the evening's menu, a nine-course tasting priced at $125 a head (though do keep in mind that n/soto's actual menu will be à la carte). Drink-wise, there was a smattering of beer, cocktails, sake, and spirits on offer, all assembled by Steven and Head Bartender Jason Lee (
Kali
, Superior Motors/Butterjoint in Pittsburgh, The Steeping Room/Bouldin Creek Cafe/Uchiko in Austin). Corkage was $30 for the first bottle, and $40 for the second, and apparently all beverage-related sales are being donated to JACCC. Click for a larger version.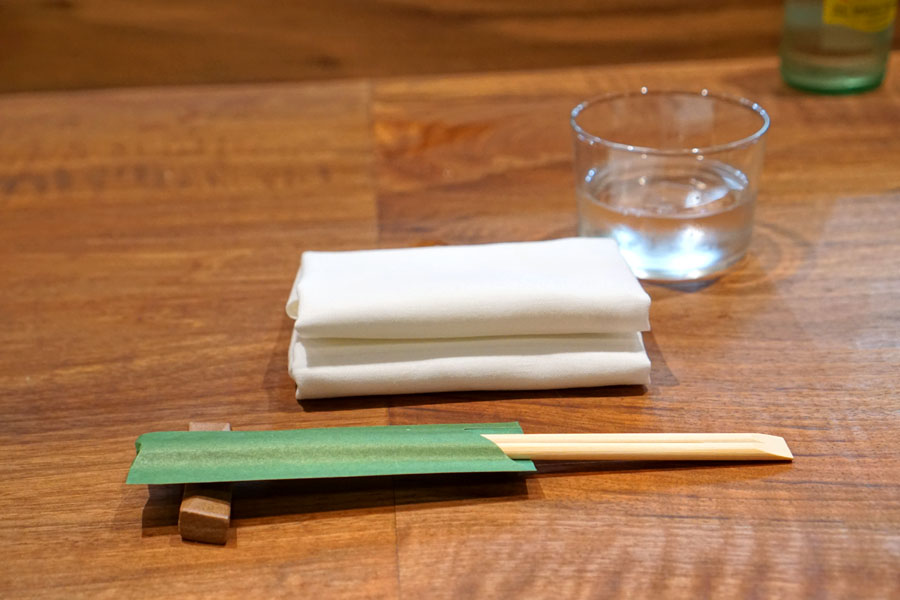 A very simple place setting. Note that we were also provided with
oshibori
, chilled of course given the hot weather we've been having.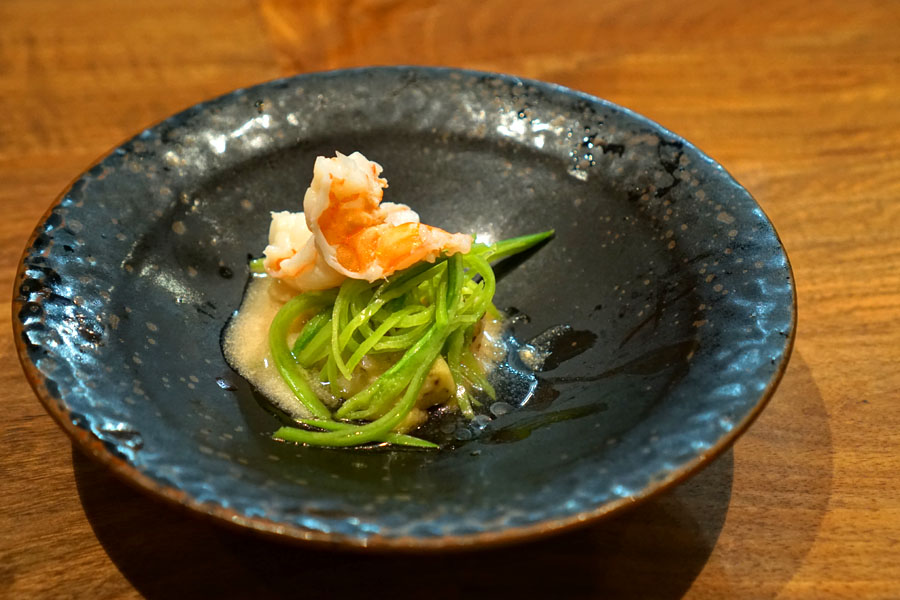 1: Sakizuke
| Nasubi, Blue Shrimp, Snow Pea
The evening's first course set a promising tone for the rest of the meal. The shrimp were well textured, their sweet salinity giving way to umami-focused nuances the more I chewed. They meshed easily with the smoky, dashi-soaked eggplant and nutty sesame sauce, all while the crunchy snow peas served as a very welcomed exclamation point.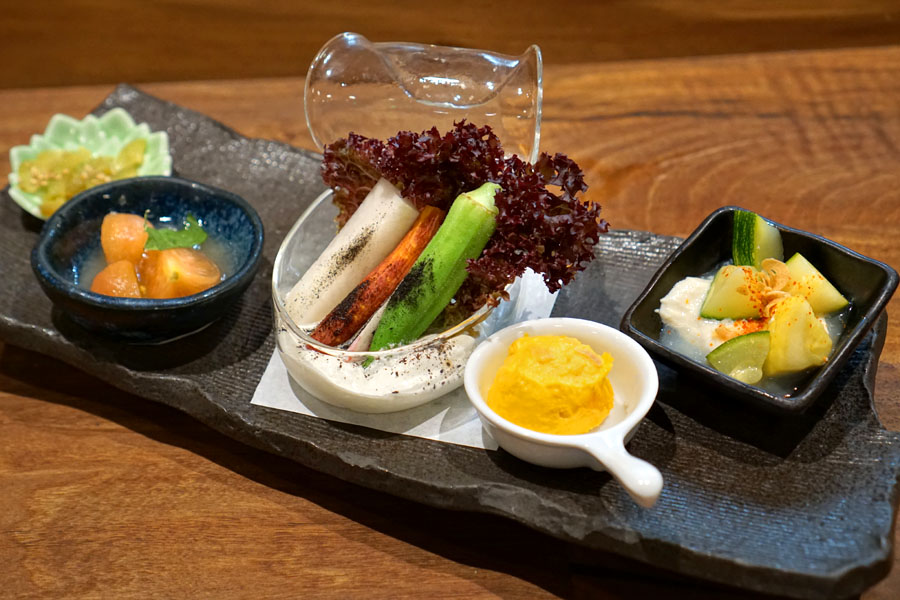 2: Zensai
| Goya, Kabocha, Crudites, Summer Squash, Campari
Next came a collection of five small bites. Going left to right:
Slices of ume-steeped goya (bitter melon) had their intrinsic bitterness cut by both sesame and sourness.
Campari tomatoes demonstrated a great back-and-forth between their inherent juicy freshness and the umami-filled funk of their shio koji marinade.
Crudités combined crisp veggies with a wonderfully lactic, almost yogurt-y charred onion-soy crème fraîche.
A potato salad-like preparation of kabocha did a superb job juxtaposing the sweetness of the squash with the zippiness of pickled onions.
Last up were cool, refreshing cuts of summer squash, paired with a delightful fresh tofu and the far more intense flavors of fried garlic and what seemed like shichimi. A winning combination to be sure.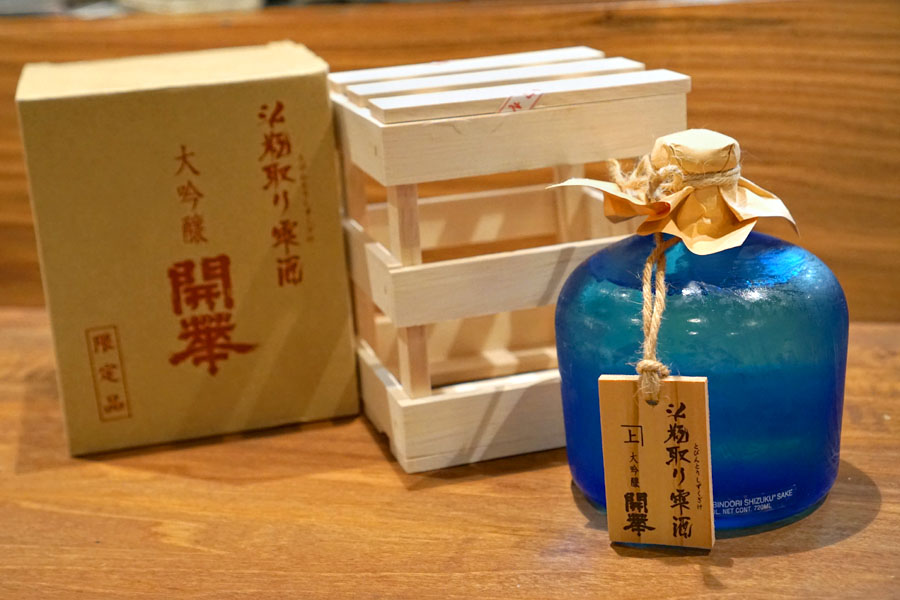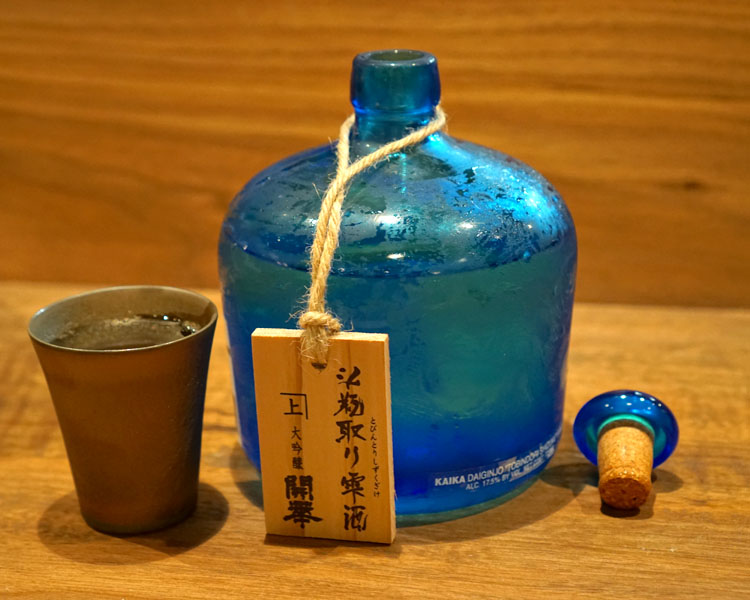 I ended up bringing a bottle to go along with the food: the
2021 Kaika "Tobindori Shizuku" (開華 斗瓶取り雫酒)
, a
Yamadanishiki
-based, 38%
seimai-buai
,
fukurozuri
-style,
daiginjo genshu
-class sake from Tochigi Prefecture's Daiichi Shuzo (第一酒造). This one had a powerful nose filled with fruity, floral elements and backed by savory, rice-y notes. I found the sake lush on the palate, its initial blasts of umami, heat, and saline transitioning to a spine of rich orchard fruit, which further intensified as the drink warmed. I also have to give credit to the brewery for the packaging here, which is some of the most unique I've seen. The striking blue bottle is meant to replicate a
tobin
, a large glass vessel traditionally used to hold sake for competition purposes.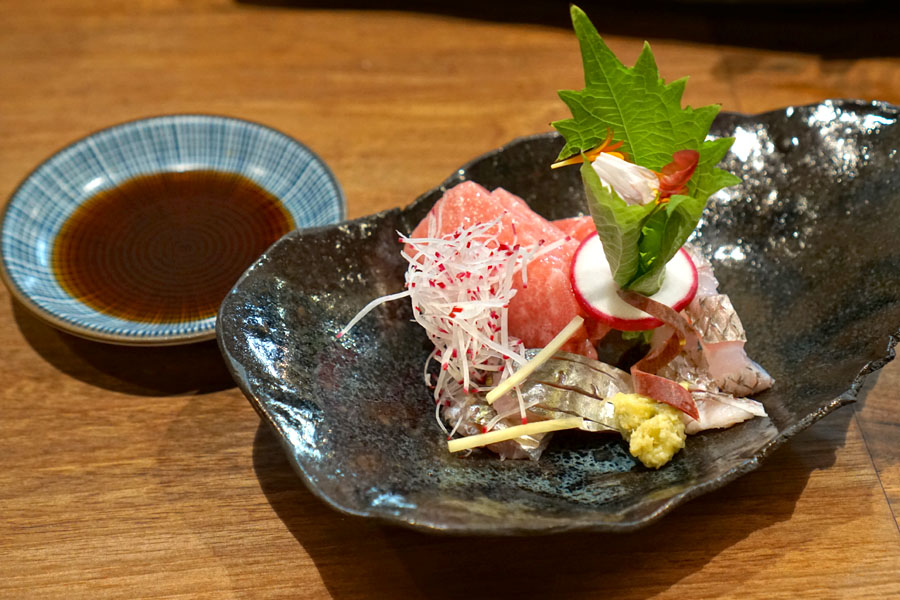 3: Otsukuri
| Toro, Tai, Aji
Next came three cuts of sashimi, served with dashi soy sauce:
I started with the Spanish mackerel, which showed off a refined salinity as well as a spot-on texture. Nice with the included juliennes of ginger.
Next up were the supple cuts of snapper, which I enjoyed simply with a dab of shoyu.
Last came the toro, sourced from Mexico. Think luscious and melt-in-your-mouth, delicious alone but even better with the application of soy and wasabi.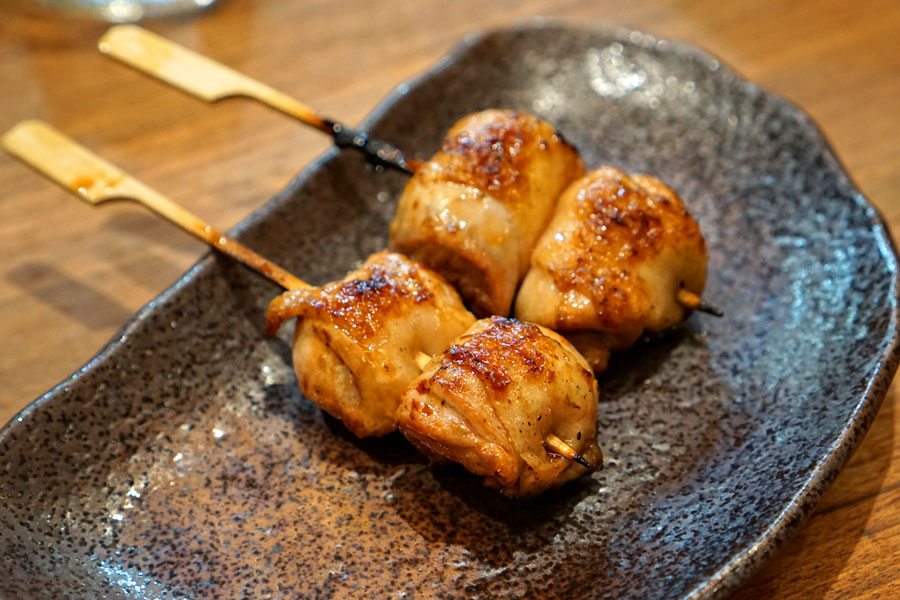 4a: Sumibiyaki
| Momo
The first of three charcoal-grilled items was perhaps the most prototypical yakitori cut of them all: chicken thigh. The
momo
was more tender and more succulent than most, with a healthy dosing of smoke and a marked sweetness that lingered long.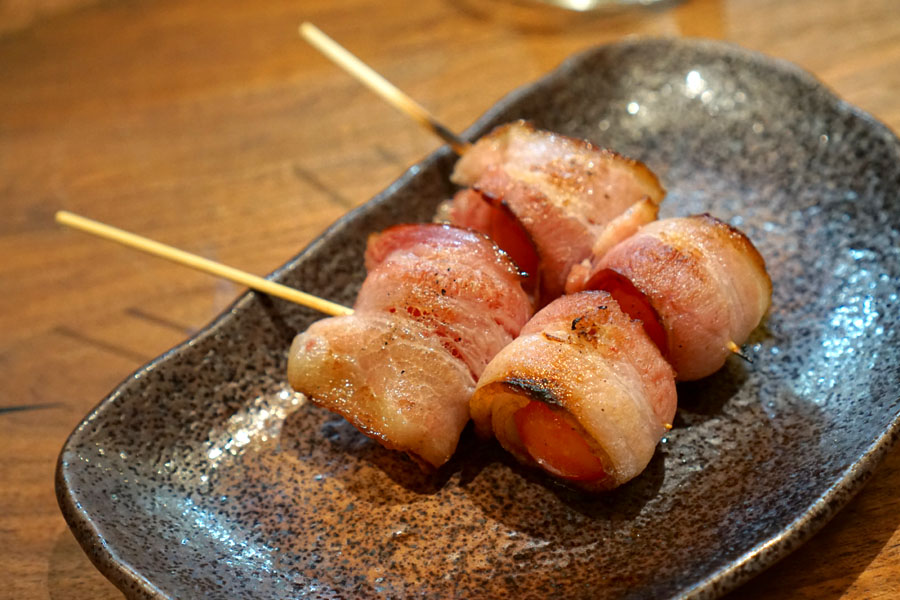 4b: Sumibiyaki
| Tomato
Tart, juicy tomatoes came wrapped in salty Japanese bacon, making for a delectable marriage of disparate tastes and textures.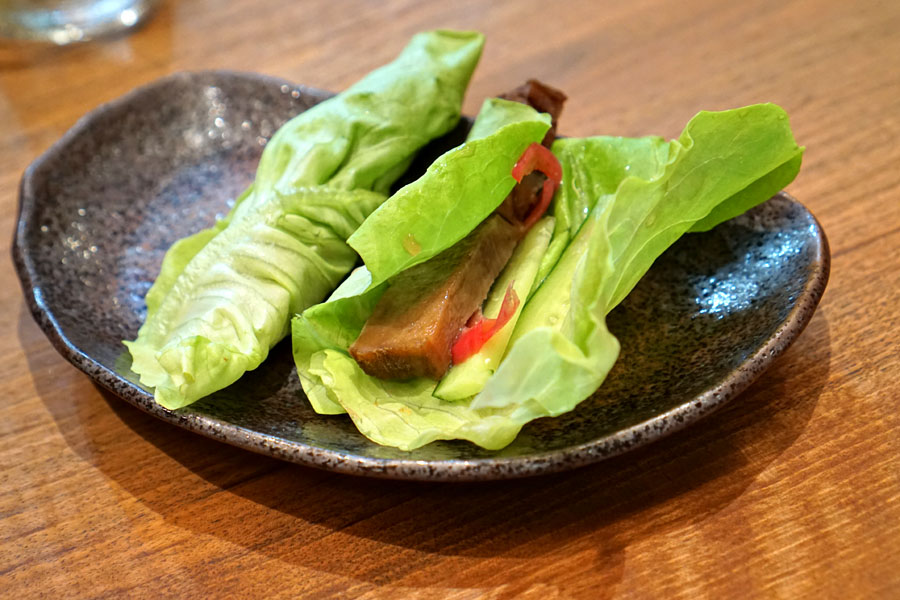 4c: Sumibiyaki
| Gyutan
Last up was braised-seared beef tongue, which conveyed an almost char siu-esque sweetness. Said sweetness was complemented by the crunch of cucumber, while the butter lettuce wrap smoothed it all out.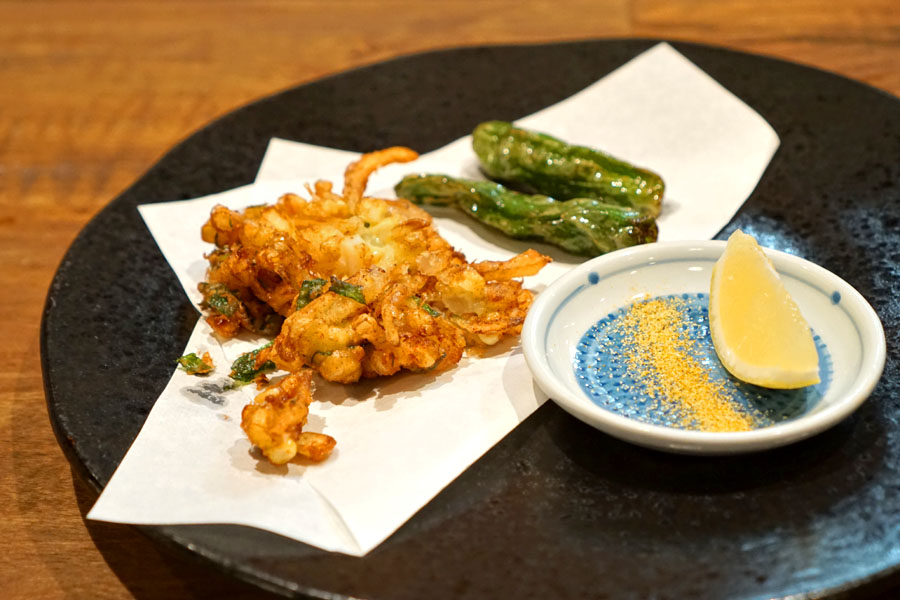 5: Agemono
| Scallop Kakiage, Shishito, Curry Salt
The evening's fried course effectively combined the sweetness of both scallop and corn in tempura form. The
kakiage
was quite enjoyable just by itself, but I did appreciate the additional facets provided by the curry salt and lemon. As for the flash-fried shishito peppers? Spot-on with their smoke and heat.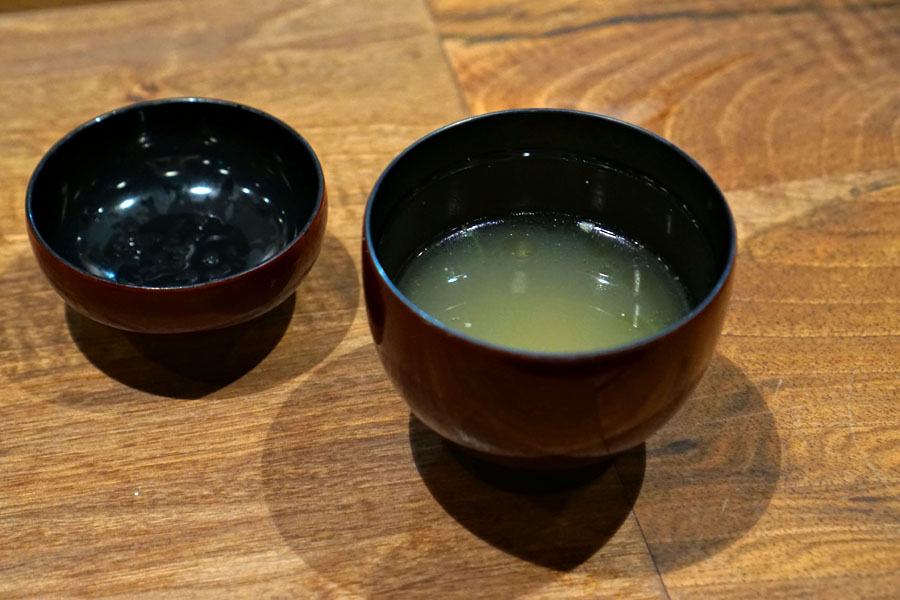 6: Shirumono
| Torijiru
A light chicken soup featured an elegant sort of savory depth brightened up by bits of green onion.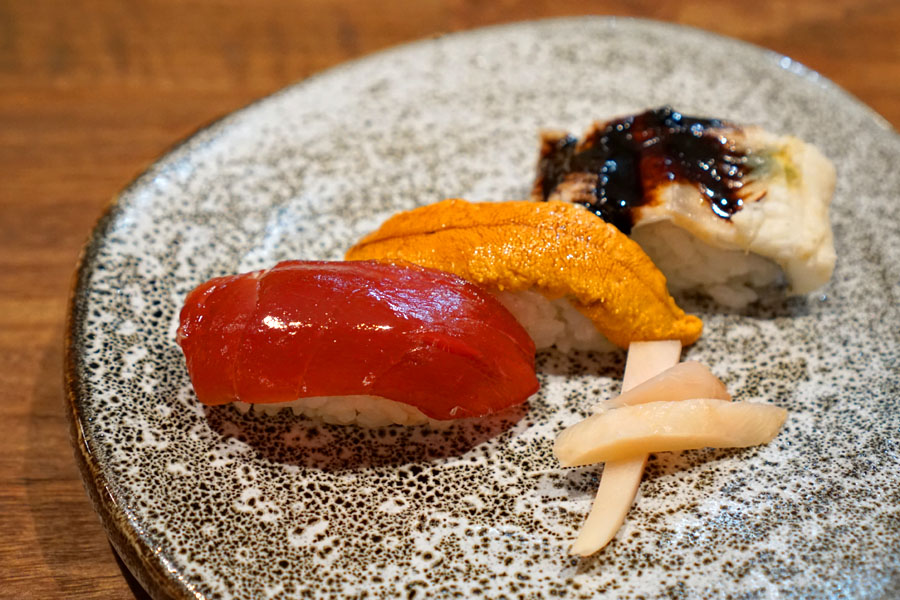 7: Osushi
| Zuke Maguro, Anago, Uni
At this point, we were provided three types of sushi, served with thick-cut ginger:
Marinated tuna from Spain had all the mouthwatering, soy-fueled richness you'd expect. The rice certainly worked for balance, though it seemed a bit "flat."
Santa Barbara sea urchin was somewhat more luscious than what I'm accustomed to, but also possessed a good bit of saline on the back end.
Last up was a very mineral-driven presentation of sea eel, one that had its brine offset by a sweet-ish tsume dressing.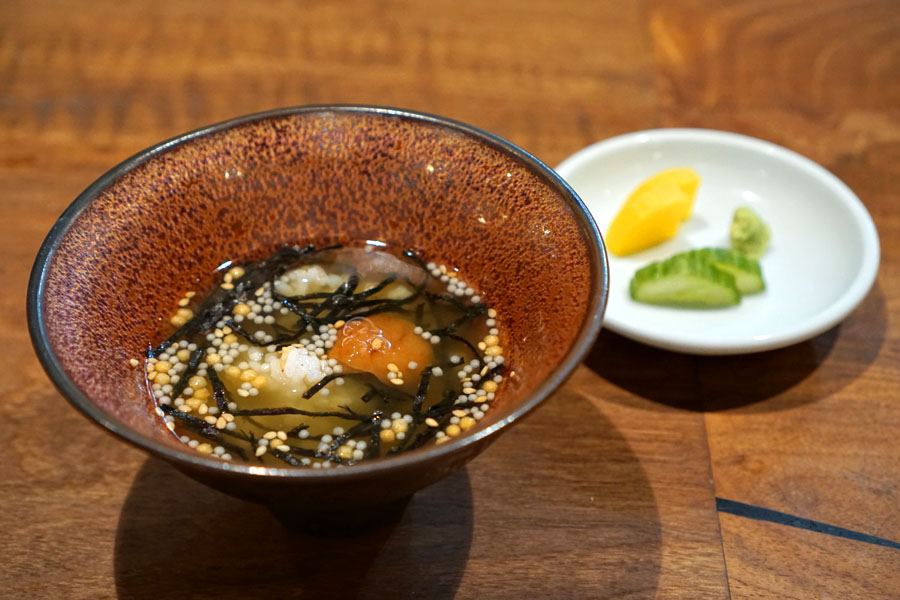 8: Gohanmono/Oshinko
| Ume Ochazuke, Nakazuke
An ume dashi, nori, and rice cracker-boosted
chazuke
ate as homey and cozy as you'd expect, and functioned as great closer to the savory portion of our meal. Accompanying the dish were
takuan
,
nukazuke
-style cucumber pickles, and wasabi, all of which provided some measure of contrast to the rice.
9: Mizukashii
| Melon Float, Azuki, Nata de Coco, Shiratama
Dessert was a winner as well. I loved how the refreshingly sweet, almost bubble gum-like housemade melon soda combined with the vanilla ice cream, all while the red bean,
shiratama dango
(mochi balls), strawberries, and coconut gel provided further textures and flavors that all harmonized beautifully.
Yoji-san did a pretty commendable job tonight with the menu, and it was nice to be able to see the breadth of his cooking. Naturally, I was thrilled when I first heard about n/soto's opening, but I'm even more excited now. As for said opening, the team is aiming for a November launch according to the Chef, and once that happens, I could certainly imagine the place becoming the premier izakaya-style restaurant in the Southland.