J's Korean Cuisine (Fullerton, CA)
J's Korean Cuisine : Chicken and Bibimbap
114 W Commonwealth Ave, Fullerton, CA 92832
714.519.3360
www.jcfullerton.com
Sun 10/31/2021, 01:00a-02:00a
I was recently in search of some late night (early morning) takeout in north Orange County, and ended up checking out J's, a Korean-American fusion spot in Downtown Fullerton's SOCO district. The place is the creation of Korean-born Ko Kwanglim (a.k.a. James Ko), who's actually an airline transport pilot. He'd always wanted to have his own restaurant, and after being encouraged by his wife, opened J's Korean Cuisine on March 17th, 2017 as his first ever business venture. To help run the place, he brought on his brother James, who boasts experience in the hospitality industry and also went through pilot training, as well as his sister Jessica, who was a flight attendant. As you can probably surmise, the eatery's name was inspired by the names of the three siblings.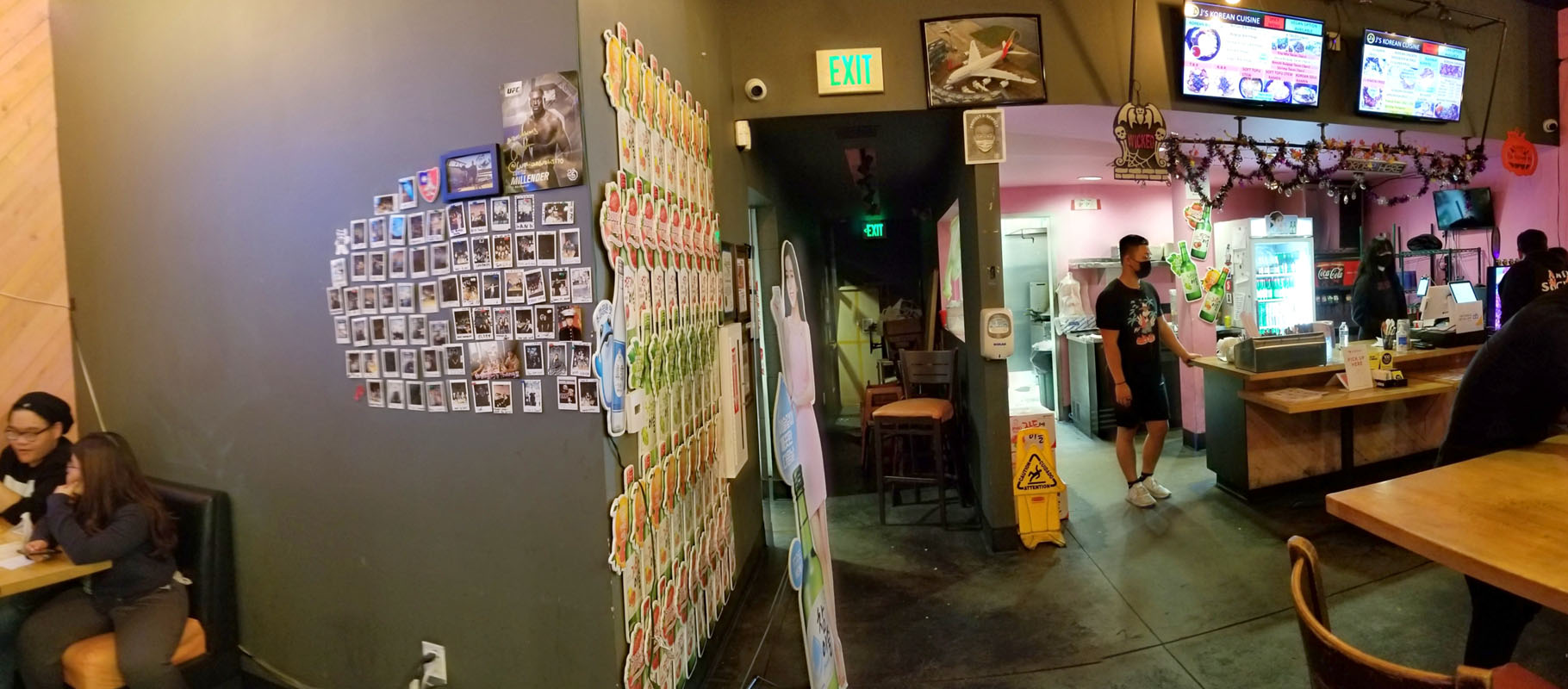 Inside, things look as you'd expect for a place like this. The space was previously home to another Korean fusion joint called Seoulmate, and before that, was occupied by Moon Wok and Cajun Swamp.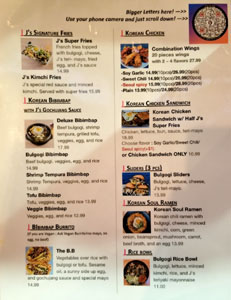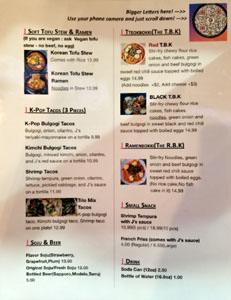 The menu's fairly straightforward, and lists a selection of Korean staples, some more reimagined than others. Drink-wise, there's simply a smattering of beer and soju on offer. Click for larger versions.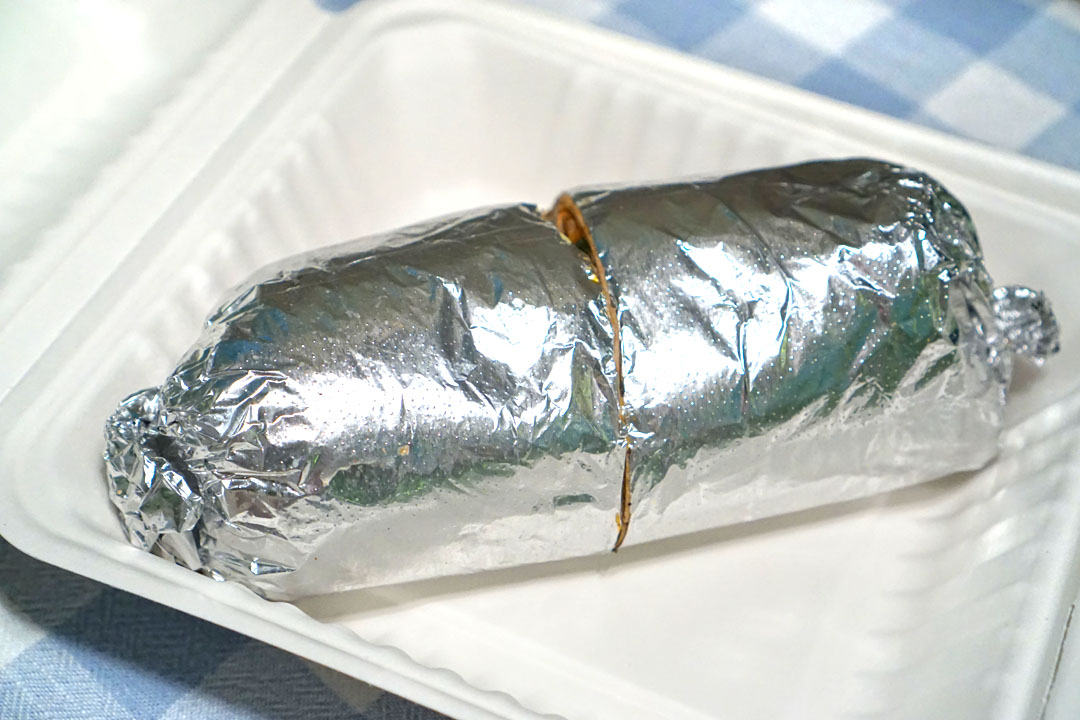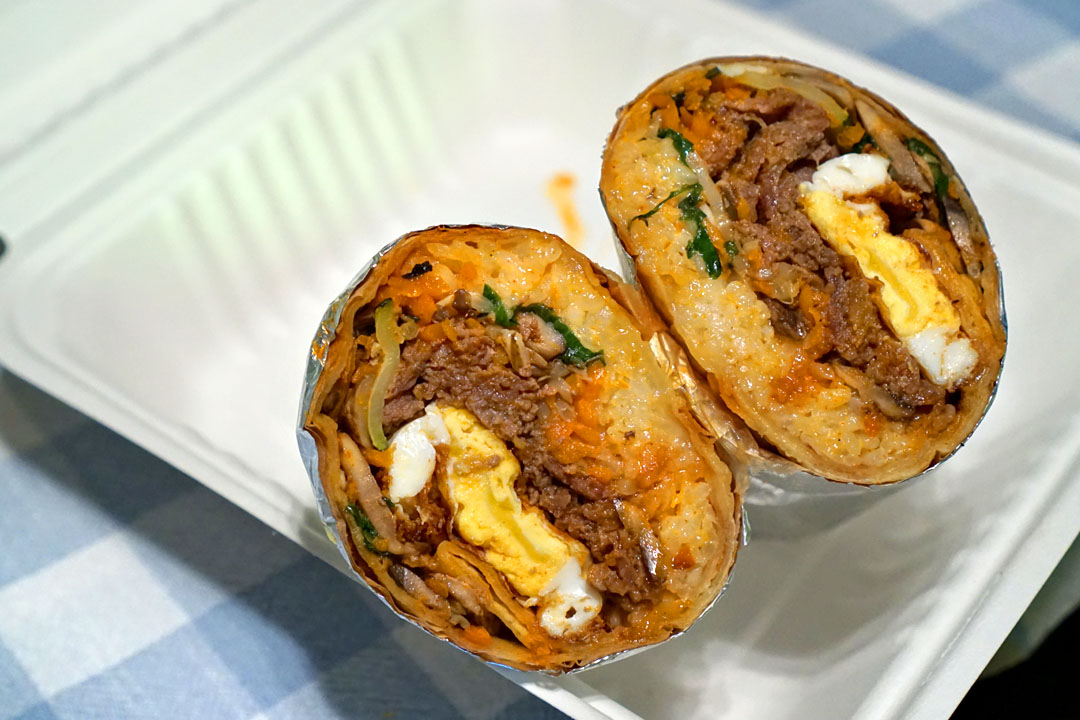 The B.B [$14.99]
| Vegetables over rice with bulgogi or tofu. Sesame oil, a sunny side up egg, and gochujang sauce and special mayo
Let's get started with J's bulgogi burrito, which was probably my favorite item of the night, as I really enjoyed the back-and-forth between the beef and the sweet heat of gochujang. The fluffy egg was certainly a welcomed addition, but even better were the umami notes from the mushrooms and the brightness of the veggies, while the rice kept it all in check.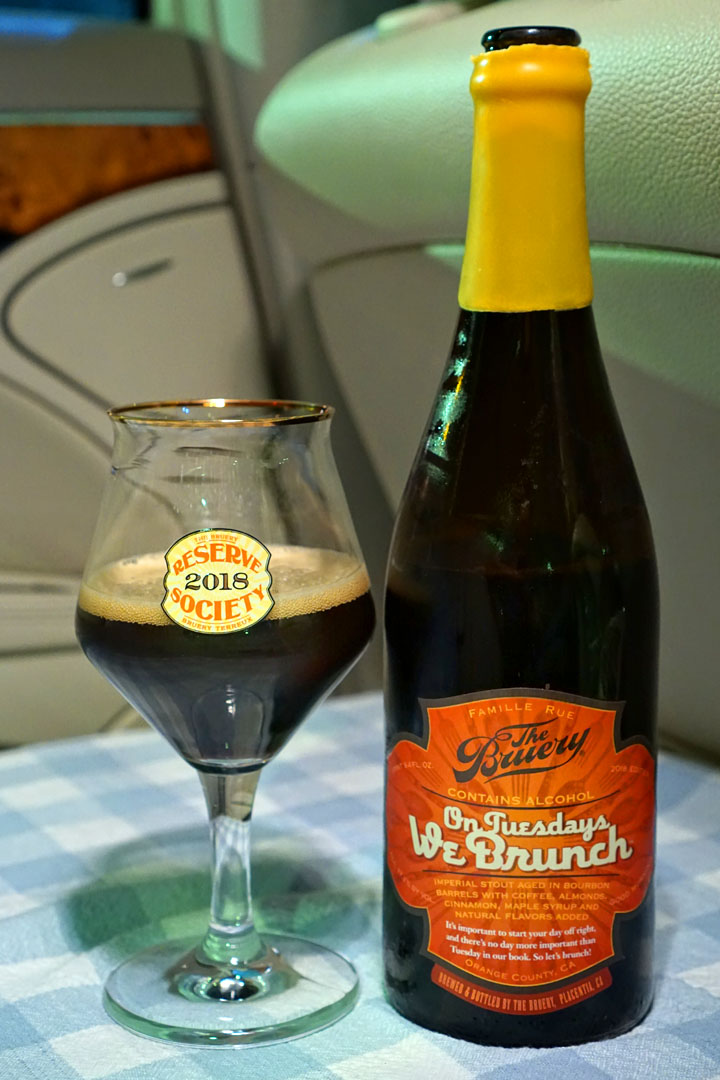 To drink, we have here the
2018 The Bruery On Tuesdays, We Brunch
, a bourbon barrel-aged imperial stout with coffee, almonds, cinnamon, and maple syrup. The brunch-inspired beer smelled of roast, cocoa, and sugary syrup, but with a layer of savoriness hiding underneath. Taste-wise, I got a mix of chocolate, oak, maple, and boozy heat, with the sweet spiciness of cinnamon appearing toward the finish.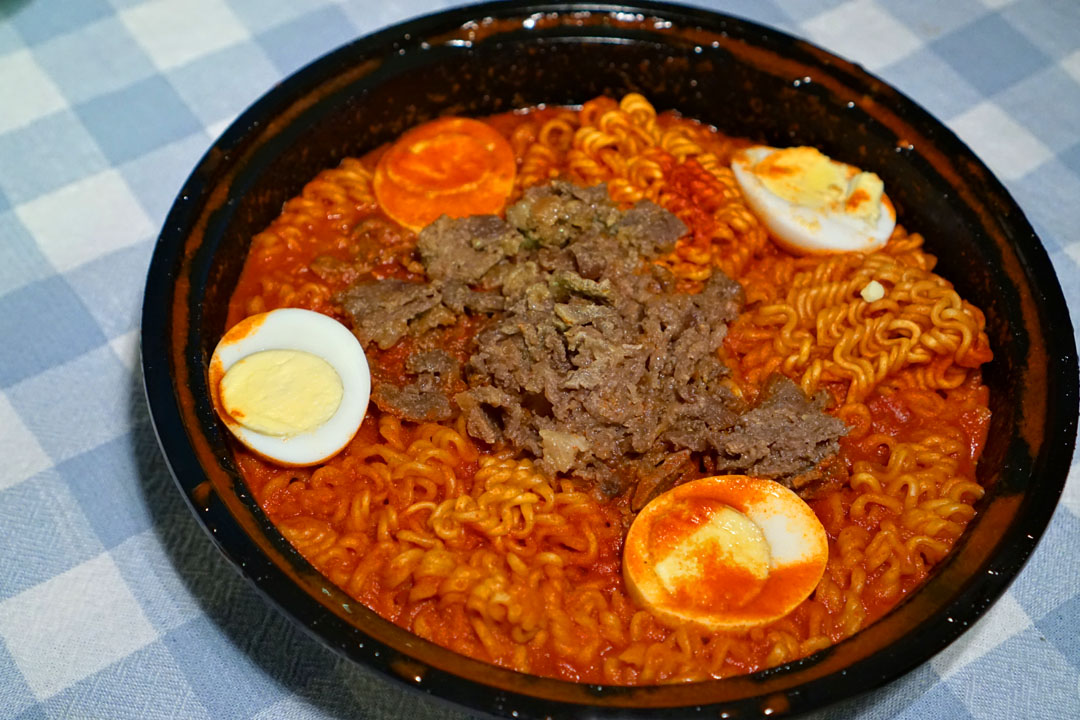 Ramenbokki (The R.B.K) [$14.99]
| Stir-fry Noodles, green onion and beef bulgogi in sweet red chili sauce topped with boiled eggs. (No rice cake, No fish cake in it)
The
rabokki
showed off all the traditional gochujang-fueled flavors I was expecting, with the sweetness of the bulgogi working as a nice contrast to it all. The eggs, meanwhile, were on point and much appreciated, but the advertised green onion was missing. Even more concerning was that the ramen was on the overcooked side and thus a bit mushy. This all made for a texturally monotonous dish, one that really would've been improved with the addition of some
eomuk
.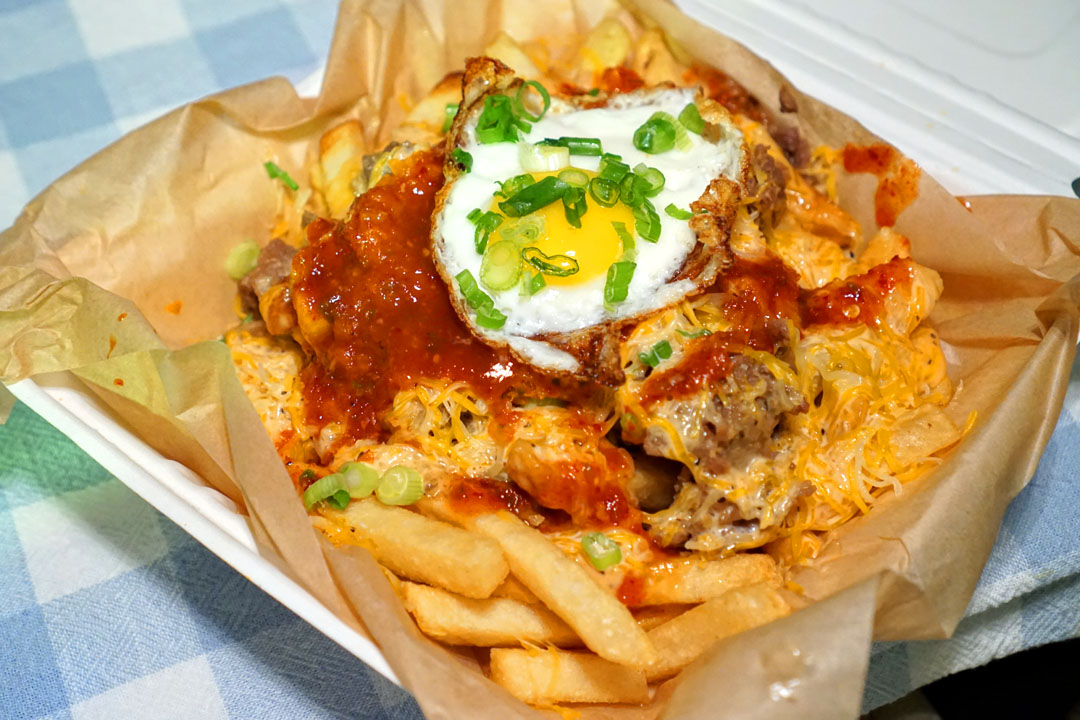 J's Kimchi Fries [$15.99]
| J's special red sauce and minced kimchi. Served with super fries
J's signature fries certainly satisfied. The dish had this enveloping sort of sweetness, but the kimchi-gochujang combo added an offsetting heat that worked; I would've liked to have seen larger pieces of
baechu
, though. The bulgogi made sense as well, especially when taken in concert with the scallions, and the cheese actually help tie everything together. As for the French fries, they were of the classic diner style, and pretty much spot-on.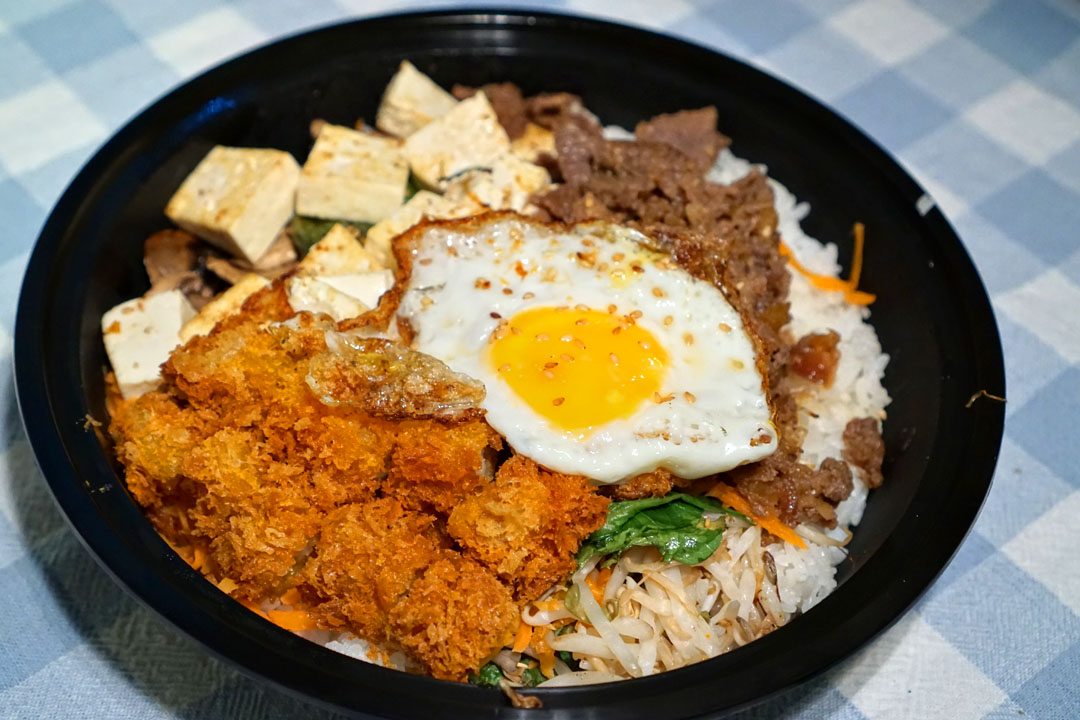 Deluxe Bibimbap [$17.99]
| Beef bulgogi, shrimp tempura, grilled tofu, veggies, egg, and rice
I quite enjoyed the bibimbap as well. The bulgogi was basically identical to what I had above, while the tofu was a winner, coming out well seasoned and well textured. Even more gratifying was the "tempura," which was actually an
ebi furai
given its crispy panko coating. The rice was just as I like, and the egg was properly runny, while even more crucial was the lightness imparted by the veggies, the
sukjunamul
in particular. After tossing in some gochujang and mixing it all up, I found that everything married together rather swimmingly.
If you're looking for eats at 1:00am, you could certainly do worse than J's, and actually, the food's tasty enough to satisfy during normal dining hours too (well, with the exception of the R.B.K). I'd probably come here somewhat regularly if I lived in the neighborhood, and in fact, the place seems quite replicable, so who knows, maybe I'll eventually have a location closer to me.