Pilot (Los Angeles, CA)
Pilot at The Hoxton
1060 S Broadway, Los Angeles, CA 90015
213.725.5862
www.pilotdtla.com / www.pilotdtla.menu / www.thehoxton.com/downtown-la/pilot-restaurant/
Tue 10/26/2021, 08:30p-10:50p

Certainly, one of the biggest restaurant openings of 2021 has to be that of Stephanie Izard's
Girl & the Goat
. I enjoyed my meal there back in July, so I was glad to hear that the Chef would be launching another spot in LA, this time an outpost of her Peruvian concept Cabra, slated to open in December. Now as for where Cabra will be located, I was surprised to find out that it's taking over Pilot, the rooftop eatery at Downtown's Hoxton hotel. Thus, given Pilot's imminent closure, I decided to check the place out while I still could.
The restaurant's name is actually a nod to the hotel's appearance in the 1921 film
Stranger than Fiction
, in which an airplane takes off from the building's roof. It officially debuted on October 29th two years ago, shortly after the hotel's grand opening, and running the place (and indeed, F&B for the entire property) was a team from New York's Sunday Hospitality, led by Chef John Taube IV. However, Taube was out the door by the start of this year, and taking his place was his CdC, Tyler Curtis, who's still in charge.
About the Chef
: Curtis is a native Angeleno, and received his culinary education at both Westlake Culinary Institute and Santa Barbara City College (c/o 2013). At the start of 2014, he landed a line cook position at The Grill on the Alley in Westlake Village, and during this period, also cooked at The Villa in Woodland Hills. In May 2015, Curtis became sous at
Fundamental LA
in Westwood, then, in January 2016, transitioned to a similar role at
Ink
. He left Michael Voltaggio's side to help with the opening of
The NoMad
in early 2018, and joined the team at The Hoxton in 2019.
Do note that Curtis was previously joined in the kitchen by Pastry Chef Mallory Cayon, but her last day was September 8th.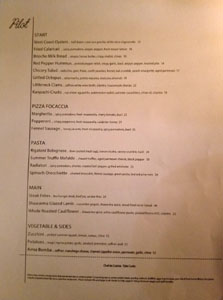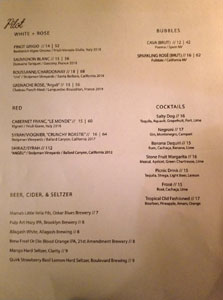 Pictured above is Pilot's Dining Room menu (there's also a more casual menu for the Lounge), which lists a variety of coastal Mediterranean-inspired plates, most all shareable. Beverage-wise, there's nothing too surprising, just a small wine list, a handful of beers, and a smattering of fairly straightforward cocktails. Click for larger versions.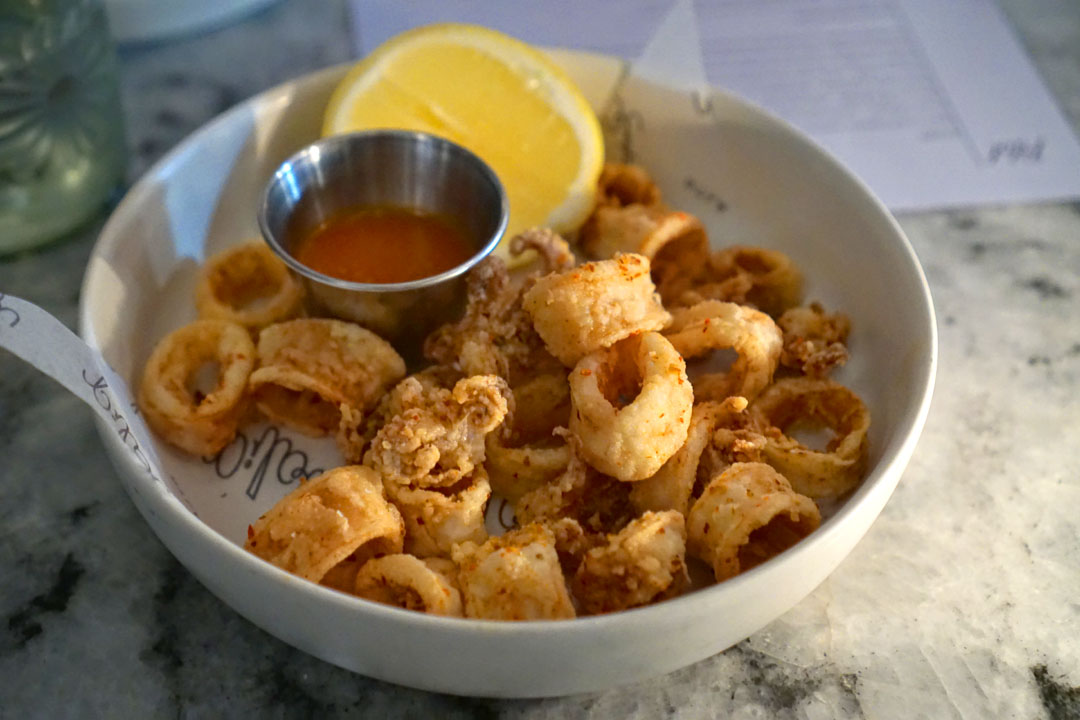 Fried Calamari [$18.00]
| spicy pomodoro, aleppo pepper, fresh meyer lemon
Calamari is one of those dishes I tend to gravitate towards, and tonight was no exception to that rule. The squid here showed off that crispy-supple texture that I wanted, and really took well to the earthy-sweet heat of Aleppo pepper. I actually didn't think that the tangy tomato sauce was necessary, but I did appreciate a squirt of lemon to perk things up.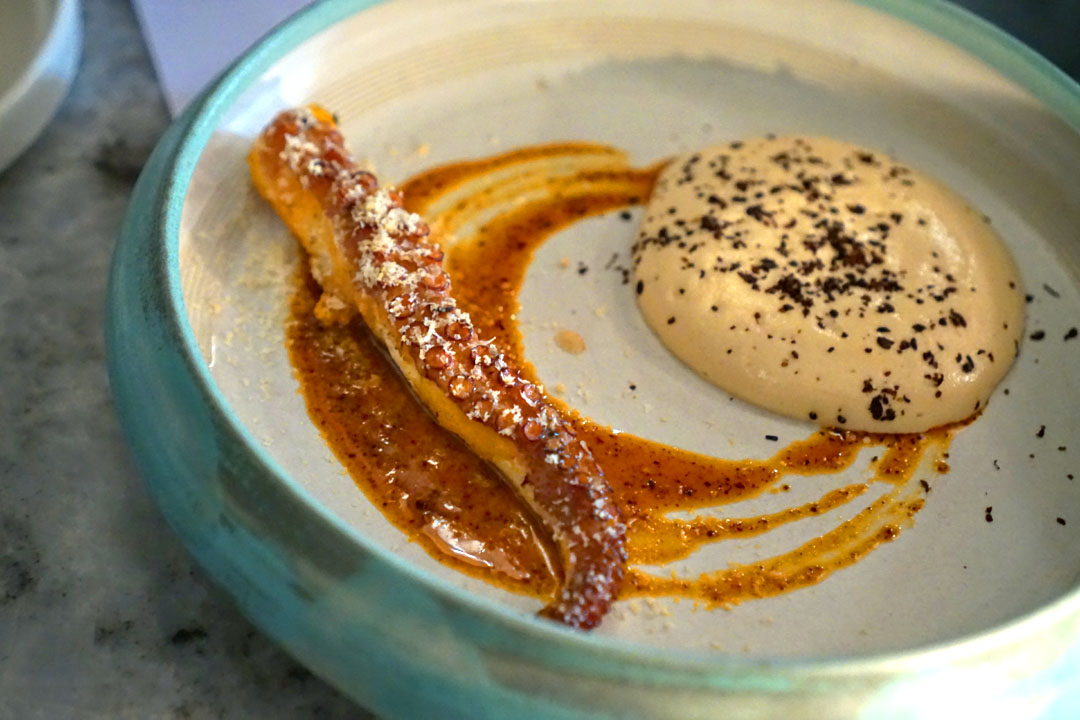 Grilled Octopus [$19.00]
| salsa macha, potato espuma, marcona almonds
Up next was another cephalopod, and this one was also a winner. I liked the octopus' tender, meaty consistency, while just as important was the delightfully nutty, spicy complexity of the salsa macha, which actually had a taste somewhat suggestive of instant ramen powder. As for the potato foam, I found it properly airy, with a marked sweetness to it that tended to soften the otherwise strong flavors at play here.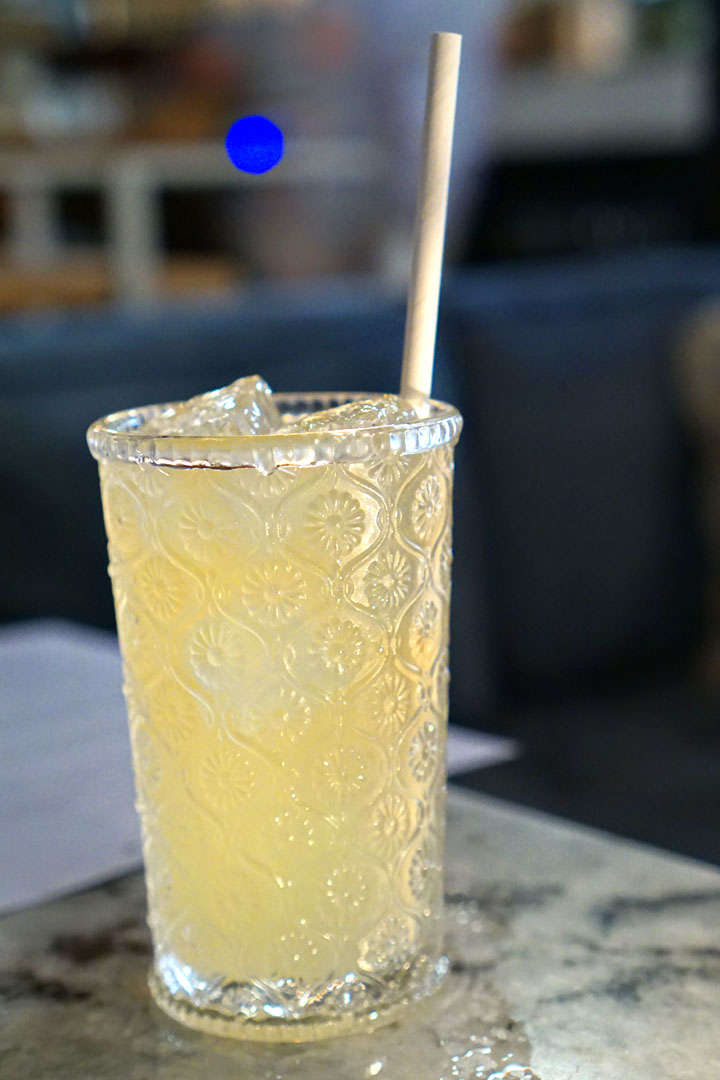 Picnic Drink [$15.00]
| Tequila, Strega, Light Beer, Lemon
The evening's first cocktail lived up to its moniker, as it was definitely on the easier-drinking side, with a generally sweet, tangy disposition evened out by just enough bitter, herby elements.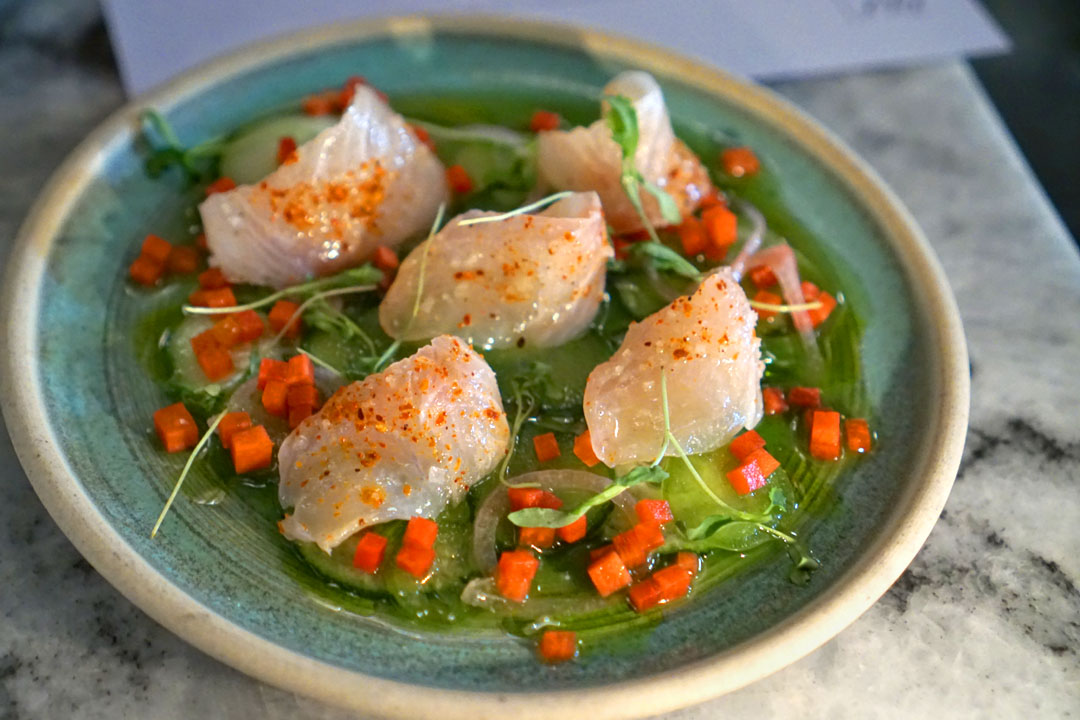 Kanpachi Crudo [$19.00]
| cucumber aguachile, watermelon radish, summer cucumbers, chive oil, cilantro
Amberjack conveyed a subtly sweet fat that made sense with all the piquant flavors going on, while texturally, there was a good back-and-forth between the firm-ish fish and the crunch of the veggies.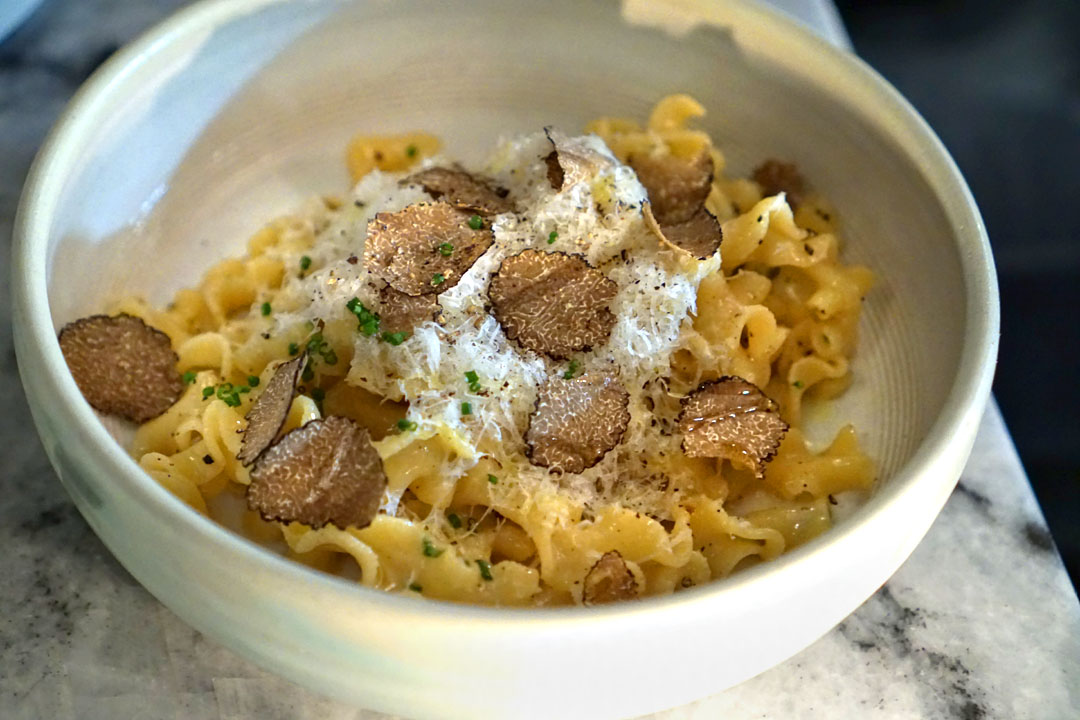 Summer Truffle Mafalde [$30.00]
| shaved truffles, aged parmesan cheese, black pepper
Ribbon-shaped pasta was especially pleasing to the palate, and worked as a base for the interplay between those musky slices of truffle and the pungency of aged Parmigiano. Lovely hit of pepperiness on the finish here, too.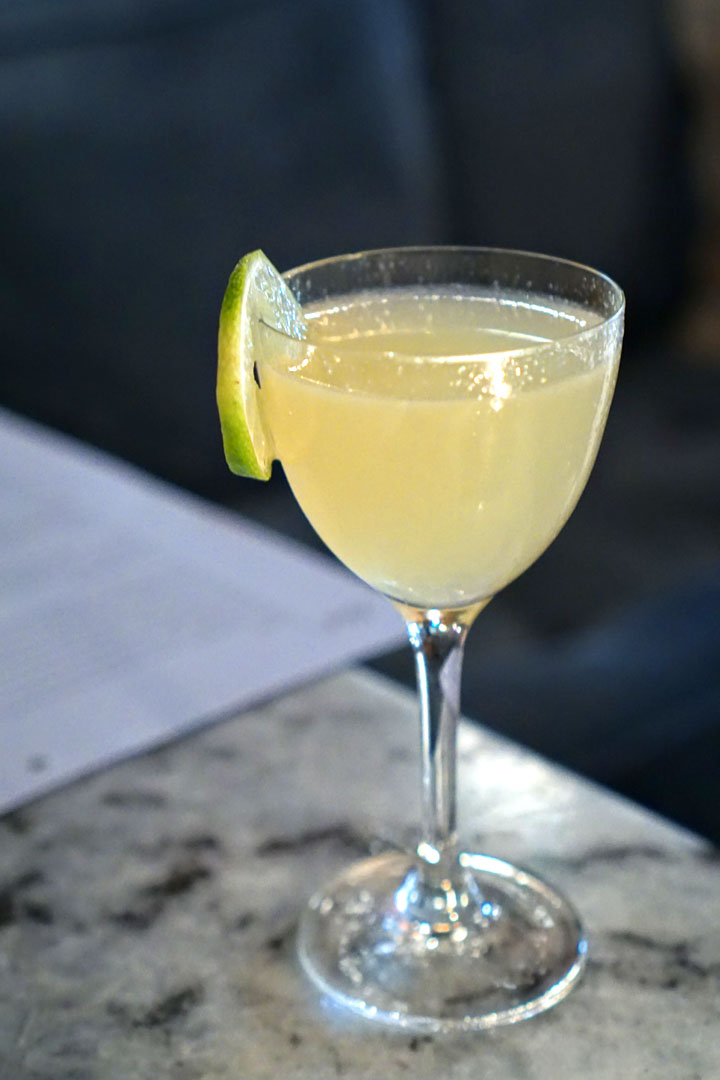 Banana Daiquiri [$15.00]
| Rum, Cachaça, Banana, Lime
A riff on the classic daiquiri cocktail demonstrated a good interaction between banana and booze, while keeping things in check was a backbone of astringency and pinpricks of lime sourness.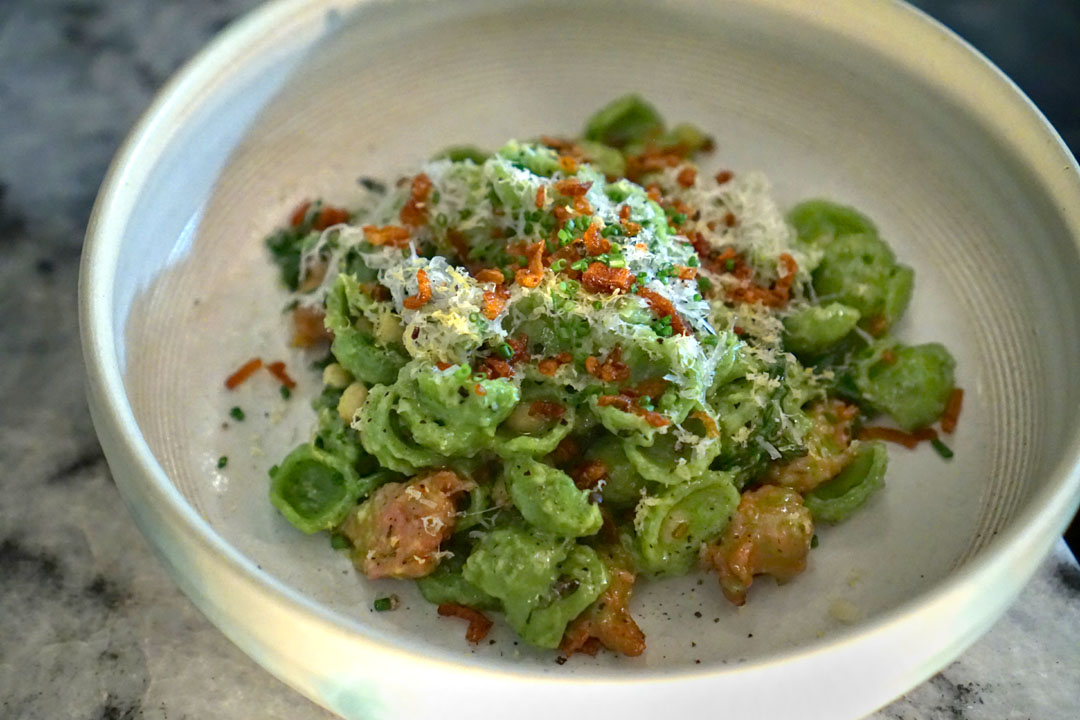 Spinach Orecchiette [$24.00]
| charred broccolini, fennel sausage, green pesto, braised pine nuts
Our second pasta also delivered. The orecchiette were spot-on texturally, but the key was the sheer brightness of the pesto, and how that meshed with the salty-savory qualities of the sausage. I also appreciated the crunch from those
pinoli
, and overall, the flavors just came together rather nicely.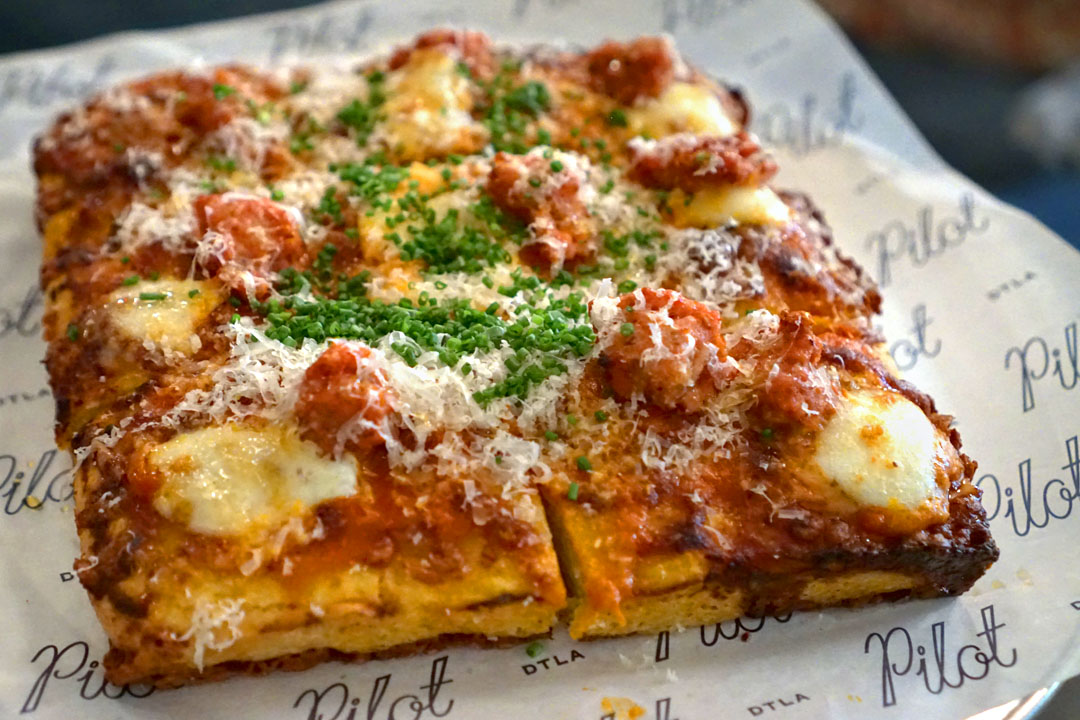 Fennel Sausage Pizza Focaccia [$25.00]
| honey picante, fresh mozzarella, spicy pomodoro, basil
Time for pizza. Things were fairly textbook taste-wise, the sausage taking well to the sweetness of the honey, while the mozzarella actually served to temper things. What was unexpected, thus, was the crust, which came out surprisingly airy, with some crispy edges; it was actually a bit reminiscent of the Stouffer's French bread pizza of my childhood.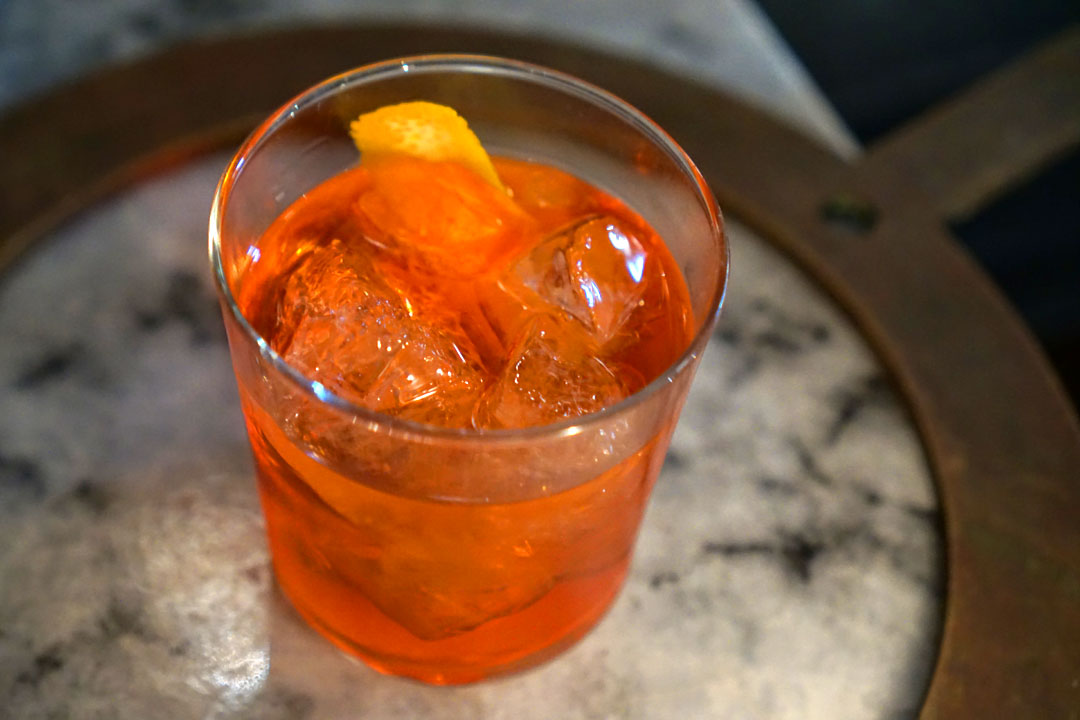 Negroni [$17.00]
| Gin, Montenegro, Campari
Next to imbibe was a pretty by-the-book version of a Negroni. The cocktail had all the classic bittersweet nuances you could want, but with a distinctly chocolate-y component courtesy of the Amaro Montenegro.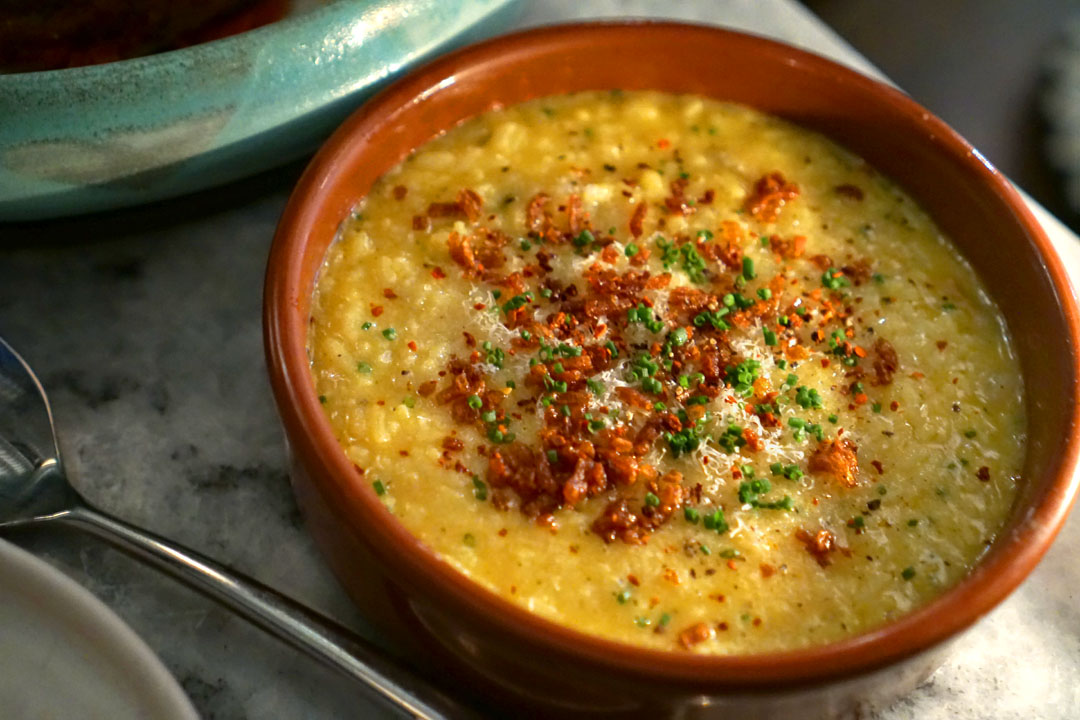 Arroz Bomba [$12.00]
| saffron, manchego cheese, charred cippolini onion, parmesan, garlic, chive
A porridge-y preparation of bomba rice worked well as a stage for the tasty marriage of cheese and onion, punctuated by the pungency of saffron.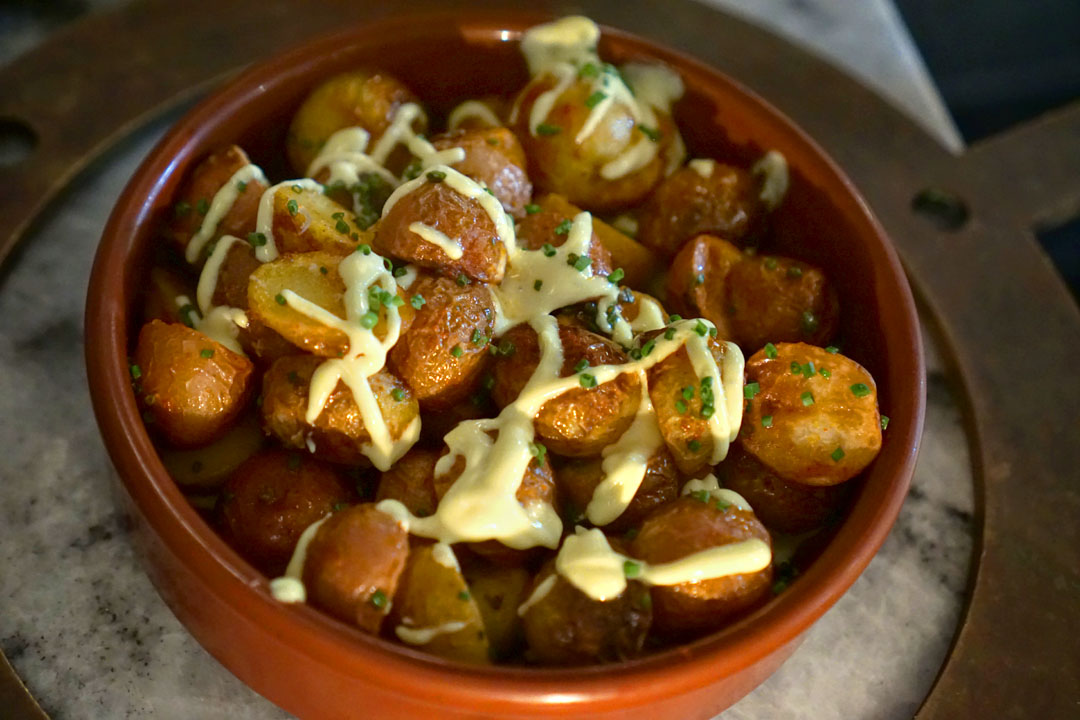 Potatoes [$12.00]
| magic myrna potato, garlic, smoked pimenton, saffron aioli
Fingerlings displayed a pleasantly firm, hearty bite, and actually had a surprising funk to them, one that I didn't mind, though the aioli did help smooth things out.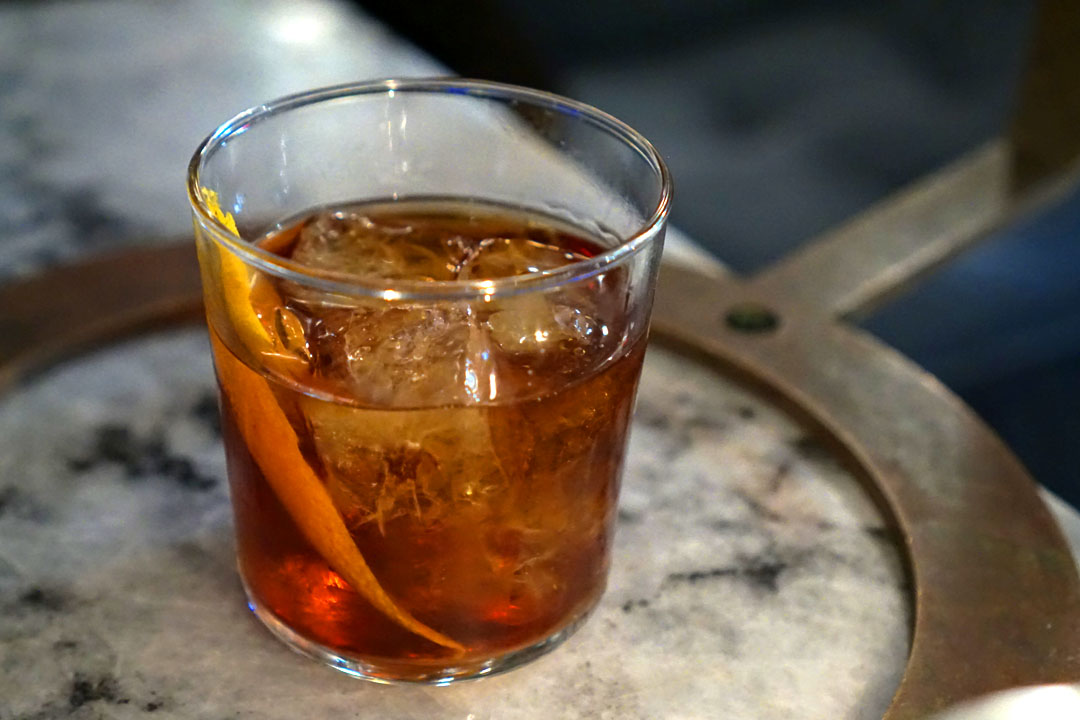 Tropical Old Fashioned [$17.00]
| Bourbon, Pineapple, Amaro, Orange
The night's final cocktail was this take on an old fashioned. It was pretty nice, as the tropical nature of the pineapple combined well with the drink's traditional flavors, while the finish gave up a distinct cherry cough syrup note, I'm guessing from the amaro.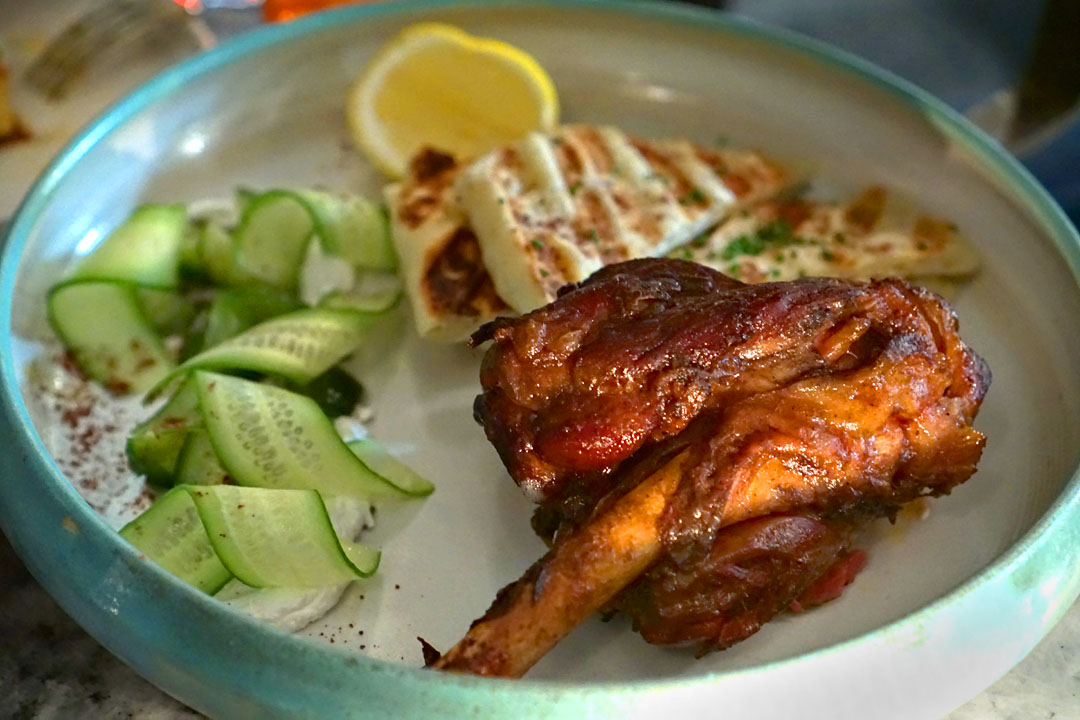 Shawarma Glazed Lamb [$46.00]
| cucumber yogurt, shawarma spice, wood-fired na'an bread
In our final savory, slow-cooked lamb was flaky and falling-apart-tender, and was well seasoned with shawarma spice. The shank was quite delectable just by itself, but was even better when taken with the yogurt, cucumber, and flatbread. A winning combination.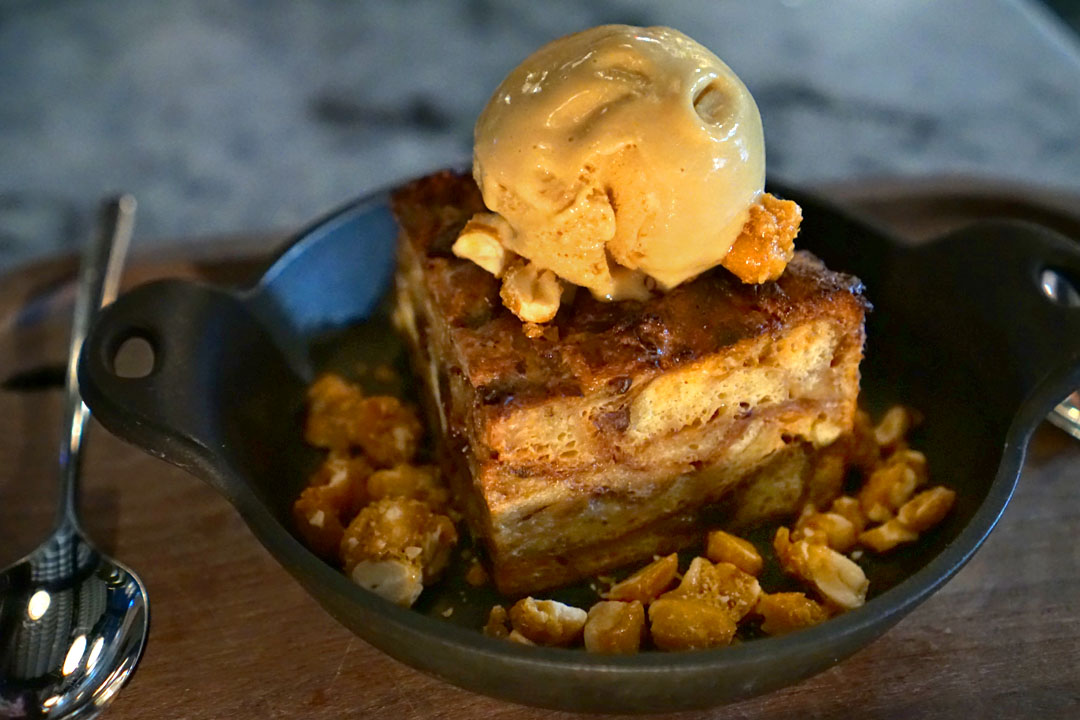 Chocolate Bread Pudding [$10.00]
| pecan ice cream, walnut
Dessert duties were handled by this bread pudding, and it was one of the better versions I've had as of late. I enjoyed its not-too-dense consistency and all the chocolate and cinnamon-y notes present, while almost as crucial was the contrast from the ice cream and the sugary crunch of those candied nuts.
I often shy away from rooftop restaurants, since they tend to focus more on the view and less on the food, but I was actually pleasantly surprised with my dinner at Pilot. Everything I tried was pretty much on point, with no misfires along the way, while service wasn't an issue either. It's sort of a shame the place is shuttering, but at least I got to try it. Now speaking of shutters, apparently Sibling Rival downstairs is also on its way out, since Boka Group is taking over F&B for the entire hotel; maybe I should give it a go as well before it's too late. Finally, there was initially supposed to be a cocktail bar located in The Hoxton's basement, but that never came to fruition. Hopefully, with the Boka team in place, it'll finally get to see the light of day.