Woo Hyang Woo (Los Angeles, CA)
WooHyangWoo
3429 W 6th St, Los Angeles, CA 90020
213.315.5080
www.hyungroupusa.com/woohyangwoo-about/
Sat 10/23/2021, 01:10p-03:55p

Korean BBQ is no doubt one of the more social forms of dining, so I guess it shouldn't come as a surprise that I hadn't had it at all since the start of the pandemic. For my first foray back into the KBBQ scene, I opted to check out the new-ish Woo Hyang Woo, a higher-end entrant in Koreatown that debuted about a year ago. Rendered in Hangul as 우향우 or in Hanja as 牛香宇, the restaurant's name translates to the whimsical moniker of "beef-scented house."
The man in charge here is owner Kim Hyun-Jong (김현종), also known as Hyun Kim. A former world-class water polo player, Kim got his break in the hospitality biz in 2012, when he was recruited to work at
TheBorn
, celebrity chef Baek Jong-won's restaurant group. He was assigned to the American branch of the company, and ended up opening multiple eateries for his boss across the US, including numerous iterations of Hong Kong Banjum as well as
Saemaeul
in Buena Park. In 2018, Kim branched out on his own and founded Hyun Group USA. His first project was ChaDolPoong, a franchised location of a South Korean
gopchang
-focused chain that opened in K-town in October 2018. This was followed by outposts in La Crescenta-Montrose and Fullerton, but those have since folded, though apparently Irvine is in the works. Kim's much fancier meat-centric spot Woo Hyang Woo, meanwhile, was launched on October 2nd last year.


Woo Hyang Woo sits across the street from Chapman Plaza, home to Korean barbecue mainstays
Kang Hodong Baekjeong
and
Quarters
, so there's some stiff competition very close by. The restaurant's storefront was formerly home to Sul Kko Jang, Korean-Chinese joint Chao Chen, Shoubu Izakaya, the generically-monikered Bistro, as well as the longstanding Four A (or AAAA). Inside, things have been gussied up since the space's days as a
suljib
, and the aesthetic here is certainly on the more contemporary side. Note that there's also a private dining room to the side, which is where we were seated.
And here we see the alcove (open to the dining room) where the butchery is performed.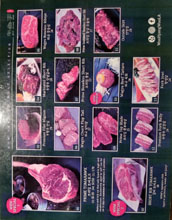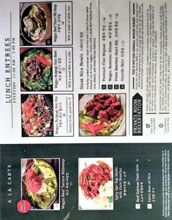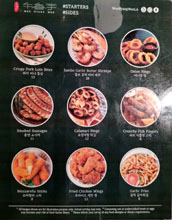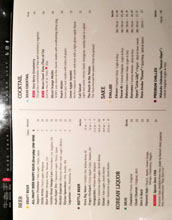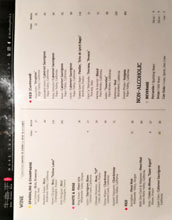 As for the menu, there's a limited array of premium cuts (no
chadol
?!), along with a handful of appetizers. According to the restaurant, only USDA Prime, Wagyu (hybrid I assume), and Certified Angus Beef are utilized, and apparently some of the meats are specially aged. There's also a separate selection of lunch specials and takeout items. Drink-wise, you get a decent wine list, along with beers both bottled and draught, soju, sake, and cocktails. Corkage was $25. Click for larger versions.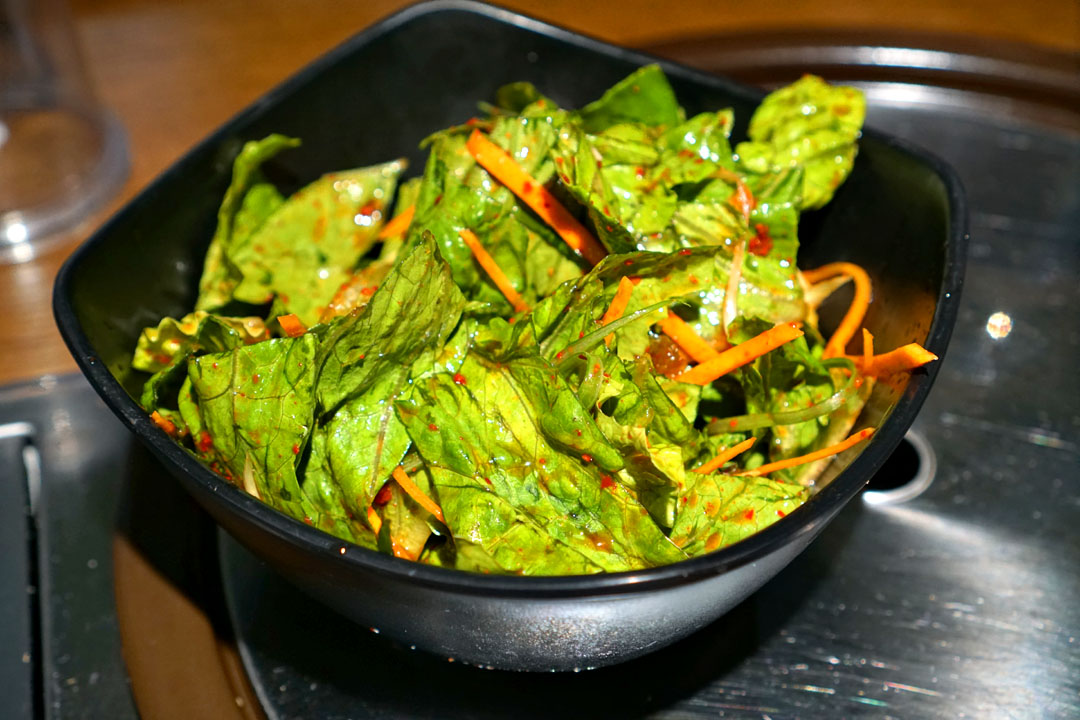 The restaurant is pretty sparse when it comes to side dishes, but first to arrive was the requisite salad, which was actually better than most thanks to its pleasantly robust
gochujang
character.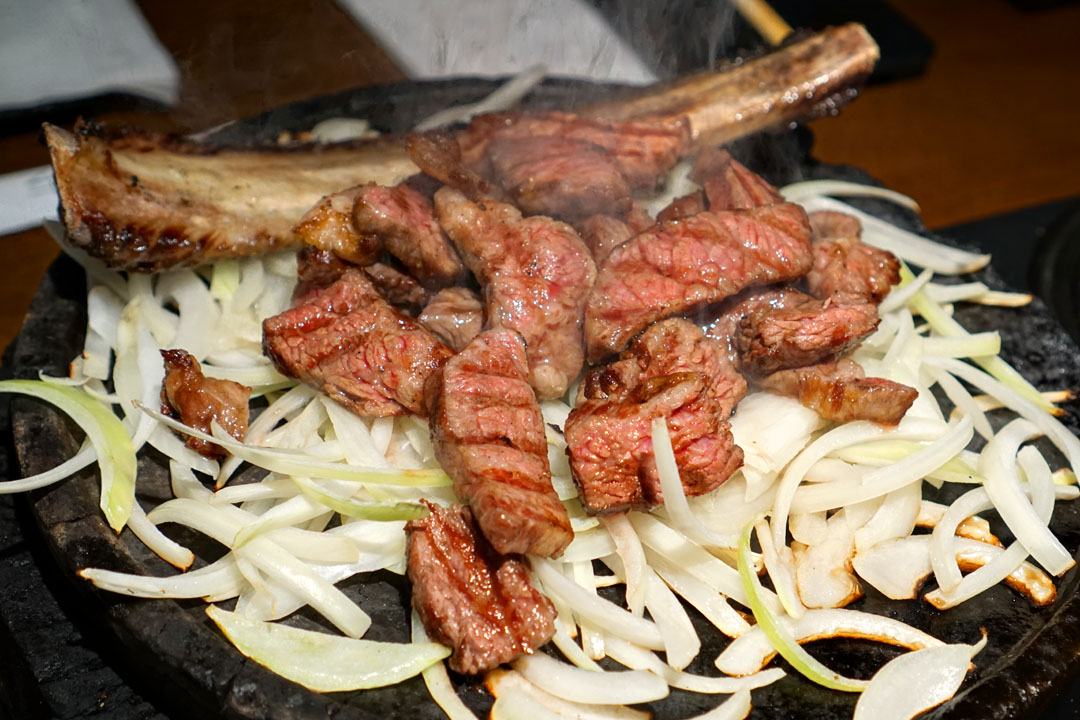 Short Rib Tomahawk [$38.00]
| 갈비 토마호크
It made sense to commence with Woo Hyang Woo's signature dish, and it made for a promising start. The meat had all the tenderness, fattiness, and concentrated beefiness that you'd expect from short rib, but with a slightly funky backbone that might be due to the aging employed. I've never had galbi presented this way before, and I'd like to see more places do something like this.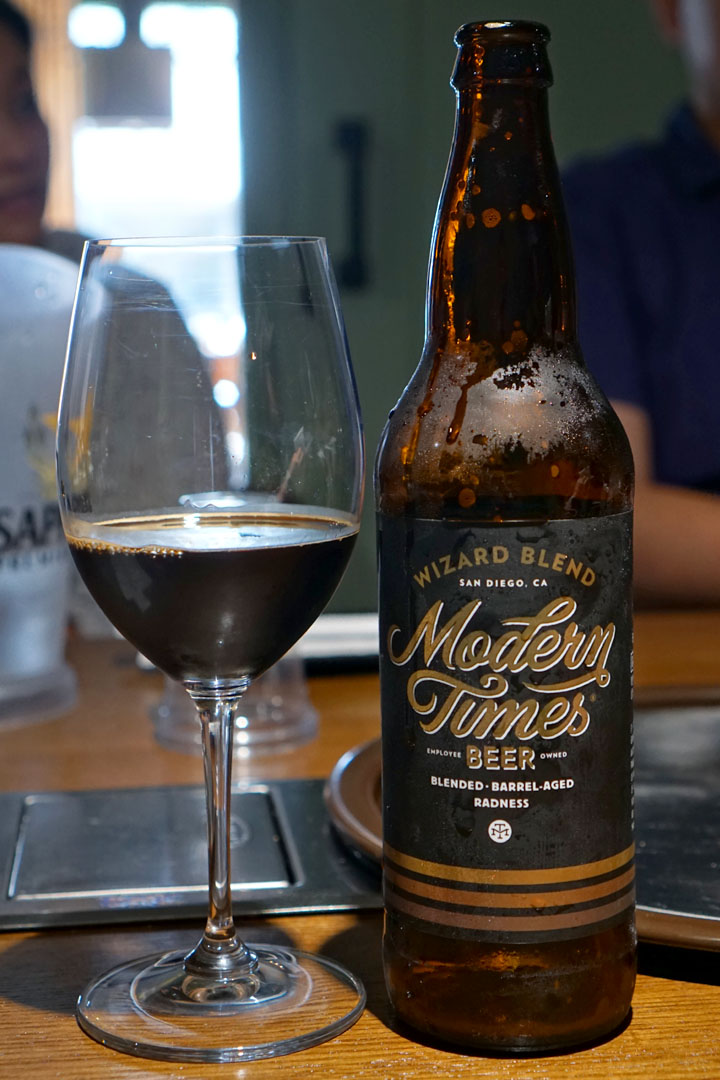 We brought a couple beers along with us, and first up was the
2018 Modern Times Wizard Blend
, a blend of 11 different barrel-aged stouts and barleywines. The nose here was all about cocoa and port wine-esque notes, layered over a base of oak. As for the palate, I found it on the thicker side, with lots of dark fruit and chocolate-y flavors juxtaposed against a healthy dosing of barrel, though overall this was surprisingly easy to drink, I imagine since the blending process smooths out the edges of all the various component beers.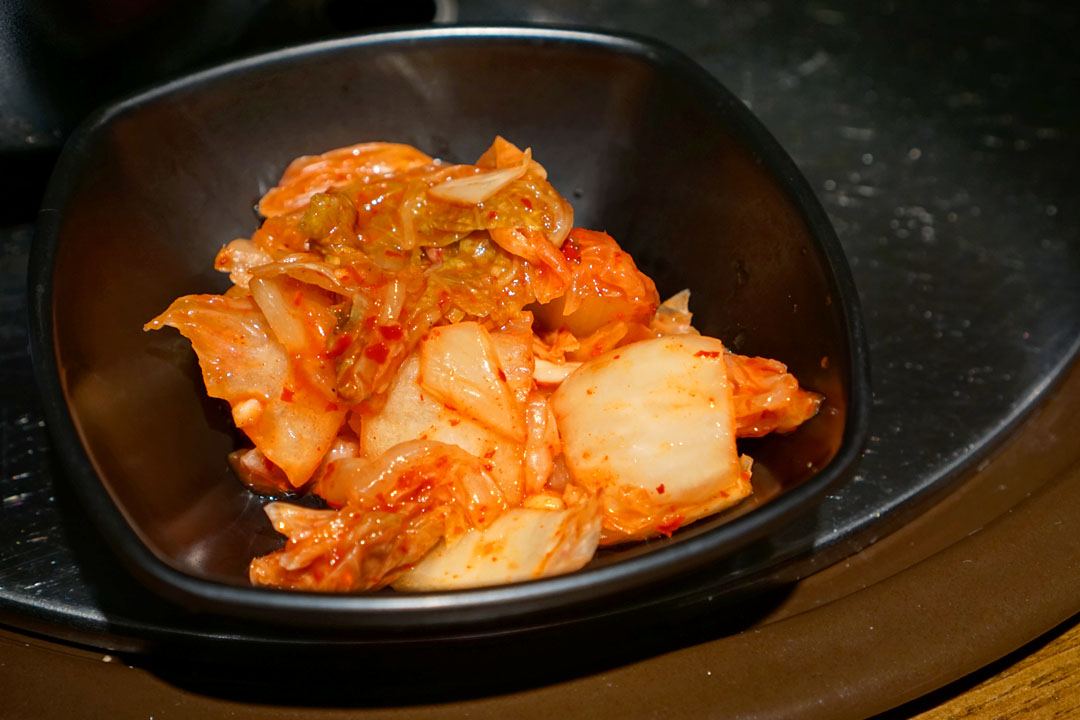 Of course, we were provided with the most ubiquitous of banchan: the classic
baechu
(napa cabbage) kimchi. This version was a tad sourer, a tad less crunchy than most I'd say, with an agreeable building heat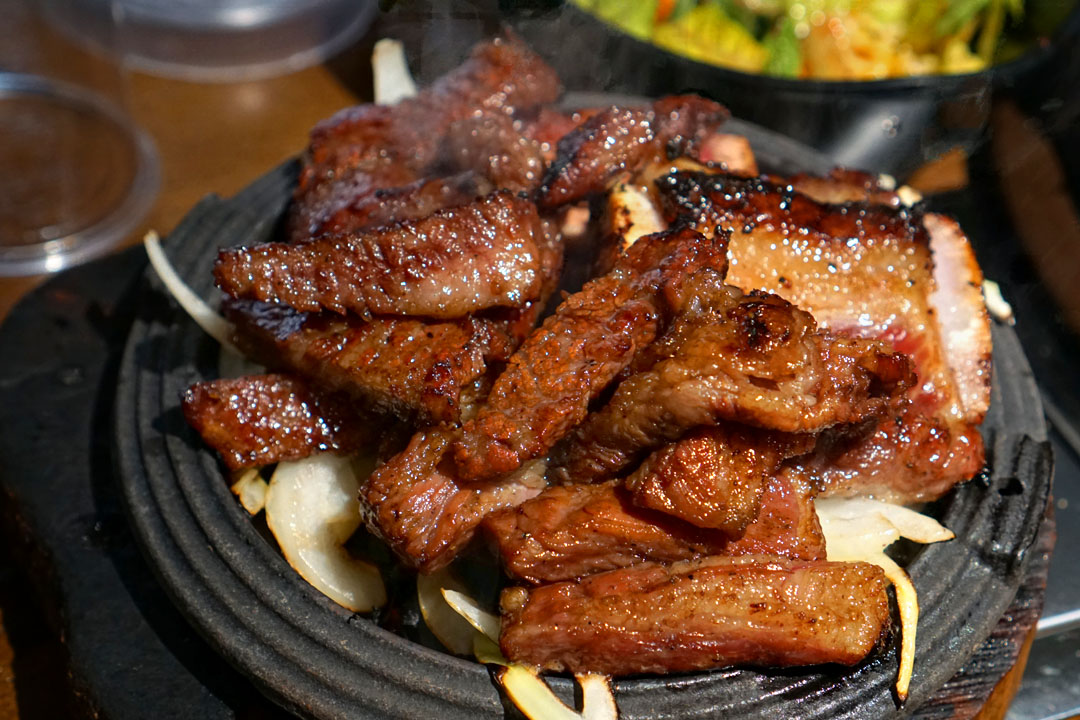 Marinated Short Rib [$28.00]
| 우향우 양념갈비
Given that we had unmarinated short rib above, we naturally had to sample the restaurant's
yangnyeom
galbi as well. The beef ate soft and succulent, with just the right amount of chew, and fortunately, its sweetness was relatively restrained, and supported by a lovely touch of pepperiness.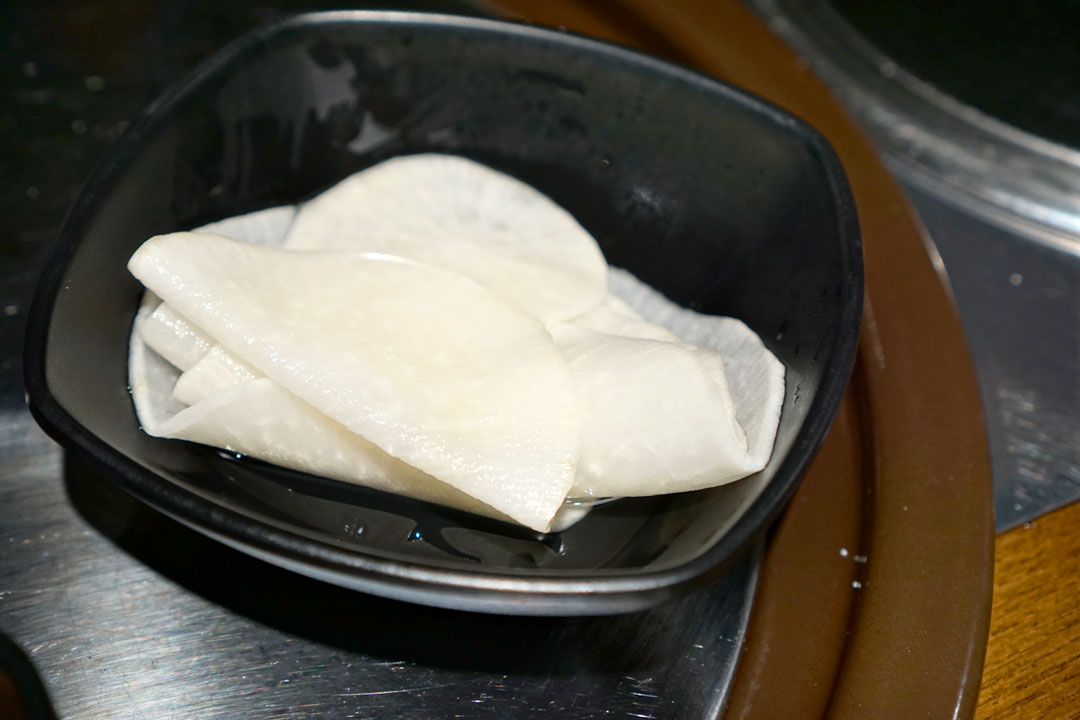 Ssam mu
(pickled radish) was also provided, and I'd say that the slices were somewhat tarter and funkier than what you typically get.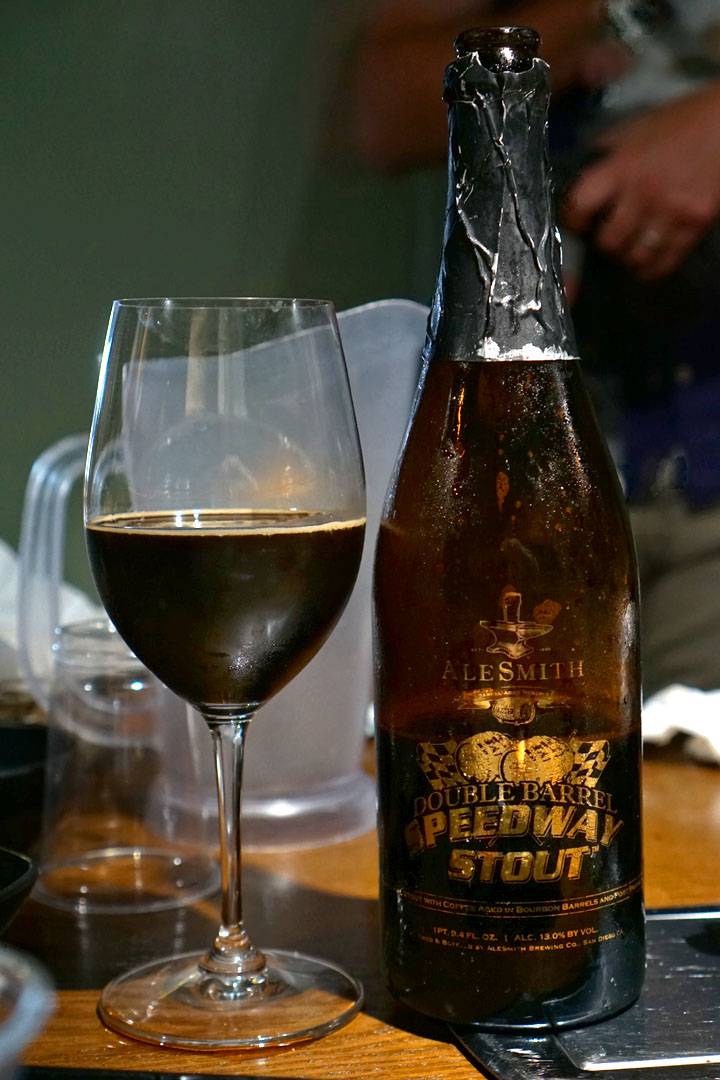 Next to drink was the
2017 AleSmith Double Barrel Speedway
, an imperial stout with coffee aged in a combination of bourbon and port barrels. Aromas here actually reminded me a bit of Ferrero Rocher, but with a malty sweetness underpinning it all. Taste-wise, I found more of those super nutty notes alongside chocolate, oak, roast, and a grapey sweetness that only intensified toward the finish.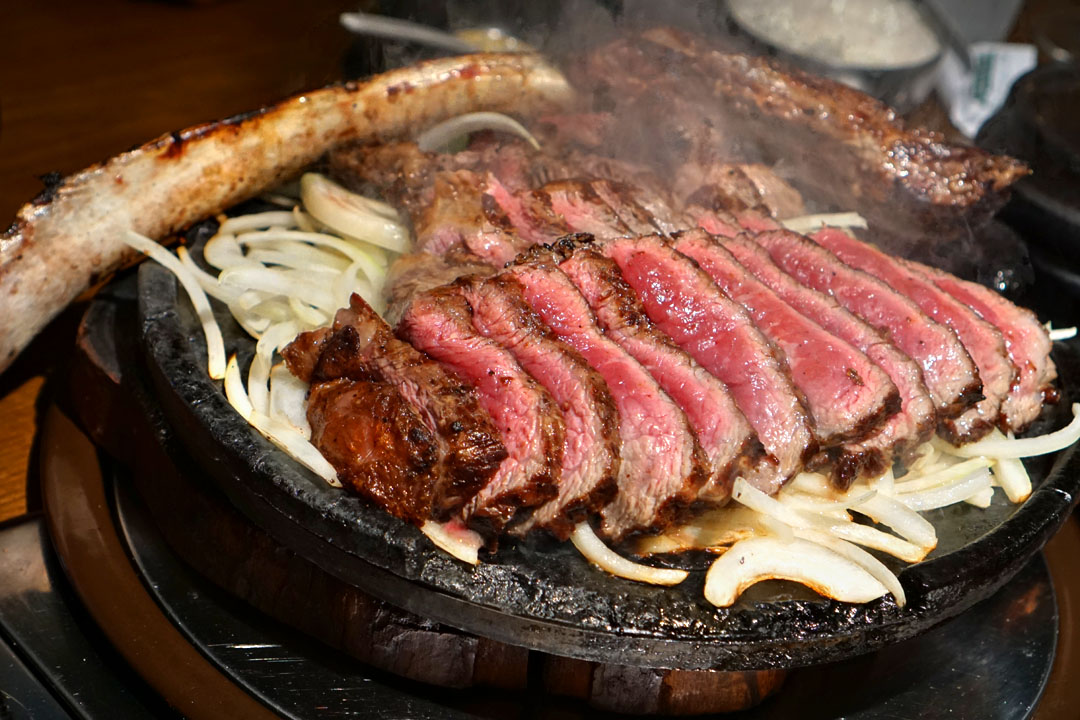 Prime Tomahawk (Large) [$170.00]
| 프라임 토마호크
The
kkot deungsim
was certainly impressive visually, but also delivered in taste and texture. I found it to be a pure, undiluted expression of beef, with a less explosive, more elegant flavor profile compared to the short rib above, while its consistency was properly supple. Interestingly, the menu lists the cut as being aged 14 to 21 days by Jeff Lee, and now I'm left wondering: who is this guy?
Condiments included salt, wasabi,
ssamjang
, and my favorite, a jalapeño-boosted garlic dipping sauce.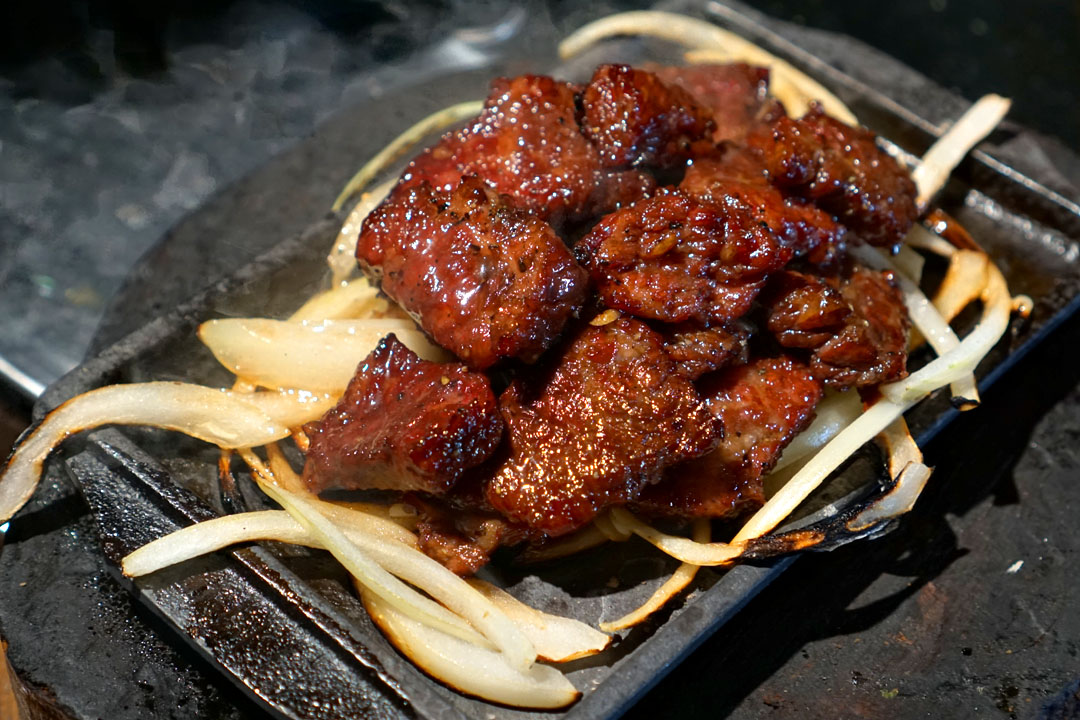 Prime Seasoned Boneless Short Rib [$27.00]
| 프라임 꽃살 주물럭
The
kkotsal jumulleok
wasn't like your typical sesame oil-soaked presentation. Rather, the meat demonstrated a nice sweet-savory interplay that was almost galbi-esque, and I was certainly a fan of the caramelization going on here.
In addition to stout, we also had the
2016 Beachwood Blendery Propagation Series: No. Infinity
, a blend of oak-aged tart farmhouse ales dry-hopped with Simcoe and Galaxy. The beer smelled pretty amazing, with stone fruit and flowers all over the place--wow. In terms of taste, I experienced more of those delectable fruity-floral nuances, but combined with just the right amounts of grassiness and bitterness. Delish.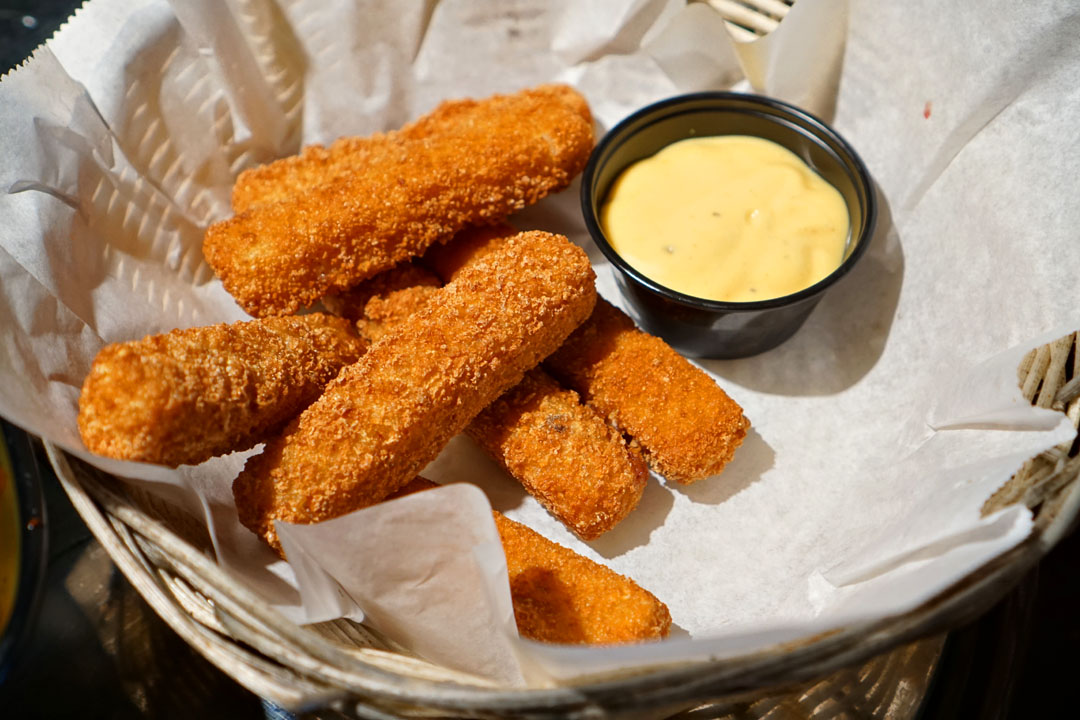 Crunchy Fish Fingers [$8.00]
| 피쉬 커틀렛 스틱
The restaurant's take on fish sticks was fun, and were akin to a slightly classier version of what you'd get from Gorton's or Van de Kamp's. The sweet-ish sauce on the side worked reasonably well, but I think I'd prefer a traditional tartar.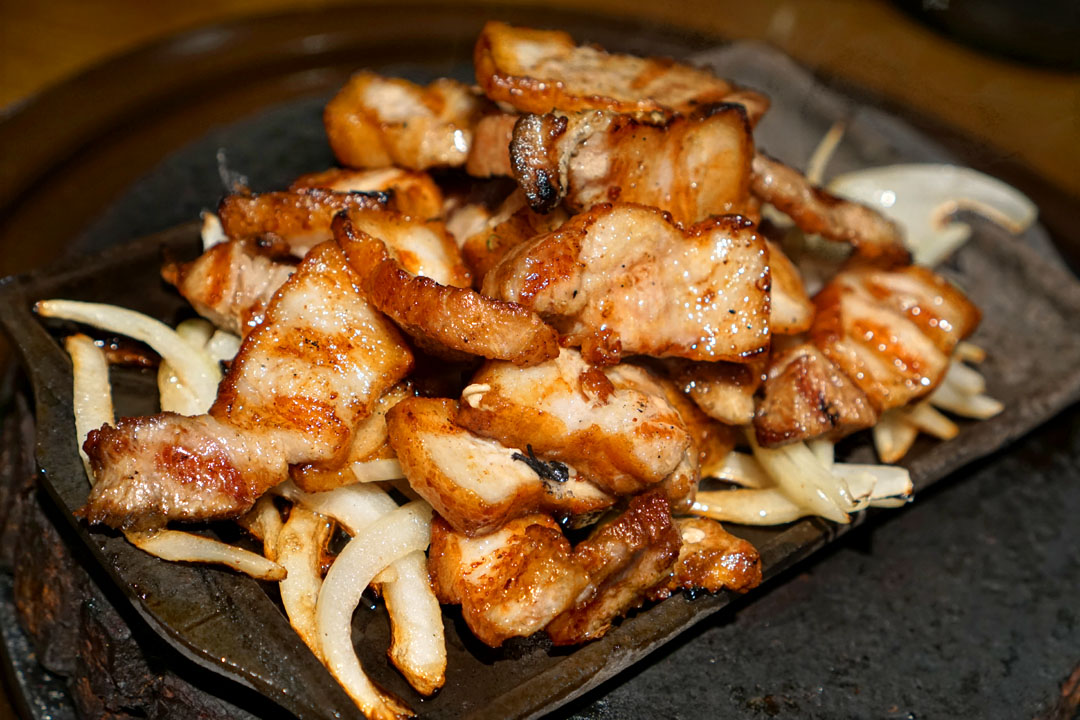 Premium Pork Belly [$24.00]
| 우향우 삼겹살
Though Woo Hyang Woo is primarily a beef-focused
gogijib
, we had to try the pork for completeness' sake, and the
samgyeopsal
delivered. It had the robust-yet-refined savor I wanted, along with a lingering, satisfying lusciousness, while the meat's ratio of fat-to-lean was pretty spot-on.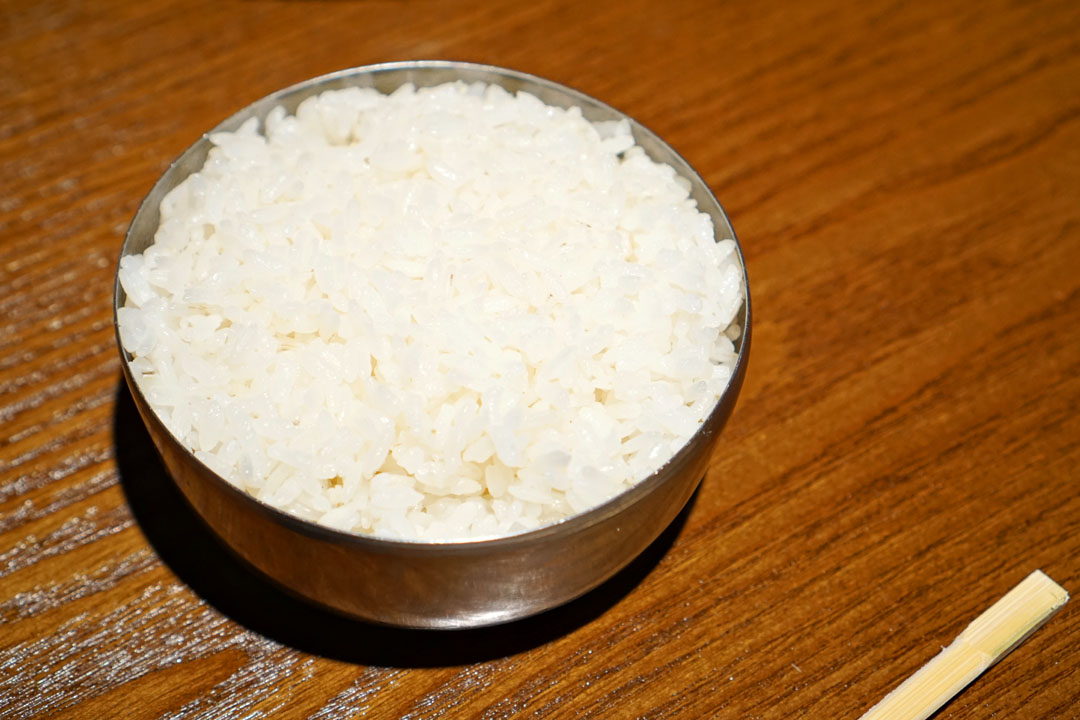 Extra Bowl of Rice [$1.00]
| 공깃밥 추가
The rice was just how I like it, and worked to temper the strong flavors at play.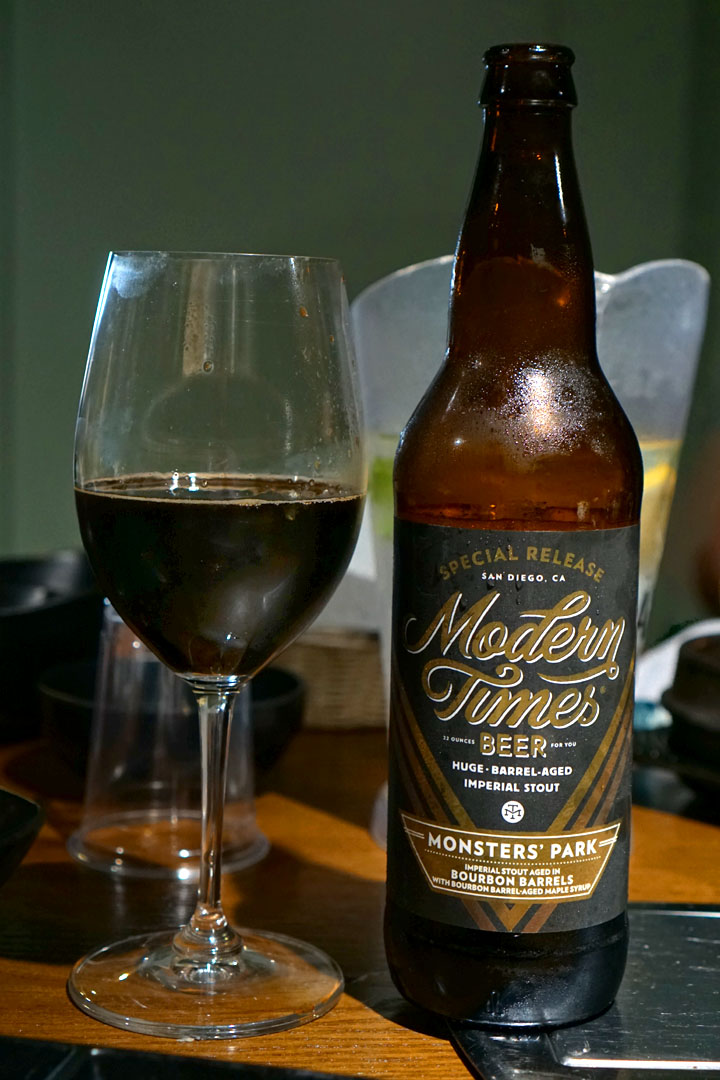 Last to drink was another imperial stout, the
2017 Modern Times Monsters' Park Aged in Bourbon Barrels with Bourbon Barrel-Aged Maple Syrup
. The beer's nose was surprisingly muted, and conveyed malt sweetness commixed with unmistakable notes of maple, as well as a bit of barnyard. As for the palate, I found it unquestionably smooth, with soft, sugary flavors of maple joined by an almost honeyed sweetness and counterbalancing notes of oak and roast.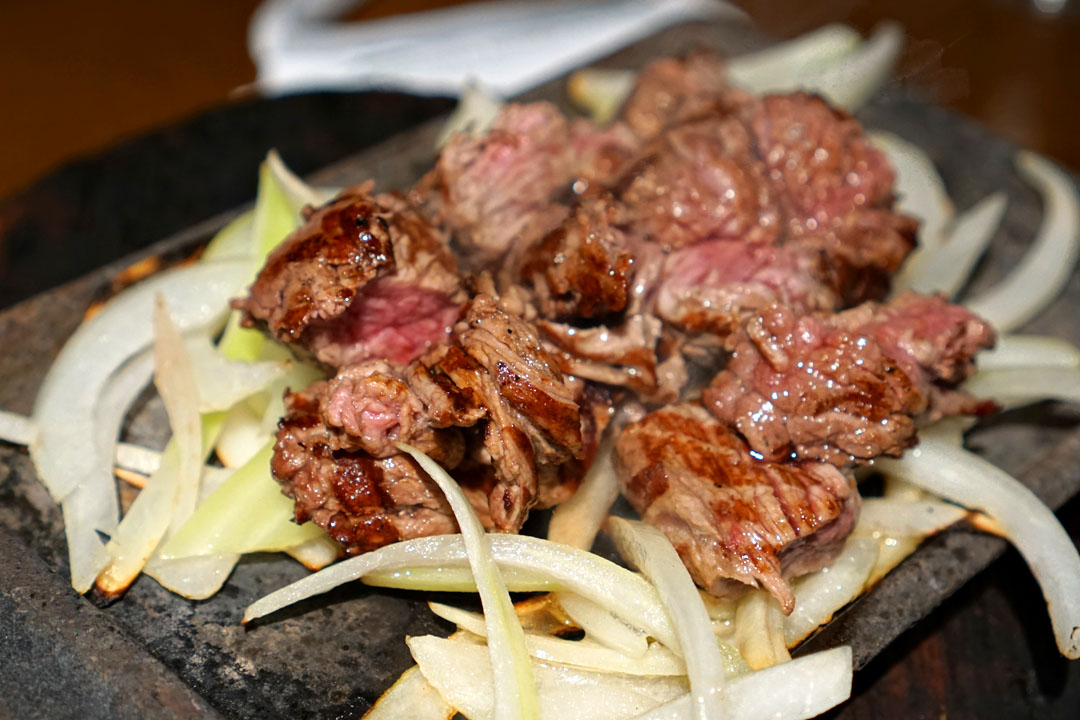 Premium Filet Mignon [$29.00]
| 우향우 안심
The
ansim
was easily the most tender meat we sampled today, while its taste, not surprisingly, was the mildest, the most low-key, so be sure to add a dab of salt to open things up.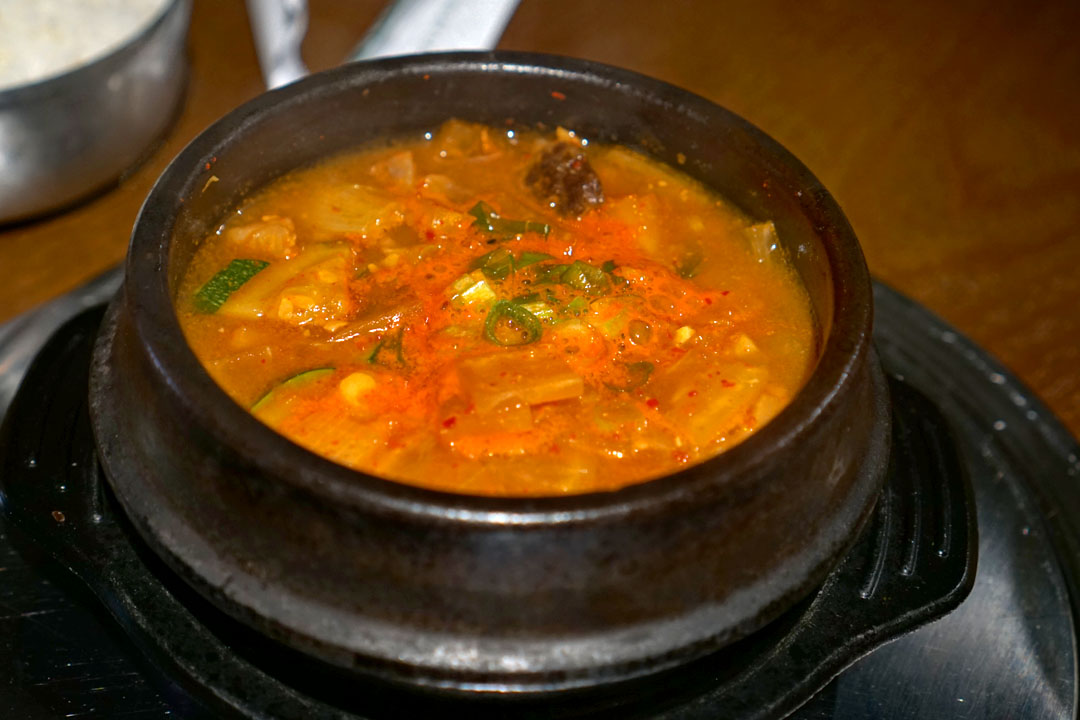 Beef Soybean Paste Stew [$6.00]
| 쇠고기 된장찌개
An utterly cozy, comforting preparation of
doenjang jjigae
was amped up by bits of
sogogi
.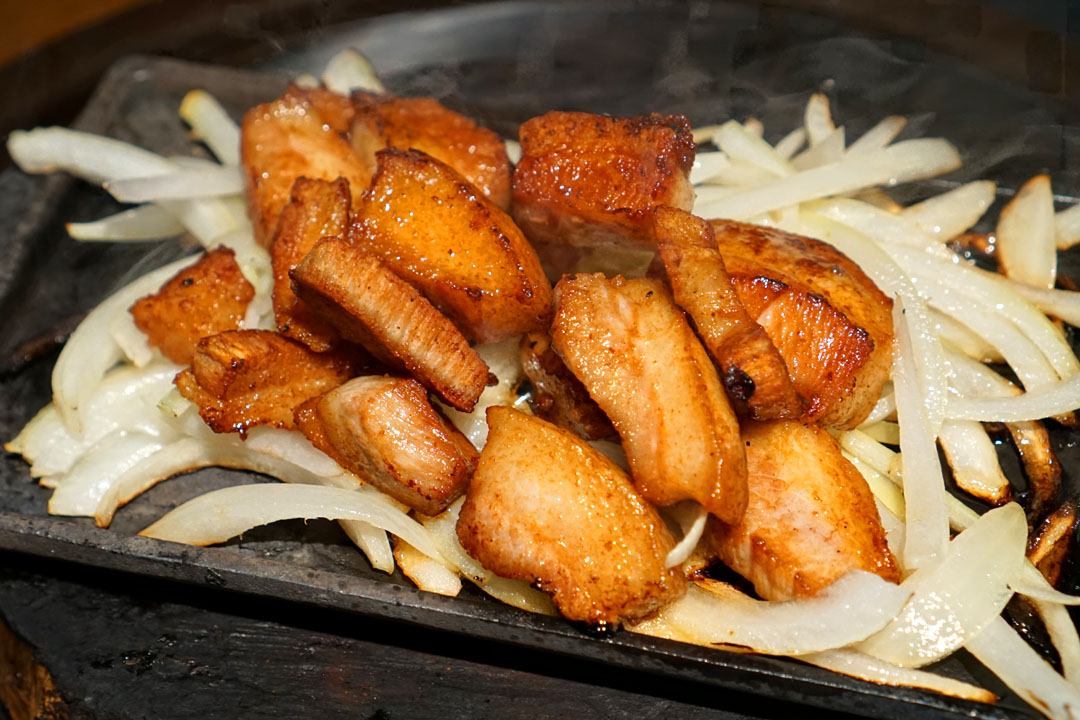 Pork Jowl [$24.00]
| 항정살
Closing things out was the
hangjeongsal
, which managed to be one of the best preparations of the cut I've had. I loved the sear and crispy caramelization going on, while flavors were unabashedly deep, condensed, and porcine. Even though this place doesn't specialize in pork, they do it right.
One thing to note about Woo Hyang Woo is that, at least for now, the meats are not grilled at the table, but instead prepared in the kitchen and brought out as they're done. I didn't mind this setup as much as I thought I would, and in fact, actually liked it as a change of pace. Now as for the food, I found the various cuts to be of a higher quality than what you typically find at most spots, and was generally quite happy with my meal, which was a great welcome back to KBBQ after almost two years. This is a strong addition to LA's Korean barbeque landscape, so I hope it sticks around.