Ladies and Gentlemen (Pasadena, CA)
Ladies & Gentlemen Bar
59 E Colorado Blvd, Pasadena, CA 91105
626.696.3612 / 626.676.1205​
www.ladiesandgentlemenla.com
Sun 07/23/2023, 07:35p-10:40p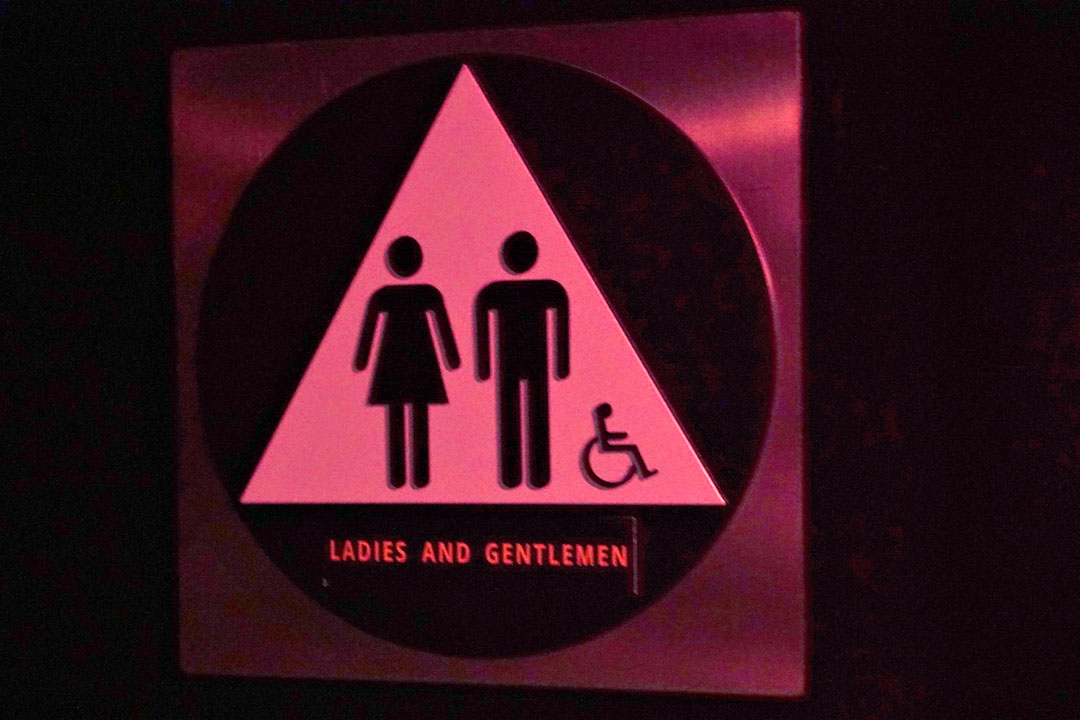 One of the more under-the-radar cocktail bar debuts in recent times has got to be that of Ladies and Gentleman. The place opened back in April, but I haven't heard too many people talking about it, perhaps because it's located in Old Town Pasadena. In any case, the bar comes to us from Leo Temory (a.k.a. Haamed Temory), a Torrance native, USC business grad, and
Amazing Race
contestant. His parents actually own the longstanding New York Deli in Torrance, and he launched an outpost in Old Pasadena in 2010. Temory then opened The Speakeasy in 2012, which actually took over the deli at night before taking over the space completely in 2014. This was followed up in 2017 by The Cellar, a wine-focused spot located just around the corner.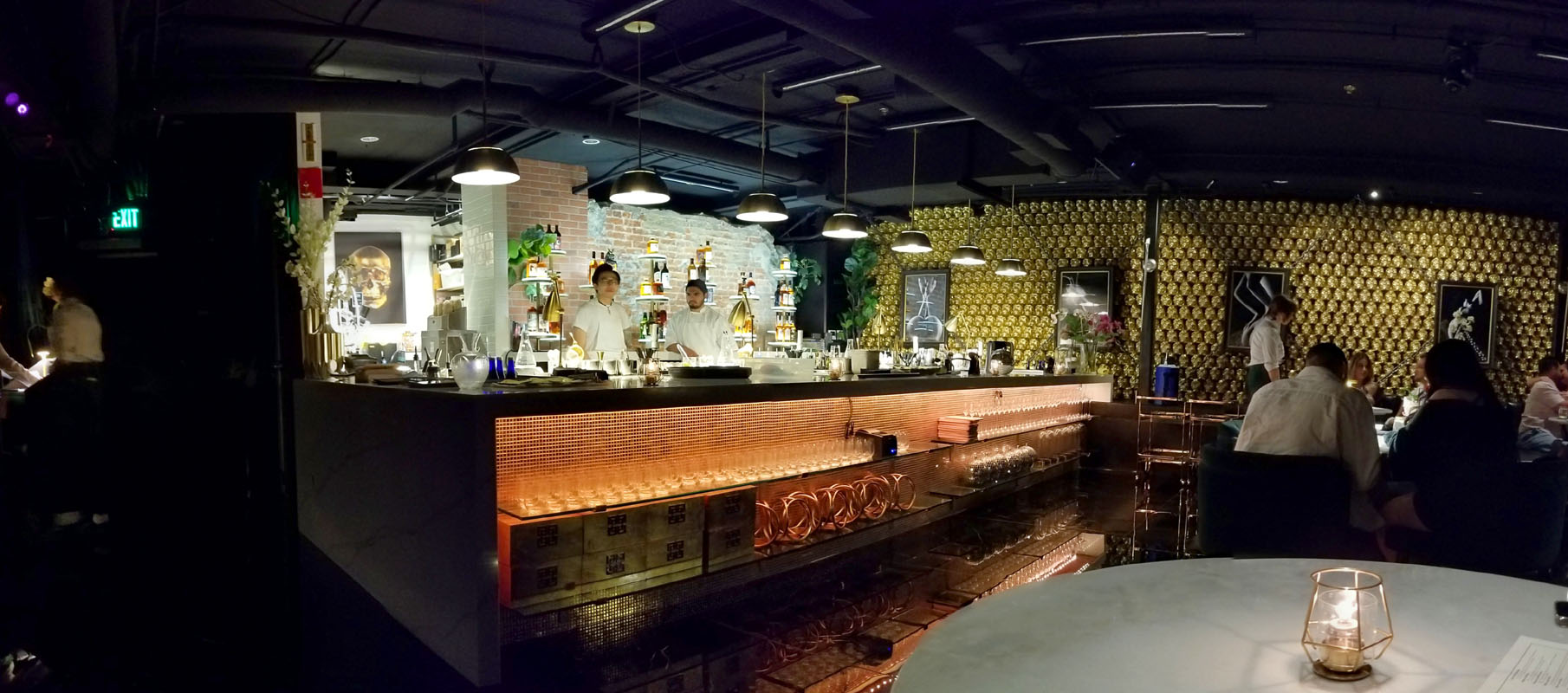 Ladies and Gentleman is a subterranean affair situated in the basement of the building that houses The Pie Hole/Pressed Juicery/Wanderlust Creamery, accessible via an elevator and a faux bathroom door. Inside, things are pretty nice, with a clear focus on the bar itself.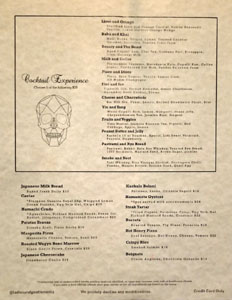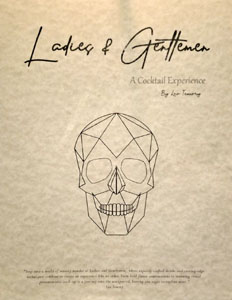 The cocktails sound rather intriguing, and are only available in sets of three for $75. They're joined by a selection of fairly sophisticated bites, though do note that when this place first opened, only pizza was available. Click for larger versions.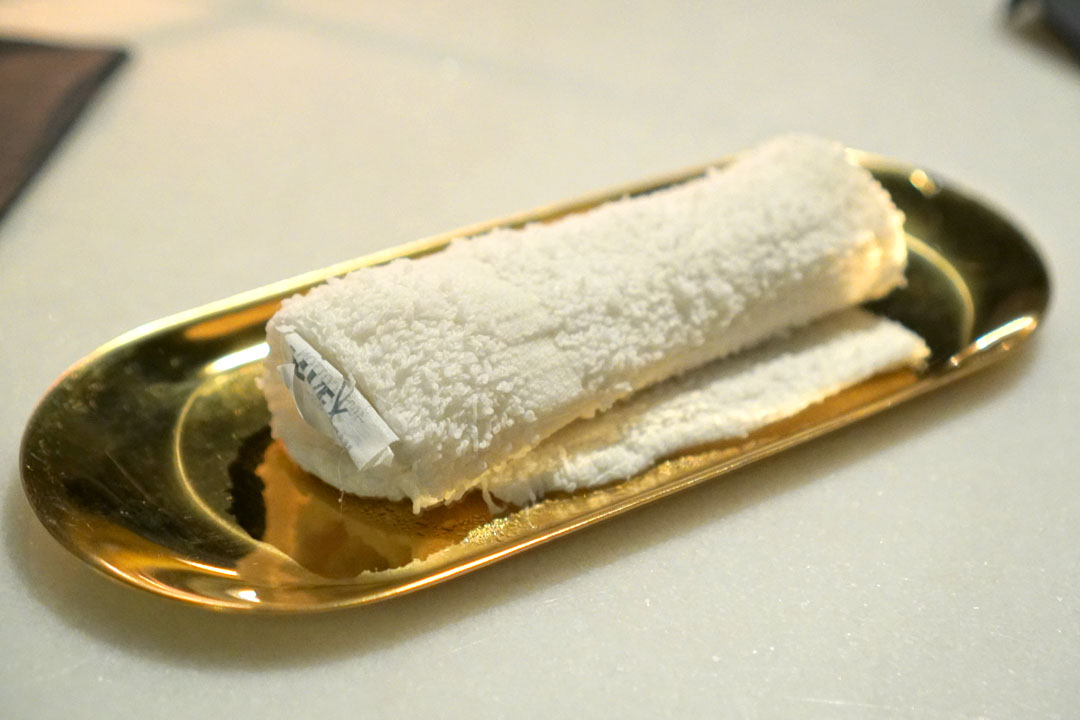 An
oshibori
(hot towel) was presented at the very start of our experience, which was a nice touch.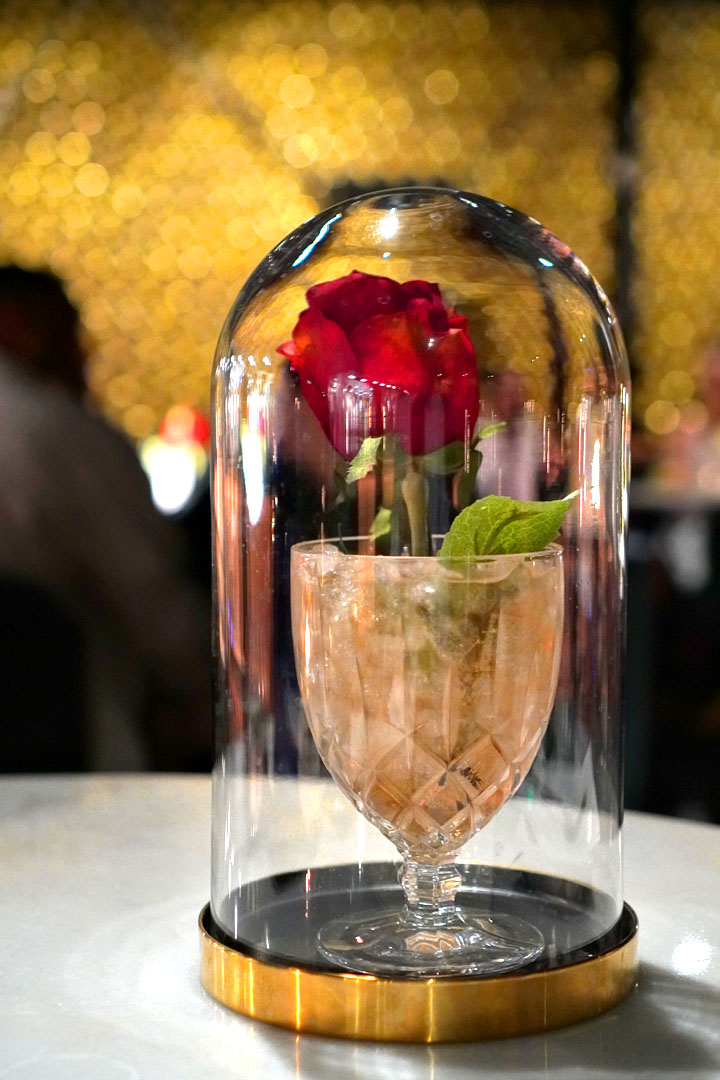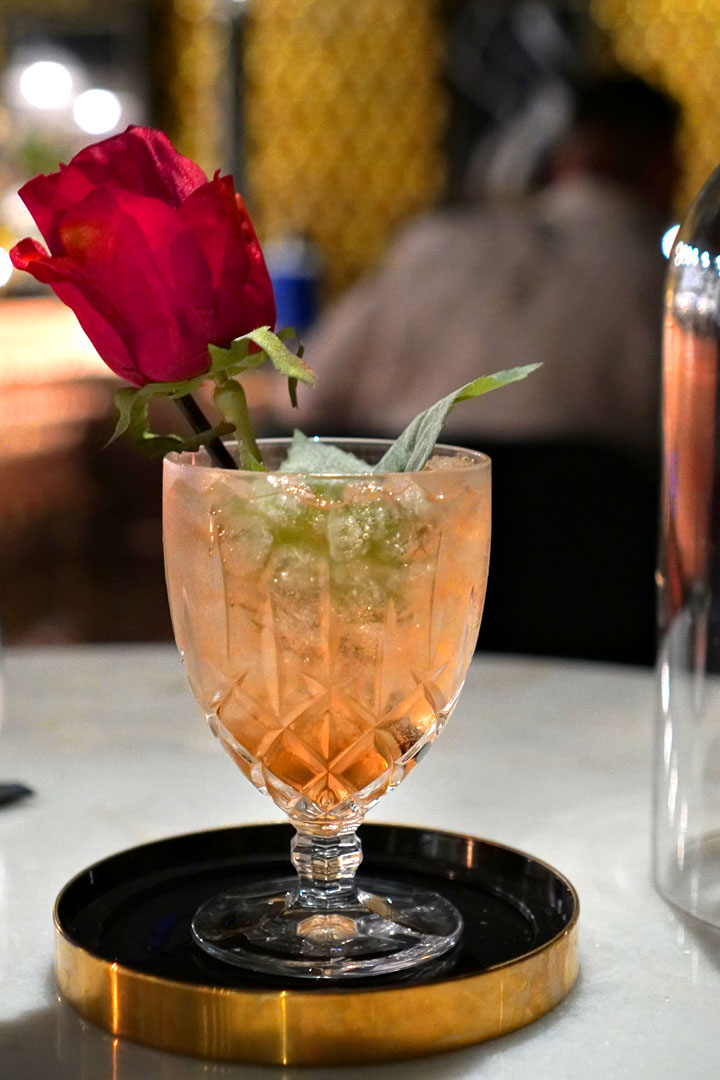 Beauty and The Beast [$25.00]
| Aged Copalli Rum, Chai Tea, Grahams Port, Pineapple, Lime, Coconut Milk
We kicked things off with this glass-enclosed cocktail, which highlighted soft, smooth chai flavors juxtaposed against touches of astringency and citrus, with juicy pineapple in the background.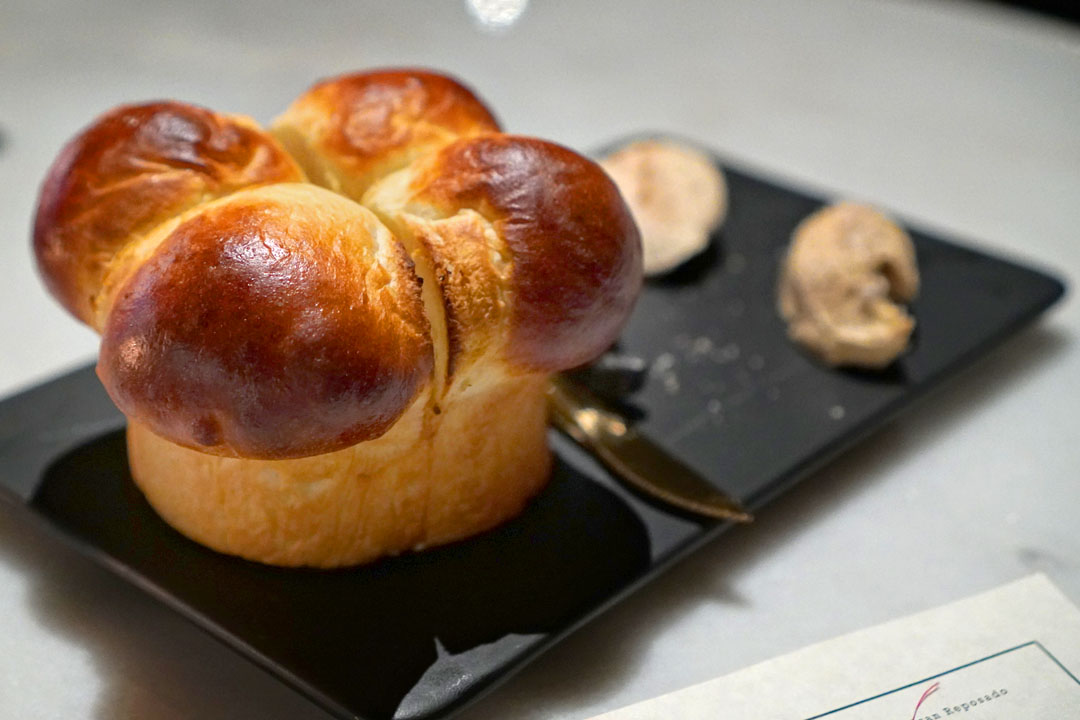 Japanese Milk Bread [$10.00]
| Baked Fresh Daily
A loaf of shokupan had a soft, "cotton-y" consistency, while its subdued sweetness paired easily with all three of the provided butters: a smoky, pungent, salt-tinged black garlic butter; a sweet-n-savory caramelized shallot butter; and a sugary butter imbued with what seemed like apple and cinnamon.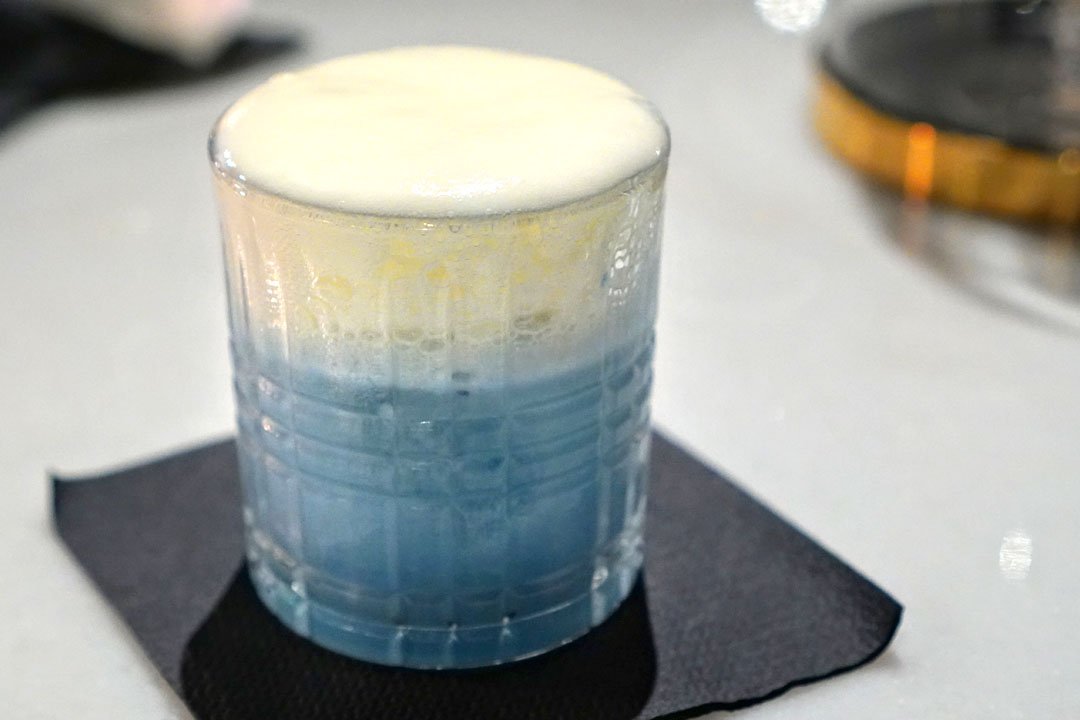 Baba and Khai [$25.00]
| Meili Vodka, Ginger, Lemon, Toasted Coconut, Caramel, Spirulina, Passion Fruit Foam
Our second cocktail was on the sweeter side, and combined a healthy amount of passion fruit with coconut to make for a tropical-leaning drink, one offset just a smidge by the pungency of ginger.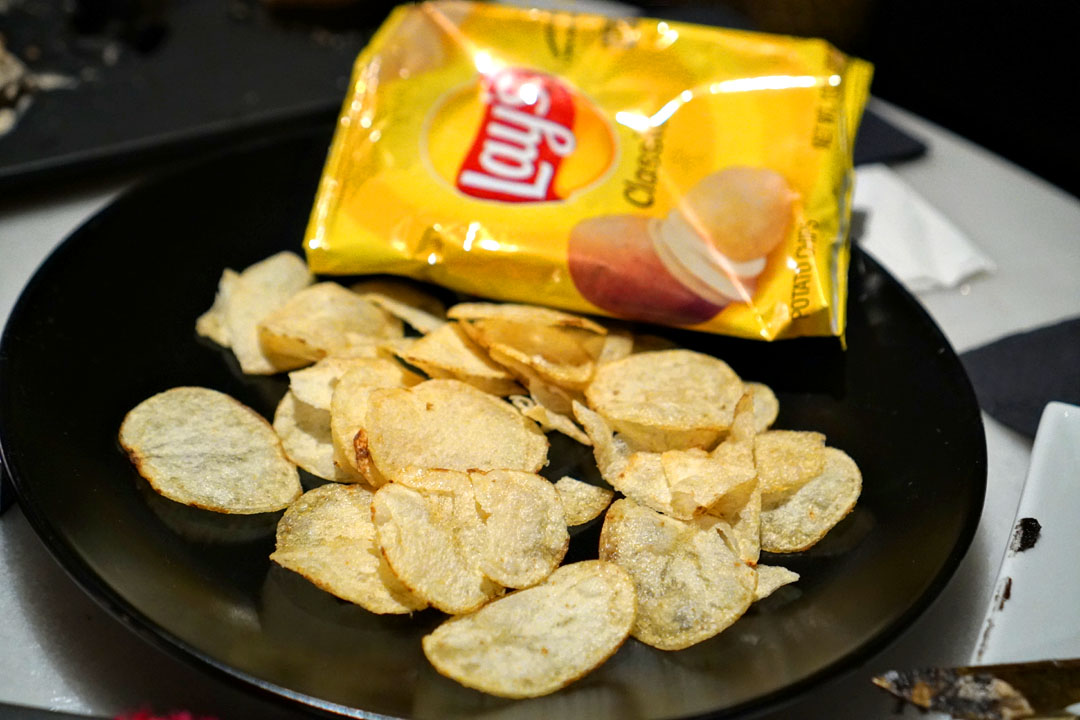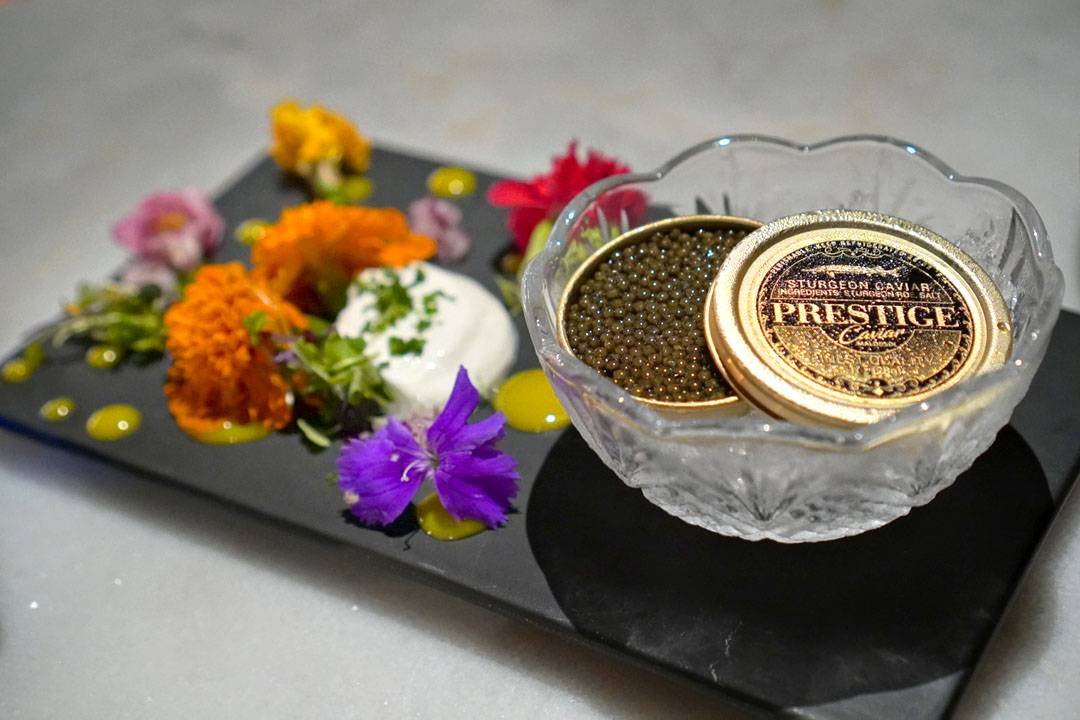 Caviar [$75.00]
| Sturgeon Ossetra Royal 28g, Whipped Lemon Cream Fraiche, Egg Yolk Gel, Chips
I couldn't resist the call of caviar, and I have to say that marriage of the two disparate types of salt from the roe and the Lay's worked for me. The interaction was even better when softened by the crème fraîche, and I wouldn't have minded more egg yolk, either. I also found that the caviar paired nicely with the milk bread above (à la
Kato
).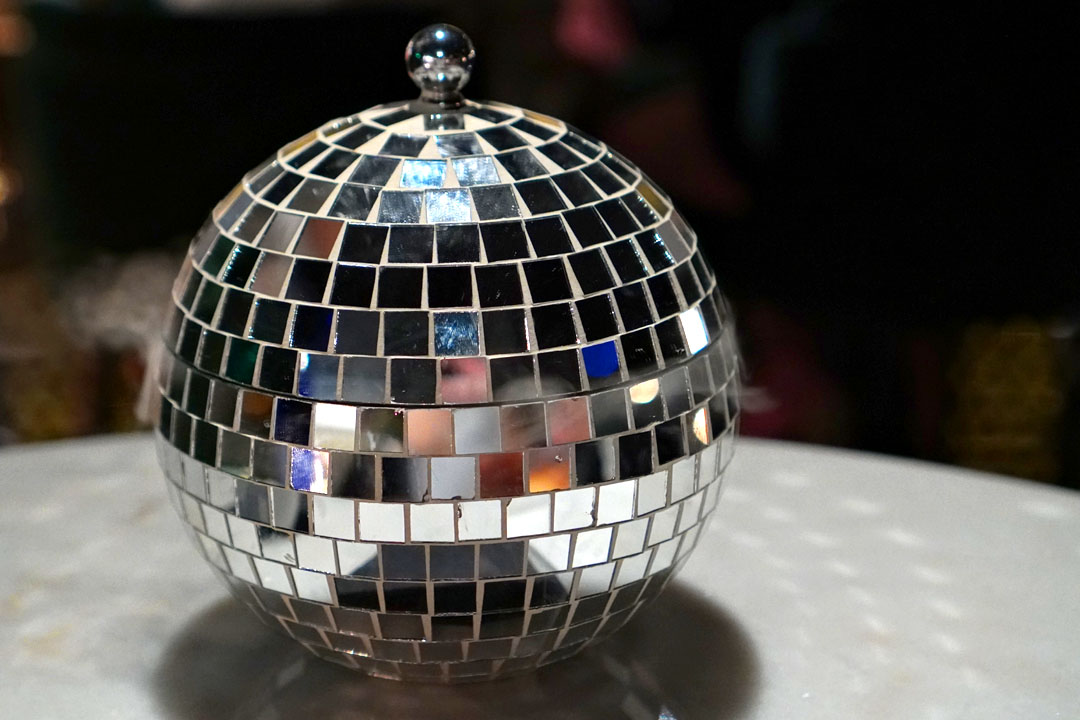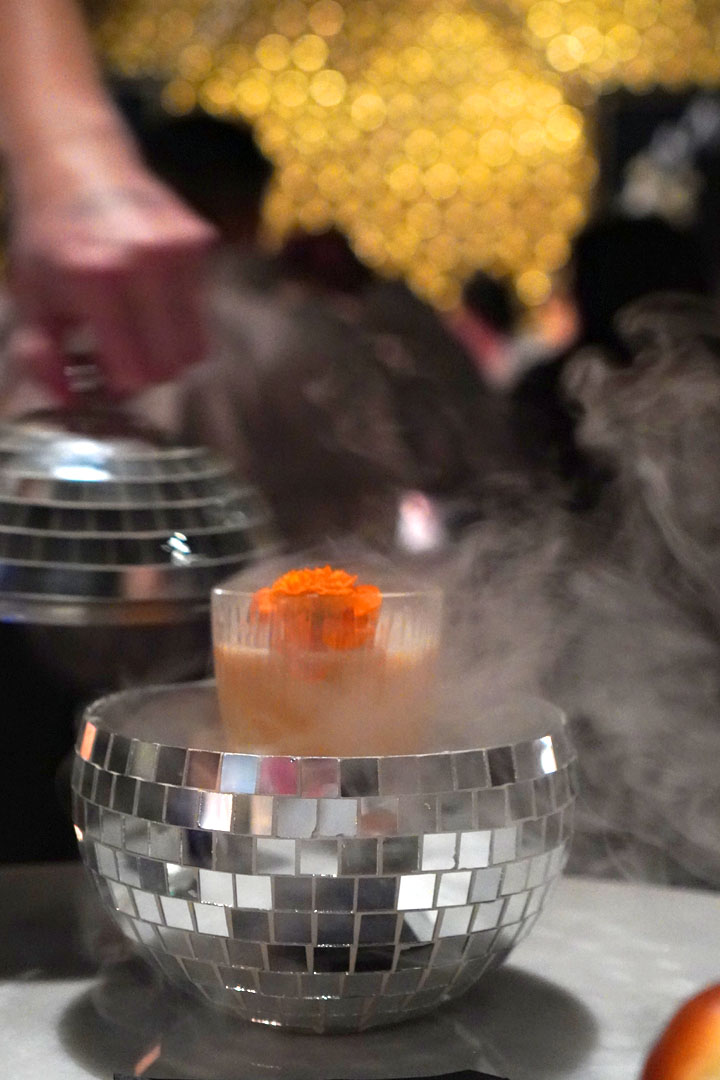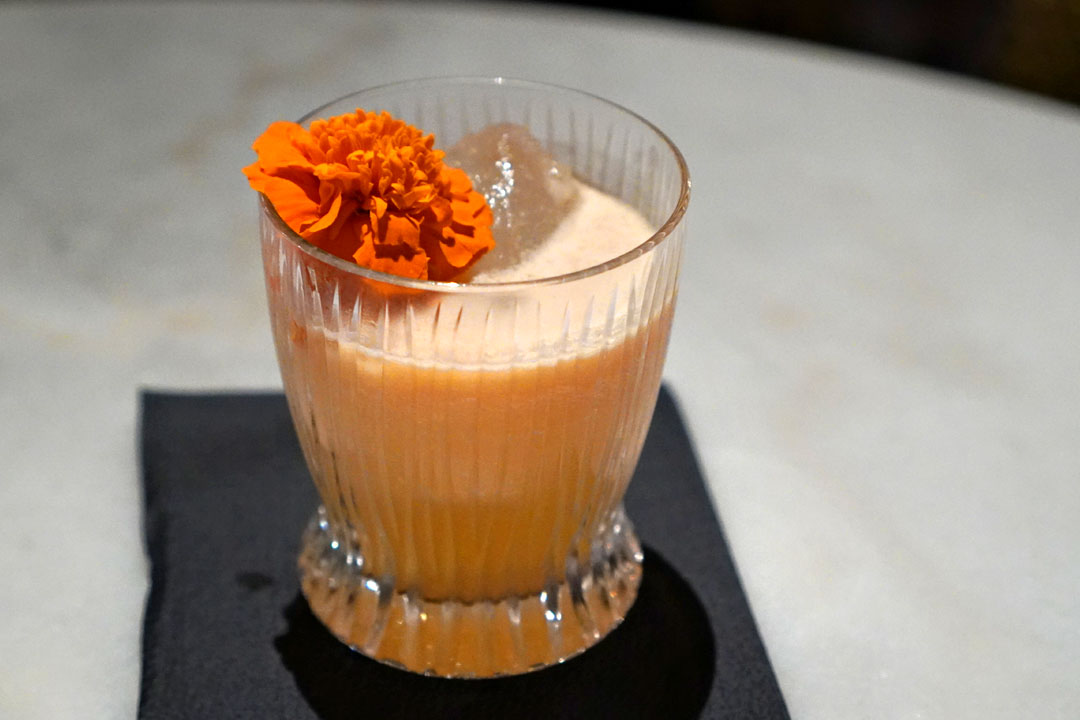 Pisco and Disco [$25.00]
| Pisco, Hine Cognac, Vanilla, Lemon Curd, GH Mumm Champagne
This disco ball-encased cocktail brought an amalgam of citrusy, vanilla-driven, almost cacao-like nuances overlaid on top of a cognac base, with the champagne offering up a bit of levity.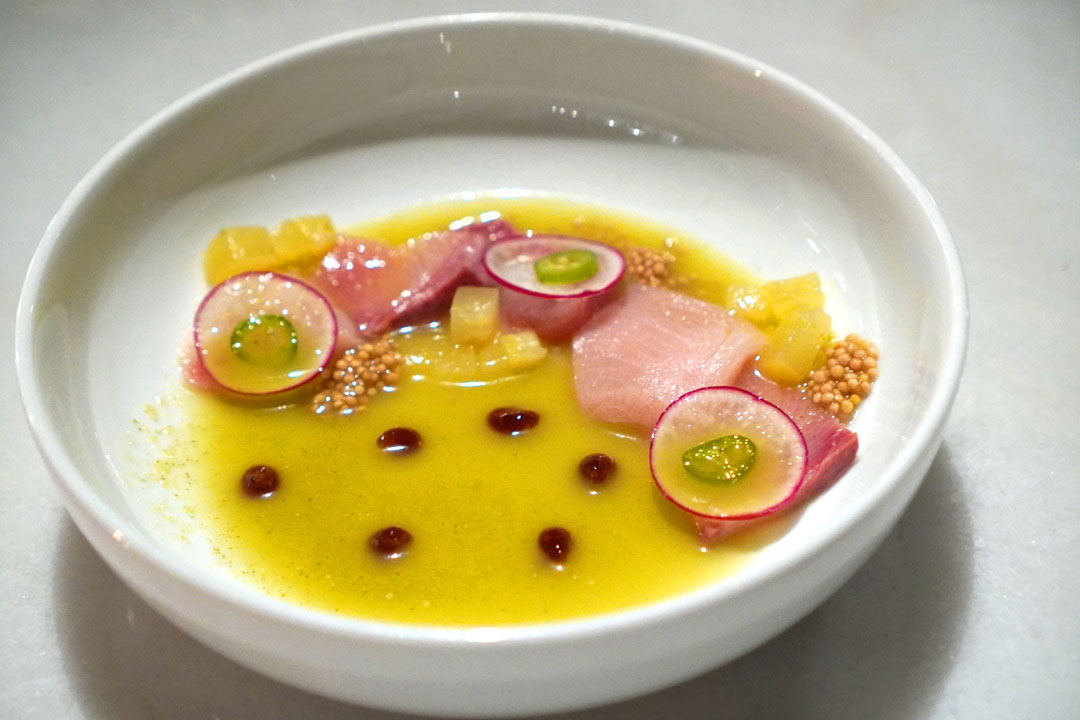 Hamachi Crudo [$22.00]
| Aguachiles, Pickled Mustard Seeds, Ponzu Gel, Radish, Jalapenos, Compressed Cucumbers
A yellowtail crudo ate light and fresh, the weight of the fish countered by a growing heat and the brightness of cucumber and radish.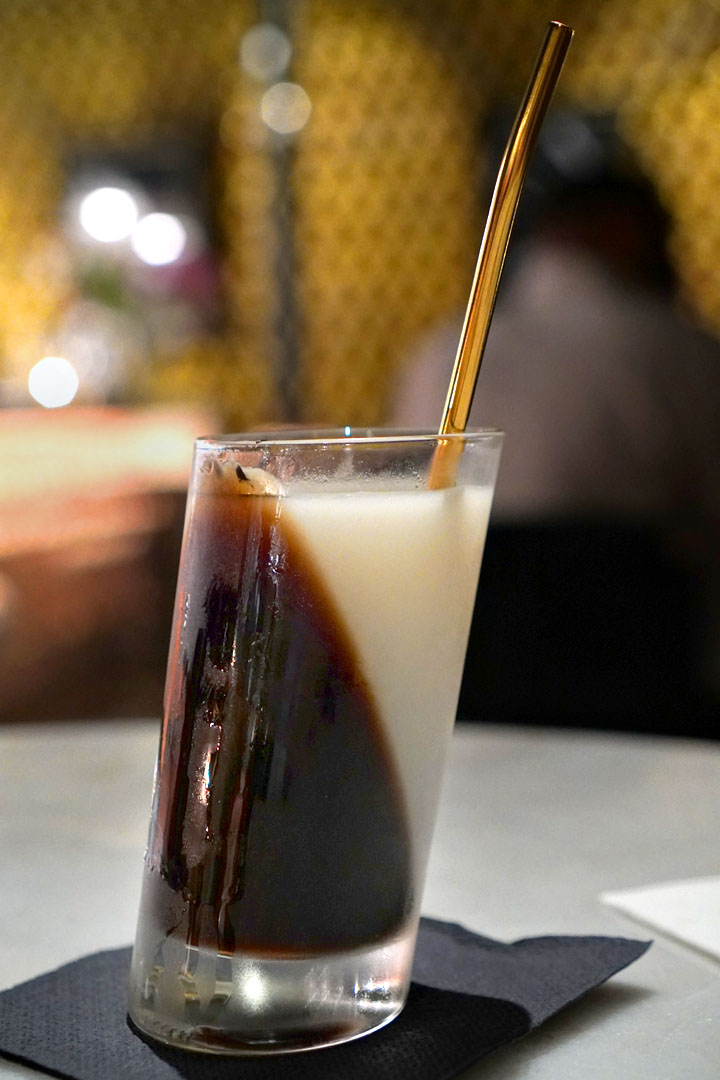 Yin and Yang [$25.00]
| White Copalli Rum, Lemon, Makgeoli, Grass Jelly, Chrysanthemum Tea, Jasmine Rice, Singani
This was a fun cocktail, one that combined sweet, citric, and ricey elements with a shard of boozy, slightly bitter grass jelly, which also provided some textural variation.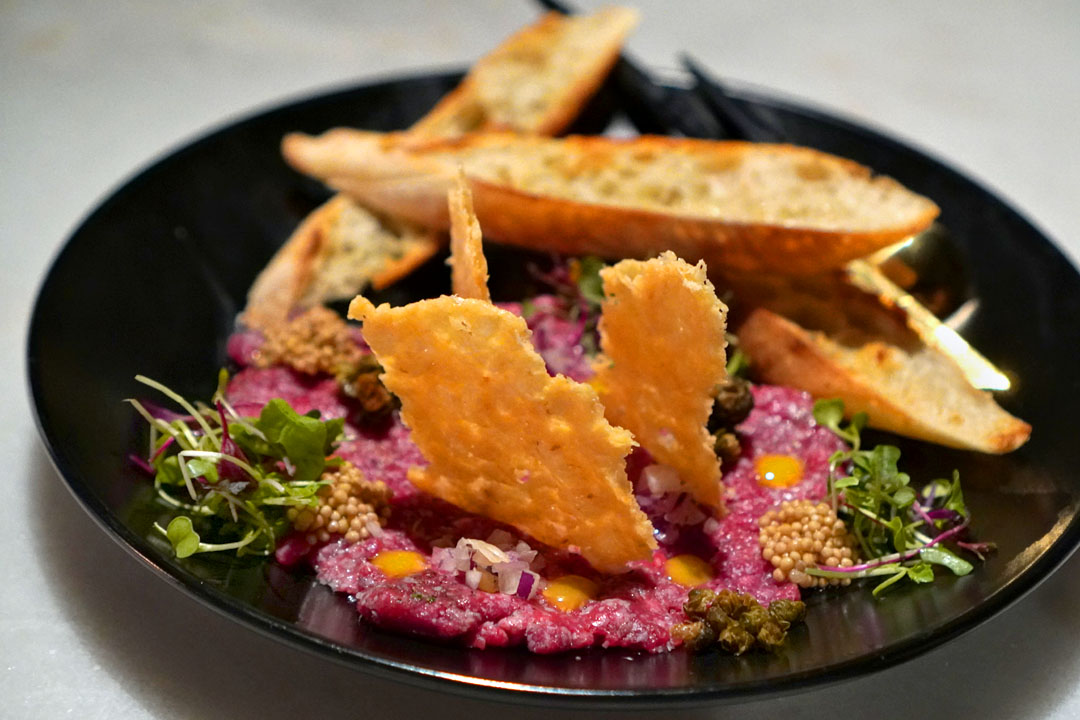 Steak Tartar [$22.00]
| Fried Capers, Parmesan Crisp, Egg Yolk Gel, Pickled Mustard Seeds, Crostinis
I was of course curious about the steak tartare, and it didn't let me down. The beef came out suppler than usual, and featured a restrained spicing that made sense with the pungency of mustard, red onion, and capers, though my favorite thing here might've been those crunchy, salty Parmesan chips, which recalled Cheez-Its.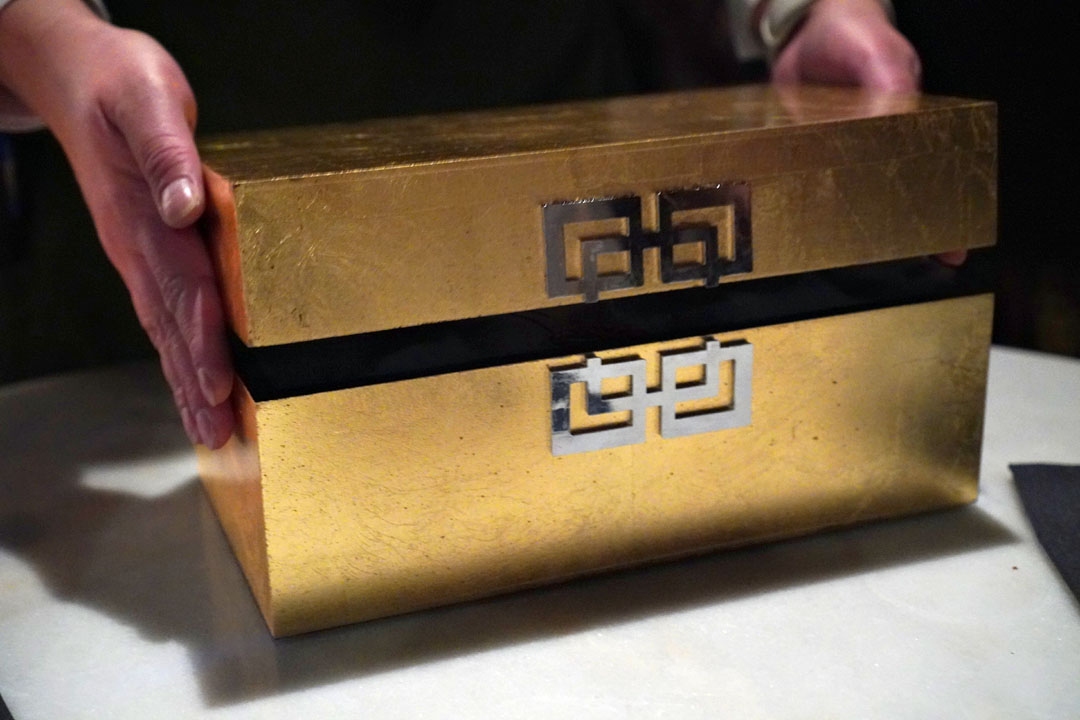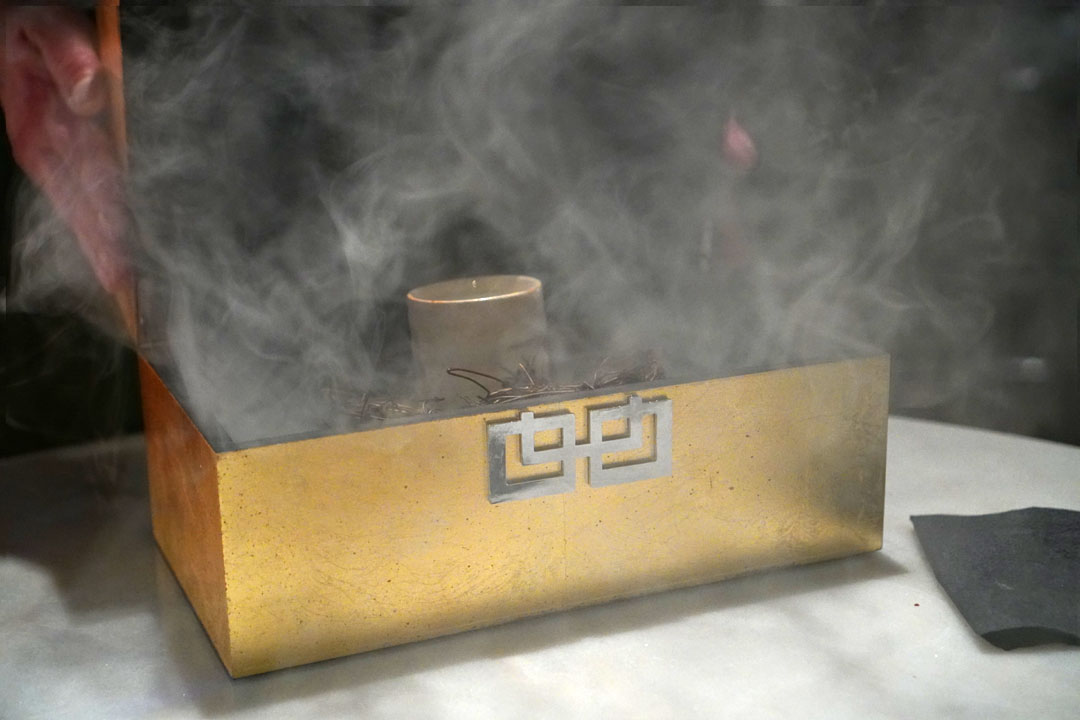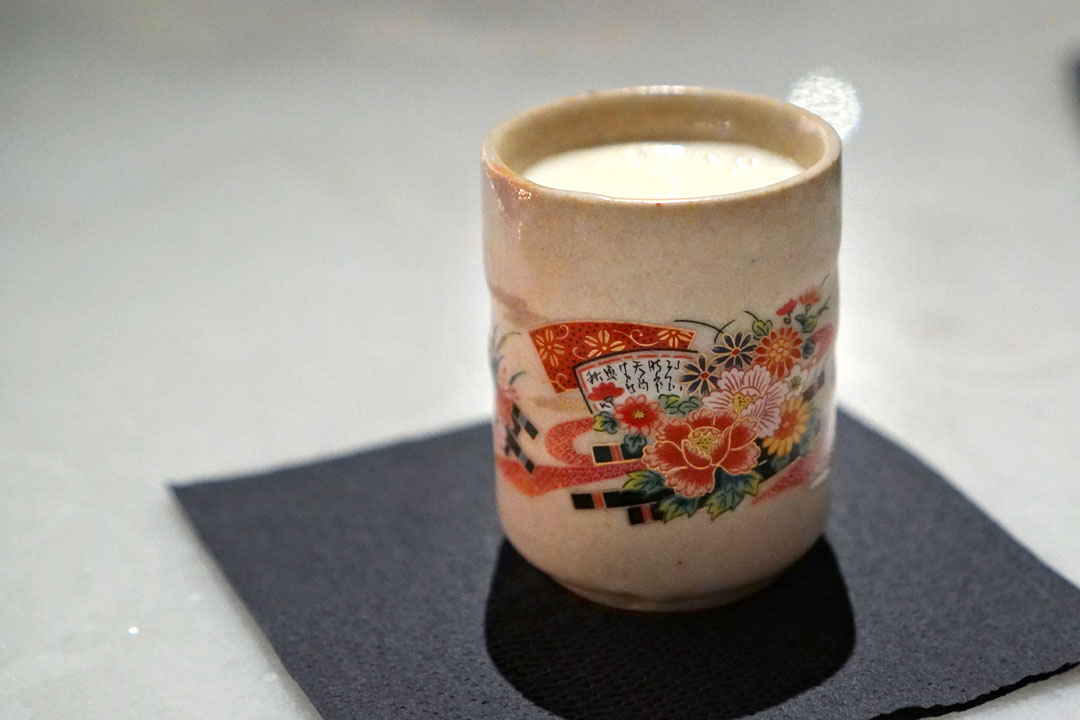 Smoke and Nest [$25.00]
| Toki Whiskey, Rice Vinegar Cordial, Gochugaru Chilli Powder, Wasabi Bitters, Sesame Seed, Quail Egg
Our next cocktail also arrived with a bit of theatrics, and a plume of intense, nearly BBQ-esque smoke. Taste-wise, the drink veered fruity at first blush, but soon transitioned to the spicy kick of chili powder, then wasabi, with a nuttiness from the sesame moderating things. Neat.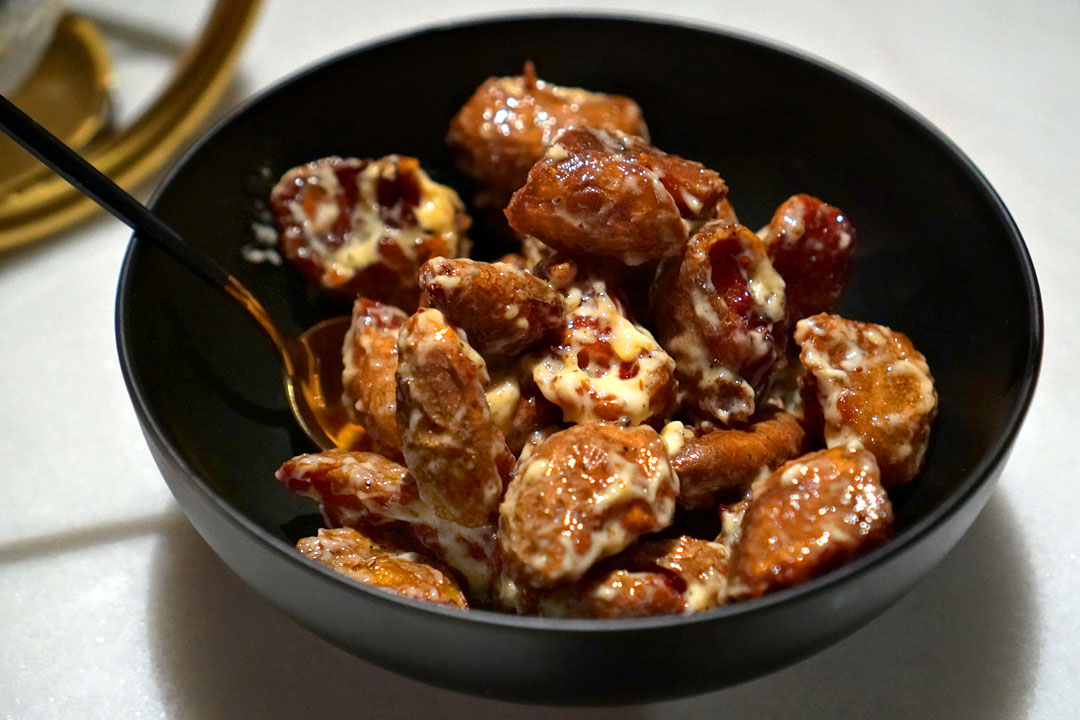 Patatas Bravas [$16.00]
| Siracha Aioli, Fines Herbs
Papas bravas showed off satisfyingly crisp exteriors along with soft insides, and had a nice pepperiness to them, though I wanted more heat, more spice from the advertised Sriracha.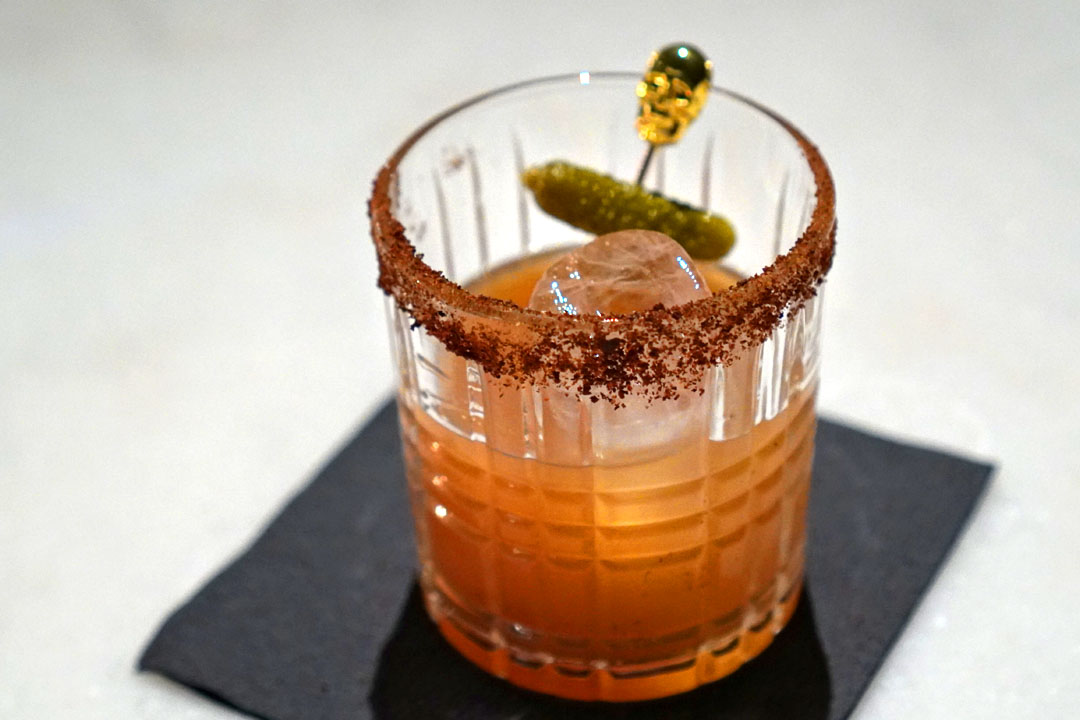 Pastrami and Rye Bread [$25.00]
| Pastrami, Rabbit Hole Rye Whiskey, Toasted Rye Bread, 1757 Vermouth, Mustard Seed, Brown Sugar, Pickles
This was perhaps the most fascinating cocktail of the evening, smelling like a deli, with lots of pickle-y tang, but also a chocolate-y backing. In terms of taste, I got more cocoa, set against pastrami-like spices, touches of mustard, and some assertive medicinal, bittersweet notes, while the rim contributed a rye-like sensation.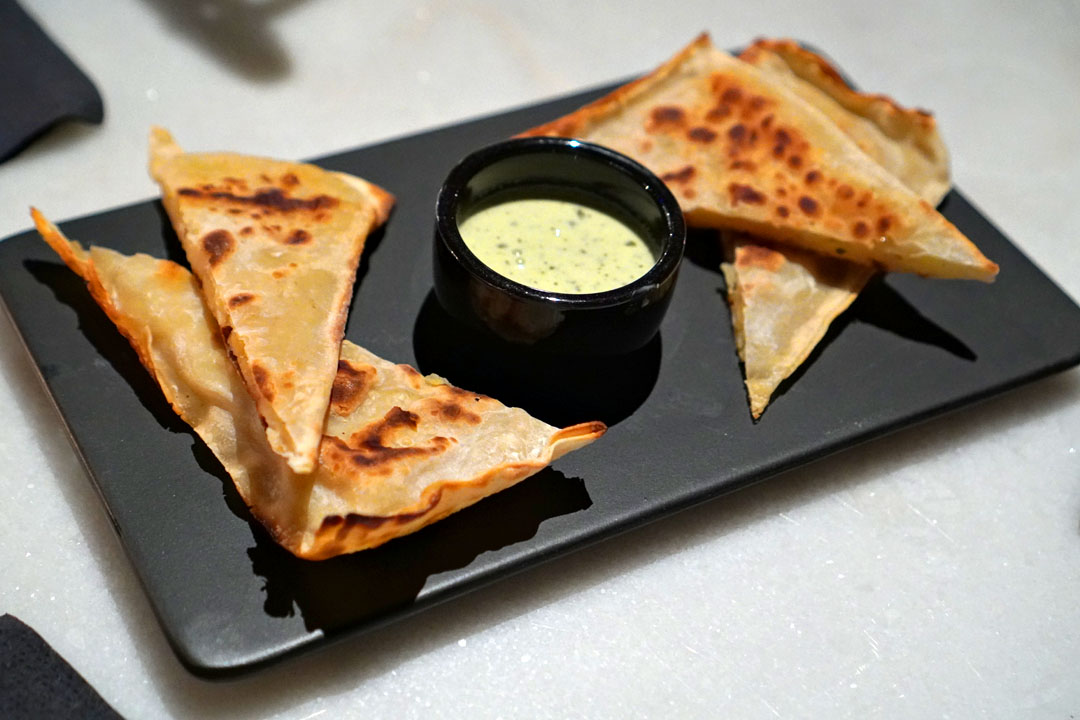 Kachalo Bolani [$16.00]
| Potatoes, Leeks, Cilantro Yogurt
The
bolani katchalu
was a sort of stuffed Afghani flatbread, one with a thin, slightly charred crust that I appreciated. However, I wanted its potato-leek filling to be more aggressively seasoned, though that cilantro yogurt did add some additional oomph to the dish.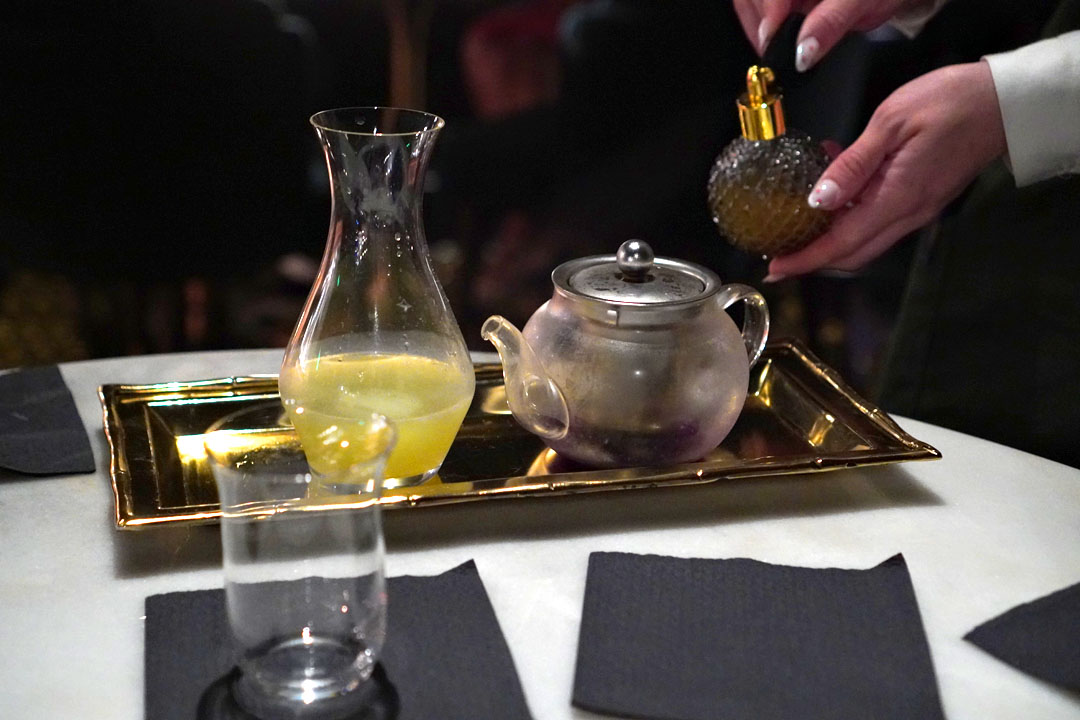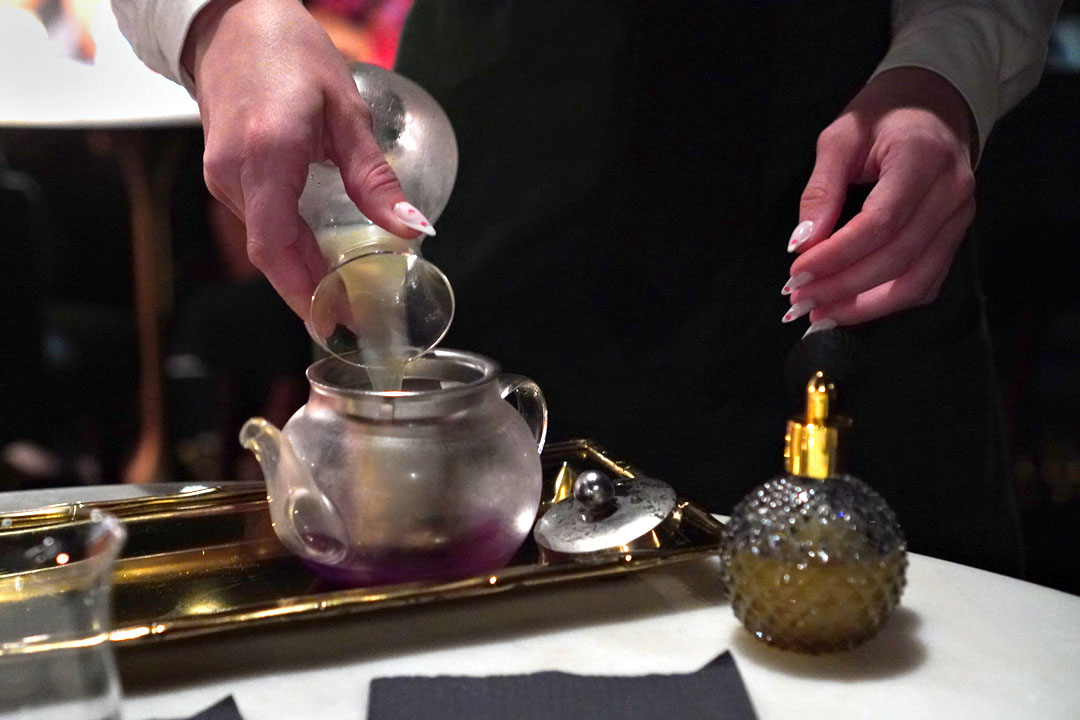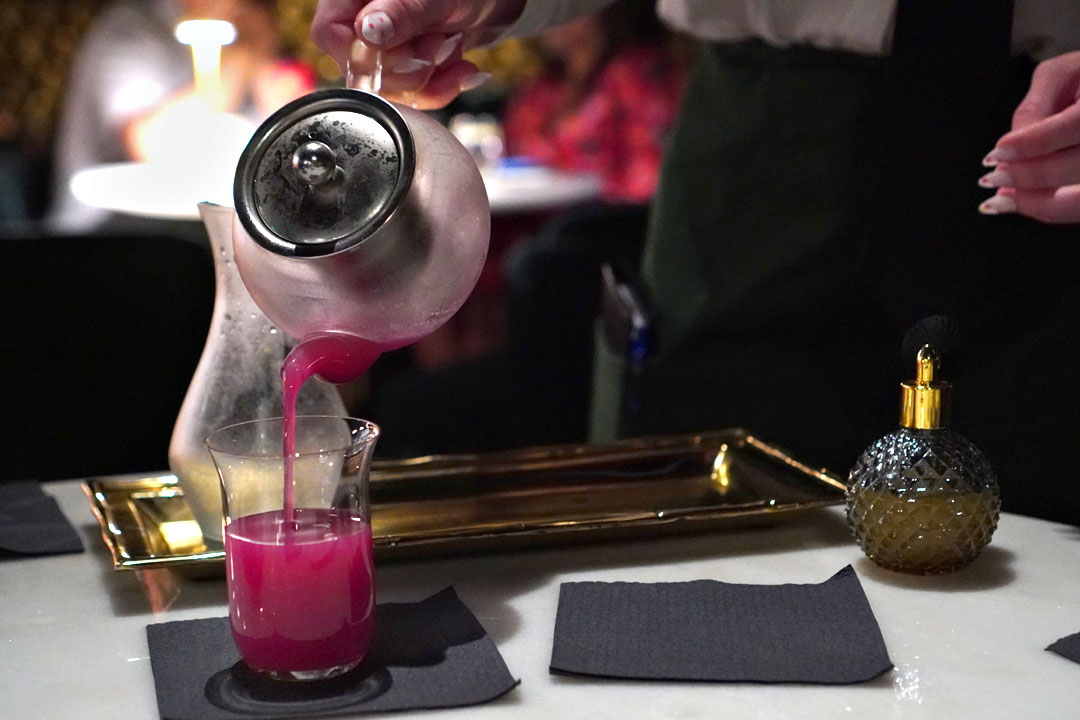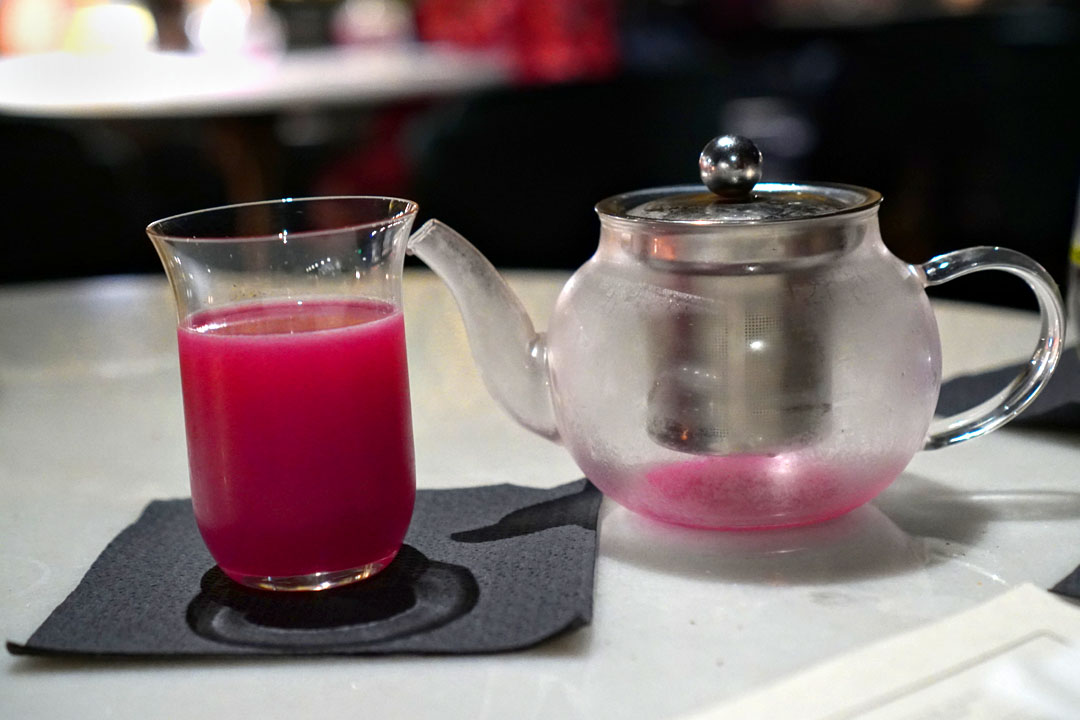 Fruits and Veggies [$25.00]
| Vida Mezcal, Jasmine Blossom Tea, Pignoli, Red Cabbage, Apple, Lemon
This magenta-tinted cocktail involved quite a tableside production. Interestingly, the drink almost smelled like gazpacho, and indeed, its taste went in a garlicky, peppery, vegetal direction, and displayed a savoriness that surprised me.
Margarita Pizza [$20.00]
| Mozzarella Cheese, Tomato, Basil
The margherita was certainly a bit untraditional. It actually reminded me of Stouffer's French bread pizza, in a good way, and I found the basil especially pungent.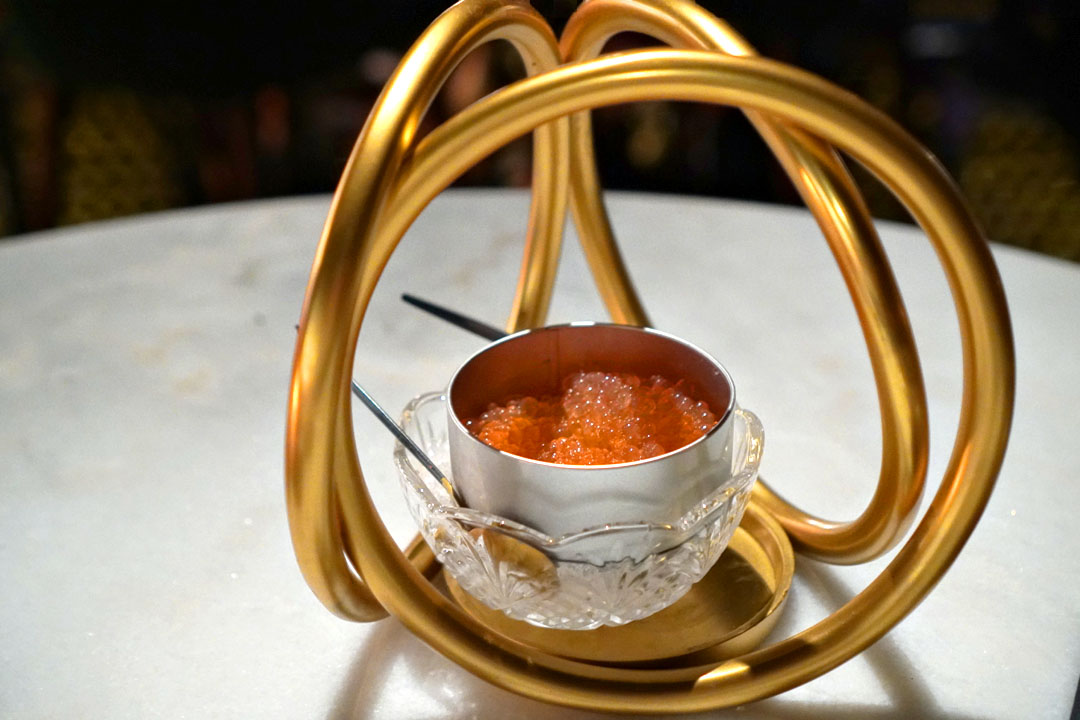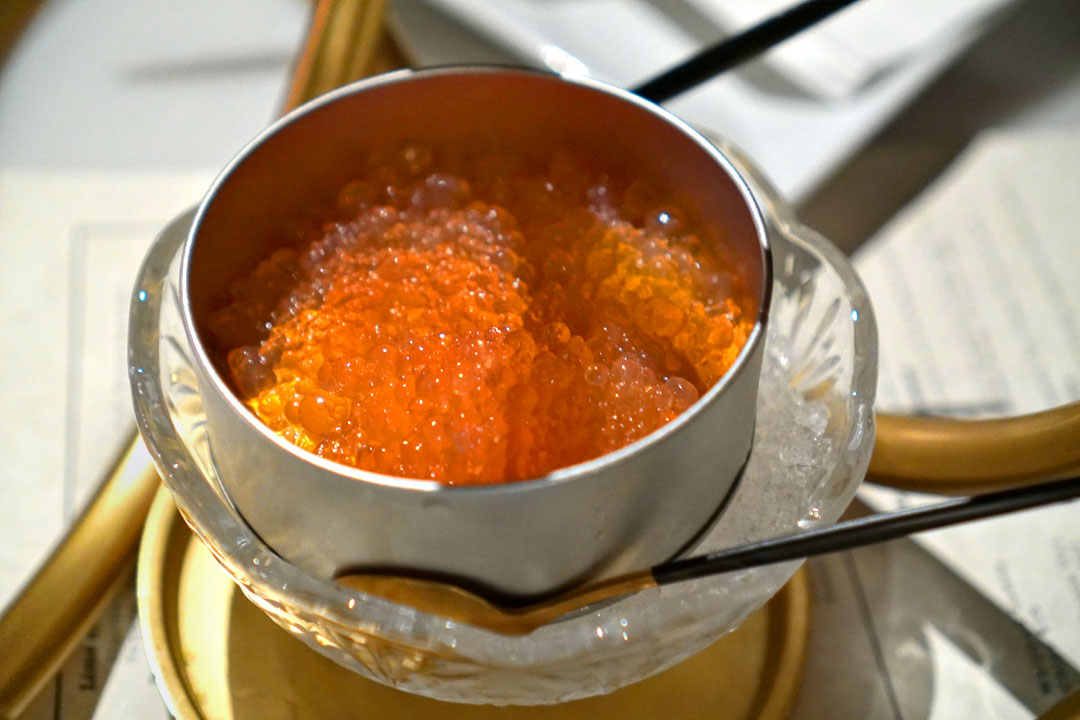 Peanut Butter and Jelly [$25.00]
| Russel's 10 yr Bourbon, Aperol, Lofi Sweet Vermouth, Peanuts, Strawberry
The night's penultimate "cocktail" arrived in spherified form, which made for some unexpected textures and an unconventional "drinking" experience. It actually conveyed a pretty reasonable approximation of classic PB&J flavors, but with a distinctly bitter backing from the Aperol.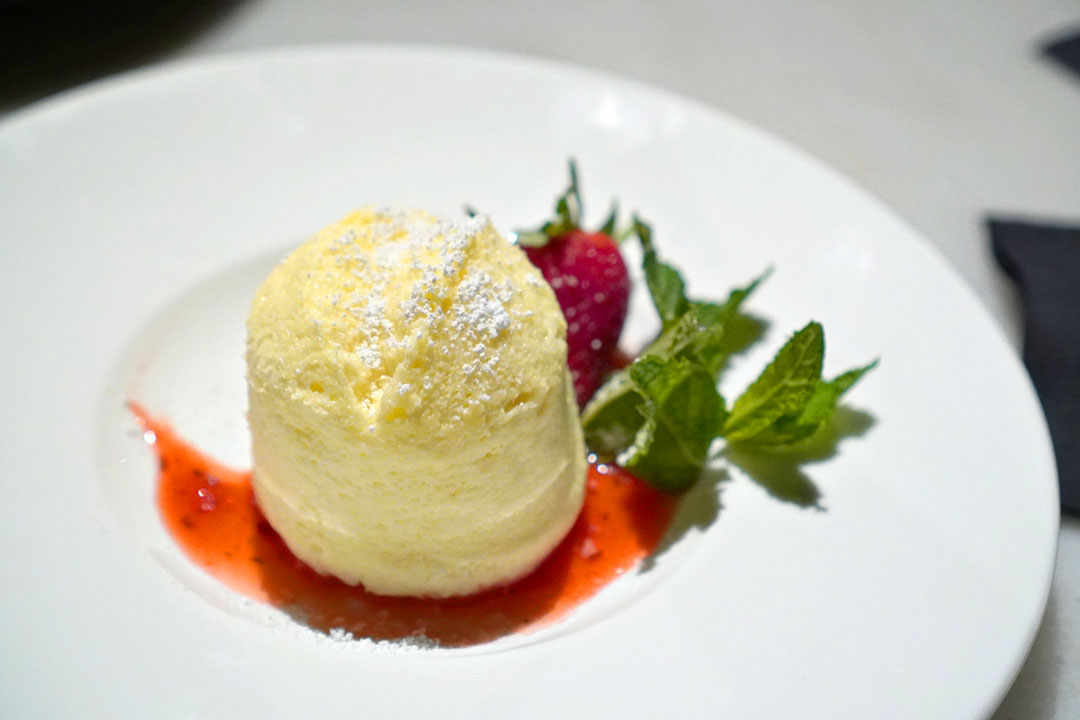 Japanese Cheesecake [$14.00]
| Strawberry Coulis
Our cheesecake possessed that light, "feathery" consistency you'd expect given its Japanese influence, while its sweetly lactic, mildly tangy taste worked hand-in-hand with the tartness of strawberry.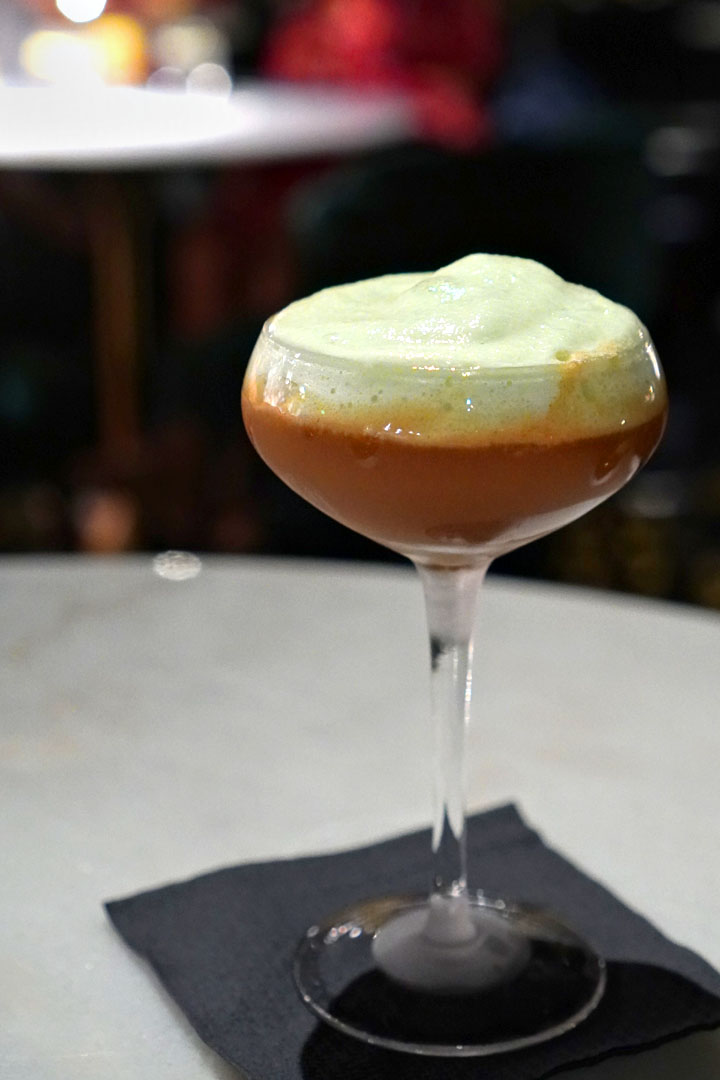 Milk and Coffee [$25.00]
| Vietnamese Espresso, Macadamia Nuts, Copalli Rum, Coffee Liquor, Condensed Oat Milk, Pandan Falernum Foam
I requested a dessert cocktail to close, and was recommended this one. Its cozy pandan warmth and rich coffee and chocolate-y components certainly fit the bill.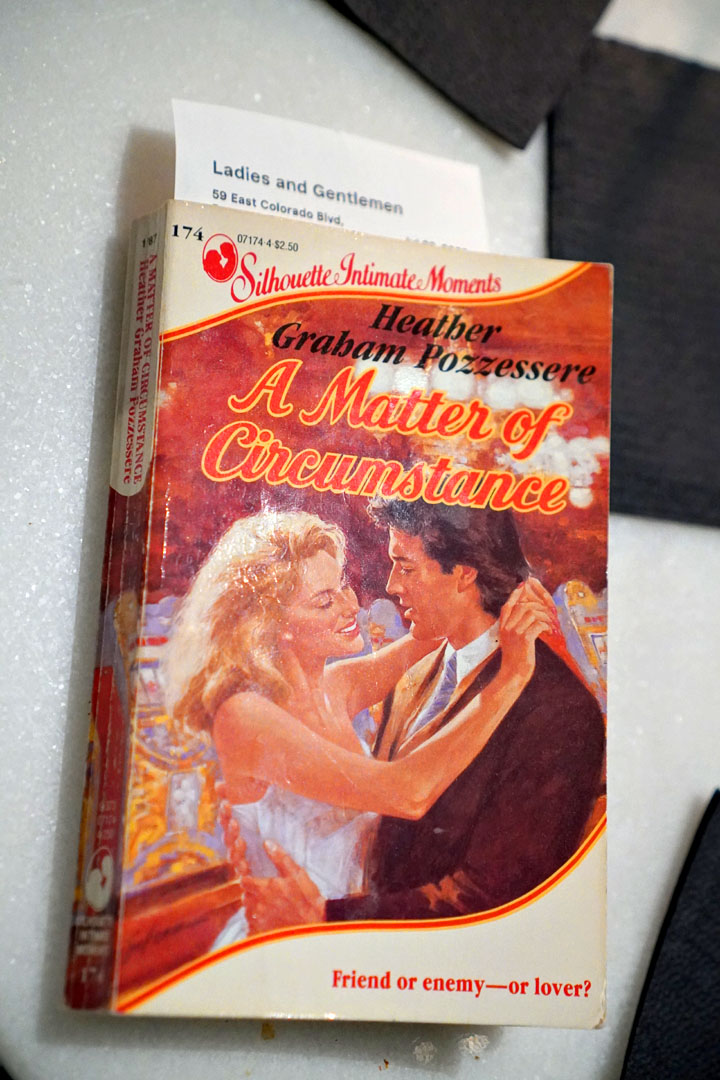 Our bill arrived with a copy of Heather Graham Pozzessere's 1987 romance novel
A Matter of Circumstance
.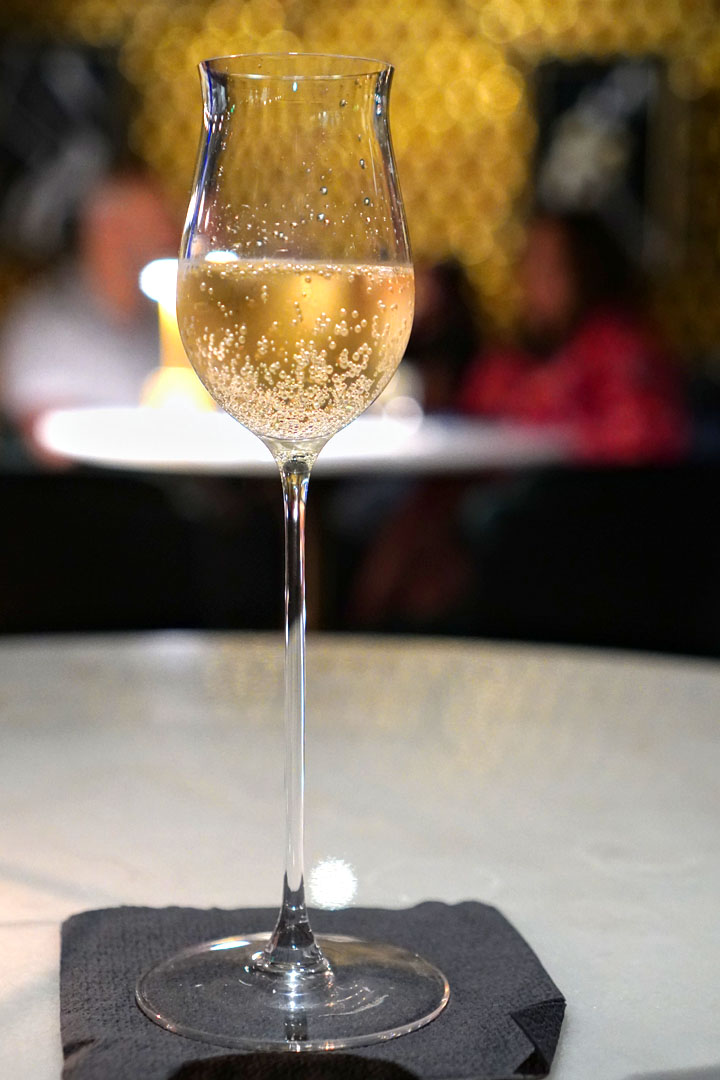 We were then presented with a complementary glass of
G. H. Mumm Cordon Rouge Champagne
, which made for a fresh, fruity, fizzy end to the night.
Ladies and Gentlemen is probably the most exciting cocktail bar debut of the year. In fact, I'd never had a cocktail experience quite like this before, and I really appreciate how Temory and his team are trying to bring something new to the Los Angeles bar scene. The drinks themselves were super interesting and generally quite tasty, and the food was pretty good too, while I have to commend the service as well. I certainly wouldn't mind coming back here once the menu changes, which I'm hoping will happen with some regularity.